Hot days are coming…How nice would it be to have a water feature in the backyard that will naturally invite freshness and serenity?
Garden fountains are a favorite decorative feature for many reasons but we shouldn't forget how practical they are as well since they are capable of naturally damping the ambient air.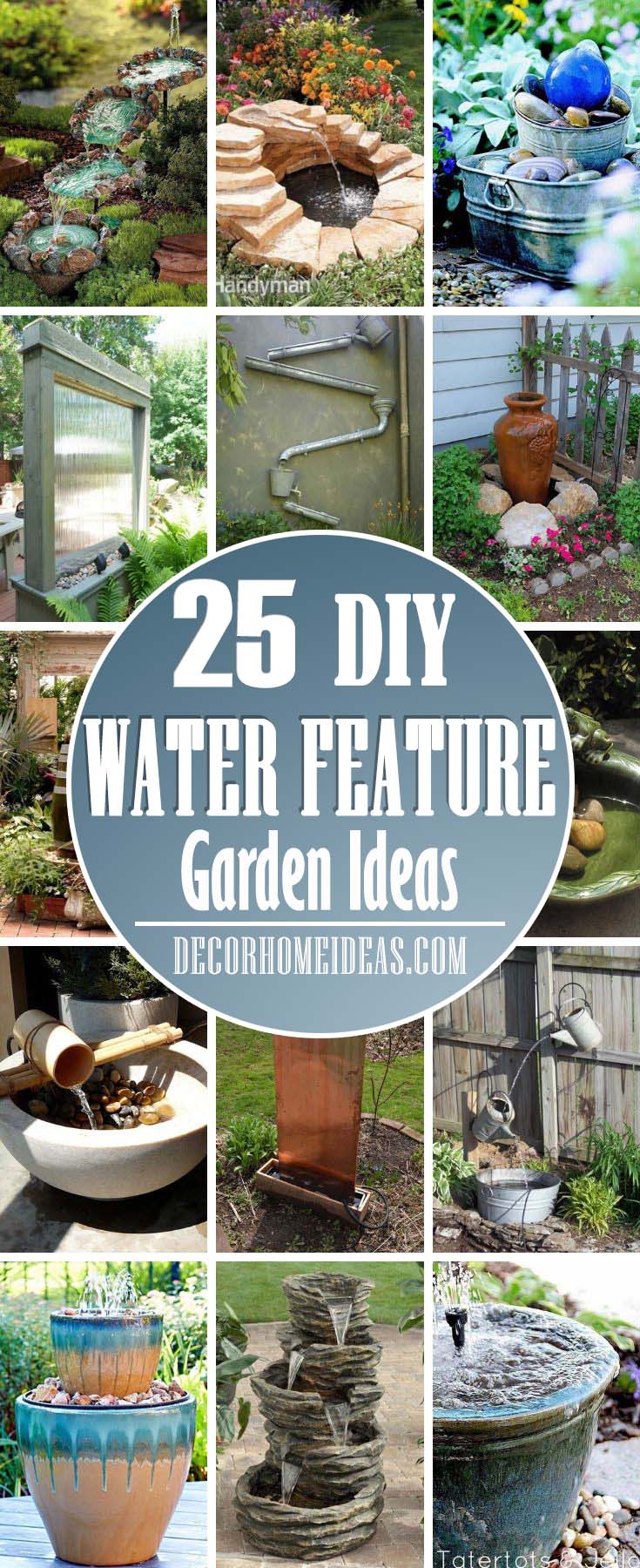 Unfortunately, the ready solutions at the stores and the landscaping designers could be quite expensive. The good news is that there are ways to make yourself a water feature that will match your exterior design and please the whole family with the murmuring of the flowing water.
As long as you have an idea and some basic construction skills, you can easily create a praiseworthy landscaping decoration for your garden.
We will help you with the first part! We have gathered the best DIY water feature ideas that provide instructions on how to build the chosen fountain yourself.
1. Construct a Pyramidal Fountain with Upcycled Clay Pots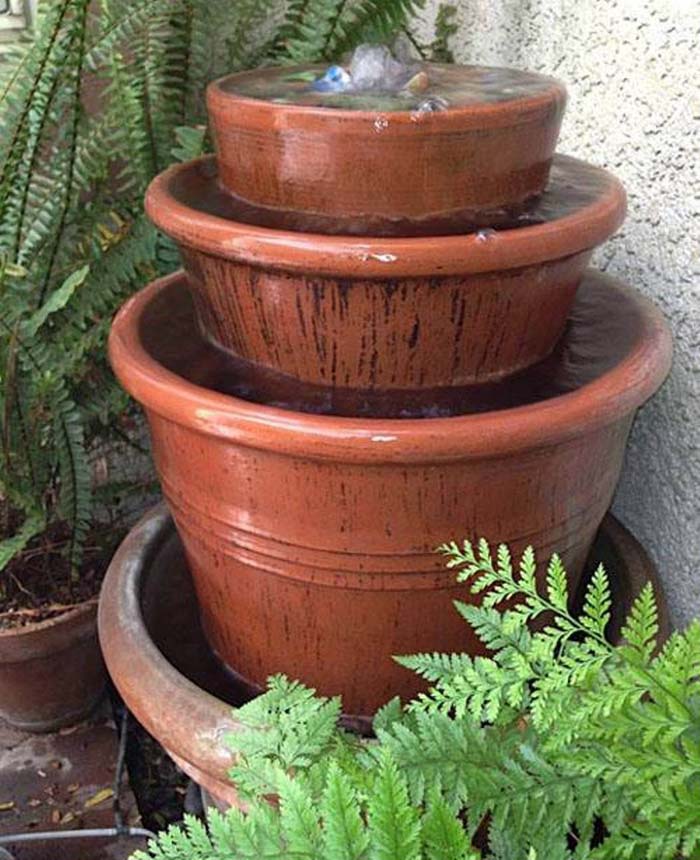 The supplies for this pyramidal fountain are already in your garden! Old clay pots of different sizes are stacked, the tubing for the water pump is inserted through each central hole.
Decorate the last 2-3 pots with beautiful stones that will also help to direct the water flow.
via Flying Kitten
2. Create a Large Pot Fountain in an Hour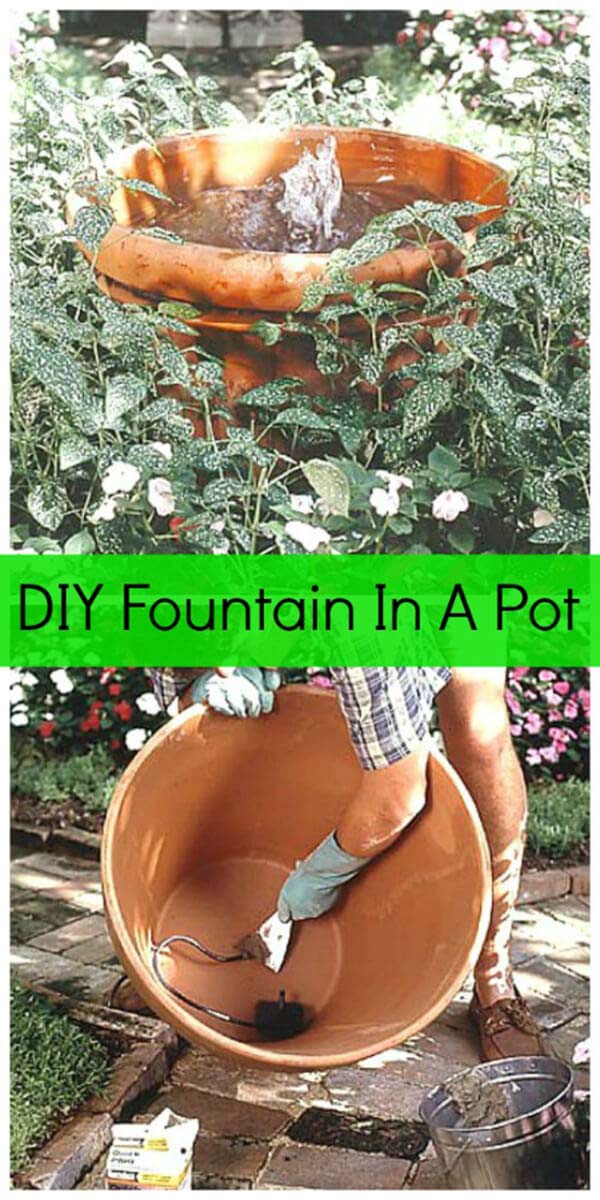 For a classic and simpler look, you can make yourself a large pot fountain.
With the help of a pump and a fountain, 4 bricks, sealant and cement you can have your water feature in only 1 hour!
3. Add Bamboo to Your Water Feature for a Mystical Touch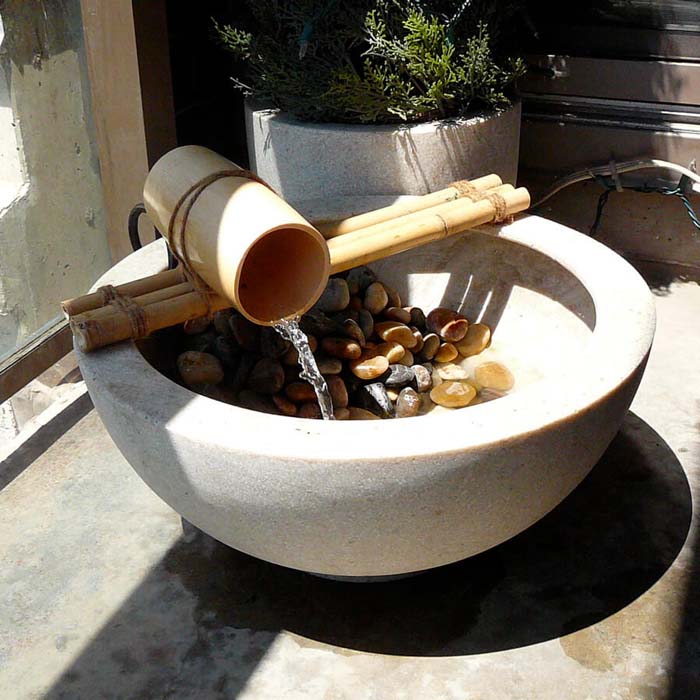 Bamboo is considered a holy tree that has curing effects. In addition to that, it makes any decoration it is part of more enigmatic and sophisticated.
You can easily include it in your water feature presentation, following the instructions below.
via SAF Affect
4. Make a Royal Water Feature with Old Stone Pots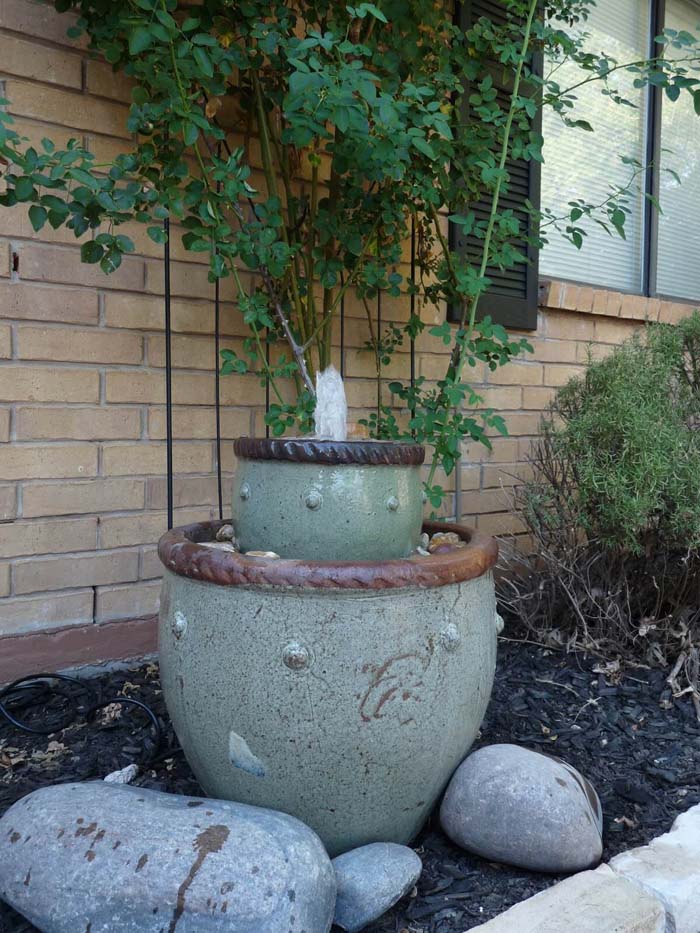 If you find or already have old stone pots, it is now the time to make yourself a royal water feature. Stack them in a tiered arrangement.
Put through the tubing of a fountain pump, decorate inside with river rocks and pebbles and enjoy.
5. Attractive Fountain Wall with Upcycled Copper Sheet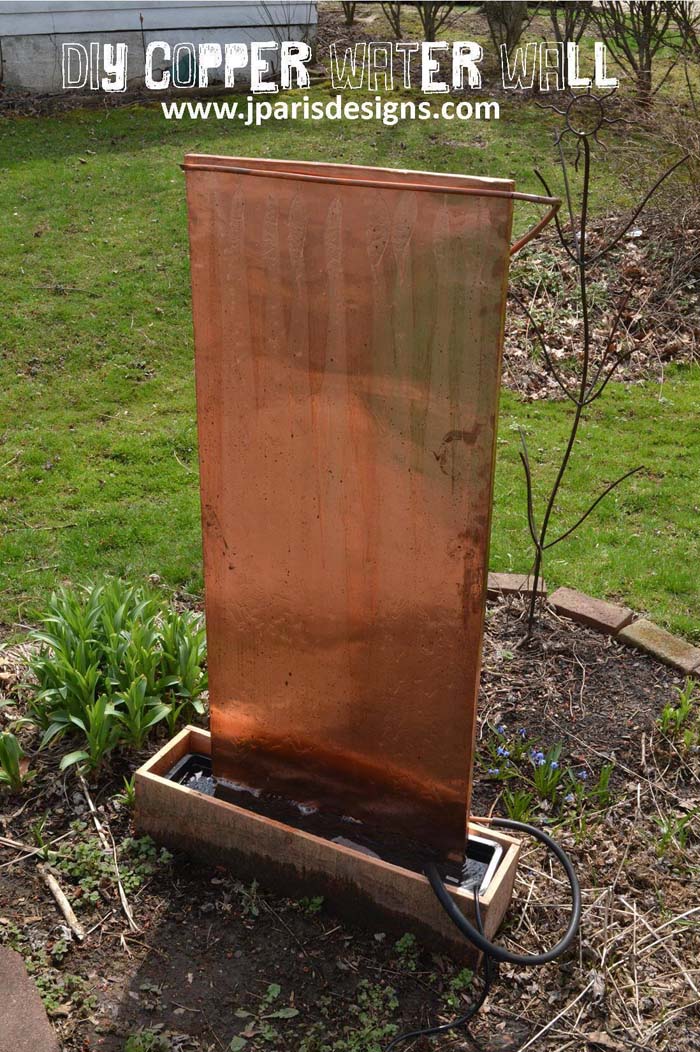 You can upcycle an old copper sheet to build yourself this attractive fountain wall.
The water drops from a perforated tube at the top of the wall and goes into a wood or copper container on the bottom.
6. Creative Water Feature with Wheelbarrow and Gravel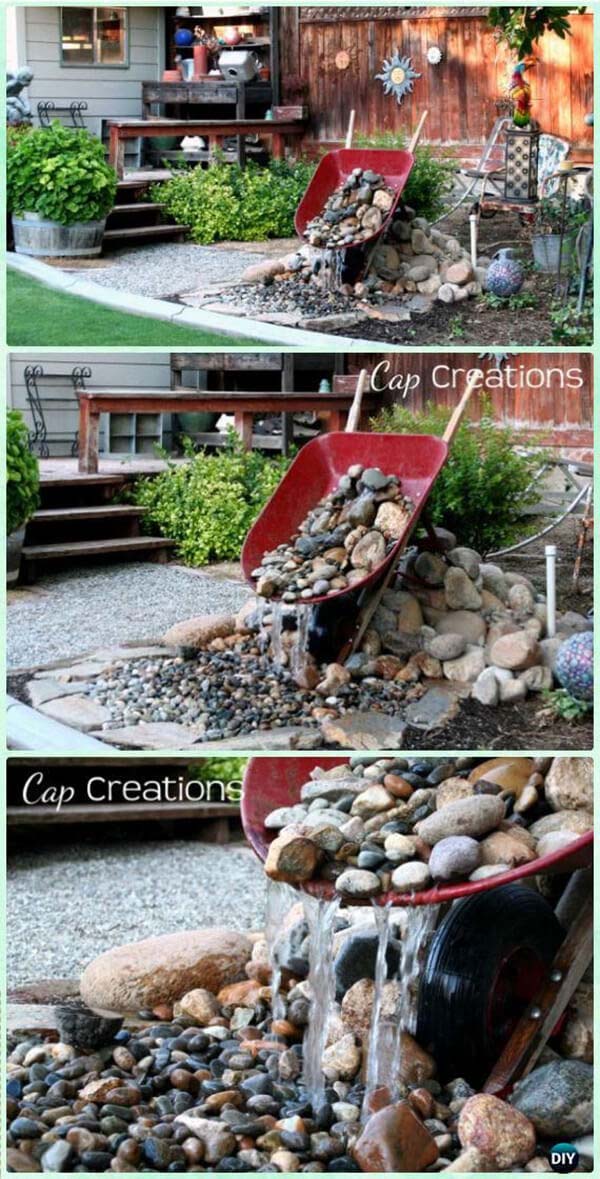 With the help of an old wheelbarrow and gravel, this water feature makes an interesting flow effect as if the water is spilling onto the ground.
via Cap Creations
7. Add Serenity with a Natural Stone Water Fountain

Bring zen to your garden with this beautiful natural stone water fountain.
The stacked effect is done by inserting flat stones onto a metal dowel. For that purpose, you would have to pre-drill holes in the rocks.
via Gardenfuzzgarden
8. Create a Chain Waterfall Oasis in Your Garden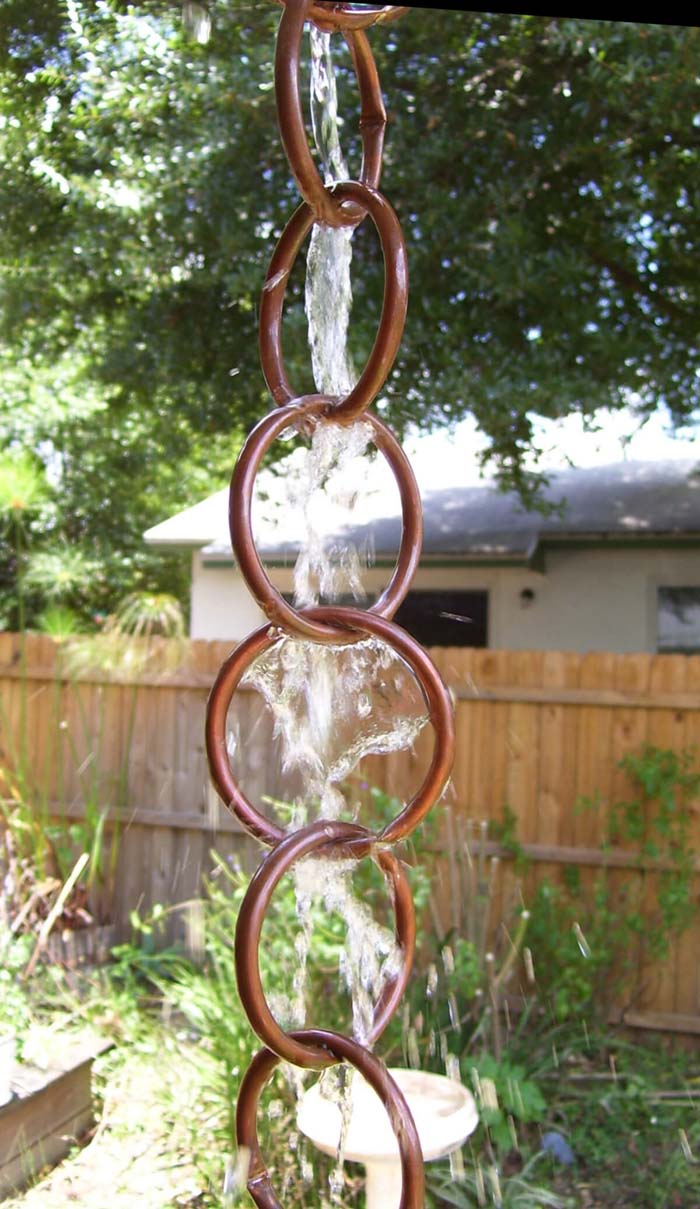 Inspired by the Asian garden ambiance, you can easily make yourself a chain waterfall that will enjoy all of your senses.
via Instructables
9. Outdoor Oasis with Hand-Carved Stones and Plants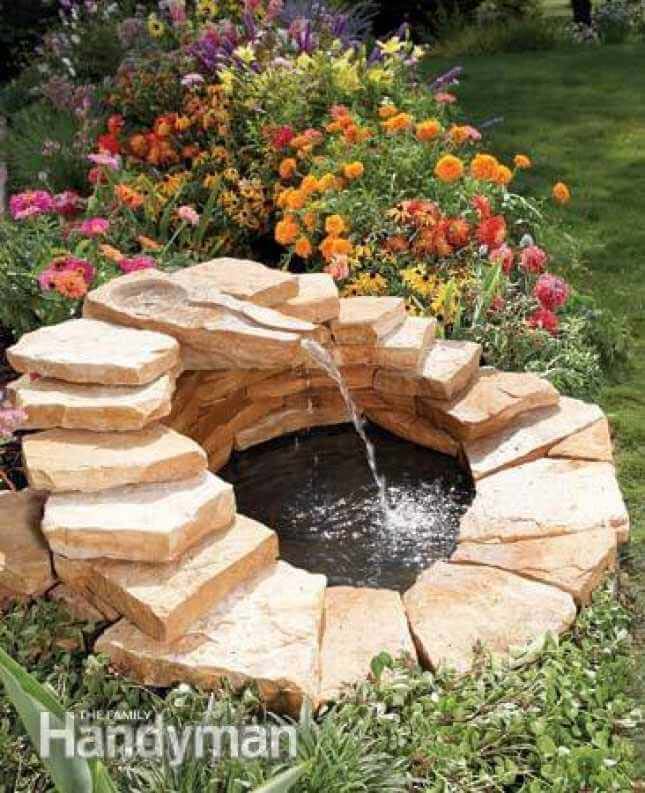 Make yourself an oasis with hand-carved stones and climbing plants around it.
The basis of the fountain is a pond so you can also consider growing water plants in it.
via Family Handyman
10. Create a Dramatic Water Fountain with a Big Ceramic Pot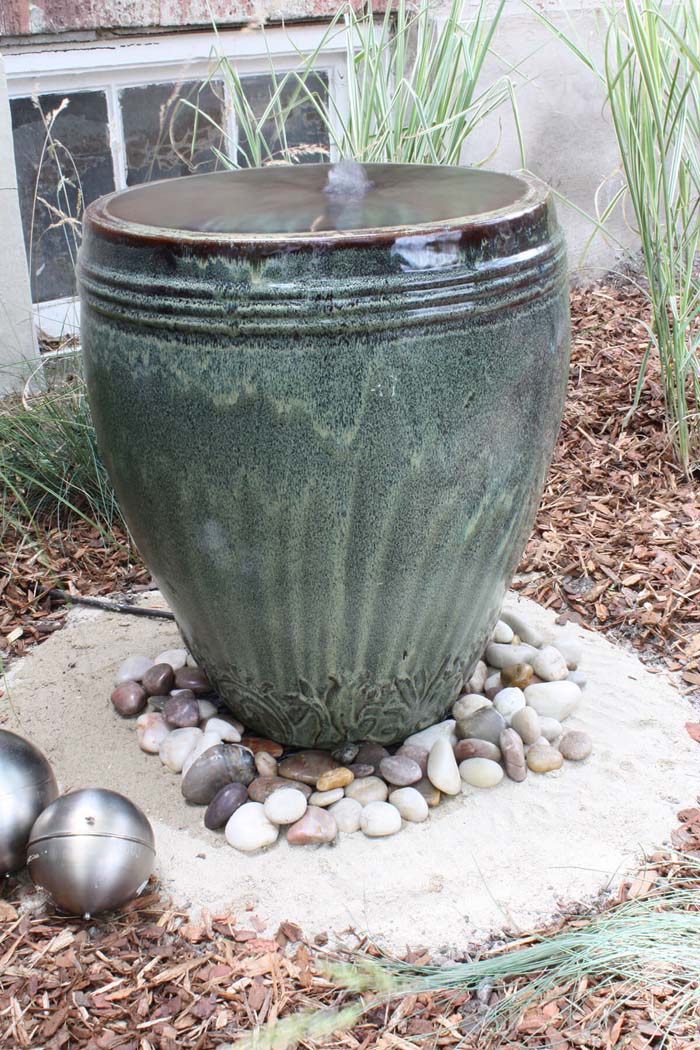 This homemade fountain makes a more dramatic effect as the water spills gently out of it to make the calming murmuring sound greater.
You need to get a large pot of your liking, a 5-galloon bucket, a submersible pump and some fixtures.
via Hip House Girl
11. Unique Garden Water Fountain with Paint Drip Technique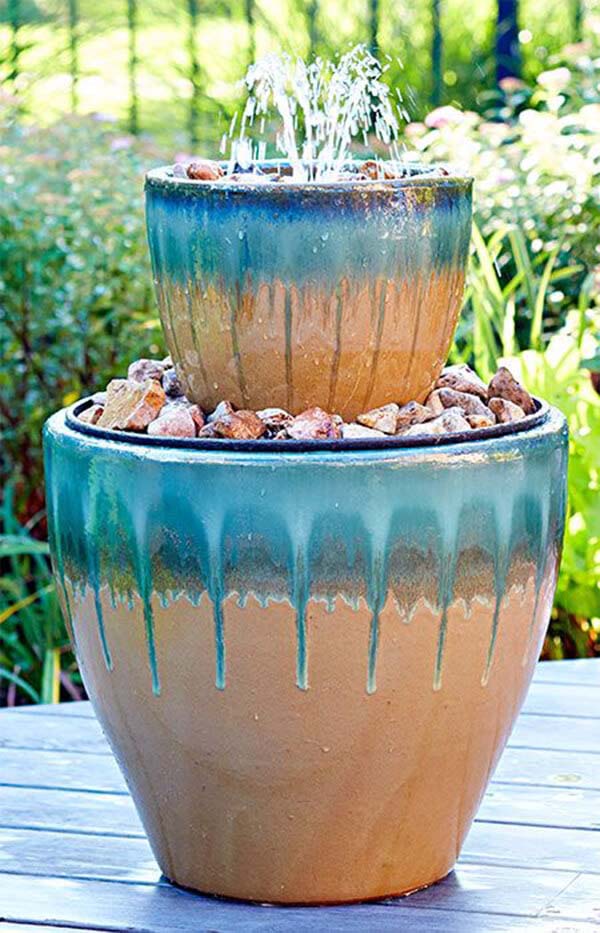 The paint finish of these pots makes a great spilling water effect so they become the perfect base for a garden water fountain.
You can achieve that yourself following the paint dripping technique. The nested arrangement is done using rocks for the lower pot and a plastic saucer to fit the smaller pot in.
via Loew`s
12. Construct a Waterfall Feature with a Glazed Ceramic Pot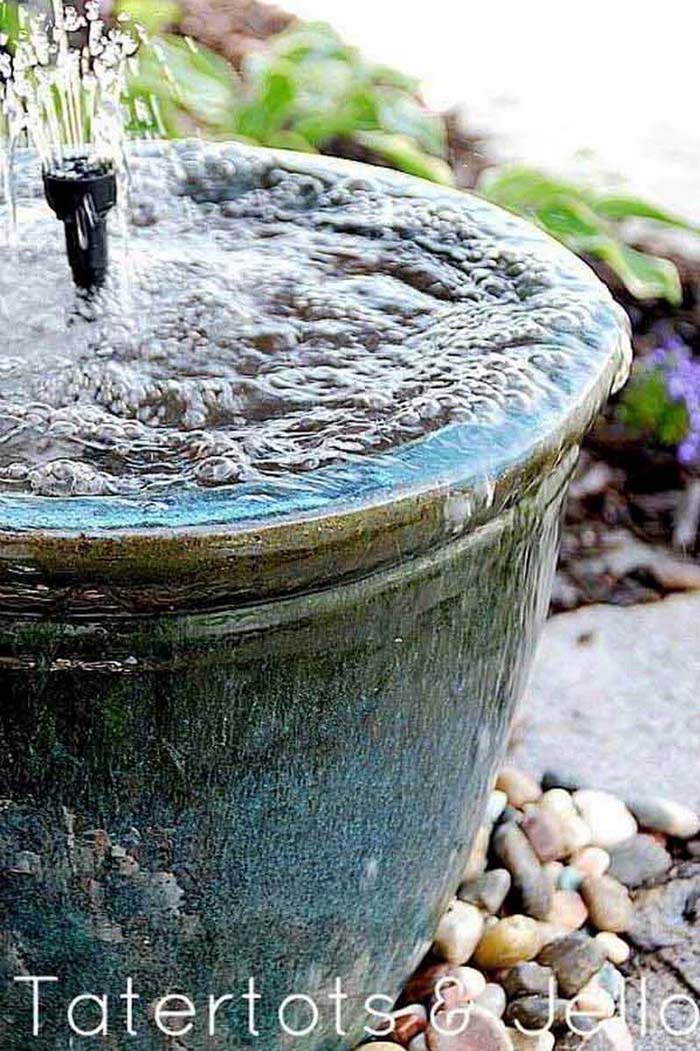 To make this beautiful focal point for your garden, you need a large glazed ceramic pot.
The water that pours down the pot goes into a gravel reservoir that contains the recirculating water.
13. Incorporate a Beautiful Glazed Urn Water Feature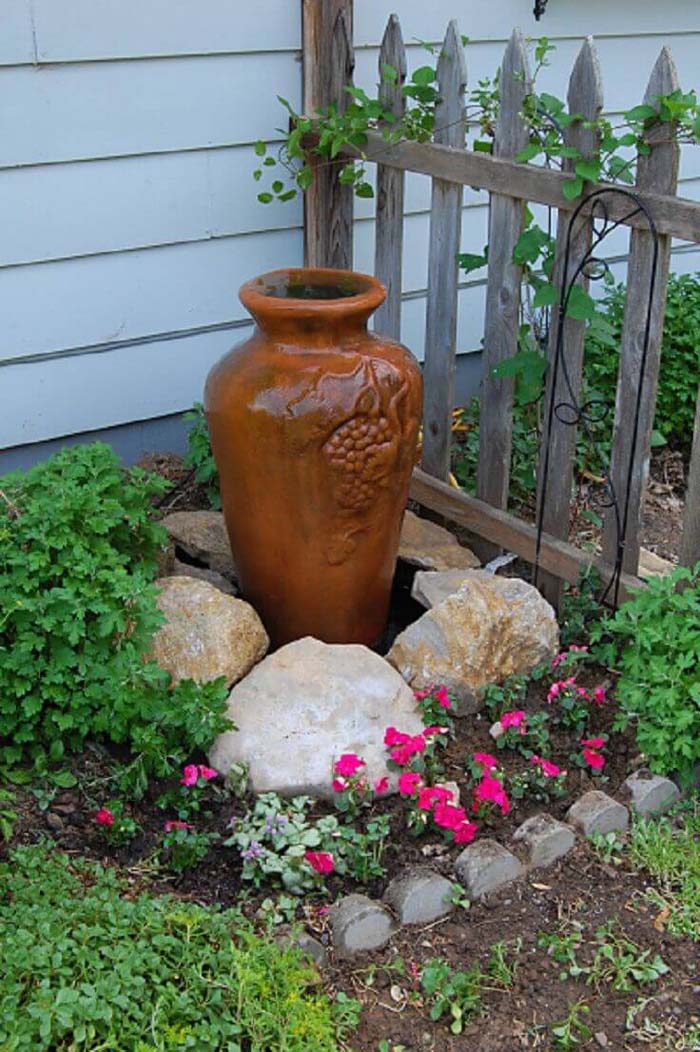 Any beautiful container may be turned into a peaceful water feature as long as you have a fountain set.
This glazed urn is perfect for a corner from the garden.
via Garden Stew
14. Create a Rustic Water Feature in a Bucket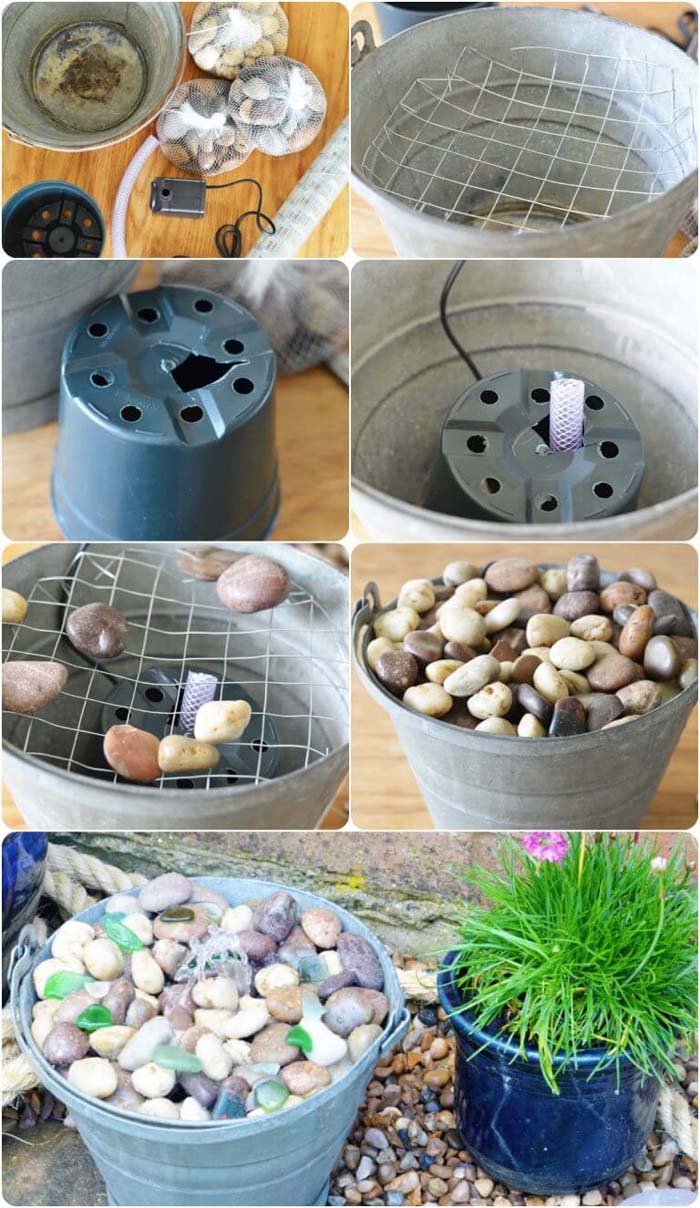 For those of you that prefer the non-standard and upcycling trends, you can quickly make yourself a fountain in a bucket.
Fill the bucket in with gravel, sea glass, seashells and enjoy the sounds from the rustic water feature.
15. Build a Geyser-like Disappearing Fountain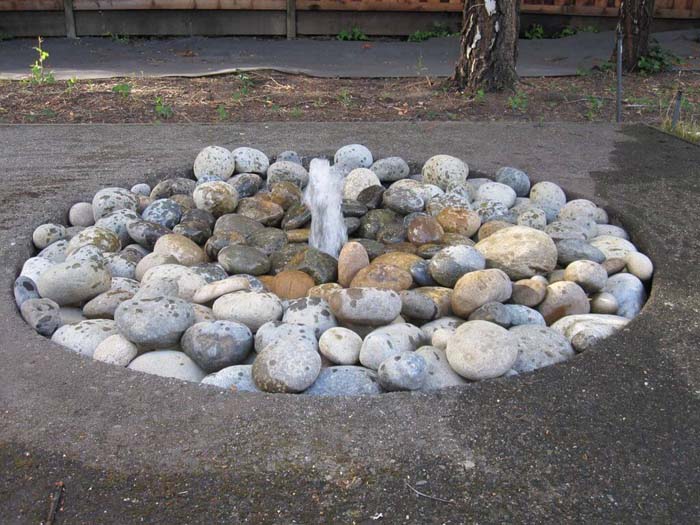 This fountain has been called "the disappearing fountain" and is great for those of you who prefer the greater impacts.
The water basin dug into the ground is large and produces a notable sound as if a geyser is shooting out from the ground.
via Instructables
16. Craft a Wall Fountain for Freshness and Privacy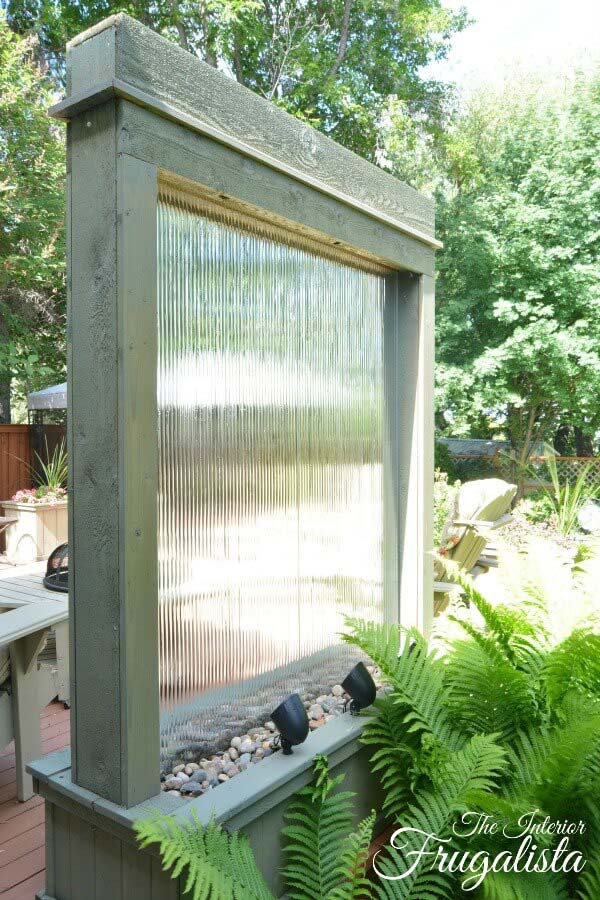 Wall fountains are very chick and most of the time far from affordable if a shop-made product. Luckily you can make yourself one using a wooden frame and reed tempered glass panels.
In addition to the sound, freshness and beauty this water wall gives, it can serve also well as a patio privacy screen.
17. Attract Birds with a Low Pressure Water Fountain 

There are water features that produce more bubbling sounds because of slower water flow and more spattering ones due to the higher water pressure.
This potted fountain belongs to the first group and will invite birds to have a bath.
via Jamie Sanders Scattered Thoughts of a Crafty Mom
18. Unique Teapot Water Feature for Garden Decoration

This water feature may be an inspiration for all of you that have a more artistic perception of the yard decoration.
Made of an old teapot, a whiskey barrel and a gold pan, this water feature will last for many years and will cheer up the garden.
via Home Talk
19. Construct a Garden Fountain with Agricultural Containers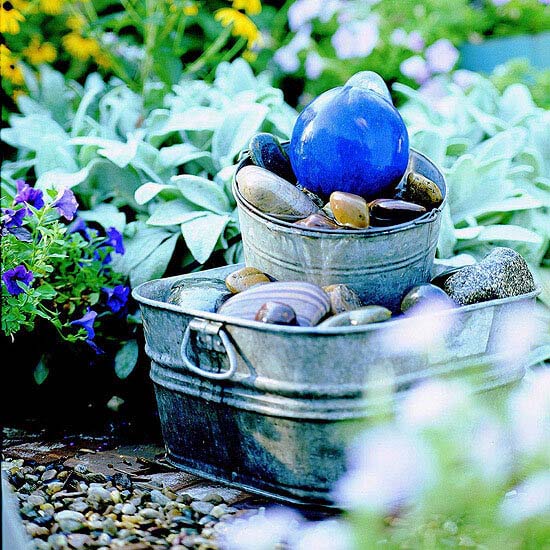 Agricultural containers and glazing decorative features are assembled in a beautiful garden fountain.
Fill the tub and the bucket with river rocks to let the water gently wash them and contribute to a shiny finish that will match the glass gazing ball.
20. Unearth Your Own Garden Fountain

This buried fountain will make a great focal point in your garden as it looks like a natural phenomenon that has always been there.
It takes some time but it is not difficult to be made.
21. Enhance a Landscape with Handcrafted Wine Fountain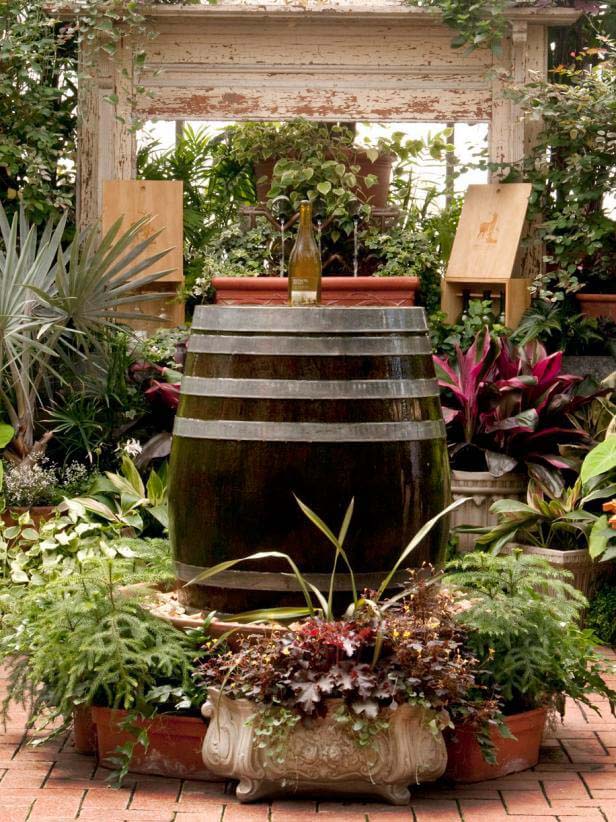 All wine lovers will appreciate this handmade fountain.
Consisting of a wine barrel and a wine bottle, it will make a great personal statement in the backyard.
via HGTV
22. Make a Wall Fountain with Everyday Items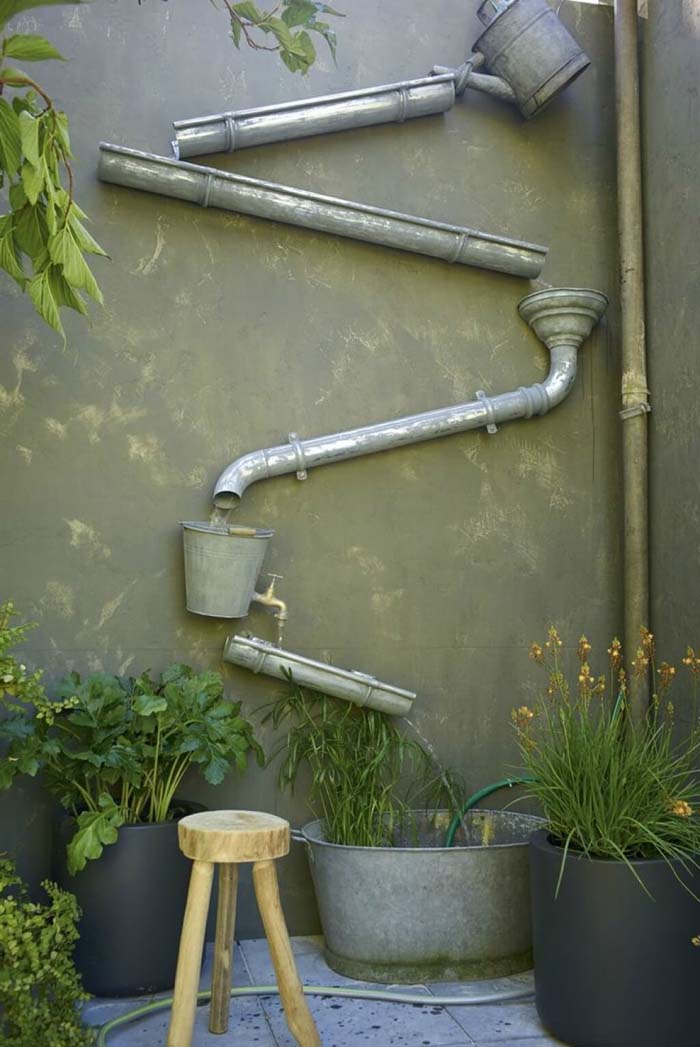 With the help of gutters, a tub, a bucket and a bucket and a watering pot, you can make yourself a wall fountain that will instantly cheer you up.
Align each part at the right angle to let the water flow easily.
via DIY Recyclist
23. Create a Water Fountain from Old Pots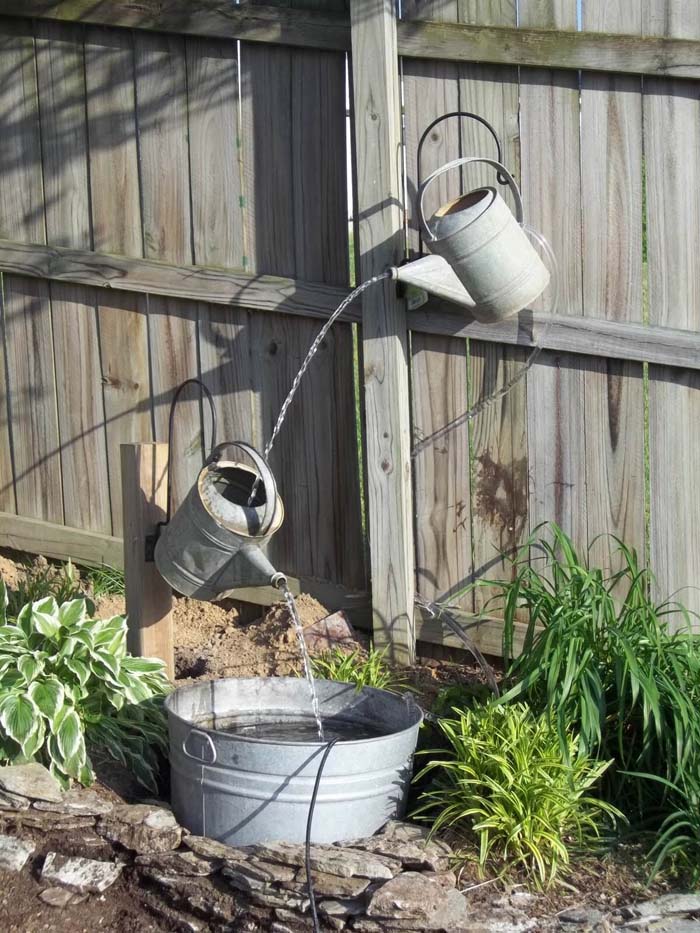 With the help of fixtures and some old metal watering pots and a container, you can quickly make a watering pot fountain with the same flow effect.
The first pot drains straight into the second pot because of the correct alignment and inclination.
via Dawn Marie
24. Build a Fairy Fountain with Metal Pots and Clay Pot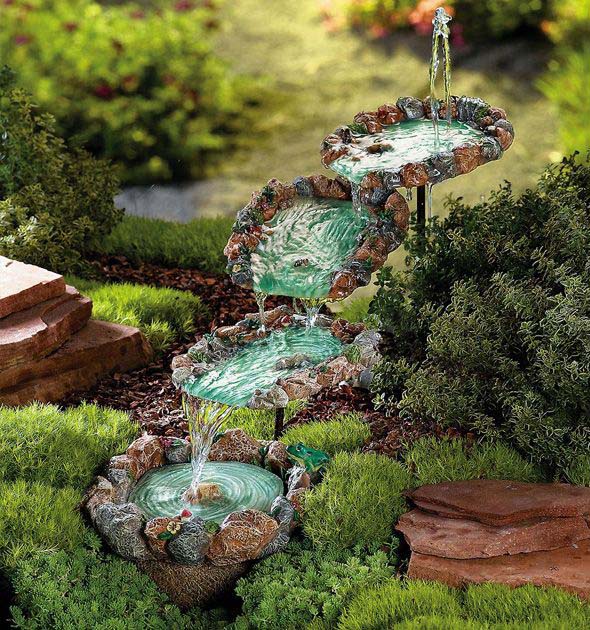 Your imagination and creativeness will help you copy this fairy fountain. Use metal plates or pots for the top three levels and one clay pot as a fountain reservoir.
Each of the plates can be preliminarily covered with epoxy resin for this gorgeous emerald effect. Decorate the rims with stones. To achieve the cascade flow, put each plate on a metal dowel of a different height.
25. Make a DIY Cascading Rock Water Feature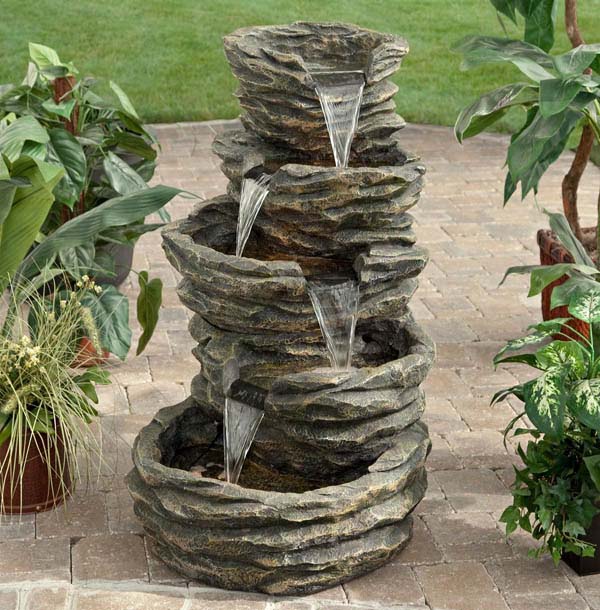 This is usually a shop-made item, however, you can try and make it yourself. Use 5 pots of gradually increasing size to stack and build the body of the fountain.
Install the fountain pump set. To achieve the stone surface, you can glue on faux stones. Make sure to build up the rim of all smaller pots and leave an opening flush with the pot rim to let the water flow down.
26. Create a DIY Frog Statue Fountain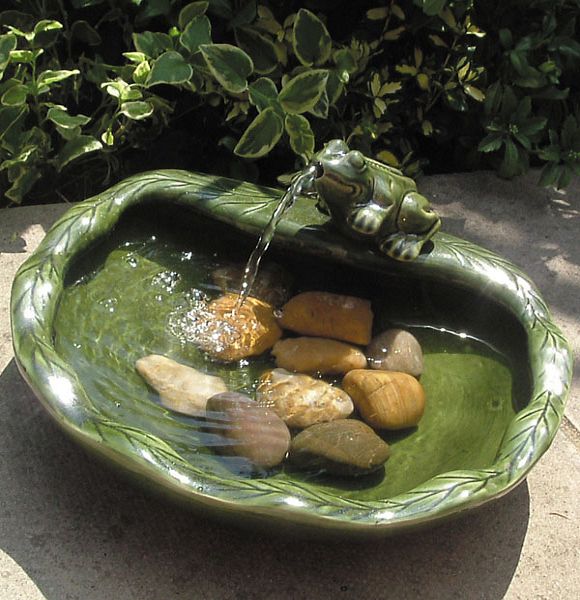 A statue of a suitable size can easily be turned into a water source for a handmade fountain.
Drill a hole to insert the fountain tube and place the frog onto a beautiful ceramic container or flower pot.
27. Pondless Waterfall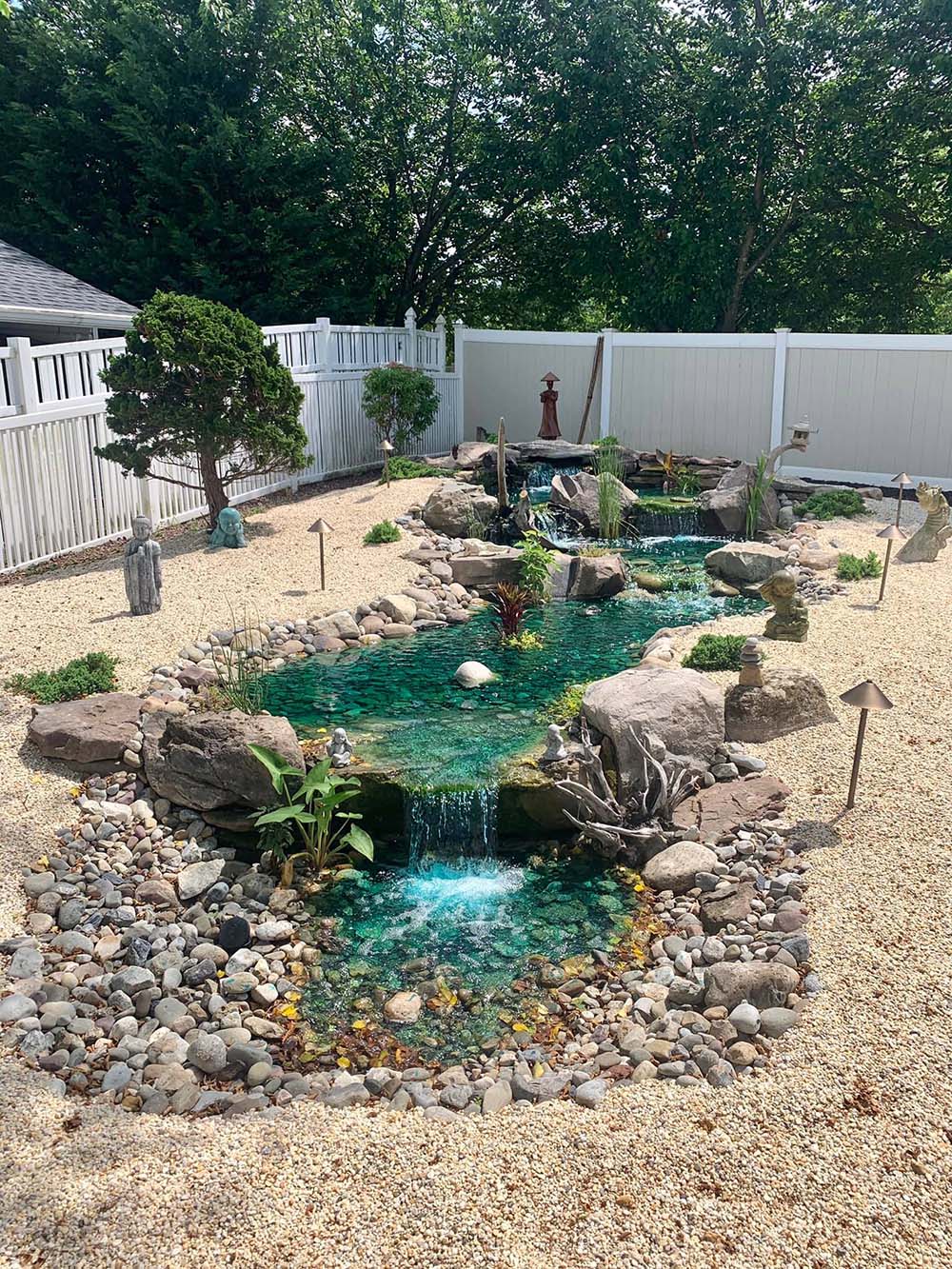 credit: Laura Hein Webb
"We had this professionally done a couple of years ago. We had leftover water coloring from our hot tub (don't remember the brand), and tossed it in to see what happened. The waterfall is in direct sunlight, so we do have problems with string algae. The rocks were power washed this spring, and I skim out algae as necessary."
28. Recreational Pond-Pool Combo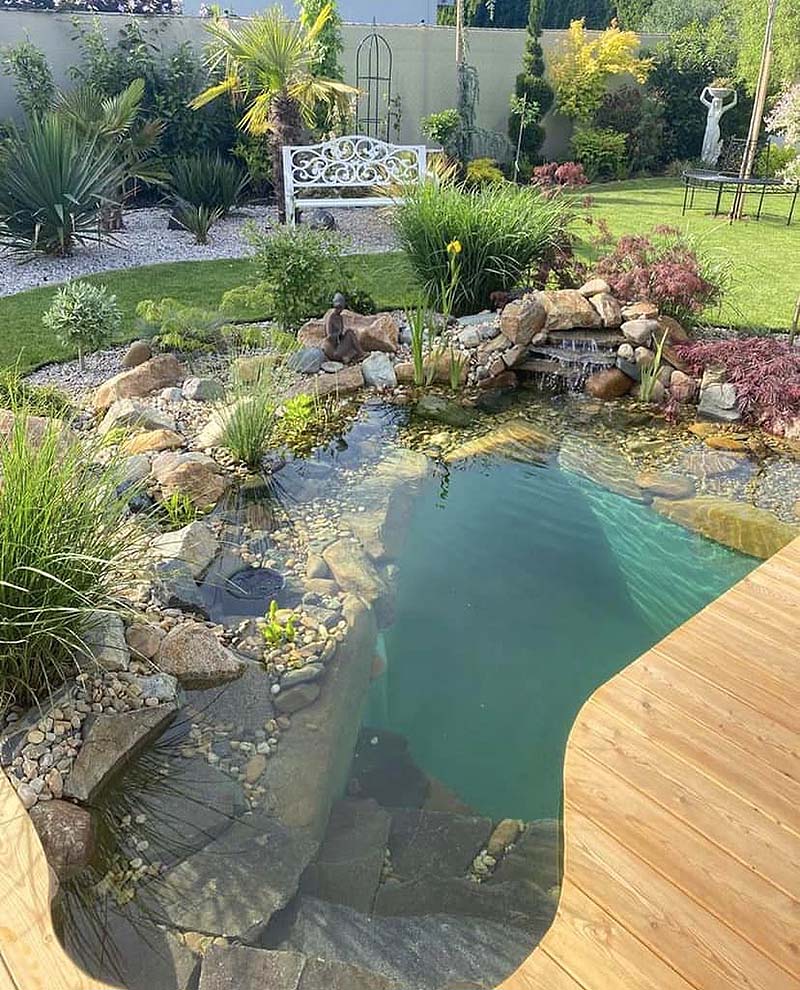 via Petra Blažková
That's a place where you can spend all day long.
29.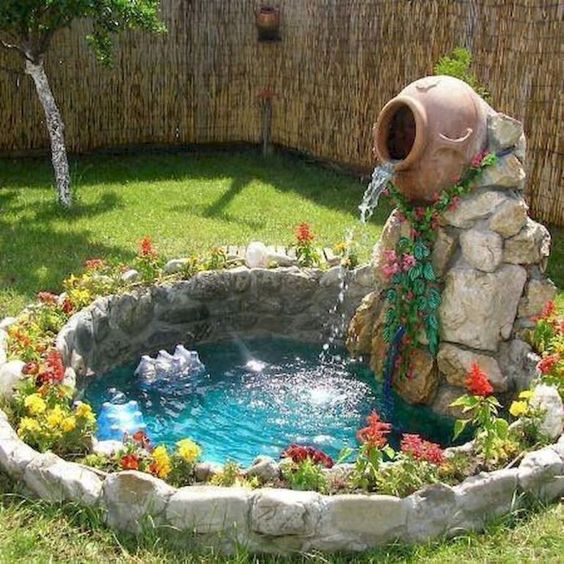 30.