What do you think of old wine barrels? I've personally never thought they could be used again unless there is a fire pit or fireplace where they could serve as a fuel. I was amazed when I start looking for some ideas and there were hundreds of great projects already done by avid DIY-ers like me.
I have created a list of 20 great ways to repurpose used wine barrels so that you can get some inspiration and motivation to include them in your next DIY project.
I know that the first question that comes to your mind when looking at these old wine barrels is – "Where can I get some of them?" , well, there are several options:
It's not so hard to get one that is in good condition and will do the job. Be sure to know what you are going to do with it in advance. You don't want to get big heavy wine barrel delivered to your home and have no idea what to do with it.
When it comes to price, always negotiate a better price, because the one listed is the highest price a buyer could possibly get, so there is a lot of room to get great deal.
1. Repurpose a Wine Barrel into a Rustic Table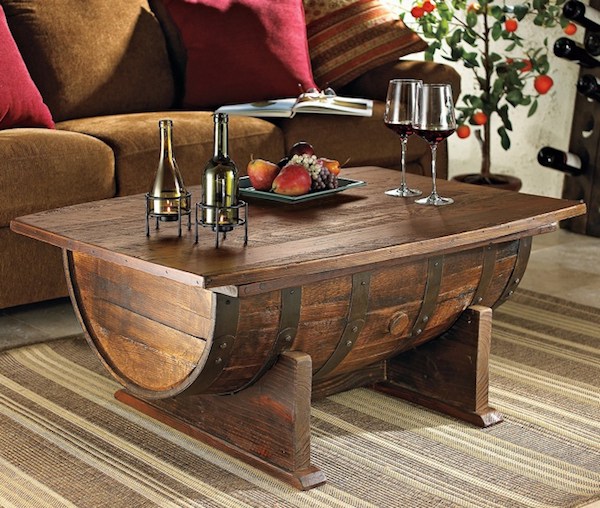 An awesome way to repurpose a wine barrel! This old wine barrel coffee table is pure creativity! You can see here that the wine barrel, the base and the top are the same color. It's not just different pieces combined, it's a complete project. Looks sturdy and stable enough to put even heavier things on top of it.
You can also make the inside open from one side to use it as a cabinet and put some books inside or thing that are better not over the table.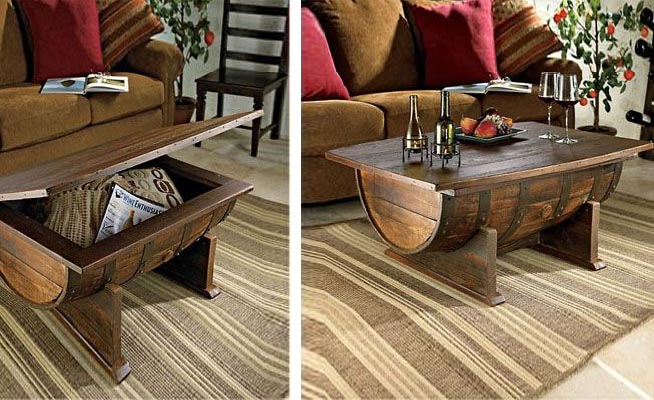 What we see as the hardest part here is to cut the barrel precisely in half. Another problem should be leveling so it could turn into a hard do-it-yourself project. Better to hire someone to do it for you. If you are handy enough you can do it yourself and be very proud of your project.
2. Give Your Mirror a New Look with a Wine Barrel Frame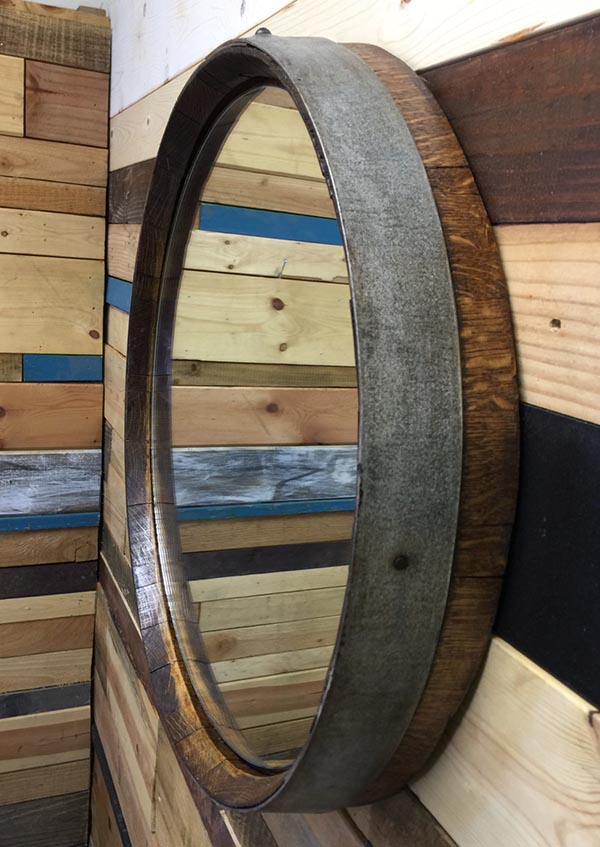 This great reclaimed wine barrel mirror is another example that you can use old wine barrels in so many different projects. You can buy this one HERE or find a wine barrel, cut it near the top, keeping the iron belt and glue a round mirror on the inner side. Then you should make a hook on the back to mount it to the wall.
Not very complicated to do, especially if you already have the wine barrel and considering the price. I think you can do one in a day.
3. Adorn Your Outdoors with a Wine Barrel Planter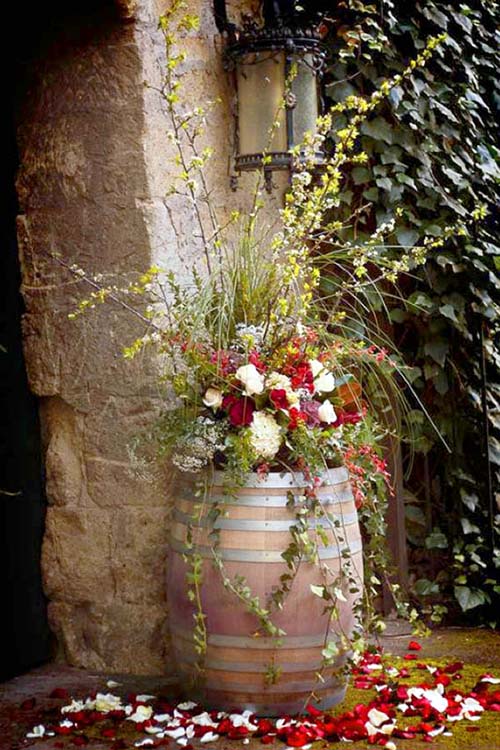 A wine barrel topped with gorgeous flowers. A captivating display! Actually, you can use old wine barrels to spruce up any outdoor environment for any kind of event. Use tall, blooming flowers to  make a beautiful arrangement and put it on top of a wine barrel. For even extra charm, romance, and visual interest, add  burlap or lace ribbons.
Looks like taken out from a fairy-tale. The lantern above it can create a glowing light in the evening to accent on the wine barrel.
You can use darker paint to make it more contrasting. Experiment with colors and flowers.
4. Enjoy Outdoor Drinks with a Wine Barrel Cooler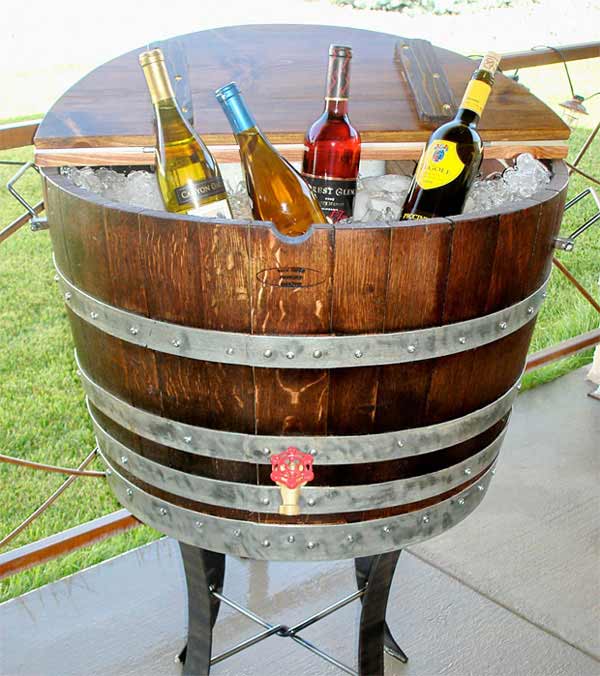 What a creative way to put an old barrel to good use!  All you need to do is cut to size and make a folding top to keep the interior cold. For extra functionality, you can put the cooler on a raised structure. As this cooler adds touches of vintage charm and tons of personality, it is obviously a much better option than a store-bought one.
Everyone coming to the party will be talking about it and how you've created it. So go and get one or make one, it's up to you.
5. Transform Bathroom Towel Storage with Wine Barrel Shelves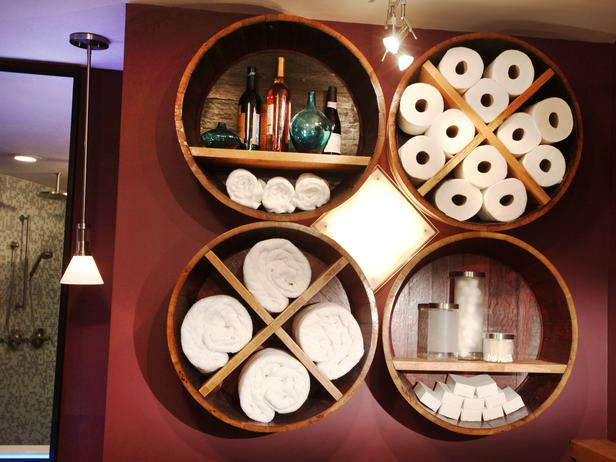 Wine barrel sliced into four pieces barrel offers a creative storage solution. You can put these in the bathroom and they will do some great job with organizing the space. You can add a back to each piece so that it will hold together the shelves.
6. Turn an Old Barrel Top into a Rustic Elegant Clock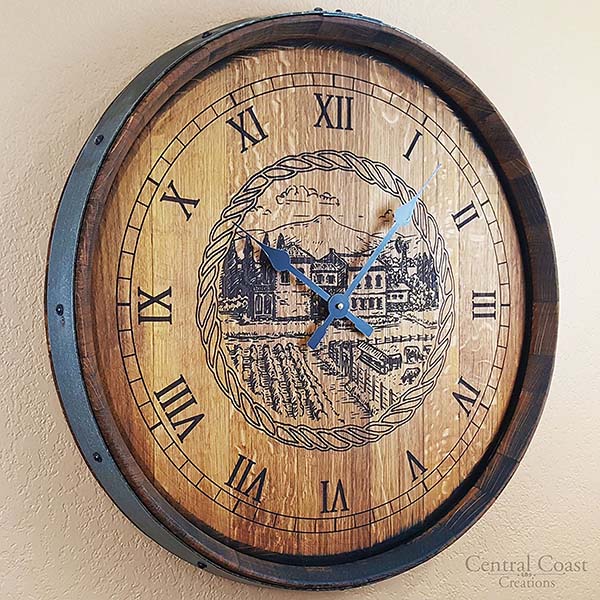 This example is how you can create a clock from an old wine barrel. You can get the clock mechanism from a store, cut and carve the numbers and make your own design
If you like this one, you can get it from Here
7. Make a Cozy Dog Bed with a Wine Barrel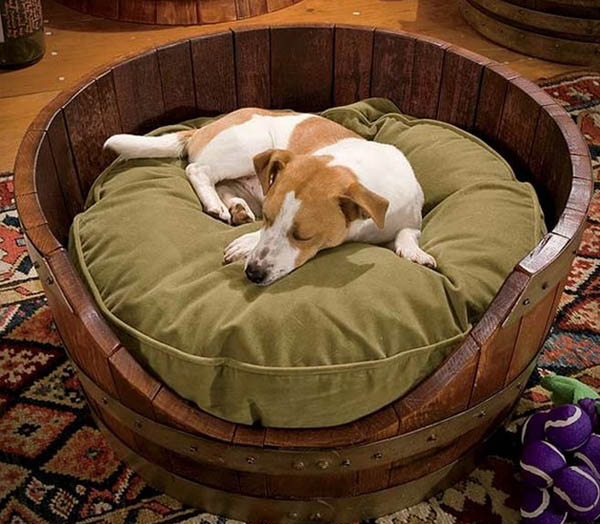 When you think about a dog bed, you are not thinking about wine barrel, right? But someone created a beautiful and cozy place for the dog from an old wine barrel.
It is cut that way so there is a lower place for the dog the enter the barrel safely and easily.
Big cushion or pillow inside will make it the perfect place to take a nap.
8. Upgrade Your Patio with Wine Barrel Side Tables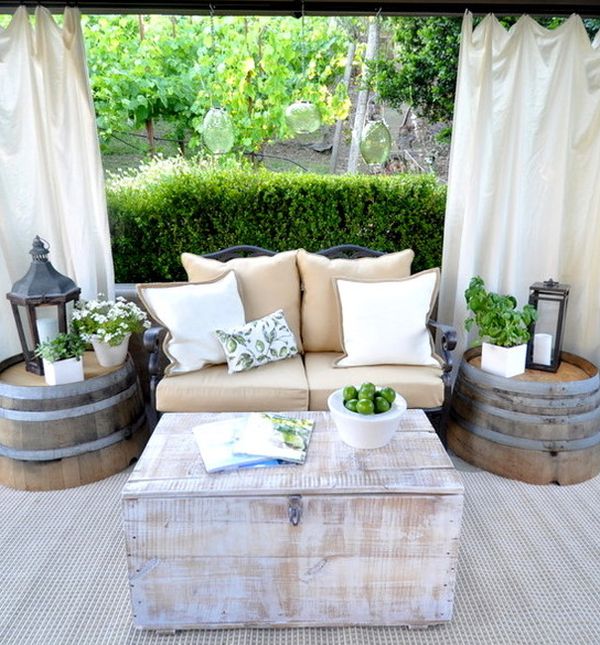 Halves of wine barrels turned upside down serve as side tables…
that's an easy to accomplish task.
9. Get Creative with a Wine Barrel Succulent Planter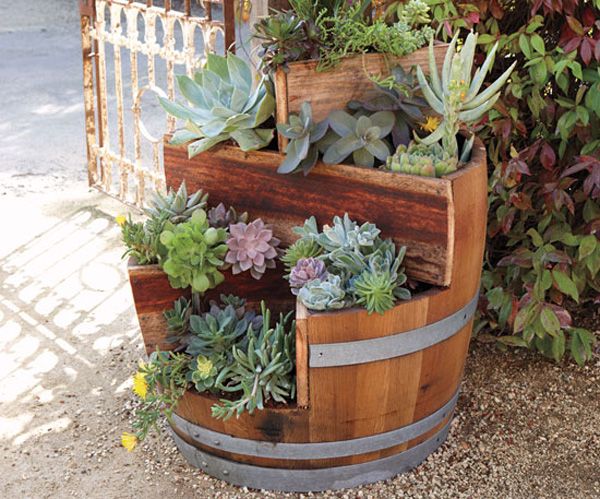 At first this one looks like very hard to do, but it's not. Cutting out the side is easy even if you don't have electric tools. Just have to be careful to create the openings as precise as possible. You can then put inside some soil and plant small flowers or succulents.
10. Build a Rustic Ottoman Table using a WIne Barrel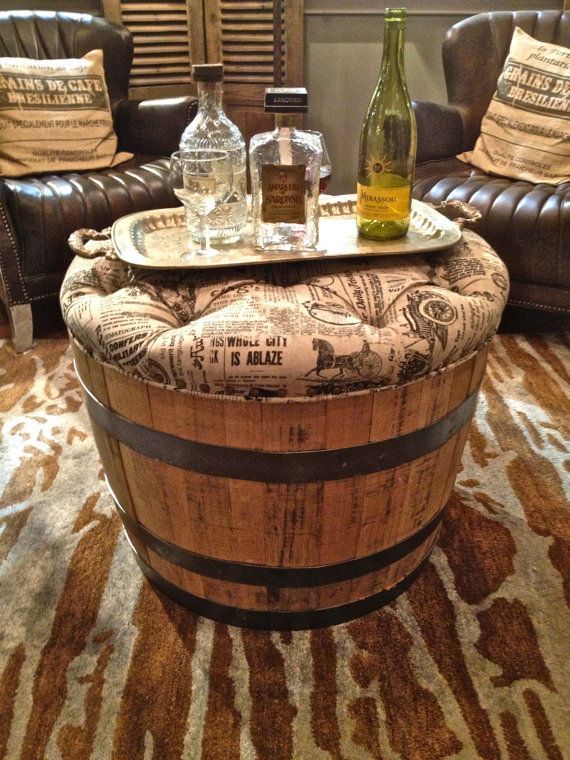 Just put a big pillow enough to fill in a wine barrel and you are ready. Well, you have to cut the barrel at some point, but it can't be easier than that.
Great piece of furniture, cheap and catching all your guest's attention.
11. Make a Statement with an Stunning Wine Barrel Planter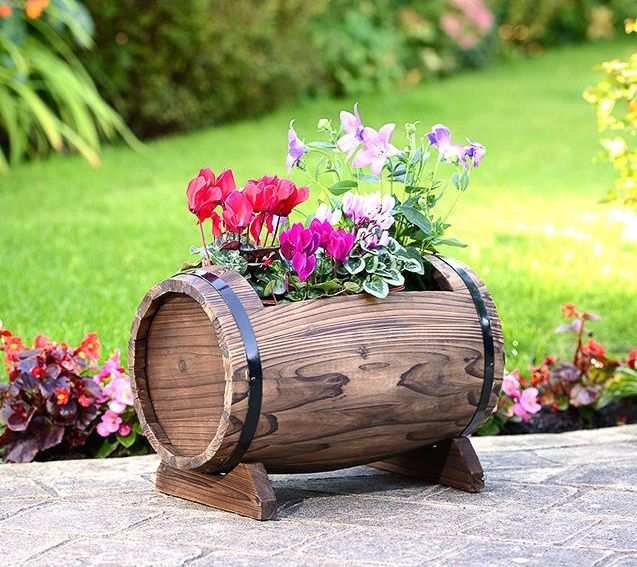 This unusual planter grabs everyone's attention. You can put several of these along the pathway in your garden. There are plenty of colorful small flowers that can create a stunning addition to your outdoor spaces.
12. Bring Farmhouse Charm with a Wine Barrel Sink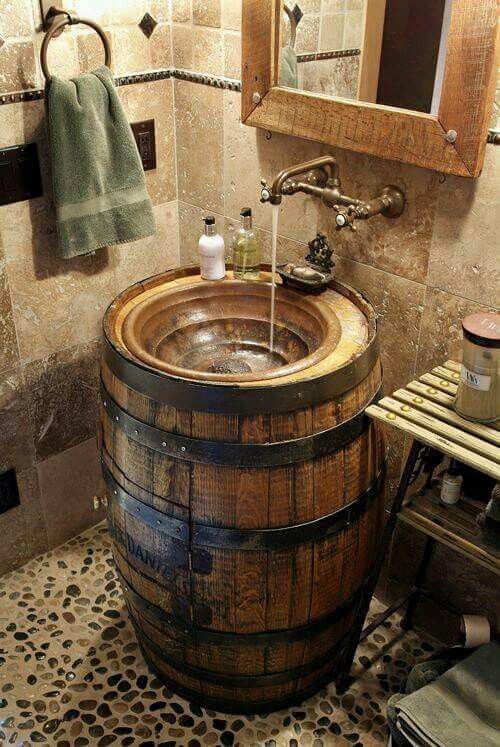 This one is true masterpiece! The Reclaimed wine barrel is 35 inches tall and 26 inches at its widest point in the center. This Rustic Vanity features a Beautiful Copper Sink with Pop-up Drain, Antique Waterfall Faucet and Large Hidden Hinged Door. The Larger Door helps when Storing items inside, Installing and Maintaining the vertical lines of the Vanity.
If you love it you can buy it Here
13. Turn Wine Barrels into Rustic Wine Bottle Storage Solutions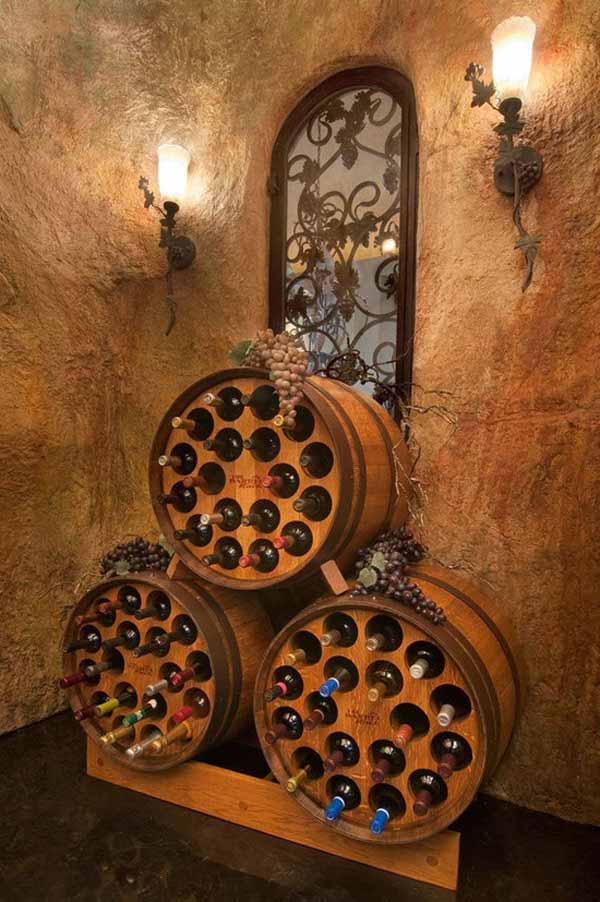 What's the best place to store wine bottles? Wine barrels, of course! Cut them and drill openings for the bottles. You can make all kinds of configurations. You know wine bottles are best kept in horizontal position, right?
14. Add an Elegant Touch to a WIne Barrel Table with Glass Top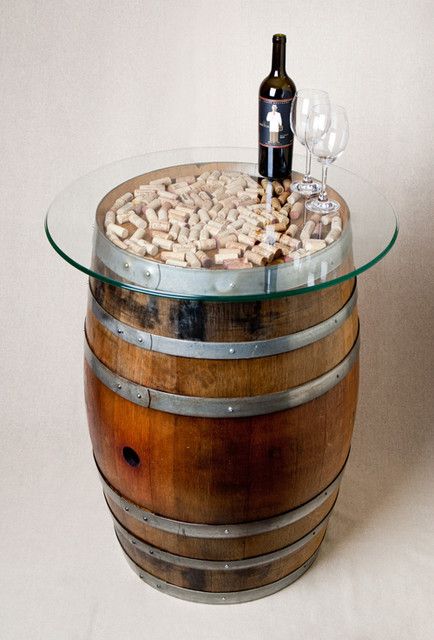 Just get a wine barrel, order a round shaped thick transparent glass and it's done. You can glue the glass to the top of the barrel.
You can fill the space between the glass and the barrel with some decorations.
15. Give Your Party a Trendy Look with Decorative Wine Barrel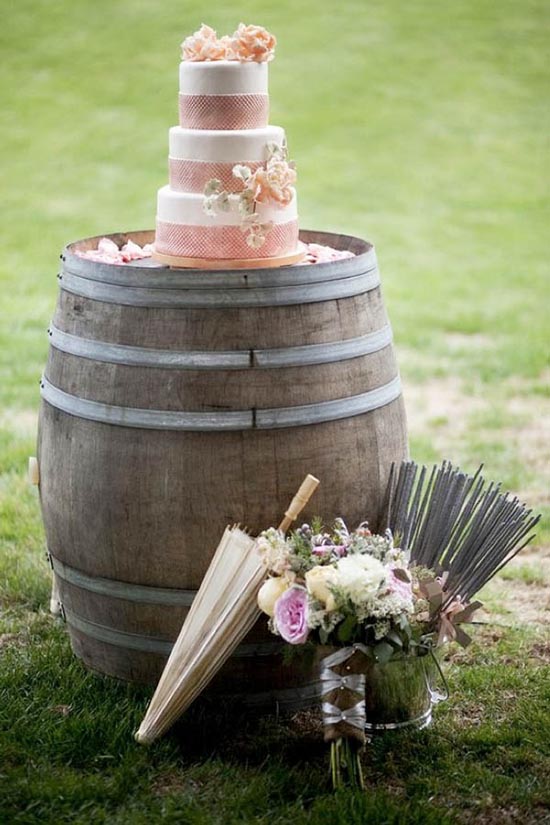 When it comes to party, we are all ready to go. Just put here and there some wine barrels and decorate them according to the occasion. Used wine barrels could be complimented with some vintage accessories.
16. Be Charmed with a Multifunctional Wine Barrel Coffee Table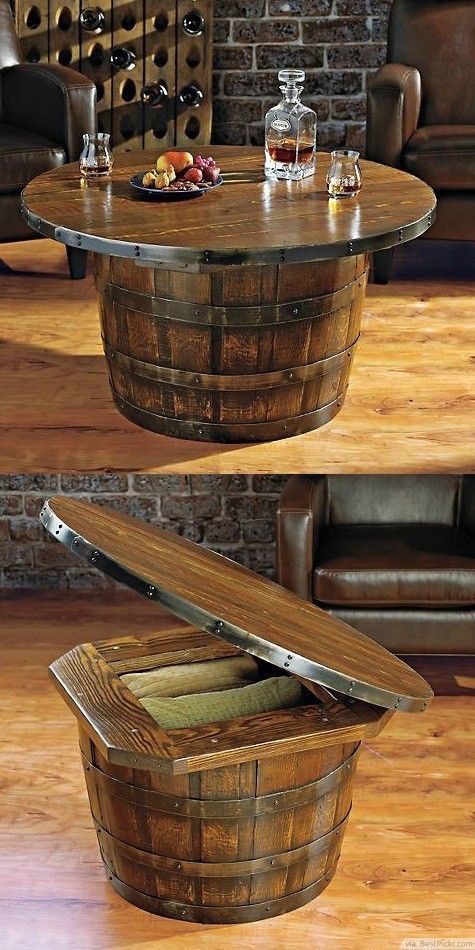 Another project for a small coffee table with storage space.
Great to have some whiskey drinks.
17. Build a Cool Mini Bar with a WIne Barrel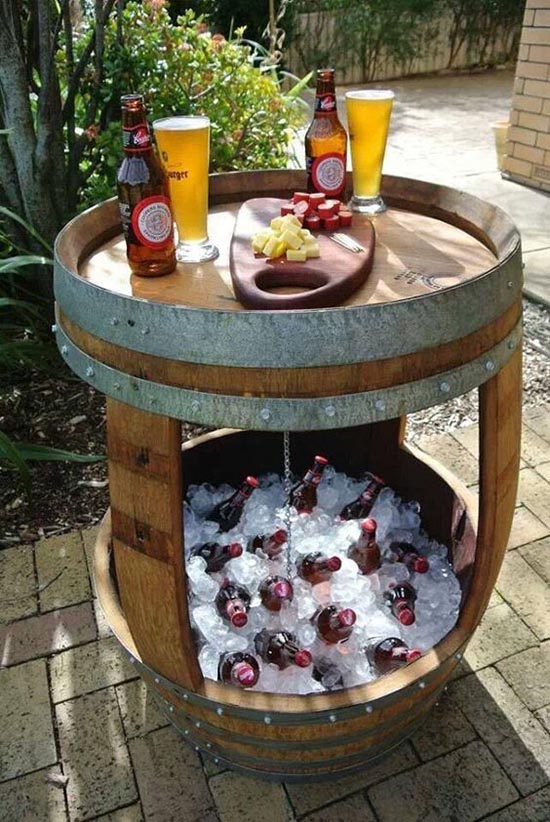 This wine barrel is all you need to have in your garden or on the porch. Cold drinks and delicious snacks all within a reach of a hand. Call some friends and start the party.
18. Upgrade Your Backyard with a Wine Barrel Fire Pit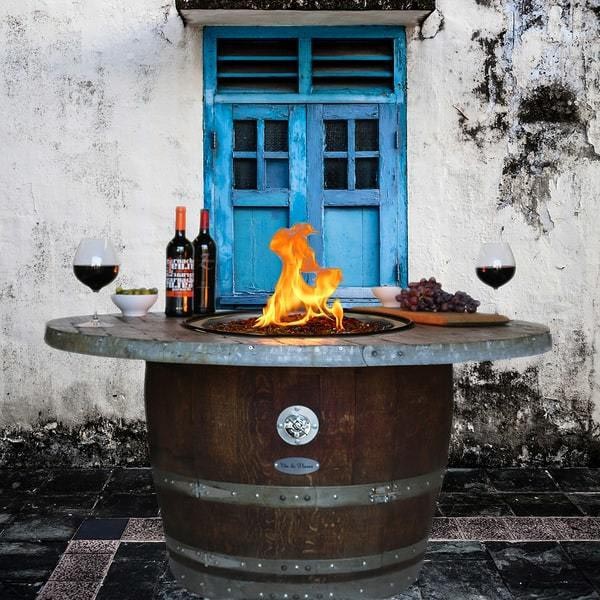 The Reserve Wine Barrel Fire Pit Table is one fire pit table in a class on many by Vin de Flame. Each fire pit table is made almost exclusively of reclaimed parts from a wine barrel, the big old-fashioned wooden barrels where wine sits to ferment and age. Vin de Flame reclaims classic barrels of this variety and hammers, cuts and crafts them until they fill a new role. The result is an artistic, one-of-a-kind fire pit with a surrounding tabletop.
You can get one Here
19. Spruce Up Your Wedding with Wine Barrels Decor Stands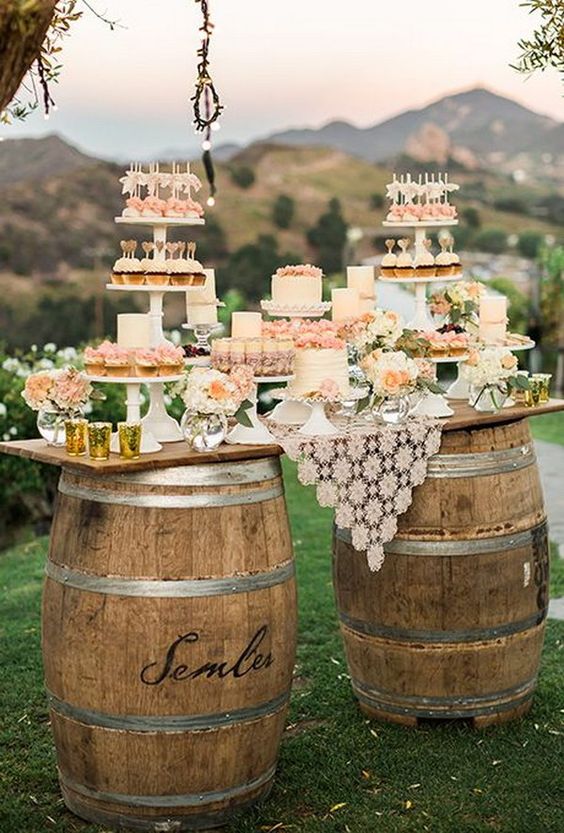 Wine barrel could also serve a nice job for wedding decorations. They are sturdy and stable and a lot of things could be put on top. You can also engrave them with letters and words.
20. Take Gardening to the Next Level with Wine Barrel Planters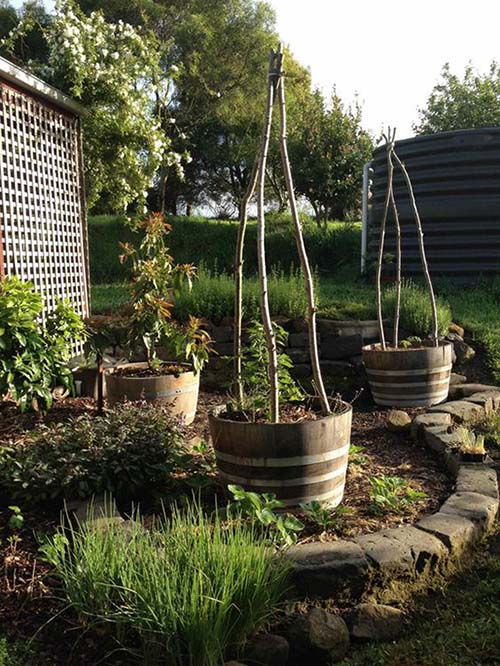 You can use the wine barrels to make some tomato cages and grow them naturally in your garden.
If you liked the article, please share it with friends!
21. Personalize Your Wine Barrel with Rustic Art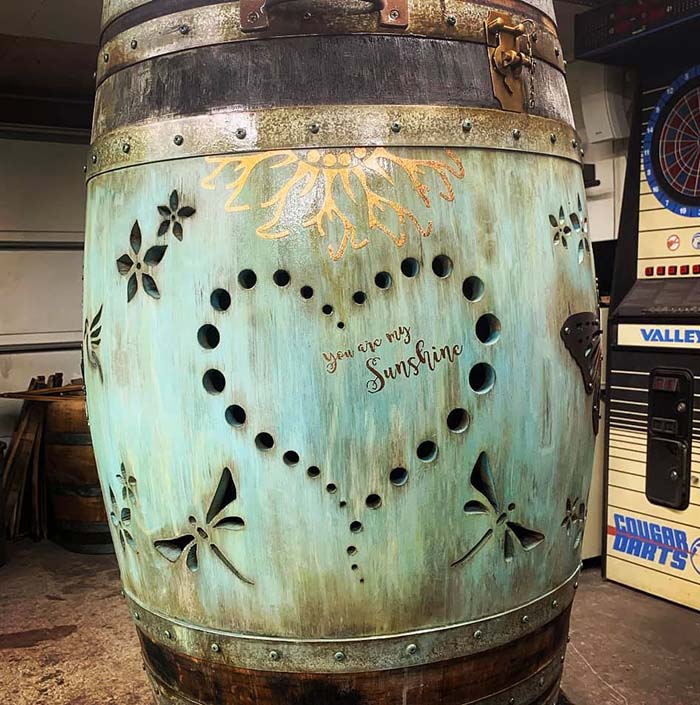 This fabulous wine barrel is made by Joshua's Custom Decor and is the perfect way to repurpose any old wine barrel.
All images curated from http://www.decorhomeideasbest.com