When I was a kid I used to go to my grandma's house in the countryside and play in the garden till sunset. I was thrilled and amazed by all the plants and flowers.
My desire to explore was endless. I've always remembered the smell of nature and the sound of the bees and birds.

Here is a list of 15 great DIY recycled art projects for your garden that are easy to do and doesn't require any special skills. You can get the full step-by-step instructions after each photo.
1. Upcycle Tin Cans into Creative Bird Feeders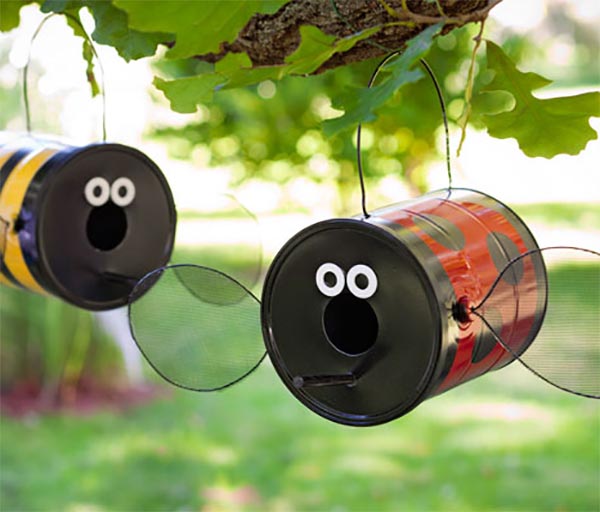 Old paint cans transformed into decorative bird feeders! What a creative way to add functionality, fun, appeal, and interest to your garden. Plus, apart from decorating your outdoors, it's an option to bring in a bit of nature into your yard. Make your garden the most beautiful in the neighborhood.
You can transform it in a matter of minutes.
These cans can be easily attached to tree branches or fence. You can create butterflies , bees or other cute bugs and birds. You  can also use any size of cans that you have – from soda, beer or foods. It's up to you to create them. Use your creativity and fantasy to make the most beautiful pieces.
Full tutorial: Here
2. Repurpose Bowling Balls into Stunning Garden Decor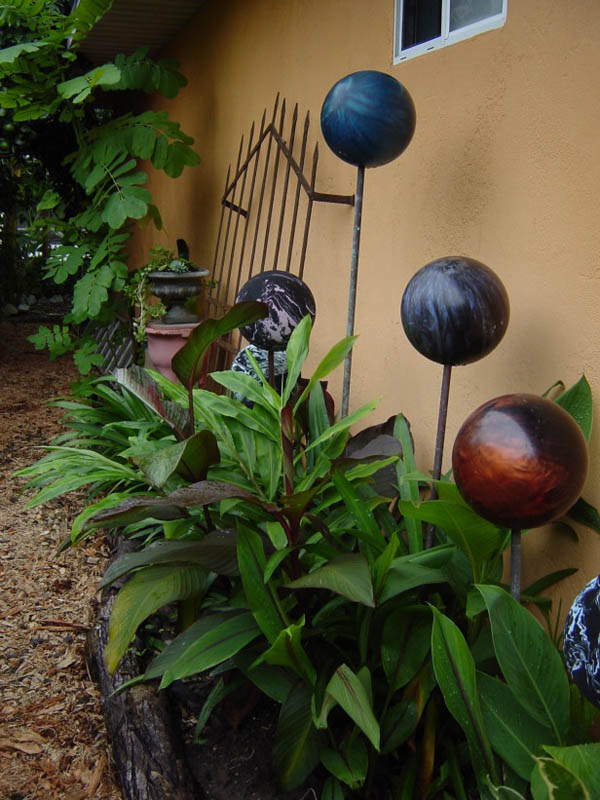 A simple, affordable, and super easy-to-make DIY project with an impressive result! All you need is some colorful bowling balls and rods. It can't be simpler as that! This is definitely a "from trash to treasure" project, don't you think? This bowling ball garden sculpture is pure creativity! Undoubtedly, a unique garden feature!
Instructions: Here
3. Make a Statement with Colorful Bicycle Wheels Garden Decor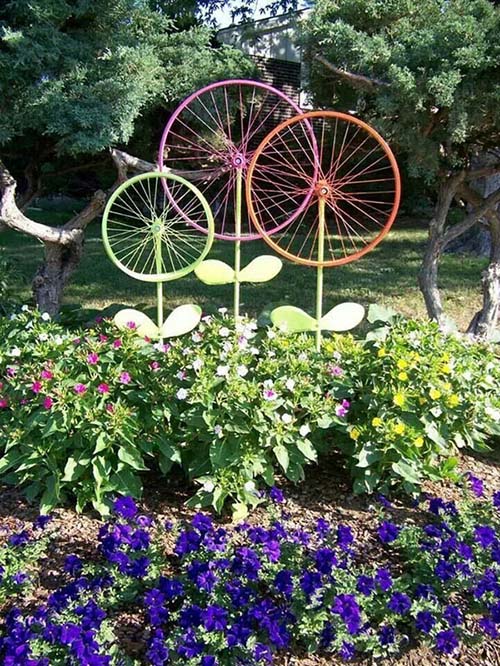 Love DIY projects? Need inspiration how to give new life to the old broken bicycles stored in the garage? What about this eye-catching piece of garden art? Spray-painted rims arranged as a garden art installation!
Creative, isn't it? Definitely an impressive way to add colors, height, visual interest, and personality to your outdoor space.
Instructions: Here
4. Revitalize Your Garden Tree with Used Bottles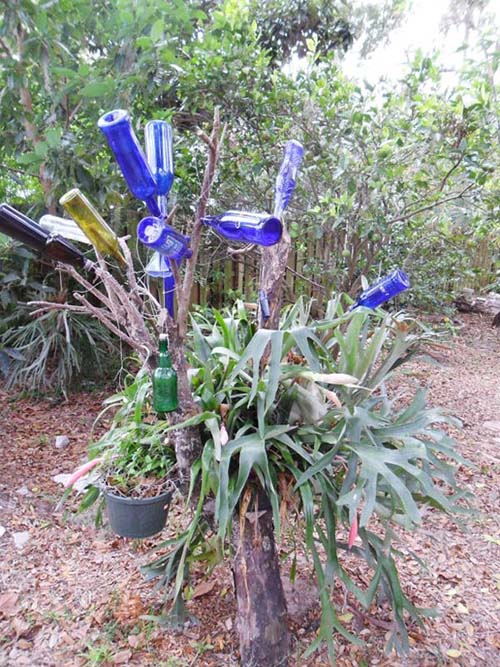 Try with this bottle tree. Find interestingly shaped bottles in vibrant colors and decorate a tree to create a garden statement!
5. Get Crafty with a Bicycle Wheel and Blue Plates Flower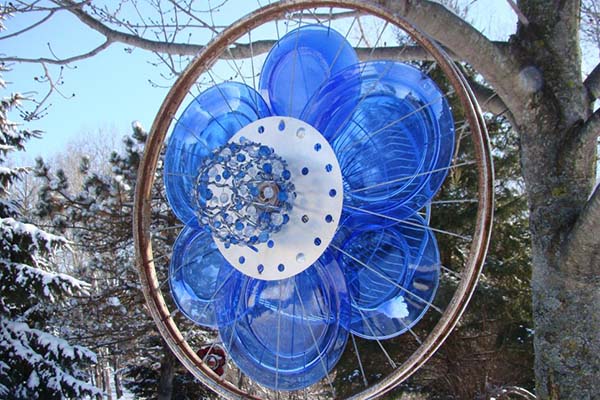 Photo: Credit
Another creative recycled garden art project with bicycle. Use some plastic plates colored in blue or color of your choice. Then some small decorative pieces and you have it.
6. Bring Vintage Charm with Iron Chair Planter and Plate Accents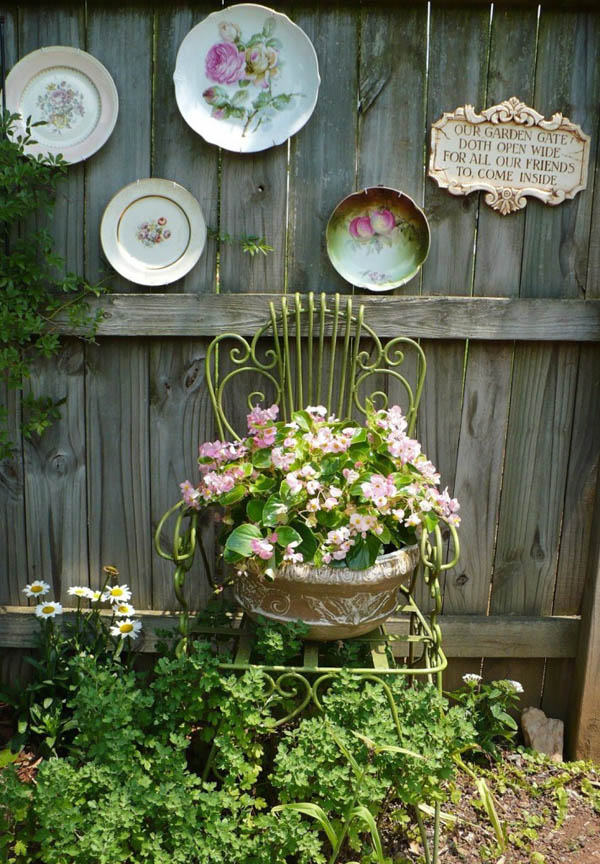 If you have some colorful chinaware with floral motives and an old iron chair you can create great piece of garden art.
7. Add a pop of Color to Your Garden with DIY Ladybugs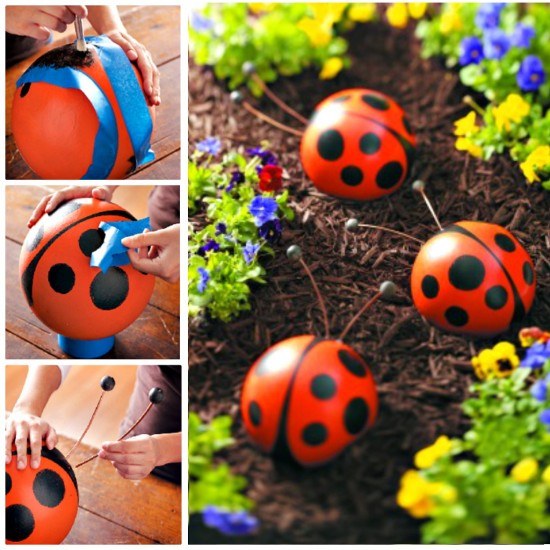 Recycle an old bowling ball into a ladybug (or three!) with a little paint and a few supplies. This bowling ball garden art project brings charm to any yard!
Instructions: Here
8. Adorn Your Garden Fence with Rustic Orange Flowers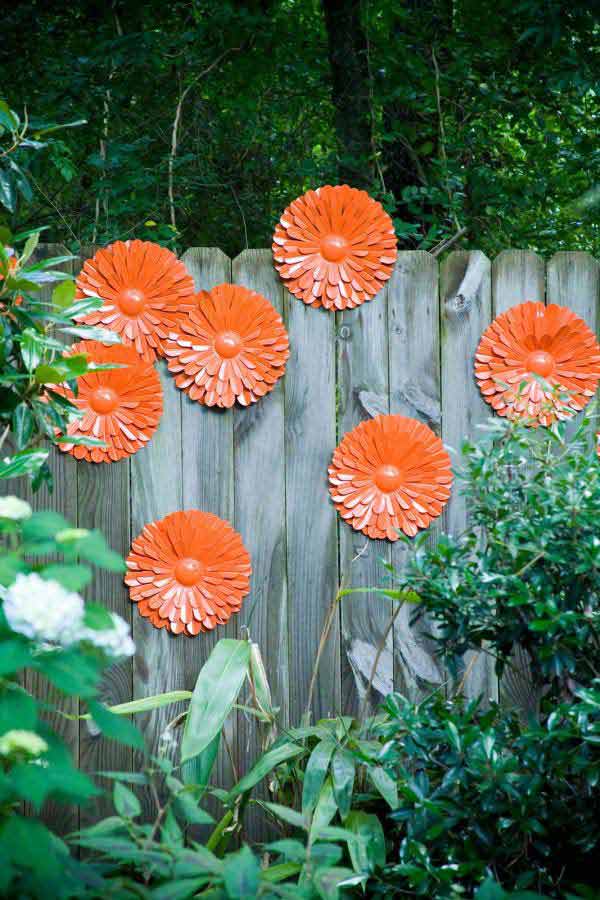 Do you like to turn your dull wood fence into a focal point of your garden?
hese gorgeous brightly painted flowers offer a surefire way to do this!
Instructions: Here
9. Get Creative with Ladybug Rocks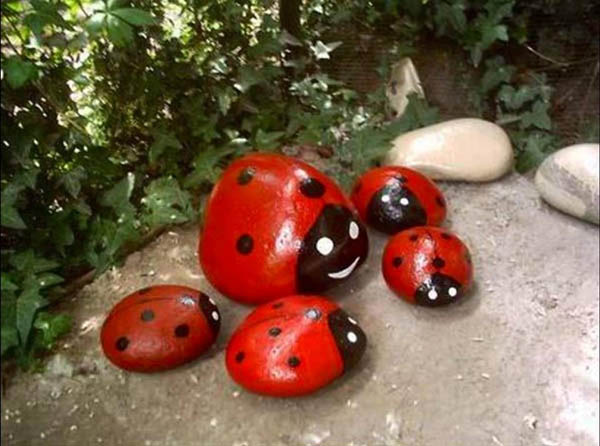 Rock painting offers countless options to add whimsy to your garden.
Unleash your creativity and transform your outdoor space!
Instructions: Here
10. Let Nature Thrive in an Old Shoe Planter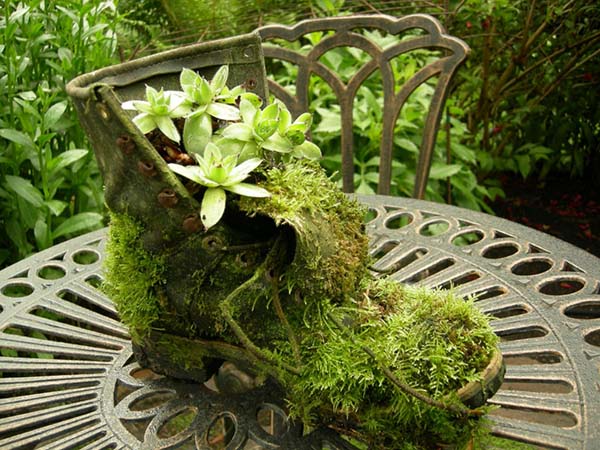 No need of instructions here. Just get an old shoe, put some soil inside. Drill holes at the bottom to allow water and air to flow. Plant some succulents or small flowers inside and you are ready.
This recycled old boot even serves double – as a planter and a piece of garden art.
Instructions: Here
11. Showcase Your Skills with Garden Terracotta People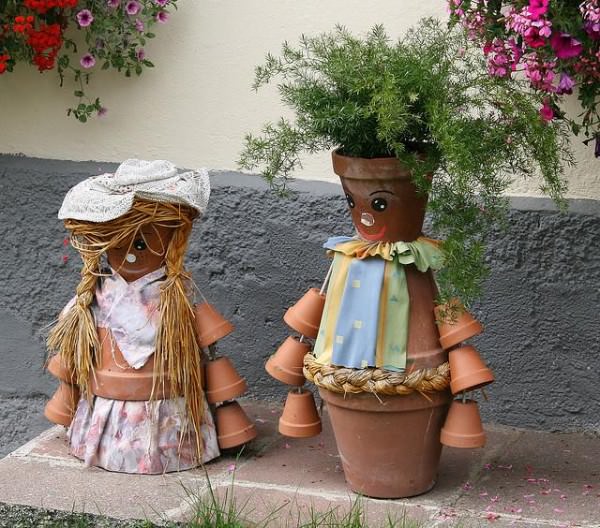 Want to create a truly unique piece of garden art?
These clay pot people will add tons of charm and personality to your garden!
Instructions: Here
12. Bring Timeless Elegance with a VW Beetle Flower Planter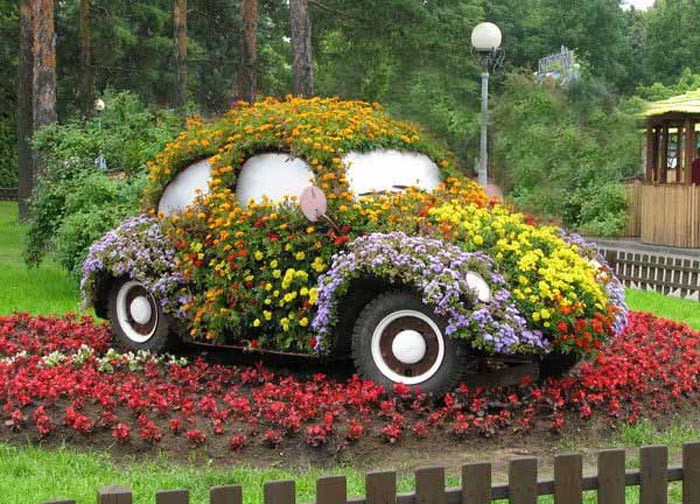 Not everybody can reproduce this, unless you have the VW Beetle in your backyard. If you have one, put some flowers in it and around it and create this master art project.
13. Humor Guests with a Creative Garden Art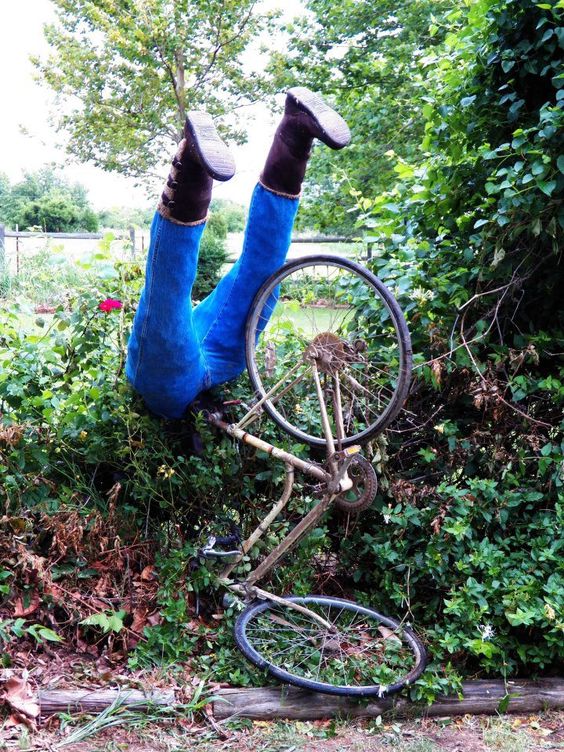 Someone here must have nice sense of humor. Great idea that I've never seen before. Great addition to any garden or lawn where you want to get a lot of smiles. Very creative. I love it.
14. Transform Old Ladles into Colorful Succulent Planters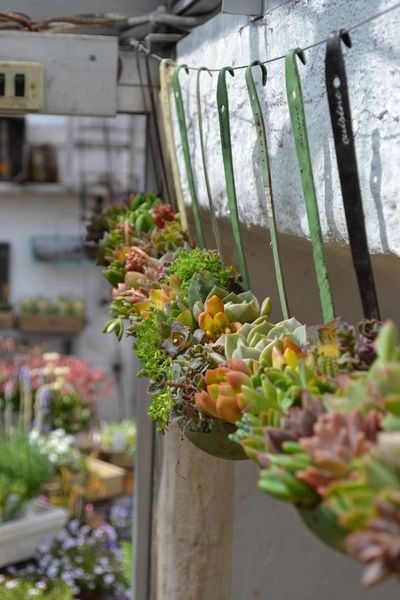 Get some old laddles and put succulents inside. It's good to have plenty of them and arrange them on hanging wire and in line.
15. Bring Industrial Charm with Faucet Handle Flowers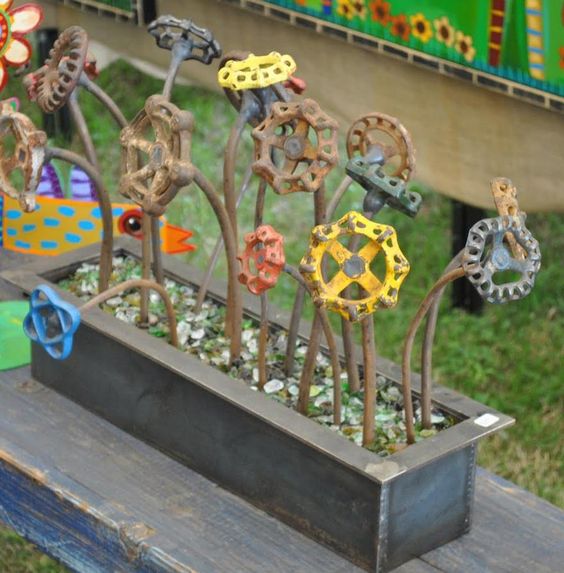 Get all the rusted and unused faucets and handles from your cellar or garage and create flowers with them.
16. Make an Artistic Statement with a Watering Can Garden Decor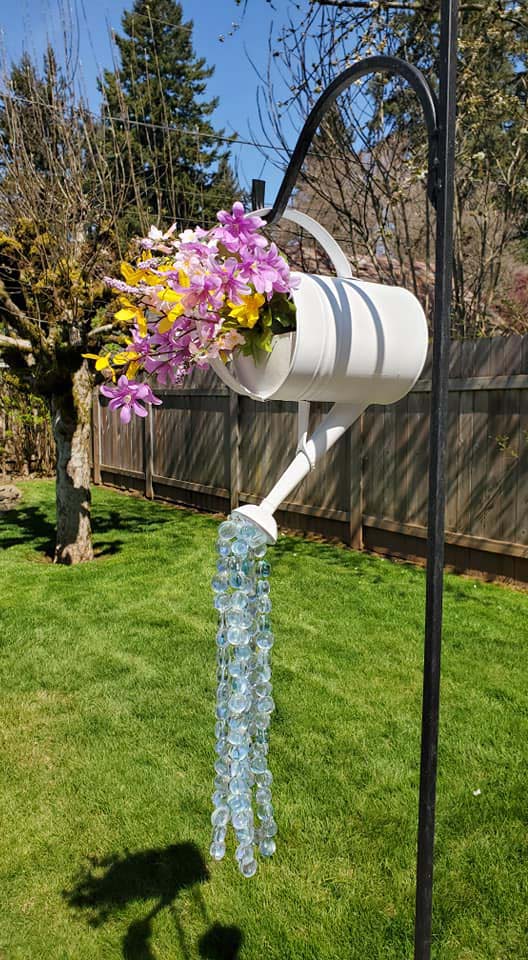 Use an old watering can for a beautiful garden decor.