The beautiful and comfortable garden paths contribute to making any backyard looking clean and well-kept. Walkways are not only a means to connect the house with the rest of the property, they also serve as an important outdoor decoration.
If you want to make your backyard even more exclusive and aesthetic, get ready to renovate or make a new walkway through your garden.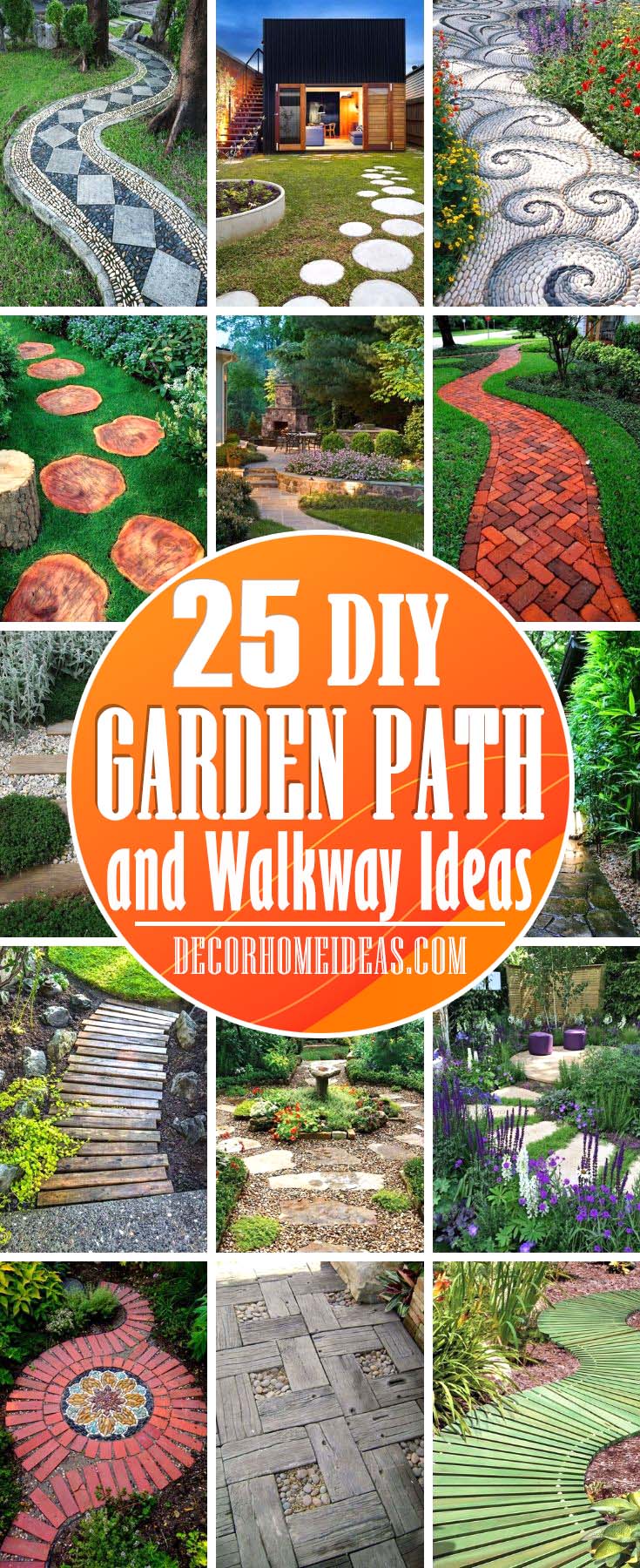 Garden paths can connect backyard spaces, delimit and define areas and even correct mistakes in the landscaping design.
We have made for you a selection of inspiring garden path and walkway ideas, each of which will help you improve the outdoor space of your property.
1. Flexible Wooden Walkway for Garden Curves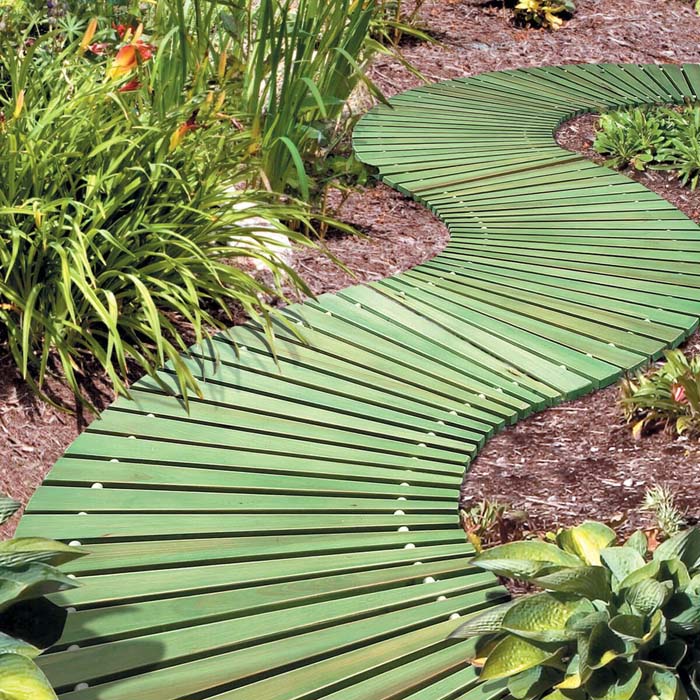 This is a portable walkway that is delivered as a roll. It is flexible and that makes it suitable for places from the garden that makes a curve.
The walkway is made of wooden slats in green color which makes the walkway universal with regards to matching with the rest of the exterior.
via The Green Head
2. Contemporary Concrete Slab Pathway Design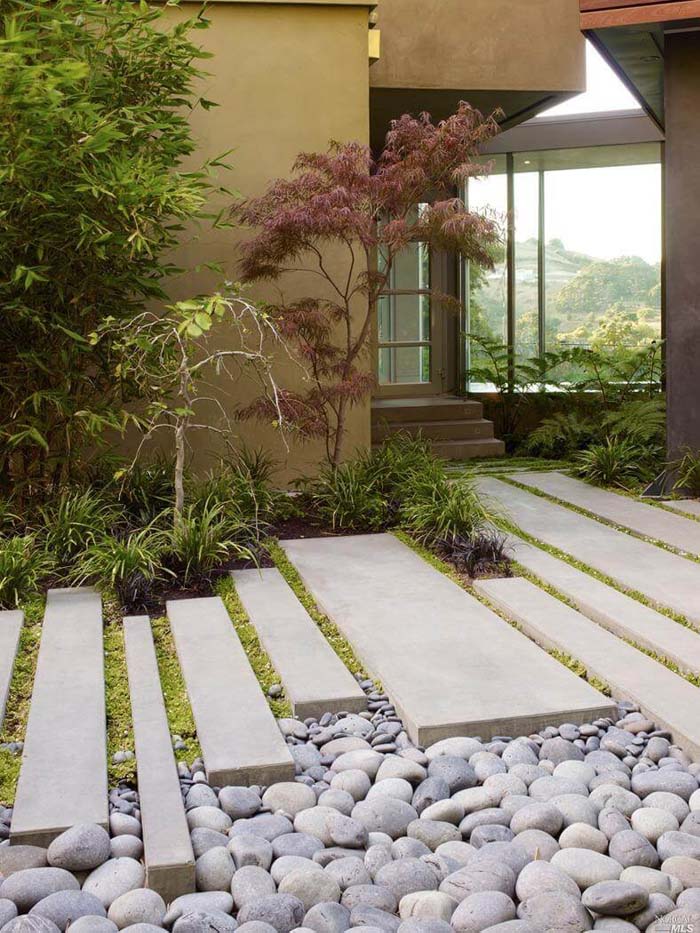 If we speak about trends in the pathway designs, then the concrete slabs are the most contemporary and wanted design.
The walkway can consist of slabs of different widths and lengths but they must be of rectangular shape. They go well with rye-grass and river stone surfaces.
via Fresh Ideen
3. Create a Garden Walkway with Gravel and Wood Boards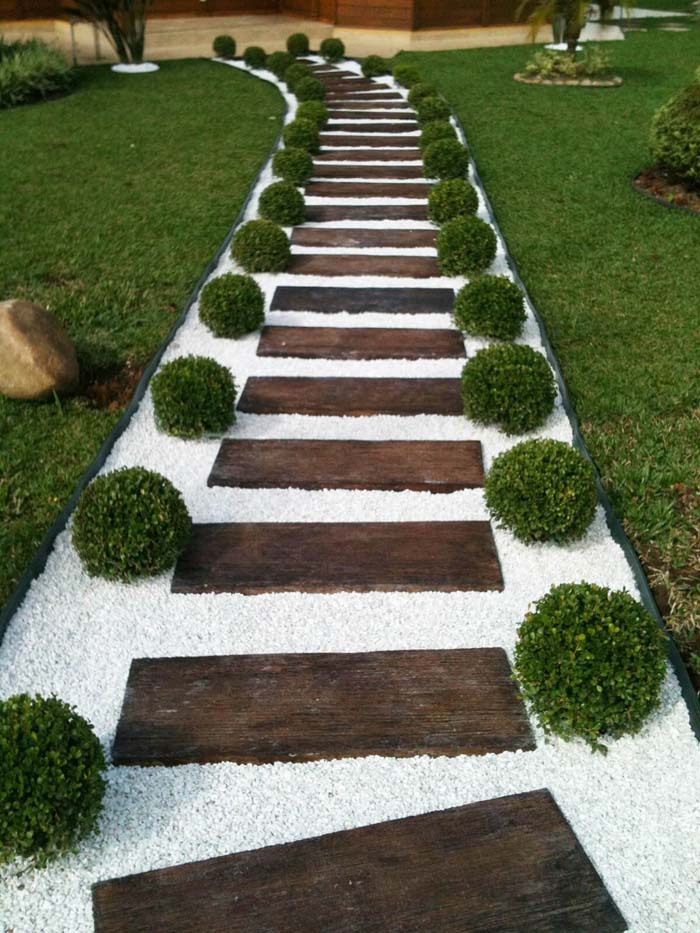 Gravel is the preferred material for differentiating a surface area from the backyard. It can successfully be used as a basis of a garden walkway.
Wood boards used as stepping stones all along the gravel and arranged at equal distance create the look of a ground ladder or bridge.
via Decorfacil
4. Rustic Mandala Walkway with Mosaic Stepping Stones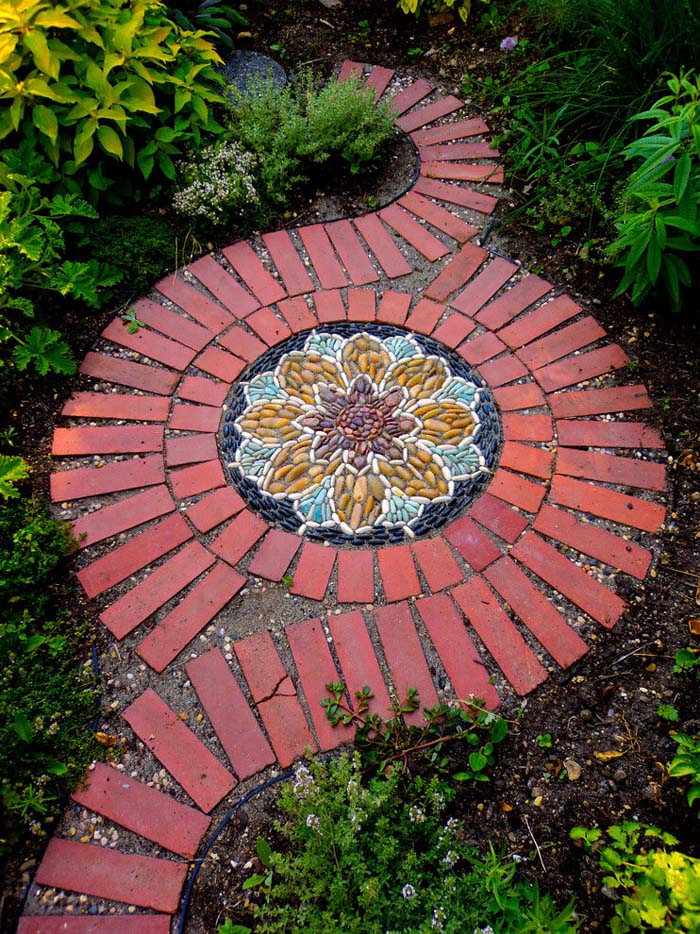 This is a walkway affected by the rustic design and at the same time incorporating the cosmic symbol "mandala".
The stepping stones are made of bricks embedded in the ground. The mandala sign is created with the help of small stones arranged according to the mosaics technique.
via Houzz
5. Construct a Rustic Walkway with Tree Trunk Slices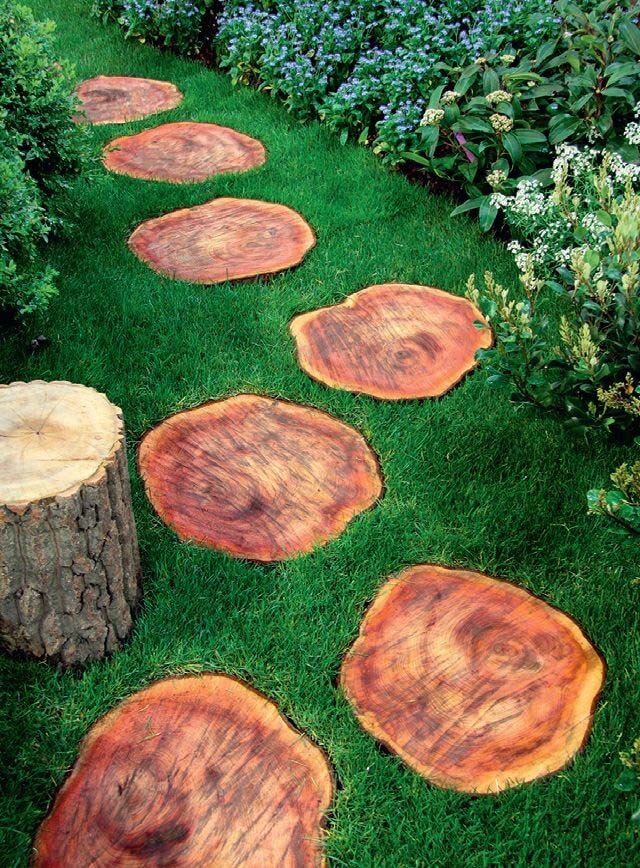 Another rustic design of a walkway uses slices from a tree trunk as stepping stones.
Put them in a zig-zag or straight alignment but prior to that dig shallow holes in the soil to let them fit sturdily.
via Zielony Ogrodek
6. Build an Artistic Rock Pathway with River Stones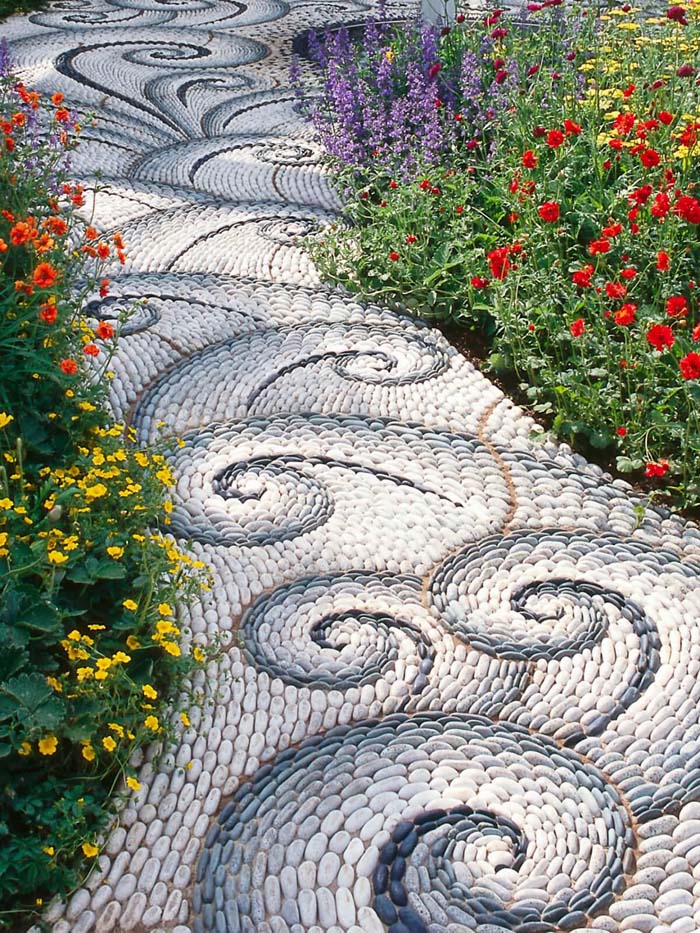 This is an incredible variation of a rock pathway. Gather or get river stones of similar size but of different shades.
Thus you would be free to figure out an interesting pattern that will not remain unnoticed.
via Bees and Roses
7. Japanese Courtyard Garden Path with Natural Materials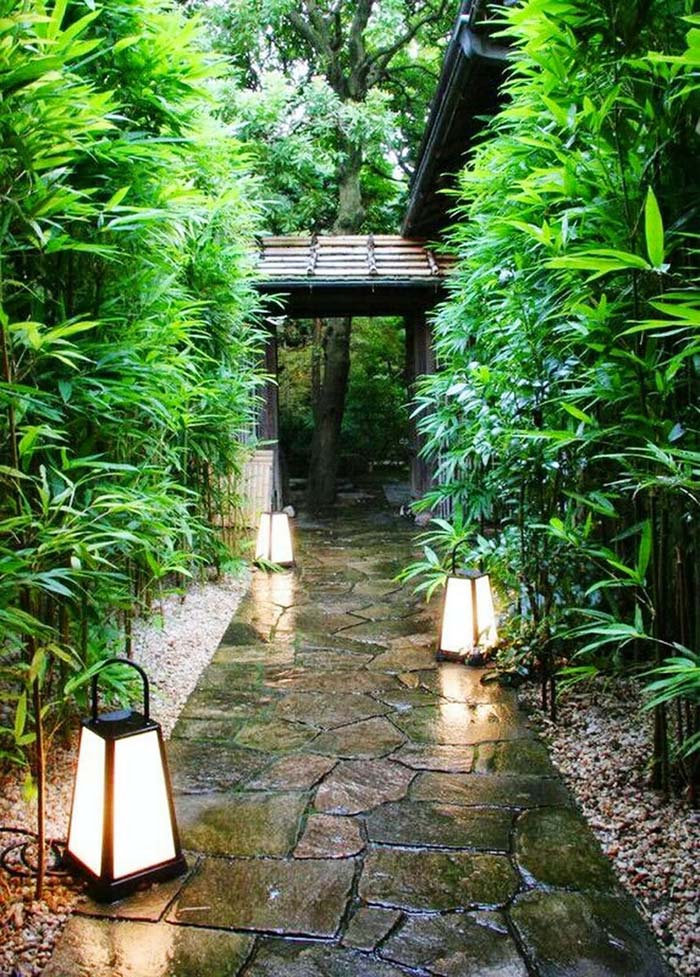 This is an example of a Japanese courtyard where the walkway uses simple materials but at the same time makes a great impression.
Natural materials like stone are among the common supplies for garden paths in Japan.
via Homemydesign
8. Build a Contemporary Garden Walkway with Deck Boards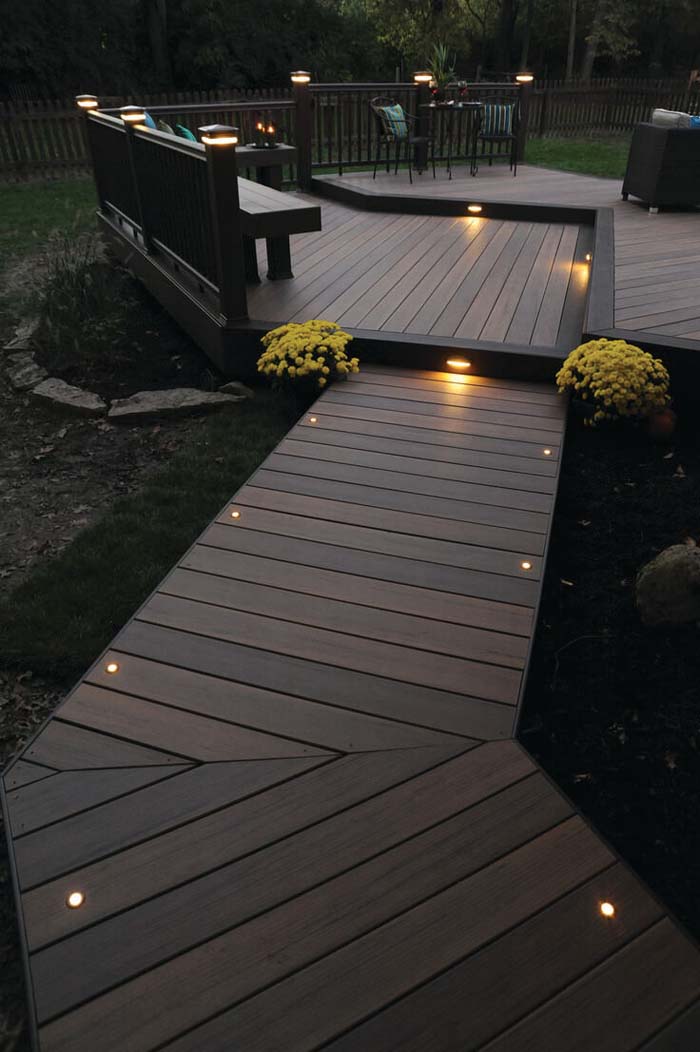 Using deck boards to make a garden walkway is a beautiful alternative to the standard walkways.
The deck walkway will stay above the ground level and will clearly differentiate from the rest of the backyard. You can use its level to insert solar powered lights.
via Pinterest
9. Design Natural Stone Walkways for Gardens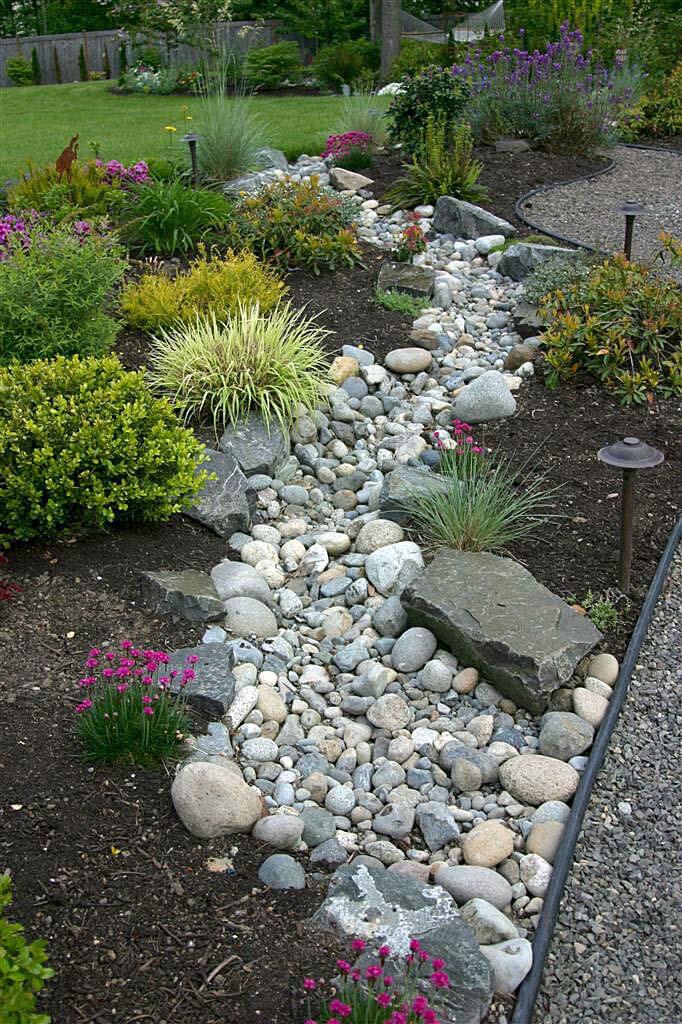 Natural stones are cheap, resistant and practical material for garden walkways.
You can play with the walkway outline, take advantage of the rock colors and sizes.
10. Utilize Natural Flagstone for a Classic Walkway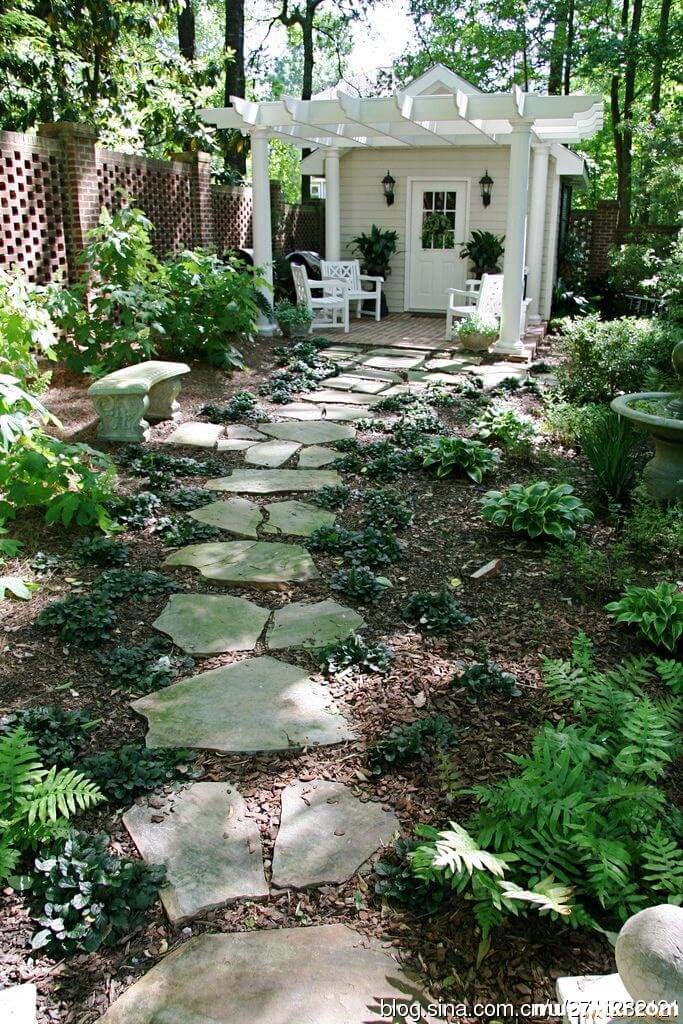 Don't make a thick, continuous and straight walkway if the backyard is small.
The best way to make the garden visually larger is to make it out of stepping stones placed on the ground at distance between them. The more curves you make, the deeper the garden will look.
via Bees and Roses
11. Pair Regular Angles With A Winding Walkway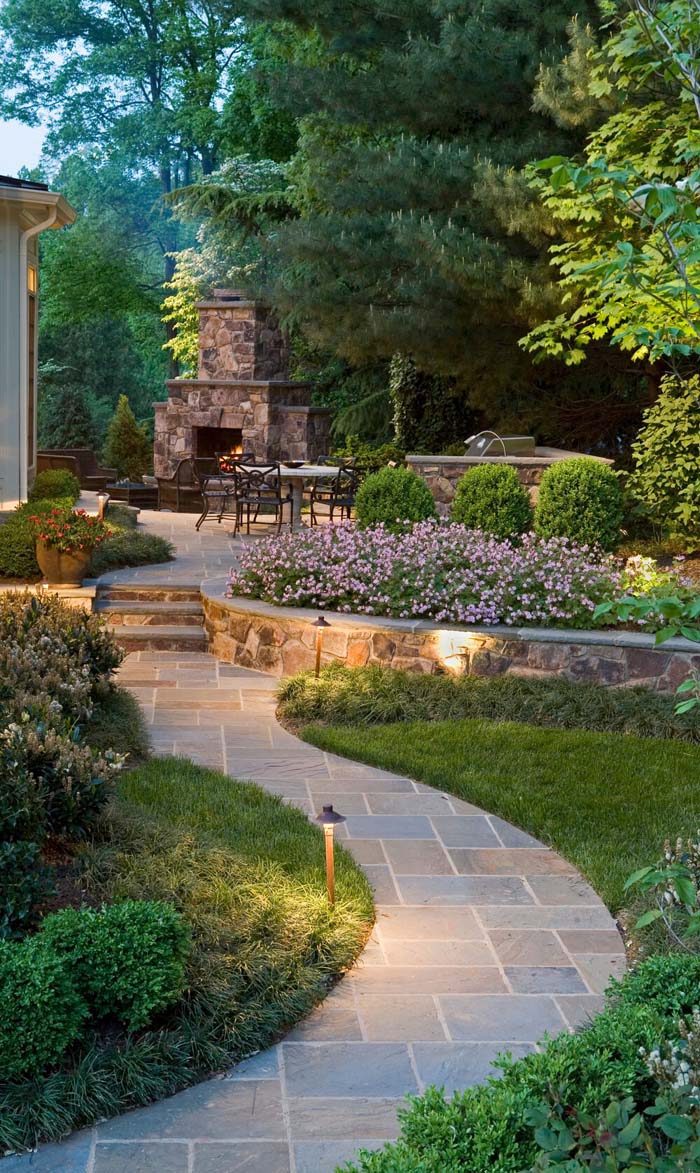 The winding walkway will soften the regular shapes of the adjacent structures and areas.
It can be made of any material but if you want a surface that will last for years forward, consider stone tiles.
12. Concrete Tiles with Worn Wood Effect for Pathways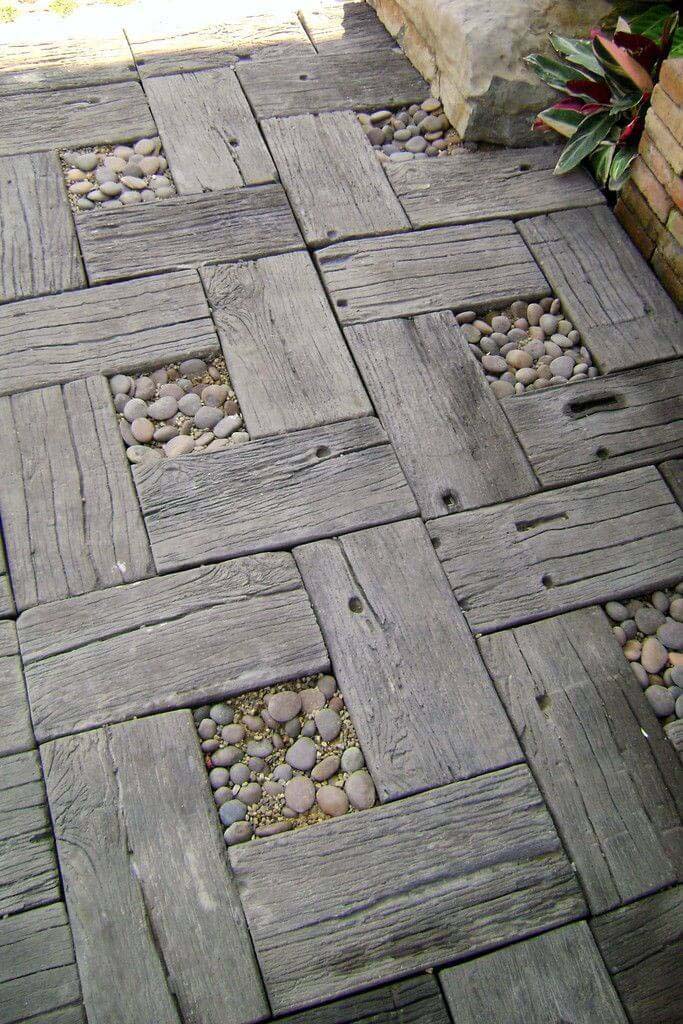 Believe it or not, the tiles are concrete with a worn wood effect.
They are perfect for garden walkways because of their durability, size to play with patterns and rustic design.
via Big Grass
13. Place a Fountain in Your Flat Stone Pathway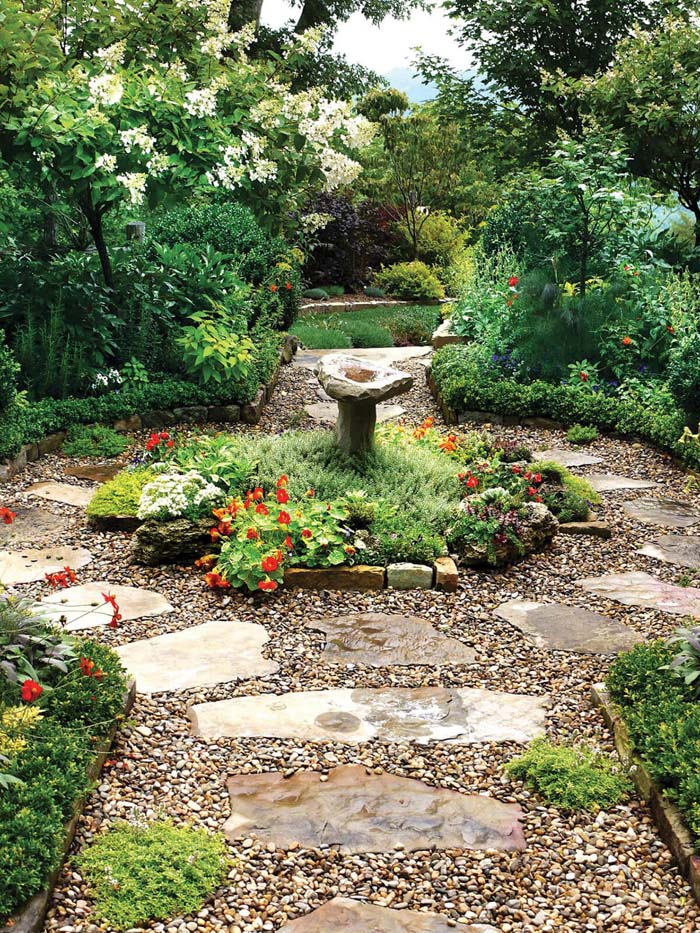 Flat stones surrounded by pebbles is one of the most romantic path arrangements.
Take advantage of the beautiful earthy colors and use them to distinguish a focal point in your backyard.
via HGTV
14. Use Pavers for a Zig Zag Walkway Design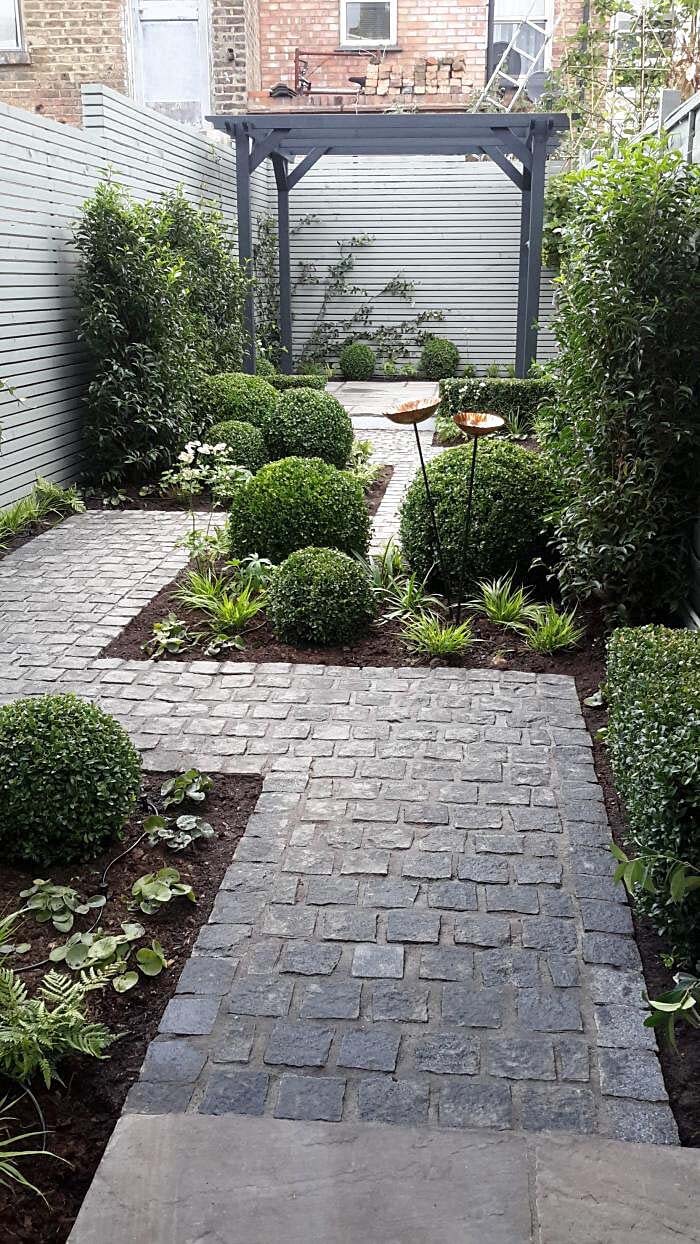 Pavers are great material for ground surfaces. Although used from ancient times they easily fit in the contemporary landscaping design.
With the help of concrete, you can use pavers to build a walkway of desired size and shape.
15. Seamless Transition from House to Garden with Beams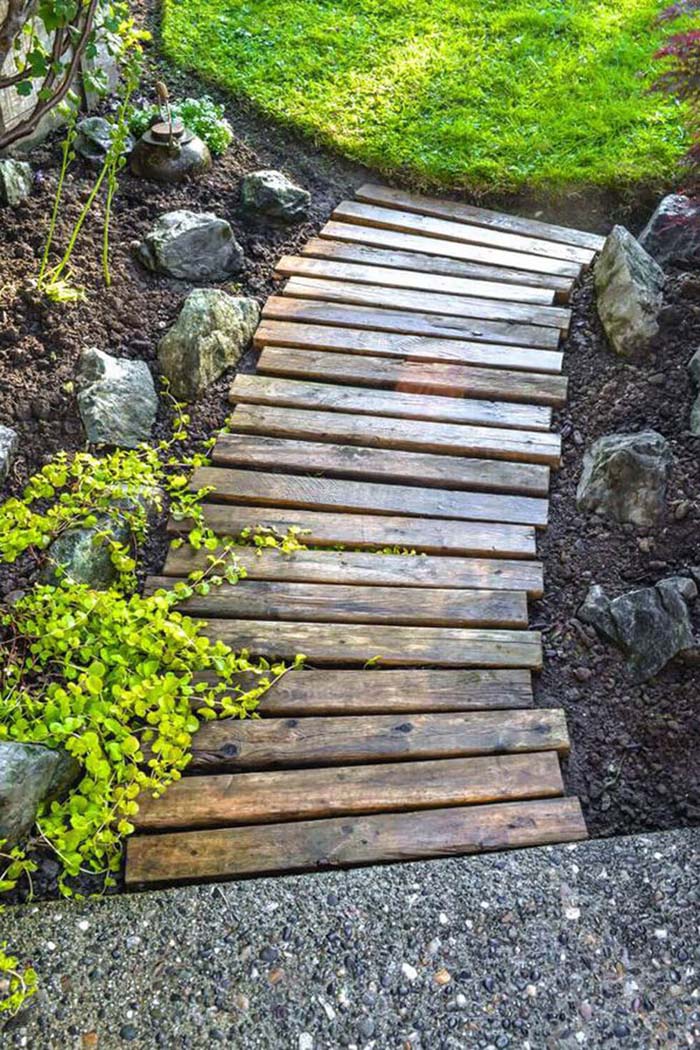 If you want to make an imperceptible transition from your house to the garden, it is best to stake it on natural materials.
A walkway from wooden slats can make a great rustic extension of the house as long as you choose the correct wooden material.
via Lushome
16. Natural Garden Walkway with Pebbles and Wooden Slats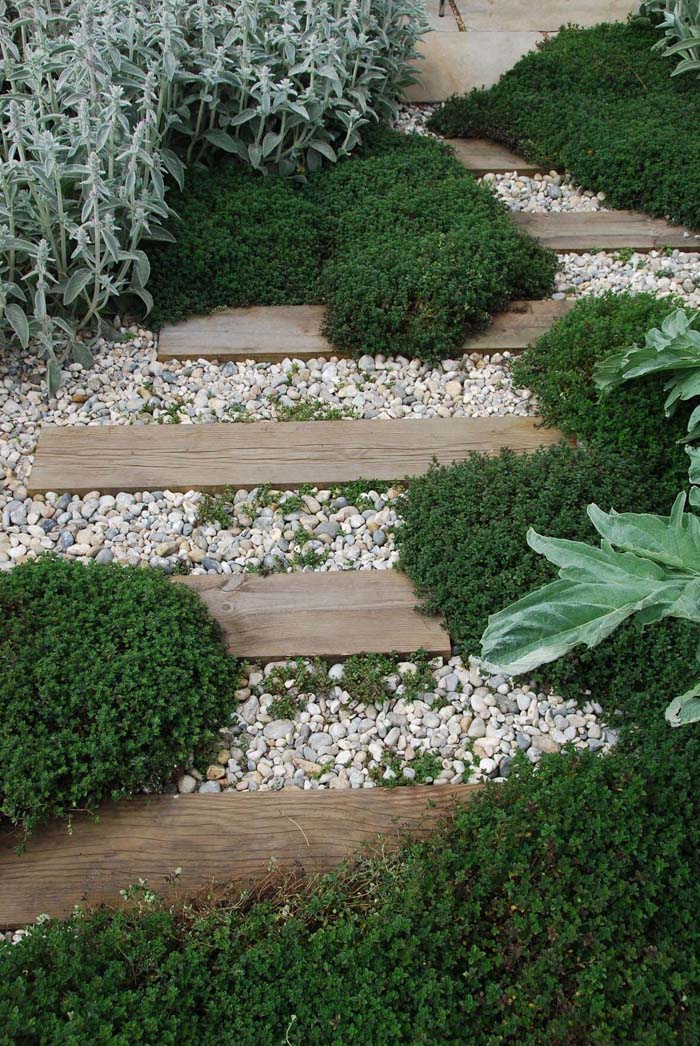 The combination of natural materials is always the best choice, even when it comes to a garden walkway. Apply a layer of pebbles on the ground and small river stones and put wooden slats as stepping stones.
Let the greenery grow undisturbedly to make the walkway look as if it has been part of the garden for a long time.
via Casa & Diseno
17. Create a Scandinavian Garden Walkway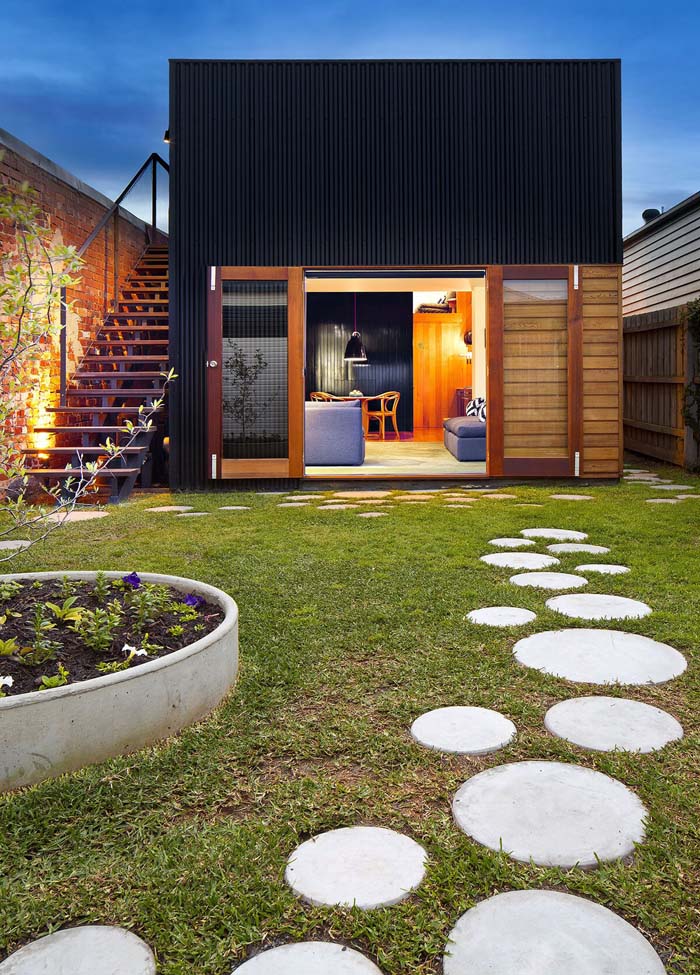 Scandinavians are famous not only for their good living conditions but also for their clean architectural style for the interior and the exterior. If you are one of the admirers, you can easily make a garden walkway in the Scandinavian style.
Make circular stepping stones of two or three different diameters and place them on the ground in a logical pattern.
via Arch Daily
18. Make a Modern and Weatherproof Walkway using Gravel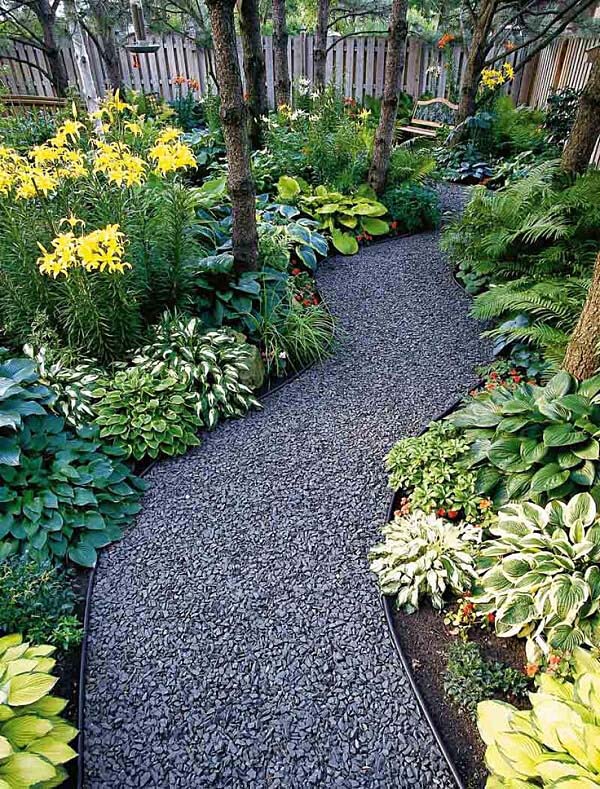 This walkway is modern and somehow free of any certain design. Make the outline of the path with tiles, stones, hose or other material and fill the space with gravel.
The best characteristic of this material is that it drains the rainwater quickly.
via Indulgy
19. Add Custom Tiles to Your Garden Path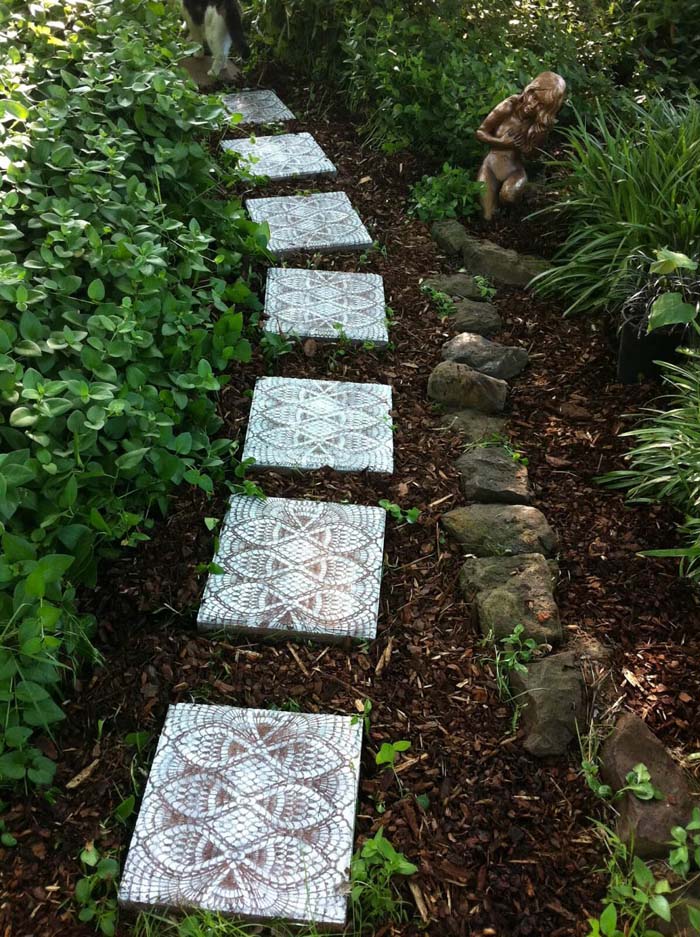 Tou can use special and unique tiles as stepping stones for your path in the garden.
If you do so, you must think about a way to emphasize their beauty rather than blend them with the adjacent ambiance. We advise you to use dark mulch or dark gravel as background.
20. Build an Intricate Stone Mosaic Pathway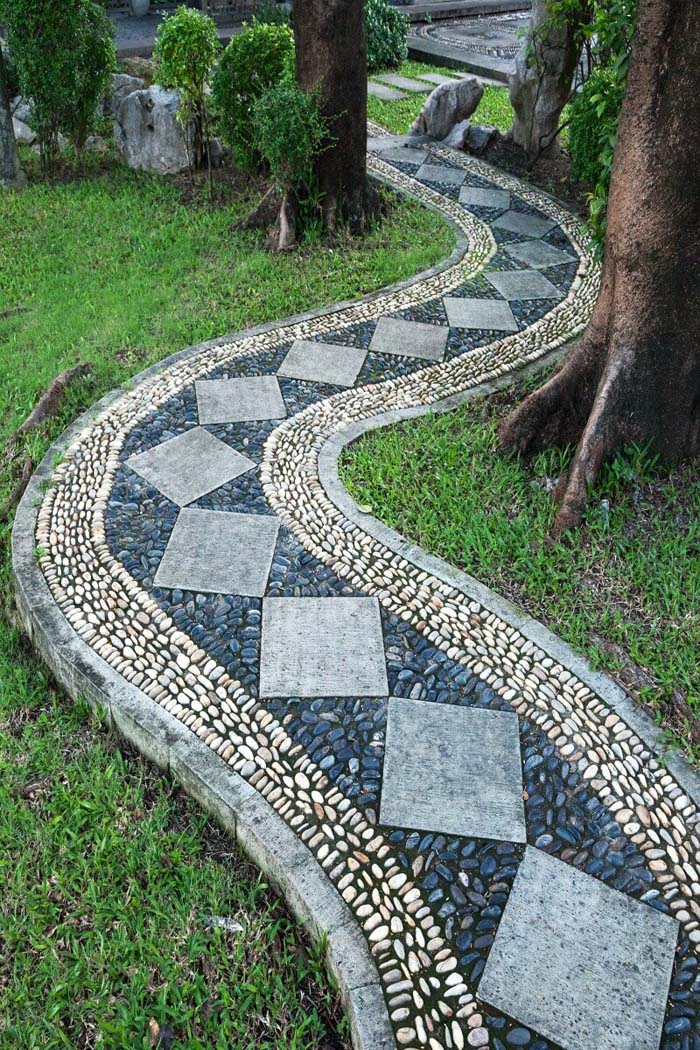 Combining materials can create a magical mosaic effect of the garden walkway.
It is advisable to first make a sketch and plan where to use each type of material and then start the execution of the project.
via Design Innova
21. Enhance Your Walkway with Ground Exposure Bricks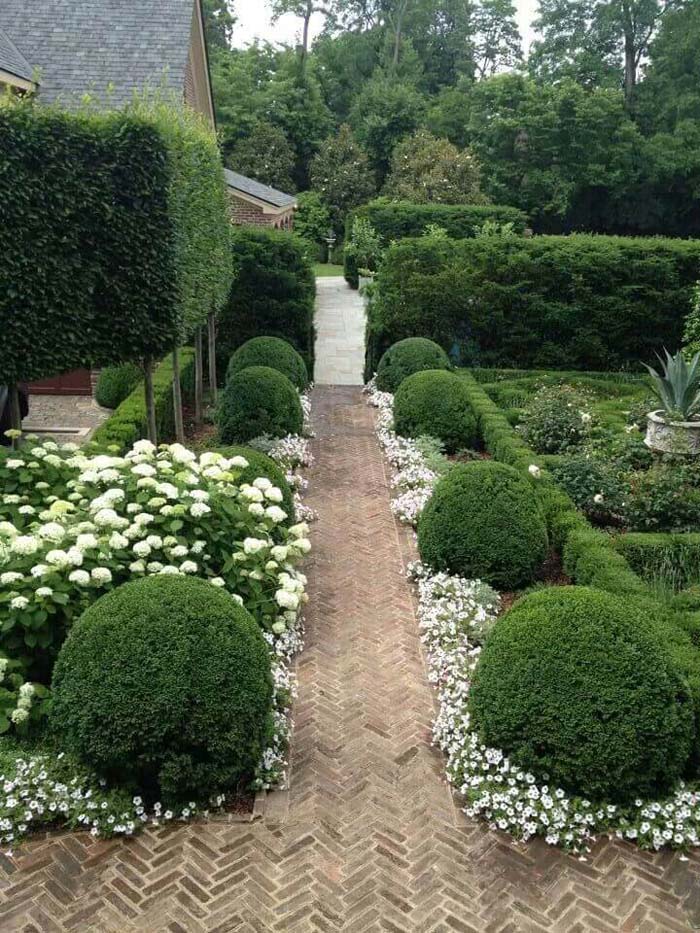 For a more neat and classic look of the walkway, consider using bricks. Of course, these are not the standard bricks used in civil construction. These are special bricks for ground exposure that can resist the wear and the atmospheric conditions.
One of the best advantages of the bricks is that they give you the possibility to make form patterns and to place them in a tight arrangement.
via Indulgy
22. Create a Stone Pathway to an Enchanting Garden Nook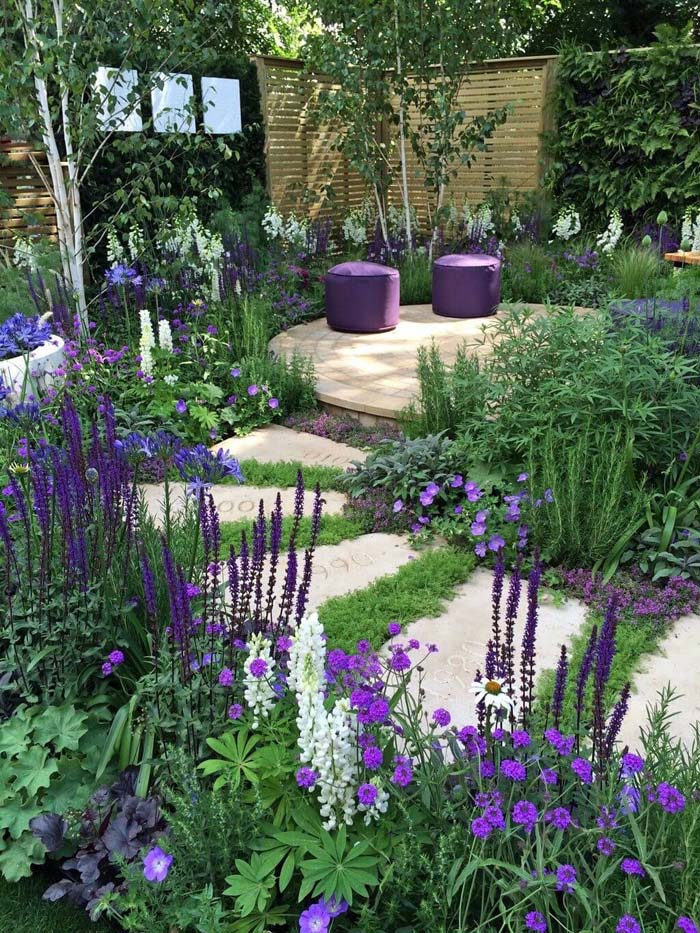 The simplest way to make a path to a beautiful nook from your garden is to lay flat stones on the ground. You would like to embed them a little bit in the soil so that they stay fixed to the ground.
Plant rye-grass in the gaps to let the grass embrace its edges.
via Susan Rushton
23. Use Traditional Red Bricks for a Contemporary Walkway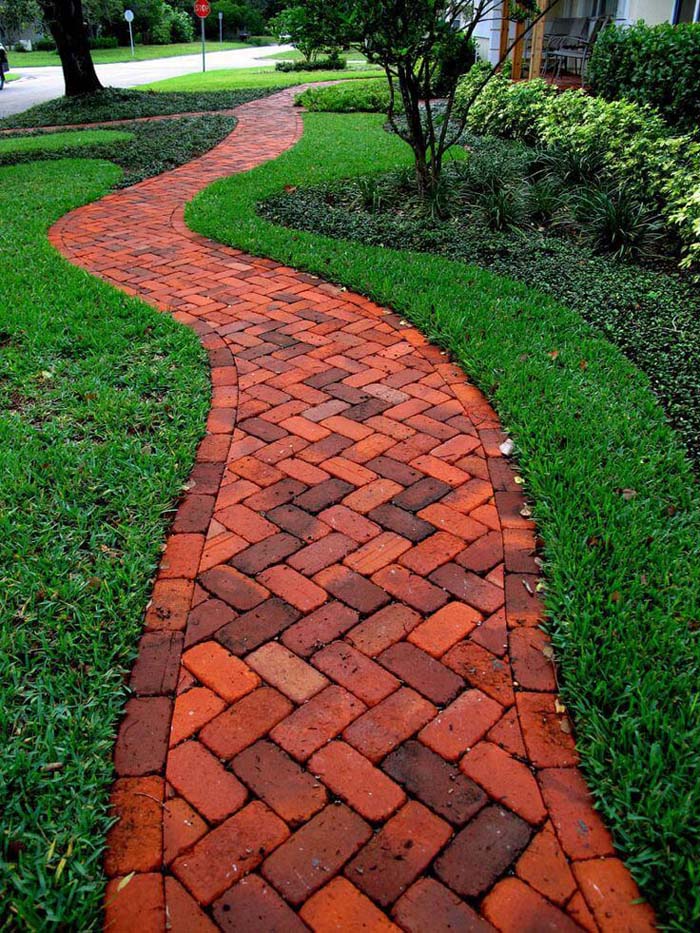 You can see another pattern to lay ground surface bricks and form a garden walkway.
The material of the bricks gives the possibility to cut them at the desired length and thus play with the walkway outline.
via Toimages
24. Maximize Wooden Beam Protection for Garden Walkway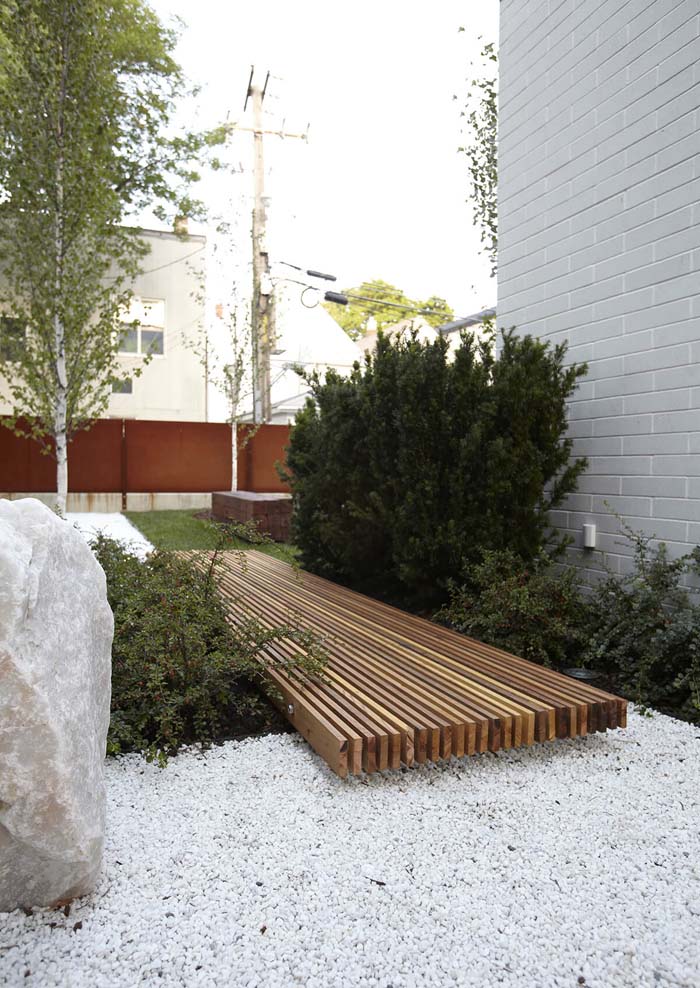 This is one of the cleverest ideas for how to use wooden beams in garden walkway structures. Even when the wood is treated with suitable means to protect it from rotting, it remains exposed to harmful outdoor conditions.
To give it extra protection, you can place the slats vertically and thus let the water drain easier.
via Decorfacil
25. Enhance Entryway with a Diagonal Wooden Walkway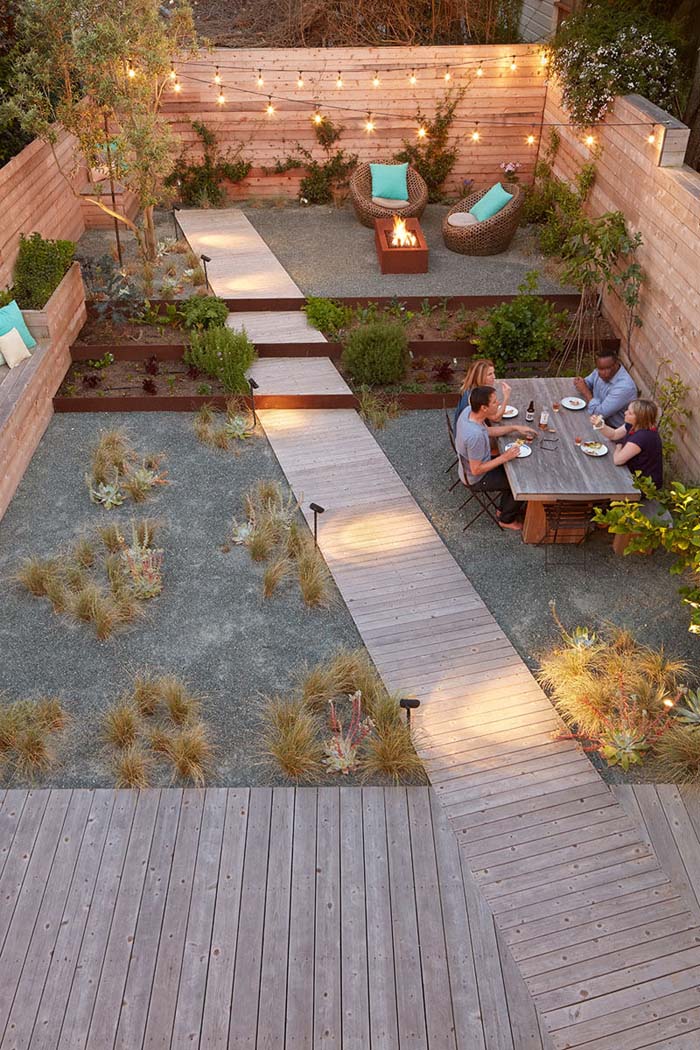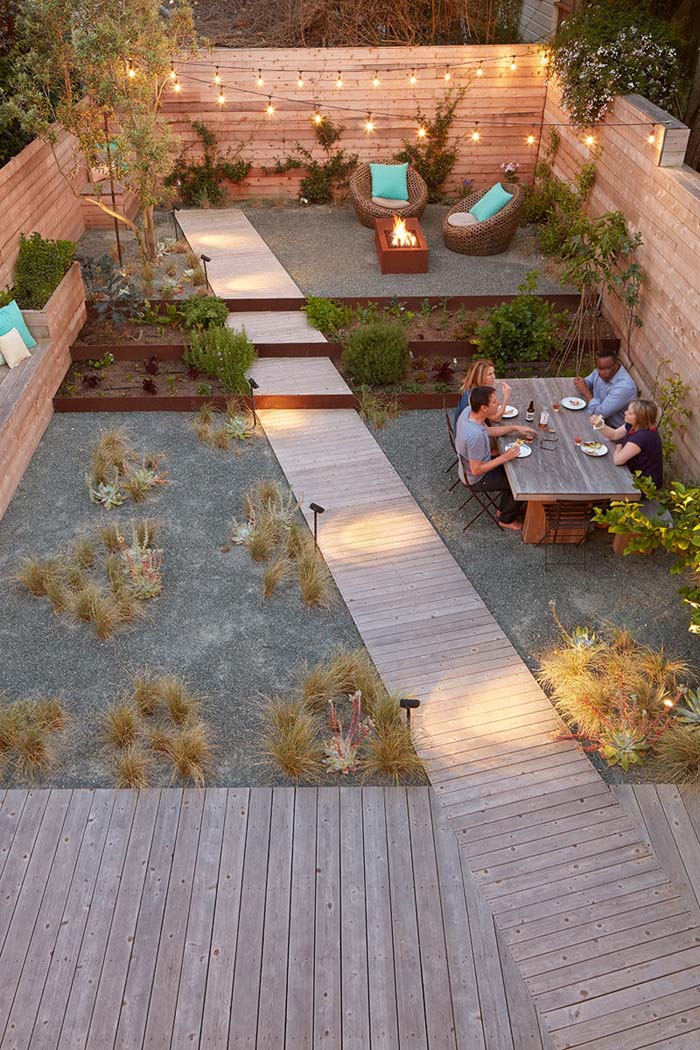 This wooden walkway goes through the whole backyard and it mainly functions as a divider of outdoor sections. The wooden slats are thickly arranged and somehow match with the modernistic home.
If you are wondering why there is a diagonal walkway that doesn't match the pattern of the crossing path, you must know that it is on purpose- it leads the family directly to the house entrance.
via Contemporist
26. Decorate With Creeping Phlox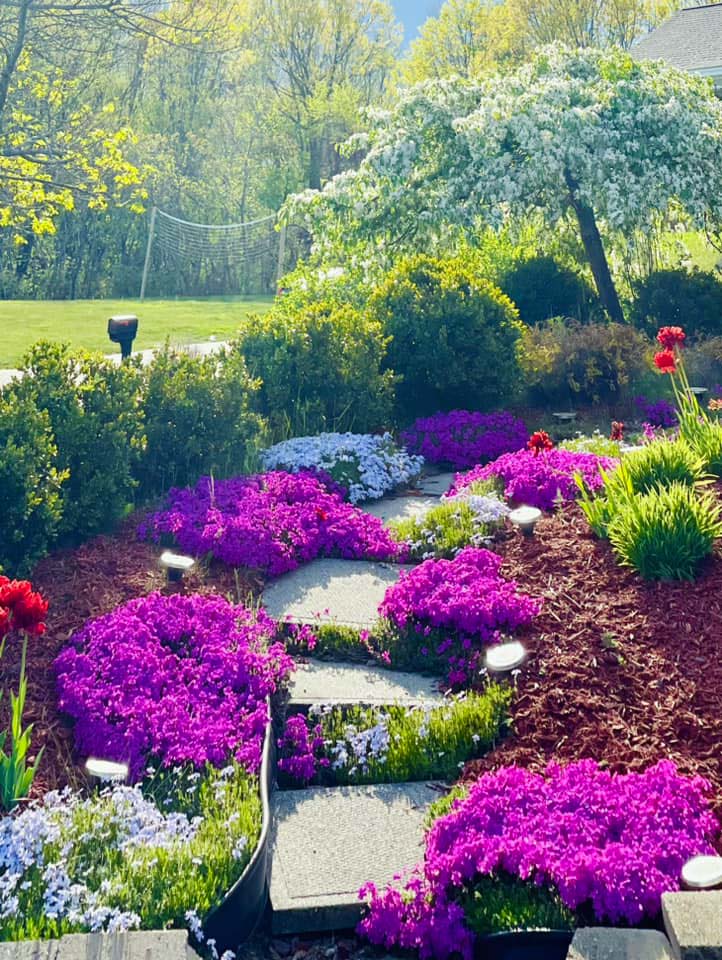 via Sandra Sjauw
Add color to your garden walkway with creeping phlox.