When you want a DIY decor project that's affordable and beautiful, rocks make wonderful raw materials.
The natural textures and colors bring a piece of the great outdoors into your house, making it feel more welcoming and relaxing. Need some inspiration?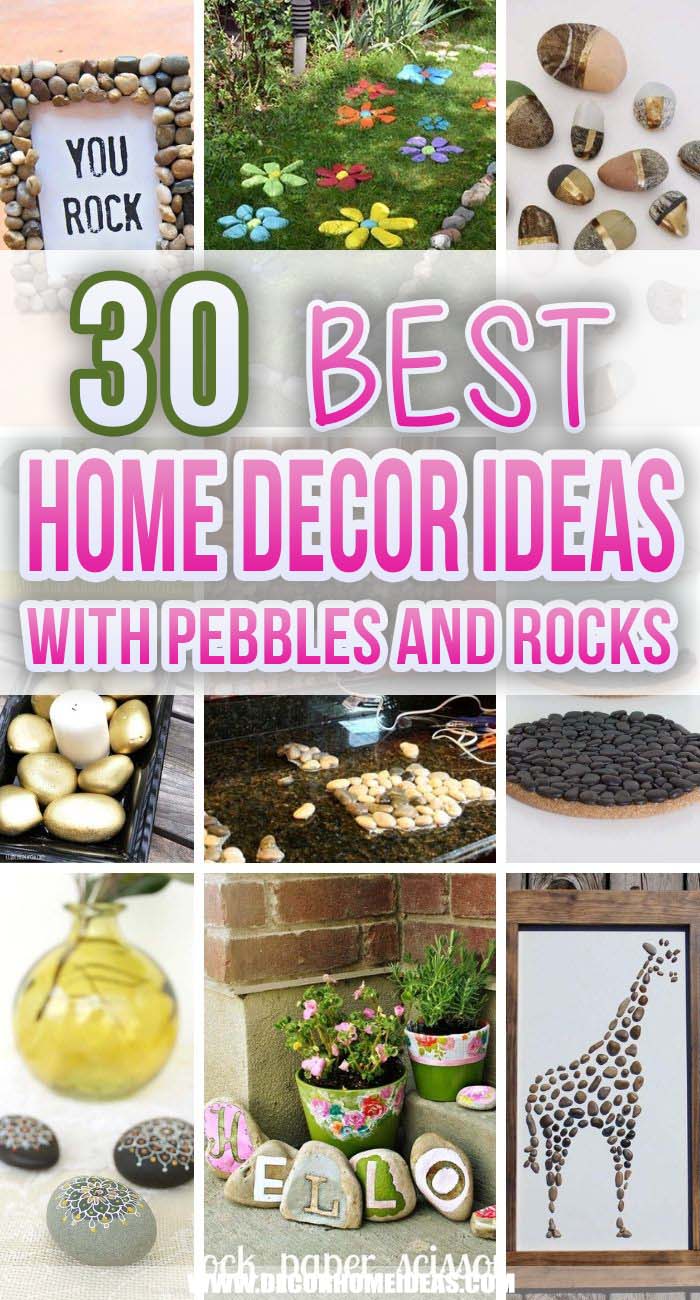 These clever DIY home decor ideas with pebbles and river rocks offer projects for every room of the house.
1. DIY Flameless Rock Fire Pit

With its classic campfire vibe, this adorable DIY fire pit adds a soft glow to your living space.
You can gather most of the materials from your yard — then, paint the sticks white and surround them with stones.
Add in a cluster of Christmas lights, and your room will feel like a chic campsite.
via Blog 25
2. No Grow Painted Flower Rocks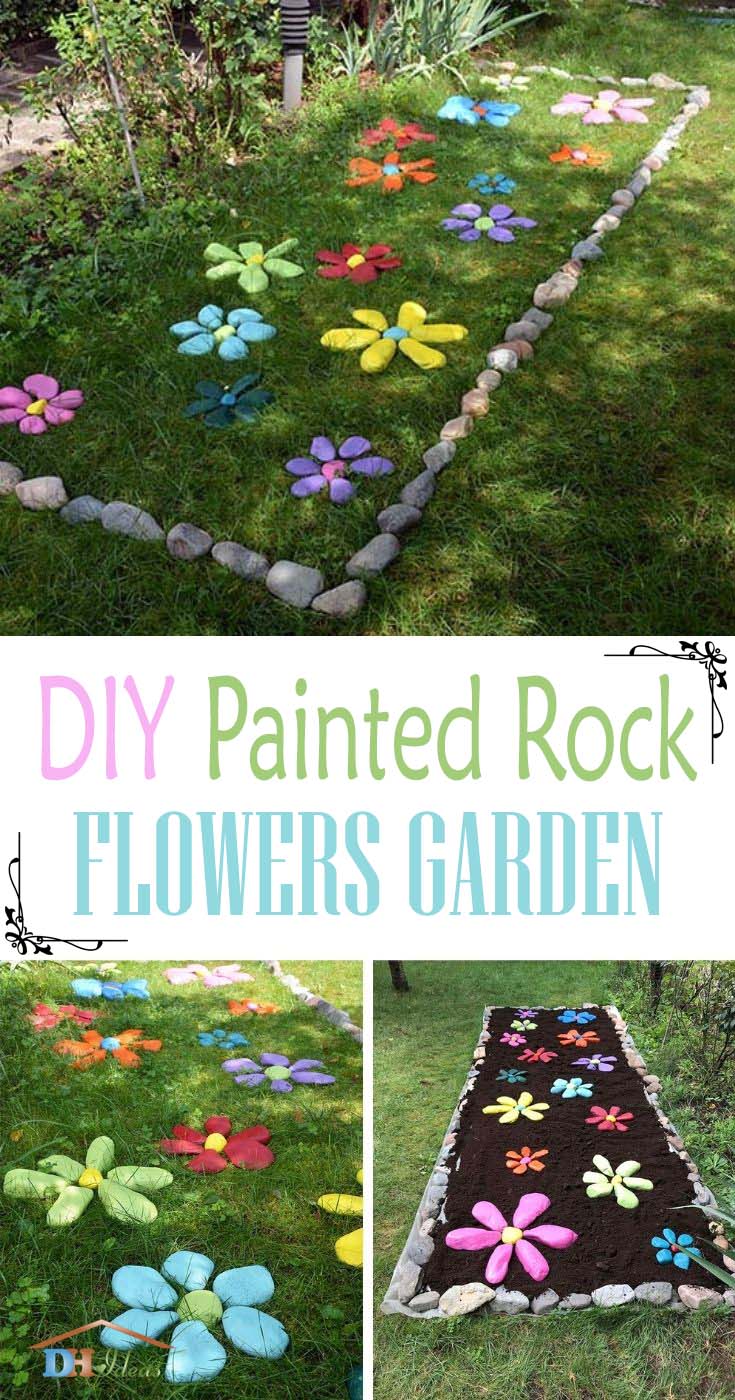 Is your yard or garden looking a little drab?
Whether you're dealing with challenging soil or winter conditions, DIY painted rock flowers are a fast and fun way to brighten things up.
These colorful blooms are a pretty addition to any outdoor space — and you don't need to worry about watering or weather!
Check out the full tutorial here: How To DIY Painted Rock Flowers Garden
3. River Rock Baby Gift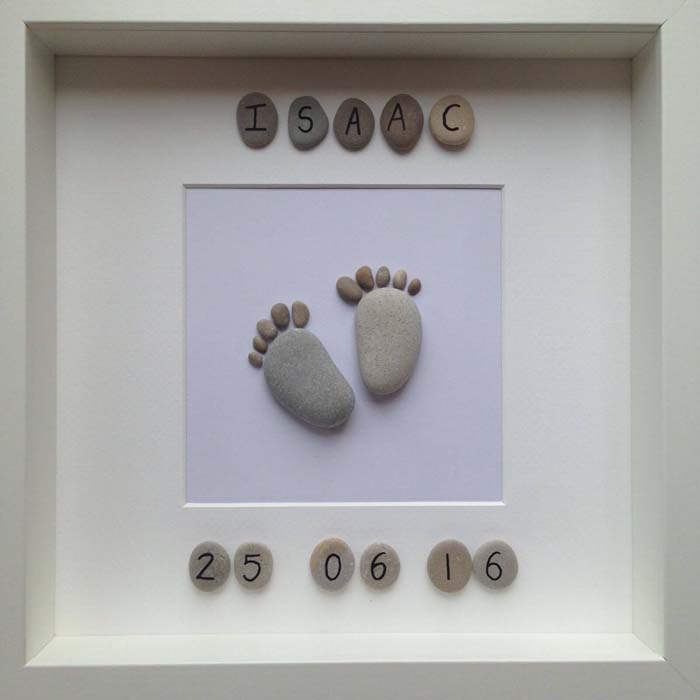 Are you looking for a one-of-a-kind way to celebrate a new baby? Pick up tiny river rocks in a variety of sizes to make this sweet gift.
Personalize the gift by painting or writing the baby's name and date of birth to create a keepsake the new parents will treasure.
4. Easy Sweet Rock Family

Create a hidden surprise in a garden or planter with a cute family of rocks. It's super simple to make — just glue a collection of small pebbles on top of a larger stone.
Paint eyes onto each rock or use stick-on plastic eyes for a comic effect.
via Instructables
5. Spa-Like Rock Shower Floor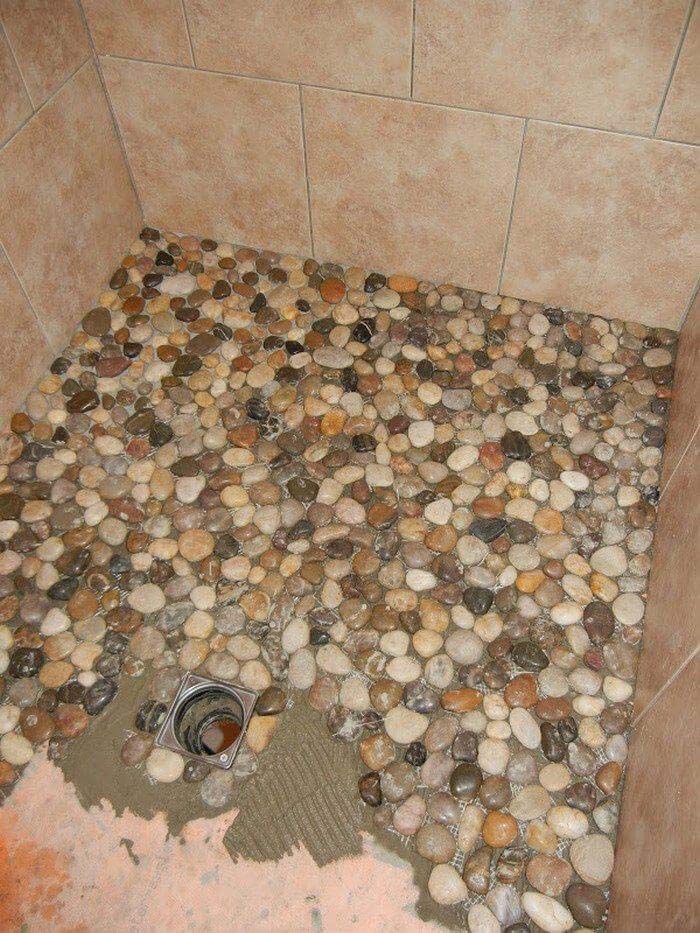 Switch up your bathroom with this clever river-rock tile. It features a collection of genuine rocks attached to a webbed backing for easy installation.
DIY installation is quick and easy, and the rocks will provide a gentle foot massage every time you step in the shower.
6. Mandala Inspired Painted Rocks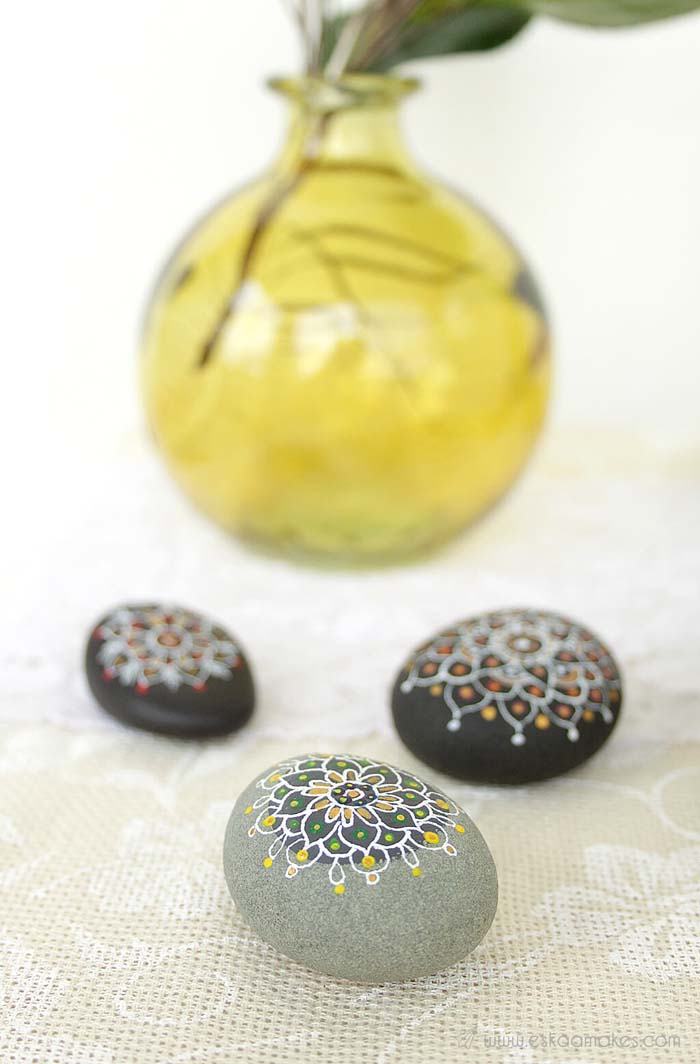 If you're an artist, small river rocks make excellent tiny canvases.
The trick is to choose small, intricate designs that fit easily onto a rounded surface.
Scatter your gorgeous rock art pieces throughout the house, placing them in any spot that needs a pop of color.
via Eskaa Makes
7. Clever Rock Kids' Room Art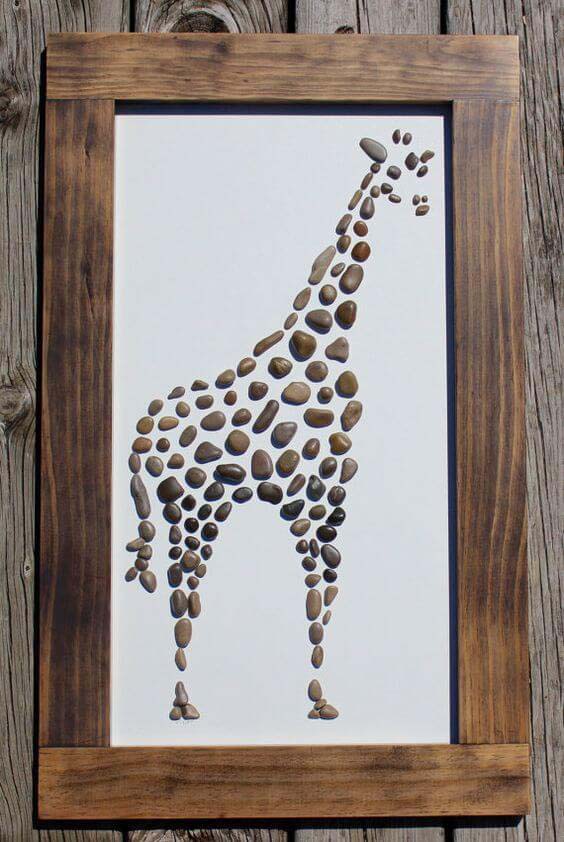 Art for your child's room doesn't have to be expensive — just pick up some tiny pebbles from outside.
Glue the rocks to a canvas to create silhouettes of beloved animals, creatures, or letters. An inexpensive thrift-store frame is the perfect finishing touch.
8. Rock Family Fire Pit Candleholder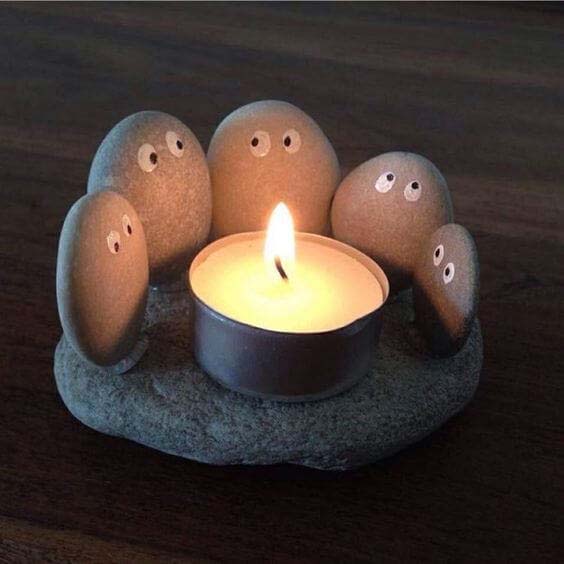 Candles add a romantic, soft glow to your outdoor living space.
Create a safe spot that's shielded from the wind with this adorable tea-light holder. When the candle is lit, the cute rock faces appear to be clustered around a campfire.
9. Flat Rock Décor Projects

Is your front door looking tired or boring?
Dress it up by adding rocks to the welcome mat. The secret is to choose rocks that are flat and approximately the same height — that way, your guests won't trip as they walk through the front door.
The spaces between the stones allow dirt and water to move away from your shoes and out of the house.
via Vamo La em Casa
10. Easy Chicken Wire Rock Art

Pick up a pair of pliers, a roll of wire, and some chicken wire to create this beautiful project.
Choose any shape you want — this is a fun way to add a monogram or a street number to your home.
Make sure to choose pebbles that are larger than the openings in your chicken wire to keep the rocks contained.
11. Hand Painted Stone Décor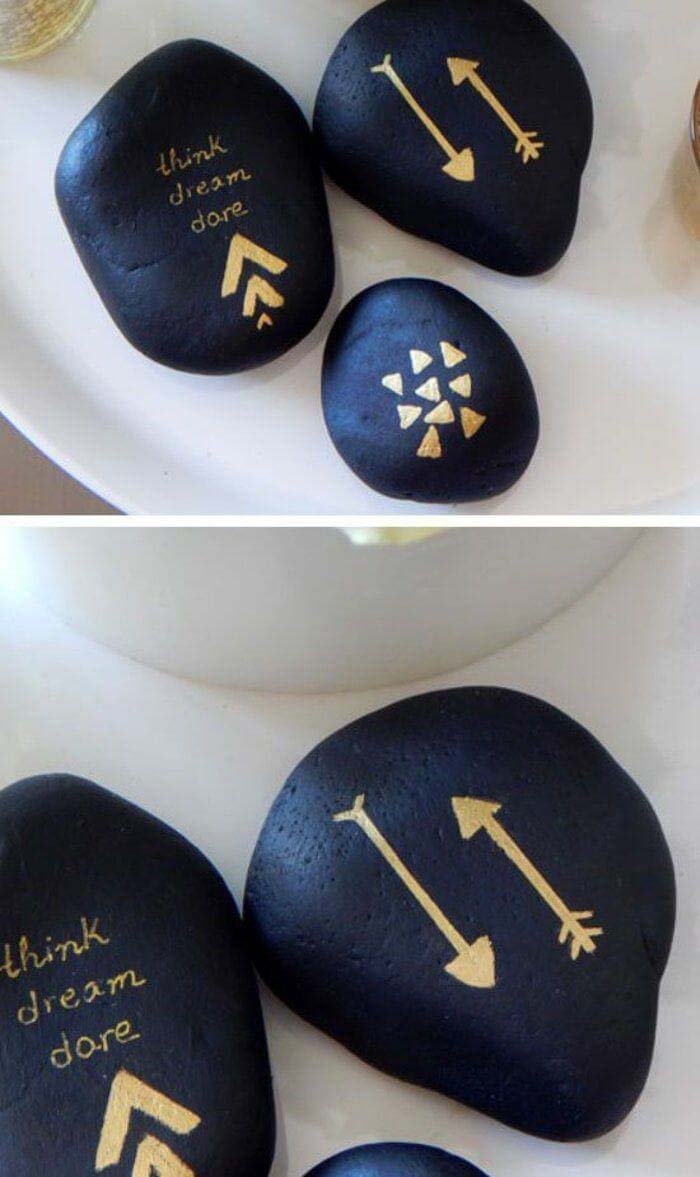 You'll feel inspired every time you look at these stunning keepsake stones.
We love the black and gold color scheme, but you can choose any combination that suits your decor. Love the natural textures and colors of the rocks?
Paint your sayings and symbols in a high-contrast metallic paint color.
via Decor Asylum
12. DIY Pebbled Trivet Project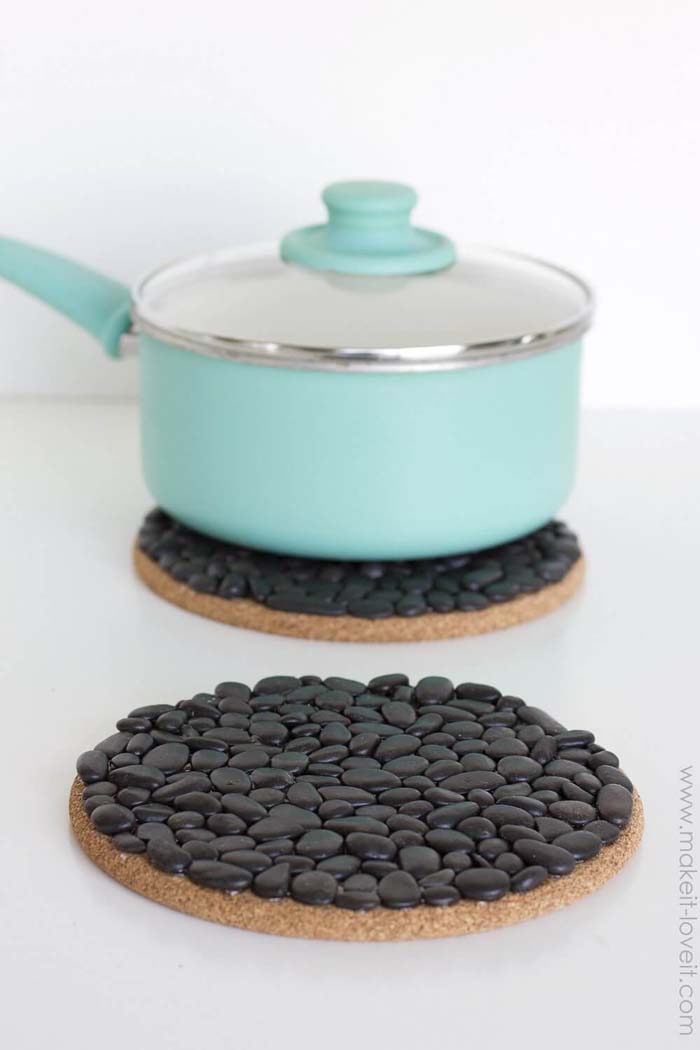 Trivets are an easy, cheap way to protect your kitchen counters and dining-room table.
Give your dinners a custom look with these DIY stone trivets; the combination of cork and pebbles is beautiful and effective.
This is a great way to show off a collection of agates, river rocks, or pebbles from a craft store.
via Make It Love It
13. Durable And Natural Rock Backsplash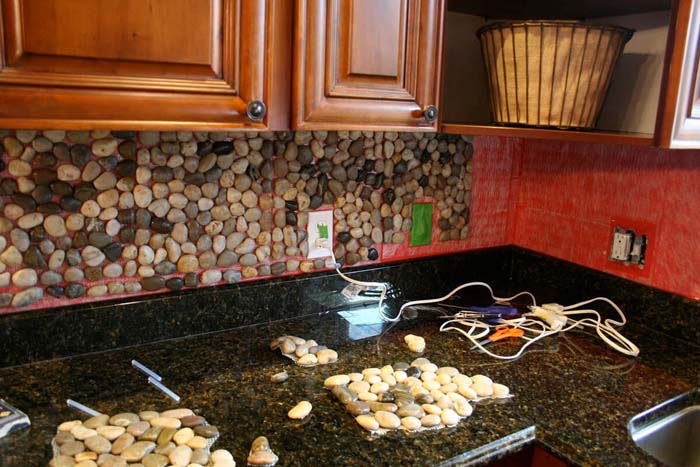 A unique backsplash is a fast, affordable way to refresh your kitchen.
This pebble backsplash is surprisingly easy to DIY, even if you've never worked with tile. Set aside a few hours on the weekend, and your kitchen will look like new.
14. Decorative Half Painted Rocks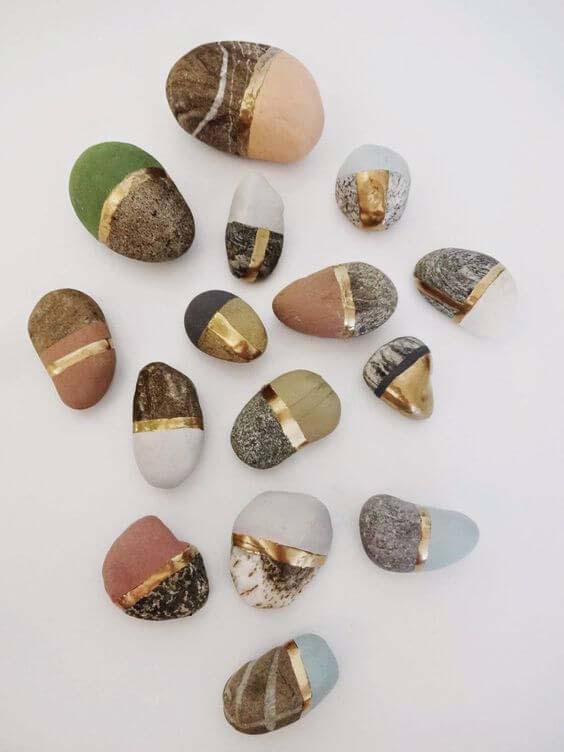 These spectacular rocks would be right at home in an artistic boutique — and you can make them yourself for a fraction of the cost.
The magic is in the paint scheme; the combination of metallic paint, muted colors, and the natural patterns of the rocks makes for a fascinating, completely unique aesthetic.
via Bastel Malen Kiuchen Backen
15. Painted Stones Upgrade A Candle Centerpiece

Are you looking to switch up the centerpieces on your coffee table or dining table?
Pick up some rocks and give them a coat of metallic gold spray paint. Paired with simple white pillar candles, the effect is surprisingly sophisticated.
via Chica Circle
16. Charming DIY Succulent Planter

If you love the look of succulents but you don't want the upkeep, artificial versions are surprisingly realistic.
Give your faux plants a more artistic look by making a planter out of clay stones.
They complement the textures and colors of the succulents for a beautiful, nature-inspired decoration.
via eHow
17. Natural Element Jewelry Hooks

Keep your coats and bags organized with these clever pebble hangers.
This project is remarkably simple — just add a strip of adhesive to the back of each rock and press it on the wall. You can paint the rocks or leave them plain for a natural look.
18. Tabletop Fire Pit Rock Surround

When you don't have space for a full-size fire pit, this cute tabletop version is a fun alternative.
It uses a miniature burner and a collection of rocks, creating a fire that's safe for a picnic table or your back deck.
19. Easy DIY Stone Mat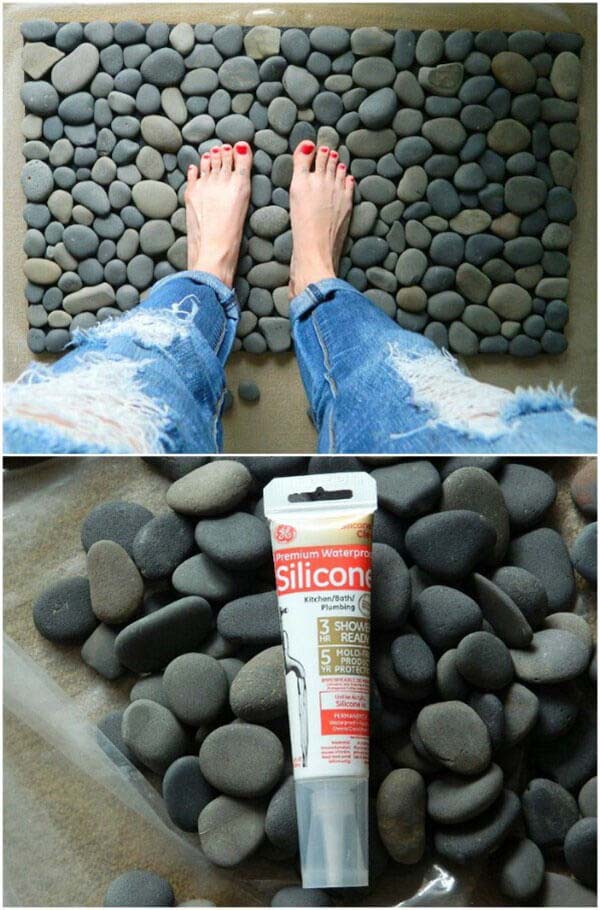 Have you ever walked across a pebble beach? Bring the same natural massaging effect to your home with a DIY stone mat.
This project is affordable and easy to make — plus, it's a fun challenge to fit the stones together like a puzzle to create an attractive arrangement.
via Tatooed Martha
20. Anchor A Terrarium With Small Stones

Turn a terrarium into a masterpiece by hardscaping the top layer with pebbles or river rocks.
When you water the succulents, the rocks help the water drain evenly; that way, your plants stay alive and well. Use a clear glass container to show off the layers of rocks and soil.
21. Repurposed Rock Cabinet Hardware

Give your cabinets a quick makeover by replacing your existing knobs with a set of beautiful stones.
Collect your own rocks to keep costs low, or visit a mineral store to choose a collection of pretty polished stones. You'll find the mounting hardware at any home-goods store.
via Lilliedale
22. Upgrade A Flower Pot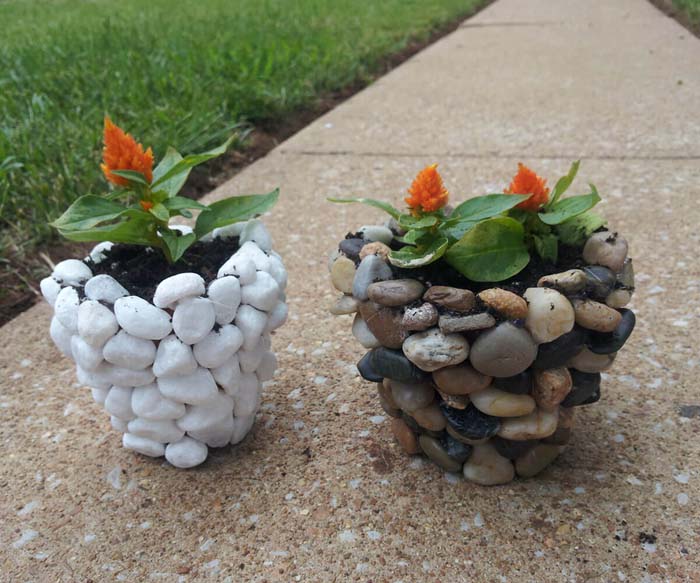 When your outdoor planters are in need of a change, there's no need to head out to buy new models.
With some heavy-duty adhesive, you can cover them in rocks for a completely different vibe. If you're going for a fresh, modern look, coat the rocks in white paint; otherwise, leave them bare for a natural vibe.
via Instructables
23. Child's Room Owl Rock Art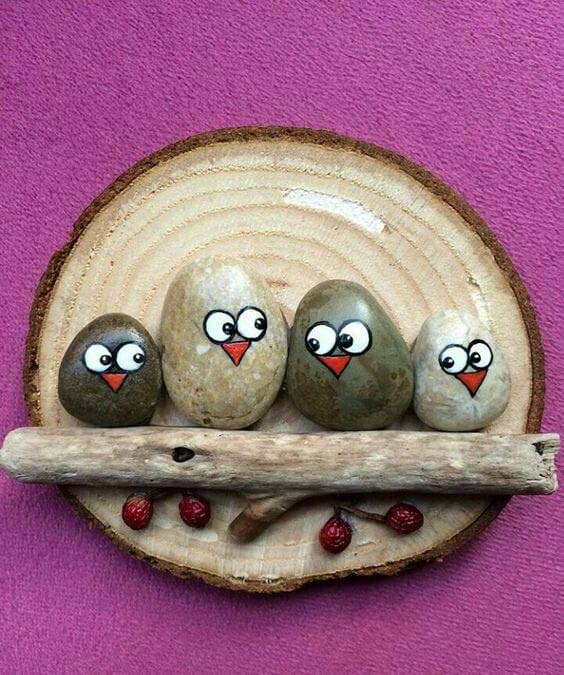 It doesn't get much sweeter than this DIY wall art — when you paint on faces, four rocks become a family of adorable owls.
A small wood slice and a piece of driftwood make a beautiful background; add berries for a pop of color.
24. No Maintenance Rock Cactus Garden

Do you have a black thumb when it comes to houseplants?
No problem — with some green and white paint, you can make this DIY rock cactus. It's completely customizable, and it never needs to be watered.
25. Mosaic Rock Garden Décor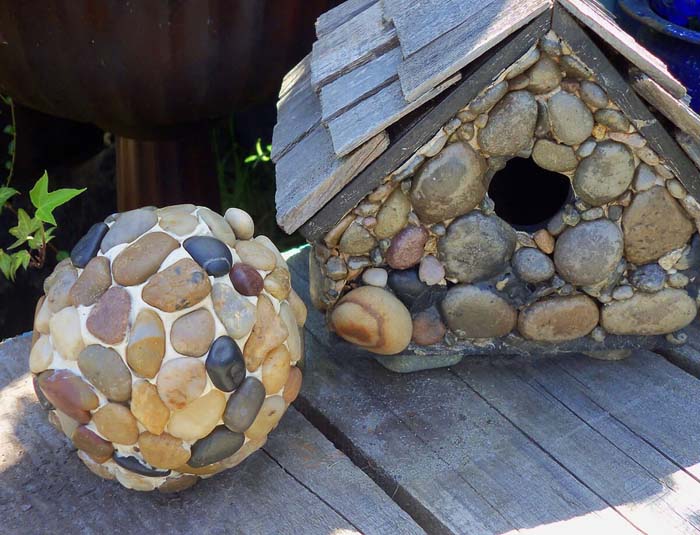 Stones are a wonderful way to add more color and texture to your outdoor space, all without detracting from the natural vibe.
The options are endless: use stones to cover a birdhouse, decorate garden orbs, or cover the top of an accent table on your porch.
26. Add Natural Style To Small Gifts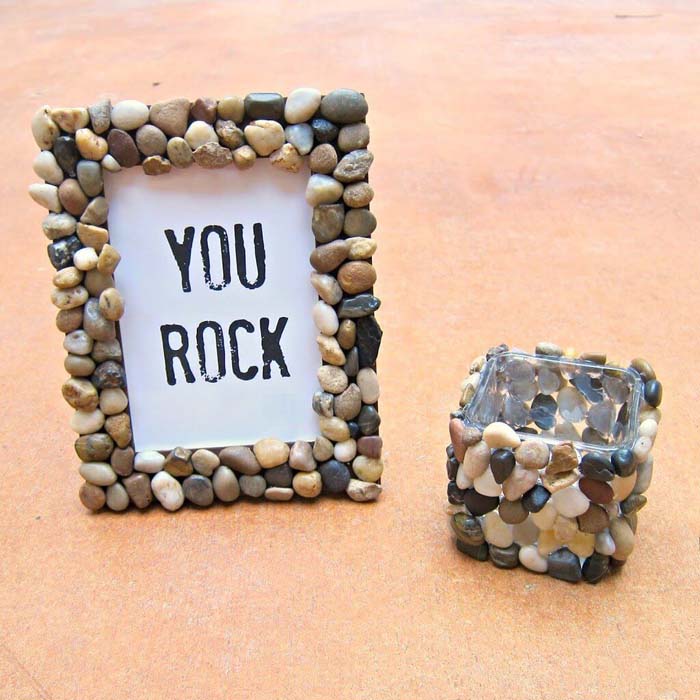 A glue gun and some pebbles are all you need to transform a dollar-store decoration into a work of art.
A cheap picture frame or a glass candle holder becomes an interesting, beautiful gift when it's covered in stunning river rocks.
via Morena's Corner
27. Painted Porch Greeting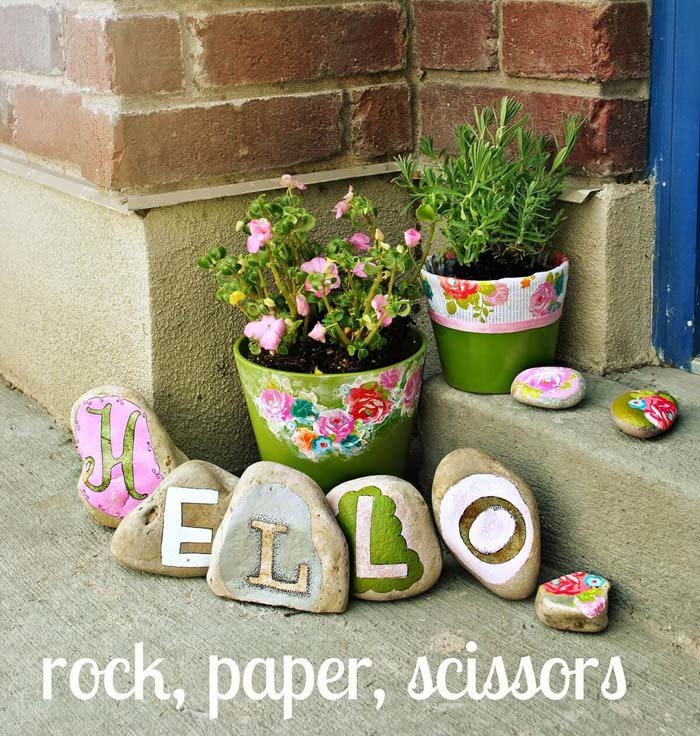 Painted rocks are all the rage — bring this trend to your home by turning rocks into a welcome sign.
Your guests are sure to smile when they see "Welcome", "Hello", or another greeting spelled out in colorful stones.
28. Create Art With Natural Objects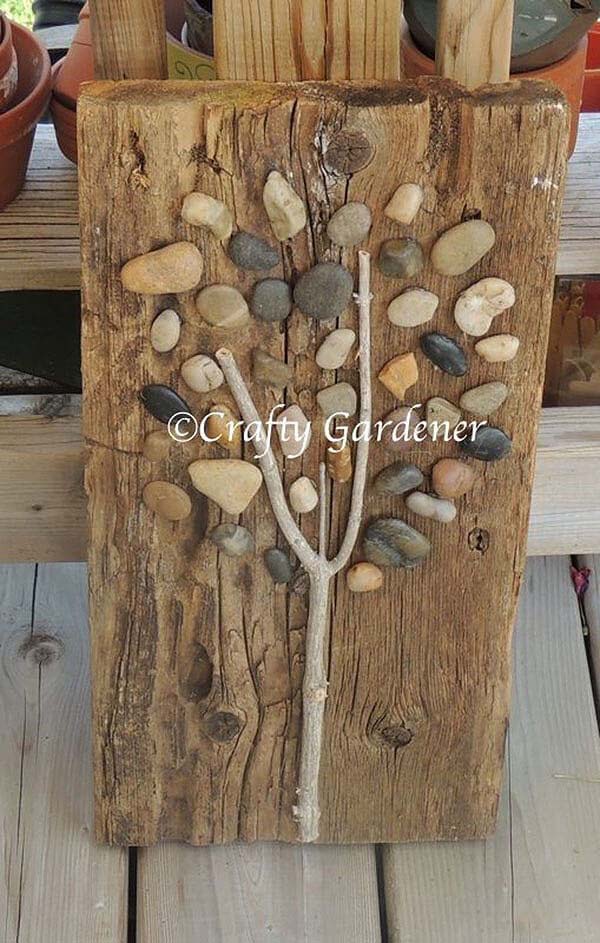 Save money on decor and make art at the same time by stocking up on found objects.
Reclaimed wood makes a gorgeous background for this stone-and-stick tree art; you can use rocks to create any shape that matches your decor.
via Crafty Gardener