36 Creative Candle Decoration Ideas To Add Warmth To Your Home
In the past candles were used only with a practical application – for illumination. Nowadays, they are more than that. We used them for home decoration, to set a festive mood for a birthday, a wedding, to create a relaxing atmosphere in the bathroom. They create a special atmosphere.
Today there are endless designs, colors and scents of candles so making them part of our home decor is an easy task.
If you are looking for a greater interior effect, you can put them into special holders or containers or add them to an existing decor arrangement to let them fit into the design of the room and add warmth, coziness and even romance to it.
📌PIN TO SAVE FOR LATER!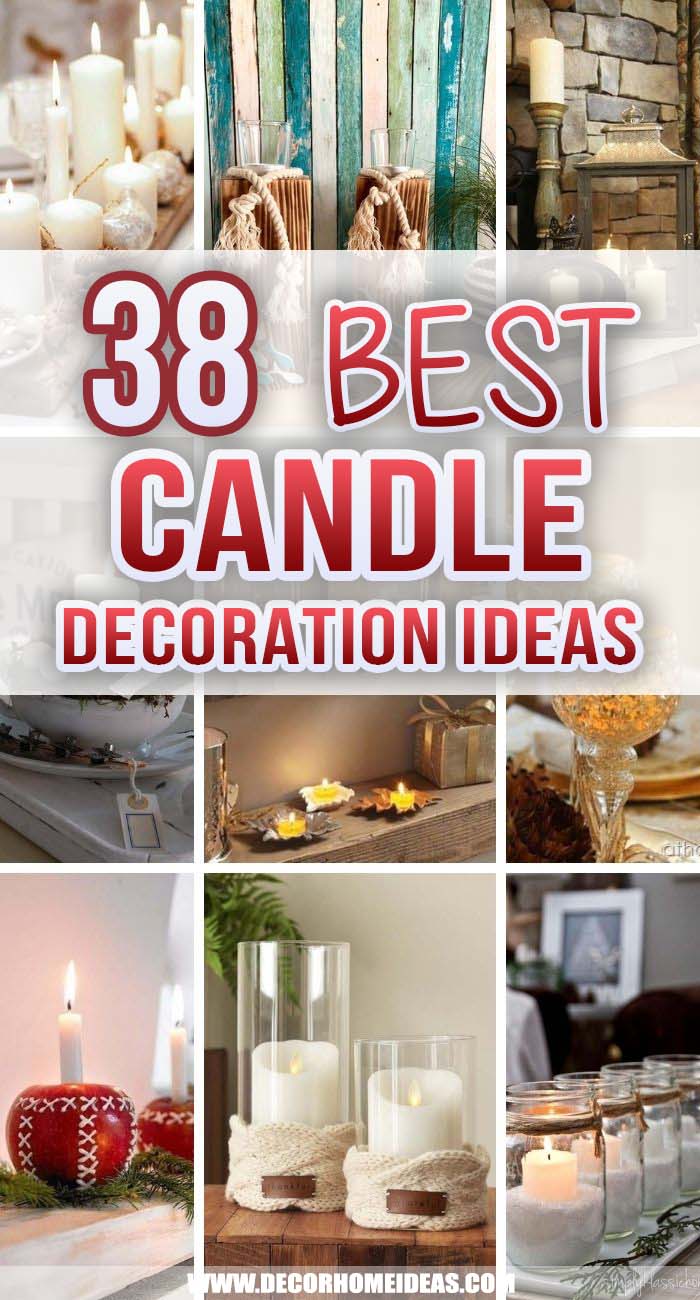 Curious to see how to decorate with candles? The best candle decoration ideas follow to inspire you and give you ideas for affordable, effective and unique decor.
Burning Baubles Wedding Table Decorations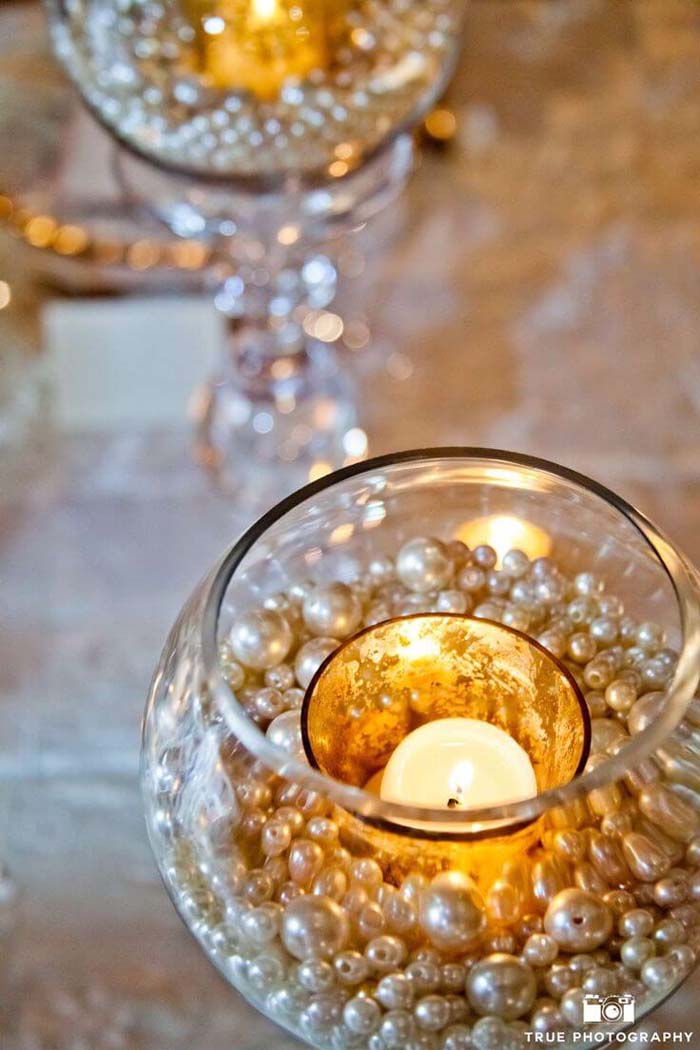 This candle arrangement has been created for table wedding decor. A glass bowl is filled with silver beads of various sizes. A tea candle is inserted into a small glass cup with a mercury outer finish and then inserted in the pearl filling.
The arrangement is very stylish with a royal aftertaste because of the sleek finish of the supplies.
via Modwedding
Classic Multi-Level Wood Platforms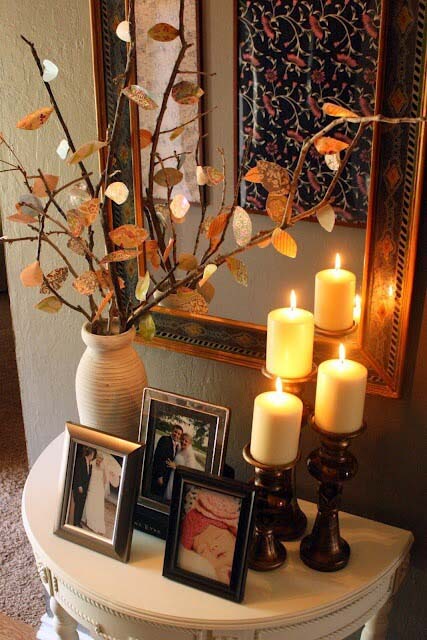 A classy, easy and affordable candle arrangement features three wooden candle holders. Their handmade finish shows round wood-carvings typical for the rustic style.
The descending heights additionally create interest and harmony in a Feng Shui style. The stain of the wood is dark to contrast the white chalk paint surface of the table while match the sleek dark metal finish of the frames with dearest pictures.
Coastal-Themed-Candle-Decorations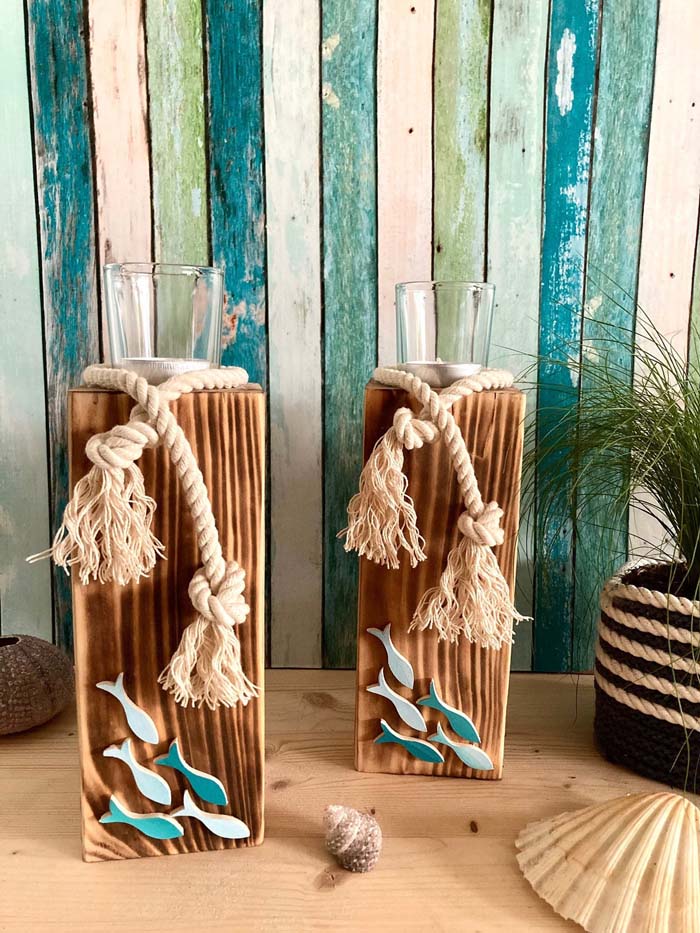 These candle holders are decorated with nautical symbols which enhance relaxation and calmness in the indoor atmosphere. The large ropes are dangling from the top of the curved wood almost touching a fish school in blue hues.
They can decorate a mantel in summer or become part of a coastal centerpiece arrangement for romantic nights.
Colors, Textures, Stones and Candles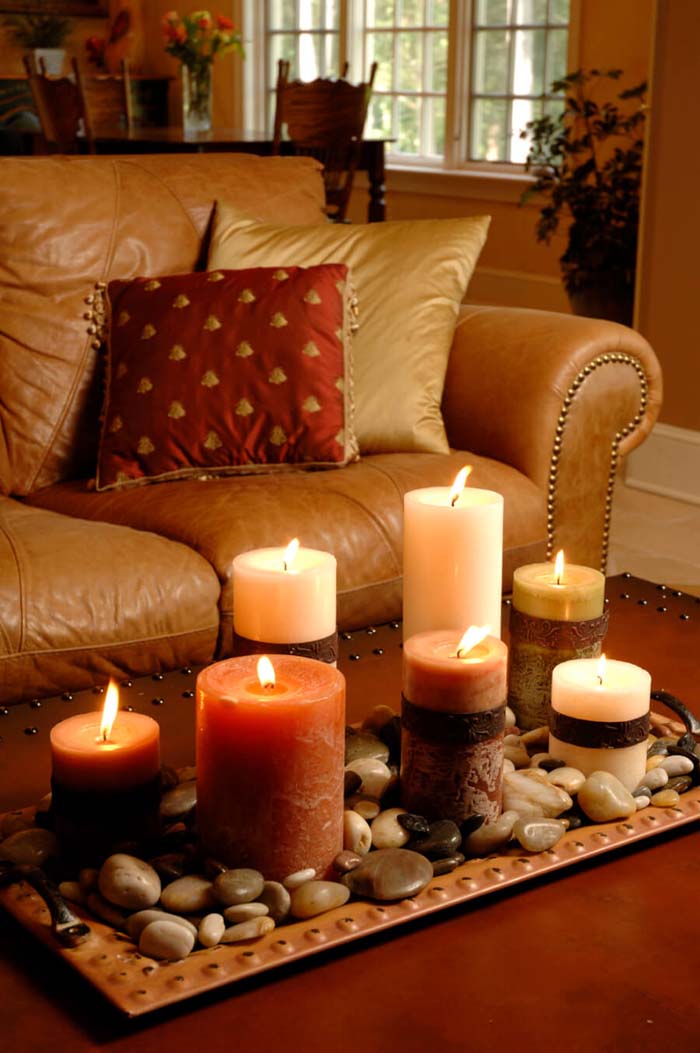 For a zen vibe inside, put various in size candles in a tray. Fill the empty spaces with rocks gathered from the river bank or from the coast.
Such a centerpiece can welcome for quiet chats or romantic moments in the living room as a centerpiece of the table or in the bathroom for a spa experience in your own home.
via Hubpages
Cozy Up with Votive Holder Sweaters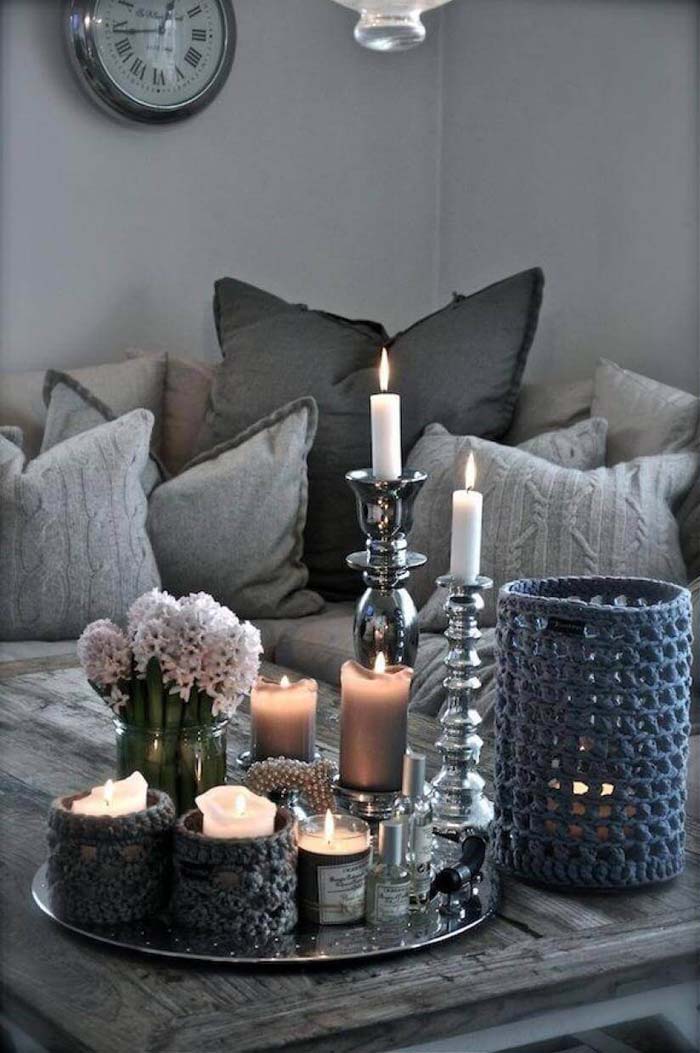 Candles are a typical part of the decoration especially in winter time. Whether because the day is shorther or because it is colder, the candles are capable of making cool night warmer and exciting.
Add them to a metal serving tray, for example, and place season-themed accents.
via Bees Wonderland
Decorating with Candle Ideas for Mason Jars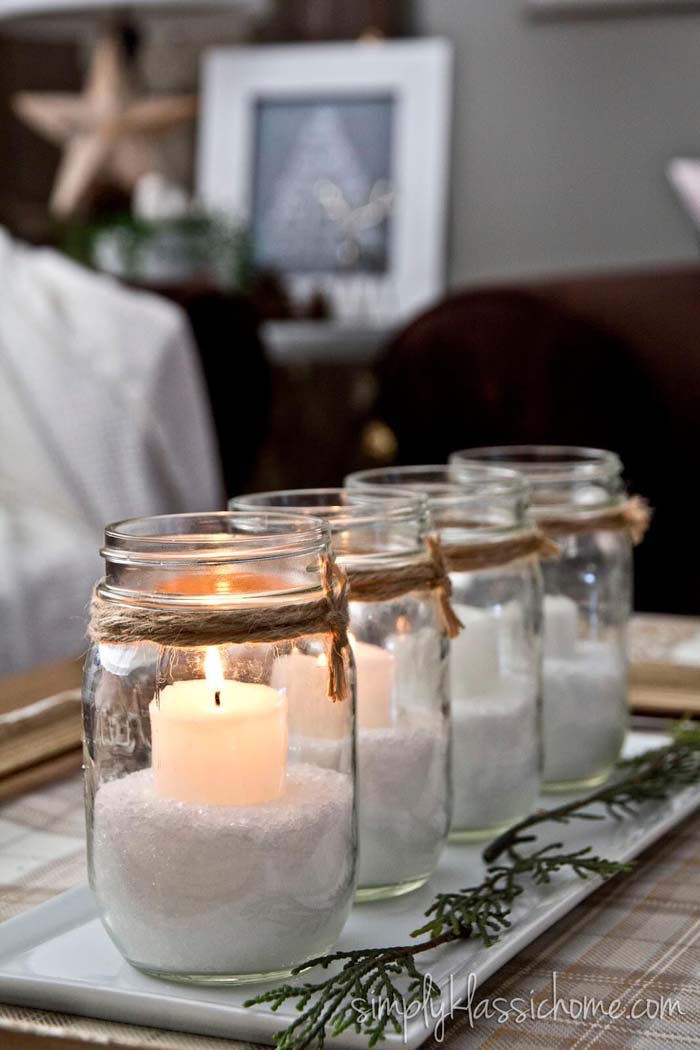 The Mason jars are perfect for candle holders. They are affordable, easy to be decorated in different themed and also very attractive.
For a nautical effect, tie a rope length around its neck. Looking for an autumn-themed candle decor? Paint or glue leaves on the glass. In winter, fill them with white sand, faux snow or glitter and insert the candle inside. They are the most universal candle holder ever!
Decorating with Candle Ideas for Statement Lanterns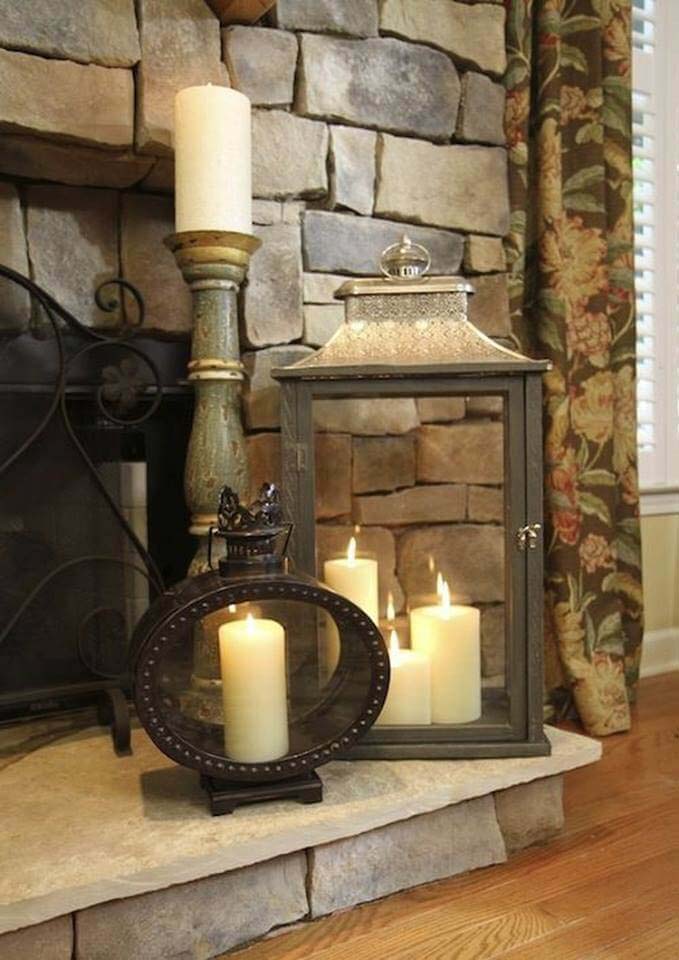 Using a lantern as an indoor decoration gives space a rustic aftertaste. This interesting usage becomes more appealing when the lantern is given the option to actually function. Place candles inside and light them up to enjoy the cozy warmth of their light.
Delicate Beaded Candle Accents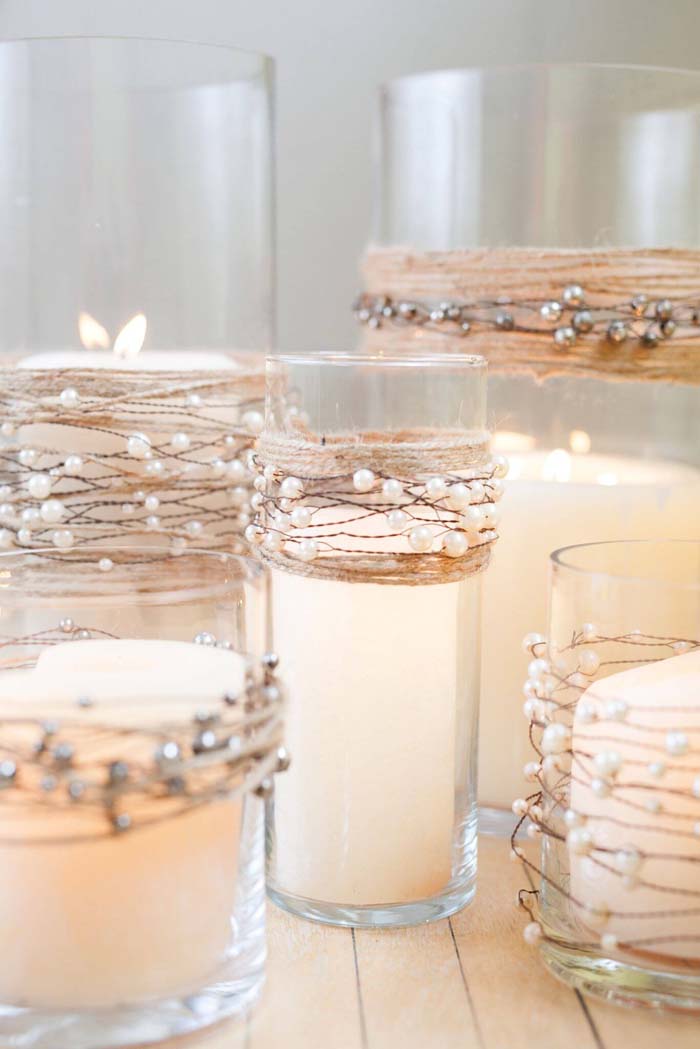 This candle decoration idea is perfect for weddings, bachelorette parties, for St. Valentine's accent or simply for adding a delicate element to the existing interior of a bedroom or living room.
This simple DIY requires wire, beads, glass holders and plain candles. Thread the beads on the wire and weave it around a section of the glass. To achieve a greater cozy effect, arrange more candles in a group.
DIY Apple Taper Holders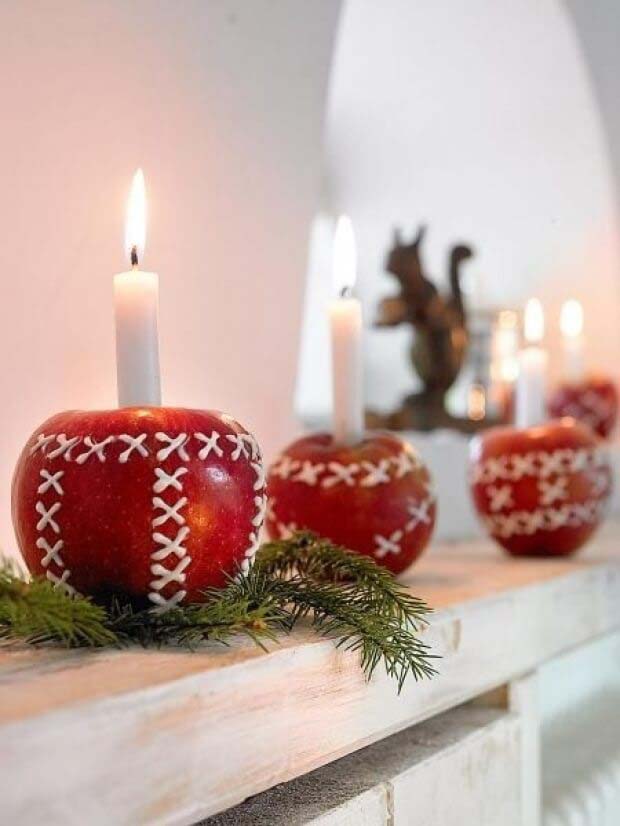 This eco-friendly project transforms fresh apples into candle holders. Their outer surface is embellished with cross stitches that remind a the hand sewing.
Placed on a wreath of fresh pine twigs or added to Christmas decoration, they quickly become the focal point for the holiday.
via G Plan
DIY Faux Fireplace with Candles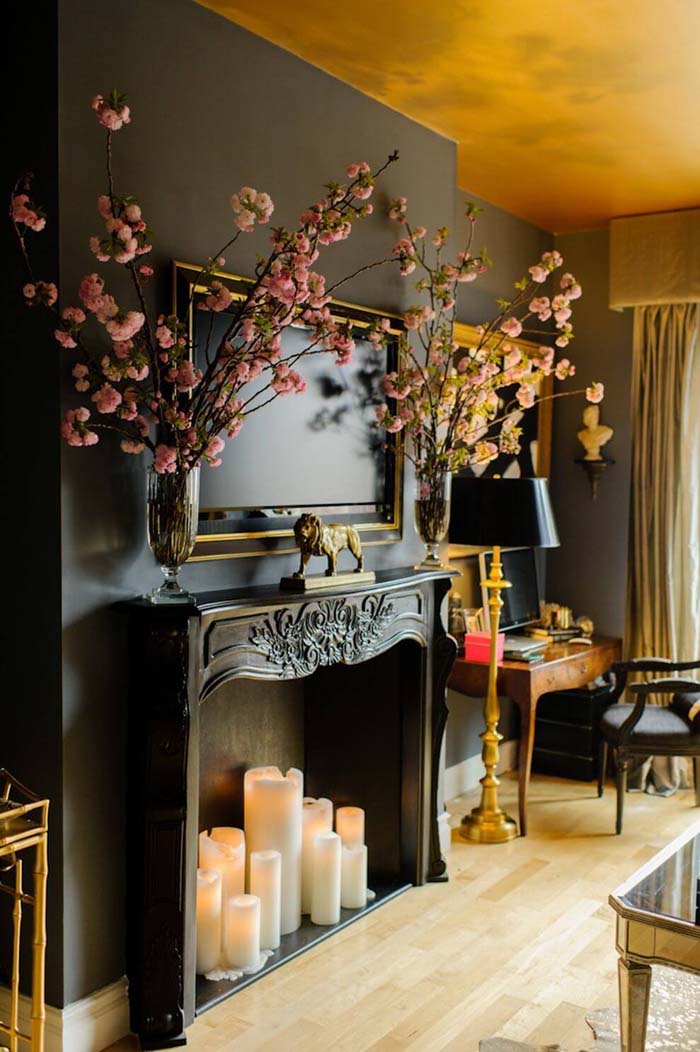 There a many people that love how the fireplace looks but don't want to actually use such. Therefore, the electrically operated fireplaces have become very popular. Another exaplme of a non-functioning fireplace that also has the ability to add warmth to the ambiance is a fireplace in the standard design and size but made of lighter materials- wood, styrofoam, bricks.
A light source that can be used to make the fireplace feel more appealing is the candle.
Easy Elegant Marble Pillars Candles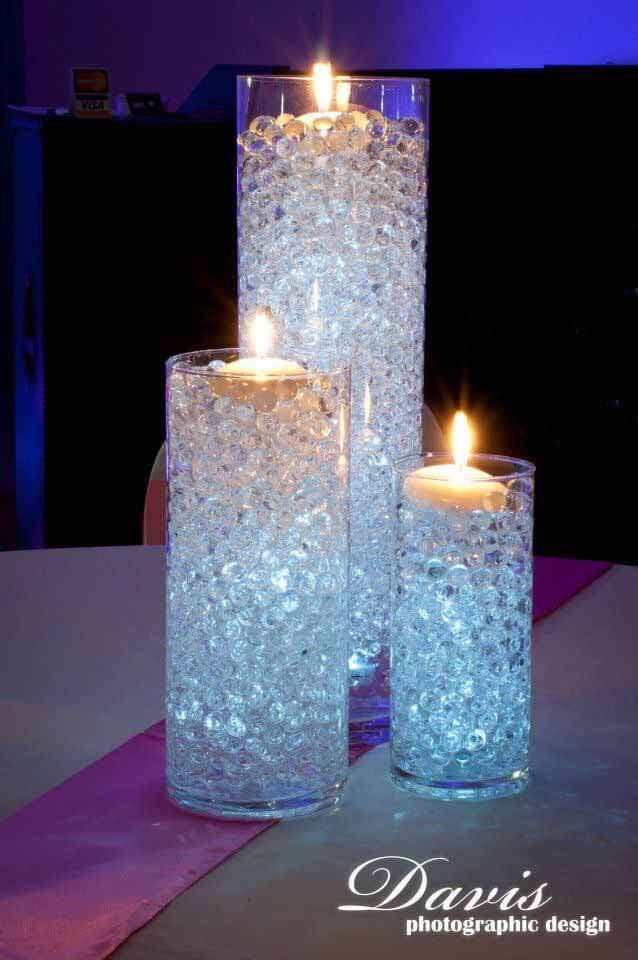 Fill empty glass containers with glass marbles. Then insert floating votives in the top surface and enjoy the unique stylish candle holder that has cost almost no money and time to be made.
Use this candle holder design to create more of it and group them on an empty shelf, on a mantle or on the dining table for a sparkling romantic decoration.
Elevate Basic White Pillars with a Candle Cube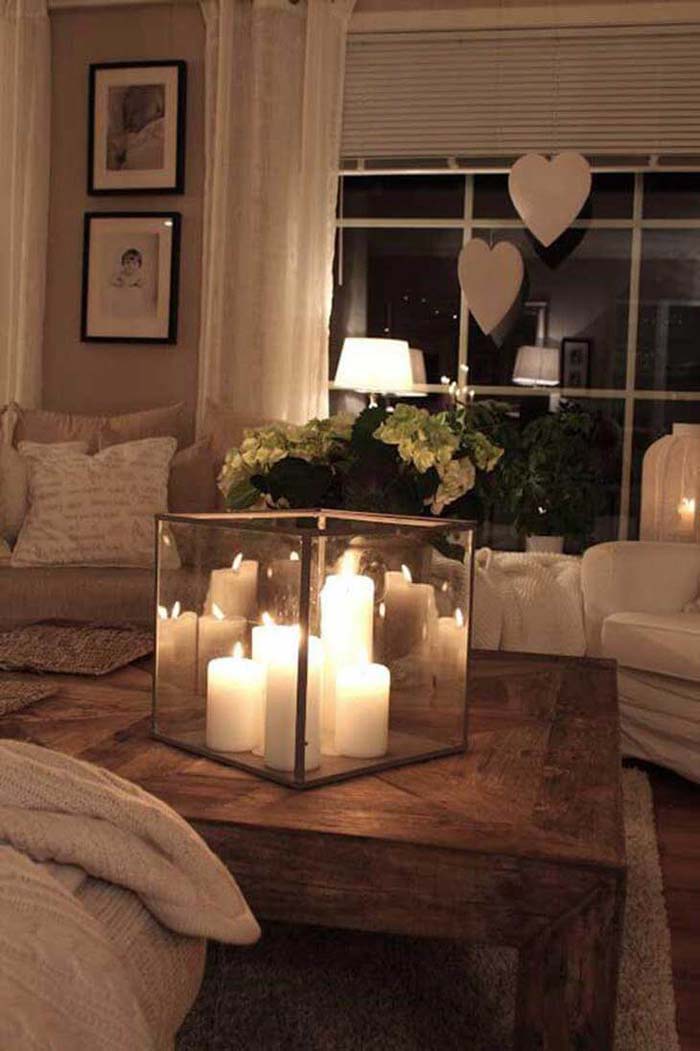 A simple combination such as a square cube and candles in different heights create an unexpected visual interest.
This rustic accent can be a savior for setting a romantic tone in a special moment.
via Lindevegen
Floating Votives with Twig Accents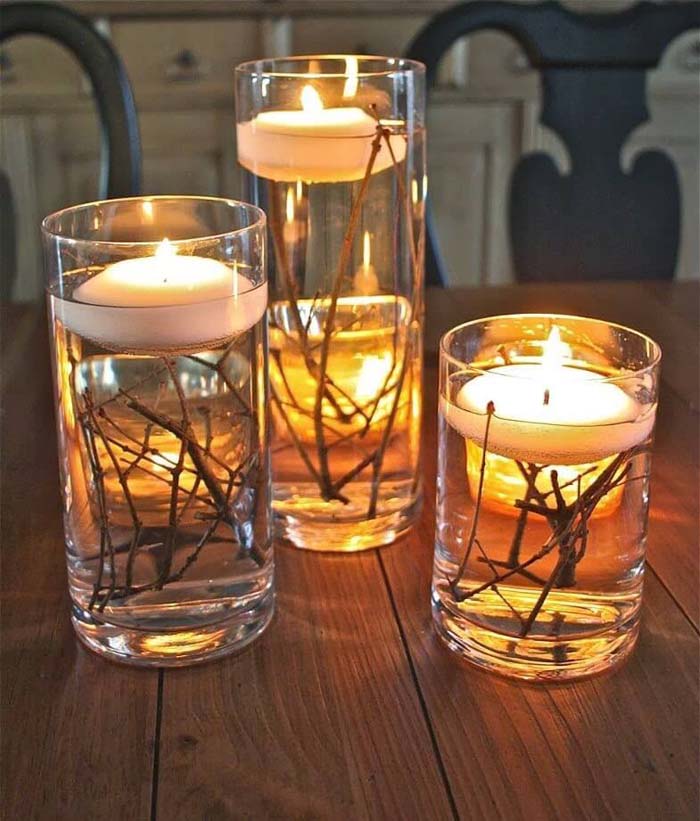 The floating votives are part of the most DIY candle decoration ideas. The reason is that they look amazing and can match almost every candle holder design.
The featured one here offers to insert twigs into glasses, then fill them with water and placing a floating votive on top. This candle arrangement will enhance the cozy vibe in a farmhouse interior or can hint the connection with nature into a more contemporary designed home.
via Pretty Designs
Forest Scene Candle Diorama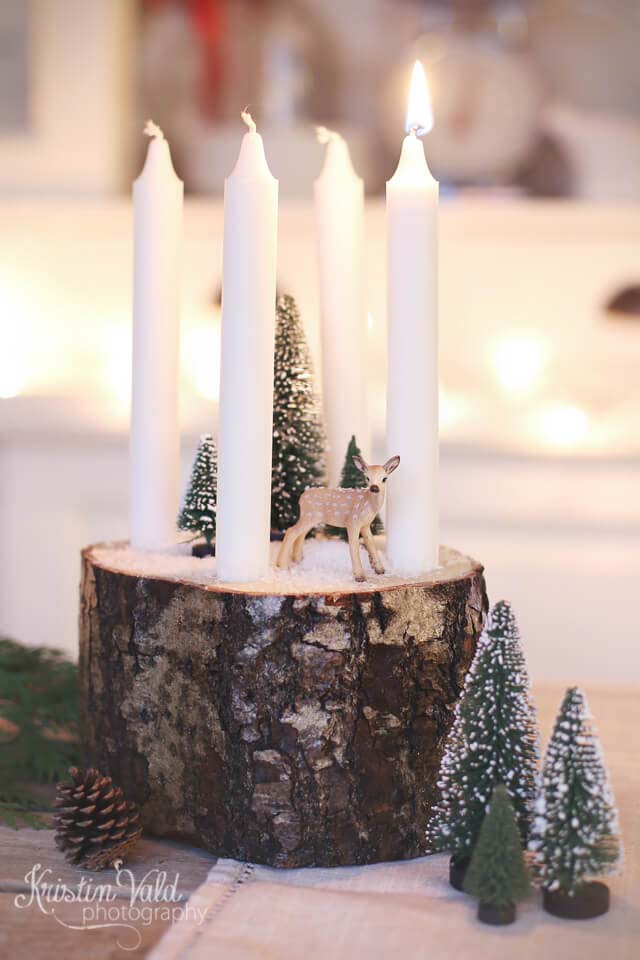 Miniatures from the Dollar store are arranged on and around a log to create a magical winter landscape. Make the diorama more appealing and interesting by including white taper candles.
via Kristinvald
Fresh Flowers and Stemware Candle Trio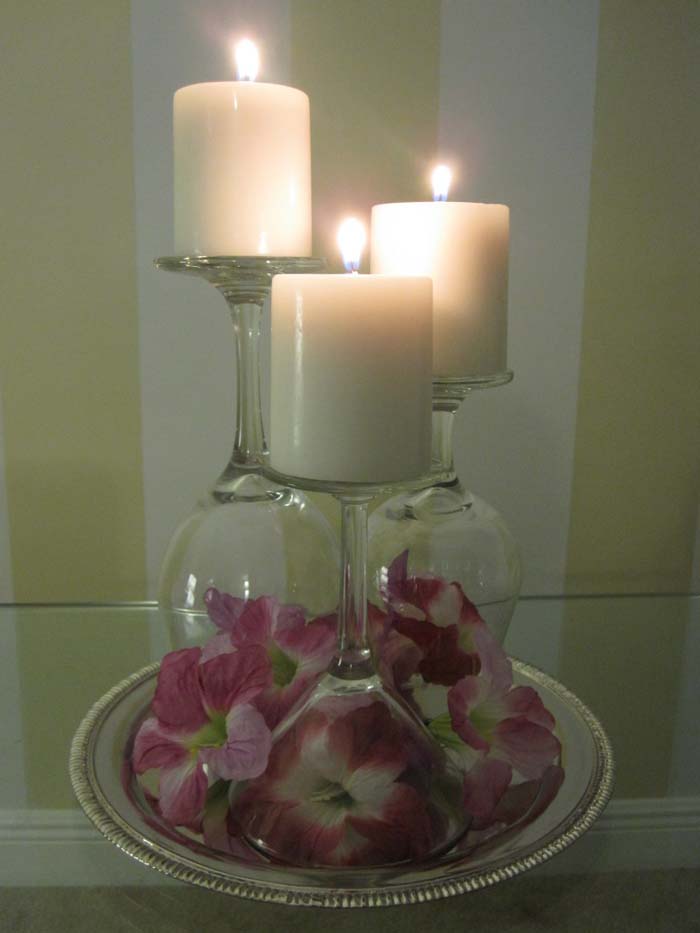 Repurpose your glasses into candle holders in three simple steps. Find a tray to accommodate them. Place faux blossoms on the bottom. Then turn the glasses upside down, letting one of them cover a bloom.
The bases of the glasses become the support for pillar candles. The finished arrangement looks like a specialist's creation.
via Wedding Bee
From Old Frame to Mirrored Candle Tray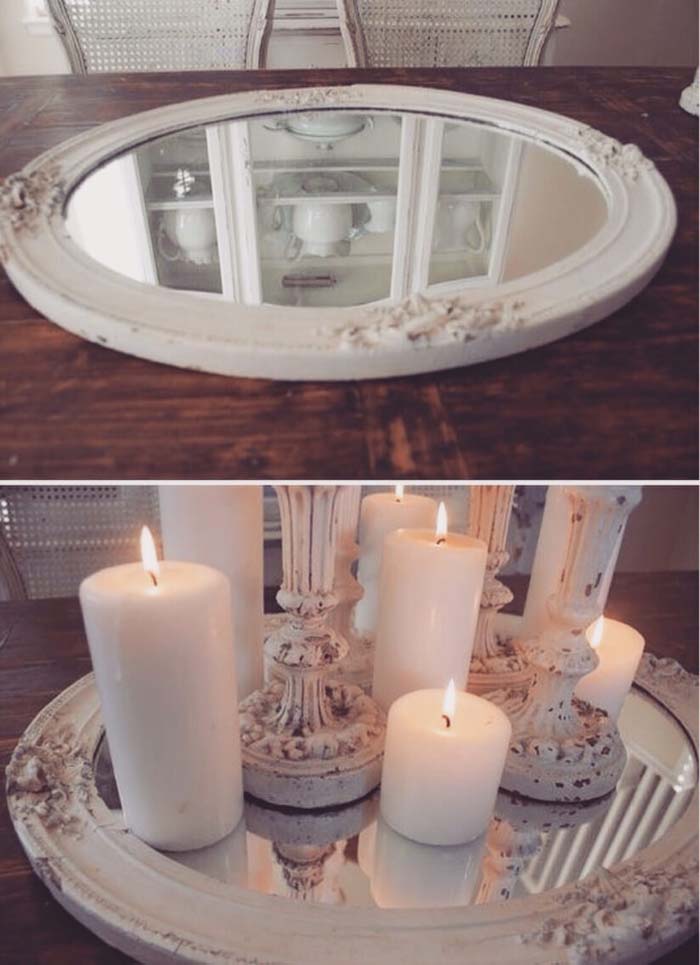 An old frame mirror is repurposed into a candle tray simply by placing it on a flat surface. For a shabby chic or vintage appeal, make sure that the frame is wooden. Additional ornaments and distressed finish will ensure a greater effect.
Add candle holders of a matching style and some free-standing candles. Once they are all lit you will enjoy not only the glow of the candles but also its reflection from the mirror.
Glass Candle Holder With Knit Wrap Large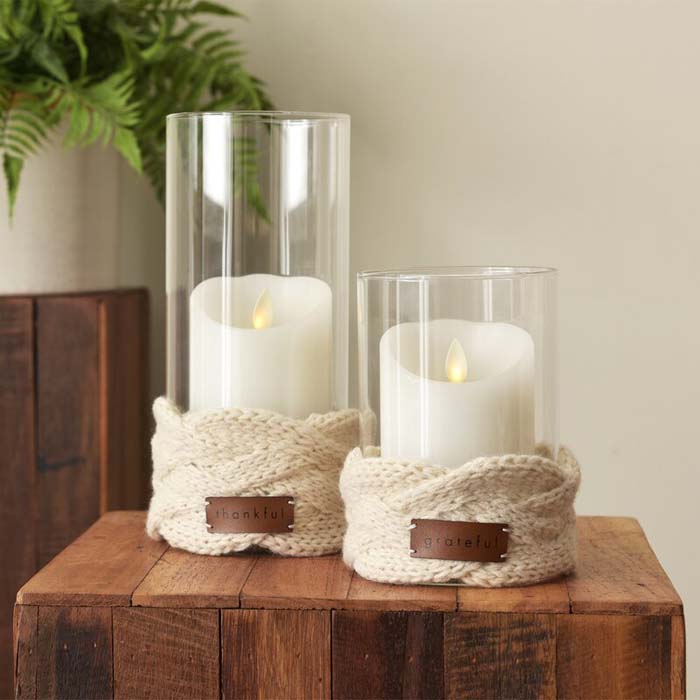 These candles are given a cuddly knitted band on their bases to become a winter-themed decor. The small leather tags at the front of the band praise evergreen values that are taught by the family.
The candles inside the glass can be real or LED ones in case you are looking for a cleaner and lasting ligting solution.
Glass Hurricane Candle Holder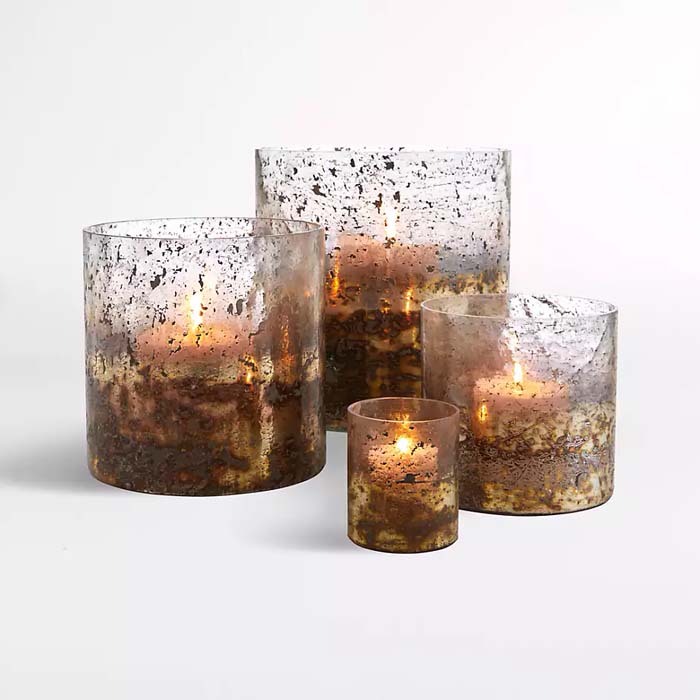 These candle holders look like pieces taken from a stormy sky. They are perfect if you are looking for a modern and unique wedding decor.
They come in different sizes so the visual effect can be increased if they are grouped together on the wedding table.
via Crate and Barrel
Glass Trifles as Elegant Winter Candle Decor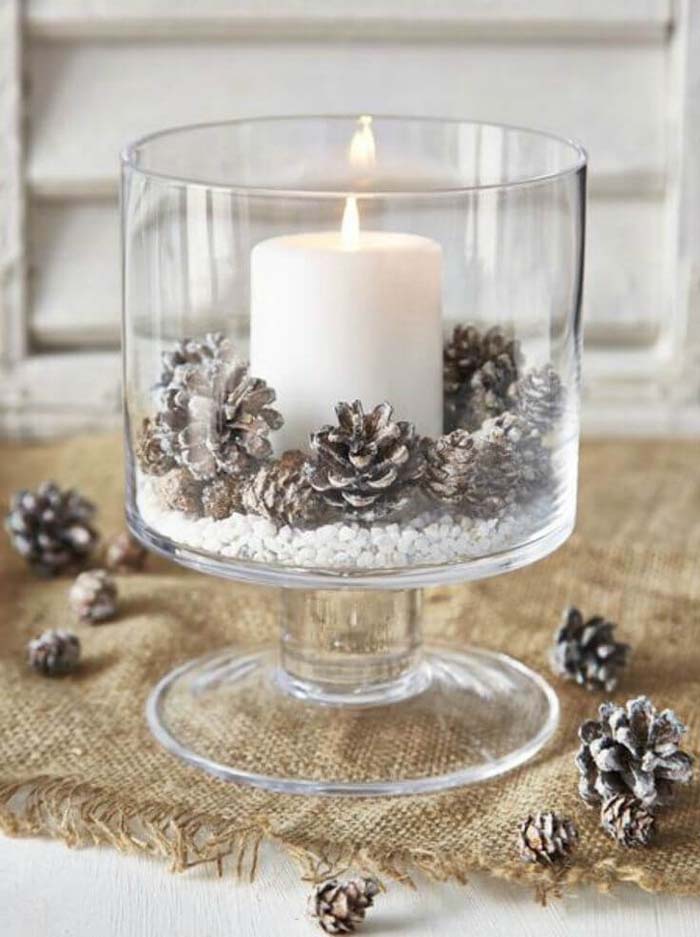 Do you have a trifle jar? If you have long time postponed using it, then let's give it a new application! It is deep and big enough to become part of your season decor.
Turned into a candle holder, the items used to fill its bottom create a connection with the season. The idea here gives inspiration for a winter candle holder where the candle in the center is surrounded by pinecones laying on white gravel.
via Nordic House
Glittering Holiday Bird Cage Candles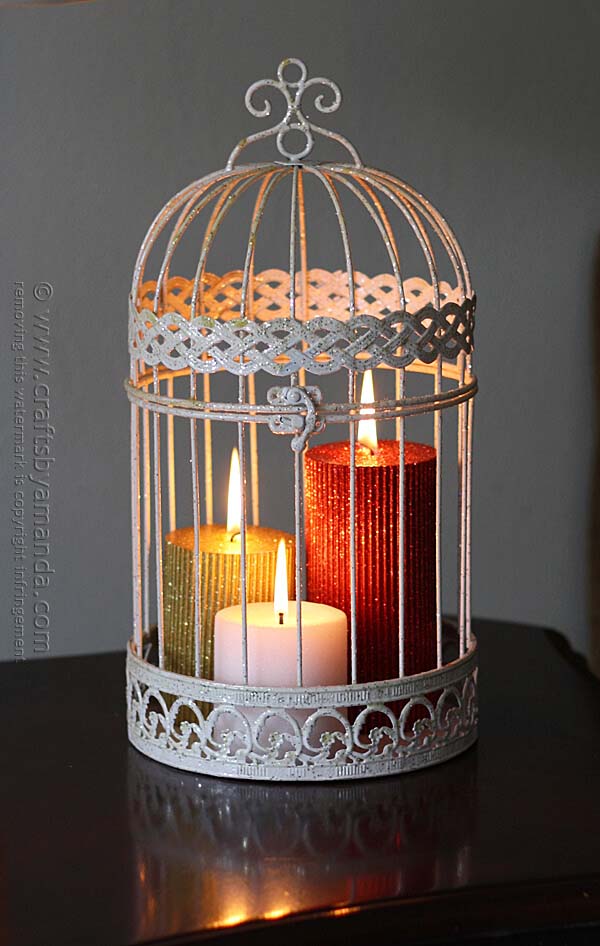 We have seen birdcages turned into spring or wedding decor by filling them with vines or faux flowers. another repurposed application that has also a wonderful interior effect is to use them as candle holders.
Find two or three candles with identical or matching surface and cover them with the birdcage.
via Crafts by Amanda
Glittering Wine Goblets Candle Display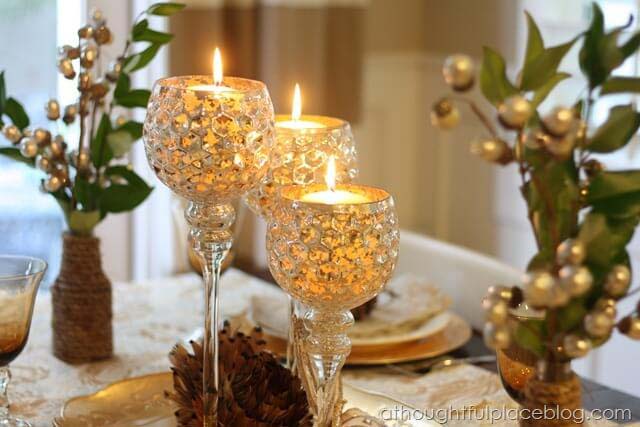 Looking for a unique elegant addition to your festive dining table? Use items that are already there- the goblets for example.
Votive candles or tea canldles are small enough to fit easily inside the glass and yet spread delicate light. If you want to make sure that your glowing candle holders are the focal point, group them together in the center of the table.
Light and Leafy Table Basin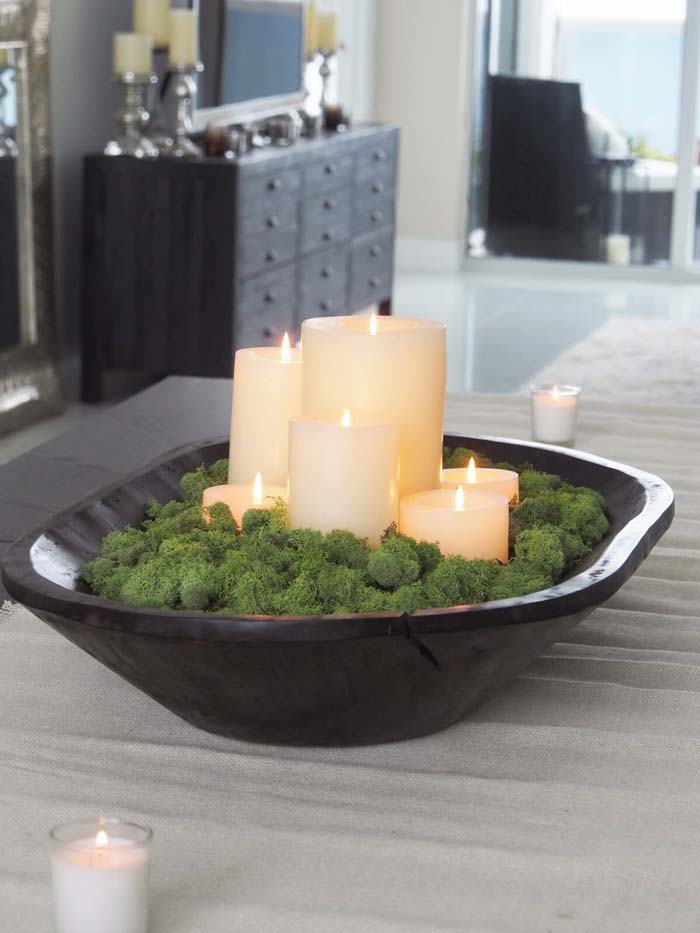 This candle arrangement is Scandinavian-effected because of its simple components, natural colors and greenery. A large bowl is filled with soft green moss. On top of it pillar candles are nested creating a wax mountain spreading light.
Minimalist Meets Rustic Lantern Arrangement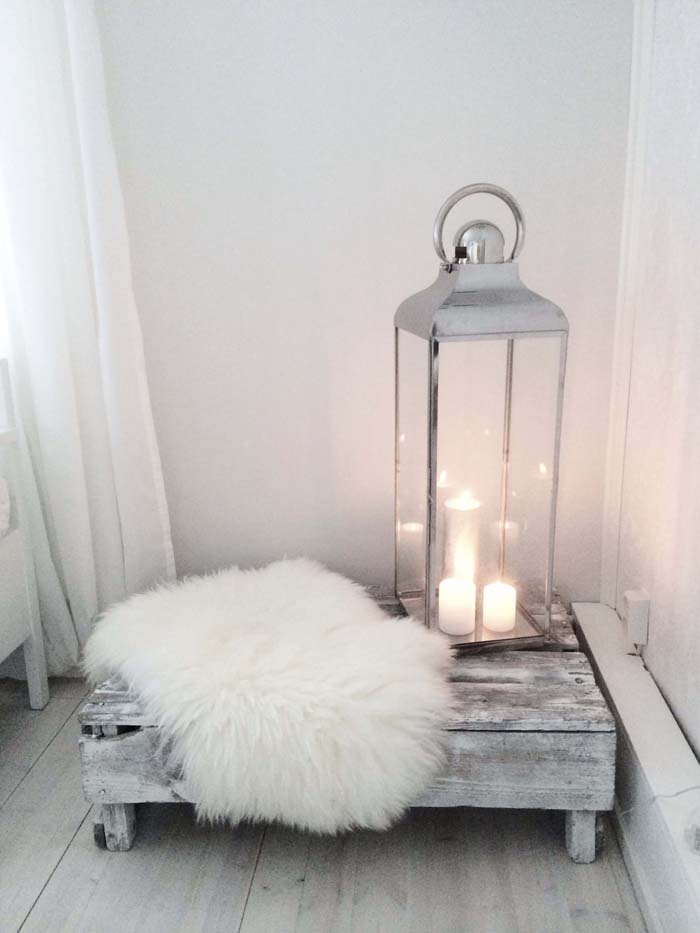 This corner piece has been made to be a side table or a stool when needed. The distressed surface gives space so much warmth and coziness.
And what could make it more welcoming than adding some light to the comfortable sitting piece? Candles, of course. To make them feel like belonging to the setting, put them into a plain glass lantern- another rustic element.
via Salad Days
Mixed Forms Minimalist Centerpiece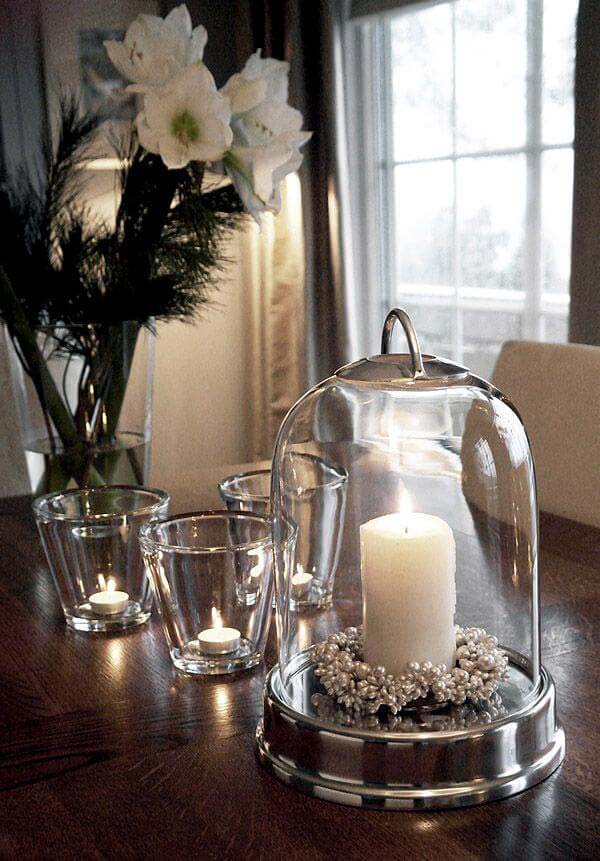 If you like keeping things simple and well-measured, then this candle holder idea will be something to get inspiration from.
A bell jar is transformed into a Christmas-themed candle holder by adding a pillar candle in its center and a short piece of bead garland around it.
via Anette Willemine
My Cup Runneth Over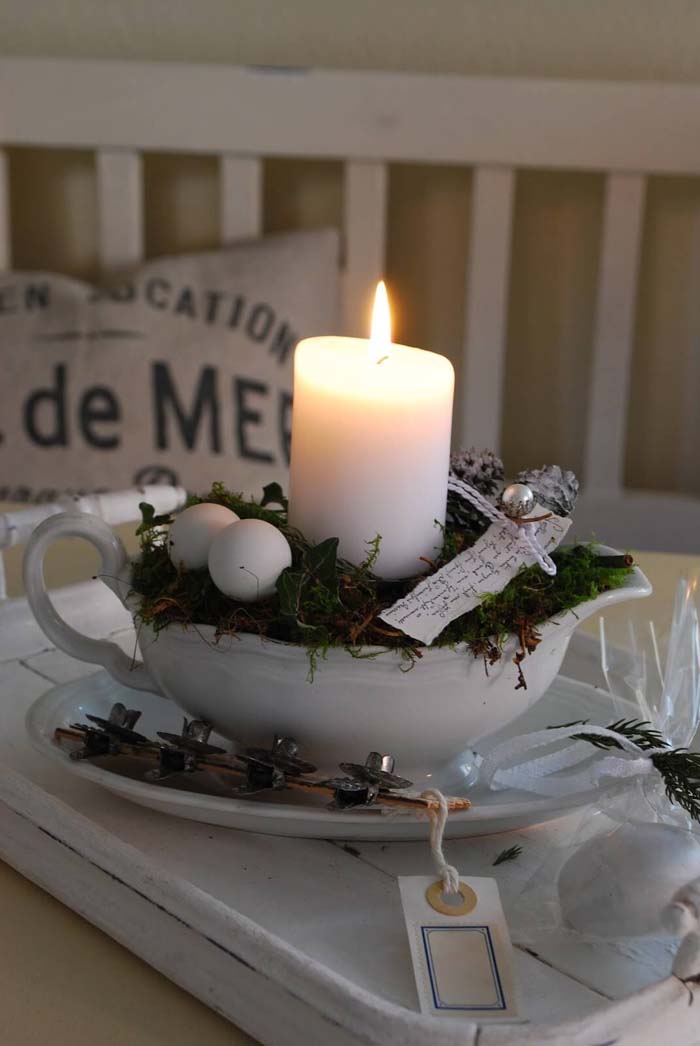 Use your vintage utensils not only as charming decoration but also as a practical piece of the decor. Add some moss to provide filling and then place a candle on.
To make the arrangement holiday-friendly, surround the moss with little eggs. When Christmas comes, change the eggs with pinecones.
via Shabby Blogs
Pedestals, Pillars and Candles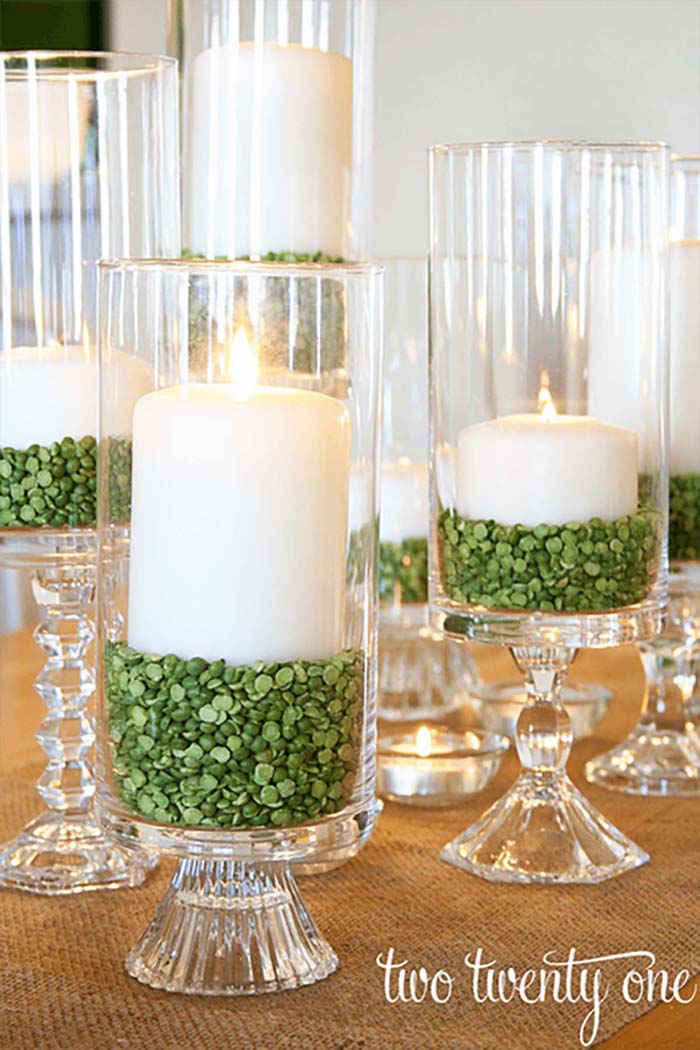 The green filling of these pillar candle holders makes amazing visual effect. Group different in heights holders together and set them in a place that is missing decoration. This way you will let the nature-inspired glass holders become the star of your festive interior.
via Two Twenty One
Rattan Cane Webbing Wrapped Candle Vessel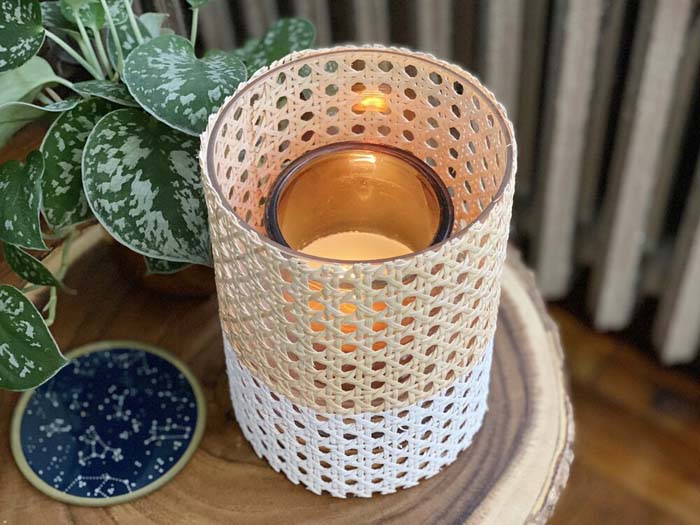 Thinking of easy and affordable candle holder ideas, take a look around your home. Are there any small empty containers? Turn them into a brand new decor piece by inserting a candle inside.
Romantic Fishbowl Candle Idea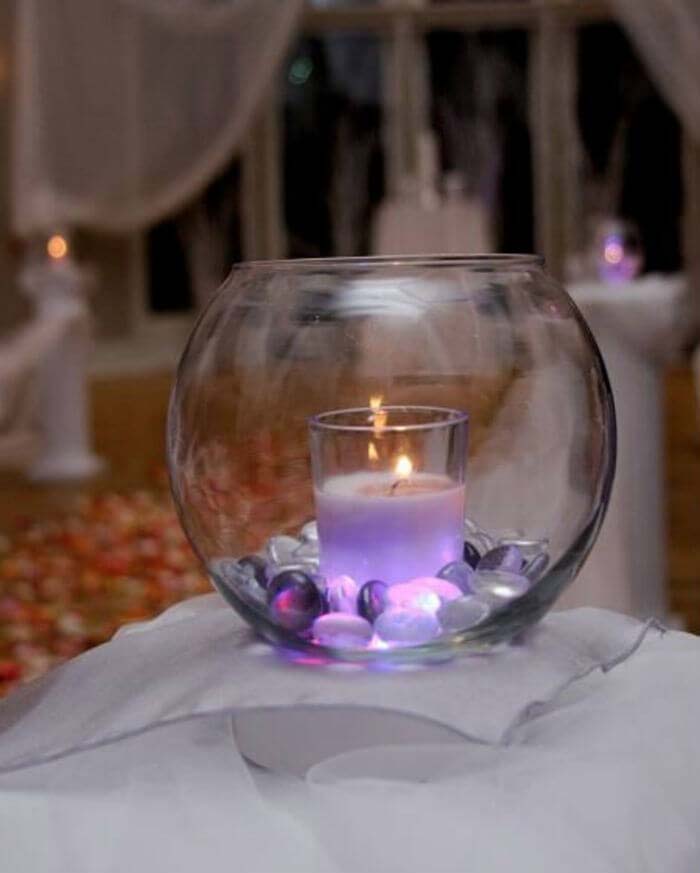 Fishbowls can become unique candle holders because of their shape and non-traditional repurposing. Insert a glass votive into the bowl and surround it with rocks or gems.
For a more romantic impact, add flowers around the candle.
Rustic Barnwood Candle Sconces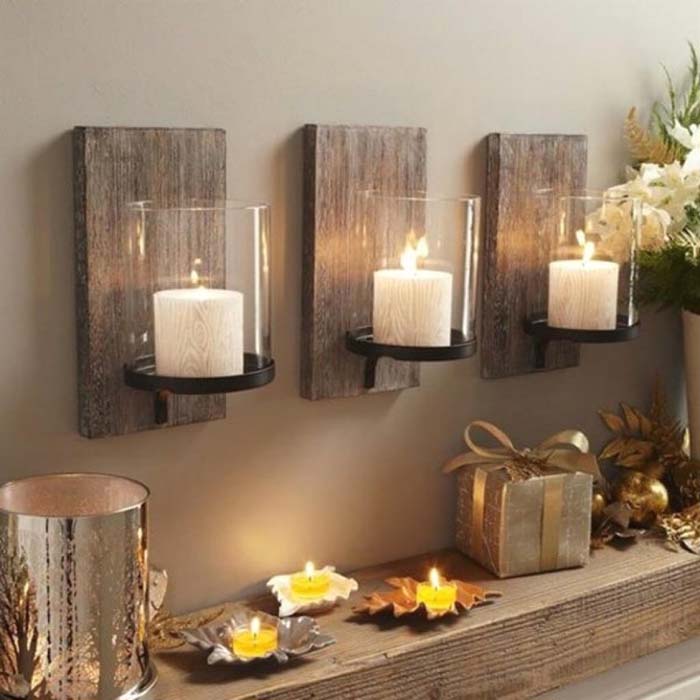 We are used to seeing scones as bulb light fixtures. Replacing the bulbs with candles will give your home a charming and cozy farmhouse vibe.
The glass holders sit on round metal trays. Large in diameter glass sits on the trays and accommodates pillar candles. If you are afraid of forgetting the candles lit, just replace them with LED ones.
Shabby Chic Candle Lanterns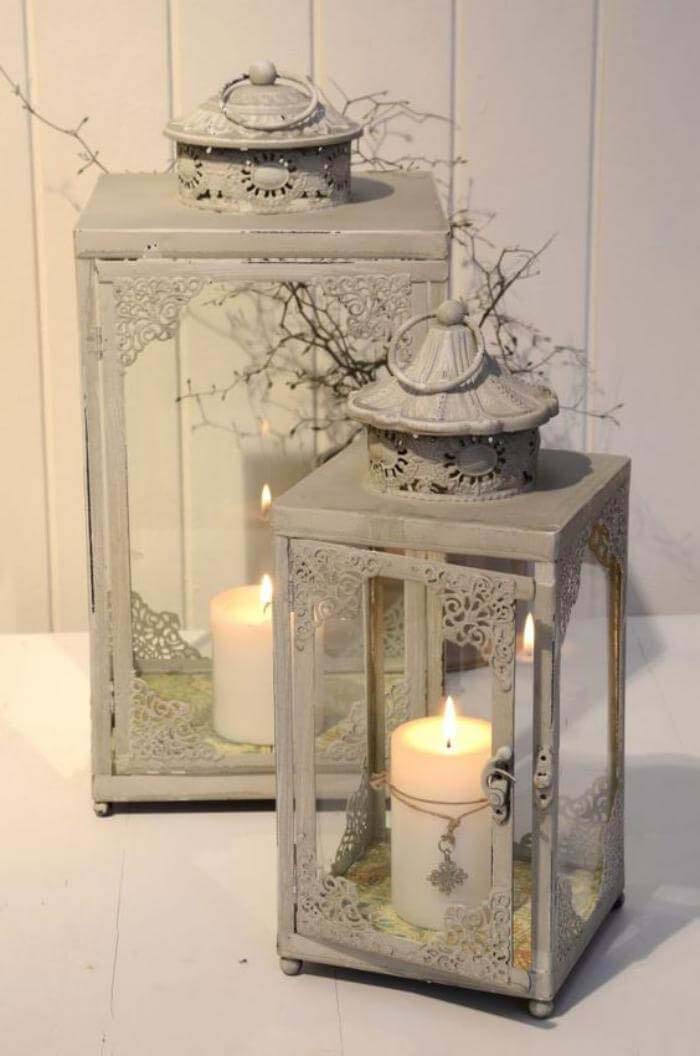 The design of these lanterns is so unique that it will be a waste if they are not used all year long. In winter, they can be turned into an indoor decoration by adding a candle inside.
In case their color doesn't match your decor, spray paint them and then do some sanding on random edges to enhance the aged look.
via Bellarose
Side Table Candle Terrariums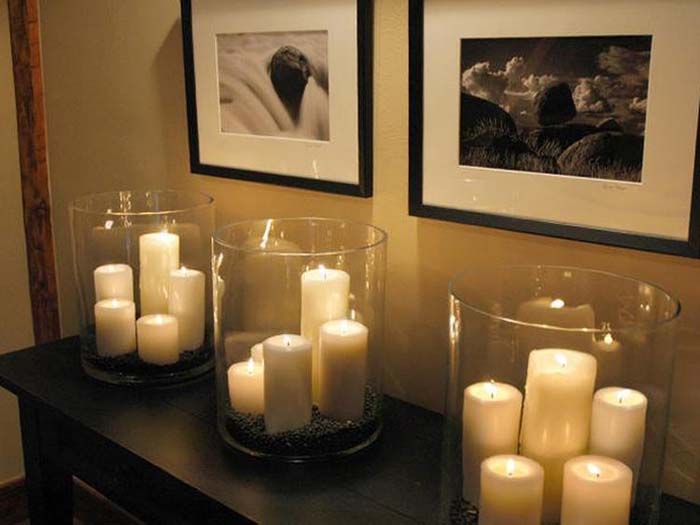 This candle decoration idea proves that any glass container can become an amazing piece of the decor by adding candles in it. The terrariums are large, transparent and let the combinations of the contained inside be various.
Coat the bottom with bead, or gems, or moss and then place the candles on. The final effect of the glowing ligh is amazingly appealing and romantic.
Sophisticated Fall Pumpkins with Candles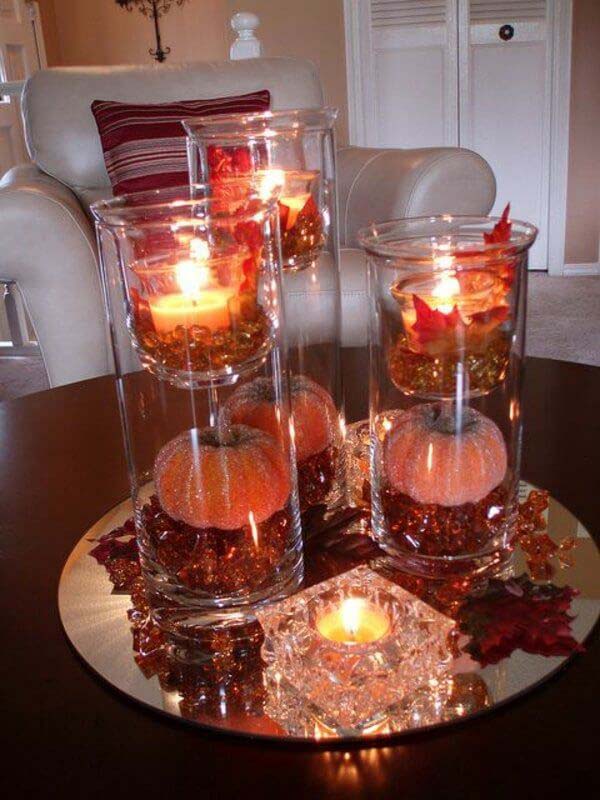 This is an idea for a candle decoration with an fall theme. Small pumpkins are inserted in glass containers to set the festive mood.
Red beads cover the bottom of the glass and at the top level, a candle is placed. The light effect is increased by placing the candle holders on a mirror surface.
Twice the Light with a Well-Placed Mirror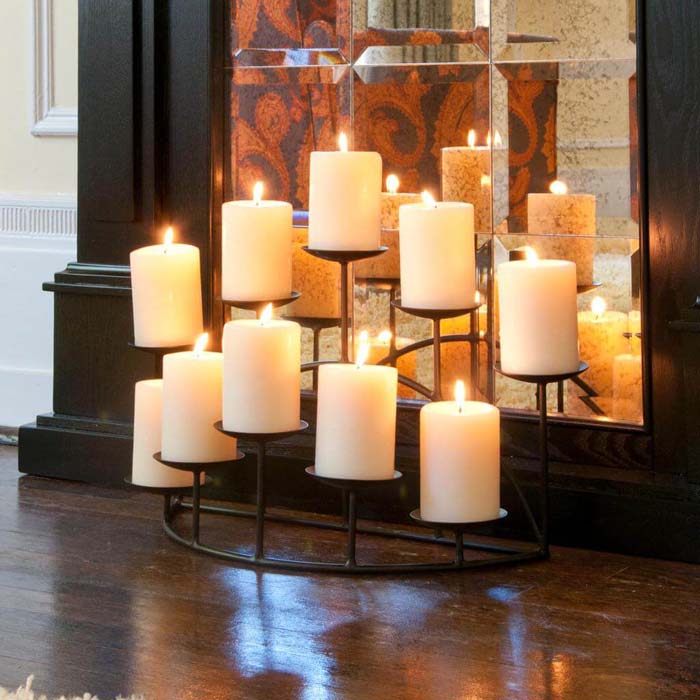 This is a vintage candle holder which is part of a contemporary home to add warmth, coziness and uniqueness. The candles are so many, spread on different height which creates a dramatic visual effect.
When all of them are lit, you will enjoy bright light.
Vintage Holders, Festive Tapers Candles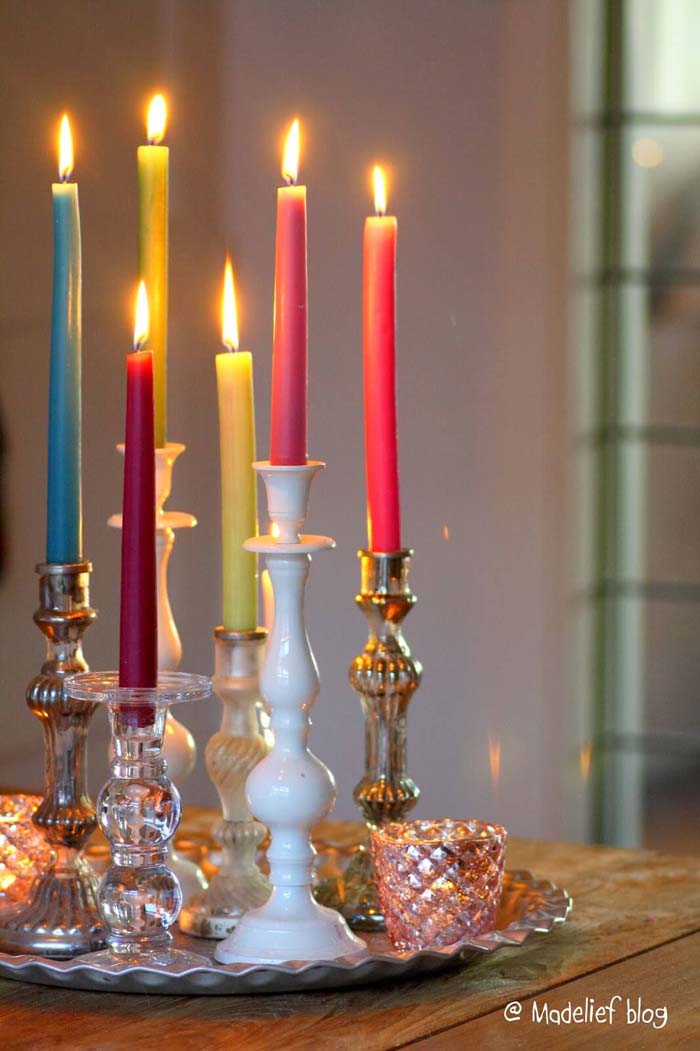 Make a collection of vintage candle holders to create a unique vintage spot in your home. The colors of the holders may vary, as well as their size. When put together they will look like a set because of their design and style.
White Candles and Green Ferns Centerpiece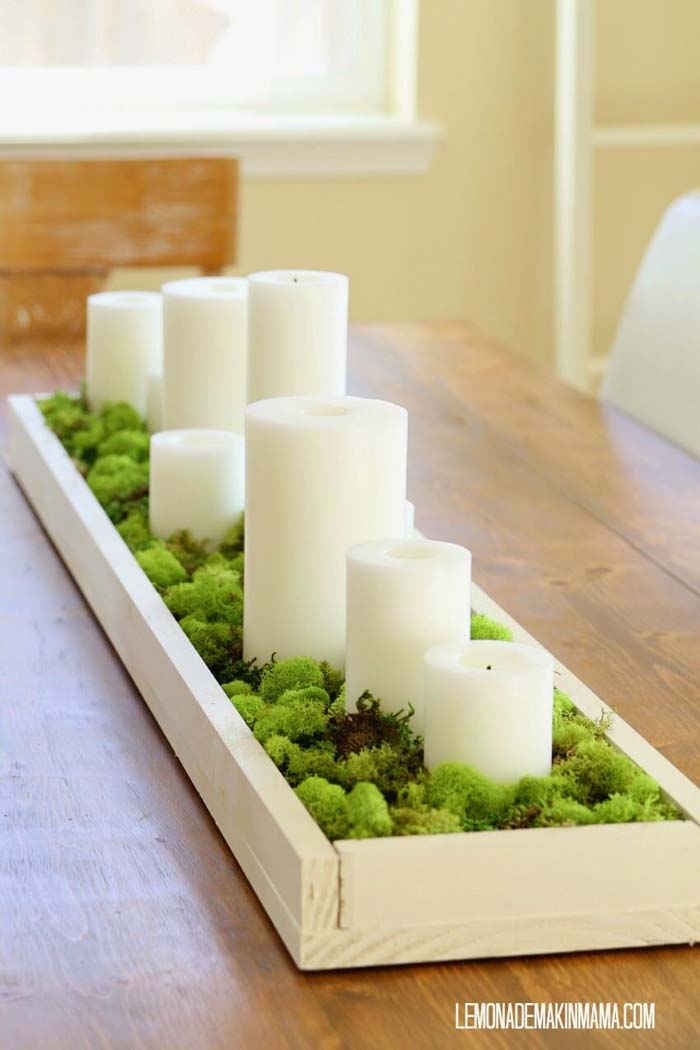 This candle arrangement idea inspired with its natural beauty and calming colors. The relation with nature is in every part of it. The wooden tray is left in the original color of the sanded wood.
It is filled with live moss that reveals hues of green. The final piece adds a relaxing vibe to the ambiance in a simple Scandinavian way.
Winter Wonderland Icicle Tapers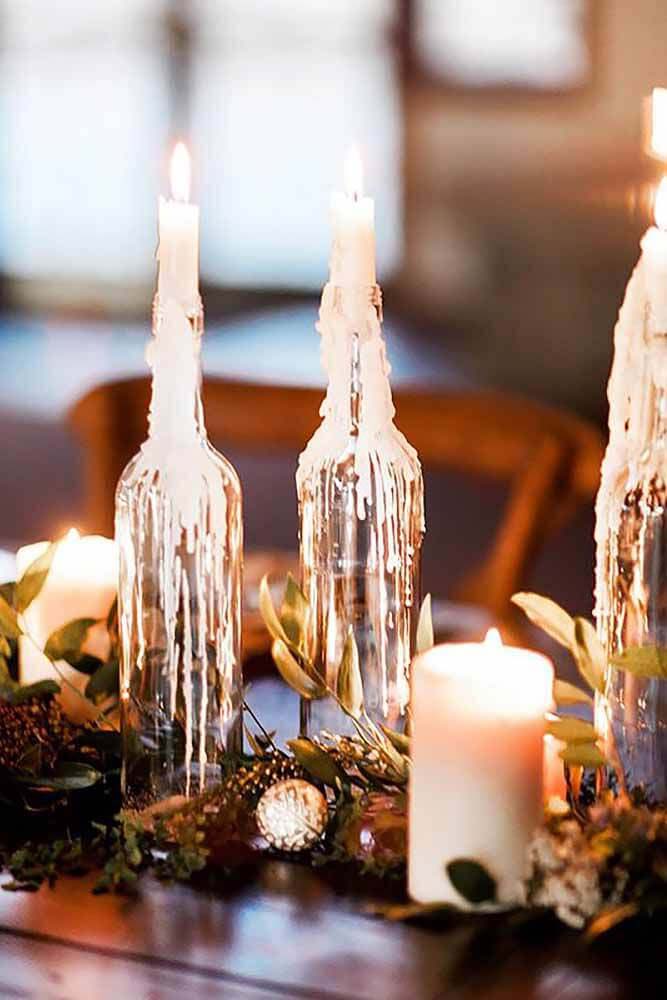 The effect of these candle holders is achieved by letting the wax flow down the glass surface. Most of us would like to clean these out, however, if they are left on the glass surface, they create a vintage gothic effect.
The easiest way to achieve this candle holder design is to insert candles into the necks of glass bottles.
via Hey Wedding Lady
Woodsy Winter Plank Display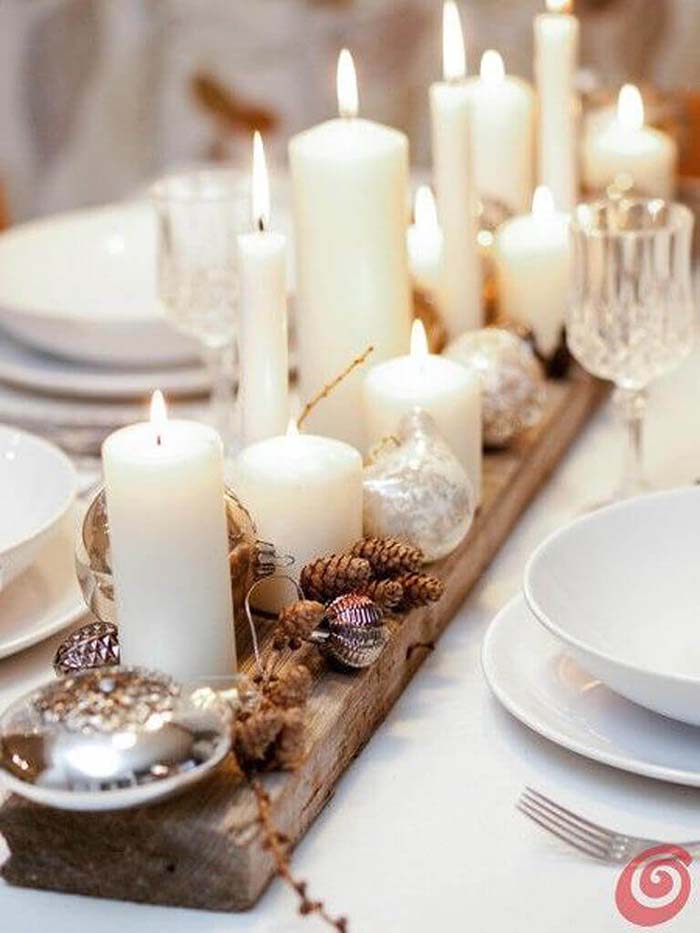 Make your candle tray holder winter-festive by changing the decoration filling the empty spaces between the candles with small pinecones, pine twigs, baubles, bead garlands.
Such a tray could be a great solution for a universal candle centerpiece simply by changing the embellishments.
Zen Garden Candle Arrangement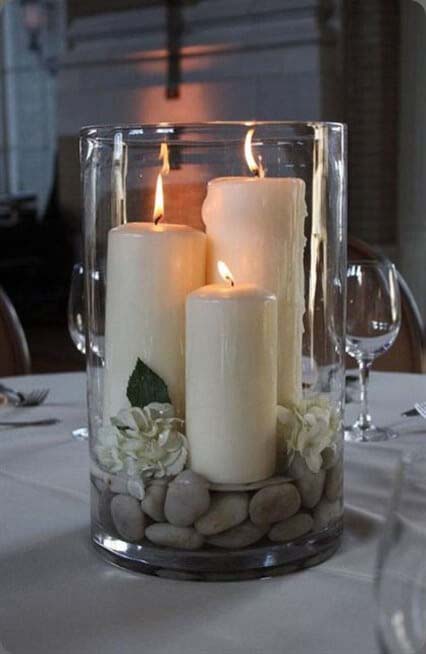 Another candle decoration idea that is inspired by the Zen teaching puts the elements of a Zen garden in a smaller scale. They are arranged in a glass container in which a candle takes the center place.
Use faux flowers like orchids or gardenia blossoms for flower embellishment and pebbles to create the basis for the candle.