Mason jars are a mainstay of farmhouse and country design, and it's easy to see why — the materials are simple but beautiful, and the classic shape evokes imagery of relaxed kitchens and time-honored canning traditions.
Bring a touch of this homey, rustic feeling to your house by integrating Mason jars into your decor; these wonderful projects are sure to spark plenty of DIY ideas.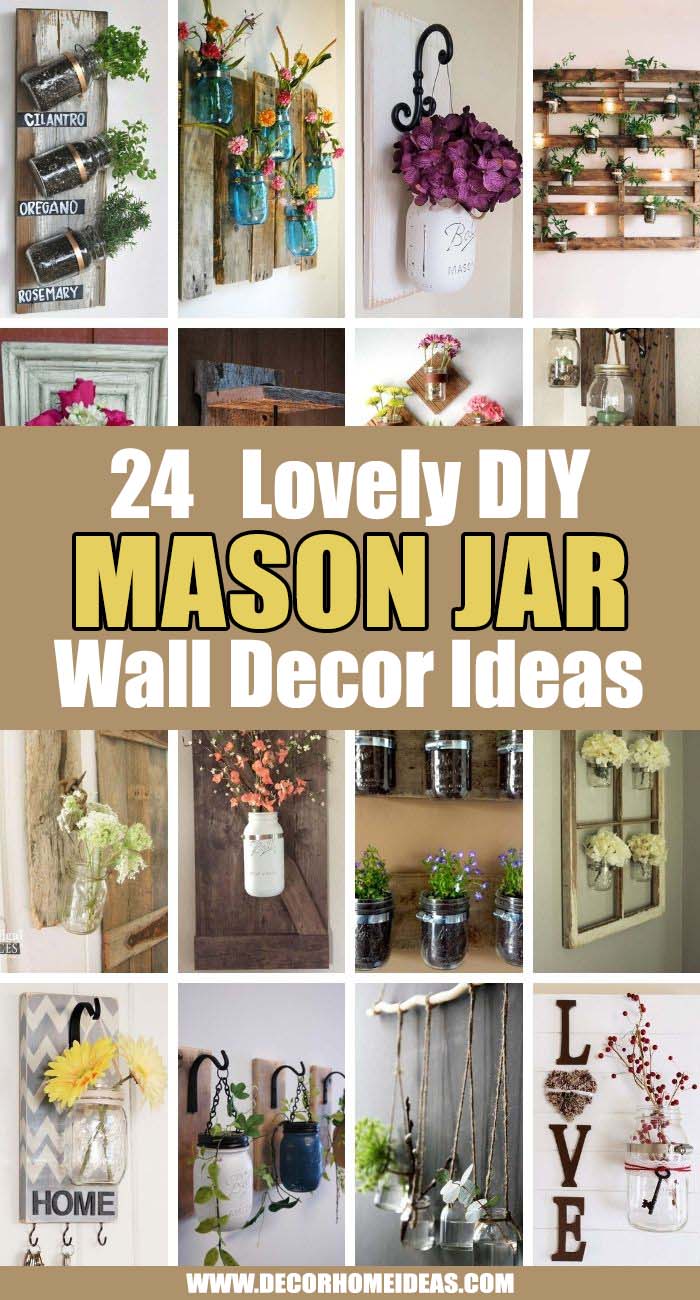 1. Rustic Barnwood Mason Jar Light Fixtures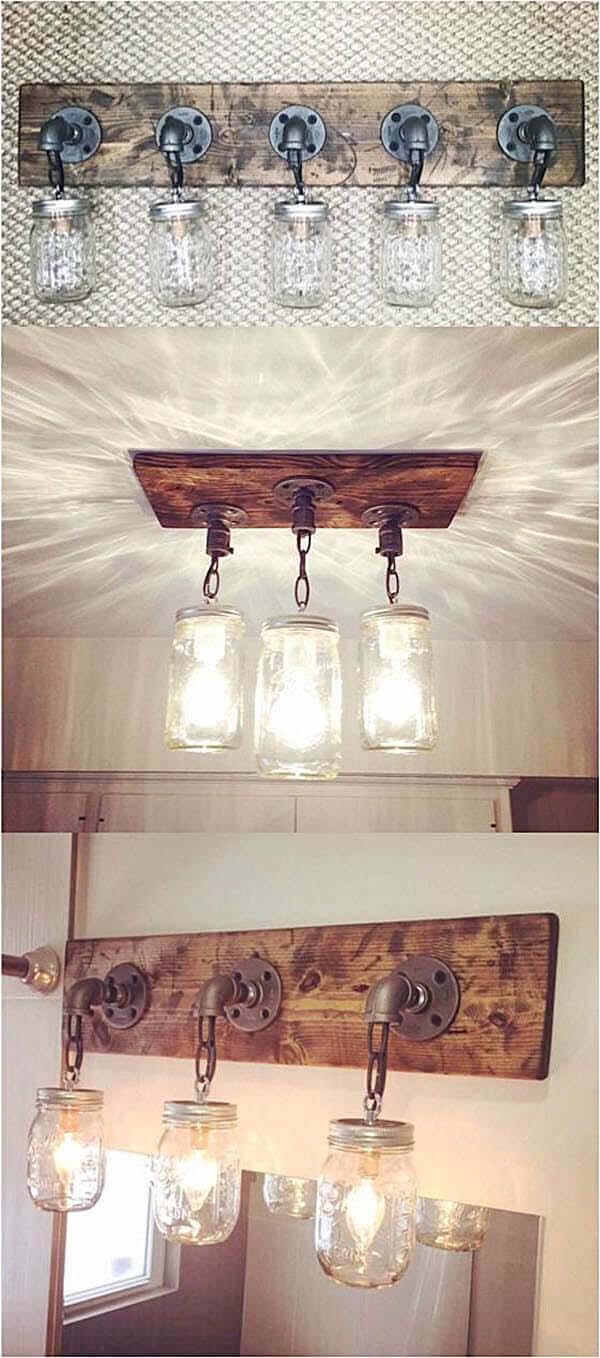 Light fixtures are some of the most high-visibility pieces in your home; they also happen to be the perfect way to use Mason jars.
The clear glass allows light to escape in all directions, and the pale metal tops add a hint of sparkle.
Pair them with a rustic wood base plate for good measure.
2. Mason Jar Kitchen Herb Planters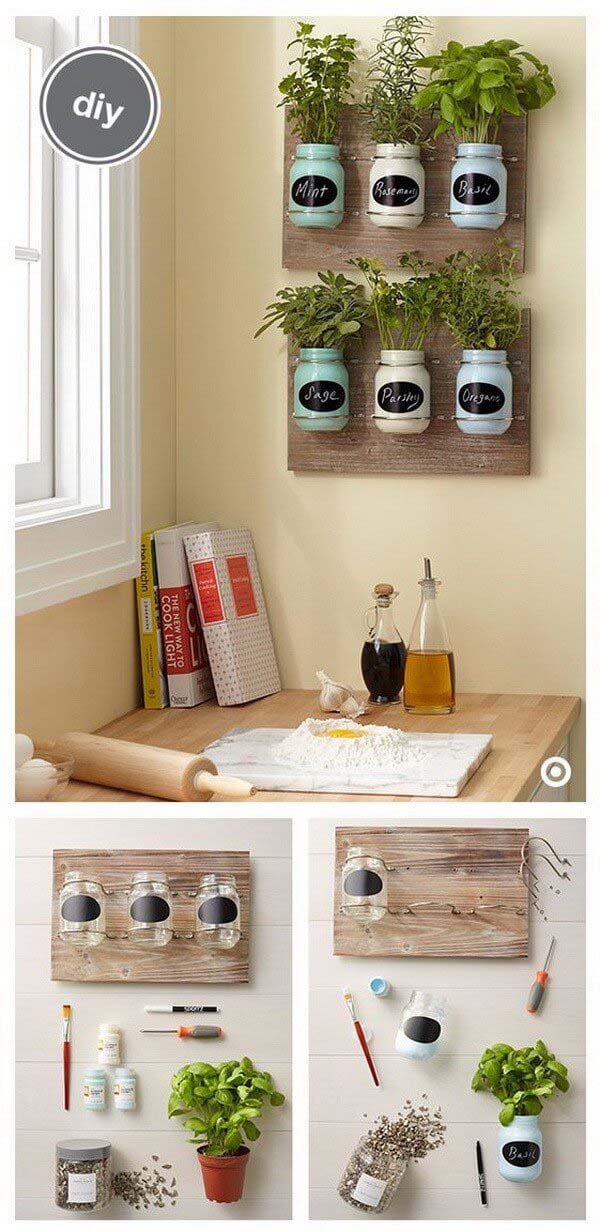 How cute is this herb garden? Making it is simple — cheap metal brackets are all you need to fasten the jars to the wood backboards.
Plant your favorite herbs, and you'll have a piece that's decorative and delicious.
3. Boho Hanging Jar Wall Art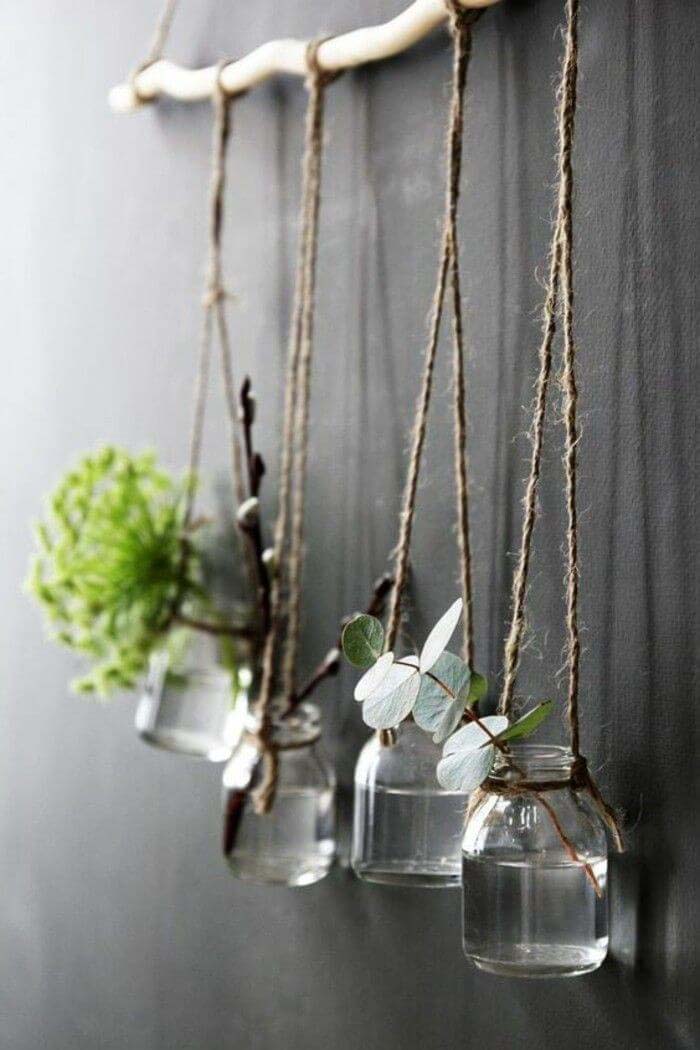 Refresh your wall art with a few jars and a collection of inexpensive supplies.
The rough twine rope adds a beautiful texture that complements the organic lines and colors of the stick.
Finish off your display by adding fresh greenery or flowers.
4. Mason Jar Flower Vase Art Piece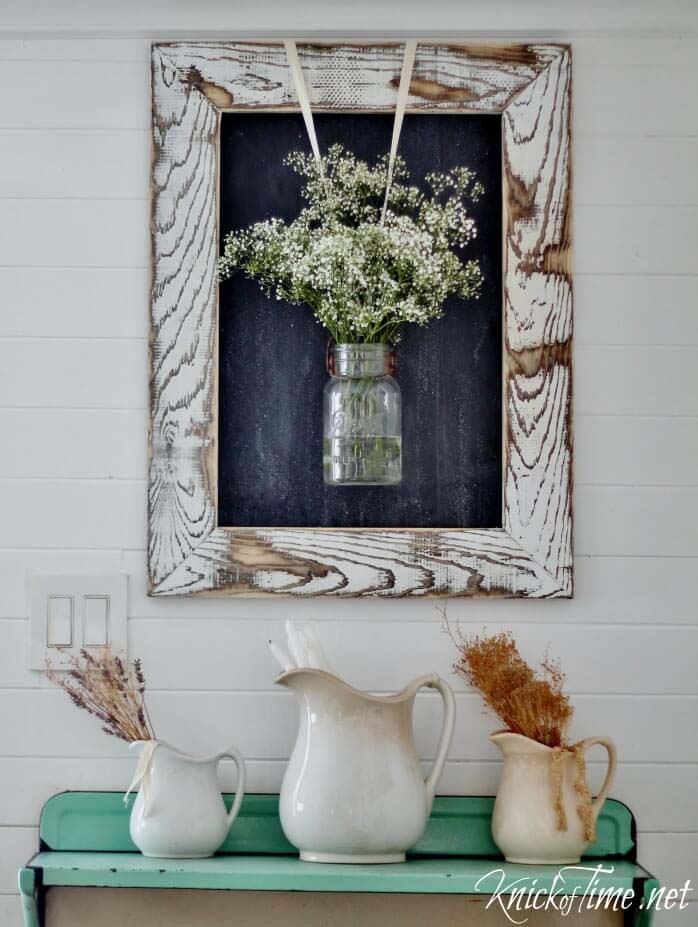 In centuries past, dried flowers were a popular decorative item.
Here, they combine with a variety of vintage elements: a Mason jar, a weathered frame, and a distressed chalkboard.
The result is rustic, eye-catching, and beautiful.
via Knick Of Time
5. Barn Door Mounted Mason Jar Vase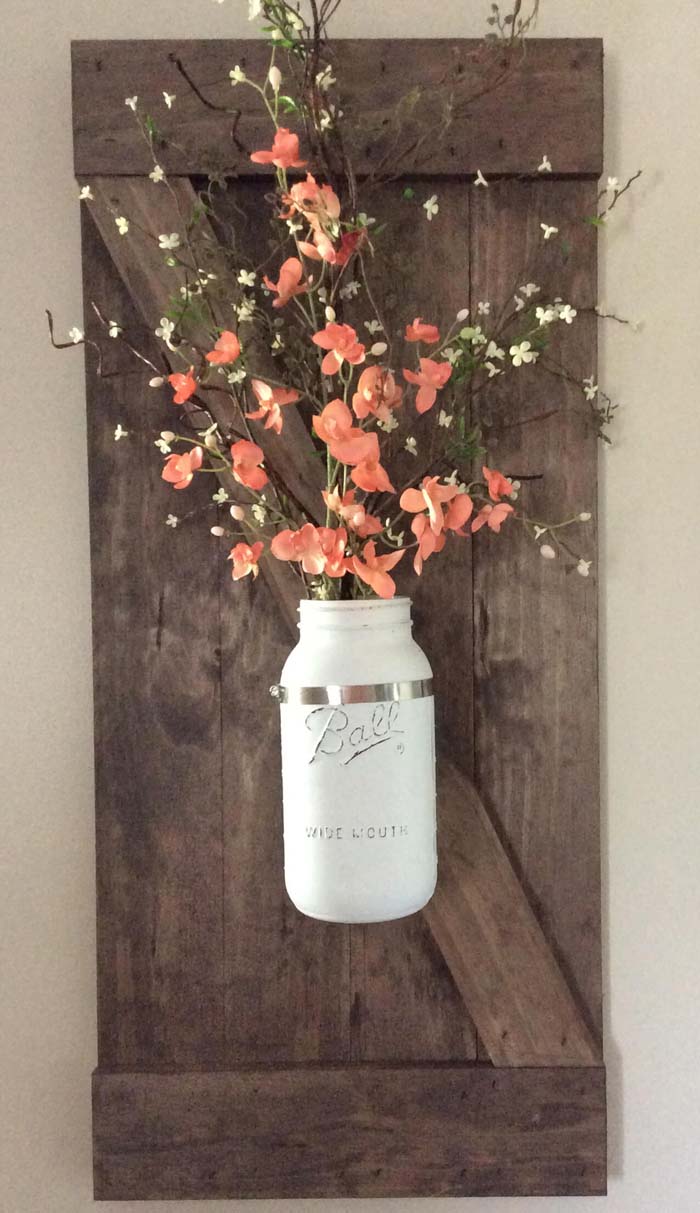 Give your jars a coat of milk paint to create this gorgeous, rustic vase.
It's mounted on a repurposed wood cabinet door, creating a high-impact way to display a beautiful bouquet, silk blooms, or a collection of wildflowers from the yard.
6. Chicken Wire Hanging Flower Jars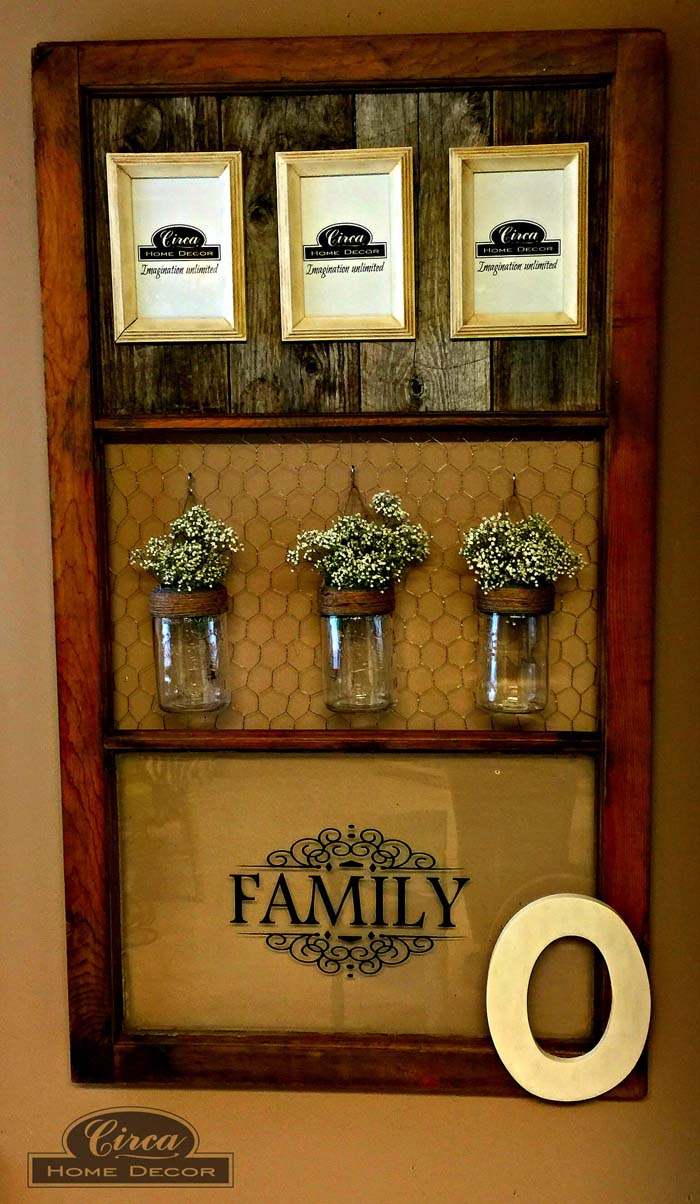 Do you have an old door or window tucked away in the garage?
Grab some scrap wood, a few jars, and some chicken wire to make this creative project.
The different textures add a decidedly rustic look, and the Mason jars add three-dimensional flair.
7. Valentine Love Jar Wall Décor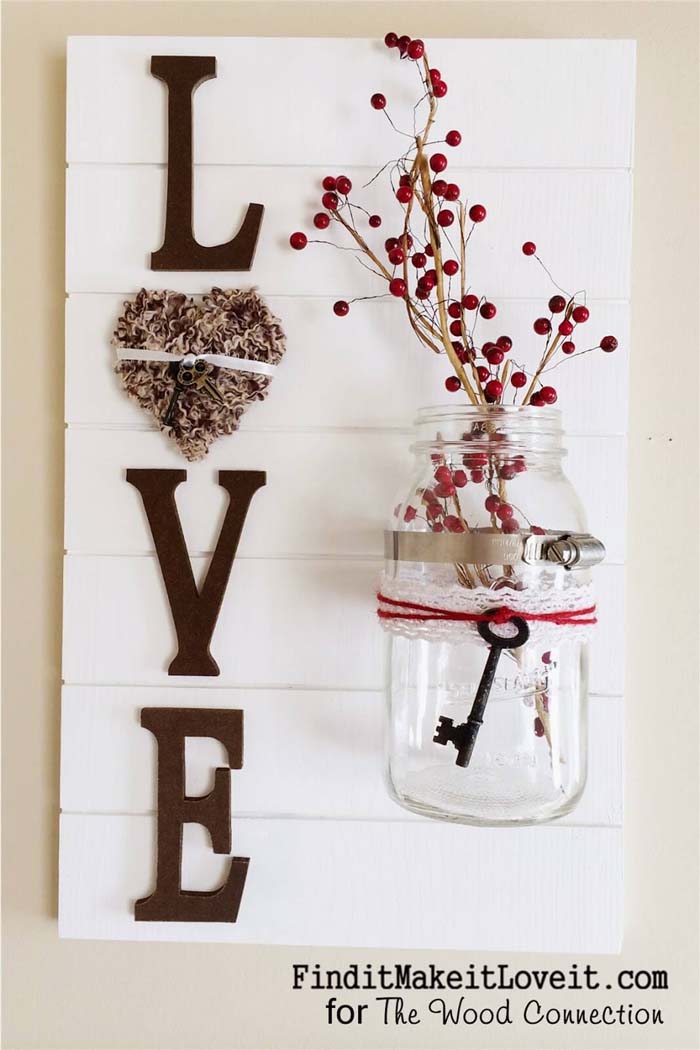 Spruce up your house for Valentine's Day with this fun DIY project.
You probably have most of the supplies you need around the house, and everything else can come from a craft store.
Our favorite part is the red yarn holding the vintage key in place; it adds the perfect pop of rustic color.
8. Add A Cute Jar Vase To Key Hooks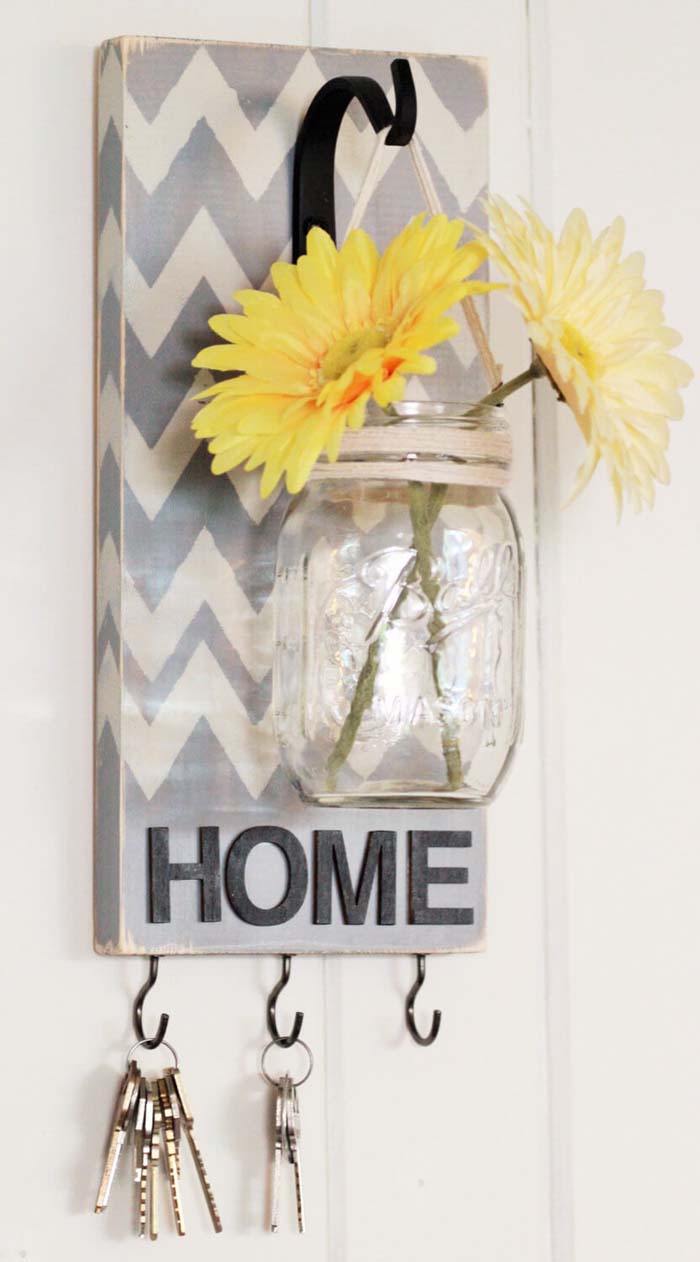 Do you ever struggle to find your keys?
They'll always be easy to locate when you make this clever wall art.
The Mason jar holds a pair of brightly colored faux flowers, and the row of hooks along the bottom keeps your keys in order.
9. Cute Purple Flower Mason Jar Planters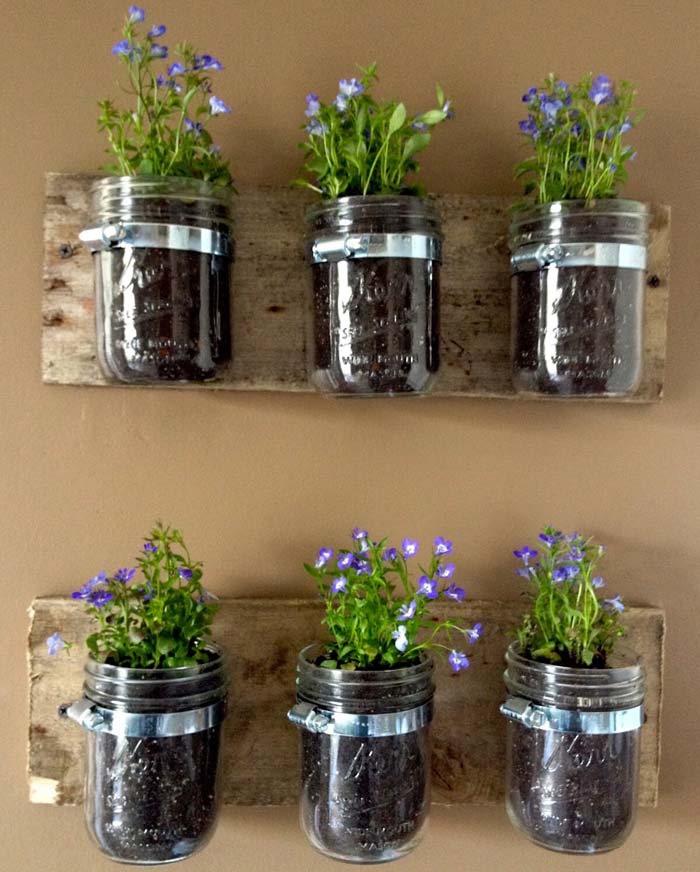 Refresh your indoor planting space with a clever Mason jar planter.
The clear glass allows the rich soil to shine through, enhancing the gorgeous natural colors of the flowers.
Plus, since you can mount it on the wall, it saves space in your home.
via Kasey Trenum
10. Colorful Painted Mason Jar Hanging Vases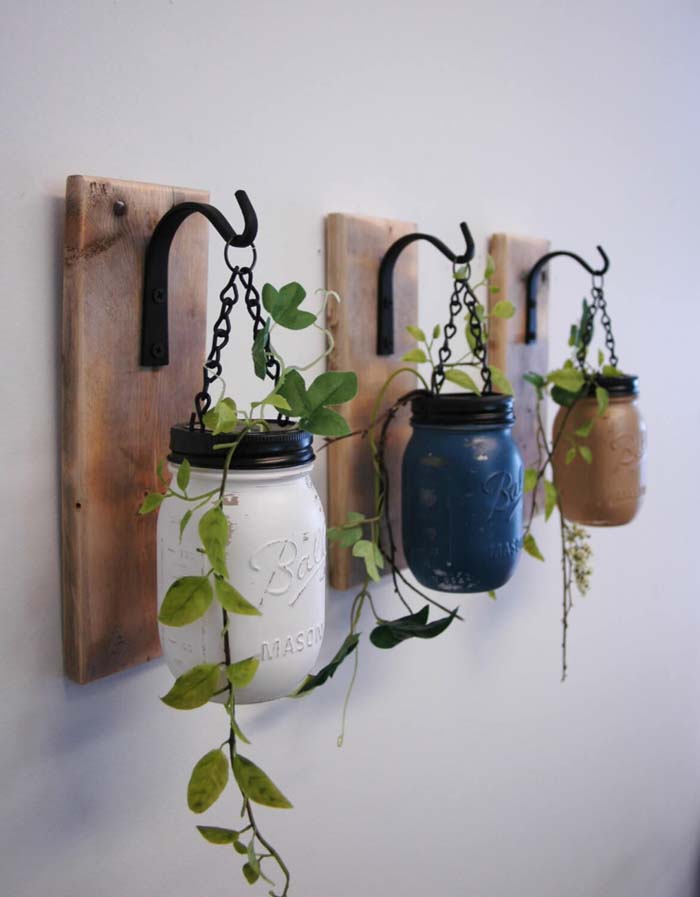 Here's another fun take on Mason-jar planters.
The milk paint keeps the focus on the greenery, and the adorable hanging mounts add depth to a wall.
This project works well with vines and creeper plants.
via Etsy
11. Upcycled Pallet Mason Jar Planters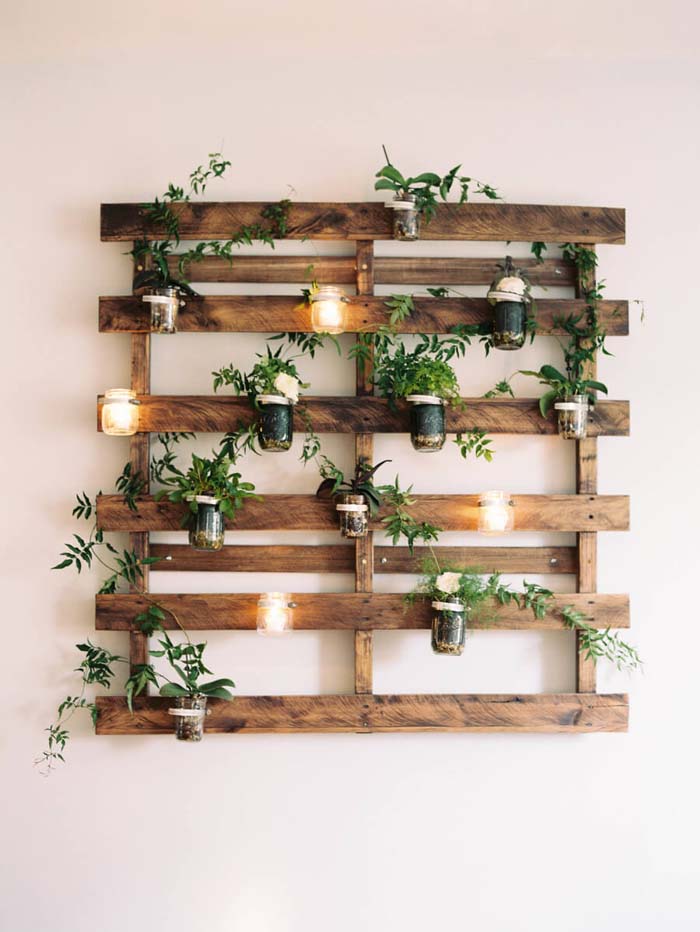 Do you have a large empty wall in the house?
Turn it into an art installation with this simple project. All you need to do is hang a palette on the wall and attach a collection of jars.
Put candles in some jars and plants in others for a fun blend of light and color.
via Style Me Pretty
12. Farmhouse Chic Hydrangea Vase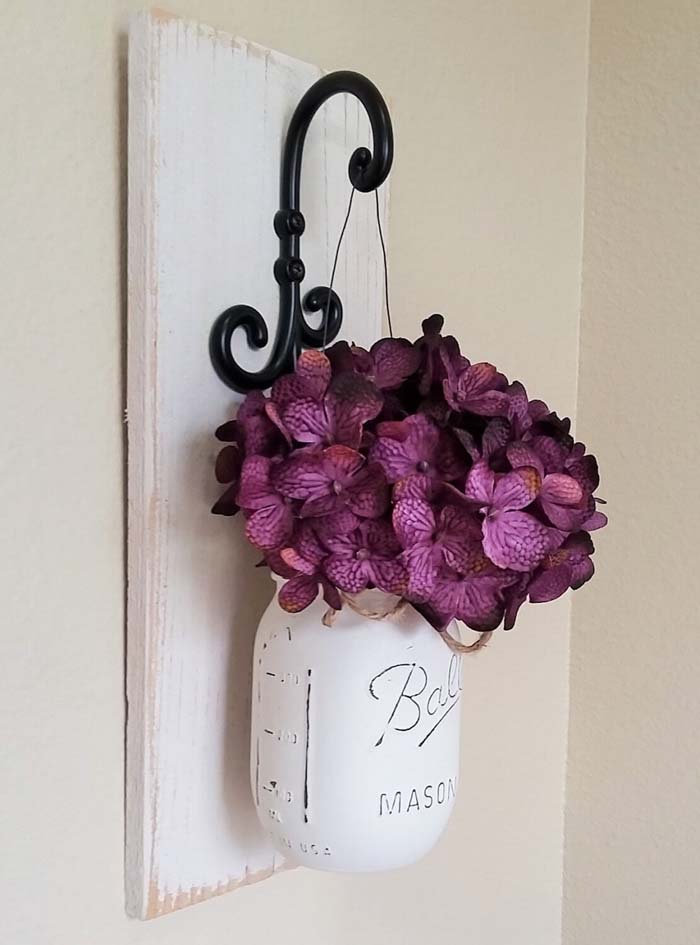 Fresh and fabulous, this gorgeous Mason jar decor is the perfect way to accent a small wall in your hallway or front entry.
The trick is to fill the jar with brightly-colored silk flowers; they look even more vibrant against the white jar and backboard.
13. Antique Window Frame Floral Wall Hanging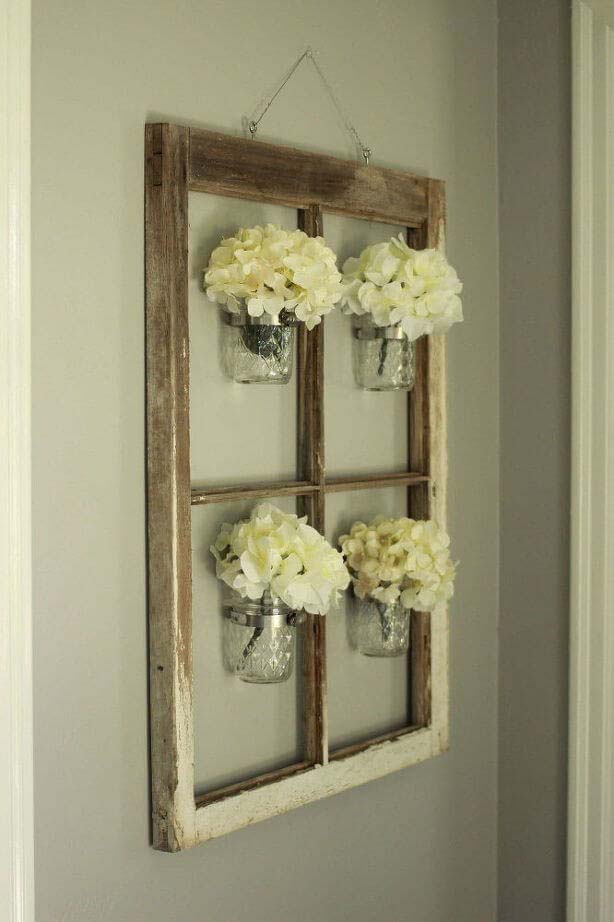 Upcycle an old window frame by turning it into a piece of wall art.
There's no need to paint the frame — the distressed finish and chipping paint adds to the rustic charm.
Place a Mason jar filled with flowers in the center of each pane for a fresh, country-inspired look.
via Hometalk
14. Natural Wood Square Mason Jar Vases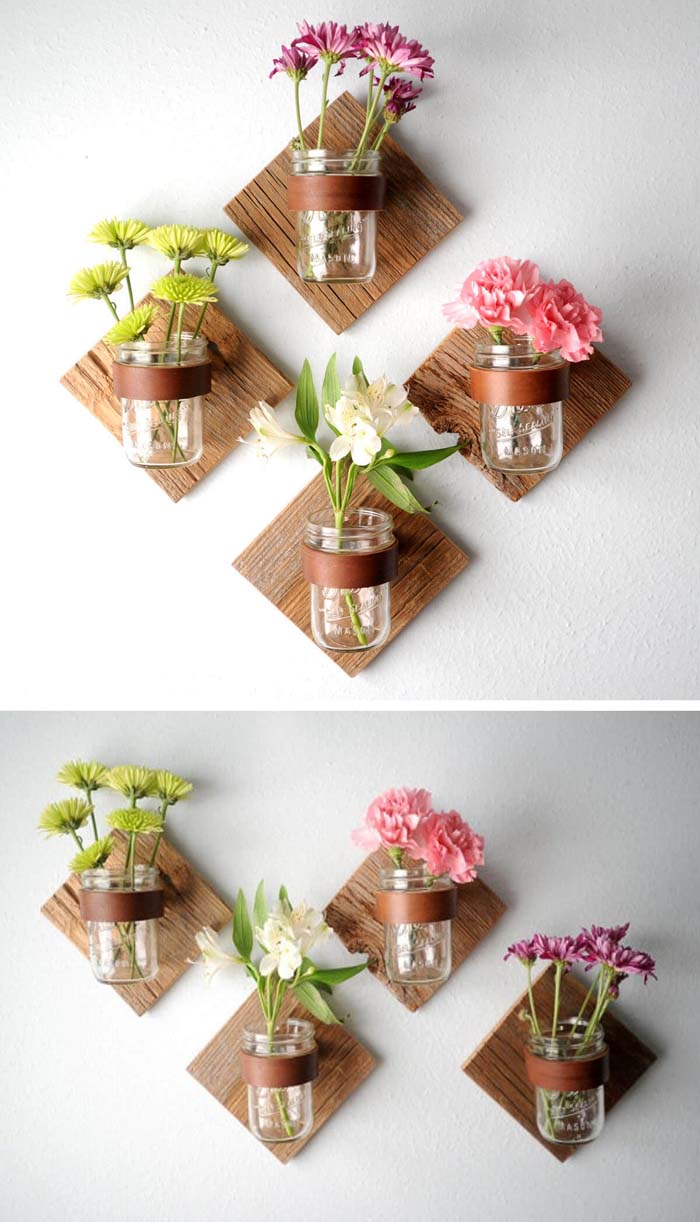 Bring a subtle touch of rustic style to a modern home with this project, which takes traditional designs and adds a contemporary twist.
The smooth backboards, diamond shapes, leather straps, and bright flowers are fun, lively, and irresistible.
via Shelterness
15. Reclaimed Wood Simple Mason Jar Sconce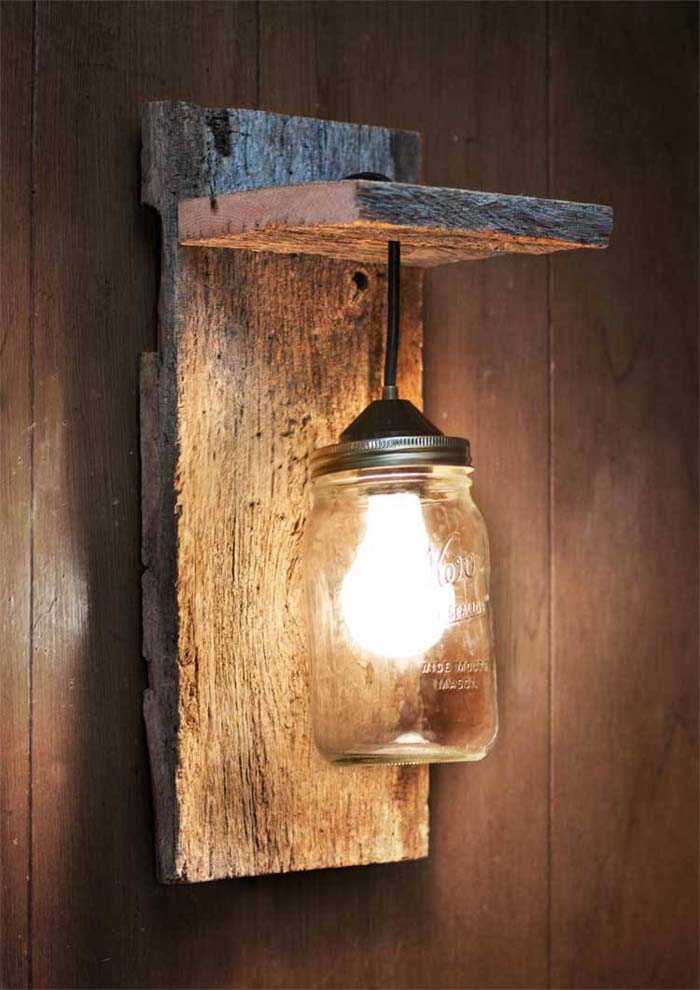 Don't buy a new wall sconce — make your own with a few pieces of scrap wood and a Mason jar.
You'll need to drill a few holes to run the wiring to the light bulb, so you might want to enlist the help of an electrician.
16. Rustic Wood Plank Flower Vase Wall Décor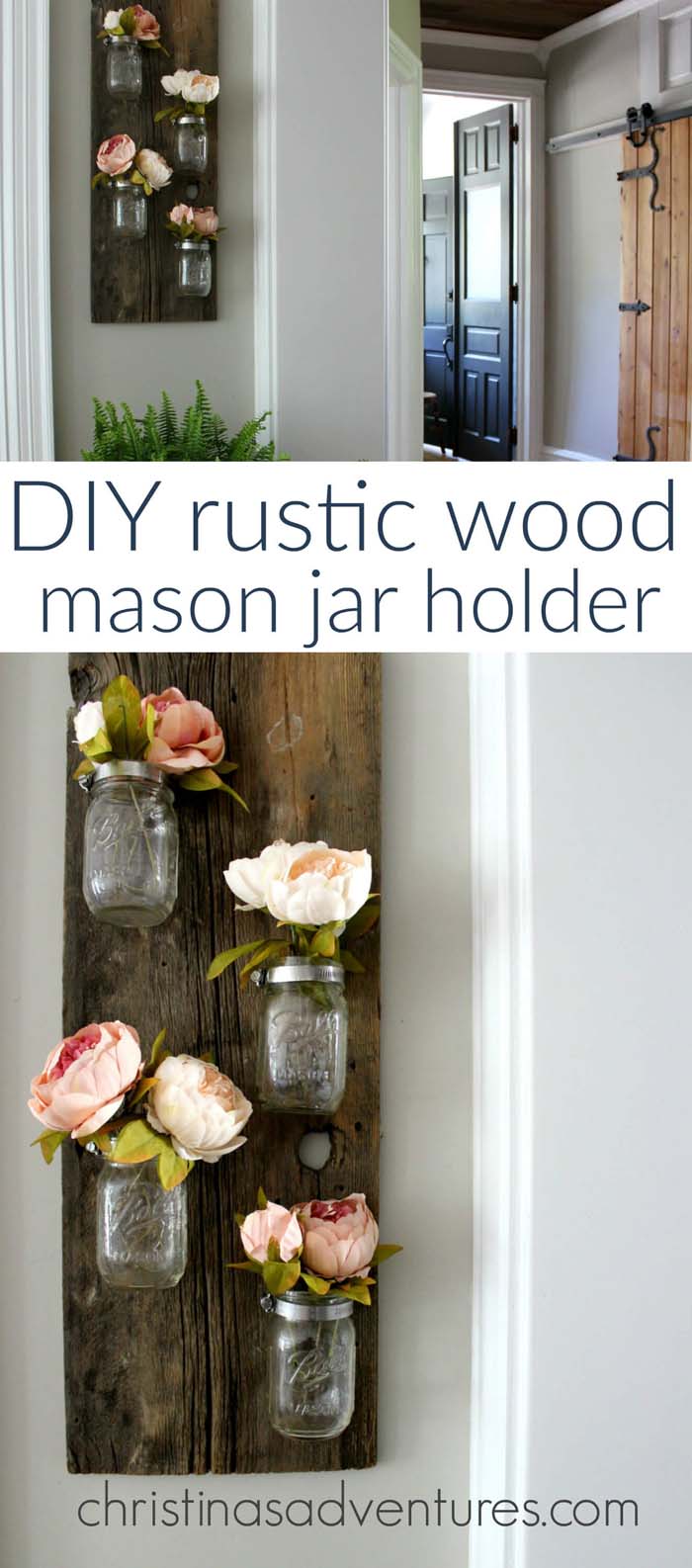 Narrow wall sections often sit unused; with this vertical project, you can add style and color to any small area.
The mounting plate is a simple panel made from two repurposed wood planks, and Mason jars act as versatile vases.
17. Vintage Repurposed Farm Tools Vase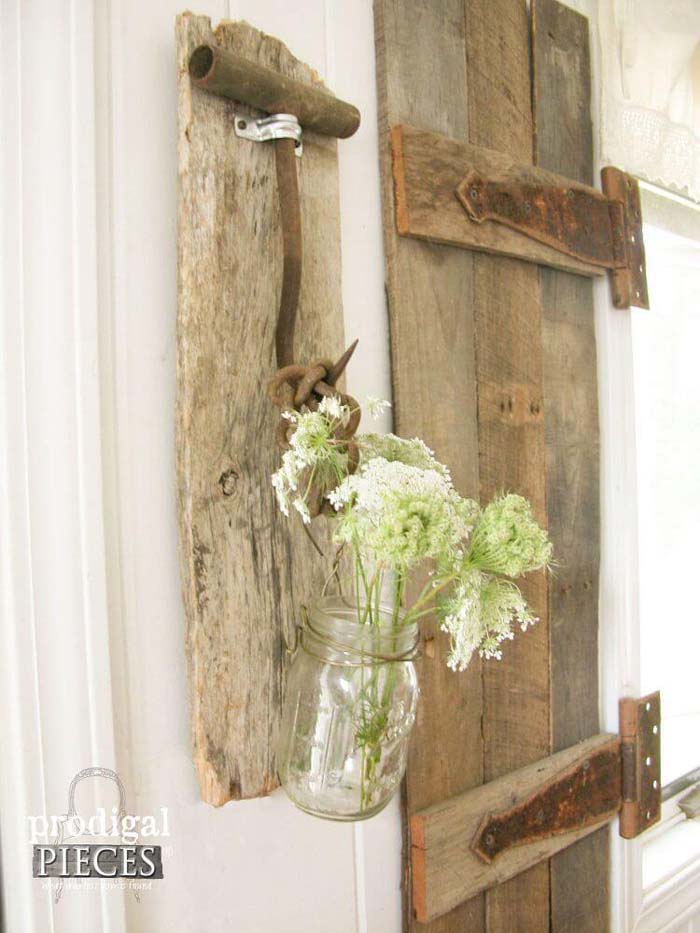 Go all in on rustic style with this beautiful project.
It's a great way to use up some of the vintage pieces in your barn or garage, including tools, chains, and boards.
We love the contrast between the rusty metal and the fresh flowers.
via Prodigal Pieces
18. Easy DIY Hanging Flower Vase

Brighten any spot in our house with this sweet Mason jar vase.
Slap some hanging hardware on the back and you're ready to go — you can even switch out the flowers each season.
via The Hamby Home
19. Vintage Drawer Shelf Mason Jar Display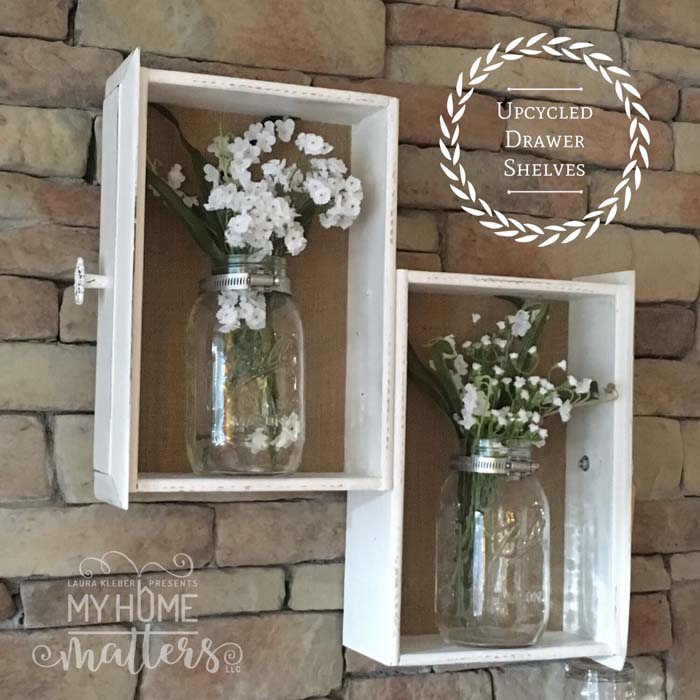 Here's another fun way to transform old furniture and supplies.
Simple antique drawers become shelves and display areas for large glass jar vases.
Use them with or without water to suit real and faux flowers.
via My Home Matters
20. Antique Mason Jar Holds Vibrant Florals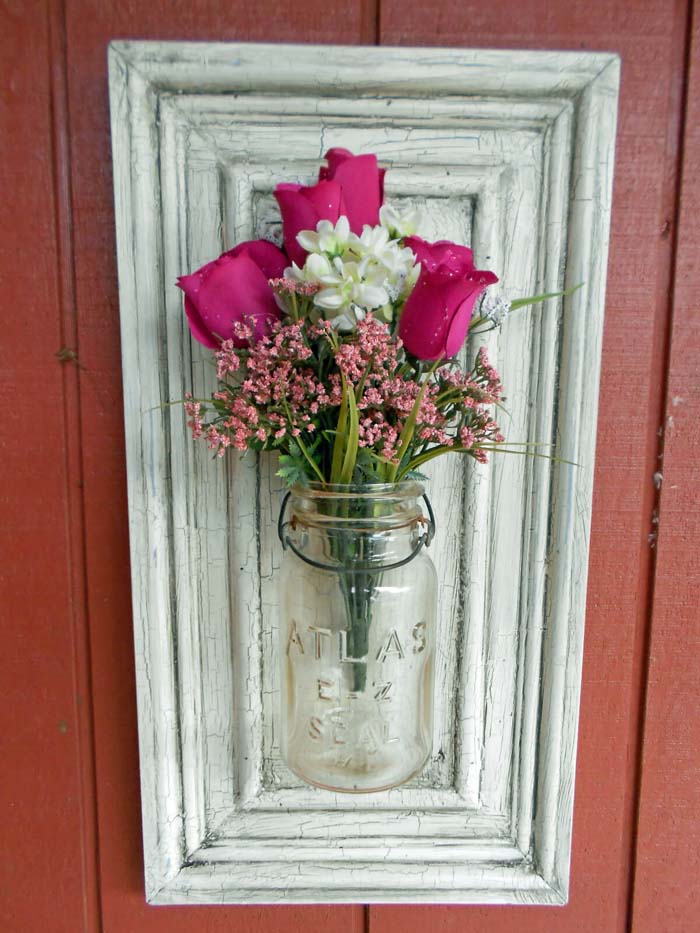 The next time you see an antique glass jar at a thrift store, pick it up.
When you mount it onto an old cabinet door, it becomes a gorgeous vase and a piece of rustic art.
via DIY Crafts Guru
21. Easy DIY Hanging Mason Jar Candleholders

If you prefer candles to flowers, fill a Mason jar with pebbles and tuck a pillar inside.
Hang the jars from coat hooks mounted on wood planks to create one-of-a-kind wall art that doubles as extra illumination.
22. Shabby Chic Chalk Paint Window Vases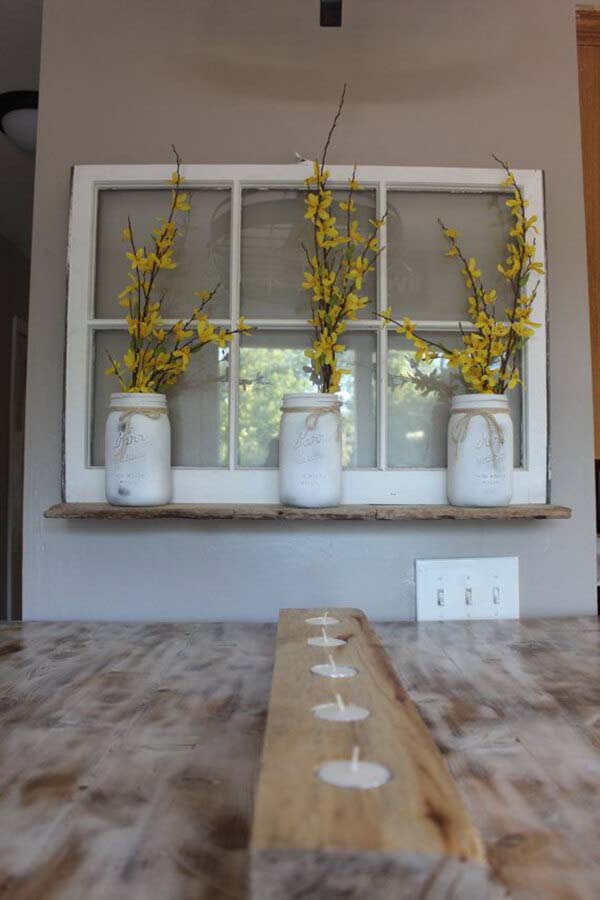 Don't have hanging hardware on hand? No problem — add a shelf to the bottom of an old window and set whitewashed Mason jars on top.
The glass panes add a hint of sparkle, serving as the perfect backdrop for colorful flowers.
23. Add Bright Color With Blue Mason Jars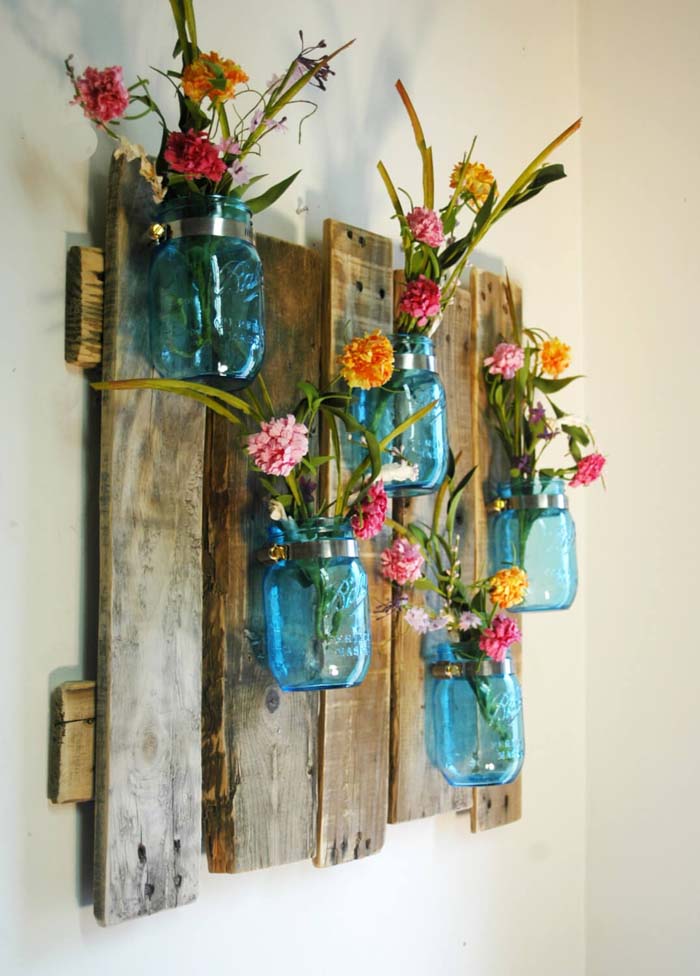 Joyful and full of life, this gorgeous flower holder is the perfect way to display blue Mason jars. The trick?
Fill each jar with bright flowers to create a thrilling pop of color on your wall.
24. Indoor Mason Jar Herb Planters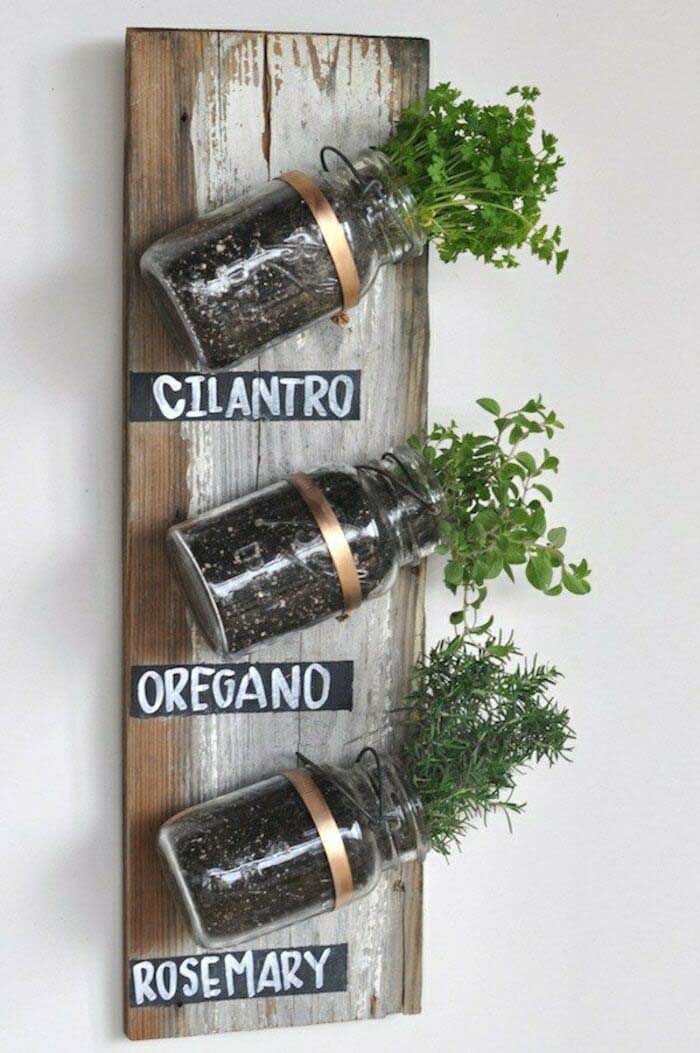 Take your home cooking to the next level with this creative herb garden.
The angled jars make cutting a breeze, and the sweet painted labels add a touch of country flair.
via Camille Styles