Finding the best storage unit for your rustic decor sold at the stores is a difficult task. Most of the time the things are too shiny or don't have the aged charm we connect with the farmhouse and vintage decor.
This is why we have created a collection of DIY storage ideas that will respond to your expectations for a rustic organizer.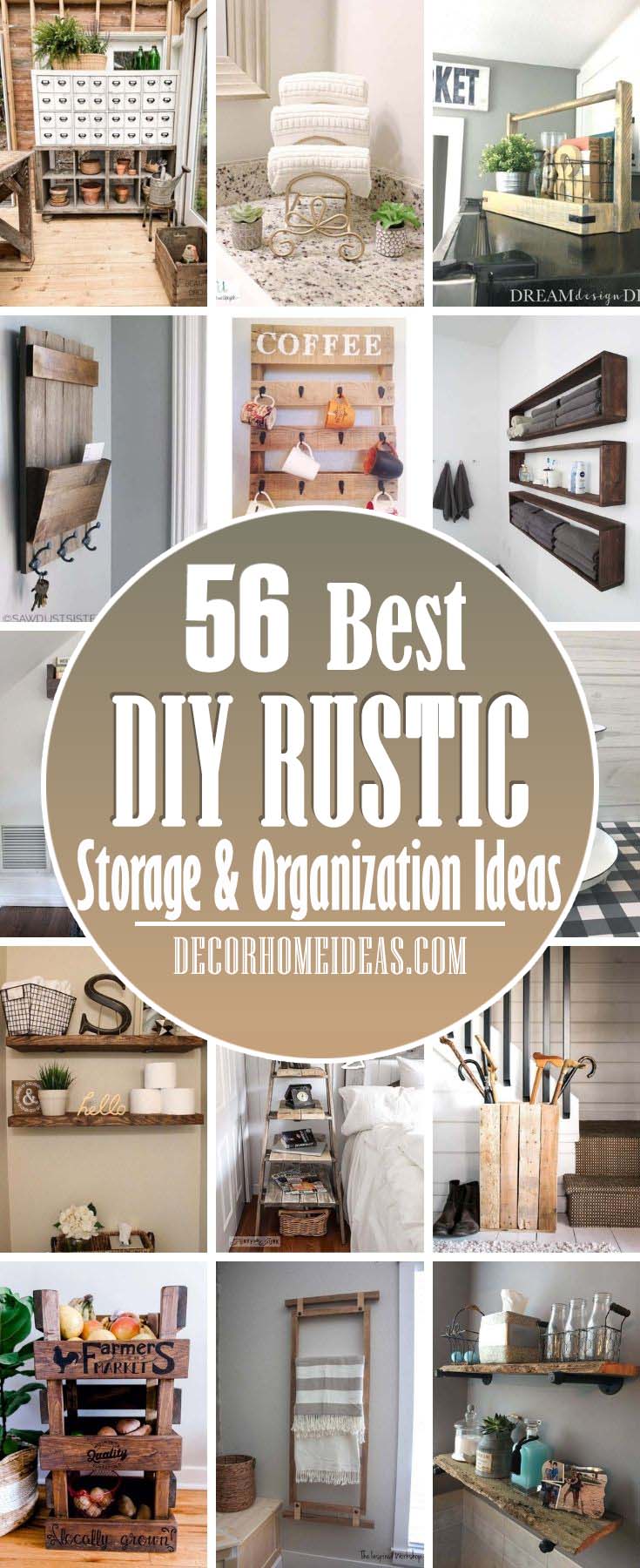 There is a storage unit idea for every part of the home- toilet, bathroom, living room, patio! Most of them are universal and can be applied to any space! The best of it all is that each piece combines functionality, budget-friendly making and uniqueness!
1. Antique Bread Tin Wall Storage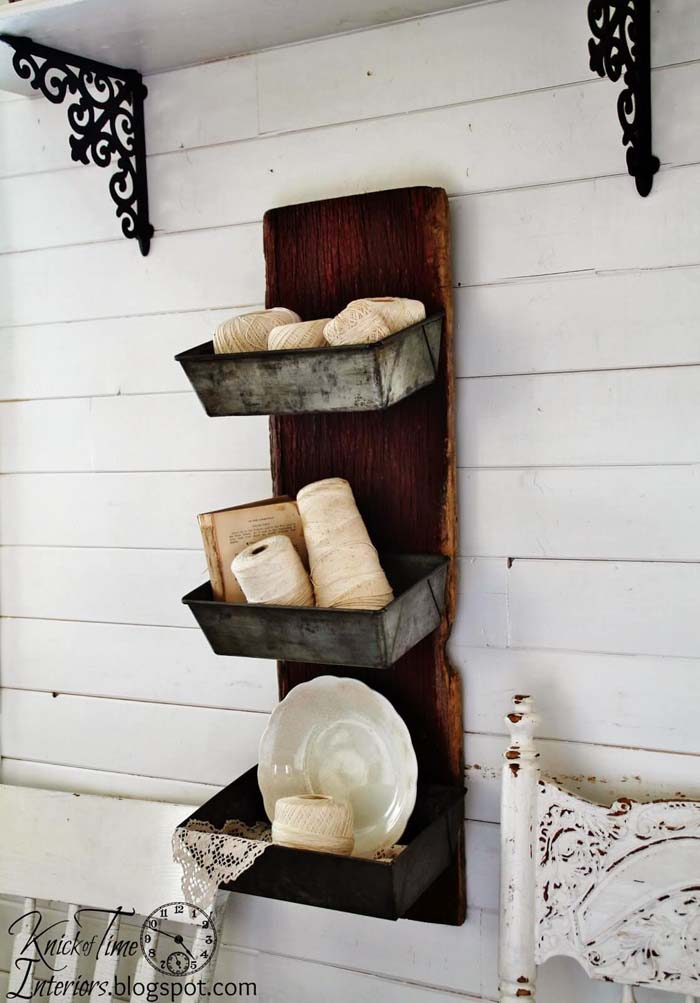 How can you best repurpose old bread tins? By turning them into bins for storage! And what can support them and enhance their vintage beauty? A weathered reclaimed wood board.
Such shelving unit can hold up various small things and keep them at reach or be a display of other vintage treasures.
via Knick Of Time
2. Easy Pallet Hooked Coffee Station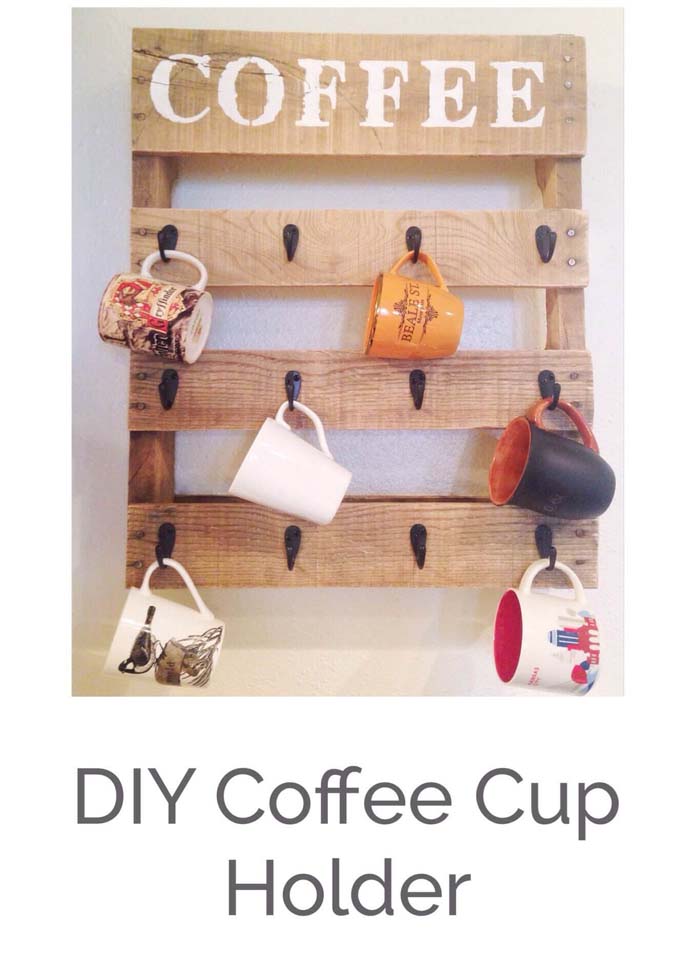 With cheap supplies like a pallet and hooks, you can make a fantastic cup holder for your kitchen.
All you need to do is to screw the hooks to the slats. For more rustic charm, add a sign at the top slat using a stencil.
3. Upcycled Rope Kitchen Pot Basket

Don't throw away the old pots as they can become lovely containers. Only by covering their outer surface with rope or twine, they turn into a rustic storage place that can bring order in the kitchen.
4. Add Stylish Open Underbed Storage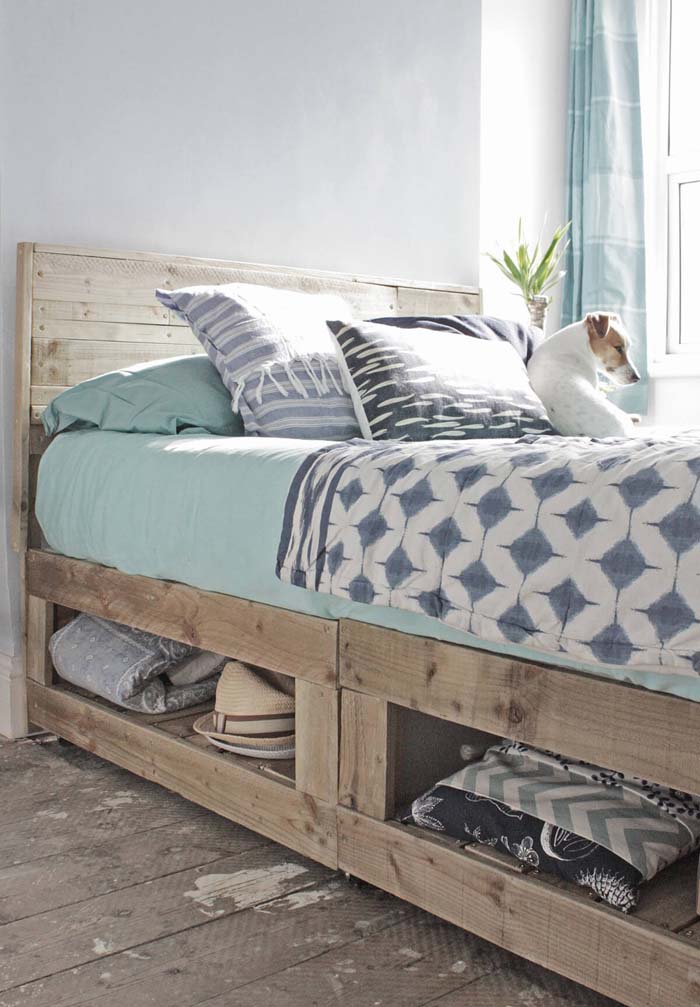 Divan beds could be called a functional bed design as they provide a lot of storage place underneath when modified a little bit.
Adding some reclaimed wood to the below compartment will turn the bottom into rustic open drawers that can take up a lot of your bedroom linen, clothes or accessories.
5. Build Your Own Outdoor Storage Bench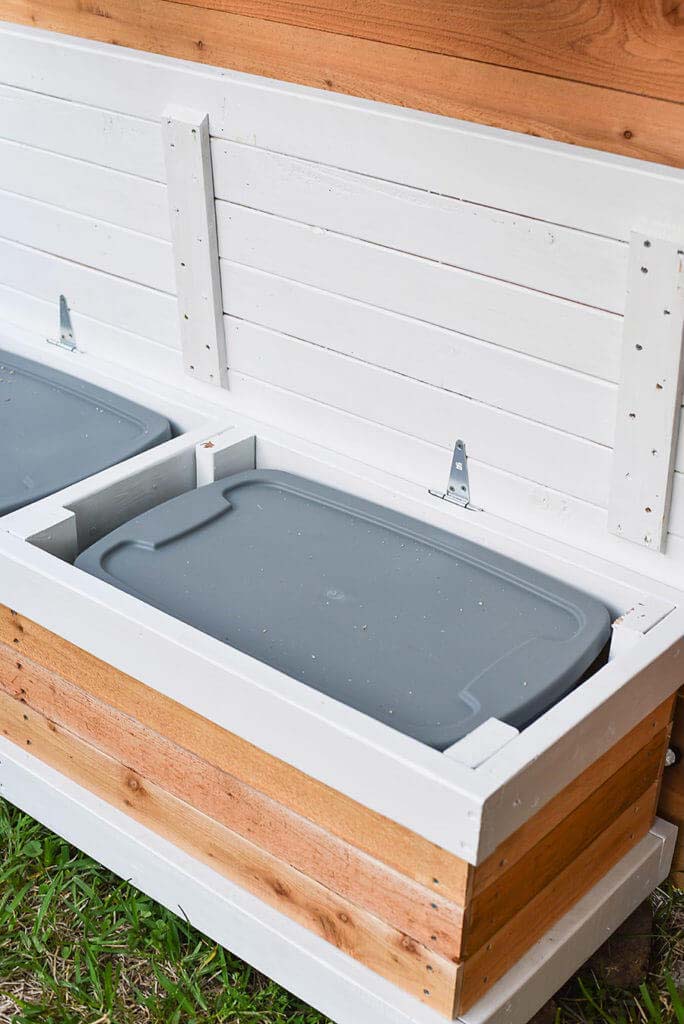 Decluttering the backyard could be a hard task especially when you are missing storage areas. Well, this issue can be solved by building yourself a multifunctional bench!
It will increase the sitting places outdoors and will give you two large compartments for storage of boxes with tools, your hoses or anything that will otherwise be spread randomly!
6. Hidden Jewelry Storage In Rustic Cabinet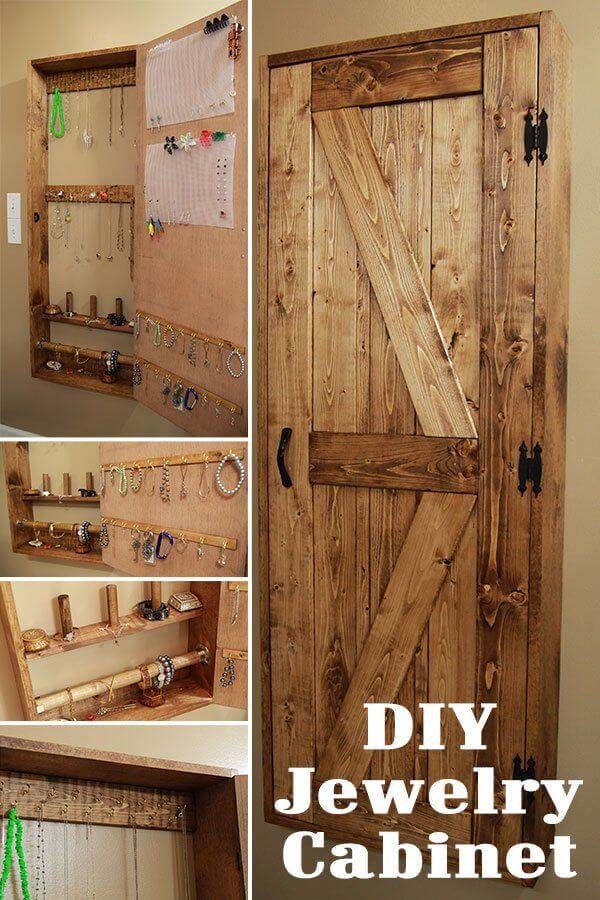 If you have decorated the bedroom in farmhouse style, you must be looking for appropriate storage pieces that are both functional and of the same style.
This is an idea for a jewelry cabinet that will add a lot of rustic beauty to the space thanks to its barn door which hides the contained items.
7. Easy Cosmetic Storage Bathroom Mirror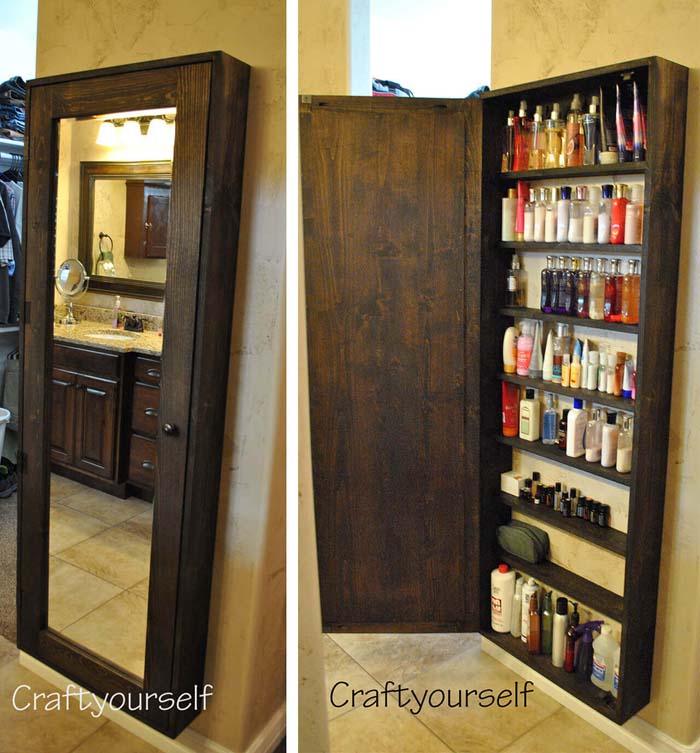 Organizing all of the cosmetics at one place is a dream come true for every woman. Unfortunately, the stands or cabinets offered at the stores do not provide enough space (obviously we buy more than we need 🙂 ).
This will no longer be an issue when you make a cabinet yourself- it will be as big and of a design you want.
via Craft Yourself
8. Budget Friendly Blanket Display Ladder Project

Do you like the storage ideas with old ladders? They are great, aren't they! You can easily make a ladder that will look as weathered and old as brought from your granny's cottage, following the instructions below.
It can be used in the living or bedroom for storage of throws or blankets, why not in the bathroom- for towels.
9. Natural Element Branch Entry Rack

Bringing nature indoors adds a lot of warmth and magic to the ambiance.
What is even better is if this visual effect is combined with functionality as this handmade entryway rack.
via Home Depot
10. Add Storage Cubbies To A Shelf System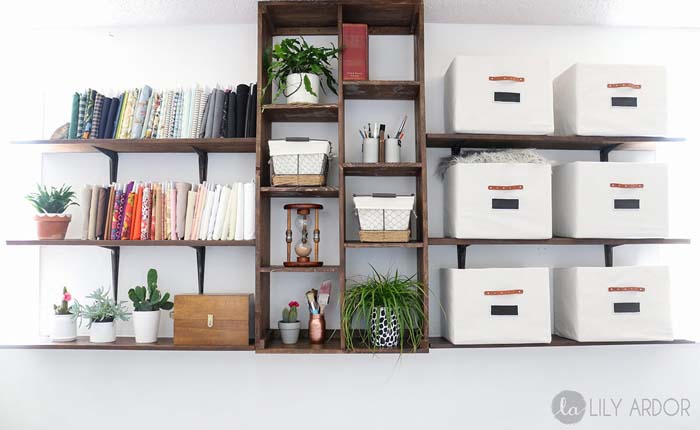 Another way to organize a space is to make a customized shelving system on an empty wall.
It can be of many compartments and of reclaimed wood you fancy. It is actually the mixture of multiple types of wood that gives this DIY shelf unit uniqueness and rustic charm.
via Lilyardor
11. Add Entry Storage With An Easy Rustic Bench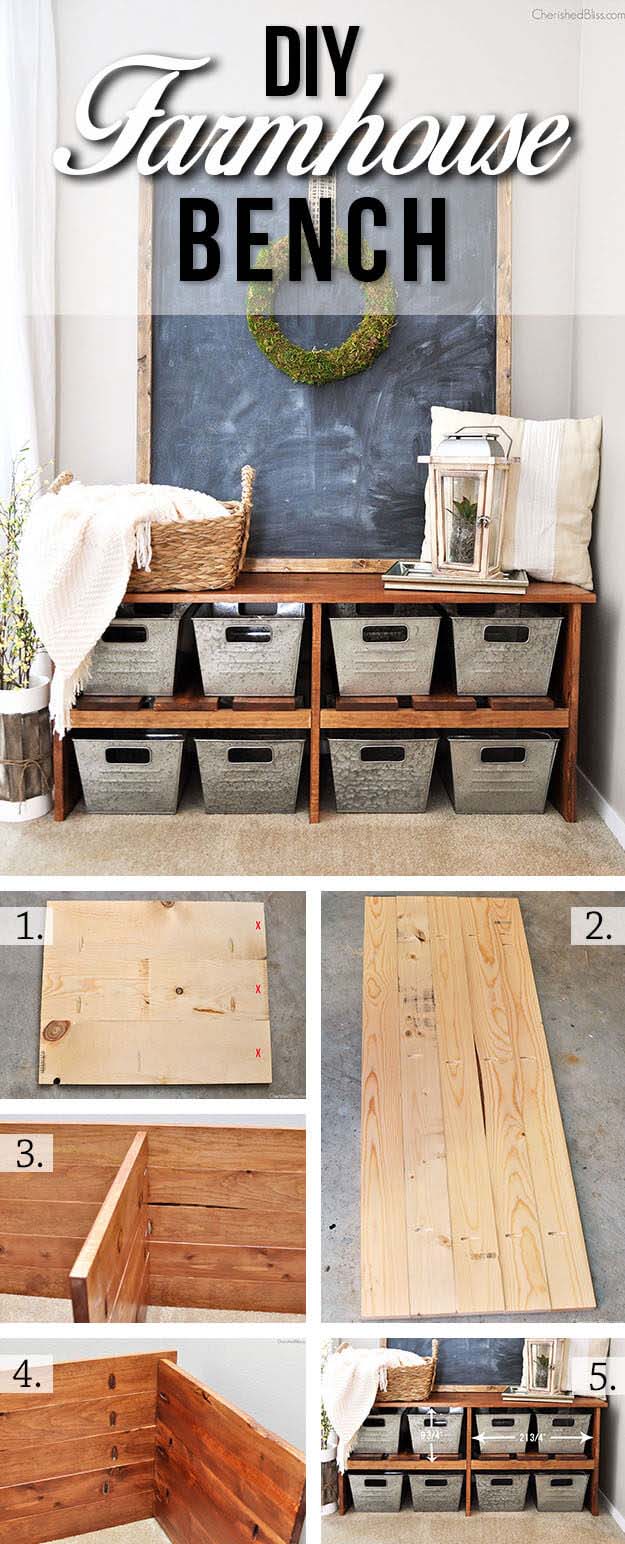 This great DIY bench will not only let you store all of the shoes and stuff in the entryway but will also make a fantastic first impression for you and your home because of its rustic unique design.
Using galvanized bins is a great idea- they are large, they keep things hidden from the eye and they can be easily pulled out to take whatever you may need.
via Cherished Bliss
12. Vintage Look Apothecary IKEA Hack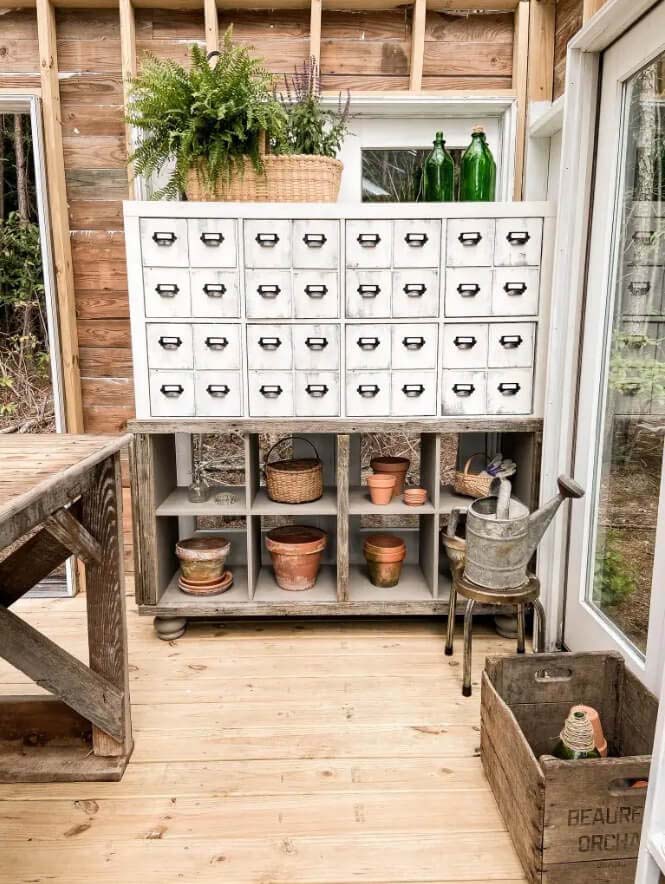 Have you always admired those antique pieces of furniture that can literally tell stories from old times? These could be quite expensive if you are not lucky to have them in inheritance for your grandma.
Luckily, there is a way to falsify the look and design. The final result of this DIY project will look like two separate pieces. The hack is in adding reclaimed wood to the bottom compartment- great, isn't it? Oh, and the whole piece has been taken from Ikea so this will surely be an affordable and long-lasting piece.
13. Float Shelves For Storage In A Small Space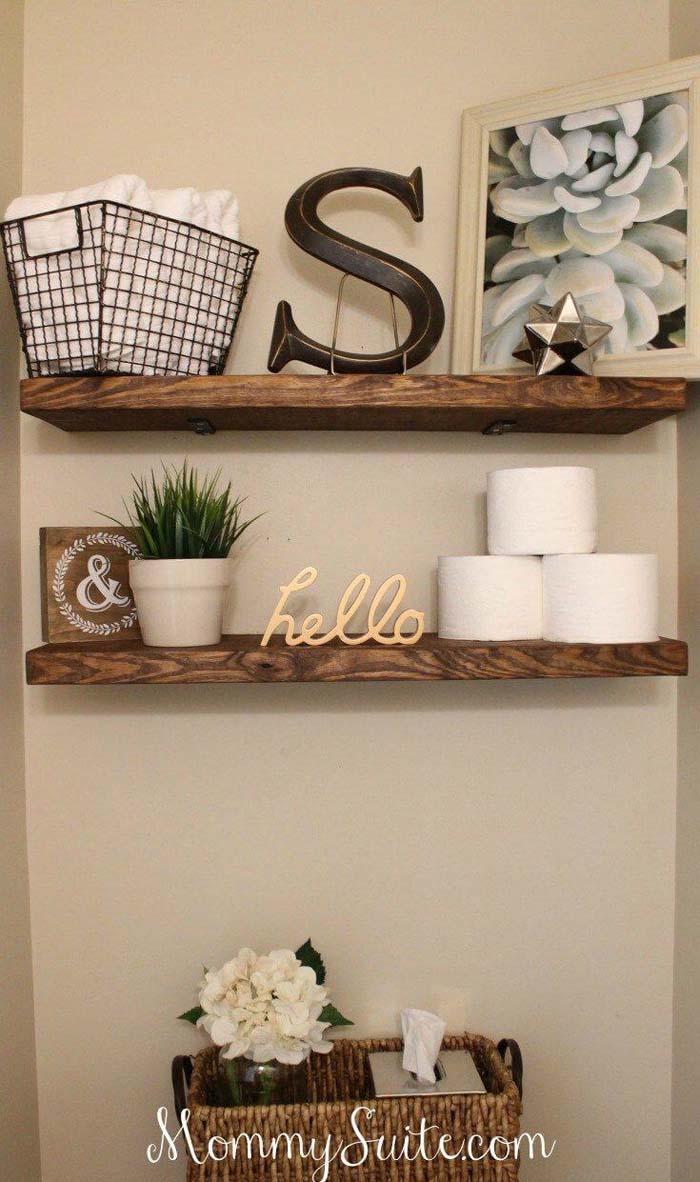 Floating shelves are very trendy and we can see them used literally in every room- even on the wall above the toilet.
There is a reason for that trend and it is that they are affordable, durable and their open design enhances particular interior goals like adding depth, defining a nook, enhancing a style.
This DIY project gives us instructions on how to make rustic faux floating shelves. The key is in the hardware for attaching the wood beams to the wall- drywall anchors. When the project is finished these are well hidden by the displayed accents so you would never know that their effect is falsified.
via Mommy Suite
14. Horseshoe Shelves Add Western Charm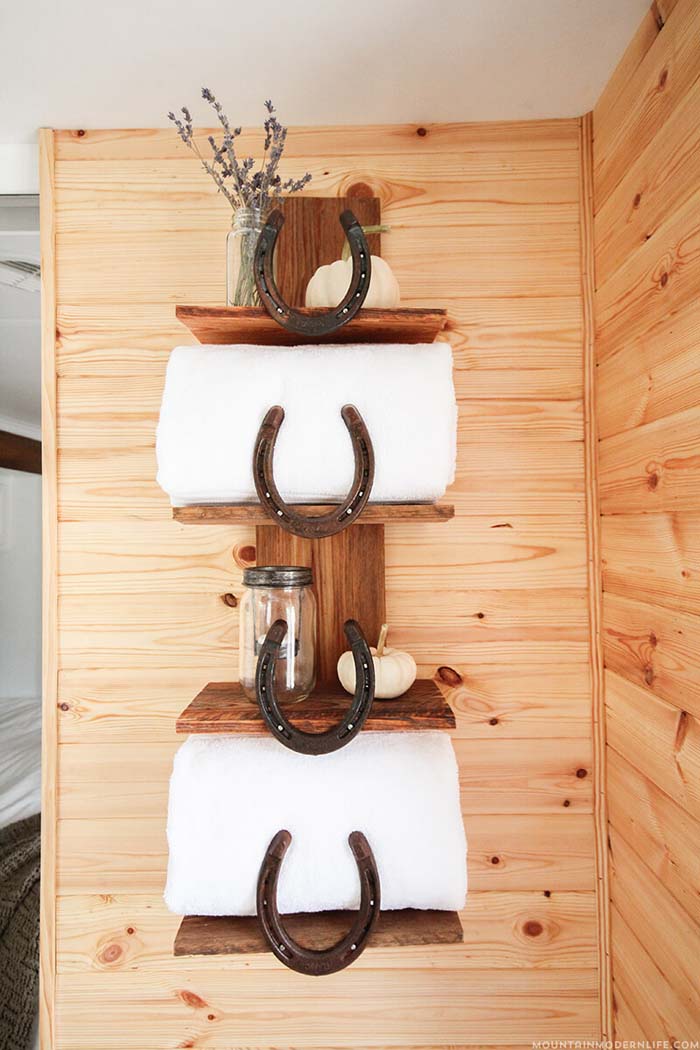 This unique bathroom shelf unit is of the perfect size for a small bathroom. It is a very quick, easy and affordable project that possesses a lot of rustic charm thanks to the weathered wood and the horseshoes.
By the way, the horseshoes aren't just a decorative accent. They are a very important part of the design stopping the items stored from slipping away from the shelves.
15. DIY Industrial Farmhouse Shoe Storage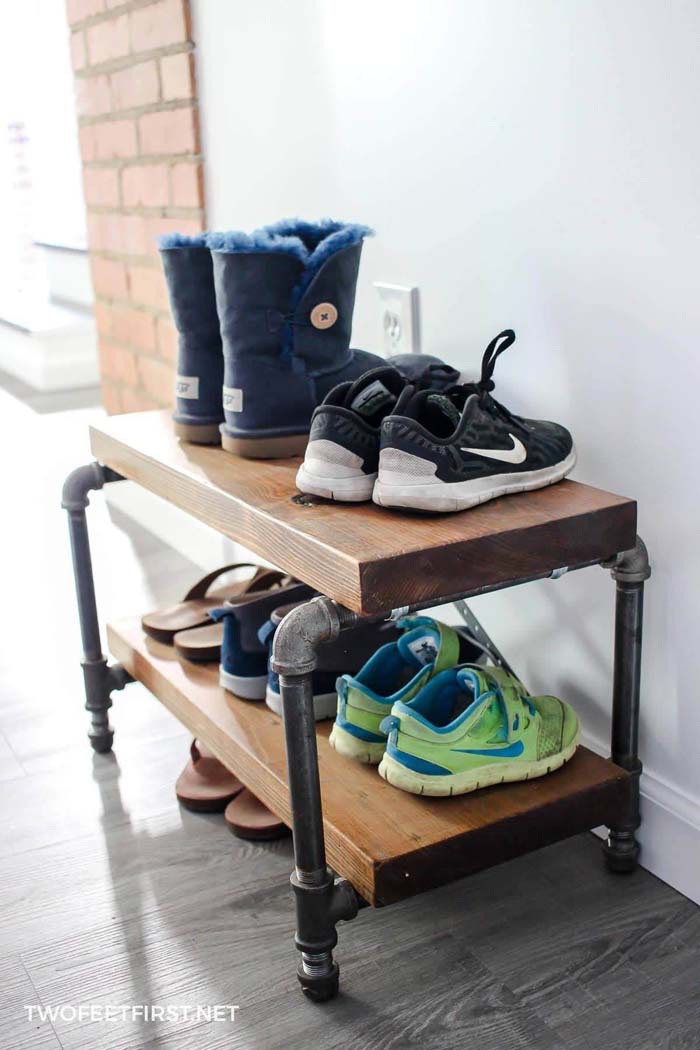 Want to make your entryway neater and more organized? Here is an idea of how to make your own rack. The instructions are for a two-level stand made of wood slats and industrial pipe. If you need more levels or a wider surface, you can adjust the project to your preferences.
What particularly makes this idea so charming is the combination of the styles- the industrial touch supports the wood rigidly and helps the stand fit into a contemporary decorated home.
The wood, on the other hand, is simple and adds a lot of warmth to the very beginning of the home.
via Two Feet First
16. Reclaimed Wood Hanging Produce Baskets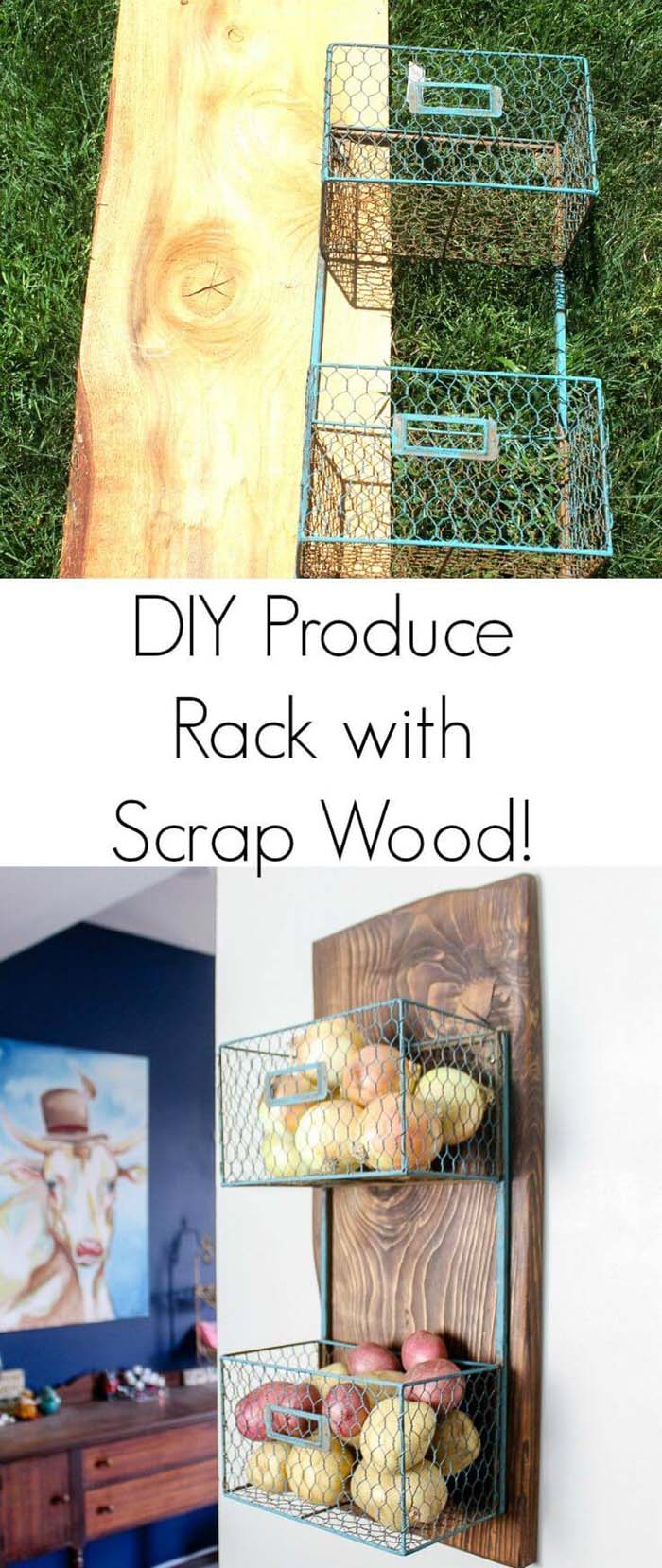 This DIY vegetable stand can be made in less than 30 minutes and suit your home's farmhouse style. Have you seen the metal basket stands in the Hobby Lobby?
The stand on the image has been made using one of these which costs $17 and a wooden beam to support it and protect the wall from staining from the contained products.
17. Aged Lumber Bathroom Towel Rack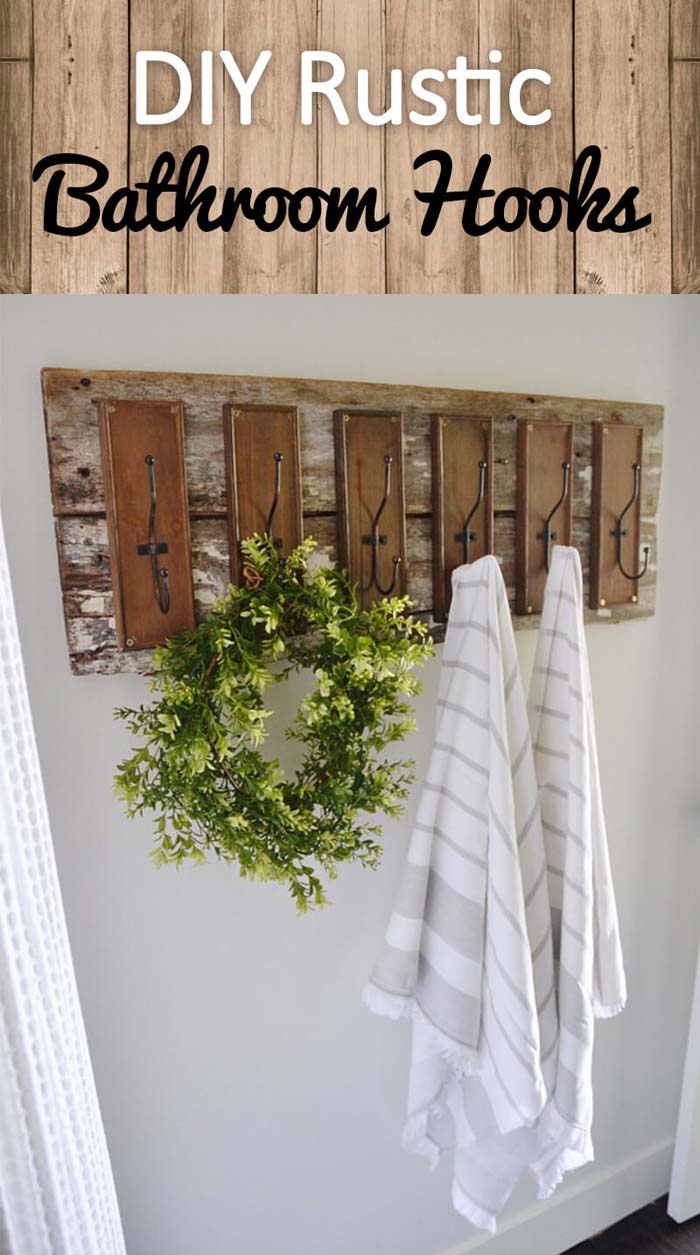 The quickest way to make a stand or rack look more rustic is to back it up with reclaimed wood. This DIY bathroom towel rack proves it.
The metal hooks are a contemporary product sold at the stores. However, being screwed to a weathered surface, they instantly age and become more unique.
via Liz Marie Blog
18. DIY Bathroom Essentials Storage Shelf

We have shown you various designs of storage units for the wall above the toilet. This idea gives inspiration for a storage unit seated in another underestimated spot from the toilet- right next to it.
Being of a small scale, it doesn't take up too much space but can yet accommodate all that is used there 🙂
via Homedit
19. Stacked Wheeled Crate Boot Storage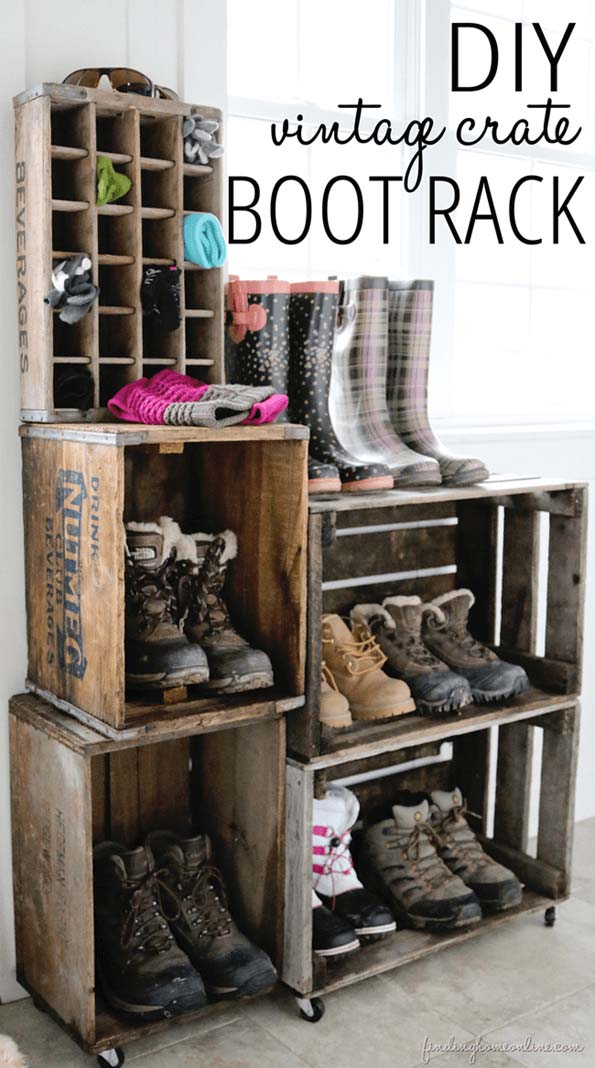 You don't have to invest a lot to increase the storage places and the organization level in the entryway. By repurposing old items like crates, you ensure neat and safe storage of your shoes and add interest to the beginning of your home.
Consider adding castors to the bottom of the crates to move the shoe rack easily and clean the floor or to quickly change its place.
20. Hanging Framed Ladder Blanket Rack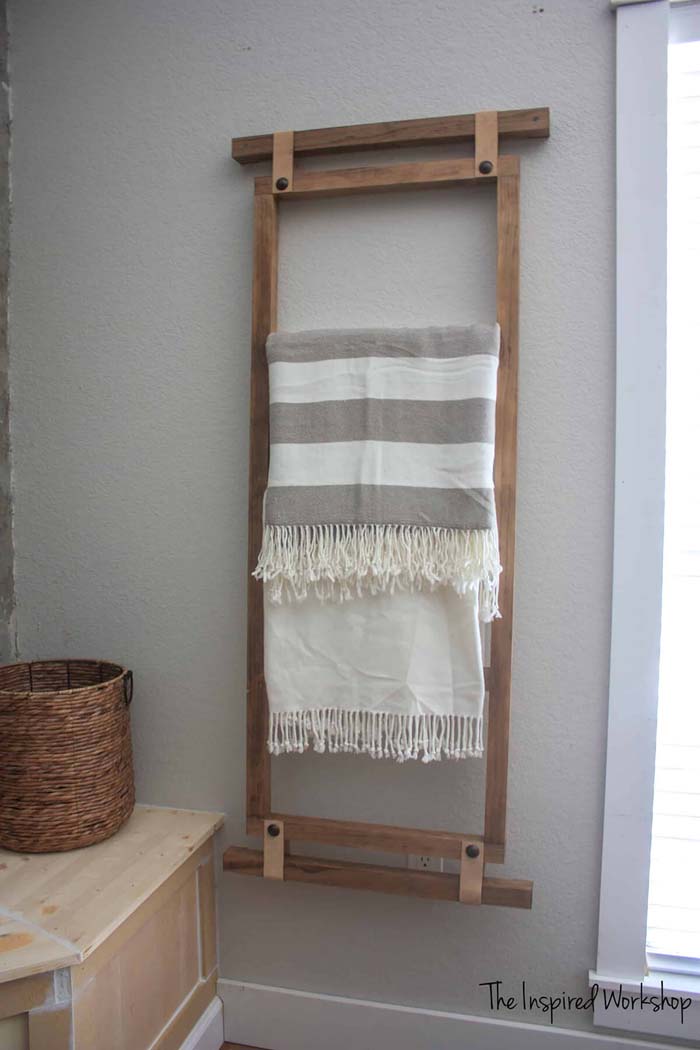 This ladder-like rack can become an essential part of your storage furniture in any room. Made of wood, screws and leather strips, it provides three levels for the neat arrangement of blankets.
Hung in the bathroom, it can store towels and let them dry quickly. Want to make your own ladder rack? It is an easy and quick DIY project shared on the link below.
21. DIY Stained Wood Mail Center

You can make a great mail sorter in 5 steps only! Start with attaching the angle wood pieces to the large back wood beam. Then, screw the face rectangular pieces to the angles at each level to close the compartments.
Finish with staining the wood in a color you like. Choosing a dark stain and giving the edges some sanding will turn the mail sorter into a rustic piece. Add hooks to the bottom slat to provide dedicated places for the keys.
22. Farmhouse Stenciled Wooden Produce Stand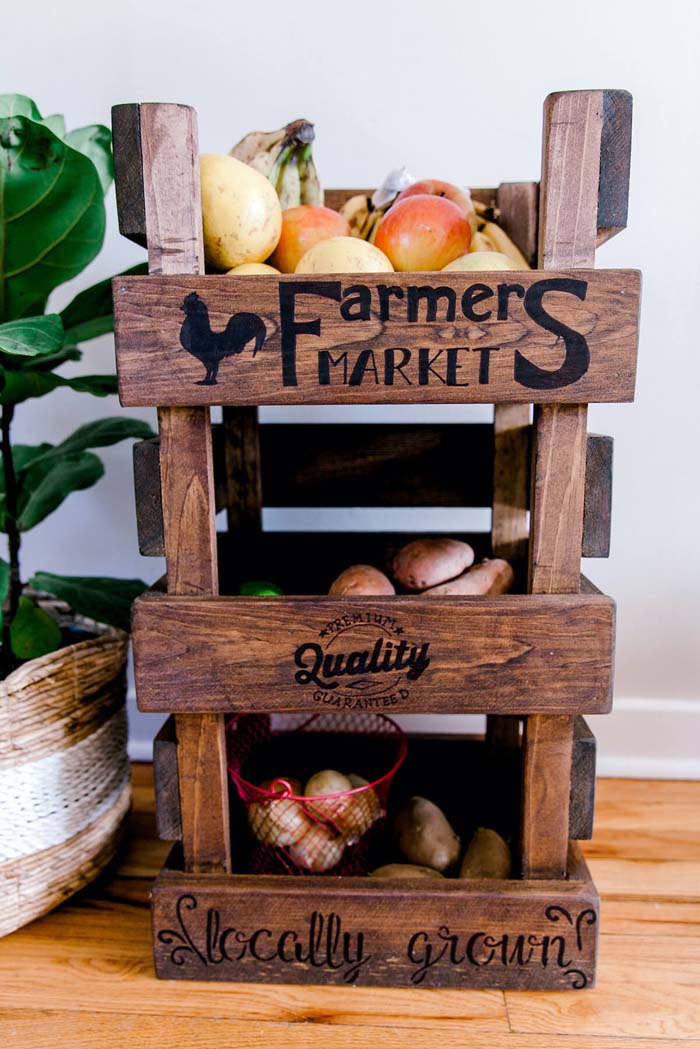 If you don't like the stands offered at the stores for the storage of veggies and fruits, you can make your own that will be both functional and very appealing.
Plus, you can make it on the budget-friendly side in case you have some reclaimed wood left in the garage.
via If Only April
23. Dollar Store Vintage Look Tray DIY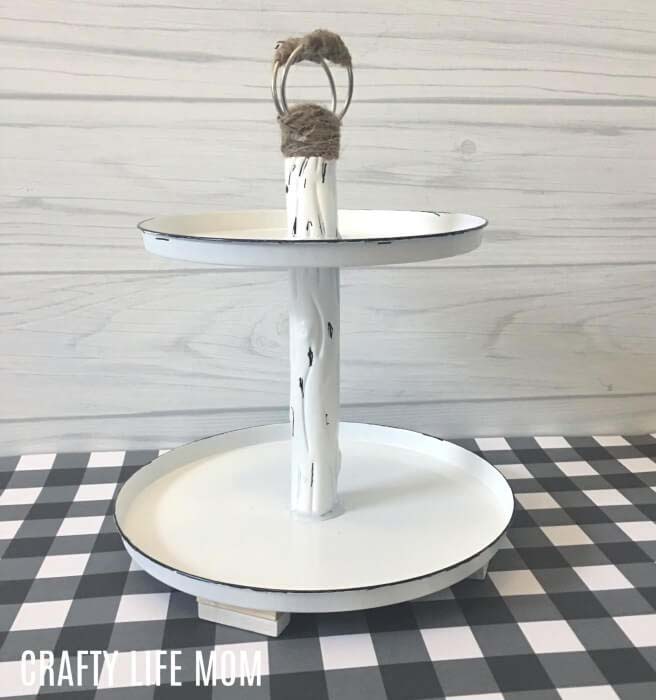 The tiered tray could be called a multi-purpose item as it can be used for the display of seasonal decor, as an organizer or in its typical application.
The charm of this project is related to the quick transformation of plain trays and a ninja toy from the Dollar Store into an eye-catching farmhouse tray.
via Crafty Life Mom
24. Easy Kitchen Storage Pot Rack

We have seen such exposed pot racks on the cooking shows! They are totally awesome not only because of their attractive look, but also because of the easy access they allow.
Want to make your own hanging pot rack affected by the warmth of the farmhouse? Follow the exhaustive instructions by Home Depot.
via Home Depot
25. DIY Entryway Winter Essentials Rack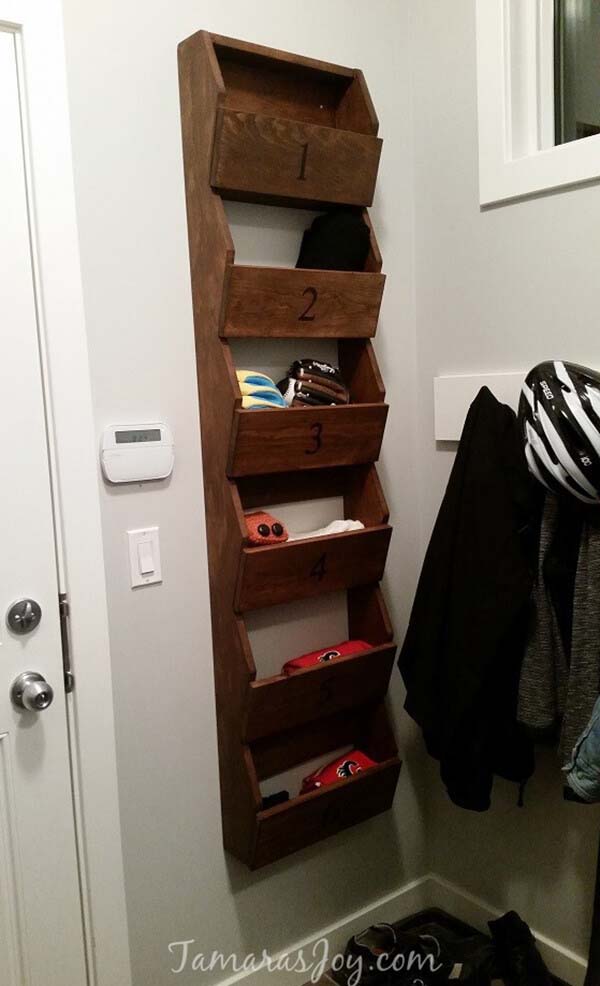 Such a storage rack can solve the issue with scattered mittens. Dedicating a special place for them will draw the attention of the kids and will increase their self-initiative for neater and organized storage of their accessories.
If there is any room left in the compartment, use it for other winter things like hats, ear muffs etc.
via Tamara's Joy
26. Simple Modern Box Shelves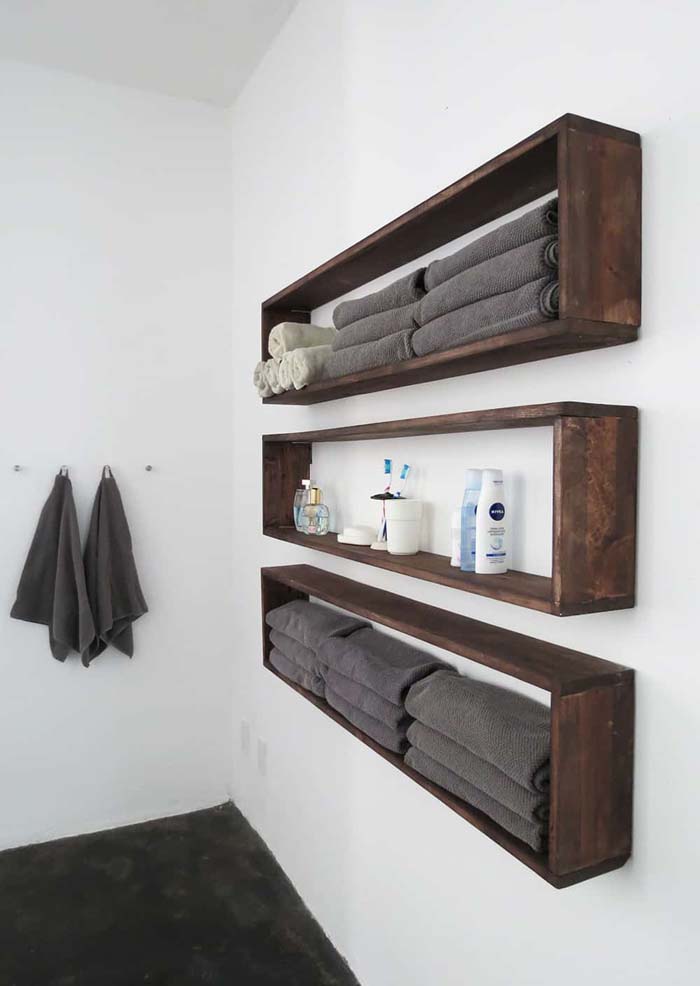 Storage in the bathroom is not only essential to making it look neater, it is essential for keeping your stuff in its best condition.
These wall racks do both as they are long enough to store all that you have and use in this room, and also of an open design that ensures easy access and air access. This feature is very important for the towels compartments.
via Ohoh Deco
27. Easy Children's Book Storage Bins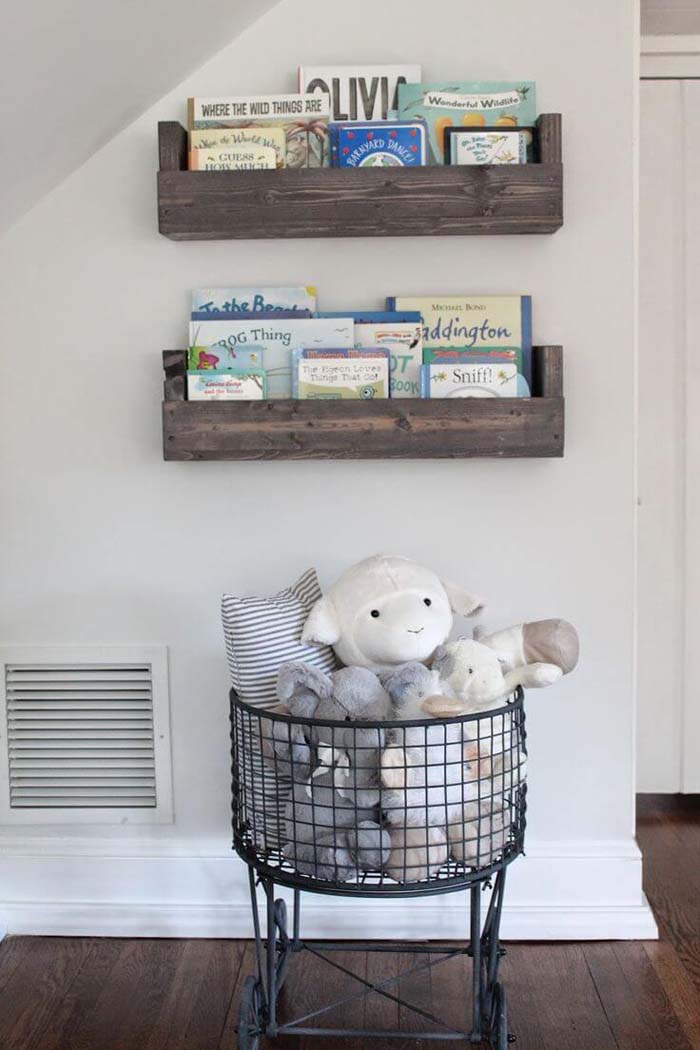 These rustic shelves are literally the easiest project even a beginner in the DIY can do. Start with picking up the right lumber.
Then, assemble it in the design shown above and stain it. The weathered look of these shelves is achieved with two layers of coat- grey stain and polyurethane over it.
28. DIY Under Cabinet Spice Jar Shelf

Cooking can be a real pleasure even in the busiest days when everything you need is easy to be found and the countertops decluttered.
One of the inseparable things related to cooking is flavoring. Do you store all of your spices at one place? If not, this DIY farmhouse stand will make you want that.
Easy, quick and affordable, it can store up to 36 jars!
29. Keep Toys Organized With This Easy DIY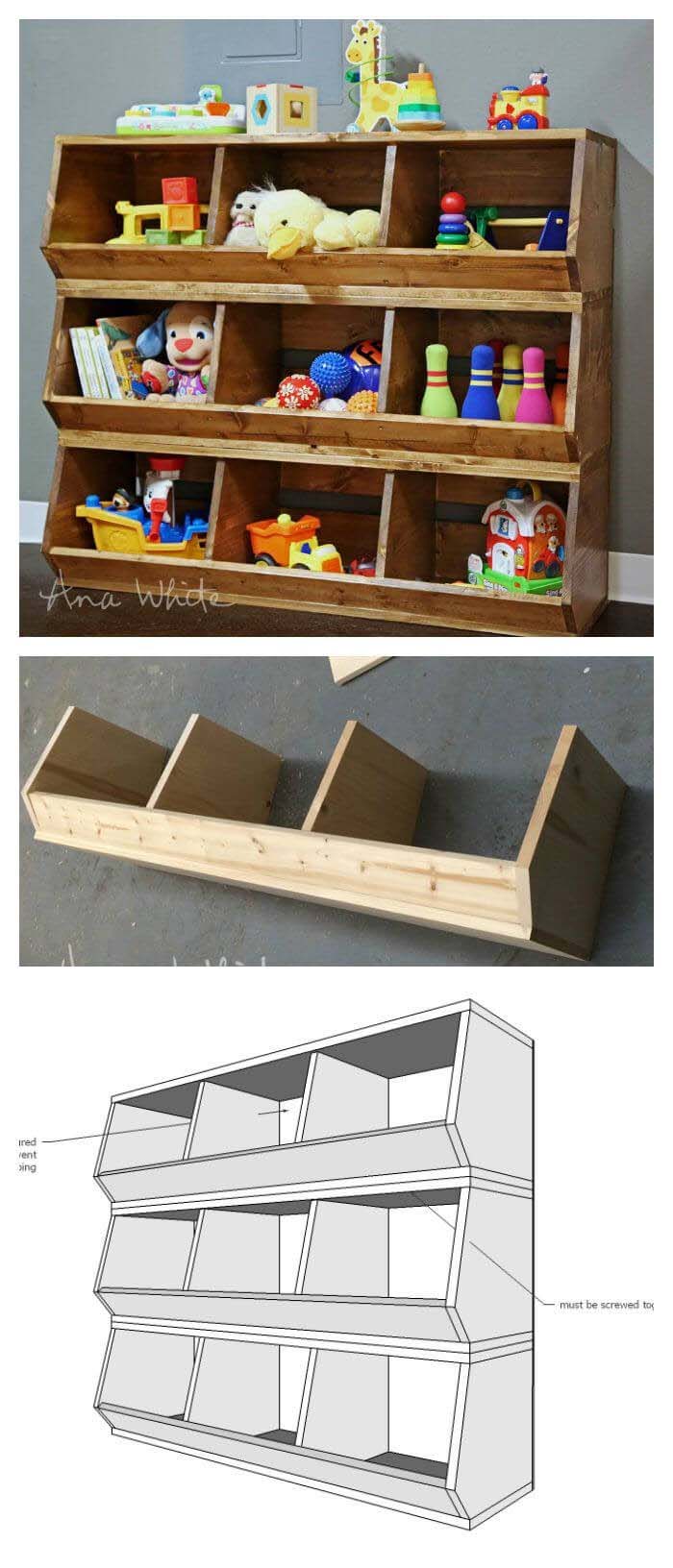 Although it seems like a complicated project, the design of this toy organizer only misleads in this direction.
The organizer is made by stacking three identical wood compartments. Of course, the author of this craft has considered safe usage by securing the whole organizer to the wall and screwing each compartment to the other.
via Ana White
30. Farmhouse Style Entry Bench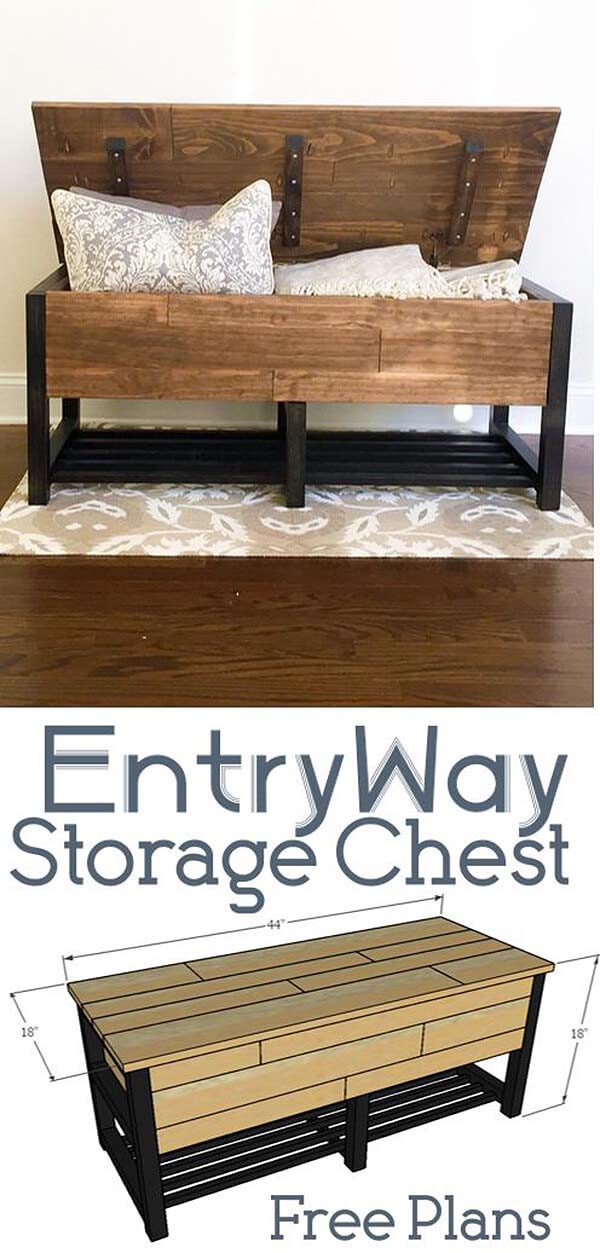 Here is an idea for a storage unit for the entryway which is smaller and of a more closed concept. This project has a sensible farmhouse effect over the interior because of the chest-like design and the dark-stained wood.
The free plans below will facilitate the making process. The final piece can be used for storage of all types of things- bulkier and smaller ones.
via Handmade Haven
31. Pallet Wood DIY Hanging Crate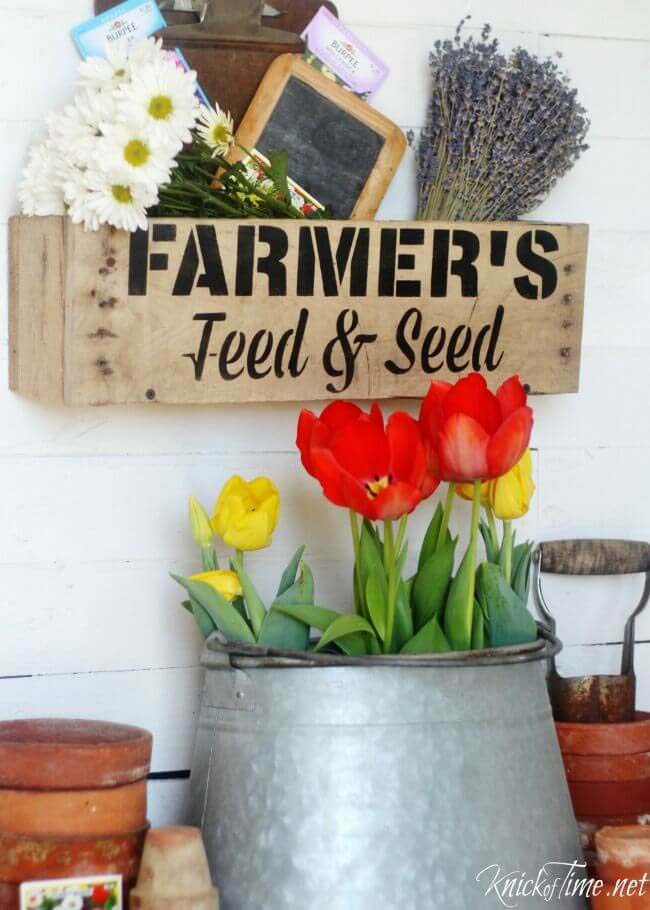 Want to differentiate an outdoor nook and give the patio some interest? Do it with a handmade rustic storage crate made of pallet slats.
Fixed to the wall it vividly shows a cute message and provides space for displaying flower and herb bouquets that back up the statement on the front slat.
via Knick Of Time
32. Rustic Look Pull Out Shoe Storage

This hidden shoe cabinet will become a focal point of the entryway and will provide a lot of storage place for your most used pairs of shoes.
Made of wood, the three compartments slide away thanks to pulling out mechanisms. Each drawer has three levels so the approximate total number of pairs that can be stored is 16! Just enough space for a big family!
The gorgeous farmhouse look is achieved with grey stain which lets the texture of the natural wood be slightly seen.
via Handmade Haven
33. Fridge Top DIY Storage Tray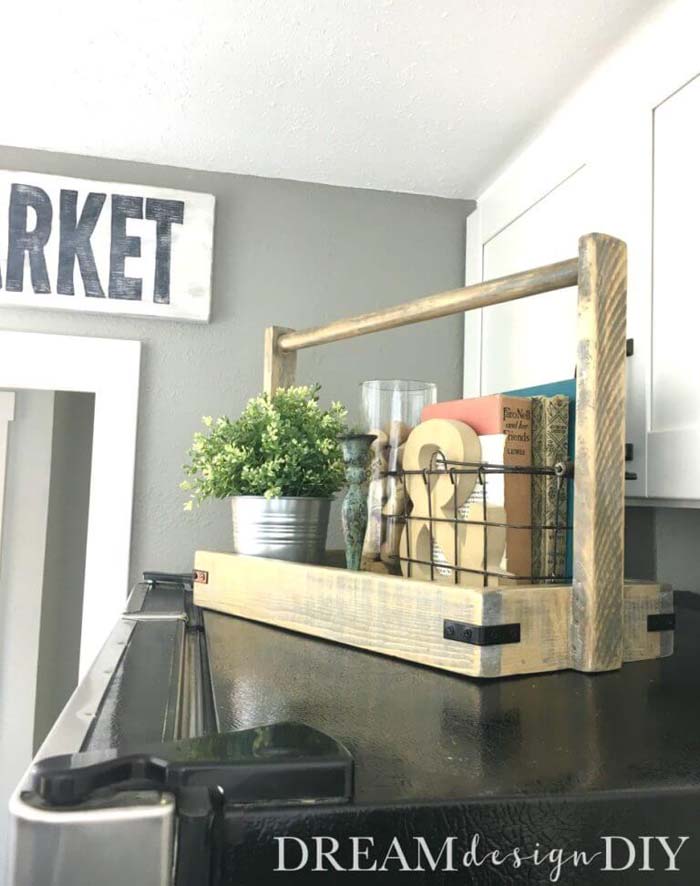 It is always a good idea to organize various items by putting them into one container. This will increase the clutter-free look and will help you find what you need easier.
Whether decorative things, seasonals, spices or herbs, this wooden tray will work well storing them and adding a lot of farmhouse charm to the kitchen interior.
via Dream Design DIY
34. Repurposed Metal Pan Storage Tray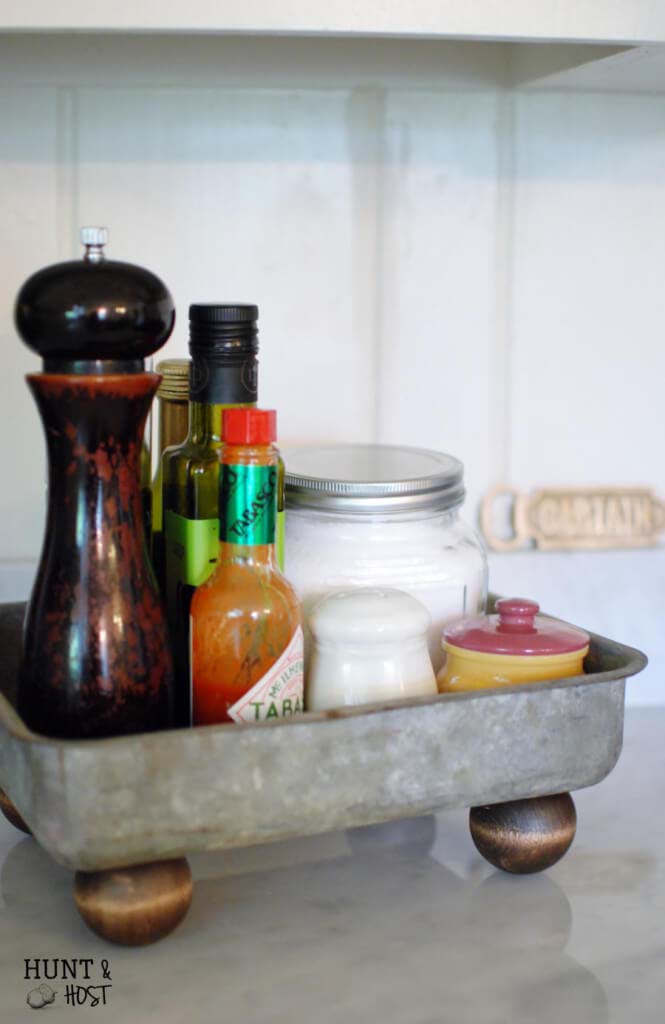 Give the old galvanized pan a new life in 5 minutes! Glue wooden knobs on its bottom and enjoy your new farmhouse-inspired tray.
The knobs can be left unpainted or be stained in a dark color. Such a tray can take up your jars with spices or seasonings. You can even take it to the dinner table and place it in the middle to create an instant functional centerpiece.
via Salvaged Living
35. Easy Wall Hanging Utensil Storage

This is another great idea for lifting up the organization level in the kitchen and making cooking a more pleasant activity!
All cooking utensils are neatly arranged onto a wooden slat. Each utensil has its own place ensured by pipe clips screwed onto the wood.
via Grillo Designs
36. Upcycled Pallet Wine Station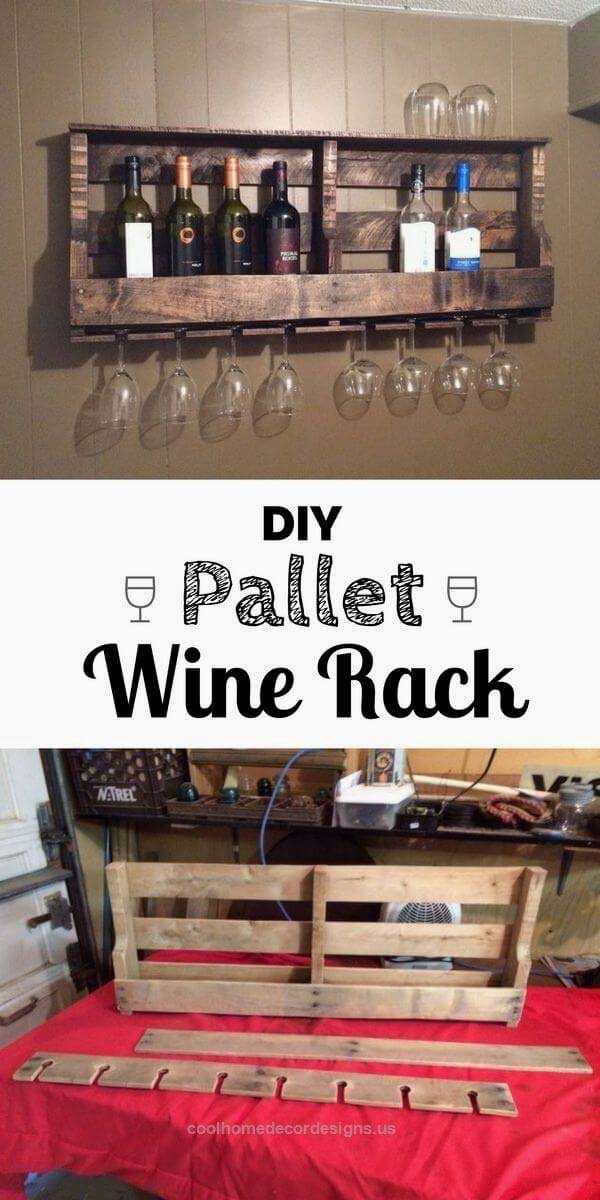 I don't know why but the best wine racks I have seen look very antique and weathered. Somehow they contribute to accepting the wine collection as a special matured one.
If you can't afford to buy a ready-made rack or you haven't found your storage piece, why not make one? The pros of this idea are that it is not only a wine rack but a whole wine station!
via Hometalk
37. Repurposed Plate Rack Towel Holder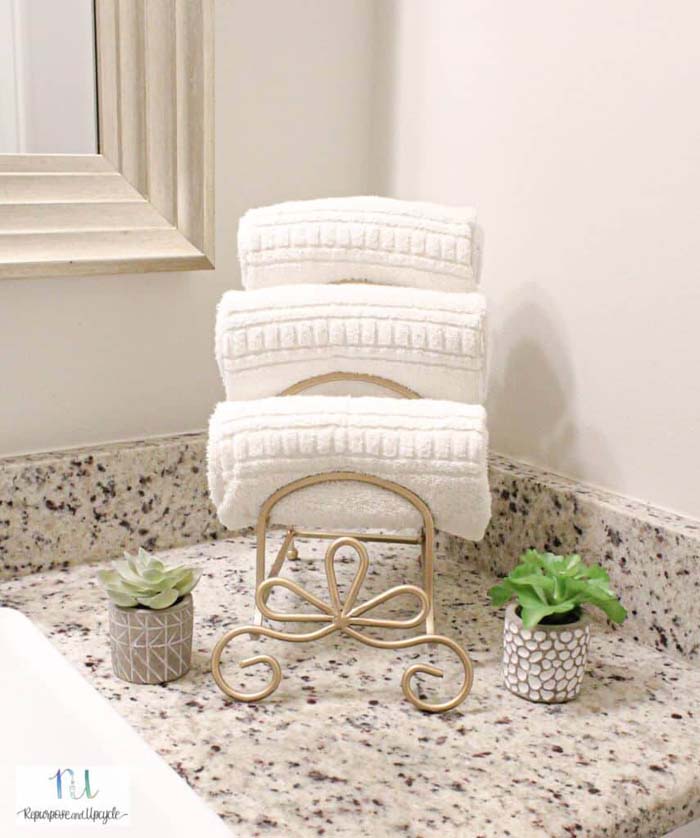 We have seen plate racks storing all kinds of things. But have you ever seen one holding bathroom towels?
This great idea comes from Lindsey who decides to give an existing metal plate rack a facelift by painting it with antique gold spray paint.
38. Wood Boxes Offer Hidden Tiered Storage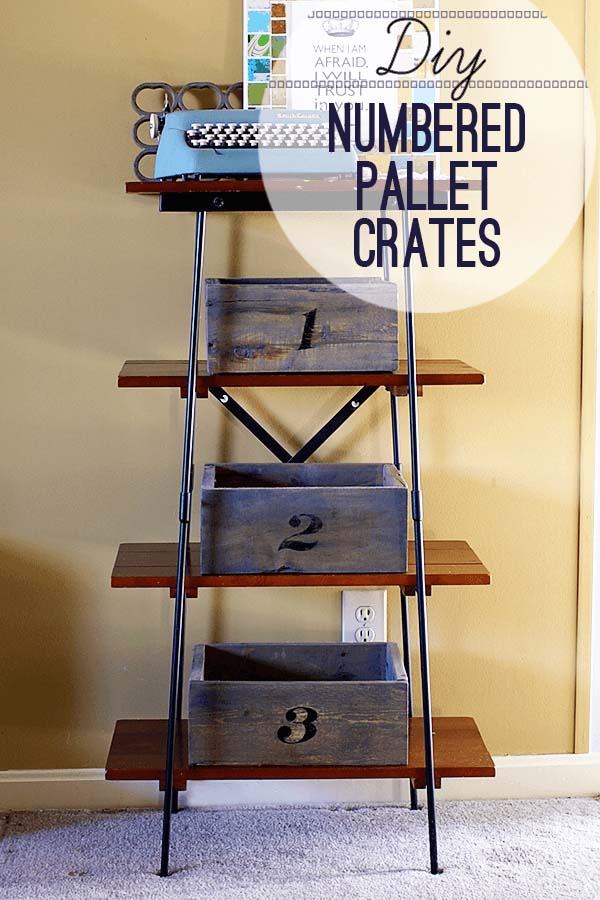 A ladder-like stand made of metal pipes and reclaimed wood will let you store a lot of things without taking up too much from the floor space. Thanks to the vertical design and mobility, the stand can be used in every room.
The uniqueness of this storage piece comes with wood boxes. Looking weathered, you would never recognize that they have just been made from pallet slats. The stenciled numbers on the front of each enhance their vintage look and lift storage to sorting.
39. Weathered Wood Storage Bed Frame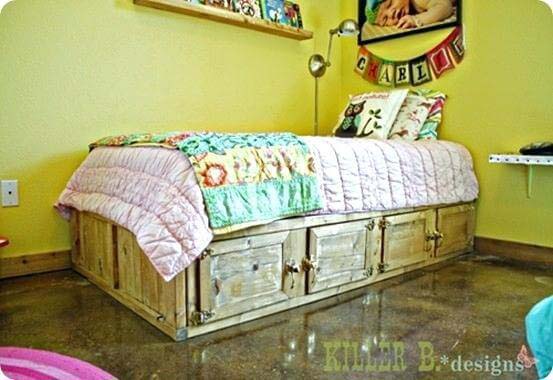 This vintage twin bed offers storage underneath. The bottom has 4 large and long drawers that can store all of the kids' stuff- clothes, toys, linen, etc.
If you love the untraditional kid's bed design and are in love with its rustic aesthetic, check Ana White's tutorial.
via Ana White
40. Rustic Wood Topped Storage Cube Project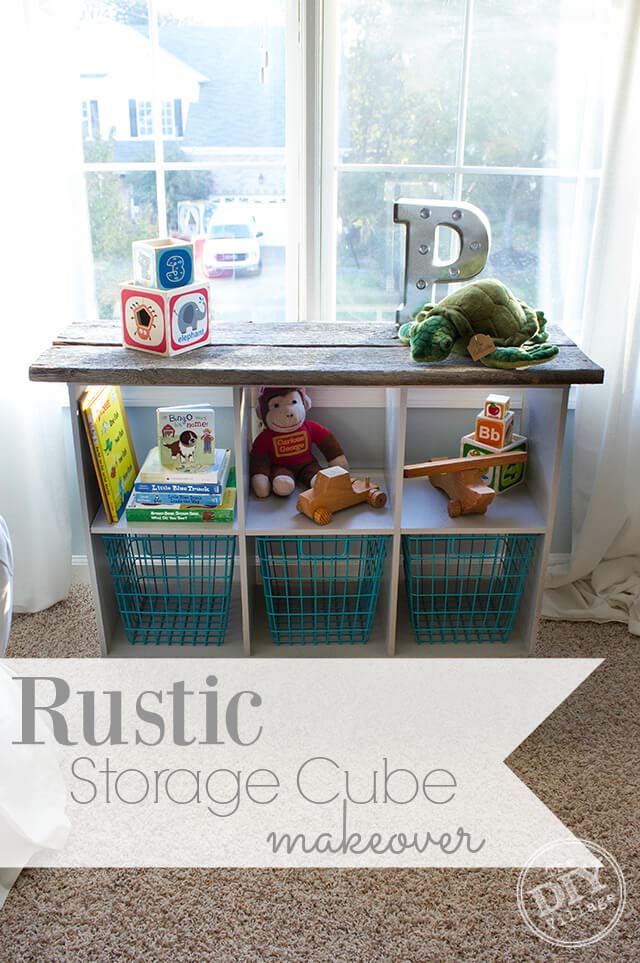 You can quickly give the mass-used storage cube a unique look with a simple makeover. Simply by screwing barn wood on the top of it, you get a rustic organizer with a wide top surface for additional storage.
via The DIY Village
41. Easy DIY Wood Entry Station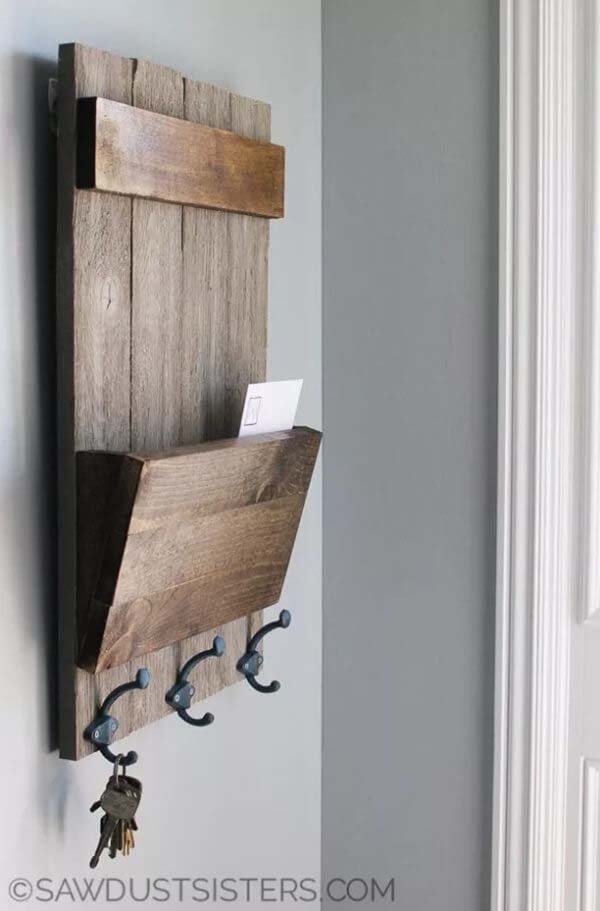 Make your daily routine easier and more pleasant by making your stuff more organized. A key holder can save a lot of time wondering and looking for the keys in busy mornings.
This is an idea of how to make your own key organizer and lift up its design to a mail organizer. Its finish is very rustic so it promises to make the entryway more welcoming.
via Sawdust Sisters
42. Reclaimed Wood Floating Shelves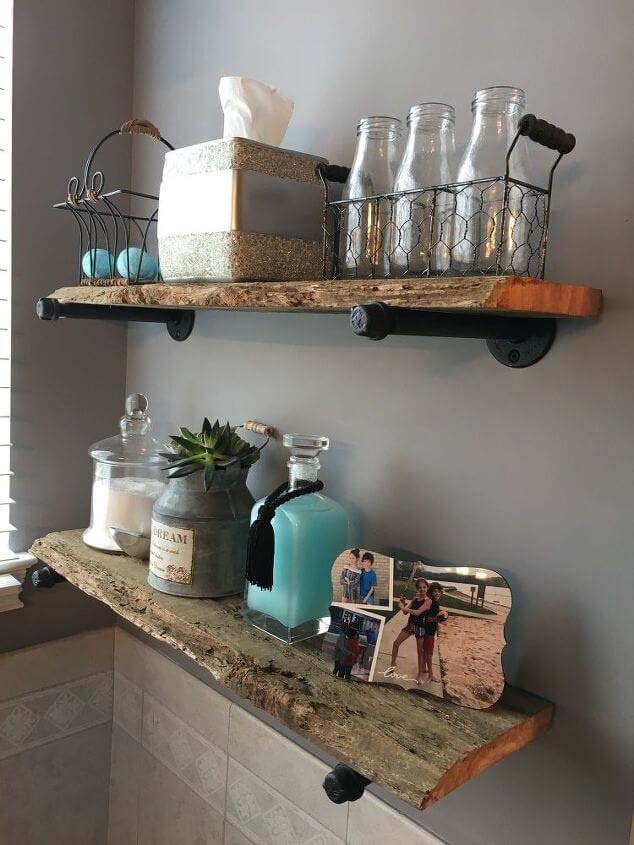 Need additional storage place for cute memories and decor? You can easily make these open shelves combining reclaimed wood, metal pipes and brackets to secure.
The greatest about this project is not how easy it is. It is how great it looks and how helpful it can be in literally every room- from the bathroom to the bedroom.
43. Easy Hanging Crate Storage DIY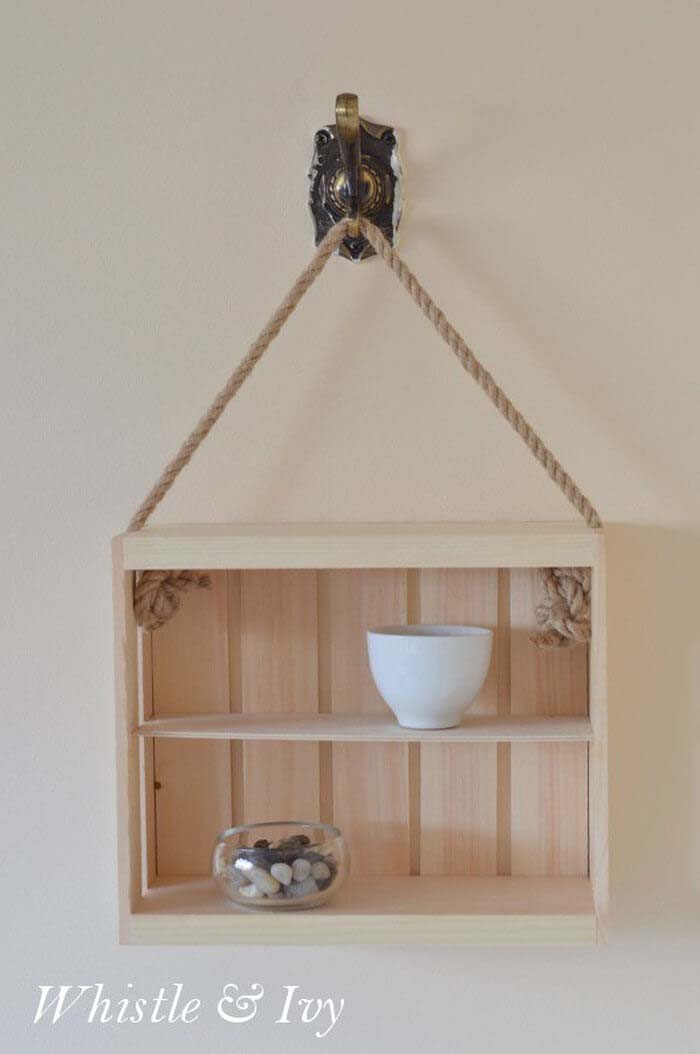 This DIY is an impressive and easy way to repurpose wooden crates! If you have wondered what to do with them, turn them into beautiful rustic shelves that will easily find their place in any room and will increase the storage opportunities.
To make one of these you need a crate, jute rope, a thin piece of craft or plywood and varnish.
via Whistle and Ivy
44. Farmstand Look Produce Baskets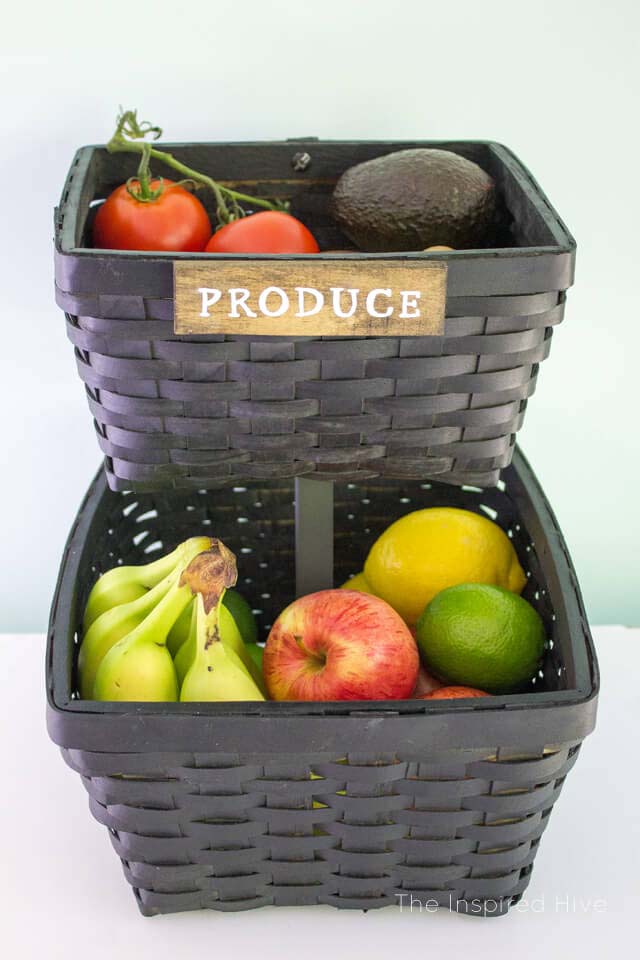 Woven baskets are related to the farmhouse style and look very charming used in the contemporary world. Making them feel more stylish is easy- just spray paint them.
Then stack two of them to create a stand for veggies and fruits. This type of stand is very appropriate as the open concept and the holes allow air to access the products and keep them fresh for longer.
45. Wheeled Toy Storage Rack

This is one of the most functional and space saving ideas! This handmade toy storage unit offers two levels for the organization in the kids' room.
The bottom level provides two large and tall wooden bins that can take up bulky toys or many smaller ones. Being supported on castors, access to the stored items is easy.
The top-level lets you sort toys in three open compartments.
via Build Something
46. Storage Crate Upcycled Ottomans

Looking for a rustic ottoman? Scrolling the internet stores must have taken a lot of your time and probably you haven't found the right design.
This is why we present to your attention a DIY project for a functional sturdy and farmhouse-inspired ottoman!
via Scavenger Chic
47. Plank Wood Ladder Storage Shelves

If you are lacking space in the bedroom and yet don't want to make a compromise with the neat look of the core of your home, consider a ladder as an alternative storage unit.
Its vertical design and number of steps provide a few storage levels and that with a small footprint. The idea below shows you how to upcycle the old painter's ladder in the garage and make it look like a unique bedroom organizer.
48. DIY Pallet Wood Storage Trunk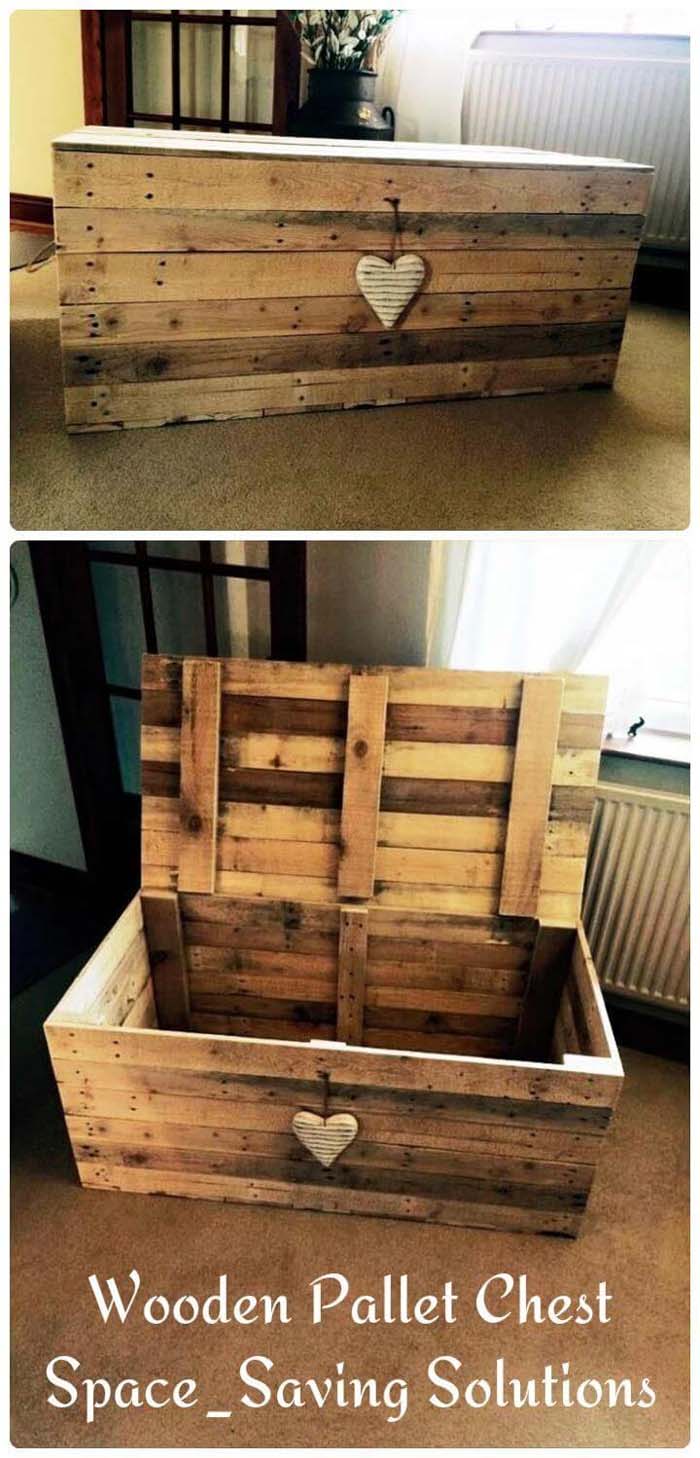 This chest-looking box will provide an essential storage place in a space-saving way. It can be used both indoors and outdoors as long as you have coated the wood with appropriate protection.
Making it is very easy, like building a box from pallet slats but with a top lid that instantly gives the space a clutter-free look and protects the items stored from dust and dirt.
via 99 Pallets
49. Easy Crate Coffee Table Storage

Four crates, two wood slats, screws, L-brackets, castors and stain is the entire supply list to make this adorable rustic coffee table.
The author has given detailed instructions on how to build it yourself. However there is one modification you can do- instead of leaving the center empty, use it as a planter.
That will make a beautiful contrast with the dark stain and will enhance the farmhouse look of the table.
via Vintage Chic
50. Wood Plank Mounted Storage Baskets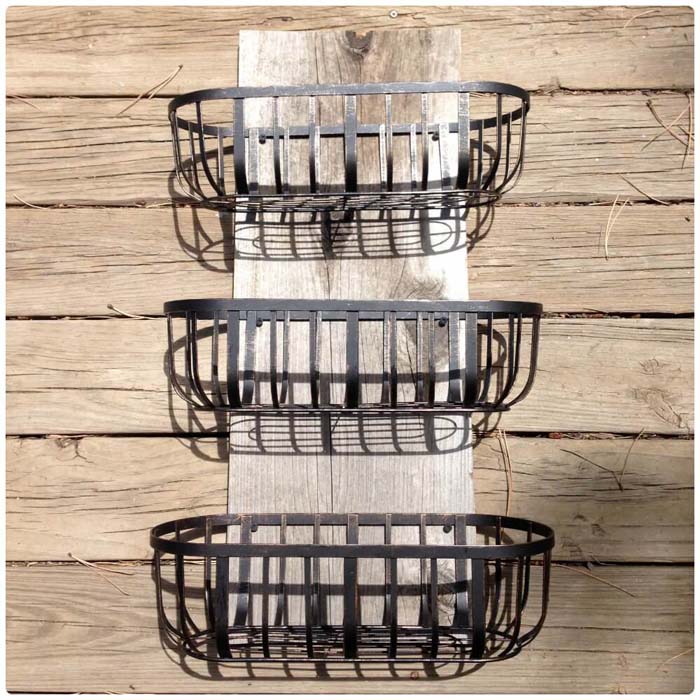 Increase the storage places at your home with this farmhouse-inspired wire stand. Making it is easy and affordable and its application-versatile.
Although these wire baskets are related to the past, the general rustic look is enhanced by the large weathered wooden beam supporting them.
via Girls Build Club
51. Easy Pallet Entryway Umbrella Holder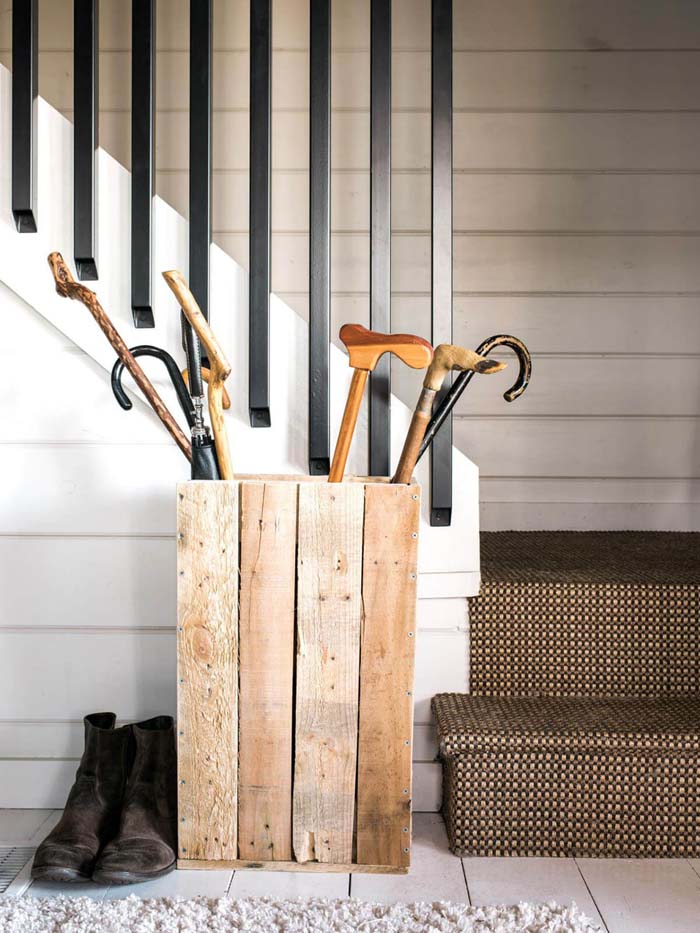 The design of this easy-to-make wooden box lets you store tall items or store things that would like to stay hidden.
You can make it of any reclaimed wood you have got, however identical in size pallet slats will ease the making process.
via DIY Network
52. Creative Burnt Wood Crate Labels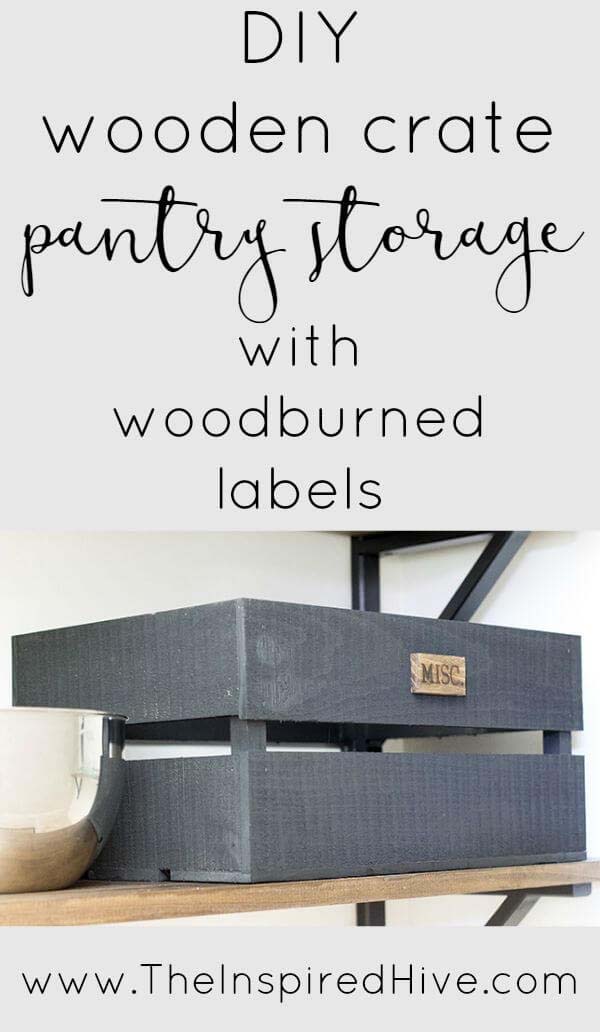 There are numerous ways to repurpose crates. One of the easiest ones requires only painting their surface to let them blend with the existing decor.
The most charming part of the recycled storage unit is the cute wood burnt labels. Want to try making your own?
53. Pallet Shelves Kitchen Display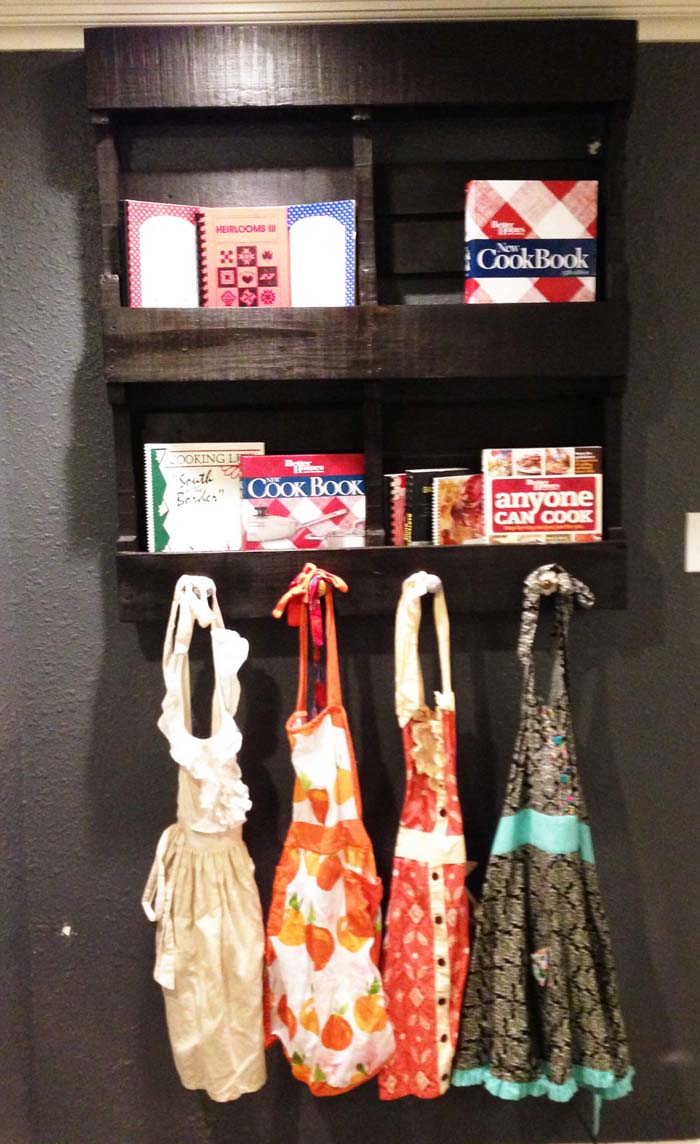 The transformation of a plain wooden pallet is amazing! That has been done by adding additional wood to the middle and the bottom to create sustainable shelves, staining the wood in dark and screwing knobs to the bottom slat.
The farmhouse DIY rack has been intended to create a small cute farmhouse storage area in the kitchen. It can surely find its place in other parts of the home- the entryway as a coat and decorative accents shelf, in the bathroom- cosmetics and towels storage place and so on.
54. Hidden Trash Bin Cabinet DIY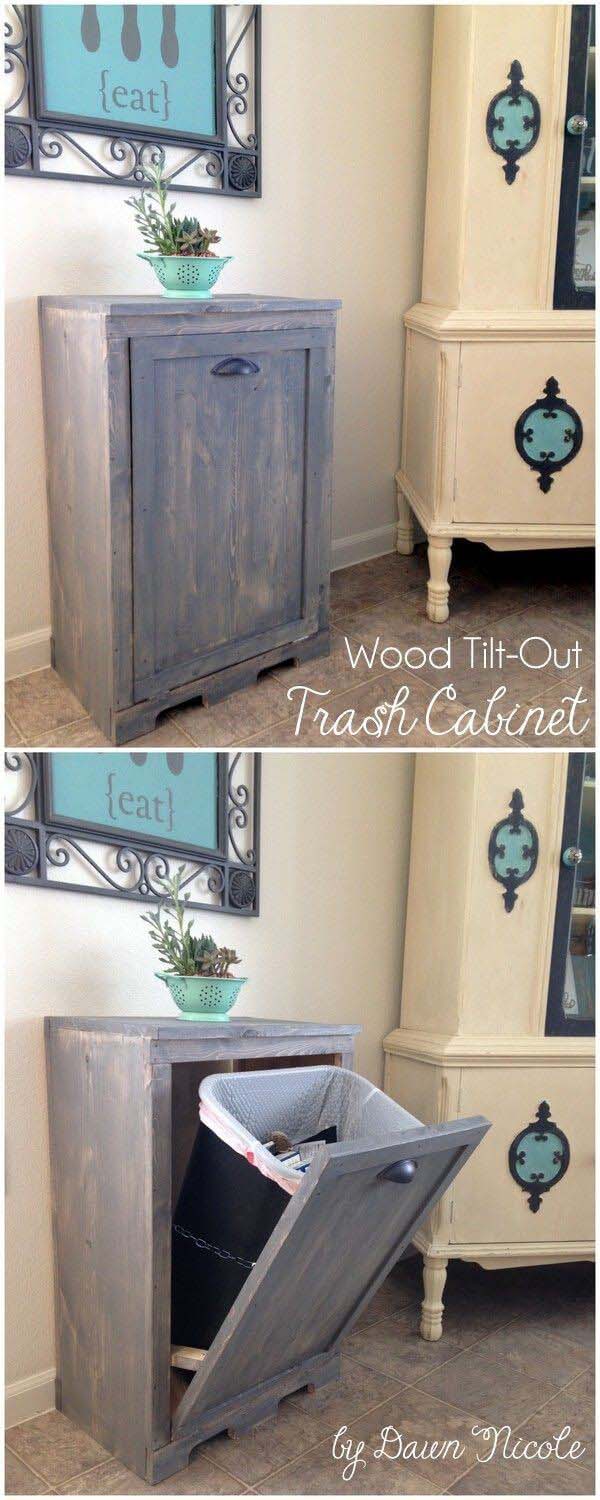 The key to having a neat and organized home is finding the best storage place for every item belonging to your home, including the trash bin.
This project offers you an idea for a tilt-out cabinet that matches the existing vintage decor because of its weathered wood texture.
via By Dawn Nicole