The more the storage space is in one home, the cleaner and tidier it will look. Keeping things organized and well stored is essential for the everyday routine and for the impression of your home. Even when you don't have much free time to tidy up the rooms, they will look a lot decluttered and clean if every piece has its place for storage.
When choosing new storage units, every person aims to match them with the existing decor without ruining the floating welcoming and cozy atmosphere.
And while this may seem a difficult task costing a fortune, actually it can be achieved with almost no investment. The vintage items are so charming and possess a lot of history.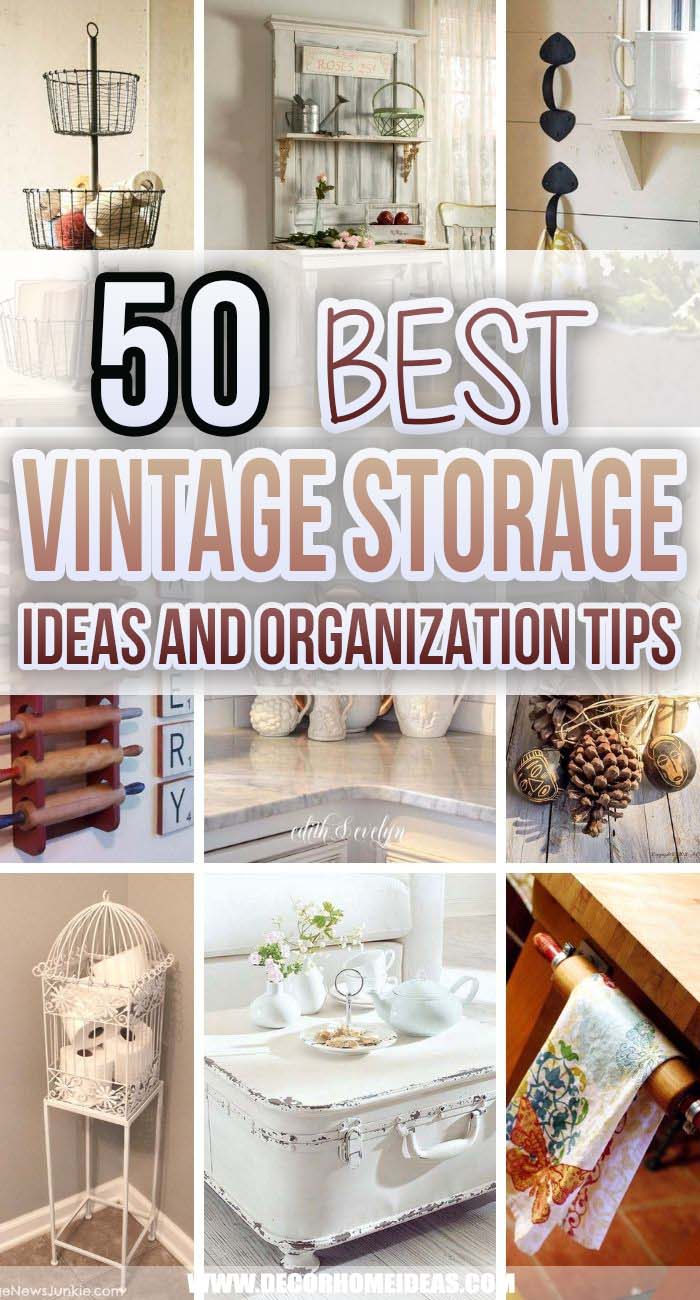 You can find them in the garages of your friends, at flea markets, thrift stores and even hidden in your own basement. Why should you waste money on new pieces of furniture when you can create unique pieces with a lot of functionality?
Find out the greatest vintage storage ideas and tips and see how once useless items become precious storage treasures.
1. Cottage Birdhouse Fabric Storage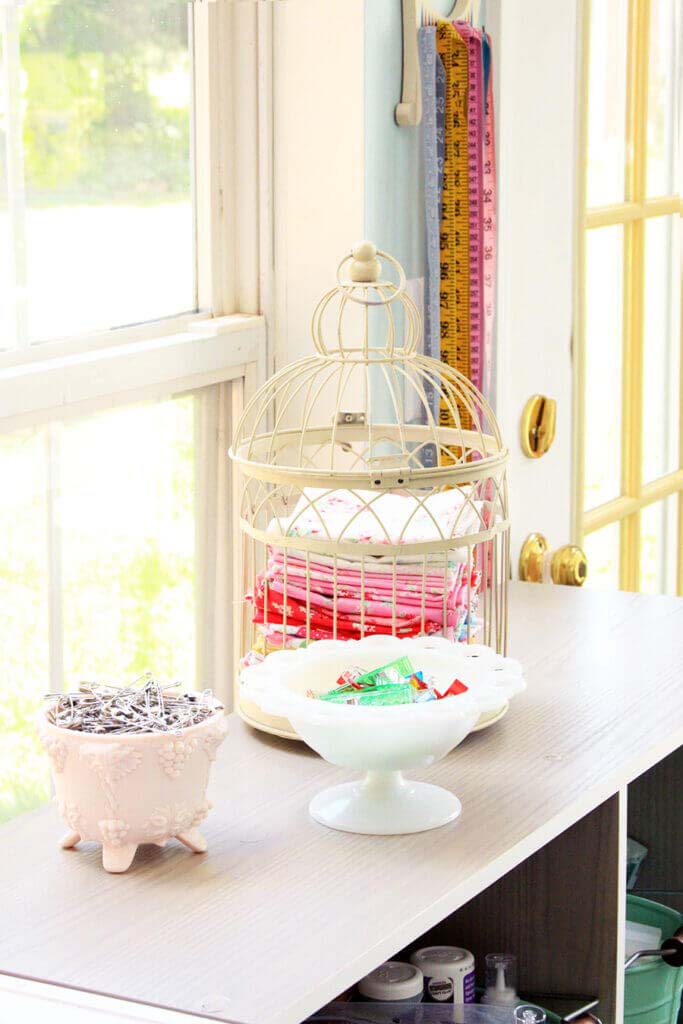 An interesting idea to make the sewing items more organized is to use a decorative birdcage. Its size and shape are perfect to store folded pieces of fabric. In addition to that, finding the piece you need is so easy, thanks to the openings.
For smaller pieces like needles, you can use a ceramic bowl that will match the vintage spirit of the cage.
via Flamingo Toes
2. Upcycled Vintage Suitcase Storage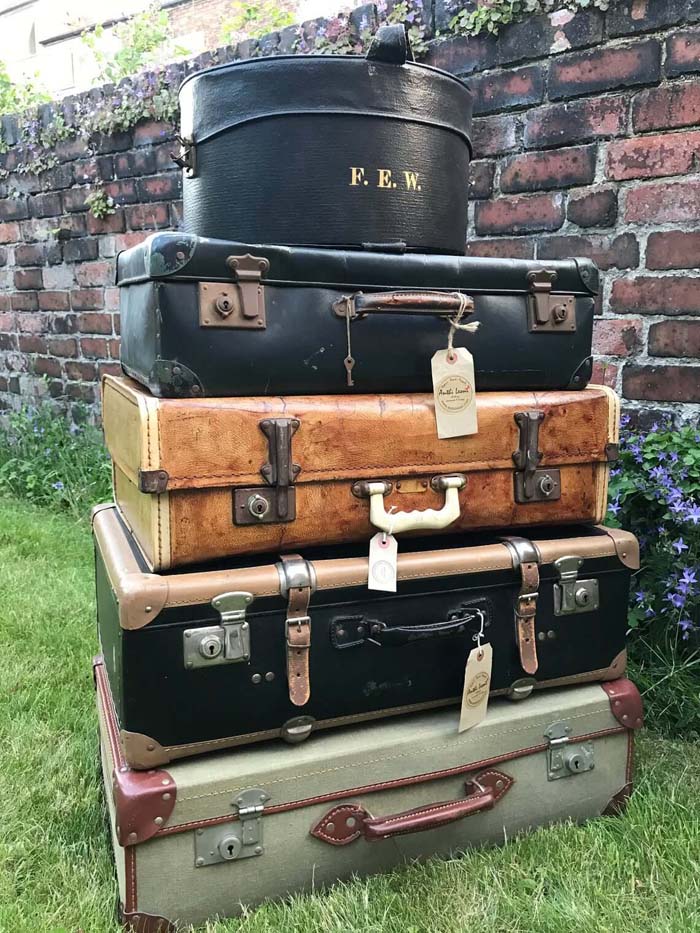 A collection of different in design suitcases is transformed into a unique storage unit by stacking them. This new organizer also acts as a stunning addition to the decor, even as tables.
Place them outdoors on the porch or inside a room to keep items well stored and protected and to enhance the vintage vibe indoors.

3. Repurposed Wash Bucket Bathroom Storage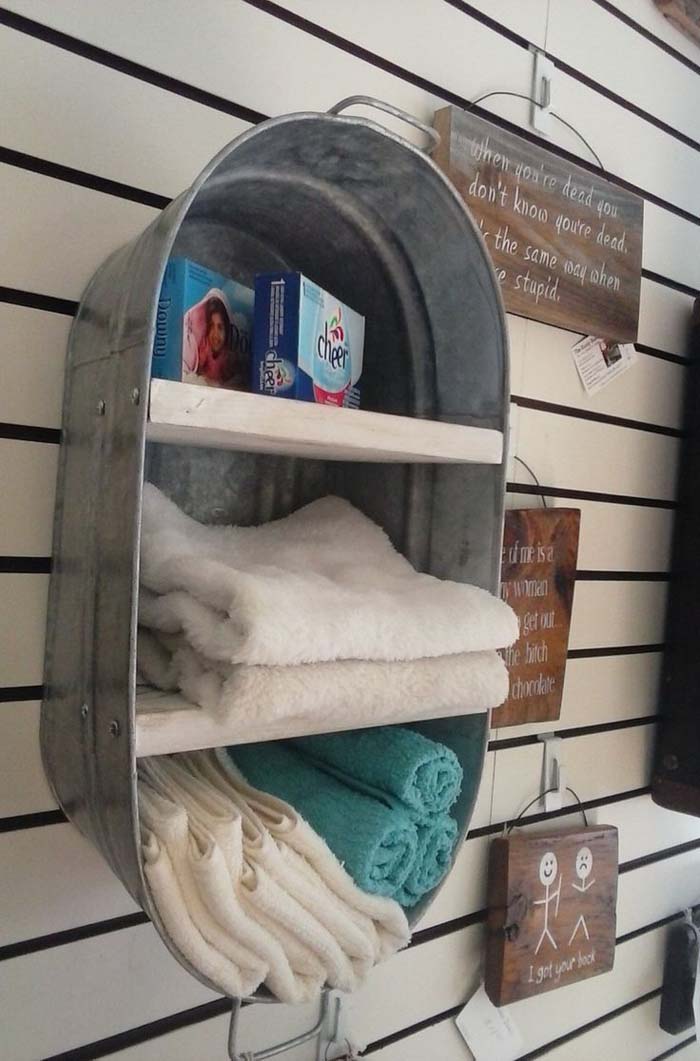 Need a dedicated rack for the towels in the bathroom? Don't invest money in that, just take out the old vintage washtub and add wooden beams to it.
This will ensure three levels for storage and that with no floor space taken. Add other vintage items next to the new organizer to add an extra vintage vibe to the space.
4. Repainted Vintage Luggage Dresser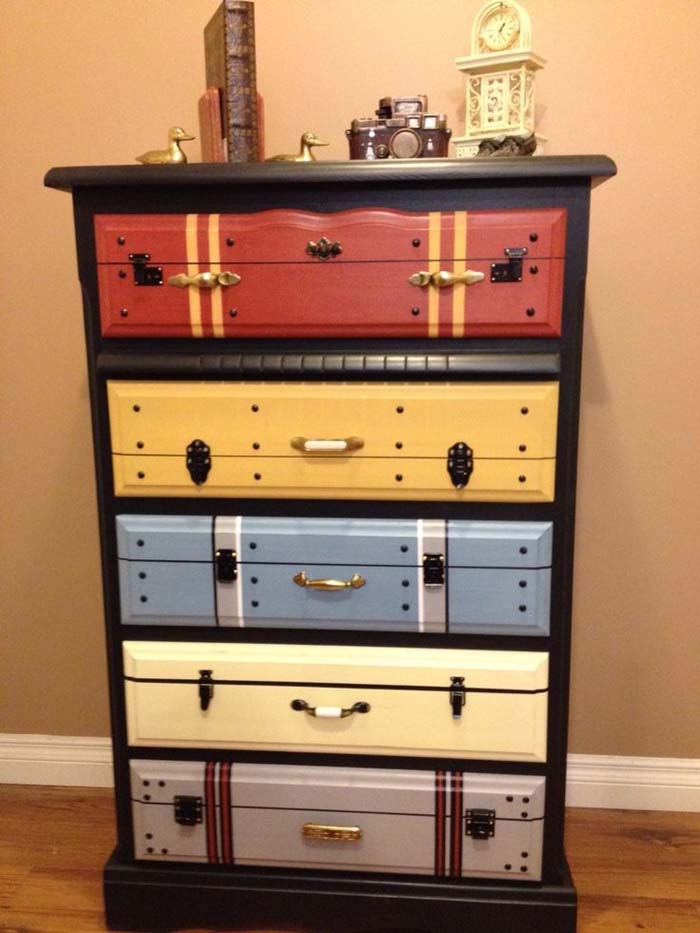 If you like the retro suitcases, you can have your own chess of drawers that is inspired by their design. Every drawer imitates the front of a vintage luggage case.
The colors vary but they are tied by the pastel palette which will add a point of interest in a more neutral interior.
5. Library Card Catalog Storage Solution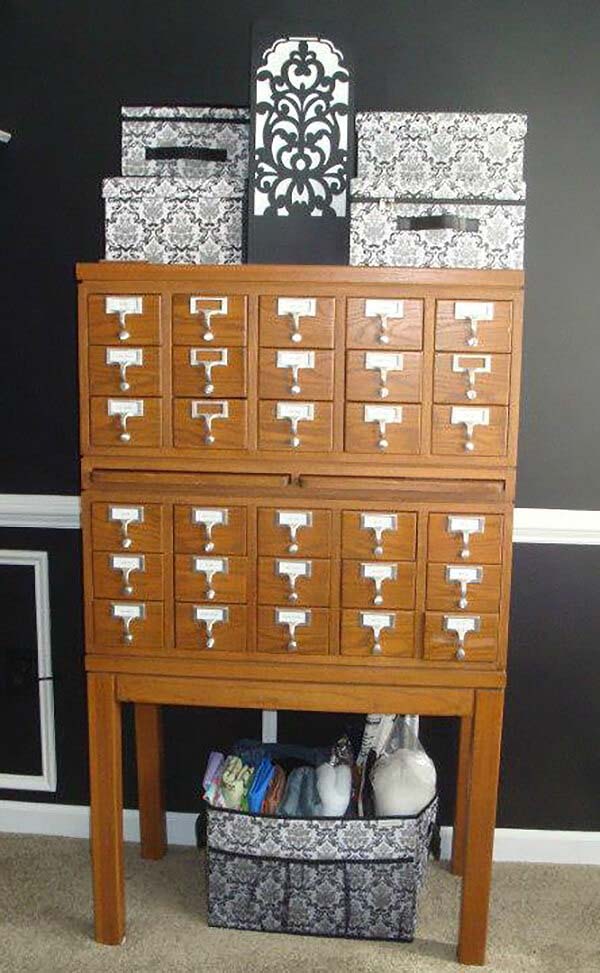 Do you love crafting? Here is a great project not only to craft but to make your craft area organized. This is a vintage-inspired card catalog shelf that is repurposed into a craft supplies store place.
Added to the interior it makes the area very charming and authentic.
via Mom Home Guide
6. Glass Door Visible Storage Cabinet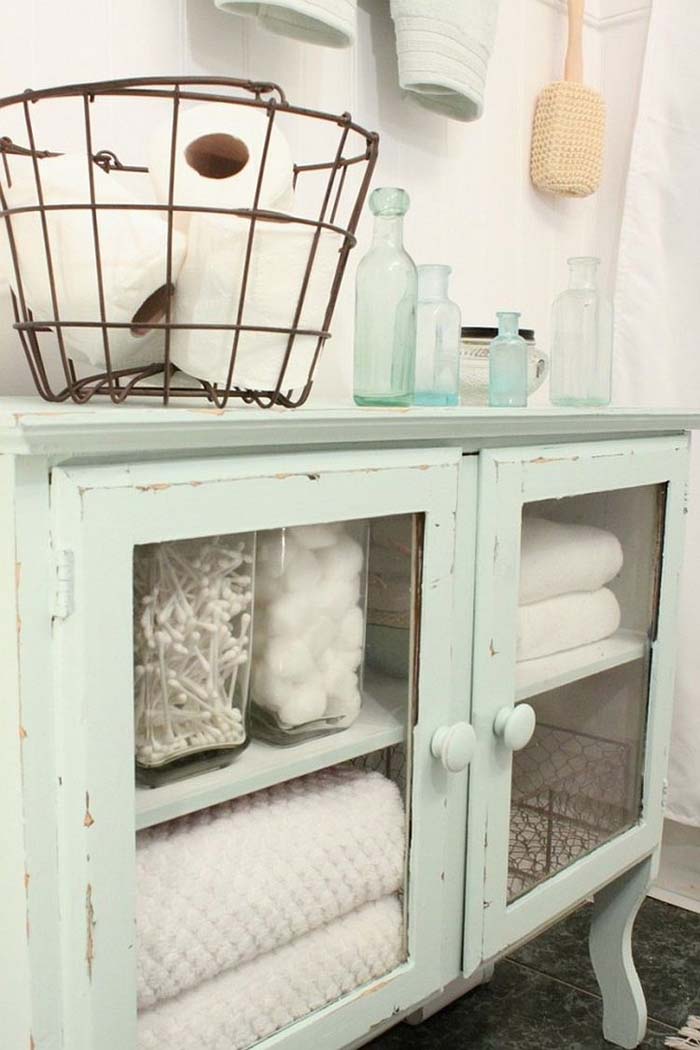 This is an old cabinet that has been given a fresh vintage look with chalk paint. The storage system has also been upgraded but with containers of the same style so that they fit the style of the piece of furniture.
The wire baskets can accommodate a group of smaller containers in order to give the cabinet an organized look. The other shelves are tightly covered with towels and identical jars holding small items.
7. Countertop Basket Kitchen Organization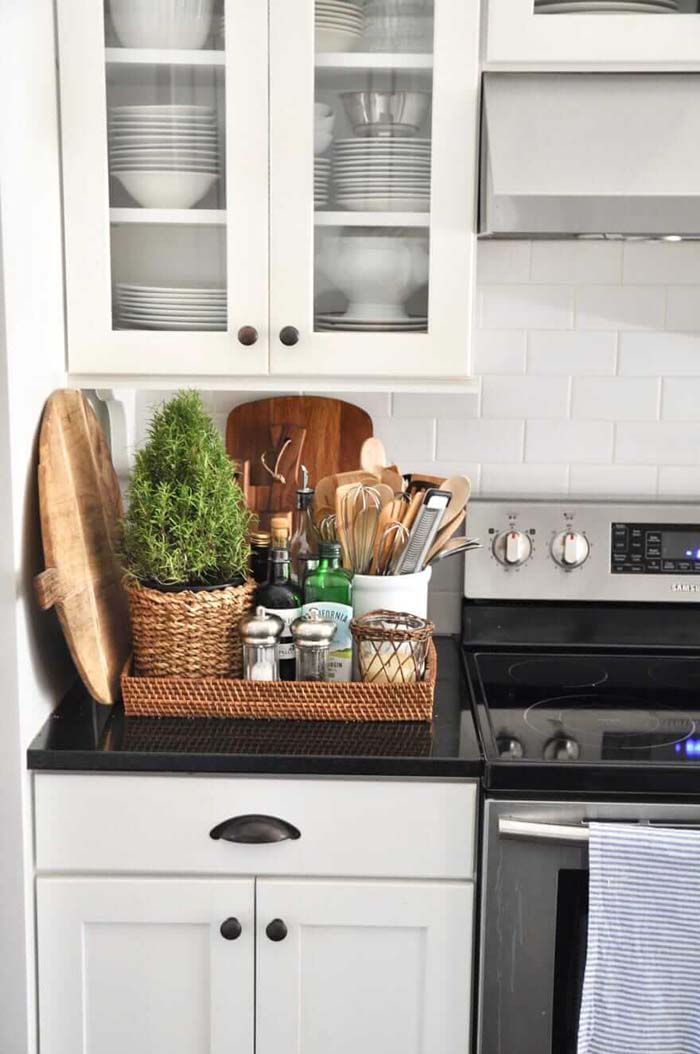 Getting all items spread on the countertop in one place, easily declutters the kitchen general look.
And if you are looking for more than an organization, for a welcoming vibe, use a wicker tray to store them.
8. Rustic Cheese Grater Utensil and Towel Storage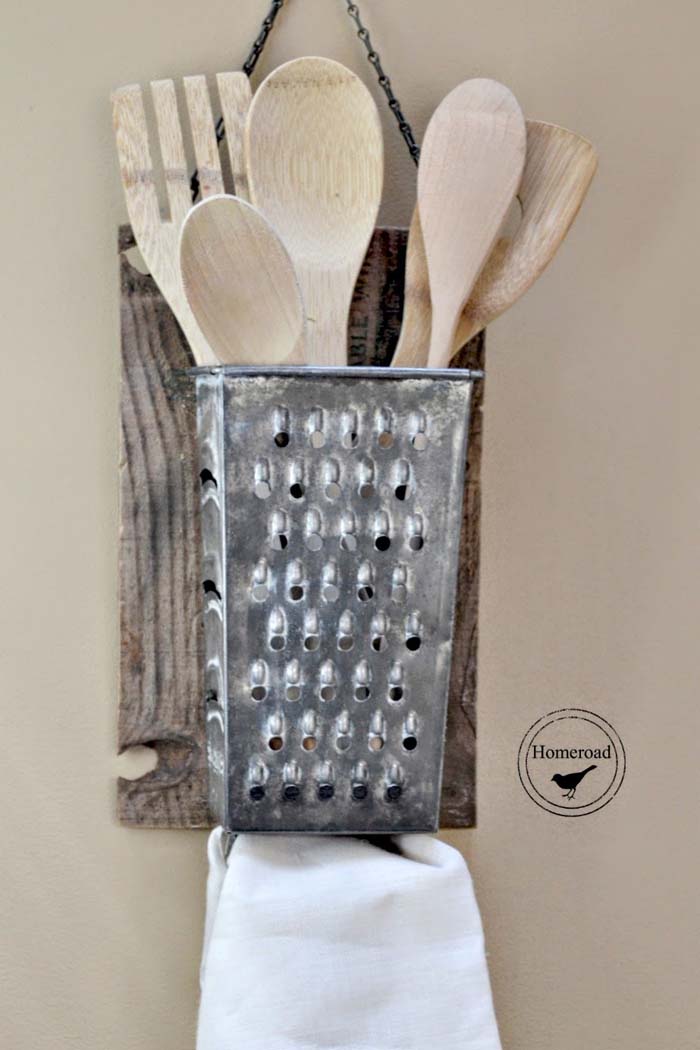 This is an inspiration about how to repurpose an old grater into a functional kitchen storage unit. Screwed on the wall, it holds cooking ware on the top and a towel for drying the hands after washing on the bottom.
This is a perfect solution for small kitchens where multifunctional items are needed.
via Homeroad
9. DIY Chicken Wire Dress Form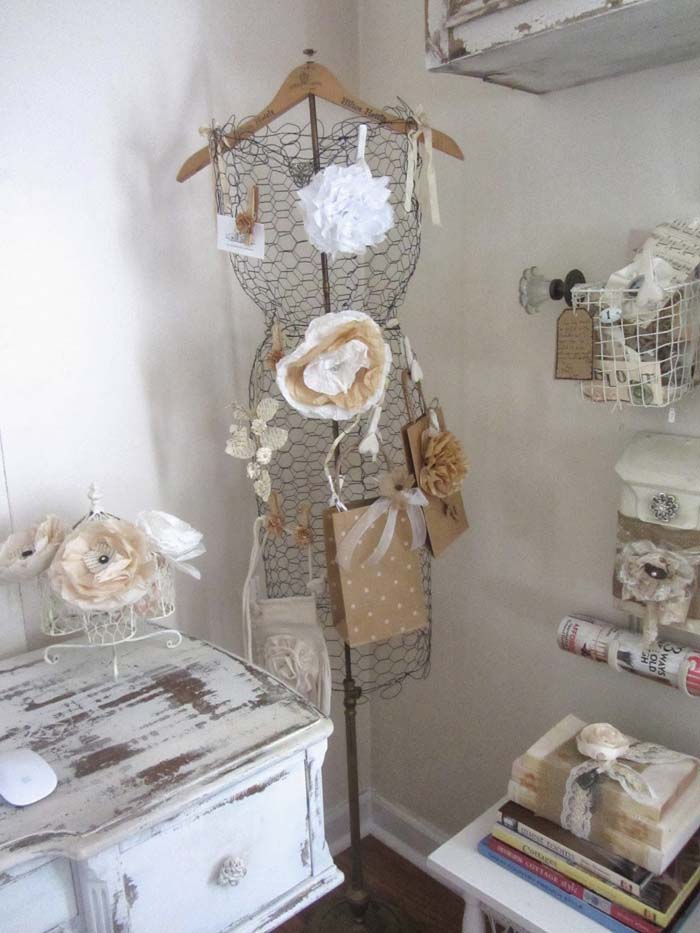 This is a gorgeous vintage project for stylish women who appreciate the order of their accessories. A Paris doll is made of a hanger and chicken wire to organize hats, purses, scarves and jewelry.
Placed in an empty corner, it doesn't take up much space and makes the bedroom or the closet so unique and charming.
10. Shabby Chic Bedframe China Storage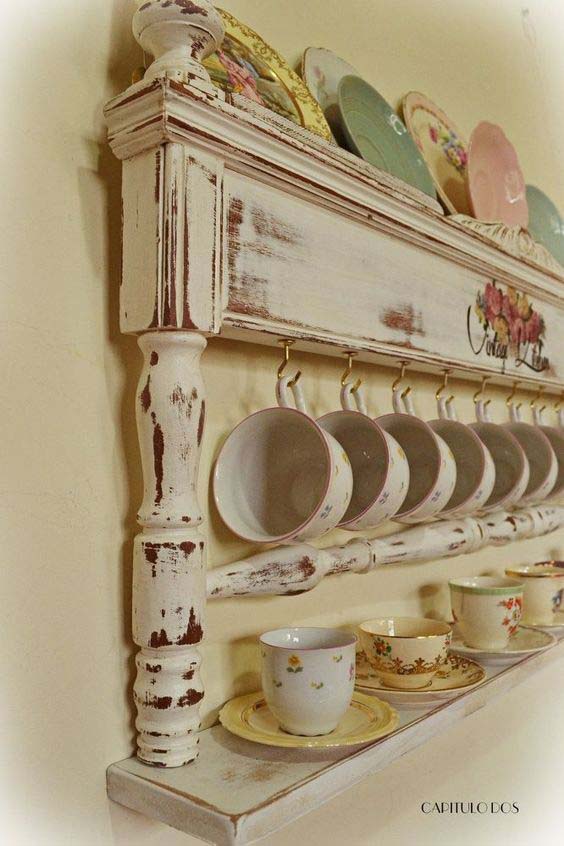 The vintage collection of plates, teacups and saucers won't stand out with its uniqueness if it is not placed on a suitable display.
And nothing is better than a handmade weathered wood shelf. Pieces from a vintage headboard or antique table can be combined together in a customized size that fits the chosen space on the kitchen wall.
If you want to give the shelf a clean fresh look without stealing its aged value, try painting it white and then distressing random areas.
11. Spice Rack From A Vintage Crate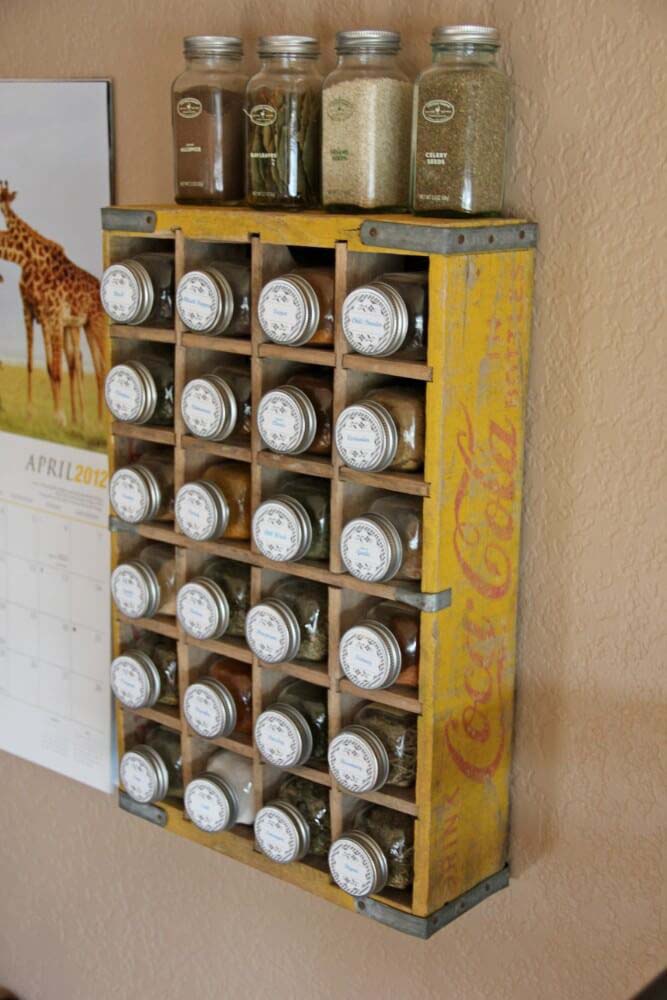 If you love cooking, then you appreciate the importance of spices. Having a variety of them next to the cooking area is a dream come true for a culinary person. And here is an idea of how to store them without taking any of the countertop space and without spending a dollar.
Use an old crate for storage of glass Coca-Cola bottles. Hang it on the wall next to the oven and arrange the spice jars in the sections.
via BRO Haha
12. Ironstone Pitcher Utensil Storage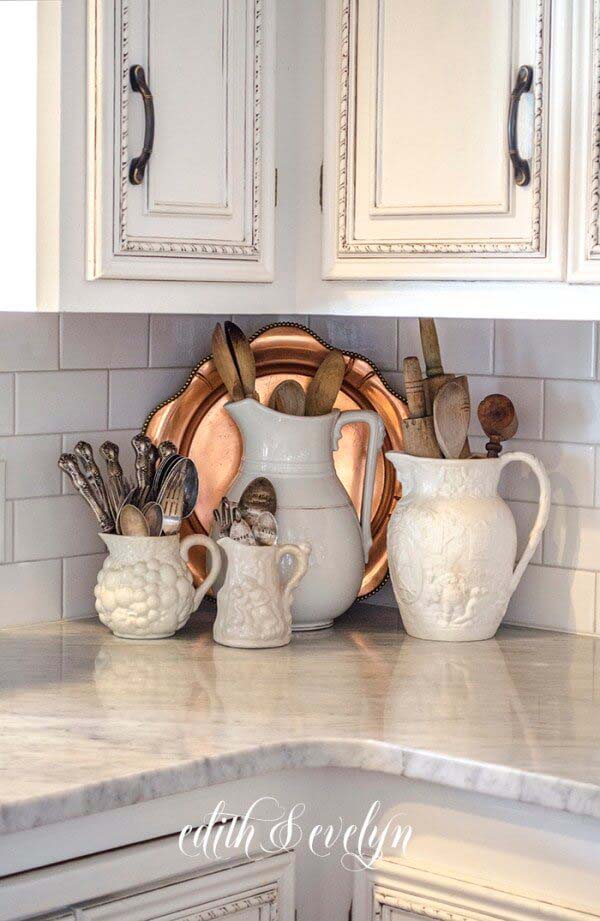 Storage of authentic silver tableware should emphasize its value and uniqueness. We suggest using ironstone pitchers with interesting ornaments to let the silver stand out.
Add a copper or silver iron tray behind the storage pitchers gathered in a group to add a beautiful backdrop that will enhance the metal glam even more.
13. Repurposed Whitewashed Door Shelf Storage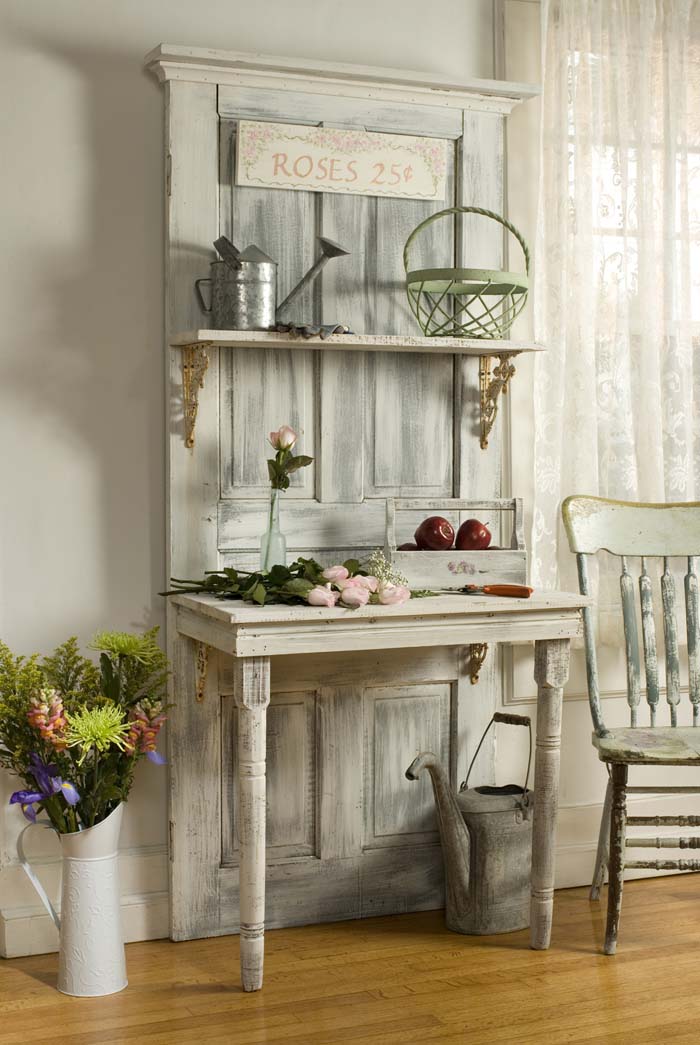 The door acting as an indoor decor creates a certain focal point. So it is very important to make it appealing. To give it also functionality, add pieces of old furniture that can store or display items.
Depending on the function of this decor, you can create a table and a shelf. Display vases with flowers, antique items, seasonal decorations. Used in the kitchen, you can use it as a side table that organizes spices or tableware.
via Lace Crazy
14. Vintage Galvanized Metal Box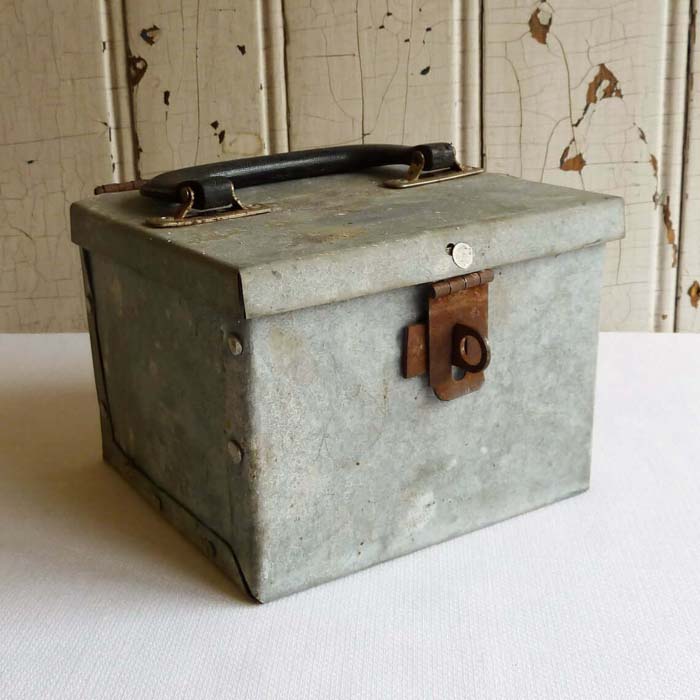 This metal cube is so cool that it needs a special place in your home, especially if you are looking for a way to add old-school charm to the interior.
When you open the top, pulling the rusty flip-down latch, there is enough room to stash small items.

15. Repurposed Bakers Cabinet Laundry Room Storage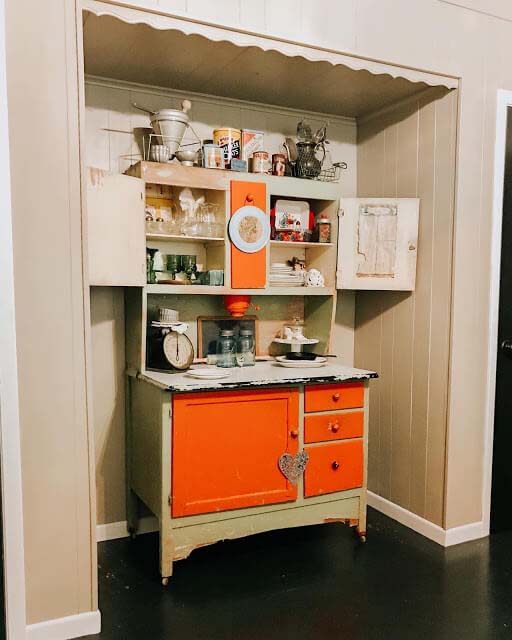 In case there is a niche in the laundry room where no utensils can fit in, you can utilize the space in another way. Turn it into a storage area with a vintage cabinet upgraded with additional shelves.
The vertical cabinets and shelves will increase the storage places and the room will instantly become airier and organized.
This cute idea also gives the opportunity to give the laundry room a personalized character.
via Clover House
16. Upcycled Crate Spice Cabinet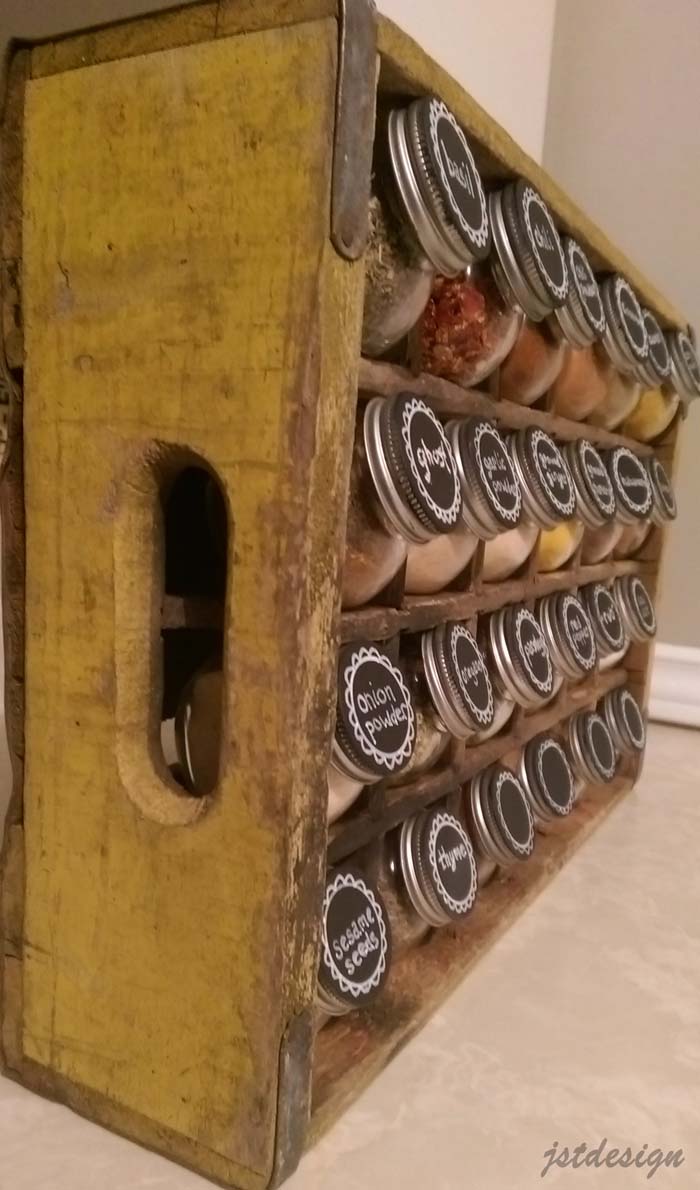 An old crate easily becomes a kitchen organizer by adding shelves that keep the spice jars safe in place. The glass jars are of the same vintage style but they are given a point of interest with the interesting chalk paint lids.
Finding the spice you need is so easy because every jar is clearly labeled.
17. Vintage Textile DIY Storage Buckets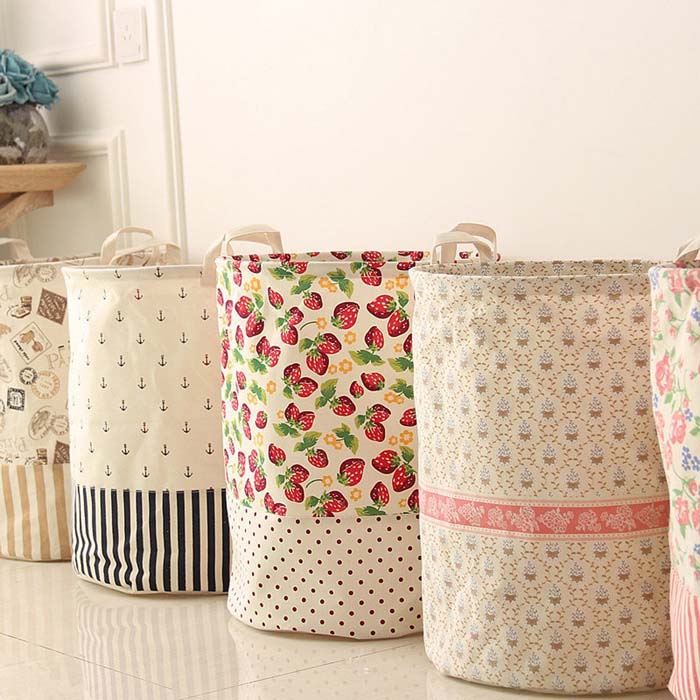 Back in time women were very practical and used to recycle their old dresses and other pieces into useful items that declutter their homes.
Nowadays, this approach creates a personalized and charming addition to the interior. This idea is also very good for keeping a piece of clothes that you like and relate with good memories still alive. Turn it into a bin for storage of craft supplies, bathroom items and essentials or laundry baskets.
18. Rolling Pin Wall Storage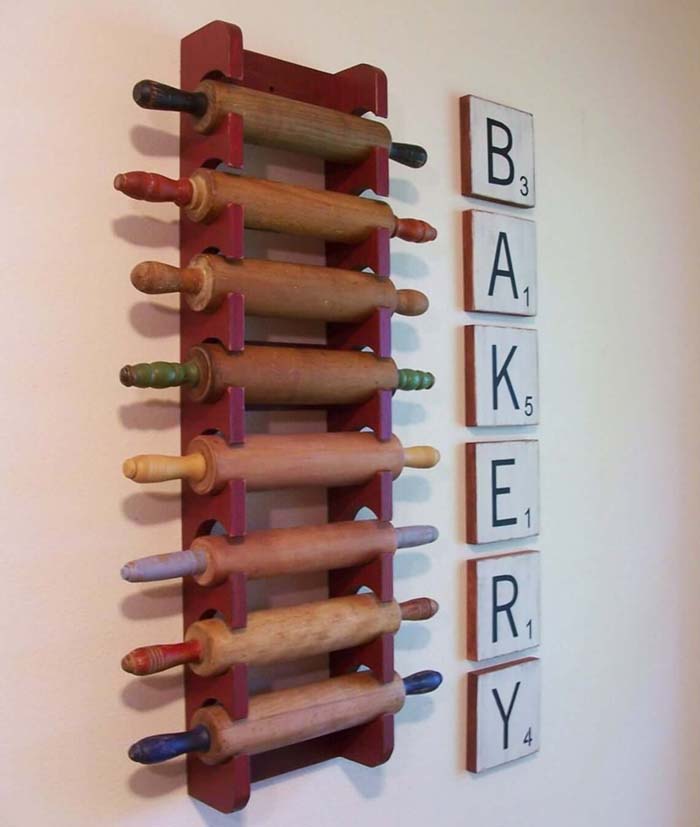 This interesting idea aims to add a farmhouse charm to the kitchen and hold items that usually don't have a special place designed in the kitchen storage units.
The rack for rolling pins can hold up to eight of them in different sizes. Screwed to the wall, the rack doesn't take up any space and makes a unique focal point in the kitchen.
19. Vintage Books Knife Storage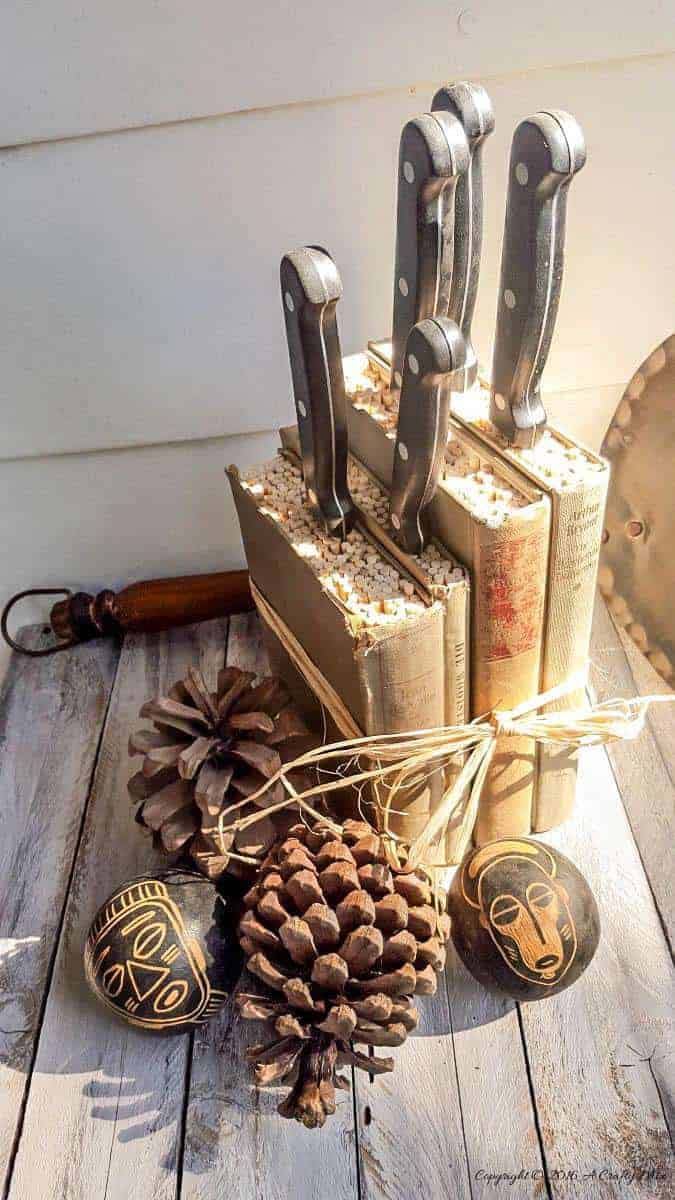 When there are old books that no longer can be used in their initial application for reading, you can try transforming them into knife holders.
Take the pages out, add bamboo skewers inside and glue them. When the glue dries, insert the knives in. The knives will be well secured and the holders will add a vintage charm to the countertop.
via A Crafty Mix
20. Leather Ottoman Hidden Storage Solution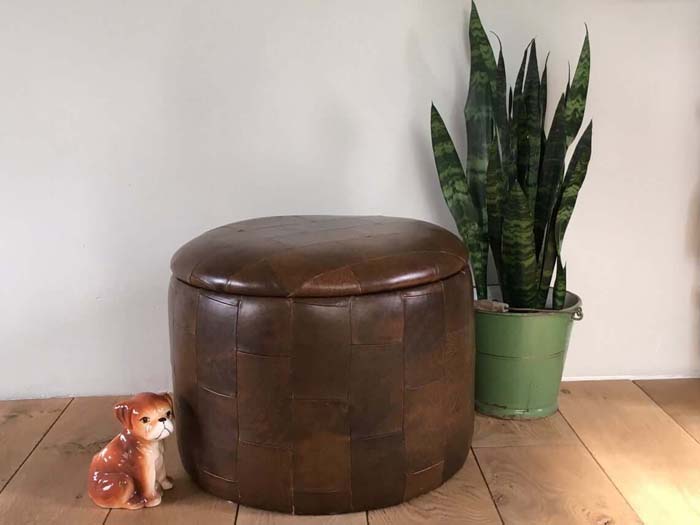 This is an ottoman made in 1960s which looks so trendy today. Covered all over with leather patches, it spreads style and inspires with its functionality as it has also a deep storage box.

21. Farmhouse Style Floral Bucket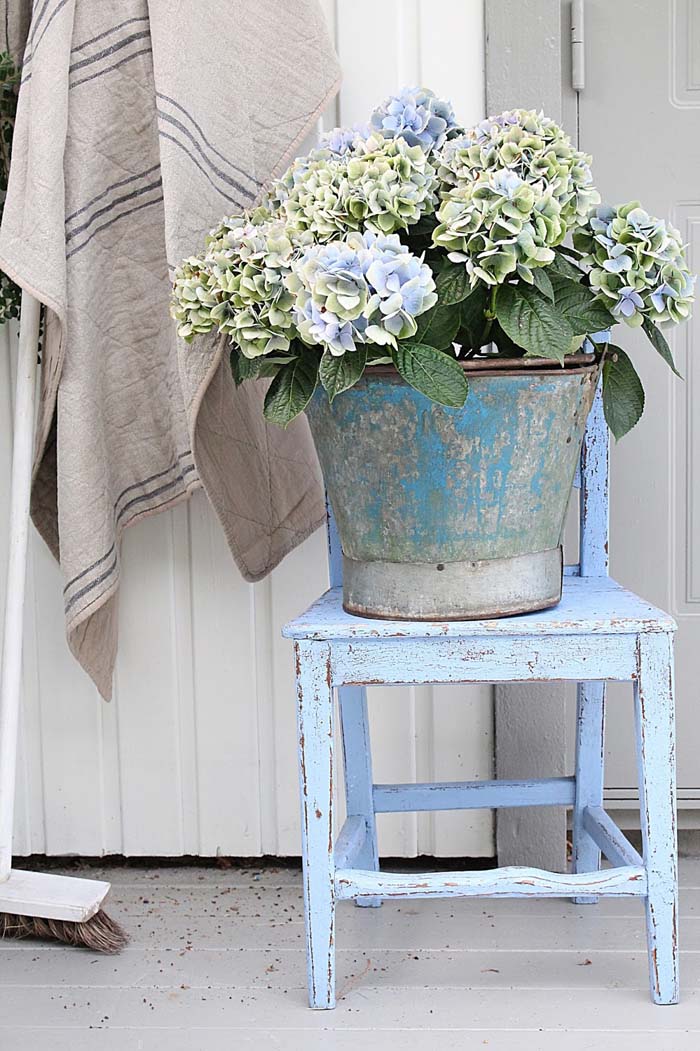 The galvanized buckets are so charming! Repurposed into containers indoors and outdoors, they instantly grab attention and make the things held in them a focal point.
You can use them as vases for large blossoms like hydrangeas, for example. The blooms are so big that they will never be overshadowed by the large pot. On the contrary, the unique texture of the metal will let them stand out and add a shine to the arrangement.
via Vibeke Design
22. Kitchen Storage From A Vintage Garden Rake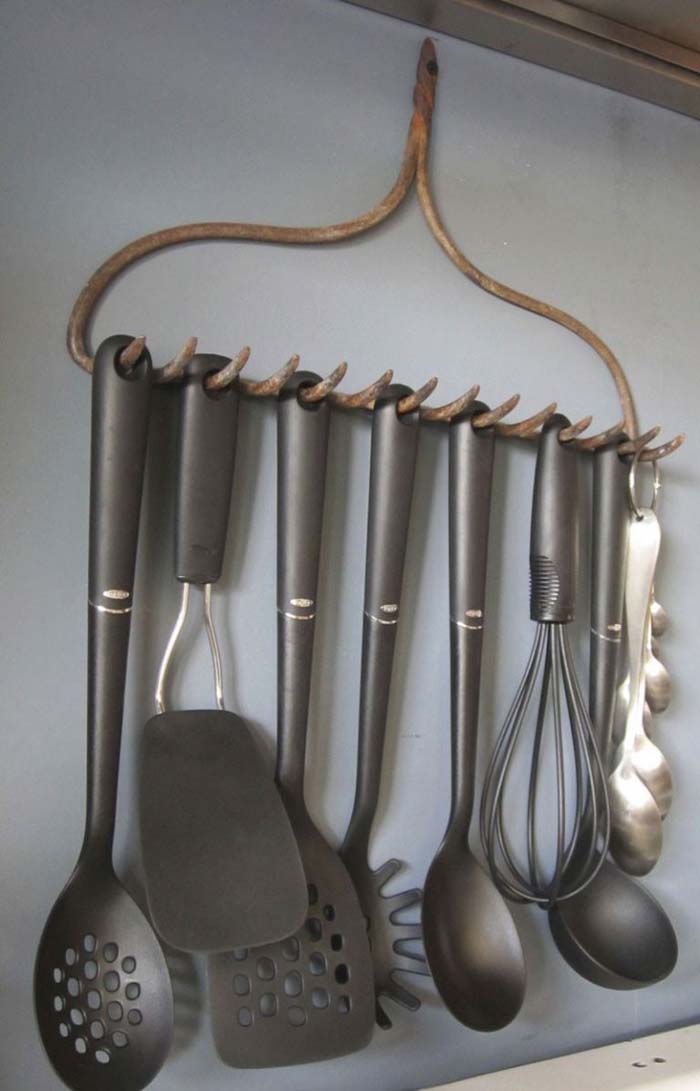 The old garden rake obtains a new application when hung on the kitchen wall. The protruding points are sturdy and can organize cooking utensils right above the cooking oven.
The interesting repurposing of the rake and the charming rustic look add an authentic element to the space that enhances the coziness.
23. DIY Vintage Suitcase Table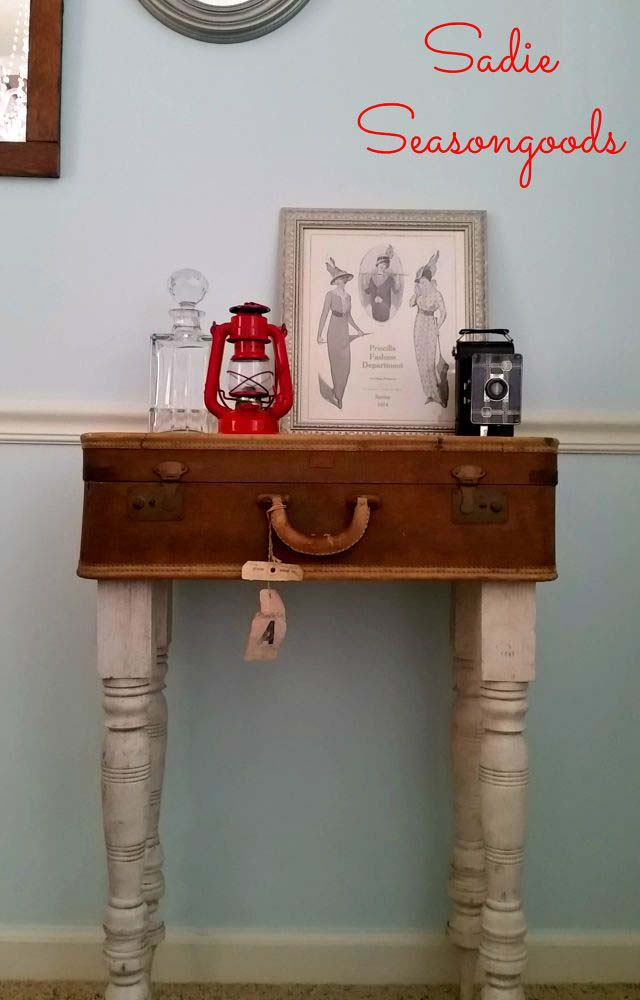 This unique display has been made out of vintage items. The ornamented legs are taken from an antique table. An old suitcase acts as a countertop.
Placed in the entryway, this reclaimed side table is not only decorative but also useful to add character and style to the space.
24. Canvas Sack Hanging Hampers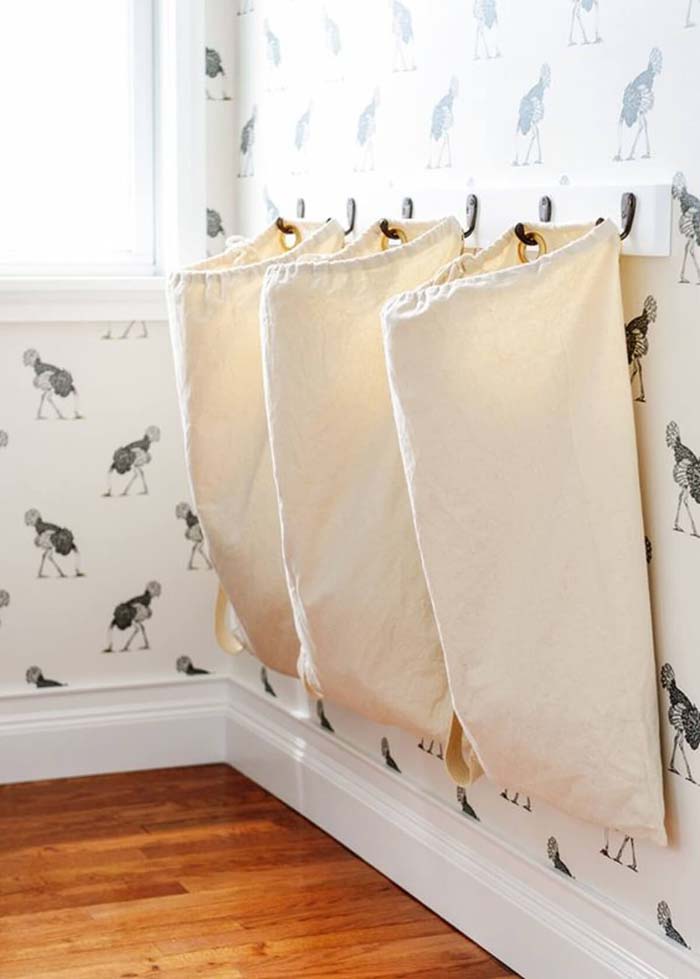 When the family is big, rules are very important, especially to have a neat and organized home. With these canvas bags attached to a wall in the laundry room, the storage of dirty clothes will be easy and accessible.
This DIY can be upgraded by adding small labels in the front of every bag that will mark the name of the person or the type of clothes to go in there.
25. Vintage Crate Narrow Space Shelving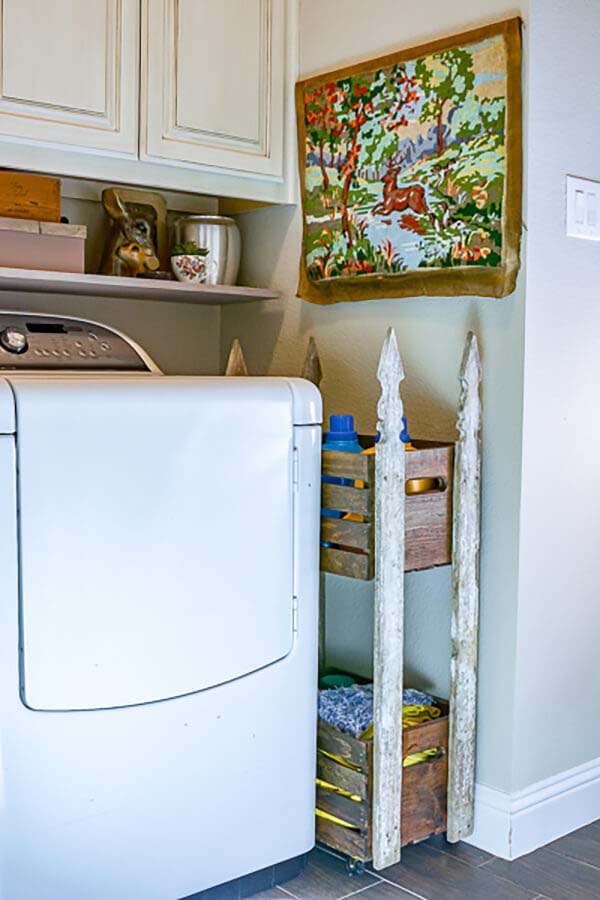 This is a shelf unit made to fit into a very narrow area. Practical thinking doesn't have limits. A few scrap materials and two crates make it possible to make the laundry room neater and organized.
via Salvaged Living
26. Add Shelf Storage With Pipe Brackets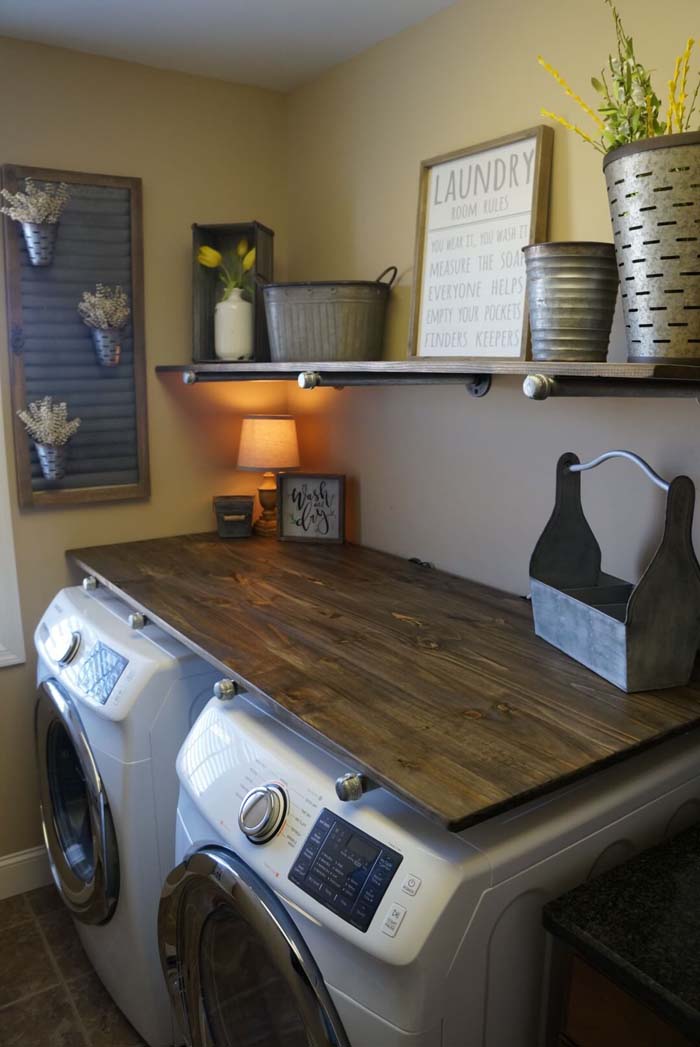 When space is limited, you can think of vertical storage places. Make shelves above the washing and drying machine with affordable materials. A few pipes from the hardware store and a large wooden board ensure a wide surface for the storage of baskets.
These baskets can be used for detergents organization or for folded clothes.
27. DIY Card Catalog Jewelry Storage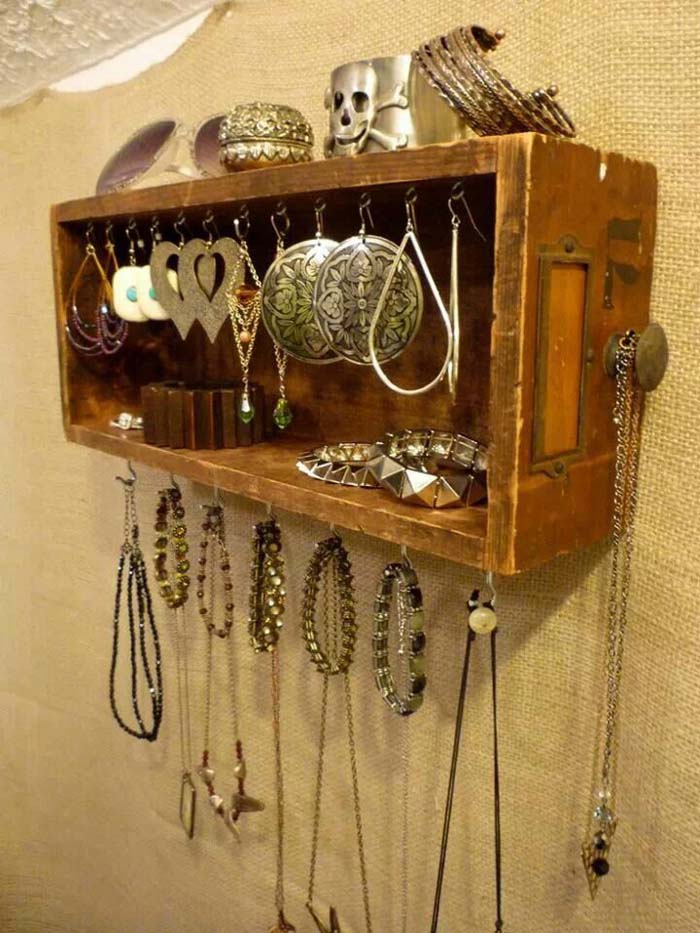 There are numerous DIY jewelry organizers. This one differs from all the rest with its rustic finish- so antique and functional.
A drawer is attached to the wall and with screw hooks, all jewelry is sorted on it. You can hang rings, necklaces, even earrings.
28. Eclectic Wall Storage From Drawer Pulls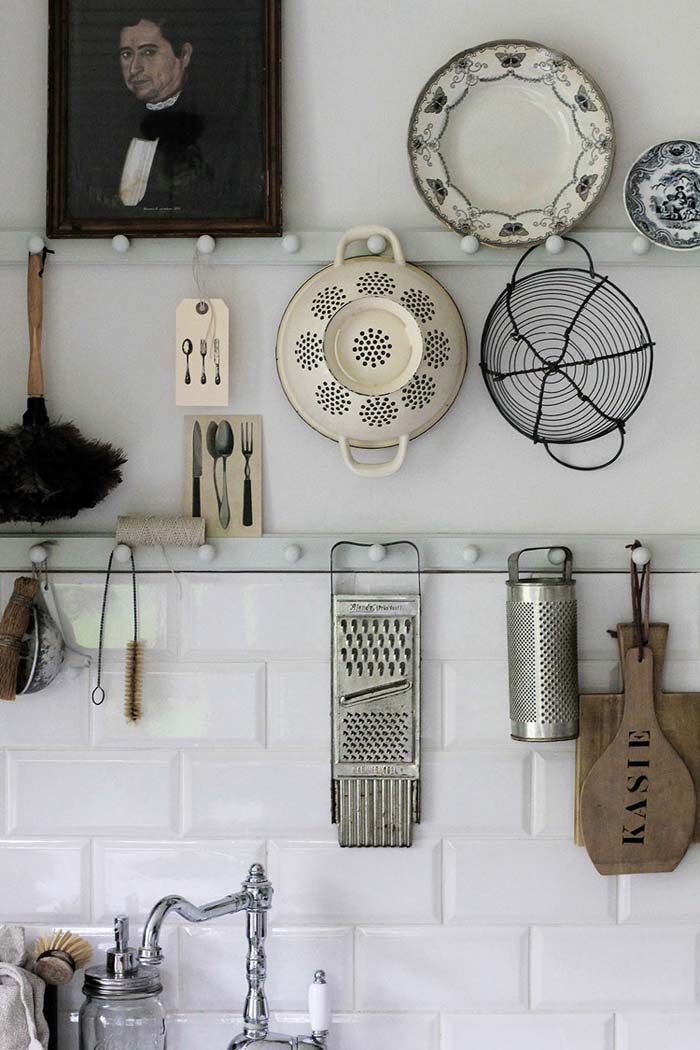 This stylish kitchen organizer brings together the most eclectic collection of vintage knickknacks and sundries.
The two beams with knobs are placed right over the cooking area, keeping all needed utensils at a one-hand distance.
via Strenghielm
29. Organize Small Kitchen Items In A Large Jar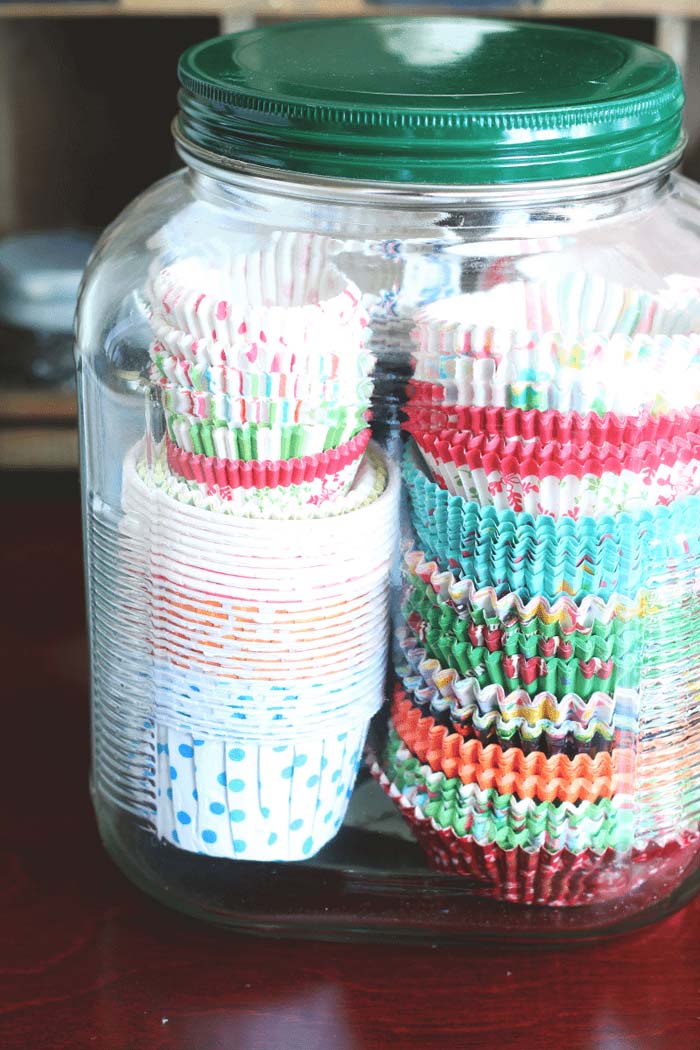 Randomly spread small items make the room look unorganized and dirty. To change that, use simple containers like glass jars, tins, pitchers etc.
This glass jar, for example, has been the solution to store the cupcake liners properly and organized.
via The How To Home
30. Whimsical Drawer Knob Jewelry Holder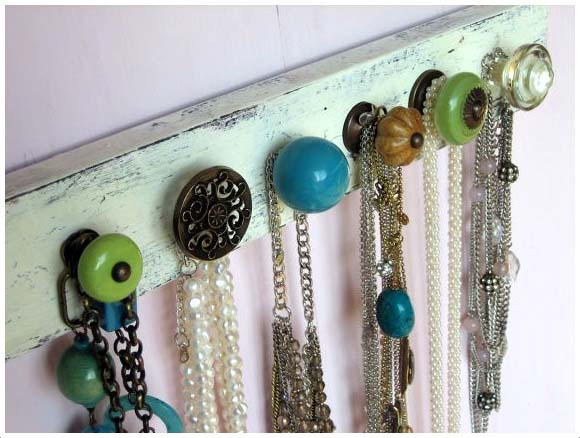 Make the bedroom more organized with this vintage jewelry organizer. It is very stylish and unique with the colorful knobs placed to hold necklaces and bracelets.
Every knob differs from the other in its shape and color. The bold colors and retro shapes give the neutral space so much character.
via Emerita Desastre
31. Rustic Ladder Shoe Storage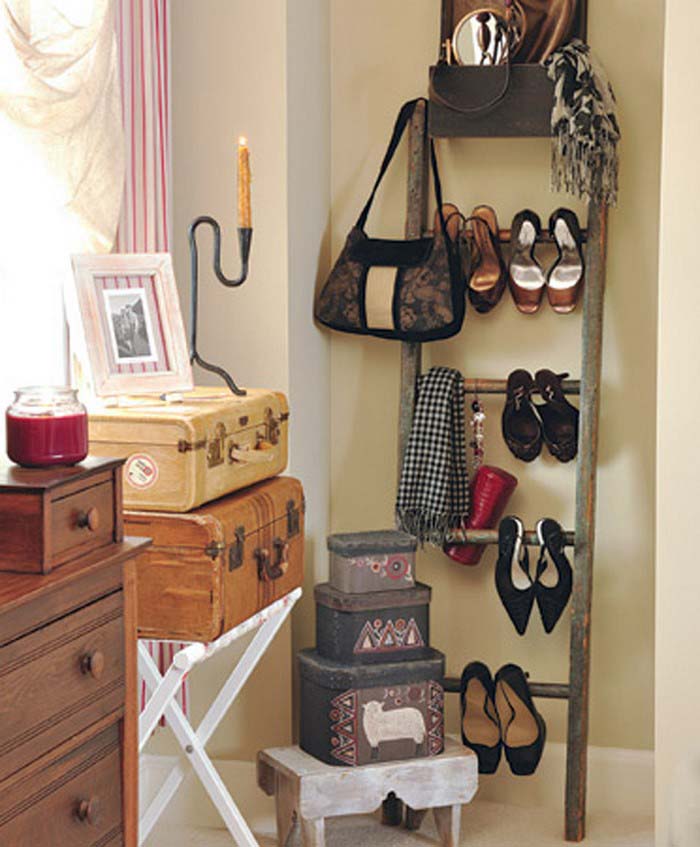 If your bedroom or closet is designed in a rustic style, you will be surprised to find out that there is a shoe organizer that costs almost no money and enhances the retro interior.
That is an orchard ladder simply leaned against the wall. Shoes are hung on every rung to display the collection and make the taking of the needed pair so easy and accessible.
32. Versatile Wooden Crate Decorative Storage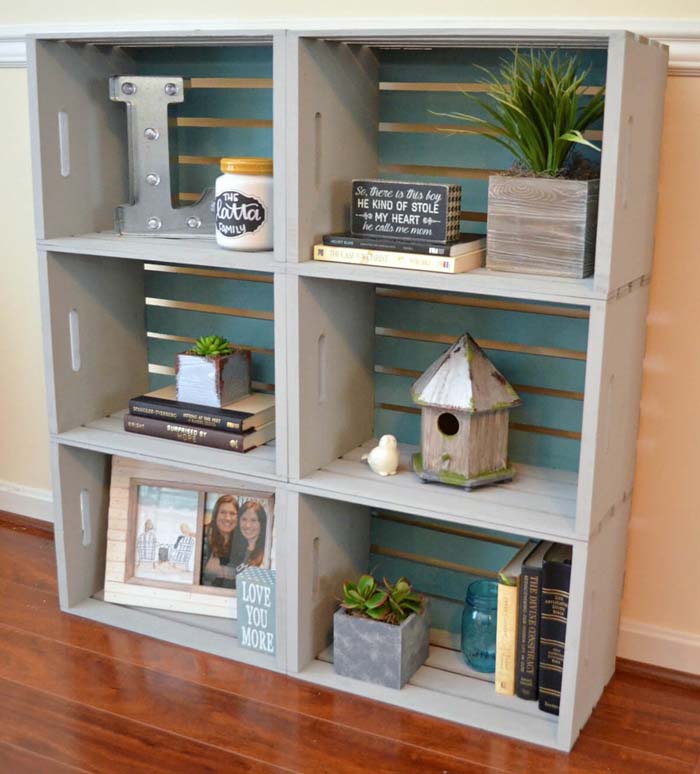 Need a special place for family memories and travel charms? Make a rustic shelf unit with crates! It is easy, affordable and so appealing!
Paint the crates first and then stack them on the floor. If you prefer to have this hung on the wall, attach the crates together before screwing the vintage storage unit on the wall.
33. Decoupaged Vintage Book Page Containers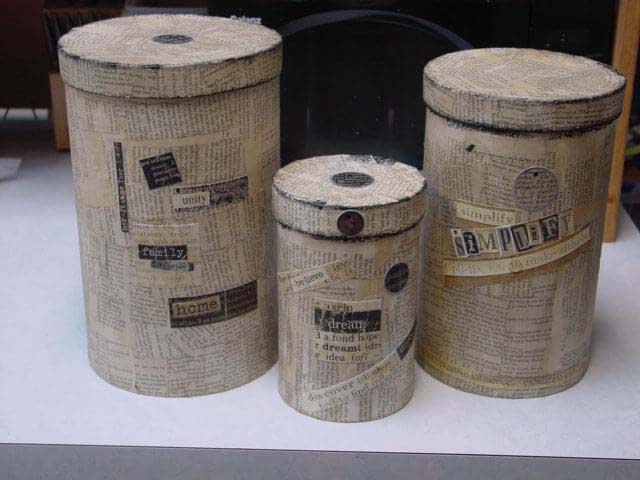 Paper Mache is an interesting technique that makes it possible to create any type of shape with newspapers. Inspired by its supplies and by the vintage look of pieces of newspapers, these storage boxes are turned into meaningful and interesting containers that add additional storage places.
They can be placed on the countertop in the kitchen or in the entryway, why not in the living room?
34. Wall Mounted Flower Frog Bathroom Holder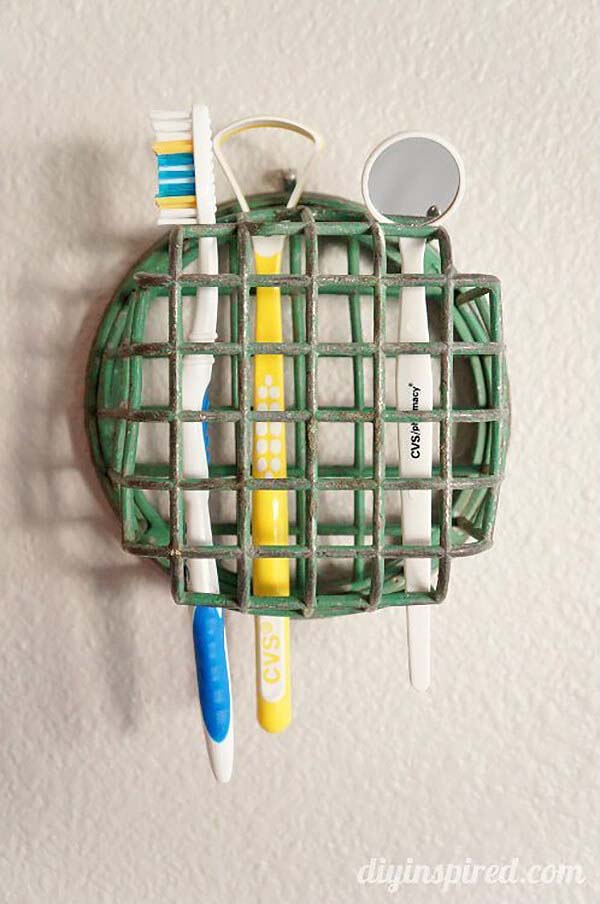 This is a flower frog repurposed into a bathroom organizer. Its untypical usage is not surprising as its crossing wire sections are good for the upright storage of thin pieces. When added to the bathroom it becomes not only a practical organizer but also a point of interest with an old-school rustic charm.
via DIY Inspired
35. Vintage Biscuit Container Storage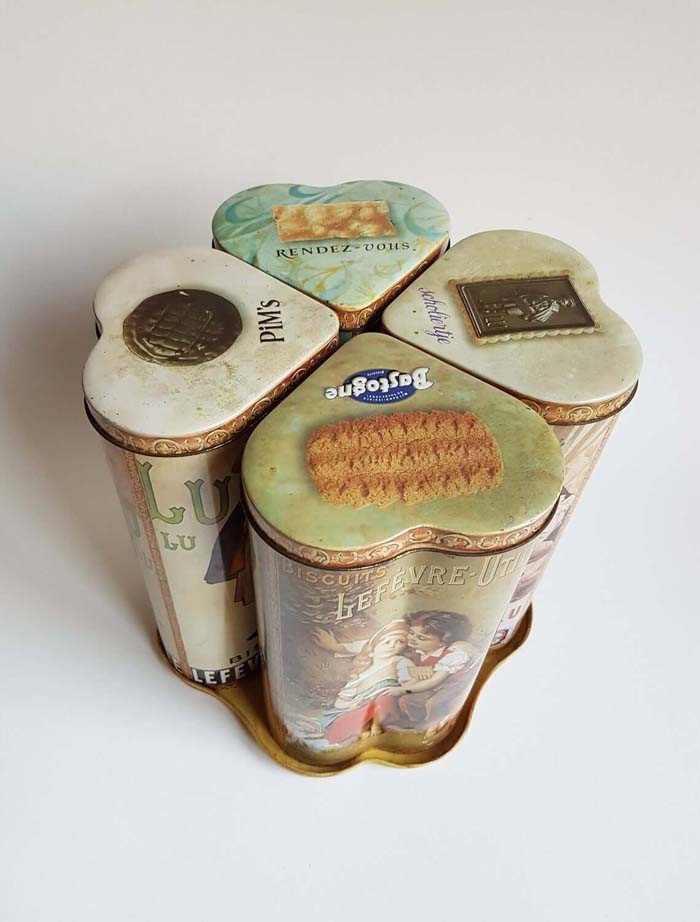 Are you in love with the vintage tin containers? This set has once been sold in 1887, so old and so cool. The heart-shaped tins are perfectly assembling in a clover-shaped cookie storage set holding a lot of historical value.
Even if you don't bake cookies, it is worth having this antique in your kitchen.

36. Repurposed Olive Bucket Bathroom Storage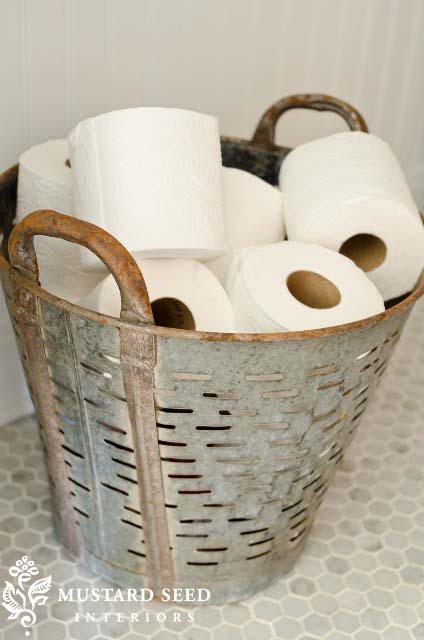 This rustic galvanized bucket is so charming. The rust adds to the area an antique touch. The depth of the bucket makes it so comfortable storage alternative.
Use it in the bathroom to store toilet paper rolls. When placed in the living room next to the coach, the throws and the pillows are just one hand away to make the night cozier.
37. Hidden Storage In Repurposed Book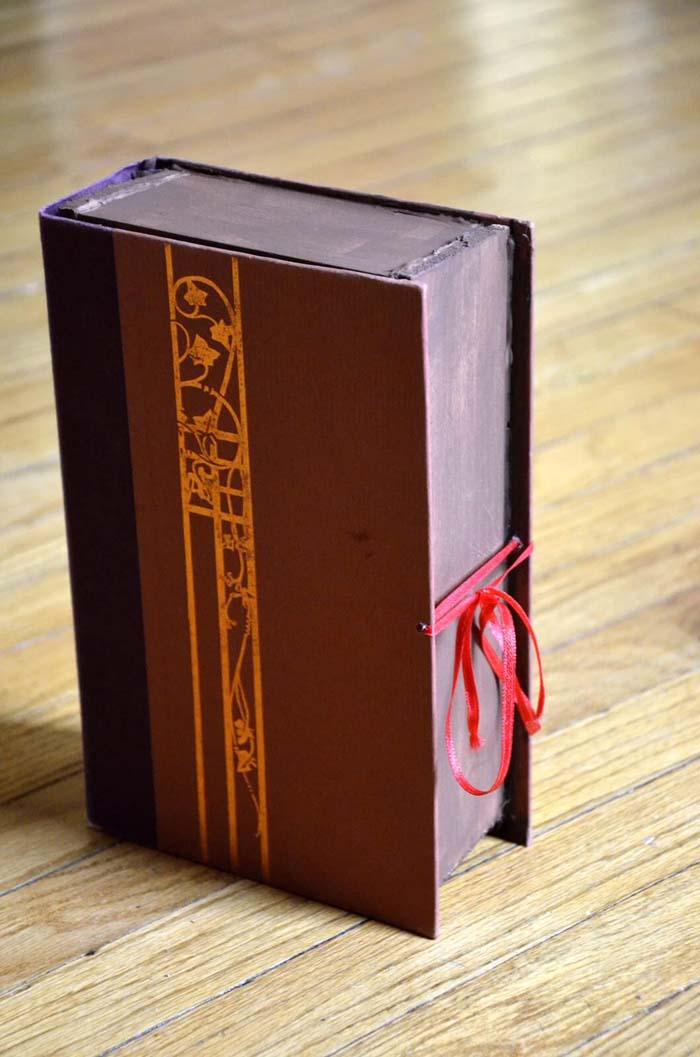 If you have very precious things to keep out of the sight of people or money, make an item that will blend with the existing decor and no one would ever figure out its usage.
This cool idea repurposes an old big book into treasure storage by tearing the pages out and adding sides that keep things inside.
38. Cottage Style Window Shelf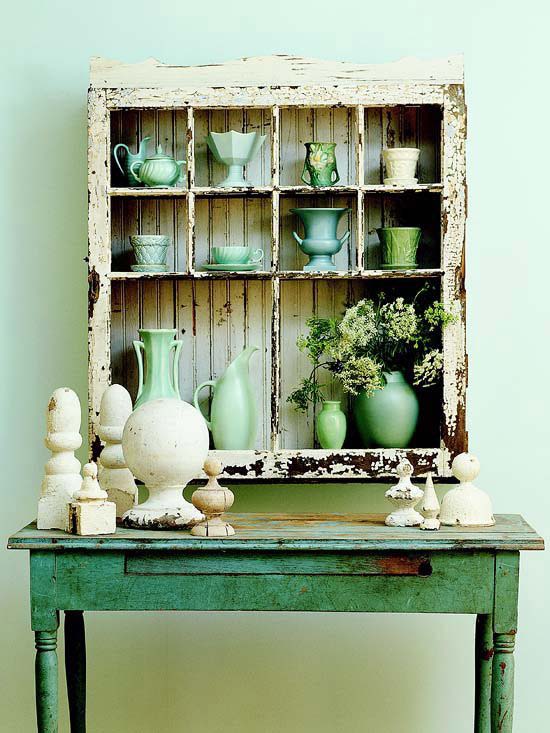 This shabby chic window frame complements a vintage table in the entryway. They aim to make the transitional area welcoming and hinting what will be the style after this space.
On top of the table, there are antique candle holders while the frame acts as a storage unit for a collection of tea cups that add country charm.
39. Redesigned Crate Table And Stool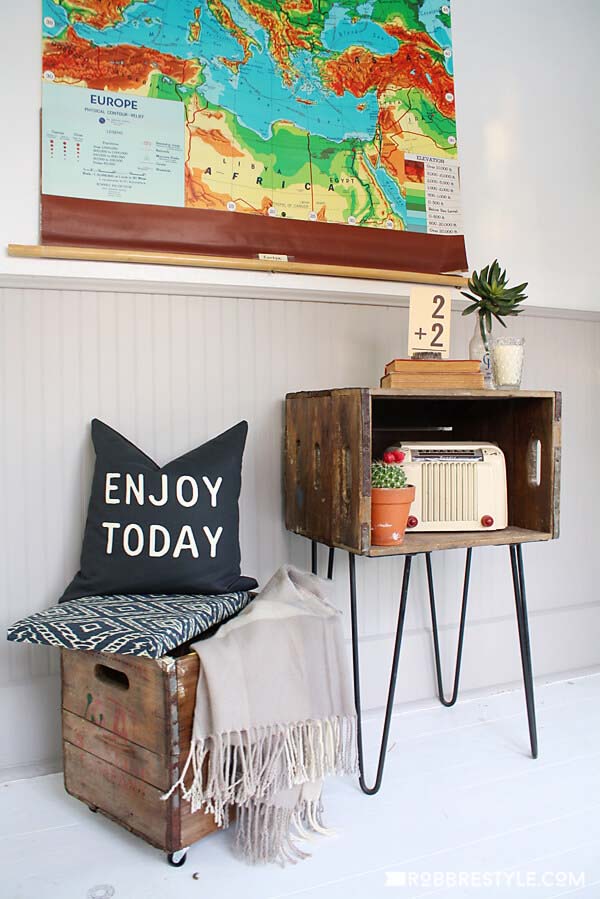 Do you have vintage crates or boxes? You can quickly turn them into a unique sitting set with the help of a pair of hairpin legs and casters. Add a board supplied with a soft cushion to make sitting comfortably.
Don't forget to ensure that the seat is detachable so that the inside of the box is used for storage.
via Robb Restyle
40. Multipurpose Storage In Vintage Industrial Bins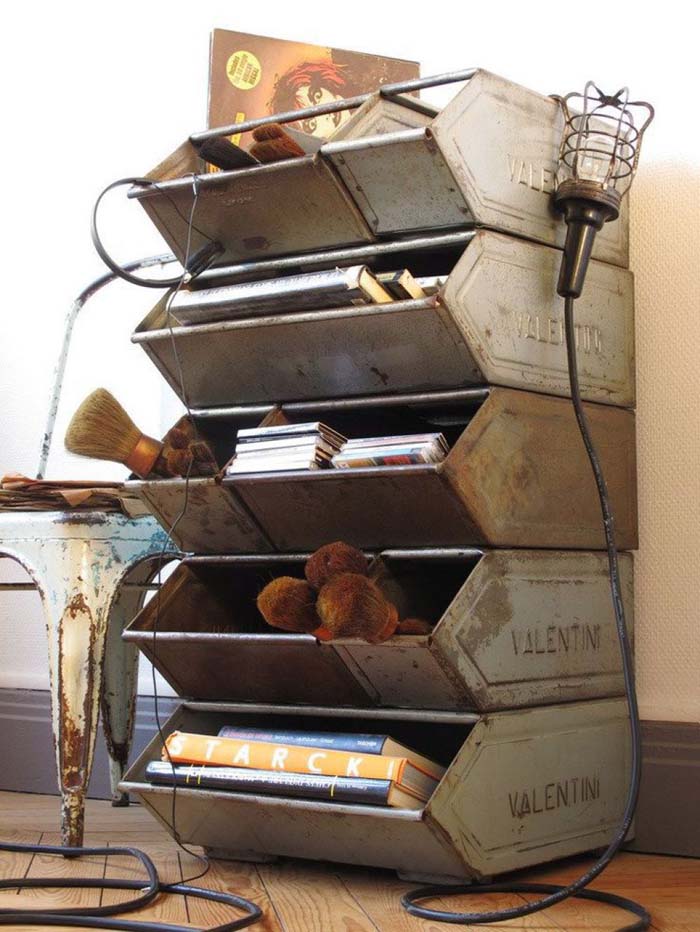 These industrial bins show the signs of age and that makes them so industrial adorable. They are stacked on the floor to accommodate different items.
Because of the comfortable size of every bin, this repurposed vintage rack can be helpful in any room, including the office space.
41. Tiered Wire Racks Add Attractive Organization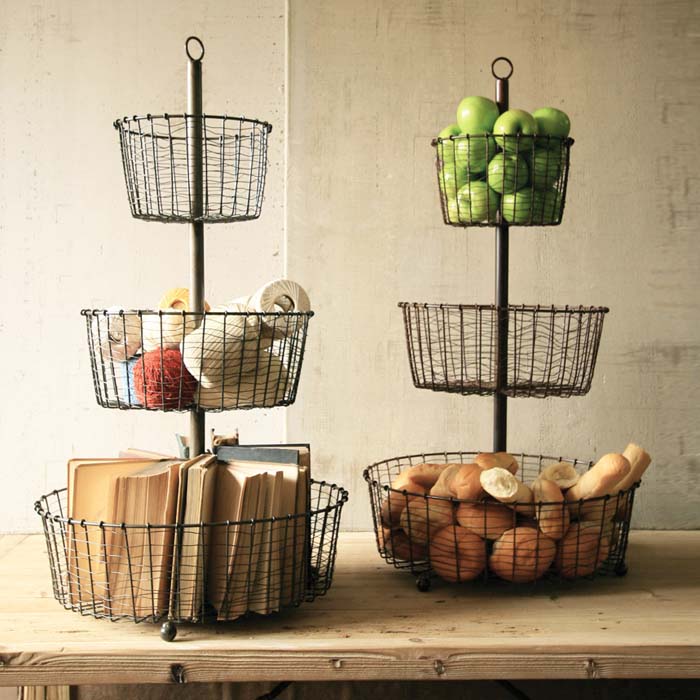 These wire storage racks are good for many applications. To add order in the craft area or to store treats for a party.
They are perfect for vegetable and fruit storage as well because air can easily get through and keep the products fresh for a longer time.
via Dot and Bo
42. Matching Vintage Luggage Storage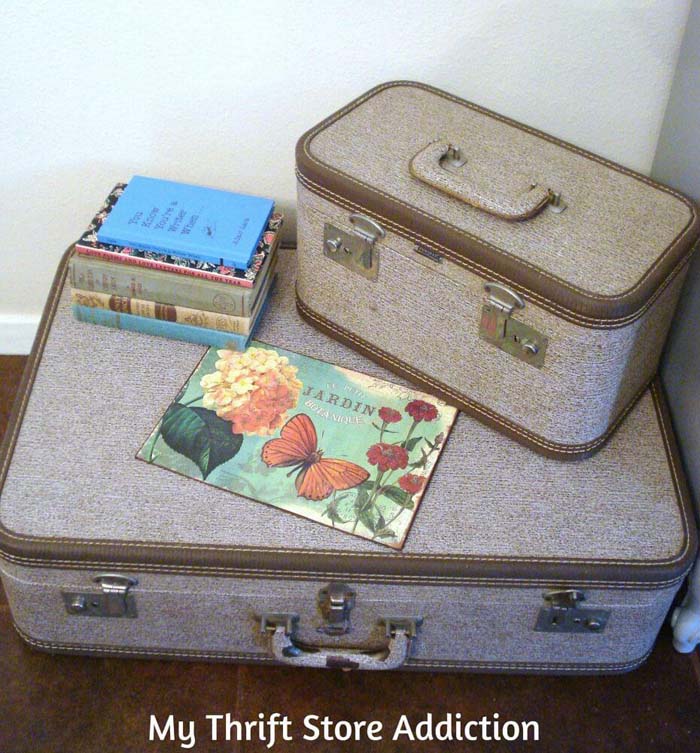 Have you seen projects for repurposing retro luggage sets? When they are no longer suitable for traveling, they don't use their ability to store items.
Just place them in the room where you need additional storage places and arrange the stuff inside. To make sure that they fit well in the existing decor, you can add embellishments like pieces of cute fabric and stack them one over the other.
43. Wall Mounted Door Handle Towel Holders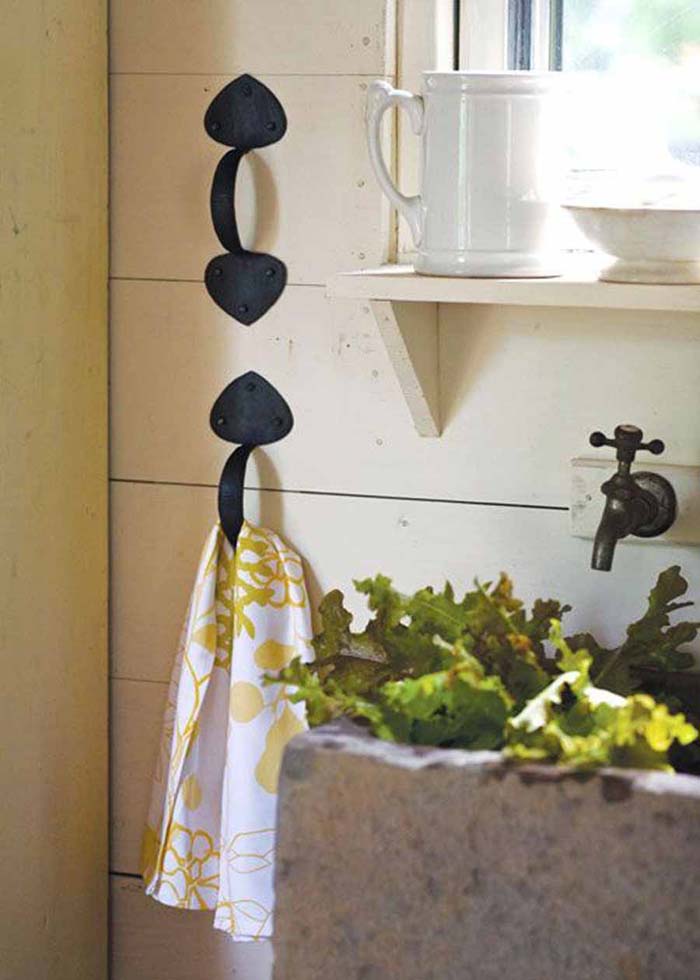 A simple way to add more storage places indoors and outdoors is to screw vintage door handles to the walls or to doors.
The wide handles are perfect for storage of towels in the bathroom or in the kitchen. In case the wrought iron finish doesn't match the interior of the room, you can always change the color with paint.
44. Repurposed Locker Storage Bench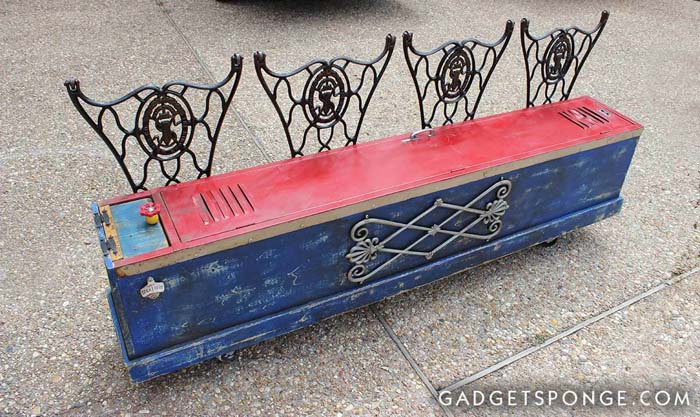 This is an inspiring project that has aimed to let memories live longer. An old locker is turned into a long cabinet for storage that can be moved to different places thanks to the casters on the bottom.
There are two compartments for storage which are practical for storage of bulkier and smaller items. Add knobs to the doors so that opening is easy.
via Gadget Sponge
45. Rustic Garden Seed Organization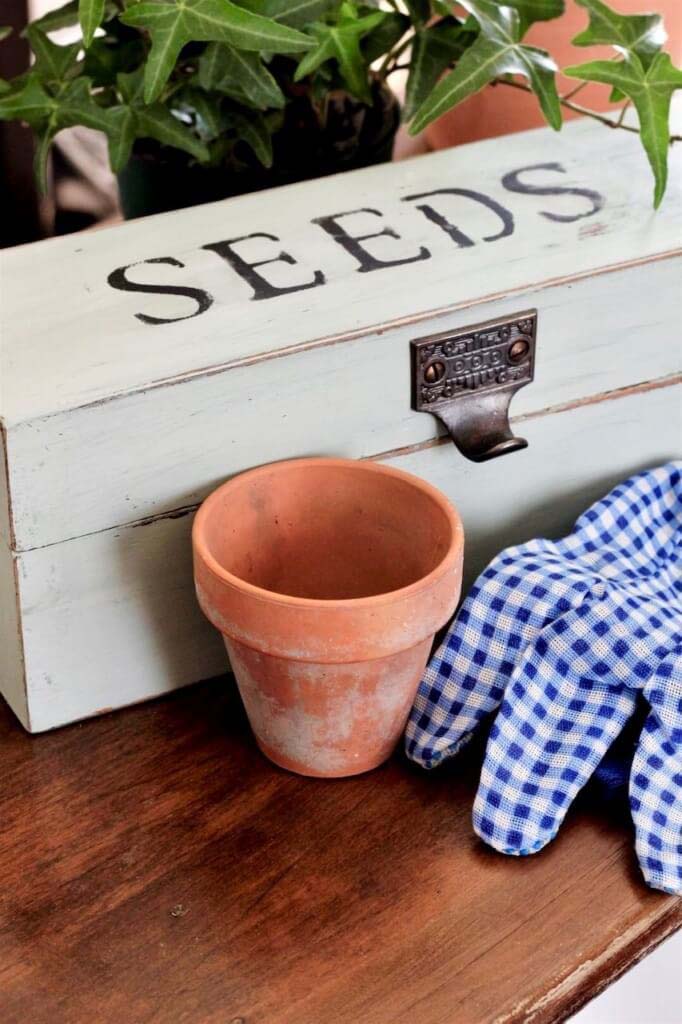 If you love gardening, then you know that organization is a must even there. Sort the smallest garden-related items, like seeds, for example, in a special box.
This cute and fun DIY inspires how to turn a box for the trash into a treasure for the outdoor organization spreading a lot of rustic charm.
46. DIY Storage From Recycled Tin Cans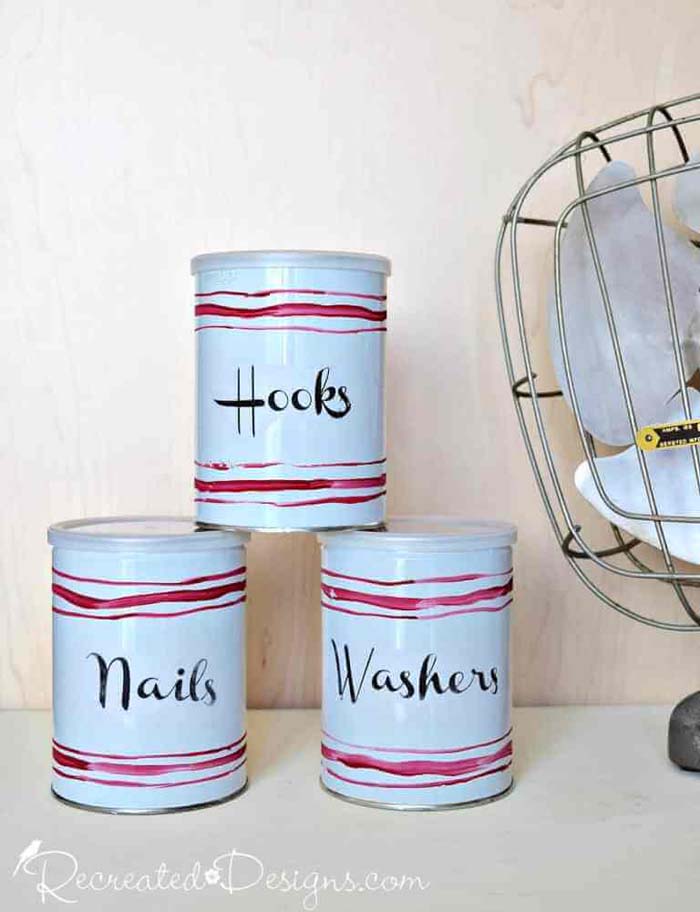 If you have tin cans left from baby food, use them as storage containers. While using them in the kitchen isn't that appropriate because they are prone to rust, you can use them in other parts of your home such as the garage and the garden.
Paint the outer surface as you wish and add labels that describe the content. This is an easy and wonderful project for the vintage organization of small items.
47. Quirky Vanity Storage From Vintage Suitcase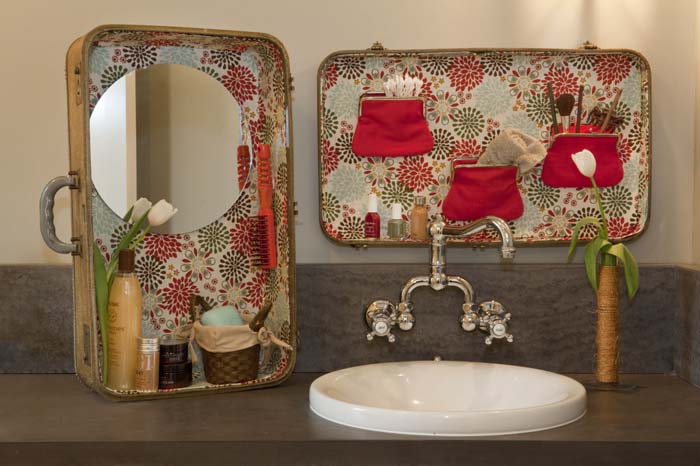 This is a unique shabby chic set that will organize the bathroom personal care. One of these components has been created on the inside of a suitcase door.
The other piece is the deeper part of the suitcase standing upright on the sink top. Everything is kept well in retro fabric pockets in bright colors.
This organizer is perfect for bathrooms with a more neutral design where a pop of color is needed.
48. Bathroom Birdcage Storage Solution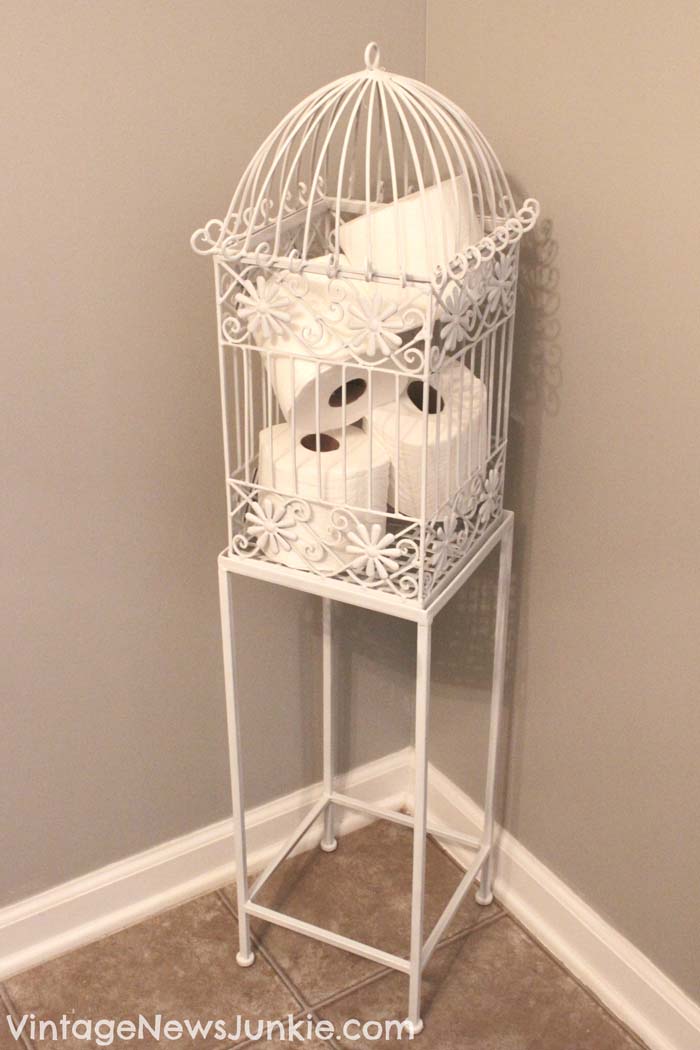 Want to increase the storage space for toilet paper rolls? Store them into a birdcage that keeps half a dozen of them safely inside.
Open the door of the cage when you need a new roll and enjoy the stylish organizer in the bathroom.
49. Labeled Vintage Container Organization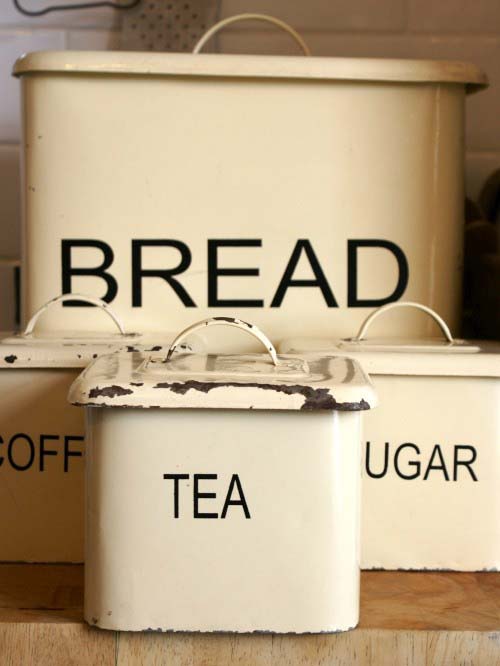 Do you remember this type of kitchen storage set? It is very functional and it is a pity not to use it if you already have it.
It will add a retro touch to the kitchen but will surely ensure large storage containers. Place them on the countertop so that all products are on one-hand distance and enjoy the country charm that is added to the space.
50. Counter Mounted Rolling Pin Towel Holder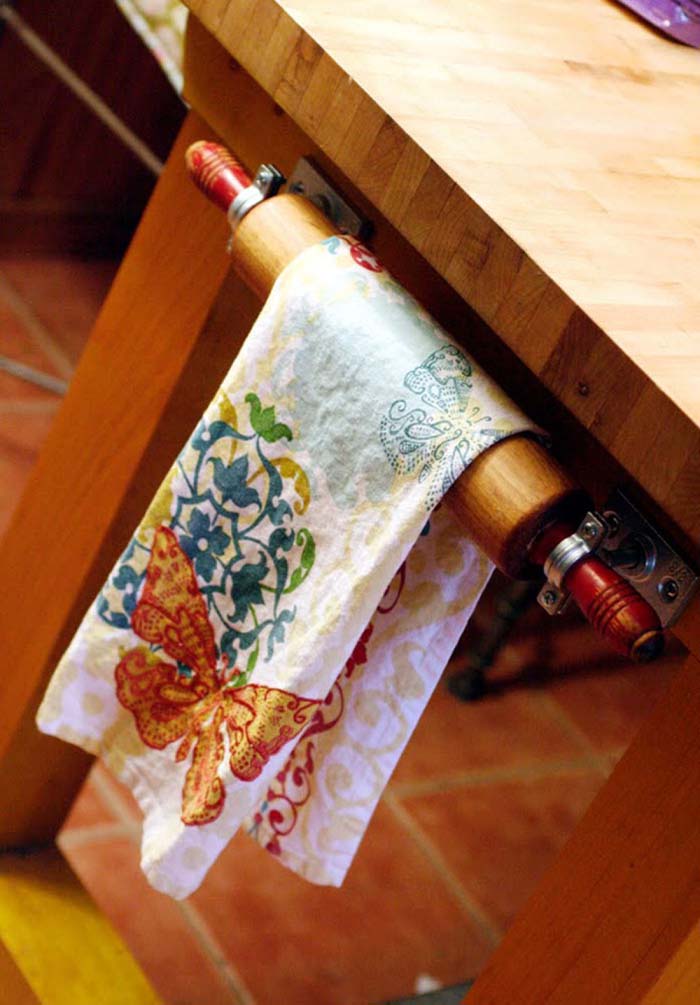 You will be surprised to see that the rolling pin can have another function- as a kitchen storage item. Attached to a flat vertical surface, the side of a cabinet, for example, it can store the hands' towel.
The rolling function is very important as it lets people easily take it out and then place it back. The rolling is ensured by attaching the rolling pin with brackets that create a distance between the pin and the flat surface.
via We Heart It
51. Vintage Travel Trunk Coffee Table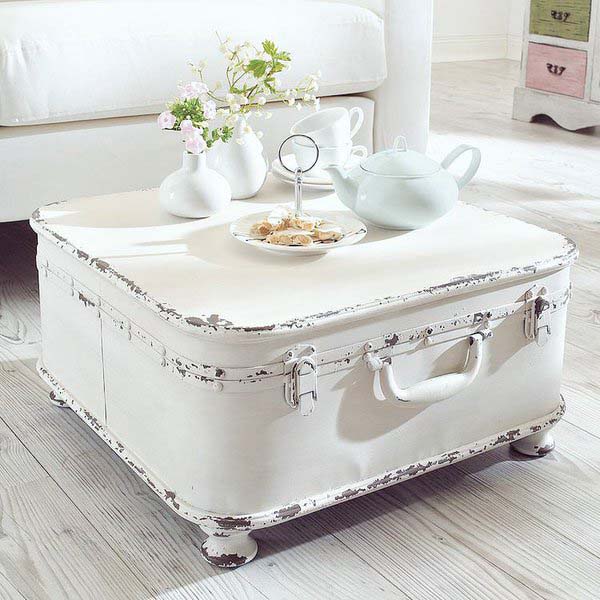 If your living room is small, you can use an old suitcase as a coffee table. This old piece will also help with the organization of the small space as its functionality inside remains, regardless of its new application.
Thanks to different paint types, you can even change the color of the vintage suitcase and give it some rustic effect with distressing.

52. Repurposed Farmhouse Shutter Storage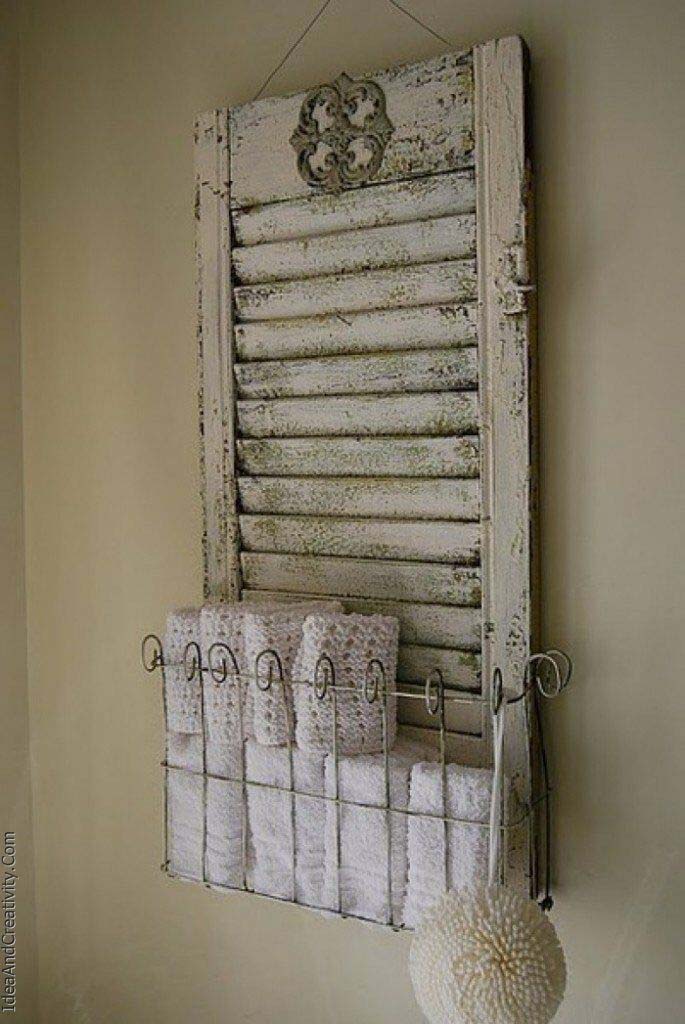 This shutter is repurposed into a support for a wire basket that organizes the bathroom towels. This piece easily finds a place in any bathroom, even the smallest one because it is suspended on the wall.
Such a vintage organizer can also be used in the kitchen where dishtowels are used and need a dedicated space for neat and clean storage.
53. Crafty Use For Vintage Wire Rack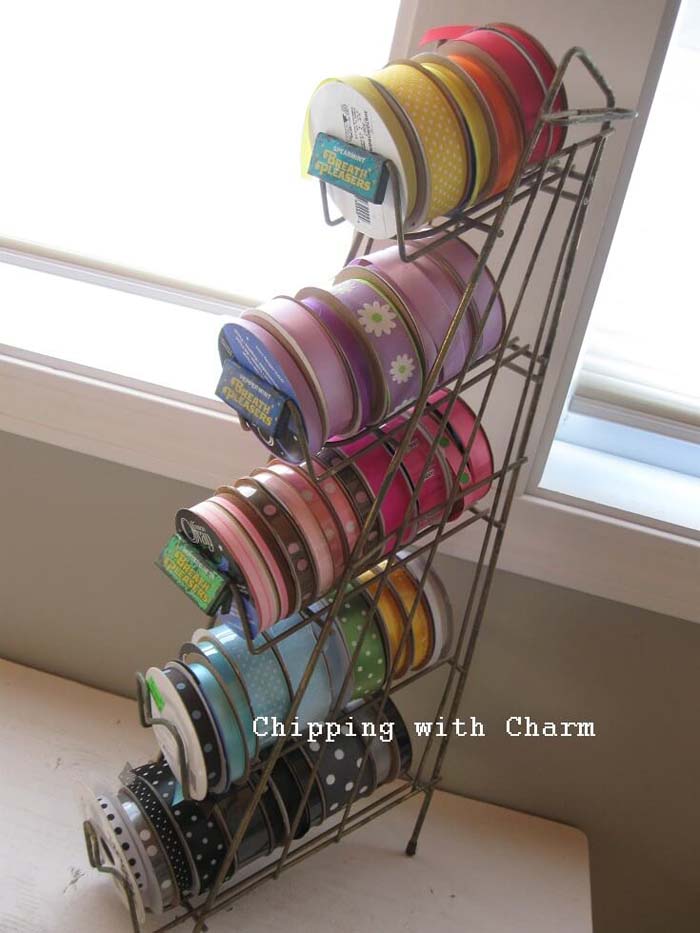 This rusty and retro wire rack towel may not be that helpful in the bathroom but could be a jackpot in the craft room. Add it to the countertop where you get creative and organize the ribbon spools in five rows.
54. Add Storage With Wooden Crates In An Open Kitchen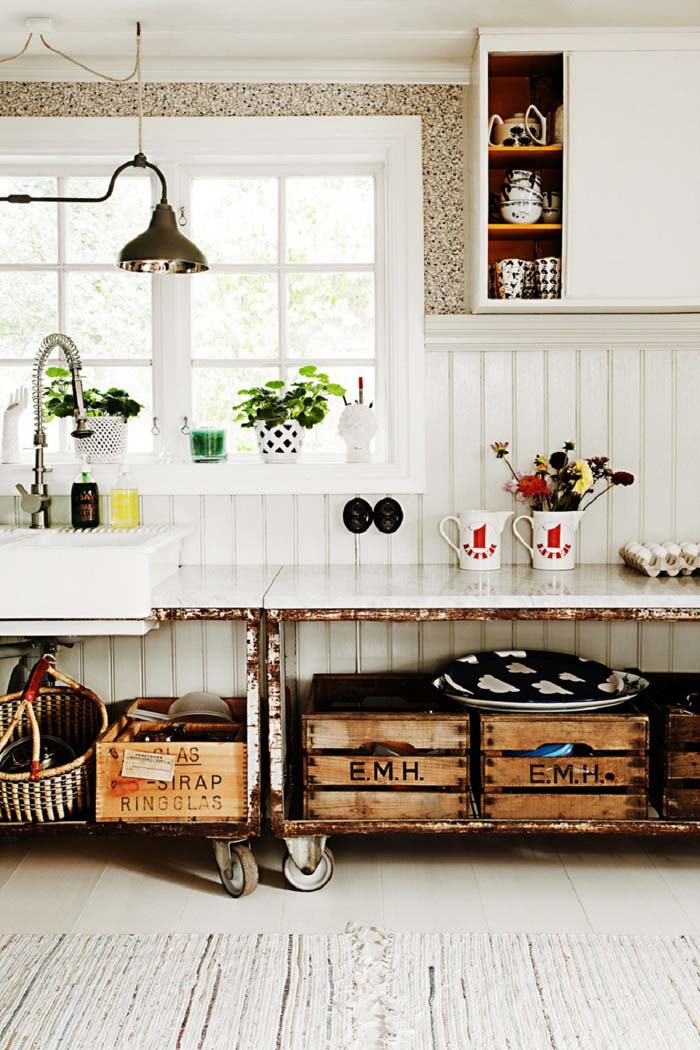 The produce crates are very strong and are perfect for the storage of heavier things. If there are open shelves in your room, you can add crates to declutter the space.
Add them to the shelves of your kitchen cabinet to store detergents or to a wall shelf in the kitchen to store dishtowels.