Incited by the comfort and the nostalgia of the past times, many people decide to recreate them in their contemporary world with the vintage design concept.
The coziness, warmth and the feeling of home the vintage style brings are the main reasons it has become more and more popular these days.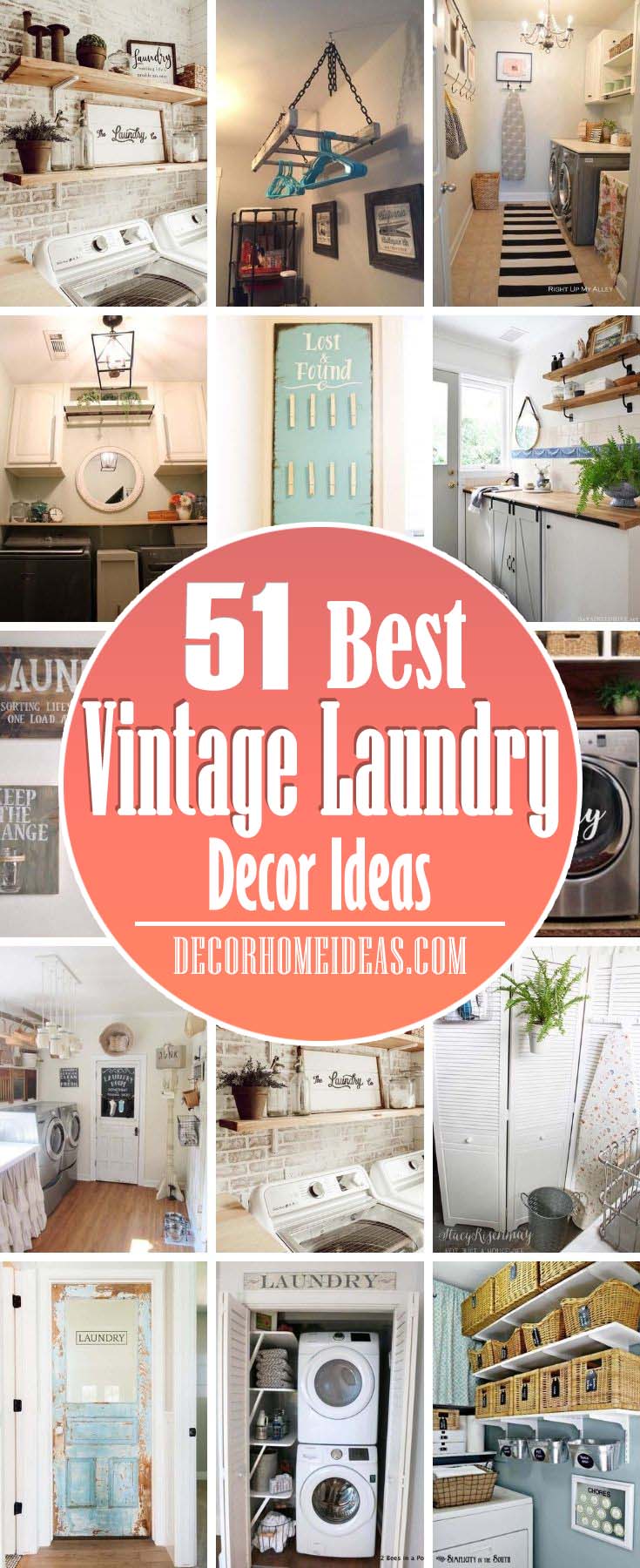 Vintage style can easily be incorporated in any part of our homes- from the interior to the exterior. This time we will take a look at the laundry rooms and the décor means to increase their beauty and make them feel like a real part of the home.
Natural materials like wood and rattan, upcycled furniture, aged or antique decoration and features, metal containers, fun signs with statements are among the most used ways to welcome the vintage style into the laundry room.
Let's take a look at the best vintage decor ideas!
1. Add a Vintage Vibe to a Laundry Room with Handmade Signs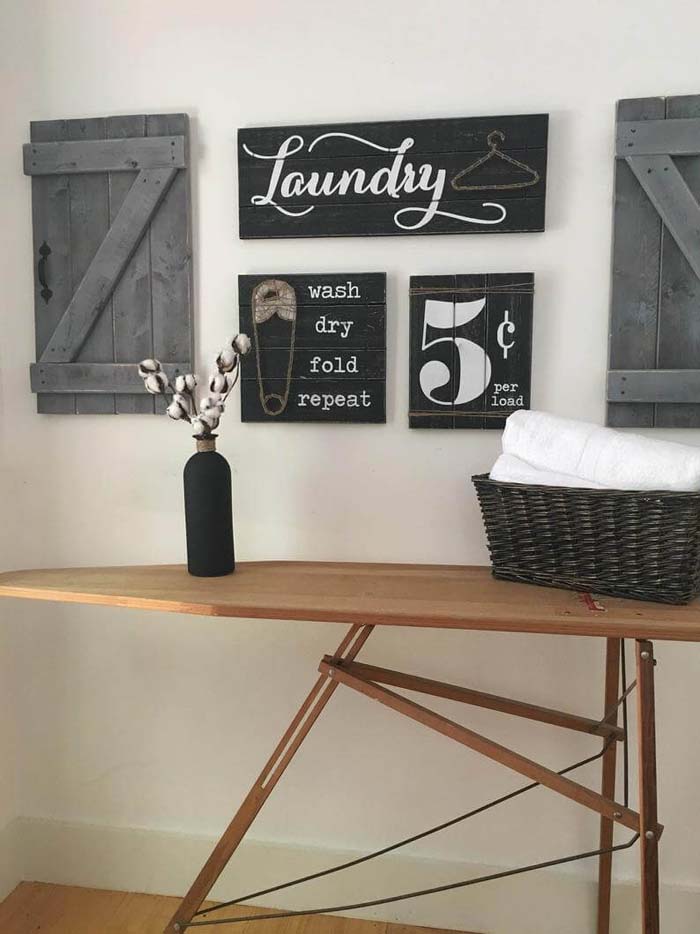 The walls of the laundry room are usually underestimated and left undecorated.
To make space feel more welcoming, you simply need a vintage sign. These handmade signs will make you smile every time you enter.

2. Add Storage with Galvanized Cans and Baskets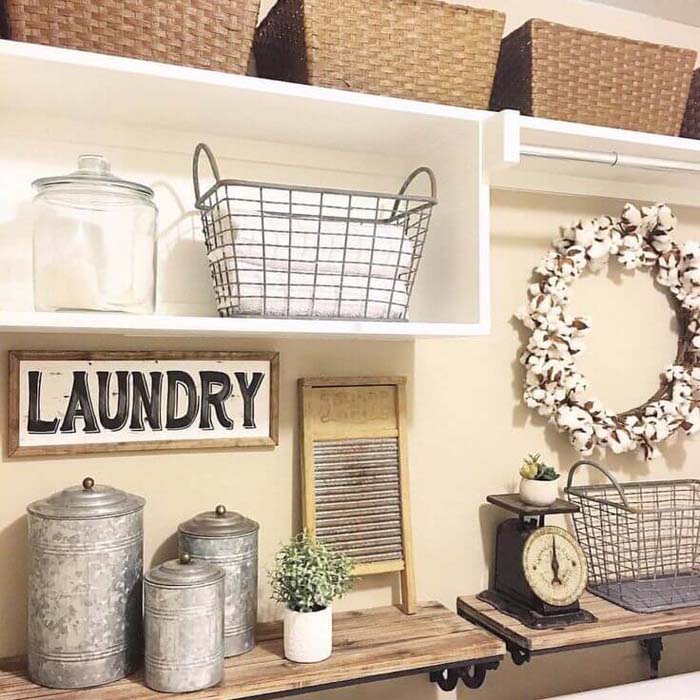 Old galvanized cans and a few baskets will add coziness to the laundry room as well as extra storage places.
via Aly McDaniel
3. Add Classic Charm with an Antique Wash Tub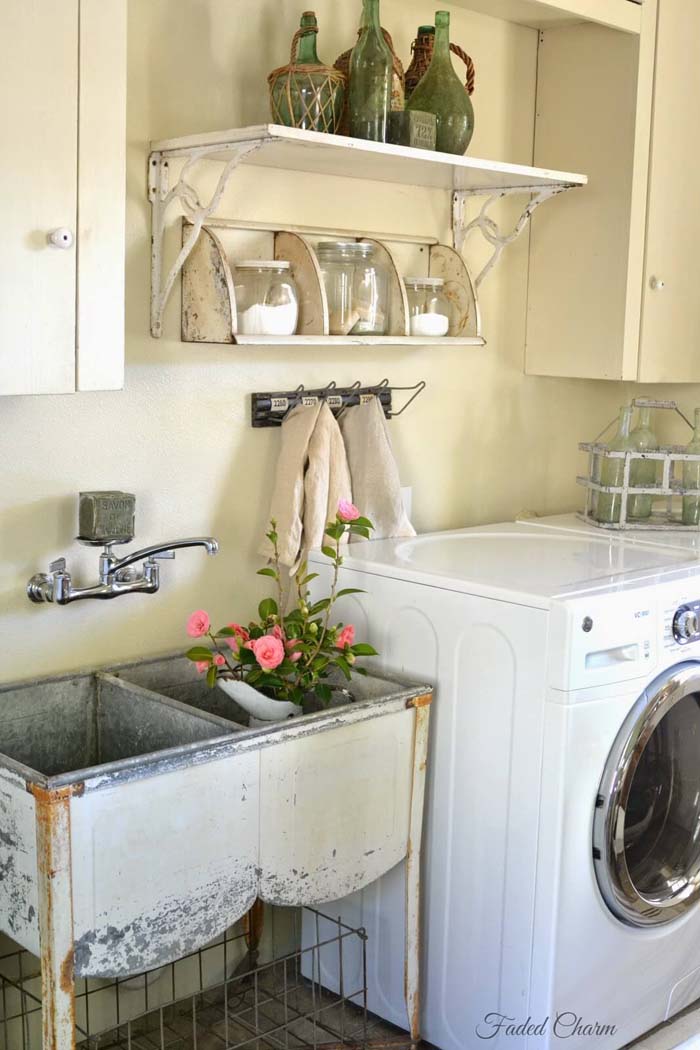 An antique wash tub will do magic to the laundry room's interior. The worn paint, the rusty areas, the tall legs will add retro charm to the space.
4. Reimagine the Modern Laundry Room with Traditional Utilities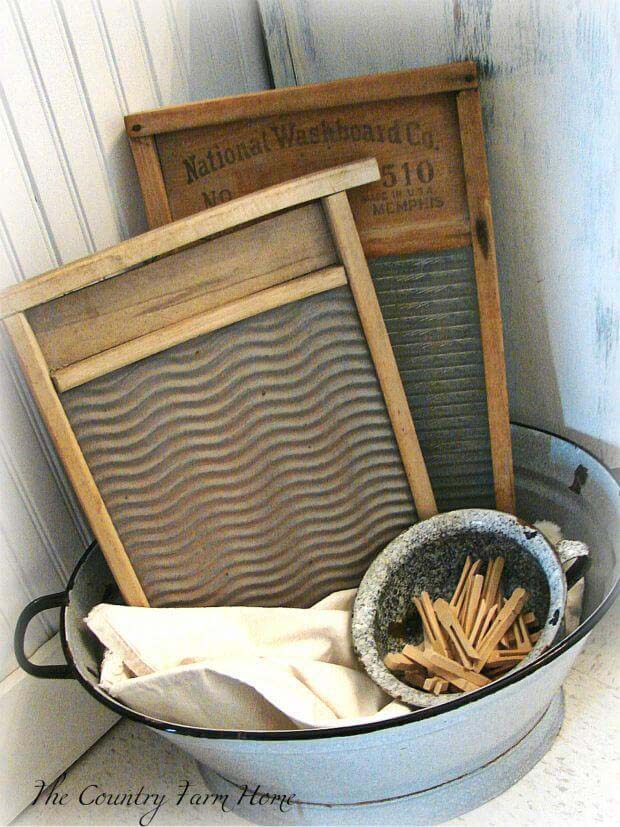 Use typical from the past laundry utilities to make the modern laundry room cozier and authentic.
5. Decorate Your Laundry Room with Beautiful Barn Accents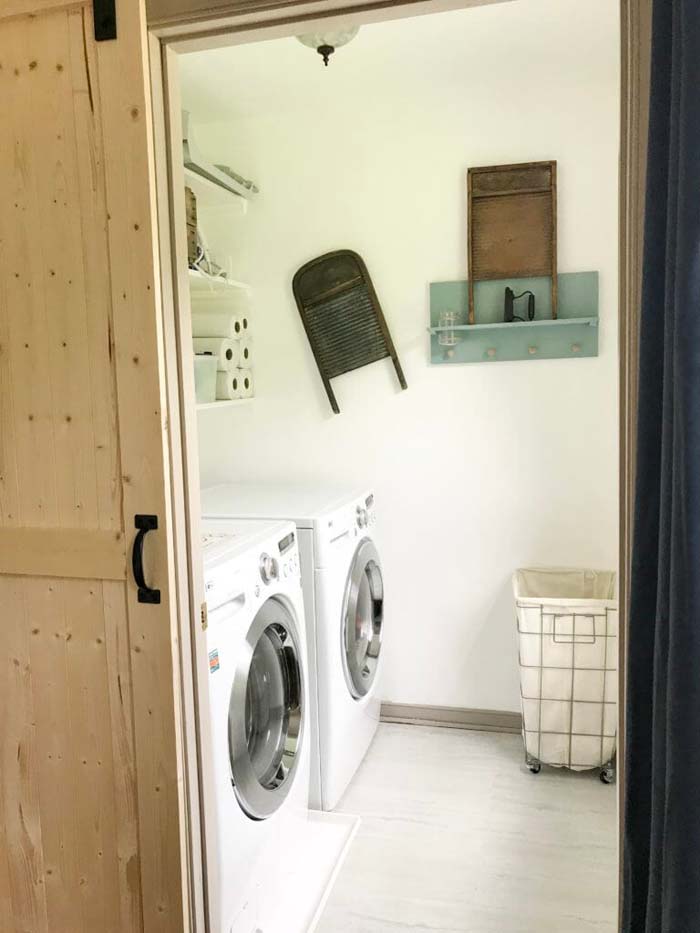 A barn door, a shelf, two hanging stools, some wooden picture frames and signs have made an incredible transformation with a chaotic laundry room.
Doing the laundry will surely be a more pleasant activity.
6. Vintage Laundry Room with Clothespin Handles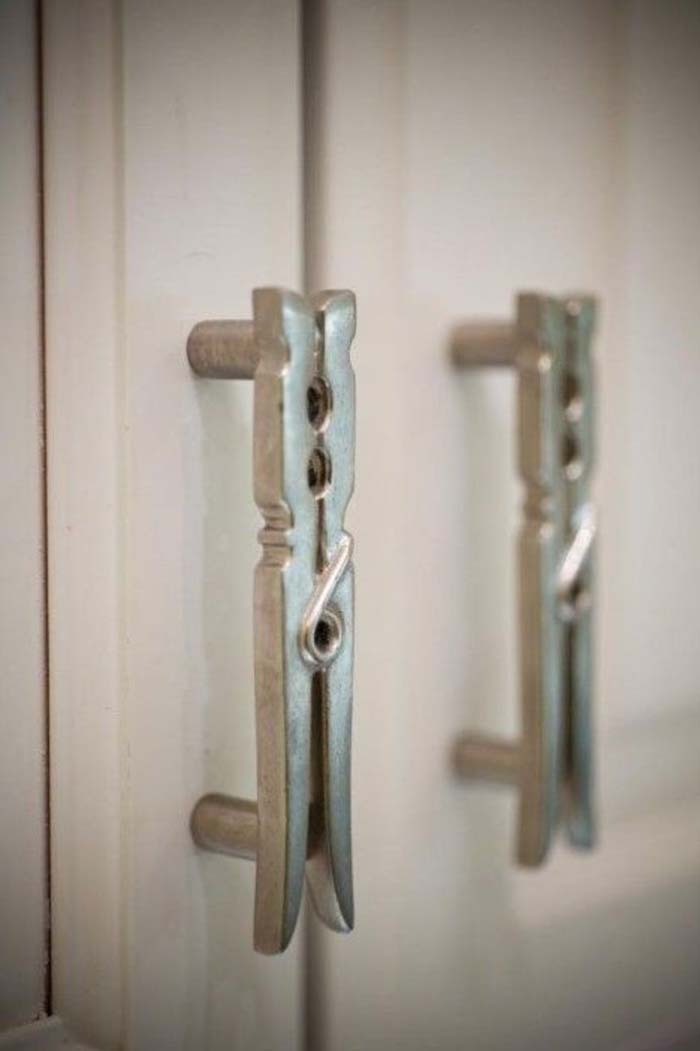 Use handles in the shape of a clothespin to add a charming vintage touch to the cupboards of the laundry room.
via Cre8tive Designs
7. Cozy Laundry Room with Antique Ironing Support and Hangers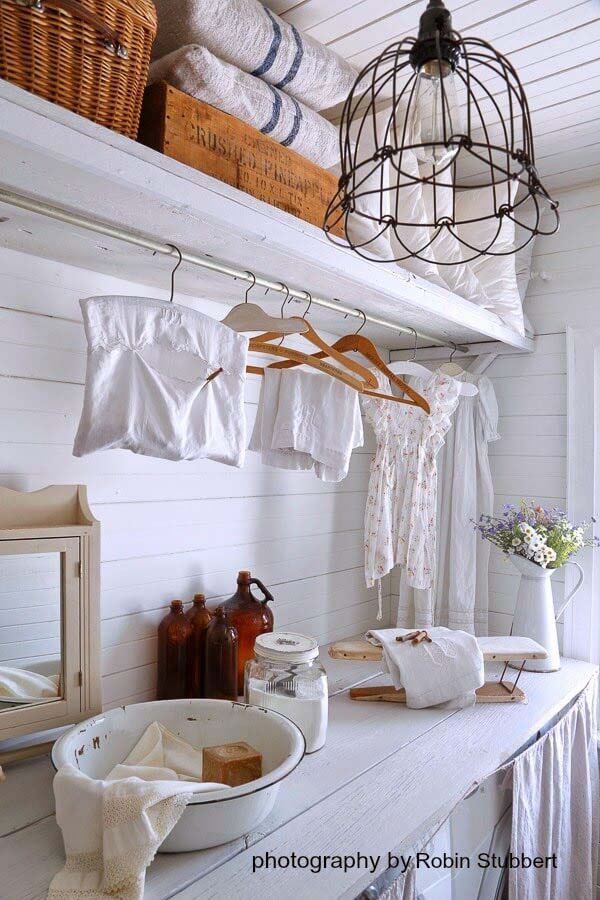 You can easily feel the coziness of the laundry room that is decorated in vintage style.
The antique ironing support, the clothes hangers, the framed mirror, the glass bottles, the galvanized bowls, the storage crates, the curtains hiding the washing machine make the place feel like a flash-back.
8. Discover the Beauty of Customized Signage and Containers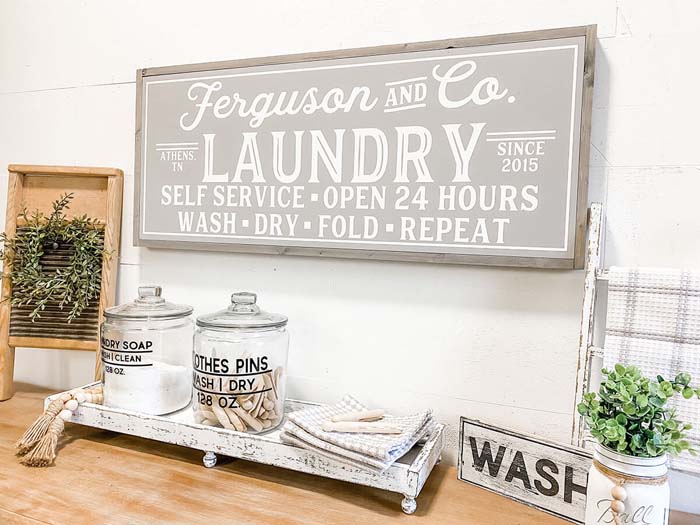 The market offers a variety of signs and containers that inspire with their vintage value and beauty.
The best of all is that they can be customized with the family name and the year of creation.

9. Vintage-Inspired Laundry Room Makeover with Shelf Liner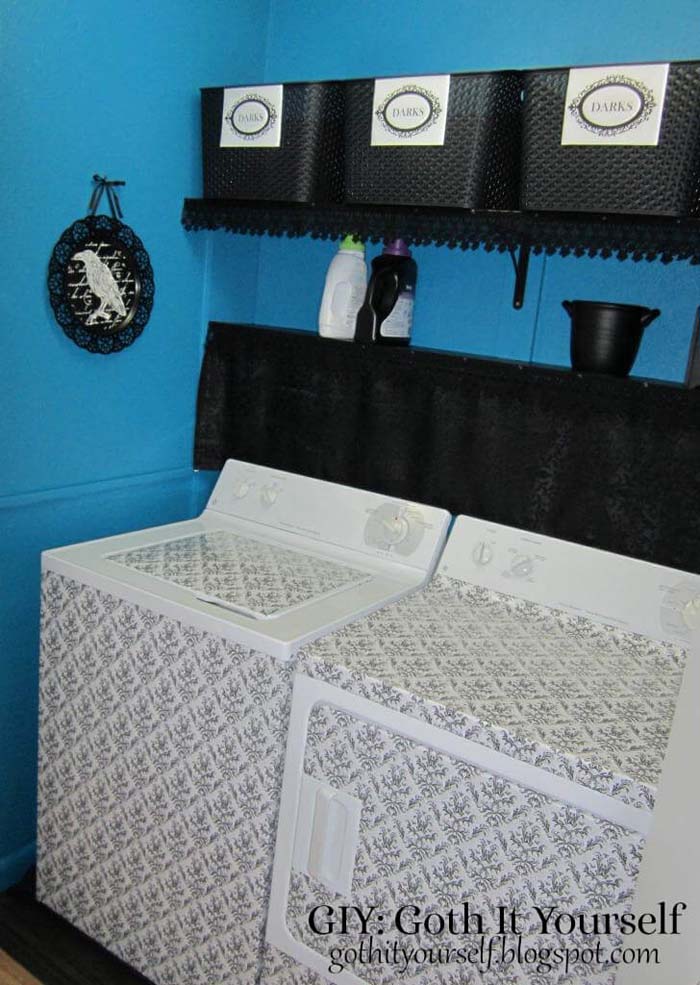 For an interesting vintage makeover, dress up the washer and the dryer with a shelf liner.
A piece of fabric and some lace have helped to add cottage charm to the shelves and hide the plumbing and the electrical
via Goth In Yourself
10. Wooden Cabinets for a Rustic, Vintage Look in Your Home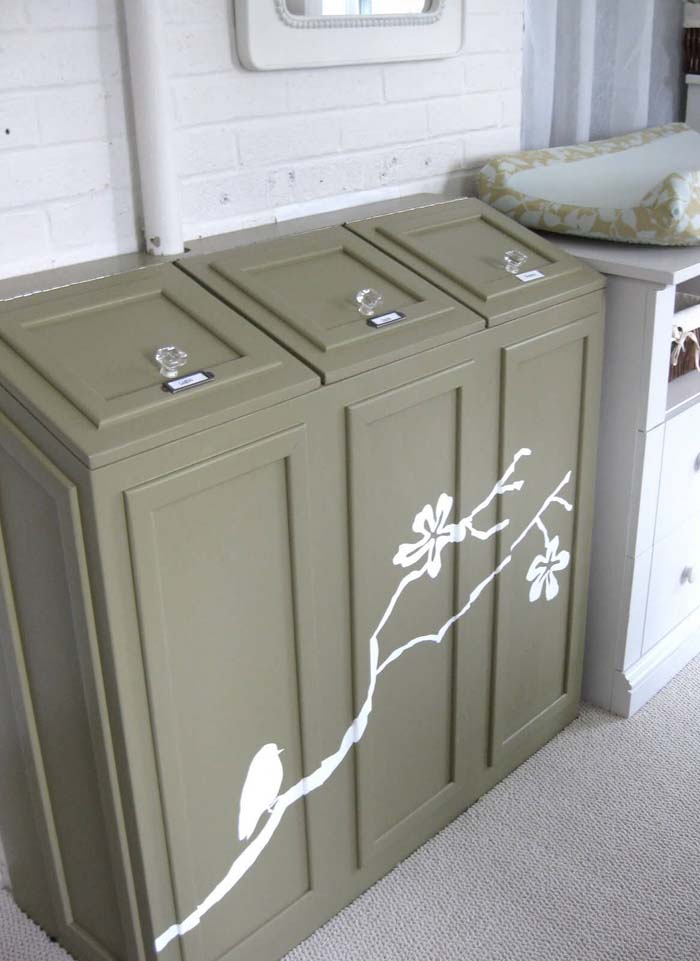 Wooden material is always related to the rustic and vintage style.
Using it for your cupboards and cabinets in any space, even the laundry room, will definitely achieve the searched effect. To add a personal touch, paint or stick an image related to nature.
via Aimee Weaver
11. Stylish Sign for the Laundry Room from Thrift Shop Finds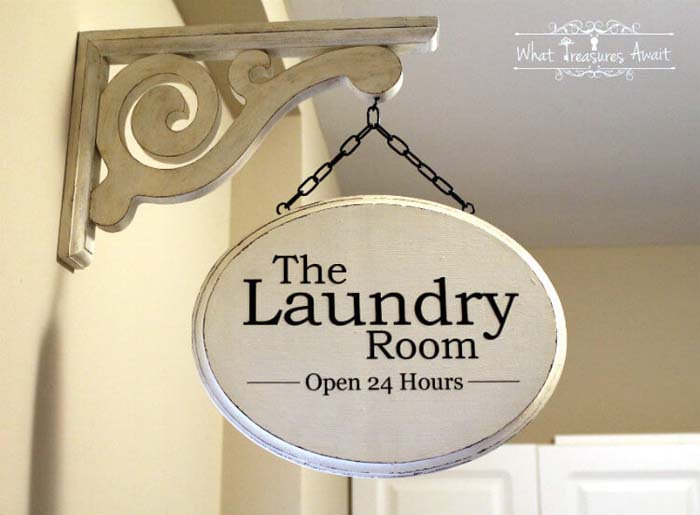 Make yourself a stylish sign for the laundry room with supplies from the thrift shop.
The colors of the wooden parts have been unified with the rest of the interior to ensure a good connection between the contemporary and the antique.
12. Unlock the Magic of Vintage Decorations with Barn Doors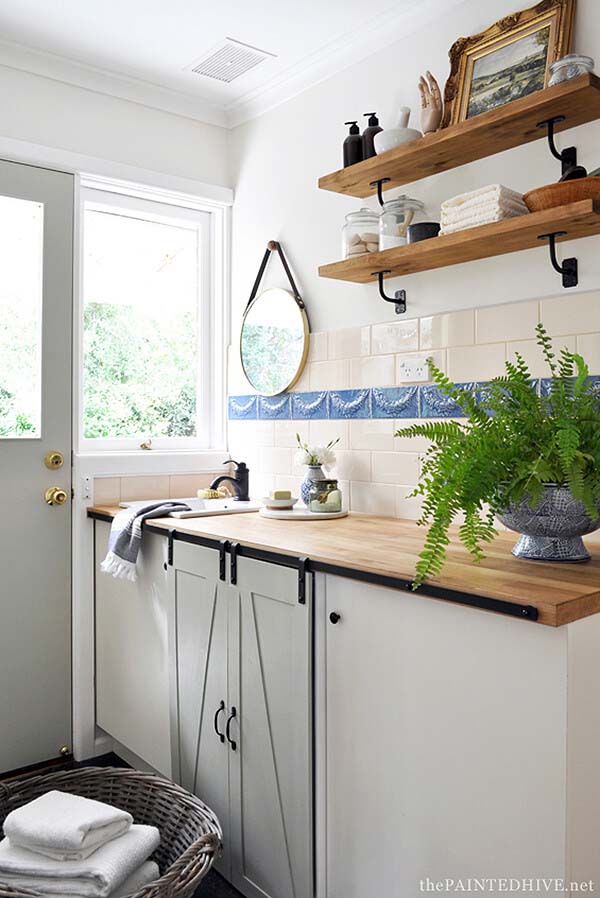 The worth of the vintage decoration is that it has its story. Any room with vintage accents instantly becomes more magical and interesting.
Changing the ordinary white cabinet doors with barn doors will do that effect even when they are freshly made.
via The Painted Hive
13. Upgrade Your Laundry Room with a Funky Letter Sign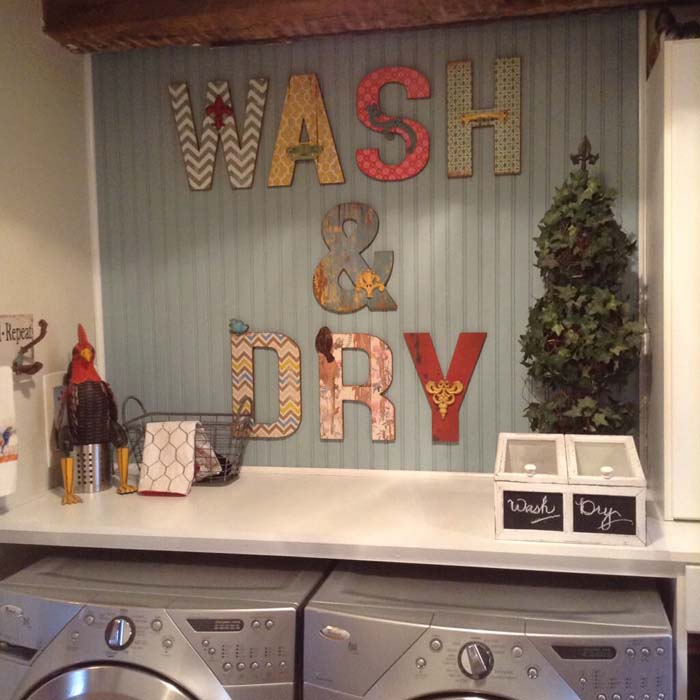 If you are looking for a simple and fun upgrade to your laundry room, try this funky letter sign.
Each piece is can be cut from metal, wood or even cardboard and then decorated with paper and small figures.
14. Laundry Room with Repurposed Washboard and Hangers

Make a noticeable laundry room statement with repurposed washboards, wood hangers and decorative letters.
The decoration is not only cute and attractive but also very practical for the drying of clothes.
15. Create Farmhouse Storage Solution with White-Painted Crates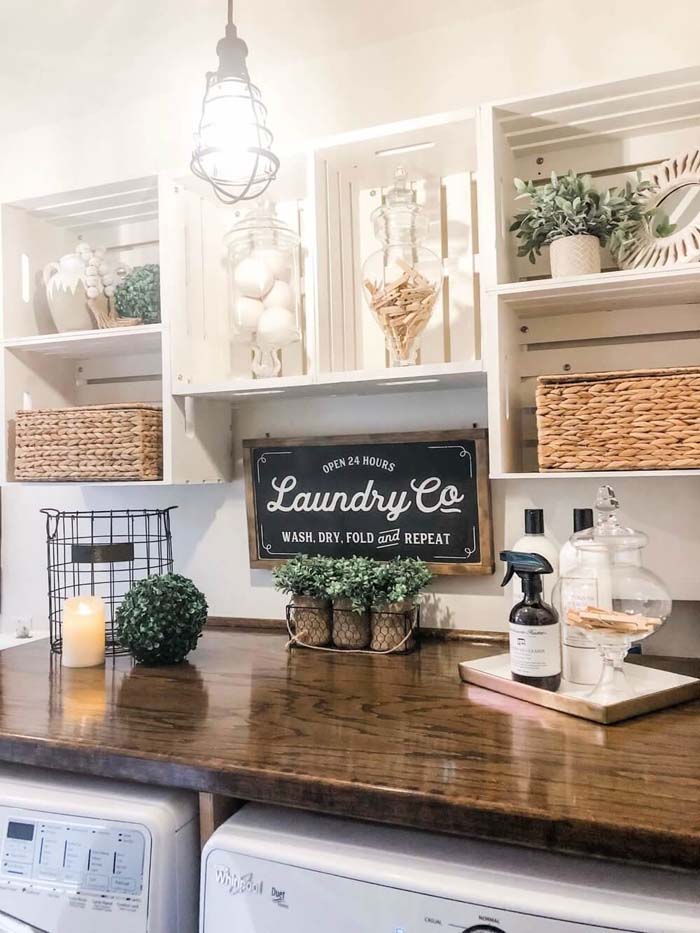 A wall arrangement of white-painted crates becomes a useful storage area with a farmhouse effect.
The vertical or horizontal alignment of each crate makes continuous open shelving where decoration pops out and gives vintage spirit to the ordinary room.
via Sorted By Stacy
16. Make Artistic Vintage Signs with Wall Paintings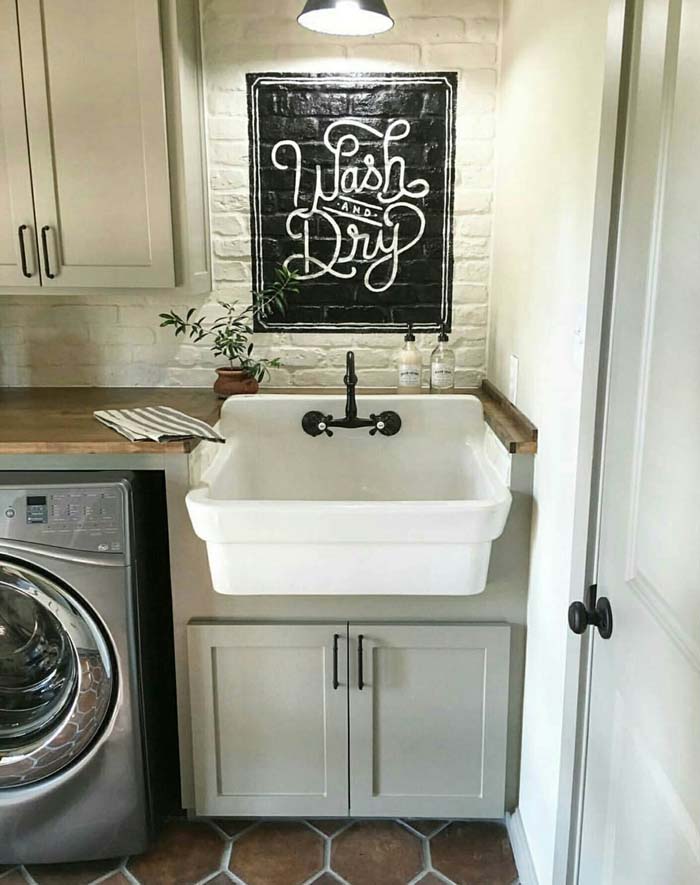 Vintage signs are connected with the traditions but this doesn't mean that they cannot be artistic.
Instead of hanging a wooden sign, paint it on the wall. For that purpose, you need to consider a suitable surface and paints.
via Magnolia
17. Add Texture to a Laundry Room Walls with Floating Shelves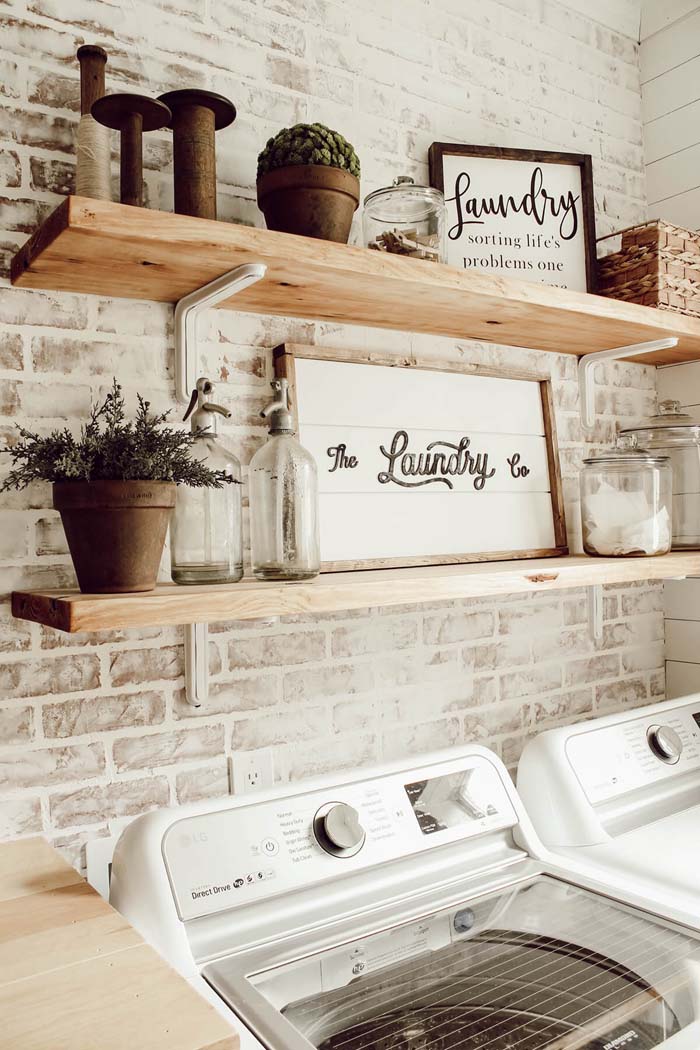 Add texture to one of the walls following a few easy steps. The laundry room will look more alive and the surface will last for many years.
via Beauty For Ashes
18. Create a Funky Wall Sign with Upcycled Materials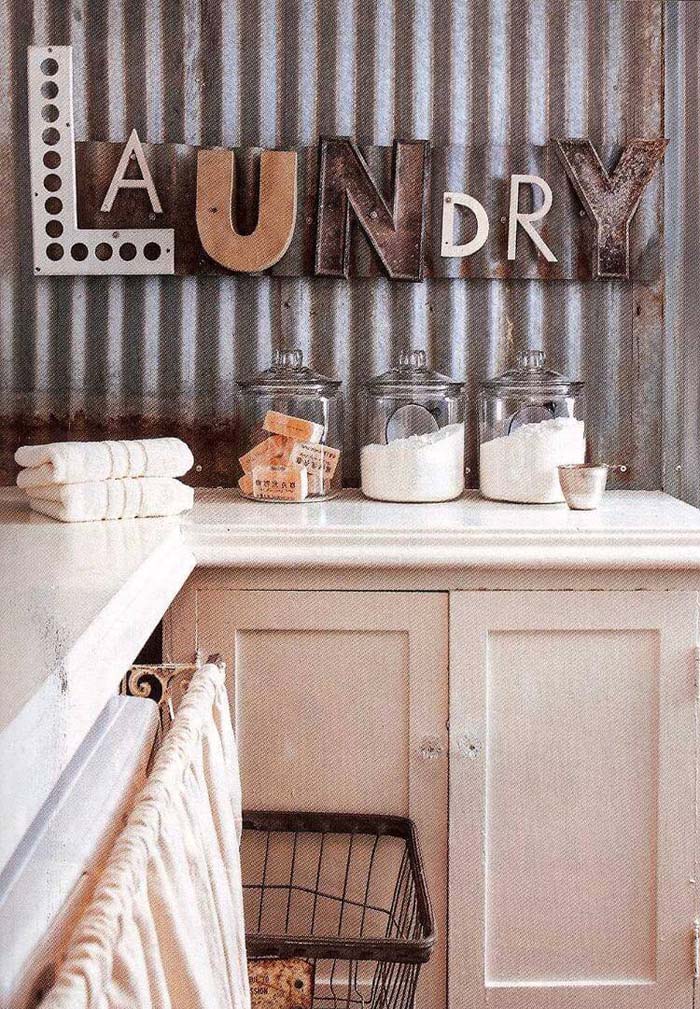 Upcycling projects most often have a wow effect on the interior.
If the laundry room is the next in the update list, make yourself a funky wall sign from scrapped materials like stips, angles, pieces of wood in various sizes.
via Style Lovely
19. Decorate a White Laundry Room with Grey Accents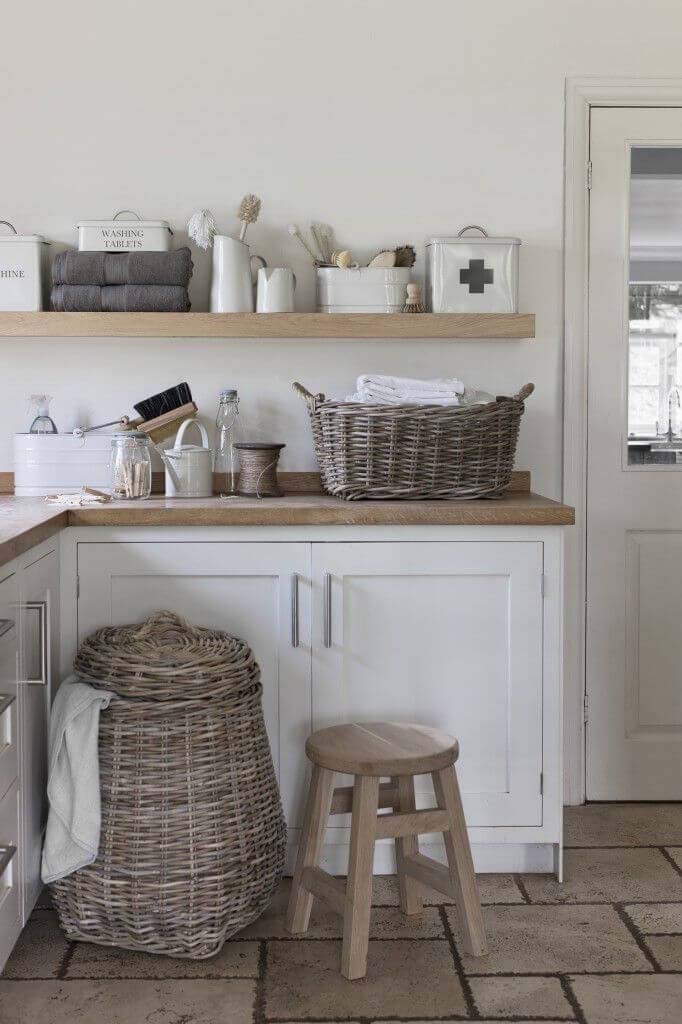 It is no doubt that the preferred color for laundry rooms is white as it is connected with cleanness and hygiene.
If you want to add character to the interior of prevailing white, use grey accents and decoration from wood and wicker.
via Style Lovely
20. Craft a Personalized Wall Sign in the Laundry Room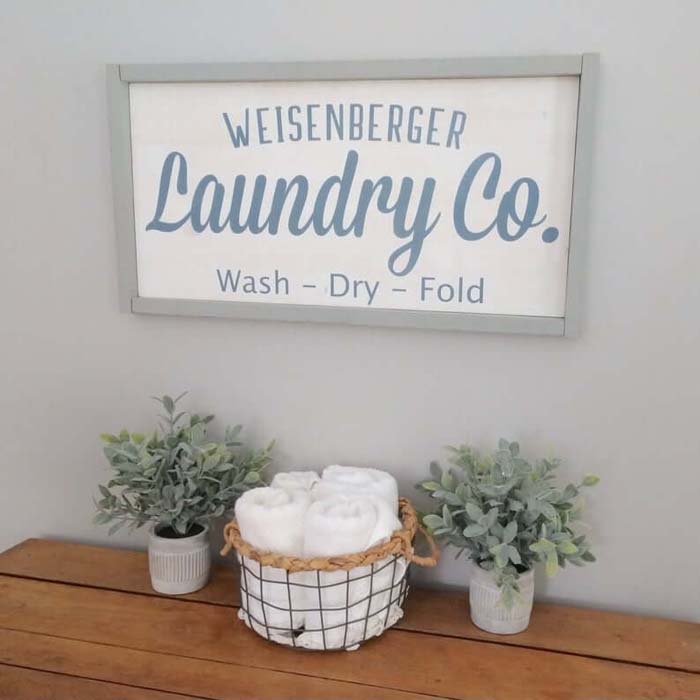 Another way to display your personal name in the laundry room is this hand-painted wall sign.
It is quite big and will surely become an important focal point of the laundry's room decoration.

21. Upgrade Your Laundry Closet with Shelving and Shutter Doors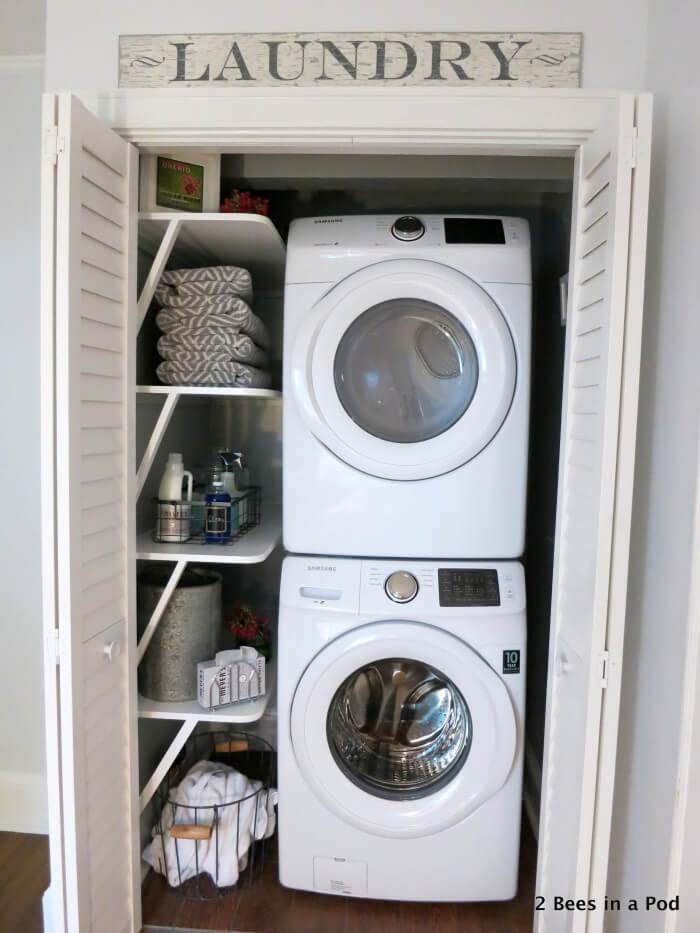 With such a makeover, doing the laundry can be a happy activity even in a closet! The space is utilized cleverly and to its maximum thanks to shelves on the vertical plane.
The cuteness of the closet is enhanced by hinged shutter doors and a large wooden sign.
via 2 Bees In a Pod
22. Laundry Room Corner with Authentic Safety Pins and Wall Art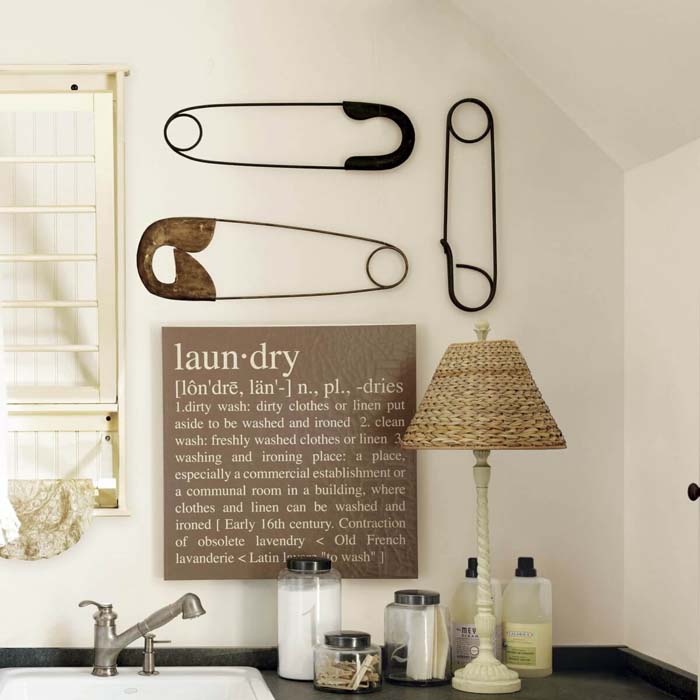 If you want to create a corner of interest in your laundry room, combine large authentic safety pins with a wall art describing the meaning of laundry.
via Ballard Designs
23. Add Wooden Elements for a Refreshing Laundry Room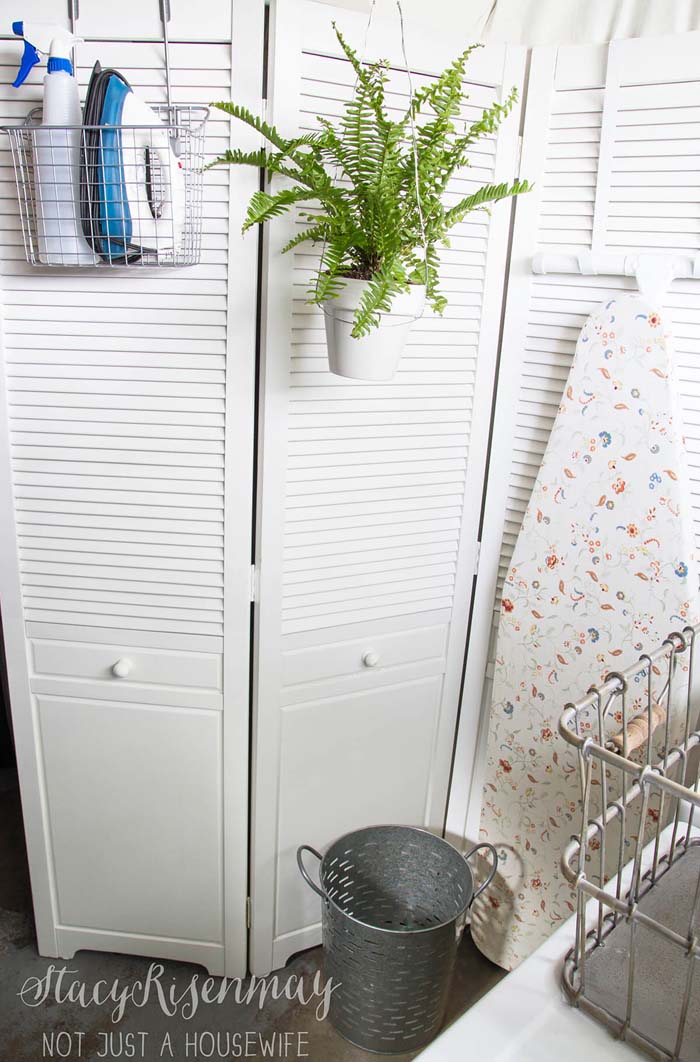 Adding wooden elements that usually find their place in the décor of the living room can easily turn the laundry room into a more welcoming and calming place.
The screen is not only functional but also aesthetic means to add vintage nuance in otherwise plain space. It can be used as a faux wall to hang on decoration.
24. Build Contrasting Wood Shelving for Your Laundry Room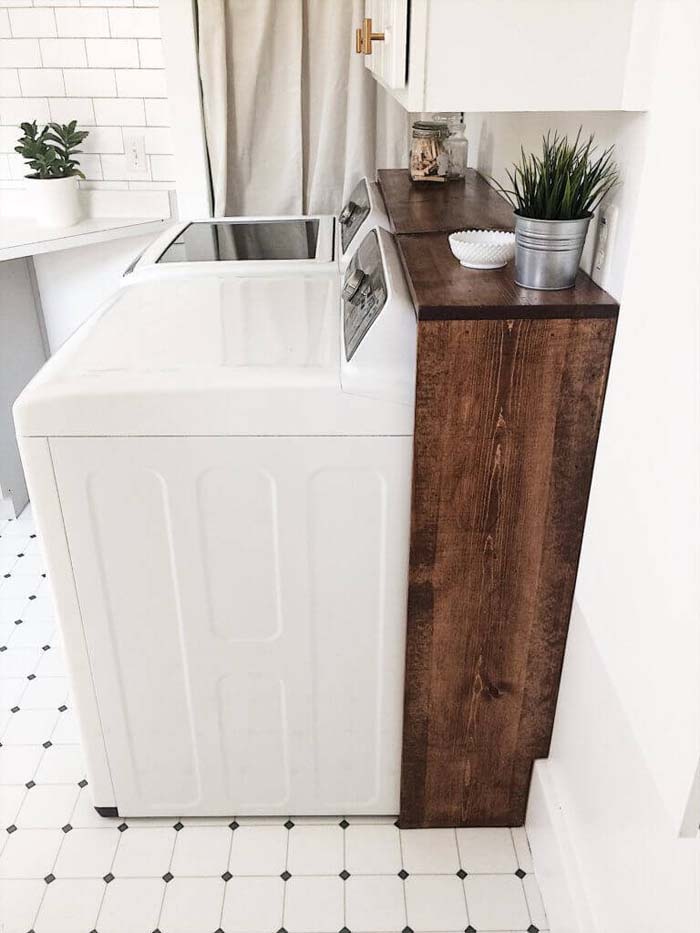 A contrasting wood shelving will add character to the light-colored laundry room and will cover and hide all pipes and hoses behind the washing and drying machine.
Making it is an easy task as long as you have some wood boards, basic tools and stain.
via The Definery Co
25. Vintage-Style Laundry Room Towel & Hanger Rack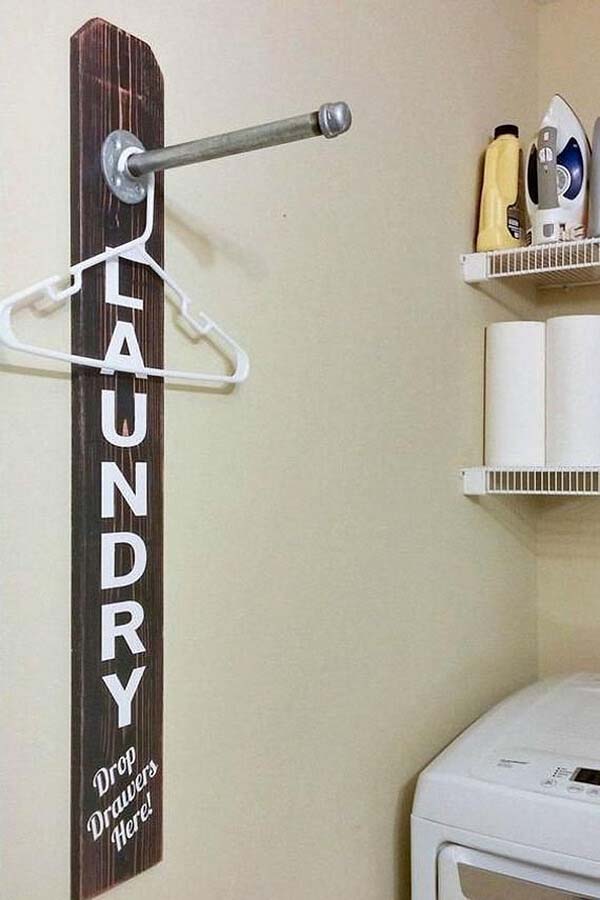 Do you lack space to hang wet towels and hangers in the laundry room? This handmade piece will provide that in a vintage manner!
Made of a board stained in the deep dark, the white inscription pops out and states the function of the room and the rack.

26. Create Visual Space and Textural Character in a Laundry Room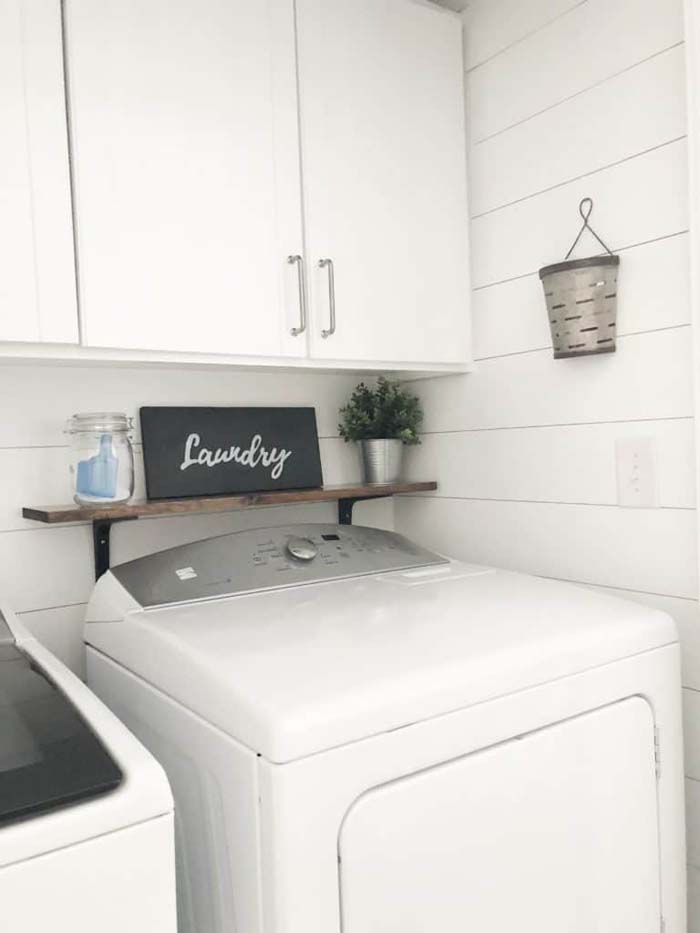 When the laundry room is tiny, you must consider light colors to visually enlargen the space.
If you are looking also for a way to add texture and character to the space, cover the walls with shiplap.
via At Lane and High
27. Add a Quirky Lost & Found Sign to Your Laundry Room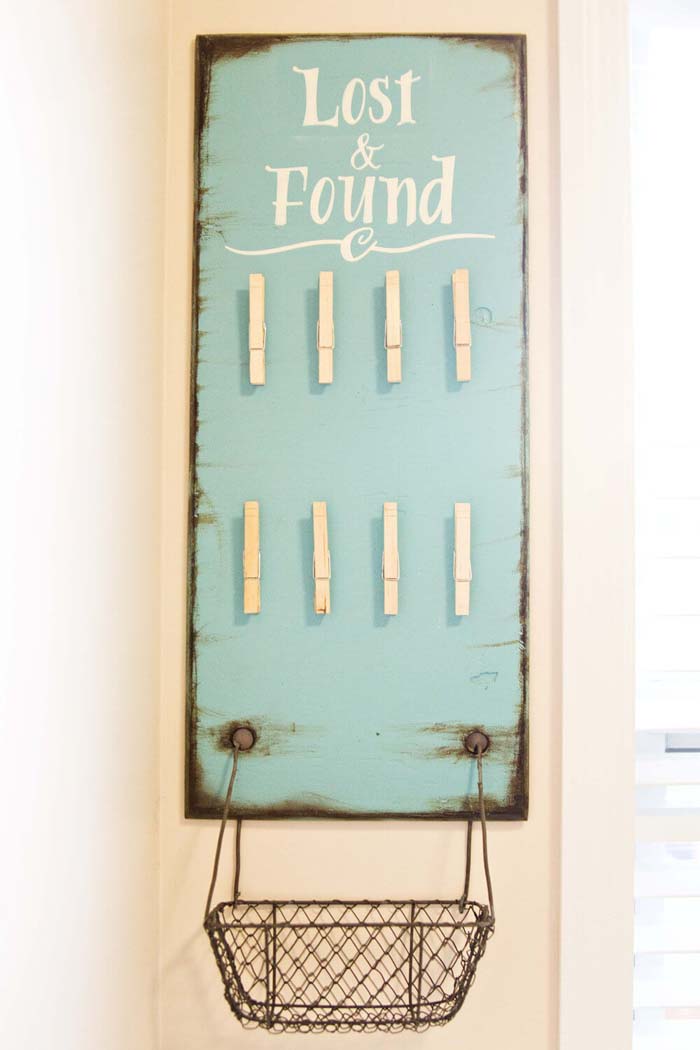 A vintage sign "Lost and Found" will make the area funnier and brighter.
Surely, it will become the focal point of the laundry room because of the appealing aqua blue color.
28. Bring Retro Charm to Your Laundry Room with Vintage Signs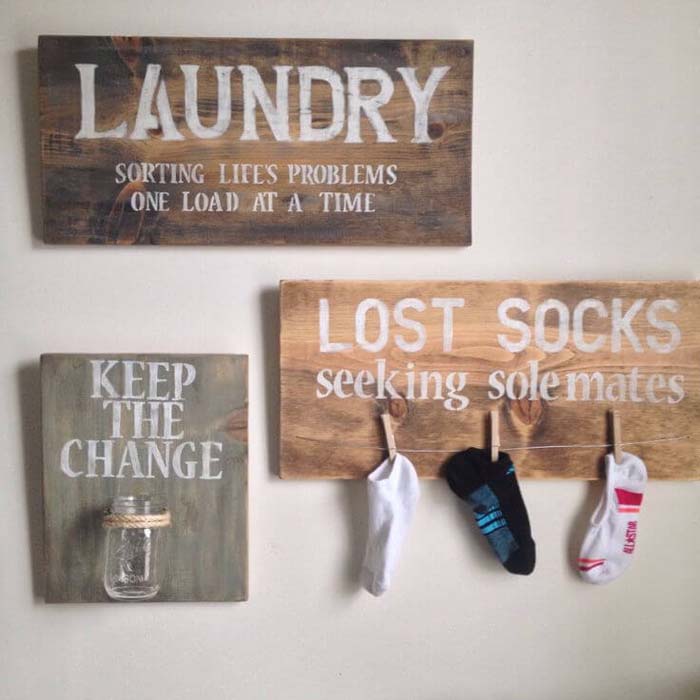 The fun level and the figurative meaning behind the vintage beauty of these signs are incomparable to any signs we have seen so far.
If you want to add the same entertaining feature to your laundry room, find some scrap wood pieces and paint the words using stencils.
29. Build a Multi-Purpose Folding Table with Reclaimed Wood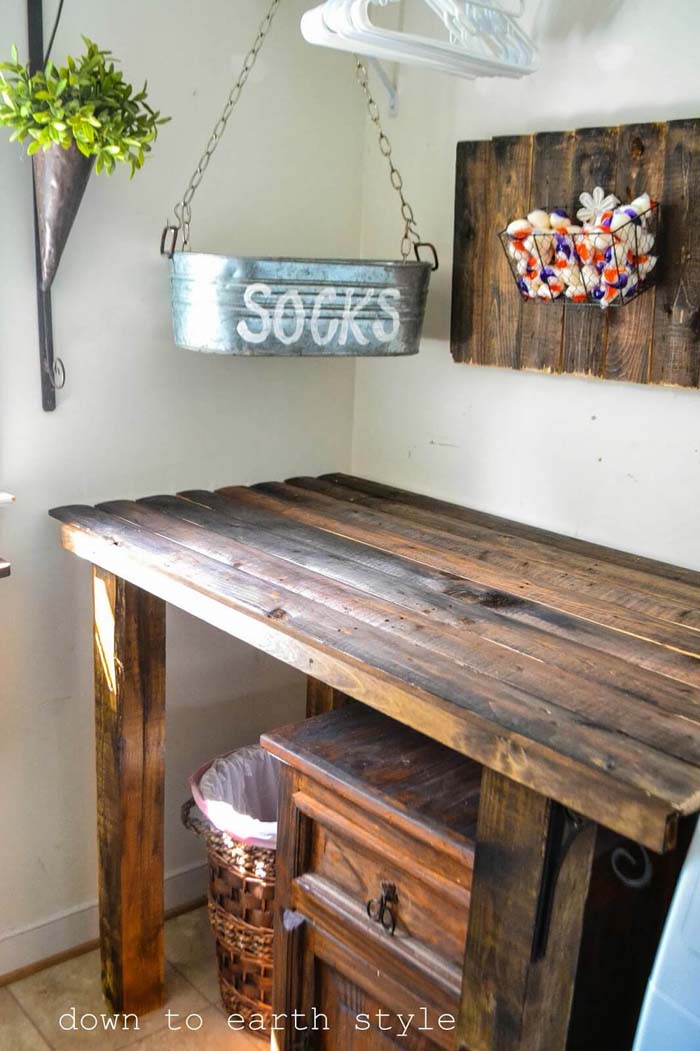 Increase the functionality of the laundry room with multifunctional and yet compact furniture. Make a table to store and fold clothes.
Comfort and rustic effect are ensured by this DIY table made of posts and old fencing.
30. Get a Vintage Look with a Customizable Canva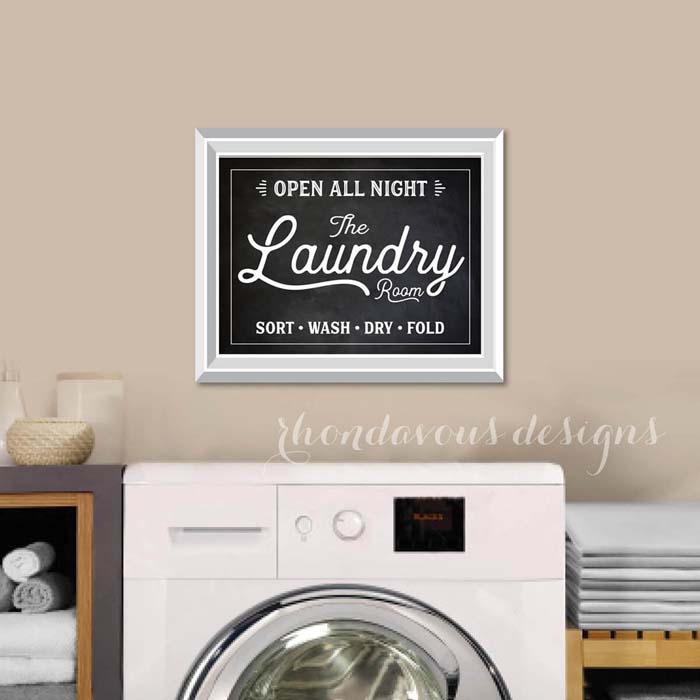 If you are looking for a vintage sign with a contemporary look, check this canvas or photo paper design that can be customized in the color you like.

31. Maximize Storage in a Small Laundry Room with Open Shelves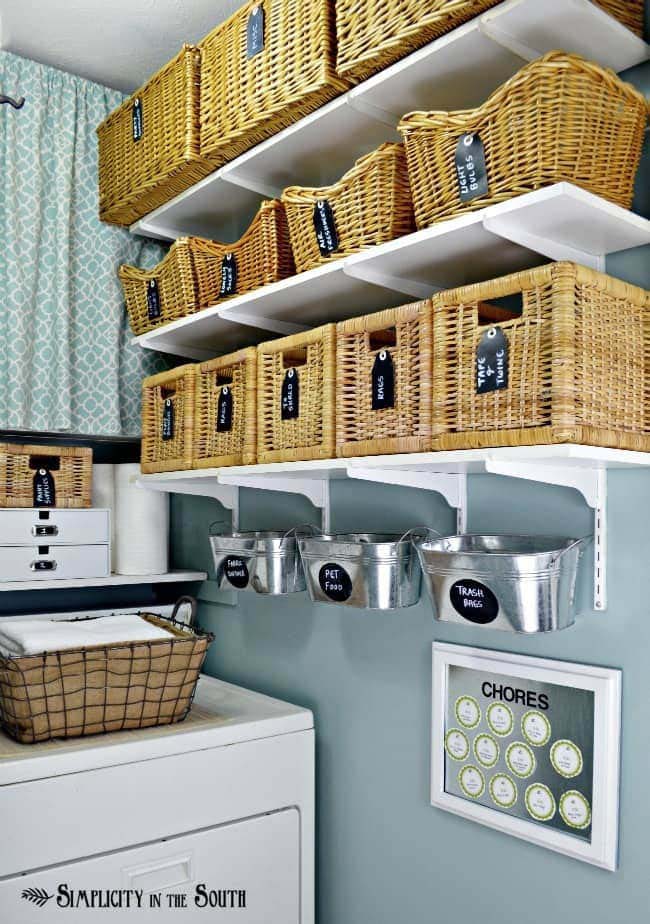 When the laundry room is small it doesn't mean that it cannot be functional and organized.
Taking advantage of the vertical space, you can fix open shelves which will provide sufficient storage space. This open concept for storage will look neater and tidier if identical baskets are placed on.
32. Give Your Laundry Room a Timeless Look with Penny Tiles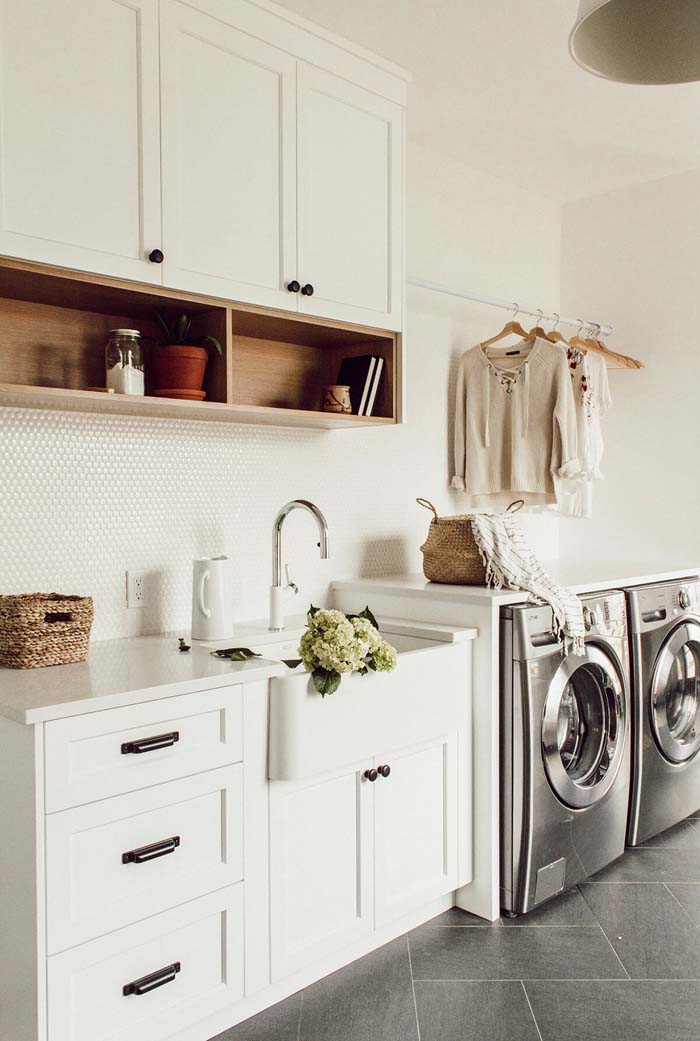 Penny tiles look very stylish in any wet room. They give the space a particularly clean look when in white.
Since they form a textured background, the decoration can be simpler and moderate.
33. Repurpose Galvanized Containers for Farmhouse Storage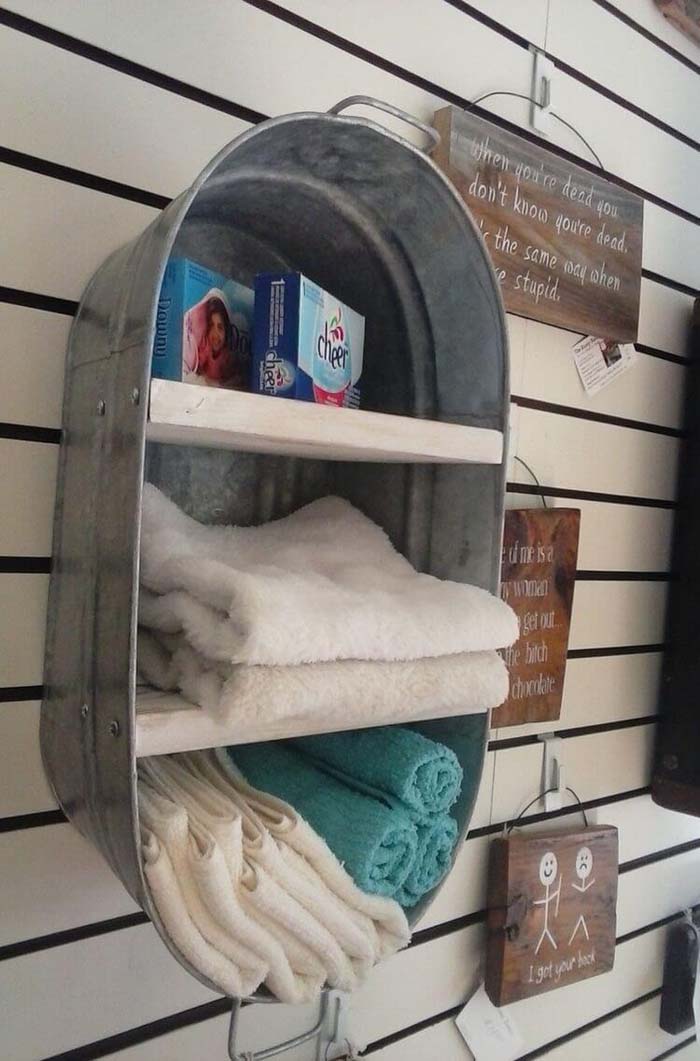 The galvanized containers have a lovely farmhouse charm. If you succeed in repurposing them, they can become an appreciated storage area in the laundry room.

34. Airy Laundry Room with Stained Shelves and DIY Light Feature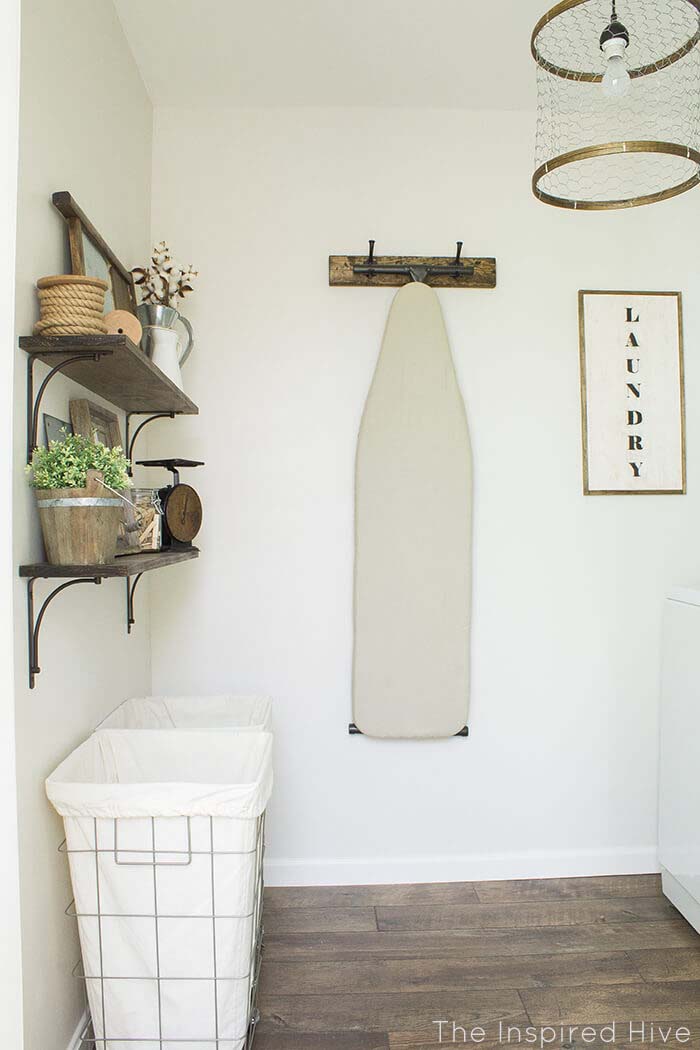 The airy feeling of this laundry room is conquering. What however makes this room special are the cleverly arranged accents.
The light feature is a DIY that has turned out pretty well. The dark stained shelves accommodate decorative elements that spread the rustic vibe all around.
35. Decorative Counters To Cover Laundry Room Pipes and Hoses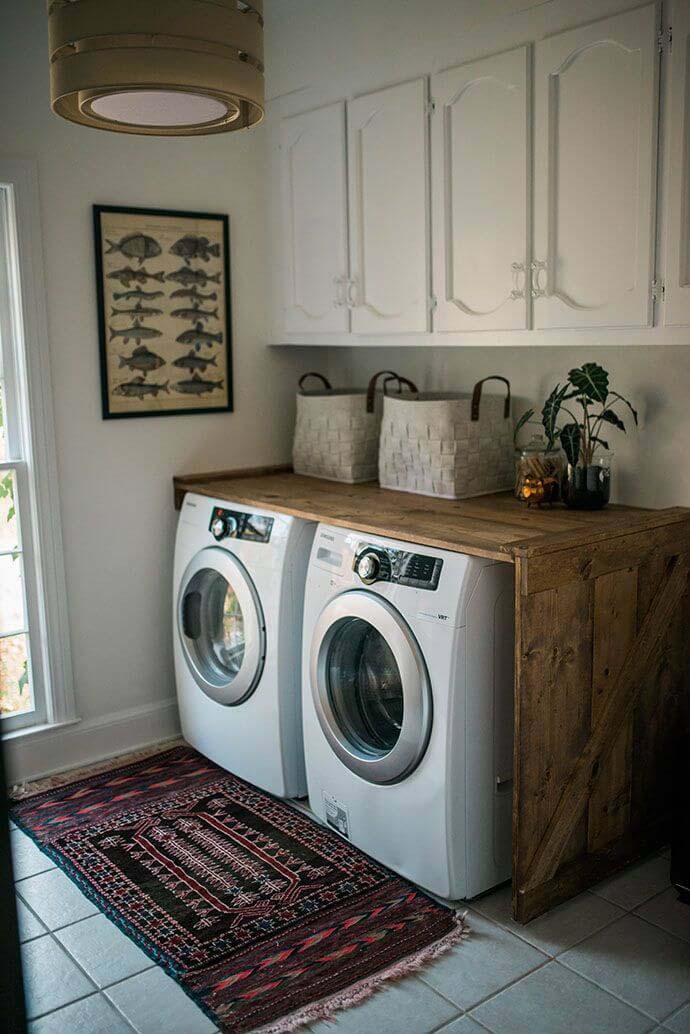 The counters in the laundry room most often have a decorative value as they cover the piping and hoses of the washing and drying machines.
Instead of making the counter as big as to do that, consider a wider design. Crates are perfect for that purpose- their surface is wide and will grab with the board's pattern and farmhouse weathered beauty.
36. Antique Lace and Wicker Laundry Room with Framed Art Piece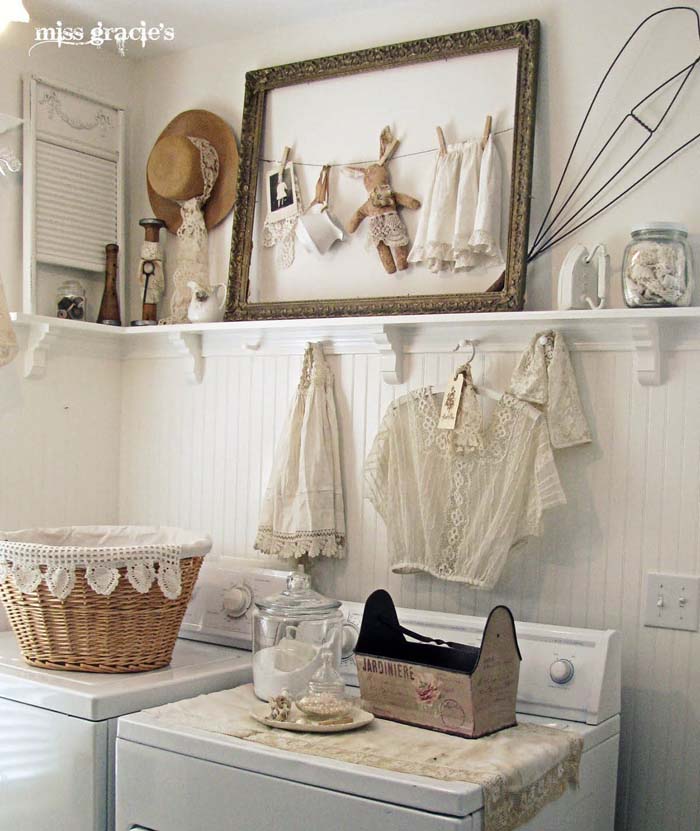 This charming white, lace and wicker laundry room impresses with its antique vibes.
The picture from another century is additionally enhanced by the metal-framed art with an antique toy.
37. Add a Vintage Touch to the Laundry Room with a Chandelier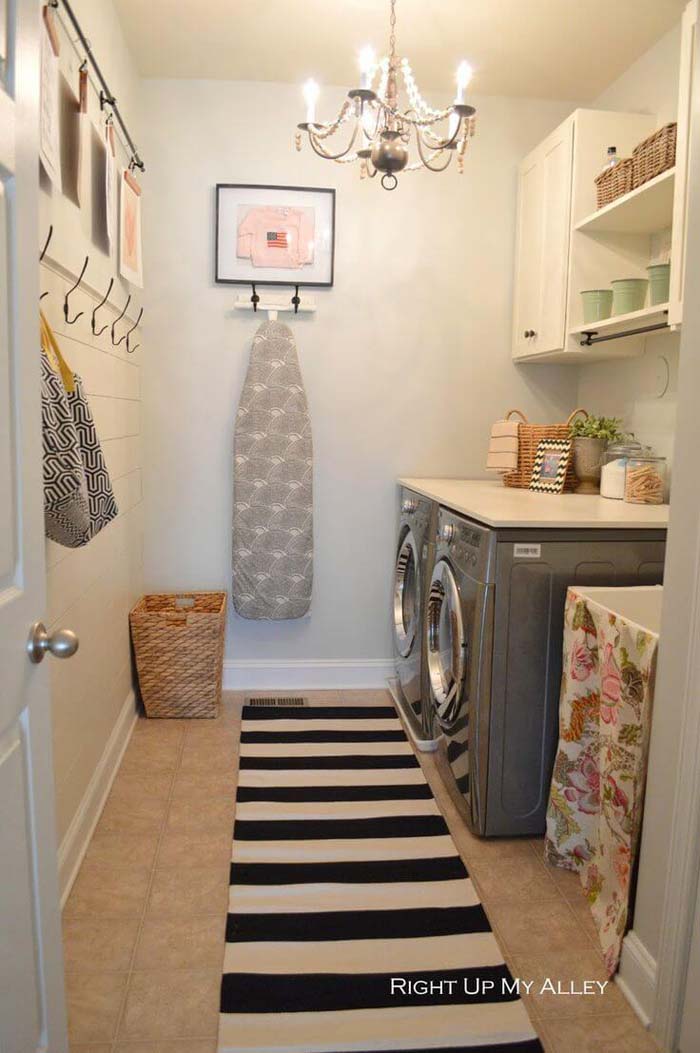 The success of the interior design is gained through details.
If you want to make the laundry room feel like a place from the past, add a large accent like this chandelier.
38. Create a Laundry Room with Accents and Accouterments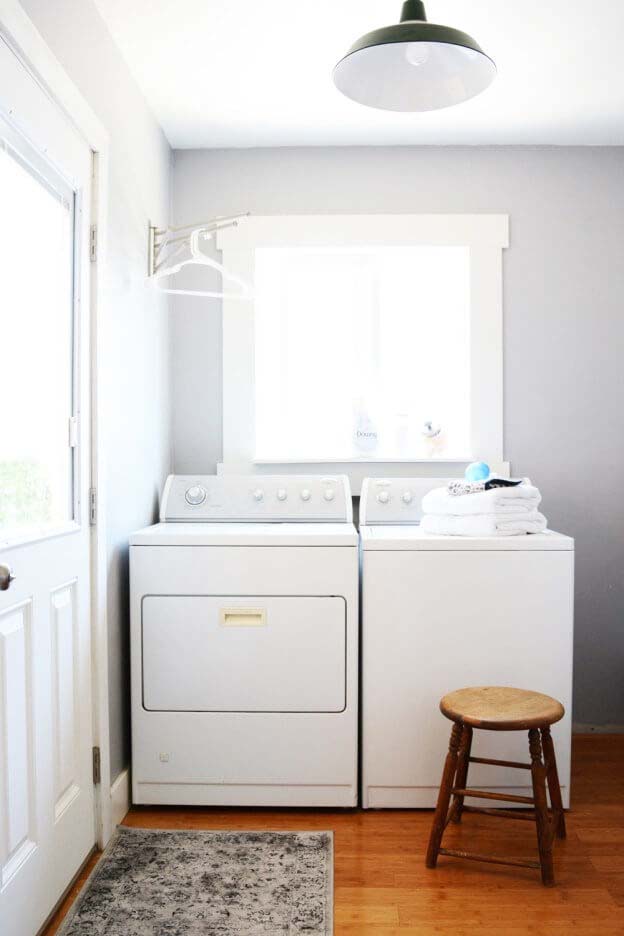 A few accents are just enough to make a laundry room look like one-of-a-kind.
Place a rug to anchor the space and a stool to remind of the way the laundry has been done in the past.
39. Modern Industrial-Chic Meets Farmhouse Charm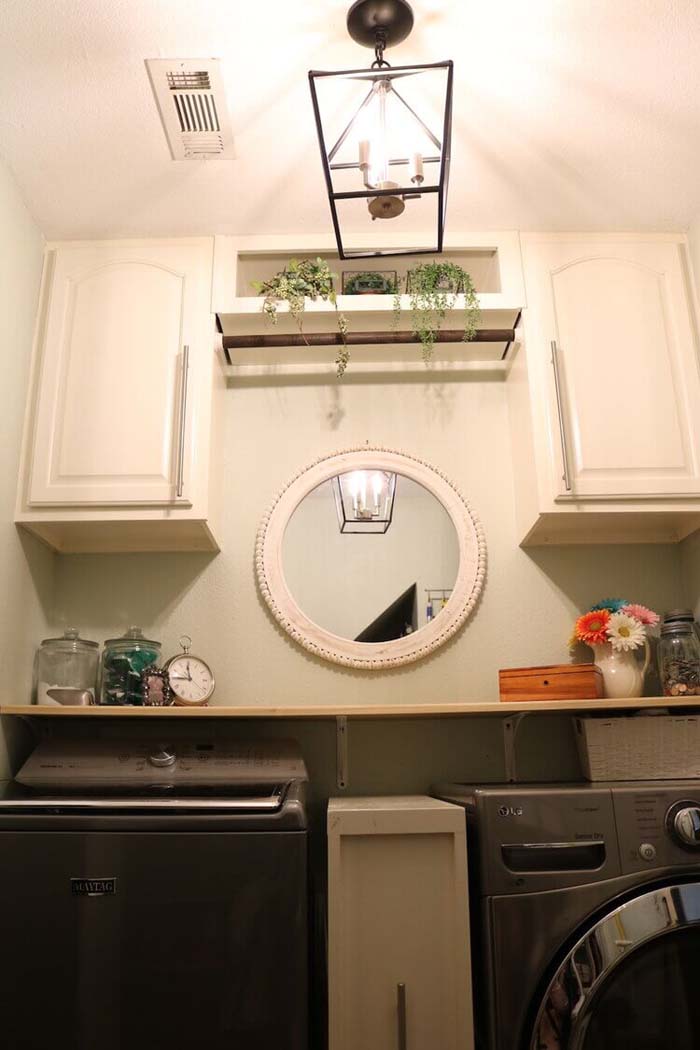 Combine industrial with farmhouse for a balance between the past and the modern.
The unique lighting with straight lines makes the place look very trendy. The farmhouse mirror just beneath it comes in help to smoothen the industrial presence and let the charming traditionalism in.
40. Spruce Up with a Stunning Sign and Contrasting Accents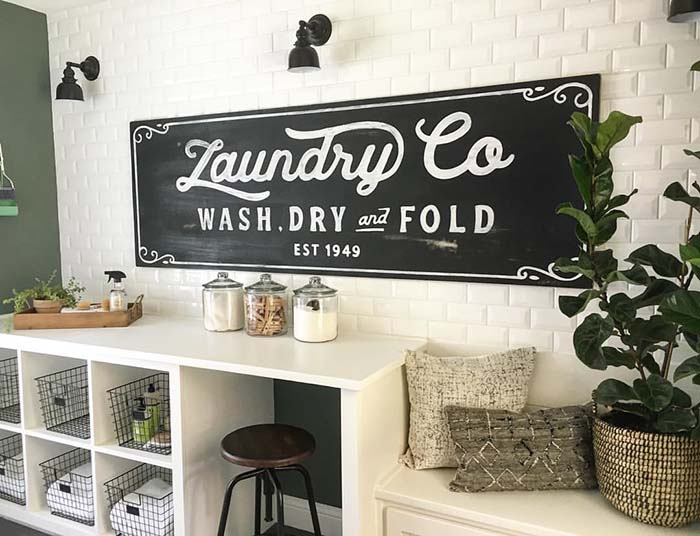 A large laundry sign will add contrast and will mark the significance of the laundry room. It can be made of metal, wood and even cardboard.
To ensure well acceptance of this vintage beauty, add other black decorative accents line lamps, metal baskets etc.
via Joanna Gaines
41. Welcome Guests to a Timeless Laundry Room Entry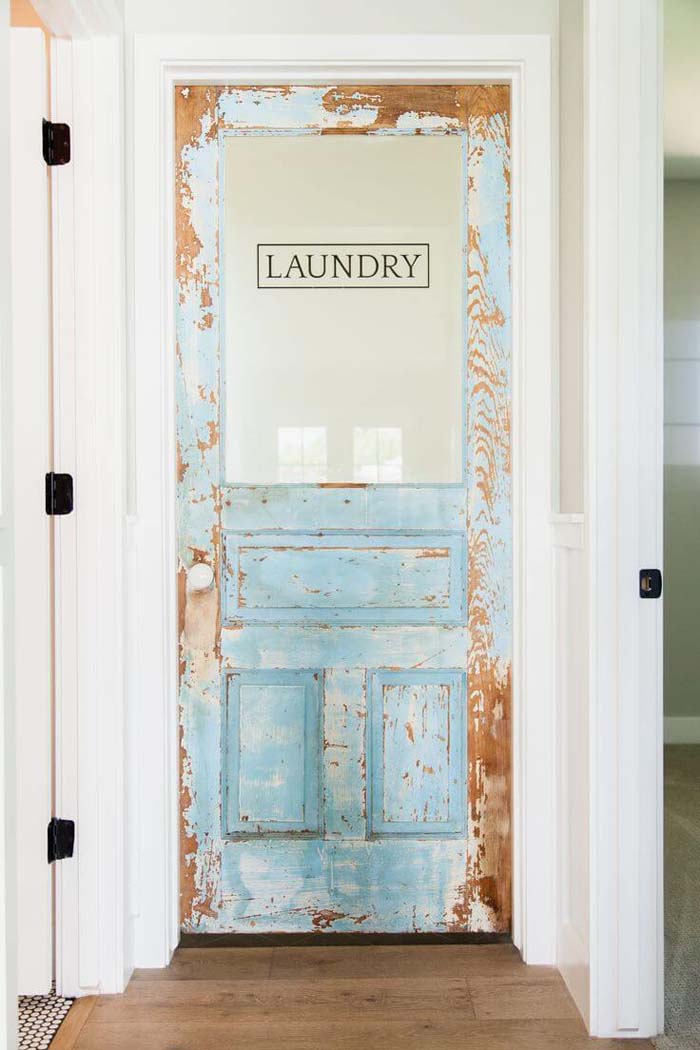 The vintage accent of the laundry room can be placed literally at its entry.
A weathered farmhouse door with a clean laundry sign will leave a footprint of the past in the present.
42. Hang Laundry Easily with a Repurposed Ladder Rack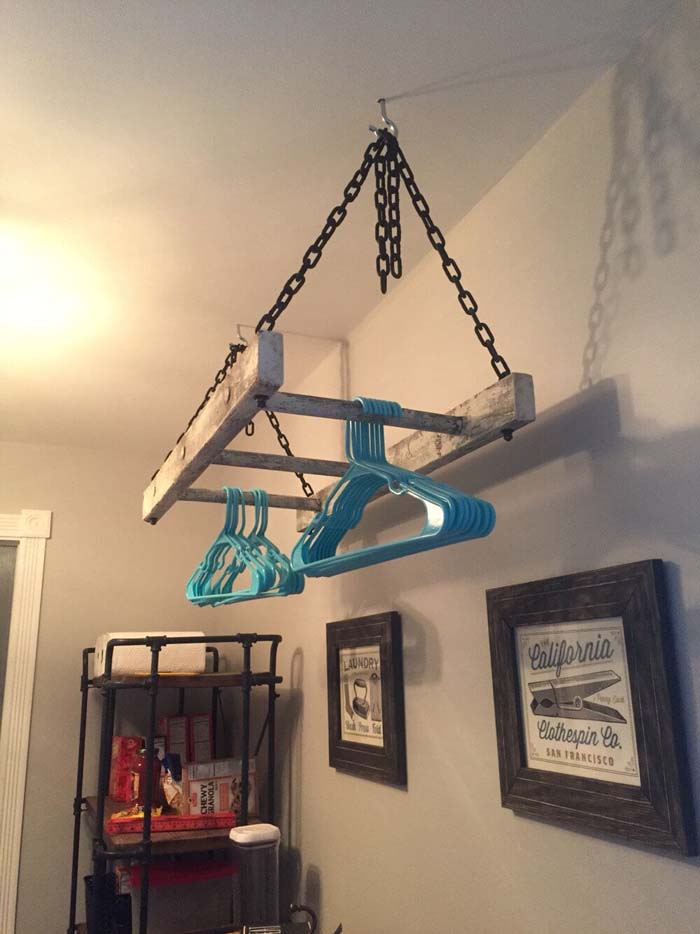 This repurposed ladder is intended for a ceiling suspension in the laundry room. The racks let you hang up clothes without taking any of the floor space.
It comes in a weathered look for a vintage effect or painted in a color you like.

43. Transform Your Laundry Room with a Fun Vinyl Decal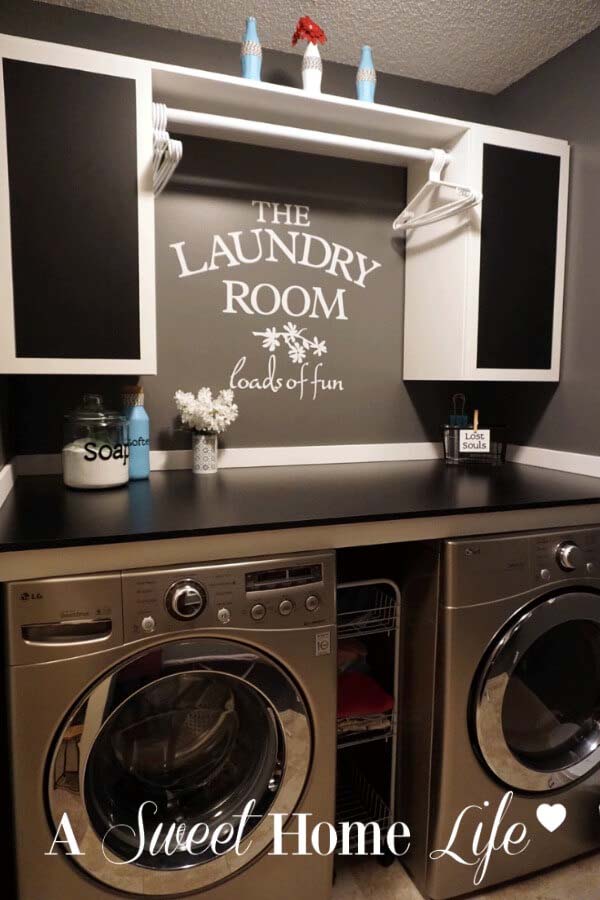 A very affordable way to add a fun statement to your laundry room is this vinyl decal.
Its white color pops out against the dark grey background.
44. Farmhouse Laundry Room with a Chalkboard Door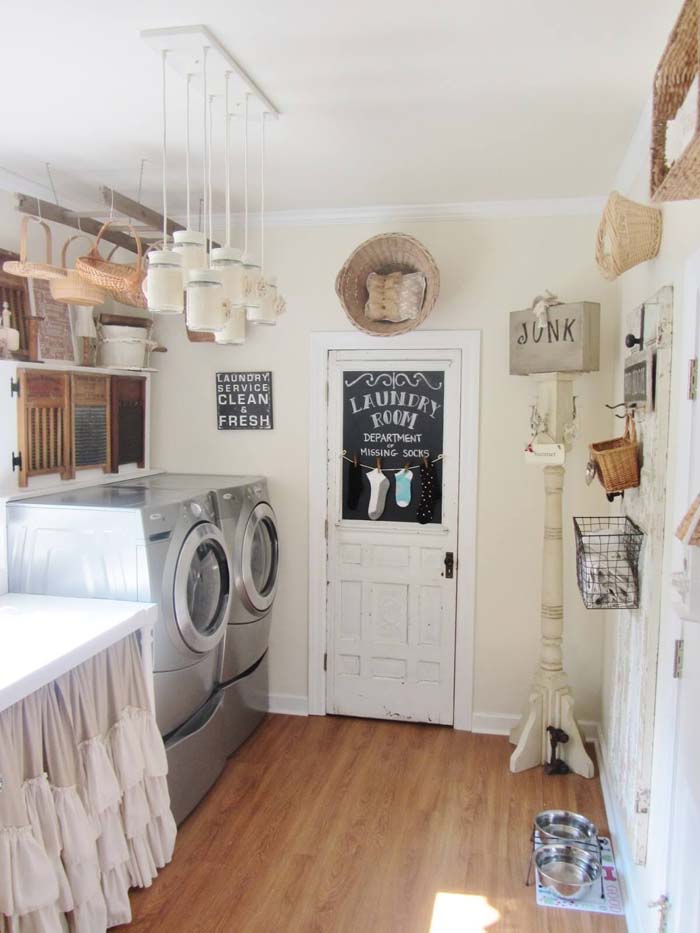 The farmhouse influence can be felt in every inch of this chic laundry room. The drapery hides storage beneath a countertop for the folding of clothes.
The glass of the door has been replaced with a chalkboard with a fun inscription. The uniqueness of this place is increased with the suspended decorative elements.
45. Transform a Small Laundry Room with Appealing Upgrades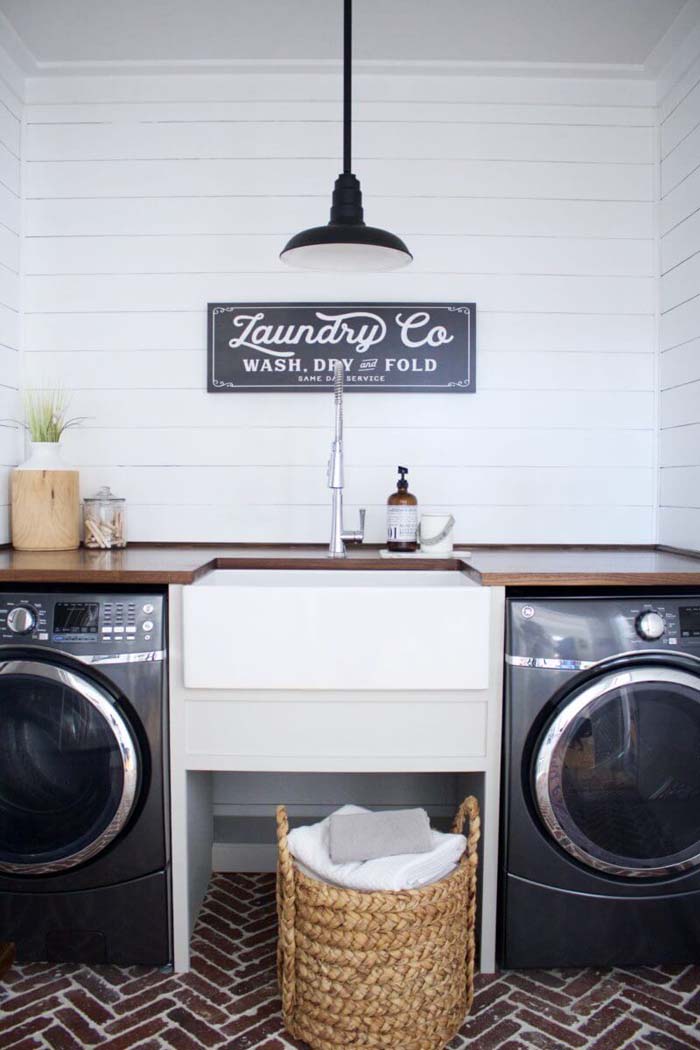 If you see the before picture, you would be convinced what a tremendous makeover has been made to this small laundry room.
Changing the surface of the wall has been a key factor to achieving a brighter, visually wider and appealing laundry space.
46. Add Charm to Your Laundry Room with a "Wash and Dry" Sign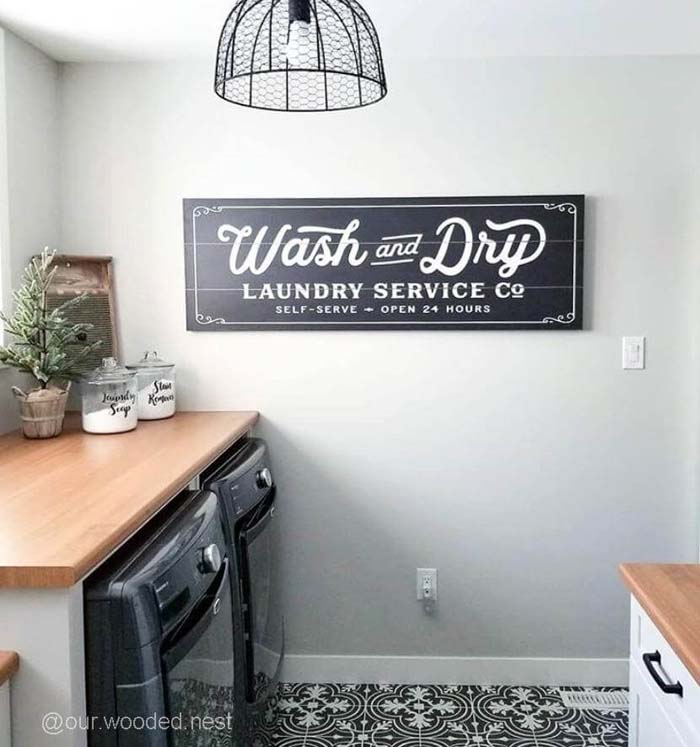 This "Wash and Dry" sign comes as a printed canvas or painted on planked wood. Its charm is marked by the bold and big letters that make a contrast with the black background.
If you are looking for one item that will raise the aesthetic value of your laundry space, this one will surely do.
47. Upgrade Your Laundry Room with Stylish Vinyl Decals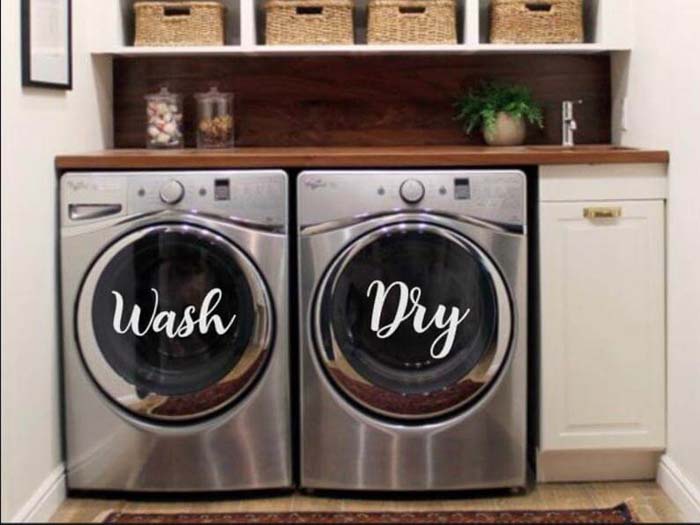 If you want to make an upgrade to your laundry room without investing or changing too much, try the vinyl decals for the glass doors of the washing and drying machines.
They give vintage charm to the boring machines with their hand-written font.

48. Multi-Purpose Laundry Room Rack from a Weathered Board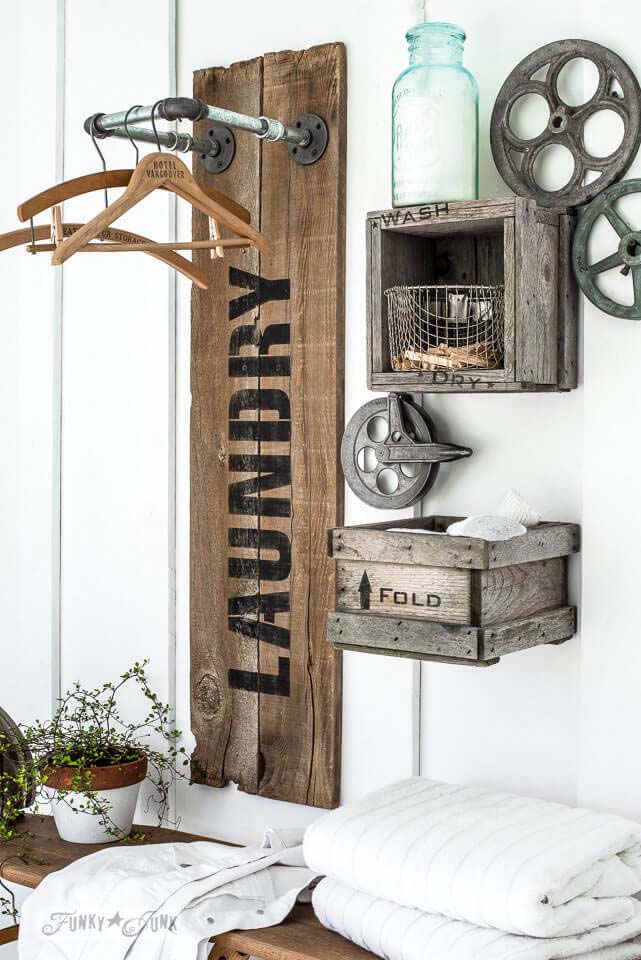 An old piece of weathered board, some paint and stencils, and a large hanger bar create a charming and affordable rustic multifunctional rack for your laundry room.
49. Add a Vintage Accent with Wooden Letters and Clothespins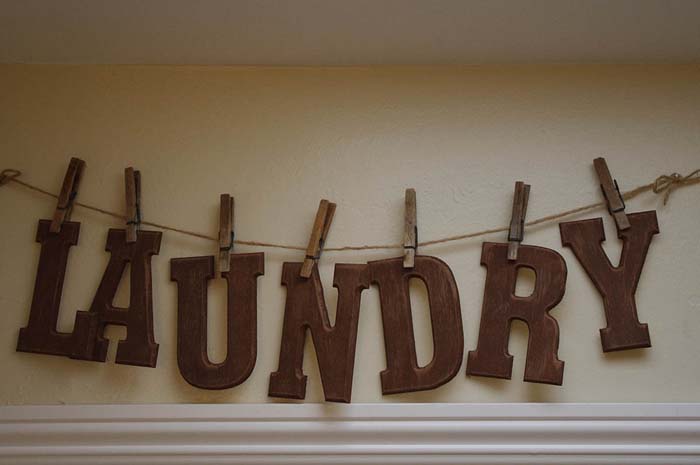 Suspending wooden letters on a cord with clothespins is a fun way to make a vintage accent into the laundry room.
The wood letters can be laser cut or found in craft stores. Stain in dark color for greater impact and suspend at the entry of the laundry room or somewhere inside.