When you have a small laundry room, every inch of space counts.
Smart design is a must — with a clever layout, even the smallest room can be transformed into a functional area.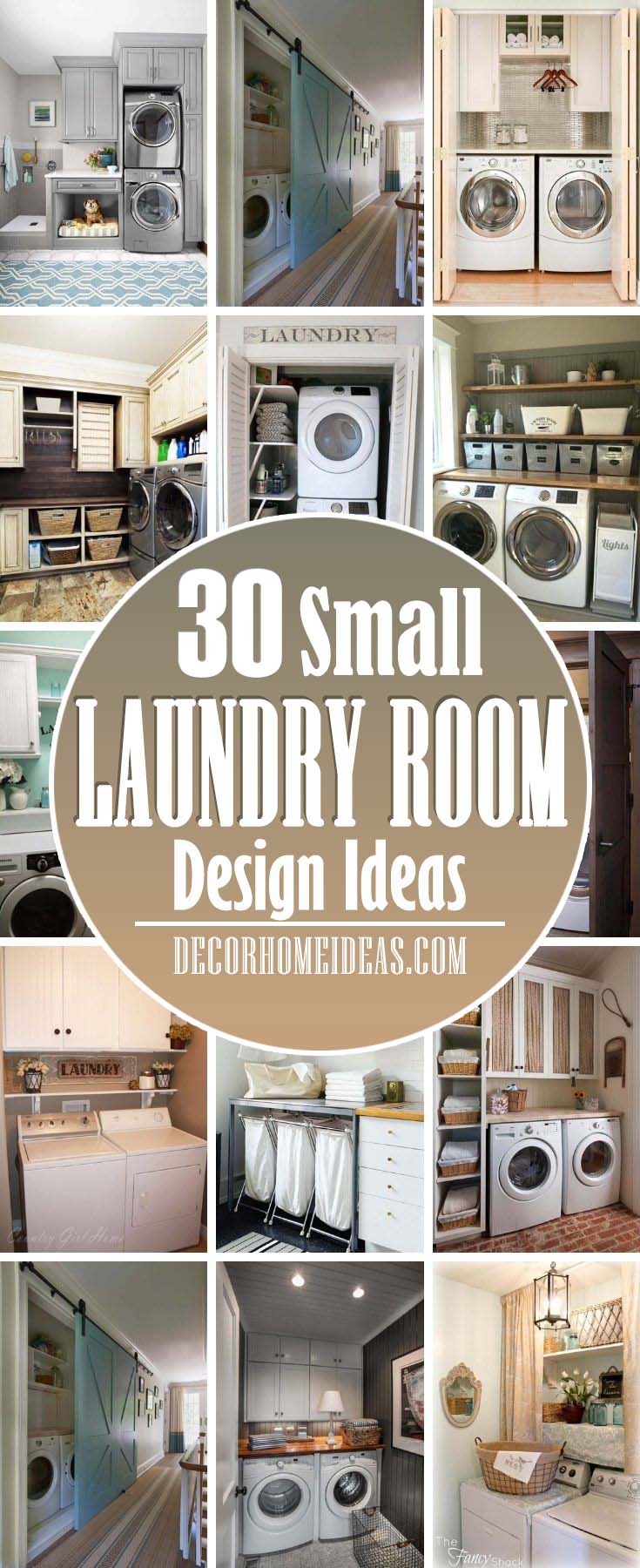 Whether you want more storage or a configuration that's easy to use, these gorgeous laundry rooms can help inspire a design that's both useful and stylish.
1. Bright and Cheery Laundry Room with an Aquatic Pop of Color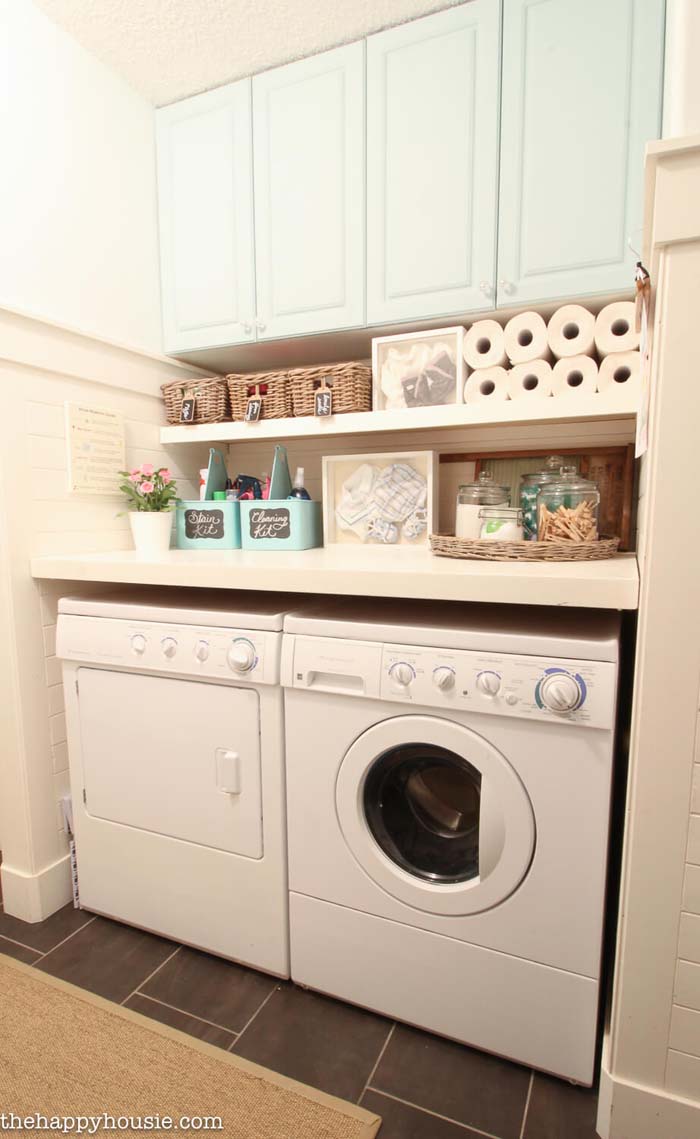 Fresh and cheerful, this lovely laundry room will make you smile every time you put in a load of clothes.
The secret is the bright shade of aqua, which makes the space feel bigger and beautiful.
A couple of small shelves keep all of your supplies in easy reach.
via Happy Housie
2. Cozy, Sophisticated Vibe in a Charming Beige Laundry Room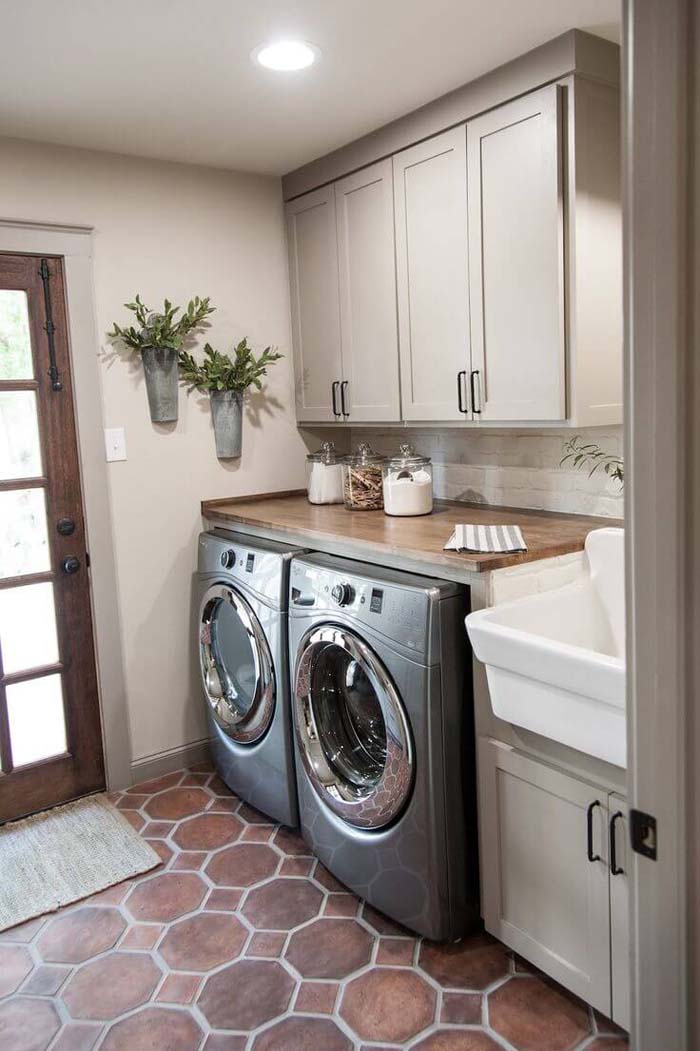 Beige is anything but boring in this tiny laundry room — instead, it gives your space a soft and sophisticated vibe.
Here, the warm wood countertop and tile floor add just the right cozy vibe, and two charming wall plants bring a natural twist.
3. Glam Up Your Laundry Room with Black, White and Pink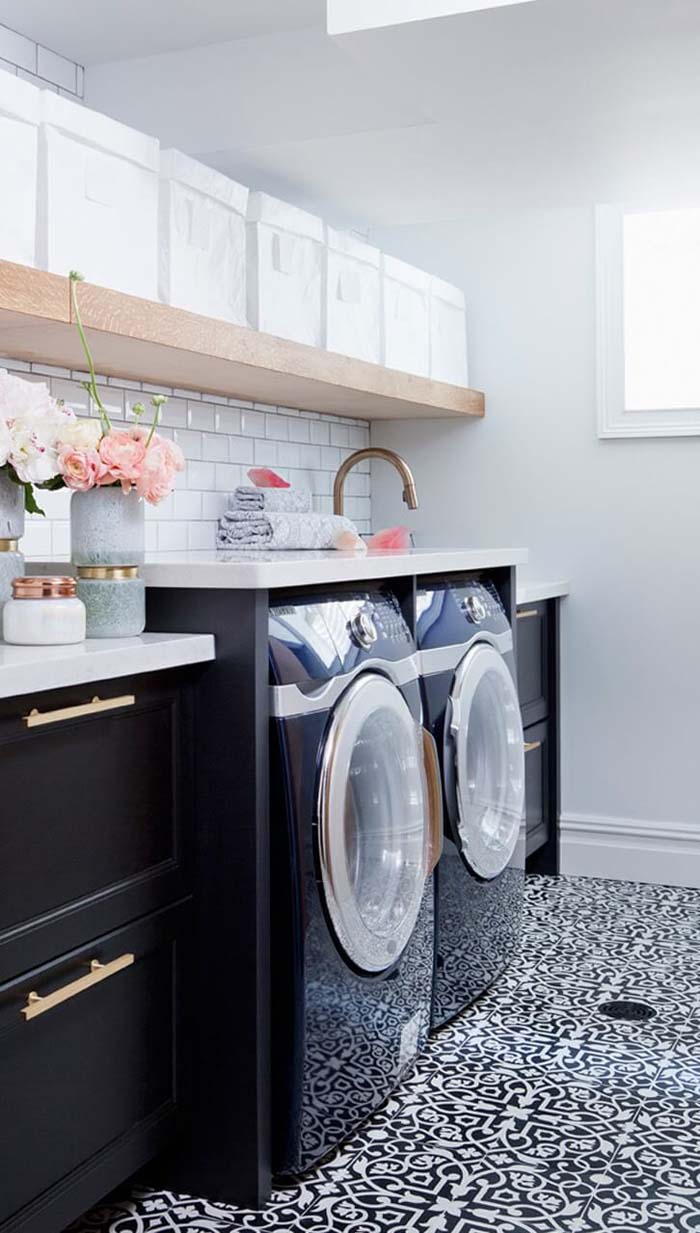 Do you love glam style?
Pair black and white with the tiniest hint of pink. Gold hardware and fixtures offer a hint of luxurious shine.
If you want extra drama, replace your flooring with a bold graphic-print tile.
via Delta Faucet
4. Utilize a Closet as a Laundry Room with Shelves and Flowers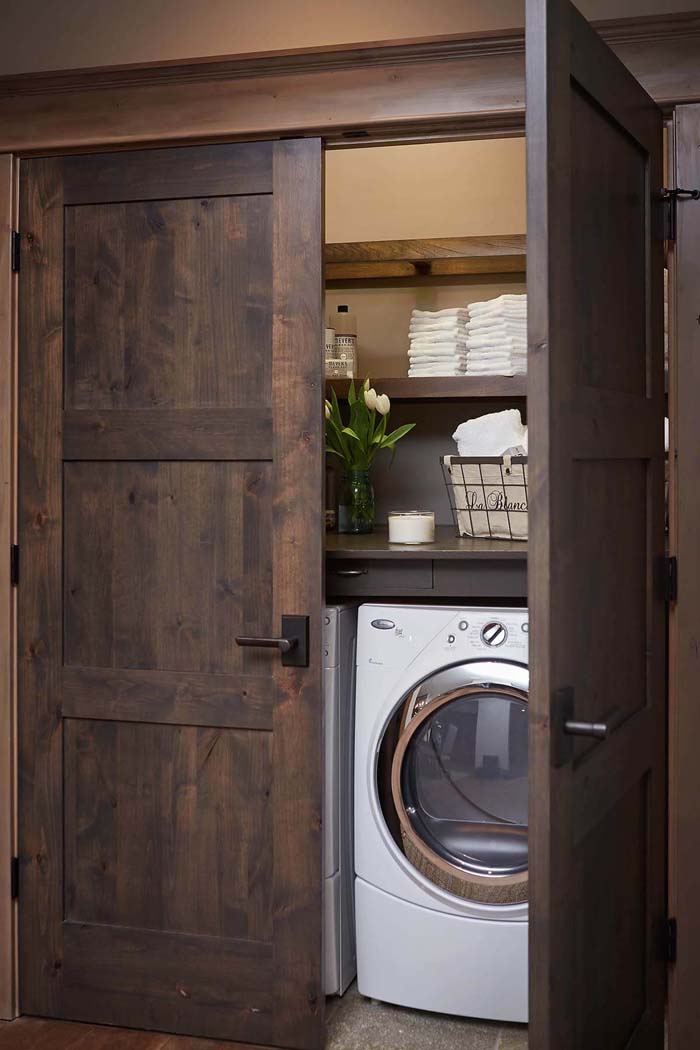 This creative laundry room proves that size doesn't matter — all you need is a closet.
The magic is in the shelves, which offer both storage and functional counter space.
With its rustic wood and a fresh vase of flowers, this laundry room is a stunning addition to your home.
via Villa Decor
5. Create a Bright Space with White Tones and Unusual Accents

Everyone knows that white tones make any space feel bigger.
Here, the homeowner brings a hint of elegance by mixing different shades of white and cream.
A wooden shelf, seagrass basket, and an unexpected lamp complete the look.
The best part is the sweet laundry sign that ties everything together.
via Cherished Bliss
6. Vintage-Style Laundry Room with Subway Tiles & Black Accents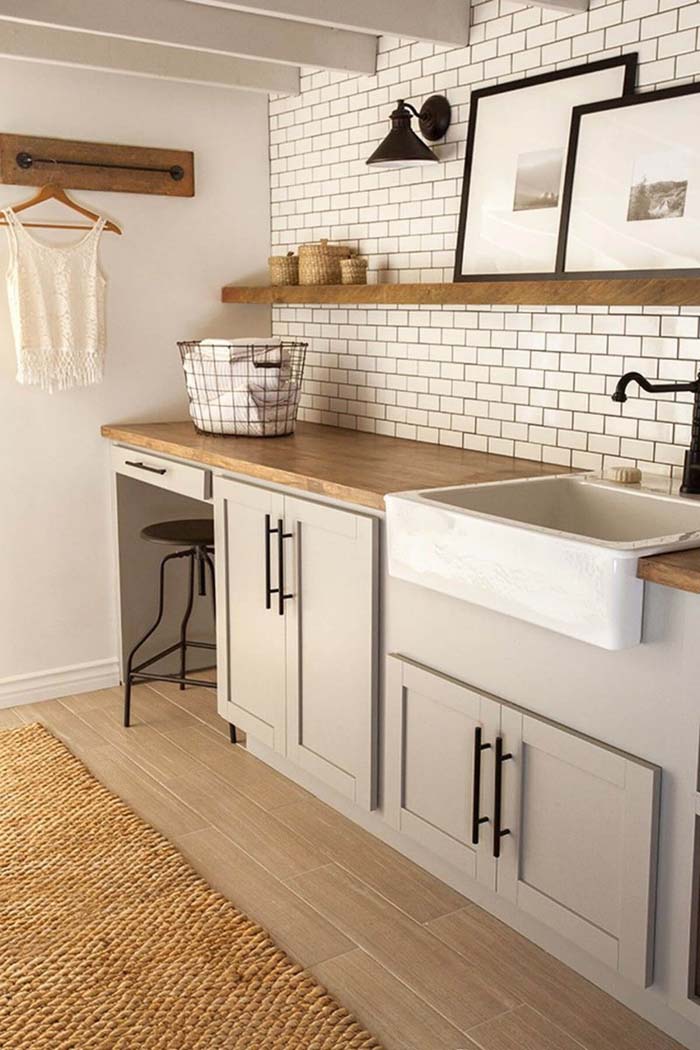 If you love vintage style, a laundry room decked out with white subway tiles and black accents is a beautiful fit.
Hints of wood warm up the all-white design, and a farmhouse sink keeps everything feeling casual.
via Jenna Sue Design
7. A Pet-Wash Station and Laundry Room Combination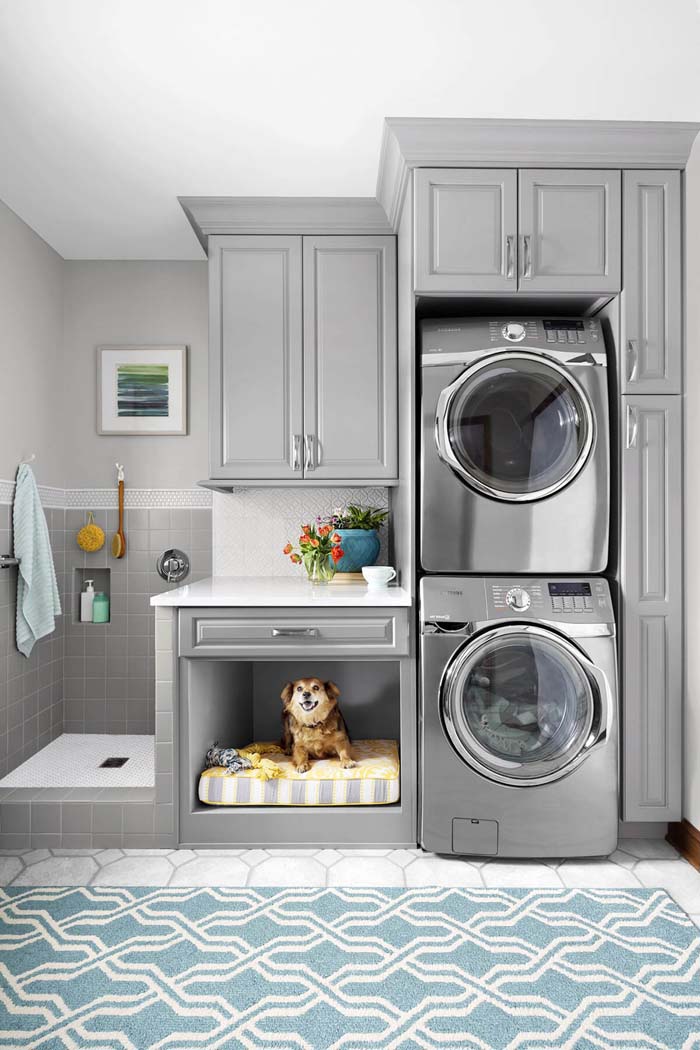 Clean your clothing and your pet by combining a pet-wash station and a laundry room.
This room is all about the layout — the stacked washer and dryer save space, and the roomy countertop is convenient for folding.
We love the tiny pet bed, which allows your furry friend to hang out while you work.
via This Old House
8. Whitewash Reclaimed Wood for a Contemporary Rustic Look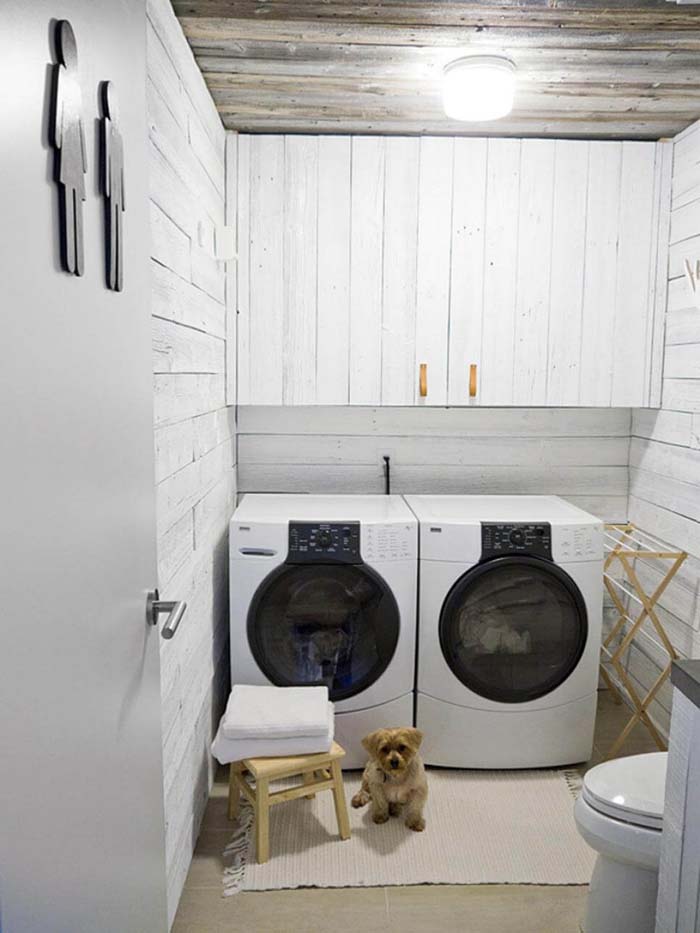 Give a rustic space a modern update with a coat of white paint.
The original wood color peeks through the paint for a whitewashed look, creating a fun contrast with the reclaimed wood ceiling.
via HGTV
9. Cottage Laundry Room with Galvanized Metal and White Bins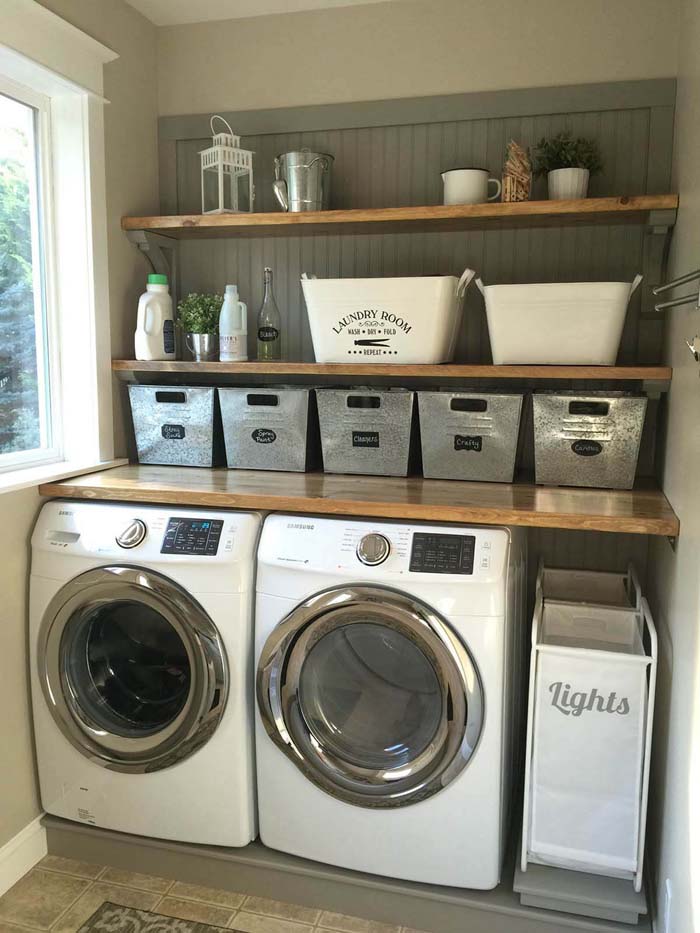 With its narrow-plank paneling and natural wood shelving, this stunning laundry room has a cozy cottage vibe.
The soft sage paint makes a gentle backdrop for galvanized metal and white bins.
If you have extra space, tuck a hamper next to the washer and dryer.
10. Dark and Inviting Laundry Room with Elegant Wood Detail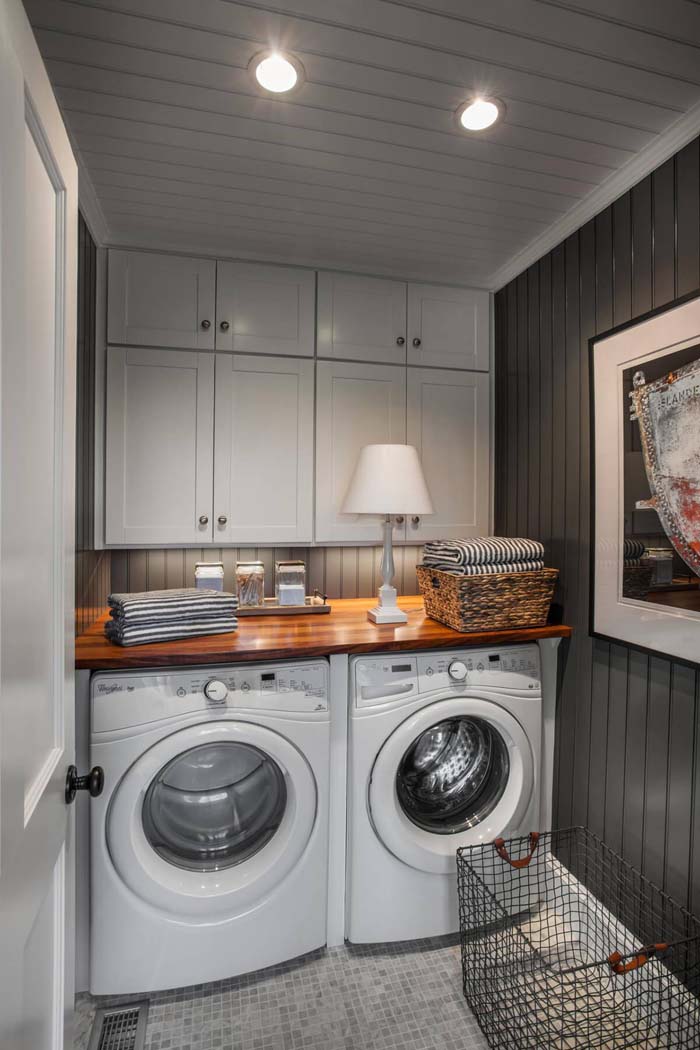 This dark laundry room is anything but dreary, thanks to the bright white cabinets and appliances.
Great lighting illuminates the room from above, and under-cabinet bulbs brighten the folding area.
We love the warm-toned wood, which brings a cozy, welcoming glow.
11. Add Nautical Charm with White Finishes and Classic Stripes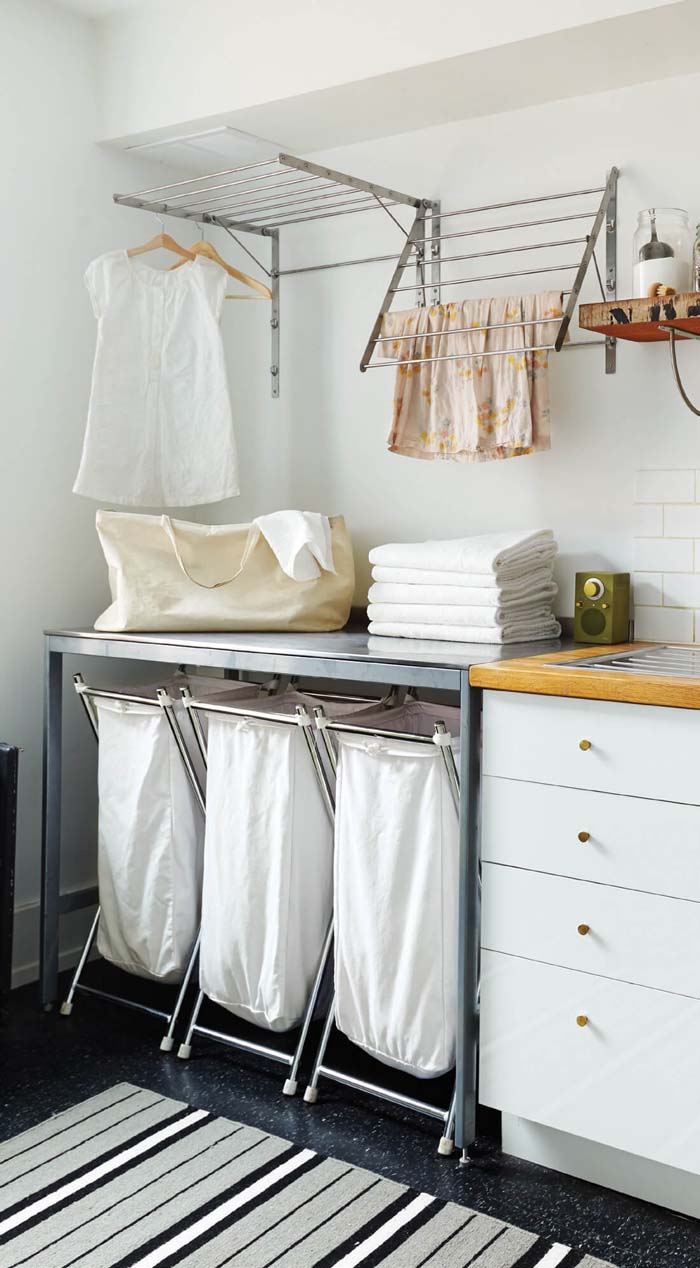 Bring nautical style to a functional room with bright white finishes and classic stripes.
White and cream canvas bags hold extra items and evoke the look of fresh sails.
Sunny and beachy, this design works in both modern and traditional homes.
12. Transform a Small Kitchen Space with Bold Contrasts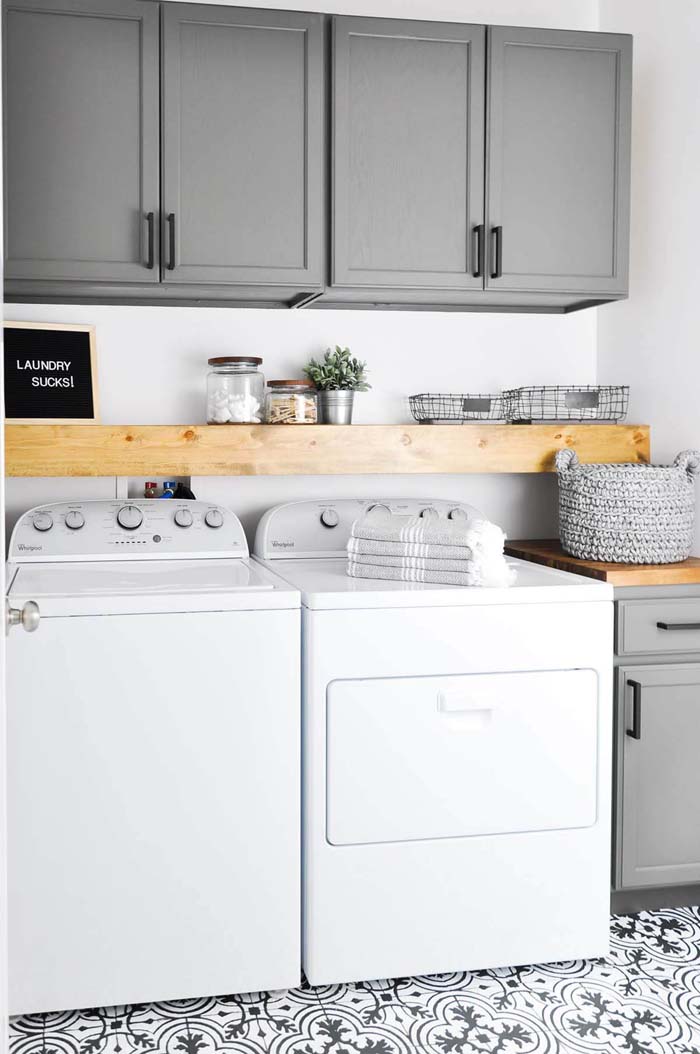 Bold black and white flooring steal the show in this design, bringing the small space to life.
Maintain the simple color palette with gray cabinets and white appliances, and add in a bit of stained wood for warmth.
Monochromatic accents including wire baskets and galvanized metal planters complete the look.
via Cherished Bliss
13. Change a Small Closet Into an Inviting Space with DIY Projects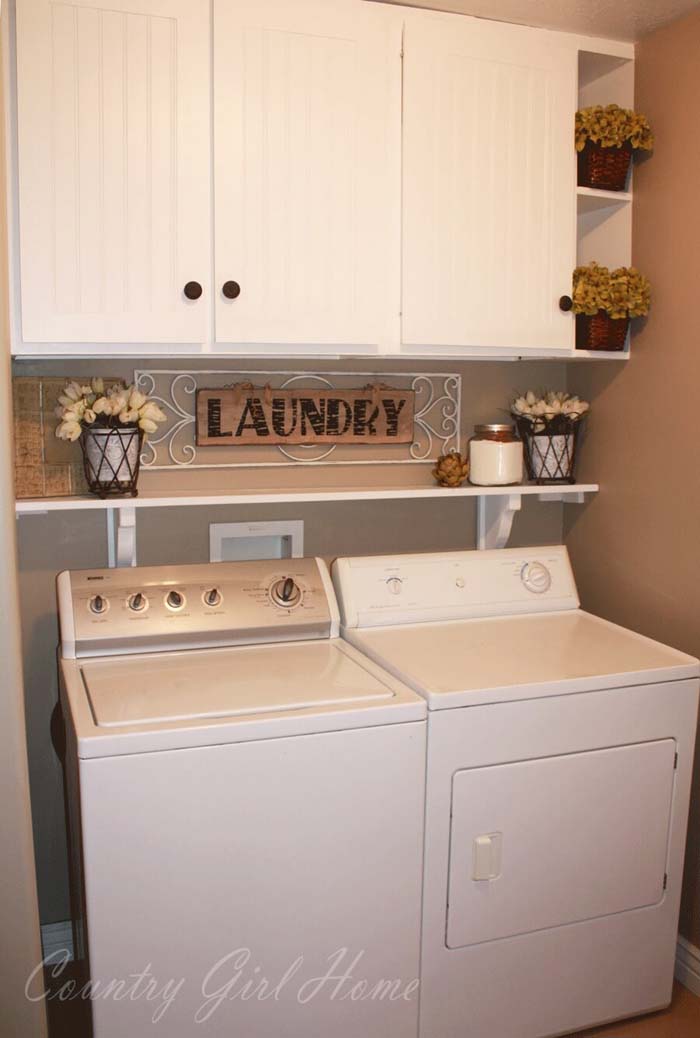 Looking for an inexpensive DIY project?
Turn a tiny closet into a sweet space with an adorable "laundry" sign and a few artificial plants.
If you have time, refresh your cabinets with a coat of white paint to brighten the room.
14. Bold Look with Gray and White Colors and Black Accents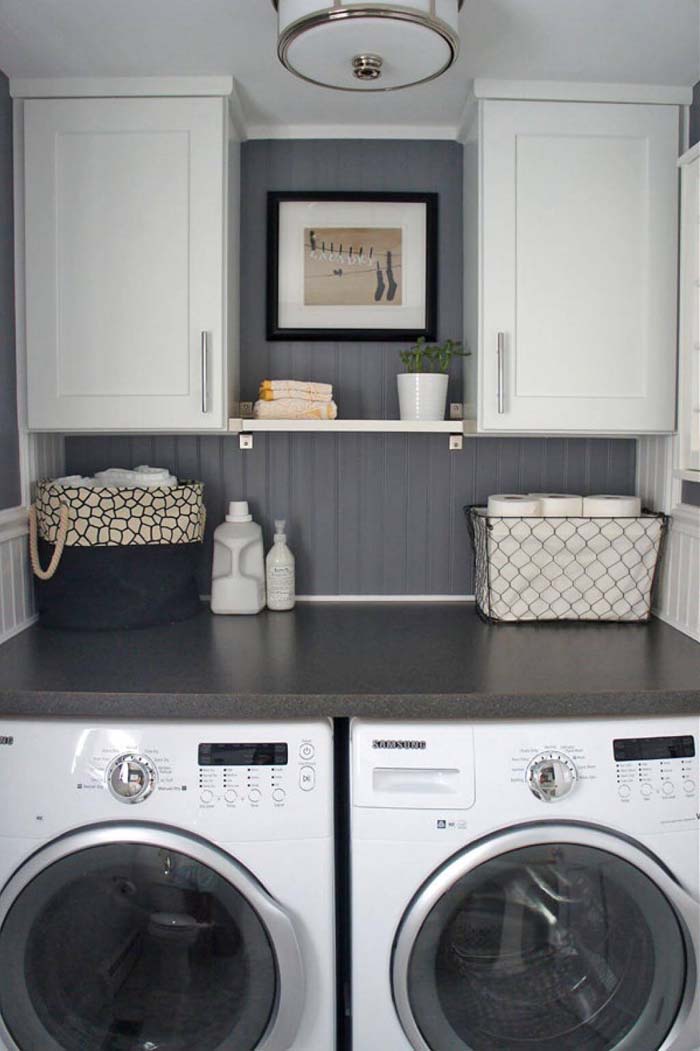 It's hard to go wrong with a simple gray and white color palette — here, the homeowner uses darker shades for a high-contrast look.
A few carefully chosen black accents create a sharp finishing touch.
15. Transform a Closet Laundry Room with a Modern Barn Door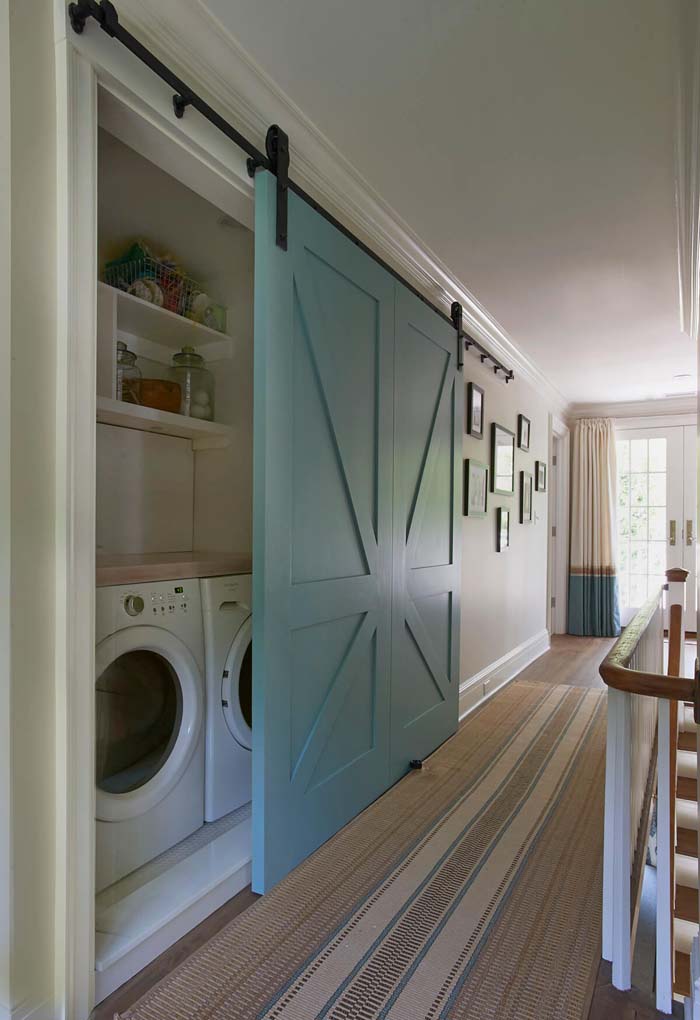 Turn your closet laundry room into an accent wall by replacing the existing enclosure with a beautiful barn door.
A cheerful pop of color puts a fun, modern spin on the rustic design, making it a gorgeous fit for a contemporary house.
When you're not washing clothes, just slide the door shut for a neat, streamlined look.
16. Brings Rustic Country Charm with Reclaimed Wood Furniture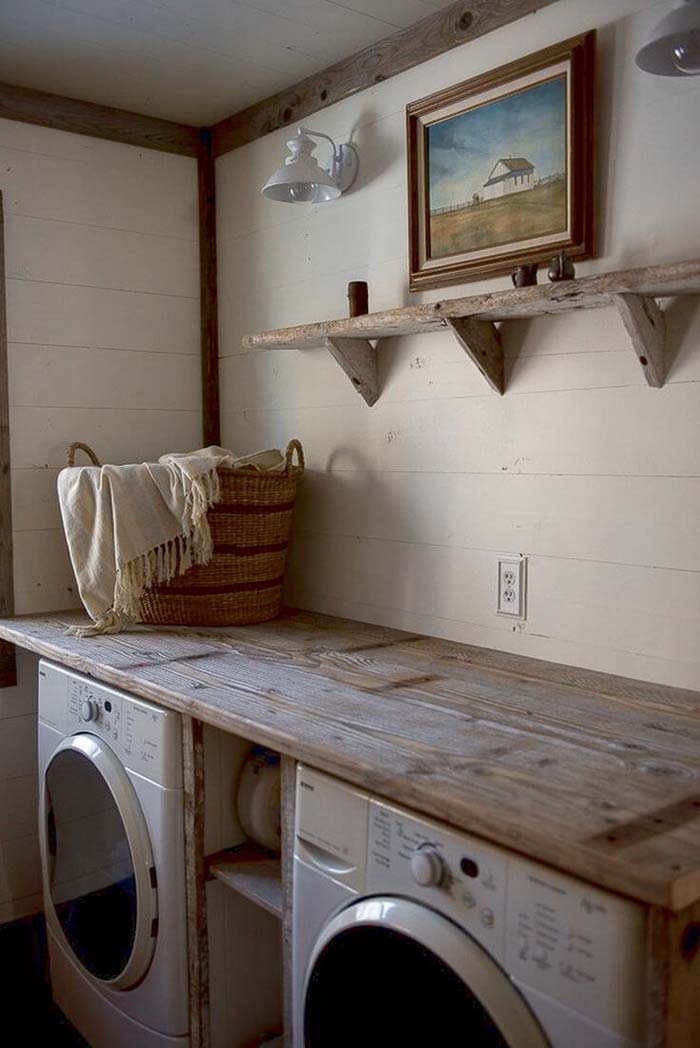 Go all-in on country style using reclaimed wood.
With a few planks, you can create a functional folding table and a matching shelf, all without breaking the bank.
A natural-fiber basket does double duty as clothing storage and a work of art.
17. Create a Stand-Out Laundry Room with Colorful Appliances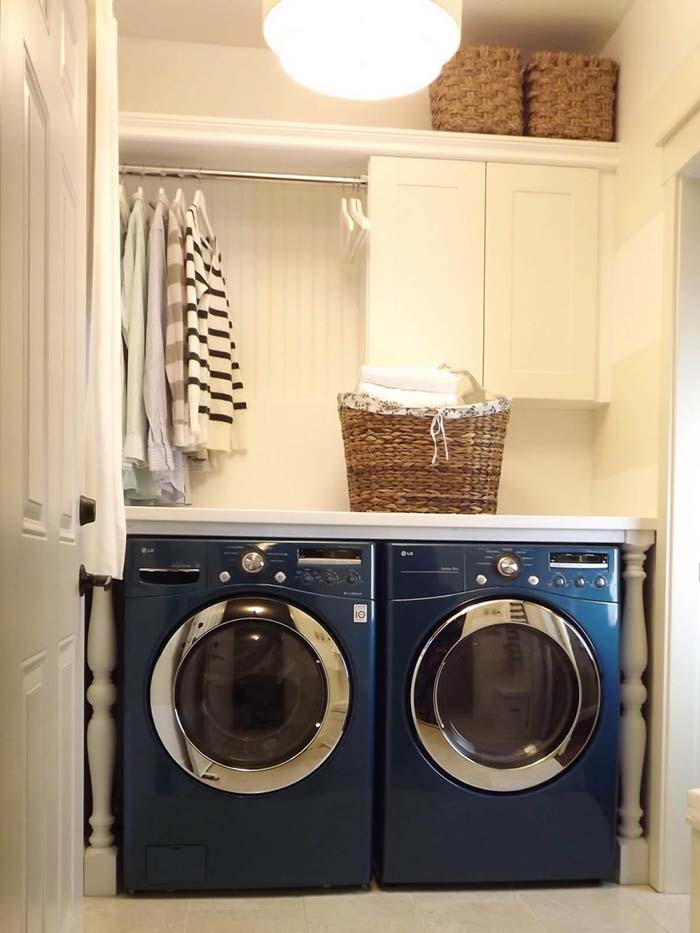 Have you been dreaming of a colorful washer and dryer?
Keep the focus on your stunning appliances with an ultra-simple laundry room design.
Here, an all-white space makes the brilliant blue pop.
18. Brighten Up Your Laundry Room with a Vibrant Color Palette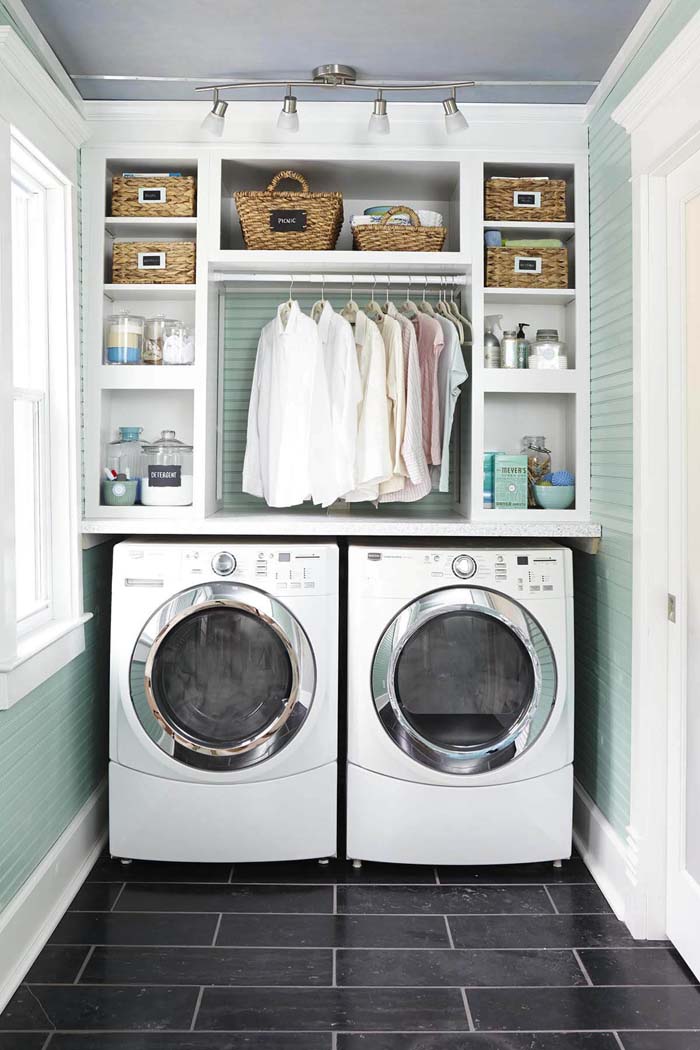 If you're lucky enough to have a window in your laundry room, make the most of the natural light with a bright, cheerful palette.
A fresh color paired with white trim creates a space that's so joyous, you might even look forward to laundry day.
19. Achieve an Old-World Aesthetic with Fabric Accents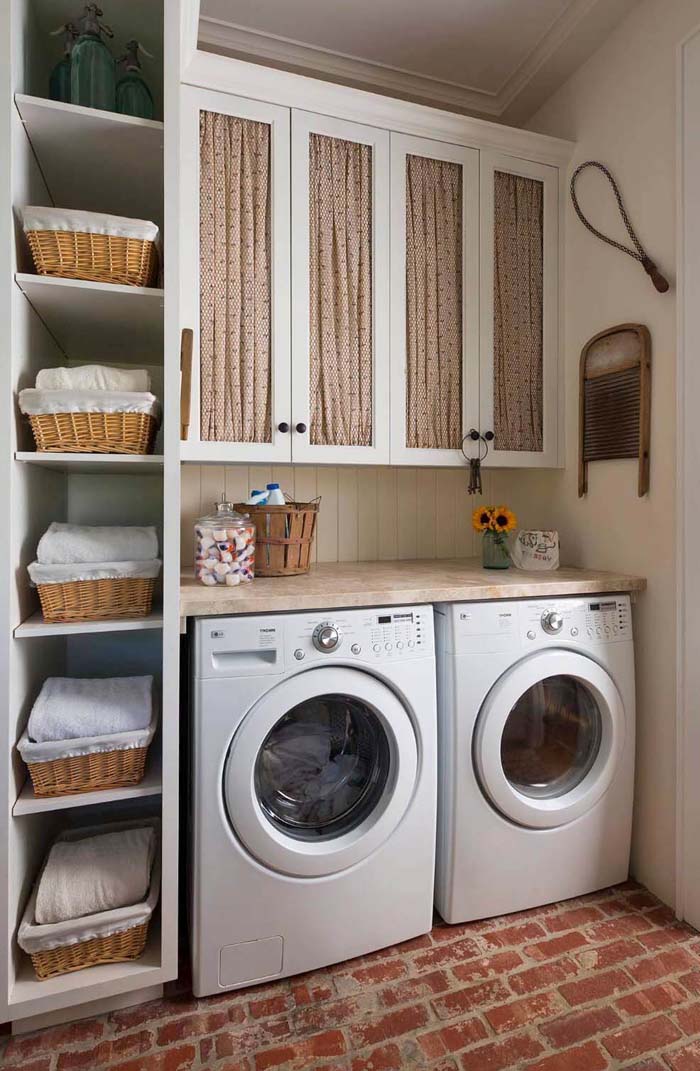 Embrace the relaxed, homey charm of old-world design in your laundry room with soft fabric accents.
Here, fabric door coverings and basket liners bring soft gathers and delicate prints to a space filled with hard surfaces.
Hang a few antique pieces to reinforce the vintage vibe.
20. French Country Laundry Room with Natural Wood Accents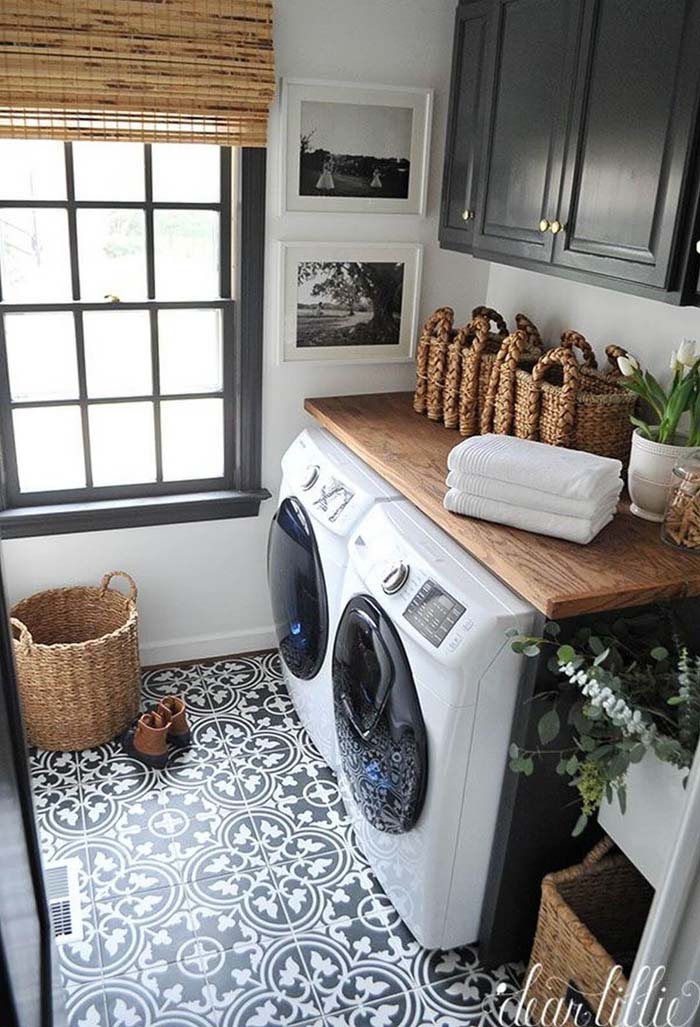 French Country style gets a crisp and contemporary update in this pretty laundry room.
The patterned floors bring in the ornate style, and the coordinating cabinet adds a cohesive vibe.
The real beauty is in the natural wood and fiber accents, which give the room a down-to-earth quality.
via Dear Lillie
21. Creative Laundry Room with Stacked Closet Washer and Dryer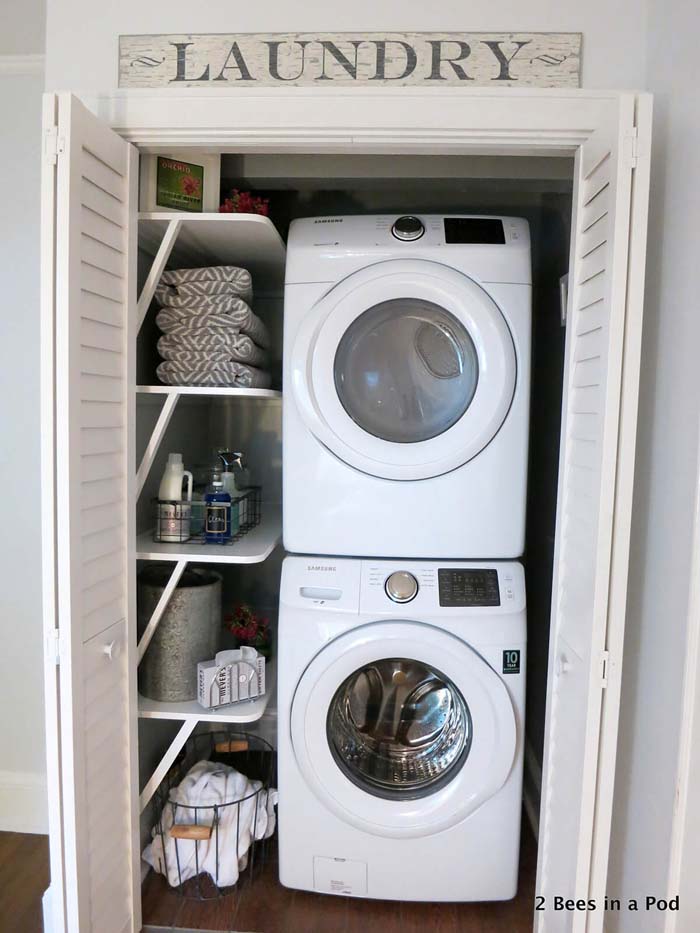 This creative laundry room is proof that any home has space for a washer and dryer.
All you need is a closet and a stacked washer and dryer.
We love how the homeowner has installed shelves that span the full depth, adding storage without impeding the function of the doors.
via 2 Bees In a Pod
22. Brighten Up a Laundry Room with a Pop of Color and Wall Art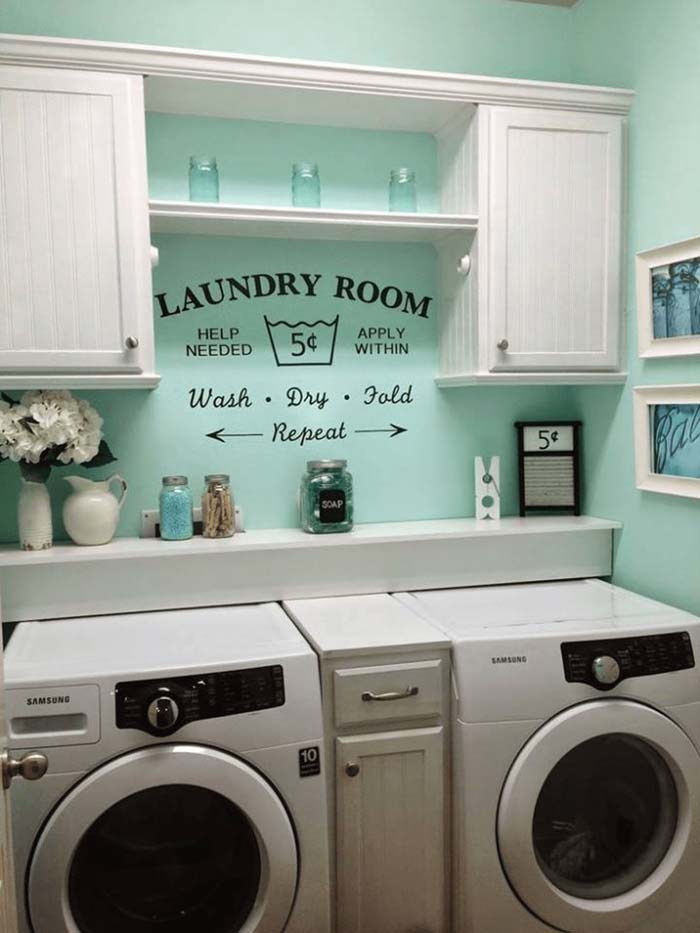 When you're working with a limited budget, a can of paint can do wonders for your laundry room.
The trick?
Pick a bright, statement-making color — it changes the mood of the space. A retro sign painted directly on the wall adds an adorable touch.
23. Create a Soft and Romantic Space with Shabby Chic Design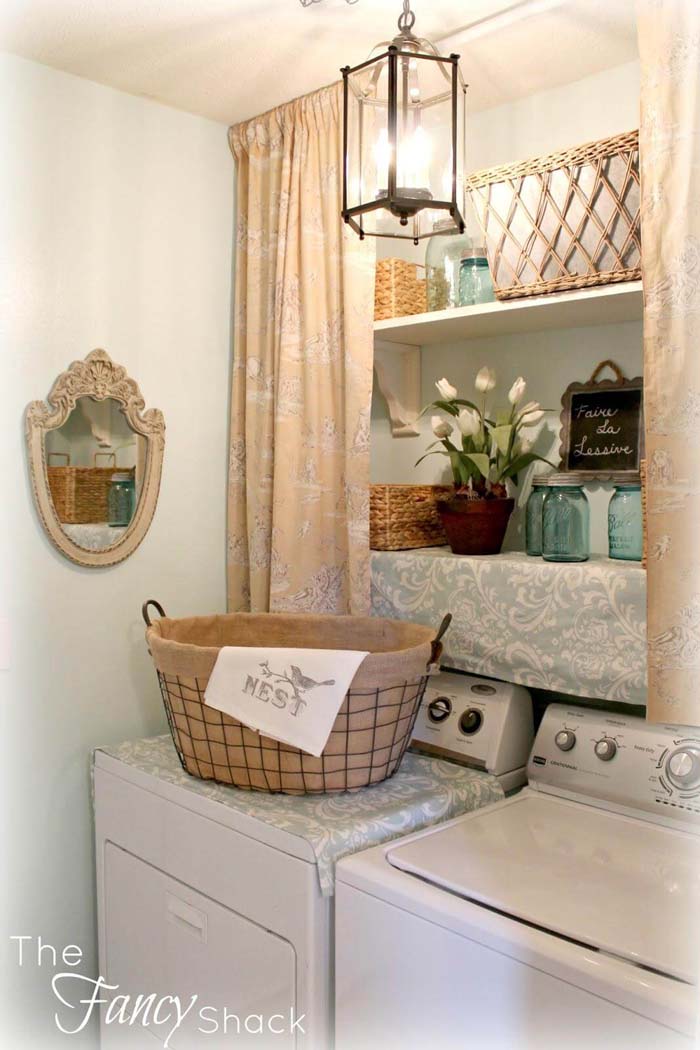 Soft and romantic, this shabby chic space soothes you from the moment you walk in the door.
This style is all about fabrics in different colors and prints.
Add in a few coordinating accent pieces and an ornate mirror to elevate your functional space into a design masterpiece.
24. Small Laundry Room Design Ideas with Rustic Charm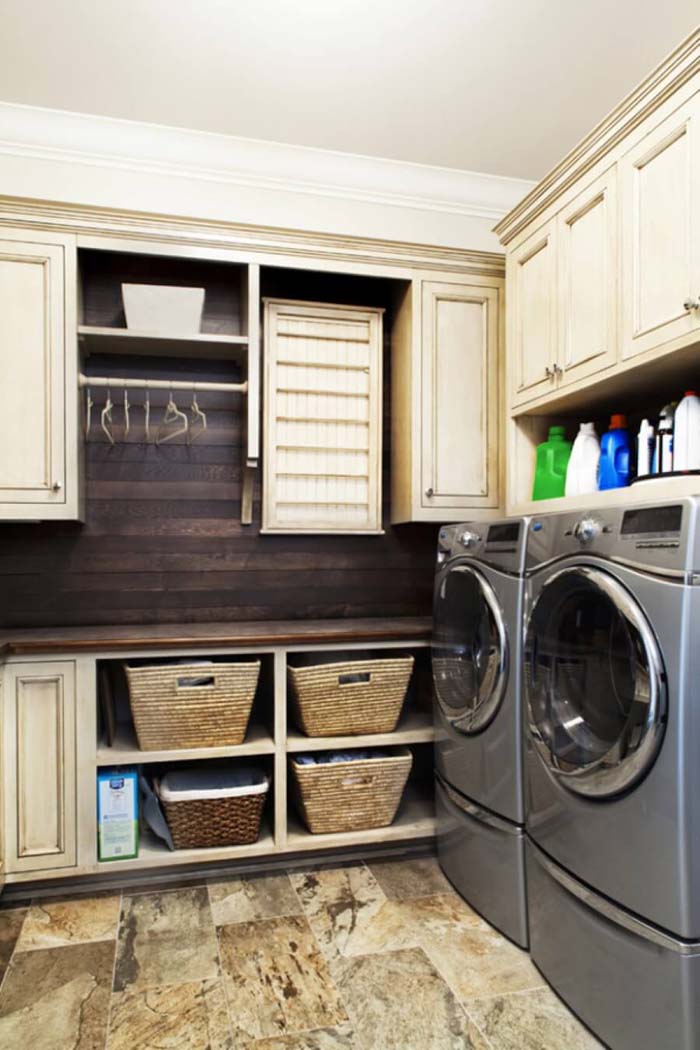 Packed with different colors, types, and finishes of wood, this small laundry room is right at home in a farmhouse or a country-chic condo.
Cream-colored cabinets with gentle distressing anchor the design, tying everything together and creating a bright vibe.
25. Laundry Room with Alluring and Futuristic Steel Backsplash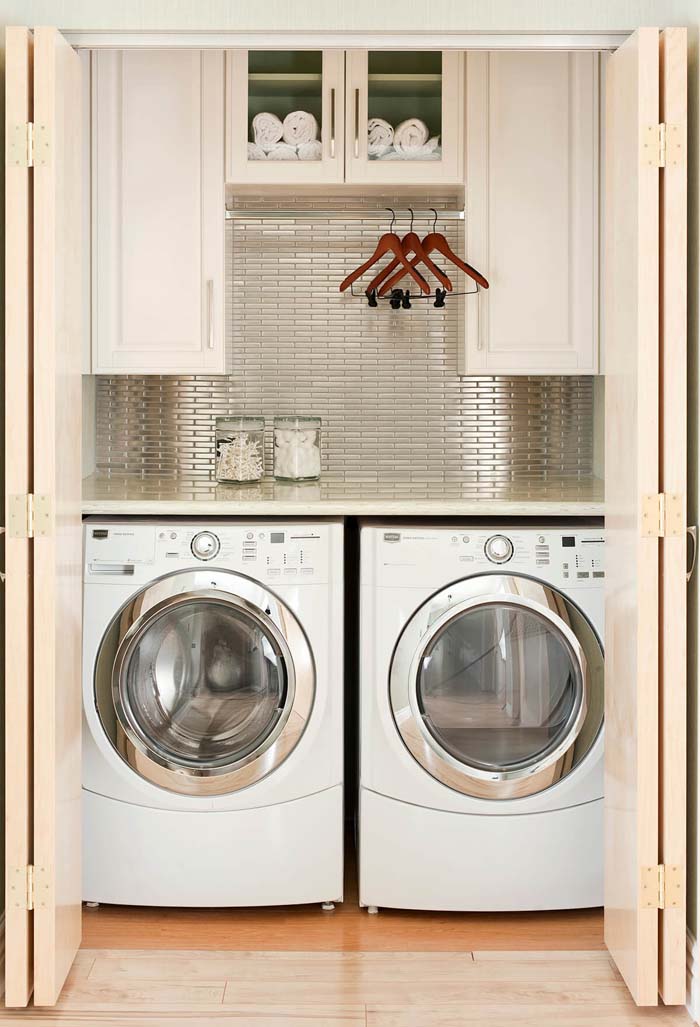 Glam and futuristic, this fun laundry room brings a bit of shine to a modern home.
Everything is simple and white, except for the spectacular steel backsplash, which sparkles in the light.
The miniature tiles bring a beguiling depth and dimension to the tiny space.
via Liz Marie
26. Create a Rustic Look with Galvanized Metal and Wood Shelves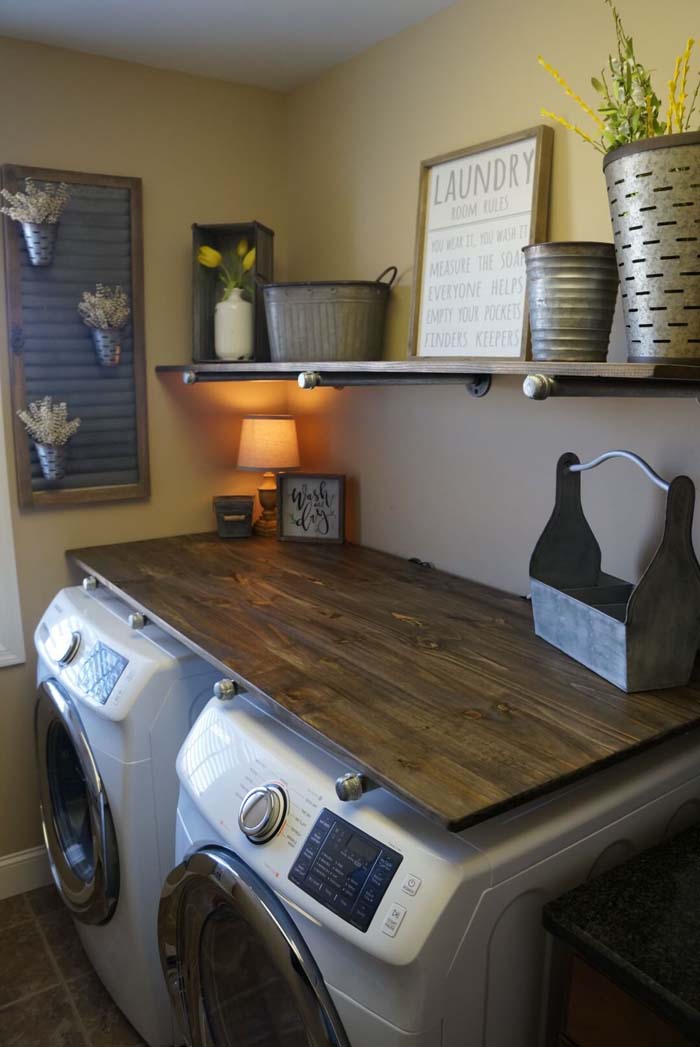 Are you working with completely empty space?
A small wall shelf and a large shelf/countertop combo make your laundry room more functional.
A selection of galvanized metal accents works with the wood to create a distinct rustic charm.
27. Versatile Subway Tile Design with Space-Saving Washer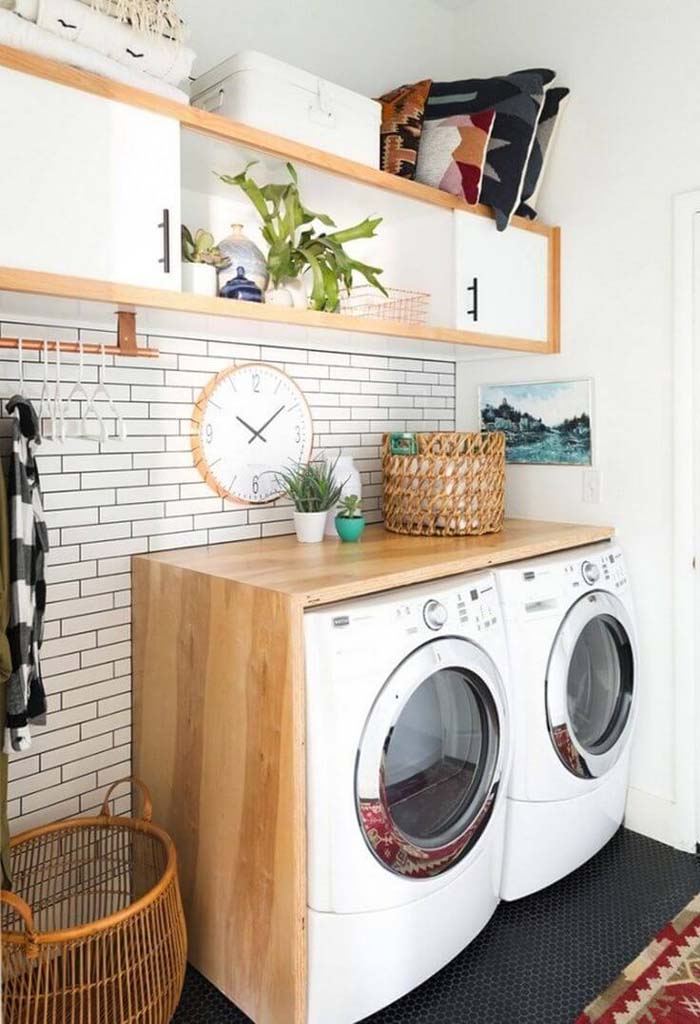 There's a reason subway tile is always in style — with its iconic shape, it looks great in any home.
We love the dark grout paired with the blonde wood in this design, which walks the line between vintage and modern for a versatile look.
The best part?
By pushing the washer and dryer to one side, you can create space for hanging delicate items right out of the wash.
via Ana White
28. Elevate Your Laundry Room with Large Subway Tiles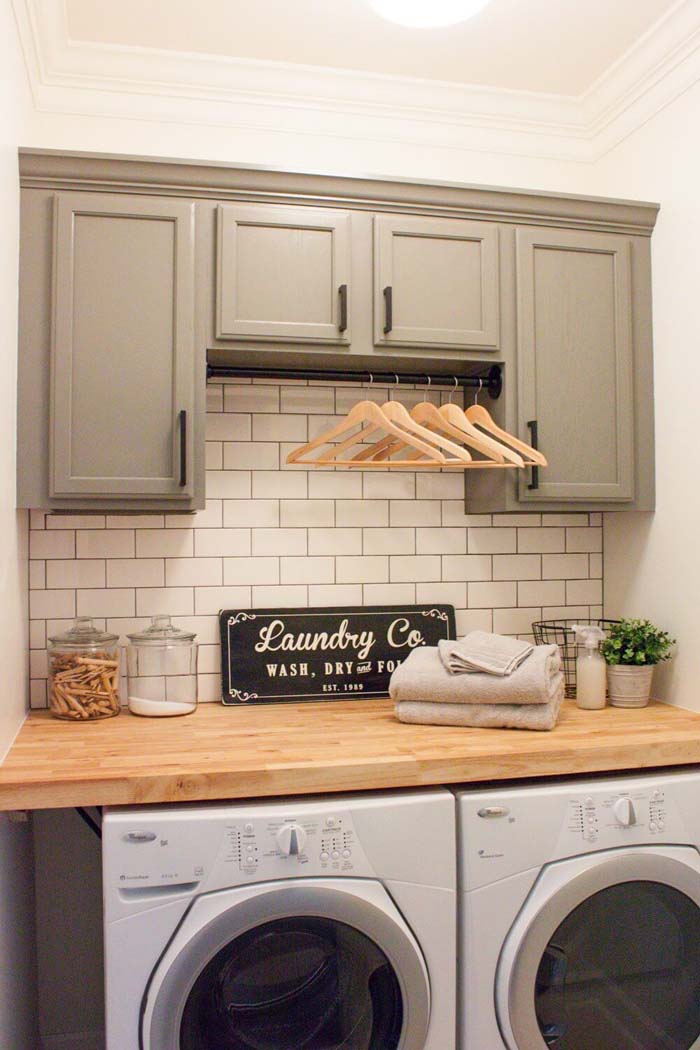 Here's another take on subway tile — this time, in a larger size.
Note how the soft cabinet color complements the warm stain of the wood to create an elegant and inviting space to work.
Lean a laundry sign against the wall for a subtle vintage edge.