Vintage style has become more and more popular these days. It is so liked that has started entering not only the interior but also makes huge steps into the exterior.
Adding vintage elements to the backyard not only adds retro charm to the ambiance, it makes it unique. The vintage decoration concept has become that trendy because of its undeniable ability to make the atmosphere cozier, welcoming and relaxing.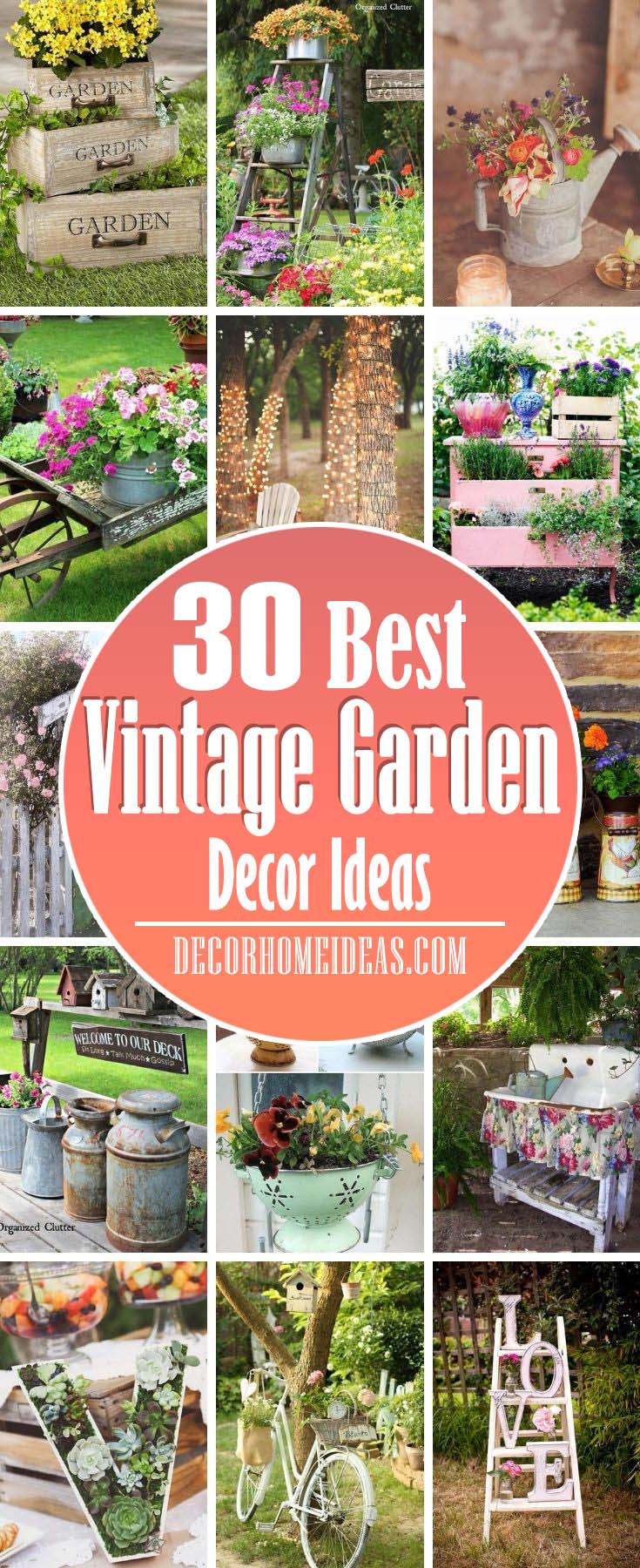 The ideas for garden decoration with a vintage effect are from us!
There are no limits about what you can decorate your garden with as long as it is old, artistic and authentic. Thrift shop addicts, rejoice! It is time to go and find old containers, ladders, watering cans, wheels, chairs!
For those of you who don't have time to find a special vintage element for your backyard, you will find inspiration for how to transform regular items and make them look aged and authentic.
1. Antique Chair Planter and Vintage Plates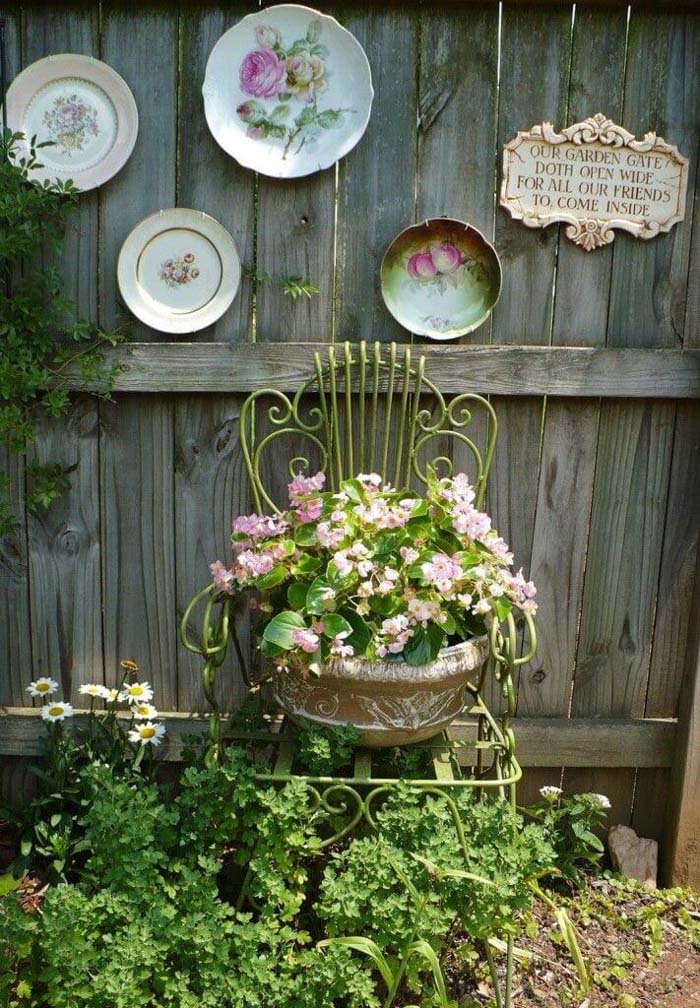 Old metal chairs from your grandma's home are precious as they will welcome the vintage spirit into your garden.
Repaint if needed and use it as a flower pot stand. To back up your concept, surround it with antique plates hung on the fence or on a wall.
2. Antique Doorknob Flower Display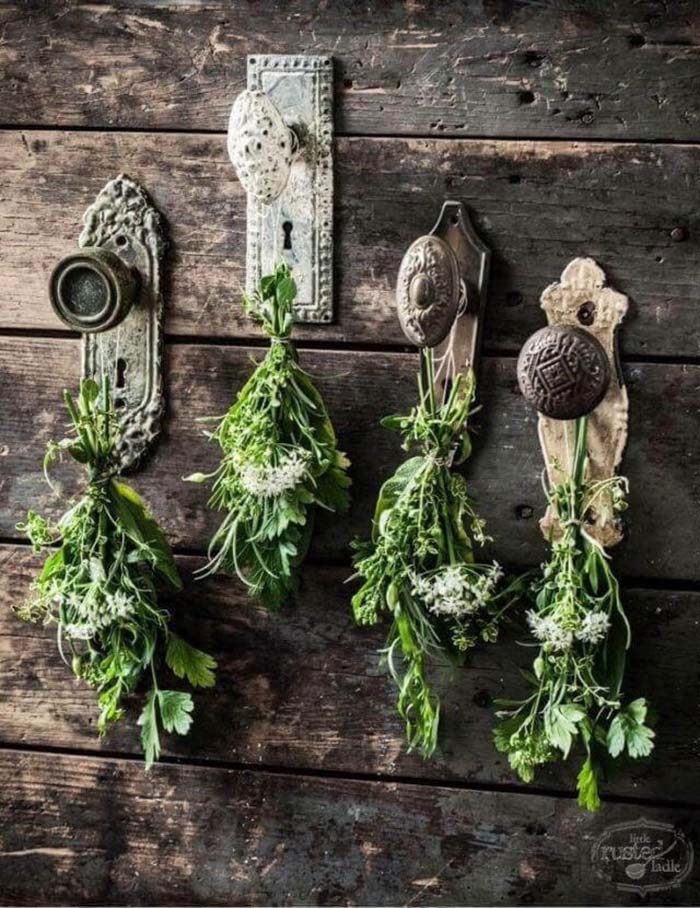 Old locks and doorknob are so beautiful! The fine ornaments are rarely seen in contemporary products.
Arranging them in a group on the wall or on the fence will add charm and vintage beauty. You can use them also to hang fresh bouquets or to dry herbs.
3. Antique Dress Form Garden Decoration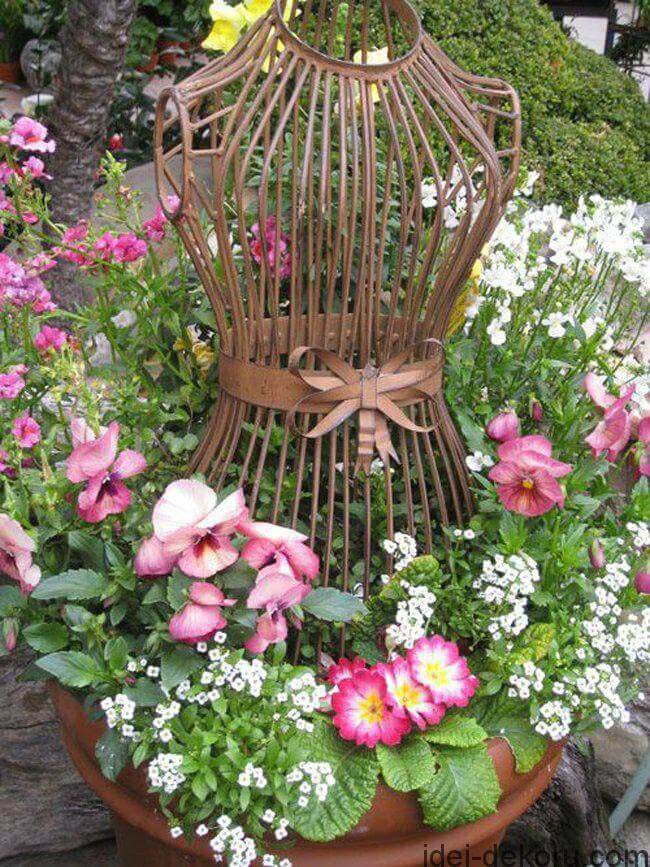 This original dress form is a vintage statement for the beauty and importance of women.
Of course, it has to be complemented by something gentle and delicate as the blooming flowers.
via Eden Makers Blog
4. Antique Metal Bucket Hanging Basket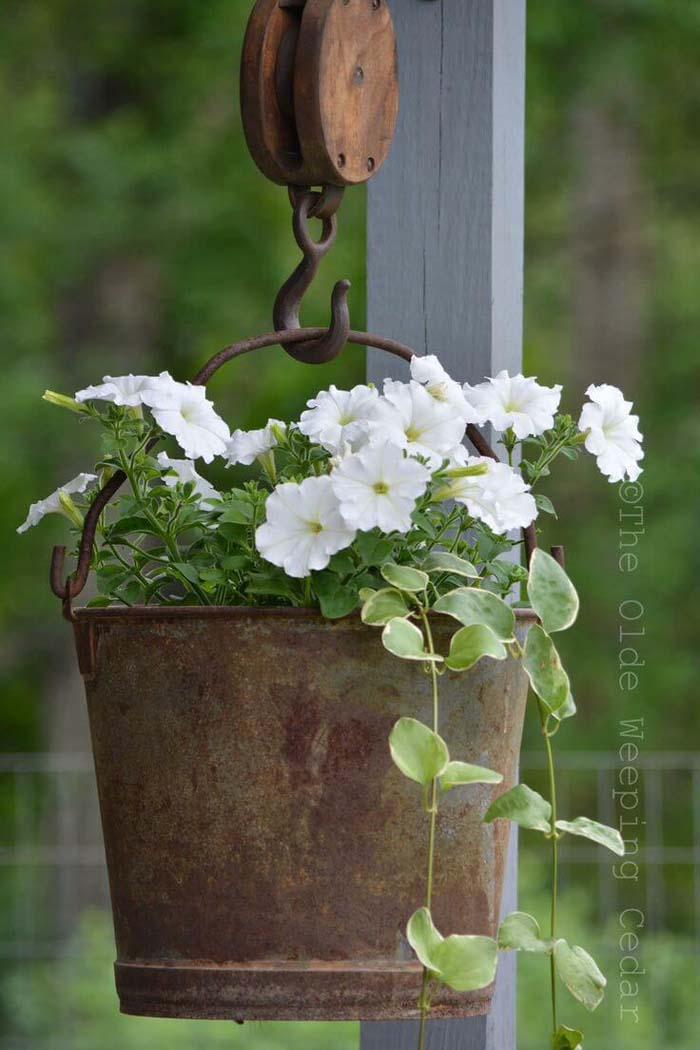 The rustier and the older the containers you are going to use as a garden decoration are, the better vintage effect you will achieve.
The patina print reveals their age and makes them a more valuable possession. They are perfect for a flower container or only as a hanging décor accent.
5. Antique Teacup Vintage Garden Decoration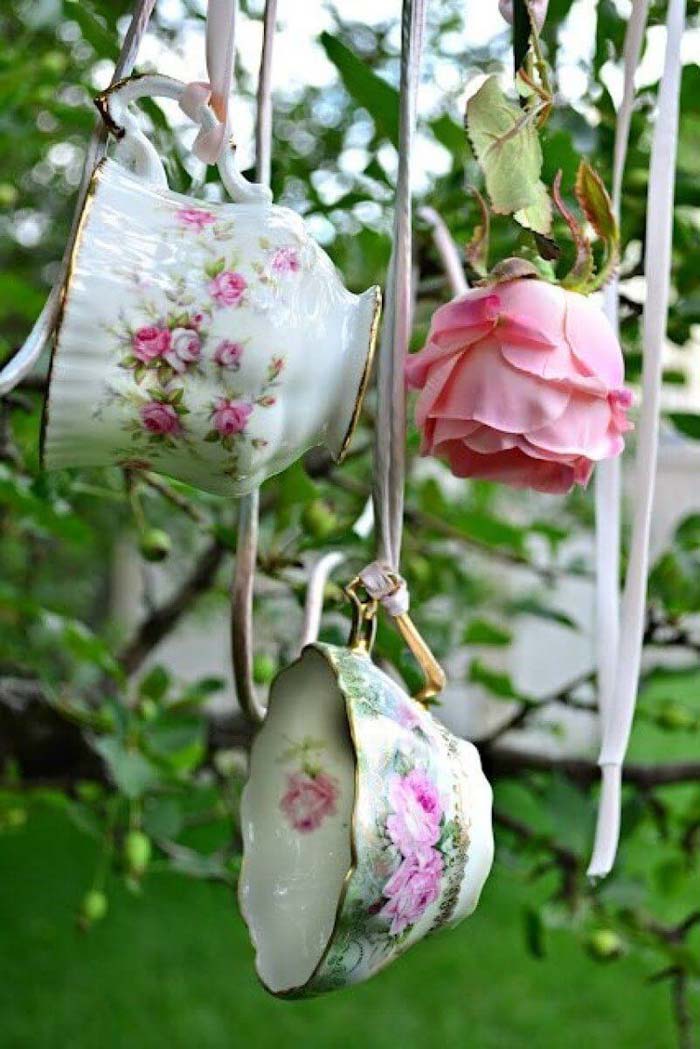 Hang old teacups onto a tree in the backyard. Use twine or satin cord.
If you want to make them more practical, use as bird feeders.
6. Antique Wagon Wheel Flower Display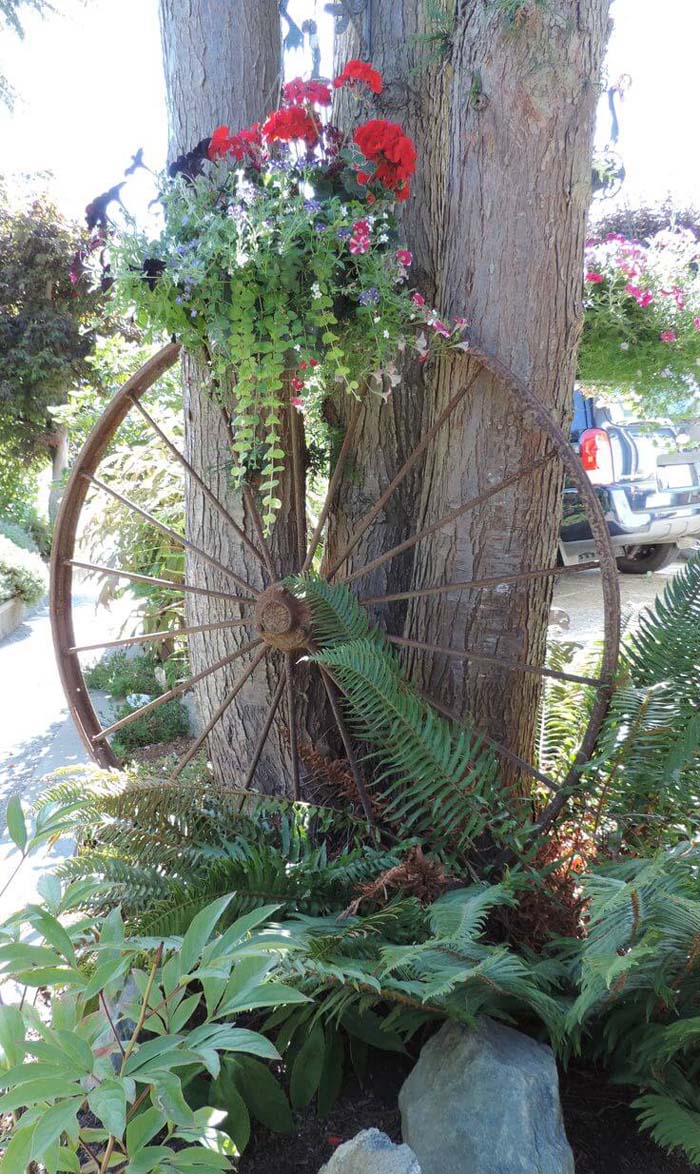 An old bicycle wheel is an untraditional and charming garden decoration.
Leave it as it is- weathered, rusty and deformed. It should carry the patina of old times.
7. Cute and Easy DIY Colander Planter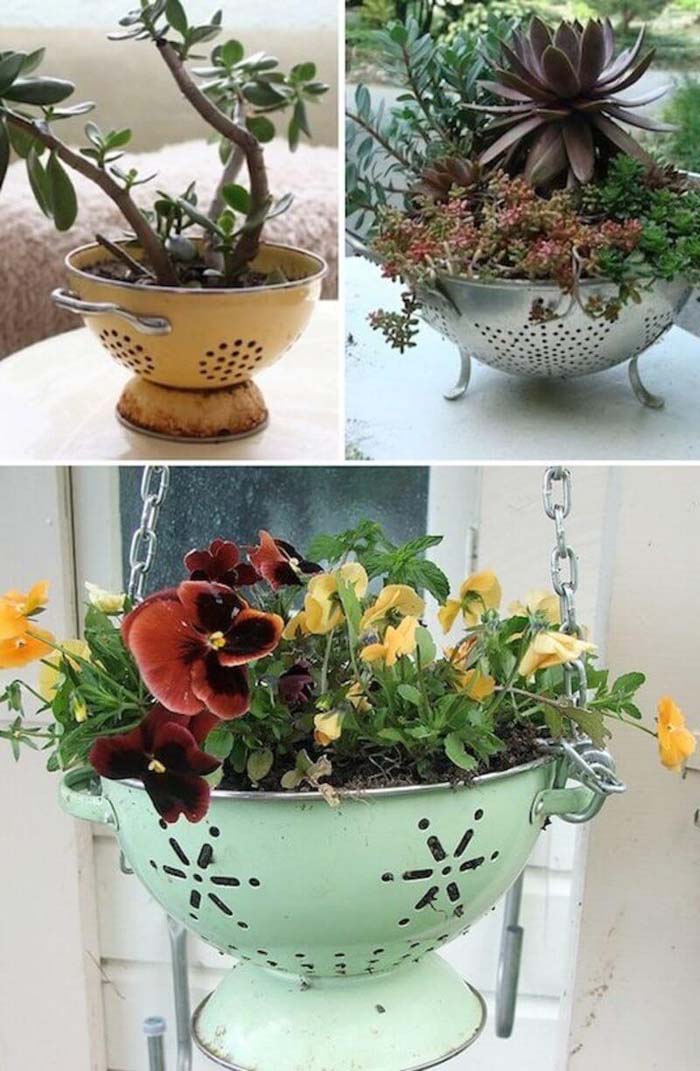 An easy and affordable way to welcome past times into your present is to use colanders as garden flower pots.
The enamel coating of the colanders and their shape reminds of the calm farmhouse living.
8. Easy DIY Mason Jar Lanterns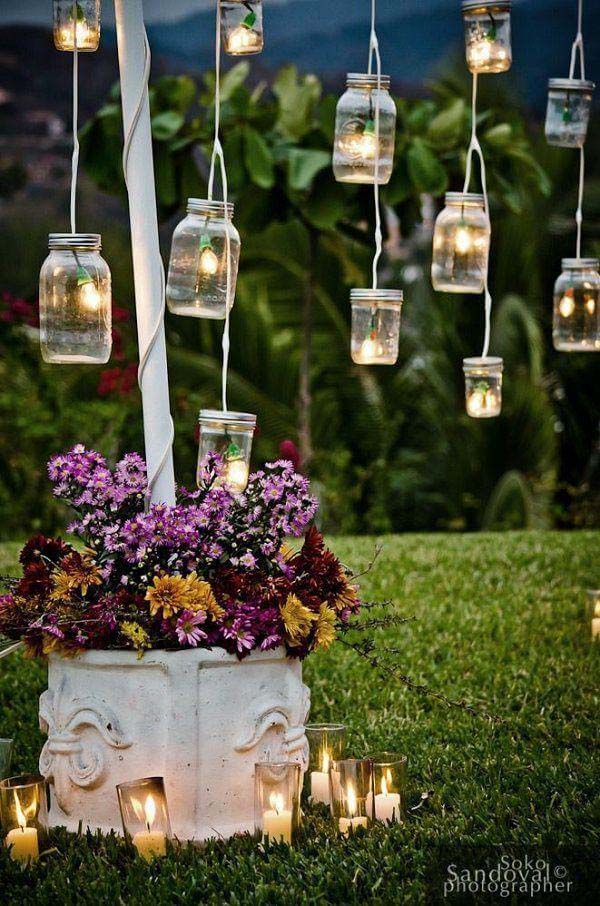 The vintage effect can be achieved even through outdoor illumination.
When you see a jar, you will instantly remember how your grandma used to make jam. Inspired by these memories, use mason jars to decorate a string light.
via Wedd Book
9. Galvanized Metal Bucket Flower Planter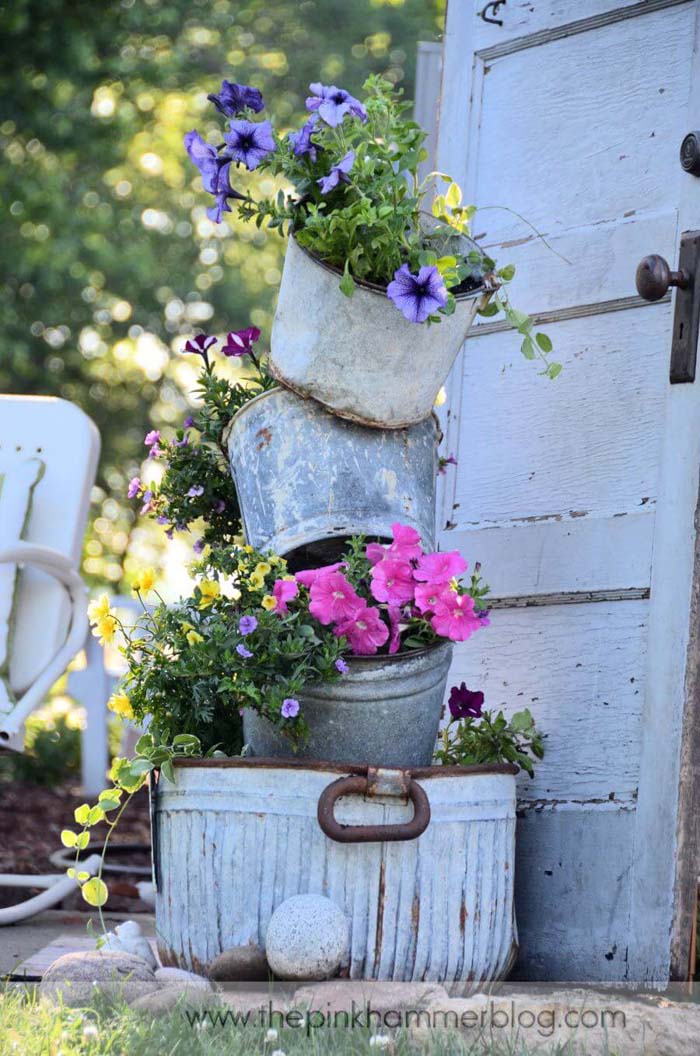 Make a "waterfall" from galvanized metal buckets.
You can upcycle old leaking buckets as holes will actually be needed for proper drainage of the planted flowers.
via The Pink Hammer
10. Galvanized Metal Hanging Basket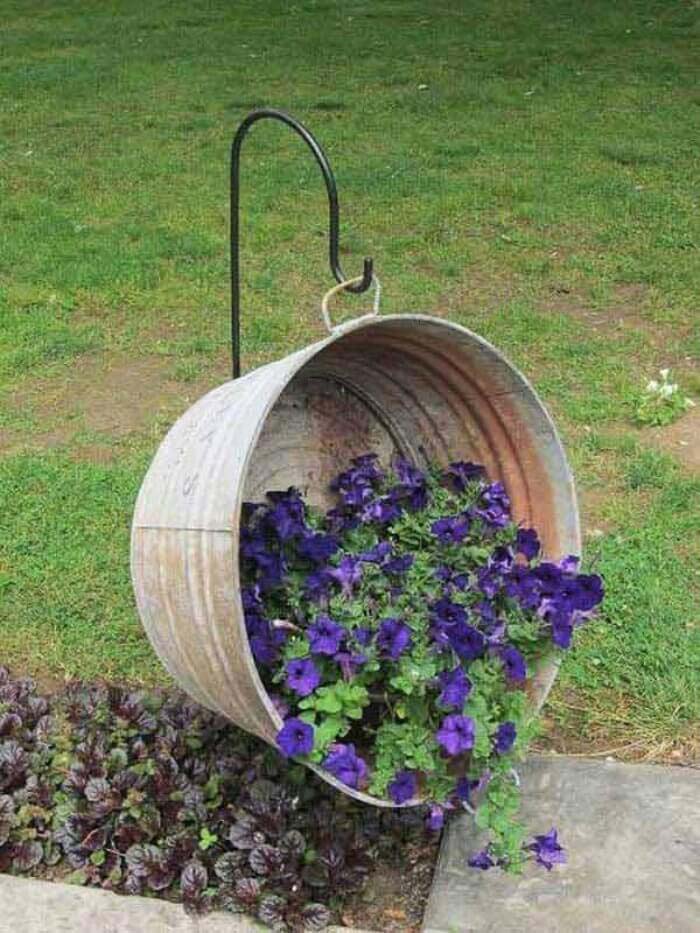 Be creative and hang an old and rusty bucket on a hook.
Plant suitable cascading flowers to suggest that they are pouring out from the bucket.
11. Galvanized Metal Water Trough Planter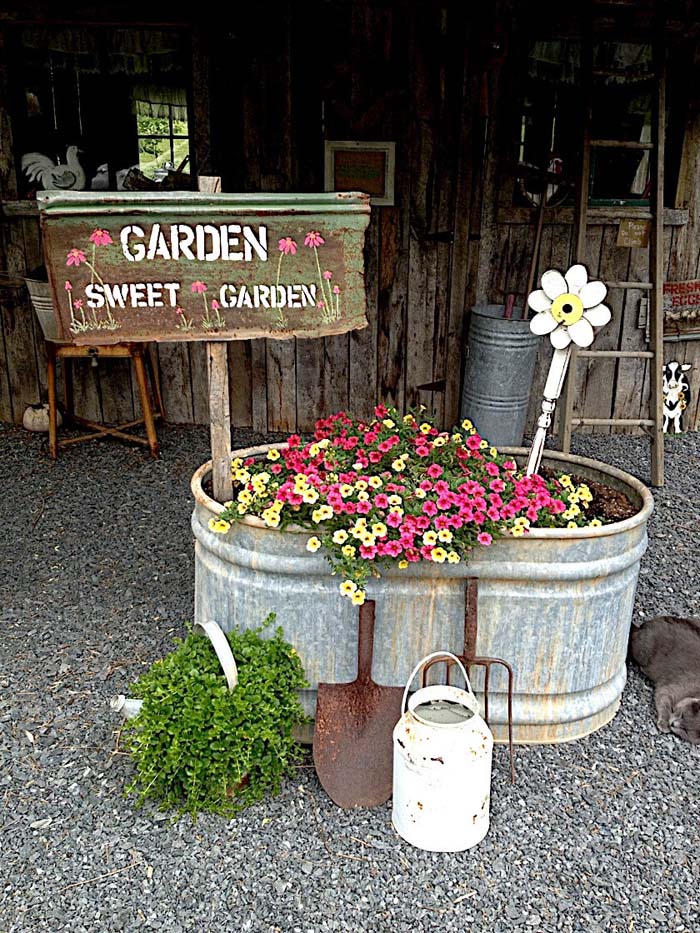 Such a vintage arrangement will be appreciated as a garden focal point. Collect damaged or useless tools and containers.
Plant flowers into them to bring them into a new life and new decorative application.
12. Garden Display Table with Vintage Metal Touches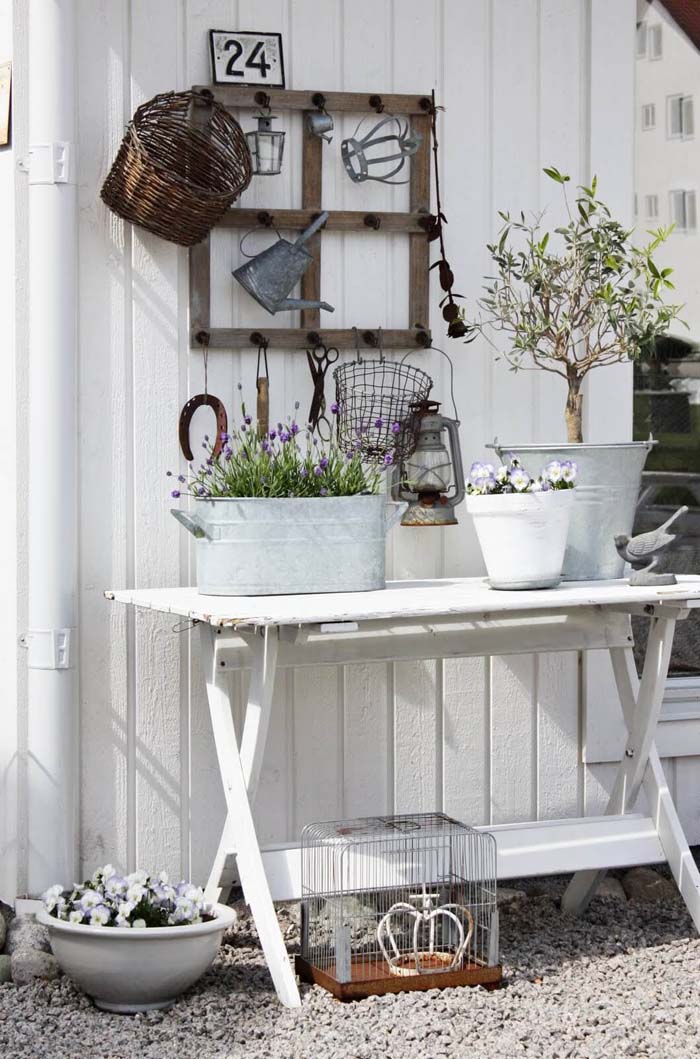 Incorporate old and antique elements from inside the house into the garden and make a vintage nook.
Anything from wood and metal which originates from the past times and has a distressed and weathered look is an ideal addition to such nook.
13. Love Ladder and Vase Garden Display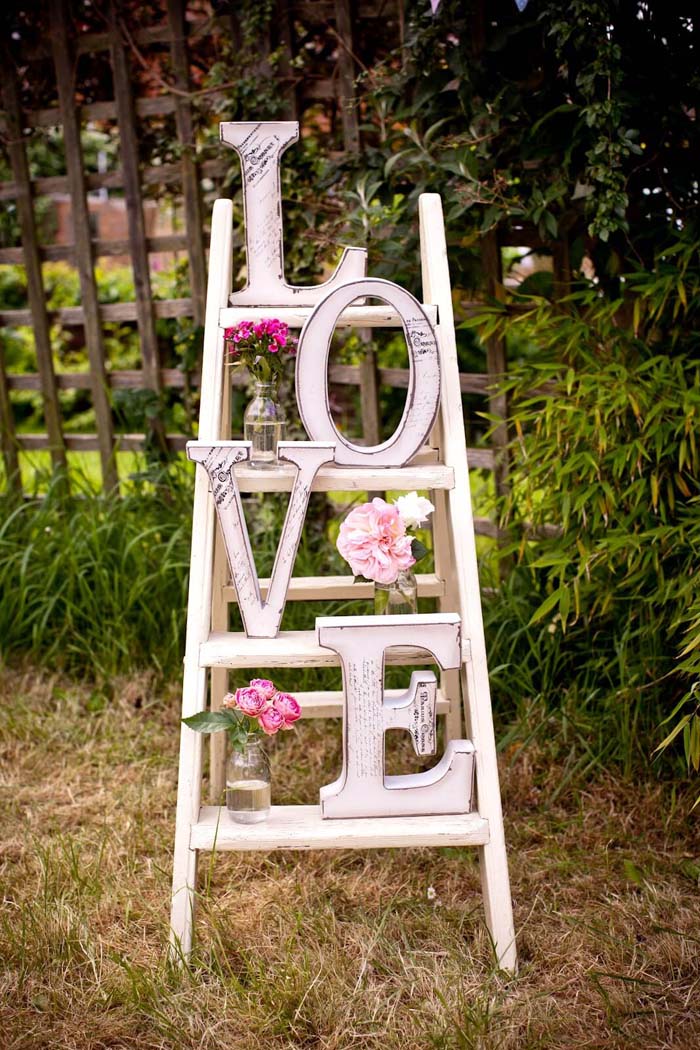 If you don't have any antiques at home, you can change the application and appearance of existing items and turn them into vintage garden decoration.
Distressing of paint, decoupage, white-wash are suitable techniques to achieve that. This is how a brand new wooden ladder and a LOVE wooden inscription have quickly acquired the vintage charm.
14. DIY Mason Jar Outdoor Lanterns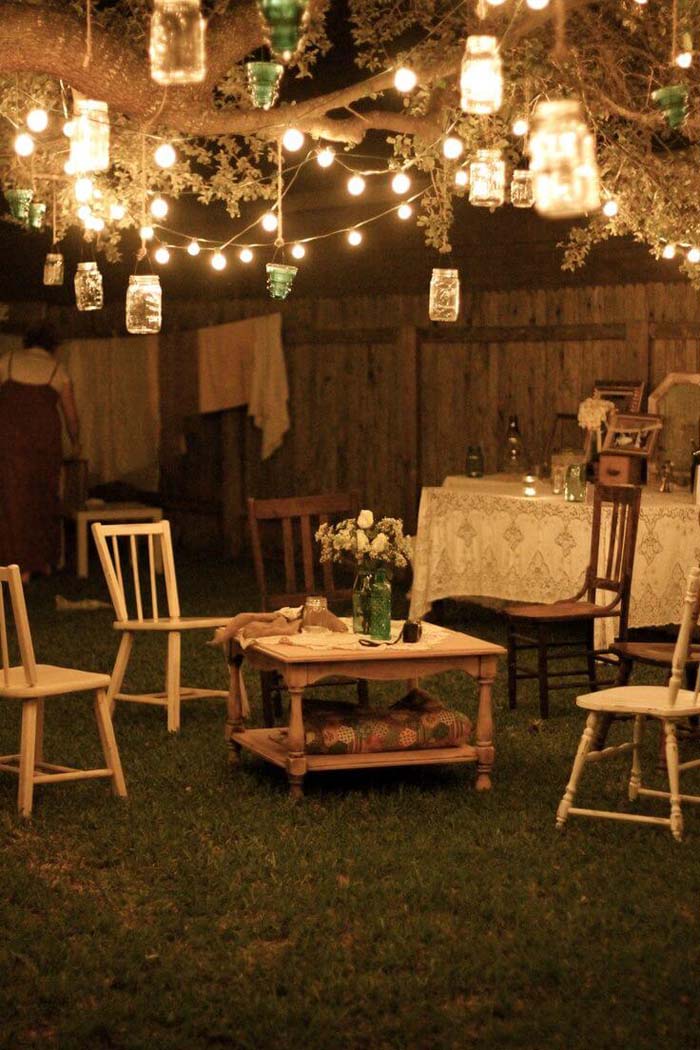 Put the bulbs of string lights above your garden sitting area in mason jars.
This easy and affordable decoration idea will add a gentle vintage effect to the outdoors.
15. Mini Fairy Garden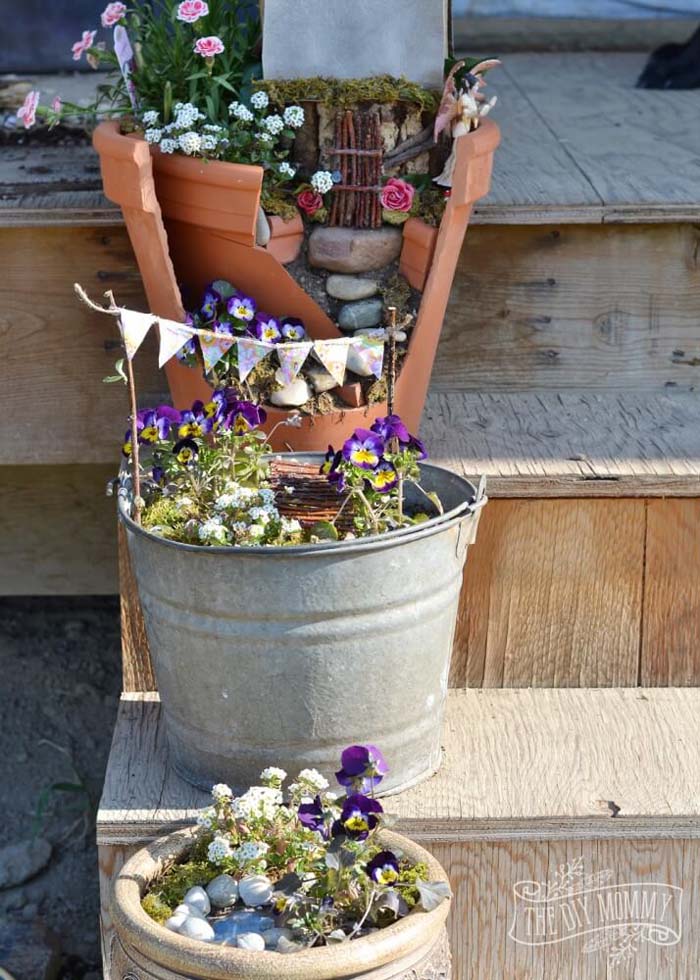 Make a fairy garden into a galvanized bucket.
Vintage containers combine well with terra cotta and clay pots.
via The DIY Mommy
16. Pretty Monogram Succulent Planter Decoration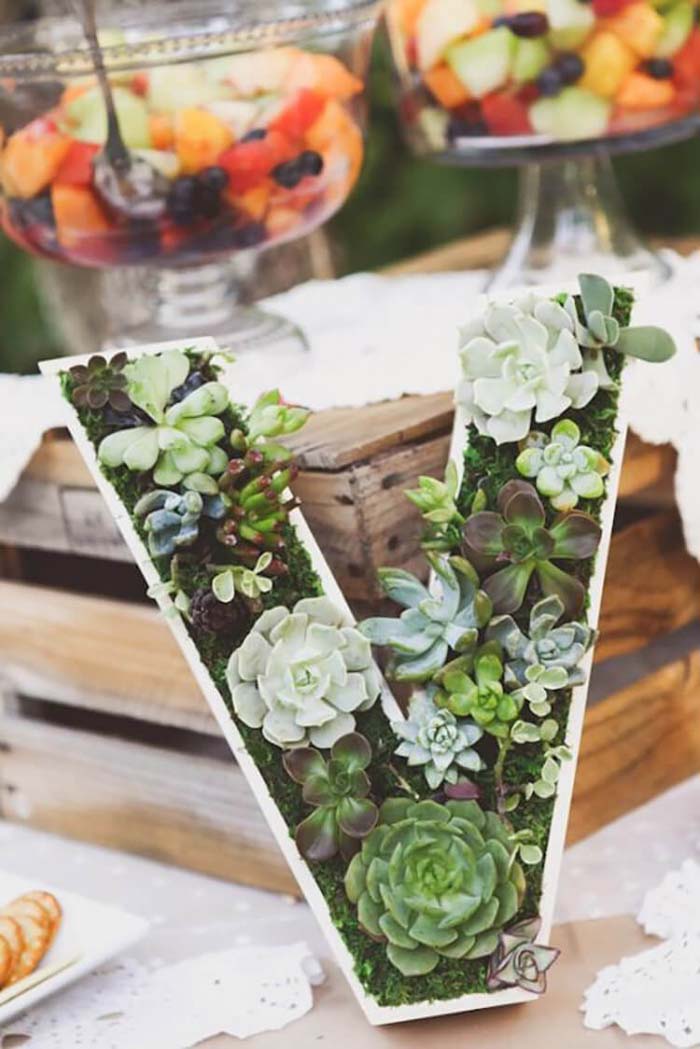 The smaller in size decorations are usually gentler and more romantic.
For those that also love the personalized statement of decoration, you will like this monogrammed planter.
17. Repurposed Sewing Machine Flower Box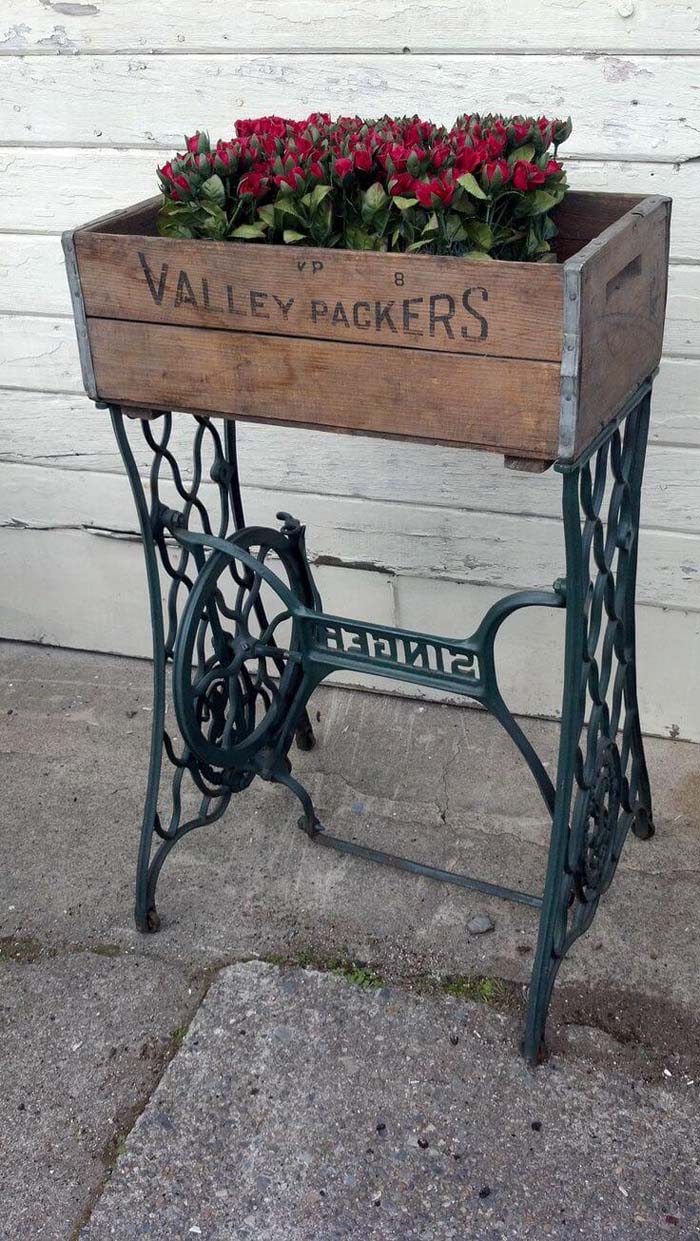 Use the beautiful ornaments of the wrought iron legs of an old sewing machine as an original flower stand.
The top of the machine is replaced with a wooden planter made of crates.
18. Rustic Decorated Metal Pitcher Planters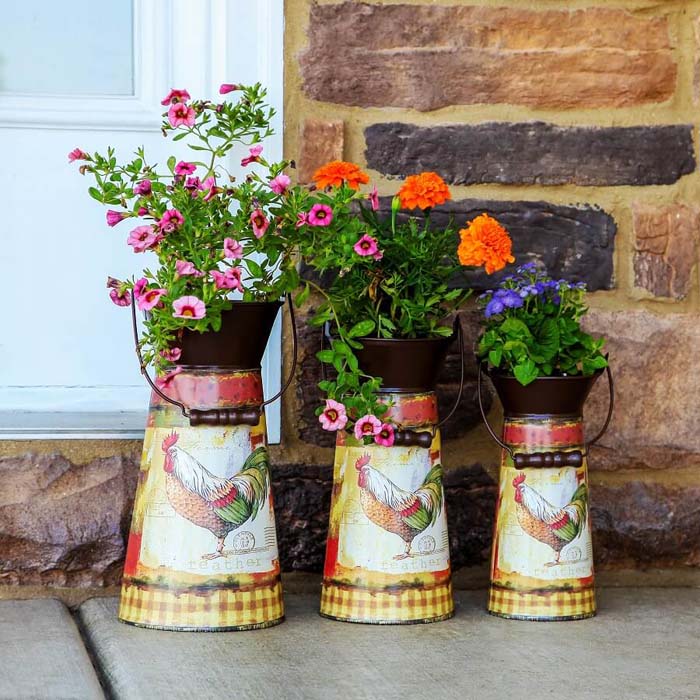 Metal pitchers also work as flower planters. They don't cost much and can be found at the thrift shops.
If you are not happy with their outer appearance, you can use the decoupage technique and apply a napkin or craft paper with a farmhouse motif.
19. Rustic Metal Watering Can Planter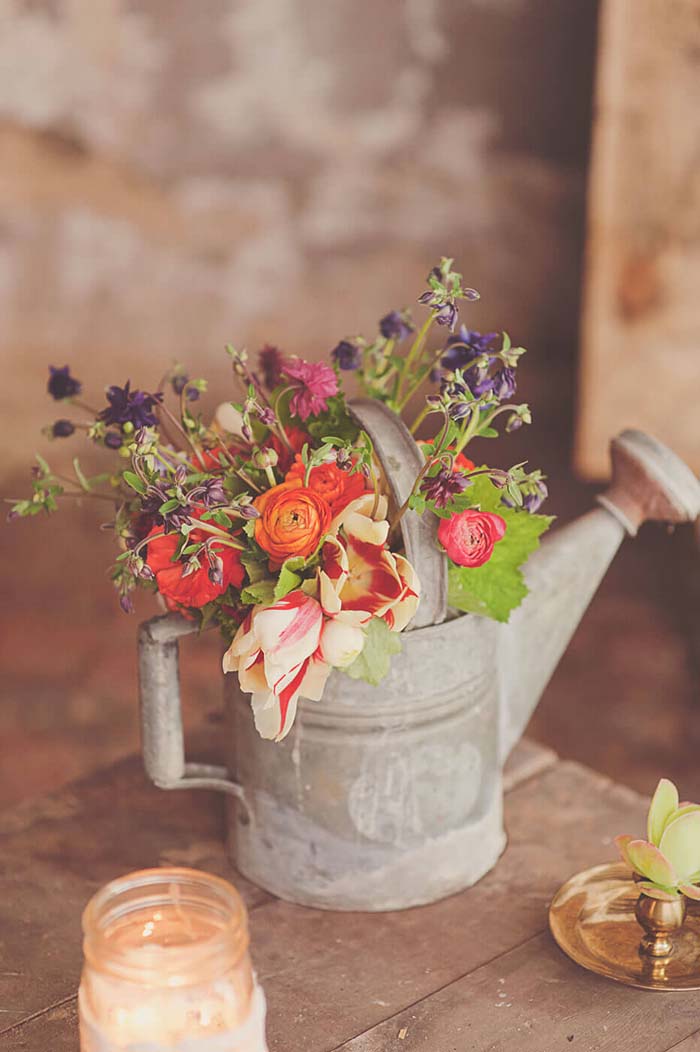 Change the application of the galvanized watering can and use it as a vase or planter.
It is very durable and also possesses a lot of vintage beauty.
20. Soup Ladle Succulent Planter Display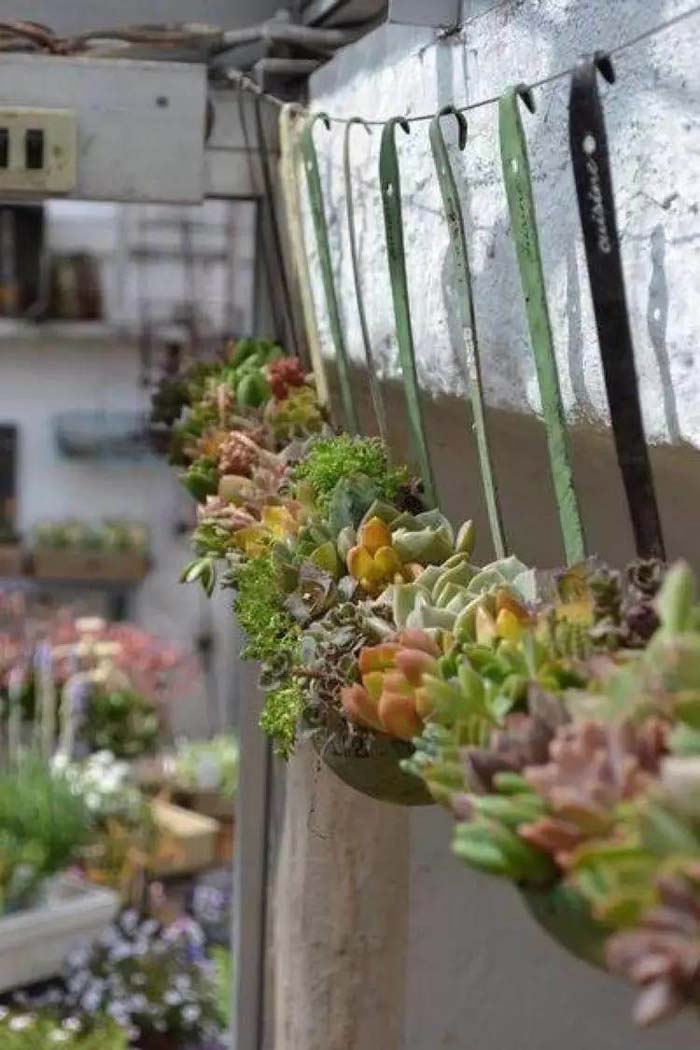 If you are looking for a vertical vintage planter, here is a fun and fascinating idea for you.
Place antique soup ladles side by side on a string tied to your pergola posts or to the fence. Succulents are very popular and of a perfect size for the small space provided.
via Melted Bottle
21. String Lights Wrapped Around Trees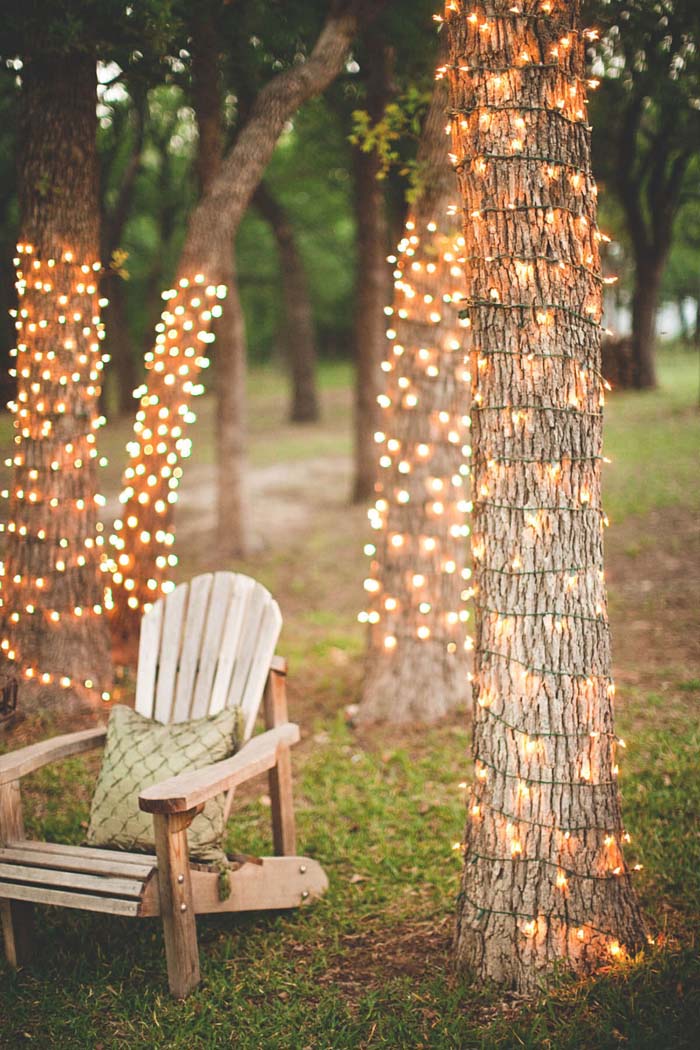 Vintage style is always related to the past times, the countryside, the quiet farmhouse life.
You can quickly and almost for free add that relaxing vibe to your outdoors with fairy lights.
Wrap them around trees, posts or any supporting structure in your yard.
via Steven Michael
22. Teapot and Teacup Decorative Garden Stakes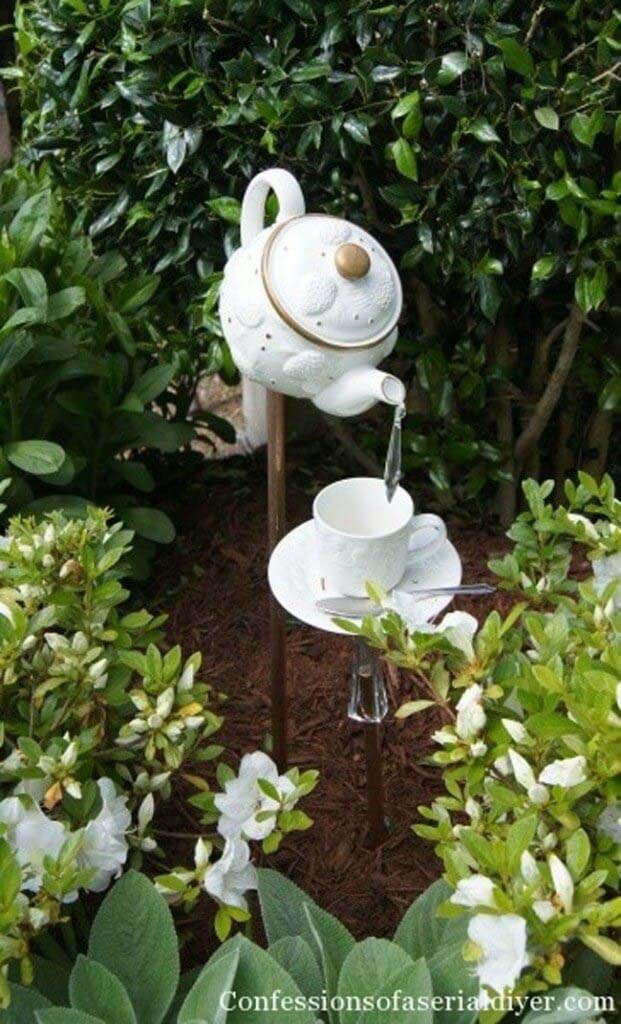 Have you ever thought that the old tea set can be a garden decoration? Well, it can and it does it very charmingly!
Since it does not belong to the atmosphere, it will easily attract attention.
Tie a crystal to the teapot to imitate leaking from the spout.
via Confession of a Serial DIY-er
23. Upcycled Antique Sink Garden Decoration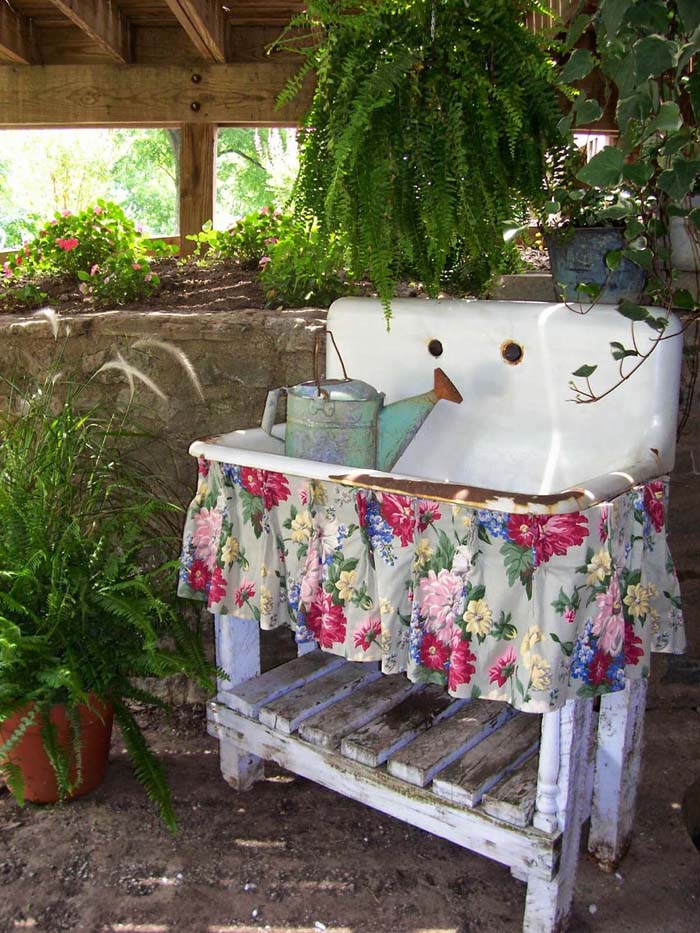 An old sink becomes an attractive vintage focal point in the garden.
Don't change anything to it, you can just add a few other vintage motifs to increase its effect.
24. Upcycled Vintage Desk Planter Decoration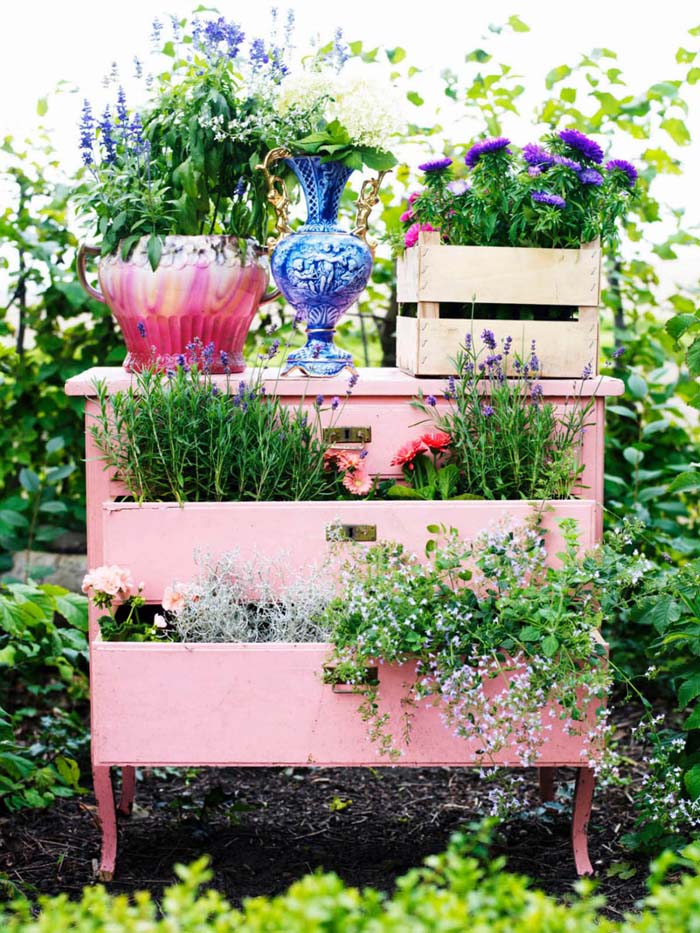 We have seen old furniture used as decor in the interior. It will have the same vintage effect if used in the garden.
Old drawers and chairs are very suitable for holding plants and flower pots.
via HGTV
25. Upcycled Vintage Door Garden Gate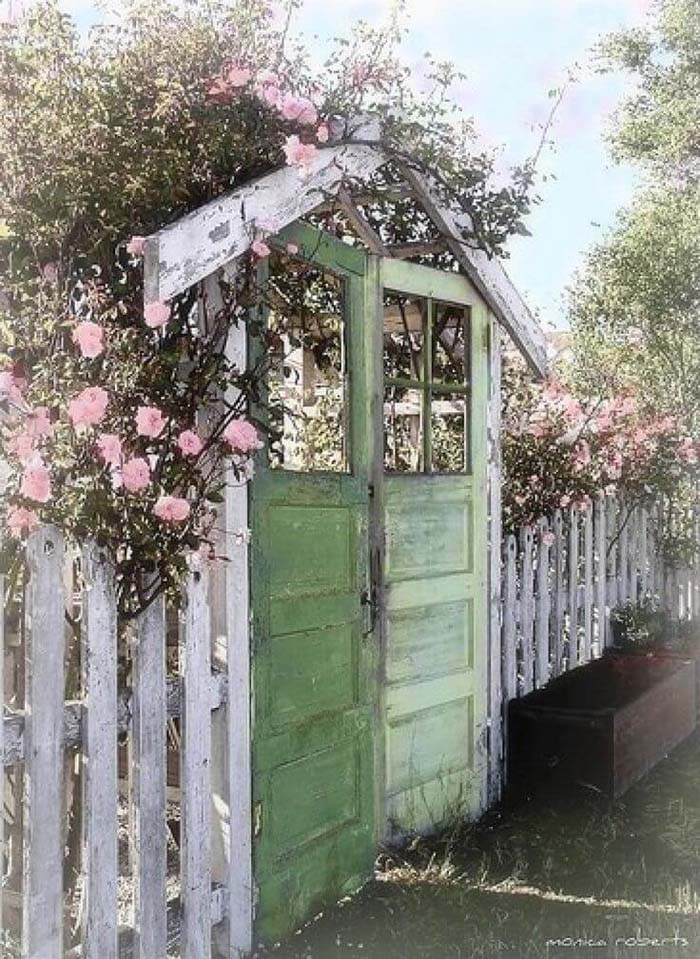 When you want to make a dramatic statement for your vintage style preferences, make it from the entrance. Use old wooden gates instead of the modern plain iron doors.
For a more aged look, leave them weathered or repaint in a color you like and distress some areas. Don't forget to make an accent with vintage doorknobs.
via Fence City
26. Vintage Birdhouse and Milk Can Decor Idea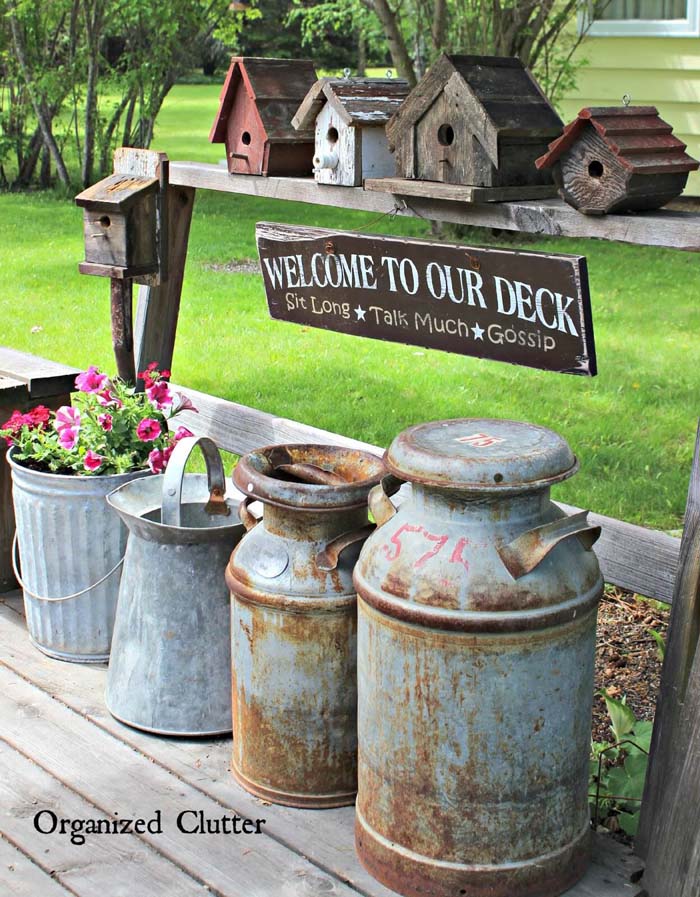 Enjoy a unique vintage decor in your garden with a milk can and old birdhouses arrangement.
Dedicate a special place for them to inspire with their antique look.
27. Vintage Coffee Pot Planters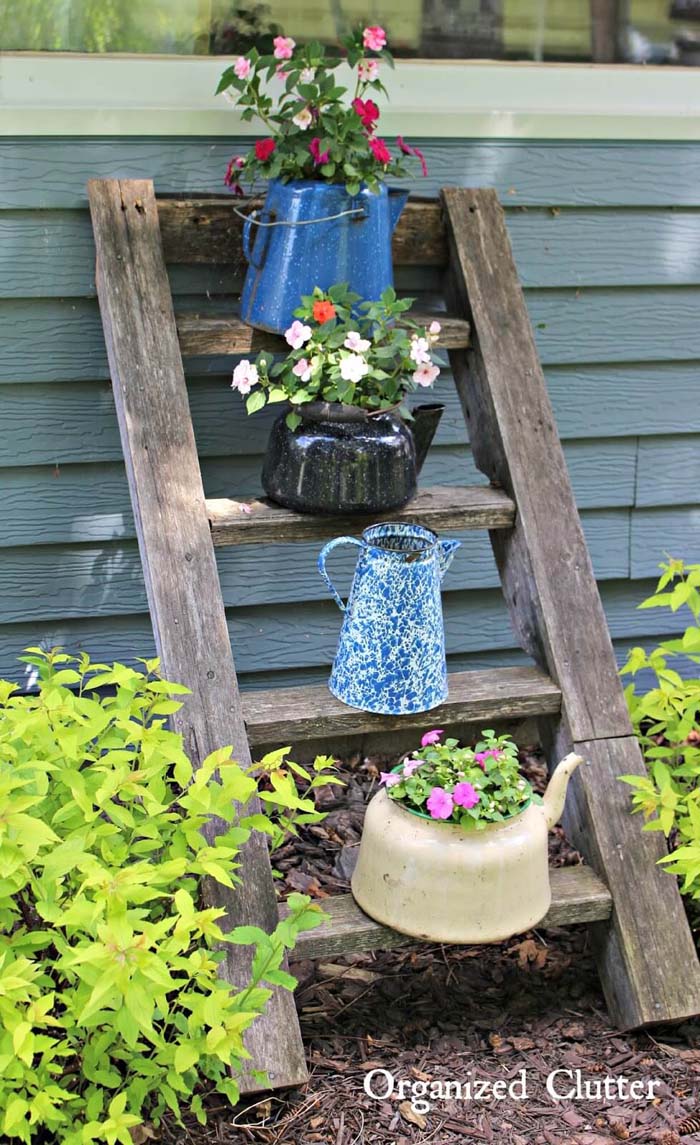 Use old tea and coffee pots as flower planters.
They will have a greater vintage impact if grouped or in tiered alignment on an old ladder.
28. Vintage Garden Décor with Flowers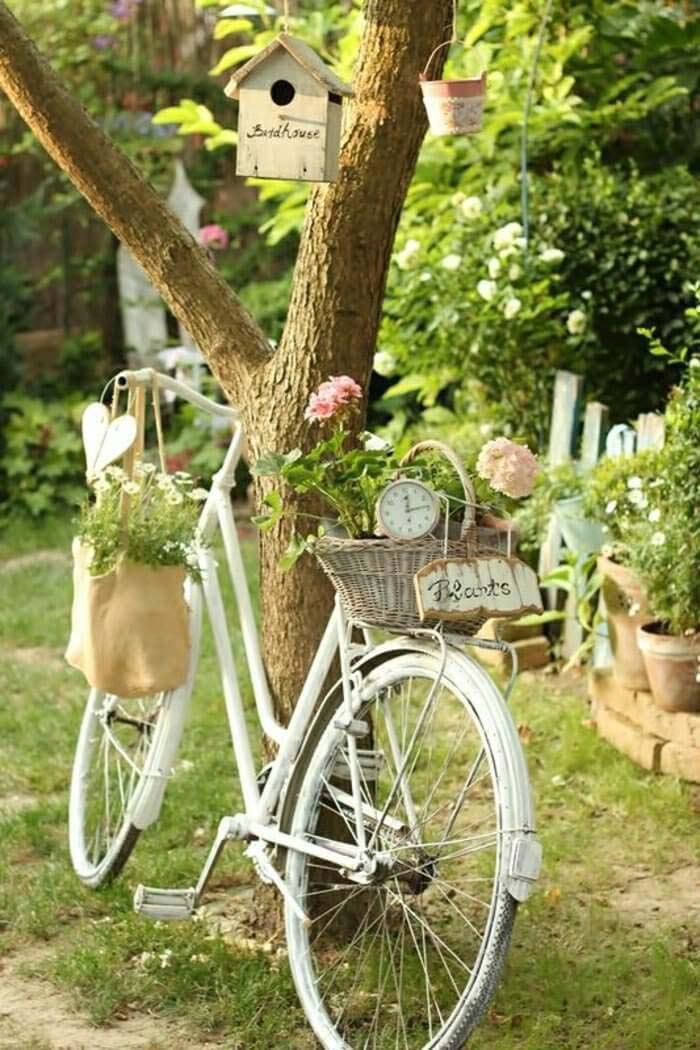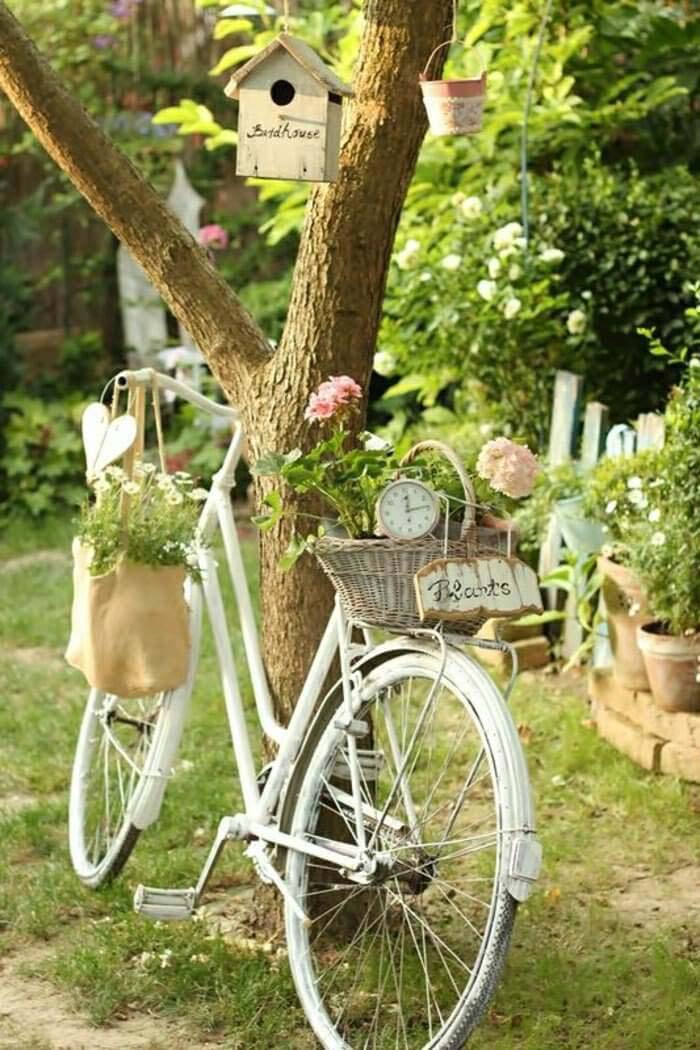 Do you keep your teenage bicycle? If you do, then you should have loving memories of the countryside.
Bring back those memories by using it as your vintage plant holder in the garden.
29. Vintage Ladder Flowerpot Garden Display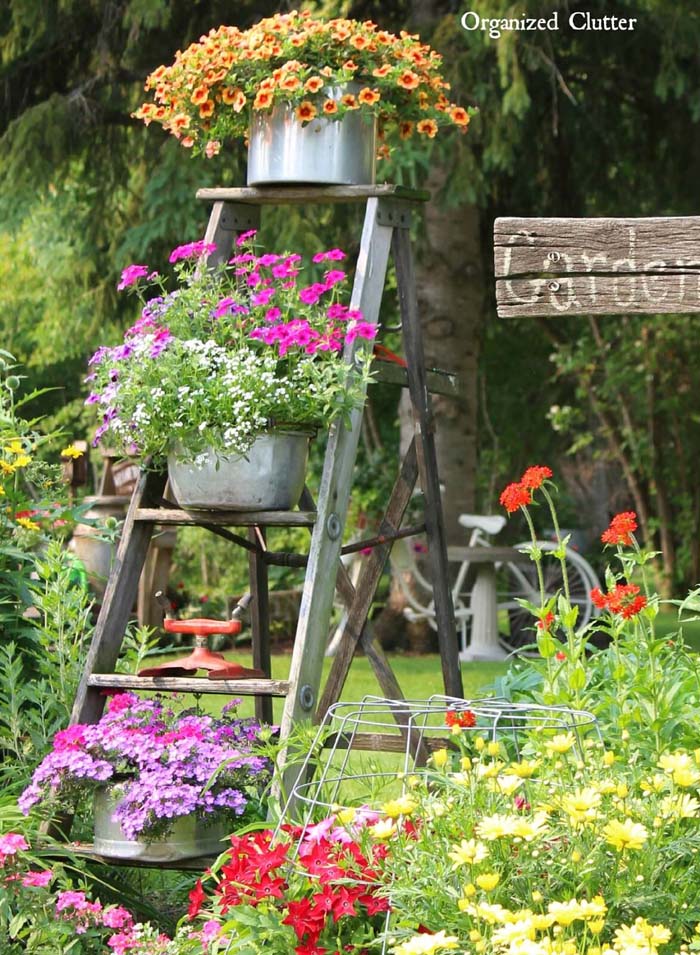 Improvise and use the old useless ladder as a vintage flower pot stand in your garden.
Place flowers planted in vintage containers like buckets, watering cans, teapots and enjoy your farmhouse-inspired garden centerpiece.
30. Vintage Spoon Hanging Basket Hooks

Another vertical garden idea that will cost you no money or time but will have a vintage effect is spoons.
Bend their end to form a hook to hang baskets, mason jars and similar containers.
via Feel It Cool
31. Vintage Wheelbarrow Flower Planter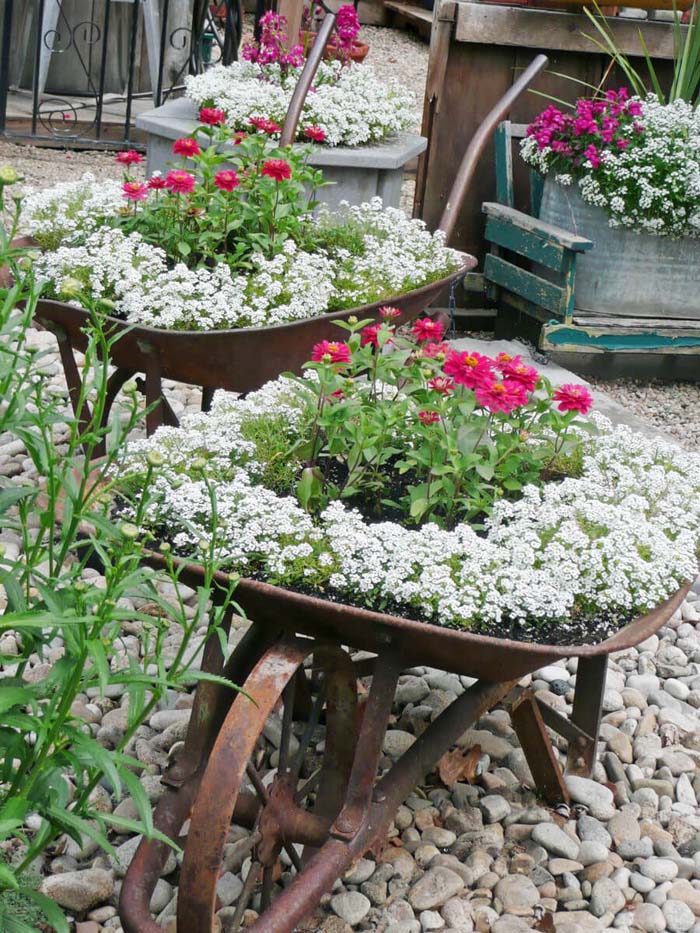 The heavy and rough look of the wheelbarrow adds vintage beauty to the garden when used in an alternative application.
It again holds piles but this time the soil of flowers.
32. Vintage Wooden Drawer Garden Planters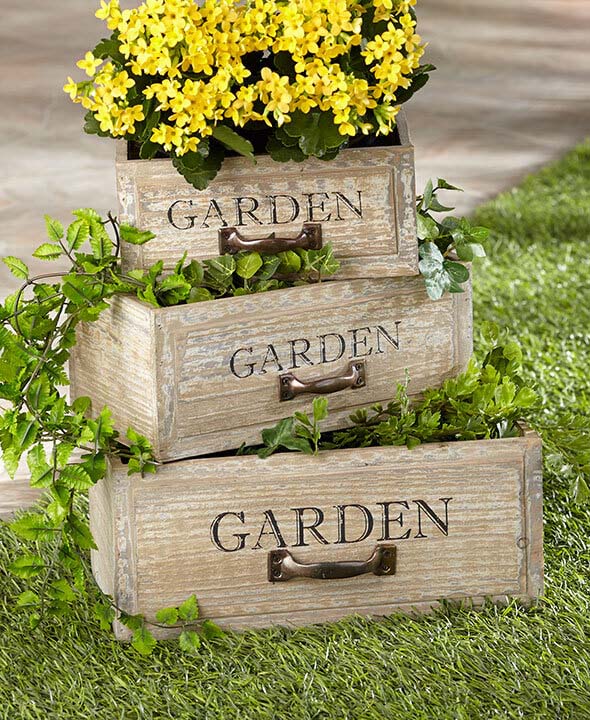 When it comes to flower planters, there are various containers that you can upcycle or repurpose.
The old drawers, even taken out from the cabinet, are a vintage accessory. You can stack them or place them side to side.
via Ltd Commodities
33. Wheelbarrow Vintage Garden Flower Display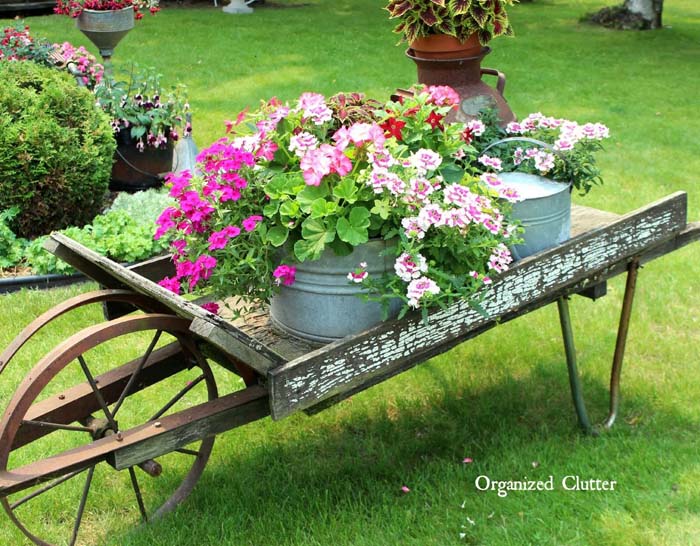 Another alternative is using the wheelbarrows as garden décor is to accommodate flower pots in them.
For a greater vintage effect, use galvanized watering cans or buckets as pots.