If you're like most people, your garden space is limited. DIY plant supports and cages encourage plants to grow up instead of out, so you can make the most of every square foot.
Plus, they'll protect delicate plants and keep the fruit off the ground — that way, it's out of reach of animals and easier to harvest.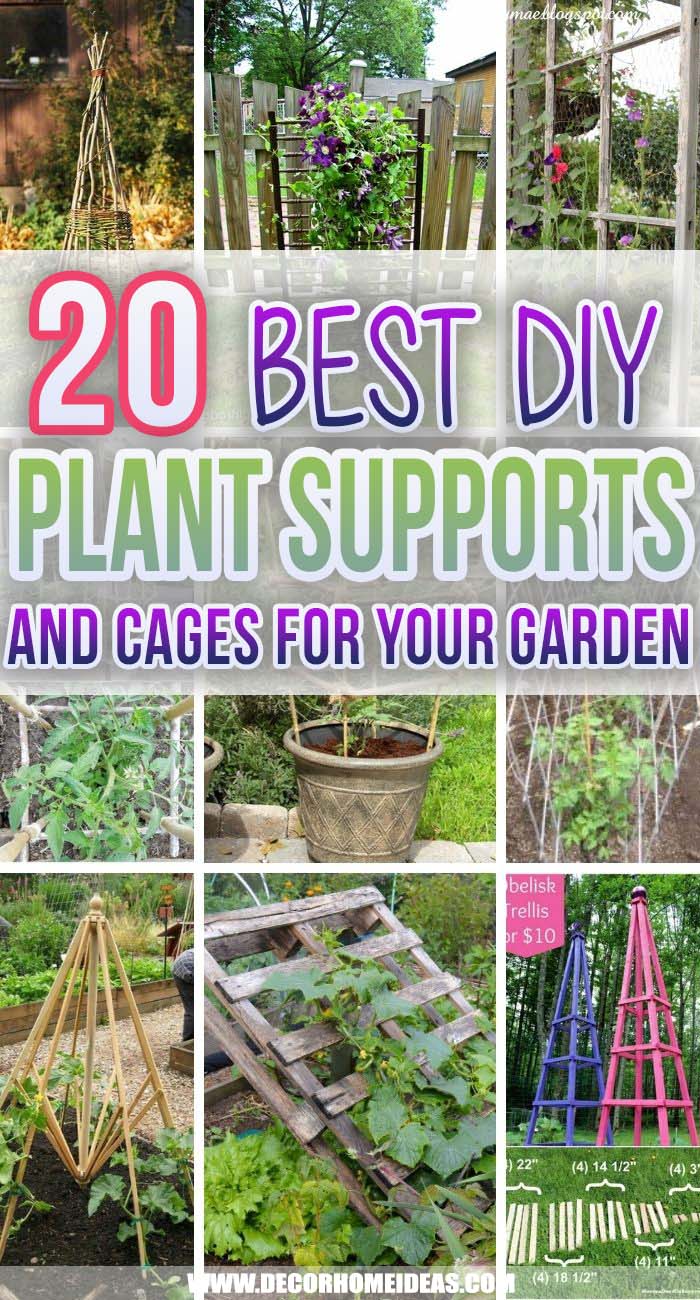 These creative ideas are easy to recreate and won't break the bank so give them a try.
1. Dried Branch Plant Trellis DIY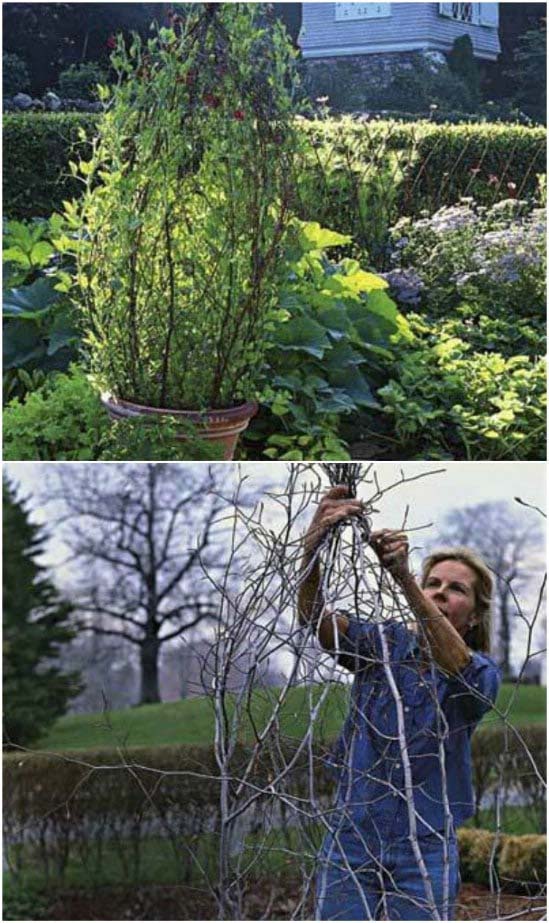 This DIY trellis doesn't require you to make a trip to the store for materials — just head out into the woods and gather dried branches.
Tuck them into a large planter, tie the tops together, and you have an easy, natural-looking cage. It's a great base for sweet peas, decorative ivy, or any other type of climbing plant.
via This Old House
2. Easy To Make Tomato Cage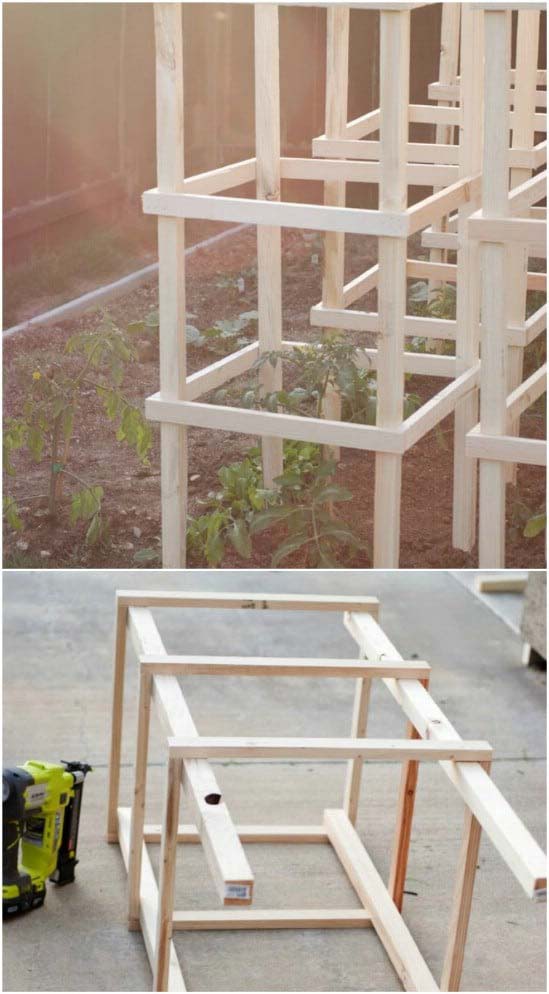 With their heavy fruits, tomato plants often need cages more than any other type of plant. These wooden cages are easy to make with a few simple tools; you can even get away with a hammer, nails, and a hand saw.
The sturdy wood braces provide plenty of support for larger heirloom or beefsteak tomatoes, but you can use them with any variety.
via Ella Claire
3. Old Door And Chicken Wire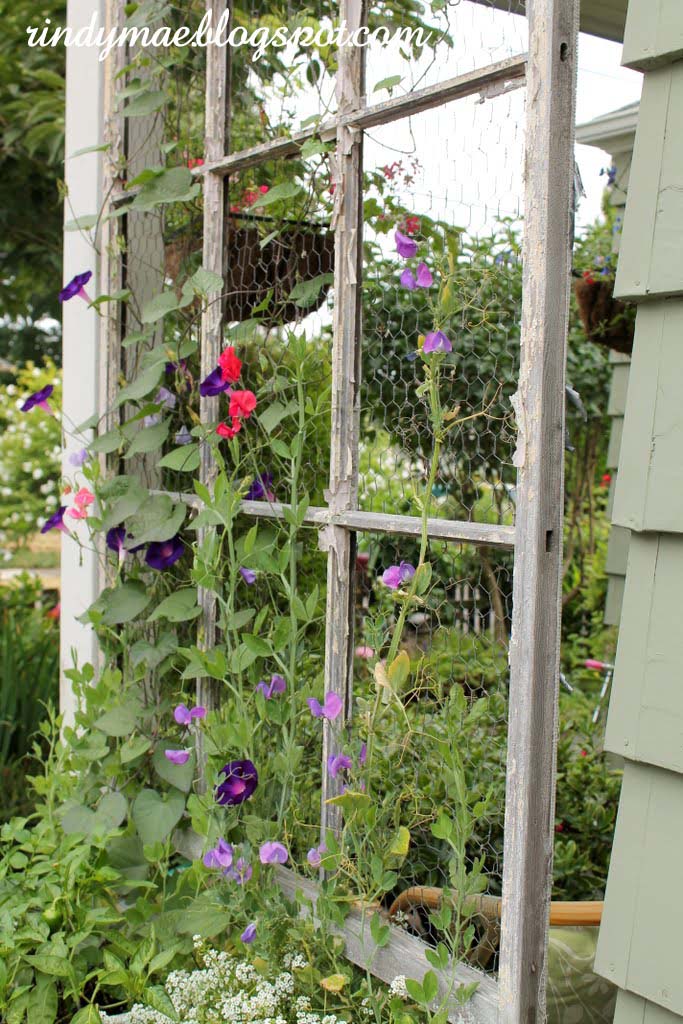 Build a beautiful trellis on a budget with two items: a roll of chicken wire and an old window.
Knock out the glass panes, making sure to remove any shards carefully. Staple chicken wire on the back, and you're ready to go. The delicate wire is practically invisible, but it's strong enough to support flowers and vines.
Growing plants hide the wires, making it appear as though the greenery is climbing through thin air.
via Rindy Mae
4. Repurposed Patio Umbrella Trellis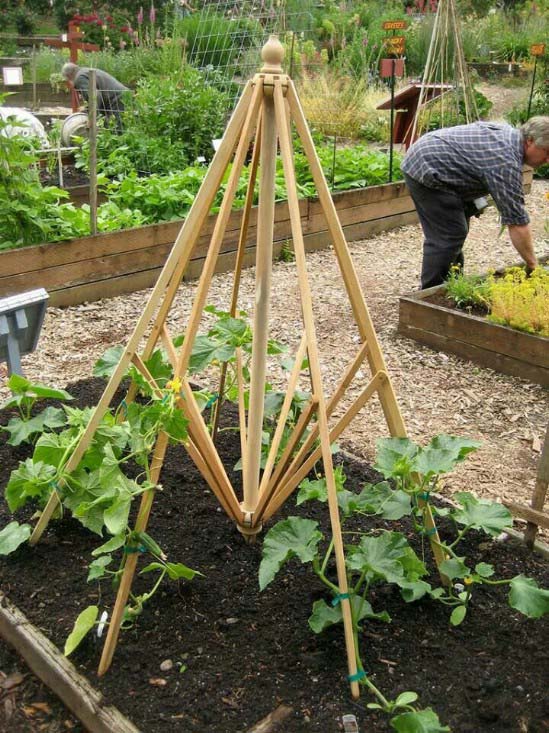 Do you have an old patio umbrella hanging out in a garage or shed? Put it to good use in your garden.
Strip away the fabric, and cut off all but 2 feet of the pole. Sink the pole into the soil, and arrange the spines in a teepee shape.
This is a great way to support heavy climbing plants; add lettuce in the center for efficient use of space.
5. Easy Bamboo Framework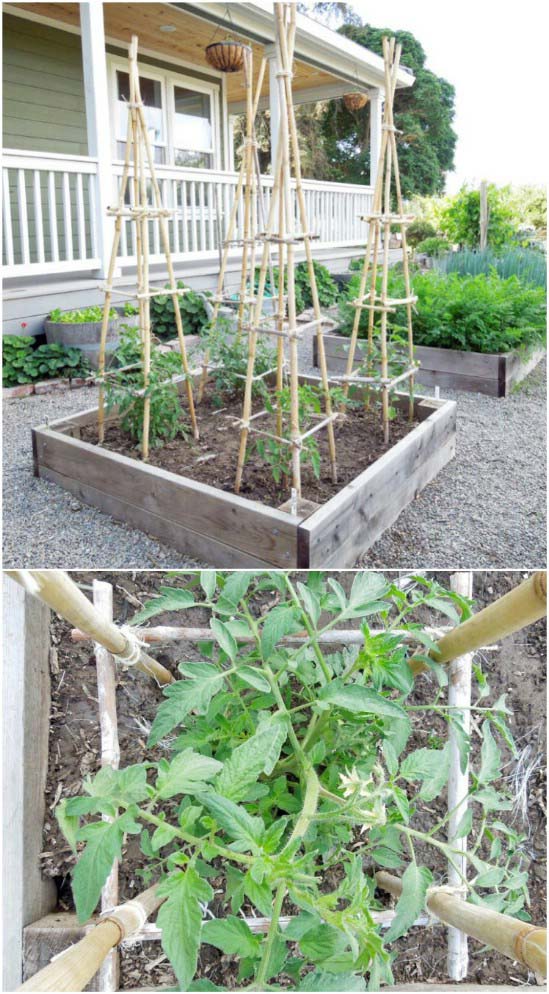 Maximize a small garden plot with these adorable towers. Made from bamboo and tied with twine, they encourage plants to climb many feet above the ground.
The footprint of each tower is small, so you can pack four or five into a compact space.
6. Repurposed Bicycle Wheel Trellis Feature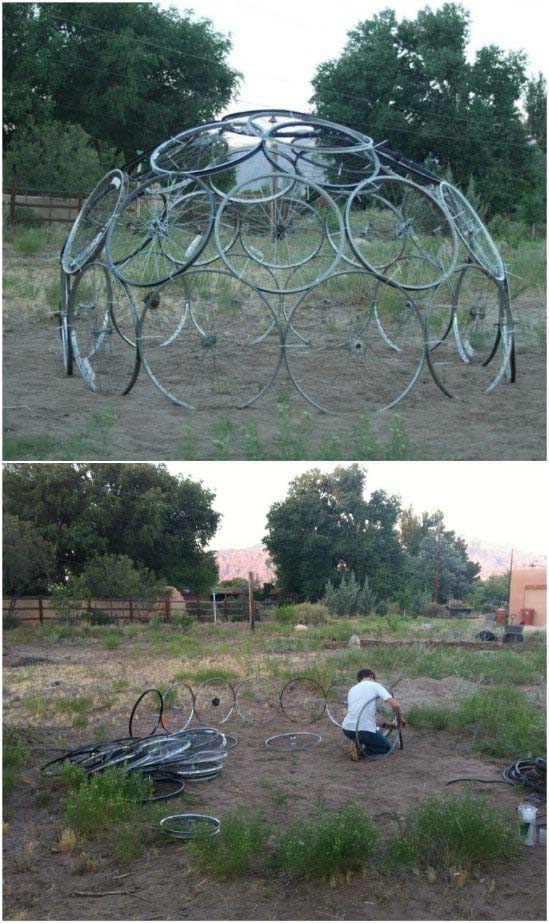 Make a big, bold statement in your yard by building a dome out of old bike tires.
Connect them with wire or zip ties. When you're done, you can plant climbing vines around the exterior; eventually, they'll cover the entire dome and create a spectacular green garden sculpture.
via Instructables
7. Whole Row Tomato Support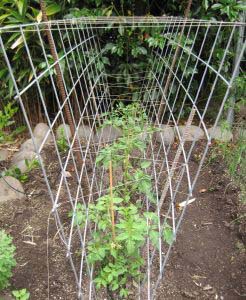 If you don't have time to build individual cages for each of your tomato plants, this clever row-cage is an efficient alternative. It runs down the full length of the row, providing support for all of your plants at once. The trick?
Create several layers of zig-zag twine inside the cage; they act as internal supports. In the off-season, the cage folds flat for easy storage.
via Mosaic Gardens
8. Easy Ladder Style Tomato Cage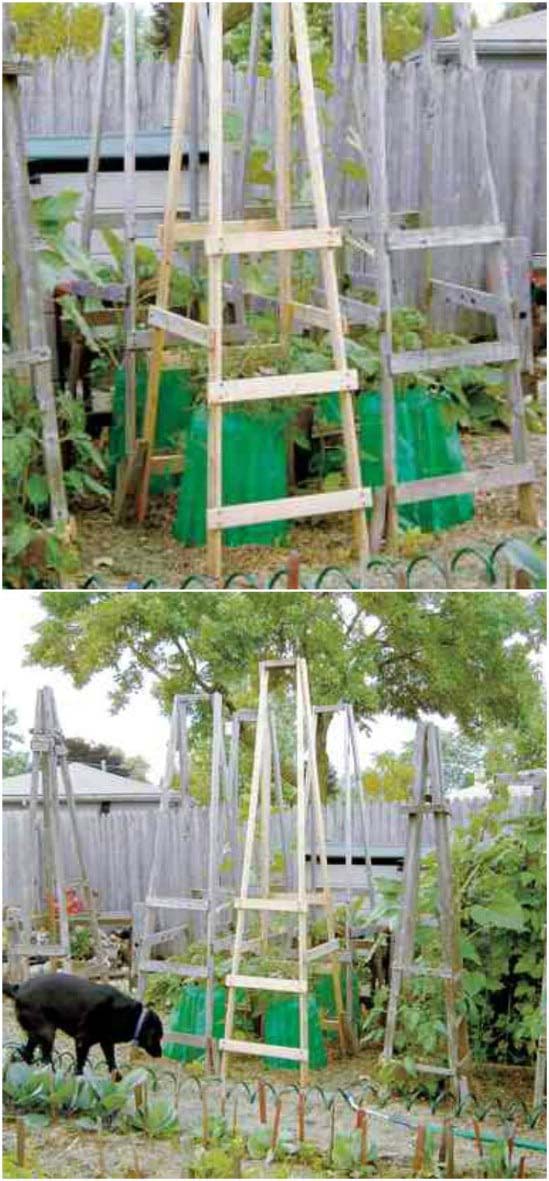 Here's another way to make the most of garden and storage space — build ladder-style tomato cages.
They use lumber and hardware you can find at any home goods store, so you can complete the project in a weekend.
When the harvest is done, fold them down and tuck each one into a corner of the gardening shed or garage.
9. Budget Bamboo Teepee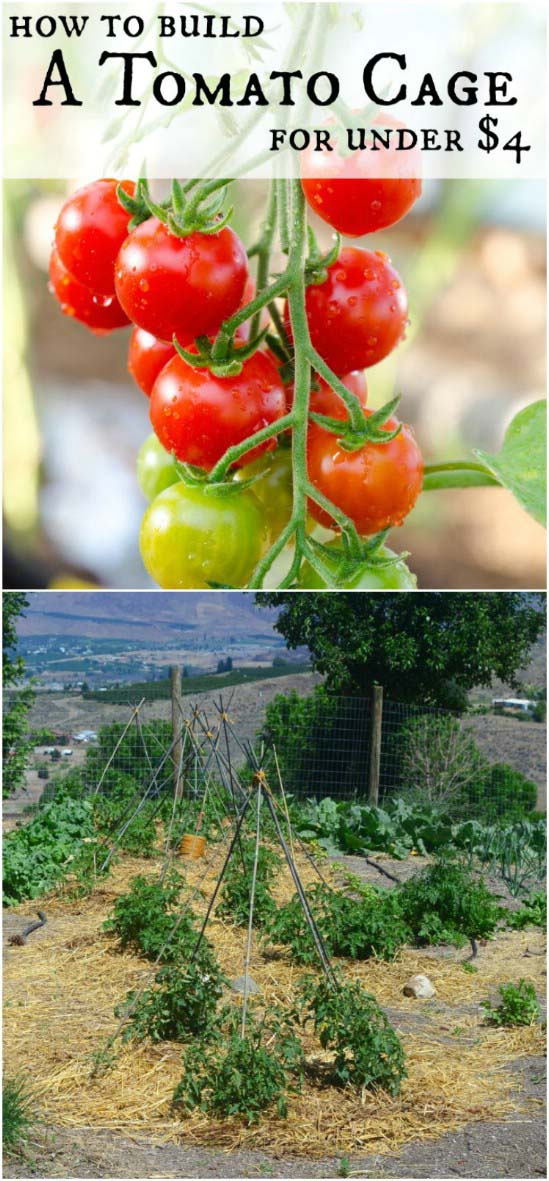 Are you on a strict budget? This DIY plant supports cost just $4 each. All you need is bamboo stakes and twine; when arranged in a teepee shape, the stakes create a remarkably stable system.
The wind blows easily through the cage, preventing it from toppling over.
10. Wire Cage With Stick Foundation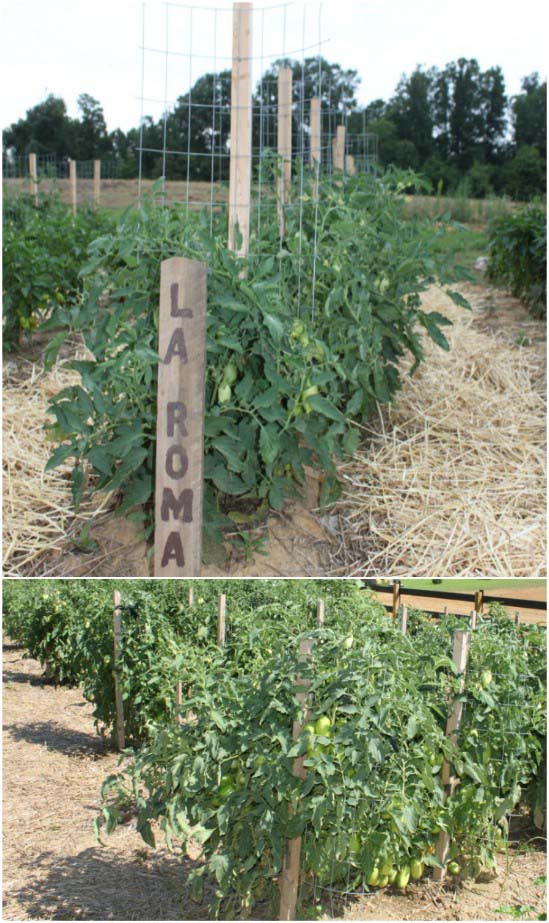 Grow heavy fruits such as tomatoes and peppers with ease using this stake-and-wire design. The magic lies in the thick center stake — it provides a sturdy foundation for the plant.
As a result, the wire cage around the exterior can act as extra support. For the easiest harvest, use a cage with large openings.
11. Easy Twine Cage Supports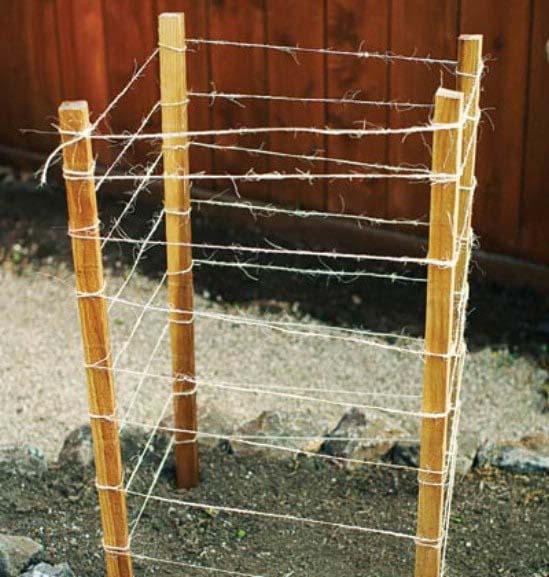 It doesn't get much cheaper than this DIY plant cage; in fact, you probably have all of the materials at home.
Thin wood works best for this cage, but you can use any type of scrap wood. Wrap the four posts in twine to create a light-duty support system for snap peas, beans, and other delicate plants.
12. Bright Painted Pyramid With Finial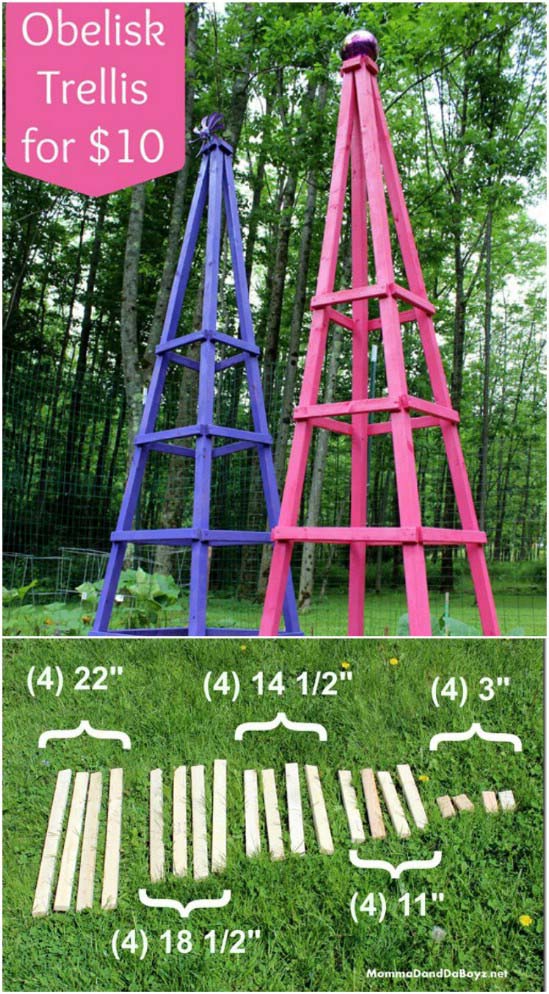 Support your plants and make your garden more beautiful with these DIY obelisk trellises. Each one costs approximately $10 to make — a bargain compared to the price you'd pay for a similar style at a garden center. Use whatever tools you have on hand for cutting and fastening; there's no need for expensive power tools.
Once you're done, add a coat of paint and top each obelisk with a gorgeous garden implement for a polished, eye-catching look.
13. Repurposed Wood Pallet Trellis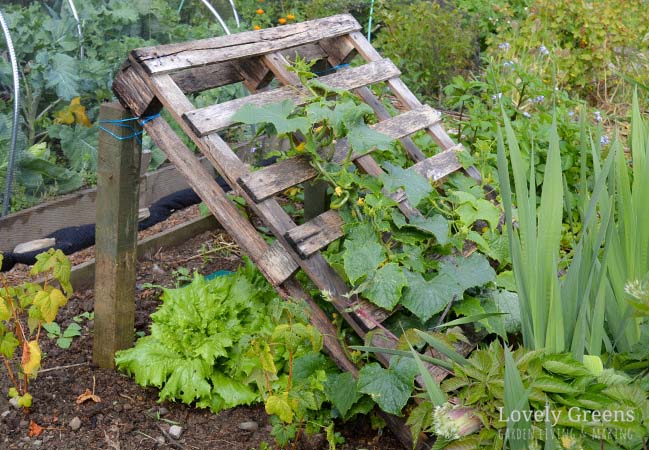 Once again, pallets prove to be the most useful and cost-efficient DIY supplies. Here, a single pallet becomes a super-functional trellis.
Since the wood is thick and rigid, it's tough enough to bear the weight of squash, pumpkins, or watermelon. Old and weathered pallets are a natural fit for an outdoor setting, adding a charming rustic twist to your garden.
via Lovely Greens
14. Upcycled Railing Vertical Trellis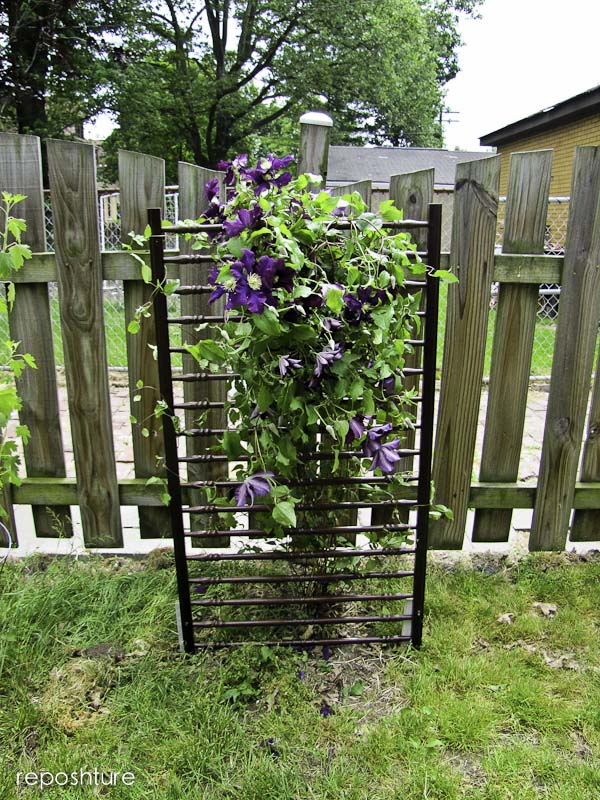 The best DIY projects upcycle materials that might have otherwise ended up in a landfill. This trellis is the perfect example — it's made from the rail of a broken crib.
A wooden crib works best; the surface will fade over time for an organic, sun-soaked look. Metal cribs, on the other hand, add a vintage vibe to a cottage or country home.
via Reposhture
15. Pallet Ladder Pumpkin Support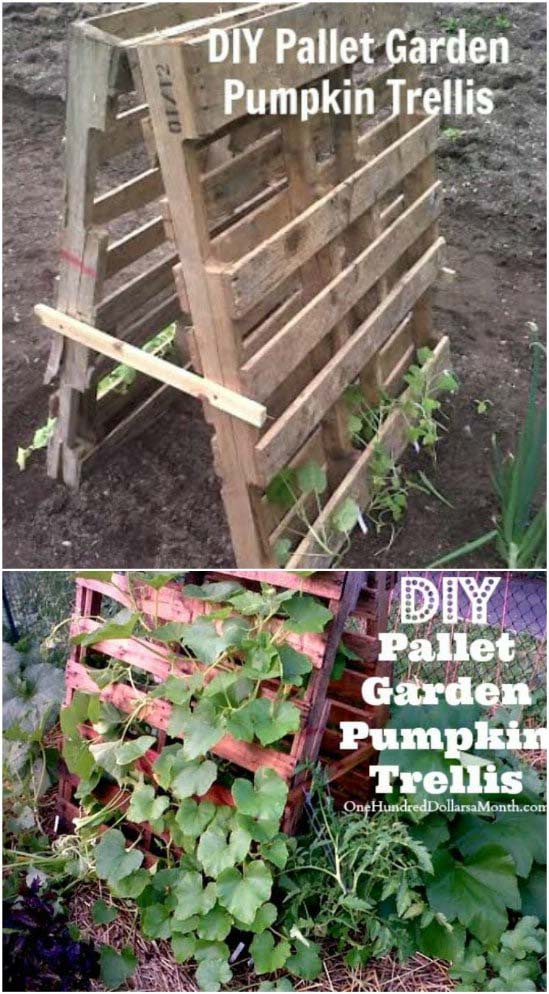 The versatile pallet strikes again! This simple DIY trellis uses two pallets in a tent-style arrangement.
Nail a cross-brace across the sides for support, and you'll have a heavy-duty trellis that's tough enough for the biggest fruits and vegetables you can grow. For maximum strength, adjust the vines so they weave in and out of the boards.
via One Hundred Dollars a Month
16. Willow Branch Pyramid Trellis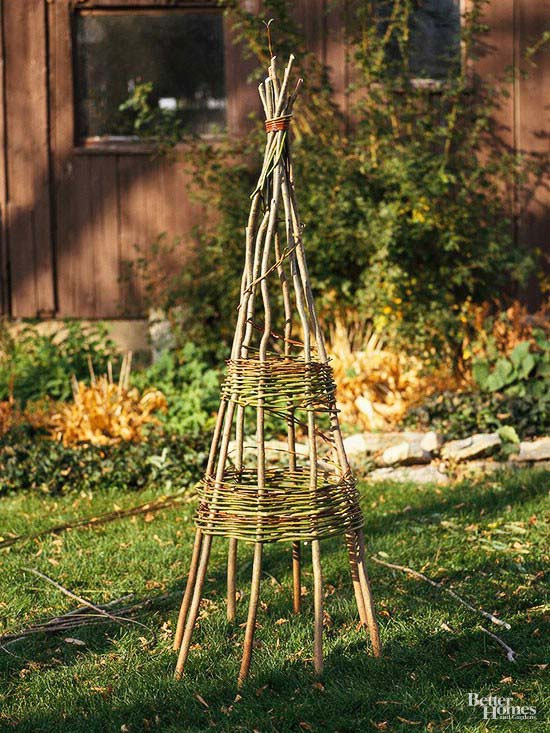 Do you have some time on your hands? Bring a hand saw to the nearest willow tree and prune off a stack of branches. The wood is strong but flexible, so it's easy to work with.
A bit of vine or twine is all it takes to transform the willow stakes into a cone-shaped plant cage. Since the materials are natural, they blend in easily to any type of garden.
via BHG
17. DIY Stick Container Cage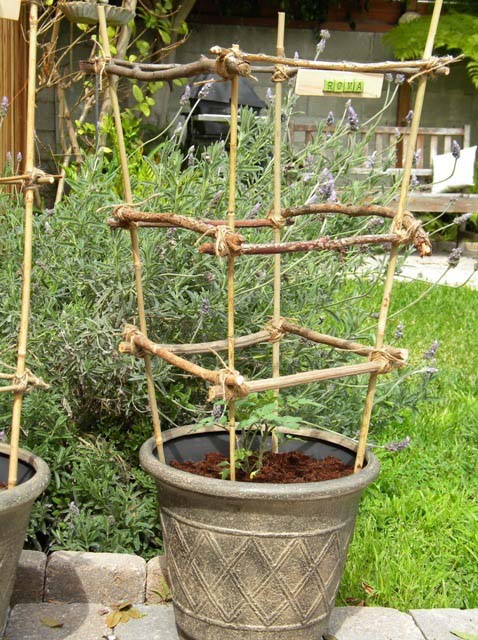 Container gardens are the perfect candidates for DIY tomato cages. Here, a large planter serves as a stable base for a cage made from sticks and bamboo stakes.
The soil anchors the stakes, and the tomato plant can grow up around each support.
via Home Work
18. DIY PVC Tomato Trellis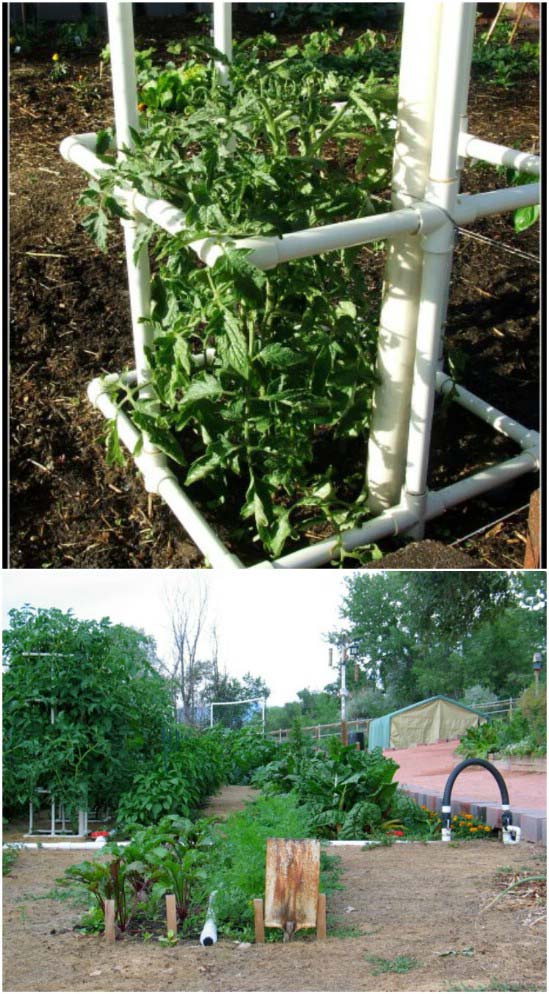 This PVC pipe cage isn't pretty, but it's extremely effective. PVC is lightweight and incredibly strong, so you can use it to support the biggest tomato varieties on the market.
Pick up a selection of pipe connectors from the hardware store to create secure joints and rounded corners. Since the pipe resists bending and comes in a variety of lengths, it's perfect for extra-tall cages.
19. Heavy Duty DIY Tomato Cage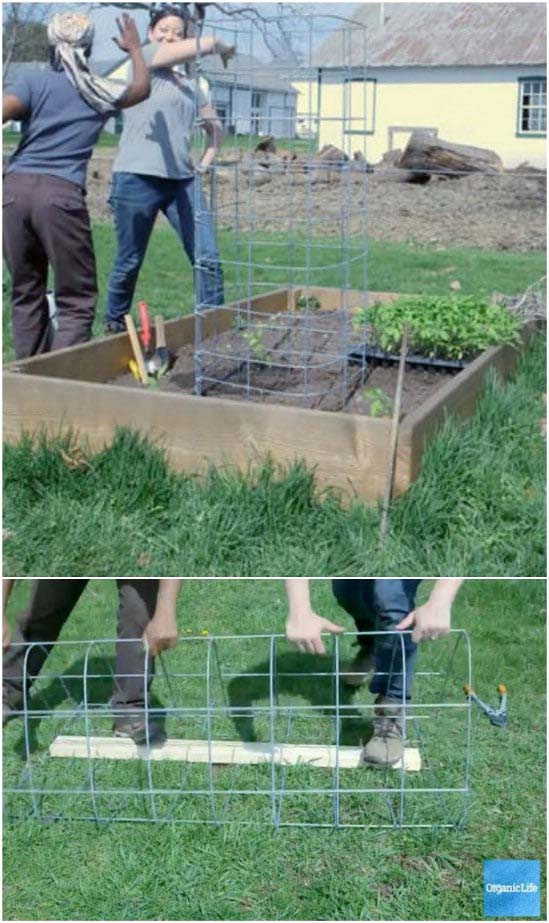 If you've ever worked with store-bought tomato cages, you know they tend to collapse. That won't be a problem when you make your own using heavy-gauge wire mesh.
Choose a wire that doesn't bend by hand — instead, pick a type that requires pliers or a pipe bender. When you form the material into a cage, you can rest assured that it won't collapse under the weight of a bountiful tomato harvest.
via Hearst