If you are looking for some great ideas to enhance your outdoors we are here to help.
Garden trellises are something you wouldn't want to miss as they offer functionality and aesthetics like no other garden structure.
Moreover, they are not expensive and easy to build.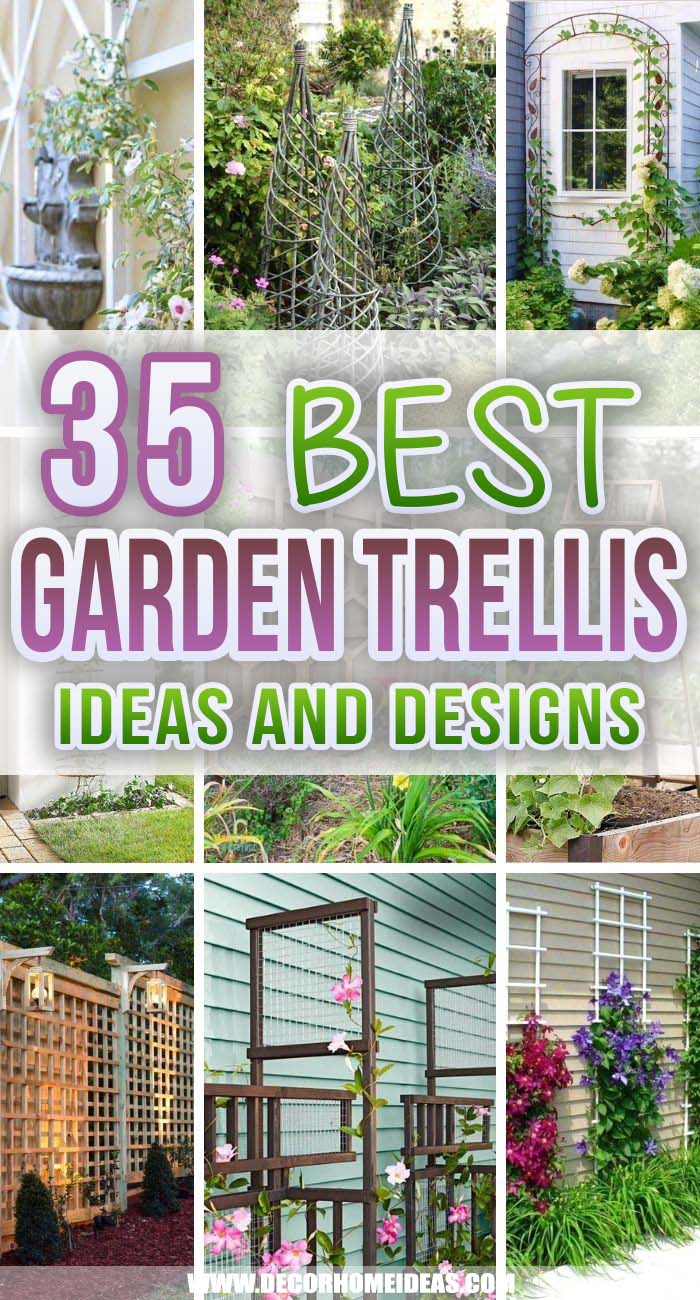 I am excited to show you more than 30 whimsical examples of arbors, lattices, frames, structures, and panels called garden trellis that make the outside world dreamy.
If you prefer watching a video here is one:
Don't forget to subscribe to our YouTube channel for more videos.
1. Wooden Freestanding Trellis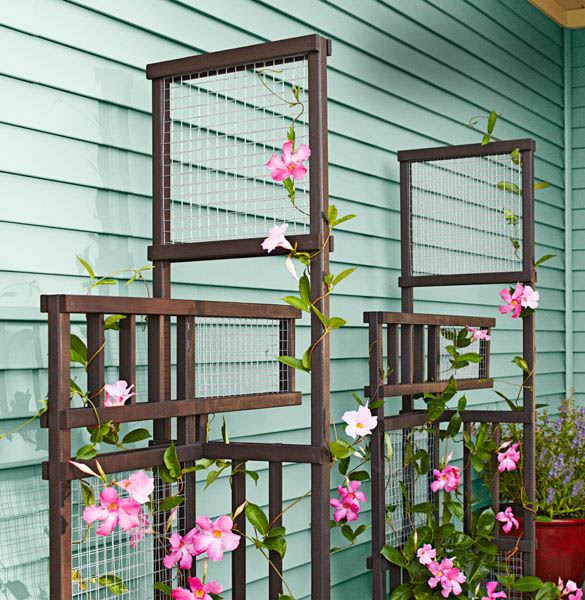 This appealing freestanding trellis can definitely beautify any outdoor space of simple design yet elegant and stylish, it adds functionality and an architectural character and makes a unique garden feature.
Not to mention that when covered with blooming climbing plants ( such as roses ) it is simply an eye-catching garden décor element. You can put a lot of different flowers which can bloom in different seasons so it could be great all year round.
If you coat the wood with several layers of coat you can put it even directly under rain and sunlight.
Trellises are the delightful structures that we install outdoors to cultivate the divinity of the flowers in our yards and gardens.
via lowes.com
2. Dress Shaped Trellis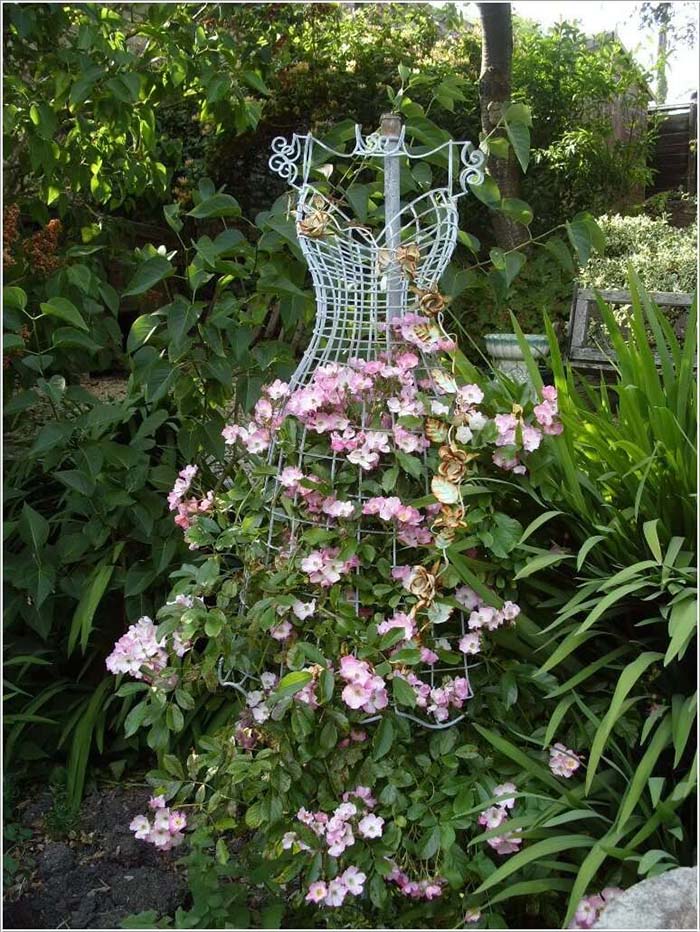 Photo: Credit
Dressed up for a garden party?
If you get creative, trellises offer endless options to add visual interest and personality to your garden. Have a look at this one.
Dress-shaped metal trellis definitely grabs and keeps the eye. Creative, isn't it? Pink climbing flowers stand out against the green background and add color and romance. A dream-come-true garden spot!
This is the perfect garden piece for a fashion lover. It is rare and wonderful to see a beautiful mannequin made out of flowers in the backyard, isn't it?
It makes you wonder who could be the owner here… This flower dress is admirable, my friends!
3. Wall Mount Trellis Design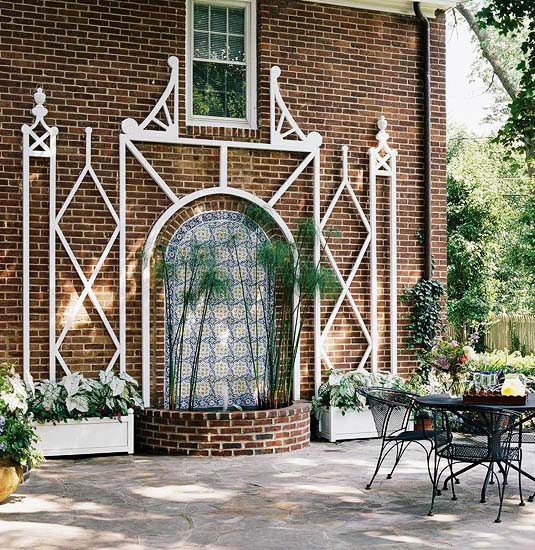 Photo: Credit
We are reaching the next level here with this beautiful white frame, which is installed on the back of a small mansion. It truly leaves us breathless and it makes afternoons feel like a gorgeous movie scene.
What can be better than sipping lemonade in the summer in this backyard?
Wall-mount trellises offer an easy, budget-friendly way to beautify your outdoors. Look at this white custom-made trellis.
It definitely stands out against the brick wall, adds elegance, vertical interest and personality, and complements this charming backyard space. What an adorable way to combine functionality and art!
4. Repurposed Headboard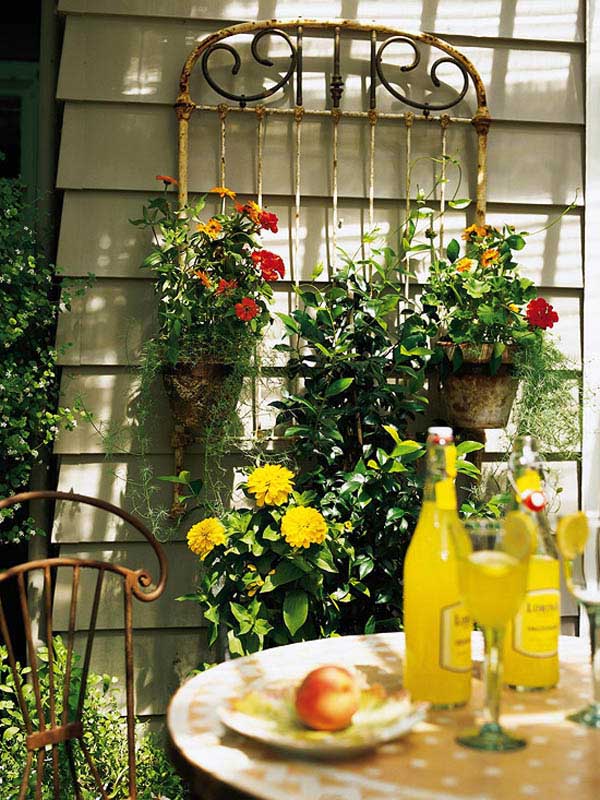 Photo: Credit
Aged iron headboard repurposed as a trellis supports beautiful blooming greenery!
What a charming space!
Another perfect example of what spring and summer do to our souls. This beautiful flower arrangement completely changes the vibe of the outside world.
It reminds of our inner force to create the heaven we want in every aspect our lives.
Yellow, orange, and red are the flaming colors of the sun.
5. Accordion Peg Rack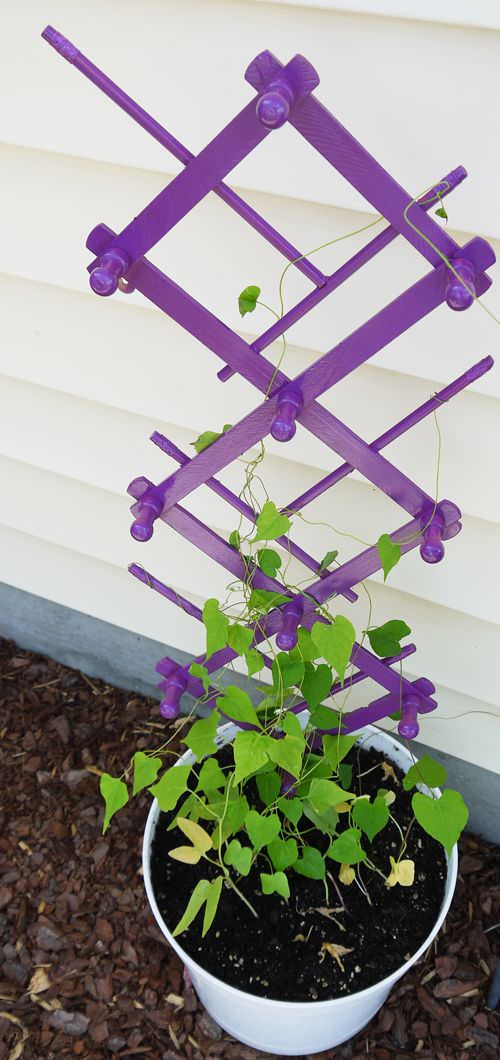 Accordion peg rack is repurposed as a trellis.
What a way to add a burst of color!
When we grow simple green plants outside, we not only purify the air and feel at peace. We also make a perfect design peace.
All you need is a small frame that you can paint in any color of your desire and add it to a flower pot and voila! The plants will continue to grow, healthy and tall.
6. Pyramids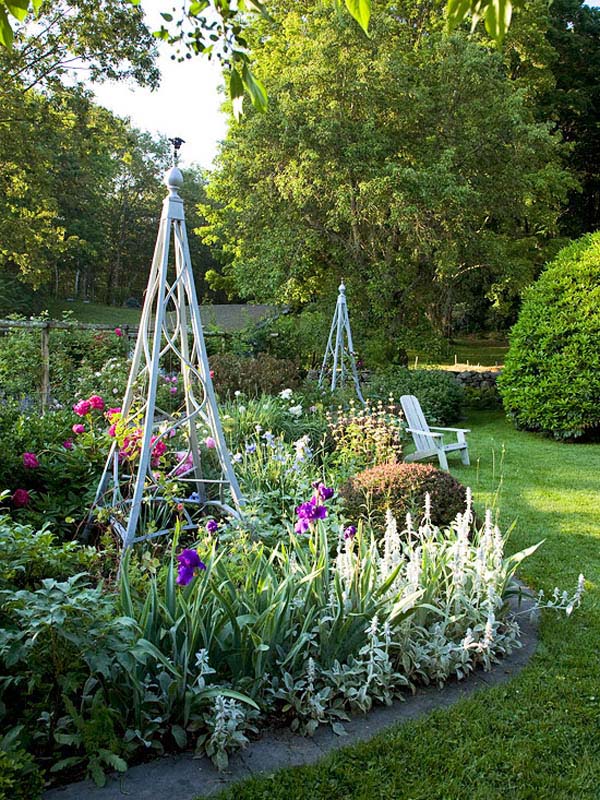 Photo: Credit
Set of two pyramids supports and trains climbing plants.
Definitely a charming garden spot!
I am an admirer of small round gardens and flower beds in living areas, parks and anywhere for that matter.
They become their own ecosystem somehow – so rich and abundant, they bring life to the environment of cities, yards, and plantations.
They do need your care and nourishing, but it that feels rewarding, too.
7. Use Old Doors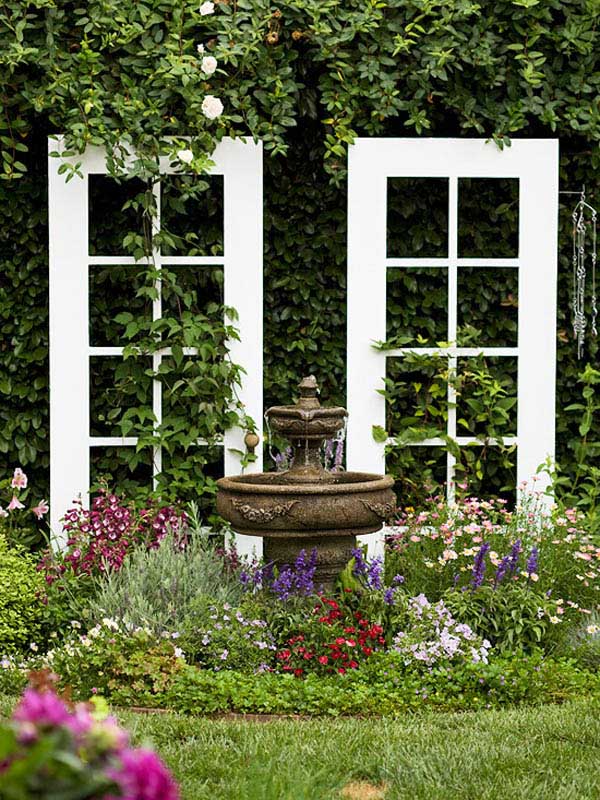 Photo: Credit
Set of salvaged doors serves as a trellis. Wind chimes and a fountain complement the space.
So lovely!
These white frames create a beautiful illusion, don't they? We have a little fountain, a bunch of the loveliest flowers and it feels as if we will walk into the secret garden.
Time spent here will be a time well spent. You can't help but look at it when you are walking by.
8. Add Some Vintage Look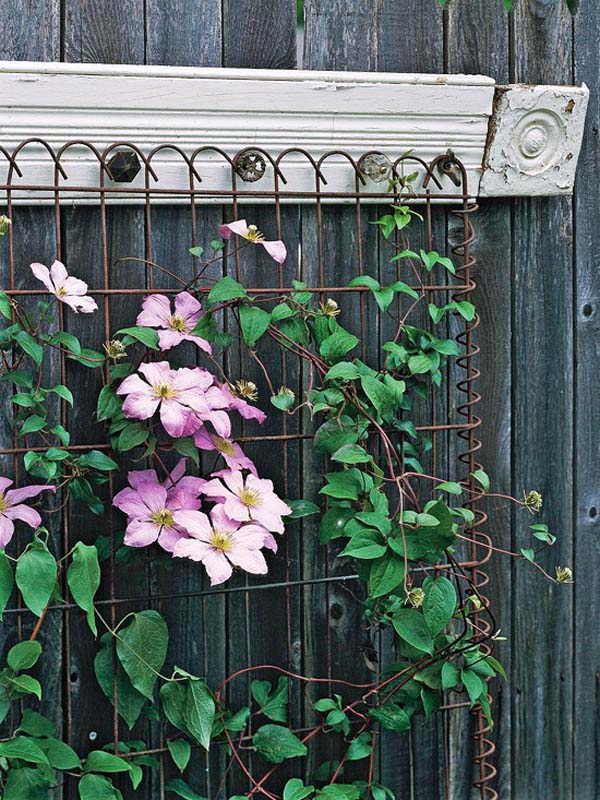 Photo: Credit
Rustic wire fencing supports a climbing plant…
So adorable!
Number eight is always great! In this case number, eight can be the simple detail. The iron net meets the liveliness the flowers.
This is a frame attached to the fence, it is very simple and the flowers naturally grow around it with a little help from the gardener.
9. Tee-Pee Trellis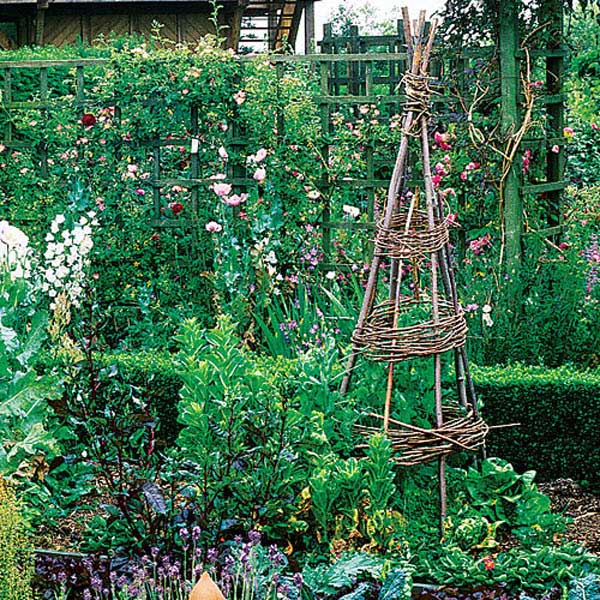 Easy-to-make, budget-friendly trellis option.
Charming way to add rustic touches and visual interest to your garden.
Time to look at this rustic garden. It is not rare to see flowers growing around the beautiful fences of people outside the city areas.
It is also quite common to grow edible greens such as lettuce and kale in the backyard. Passersby will marvel at these flowers, I assure you.
10. Wagon Wheel Art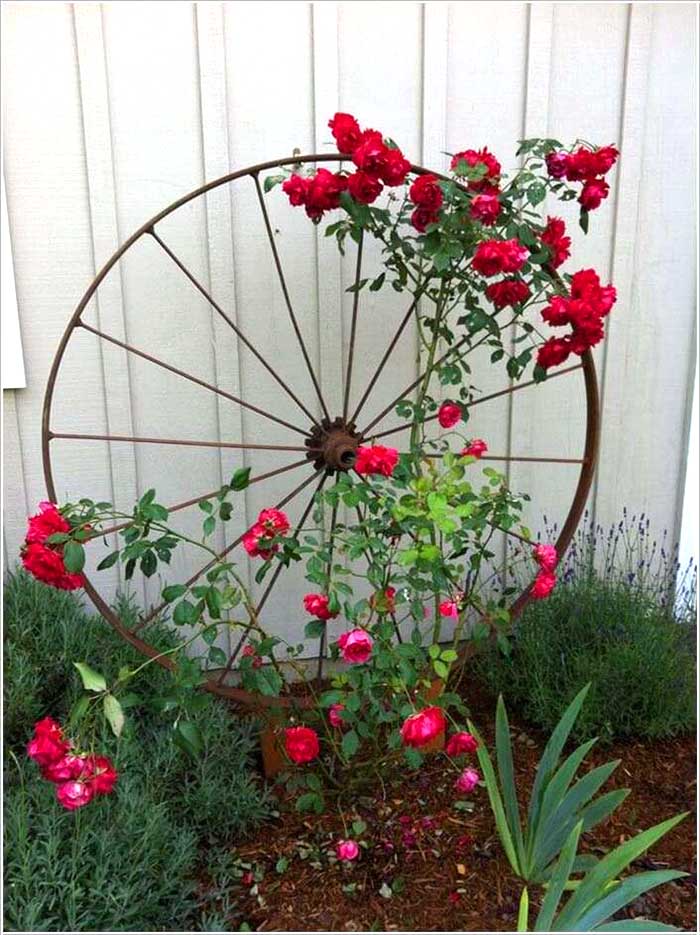 Repurposed wagon wheel supports red roses…
Gorgeous, isn't it?
You have no idea what to do with the old bicycle frames? Well, gardens are amazing spots to use all that is no longer of use.
Frames of all sorts, ladders and other equipment can be designated to act like trellises. You can plant red and white roses, peonies, etc.
Related: 15 Awesome DIY Recycled Garden Art Projects
11. Wall Lattice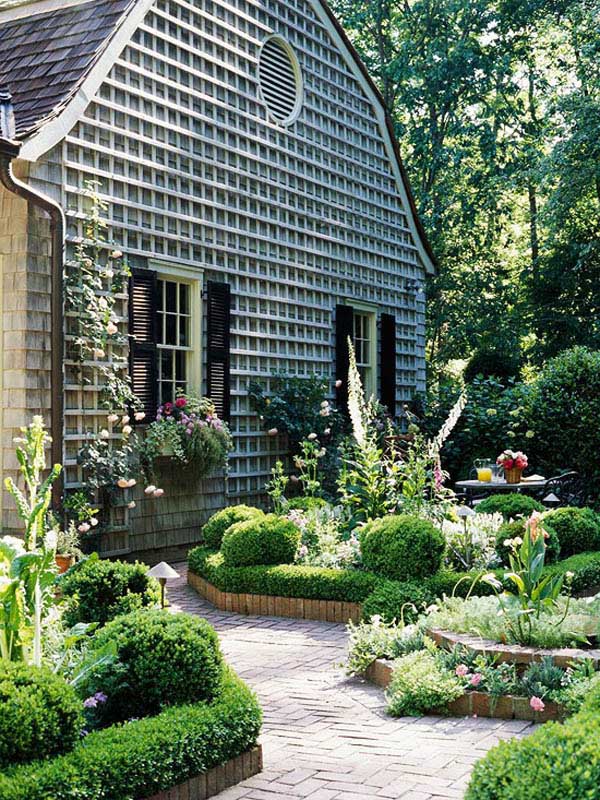 Wood lattice on a huge outdoor wall acts as a support for climbing roses.
What a way to enliven the house!
Welcome home, Alice! There is a whimsy to this garden. You kind of expect for the Mad hatter to come for tea. Any second, now… any second!
Did you notice how the entire wall has been turned into a frame? I remind that ivy is retro; I prefer to imagine this whole wall with flowers.
12. Woven Willow Trellis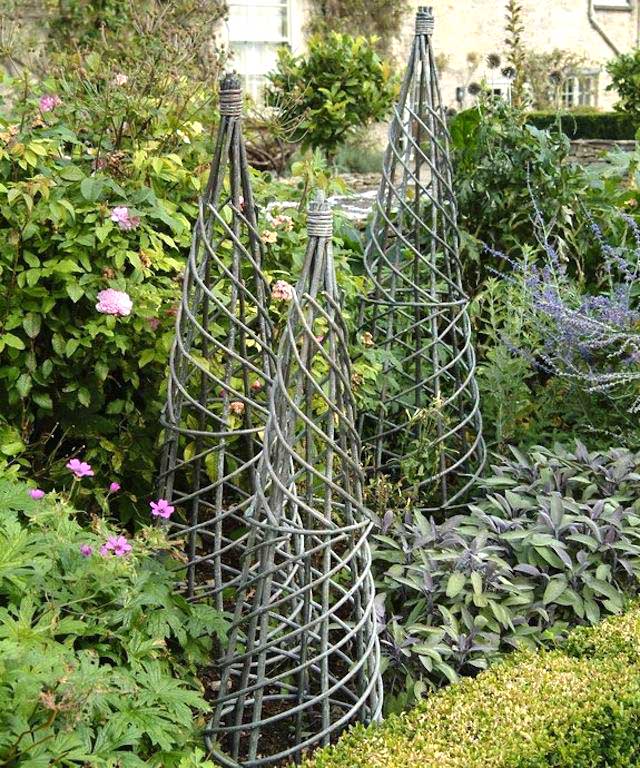 Eco-friendly trellis option, which definitely makes a dramatic vertical statement!
Gorgeous, don't you think?
These cones create freedom for the plants and flowers to grow. By preserving some space, they do miracles for garden spaces.
It is always a good advice to keep some room to experiment with new seeds, or who knows – it could be avocado or lemon trees!
13. Trellis Around Window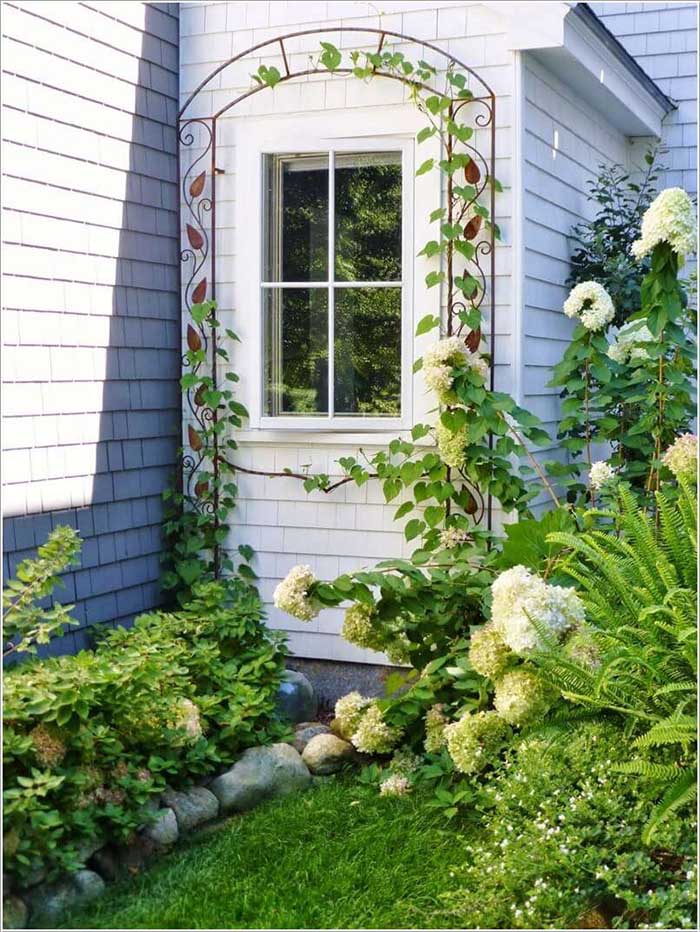 This wrought iron trellis is an accent garden décor item.
They say that the flowers are the children of the angels. While I look at this serene environment I tend to also believe so.
I find great delight in a front porch like this one. It is almost as if flowers are stretching themselves over to the one walking towards the entrance. Dreamy!!!
Follow the link below to see how to make a trellis like this one.
via fortheloveofahouse.blogspot.com
14. Blend The Trellis In The Decor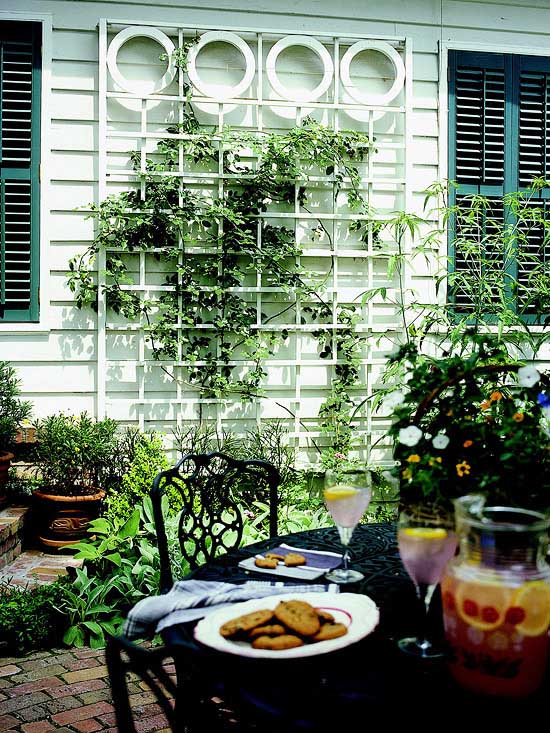 This structure is almost invisible on the wall of the house, but when the flowers take over it will be the most appealing visual accent in the garden.
15. Heart Shaped Structure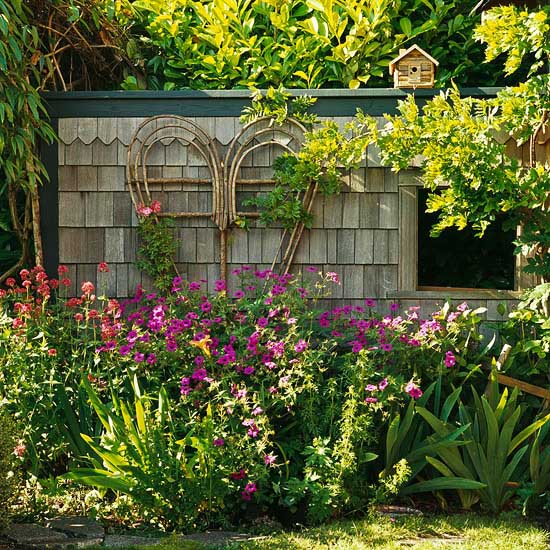 You can create garden trellis in the shape of a heart. It's very creative and will show your love for flowers.
16. Decorate In White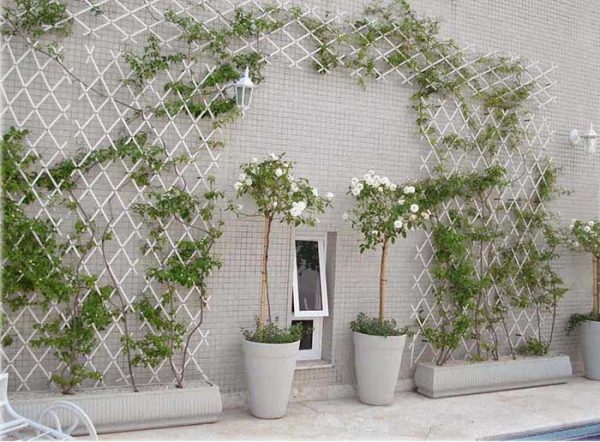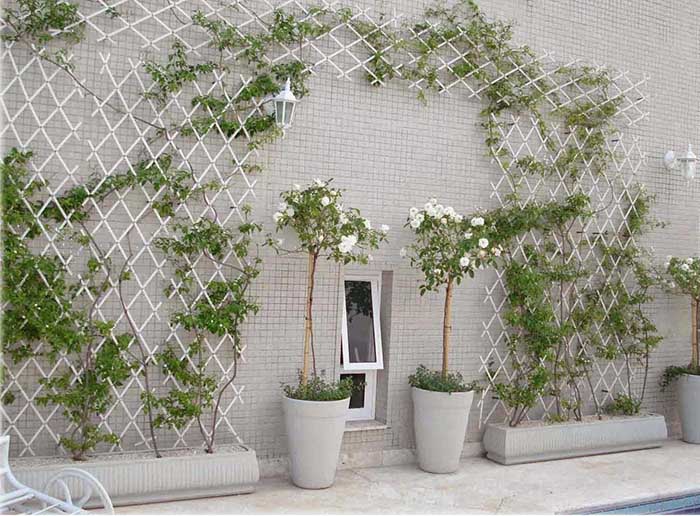 If you think white trellis with white flowers looks boring, think again.
You can decorate in white only and still have enough detail and texture.
17. Paneled Trellis Ideas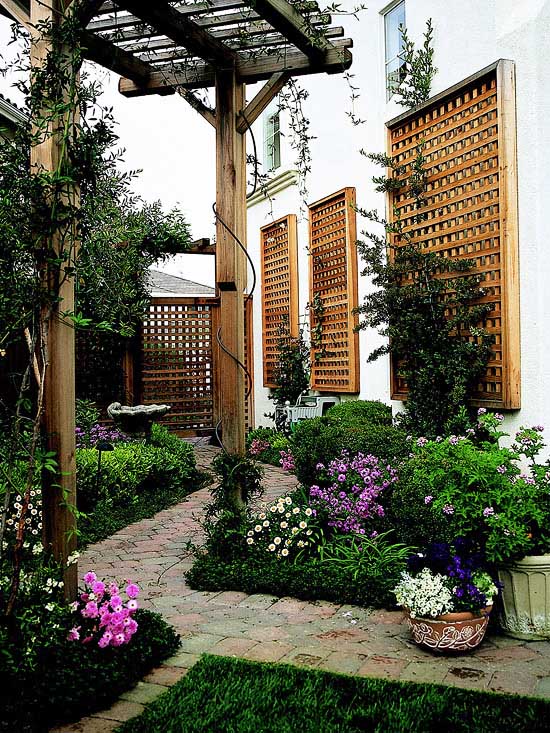 Take a look at these wooden wall panels that are perfect for plants and flowers.
You can arrange them in different patterns and create visual masterpiece.
18. DIY Trellis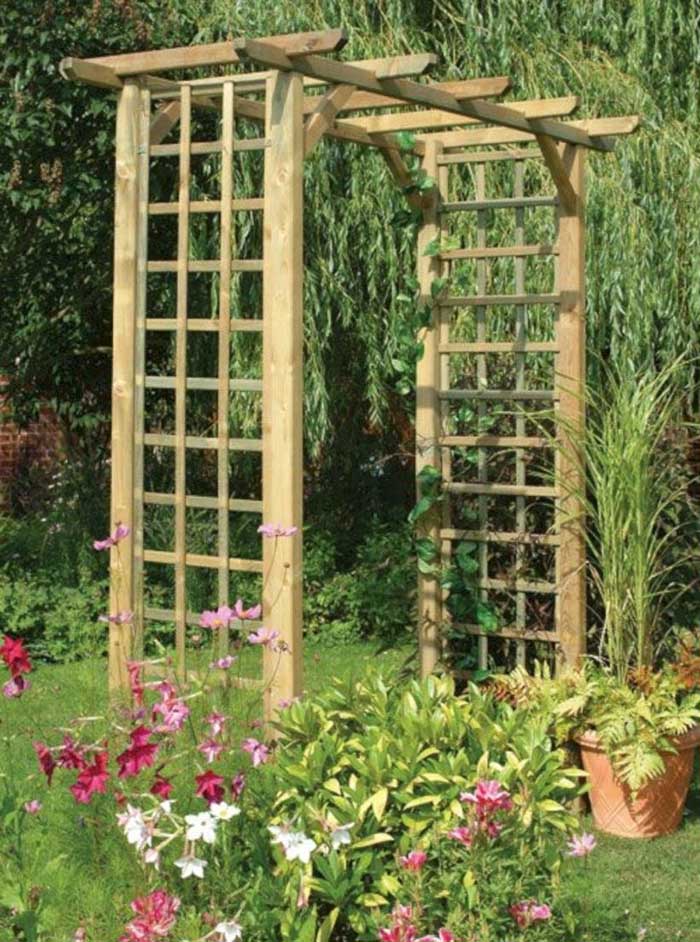 It might look hard to create your own garden trellis, but this DIY project is very simple and easy to do.
19. Wire Mesh Vegetable Trellis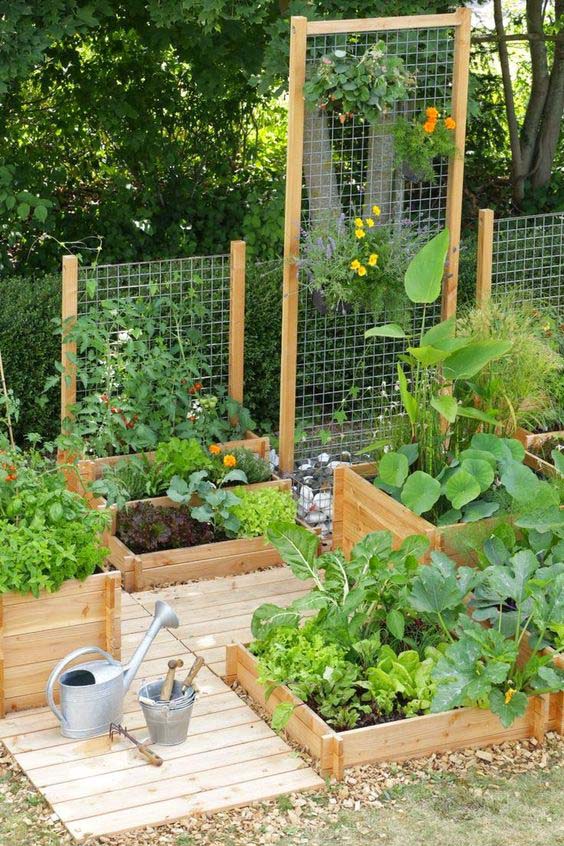 You can use trellis to grow vegetables in your garden. They are much easier to build and maintenance is very low.
20. Full Bloom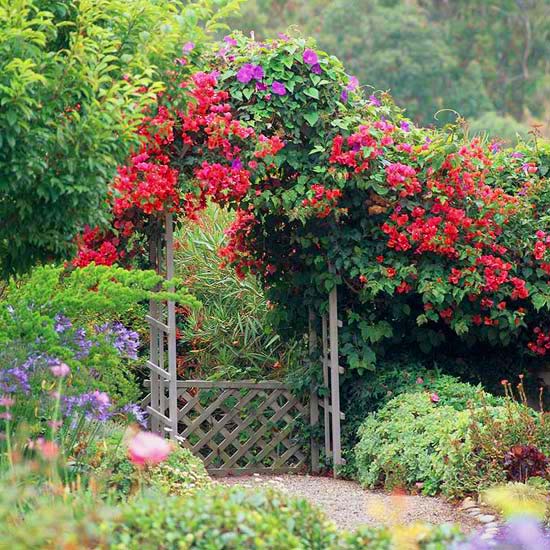 You can leave the plants and flowers to grow wild on your trellis. Nature will do it's job just perfect.
21. Wall Mount Trellis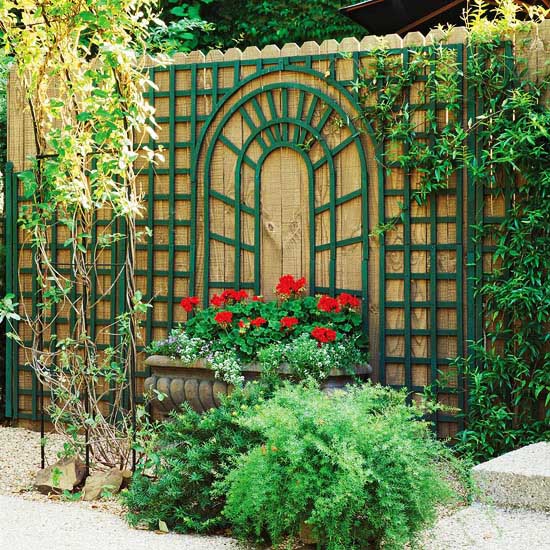 Another great example of wall mount composition with a lot of attention to each detail.
22. Clematis Trellis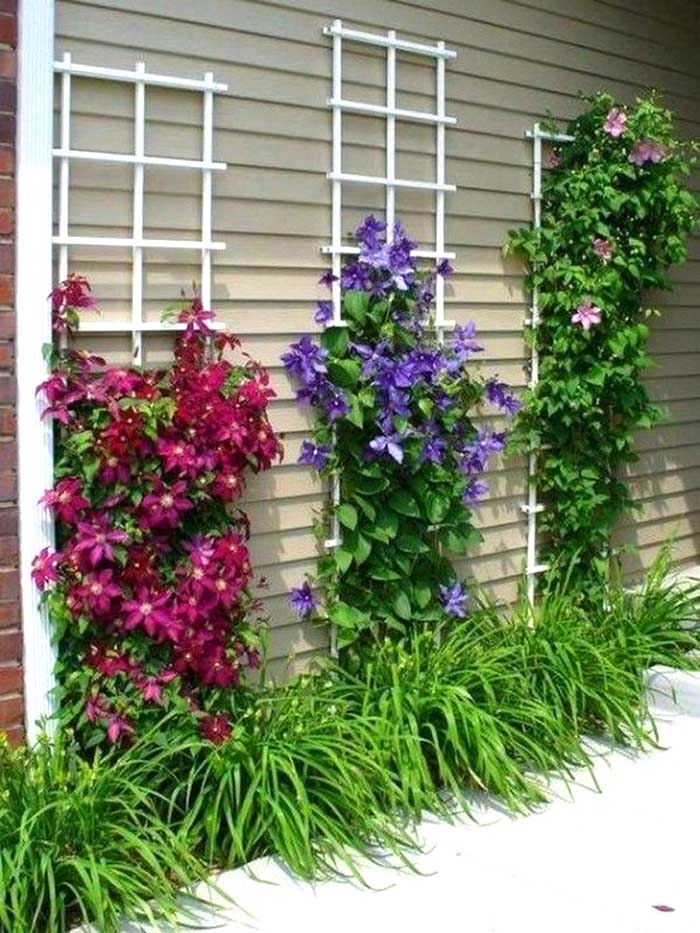 Clematis is such a wonderful plant that could easily grow around any trellis or arbor.
These are very cheap and easy to do.
23. Trellis To Grow Roses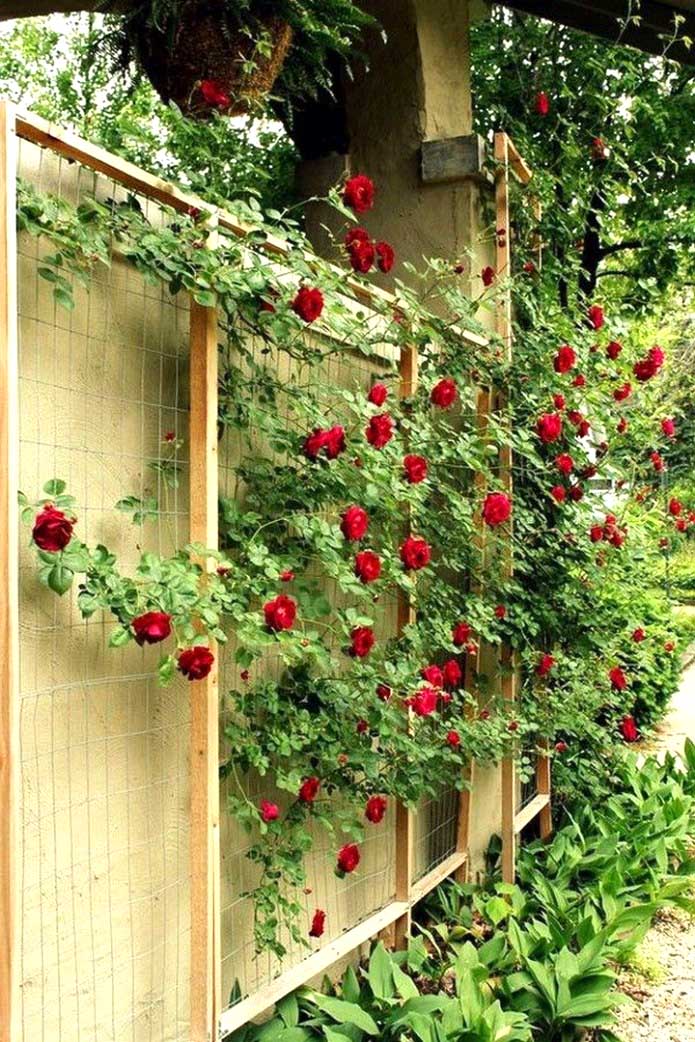 Why don't you build a trellis by the fence and plant some roses around it?
24. String Garden Trellis Ideas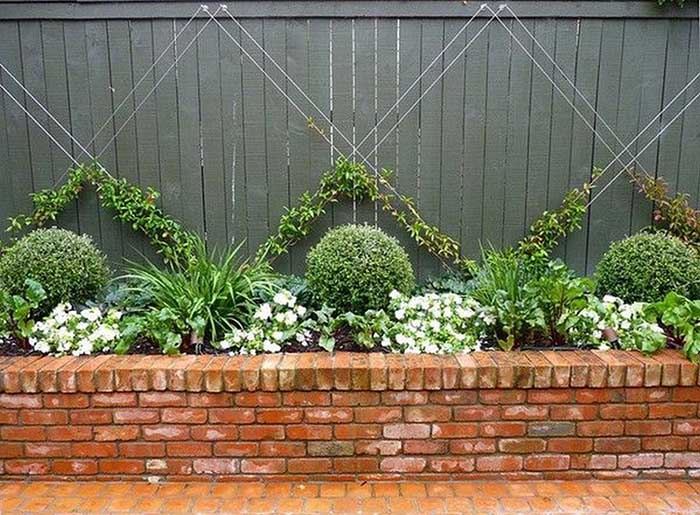 Instead of wood or iron, you can use strings for the plants to grow on to.
25. DIY Garden Trellis With Solar Lanterns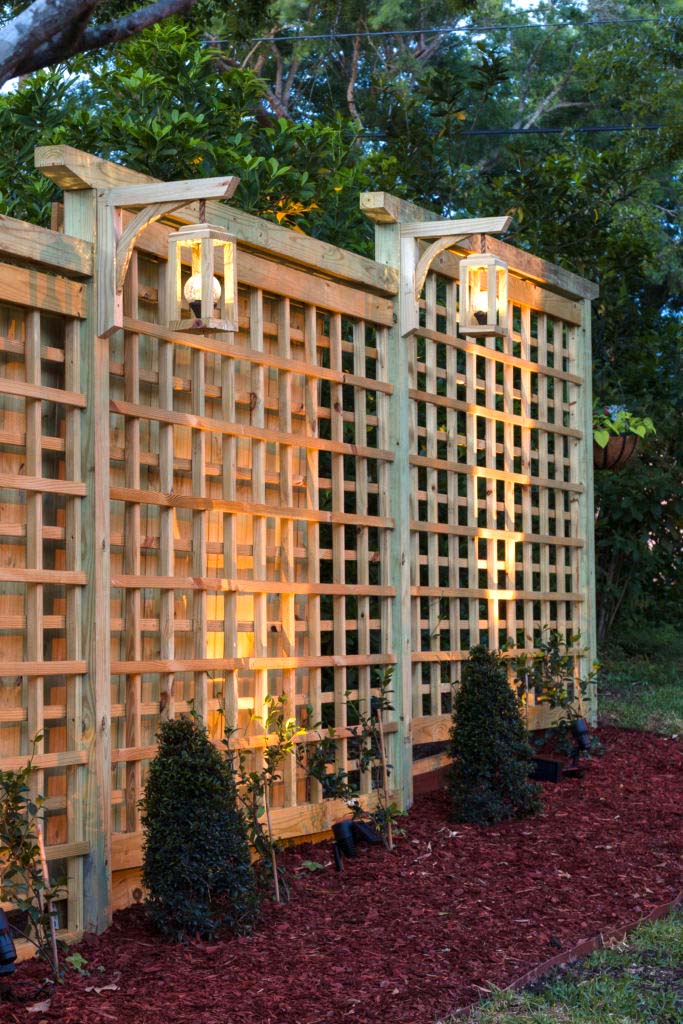 This project is amazing! It's not that hard although you need to have some woodworking skills and fortunately, there is a nice tutorial at Kippi at Home.
26. Criss Cross Trellis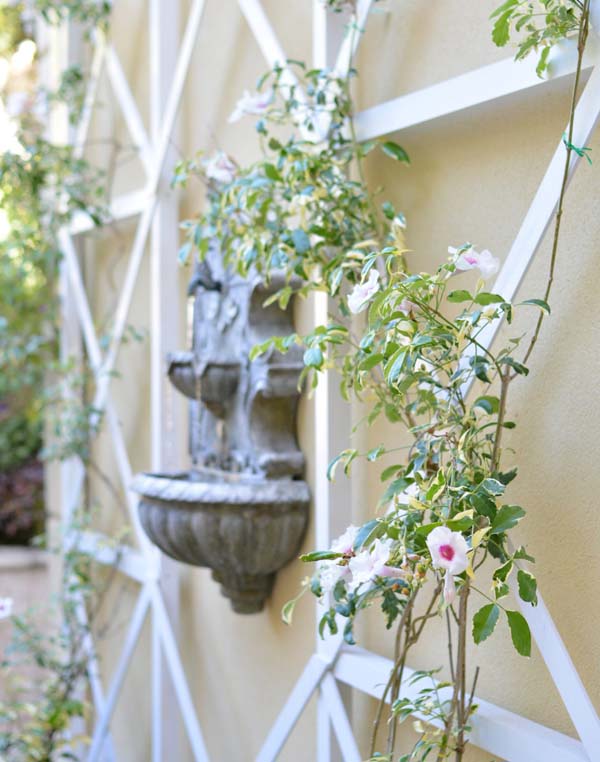 This DIY wall trellis idea shows the beauty of the vines and the small flowers that will climb it. It has a nice pattern and is really easy to do.
27. Wall Trellis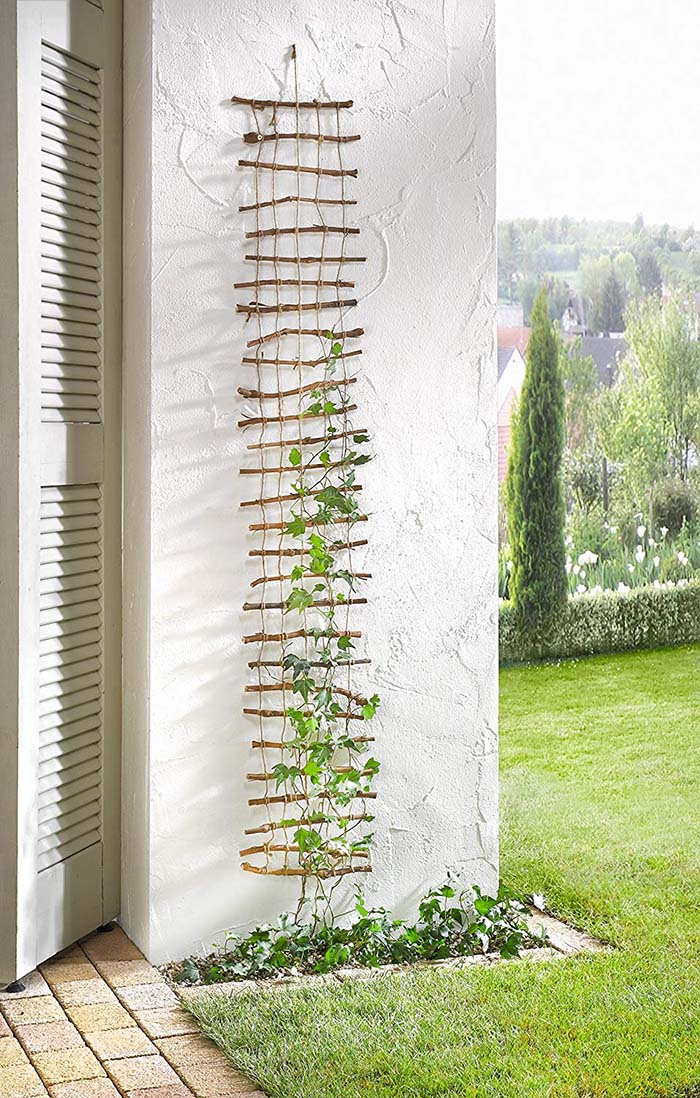 It's the easiest trellis you can do. Just hang it on your wall and let the plant climb it. You can find it in your local store or DIY.
28. Bean Pole Teepee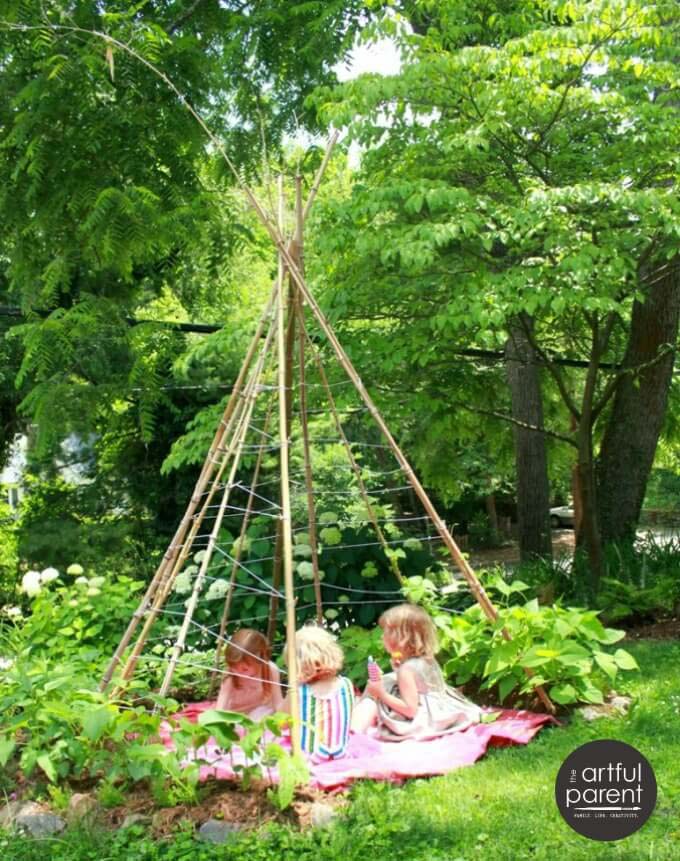 Use the bean pole teepee as a play area, fort, or reading nook at any stage of bean growth.
via Artful Parent
29. Simple DIY Trellis Idea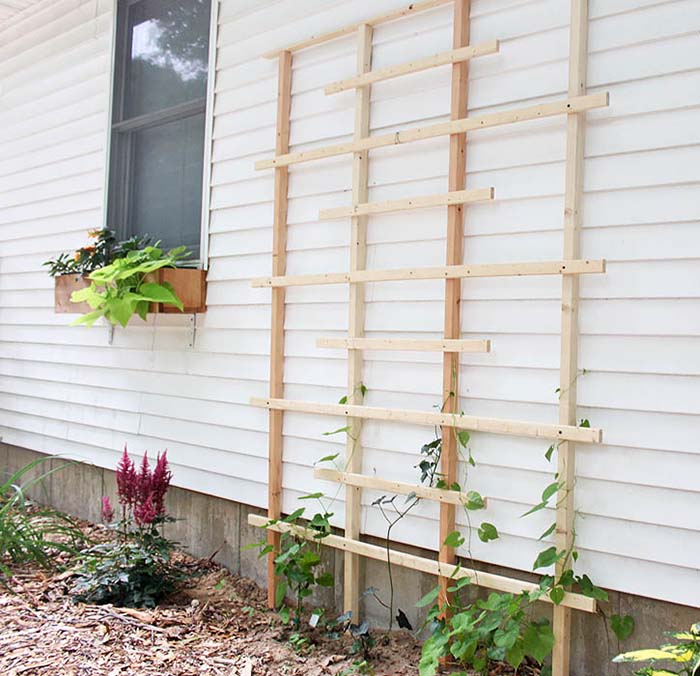 Plant Morning Glory and Ivy as they are going to look so pretty once they grow in!
via Gina Michele
30. Chevron Trellis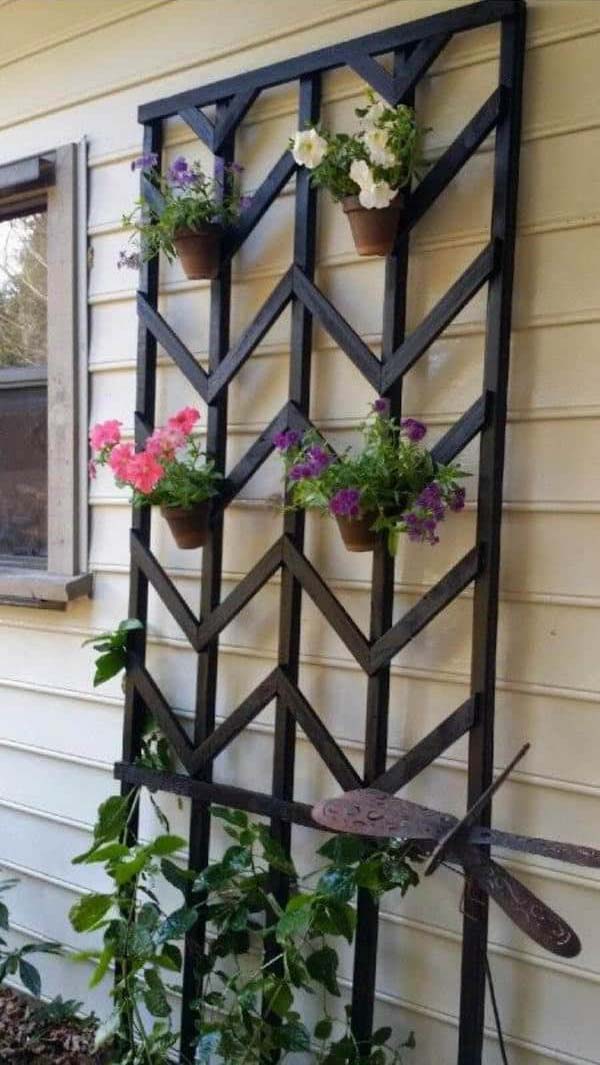 It is the perfect way to add some sophistication and uniqueness to your yard, thanks, in part, to the black glossy finish! The on-trend chevron pattern is really gorgeous and adds a lot of detail to the trellis.
31. Trellis Made Out Of Copper Pipes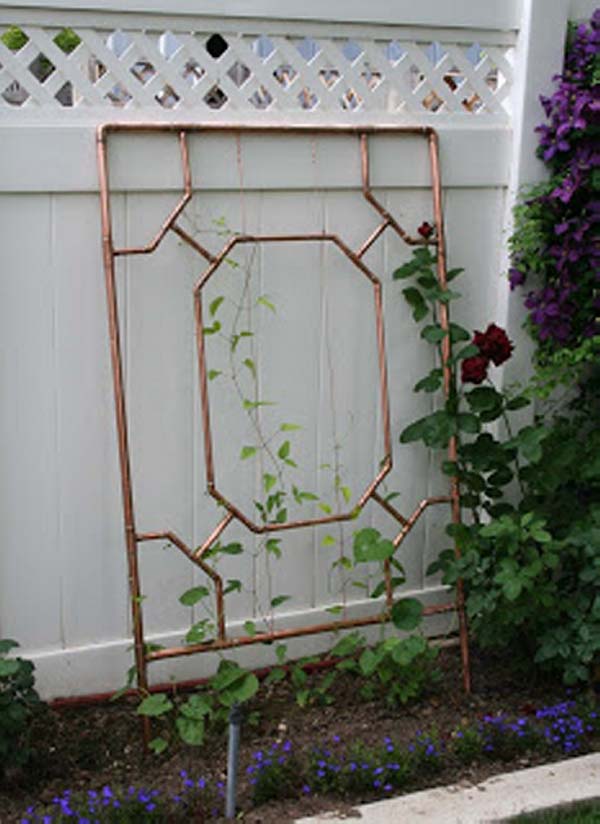 That's really creative use of copper pipes.
32. Ladder Style Trellis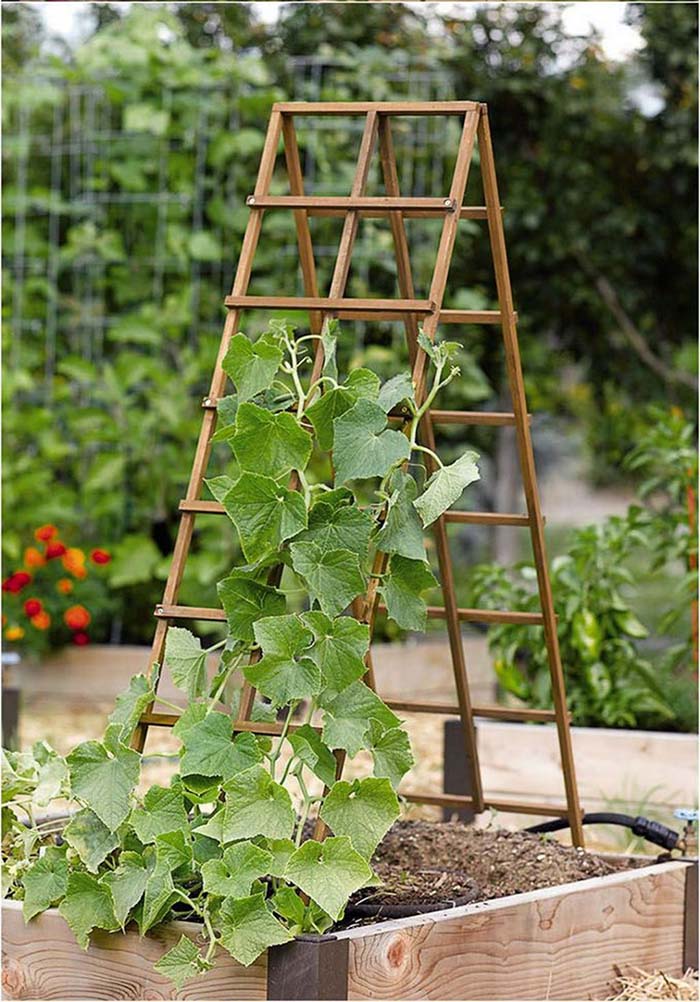 You can put it in a raised garden bed.
33. Vertical Garden Solution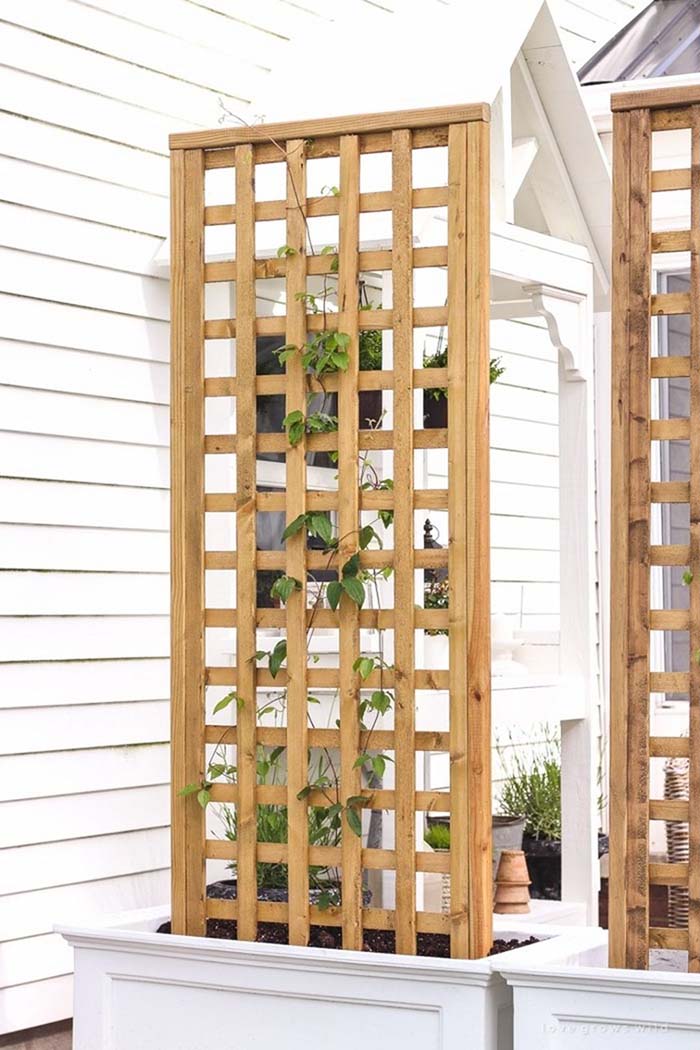 If you need a neat design for your trellis, this one is just for you.
34. DIY Honeycomb Trellis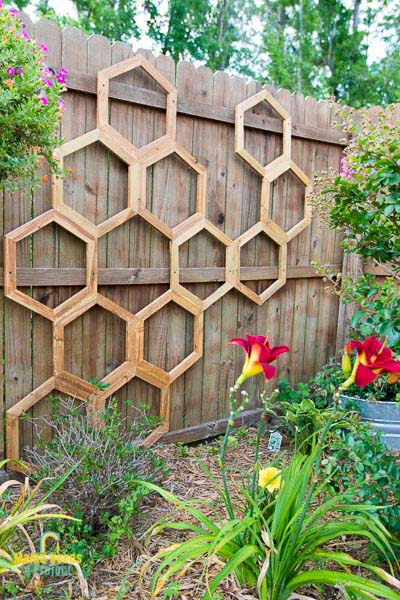 This Honeycomb DIY Garden Trellis is perfect for all your flowers and has an unique form. It's not too difficult and you can start making it today.
35. Watermelon Trellis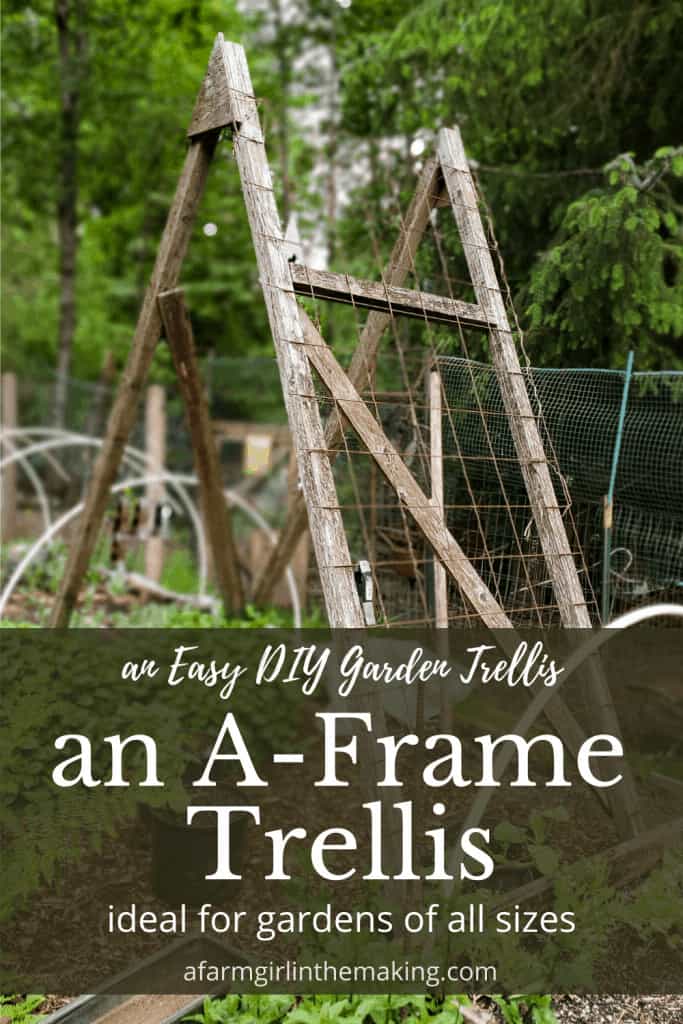 This simple style A-Frame DIY watermelon trellis could be built with scrap wood and metal wire. It should be strong enough to support watermelons. Learn more about growing watermelons vertically on Outdoor Happens