A garden swing takes your backyard to the next level.
As you sway in the sunshine, the rest of the world melts away; add a pillow, and you have the perfect spot for napping, reading, and relaxing.
Don't have the budget for an expensive pre-built swing?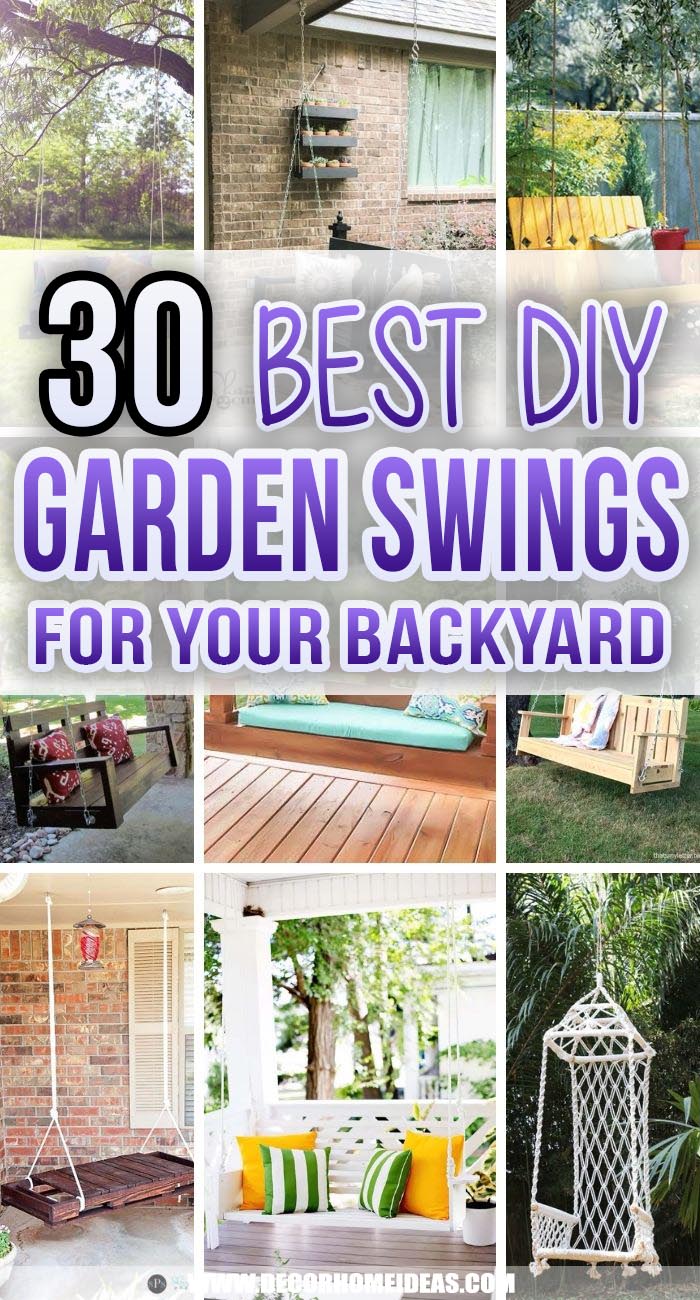 Break out your tools and check out our picks for the best DIY garden swings — whether you're a pro-level woodworker or a total newbie, there's a plan to suit your skills.
1. Easy Swing Frame With Hanging Flowers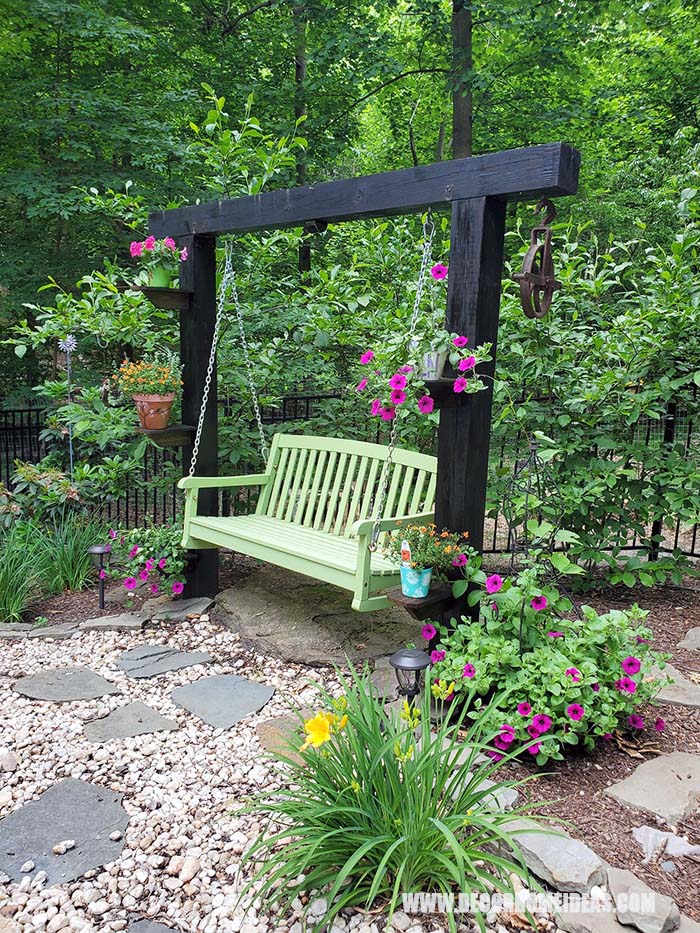 You can add more appeal and texture to your garden swing by adding shelves and potted plants. Small flowers are great to make it more vibrant.
2. DIY Porch Swing From 2x4s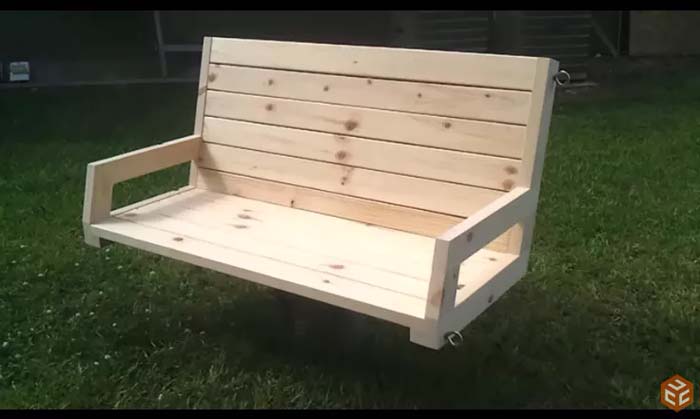 Pop over to the lumber yard and pick up a few 2 x 4 boards to make this affordable DIY swing with arm rest— depending on where you live, you can build it for less than $50.
The construction process is simple, so this is a fun way to work on basic woodworking techniques.
3. Garden Pergola Swing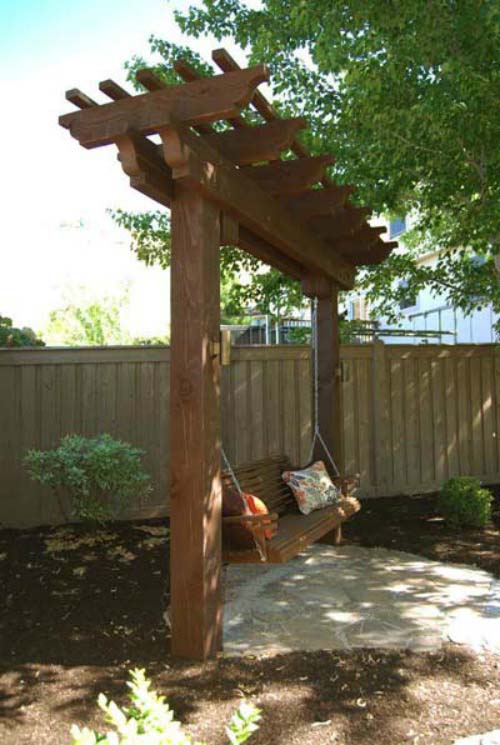 If you love the look of a garden arbor, this gorgeous swing is the perfect addition to your backyard.
The arbor offers shade and a place for growing vines, and the heavy-duty beams provide plenty of support for a bench swing.
4. Upcycled Vintage Headboard Swing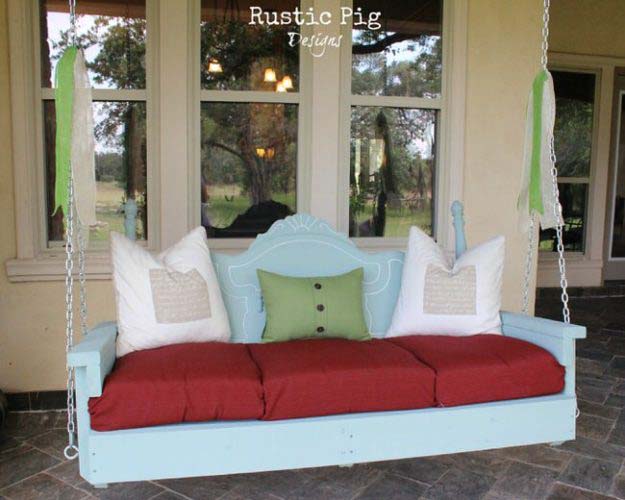 Upcycle an old headboard by turning it into the backrest of the swing.
The more distinctive the design, the better — scalloped edges and elegant detailing set your swing apart from everyone else on the block.
5. Tree Hung Cedar Swing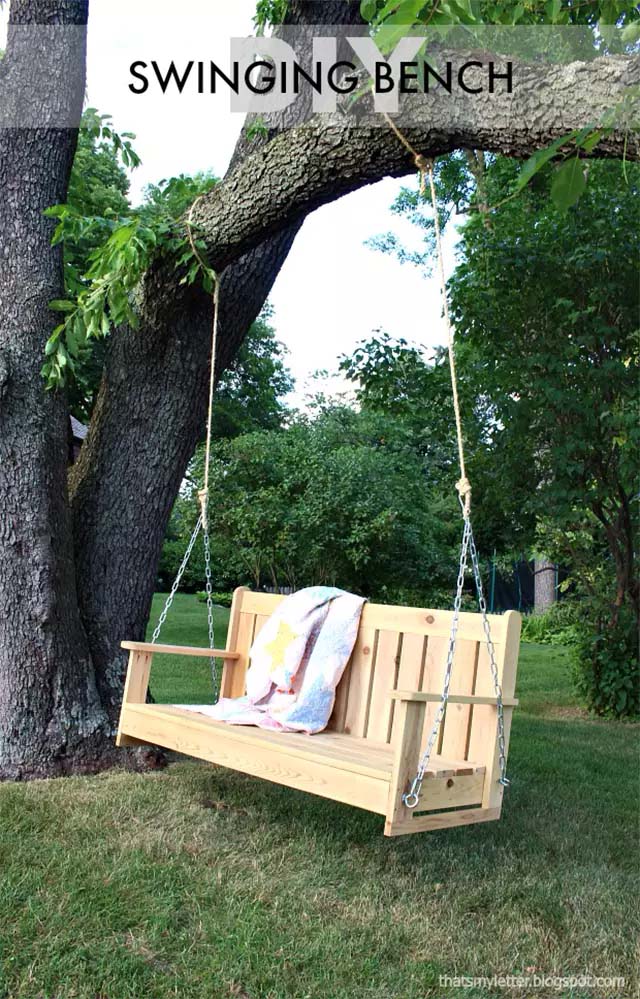 Cedar is one of the best types of wood for outdoor furniture; it's naturally rot-resistant, so you can leave it outdoors in the rain with confidence.
This lovely swing features classic right angles, eliminating the need for complicated joints. Add a coat of clear sealant to show off the beauty of the wood.
via Jaime Costiglio
6. Traditional White Porch Swing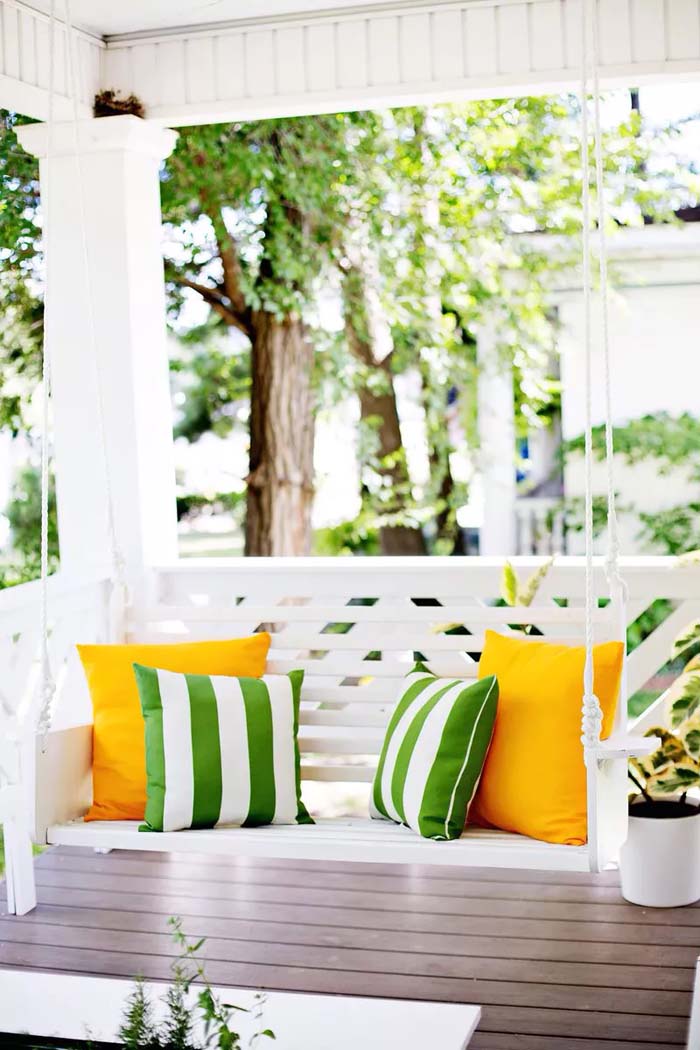 Is there anything more relaxing than a porch swing?
Make your home feel more relaxing with this project, which uses standard lumber sizes for easy shopping.
Jazz it up with a coat of paint and a few pillows to elevate your porch design.
via A Beautiful Mess
7. Adirondack Style Swinging Bench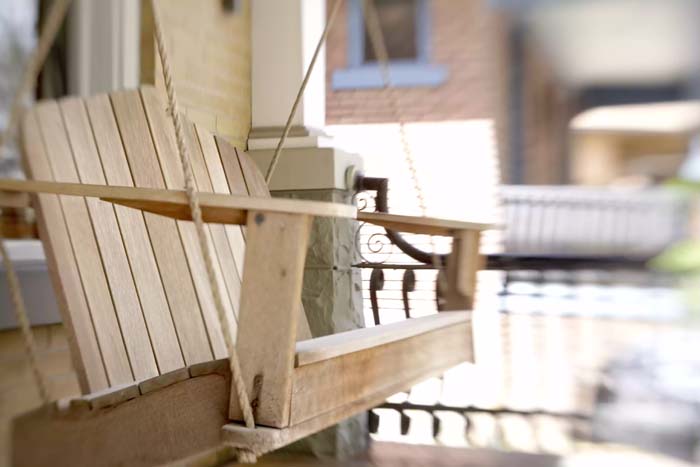 If you love the look of a classic Adirondack chair, these swing plans are for you.
The tall backrest and curved seat encourage you to relax completely, and the planked design adds a rustic vibe to your garden or porch.
via Extreme How-to
8. Barn Style DIY Swing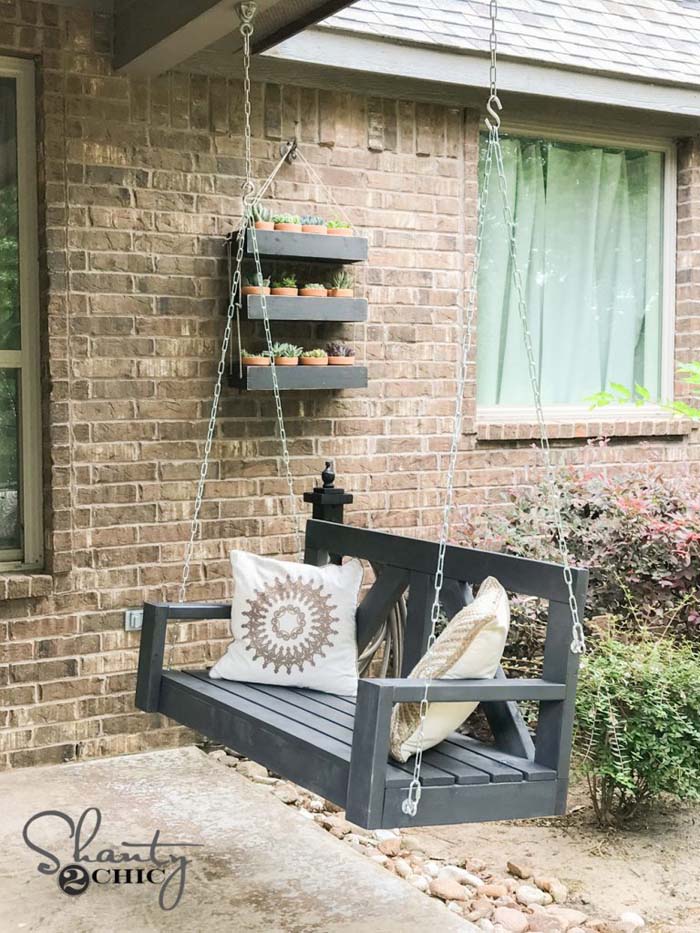 Are you decorating your home in traditional farmhouse style?
Check out these woodworking plans — the angled back supports and planked seat resemble rustic barn-style construction.
This swing is made with simple right-angle joints to eliminate the need for mitering.
via Shanty 2 Chic
9. Add Color With A Bright Swing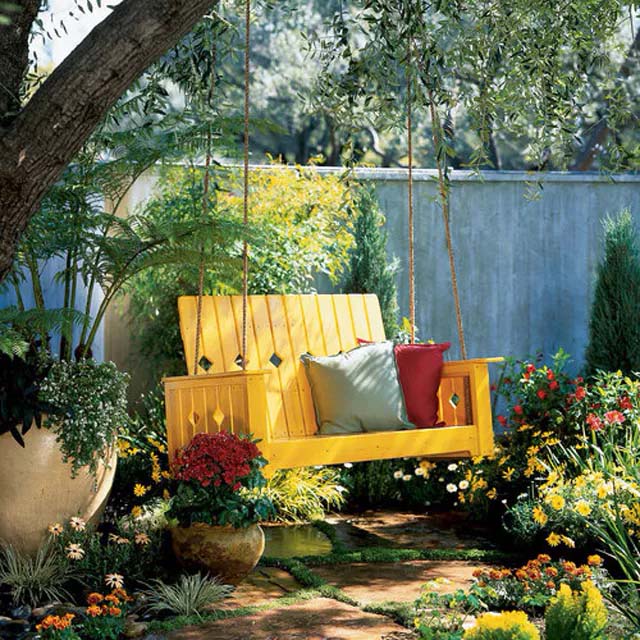 This elegant garden swing stands out from the crowd, thanks to the gorgeous cutout detailing on the backrest and arms. In addition to the aesthetic appeal, these details increase ventilation to keep you cool on a hot summer day.
via Sunset
10. Cozy Comfort Swing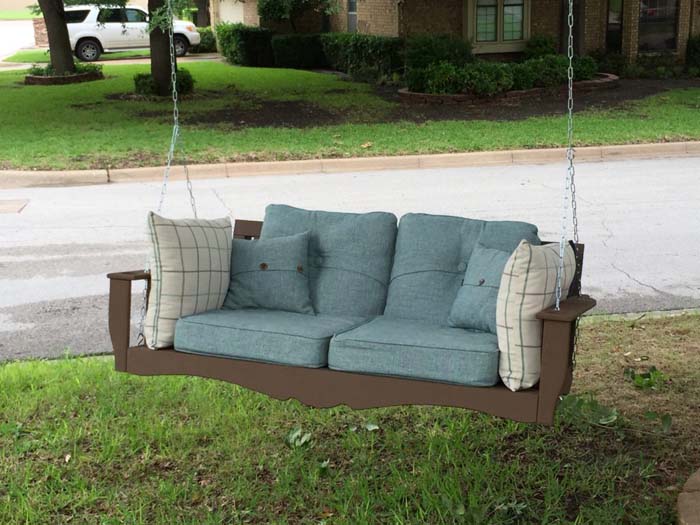 Is comfort your priority when it comes to a garden swing?
This DIY project is a great option.
It's long and roomy, so you can add thick cushions for the ultimate outdoor resting place. We love the wide arms; they're perfect for balancing a cup of coffee.
via Wilker Do's
11. Easy Repurposed Pallet Swing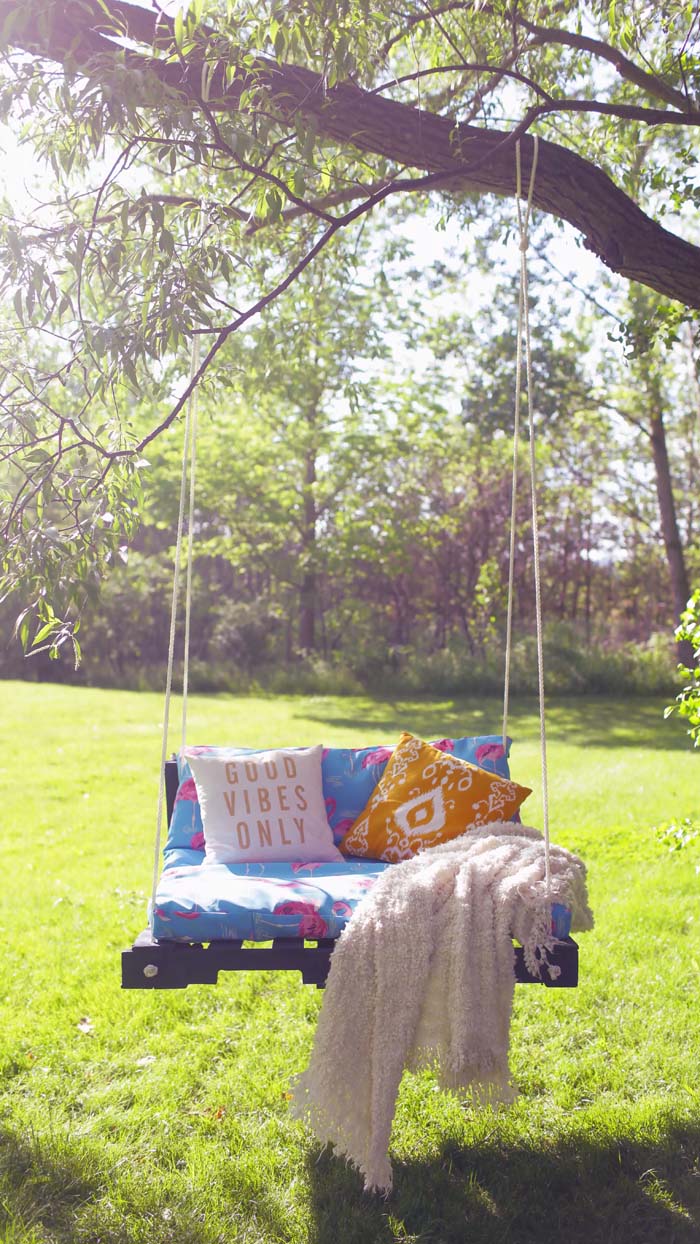 When you're new to woodworking, simple projects are a great way to get started.
This clever swing is both cheap and easy to make — all you need are two pallets!
Add a plush cushion; the extra-deep seat offers plenty of room to curl up with a book or a loved one.
via The Sorry Girls
12. Simple Backless Pallet Swing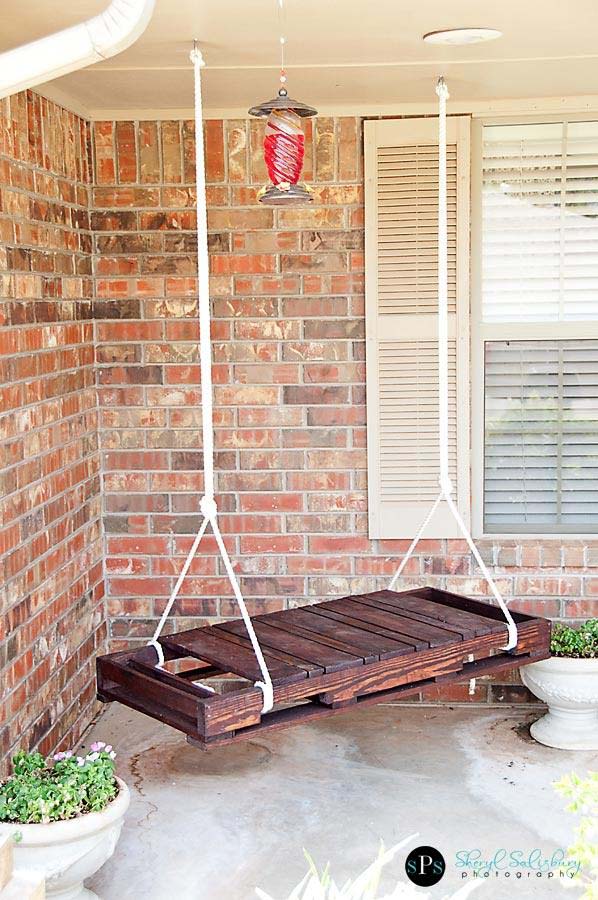 It doesn't get much easier than this DIY pallet swing. It's made from a single pallet, so it resembles an oversized playground swing.
Pick up some high-strength rope, and you can hang your swing from porch hooks, a tree branch, or a beam.
13. Charming Bedframe Swing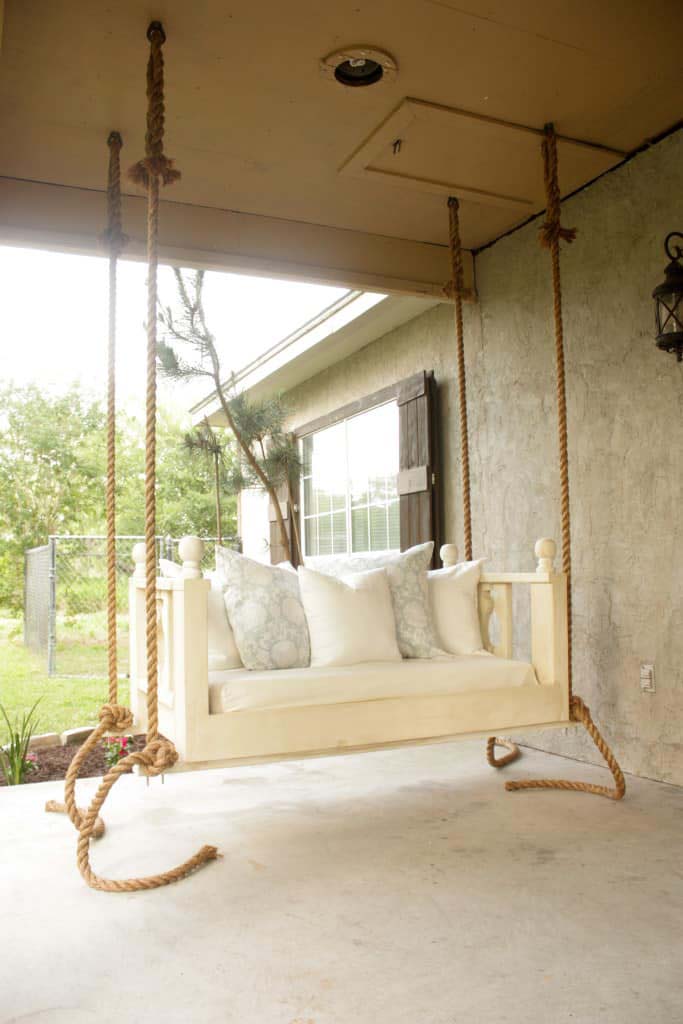 Add artisan-style detail to your front porch or garden with this clever DIY bed swing.
The full-height backrest and armrests are designed to resemble a headboard.
You'll need a scroll saw to complete the geometric cutouts, but the construction process is relatively easy and straightforward.
14. Contemporary DIY Swing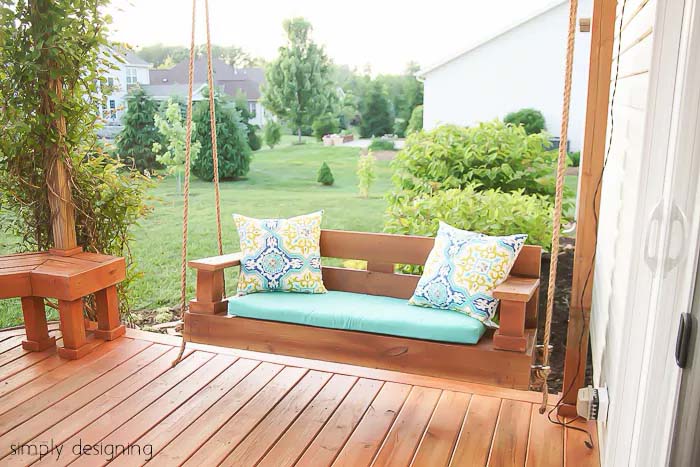 This DIY swing strikes the perfect balance between contemporary design and traditional style.
The magic is in the wide planks, which give the piece a streamlined, elegant feeling.
This low-back swing is comfortable with or without cushions.
via Simply Designing
15. Family Sized DIY Swing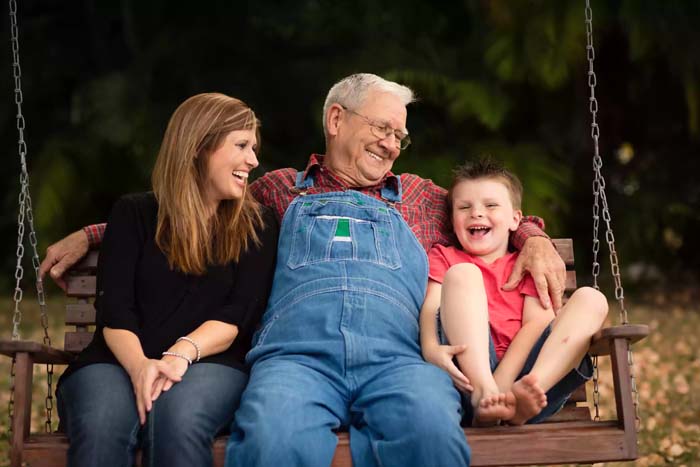 Do you love the traditional swing styles?
With its narrow back slats and rounded armrests, this beautiful DIY swing fits the bill.
The plans include instructions for a DIY support structure, but you can also hang the seat from your porch or a tree as space allows.
16. Build Your Own Traditional Swing Plans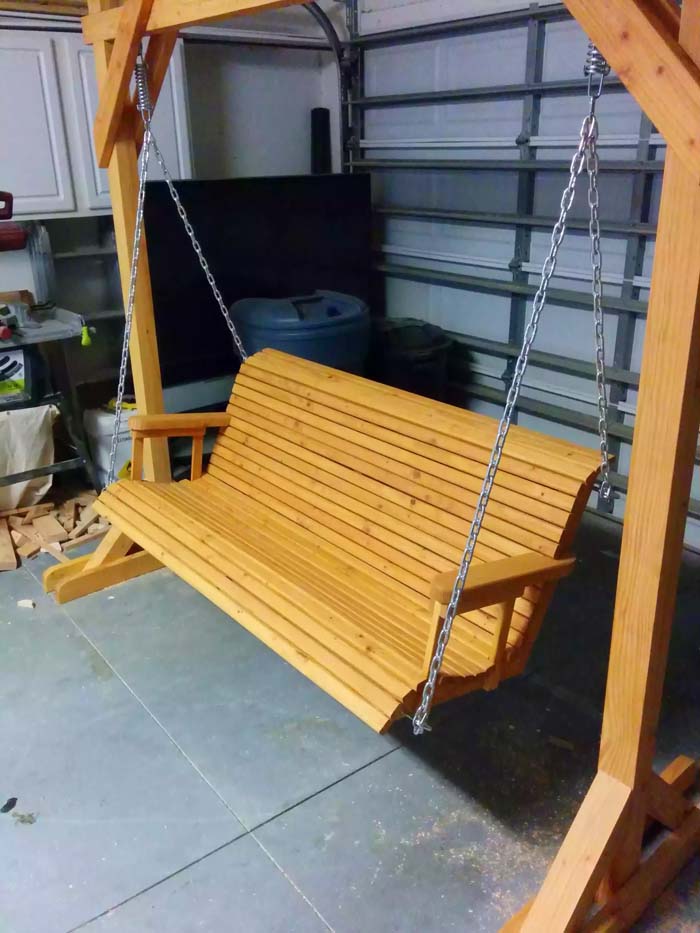 When it comes to hanging your DIY swing, a stable support system is essential.
This project comes with plants for a freestanding frame — it's made from thick, sturdy boards, so it supports weight with ease.
That way, you can enjoy the curving seat and backrest with confidence.
via My Outdoor Plans
17. Cottage Style Front Porch Swing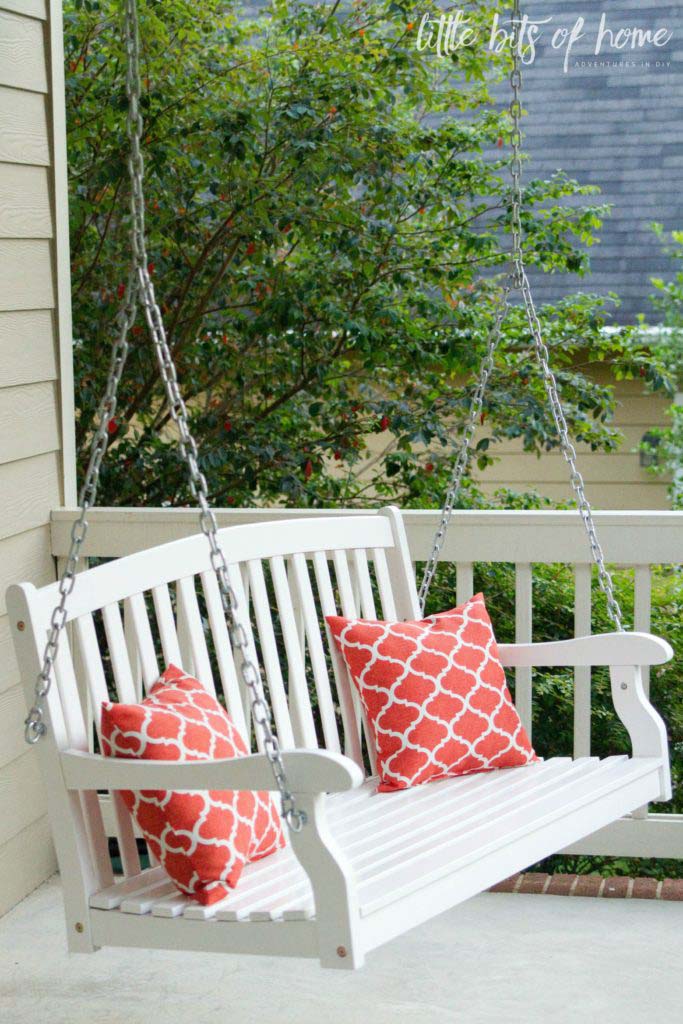 Do you have a cottage-style or Craftsman home?
This adorable swing fits right in. With its curved backrest and sculpted arms, it's a great challenge for intermediate woodworkers.
Add a coat of fresh white or pastel paint to complement the exterior of your house.
18. Exquisite Wood Swinging Bench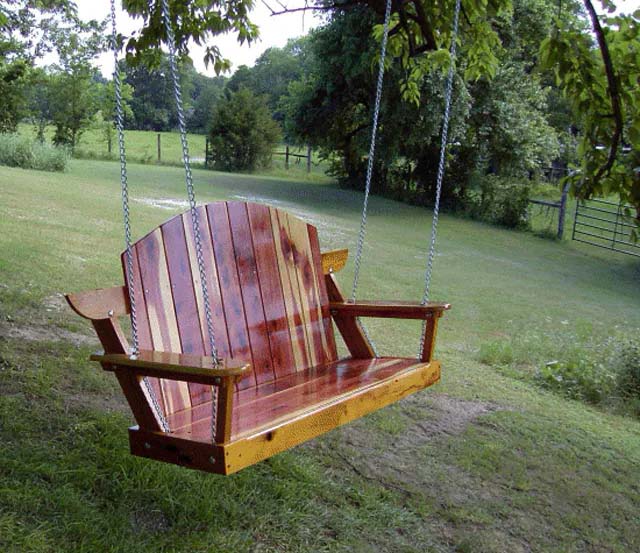 If you're looking for something out of the ordinary, this DIY garden swing fits the bill.
The rounded, planked backrest is a nod to
Adirondack design, while the angled armrests and protruding cross-supports add a Japanese flare. The result is both beautiful and unexpected.
via Buildeazy
19. Fairy Tale Flowered Swing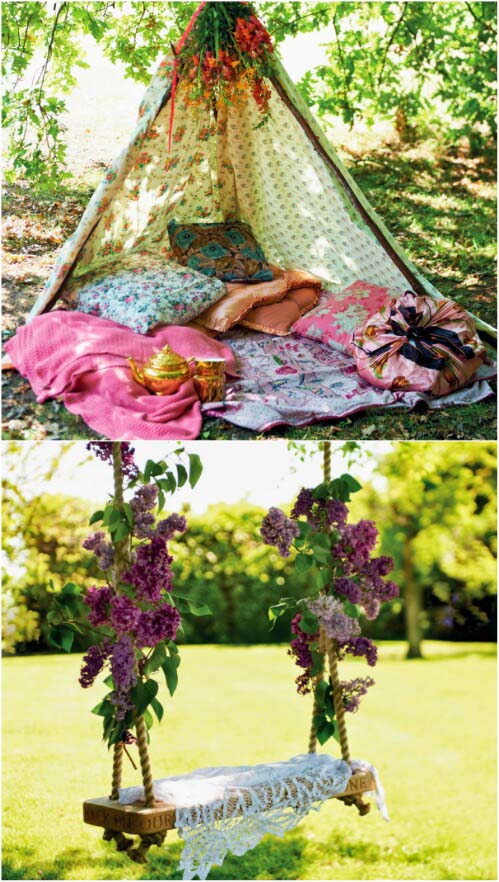 When you have a limited number of tools, why not build a simple one-person swing?
The only tools you need for this DIY swing are a drill and a saw.
The plans are simple — you can even decorate the rope handles with lilacs for a whimsical, romantic touch.
20. Boho Macrame Swing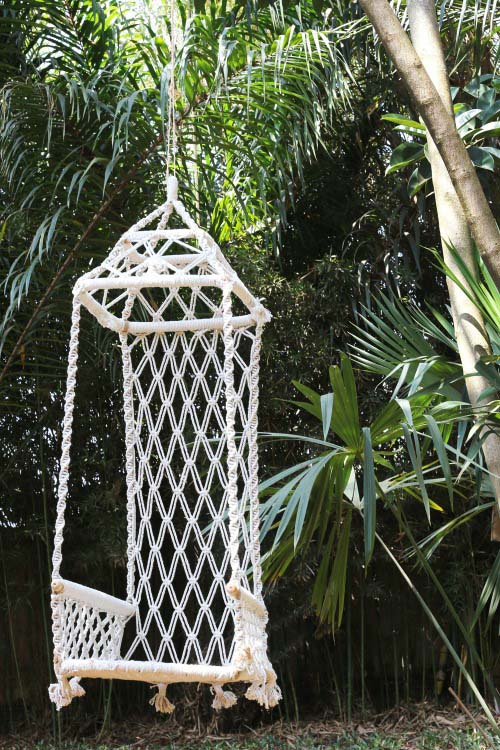 Brush up on your knot-making skills as you make this spectacular macrame swing.
The armrests, upper frame, and seat edges are made with affordable wooden dowels — everything else is formed by knotted ropes.
Whimsical and vintage-inspired, this hanging chair suits a tropical yard or a classic English garden.
21. Plank Seat With Cushions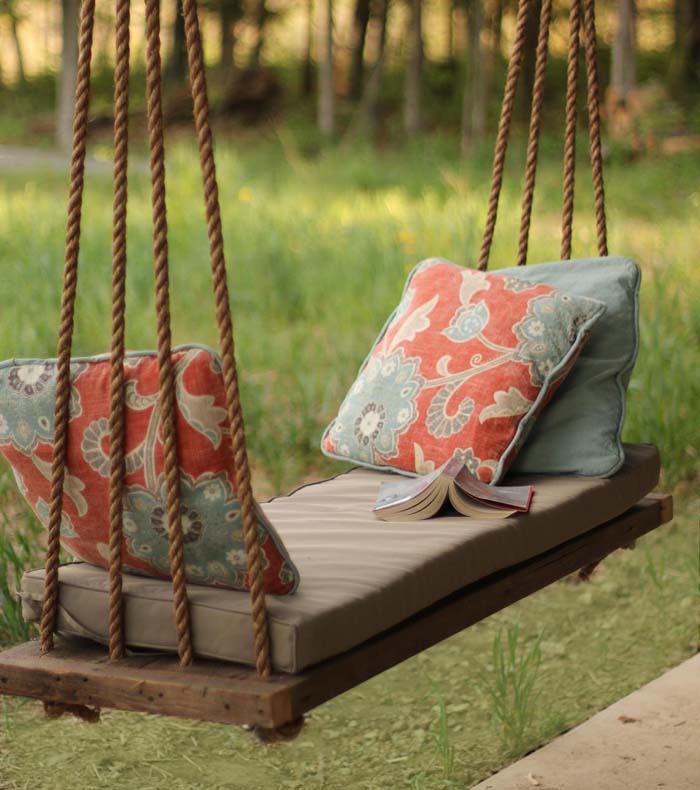 Whip up a porch swing in a few hours with this clever DIY project. It consists of a simple planked panel; drill a few holes in each end for hanging ropes, and it's ready to hang.
A seat cushion and a few pillows add just the right amount of softness.
22. Swinging Porch Bed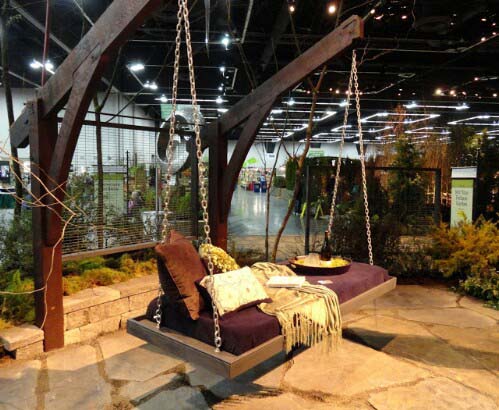 Feel like a royalty when you're lounging on this oversized swing bed.
With its large size, it's the perfect spot to relax with a book and a glass of wine.
The building plans are simple and easy to follow, even if you're new to woodworking. The best thing about swinging bed is that you can lay all day long while doing nothing.
23. Nautical Look Rope Swing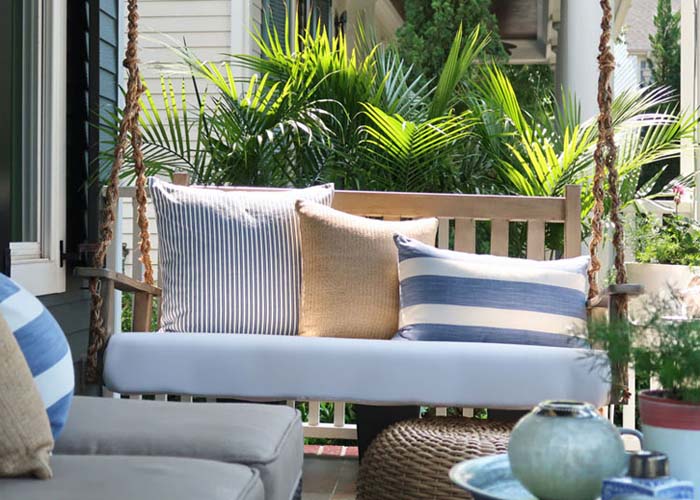 Dress this beautiful swing up or down — the flat seat and tall backrest are comfortable with or without cushions.
For a nautical vibe, hang the swing with chains; then, wind rope through the chain links to add a natural texture.
via Porch Daydreamer
24. Swinging Fire Pit Seating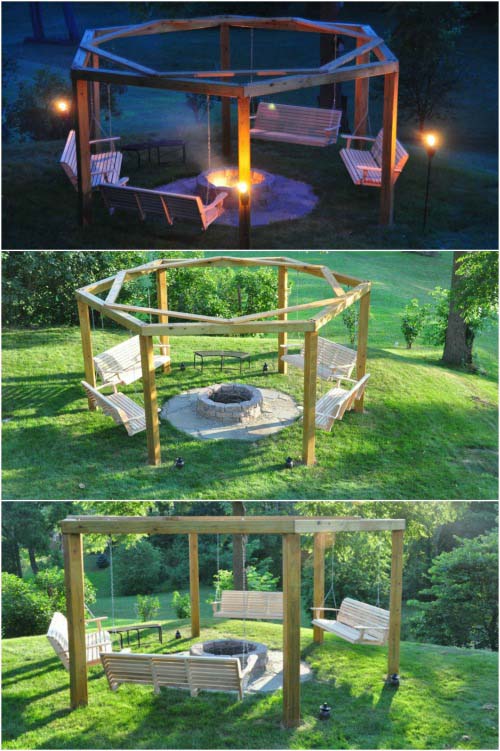 It doesn't get more magical than this creative outdoor swing! The six-sided frame offers plenty of space and support for four individual swing benches.
Place a fire pit in the center, and you're ready to host spectacular summer gatherings in the garden.
via Instructables
25. Upcycled Pallet Swing Bed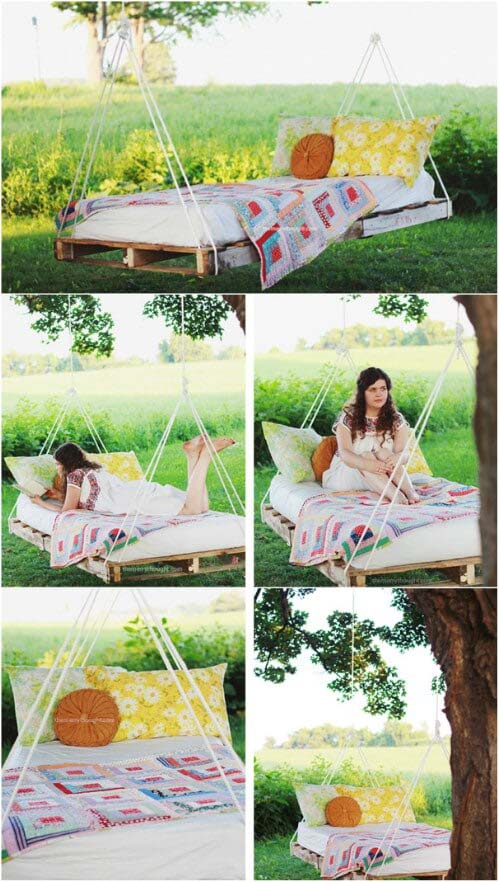 Get ready for breezy summer afternoons with this large swing bed.
It's made from pallets, so you don't have to spend much money on materials — just add a twin mattress and a few pillows to create the ultimate outdoor lounge.
26. Elegant Classic Swing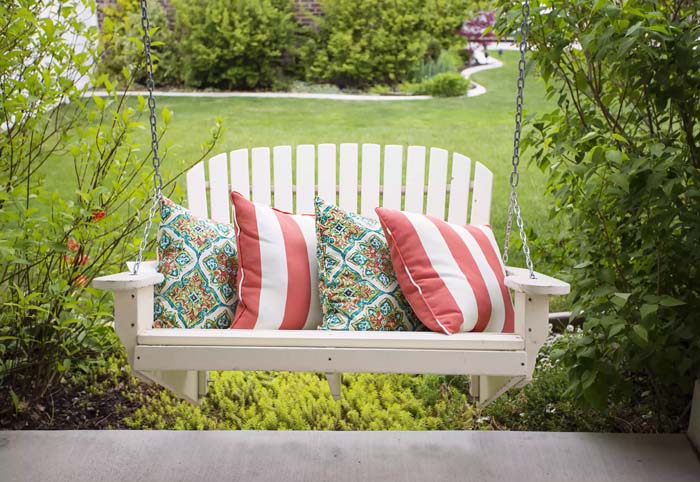 With its vertical planks and wide, curving armrests, this DIY swing adds a mountain-inspired Adirondack twist to your porch or garden.
The seat is deep, offering lots of support for your lower body, and the tall backrest encourages complete relaxation.
via DIY Network
27. Rustic Dark Stained Swing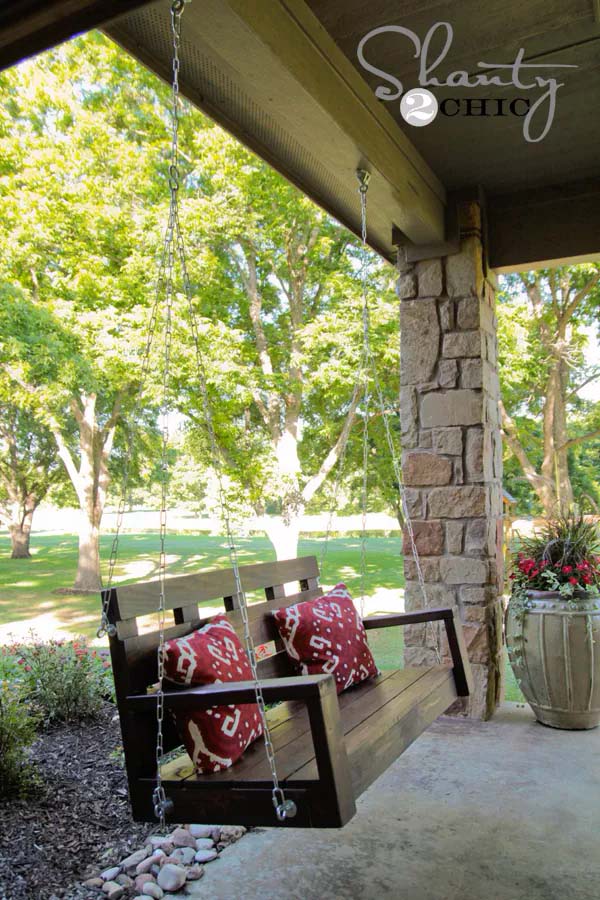 Are you in search of beginner-friendly swing plans?
This simple project is a great place to start. The joints are easy to master, and external hardware makes it easy to attach hanging chains.
via Ana White
28. Pair of Covered Chair Swings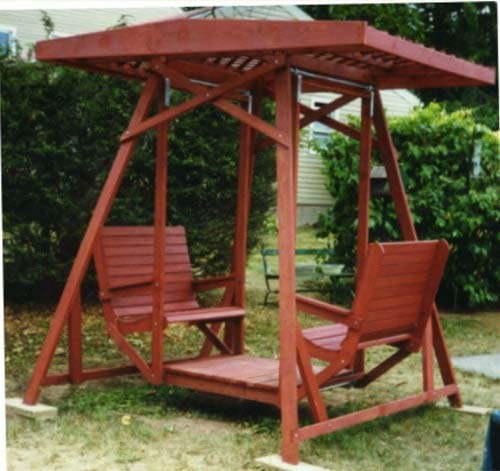 Put your woodworking skills to the test with this fantastic DIY glider swing.
Two roomy seats are perfect for chatting, and the built-in awning keeps you out of the sun. Place this swing anywhere in your garden to create an outdoor retreat.
via William Cameron
29. Pretty Painted Pallet Swing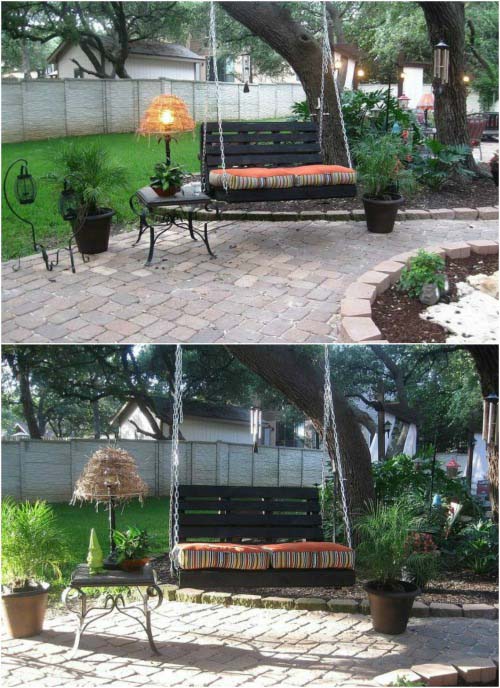 Pick up some pallet wood from a local store to make this streamlined wooden swing.
It takes a couple of hours to build and hang, so you can start swinging in no time.
A coat of black paint gives the wood a chic, contemporary vibe.
via Hometalk
30. Corrugated Metal Ring Chair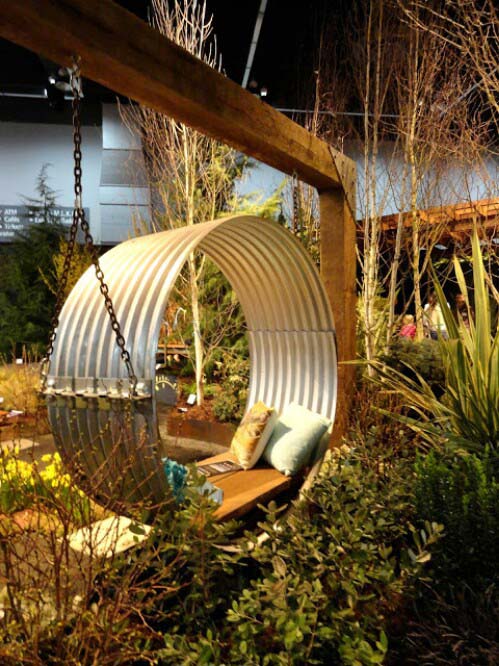 We guarantee no one in your neighborhood will have a swing like this — it's made from a giant ring of corrugated metal, creating an Instagram-worthy garden decoration.
A simple wooden bench seat creates a cozy place to rest.
31. Round Bed Swing With Frame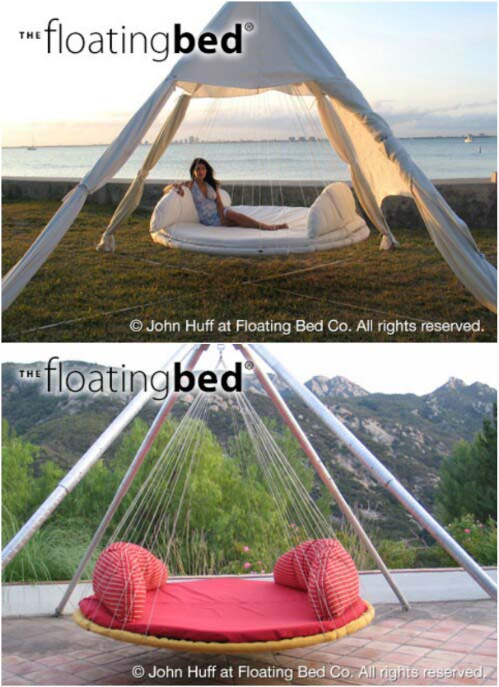 Chill out with friends on this floating bed swing.
With its large round seat and oversized cushions, it's ideal for sitting or laying down. An integrated canopy keeps out the bugs and blocks the sun.
via Floating Bed