If you have a patio that you would like to enjoy but find yourself avoiding because of the sun, then it may be time to look into getting a patio awning.
There are many different types and styles of awnings from which to choose, so finding one to complement your patio décor should not be difficult.
Functionality is important, of course, but there are also many aesthetically pleasing options available.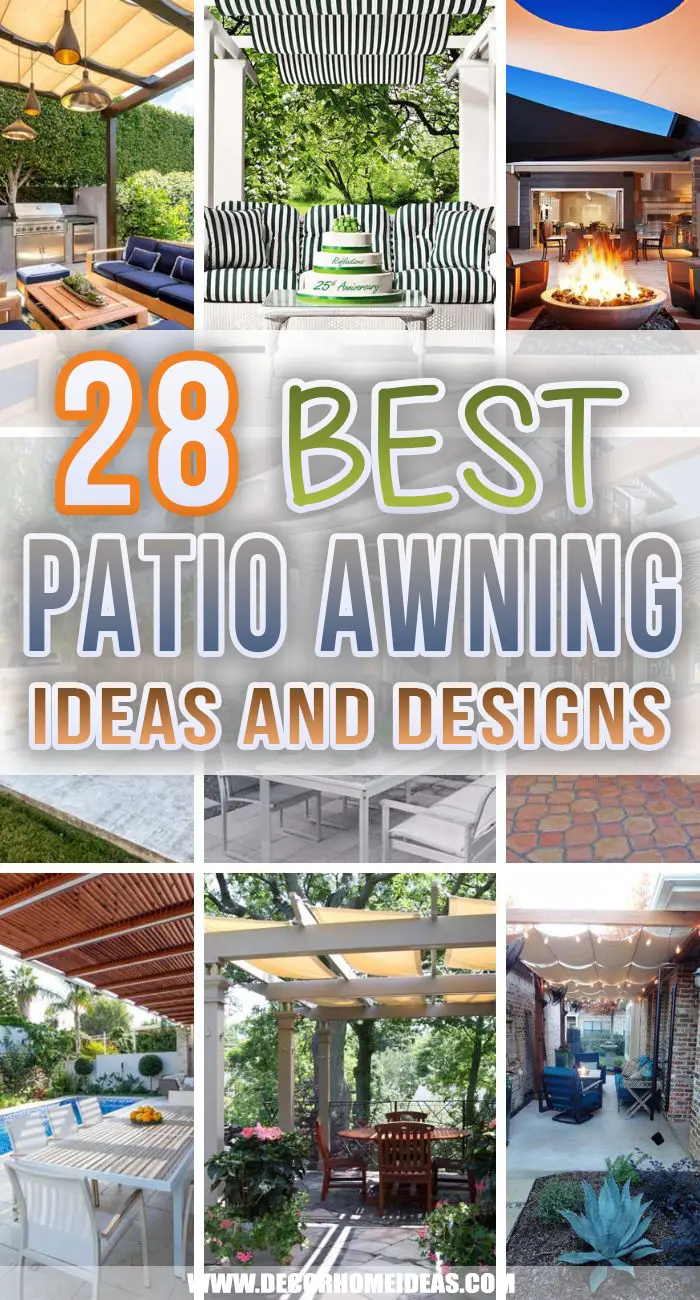 In this article, we'll share some of the best patio awning ideas to help you make the most of your outdoor space.
From simple canopies to permanent solar shades, there's sure to be an option that suits your needs. So, read on for some great patio awning ideas.
What can I use instead of an awning?
Patio Umbrellas. A patio umbrella is one of the most popular types of patio shade ideas. It's also very affordable. They can be permanently set into the ground or mounted by a weighted umbrella stand.
Sail Shades. These come in a variety of fabrics and shapes and usually have some UV protection. Their light weight means they can be temporarily mounted with metal posts.
Pergolas. Since they're not attached to the house, free-standing pergolas are often allowed by HOAs. They can be set up in any outdoor area.
UV Blocking Window Film. This is a good option if you're more interested in protecting your home's interior from ultraviolet rays than outdoor living. It's much more affordable than any window awning. They have frosted and clear options.
Solar Shades. These are fixed as side panels around your patio area or at your doorway. It's another good option for keeping UV rays out of your home and keeping it cooler during the summer.
Is awning better or pergola?
Awnings provide shade and shelter from the sun and rain while allowing a bit of airflow and light into your home. They're a stylish way to realize your dream of a covered patio.
Pergolas have an open-beam structure. They don't provide as much protection as an awning, but they're more versatile. You can cover the tops with shades or plants.
What is the difference between an awning and a canopy?
An awning is a roof-mounted sunshade made of fabric or a synthetic material. A canopy is typically made of fabric and can either cover your porch or a freestanding structure that can be added anywhere in your yard.
Are awnings old fashioned?
There's something about an old-fashioned awning that just makes a home look inviting and comfortable. Whether it's the rustic look or the nostalgia, awnings are a great way to add a touch of class to any property.
Style and function will be the determining factors as to how retro your awning will look. Sail shades look very modern, while many commercial awnings hold onto the traditional look of stripes and scalloped edging.
1. Retractable Fabric Awning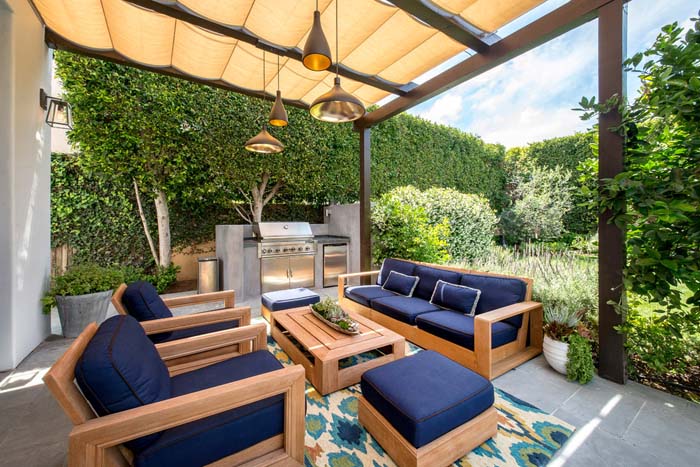 Retractable fabric awnings are available in a variety of colors and styles to match any home's décor.
Most have UV protection and can be custom fit to suit any outdoor living space. They're available in kits which makes Installation relatively simple and can be done by most do-it-yourselfers.
2. Shade Cloth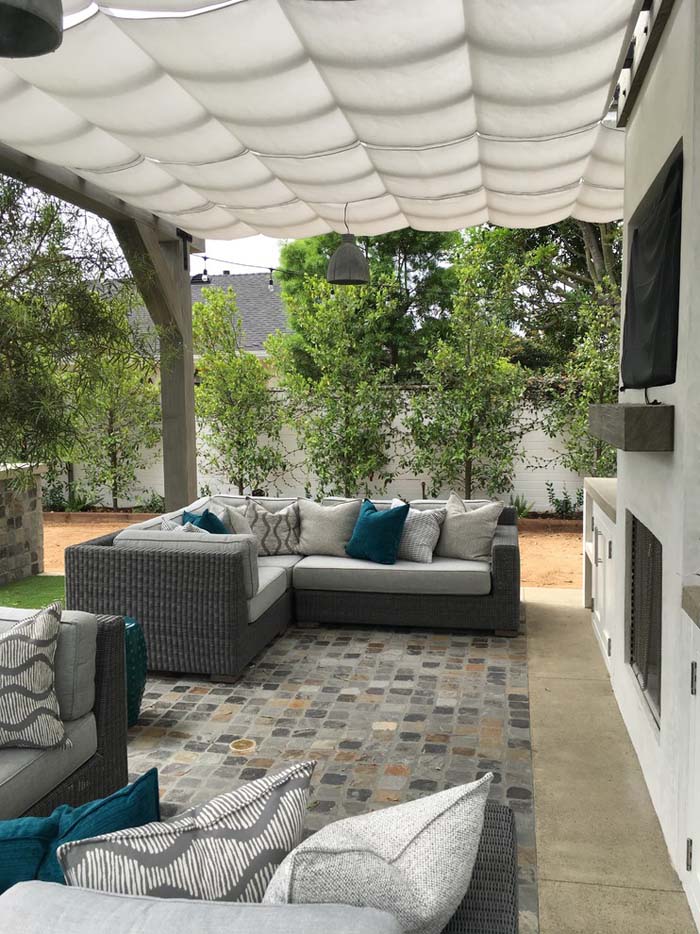 A shade cloth awning is a type of patio cover that is made from a breathable fabric material. Shade cloth awnings can be installed over windows and doors or they can be freestanding.
This shade cloth is hung from the beams of a pergola. The modern look of this patio canopy matches the neutral color palette of this outdoor living area
via Designs by Dian
3. Patio Roof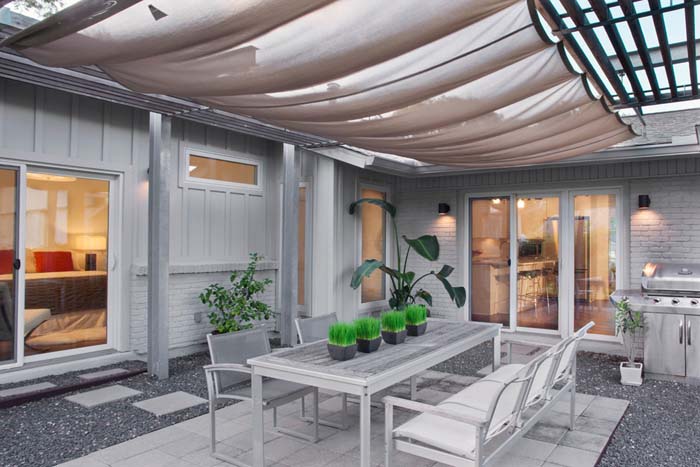 It's a common trend these days to extend the home's outdoor living area, creating more intimate connections with separated interior rooms. This contemporary patio, made of steel and concrete, is softened with the addition of a fabric patio canopy.
This fabric patio roof connects the master bedroom with the eat-in kitchen while maintaining an intimate feel.
4. Sail Cloth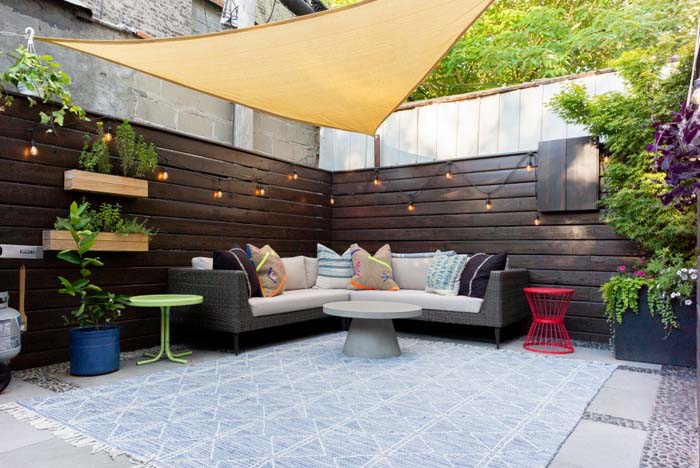 An outdoor patio in Brooklyn has all the elements of an inviting entertainment area. Outdoor furniture includes a sectional from West Elm.
To make life easy, the garden vibe was created using potted plants. Keeping it modern, a colorful shade sail was extended across the patio using beams attached to the back of the privacy fence.
via Brooklinteriors
5. Retractable Awnings and Patio Umbrellas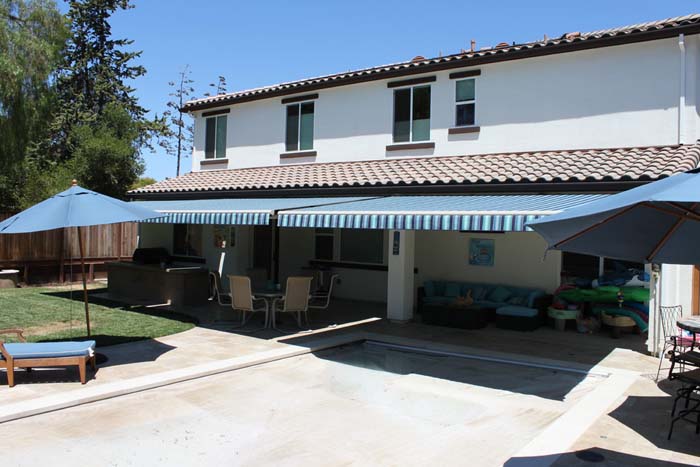 Custom-built awnings can be adjusted to suit the length of your patio. If you have a larger backyard space, you can use multiple types of sun shades.
This Mediterranean style home benefits from two porch awnings and patio umbrellas for different seating areas.
via Air Sun Screen & Awning Inc.
6. Retractable Cassette Awning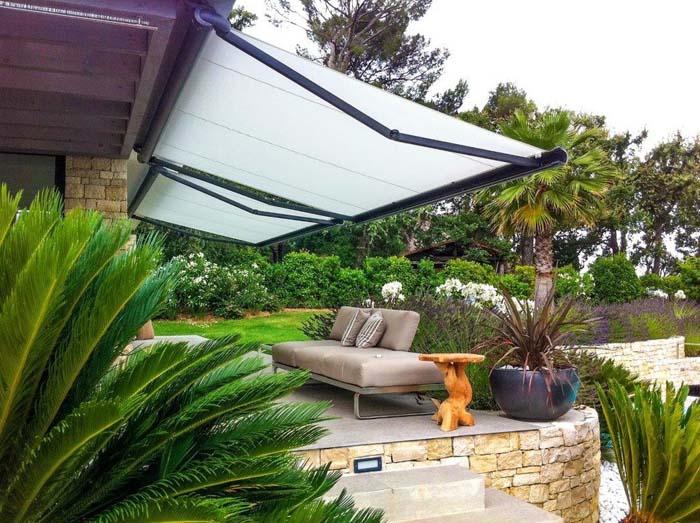 Home installations don't need to be built as ruggedly as a storefront. A retractable patio awning doesn't have to have a bulky housing.
Enter the retractable cassette awning. They have a smaller footprint when closed up, come in a variety of colors, have UPF 50+ protection, and can be operated manually or with a remote.
via Suntanium Shading Products, LLC
7. Fixed Woven Fabric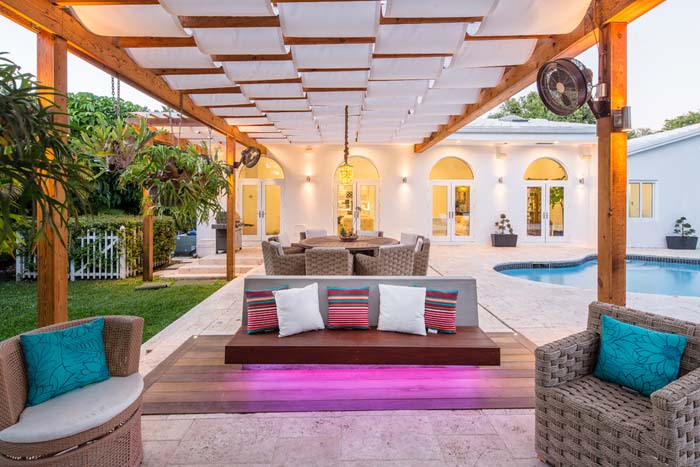 Canvas and awning fabric can be woven through a pergola as a single piece, or as strips quilted together. It creates a unique geometric pattern.
The design works in arid climates, but should be avoided in areas with frequent rainfall as it can puddle in the low points, causing an unsightly mess.
via Marylinda Ramos
8. Slide-on Wire Canopies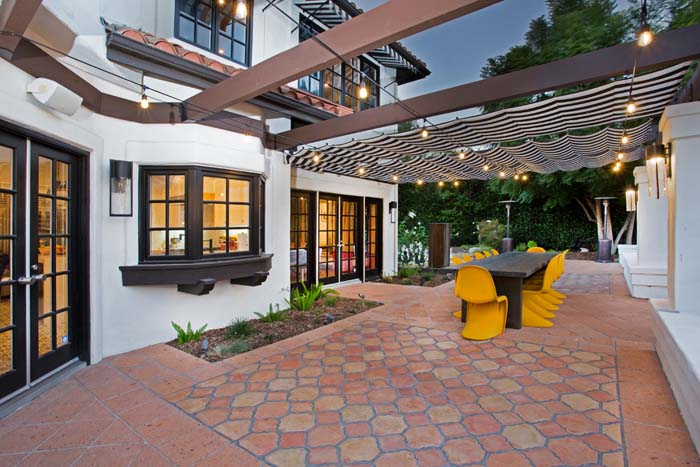 Slide wire cable awnings originated in Europe. Their popularity has finally found its way to the States in contemporary outdoor spaces.
Fabric panels are draped away from the home and woven through thin cables that run parallel to the building. The fabric is also used on the window awning on the second floor.
9. Wood and Steel with Heater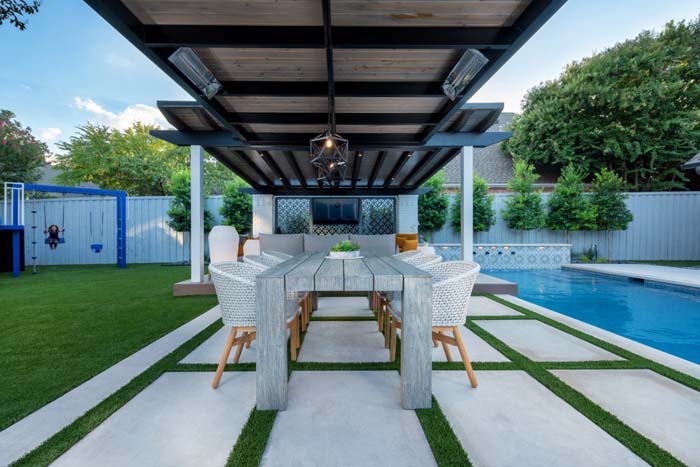 Stationary awnings are becoming more like building structures every year. This backyard awning is a hybrid of steel and wood.
Electrical conduit runs through the structure, allowing for the installation of a chandelier, large screen TV, and infrared heaters.
10. Retractable Stripes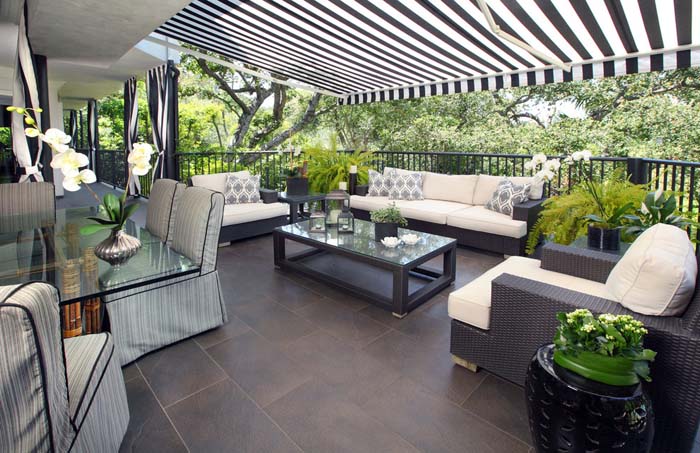 The retro stripes found on a traditional door awning create a whimsical feel to an otherwise understated outdoor living space. It's an oversized version of a fun RV awning or one you might find on a food truck.
It's a good idea to have a retractable deck awning so you can take advantage of the warmth of the sun in the cooler months of winter.
via CASA|WASY Interior Design, Inc.
11. Keep the View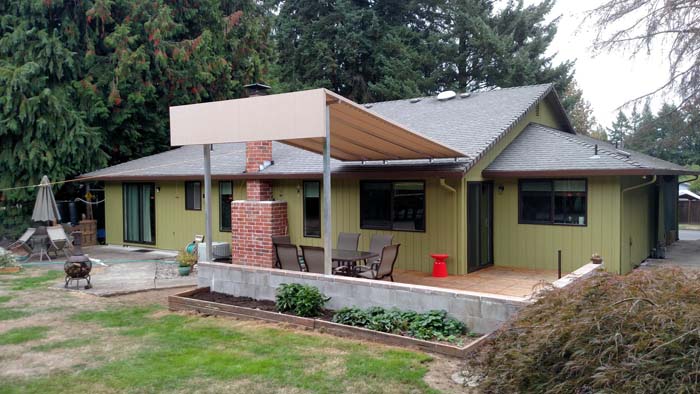 A roof mounted fixed awning was positioned to keep the direct sunlight out of the home without sacrificing the view out of the porch. This runs contrary to what we would normally see as most people don't want the rain rolling back onto the roof. 
If you want to try something like this, be sure your home has a great plan for rain runoff. Extra water can soak into the foundation.
12. Colorful Sail Awnings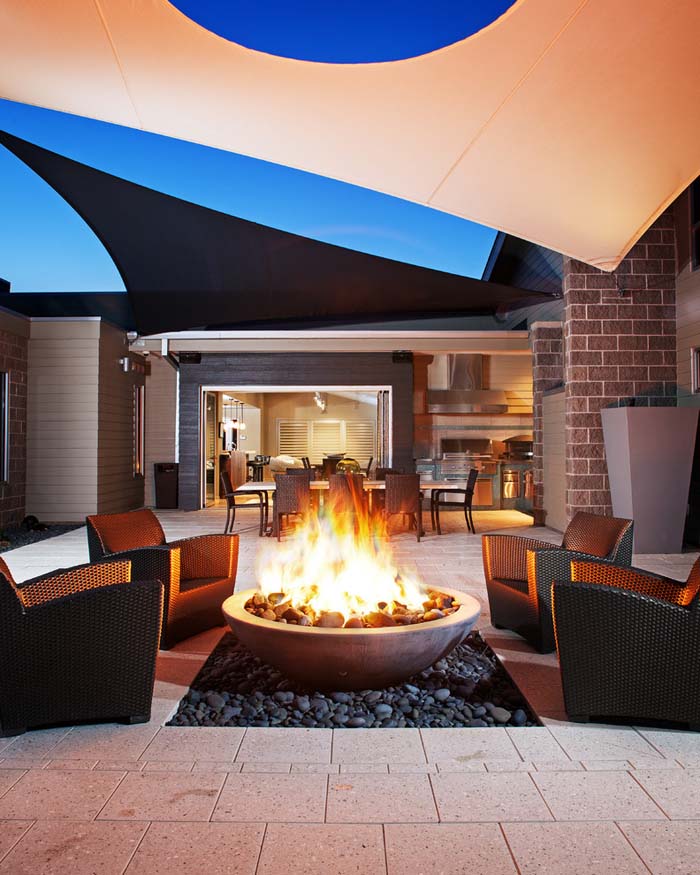 Sail awnings are easy to install and can be used on any type of patio. They provide good protection from the sun and can also help keep your patio cooler in the summer months.
Sail awnings can be purchased in a variety of colors and patterns to match any home decor.
13. Cantilever Awning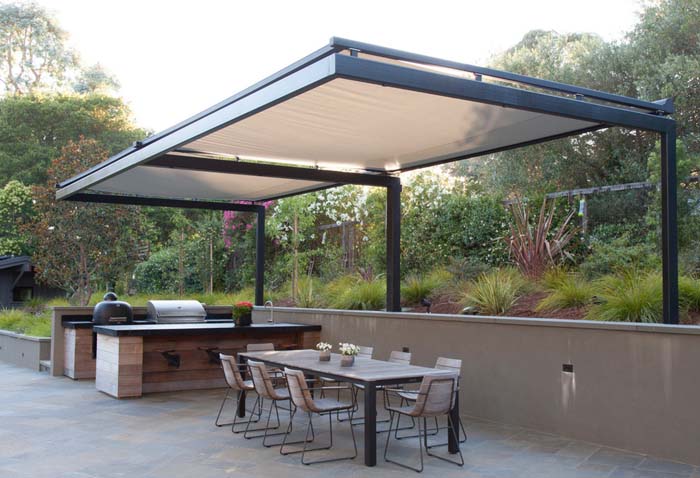 Cantilever awnings are modular structures whose primary objective is to stay out of everyone's way.
The big advantage to this type of outdoor awning is their solid construction. It allows for full sun protection over large spaces.
14. Blue Billows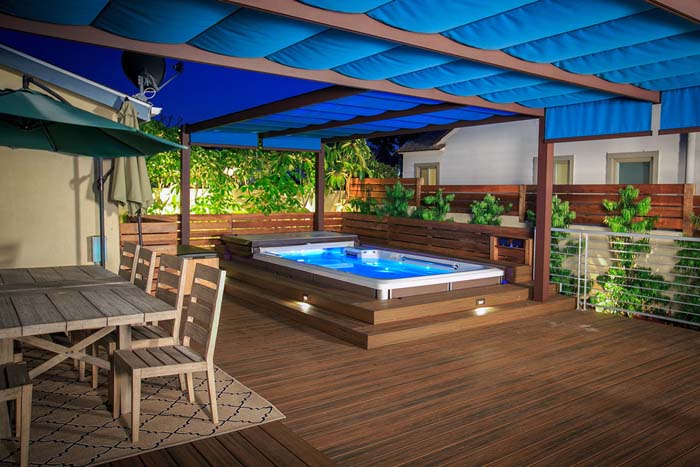 A spa like this takes planning. You have to determine how much of your deck you want to be covered in order to hold up the weight of the fabric. A light breeze can create soothing waves of color overhead.
As this home is in beautiful San Diego, the covers are retractable so the family can enjoy nature as well.
15. Rotating Folding-Arm Awnings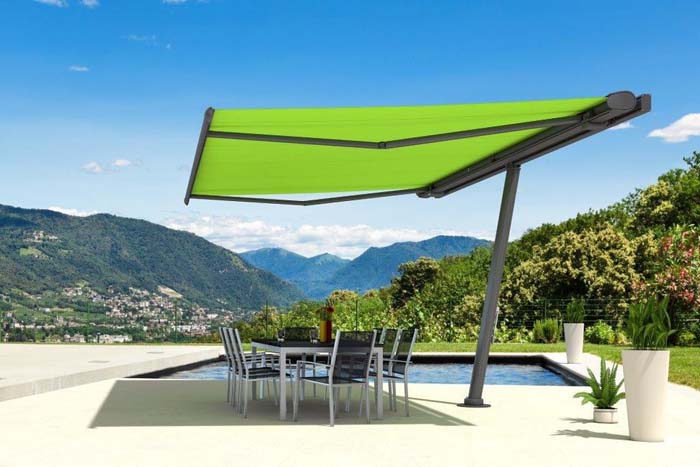 One of the biggest drawbacks to a fixed awning is defined in its description; you can't move them if the sun and the seating aren't in concert with one another.
This giant awning addresses that issue over a large outdoor space. The arm folds to adjust the amount of shade over an area.
When the guests want to move from the seats to the pool, the awning can rotate around to provide sun protection over the water.
via Suntanium Shading Products, LLC
16. Modern Patio Awning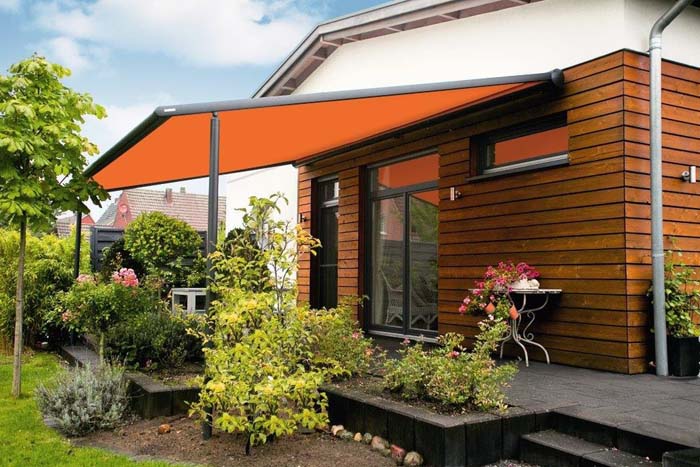 A minimalist style awning. This particular unit has an integrated guidance system. This eliminates the gap usually found between the fabric and the frame.
The posts are narrow, so you sacrifice less space on your patio for posts. 
If you're worried about breezes, put your wind sensor away. This patio awning has a wind resistance class rating of 3. This particular awning is available as a manually operated cover or radio-controlled unit.
via Suntanium Shading Products, LLC
17. Cantilever Umbrella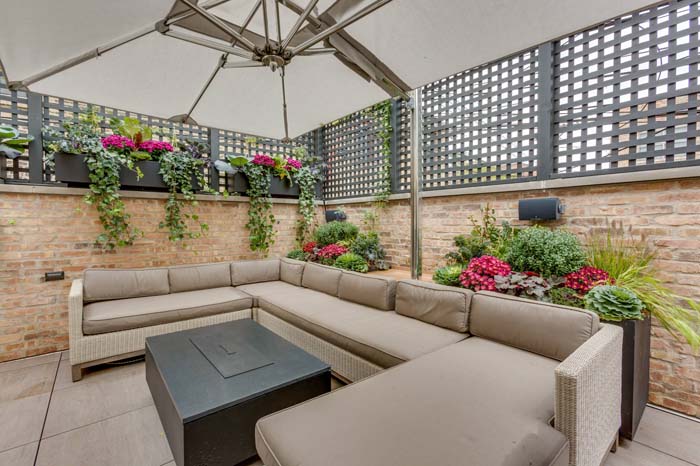 This patio awning idea is a party all by itself. The cantilever design keeps everyone shaded from the sun while staying out of the way.
It also has a solar powered Bluetooth speaker and LED bulbs running along its ribs. Need more power? You can keep it running by charging it with a USB connection.
via Advanced Architectural Design
18. Wood Covered Awning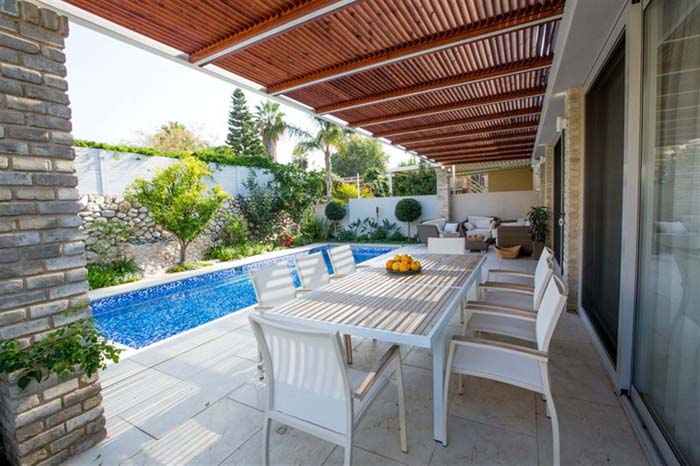 When it comes to providing protection from the sun and rain, few things are as effective as awnings.
Awnings can be made from a variety of materials, but wood is one of the most popular choices. Wood awnings add a touch of natural beauty to any home and can be customized to match the existing décor.
You can find options like cedar or bamboo and paint them to suit your landscape.
via Eden Development
19. Fabric Curtain Pergola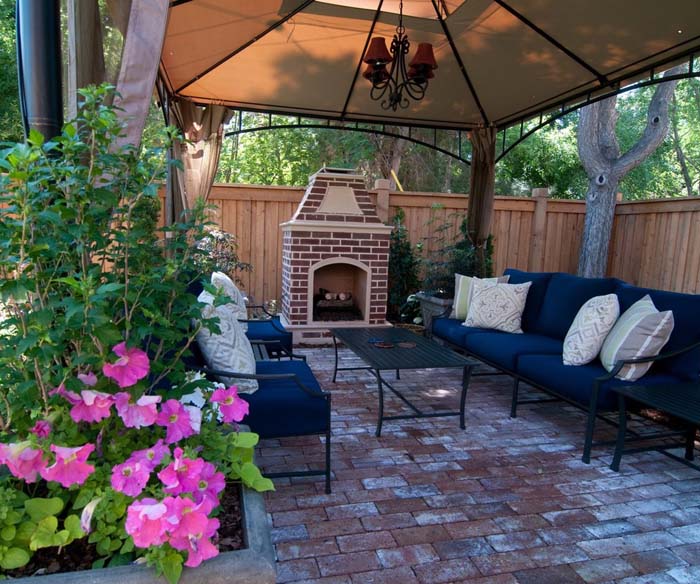 Here's an example of where a pergola works better than an awning. This free-standing pergola embodies the architectural styling of a Tudor style home.
It's further enhanced by the curtains, iron details, and chandelier. The gas fireplace and red brick patio bring this English country garden to a whole new level.
via LAND BY DESIGN
20. Classic Style Stationary Canopy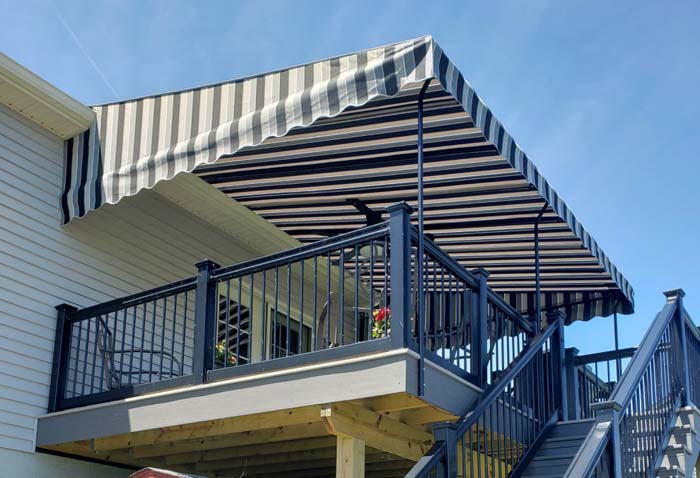 This stationary canopy may look like a throwback, but it has several advantages over its ancestors. It's made from a UV protective fabric.
The posts are powder coated to prevent rust, and the manufacturer offers an option for a ceiling fan to be installed.
21. Cantilevered LED Umbrellas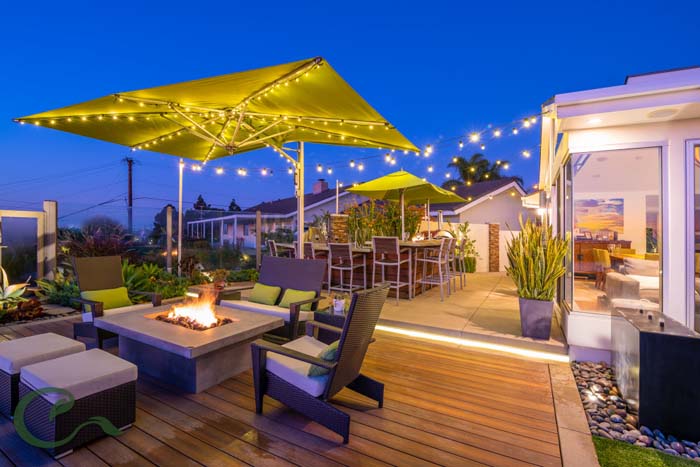 The technology for creating umbrellas with LED lights is readily available. This not only means the price will come down, it means this is now a viable do-it-yourself project.
Cantilever umbrellas come in many shapes and sizes. Choose this option over a patio umbrella when space is at a premium.
22. Pavilion with Solar Shades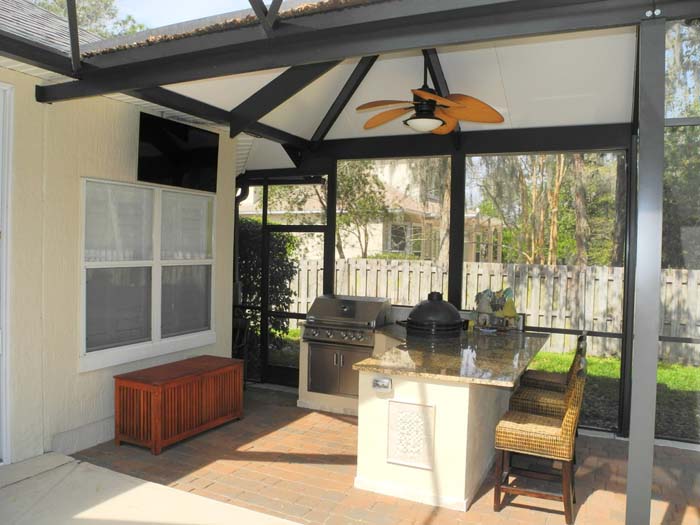 Pavilions are usually permanent structures that are very popular in the southern US states where the sun can be oppressive within a couple of hours of sunrise.
Use them to create outdoor areas like an outdoor kitchen, where it's too hot to cook indoors in the summer. 
For added protection, solar shades can be used. These retractable protective panels are attached at the tops of doorways and sides of patios where extra shade is needed.
23. Waves of Stripes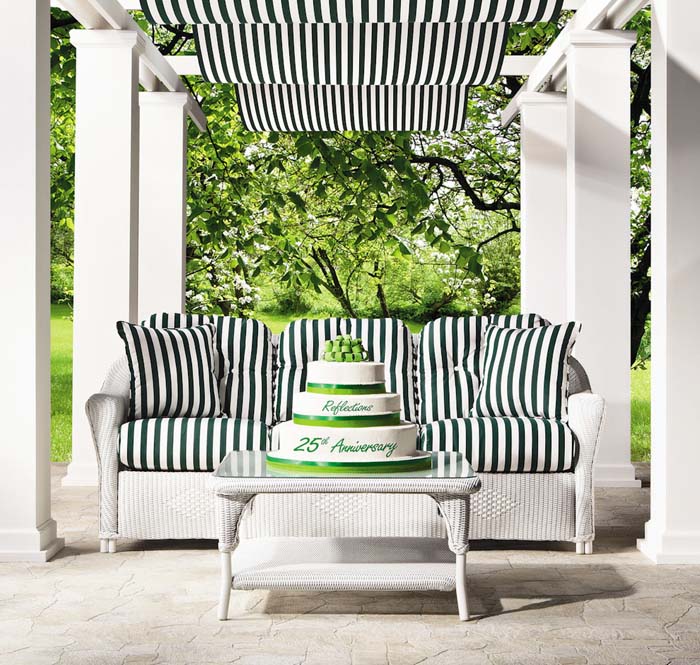 Your canopy can dictate the style of a patio more than any other decorative accessory. A pergola with substantial posts shows how to integrate old styling and contemporary attitudes that is the hallmark of a transitional style.
At first glance, everything looks like a throwback design. What becomes noticeable is the billowing patio cover draped through the beams.
While stripes are classic, the use of them in the vertically striped canopy and patio furniture cushions are decidedly contemporary.
via Image Studios
24. Louvered Pergola Roof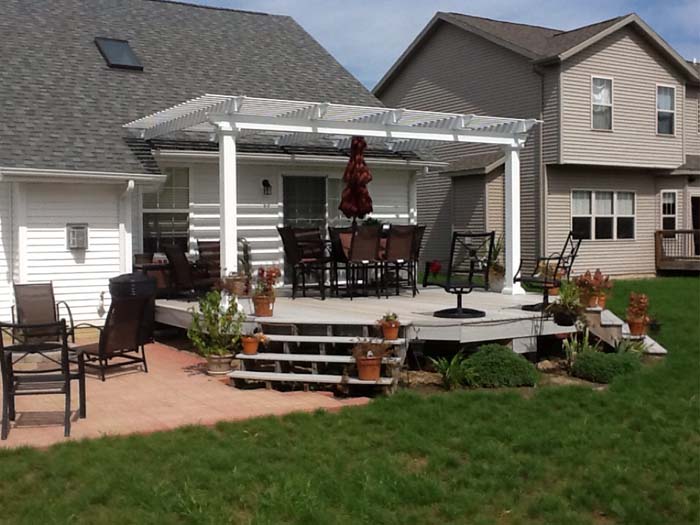 Vinyl pergolas are a flexible and affordable alternative to wooden structures that quite often have to be cemented into the ground.
A louvered pergola such as the one seen on this raised deck can be purchased as a kit, making installation a much easier project.
25. Open-Air Pavilion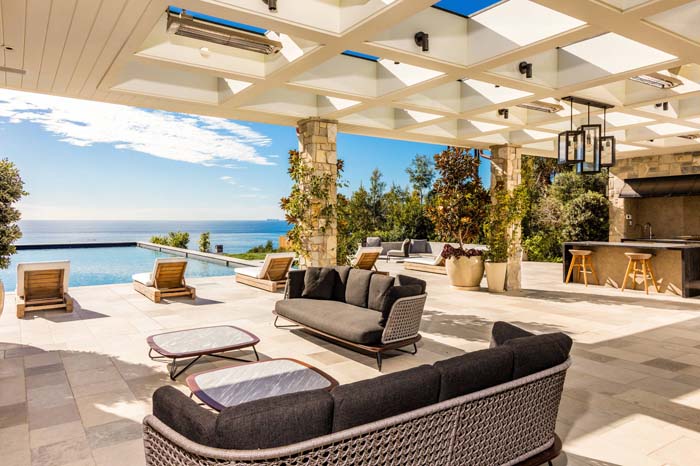 This is one of those lifestyles of the one percenters' homes in Malibu. While you may not have $45 million dollars to pick up this home, take a look at the ideas.
The square skylight windows in the ceiling can be mimicked in a pergola or pavilion. You can easily train ivy to grow up the posts of a pergola.
Add some patio furniture, an outdoor bar, string up some lights, and you're good to go.
26. Adjustable Shades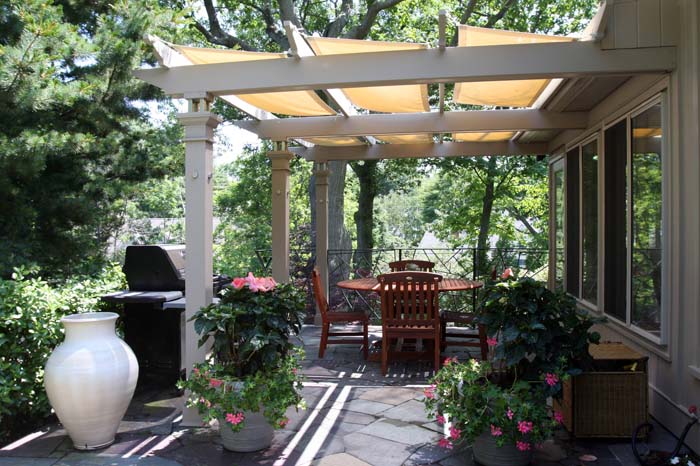 These adjustable shades answer the call for those who have a permanent structure like a pergola but want to fine-tune the amount of sun allowed onto their patio or deck.
Instead of flowing rolls of fabric, these shades are connected and controlled using smaller panels.
via Michael McCloskey Design Group
27. Double-Sail Awning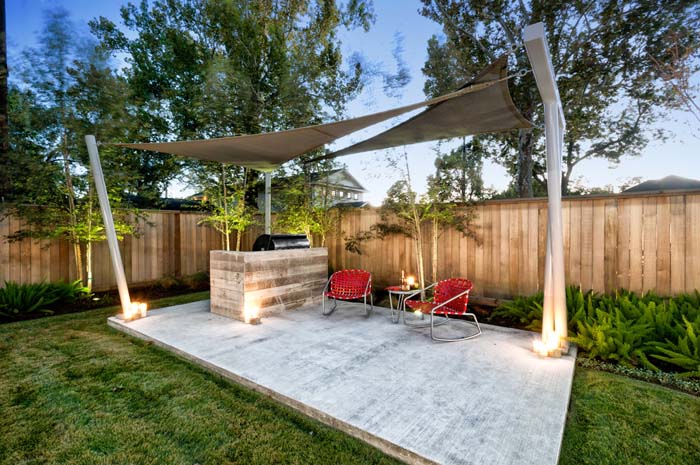 A minimal backyard patio with an outdoor kitchen area gets a huge visual push with two sail shades acting as an awning.
Using only three posts keeps the area open and brings a contemporary feel to the outdoor space.
via Tryon Homes
28. Side Yard Sanctuary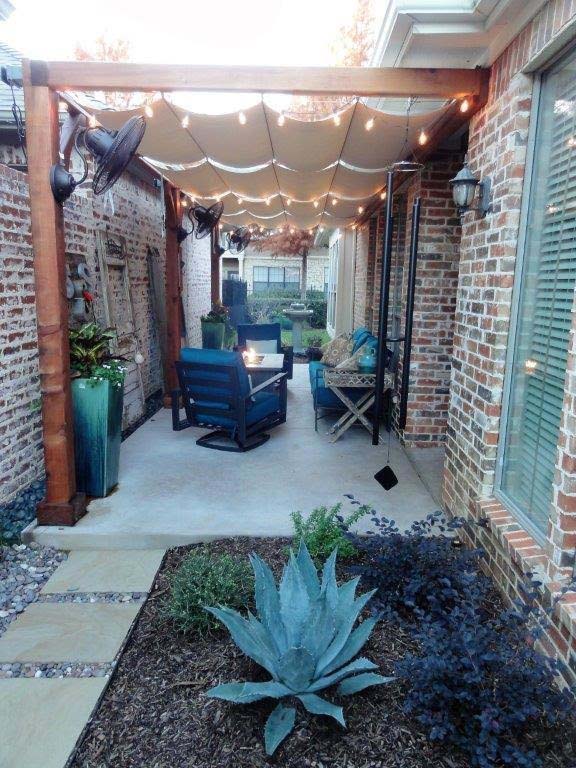 Take advantage of every inch of space in your yard. That's what these homeowners in Dallas did when they turned the side yard of their home into a retreat by connecting the walls with a small patio.
This is a smaller version of the slide-on wire canopies we looked at earlier. Light colored fabric reflects the sun's rays and electric fans mounted on the posts keep the Texas heat circulating through the area.