If your patio is small, you shouldn't feel limited to decorating it with plants. With the help of pots, trellises, and stands, you can create a compact garden that matches the patio decor and gives it a refreshing natural touch.
Get inspired by our 18 Appealing Small Patio Garden Ideas to choose the best design for your small patio.
1. Patio With A Flower Border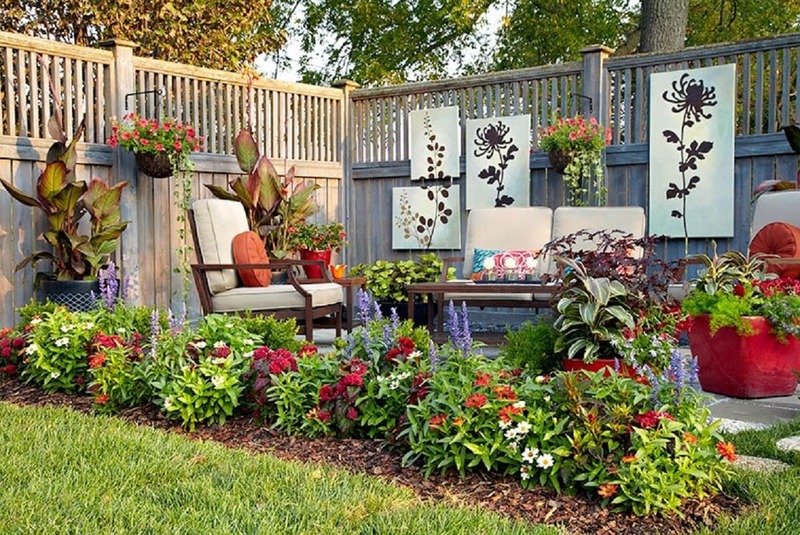 Make the small patio colorful and inviting by creating a flower edge. Add flower pots with different plant varieties on the patio to mimic an interior atmosphere.
2. Patio With A Privacy Screen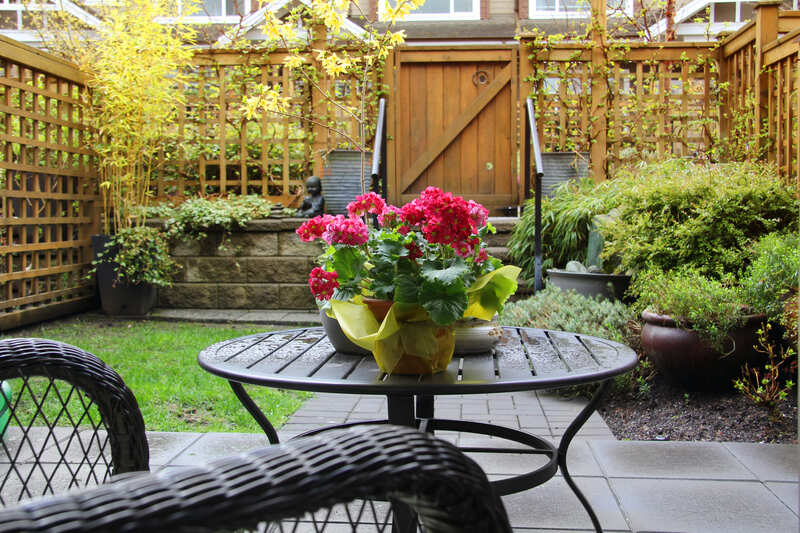 Make the patio sitting corner cozy and private by adding lattice walls and climbing plants. This will turn the patio into a sanctuary and the greenery will set a relaxing tone.
Don't forget about decoration – add a blooming flower in the center of the table.
3. Light The Patio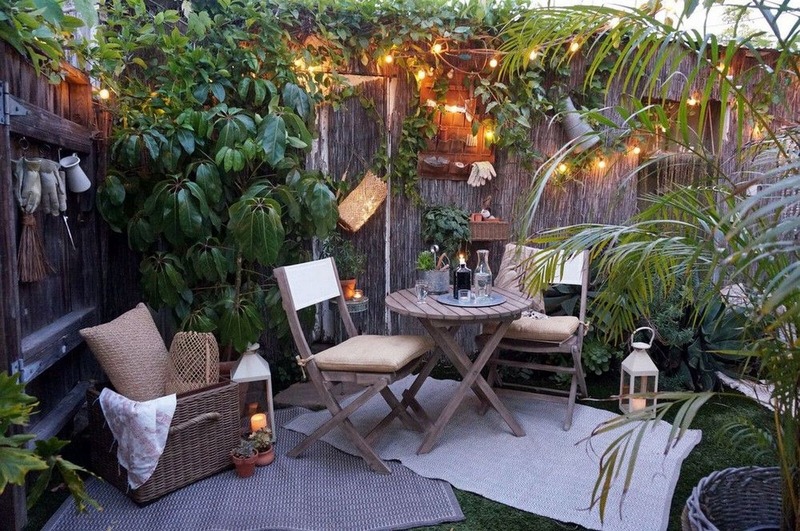 Add lanterns, strings of lights and candles to the patio to make it appealing and comfortable after the sun goes down.
You can make lanterns from Mason jars or get paper lanterns from the Dollar Store. Complete the decoration with flower pots with large plant varieties.
4. Get The Maximum From The Small Patio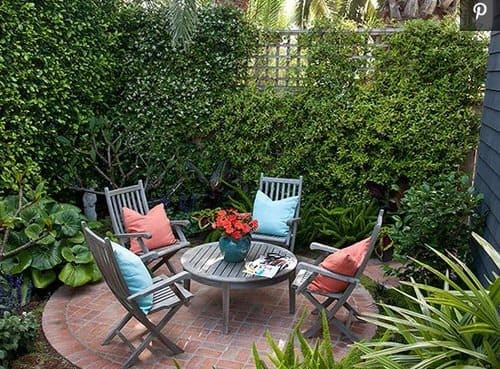 Even the tiniest patio can be functional for the whole family when the right seating set is chosen. Go for compact furniture and add cushions to add a touch of color and make staying comfortable.
The round patio here is surrounded by living wall created from climbing plants. In addition to setting a natural look, they also keep the nook private.
5. Hide A Lounge Chair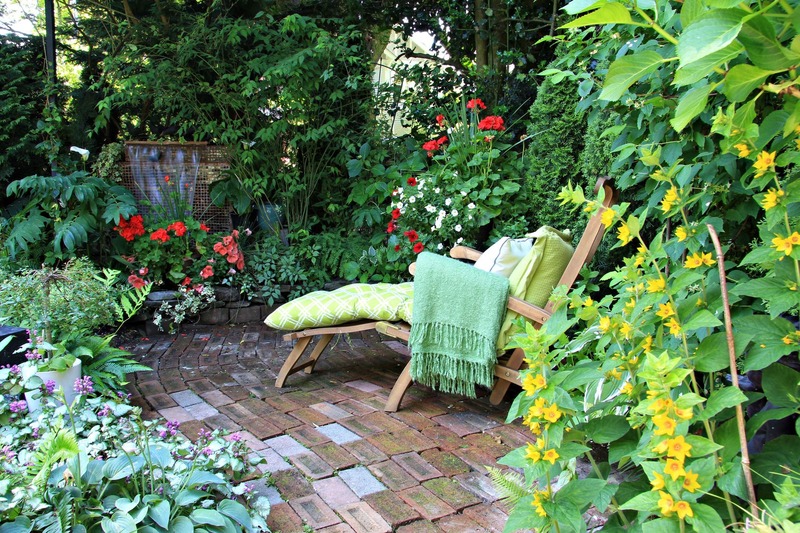 If the patio is the place to feel maximum relaxation, go for this patio garden design. There is only one lounge chair hidden among lush greenery. There, you can relax all your senses undisturbed.
6. Cover The Patio With Flagstone Tiles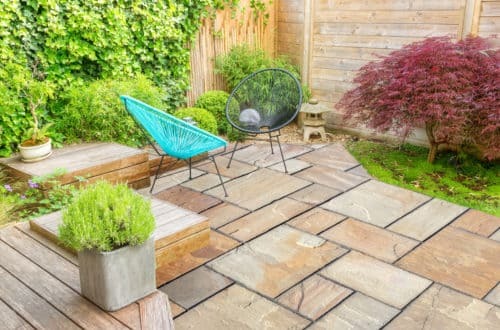 Turn maintenance of the patio into a pleasant activity by covering the ground with an additional layer of tiles, pavers or stones. In this patio garden idea, the patio is covered with flagstone tiles, leaving space only for garden edges where different lush plants grow.
7. Small But Inviting Patio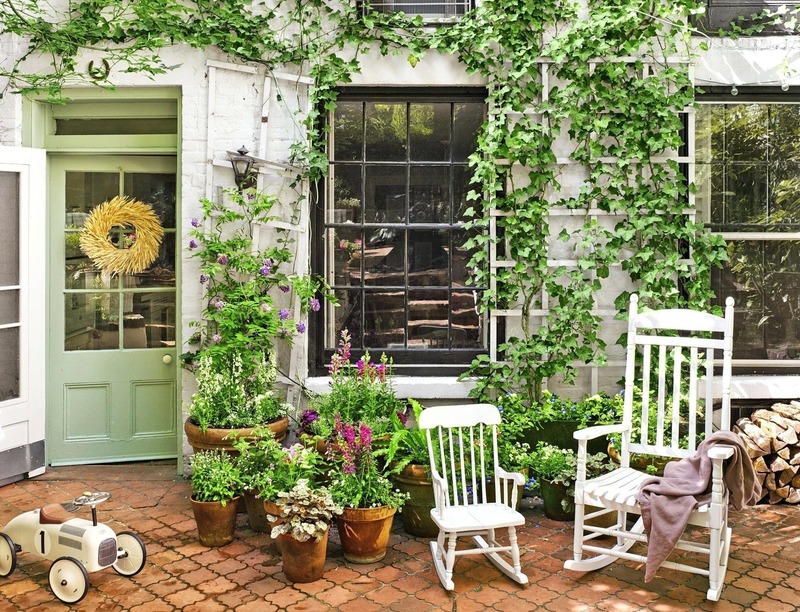 This patio is so cute! Consisting of two rocking chairs and natural decoration, it spreads a relaxing flair. If there is no garden bed near the patio, you can add flowers in pots. Arrange them next to the furniture or stack them on a vertical stand such as a pallet flower stand.
8. Patio With Raised Garden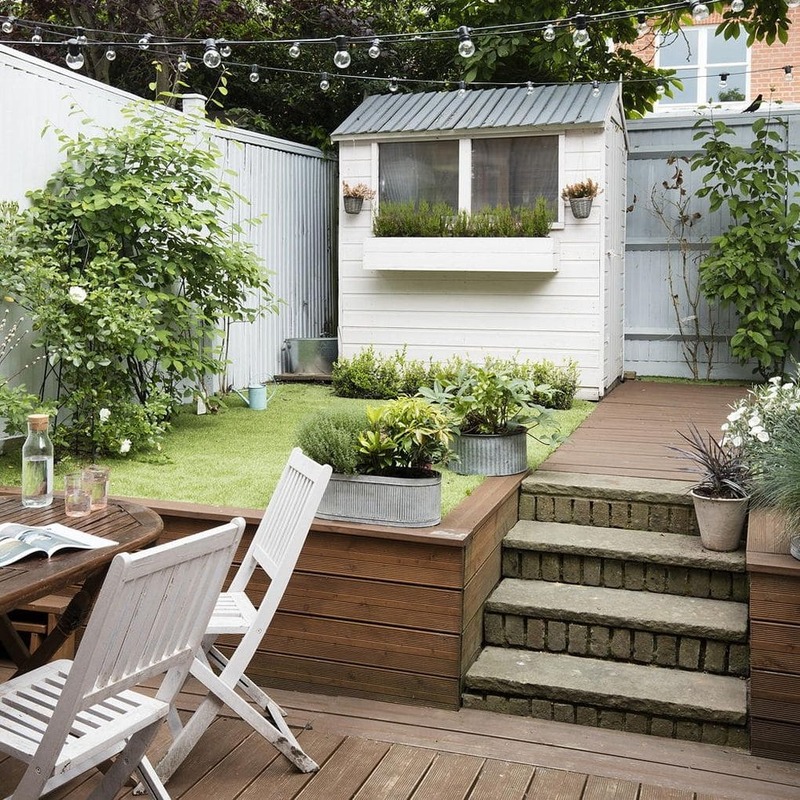 The patio is made in the lowest part of a terraced terrain. In the upper part of it, a small garden sits. To maintain it easily, some of the plants are in containers.
You can go for flowering varieties or green plants that imprint a minimalist touch to the outdoor decor.
9. Cozy Corner Patio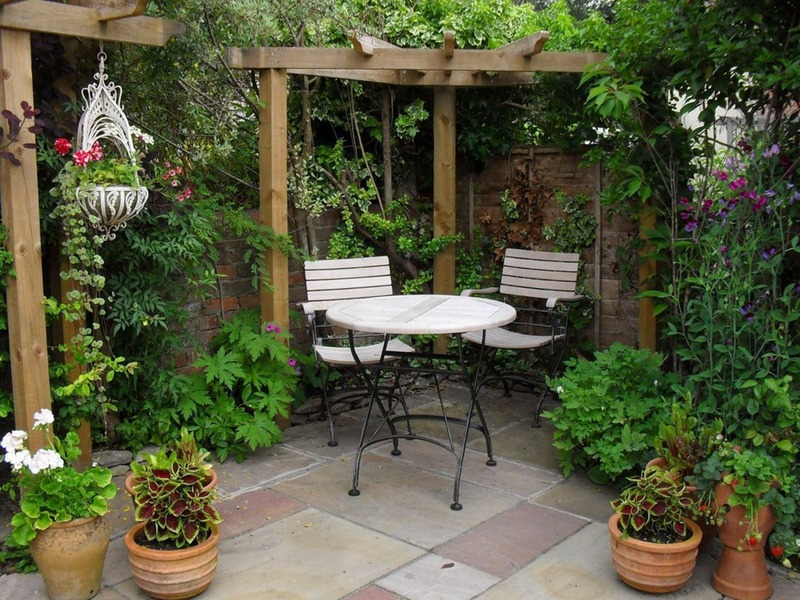 Add two chairs and a table in a corner of the patio. If there is a pergola, put the sitting set under it to take advantage of the natural shade from the climbing plants.
Decorate with flower pots on the ground and hanging baskets to make the space more charming.
10. Patio Surrounded By Greenery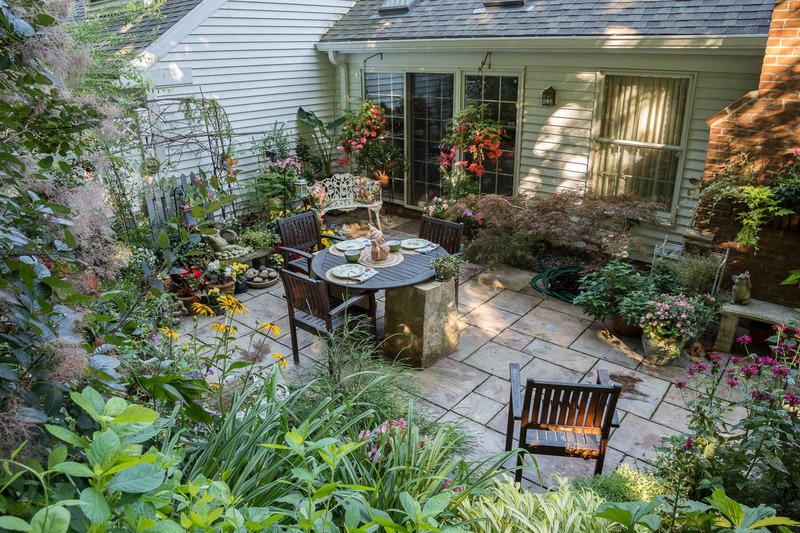 Want to make a big impact with your small patio? Then, think vertically and get creative! Place a sitting set and surround it with natural decoration. Use hanging baskets, trellises and flower pots to decorate the patio.
You can go for wildflowers to make a cottage garden layout or ornamental varieties to turn the patio into a tropical paradise.
11. Rustic Patio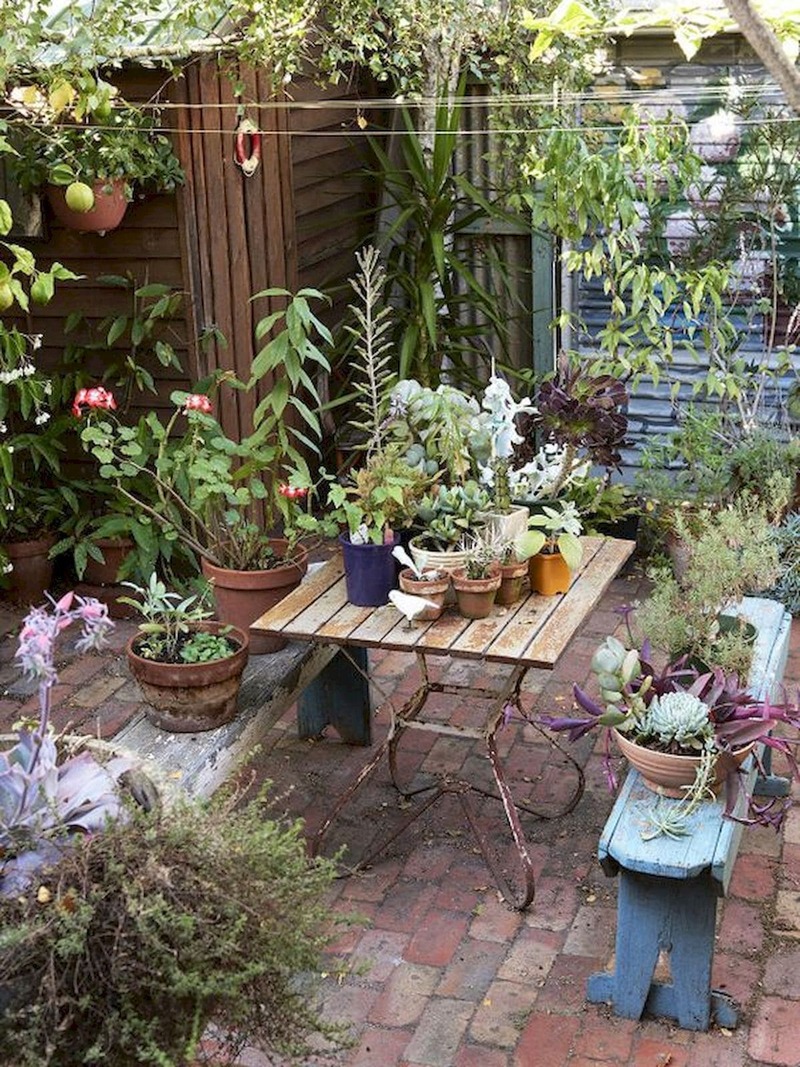 This small patio is so charming! The atmosphere is set to a vintage mode with the help of a weathered bench and a rusty table. Decoration represented by flower pots complements the sitting furniture and makes the space very welcoming.
12. Tiny Patio Idea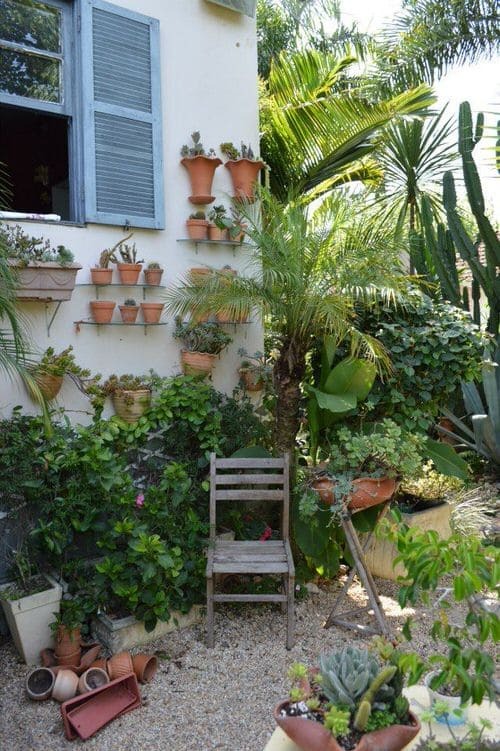 This gravel patio is tiny but impacting! Thanks to the green background created from the lush foliage of the plants, the simple wooden chair seems to be an oasis where you can sit and relax on your own.
13. Vintage Patio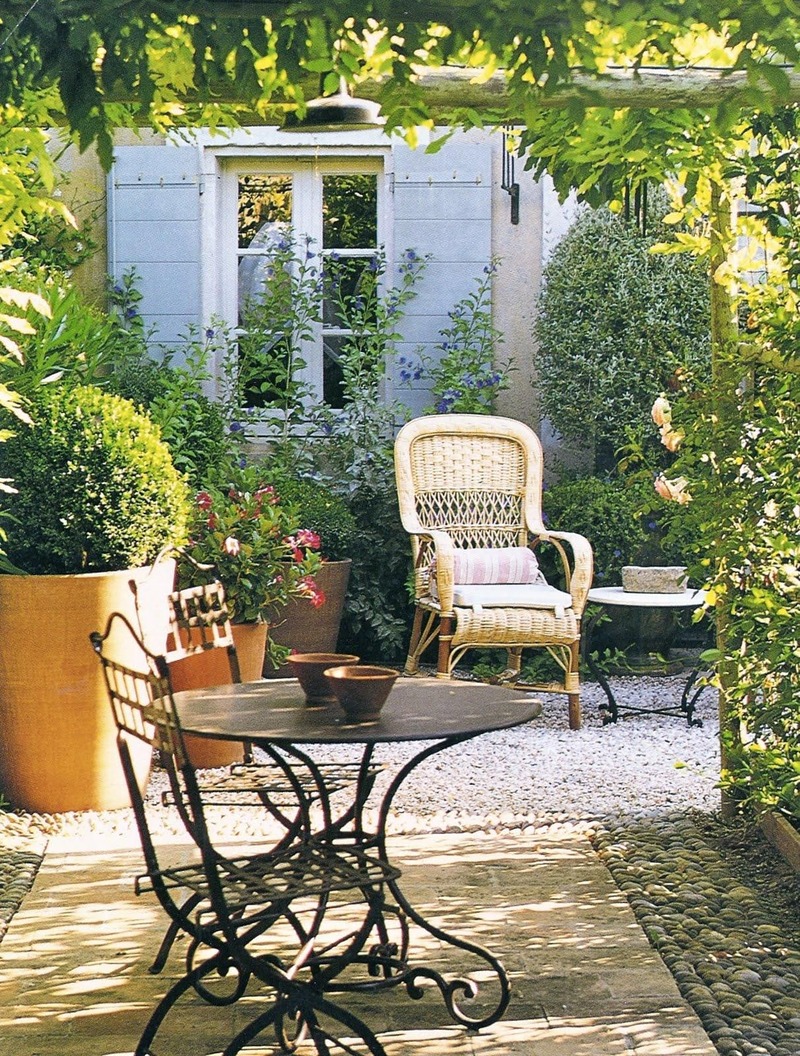 A vintage wooden chair in front of a garden bed with lush greenery is a beautiful and easy way to fill up the patio. In case there is some more space, you can use it for a vintage metal sitting set, which will compliment the wooden chair.
You can keep the decor simple or decorate with colorful cushion patterns.
14. Shabby Chic Patio Idea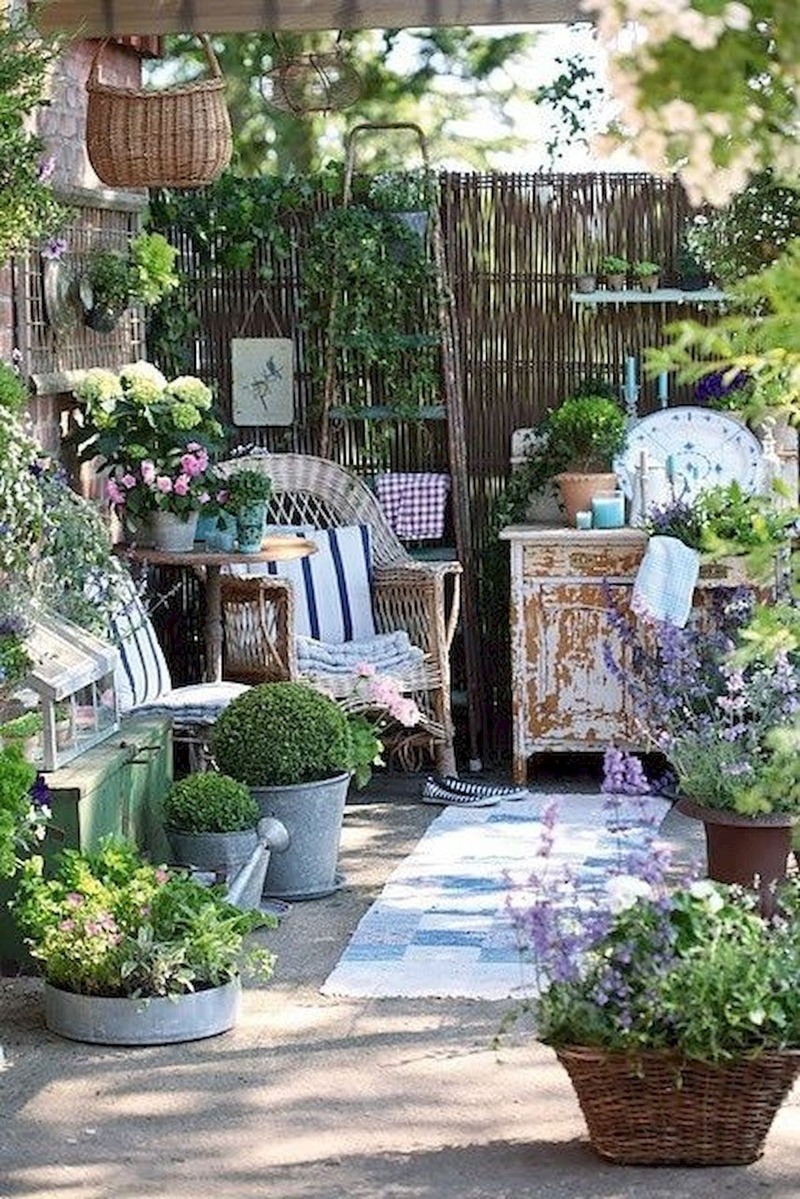 Include old items in the small patio decor to give it a shabby chic look. A rattan armchair, a weathered wooden cabinet, a clock and a rug and the patio turns into a welcoming living area.
Add a final touch with various flowers planted in farmhouse containers.
15. Comfortable Small Patio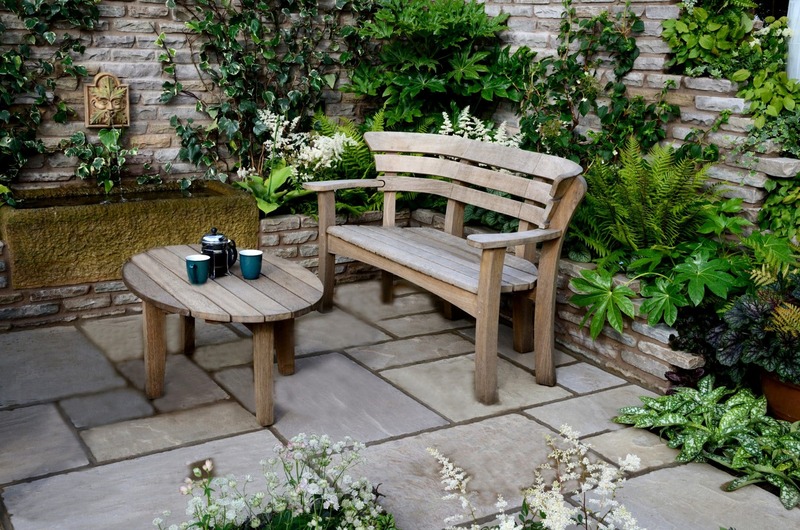 The tiny patio can be comfortable when you pick up the right furniture set. A bench for two and a small table is enough to have your coffee outside in the fresh air.
The natural decoration here consists of vines that climb up the stone wall and shrub-like greenery.
16. Welcoming Outdoor Living Room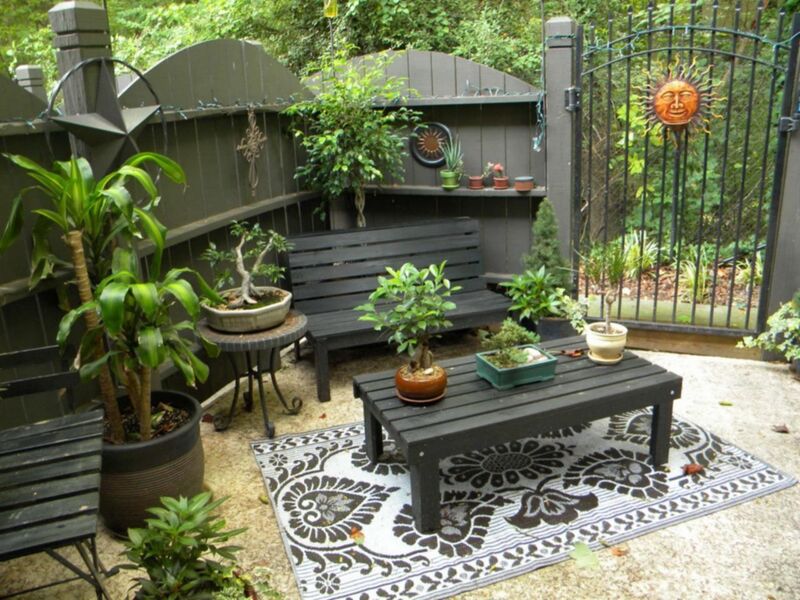 Turn the patio into an outdoor living room with elements usually part of the interior. A rug, flower pots, candles, and a side table will instantly transform the area into a welcoming nook.
Added wooden walls with shelves enhance privacy and ensure more space for decorations.
17. Exotic Patio Idea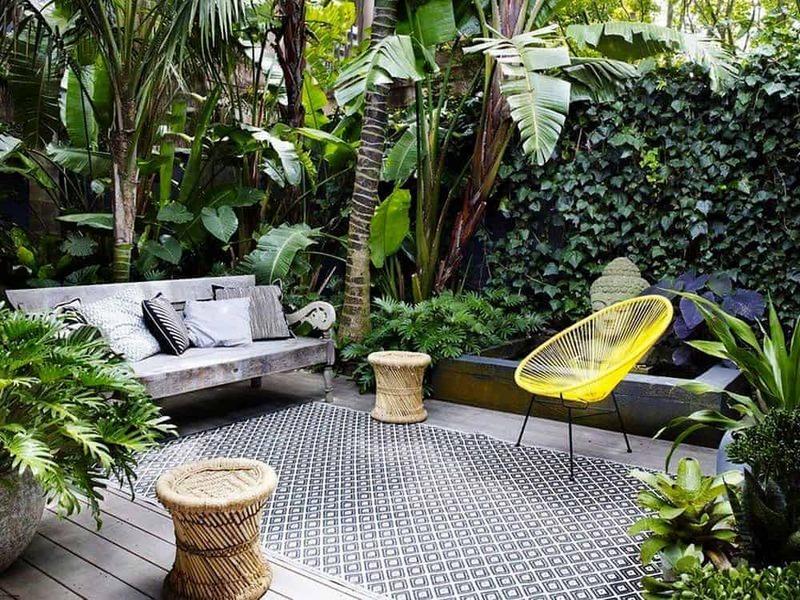 If you have tropical varieties planted in the gardens around the patio, decorate it in the same style. Add a patterened rug and bright furniture pieces that match the exotic vibe.
18. Boho Patio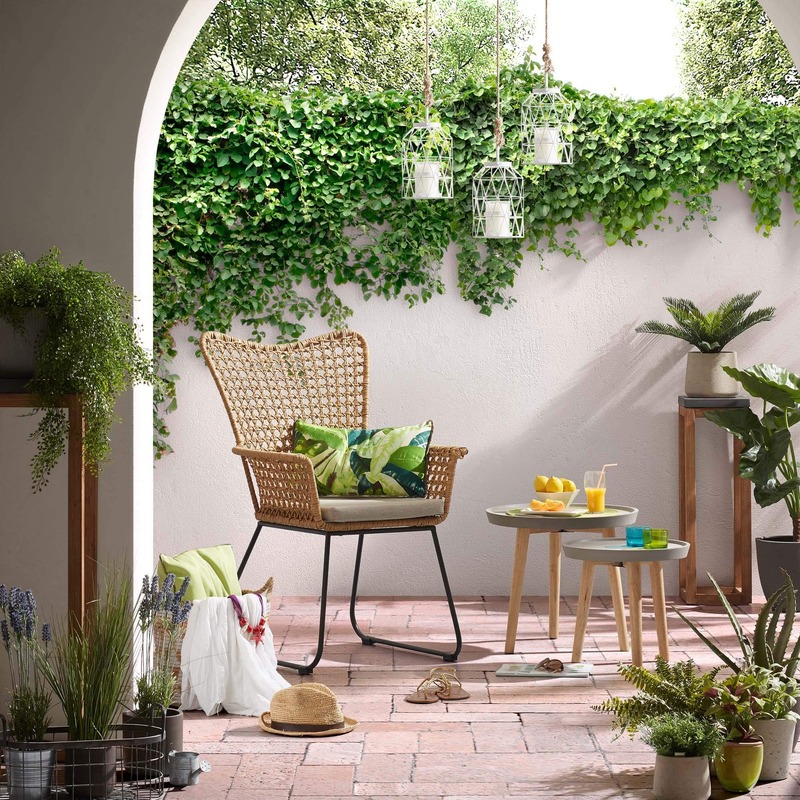 The small patio can be decorated in any style. If you like the leisure feeling the boho style imprints, decorate it with lanterns, macrame hanging pots and wooden furniture.
Don't forget to add a pop of colors, which are typical accents of the bohemian style.