Almost all of us love summer and enjoy the hot days and all that comes with them- the summer vacation on the beach, the splashes of waves, the fine touch of the sand and the treasures of the ocean left for us to admire.
It would be amazing if we could bring at least a small part of these emotions to our homes.
Actually, this is a possible task. We just need to decorate our place with accessories that remind us of the ocean and the sand like seashells, sea glass; include fresh fabrics in our interior; use the nautical color combinations.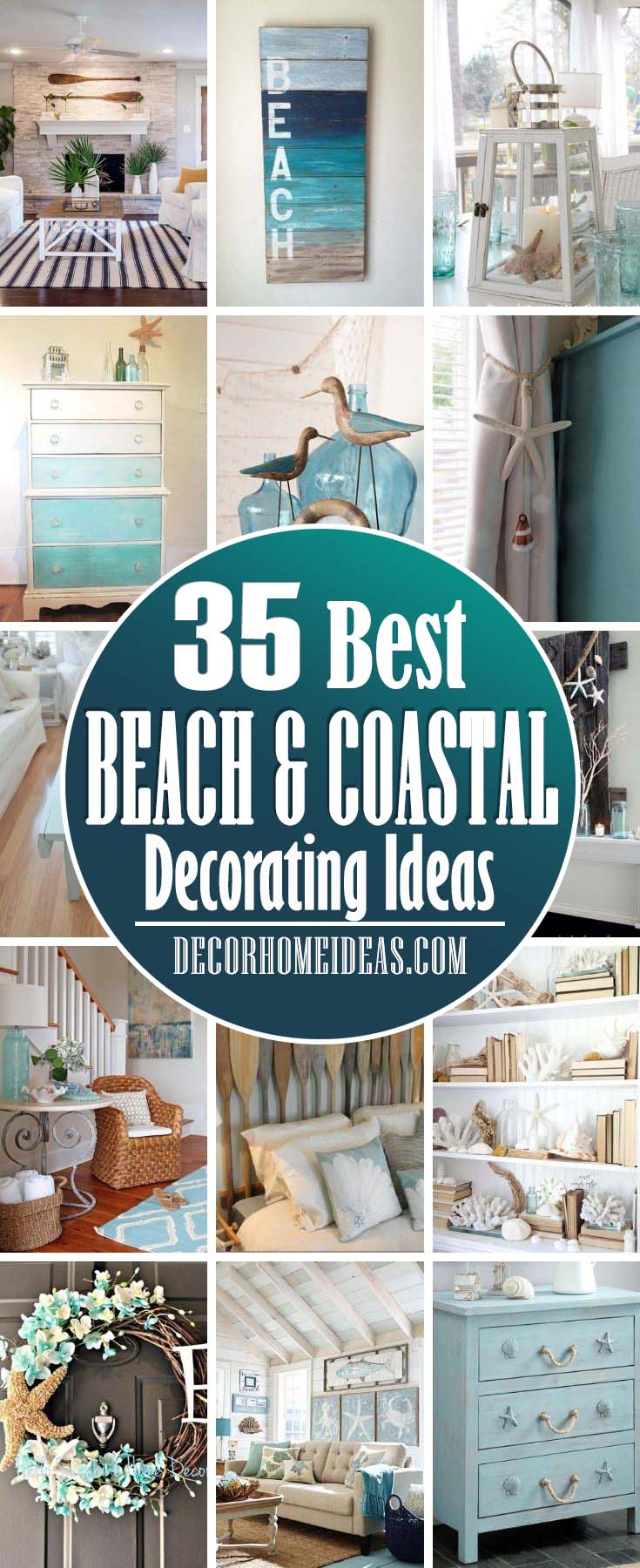 Inviting summer and coast to our homes isn't difficult or expensive. You can make little changes but see a great impact. Take a look at the ideas we have gathered for you.
All of them will contribute to recreating a piece of coastal heaven in our places and will change the atmosphere and the mood as if being on the coast.
1. Nautical Interior with Smoke White and Turquoise Hues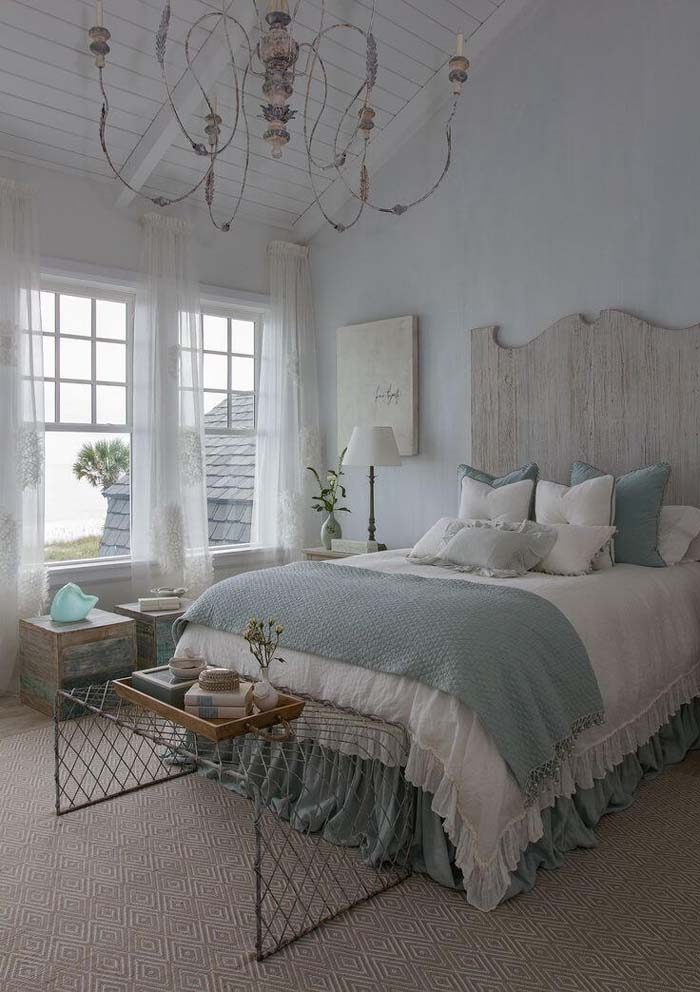 The nautical interior is majorly characterized by colors like smoke white. eggshell, cream, turquoise, all shades of blue in combination with furniture and decoration from natural materials like wood.
This style can be easily incorporated in any room as long as you stick to the color palette.
2. Nautical-Themed Mural Showcases the Way to the Beach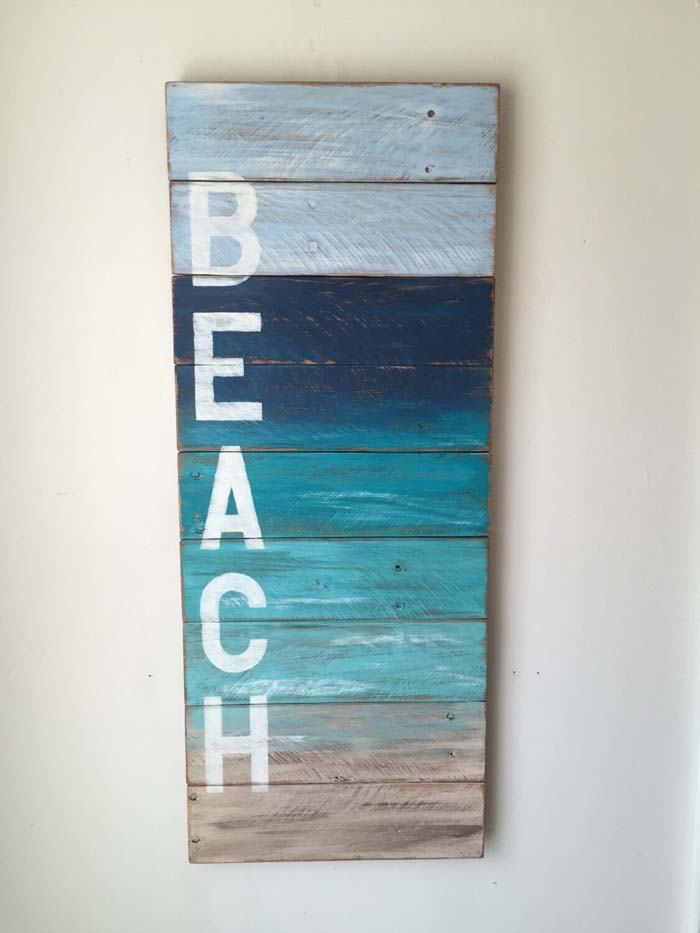 Add a thematic mural to show the way to the beach. The palette is nautical, the material it is made of- natural.
All that characterized this wall decoration as a meaningful detail to your beach-inspired interior.

3. Bring the Sea Ambience with Beach-Inspired Room Decor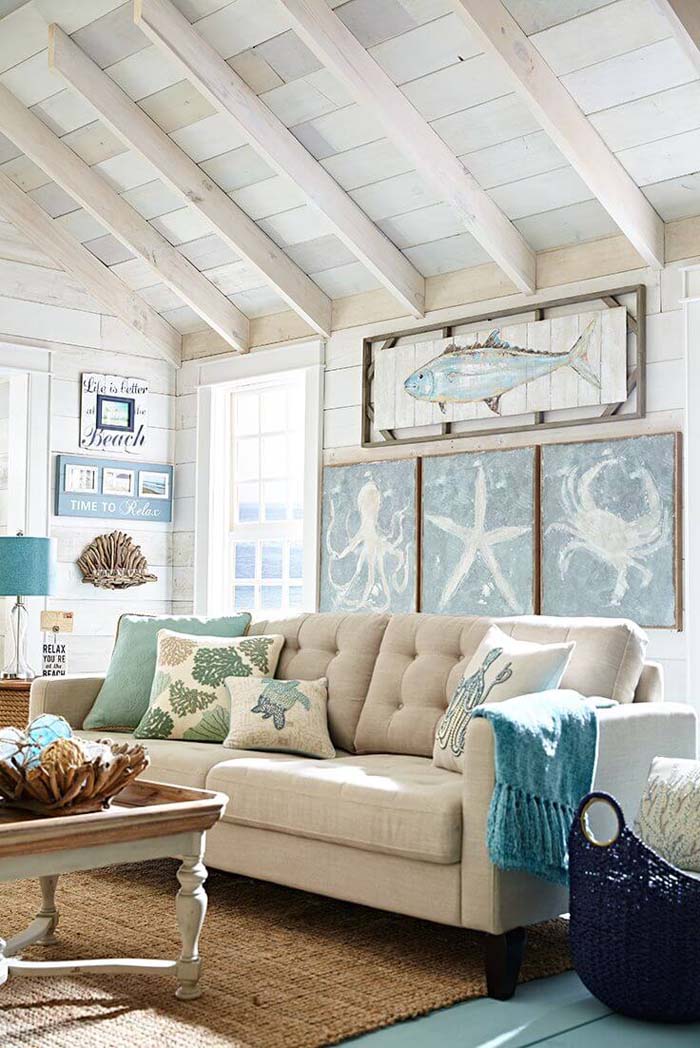 You will be able to smell and feel the sea when you enter into a room decorated entirely following the beach concept. The images of water creatures are imprinted on the cushions and the wall art behind the sofa.
There are also a few effects that delicately contribute to the nautical atmosphere- the wall signs, the turquoise and dark blue color items, and the bowls made of driftwood pieces.
via Pier 1
4. Add Coastal Charm with a Seashell-Themed Lantern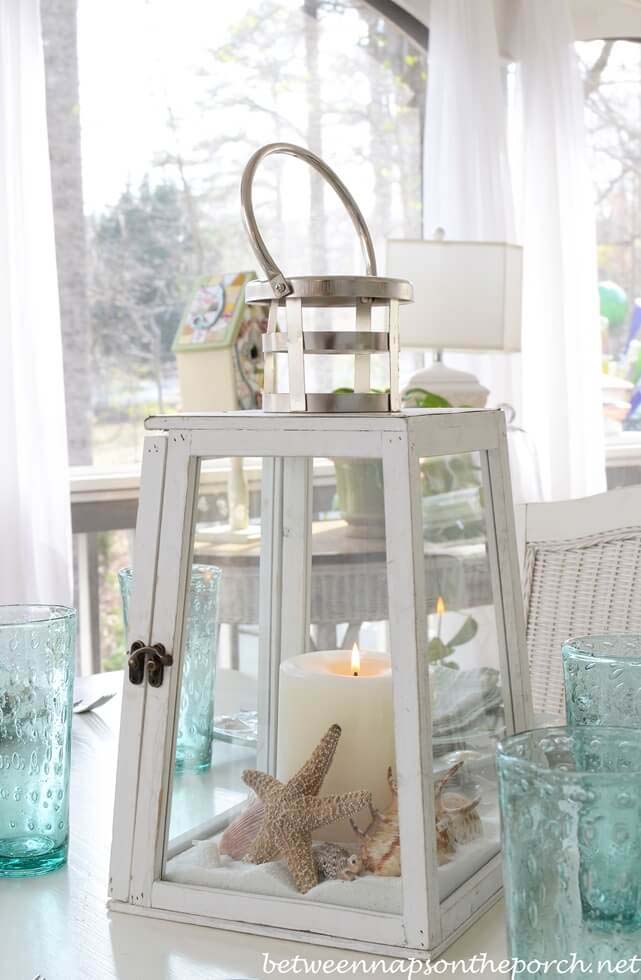 A simple accent like a lantern decorated with seashells will add romantic summer vibes to your interior.
Use as a centerpiece on the porch table during summer to remind of the relaxing ambiance of the coast.
5. Decorate Your Hallway with a Seashell Mosaic Frameset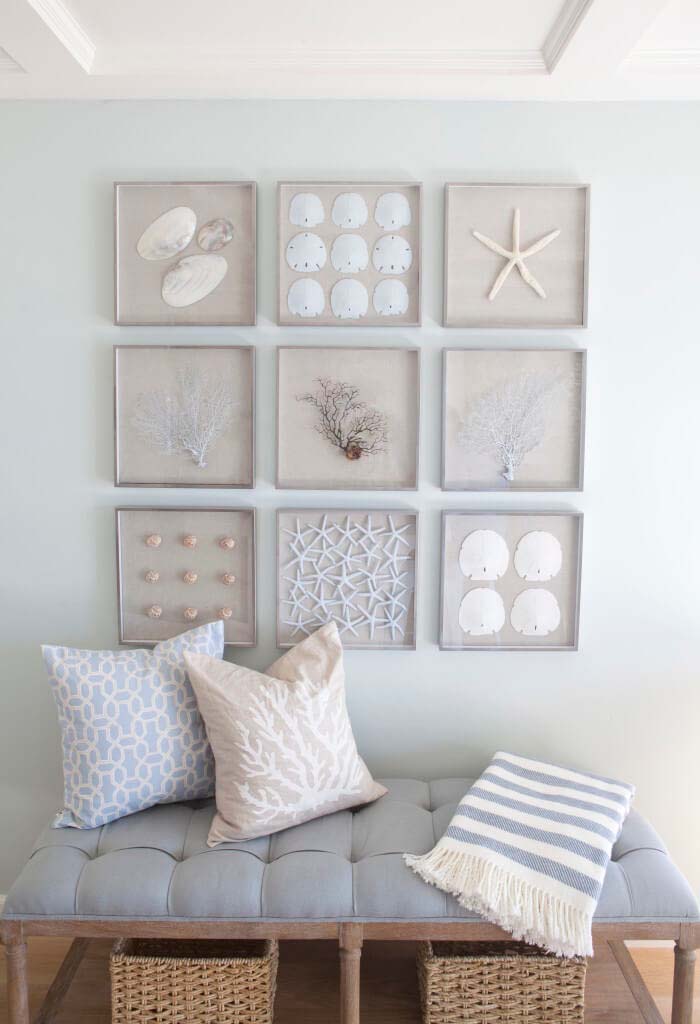 Use the nautical theme to decorate your hallway.
A frameset with seashell mosaic will add fresh vibes to the transition part of your home and will make it more welcoming.
6. Enhance Your Bookshelves with Seashells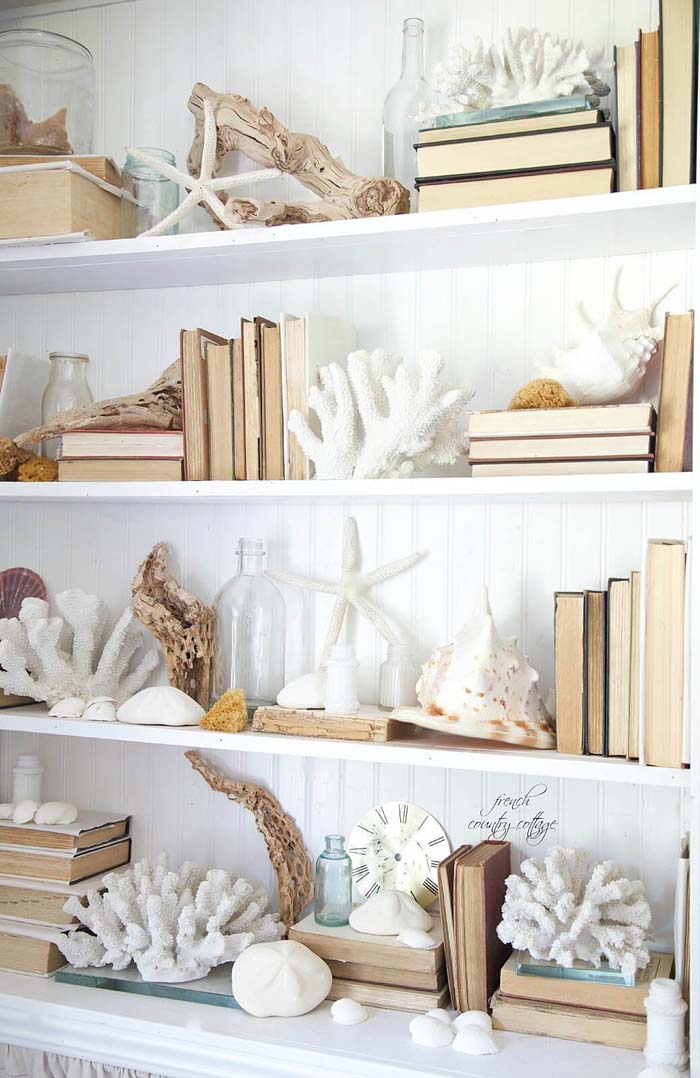 The easiest way to decorate your place in beach style is to use seashells as decorative accents.
You can set them in a group or spread them along the bookshelves.
7. Add a Nautical Touch to Candles with Rope and Starfish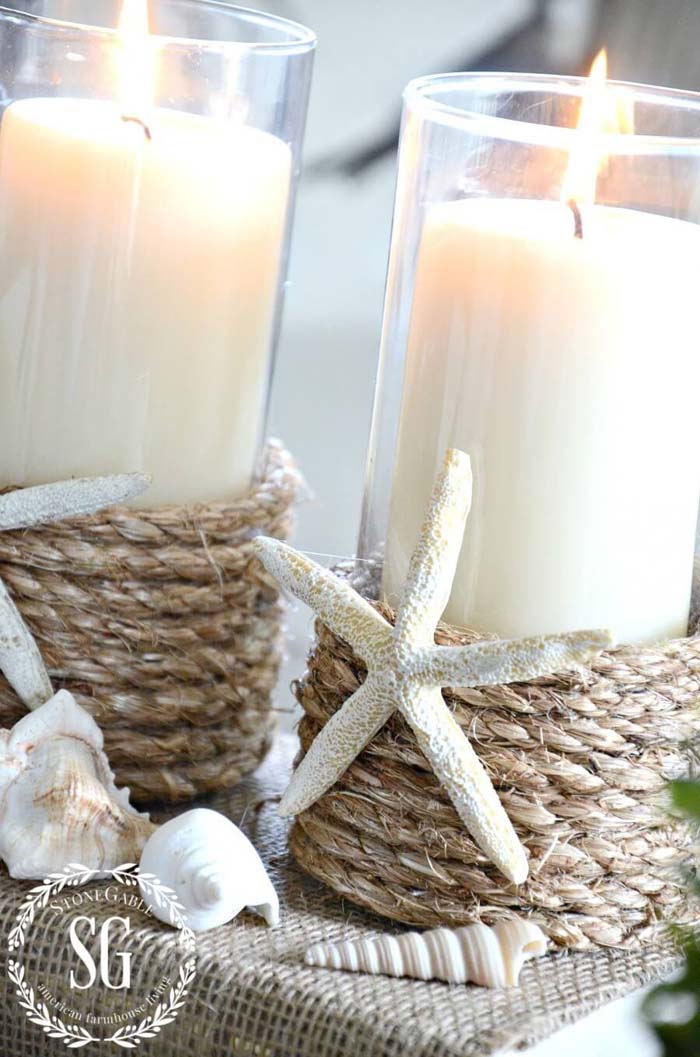 The nautical design is always backed up with decorations that use sand, starfish, ropes, anchors.
You can easily make yourself a candle holder with a beach effect by weaving rope around a glass jar and gluing a starfish on it the rope thread.
via Stone Gable
8. Bring a Nautical Touch to Your Home with Turquoise Accents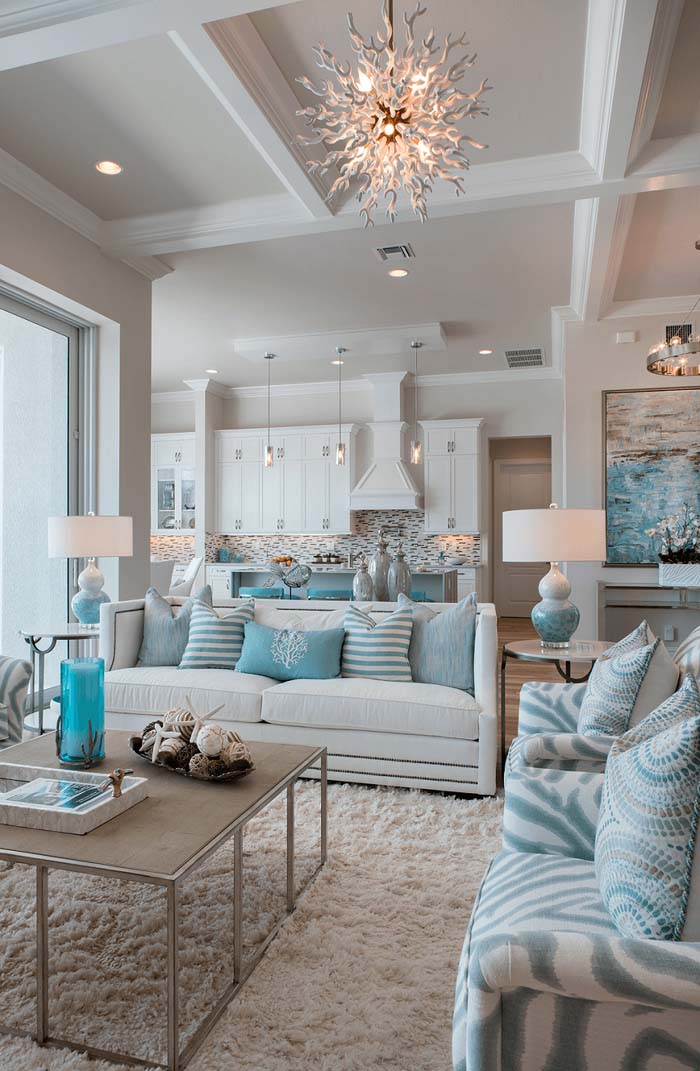 The turquoise color used as an accent here and there will add a simple nautical touch to the interior. It combines well with almost all colors so it won't be difficult to find its place in your home.
To strengthen its impact, you can combine it with a centerpiece like a bowl full of sea treasures.
9. Create a Nautical Nook with Seashell and Sand Decoration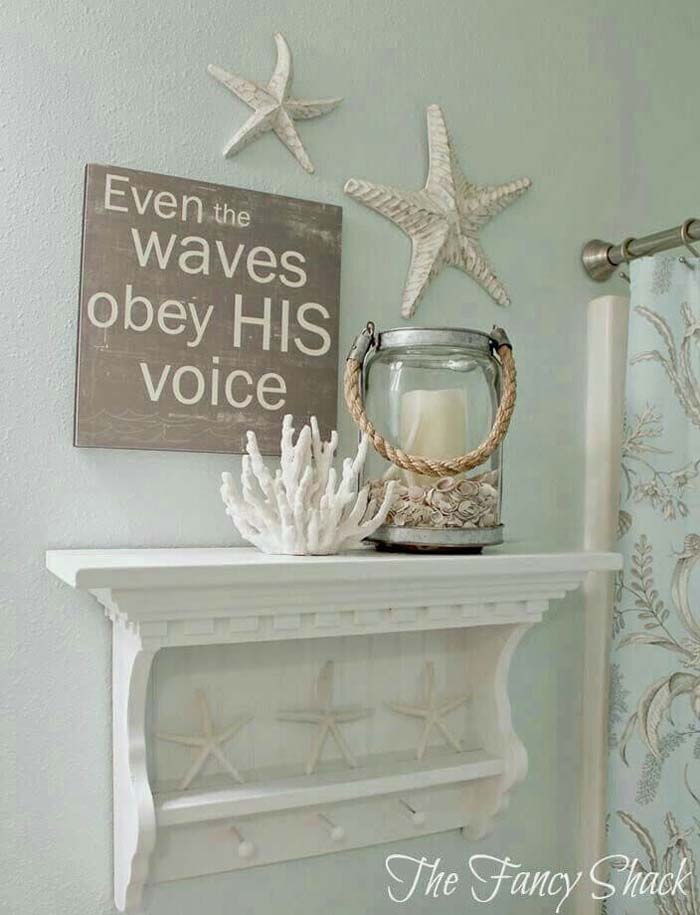 A jar filled with sand and seashells and a rope handle is a simple but very original beach decoration.
If placed on a shelf, make the nook entirely nautical by combining the jar with coral figures, starfish and nautical signs.
via The Fancy Shack
10. Make a Dining Space for a Coastal Cottage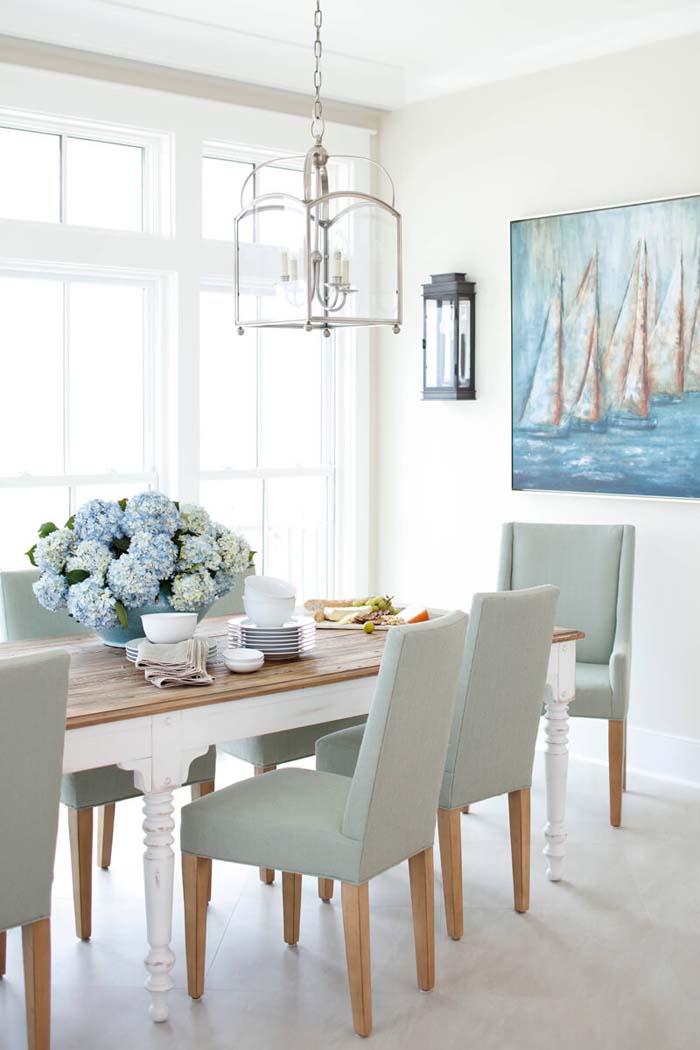 The beach influence can be very easily felt there, although it is not that intrusive.
The painting on the wall with a nautical scene, the lanterns and the white and blue shades used to decorate the interior gently embody the coastal design concept.
11. Make a Driftwood Centerpiece for Your Living Room Table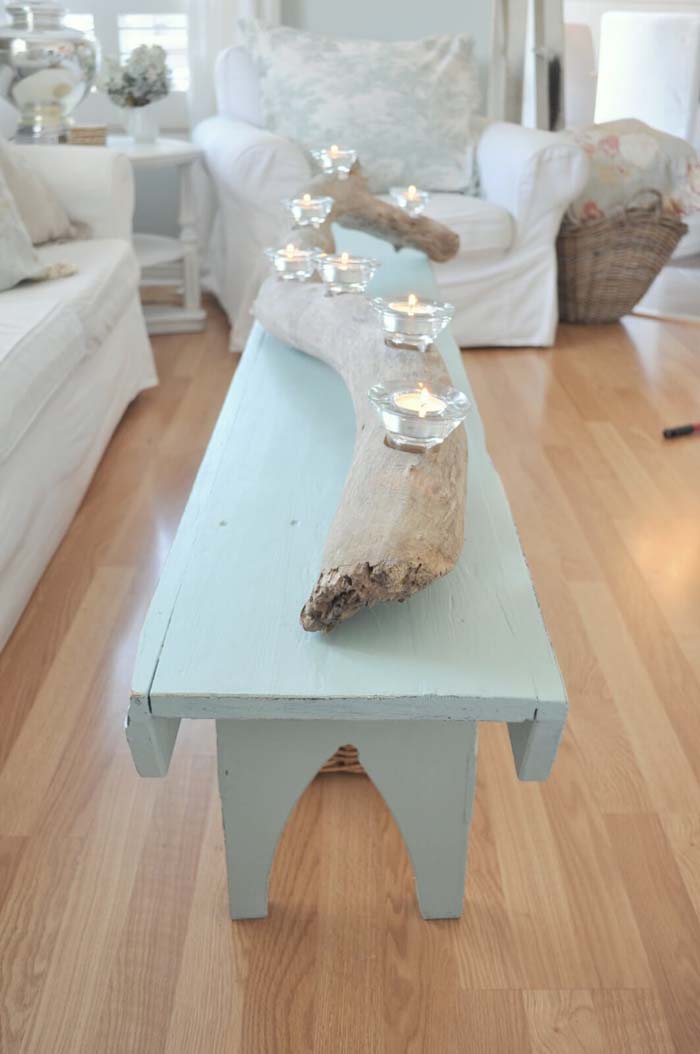 If you find a large piece of driftwood, use it to make a centerpiece for your living room table.
Drill holes to place small candle holders in or leave as it is. It will remind you of the splashes of the waves.
via Kim Power Style
12. Build a Unique Wall Clock with Driftwood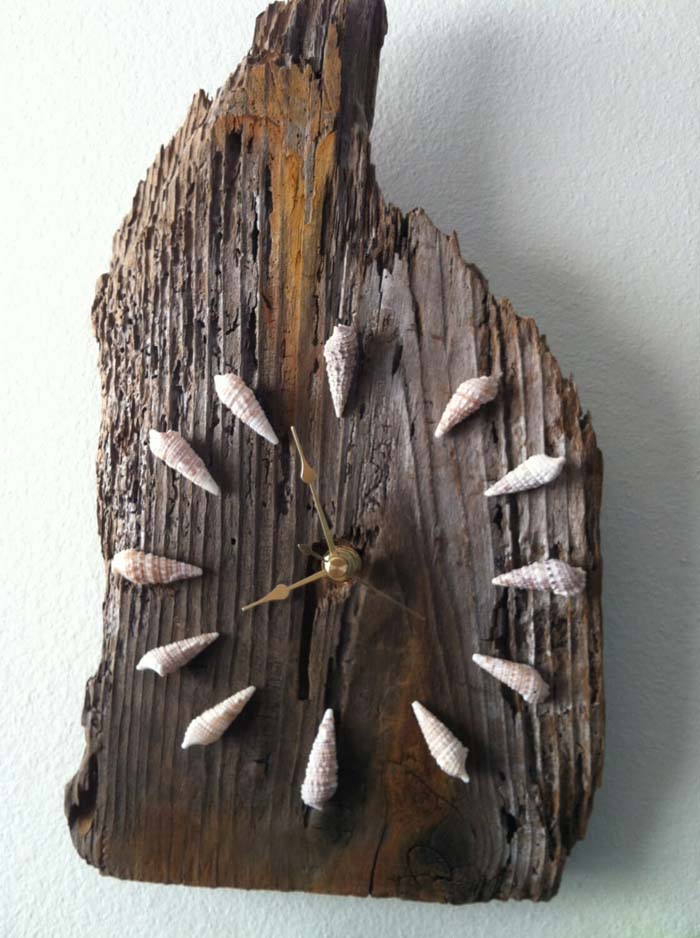 Use the beach treasures to make yourself a useful decoration that will incorporate nice memories in it.
A piece of driftwood is the base for a wall clock where small Rapana venosa shells mark the hours.

13. Create Nautical Interior with Wood and Natural Fiber Furniture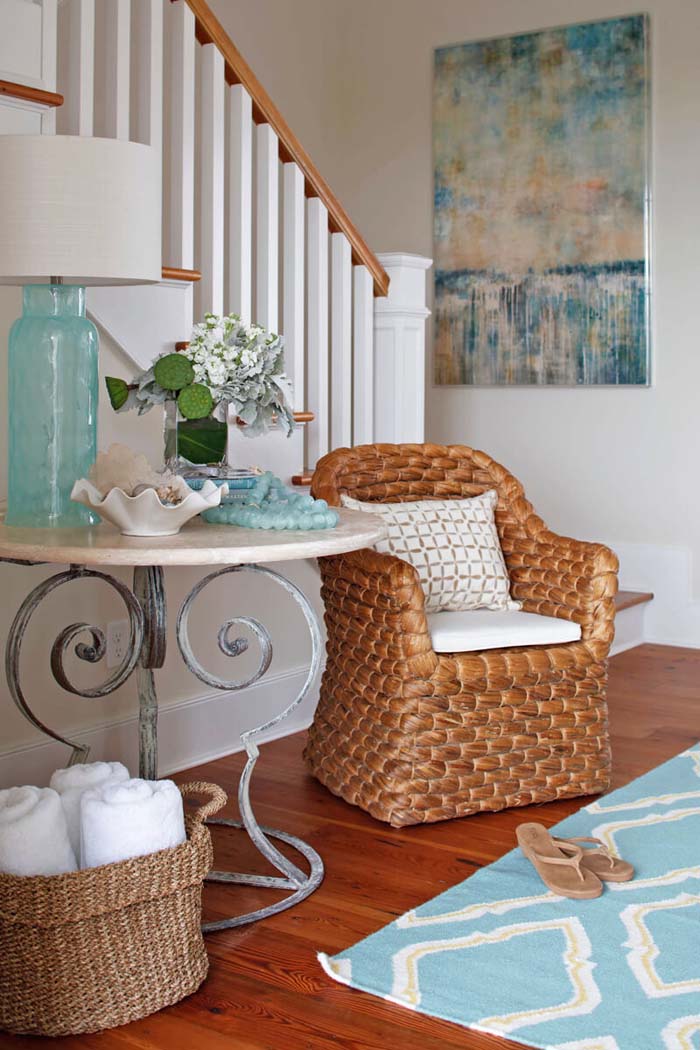 An excellent example of a nautical design is this interior in white and blue color combined with wood furniture left in its original brown color.
Rattan or bamboo furniture and woven storage accessories are most suitable when it comes to beach design.
14. Make a Unique Beachy Accent Lamp with a Rope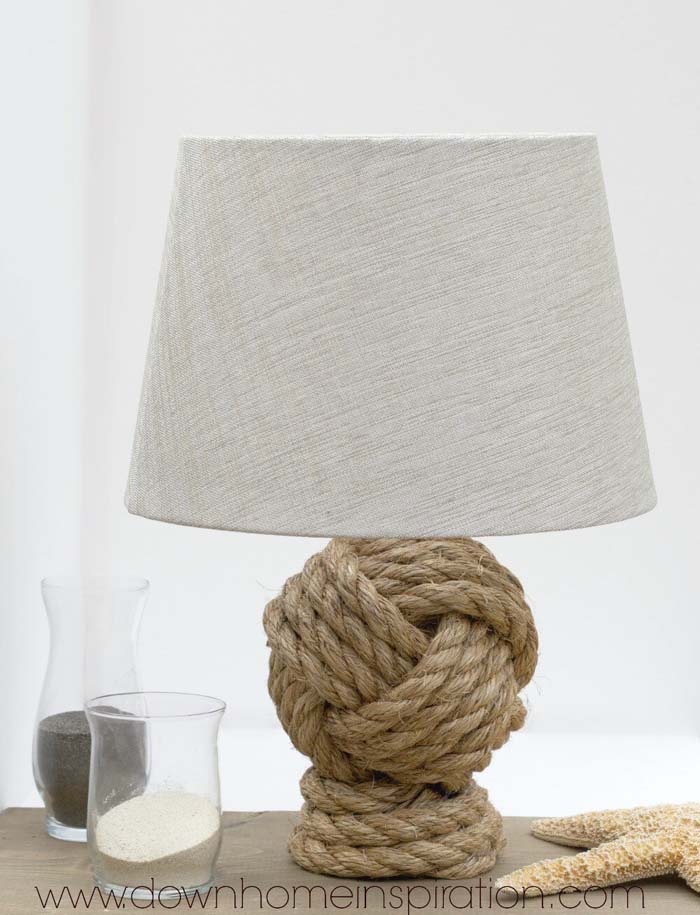 With the help only of a rope, the reading lamp can become interesting, inspired by the beach interior accent.
If you wonder how to make the complex knot, check the tutorial below.
15. Coastal Home Decor with Seashells and Mason Jars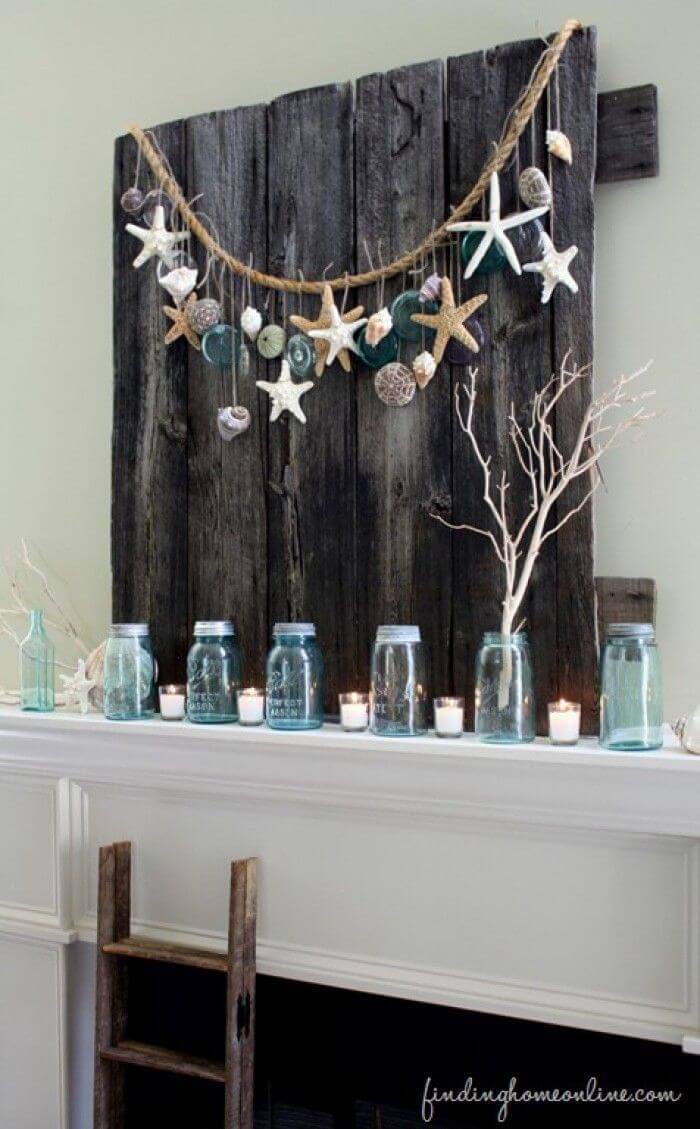 If you want to dedicate a nook for your coast addiction, make yourself your own and very affordable decoration.
Use seashells and starfishes gathered during the vacations through the years to decorate a thick rope and turn it into a fascinating garland.
Stain mason jars to give them a sea glass look and place them at a mantle or a shelf.
16. Boat Oar Headboards for a Unique Bedroom Decor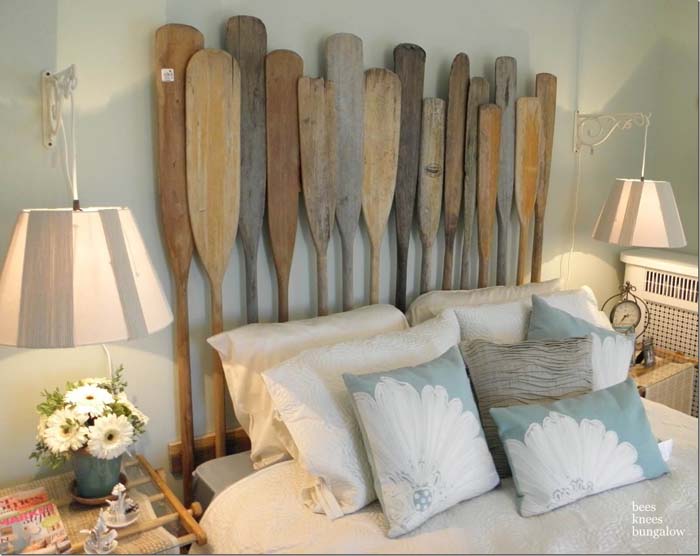 Boat oars seem to be an amazing bedroom decoration. They form an unusual headboard that matches the rest of the furniture materials and colors.
They have been left untreated to remind of their use in the water and thus have a greater overall impact.
17. DIY Rope Net Wrapped Mason Jar for Nautical Decor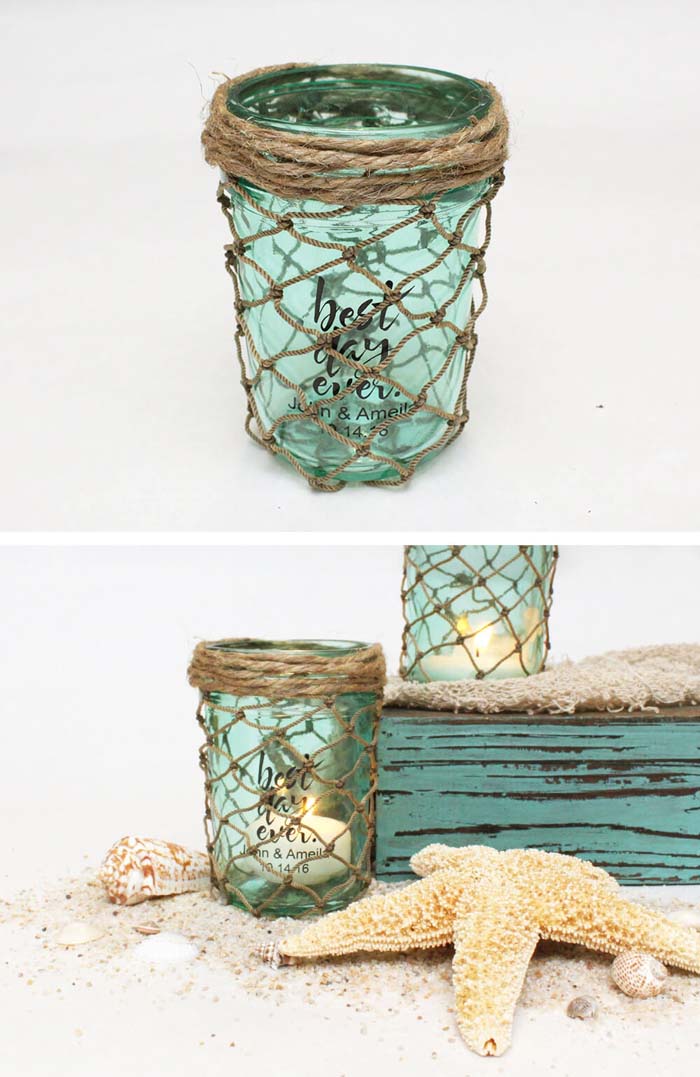 Beach and nautical decorations use symbols from the sailing and fishing, nets.
You can easily wrap a mason jar with a handmade rope net and add it to your coastal nook. Use as a candle holder or a flower vase.
via Beau Coup
18. Transform a Wooden Dresser with Blue and White Paints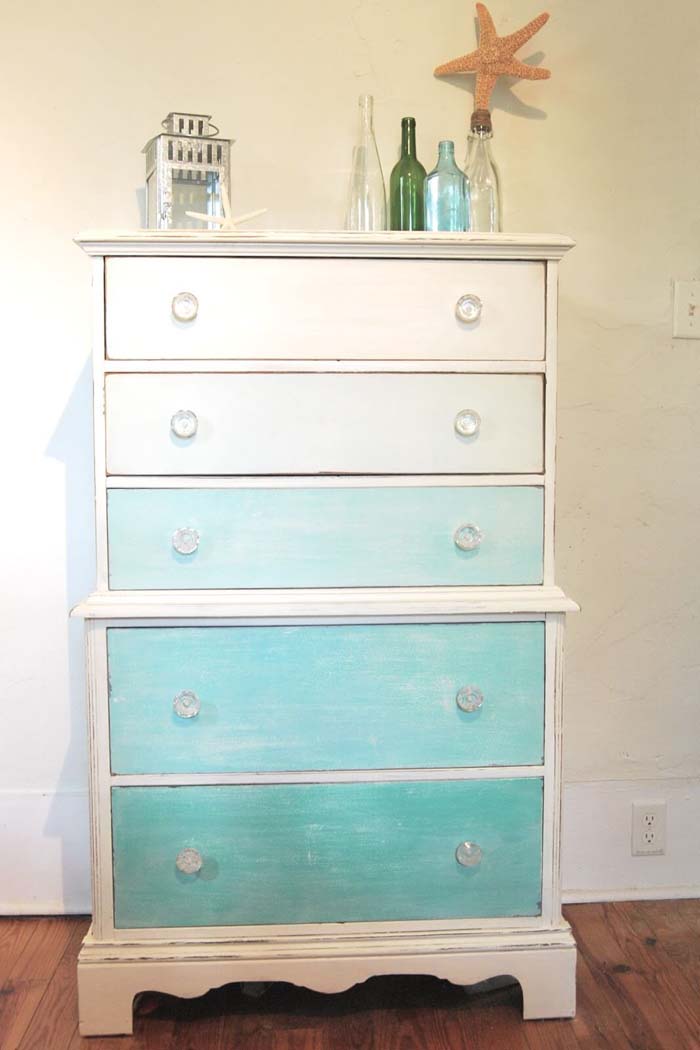 Blue and white paints can be used to transform a standard wooden dresser into beachy-looking furniture.
Place seashells, sea glass bottles and similar decorations to increase its nautical effect.
19. Incorporate a Nautical Feel with an Oar and Palm Accent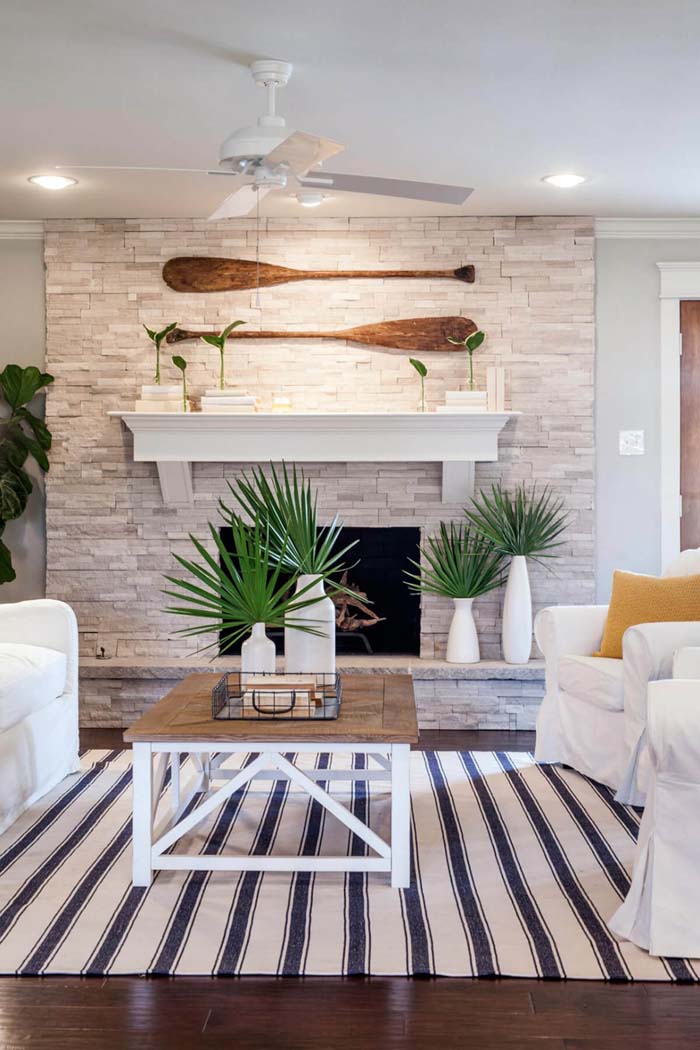 Combine a sailing symbol like the oar wall decoration with palms.
They are common plants at the beach and that makes them a suitable alive addition to a nautically designed interior.
via HGTV
20. Decorate a Picture Frame with Seashells and Pearls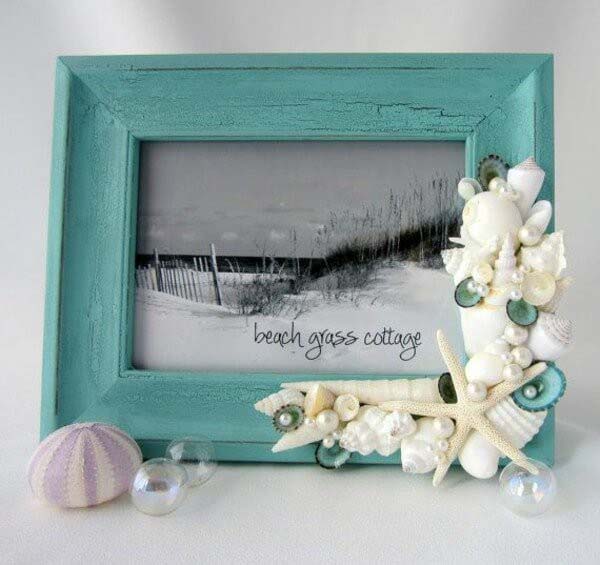 Decorate a frame holding a nice picture of the coast or holiday memories with seashells and pearls.
If the frame is wooden, paint in white or blue to increase its value as a nautical decoration.
21. Nautical Display with Seagulls, Sea Glass and Rope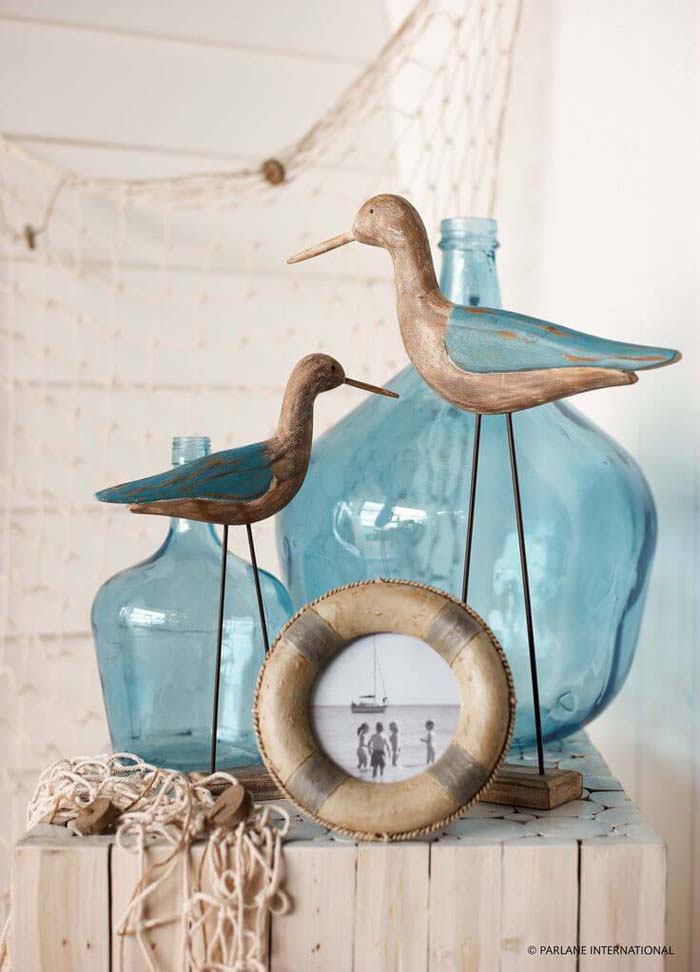 Group seagull figures, sea glass bottles, rope and a picture frame in the shape of a life belt onto a wooden dresser or decorative cube.
To differentiate this nautical space from the rest of the room, hang a fishing net behind it.
22. Make an Elegant Coastal Mirror with Pieces of Driftwood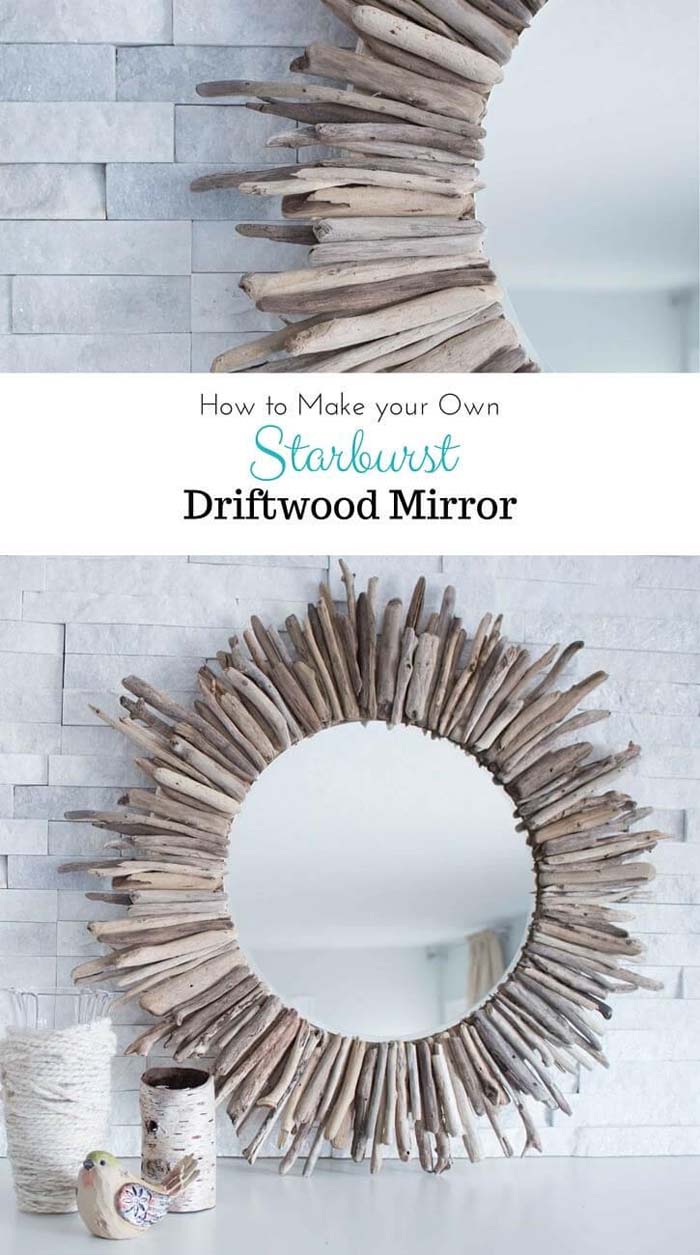 Make yourself an elegant mirror inspired by the coast ambiance.
By surrounding a circular mirror with driftwood pieces you would achieve the starburst effect.
23. Turn an Old Dresser into a Nautical Decoration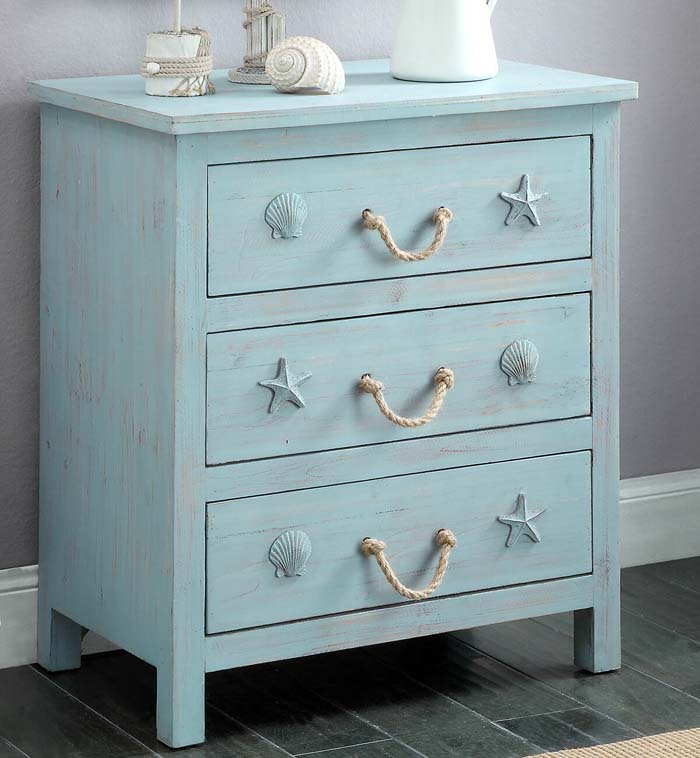 If you have an old dresser and you are in love with the ocean, turn it into a nautical decoration in a few steps.
Use the wash white or wash blue technique to change its color.
Replace the handles with rope pieces and glue seashells on each side of the drawers.
24. Nautical Table Centerpiece for Beach Decorations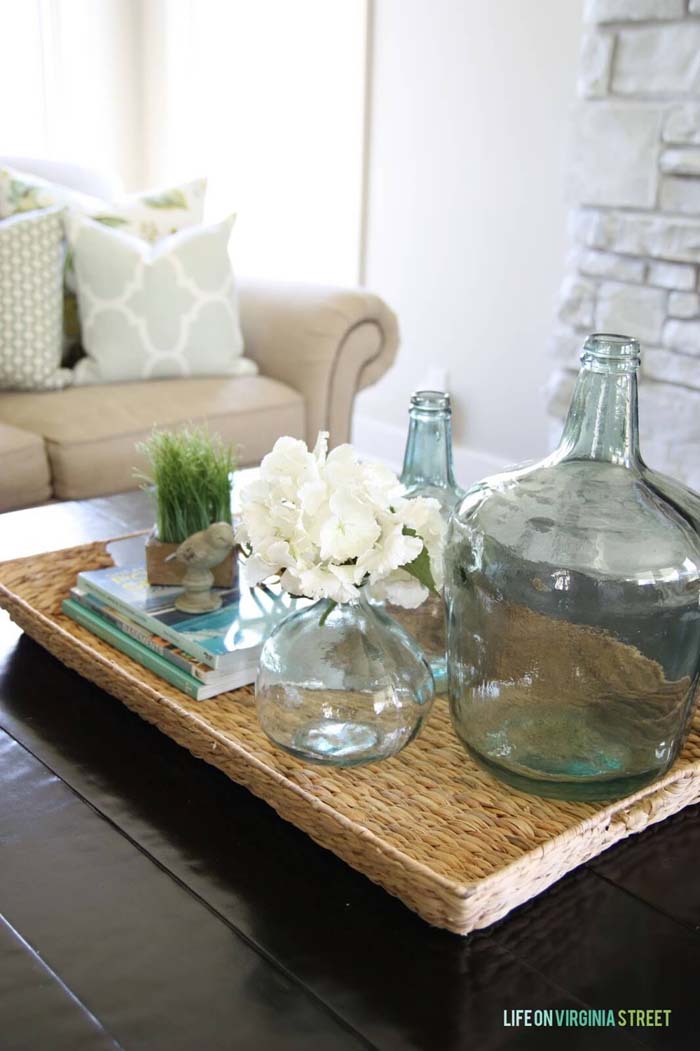 If you have decided that your beach decoration will be a table centerpiece, think of a suitable way to expose it.
Every table or tray made of wicker or bamboo will fit well into the nautical decor concept and will outline the beach accents.
25. Nautical-Themed Room with White, Blue and Sand Colors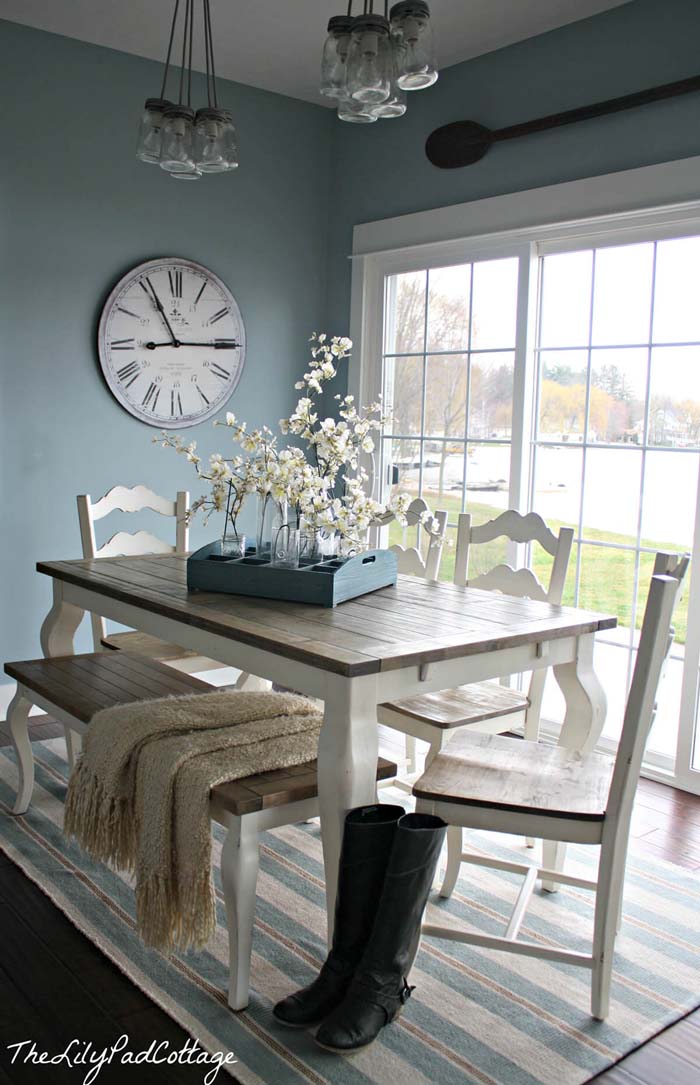 This is another example of a color and material combination that represents the nautical design.
White, blue and sand colors mark different parts of the room and are also combined to form the pattern of the rug.
via Lily Pad Cottage
26. Decorate with White Walls, Rattan Furniture, and Fabrics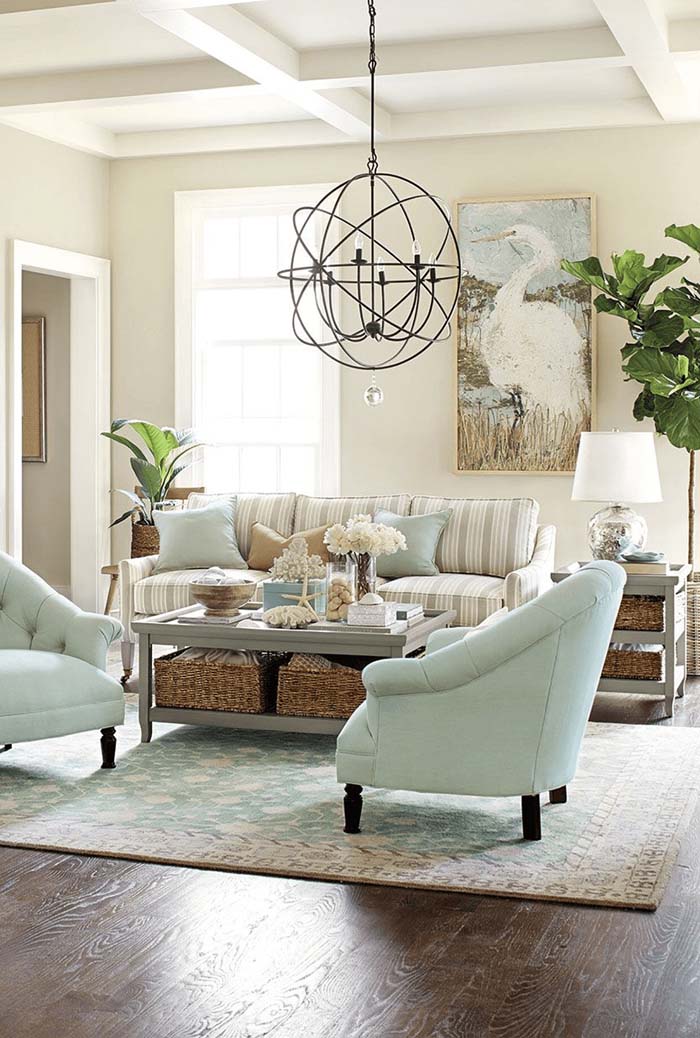 Walls painted in one color, especially white are the perfect background for a beach interior. The colors of the furniture may be white, blue or brown.
The preferred materials are wood, rattan and bamboo in their untreated color. Bravely use the same colors separately or in combination for the fabric.
via Ballard Design
27. Transform Your Curtain with a Starfish Tassel Accent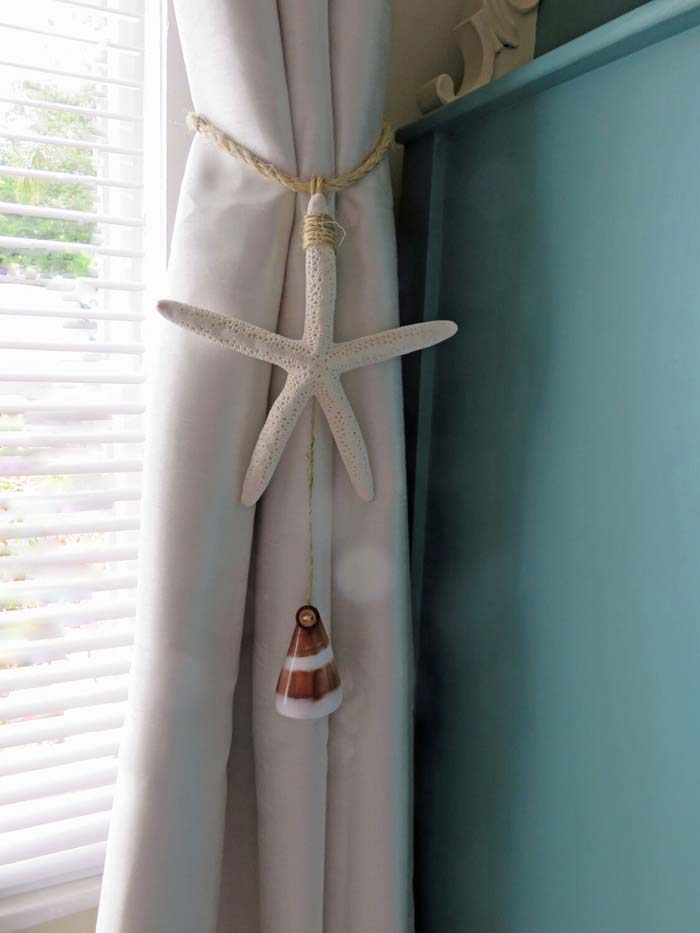 A simple accent as a starfish tassel on the curtain can do a miracle transformation of the bedroom or living room atmosphere.
Hung on a rope, the beach symbol cutely adds a relaxing touch to the ambiance.
28. Rustic Interior with Beach and Coastal Decorating Ideas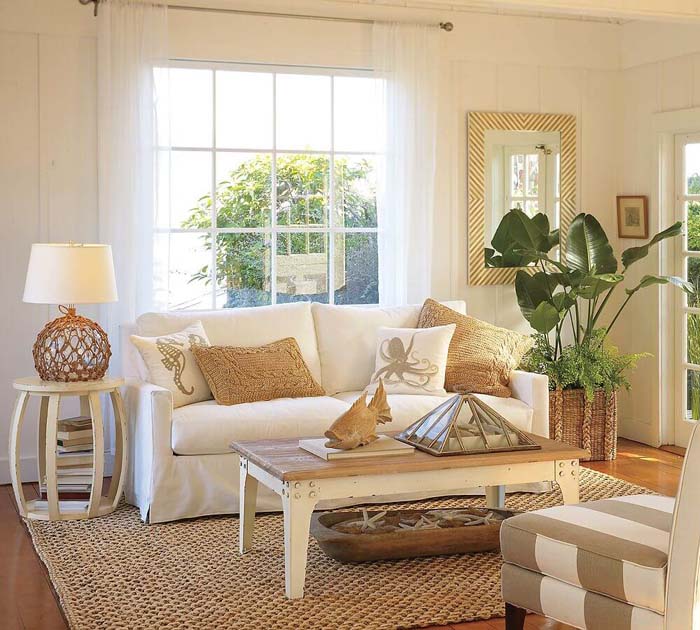 The nautical concept can work very well with the rustic design. Both rustic and beach themes use white and sand colors.
Repurpose old things like a dough bowl to store seashells and starfishes. A few cushions in white with ocean creatures imprints will increase the coastal influence.
via Our Boat House
29. Coastal Look with Wooden Clocks, Fish Statues and Seashells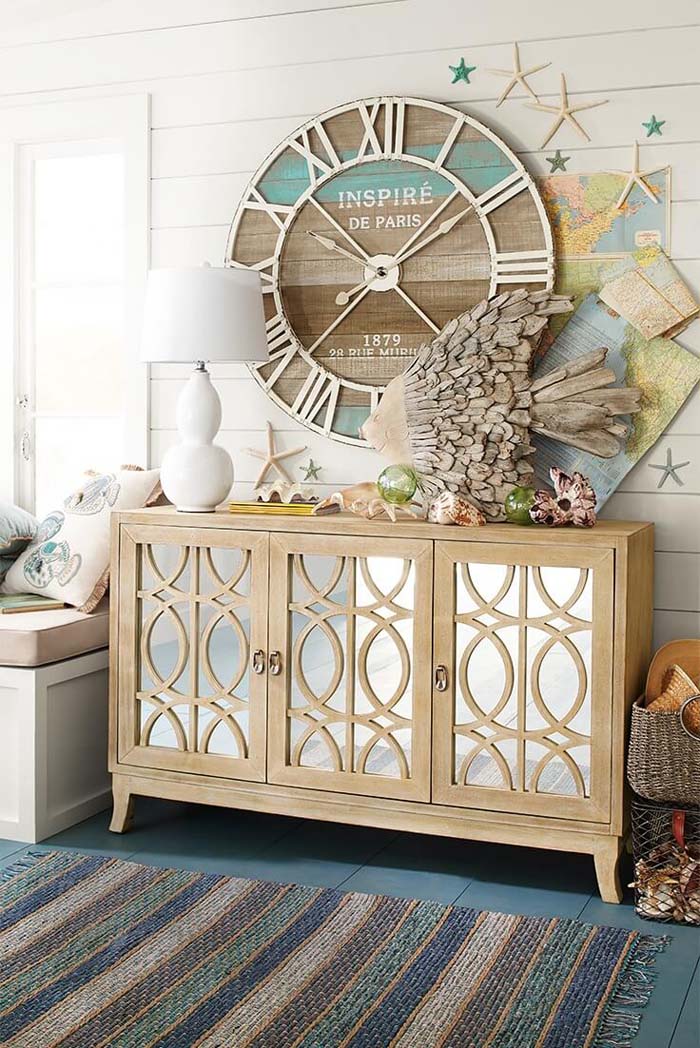 Break the simplicity of a wall with a nautical-inspired decoration. Wooden items like the large clock and the fish statute scream out loudly the seashore love and become a focal point of the nook.
The smaller details like the turquoise and white colors, starfish, seashells and sea glass spheres gently complete the coastal picture.
via Pier 1
30. Celebrate Summer Vibes with a Beach-Themed Wreath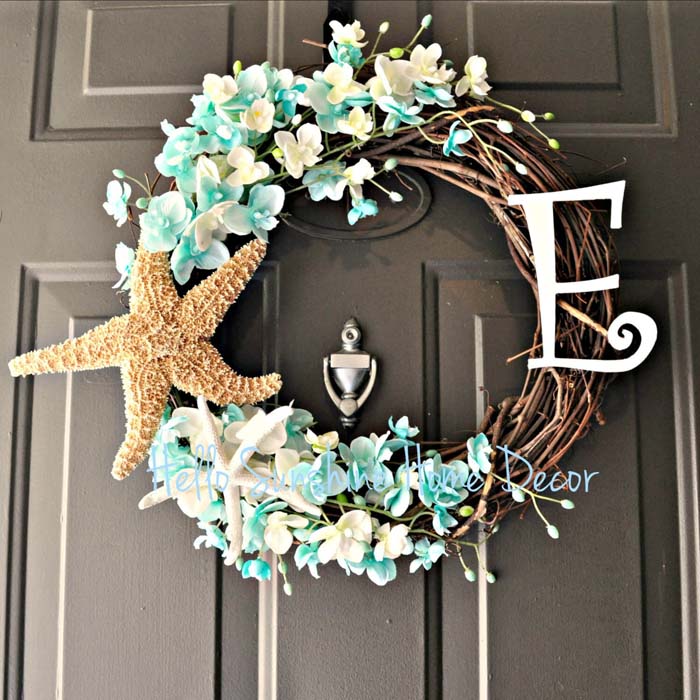 Beach love can be vivid literally from the front door.
A wreath with seashells or starfish and flowers in white and blue will help you mark summer in a beautiful way.

31. Create a Refreshing Nautical Interior with White and Blue Hues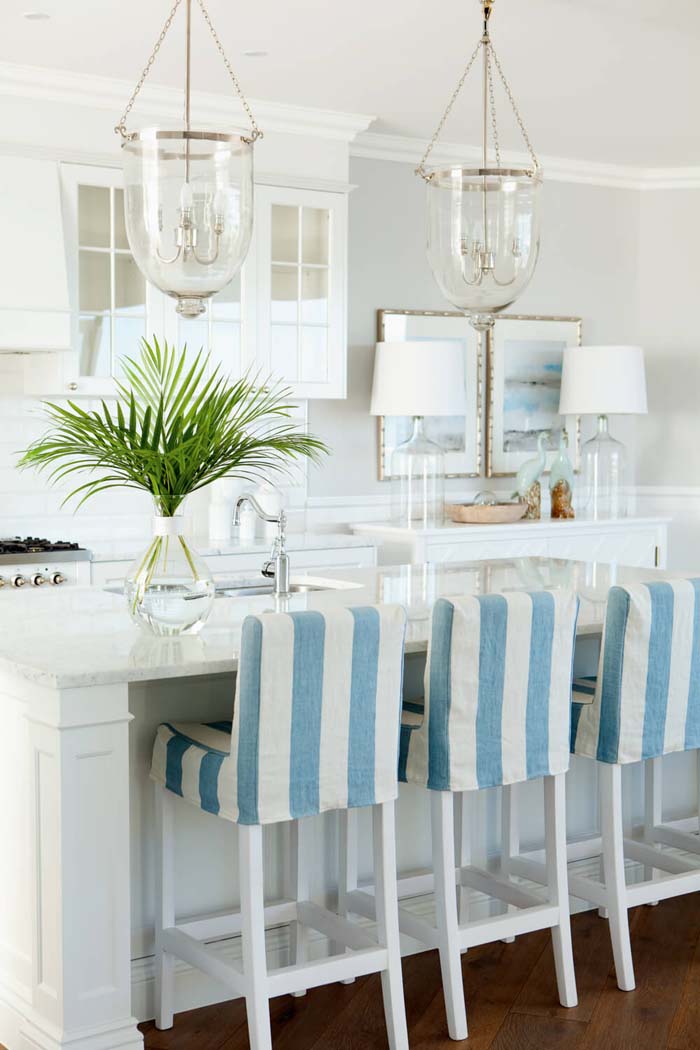 Stake on white and blue when you make your nautical interior. In addition to the feeling of airier and cleaner space, this color combination has the ability to freshen and cheer up.
Use glass decorations, beach symbols like seagulls and finish the look with a vase with palm leaves.
via Queensland Homes
32. Coastal Vase Arrangement with Seashells and Seagrass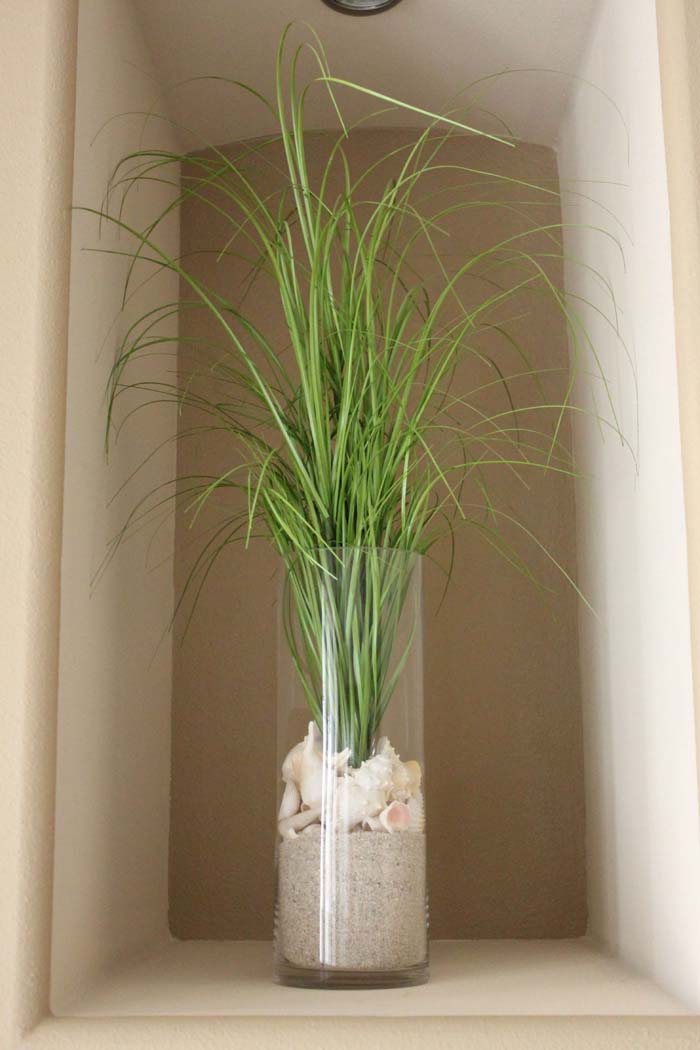 Gather pieces of the coast in a vase. Put sand on the bottom, a layer of seashells and insert seagrass.
This beautiful arrangement can be used as a centerpiece or part of nautical décor.
33. Bring the Beach to Your Home with Wall Art Motifs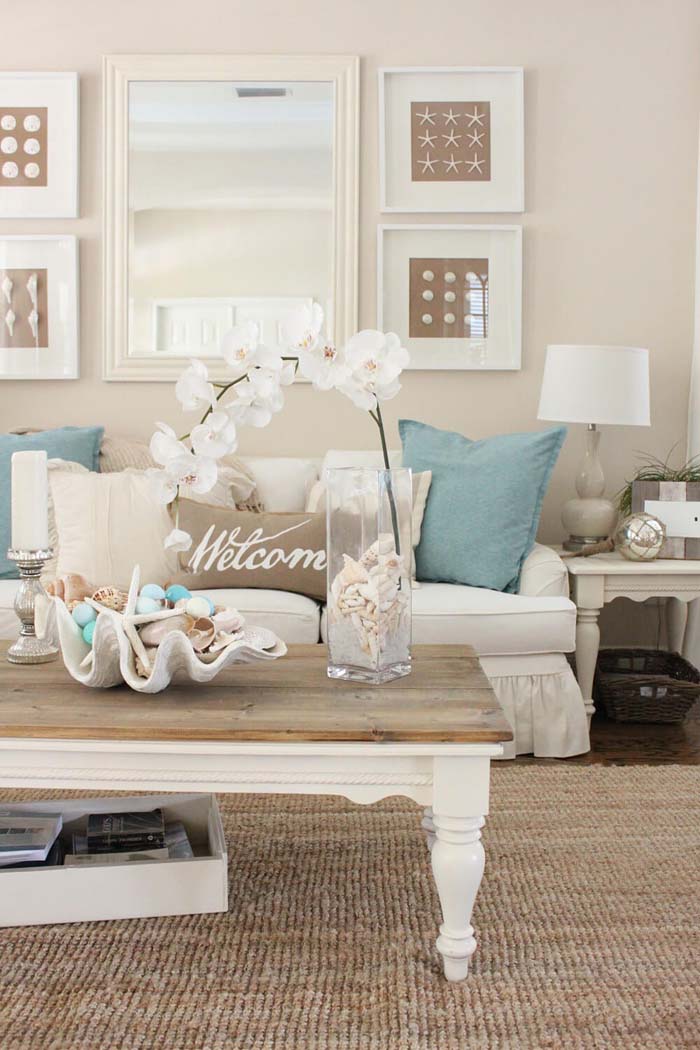 The framed beach motifs will charge you with positive energy throughout the whole year.
The seashell art is an easy DIY plus you would be able to show off with your own beach collection.
via Starfish Cottage