Decorating your home with lanterns is one of the most affordable ways to give a space a homely look.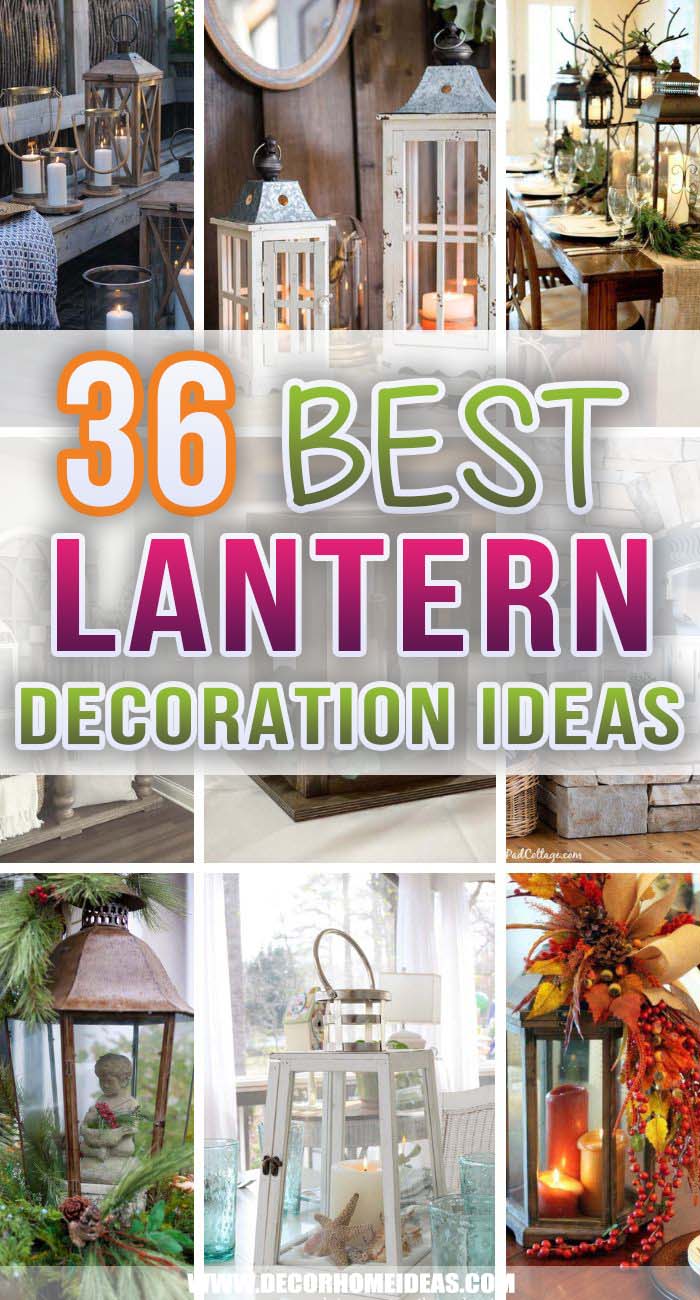 Lanterns can be used in their original look or ornamented with flowers, candles, baubles and many more to be adapted for the season.
Briefly said, lanterns can be easily transformed to fit the existing decor and to add a pinch of warmth and coziness that every home needs.
1. Welcoming Farmhouse Entryway Decor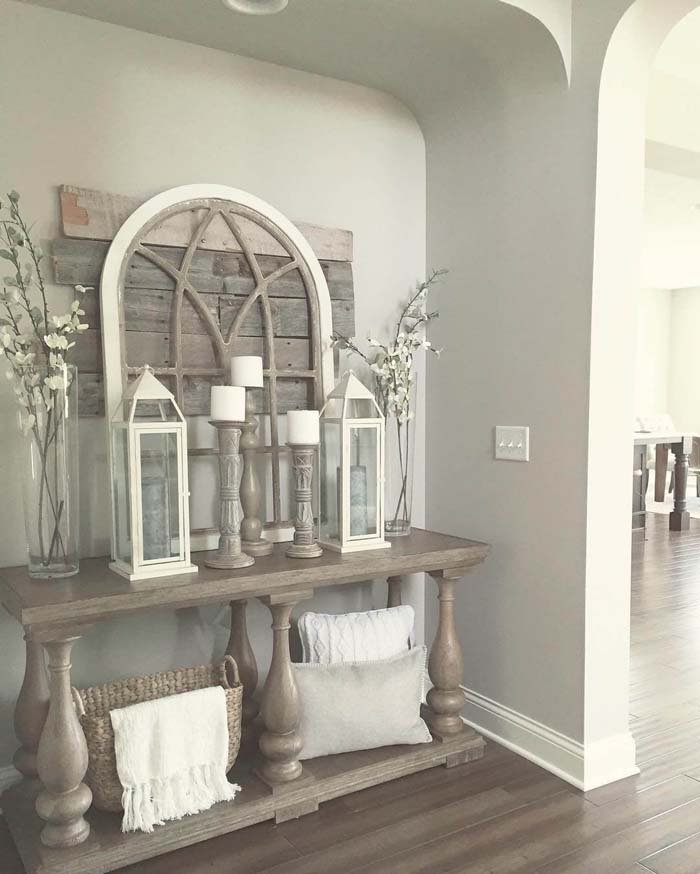 Set the welcoming feeling from the entrance of your home with a rustic arrangement. Use a wooden table with beautiful carved legs to display a weathered arched window setting the tone for smaller farmhouse decorations.
Glass vases, candlesticks and lanterns stay symmetrically in the front of the table to let the ambiance feel warm and cozy.
2. Lantern Autumn Arrangement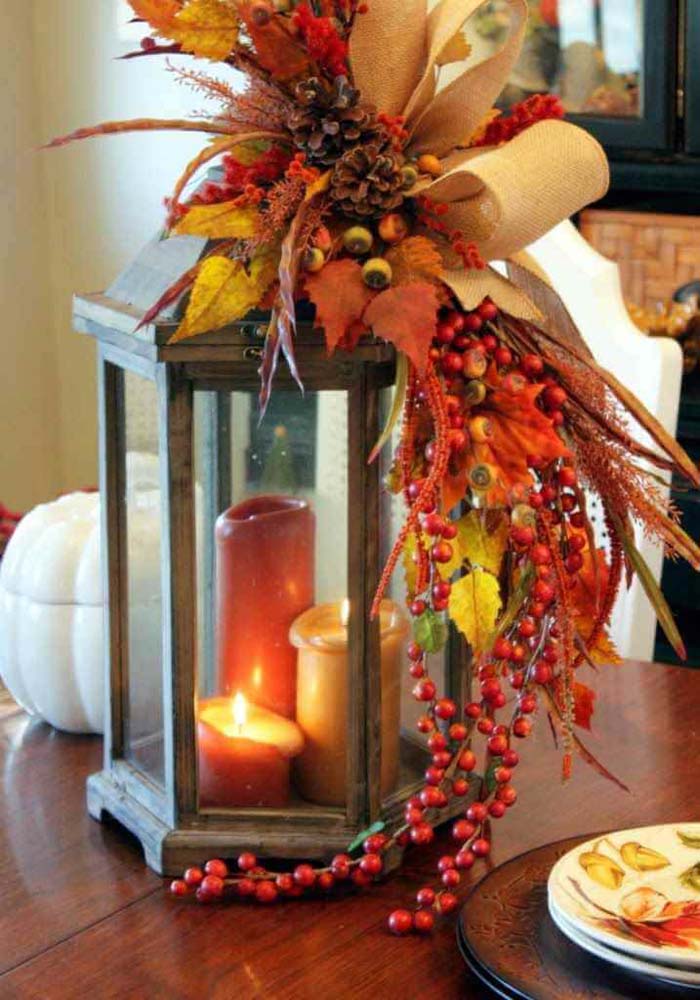 The light motif of the lantern is what has made it so popular for indoor and outdoor decoration.
When fall is near the corner, get a tall lantern to create a themed décor for your side or main table. Use natural items to embellish the top of it- berry twigs and colorful leaves tied with a burlap ribbon.
Put candles inside the lantern and light them up when the festive dinner starts.
3. Nautical Lantern Decor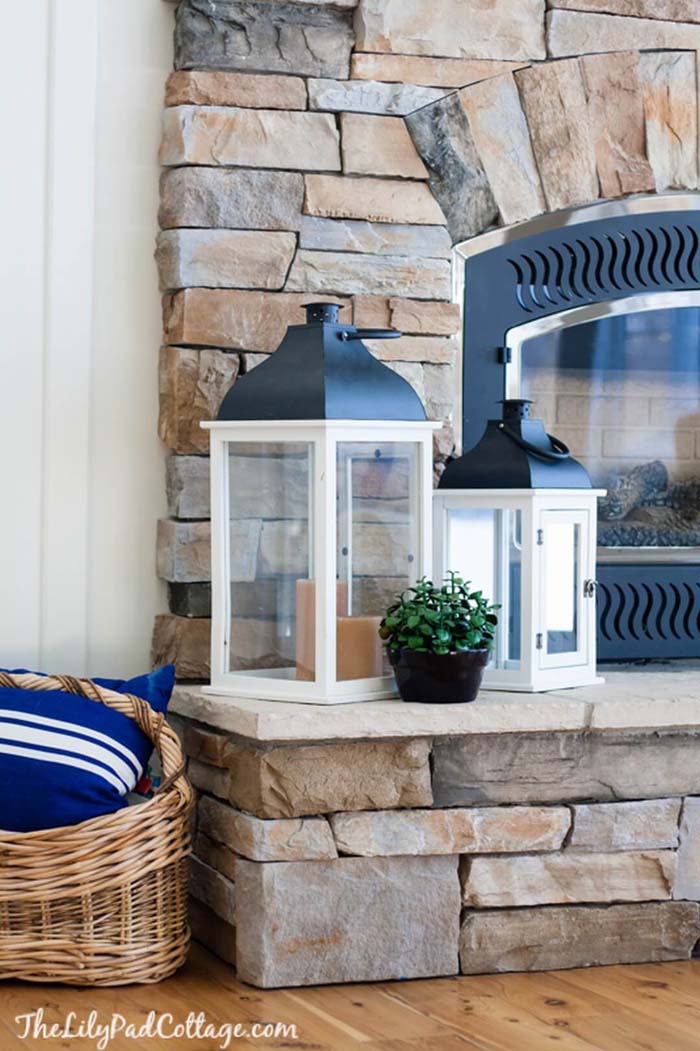 This décor idea proves that lanterns can be part of any season décor. Here, two white lanterns stay on the fireplace to complete a summer arrangement with a nautical touch.
To anchor the ocean flair in the living room, add pillows in white and navy blue color combination to coordinate with the white metal of the lanterns.
4. Rustic Wall Lanterns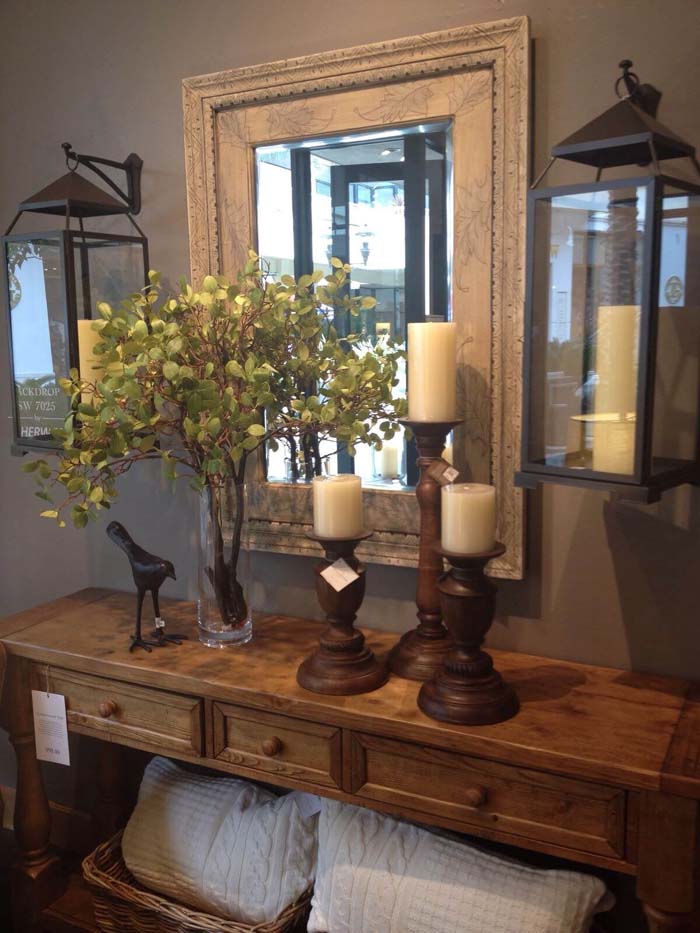 Setting two large vintage lanterns at the sides of an entryway mirror décor creates a lovely farmhouse landscape.
Using a typical outdoor fixture indoors creates a pleasing statement. Pair with other rustic decorations such as candles, wooden sculptures and other natural textures.
5. Lanterns Full Of Christmas Joy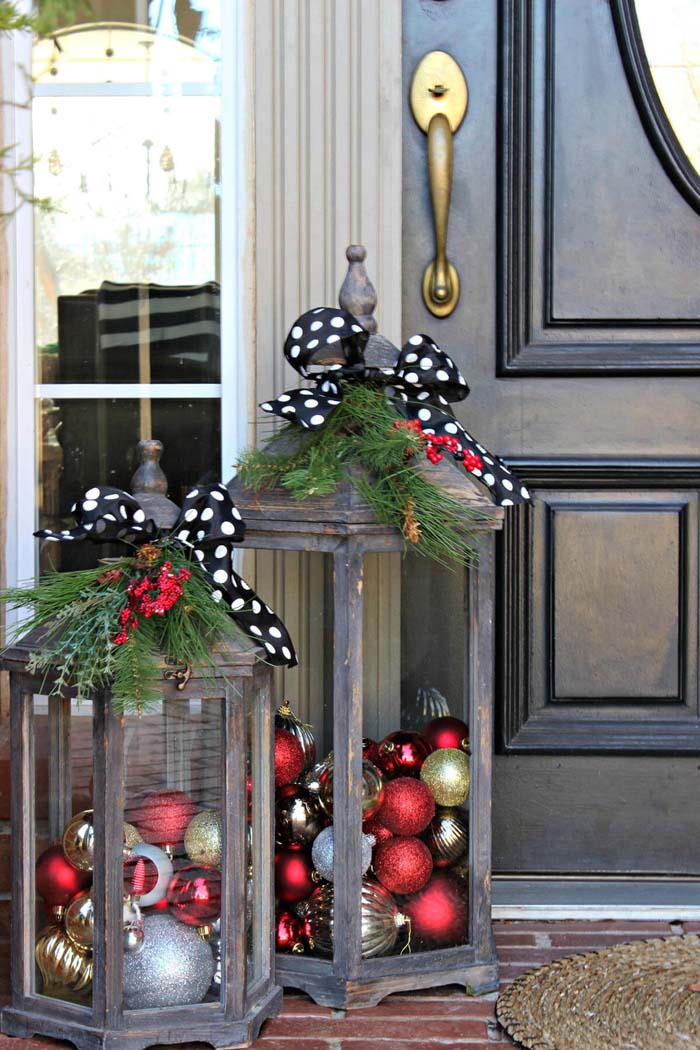 The lanterns can be repurposed into containers for small embellishments. See what a beautiful display they can be when the candles or the bulbs are replaced with numerous Christmas baubles!
The glass sides reveal the cheerful Christmas colors and make this porch festive and welcoming!
6. Welcoming Lanterns On The Porch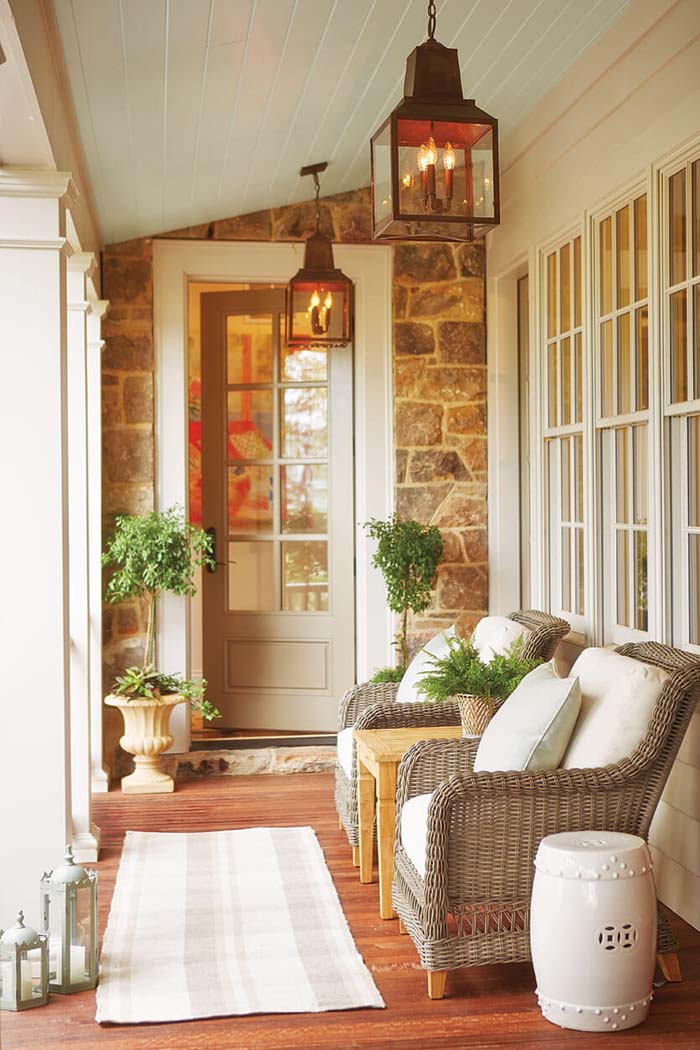 Use the beautiful structure of the lanterns to make porch light fixtures working with electricity.
If you want to have the entire porch symmetrically lit, install the lanterns on the ceiling. When the lanterns are not the main light source but only decoration with supplementary function, you can mount them on the wall.
Their rustic flair can pair well with typical outdoor furniture made from rattan.
via Ballard Designs
7. Light Up The Stairs With Lanterns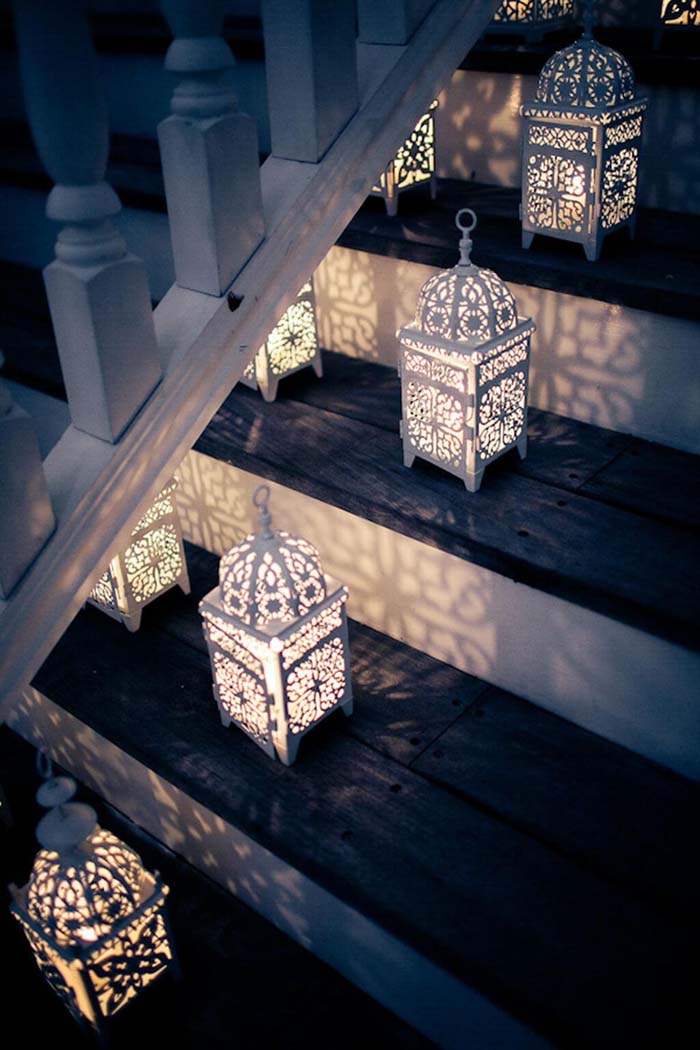 Small lanterns with interesting design such as laser cut sides or metal pierce work are perfect for added ornament to a rustic arrangement or when used in group with more lanterns.
The idea here features how to use them in their original application- as sources of light. Place one lantern at each step and watch the beautiful shapes created by the light coming through the cut shapes.
For safety and cost-effective reasons, use led-powered candles.
8. Christmas Lantern For The Porch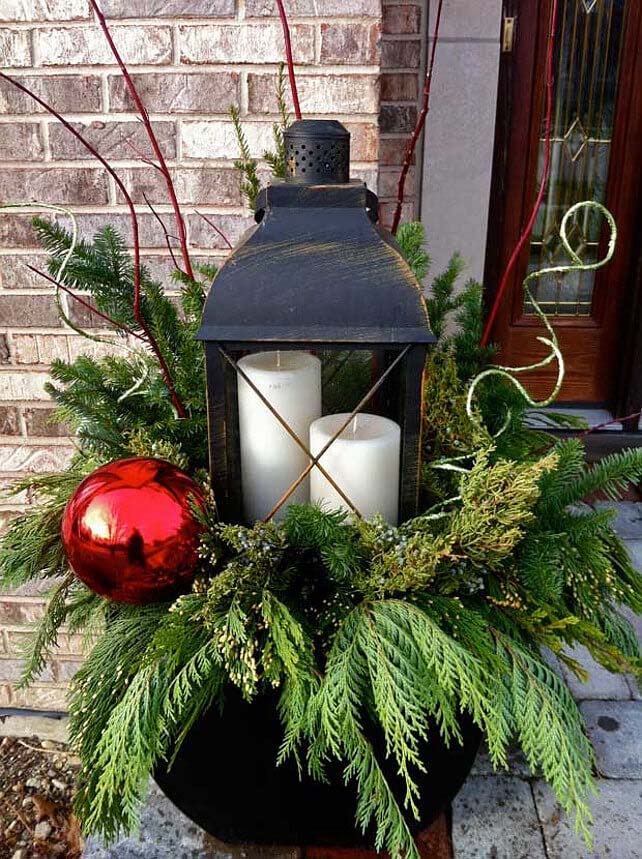 An easy way to make the big flower pots on the porch winter-friendly is to top them with lanterns.
Surround each lantern with a handmade wreath from pine twigs. Decorate with baubles and other Christmas ornaments.
9. Mantel Lanterns For Christmas Magic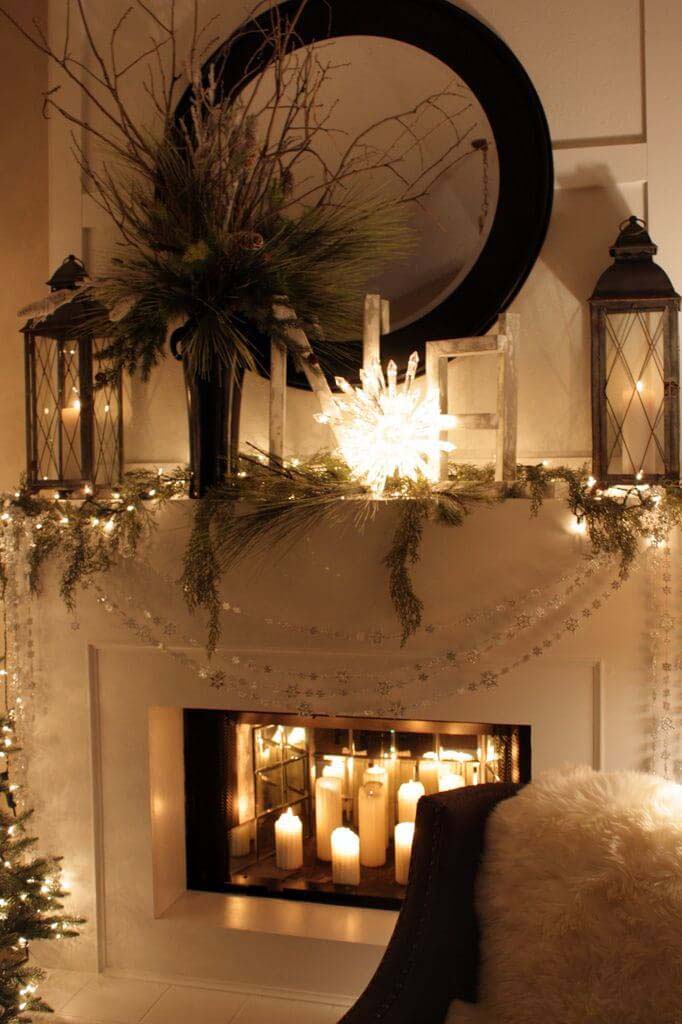 Use lanterns to make your mantel Christmas-festive. If you want to add a bold pop of color, fill them with red, golden, silver baubles.
For an elegant and sophisticated touch, fill the inside with strings of LED lights. Paired with other glowing items, the fireplace will look like a piece of starry sky brought to the indoors.
10. Candle Lanterns To Illuminate The Entrance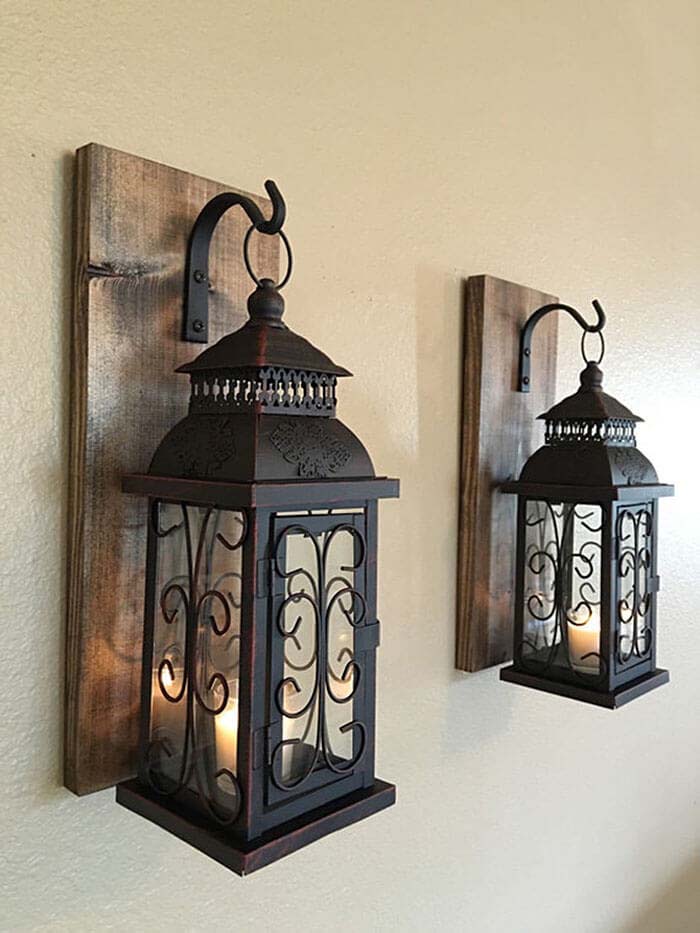 Back up the lanterns with reclaimed wood supports to give them stability and enhance their vintage beauty.
If you use them outdoors, you can place a votive inside and light it up in the night. For indoor usage, better choose LED votives which are safer.
11. Boho Chic Lanterns Idea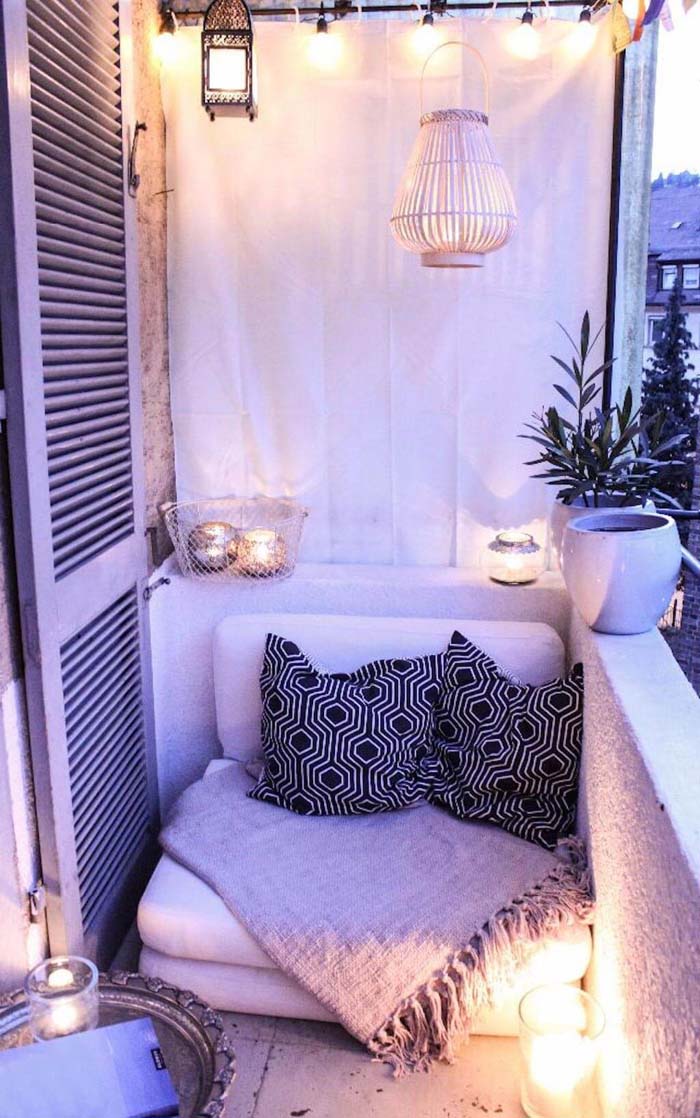 When you want to turn the city balcony into a quiet and cozy place, add lanterns to the décor. This boho chic ambiance is cozy, furnished with compact but functional pieces and decorated simply.
The balcony is illuminated with an Edison-bulb string and two hanging lanterns as a main source of focused light and a few candles spread on the balcony to spread smooth light and improve the feeling for privacy.
12. Vintage Grey Tall Lantern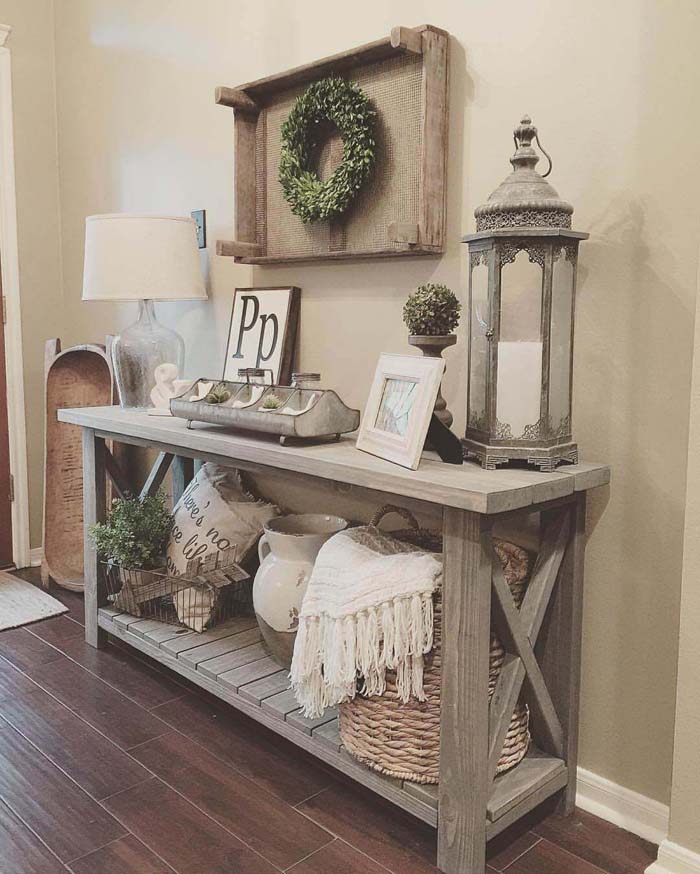 The lantern can be part of your permanent entryway décor. Being related to family light, it easily adds a homely feel to the space.
Combine the lantern with other rustic pieces that help the place feel personalized and warm. A basket with throws or pillows, a family photo and beautiful antique pieces that have a meaningful value to you.
via Home Decor Momma
13. Lantern Full Of Pumpkins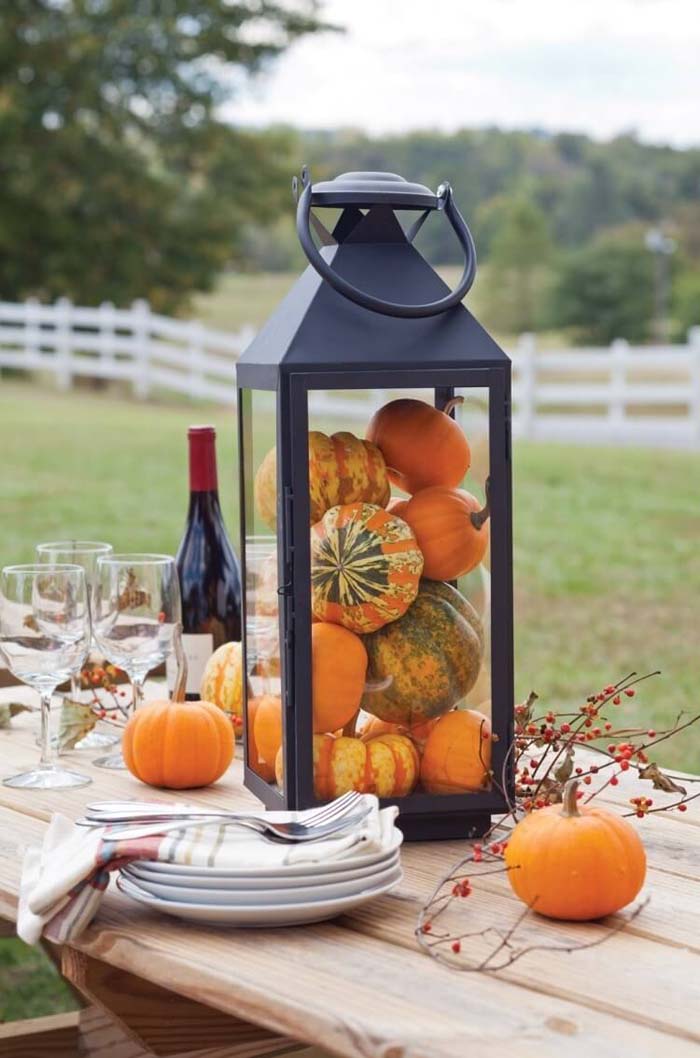 This is another great inspiration of how a lantern can be used as container for seasonal décor. Simply open the door and fill with tiny pumpkins.
No need for any additional ornaments, the warmth of the autumn colors and the symbolic of the harvest are enough to adjust to fall mood.
14. Starry Lights In Lanterns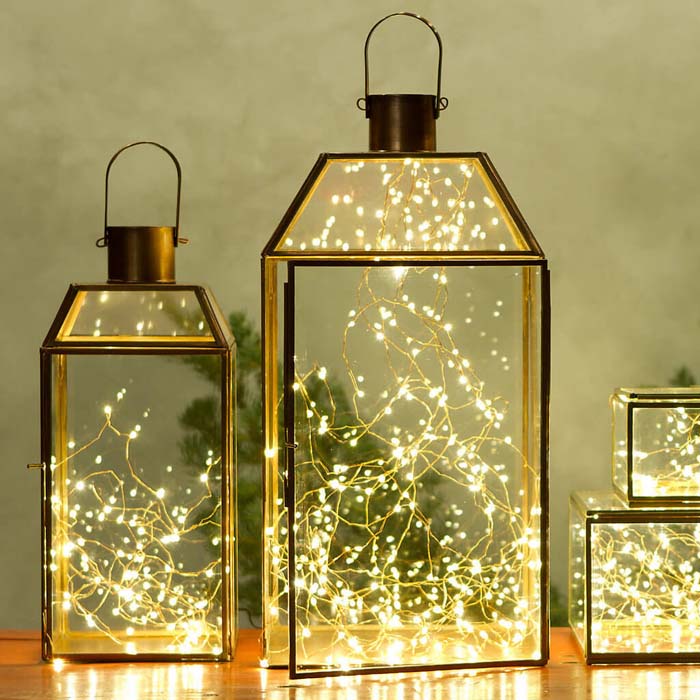 When you are looking for a simpler but fascinating home décor, try this idea. A set of glass lanterns in different sizes is displayed on an empty shelf. Each lantern is filled with a string of fairy lights.
The glow produced by these strings is eye-catching and urging you to relax. The best lantern design for this idea is minimalist- glass sides and thin metal frames without any ornaments to let the light be the focus.
via Craftionary
15. Lantern As A Flower Stand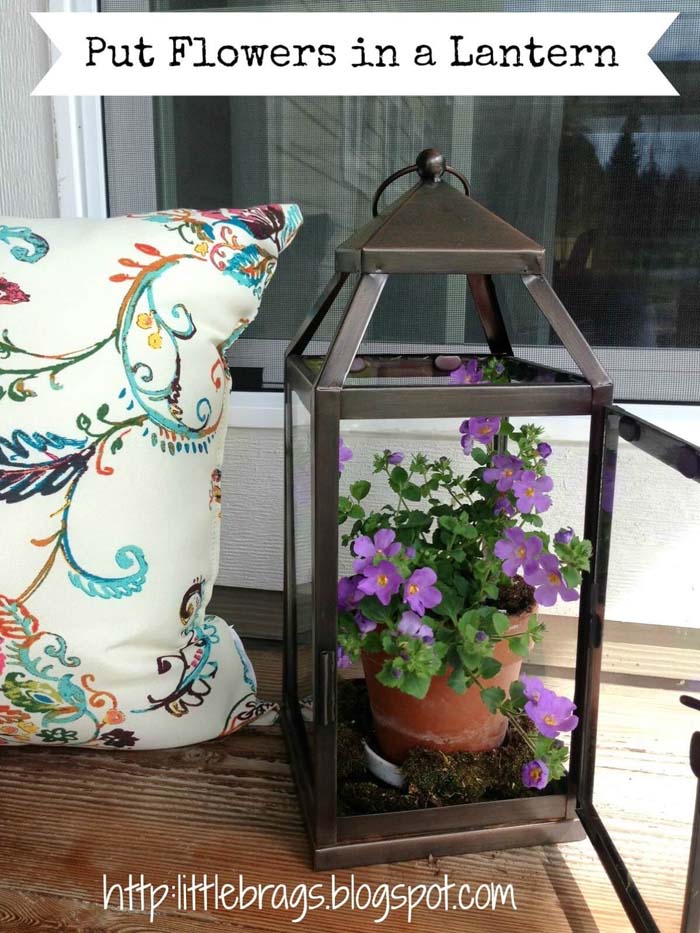 Speaking about repurposing lanterns into containers, here is another great repurpose idea that will be loved by gardeners.
A lantern of an average size is perfect for a unique flower pot stand. You can move it wherever you want- on the porch table, on the rail, on the stairs or on the floor.
Don't forget to remove one of the glasses or keep the door open to let air access the plant.
via Little Brags
16. Lanterns As Living Room Decor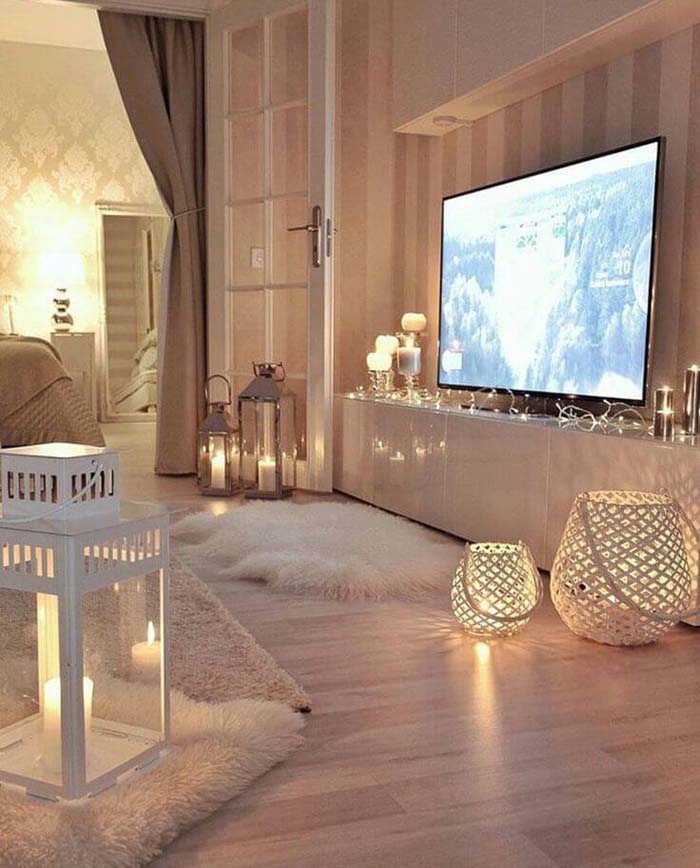 This setting is special- inviting you for romantic time with your beloved or for private and deep chats with friends.
The calming atmosphere is set by the amount of supplementary light sources used instead of one strong artificial light.
There are many and different lanterns spread on the floor. They are all united by the candles used for illumination and their retro design.
17. Terrarium Lantern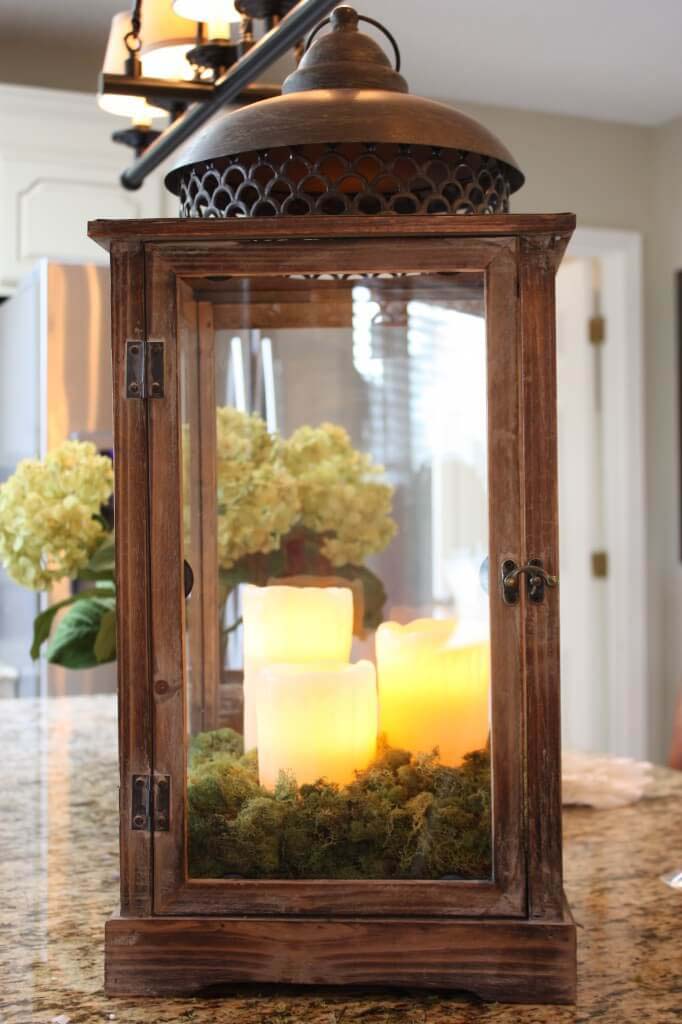 The design of this lantern is rustic with its hinges and ornated top part.
Adding moss to the bottom beautifully complements the authentic nature of the lantern and provides contrast to the pillar candles.
via Foter
18. Delicate Bouquet In A Lantern Wedding Decor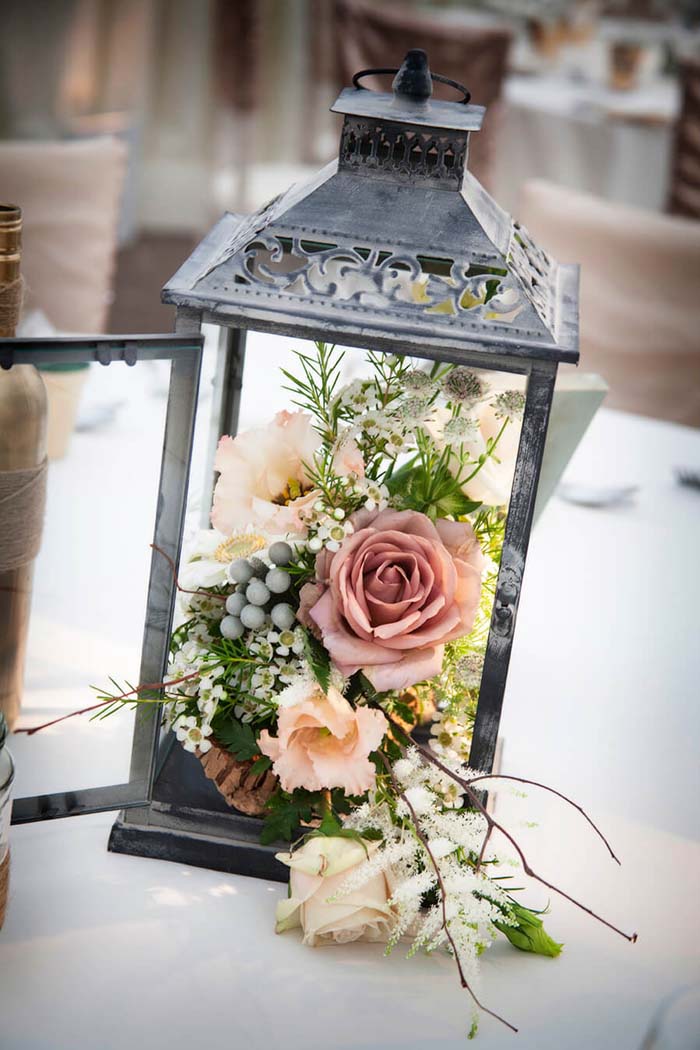 This decoration can inspire the table centerpiece idea for a special occasion. The flower arrangement is great for weddings and anniversaries.
Roses, poppies, grape clusters and some greenery assemble in a delicate bouquet that flows out a vintage lantern.
via Brides Up North
19. Moroccan Lantern Decor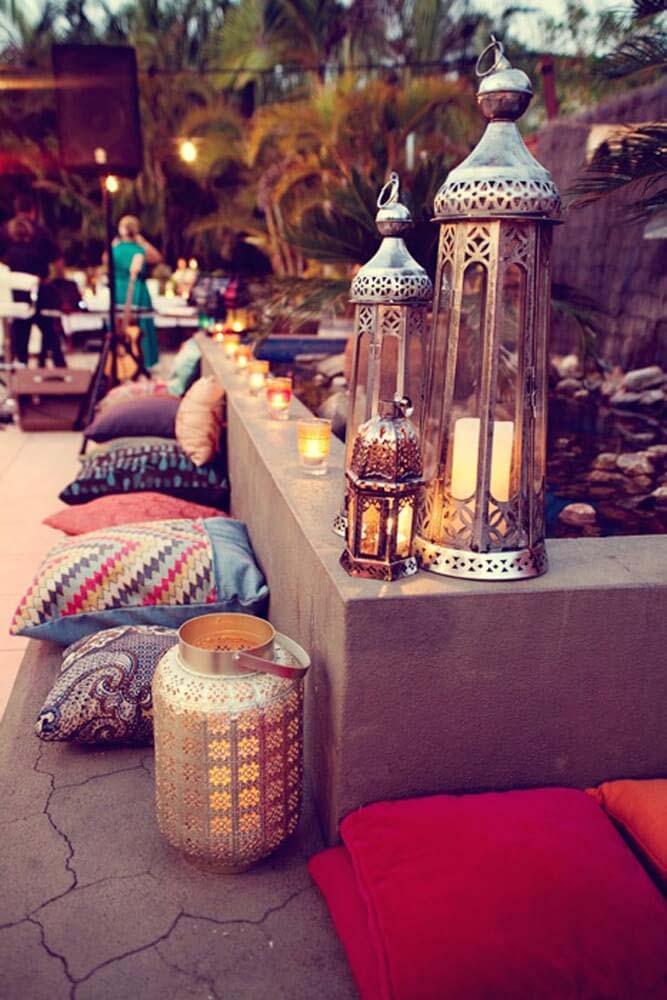 This set of three lanterns fits perfectly the Moroccan style party atmosphere.
The arched glass panels, metal curved tops and silver finish give the lantern a more exotic look that matches the colorful fabric patterns of the pillow piles.
20. Fireplace Lanterns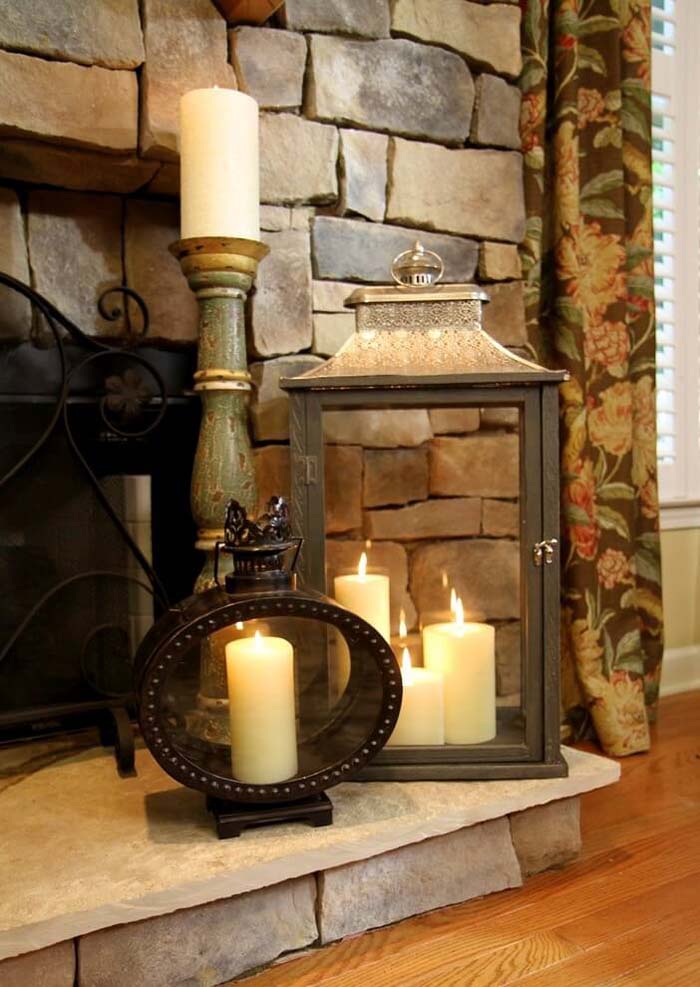 When the fireplace is not in use, why not make it the feature for family gathering with lanterns?
Placing two or three vintage lanterns with pillar candles will create the same coziness as the fire of the logs does in winter.
21. Autumn Harvest In A Lantern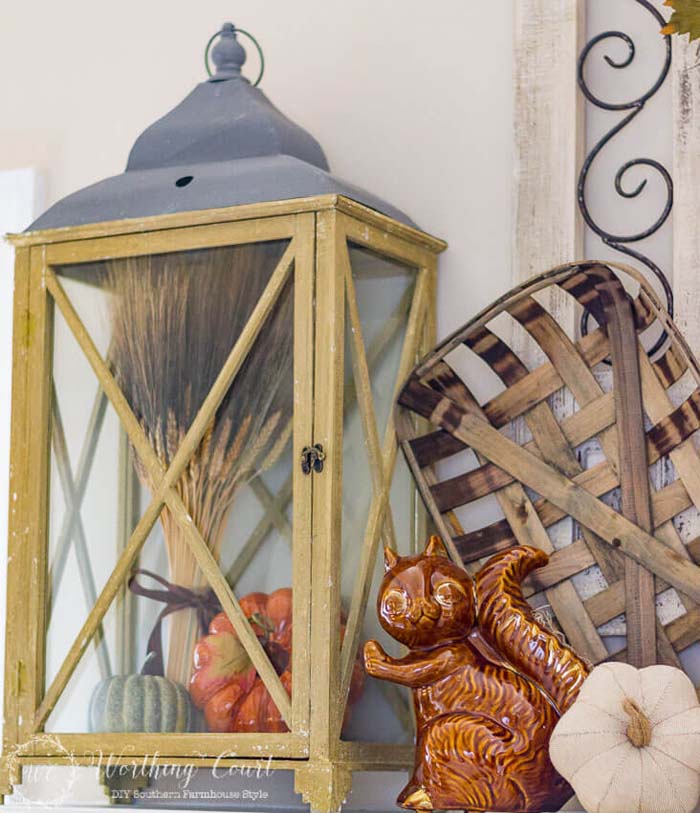 This is another interesting fall décor idea. Do not fill the entire inside of the lantern with a small pumpkin and a gourd.
Use other harvest symbols to create an appealing fall arrangement. A bouquet of wheat and two tiny pumpkins will flawlessly set the autumn mood praising the rich harvest in this season.
via Worthing Court
22. Easter Décor With Lanterns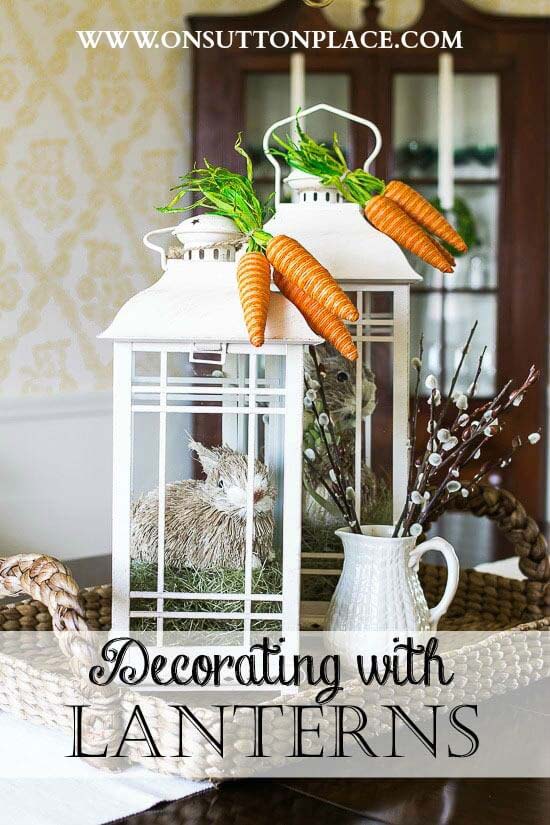 Looking for a more impressive Easter centerpiece? Replace the Easter basket with an Easter lantern!
Changing the typical container with an outdoor element will create an eye-catcing point of interest and will satisfy your wish for new décor without investing a fortune.
Use the height of the lantern to elevate the holiday decoration.
Fabric carrots and pumpkins can be tied on the lantern handle. Fill the inside with colorful legs or a cute bunny statue.
via On Sutton Place
23. Melt The Snow With An Outdoor Lantern Decoration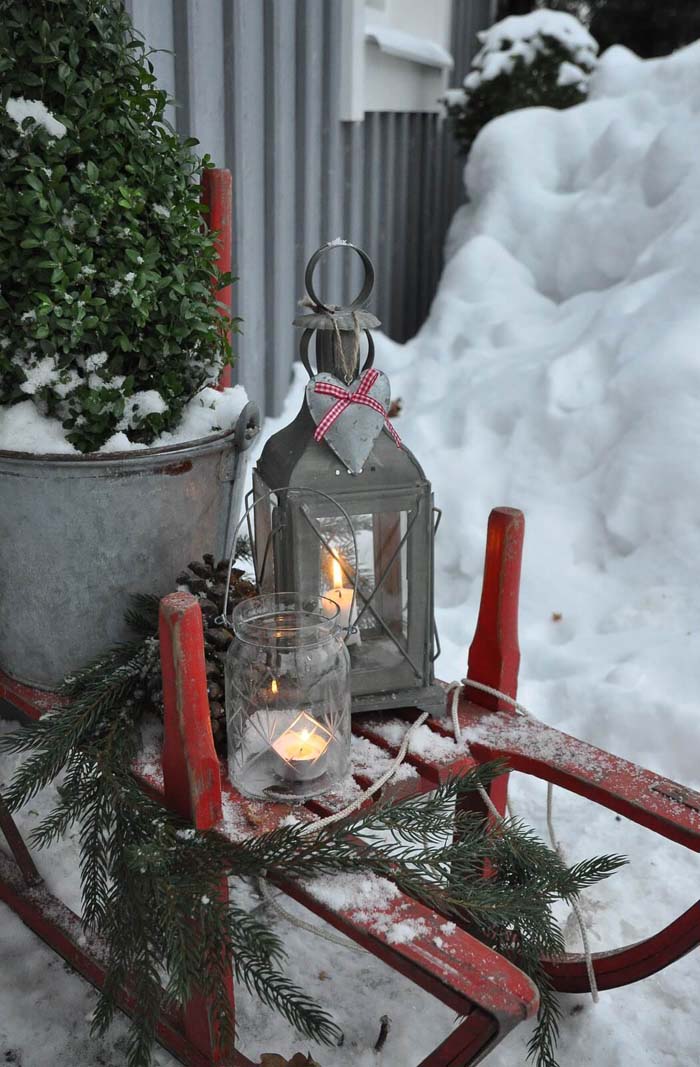 Don't leave the front yard undecorated when the colder months come in. This place is still important for the curb appeal and your guests will surely appreciate when they are greeted warmly.
This outdoor décor idea inspires with its creativeness and cost-effectiveness. No need to buy anything, use the winter accessories already in hand creatively.
An old slide, a galvanized bucket and two old lanterns are arranged together to declare that winter is very special for the family.
24. Winter-Themed Lantern Decor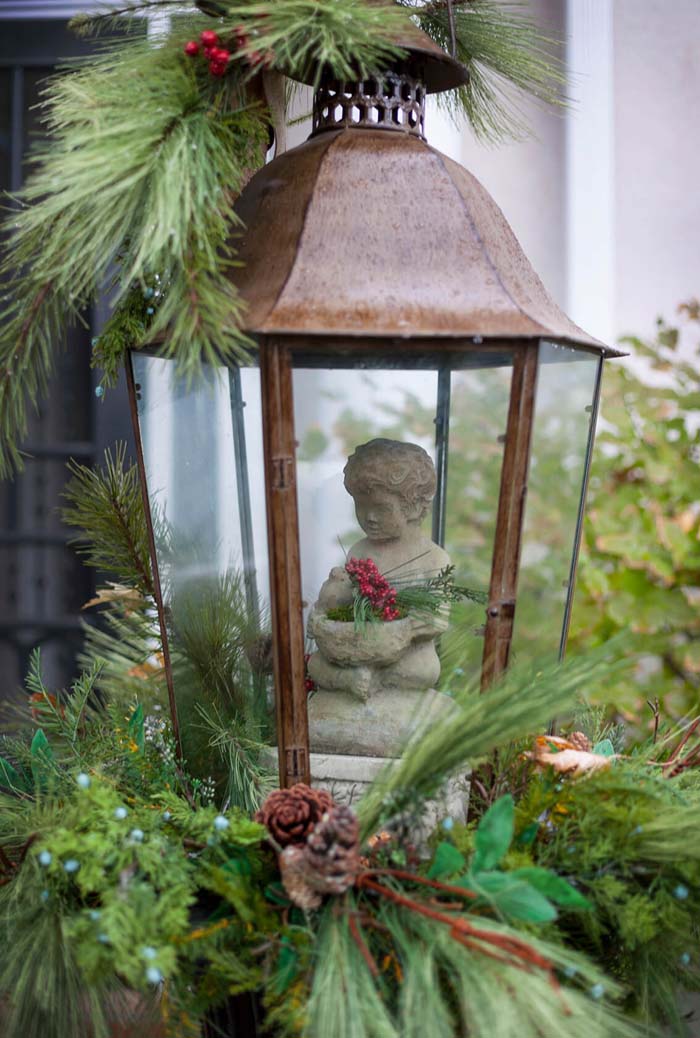 When winter comes, replace the flower pot inside the lantern with a cute child statue holding a basket with pine needles and red berries.
Surround the lantern with a wreath from pine twigs with cones to enhance the winter look of the themed arrangement.
via Nell Hill's
25. Lantern Centerpiece With Moss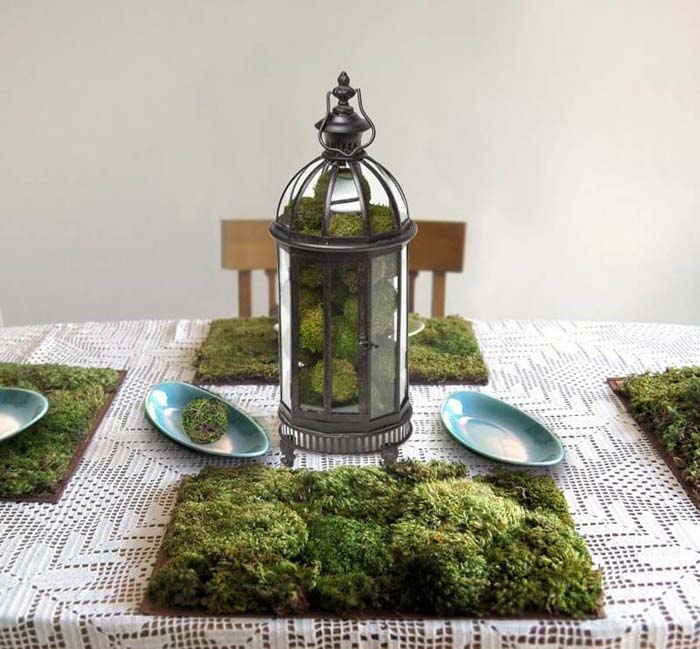 If you have a lantern of a special design, here is an idea of how you can let it stand out and be useful in your indoor décor.
Fill it with extraordinary decoration. Moss is surely unexpected filling especially when paired with table mats with the same natural look.
26. Zen Vibes With Lantern Decor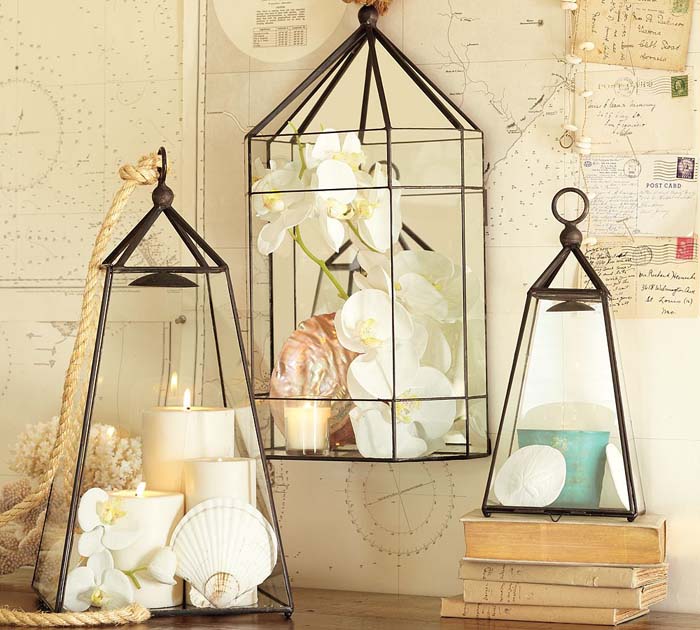 This lantern arrangement is perfect for modern or Asian inspired interiors. The design and the shape of the lanterns is contemporary.
When filled with natural pieces such as orchid blooms, candles and seashells, the minimalist look quickly adopts to the rustic nature of the filling to create a homely décor piece for a modern home.
27. Outdoor Light Idea With Hanging Lanterns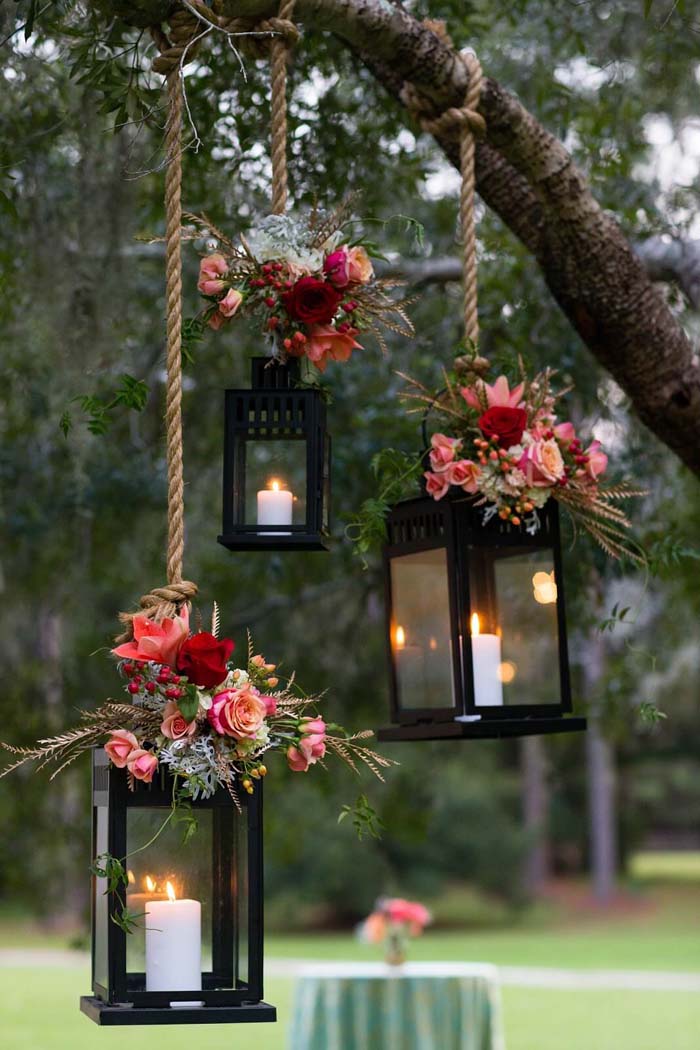 This lantern décor idea is great for outdoor parties. The lanterns can be helpful not only for creating special atmosphere, they can be useful for outdoor illumination.
If you are going to take advantage of this dual function, make sure to leave the glass part of the lanterns undecorated so that light is not prevented by anything.
via The Knot
28. Welcome Light Indoors With White Lanterns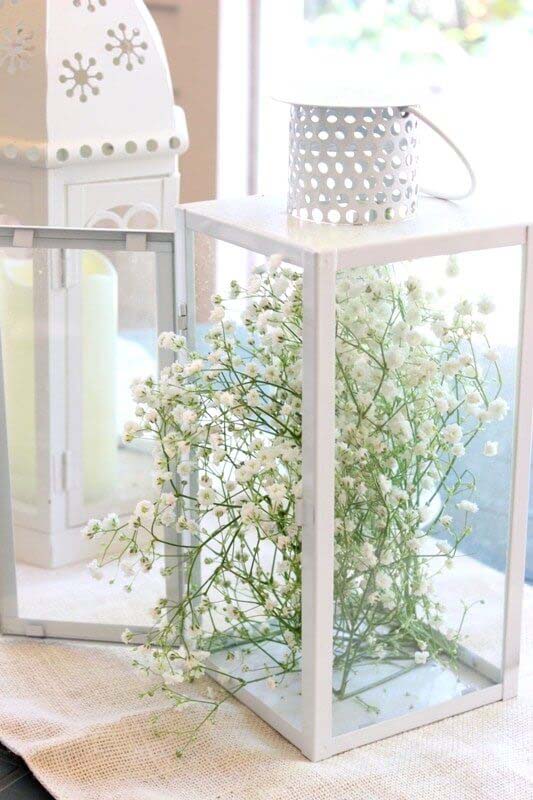 Looking for decoration that will improve the airy feel of your living room? Simple white lanterns are perfect for this idea.
To give the simple design a point of interest, group more lanterns in one place together. Fill one of them with a twig of baby's breath and the other with pillar candles or strings of lights.
29. Antique Home Décor With Lanterns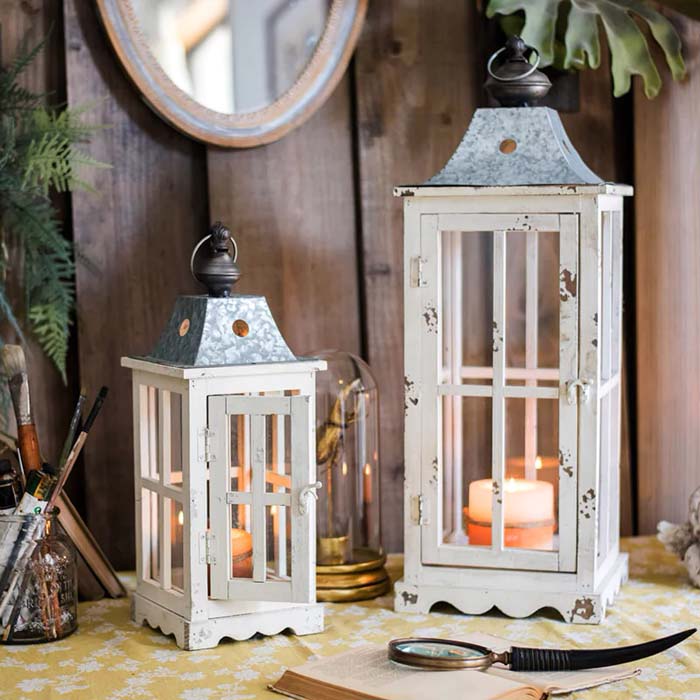 The lanterns can be part of a special retro arrangement. The lanterns are antique and are set next to an old book with a magnifying glass for reading.
They make the atmosphere so whimsical that you would easily drift away to past times that you have read for only in the books.
via Rustic Reach
30. Delicate Rustic Lantern For Special Occasion Decor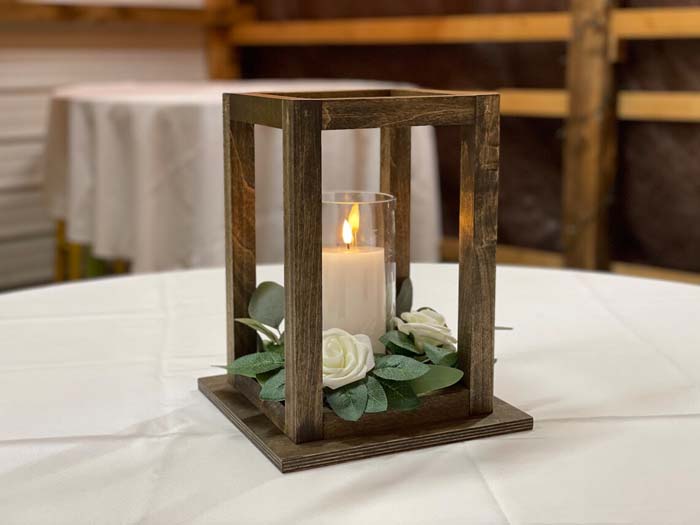 This lantern design is very simple, aiming to create warmth and coziness only with one piece of decoration.
The wooden structure of the lantern, the lack of glass and addition of a small natural wreath lets the candle light be the focus that gathers all people together. This lantern idea is perfect for décor for special occasions such as a wedding.  

31. Welcome Fall Lantern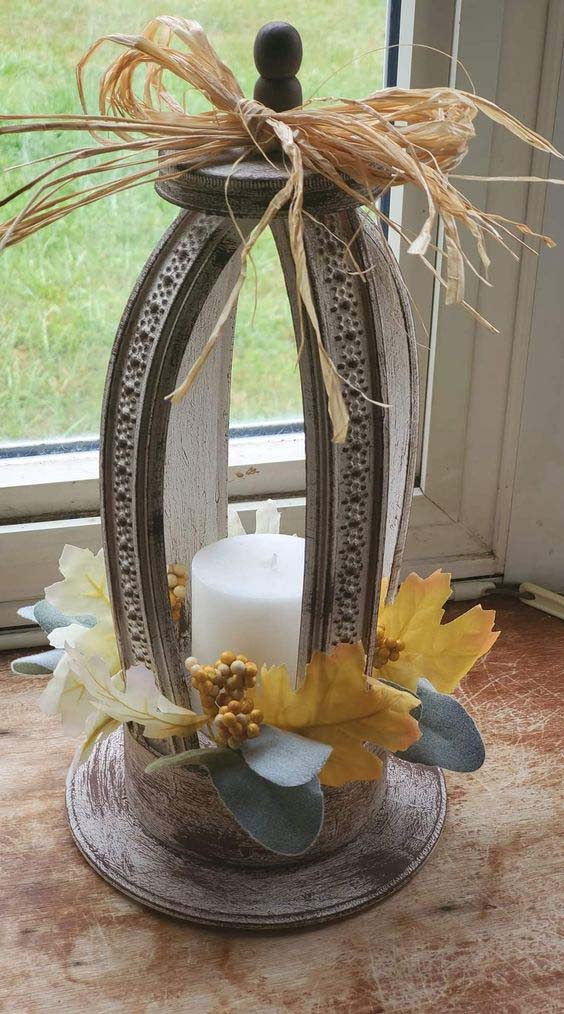 This fall décor ideas is amazing! With one piece you can make your living room fall-friendly and welcoming!
To try this DIY lantern décor idea yourself, you need a round lantern similar to the shown one. The key to the beautiful arrangement is the wreath from faux leaves that surrounds the pillar candle.
via KAinspired
32. Rustic Entryway Lantern Idea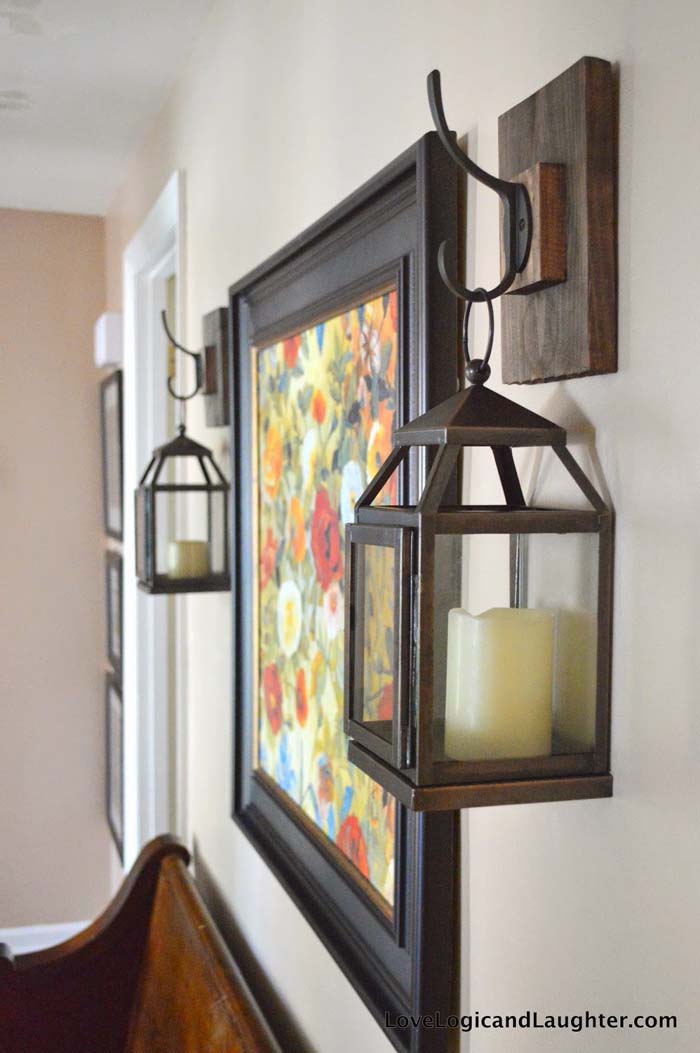 Looking for a way to make the entryway more welcoming? Simply add lanterns to the wall. When your guests enter the door, the farmhouse sconces will be the first thing to see.
Instantly, the warmth of the burning candles inside the lanterns will make them feel casually invited.
33. Muted Outdoor Light With Lanterns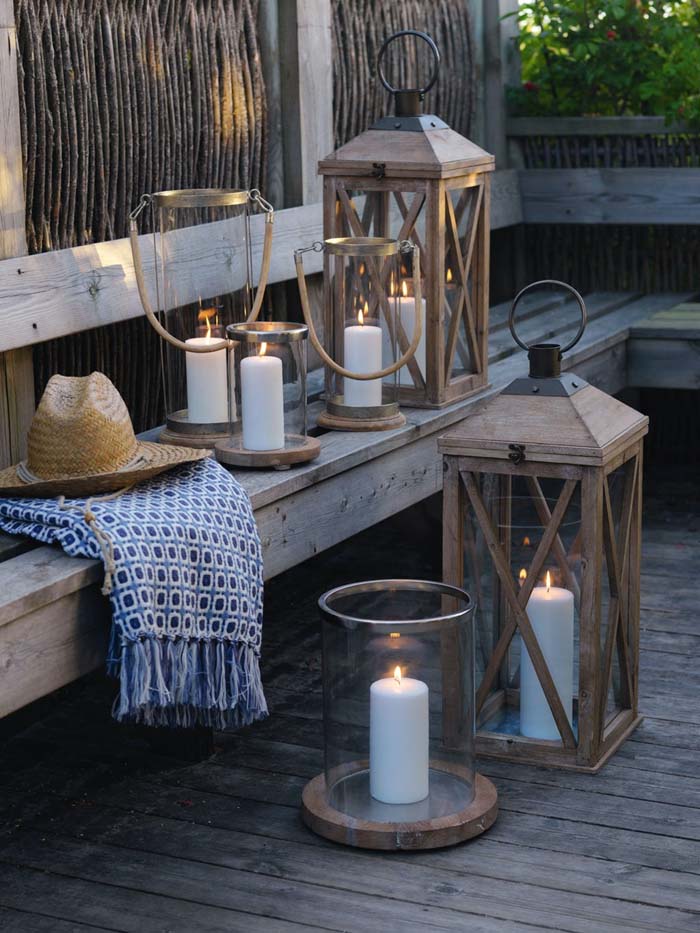 Extend the time spent outdoors by equipping the porch with lanterns and throws.
This idea features different in sizes lanterns which are all united by the design – weathered wood and glass creating together appealing and natural look.
via Bo Bedre
34. Christmas Eve With Lantern Centerpiece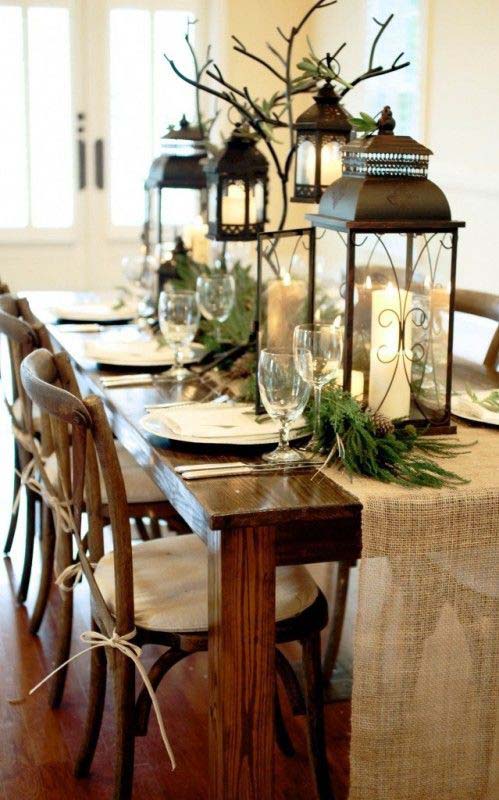 Are you looking for a Christmas décor idea that can fit your concept for casual farmhouse ambiance? Well, you have come to the right place.
No need for twinkling lights, red baubles and ribbons. You only need two or three lanterns with candles.
Place the lanterns in a row in the center of the table and light up the candles. The light will invite people to sit on the table and will make them feel disposed for talks.
35. Lantern For Beach-Themed Decor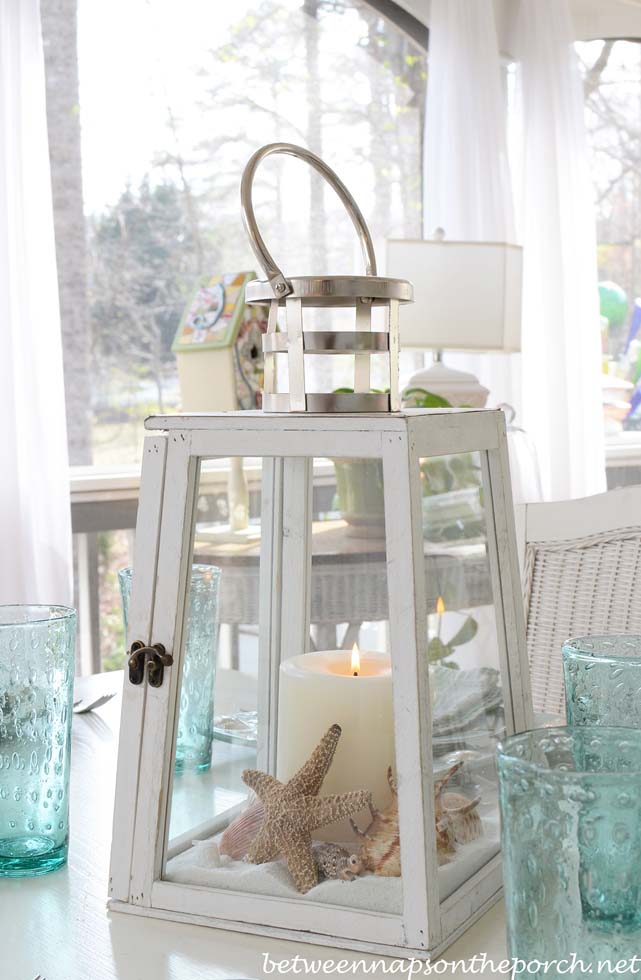 This lantern idea is another proof that rustic and nautical combine together in the perfect harmony.
Related: 26 Best Coastal Farmhouse Decor Ideas For Ultimate Beach Feel
When summer comes take the spring bouquet out of the lantern and fill it with ocean findings.
36. Lanterns From Dollar Store Picture Frames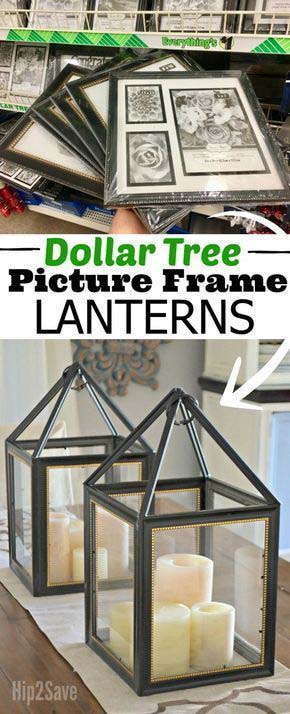 And the final idea is for those of you who want to make a large lantern themselves.
With affordable supplies from the Dollar store, you can make a pretty big lantern with a modern design that can accommodate three or four-pillar candles.
via Hip 2 Save