If you are looking to add some ambiance to your backyard get-togethers, take a look at these mood-setting porch lighting ideas.
Light gives any space a sense of openness and of course, helps illuminate late evenings.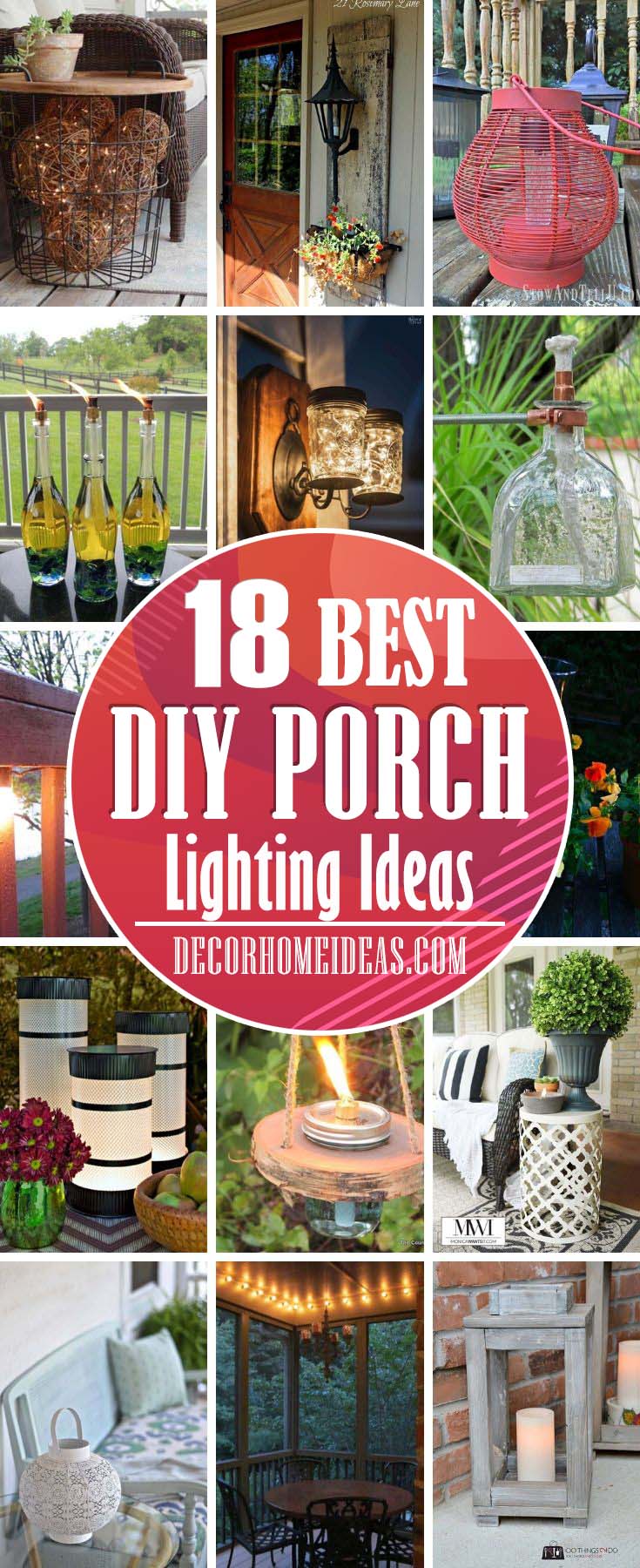 Moreover, the design can showcase your style and bring an outdoor space together.
1. Add Elegance to Your Enclosed Outdoor Area with String Lights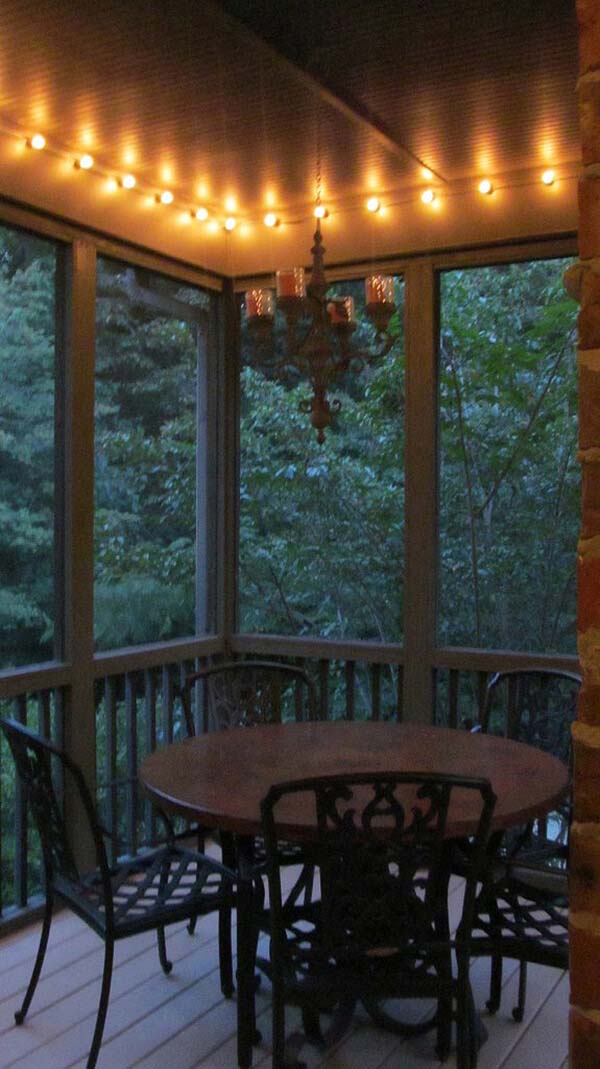 Add a simple look of elegance to your enclosed outdoor area with this lighting idea.
A string of round-bulb lights is placed along the roof of the porch. With a touch of warmth, the wooden ceiling reflects caramel tones below.
The placement of the lights along the inside edge adds height to space and promotes peace.
via Family Savvy
2. DIY Upcycled Metal Lantern with Crystal Light Fixture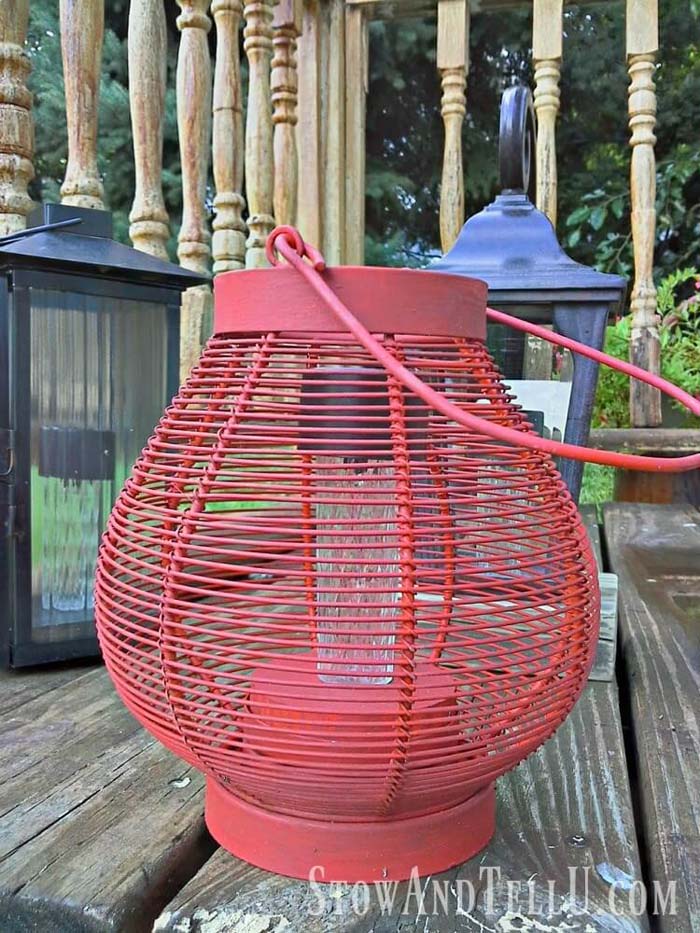 Make your own chic lighting with this DIY upcycled, convenient outdoor idea.
A metal lantern is painted a demure red and holds a battery-powered crystal light fixture.
The oversized handle allows for easy relocation and adds to the aesthetic. Functional enough to light up your outdoor space and cute enough to be an accent piece, this lantern works great in any space.
via Stow and Tellu
3. DIY Wooden Lantern Lighting for an East Coast Vibe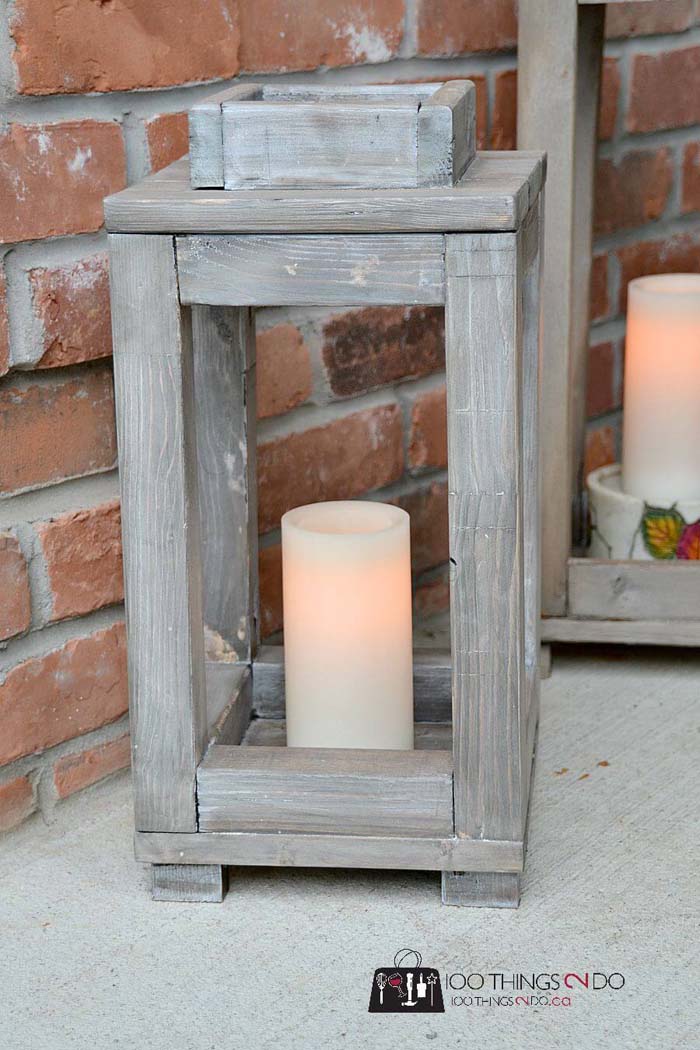 Give your outdoor space an east coast colonial vibe with this DIY lighting idea.
A tall, open face wooden gray lantern holds a large, battery-powered candle. This lantern may be easily made or bought and painted with antique gray.
Try placing a few of these in the same space to really set a colonial and simple ambiance.
via 100 Things 2 Do
4. Repurposed Glass Bottle Oil Lamp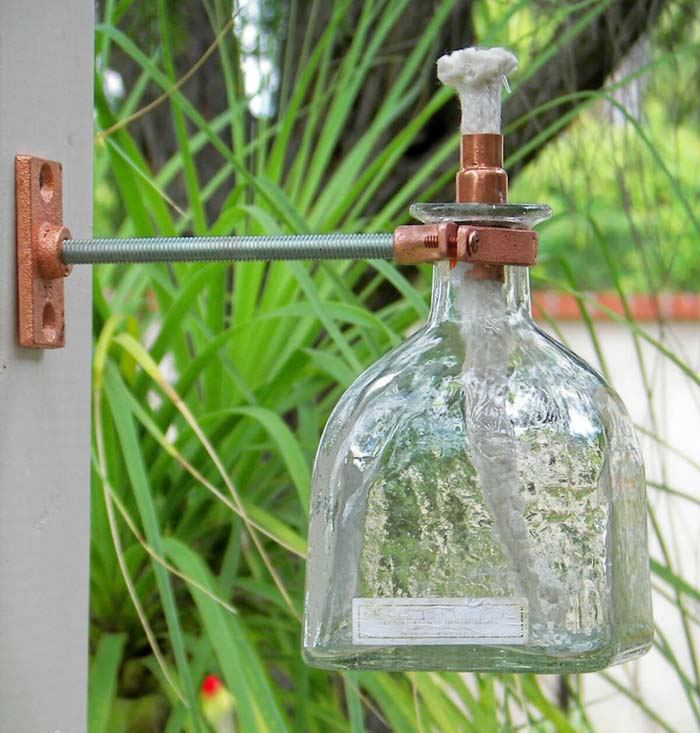 Add a fun lighting fixture to your exterior wall totally unique to you with this exciting idea.
A repurposed glass bottle is mounted to the side of a wall with a long climb and brass fixtures.
With a long rope wick, the glass bottle now serves as an oil lamp. This look may be customized to suit your personal style and look. Try finding a bottle shape that speaks to you.
via Ebay
5. Brighten Your Porch with DIY Grapevine Balls and String Lights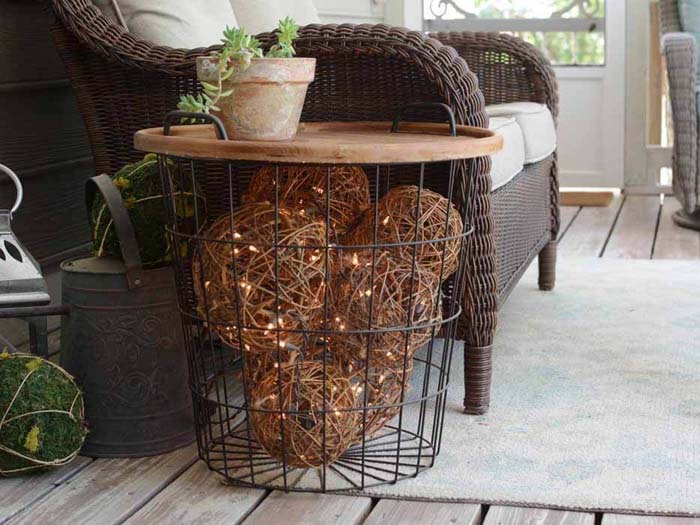 Give your outdoor space a low-key touch of light with this effortless DIY idea.
A loosely woven black metal basket and side table hold lighted grapevine balls.
To make the lighting fixtures simply add string lights into the grapevine balls. Top the side table with a potted plant and place it next to brown wicker for a truly relaxing outdoor space.
6. Transform Your Deck with Bulb String Lights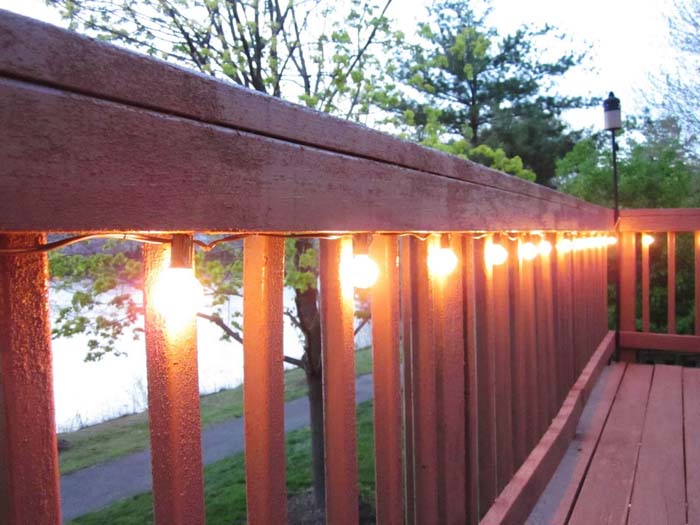 Upgrade your outdoor deck with this simple and effective lighting idea.
A set of round bulb string lights are placed below the top railing of a wooden deck, illuminating the space in warm vanilla.
To avoid an overwhelming look, the lights are placed such that a bulb is on every other rail.
via Bonnie Projects
7. Modern Cylinder Lamp Trio for Chic Outdoor Lighting Design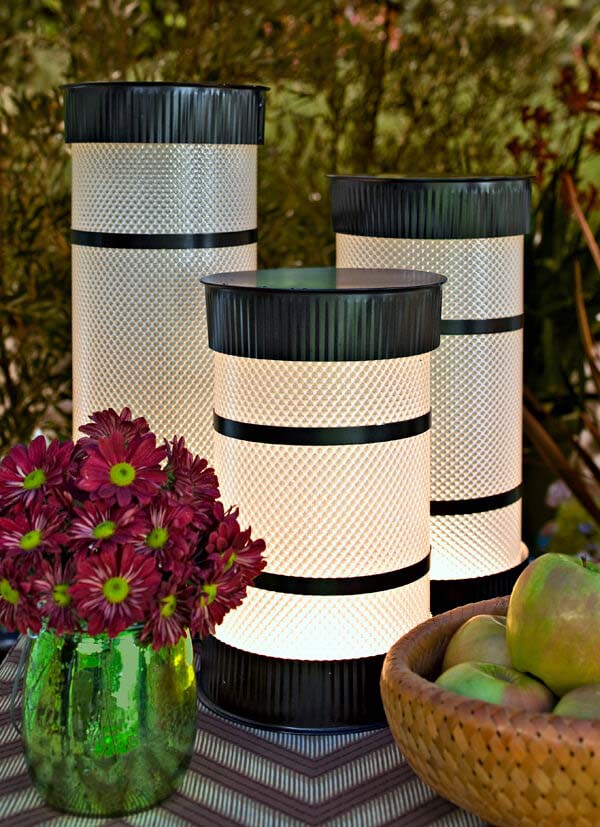 Set your outdoor space in a modern chic design complete with this lighting idea.
A trio of differently sized cylinder lamps rests atop a side table with fruit baskets and floral arrangements.
In almost a lighthouse look, the cylinder lamps are monochrome and have two thin black stripes along their middle. Place them on a table with a geometric top to get the full effect.
via Lowes
8. Bring a Customized Vintage Look with DIY Porch Lighting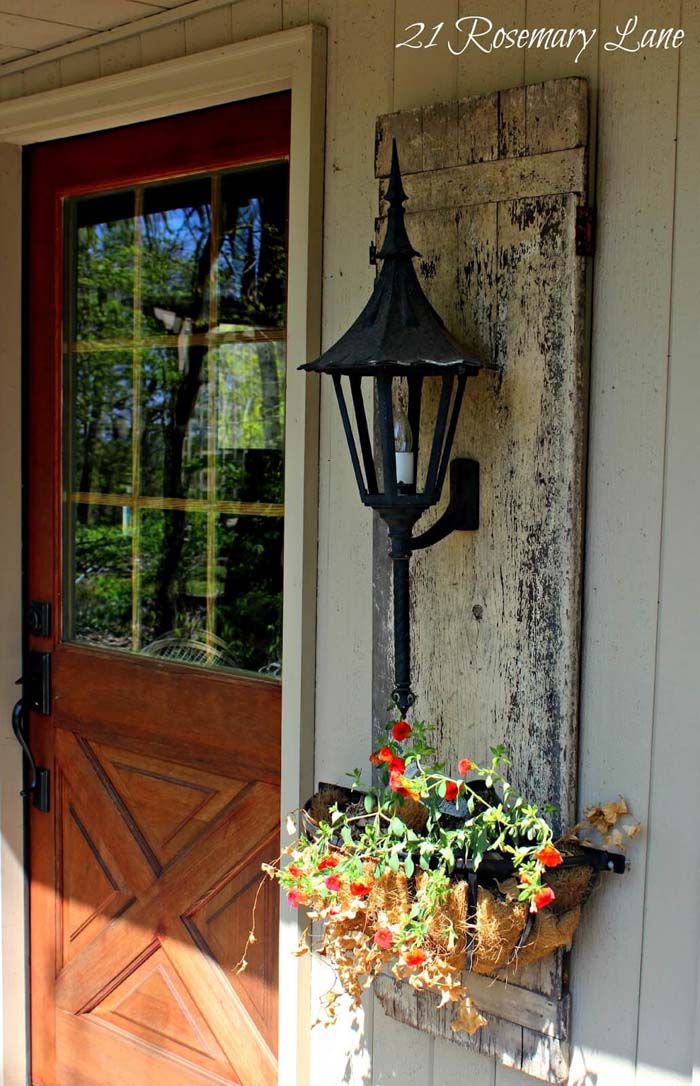 Give your porch a custom look from the days of yesteryear with this DIY lighting idea.
A tall black lantern with a battery-powered candle is mounted along with a distressed white and black English panel.
To add to the look, place a flowering planter basket along the bottom of the panel. This look works well by the front door.
via Rosemary Lane
9. Create a Castle-Like Foyer with Hanging Plant Lanterns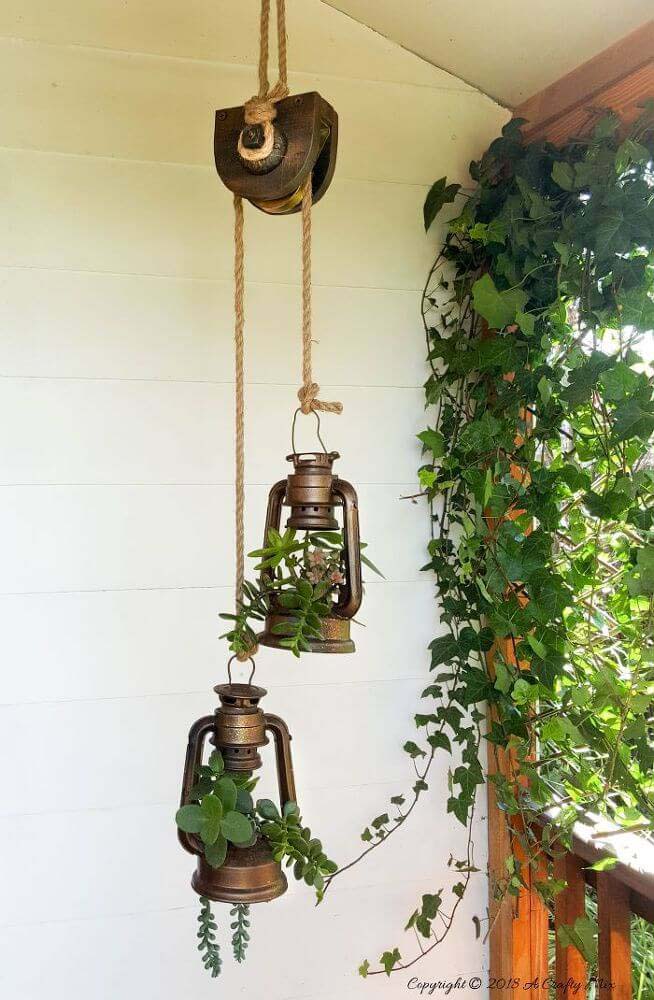 Transport your outdoor space into an artfully overgrown castle foyer with this DIY lighting idea.
Two chrome lanterns are hung from the porch ceiling with a piece of rope.
Rather than holding candles, these old-school lanterns are home to plants and flowers. Hang these next to growing vines for an even greener look.
via A Crafty Mix
10. Illuminate Your Patio with Candlelight Decor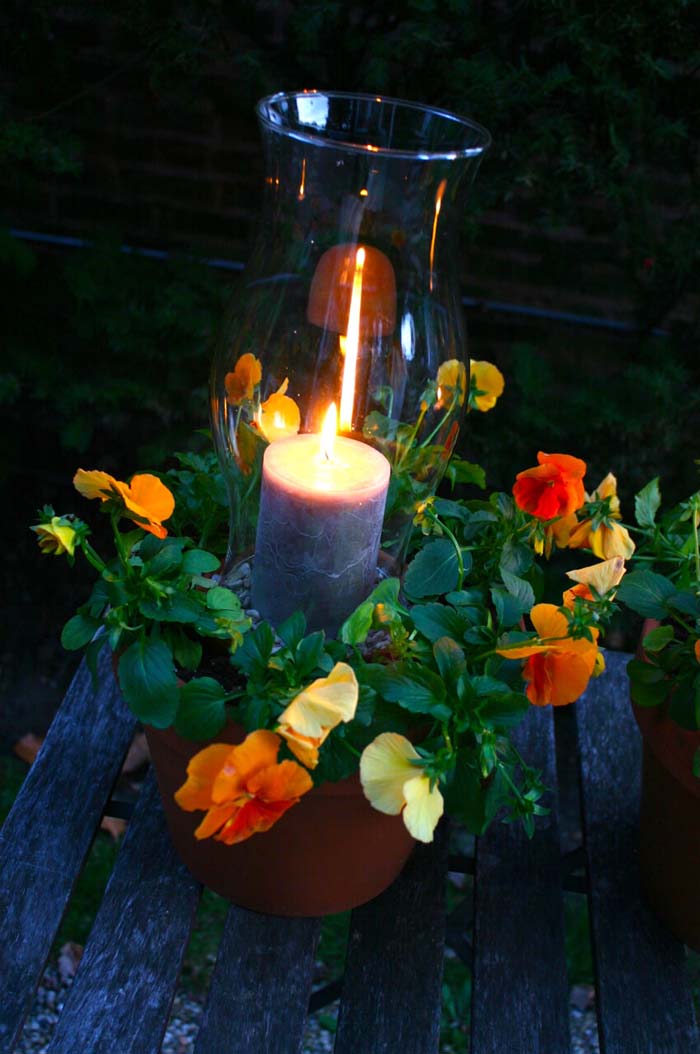 Illuminate your outdoor space with an elegantly beautiful look as shown in this porch lighting idea.
A tall glass jar holds a large cylinder candle that rests in a bed of small pebbles.
Surrounding the candle and vase is a wreath of orange and yellow flowers with their waxy leaves.
via Family Chic
11. Add Ambiance to Your Porch with a Candle and Greenery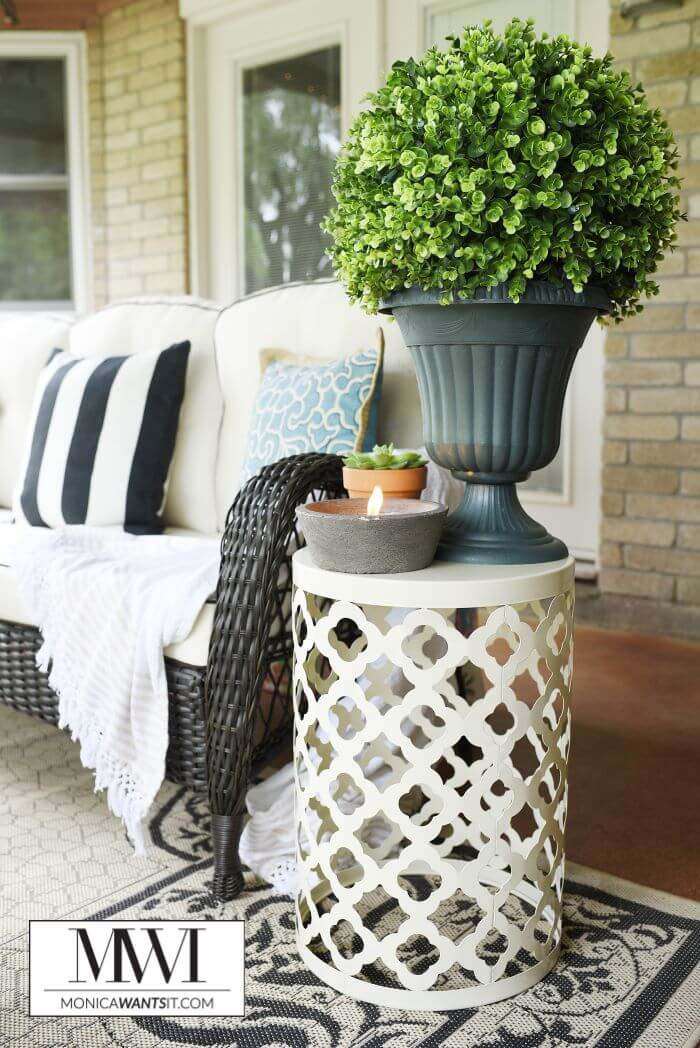 Add a touch of lighting with this modern outdoor idea.
A shallow gray ceramic bowl holds a large candle and rests on a white metal side table.
Along with the candle, small potted cactus and a large green shrub sit on the side table. This topiary design adds to the beauty of brown wicker.
via Monica Wants It
12. Gorgeous Porch Lighting Idea with DIY Mason Jar Lights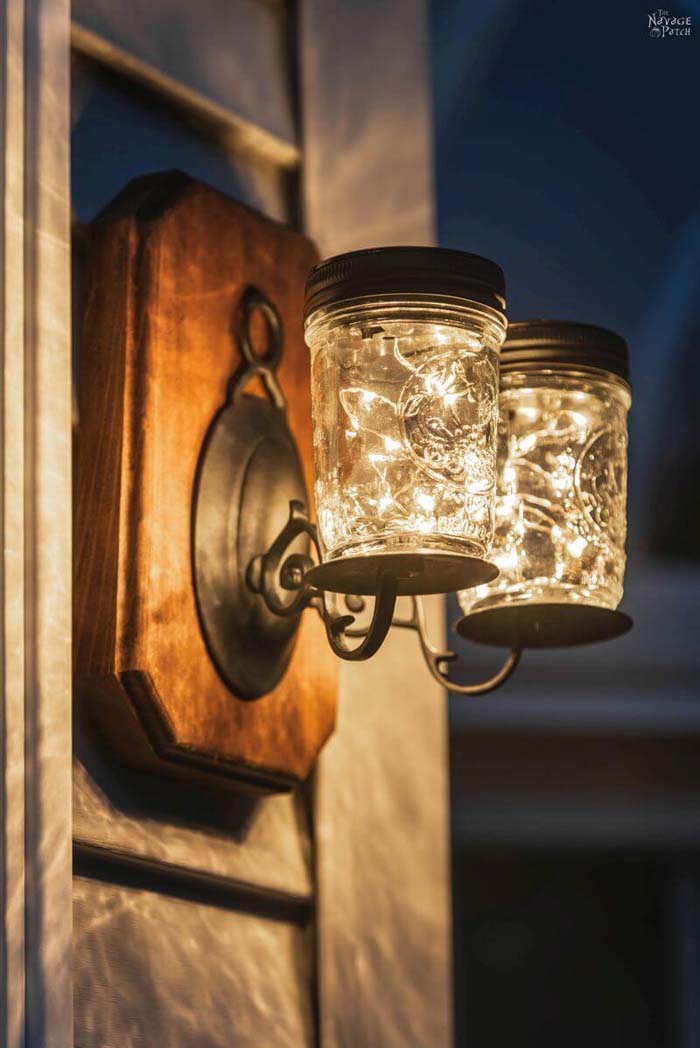 Give your porch the summer ambiance it deserves with this playful porch lighting idea.
Two mason jars rest on a mounted platform near the front door. In the mason jars, string lights have been wound together.
The effect the jar's makeup and ball of lights have is a splash of bright trickling lights.
via The Navage Patch
13. Repurposed Glass Bottle Tiki Torches for Outdoor Lighting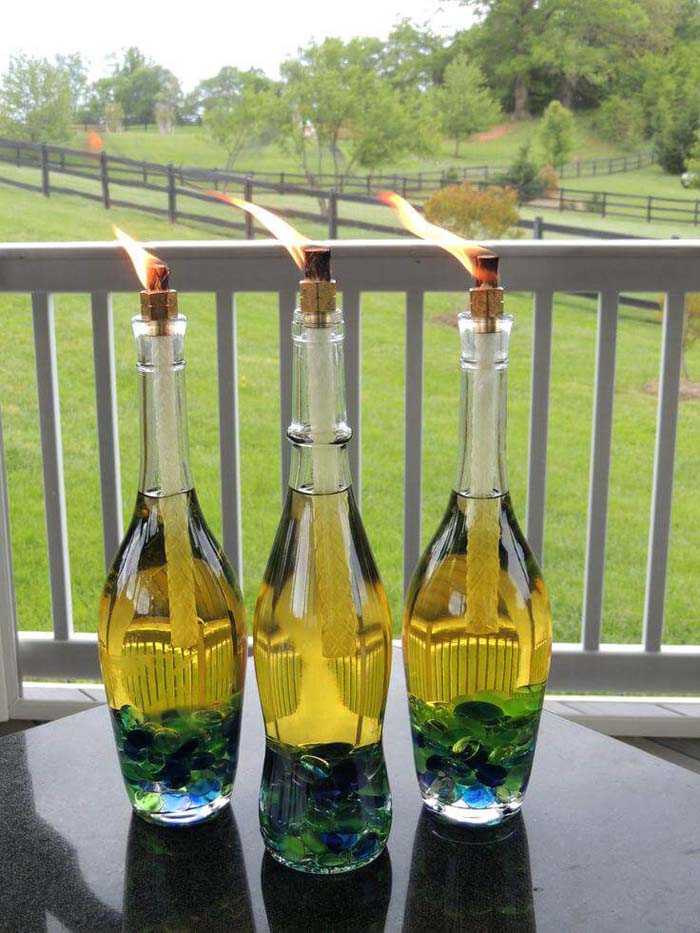 Customize your outdoor space with this fun and effective DIY lighting idea.
Three glass bottles have been repurposed as functional tiki torches. Green pebbles fill the bottom of the bottles to add an extra flair of style.
Choose bottles that work well with the height of your space. They work well on different height levels. Try them out on side tables and the floor to see what works best for you.
14. Bring a Coastal Ambience with Tall DIY Mason Jar Lanterns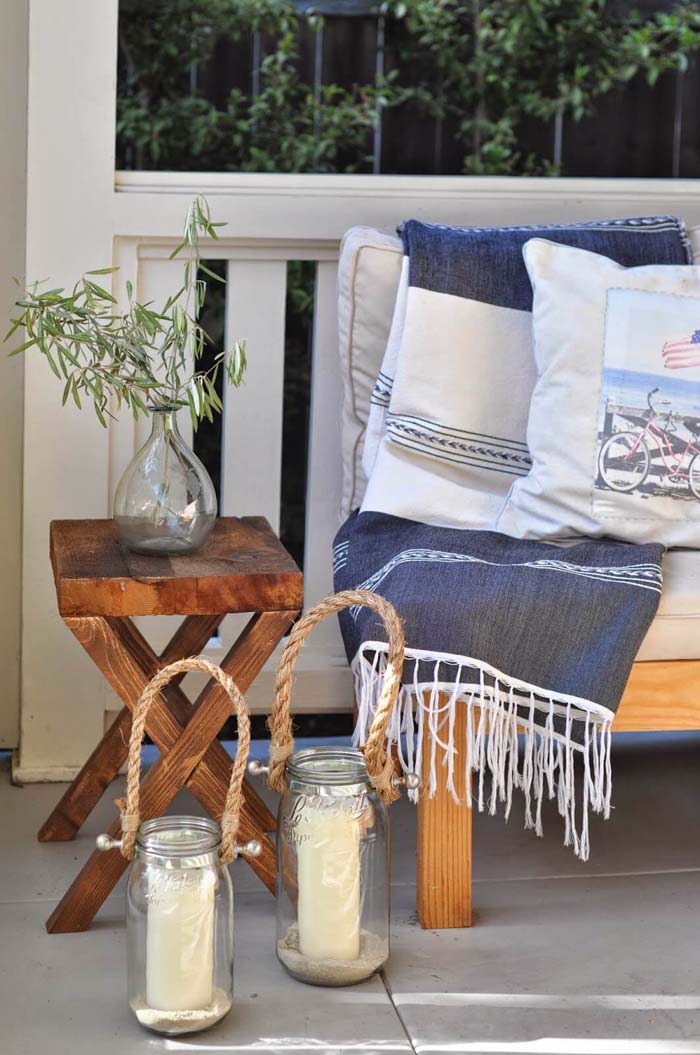 Make your own pair of transportable and easy-to-manage lanterns with this coastal-vibe outdoor lighting idea.
Two large mason jars sit on the floor of the patio and have thick rope handles.
The mason jars have been given an inch of sand on the bottom, where a large candle rests. Put these next to a denim blue blanket for a breezy look.
15. Enhance Your Outdoor Space with a DIY Porch Lamp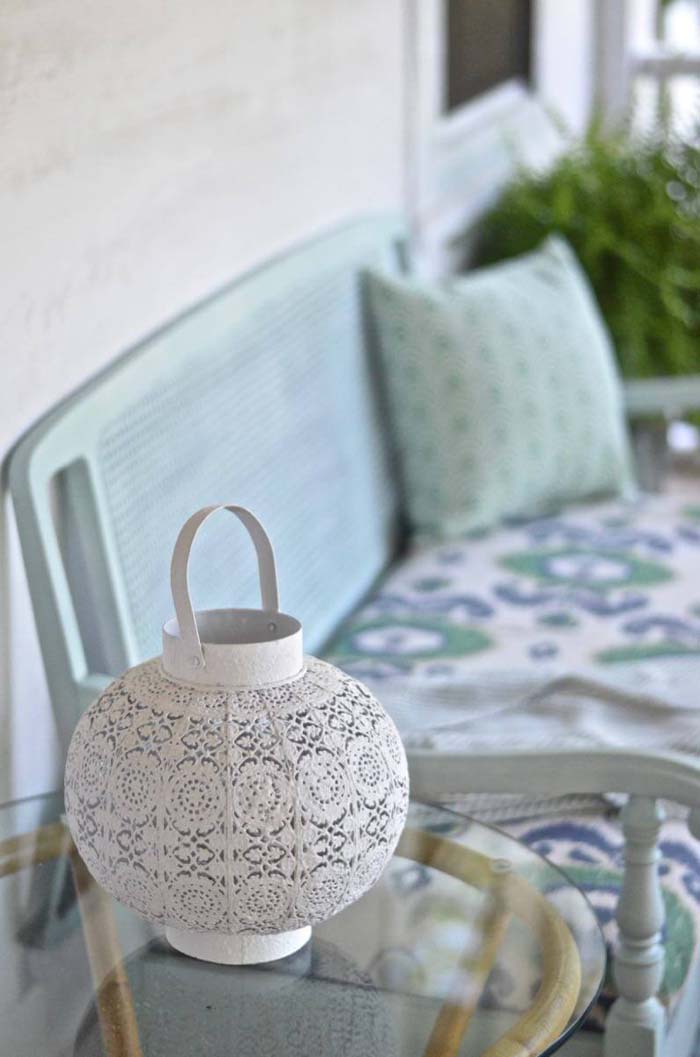 Set your outdoor space in opulent lighting with this DIY porch idea.
A white lace spherical lamp rests on a glass table. The chic lamp has a handle and can be hung from above to suit your outdoor style and specific lighting needs.
Either way, the interior lighting will cast wonderful shapes, owing to the lace design.
16. Relaxed Ambiance with a Wooden Mason Jar Tiki Torch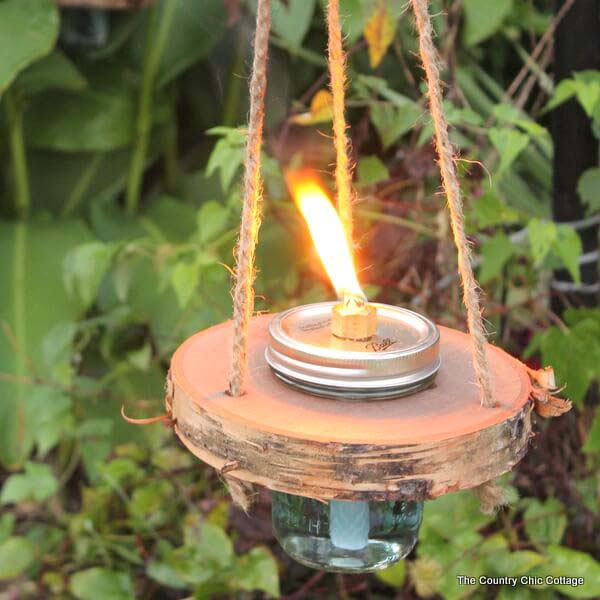 Create a cool and relaxed ambiance with this DIY porch lighting idea.
A major jar is turned into a mini tiki torch.
Placed into a spherical piece of wood, the custom tiki torch is supported with three ropes, swinging from above. Play with the height to find the right spot for your porch.