Concrete has long been more than a construction material. Nowadays it has become a major supply of art pieces and the best thing is that it can be used even by an amateur.
The pros of concrete are many. It is a very cheap material, it can be easily found at stores, it dries relatively quickly, it is suitable for a variety of decorative and functional crafts- from stepping stones to flower pots, benches, posts and many more.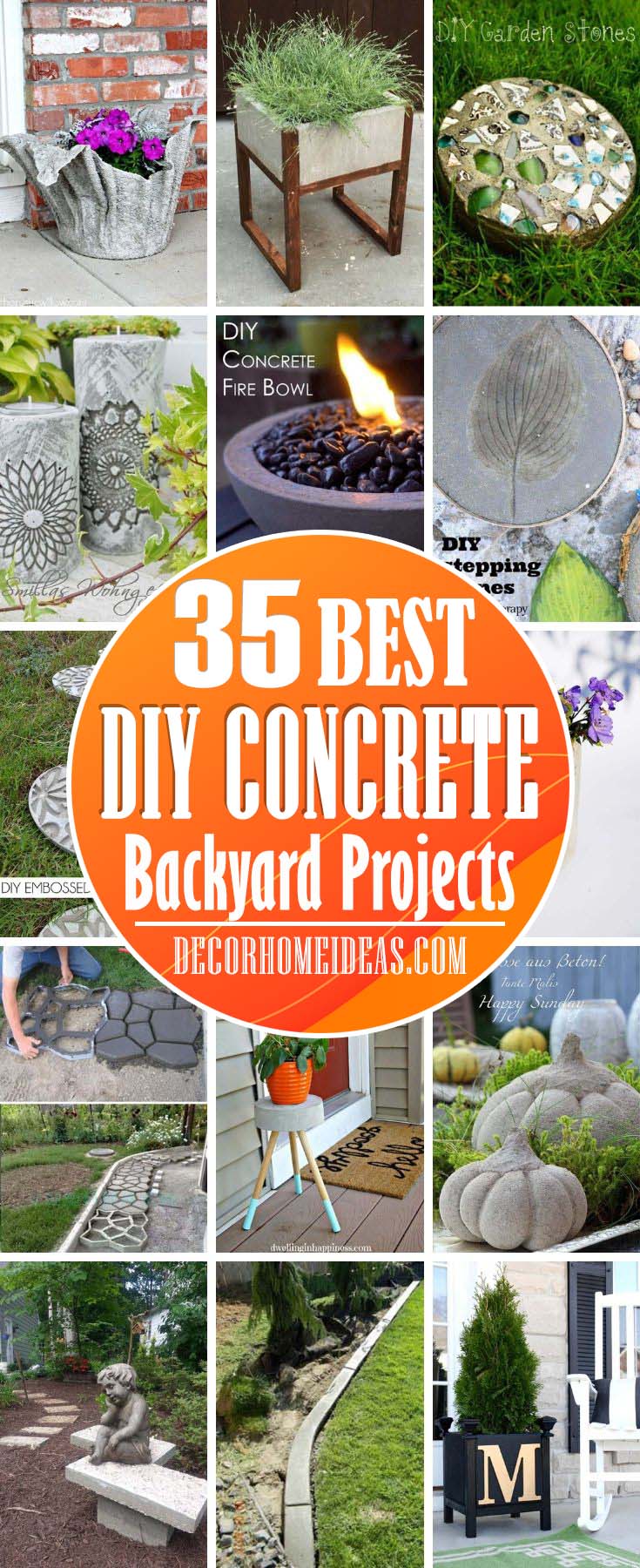 Its grey color isn't boring. On the contrary- it makes it universal and suitable for any interior or exterior. Check the interesting collection of concrete crafts you can easily make yourself in the forthcoming weekend.
1. Upgrade Your Porch with a Sturdy Concrete Stool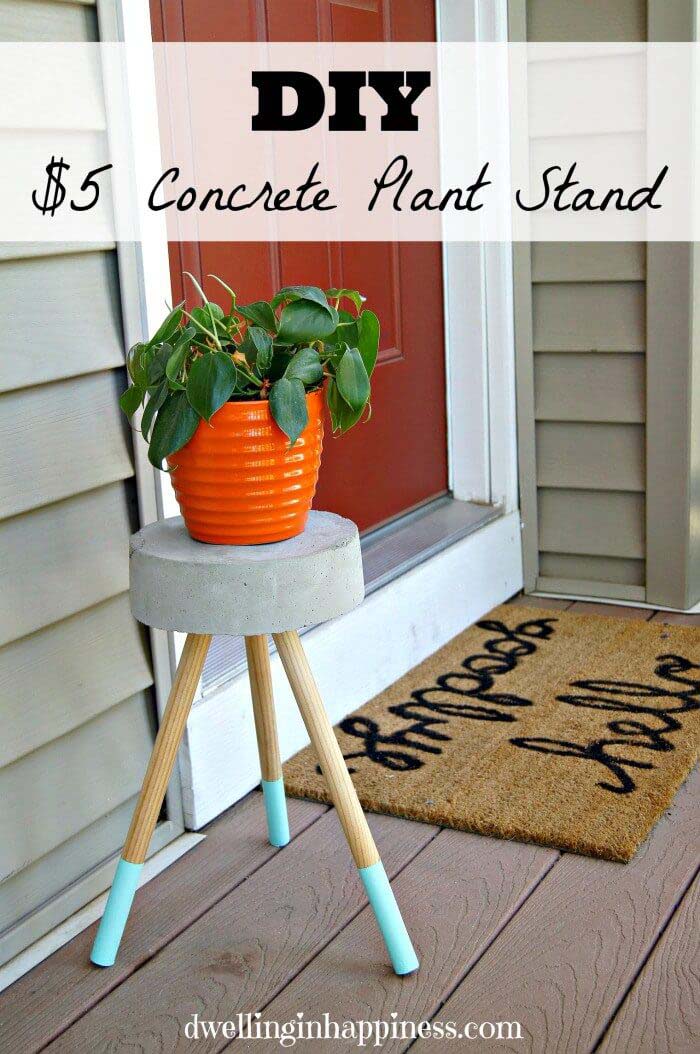 A concrete stool that will be the perfect summer addition to the porch decoration. For the sum of only $5 you will have a stylish flower stand or a minimalistic side table.
2. Make Attractive Pathways with DIY Concrete Stepping Stones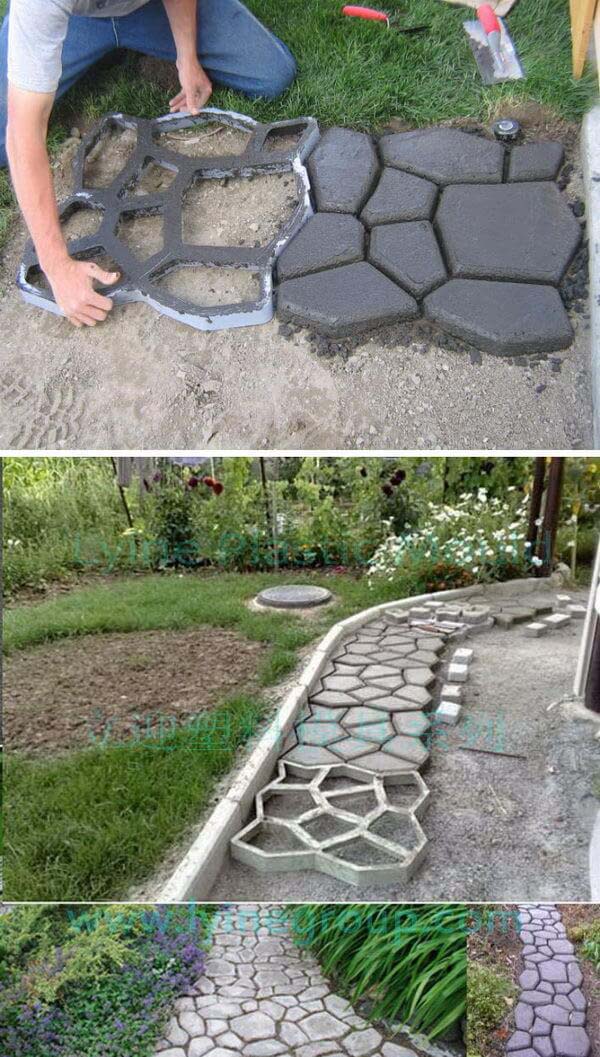 Stepping stones make the garden more attractive as they outline its end or form a pathway through the greenery. Concrete stepping stones are nowadays very easy to be made at home with the help of molds.
via Home Is Where They Love You
3. Beautiful Candle Holders with Plastic Bottles and Concrete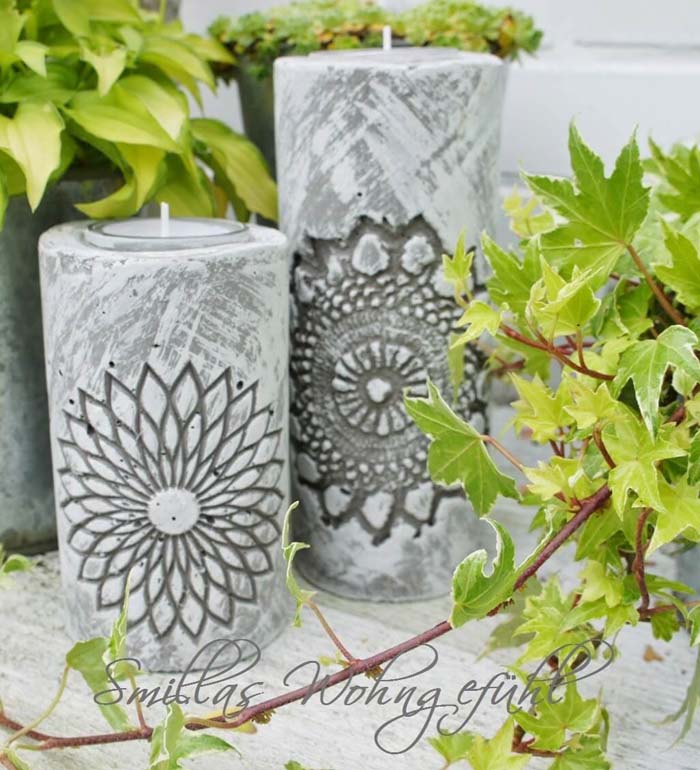 Making these gorgeous candle holders may seem very difficult but the end result justifies the efforts. Use plastic bottles as molds to pour in the concrete and put a small cup in the middle to form the nest for the candle.
4. Use Concrete for Durable Door Stoppers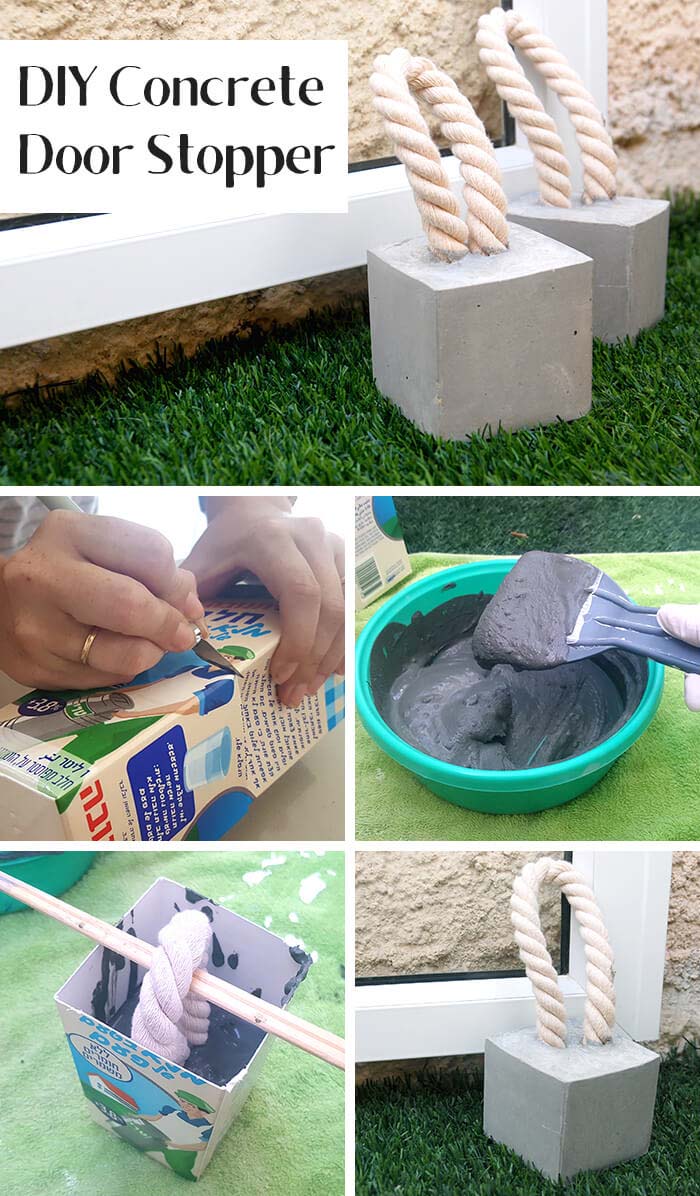 Door stoppers are usually made of fabric filled with sand. However, there is a better and more sturdy design of a stopper which is perfect for outdoor exposure.
5. Utilize Concrete for Garden Edging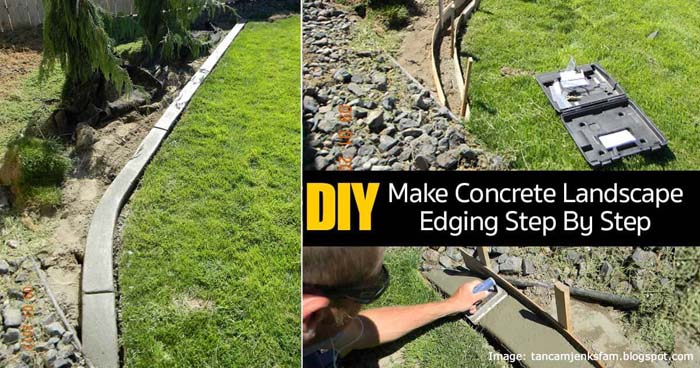 Concrete is the best material when it comes to sturdy and permanent garden decoration. Apart from using it to make stepping stones, it is great for landscape edging blocks.
via Plant Care Today
6. Personalize Your Planters with Monogrammed Concrete Pavers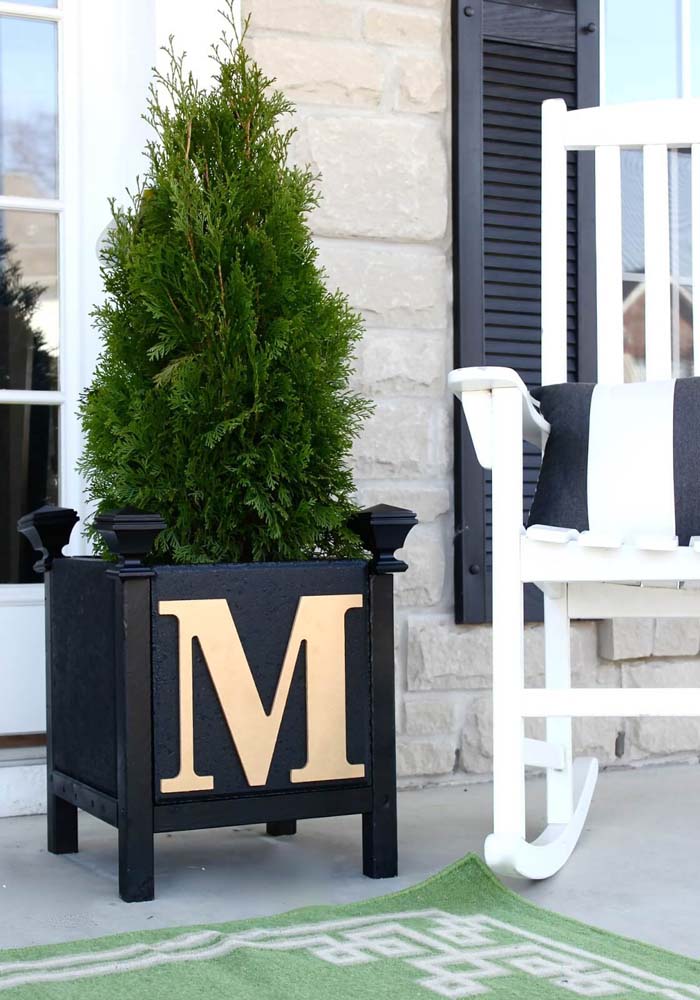 Planters can be more than just a container. They can be a great décor addition with a personalized touch. The sides of a frame stand are covered with concrete pavers. Paint it in dark color to let the wooden monogram pop up.
7. Adorn Your Home with Adorable Concrete Succulent Planters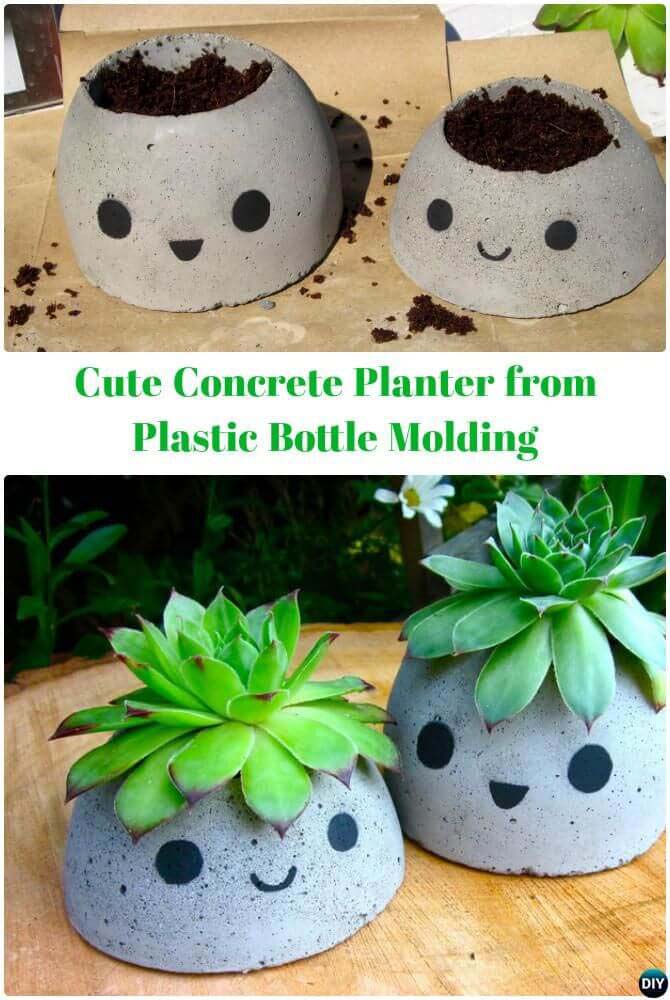 Succulents are among the preferred indoor and outdoor greenery. Their beauty usually needs some encouragement and that can be done with small cute concrete planters.
via Fab Art DIY
8. Craft a Stepping Stone from a Failed Round Tray Project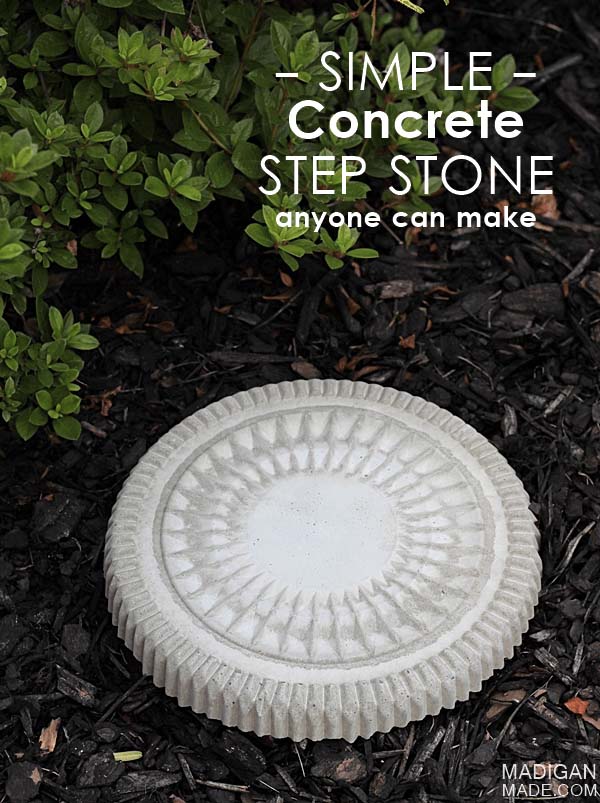 The initial idea of this craft has been making a round textured tray. The failure has changed the eventual application of the concrete form and it has been decided to be used as a beautiful stepping stone.
via Rosyscription
9. Enjoy a Cozy Night by the Fire with DIY Concrete Fire Pit

Fire pits are a lovely outdoor feature. They naturally attract a gathering of people and talks under the starry sky. The concrete will let you create the shape and texture of a feature as if built by professionalists.
via DIY Network
10. Concrete Garden Bench with Faux Gemstone Mosaic Decor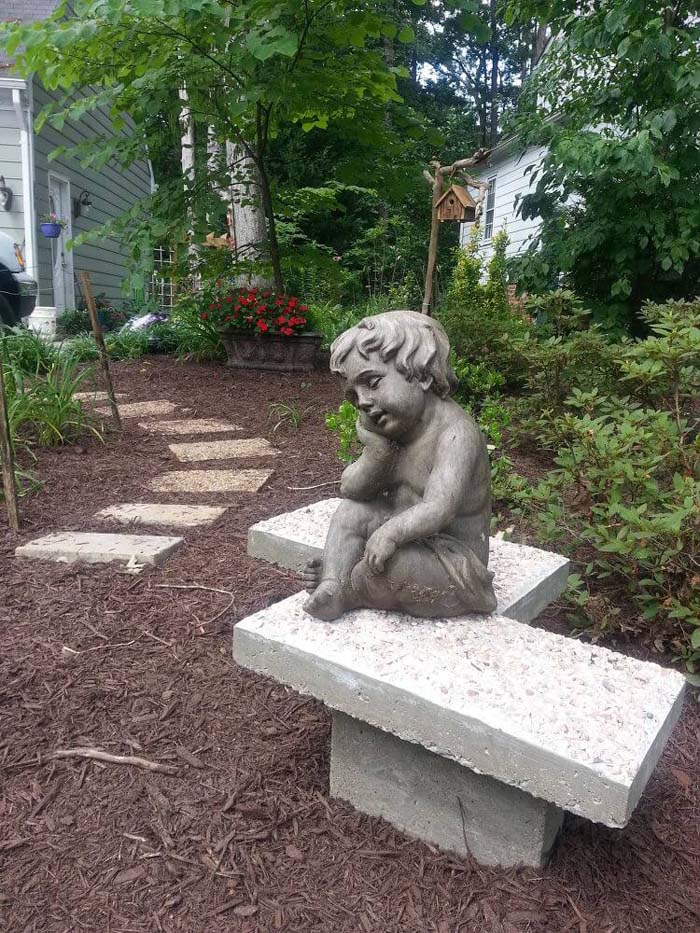 If you are looking for a garden bench that will cost you less than $30 and will last for years, then you should go for a concrete bench. You can put a layer of mosaics like faux gems, faux sea glass etc. to beautify its top surface.
11. Keep Drinks Cold with a DIY Concrete Cooler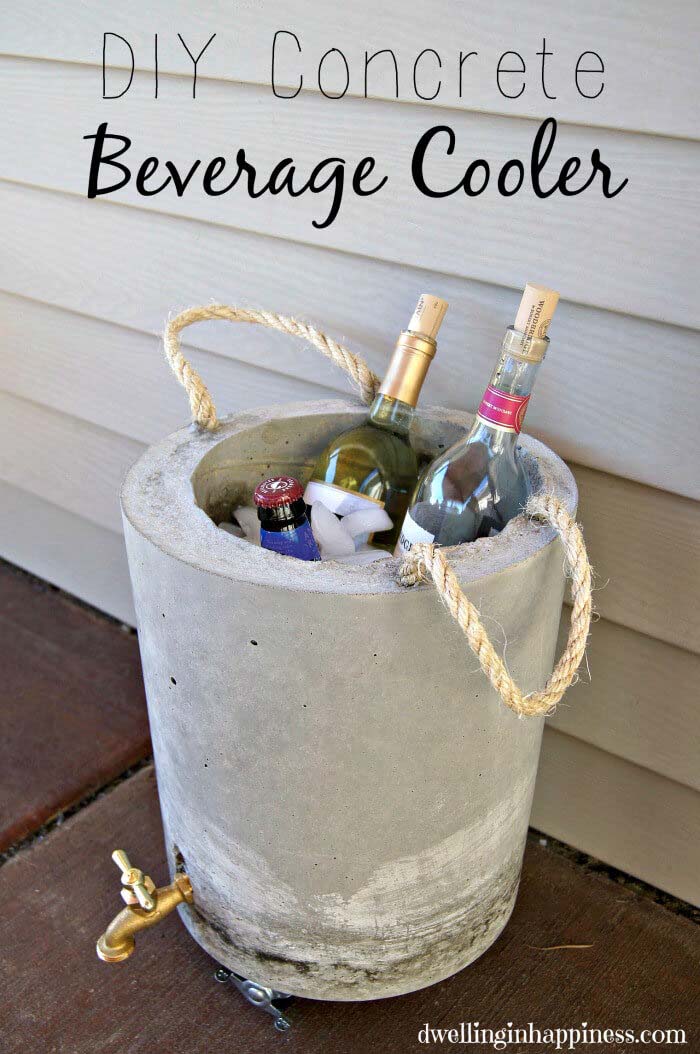 Summer days at the porch will be better if the drinks are well-cooled. If you haven't thought of a way to keep them cold, this DIY concrete cooler will satisfy your requirements.
12. Make Unique Candle Holders with Heated Concrete Molds

Concrete is the perfect material for features that will be somehow heated.
Therefore it can be used for making candle holders. The options regarding nest quantity, shape and size depending on the molds you are going to use.
13. Enhance Your Garden with a Concrete Face Sculpture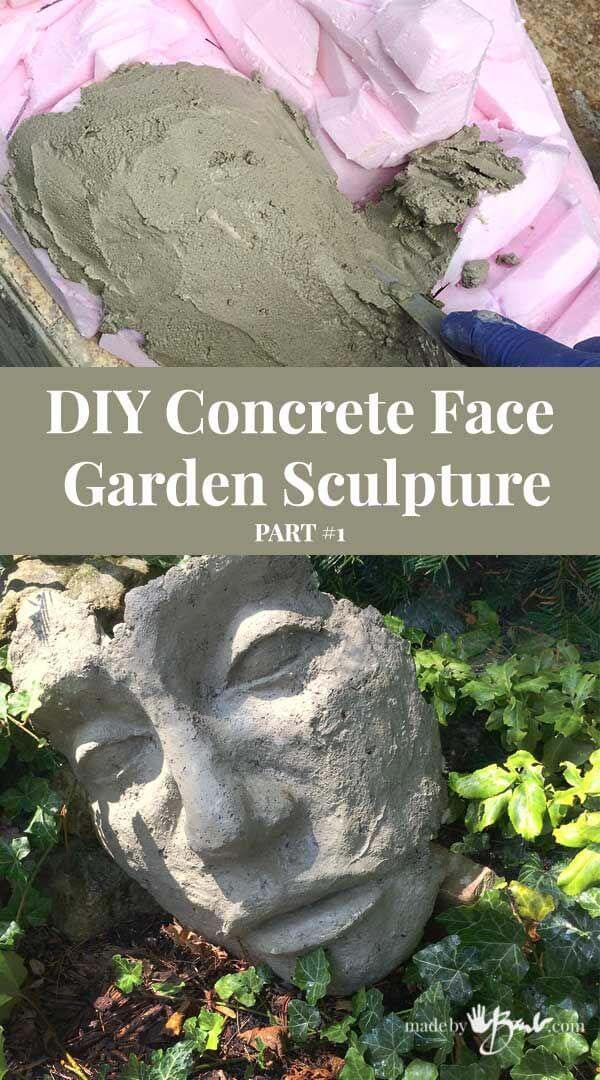 This garden sculpture seems to be hard work, however, the author has given very detailed instructions and thoughtful tips which will facilitate the process and will awake the artist in you.
The face can be attached to a tree or be added to a rock garden.
via Made By Barb
14. Create Lightweight Garden Decor with DIY Concrete Balls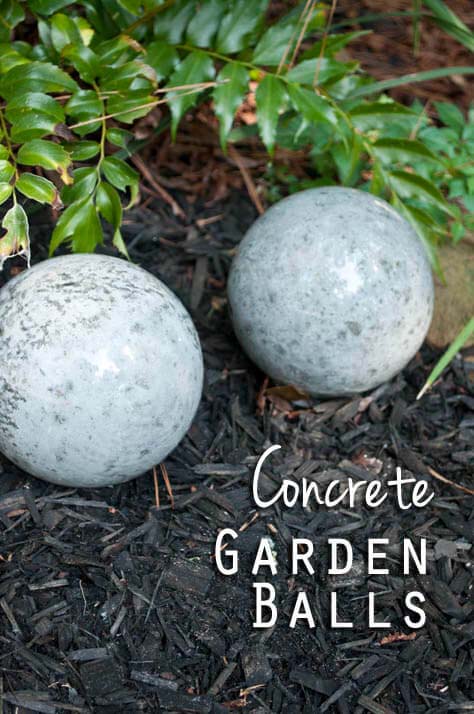 These concrete balls are perfect for garden decoration or for edging.
They are easily made by pouring concrete into the spherical mold. The particular balls have been cured into light glass globes. Make sure they are not expensive as you need to break the glass to get out the cement ball.
via Clumsy Crafter
15. Make an Outdoor Water Feature with a Concrete Globe Mold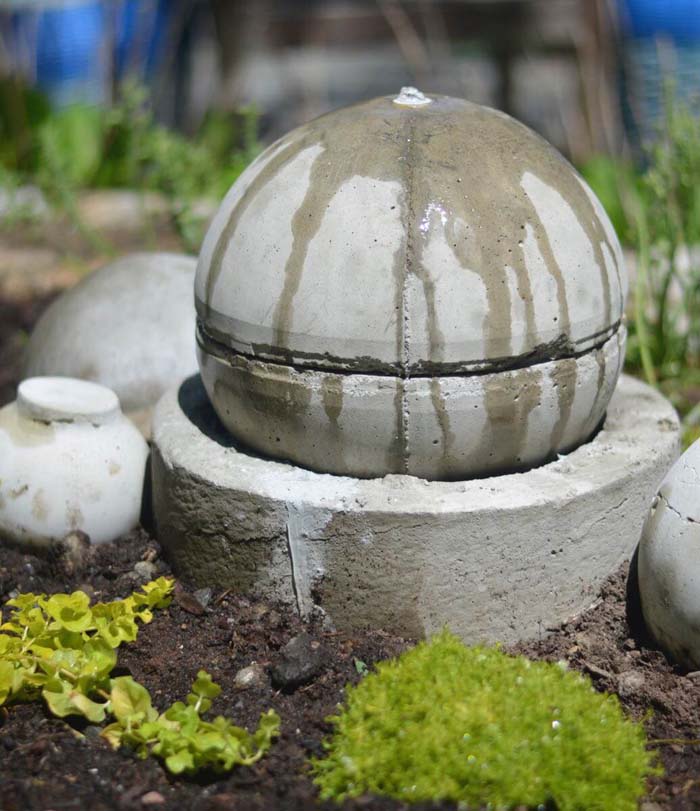 Making any concrete item requires pouring concrete into a mold which will give it the shape.
The globe is perfect for that as it can easily be split into two halves after the concrete has cured. Install a fountain pump in it and enjoy your stylish water feature.
via DIY and Crafting
16. Make a Bold Statement with Concrete Large Numbers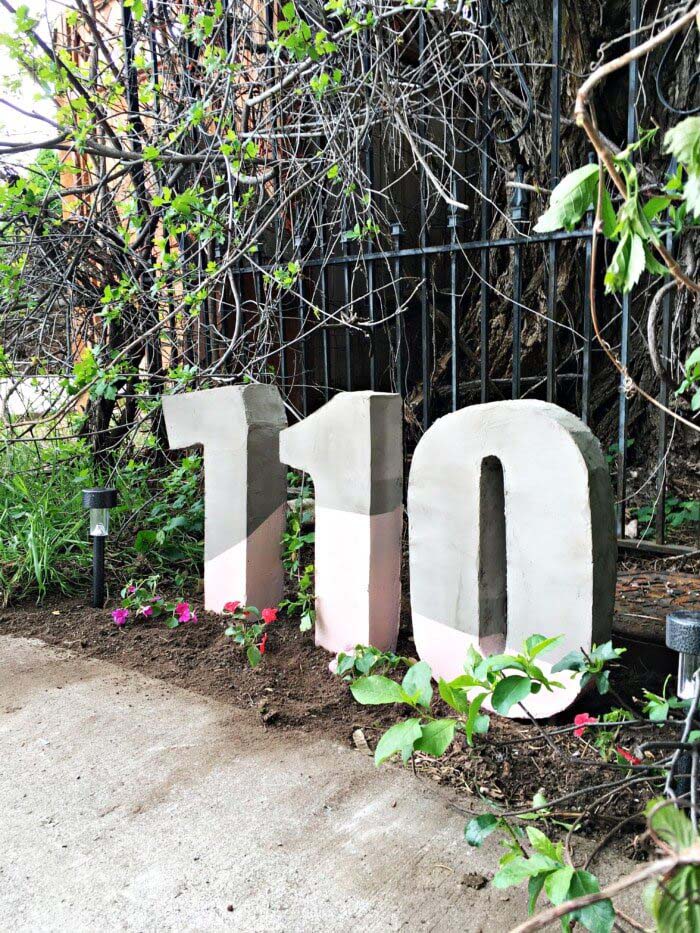 Large numbers and initials have become very trendy lately.
Usually, they are made of wood but we challenge you to try concrete. Concrete looks just as impressive, plus it is far more long-lasting and stable.
via Ehow
17. Build a Rustic Planter with an Old Towel and Concrete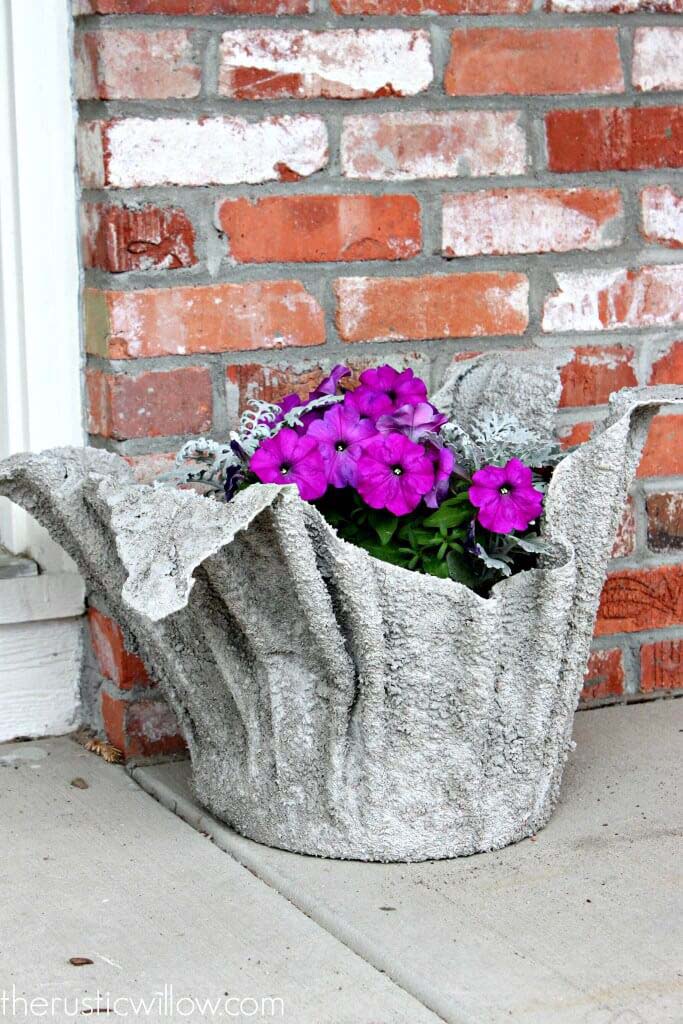 Do you wonder how this beauty was made?
We will tell you the secret – you need an old towel and concrete to achieve this attractive shape of a planter.
18. Brighten Up Your Home with Concrete Vases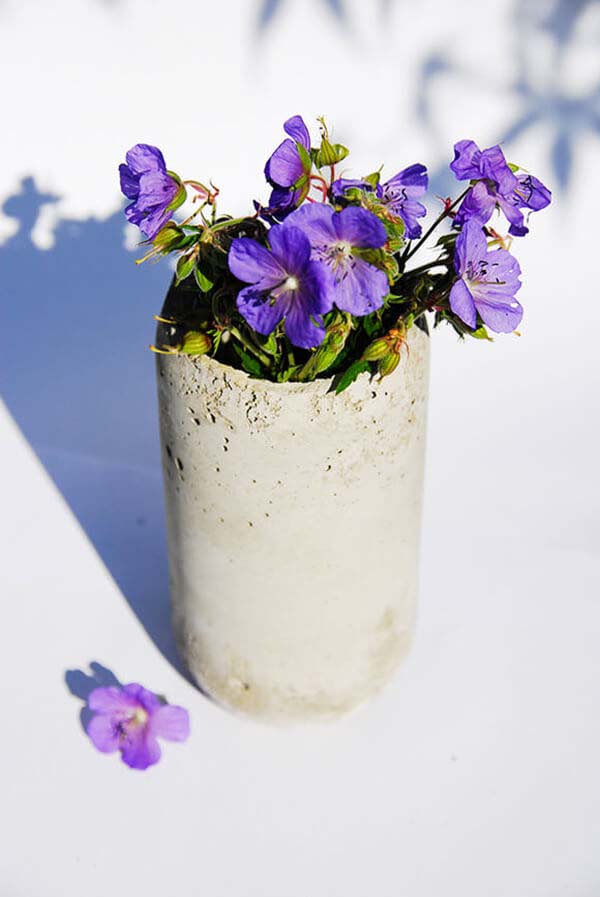 Concrete vases will look very stylish in a minimalistic furnished home.
Since they are very easy to make, you can try various sizes and shapes and make a unique collection.
19. Garden Stepping Stones from Concrete and Rubber Doormats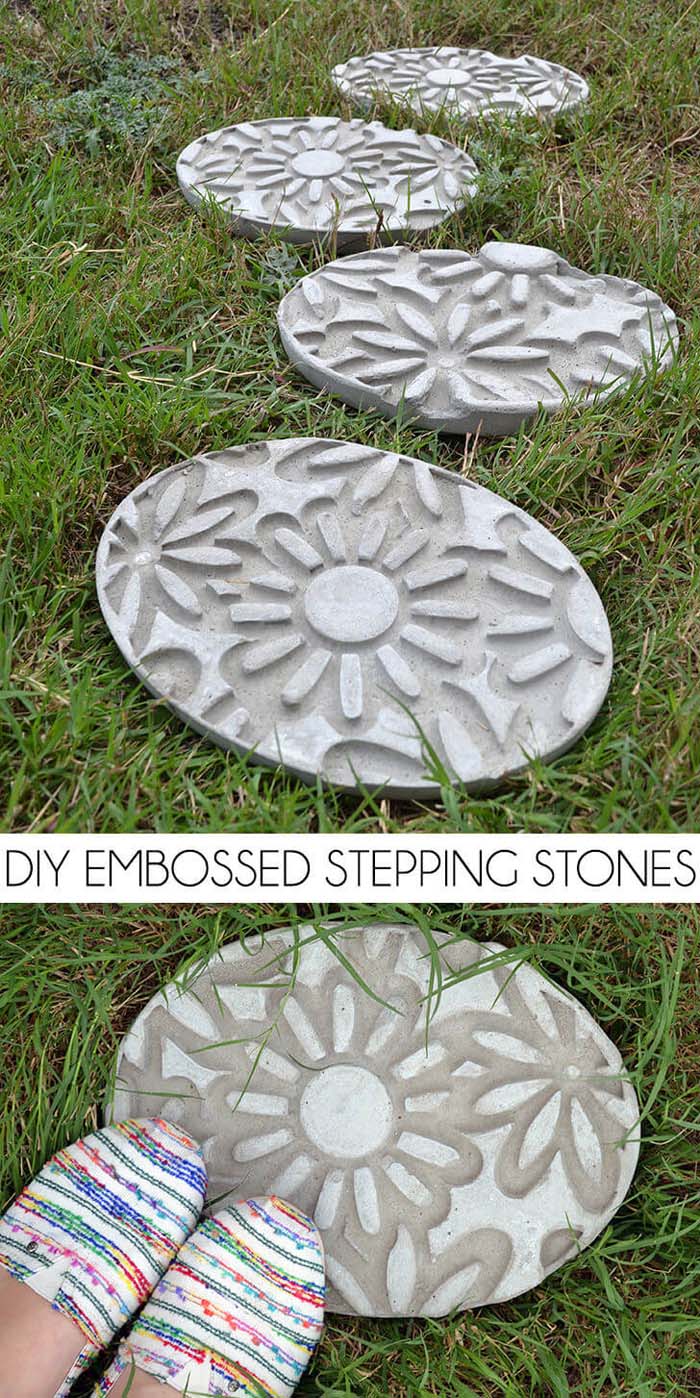 This is another idea for stepping stones made of concrete. The beautiful flowers have been embodied by a piece from a rubber doormat.
You can make even a bigger stepping stone if you cut a larger piece from the mat.
20. Create Custom DIY Planters with Concrete and PVC Pipes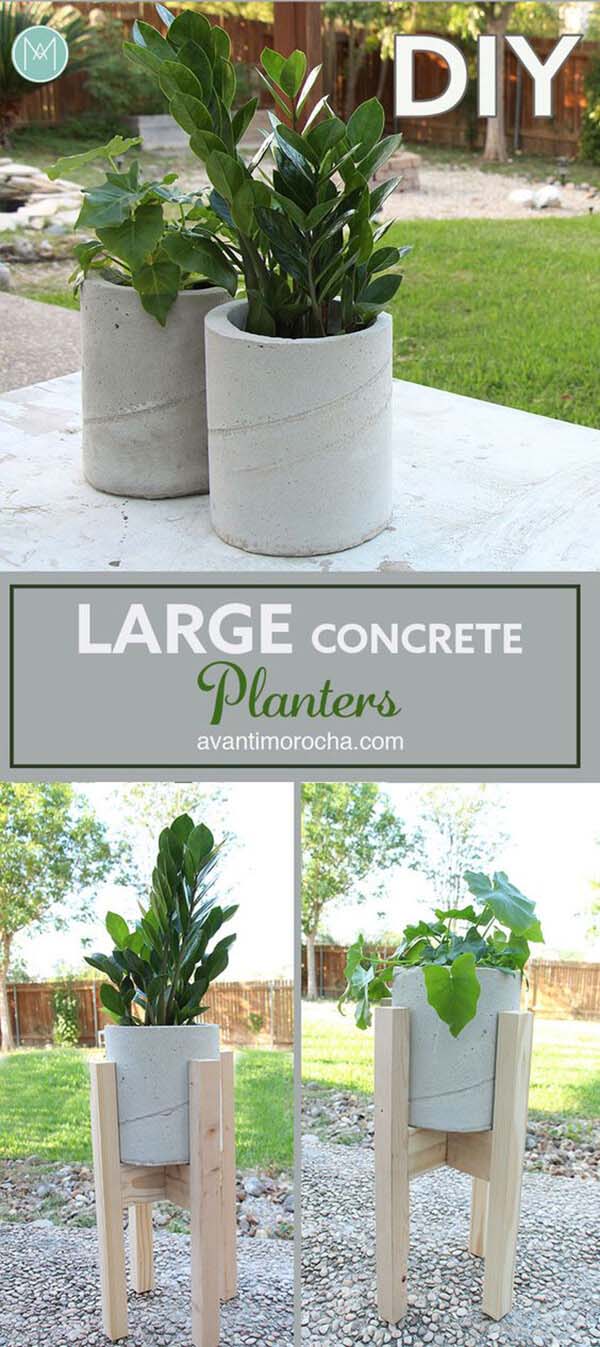 If you are looking for a larger planter for your boxwood or leafy plants, make yourself as many as you need from concrete and PVC pipes.
Pipes come in various diameters and are perfect for planter molds because of their fabricated hollow section.
via Avanti Morocha
21. Build Secure Foundations for Structures with Concrete

Whether for posts, stands, pergola, concrete is a great material to build bases from or fix them with.
When you add a fixture to an already finished area from your porch or backyard, it is best to make additional bases than risking damaging the surface.
via Home Depot
22. Make a Royal Planter with Concrete and Plastic Bowls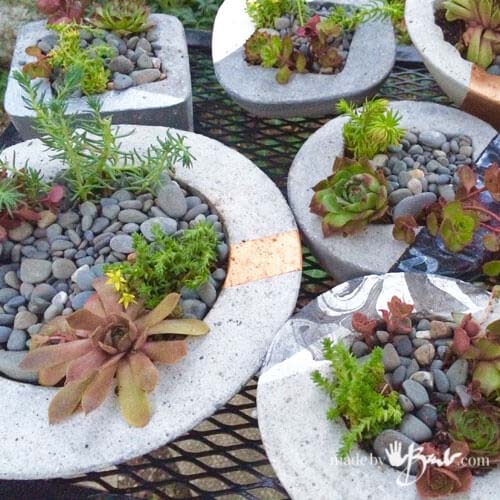 These concrete planters look like a decoration for a royal property.
Fortunately, they are very affordable and easy to make. Collect various sizes and shapes of plastic bowls and pour the concrete in.
via Made By Barb
23. DIY Concrete Planters to Add Interest to Your Home Decor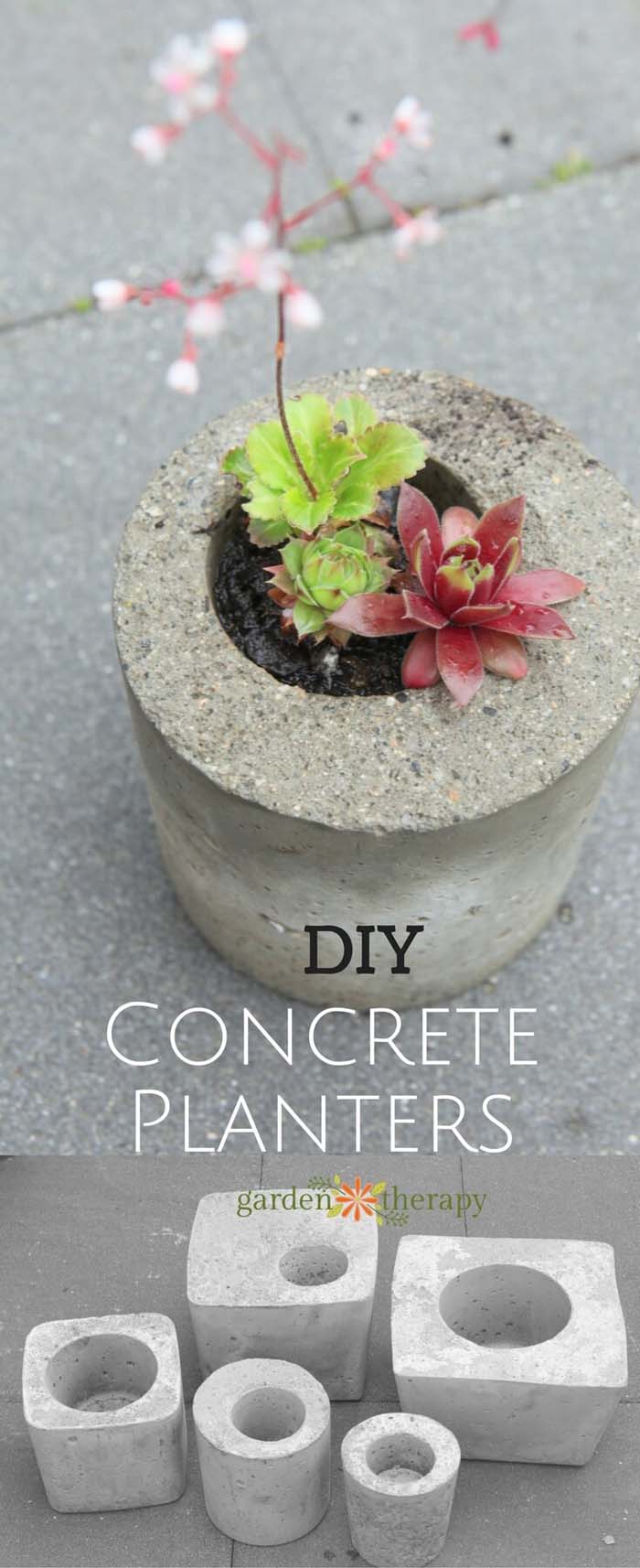 These interesting planters can be done within a weekend with materials you already have at home.
The secret to achieving small and displaced from the center nests is to insert small cups in a bucket filled with concrete. Let the concrete dry and enjoy the designer decoration made entirely by yourself!
via Garden Therapy
24. Concrete Mosaic Stepping Stone for Your Garden Pathway

Stepping stones with mosaics will play magically with the sun rays.
Make them using a flat mold like a tray on which various pieces of broken China or sea glass are spread. Place a layer of concrete and let dry.
25. DIY Leaf-Shaped Stepping Stone for Your Home Landscape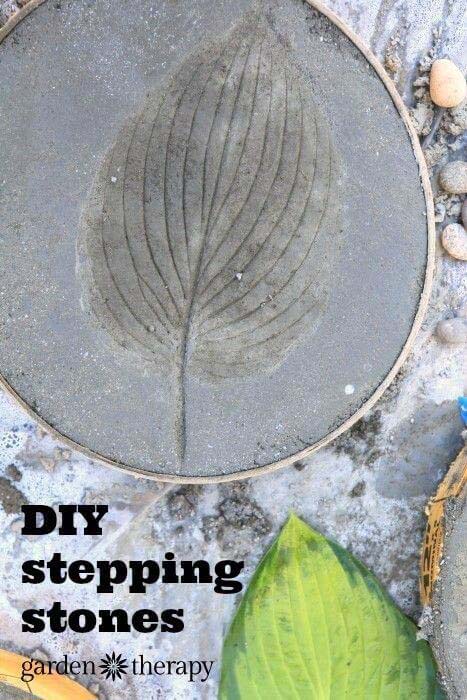 If you like the nature's motives, you can make yourself a stepping stone in the shape of a leaf or imprint it onto a concrete surface.
It is an easy project but will make a great impact on your home landscaping.
via Garden Therapy
26. Make a Planter with Concrete Pavers and a Wooden Frame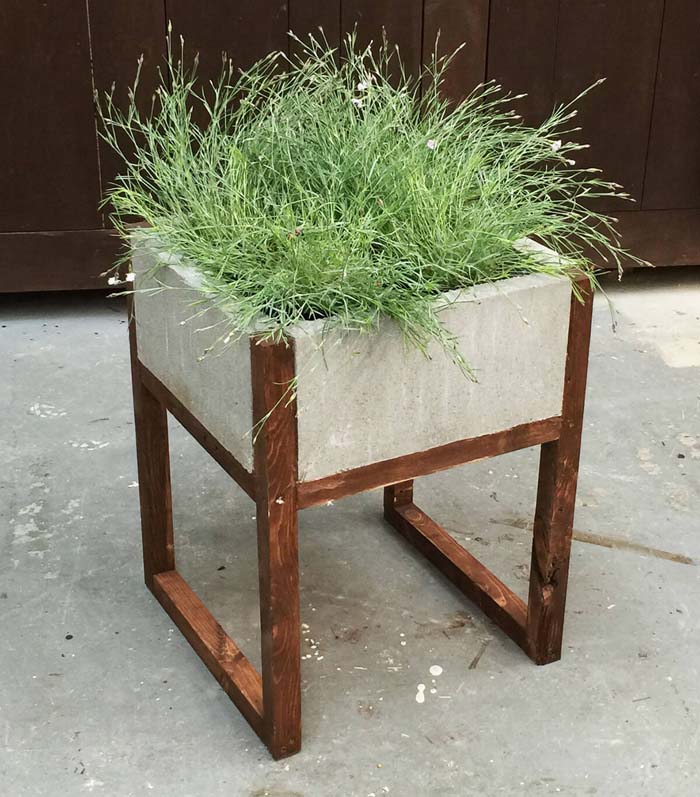 Making this chic planter doesn't require any special skills or materials although it looks quite difficult.
Assemble a wooden frame and cover the sides with concrete pavers.
via Ana White
27. Craft Autumn Decoration Using Concrete and a Pumpkin Mold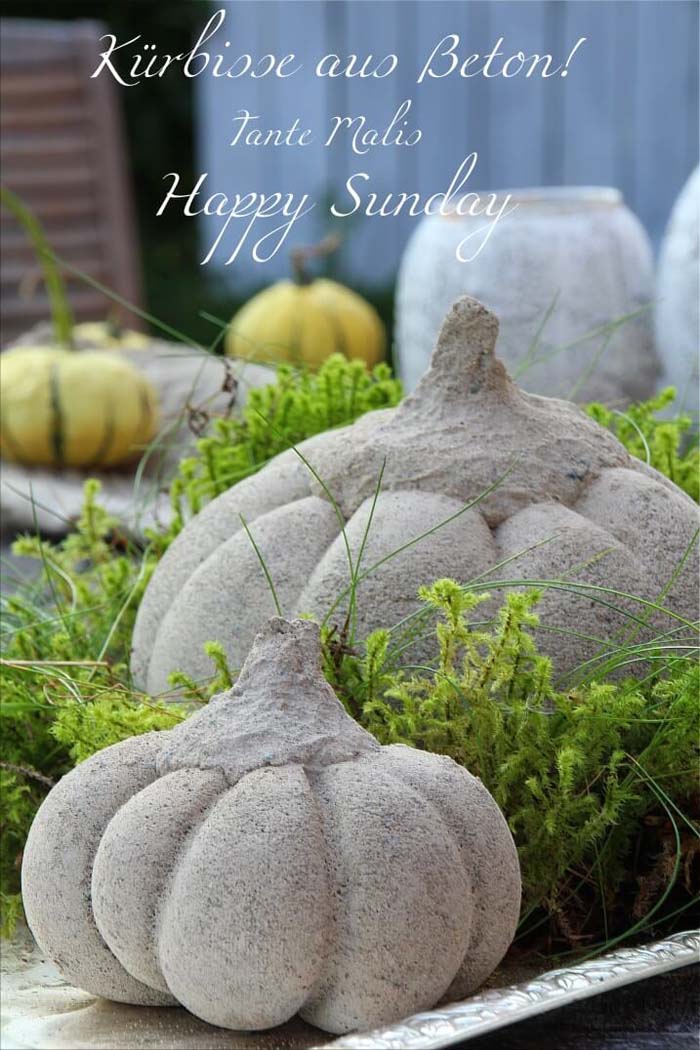 When the concrete cures it takes the shape of the container it has been poured into.
Pumpkins can be difficult to be used as molds so there is an idea of how to easily imitate their shape and make yourself a unique autumn decoration.
via Tante Malis
28. Modern and Minimalist Concrete Outdoor Bench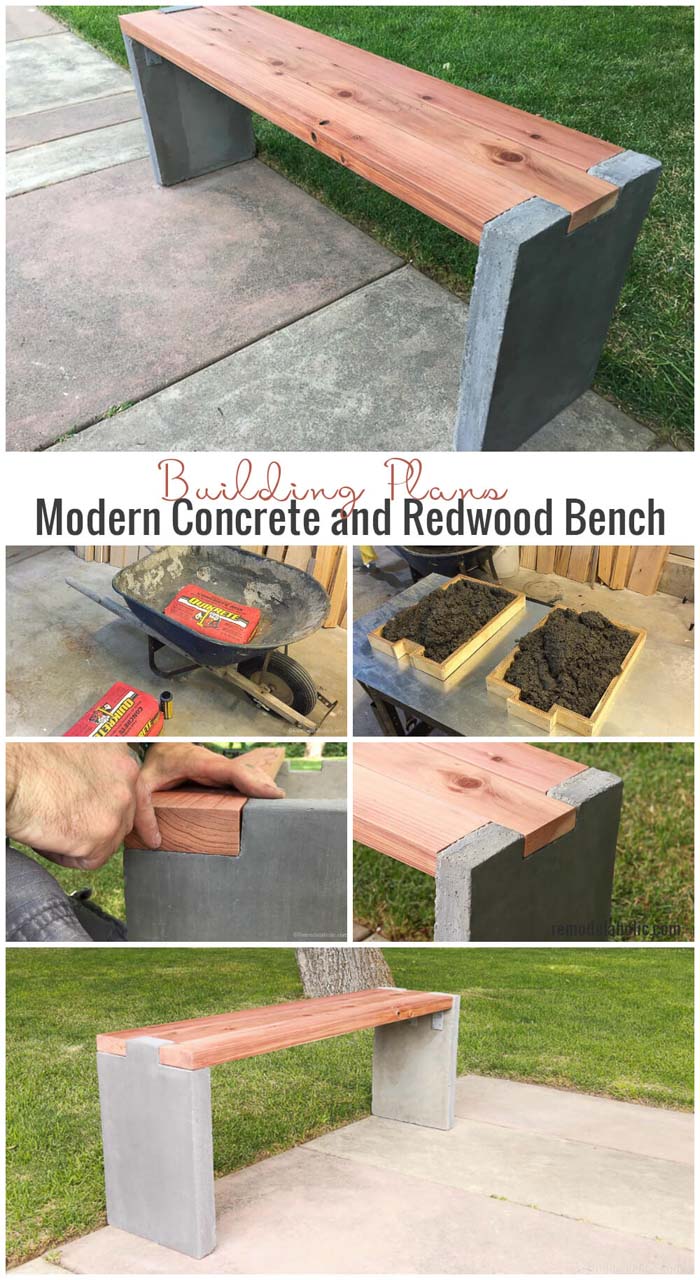 This bench is a combination of the conventional and minimalistic design concepts.
If you are a person that likes balance in every aspect, you would love that modern but comfortable outdoor furniture.
via Remodelaholic
29. Make a Small Fire Pit Using Concrete, Gravel and Gel Fuel

When you don't have the space to make a large fire pit, you can still enjoy the warmth of the flame if you make yourself one small reproduction.
You need two balls as a mold, concrete, gravel, decorative fire-safe rocks and canned gel fuel.
via Hunker
30. Unleash Your Creativity with Concrete Crafts

Any texture or shapes you like can be pasted onto a concrete surface and that's the greatest thing about concrete crafts.
A simple rubber doormat can put a unique footprint onto a flower stand only by pushing it onto a block of wet concrete surface.
via Sanna and Sania
31. Construct an Outdoor Concrete Tabletop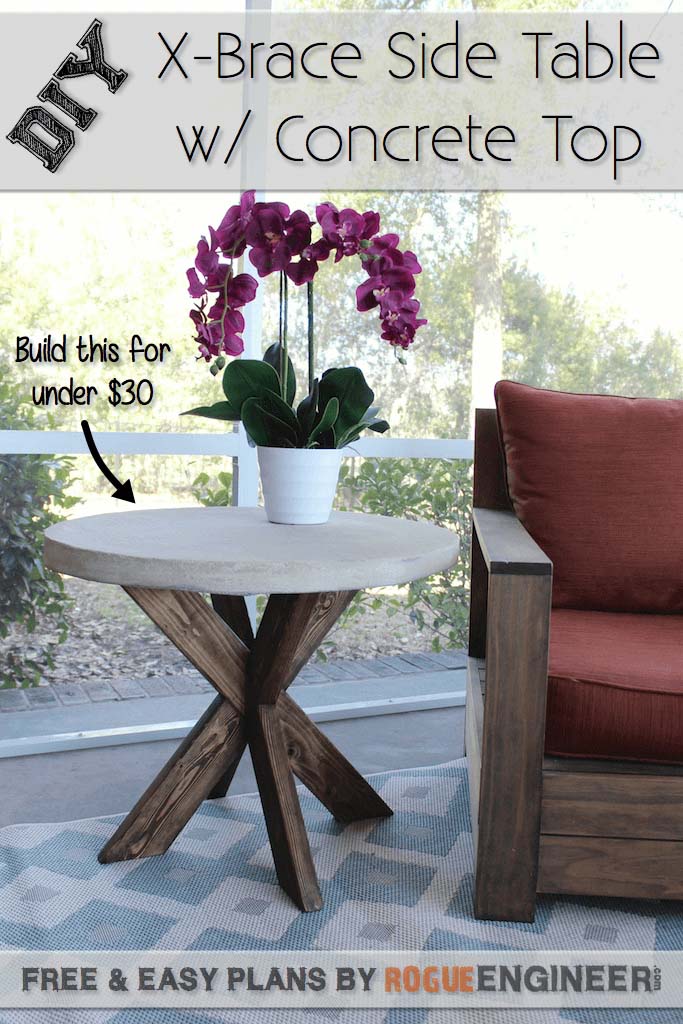 Concrete tabletops are a functional outdoor solution because they will last regardless of the atmospheric conditions. If you would like to copy the design of this table, you can follow the free instructions on the link below.
It can be used as a side table, as a flower stand or as a coffee table.
via Rogue Engineer