25 Beautiful DIY Flower Tower Ideas To Spruce Up Your Garden
Though naturally beautiful on their own, flowers, succulents, and green plants may be accented in whimsical flower towers.
Created from stacked flower pots, wash bins, or wooden slats, these structures allow for a unique and cascading garden feature.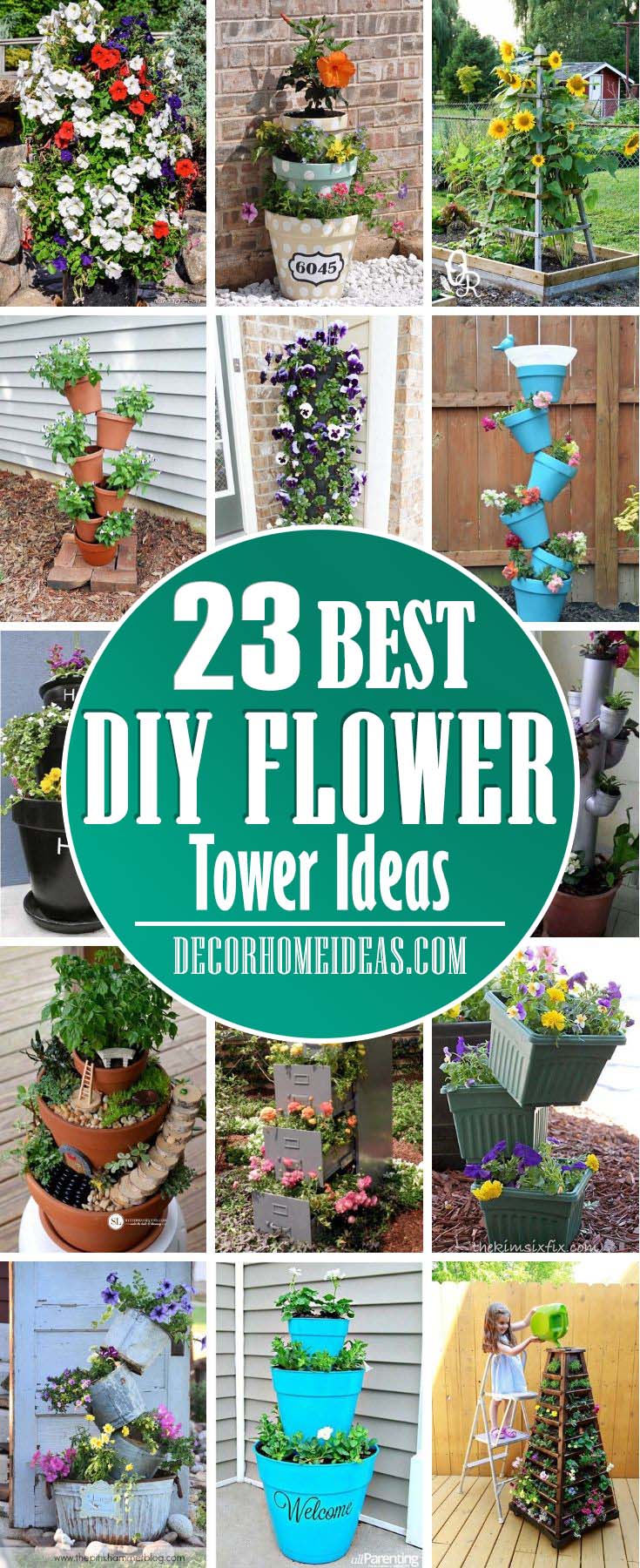 Don't forget to PIN this image for quick access to all these ideas!
Build a Flower Tower out of Stacked Pots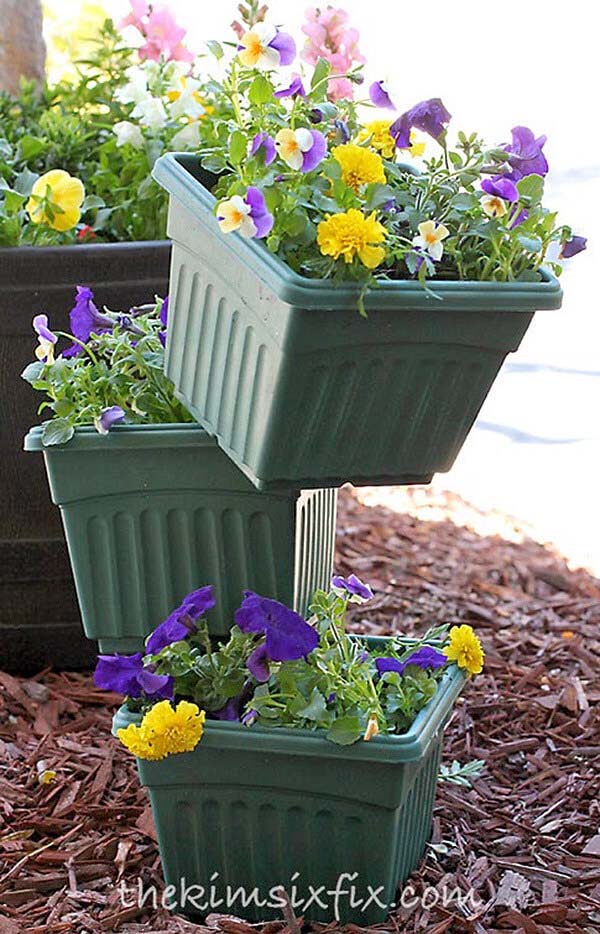 This beautifully stacked flower tower brings a geometric look to your garden.
It is constructed from three square green planters joined with an unseen pole for support.
While they may be stacked neatly, an interesting whimsical look is obtained by stacking off-center with a lean. Either way, try filling these with short and bright flowers.
via The Kim Six Fix
Cactus Tower from Pipes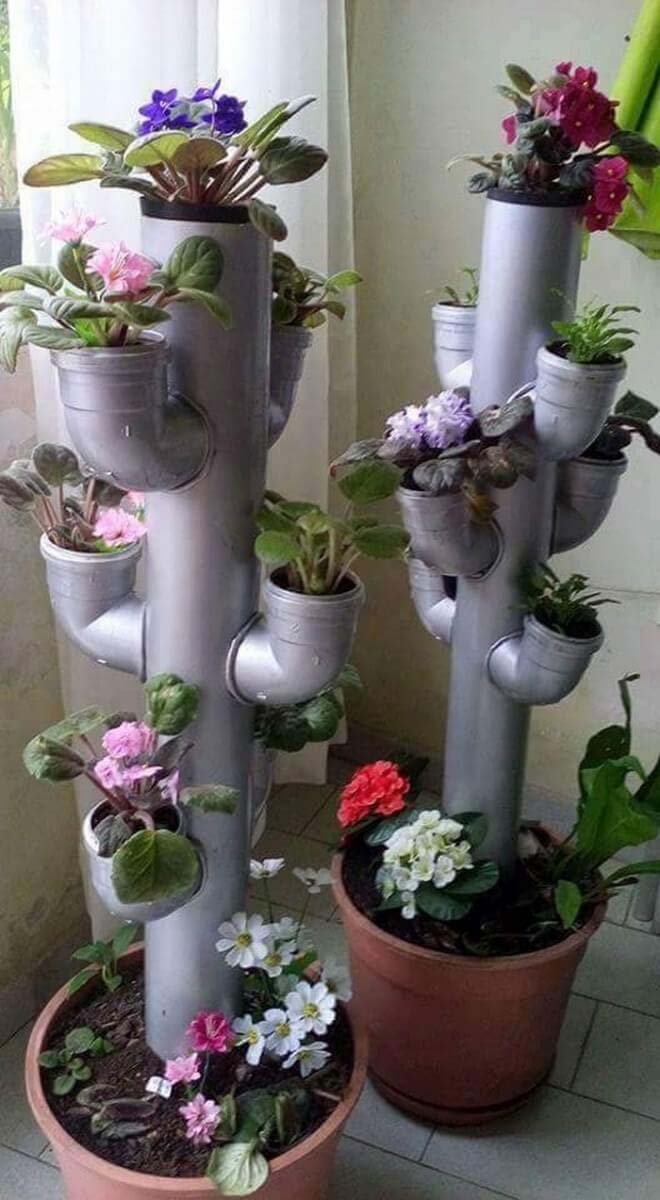 This unique flowering cactus home melds an industrial vibe with a soft natural one.
Metallic pipes are joined together in what looks like the iconic desert cactus look.
Then, flowering cacti are added to the various planter areas. This flower tower is tall and may be used indoors.
DIY Flower Tower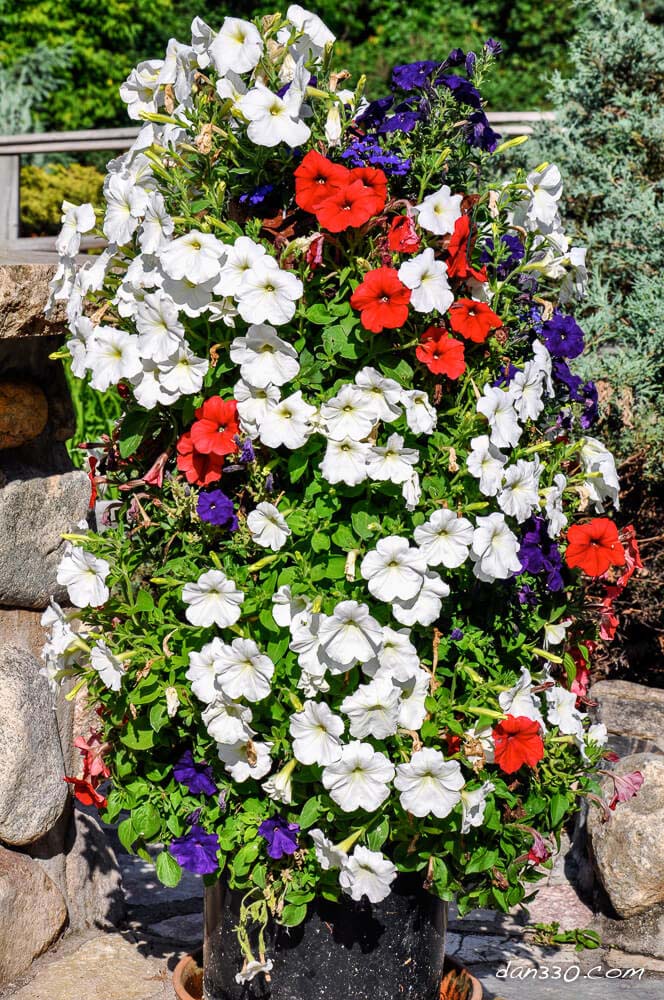 A lovely showcase of nature, this flower tower appears more like a tall shrub than a cascading flower tower.
Set in a clay flowering pot, the tower is made from several multicolored short flowers with a green leaf backdrop.
via Dan 330
DIY Garden Planter and Birds Bath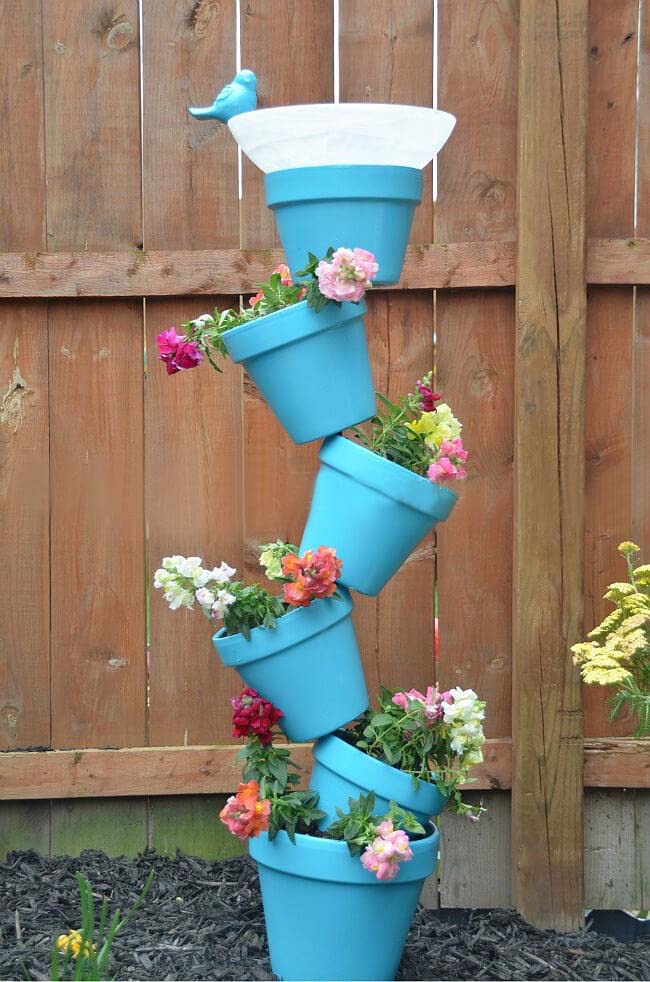 A whimsical flower tower with a birdbath on top, this DIY garden idea has something for everyone.
With a large flower pot as a base, four more flower pots are tilted and stacked atop an unseen joining pole.
At the top rests a wide flower pot as the base for the birdbath. Add an aqua bluebird figurine to attract nearby birds and to match the flower pots.
DIY Vertical Planter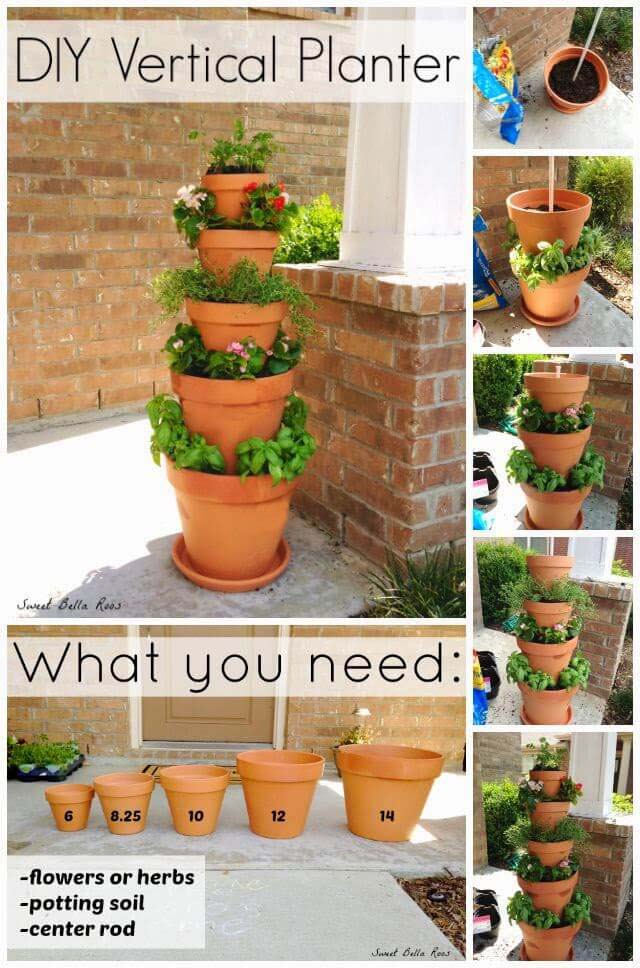 This simple and clean vertical planter provides your porch or garden a beautiful balance of geometric design and natural abundance.
It is made from stacking five differently sized clay flower pots in each other with an unseen joining pole.
Each planter is filled with herbs or flowers around its outside rim.
Earth Tower Vertical Planter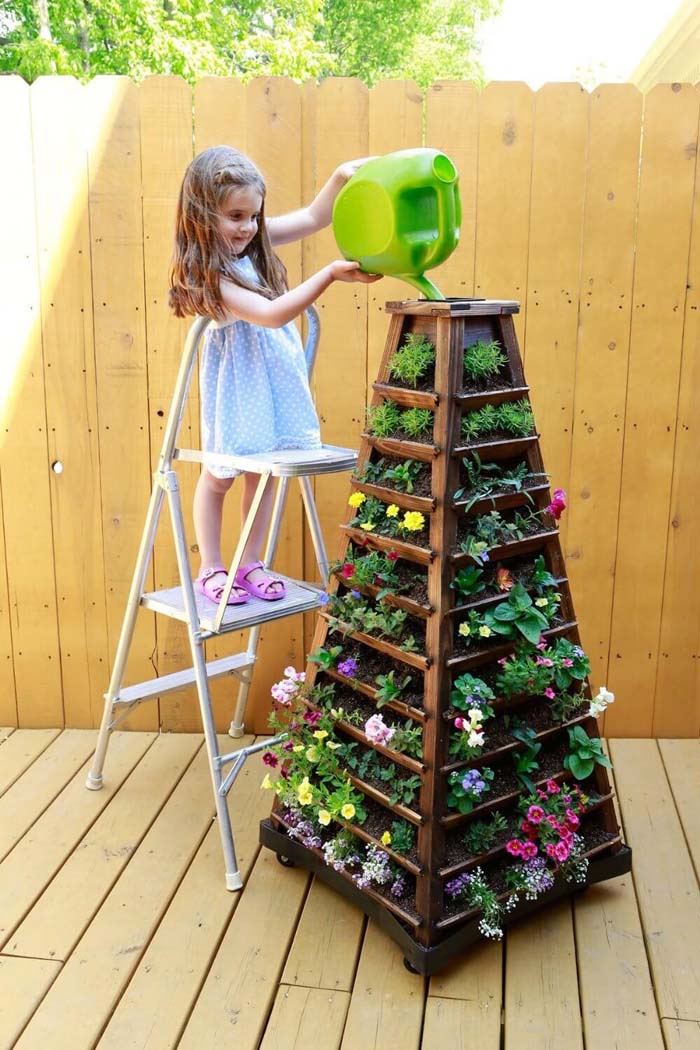 This marvelous pyramid planter gives you enough space to showcase all your herbs and flowers.
On a rolling pallet, this planter contains four wooden faces with eleven rows of soil.
Water may be added in the center to provide sustenance for all plants at once.
Find it here: Amazon
Fairy Garden Flower Tower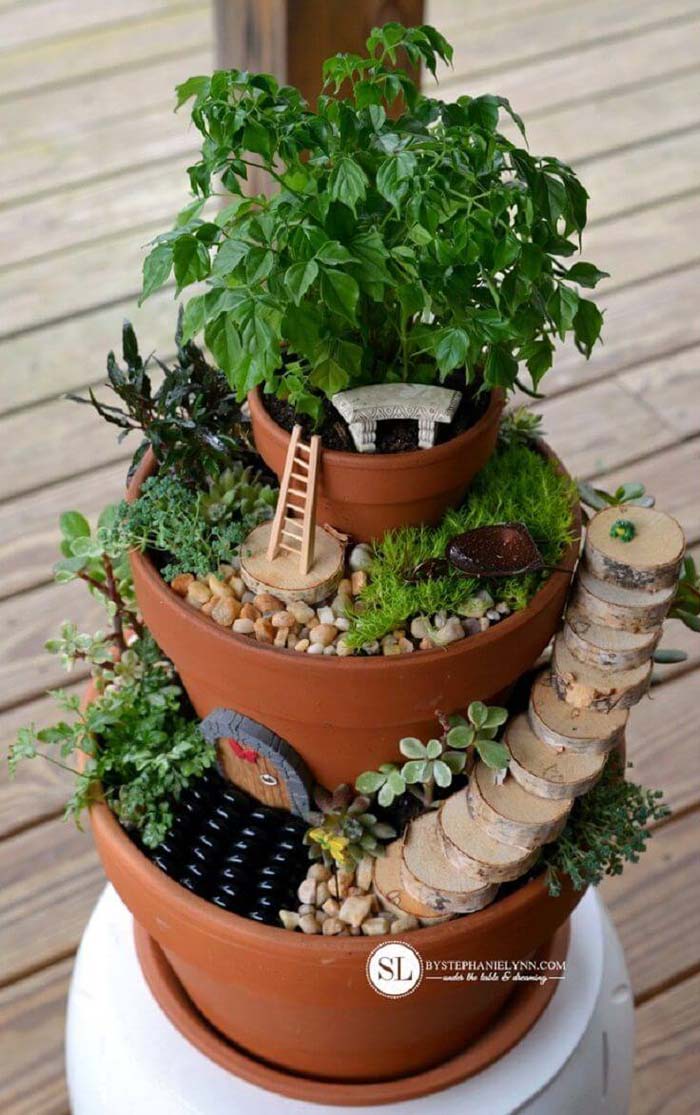 Whimsical and enchanted, this flower tower creates its own little world using fun details and carefully picked plants.
The tower itself is made from three stacked clay flower pots, but the fairy garden scene is really built from the details, like the tree ring staircase or mini stone bench.
via Stephanie Lynn
File Cabinet Flower Tower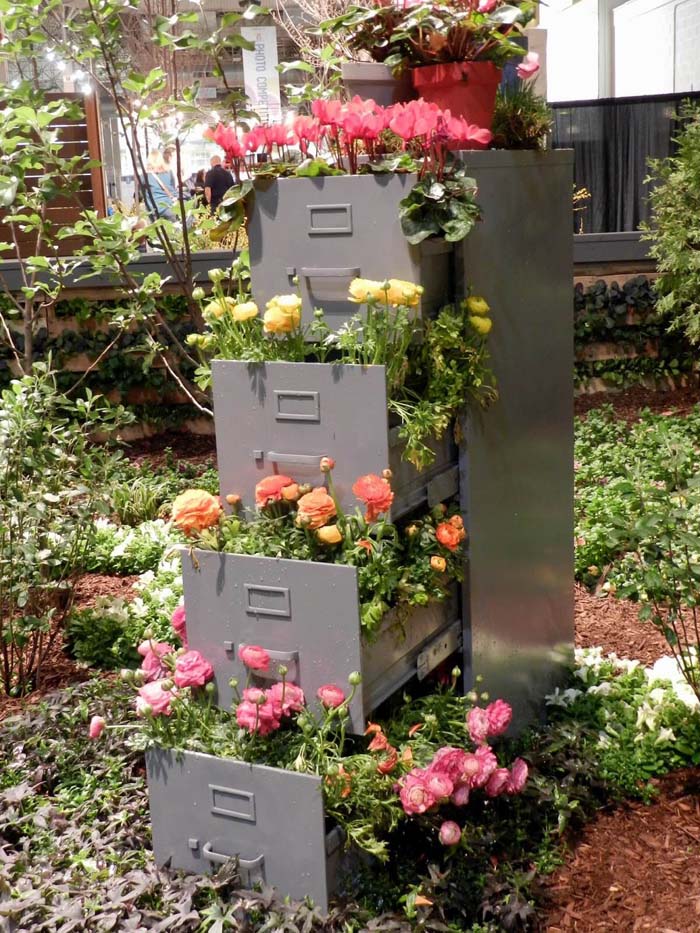 Large budding, pastel-shaded flowers turn a gray filing cabinet into a unique flower tower.
With its four drawers, serving as planters opened at increasingly longer lengths, a multilayered overflowing flower tower is prepared.
Flower Tower Stacked Planters

This simple flower tower upgrades the iconic look with a bit of a modern twist using black paint and some stencils.
The design is made from stacking three differently sized flower pots in one another, where short flowers and overflowing vines are planted.
The flowerpots themselves have been painted black and made into the perfect welcoming porch piece.
via Home Jelly
How To Make a Stacked Pot Planter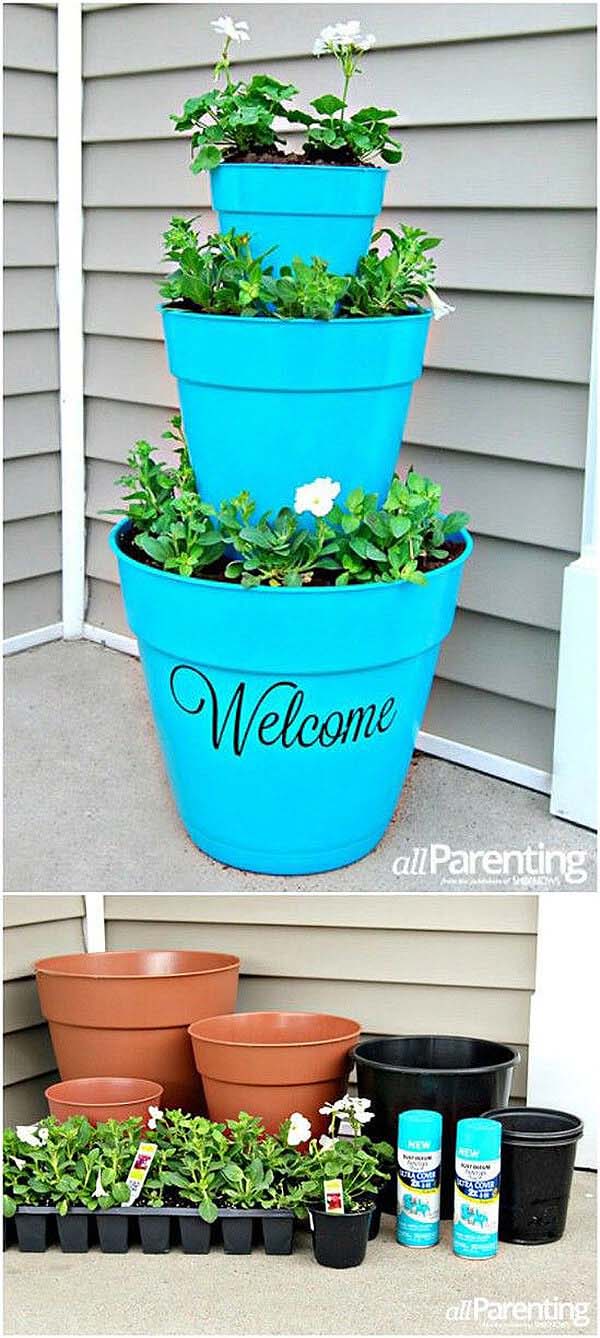 A bold, but simple design, this bright blue flower tower welcomes all to your front door.
It is made by stack three oversized and greens filled flower pots in one another.
Already painted bright blue and stenciled with a welcome logo, this outdoor idea rests well on the front porch.
via All Parenting
Mini Succulent Tower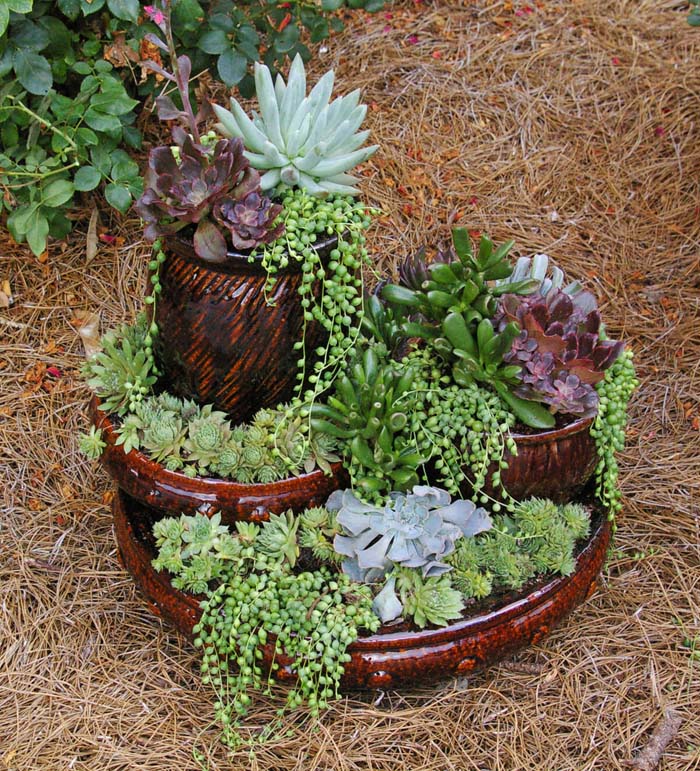 This flower tower places extra emphasis on the texture and simplicity of design.
Succulents of various waxy textures and pointy leaf nature are planted in glazed jars and flower bases.
Those are then carefully arranged in one another to make a serving tray like flower tower.
via Armstrong Garden
Ombre Stenciled Flower Pots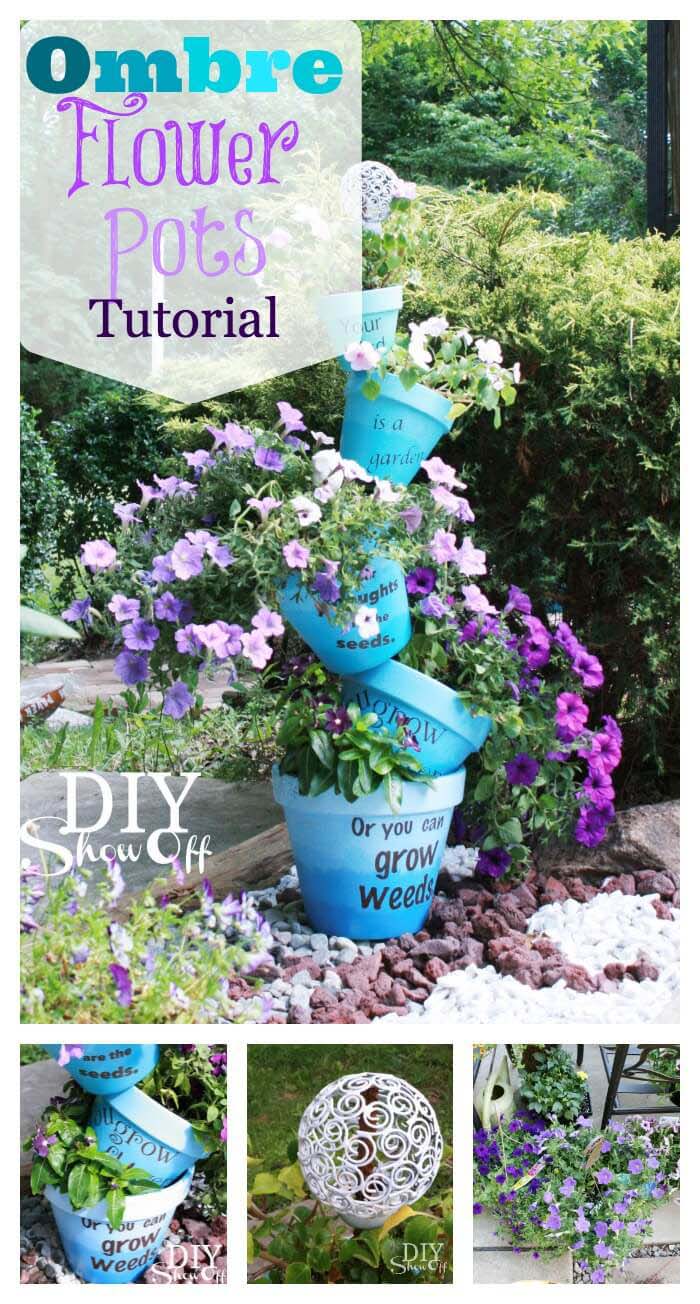 This cute flower tower uses an ombre effect to showcase your flowers and favorite garden motto.
Five flower plots, painted in a blue ombre are tilted and stacked atop one another in the garden.
Overlaid on their faces is a black stenciled motto of your choice. Even the flowers are planted in a way to create an ombre effect.
via DIY Show Off
Polka Dotted Teetering Tower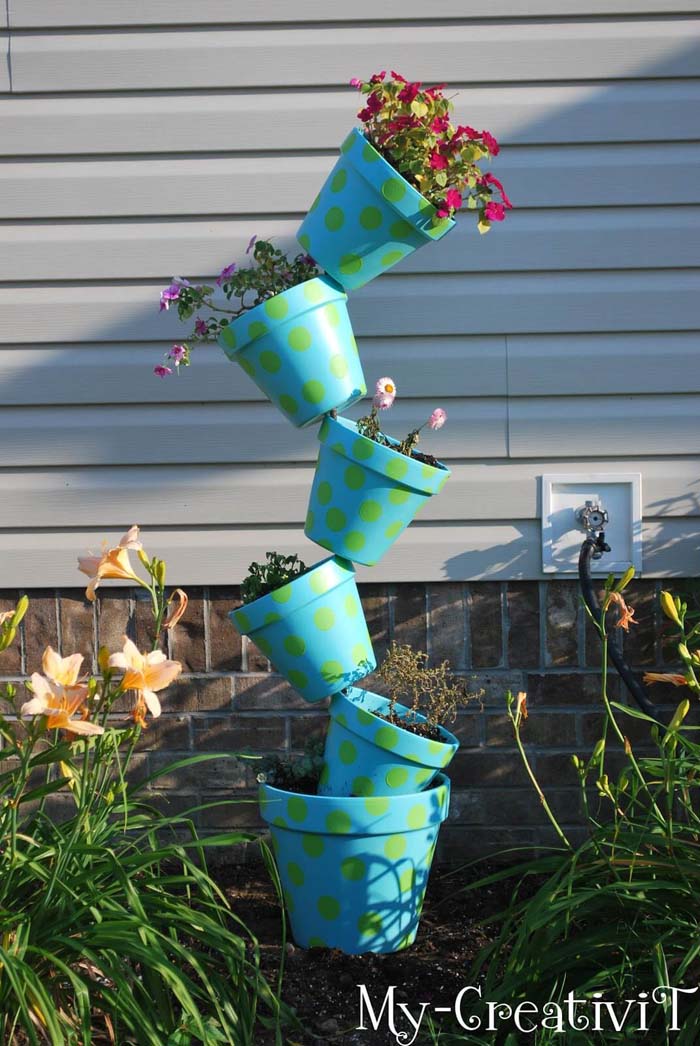 This tall flower pot adds some personal flair to your gardenscape.
Painted in teal and covered in green polka dots, six flower pots are joined with an unseen rod and made home to multicolored flowers.
via My Creativit
Polka-Dotted Tiered Planters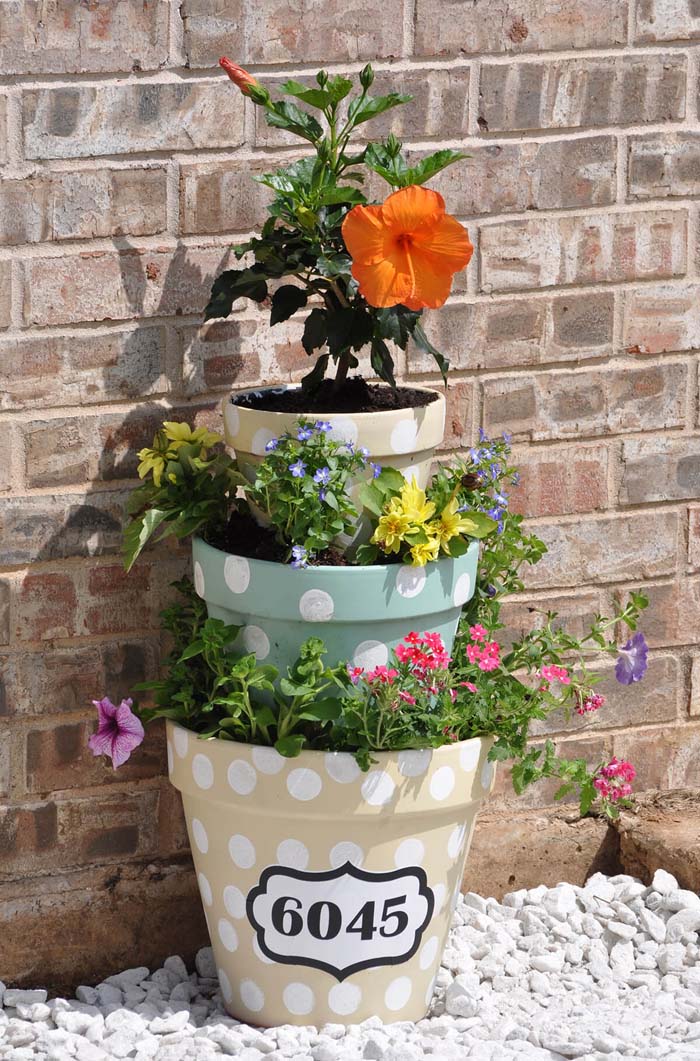 Fusing classic and modern looks, this flower tower design showcases your favorite flowers and house numbers.
Three pastel-colored flower pots with white polka dots are stacked within one another.
The bottom flower pot is labeled with your house numbers, while the top is home to a large flower.
Primitive Tipsy Pot Planters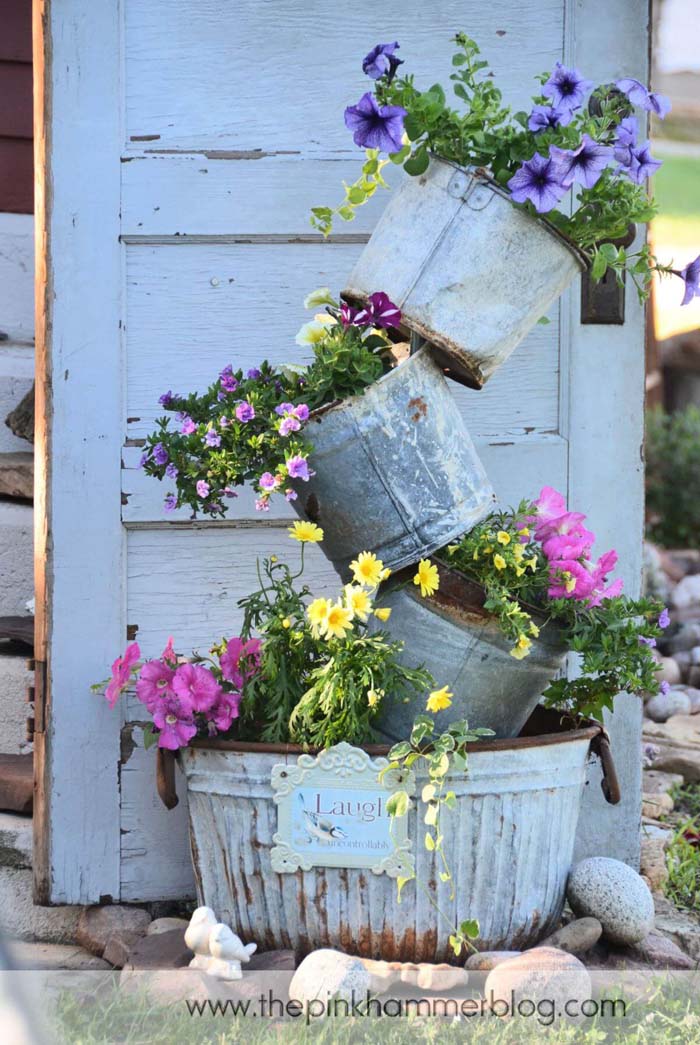 This rustic looking flower tower elegantly combines metal elements with soft colored flowers.
Three tilted metal flower pots are stacked atop a large metal wash bin, labeled with your logo or name of choice.
via Pink Hammer
Simple DIY Flower Tower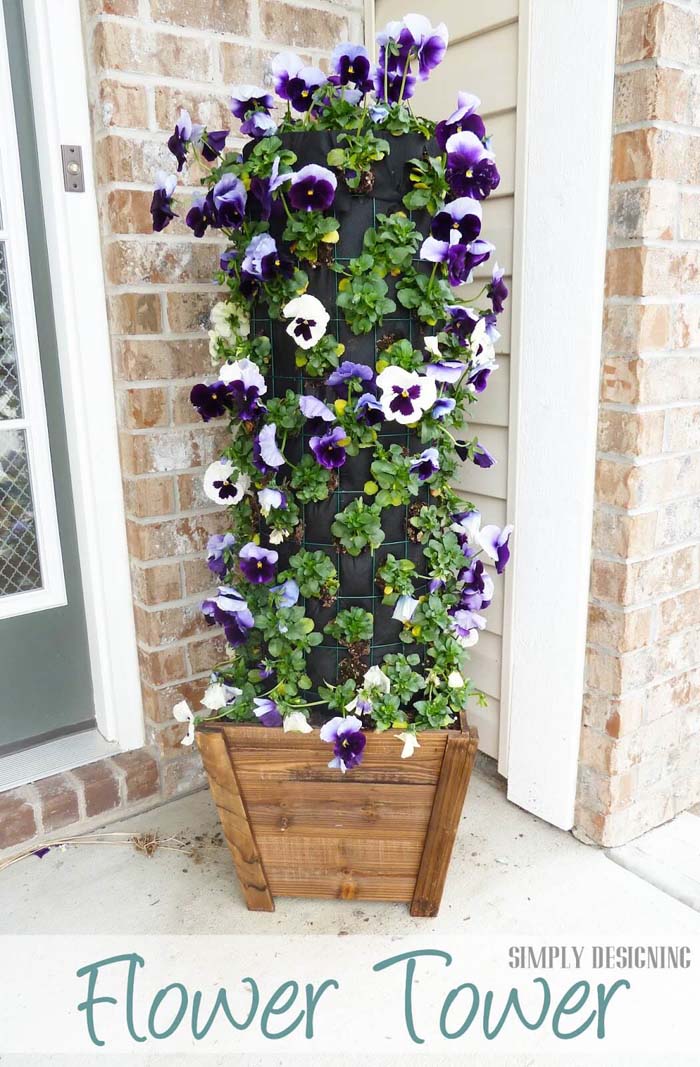 This simple and effective flower tower adds height and beauty to your front porch.
Rooted in a wooden planter box, a large cylindrical tube is filled with holes, where purple and white flowers can emerge.
via Simply Designing
Tiered Pots Flower Tower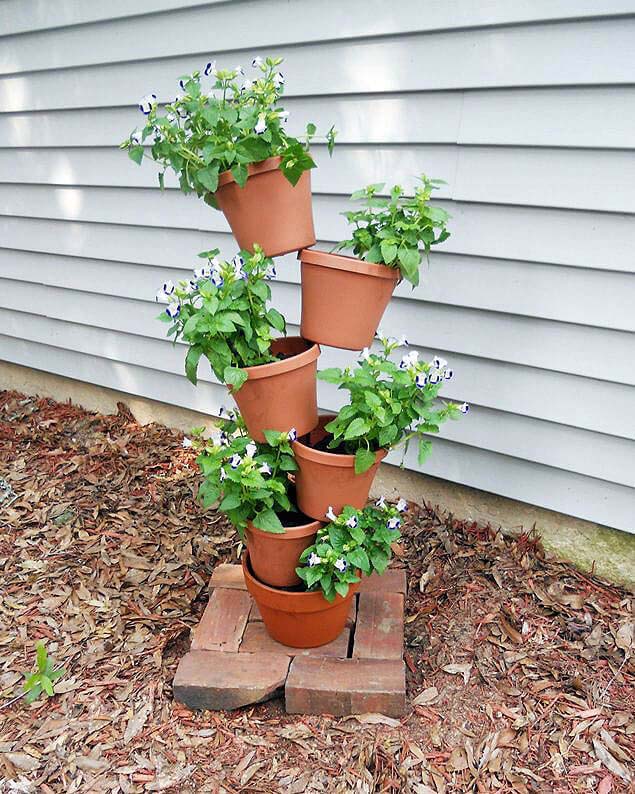 Adding some stability to the teetering look, this flower tower design makes for a unique garden features.
Five clay flower pots are just barely tilted and stacked within one another atop a large clay base.
via Pumpkin Bump
Vertical Tiered Tower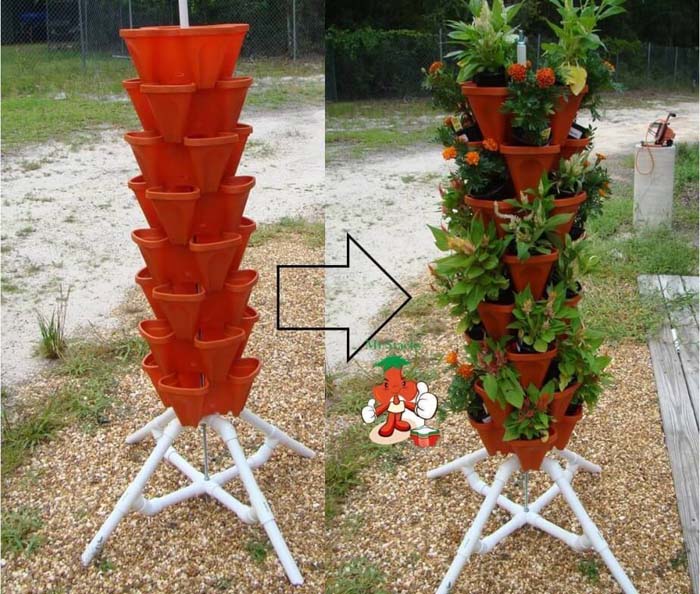 This unique and crafty flower tower turns a simple closet organizer into a stable garden feature.
Painted in a clay brown and wrapped along a PVC pipe, the organizer makes several little pockets for planters.
Watering Bucket Flower Tower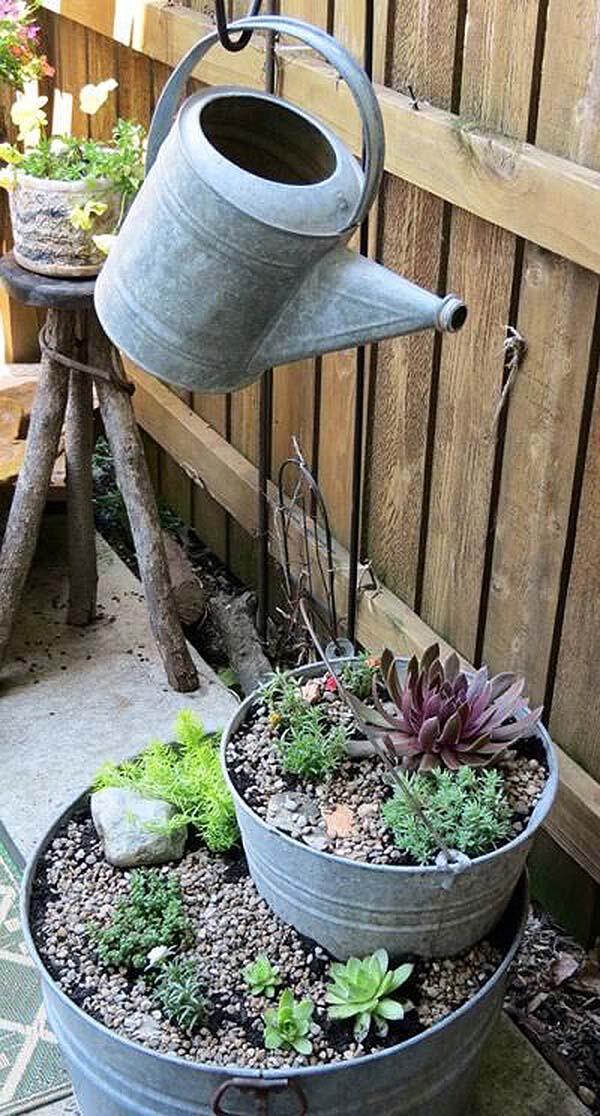 A piece always in motion, this rustic succulent flower tower adds a sense of ease to your backyard gardenscape.
Two large metal bins are stacked in one another and filled with small pebbles and multicolored succulents. Hanging above this scene is a metal watering can.
Watering Can Waterfall Flower Tower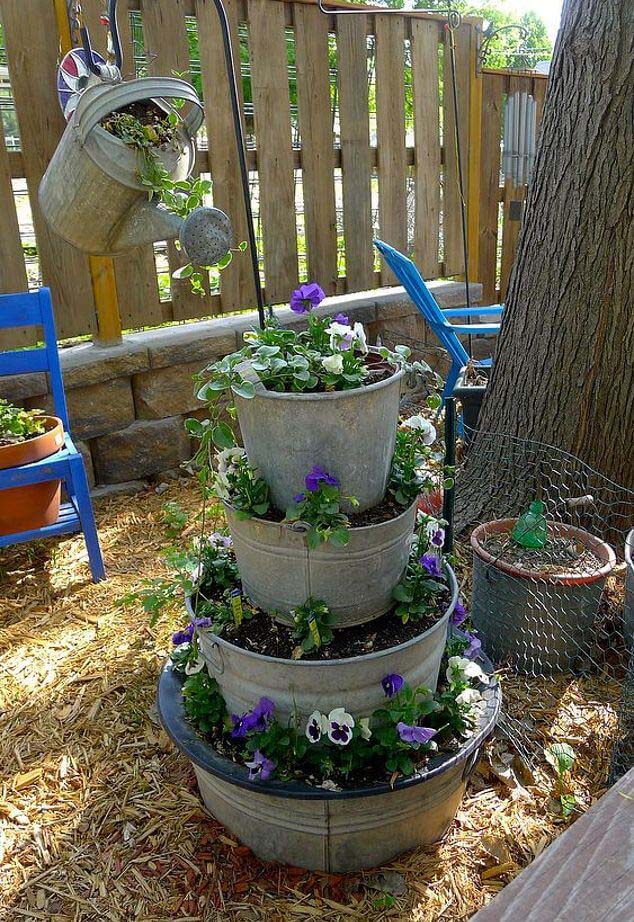 Simple and elegant, this multidimensional flower tower calls to mind a flowing fountain.
Four large metal bins with purple flowers are stacked within one another. Hanging above is a metal watering can that now serves as another planter.
via Hometalk
Wooden Sunflower Pyramid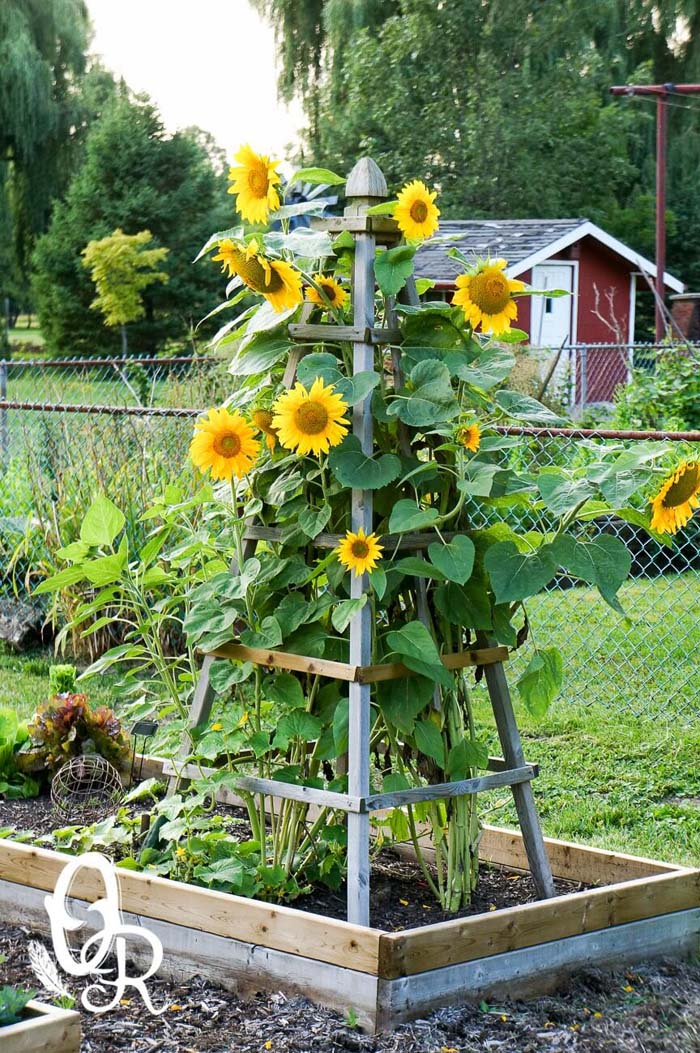 This wonderful garden idea creates the illusion of a flower tower by reigning in the tall sunflowers of a garden.
A wooden pyramid with plenty of open spaces is placed atop an area with excess sunflowers.
via Oliver and Rust