Built-in planters are lovely and practical means to save space and enjoy the beauty of seasonal flowers and plants.
Whether you prefer concrete, wooden, terra cotta, metal or other types of planters, they will add a significant accent to your patio or garden.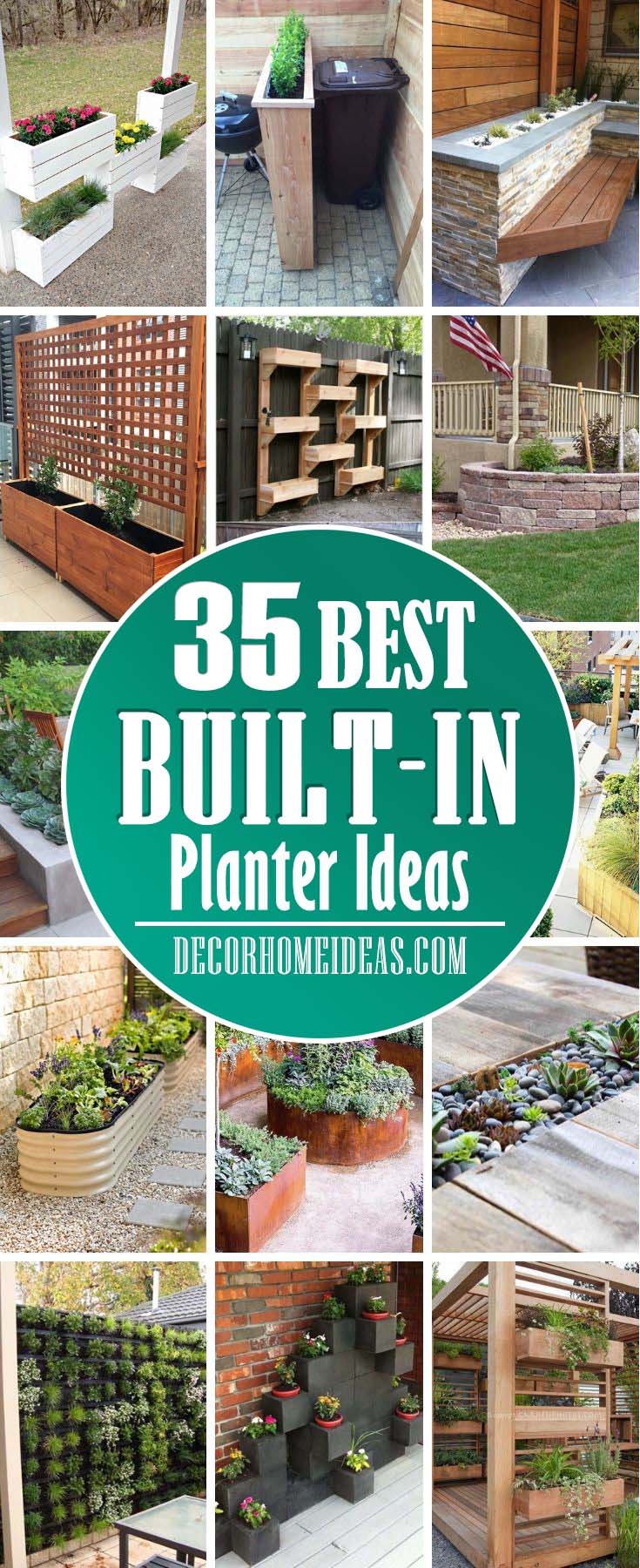 Built-in planters can be also used to form an area in outer space or become an alive outdoor divider.
Do you need inspiration about what and how to arrange built-in planters so that they suit your outdoor area, taste and space limits?
We are here to show you the best 35 built-in planter ideas that will easily become an integrated part of your yard.
1. Inviting Patio Space with Matching Color Planters and Bench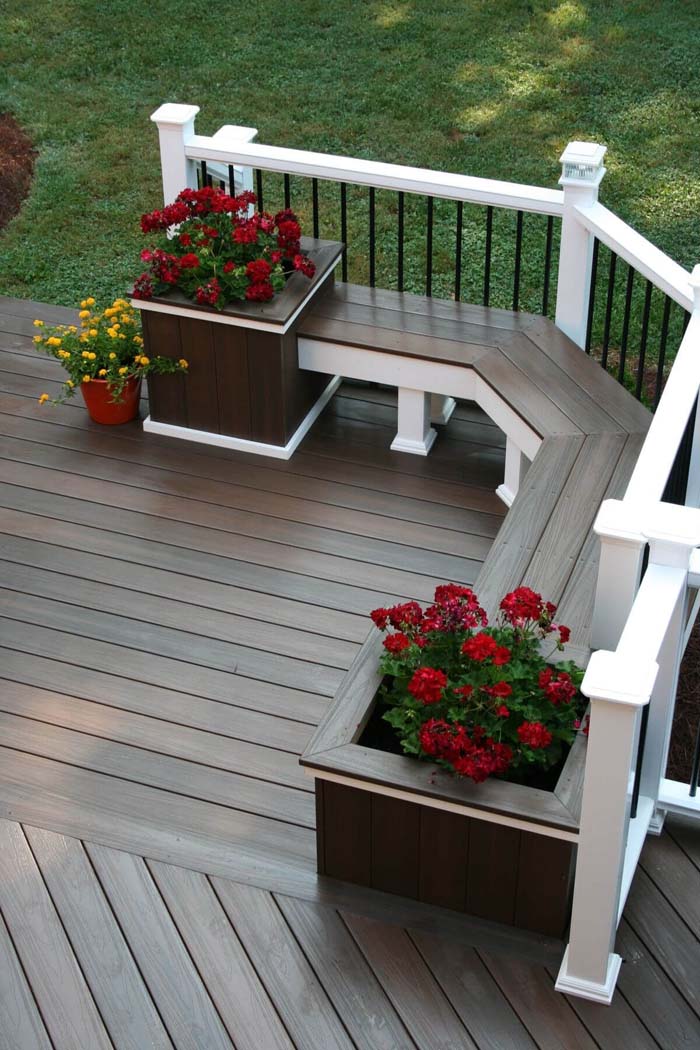 An existing bench on the patio ends with wooden square planters that match the color of the bench and the adjacent railing. This flower area will be the best place to welcome your guests.
2. Concrete Raised Bed Planter To Enhance Deck Privacy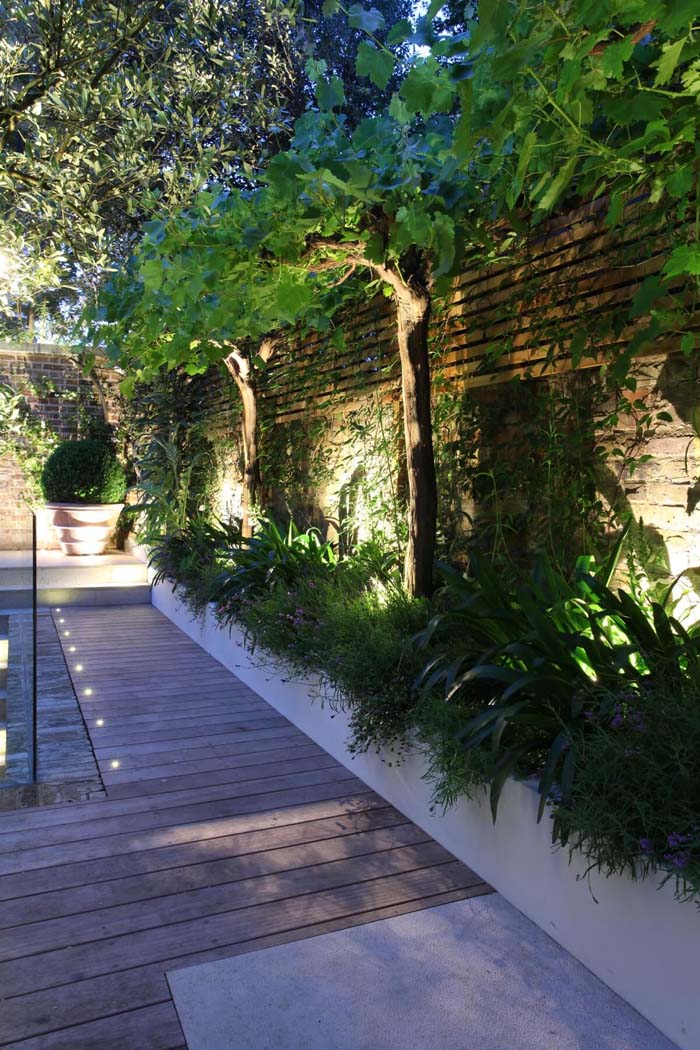 This long concrete raised bed planter will edge the deck. If you combine leafy plants with decorative trees or shrubs, the planter will also increase the privacy level.
via Sarah Akwisombe
3. Transform Your Rooftop with Built-In Planter Ideas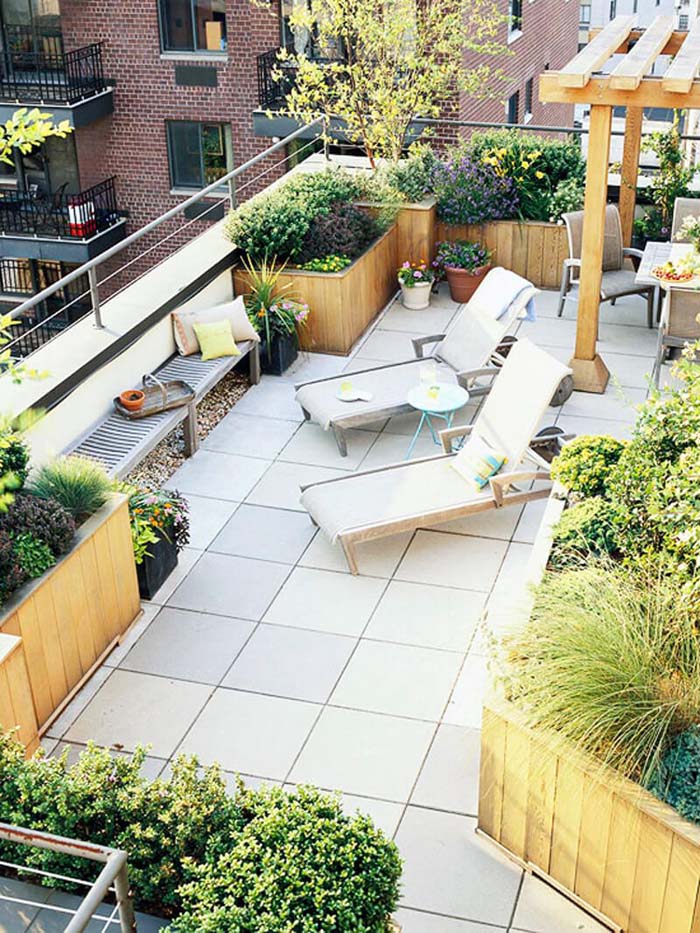 If you are living in the city, there are multiple ways to do urban gardening.
Built-in planters can outline your part from the rooftop and turn it into an outdoor room for ultimate summer relaxation.
via BHG
4. Functional Patio with Rustic Benches and Built-In Planters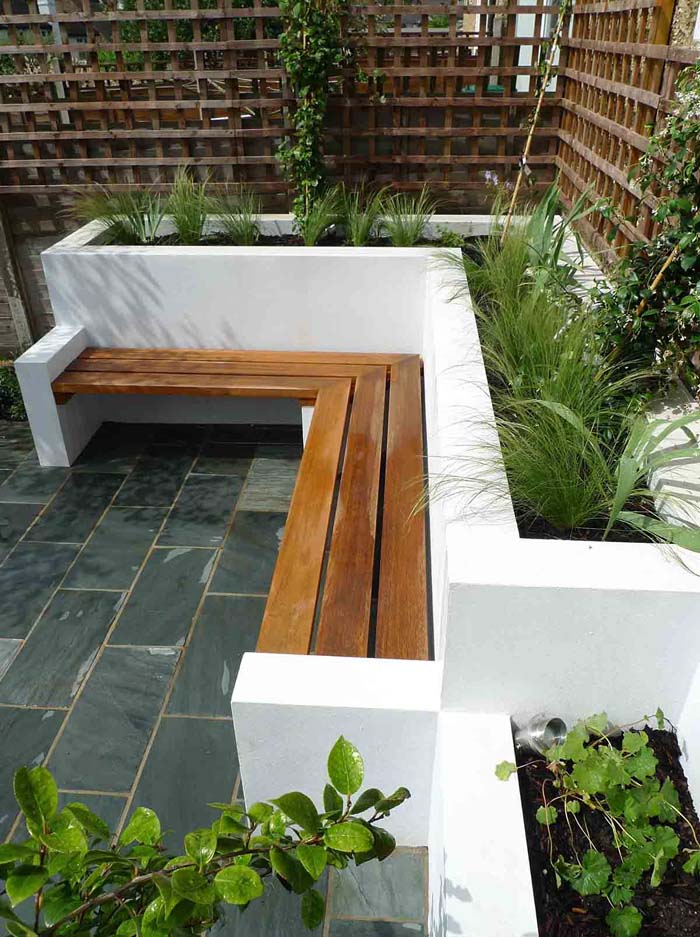 When space is not enough, it is always best to look for multifunctional solutions. A bench at the patio will accommodate your guests for coffee or drinks.
Add built-in concrete or cinder block planters behind the sitting area to serve as a back of the bench and increase the beauty of your patio.
via Homedit
5. Turn Your Urban Terrace into an Oasis with Built-in Planters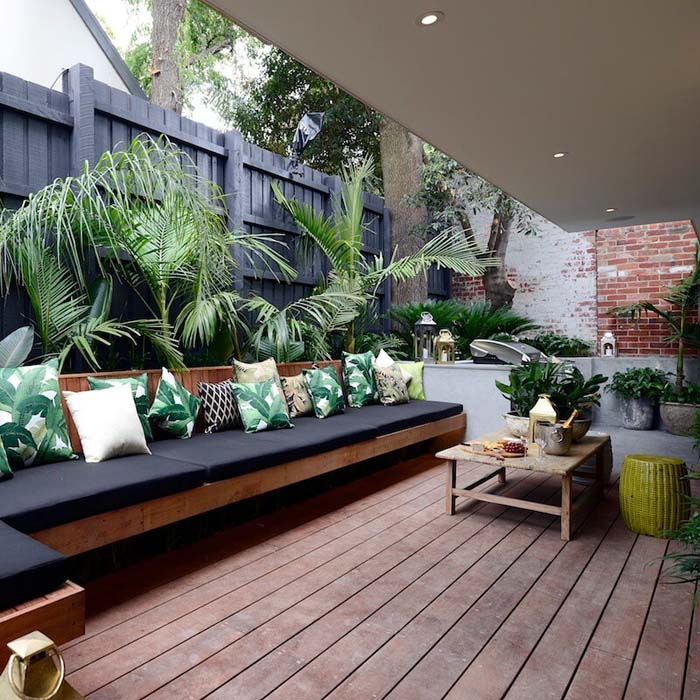 Turn the urban terrace into a calming oasis by edging the fence with built-in planters.
Place palms and other rich leafy plants to increase the shade and decorate the space.
via Katrina Chambers
6. Elevate Your Backyard with Built-In Planters and Water Feature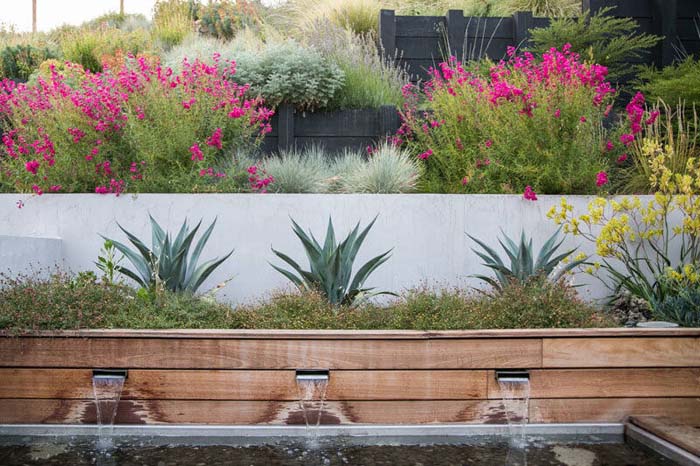 Built-in planters are perfect to create an elevated garden in your yard.
Add a water feature for ultimate relaxation outdoors.
7. Incorporate Built-in Planters with Stones and Succulents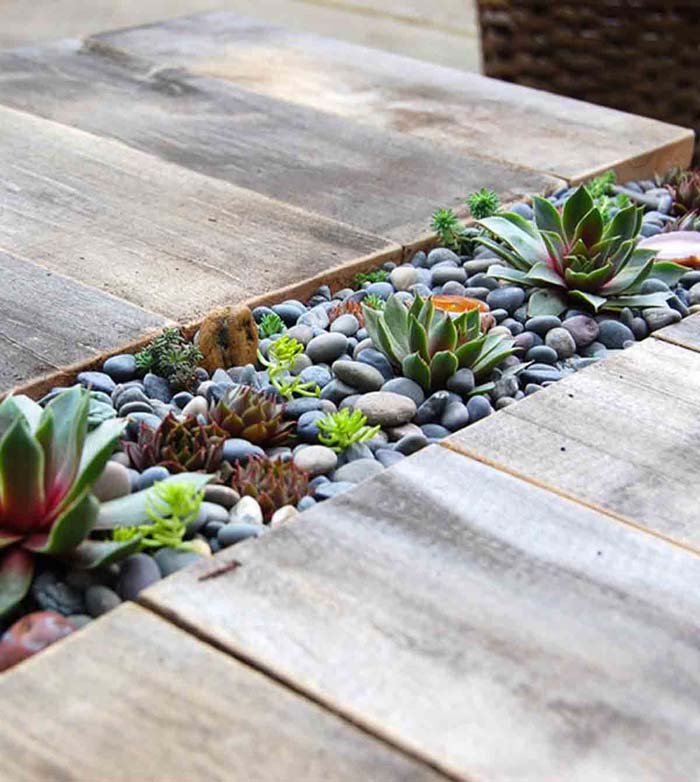 Built-in planters can be incorporated into the decking.
The combination of stones and succulents is suitable for floor arrangement. It is an interesting way to differentiate areas or edge the patio or terrace.
8. Maximize Vertical Space of Pergola Sides with Planters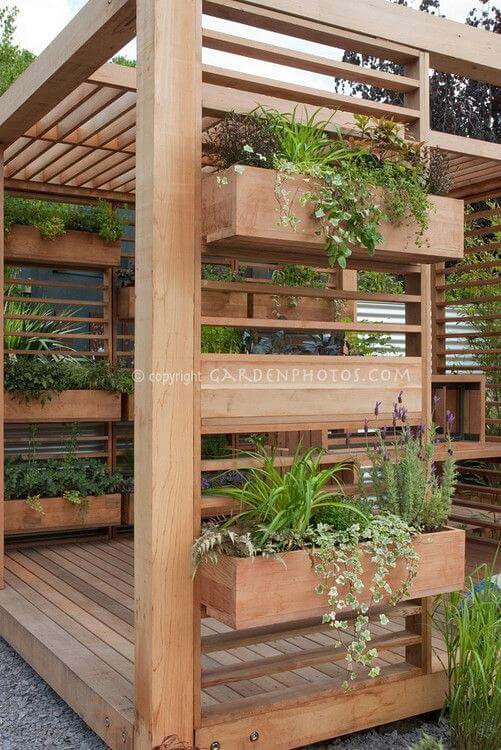 Use the vertical space of the pergola sides to build plant or herb gardens.
The built-in planters will also serve as privacy screens.
9. Create Built-In Tiered Planters with Cinder Blocks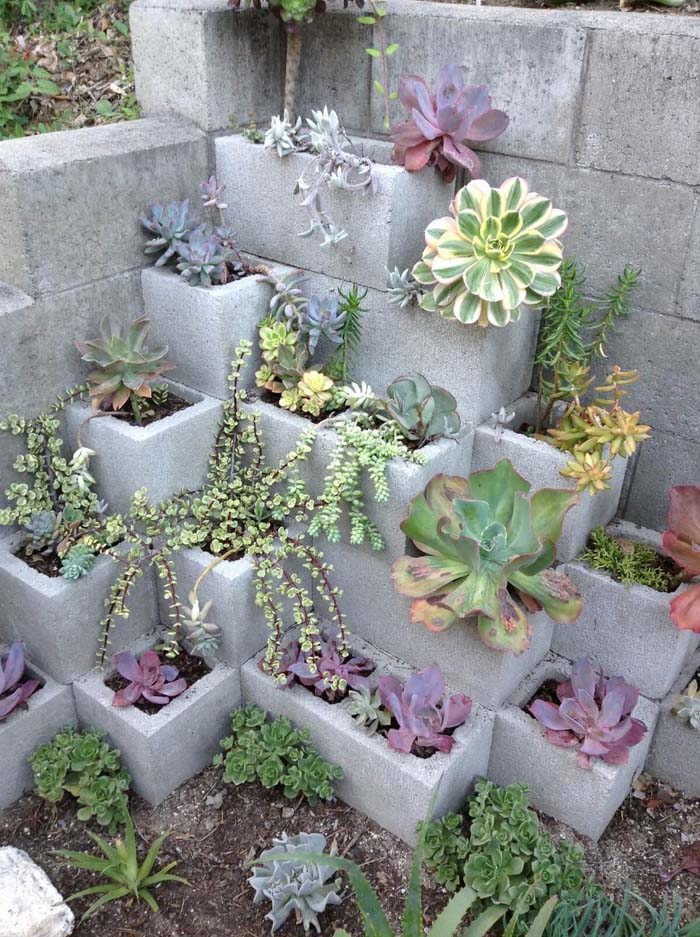 Use cinder blocks in tiered alignment to make your own built-in planters.
Use the existing holes to plant small greeneries or succulents.
10. Modern Planters for Your Patio with Stacked Cinder Blocks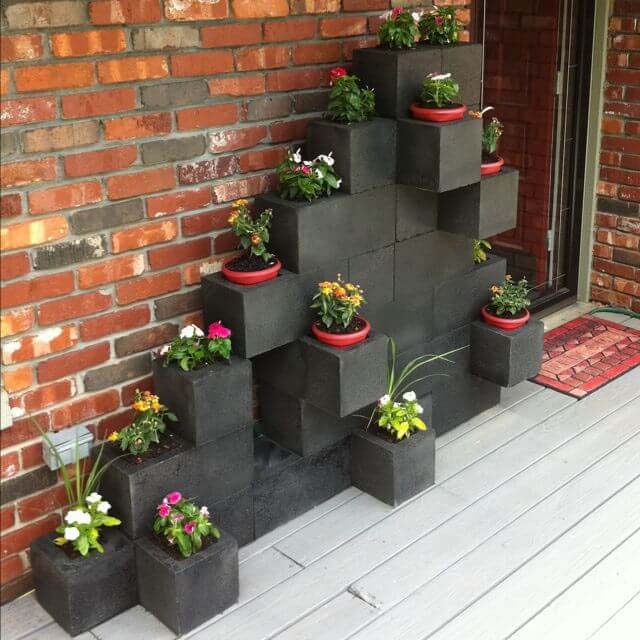 Cinder blocks are easy to be painted and stacked.
Use that to align in an interesting structure that will be the most interesting decorative element of your patio.
11. Add Modern Style with Concrete Planters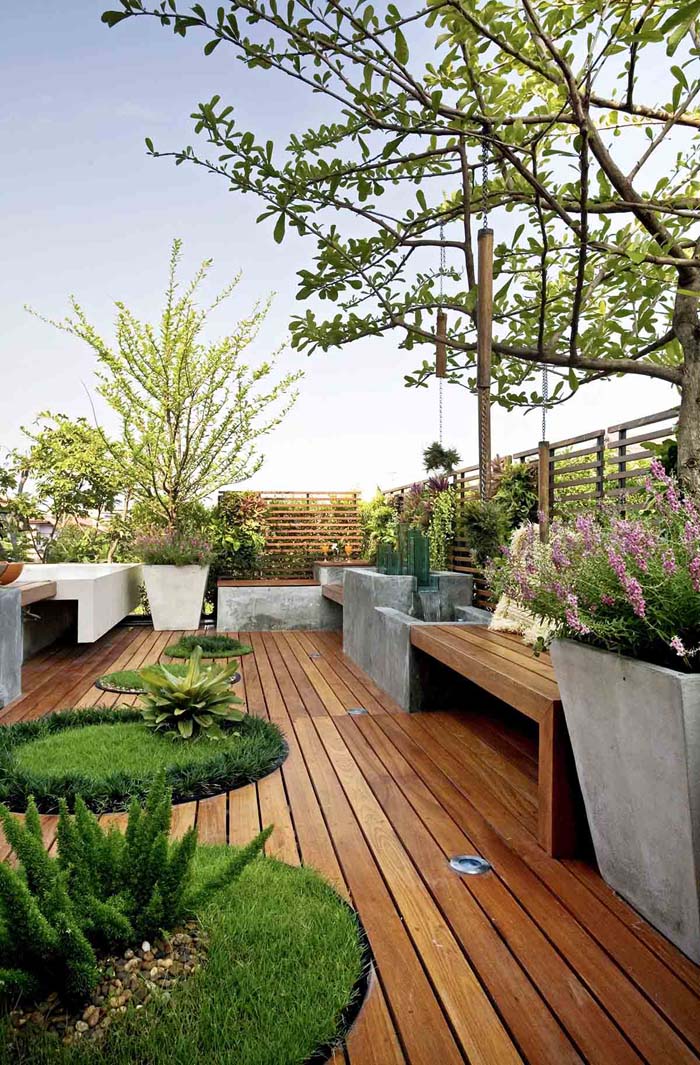 Concrete planters make the terrace or yard look more modern.
Concrete provides wide options for shapes and is one of the best materials for outdoor exposure.
12. Utilize Corners with Wooden Planter Box and Flower Trellis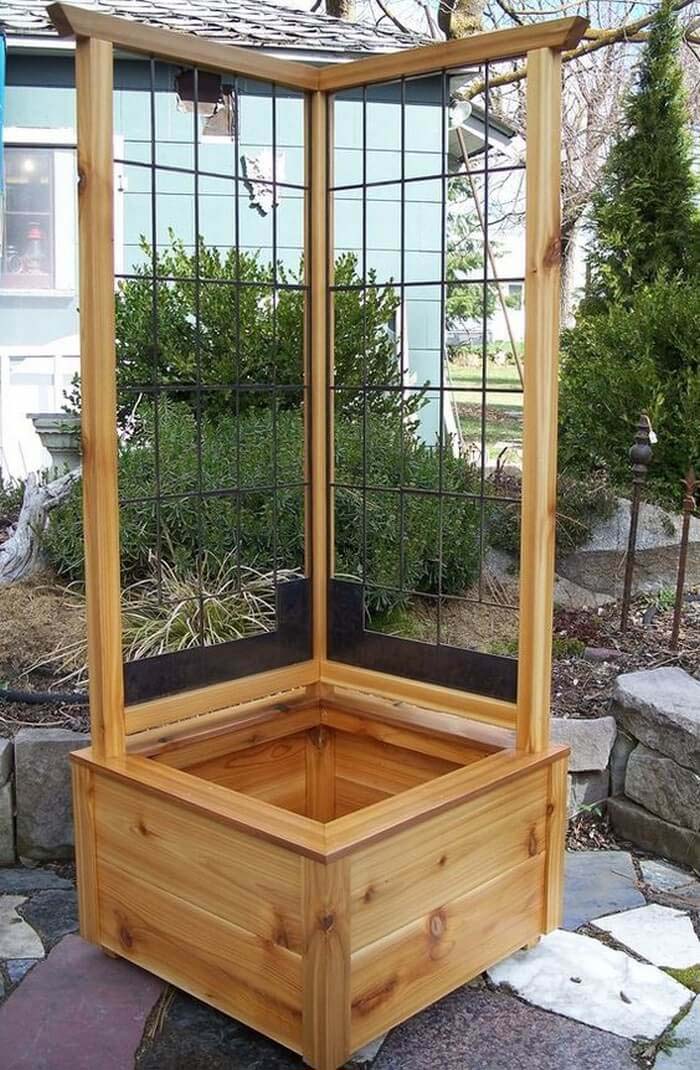 Utilize corner spaces with a wooden planter box. The vertical frames are equipped with metal trellis to let the flowers climb.
13. Enhance Home Entryway with Aromatic Built-In Planters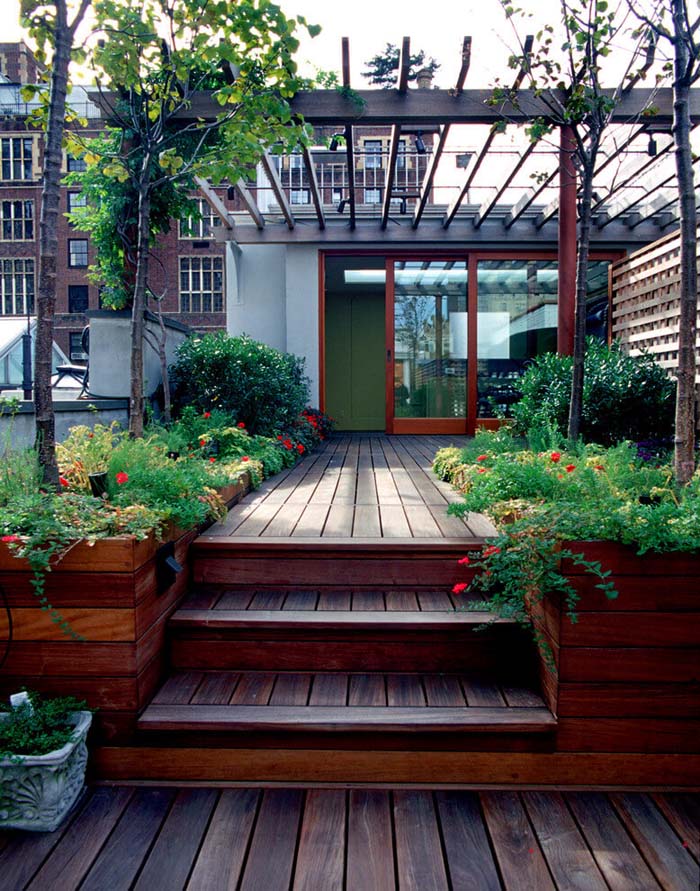 Decorate the walkway to your home with built-in planters on both sides of the deck.
Along with the thick green edging, they will welcome with aroma.
14. Update Stairs with Raised Beds with Succulent Planters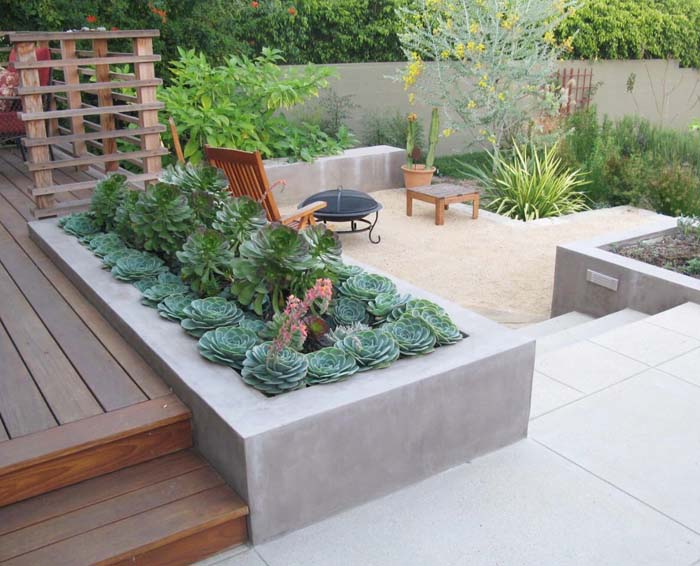 Change the traditional stair railing with concrete raised beds on both sides of the stair.
The flower combination for these planters can be various but succulents always look very stylish.
15. Repurpose Metal Tubs into Built-In Garden Planters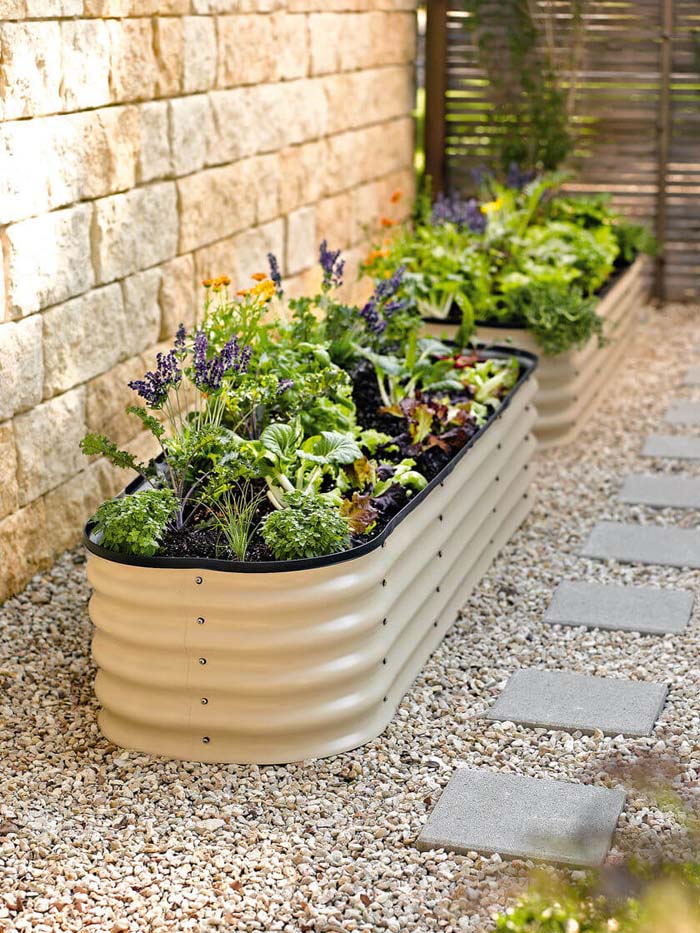 Repurpose metal tubs to turn them into planters to edge your garden or walkway with.
These planters can accommodate herbs, flowers or succulents.
via Gardeners
16. Achieve a Patina Finish for Your Planters with Paint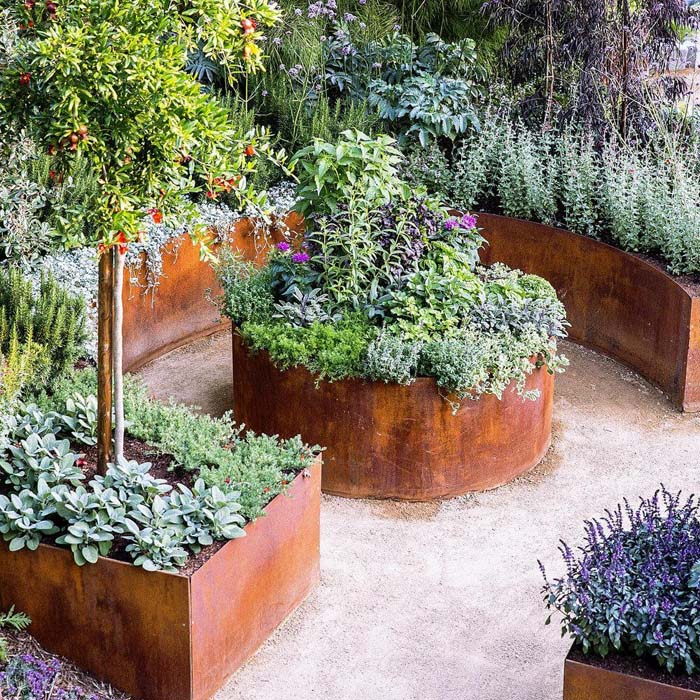 Use the rusty defect as a marvelous texture effect. Mild steel sheets can develop corrosion naturally when exposed to water and humidity.
If you don't want to wait, there are special paints that achieve the patina effect.
17. Make a Raised Bed Garden with Stacked Natural Stone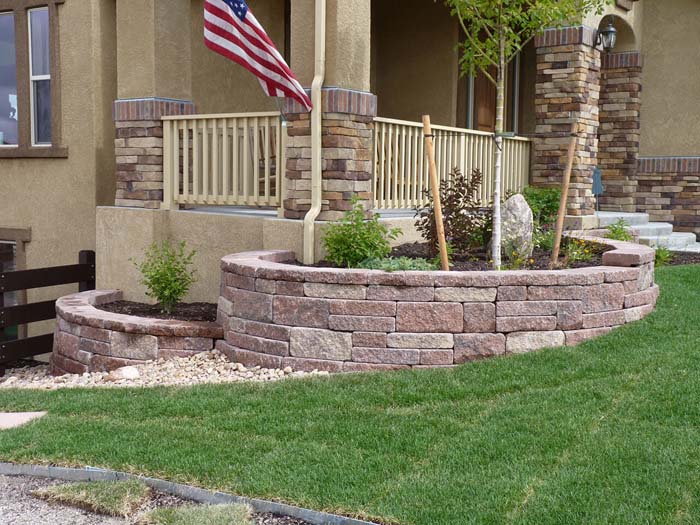 If you are looking for a DIY idea for a raised bed garden, use this one as an inspiration.
Natural stone fabricated in rectangular shapes provides a smooth stacked finish of the planter.
18. Transform Your Plain Fences Into Lively Vertical Gardens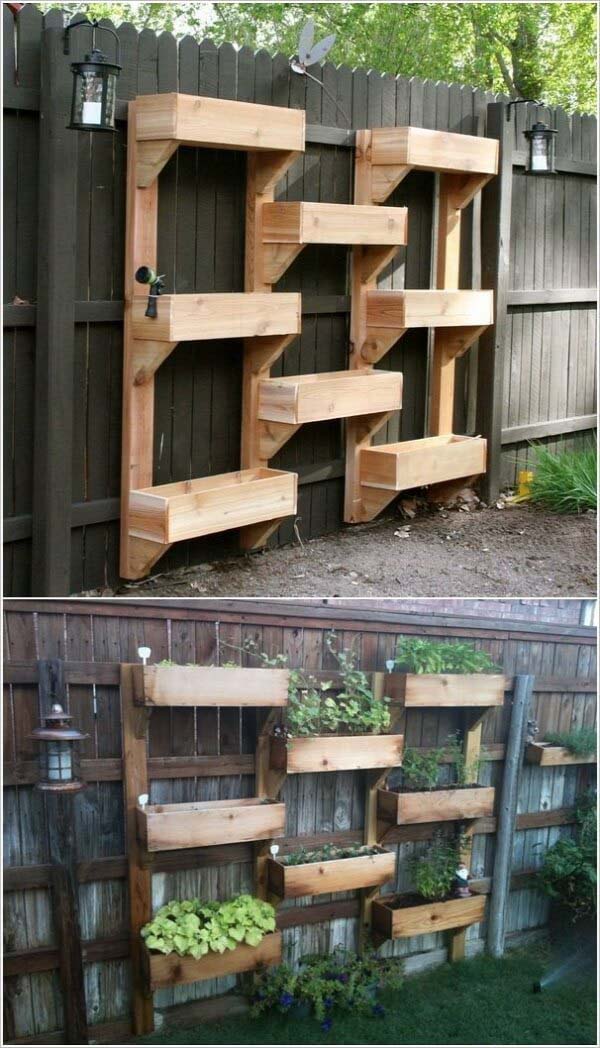 Vertical gardens transform the plain fences into terrific alive walls.
You can easily make them yourself with affordable materials like wood boards, pallets, ladders and similar.
19. Space-Saving Triangular Built-In Planters for Flower Display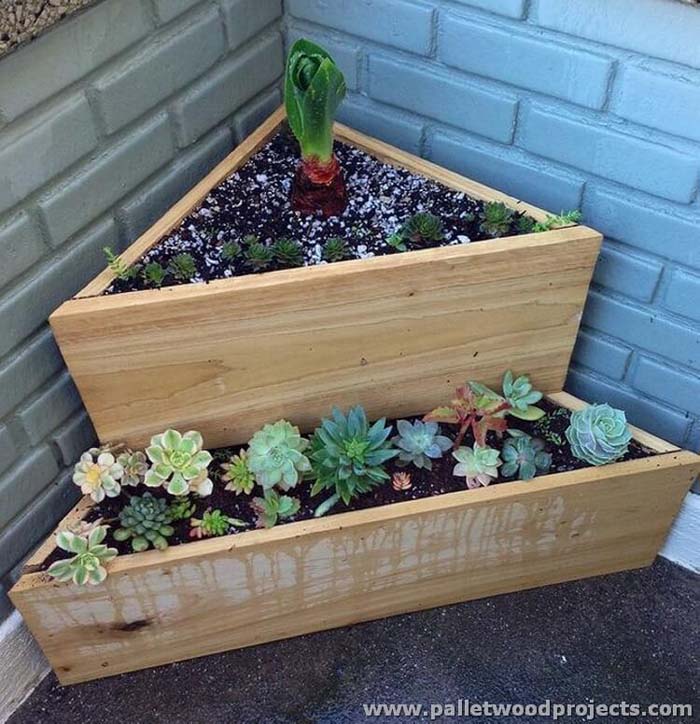 The triangular shape of these built-in planters will not remain unnoticed. It is very stylish and practical as it doesn't take up much space.
The tiered alignment lets the flowers on the bottom level peek out in a sweet way.
20. DIY Porch Bench with Built-in Planters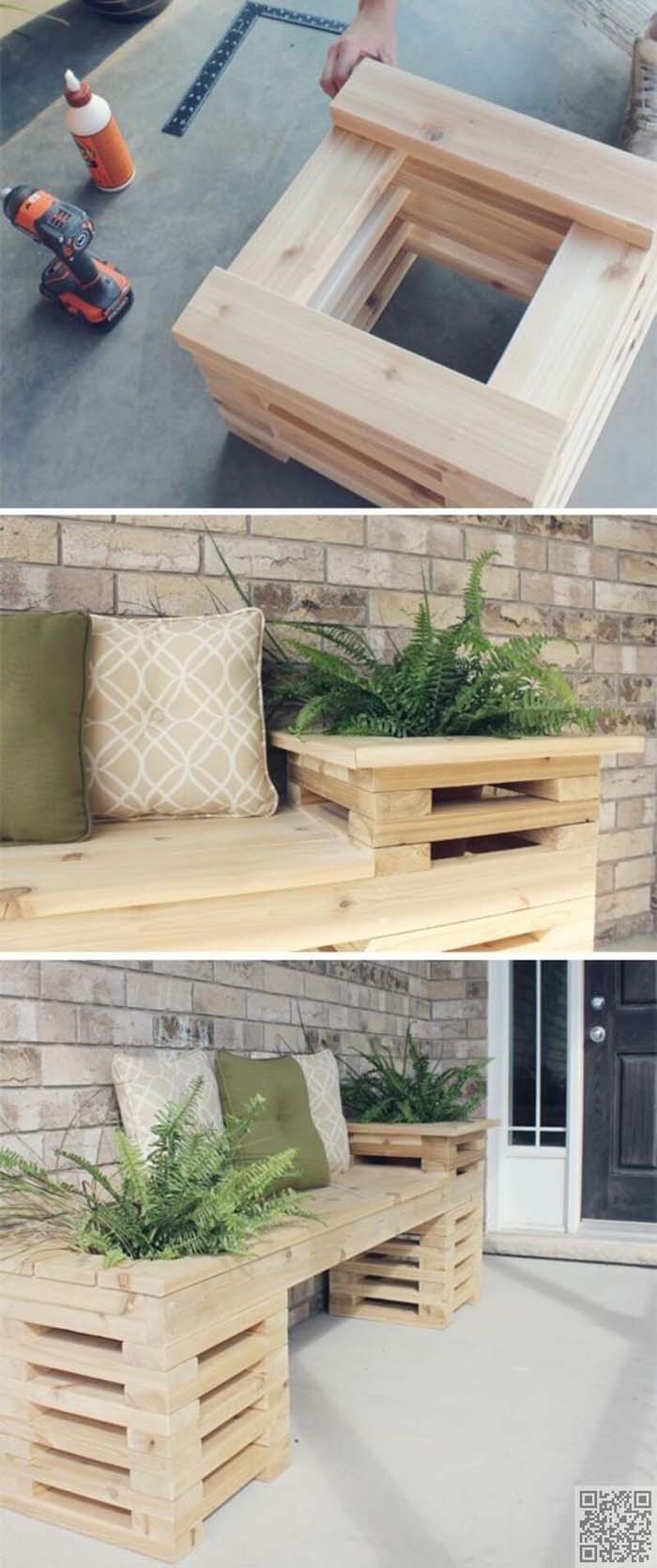 Looking for an easy and breath-taking summer porch project? This bench with built-in planters on both sides will be the first thing your guests see and never want to leave.
Take advantage of the free drawings and supply list below.
via Brittany Stager
21. Craft an Aesthetically Pleasing Wood Slat Garden

Make yourself a modern and space-saving herb or flower garden using wood slats and beams.
The shape of the structure is very interesting and makes it suitable even for urban gardening.
via Man Made DIY
22. Functional Built-in Planters to Enhance Outdoor Spaces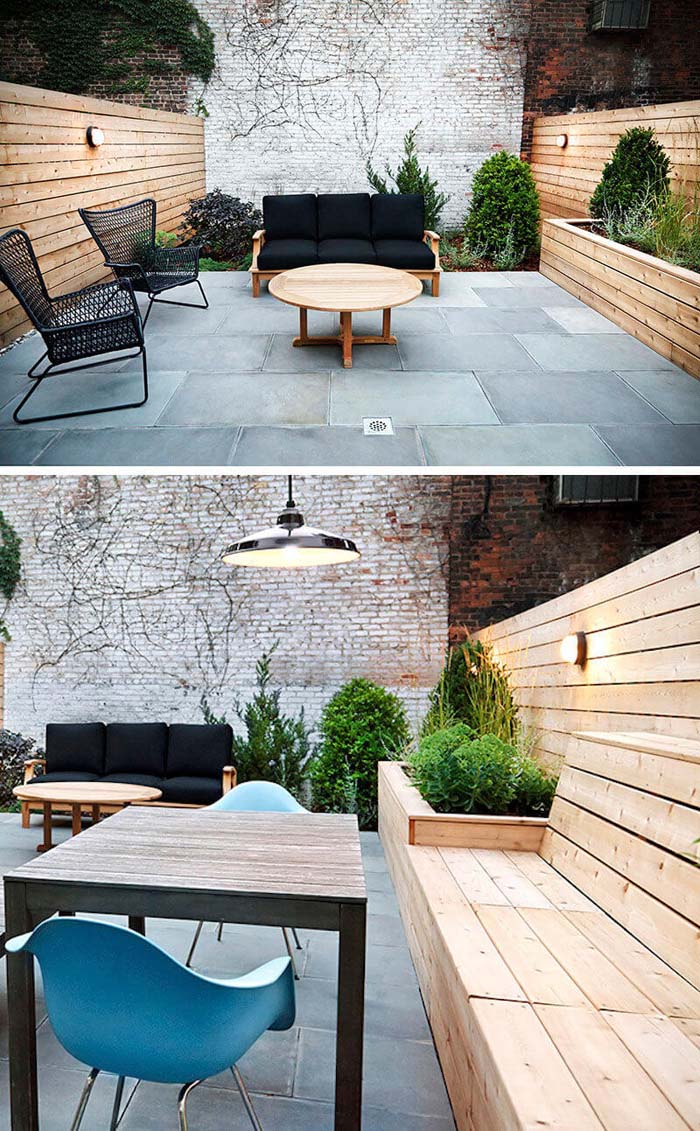 If we speak about contemporary built-in planters, this one would be on the list.
The geometrical shape and the way it is adjoined to the sitting area and the screen makes it an irreplaceable part of the outdoor design.
23. Enjoy Your Garden's Beauty from a Stylish Bench Planter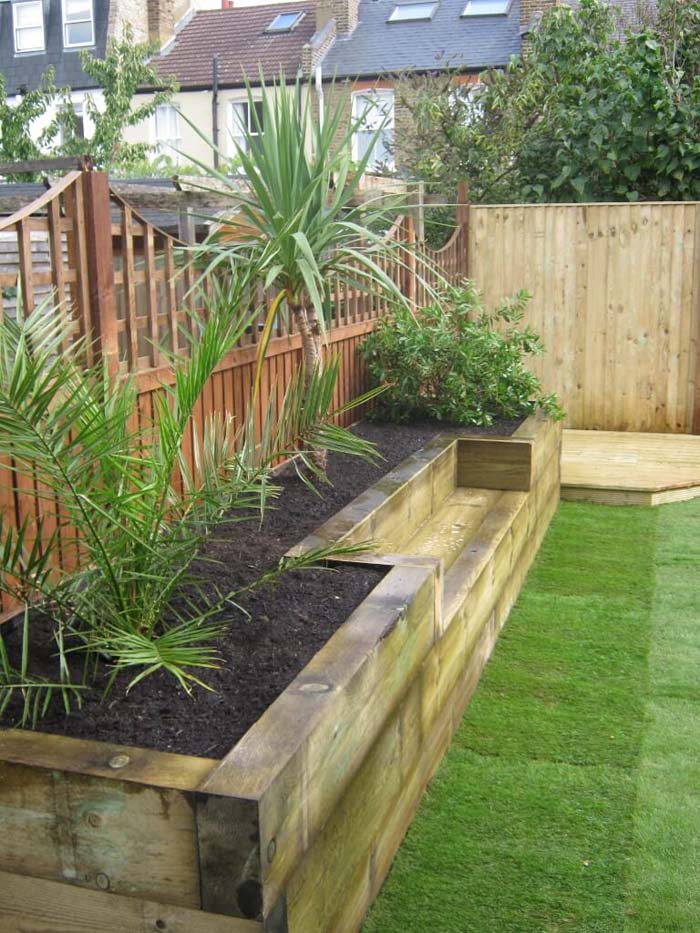 Enjoy your plants while sitting on a bench incorporated into the built-in planter structure.
The planter is large enough to accommodate a wide flower and plant collection without capturing too much of your backyard.
via Garden Gurus
24. Build a DIY Stone Planter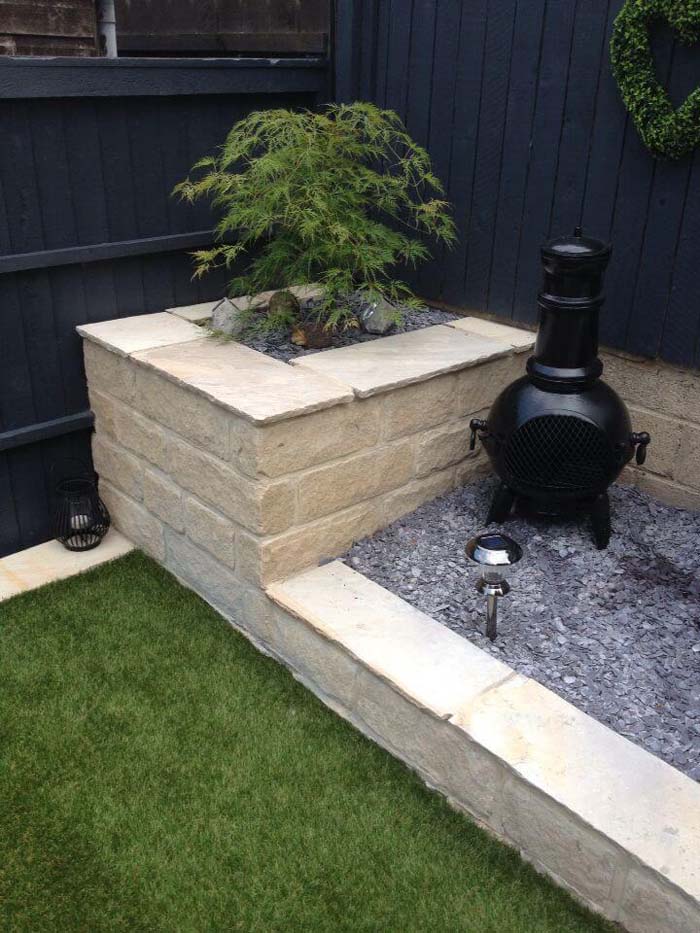 This is one of the easy to make examples of a built-in planter.
The stacking of stones allows you to make almost any shapes you want.
25. Bring Your Outdoor Space to Life with Fence Art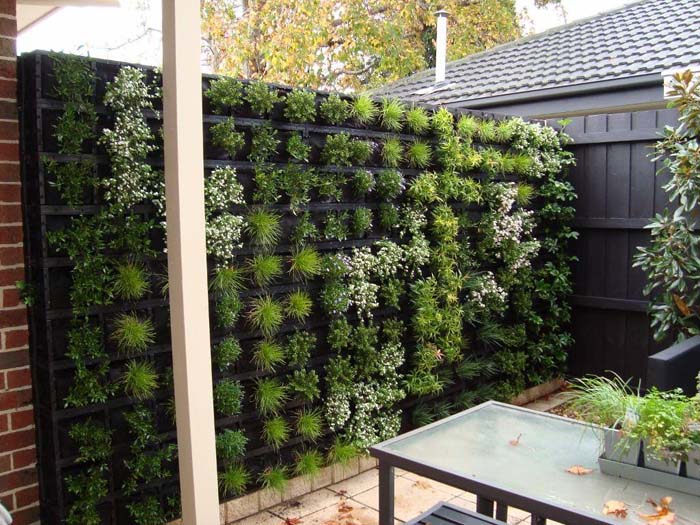 Whether your backyard is small or large, fence art is suitable for any type of outdoors as long as there is a fence or a wall to attach the planters.
26. Contemporary Rooftop Terrace with Built-in Planters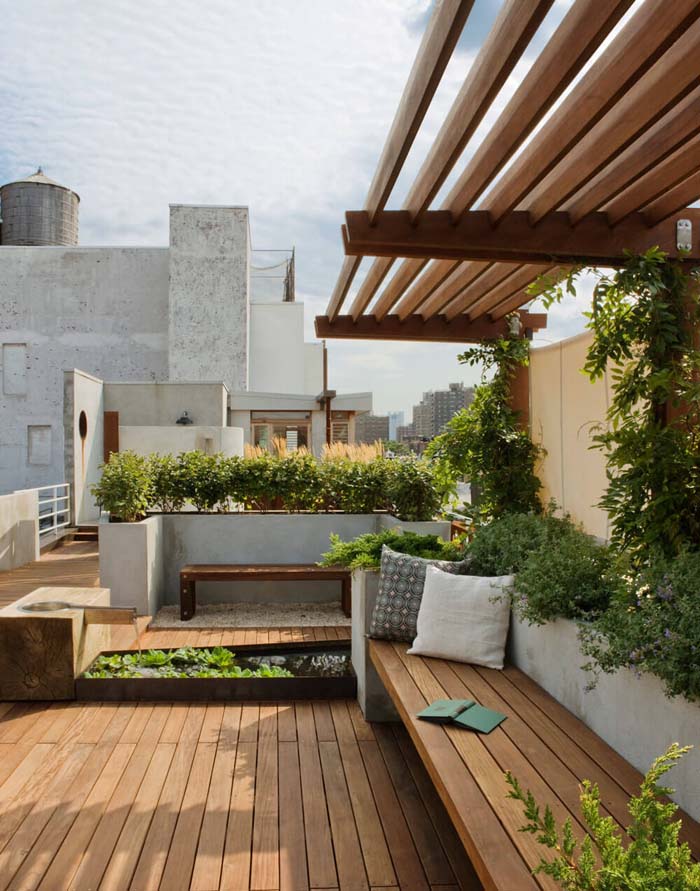 The combination between wood decking and benches and the concrete built-in planters give this rooftop terrace a very contemporary appeal.
The built-in planters serve also as a back of the benches and provide the perfect solution for people living in the city where there is a lack of greenery.
via BDP Photography
27. Enhance Your Outdoor Space with Planter Boxes and Trellises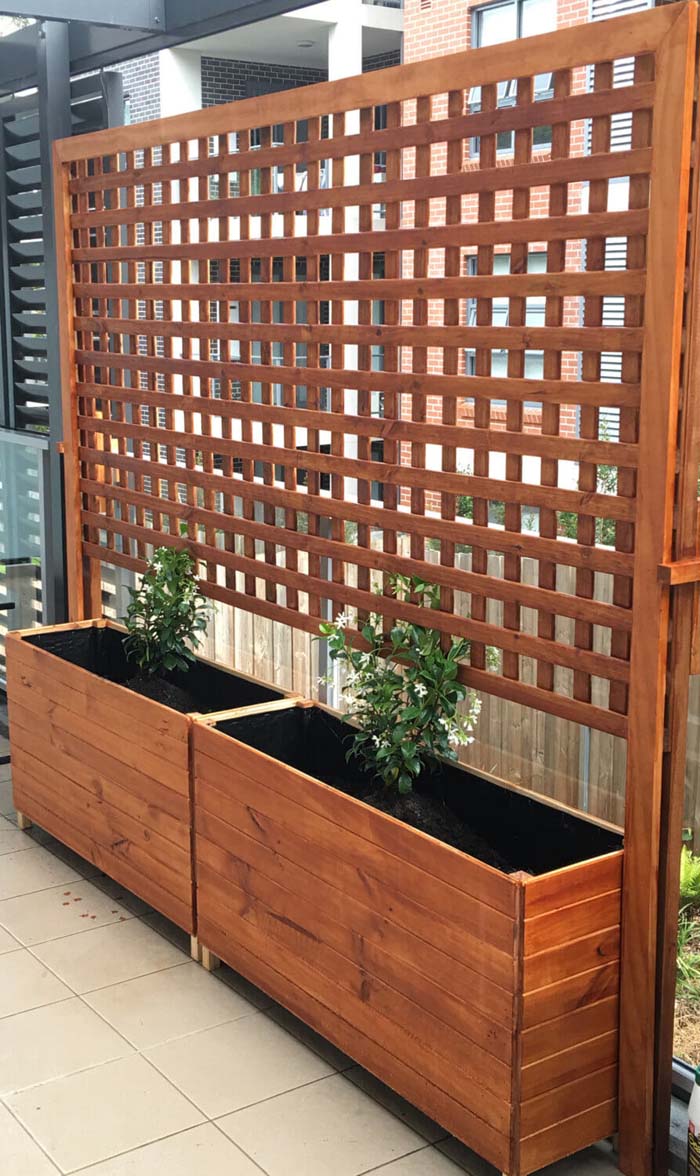 These planter boxes with trellis are a simple and beautiful way to let the climbing vines grow and make an alive screen.
They are suitable for any type of outdoor space- a terrace, rooftop, patio or backyard.

28. Construct a Stone Raised Bed with a Seating Bench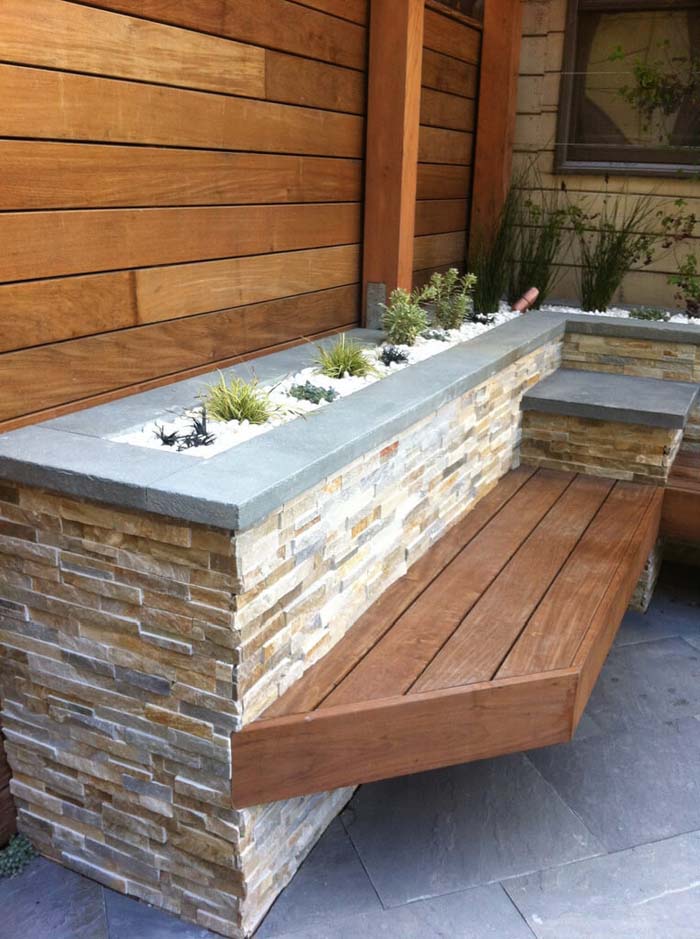 If you prefer stone for outdoor structures, make yourself a raised bed with a bench.
The height of the built-in planter is big enough to let you sit comfortably and enjoy your gardening achievements.
via SF Victorian
29. Sleek Marble Planters for a Modern Landscape Design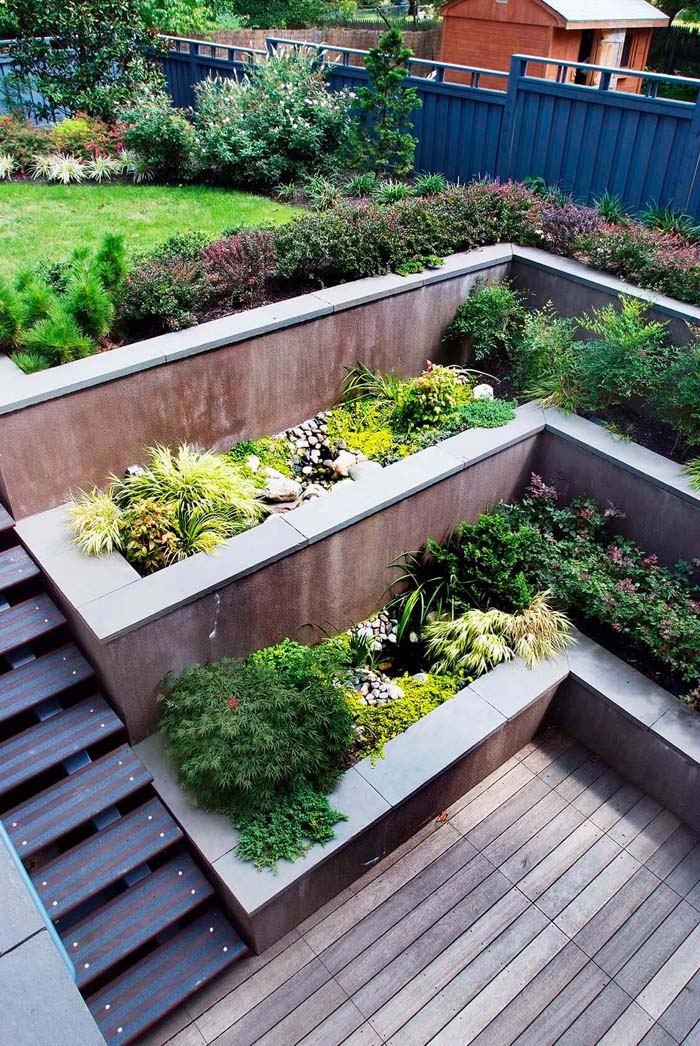 A landscaping design example for built-in planters outlined with stylish marble stone.
The sharp edges and triangular geometry give a contemporary appeal to the backyard.
30. Transform Your Hilly Backyard with a Tiered Garden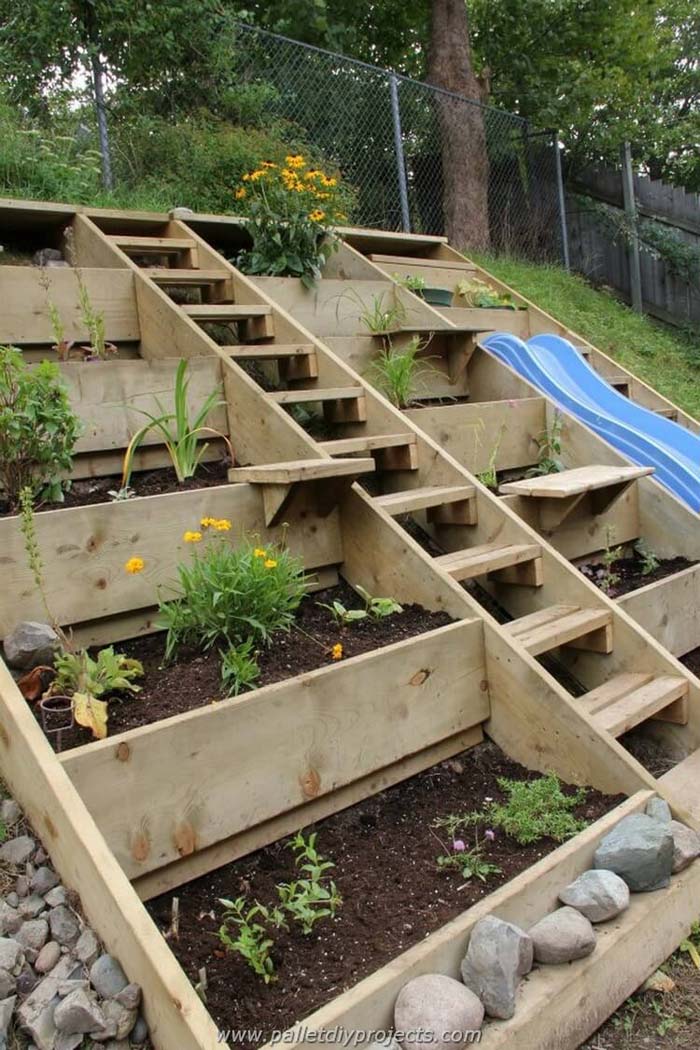 If your backyard is on a slope, take advantage of it and transform it into a beautiful tiered garden.
To facilitate the walking onto the slope, put a staircase in the middle
31. Install Contemporary Built-In Planters to Porch Railing Design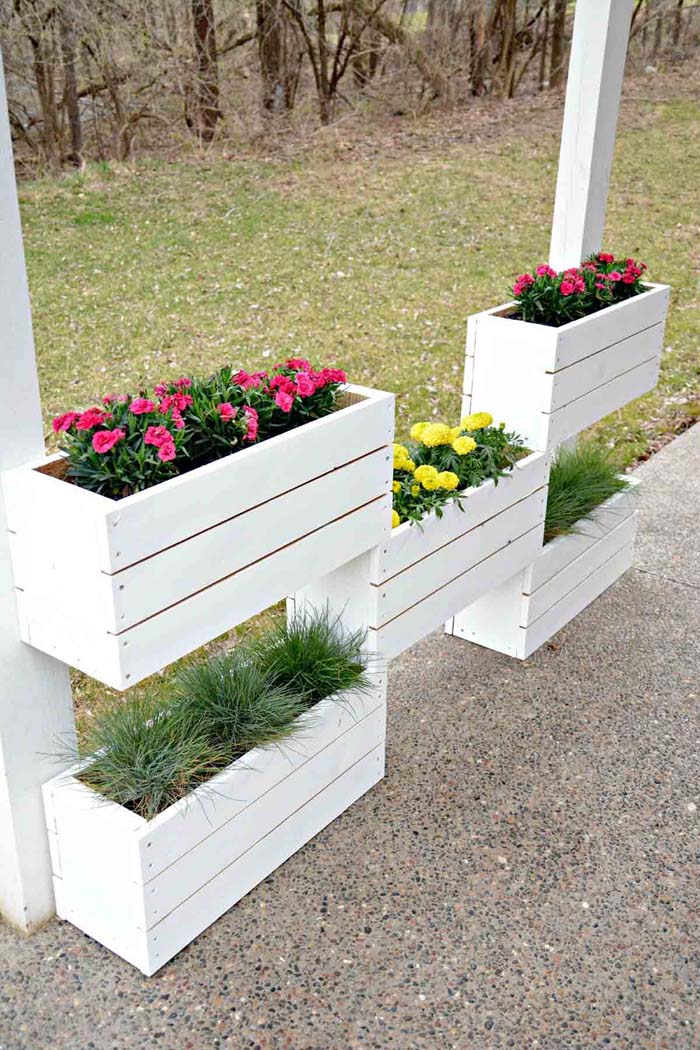 Built-in planters can be a contemporary substitute for the porch railing.
You can make them of any wood material like pallet slats and stacked them symmetrically between the porch posts.
32. Maximize Your Urban Terrace with a Narrow Built-In Planter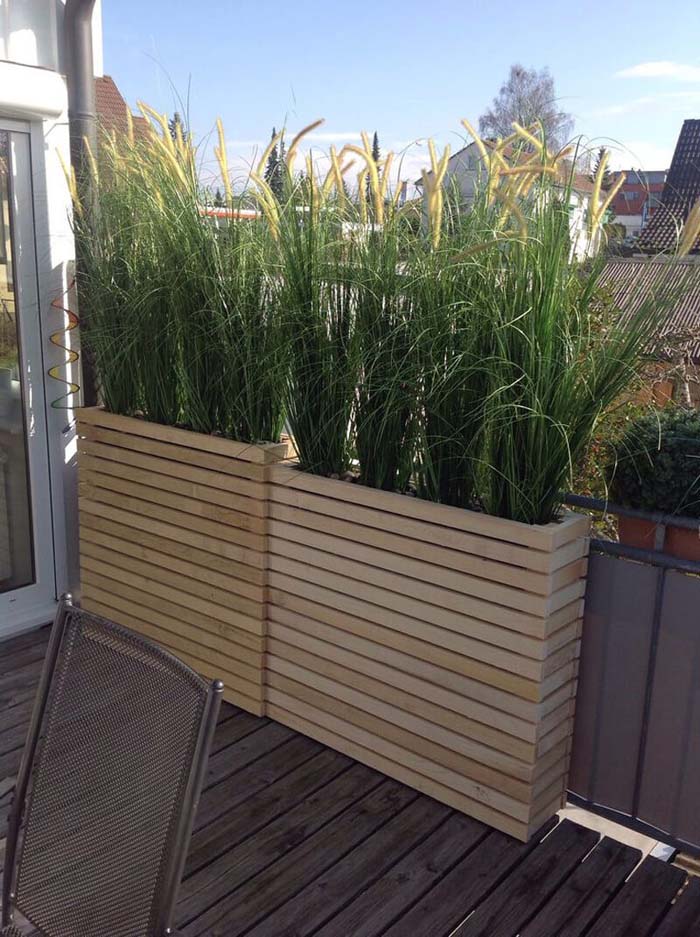 When there is a lack of space, there is also a way to have your built-in planter.
Make it high but narrow and plant suitable greenery that doesn't grow big roots. These are perfect for urban terrace decoration.
33. Built-In Beam Planter for Small Outdoor Spaces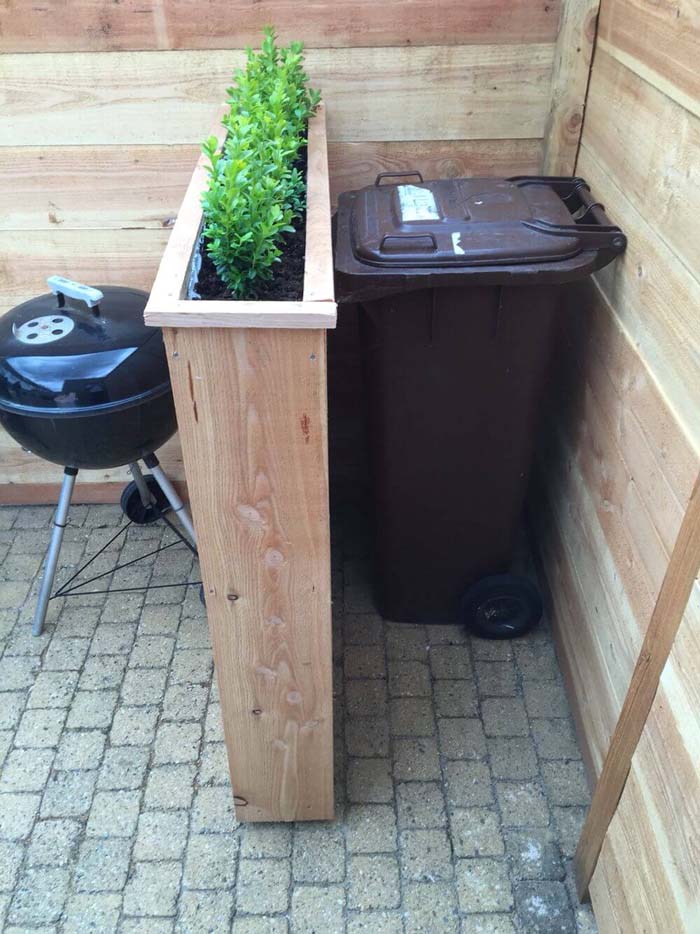 This is another alternative to a narrow planter. It is made of solid wood beams covered with liner inside to stop the water penetration through the wood.
Since it is quite high, it can also serve as a screen that hides the dustbin, the gardening tools etc.