Flowering trees are an easy way to take your garden to the next level — they bring both height and high-impact blooms, turning an average space into a magical escape.
As you're choosing the perfect tree, consider the bloom length. The longest blooming trees and shrubs can bring color and life to your yard for months at a time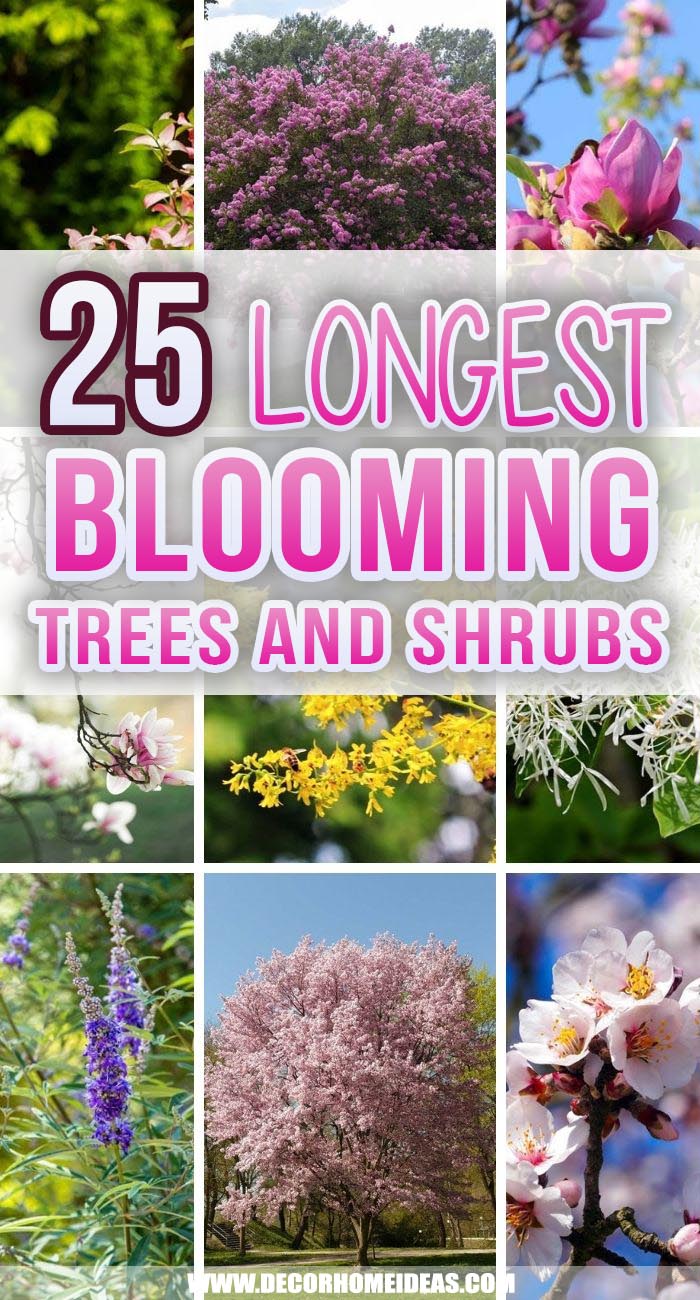 1. American Fringe Tree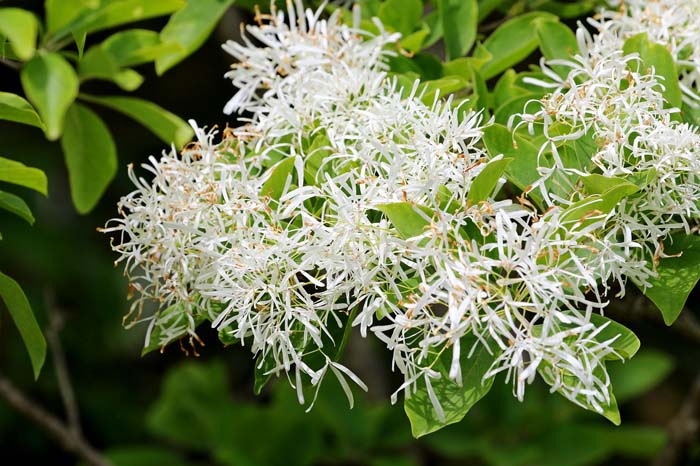 The American fringe tree bursts into action each spring with a riot of white flowers.
Each one is tiny; since the flowers grow in clusters, they give the tree a frothy, feathery look.
This tree can grow well over 20 feet tall, so it's a wonderful option if you're planning to stay in your home long-term.
2. Chaste Tree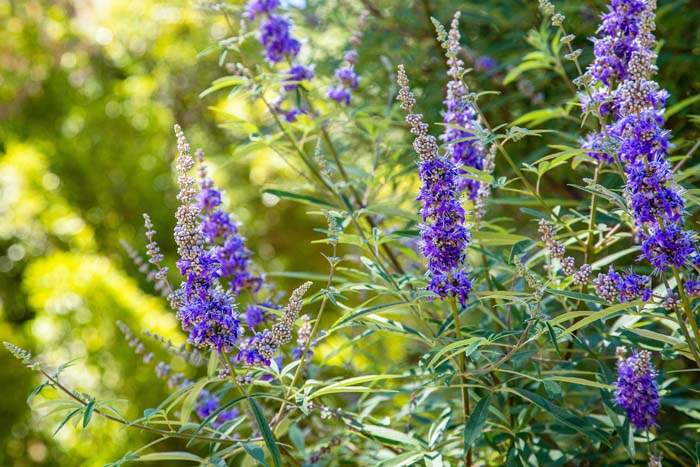 Enjoy vibrant purple blossoms all summer long when you add a chaste tree to your garden or yard.
With its long, cone-shaped clusters of flowers, this tree has an unexpected spiky appearance.
Plus, since the leaves are aromatic, it smells as good as it looks.
3. Crape Myrtle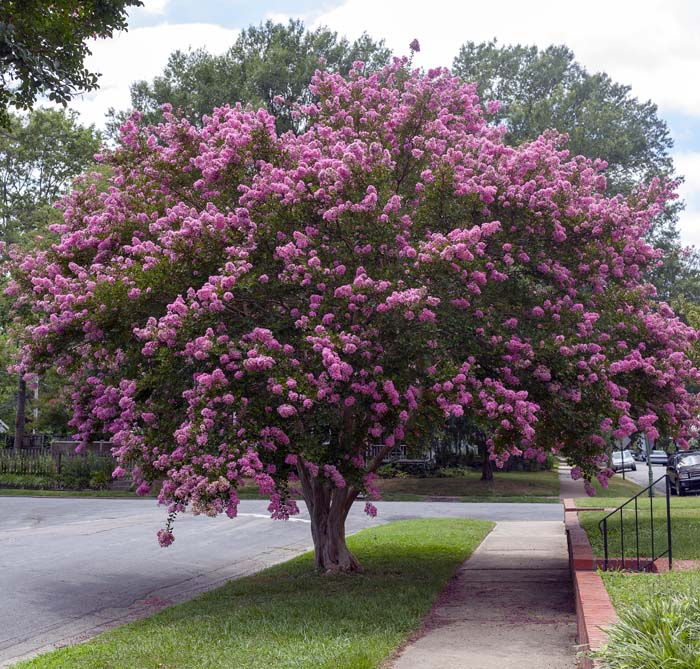 Are you looking for a flowering tree with bright, lively colors?
The Crape Myrtle could be the perfect solution. This tall, lush tree features a narrow stem and thick, glorious clusters of flowers in shades of pink and purple.
The blooming season starts in the middle of the summer and lasts all the way to the fall, giving you plenty of time to admire the beauty.
4. Eastern Redbud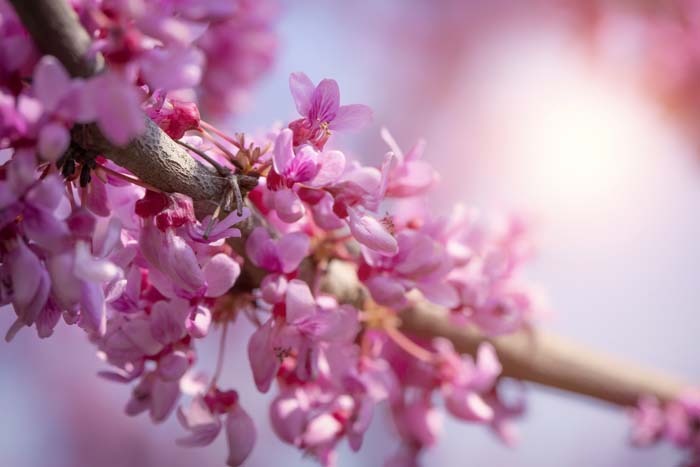 When the eastern redbud blooms, it's an instant focal point of your garden — the flowers cover the delicate branches, creating the impression that the tree is made entirely of petals. The best part?
It blooms twice, so you can enjoy the flowers for longer.
5. Flowering Almond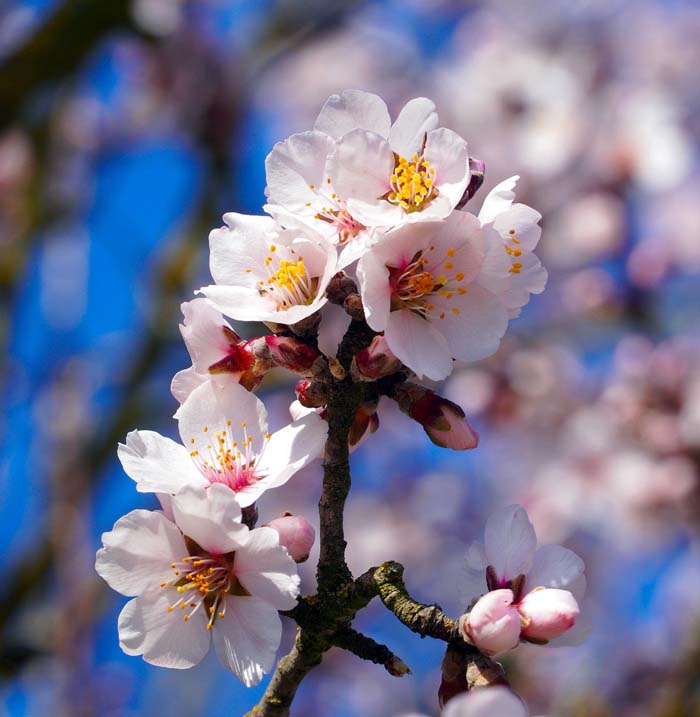 When you need a relatively small blooming tree, check out the flowering almond.
It doesn't produce nuts, but you won't miss them — this spectacular shrub comes to life with thick pink blossoms.
Each one features many layers of delicate pink petals that give your garden an airy, romantic vibe.
6. Flowering Cherry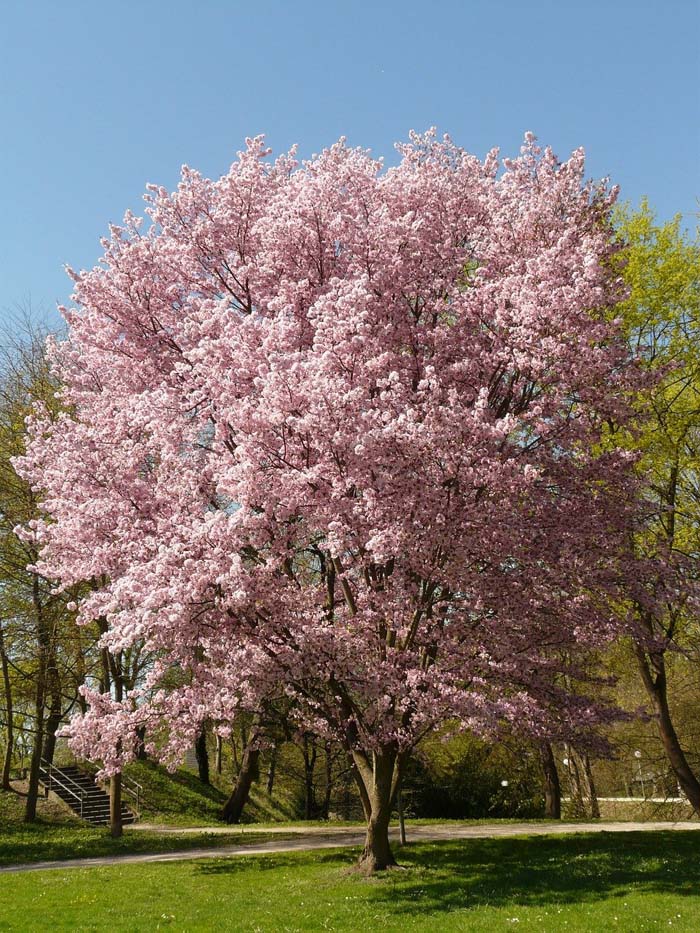 Bring a piece of the legendary cherry blossom season to your own home with the flowering cherry tree.
Make sure to leave plenty of space; its branches can spread more than 20 feet. In the early spring, each branch bursts with brilliant pink flowers.
The leaves are just as beautiful, bringing vibrant color to your yard throughout the summer and fall.
7. Flowering Crabapple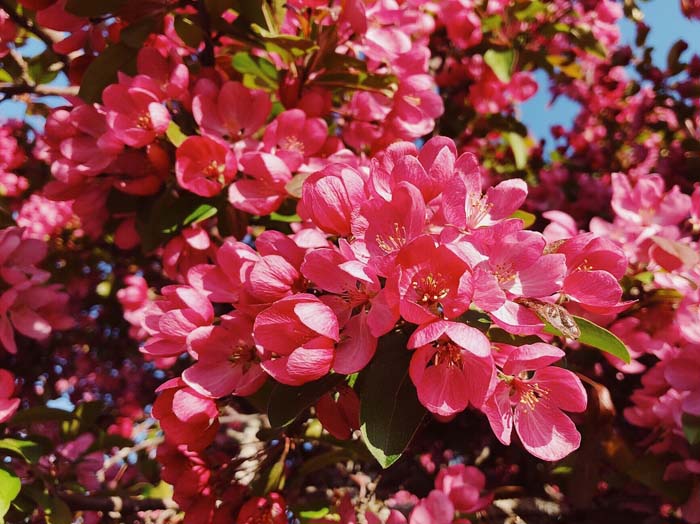 Bring color and shade to your garden with a lovely flowering crabapple tree.
This is a great option if you have a limited amount of space; smaller varieties top out at 10 feet tall.
Expect a flowering period of about five weeks, and keep an eye out for the delicious fruits that follow.
8. Flowering Dogwood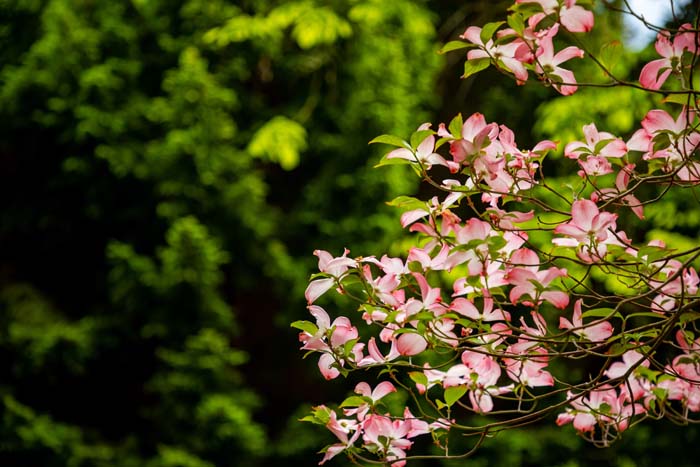 When you need to create lots of shade in a big yard, look no further than the beautiful flowering dogwood tree.
These trees are known for their branches, which provide a great deal of spread.
The four-petal flowers grow in generous quantities, turning the branches into a masterpiece of color and movement.
9. Forsythia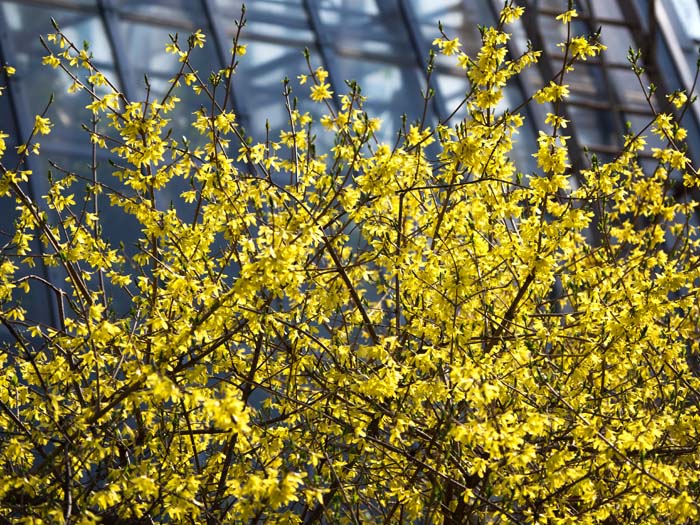 Do you look forward to the onset of spring each year? Plant the forsythia to celebrate the change of seasons.
This early bloomer starts producing flowers quickly and keeps them for months, so it's a great way to add color to your yard before the rest of your flowers start to bloom.
10. Glossy Abelia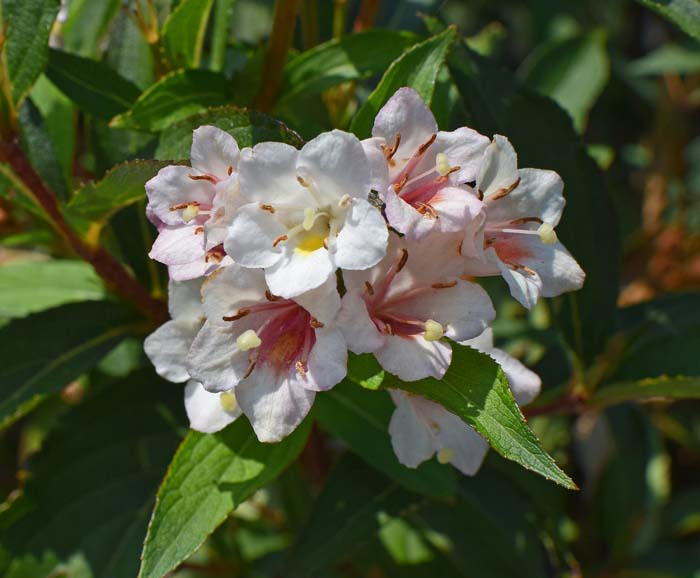 When a long bloom is your priority, it's hard to beat the lovely glossy abelia.
In the right climate, this shrub can produce flowers from June all the way to October. Between blooms, the dark leaves and red branches keep the color going strong.
Once it's established in your yard, you can water the plant as little as once per week.
11. Goldenrain Tree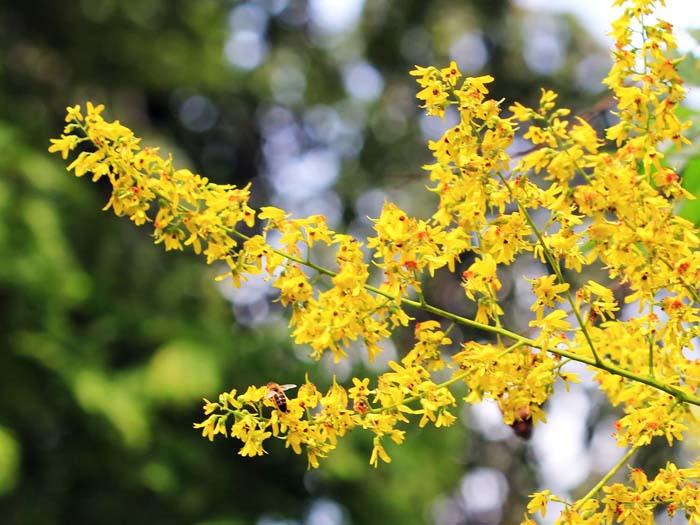 The goldenrain tree lives up to its name — each slim branch flowers with a thick covering of cheerful yellow blossoms.
With its late-summer bloom and changing autumn leaves, this tree brings beauty to your garden throughout the end of the growing season.
It also offers exceptional shade; plant it near your patio and enjoy breezy summer afternoons outdoors.
12. Hawthorn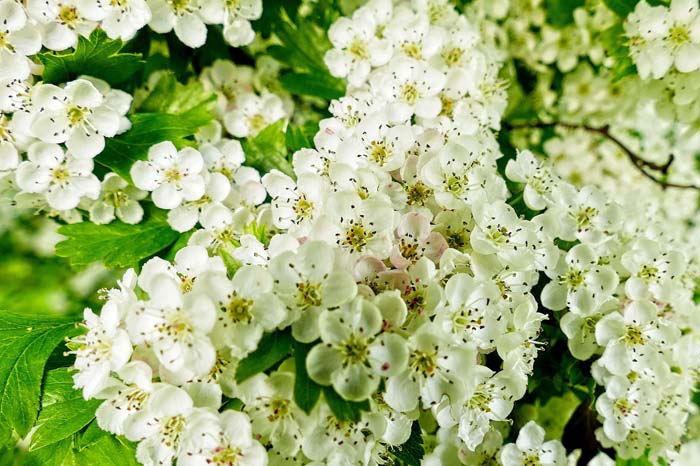 The hawthorn tree is a stunning addition to your garden.
The fun starts in mid-spring, when the tree starts to produce clusters of large flowers that last for weeks.
After they fall, brightly colored berries appear, adding a burst of brilliant red that lingers throughout the fall and into the winter.
13. Higan Cherry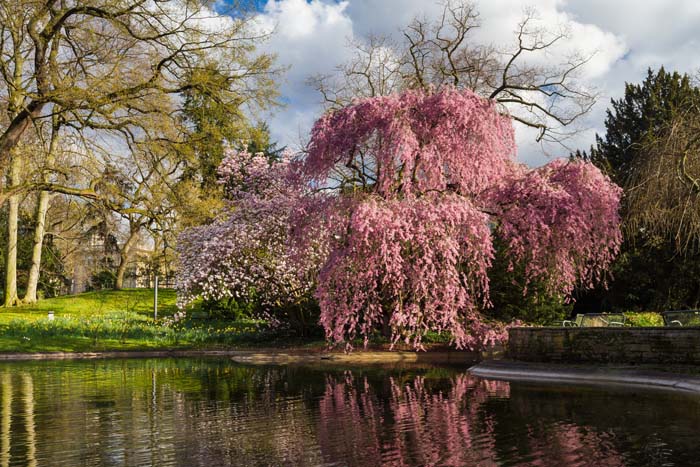 If you like the look of a weeping willow, you'll love the Higan cherry tree.
Each spring, it grows long clusters of flowers that cascade down from the branches, creating a curtain-like effect.
Most varieties bloom again in the fall, adding an exciting pop of color to celebrate the end of the season.
14. Hyperion Dogwood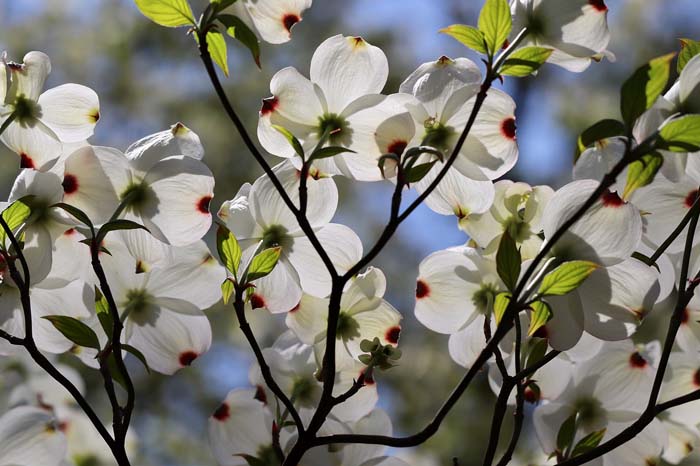 The Hyperion dogwood is a fantastic choice if you're looking for multi-month color.
It starts with the flowers, which are enormous and white; they bloom in the spring and last into the summer. Brilliant red berries appear soon after, followed by vibrant purple and orange leaves in the fall.
15. Japanese Horse Chestnut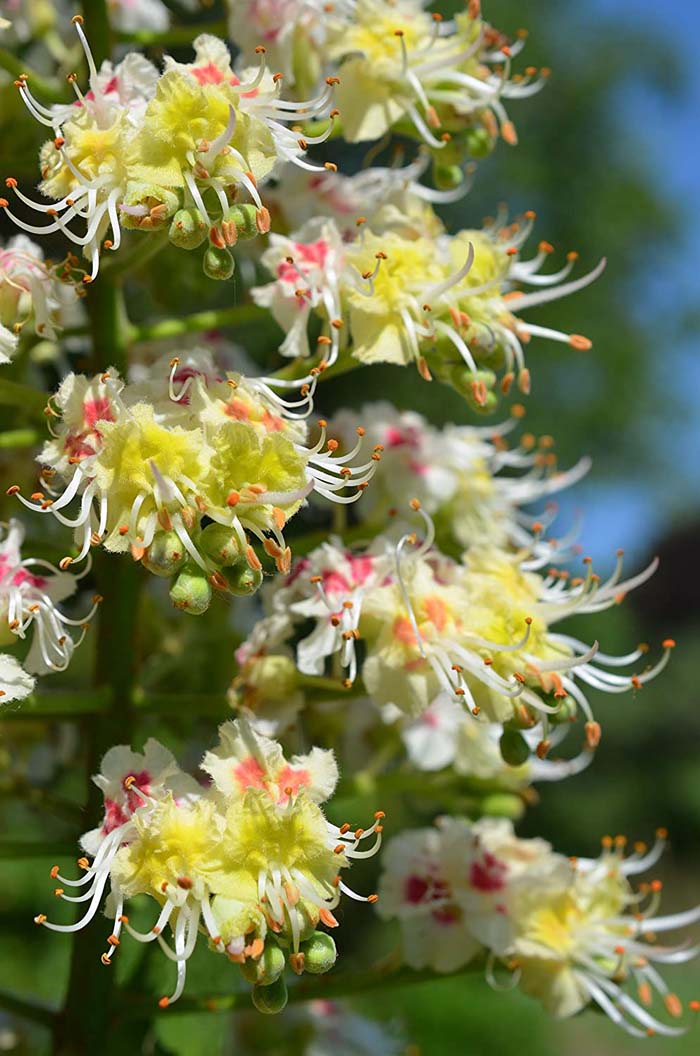 Give your garden a wild, exotic feeling with the Japanese horse chestnut.
The beauty of this tree is all about the unique white flowers, which feature feathery spikes and bright red accents. After the flowers fade, the tree offers lush foliage and exceptional shade.
Allow plenty of room for this tree to grow; it can reach up to 30 feet tall.
16. Japanese Tree Lilac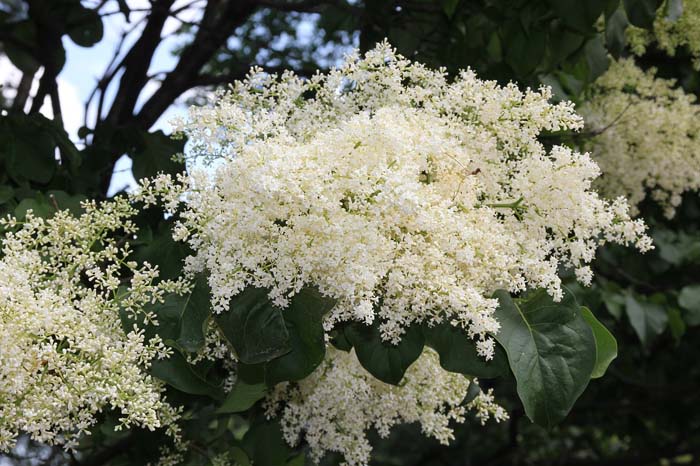 If you love traditional lilac shrubs but you need more height, the Japanese tree lilac is a wonderful option.
It grows up to 40 feet tall and produces thick clusters of white flowers.
Since it blooms later than the shrub version, this tree is a lovely way to extend the lilac season.
17. Oklahoma Redbud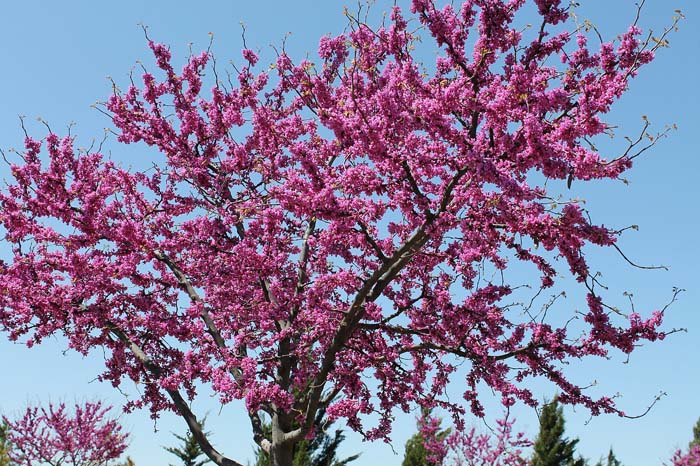 Transform your garden with an Oklahoma redbud tree — with its saturated pink flowers, this tree is a showstopper.
The flowers bloom in early spring, well before the leaves; they're followed by purple seed pods for another burst of color.
This tree tends to grow in an irregular pattern, so prepare to do some pruning.
18. Rhododendron/Azalea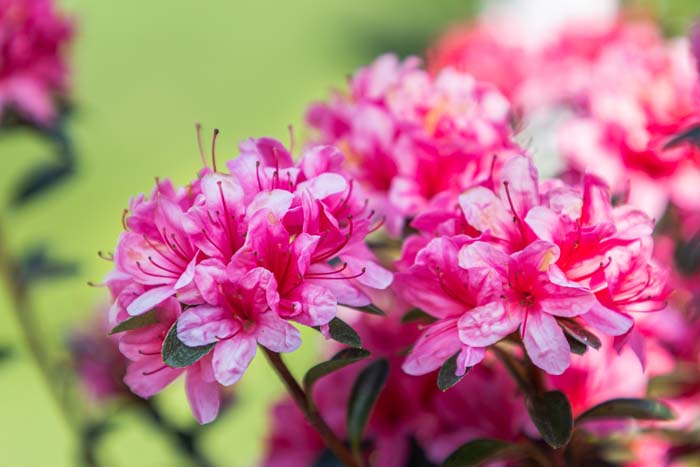 When it comes to sheer beauty, the rhododendron/azalea tree tops them all.
This magnificent tree produces enormous clusters of thick, brightly colored petals; you can choose from many different color options to suit your garden.
The blooms last for approximately a month, as long as the weather cooperates.
19. Saucer Magnolia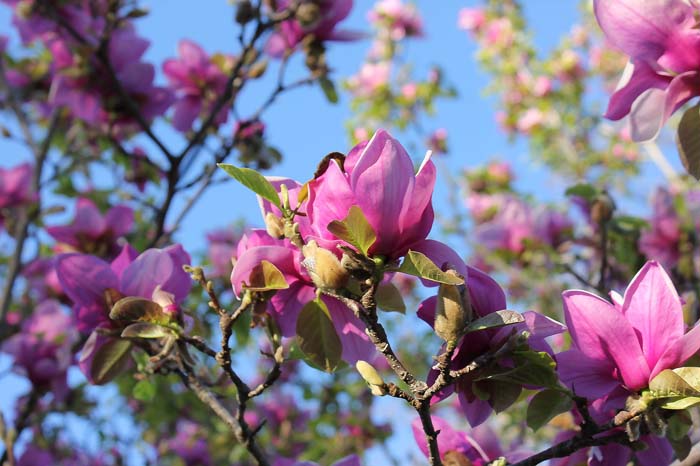 As soon as you see the saucer magnolia tree, you'll understand the origin of the name — each flower grows with upright petals in the shape of a teacup before opening into spectacular, saucer-shaped bloom.
With its vibrant colors and long blooming season, this tree enlivens any outdoor space.
20. Serviceberry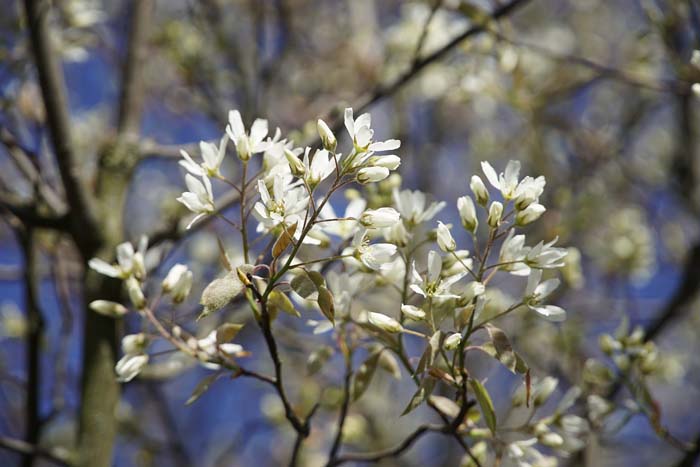 Don't let the serviceberry tree's practical name fool you — each spring, this delicate tree is covered in a glorious cloud of flowers.
The blooms are followed by a wealth of rich purple fruits (also called sugarplums) that you can eat raw or make into jelly.
In the fall, the leaves turn to shades of bright orange and yellow.
21. Seven-Son Flower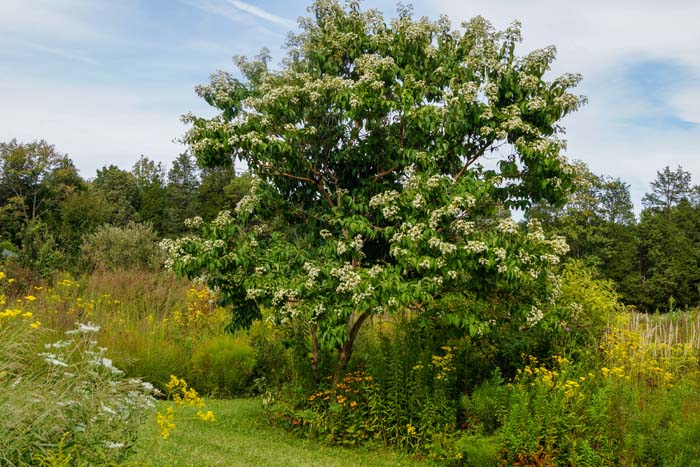 Find a beautiful balance of flowers and leaves with the gorgeous seven-son flower tree.
The glossy, bright green foliage makes the blooms seem even brighter.
The blooming season starts in the middle of the summer and continues for many weeks.
22. Shrub Rose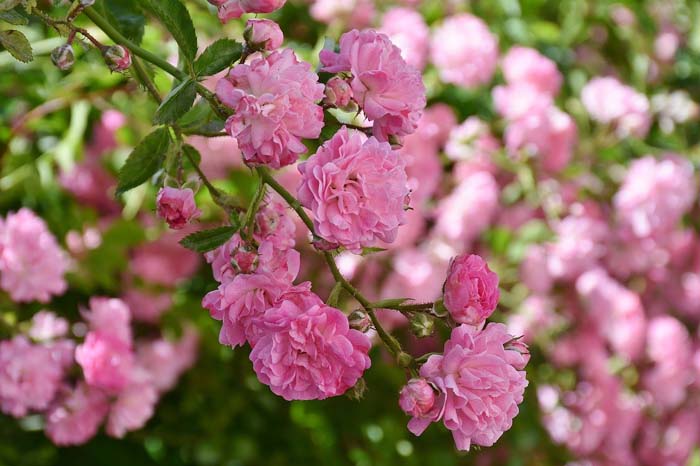 Do you want to add curb appeal to your home?
Add a shrub rose border. These remarkable shrubs start producing a high volume of stunning roses in the spring, and they don't stop until summer is over.
Since the plants are low-slung, the flowers are visible from every angle.
23. Smoke Tree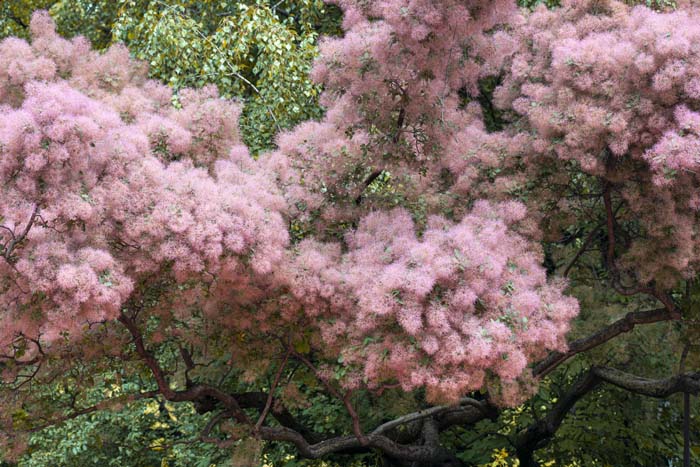 The smoke tree is an exceptionally versatile plant — you can grow it as a small shrub or a full-size tree, depending on your outdoor space.
The tiny flowers grow in thick clusters on long, slender stems, giving the impression that the tree is covered in a cloud of pink smoke.
They bloom from summer to fall, bringing long-lasting color to your garden.
24. Southern Magnolia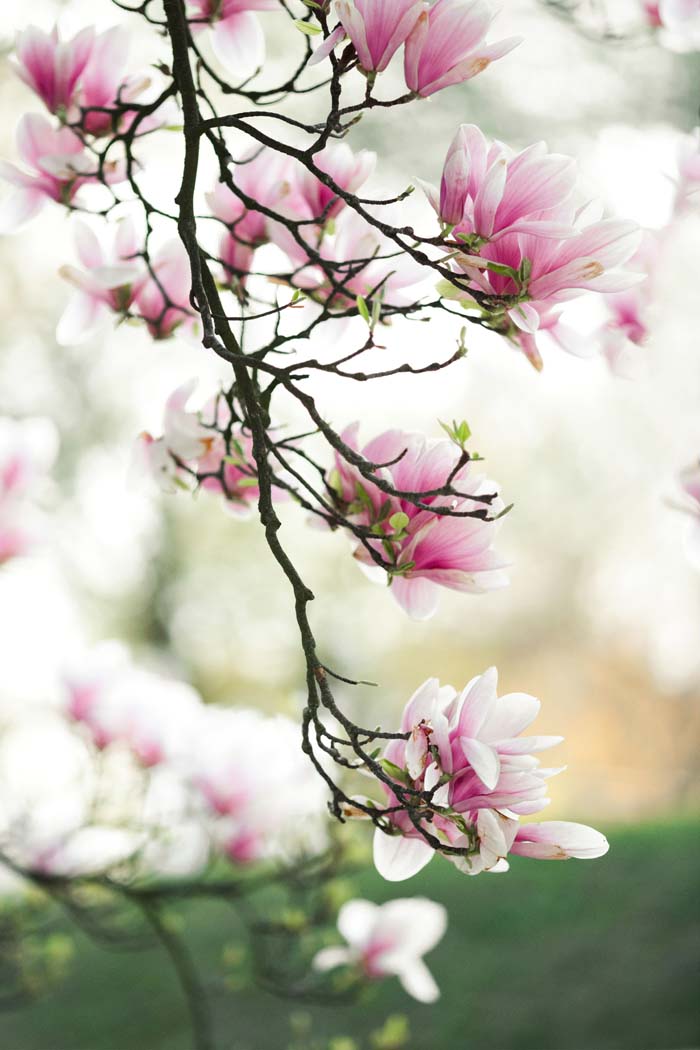 There's a reason the southern magnolia tree is so popular — it brings both beauty and fragrance to your outdoor space.
The pink and white flowers grow in abundance each spring, creating an aromatic experience that lasts for weeks at a time.
25. Tree Hydrangea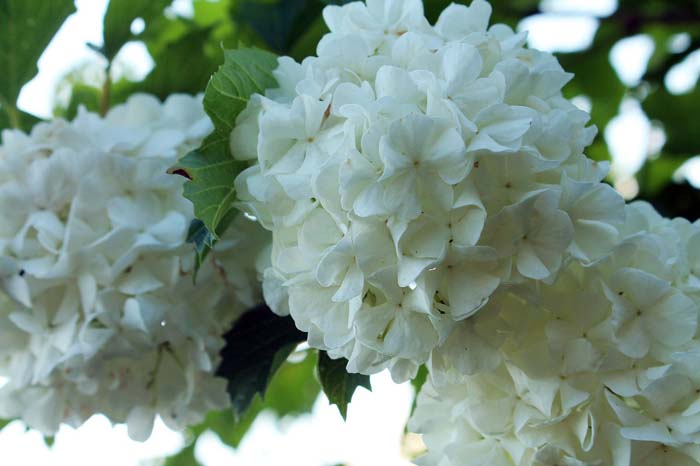 Are you new to gardening?
The tree hydrangea is an excellent way to build your skills. This tree is hardy and easy to grow in a range of climates. Your efforts are rewarded in the summer with spectacular cones of flowers.
Choose from a variety of colors and sizes to suit your yard.