With its rich colors, fall is an inspiring season for crafters, artists, and DIY enthusiasts.
This year, don't splash out on materials at the craft store — just head outside and gather a selection of colorful leaves. They're beautiful and free so you can try new techniques without breaking the bank.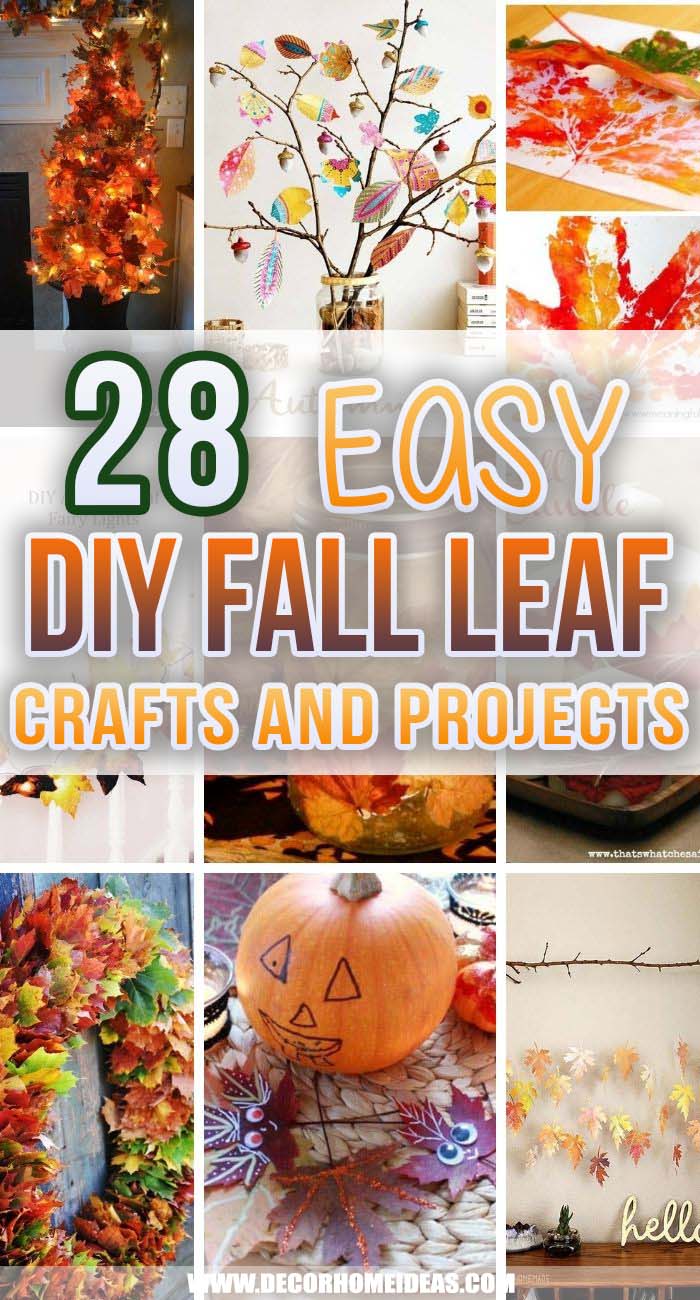 Whether you're crafting alone or with your kids, these easy DIY fall leaf crafts will provide hours of autumnal entertainment.
1. Experience Artistic Elegance with Stenciled Leaf Art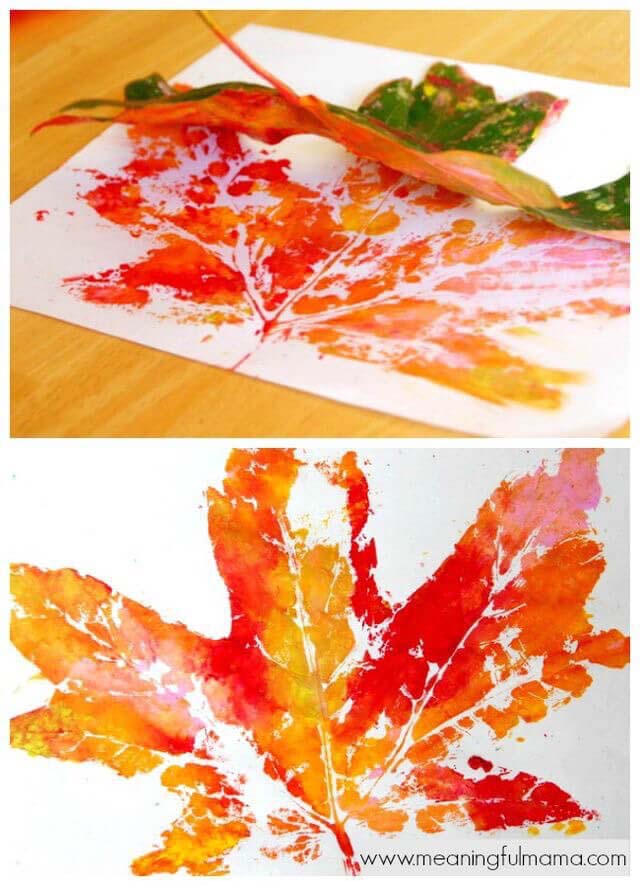 Do you like to switch out your wall art to match the season?
Make your own prints using a leaf as a stamp. Simply dip the leaf in paint, and press it onto a clean sheet of paper. Lift the leaf straight up to reveal a perfectly formed shape.
Try swirling multiple paint colors together to create different effects.
via Meaningful Mama
2. Cozy up Your Home with DIY Candle Centerpieces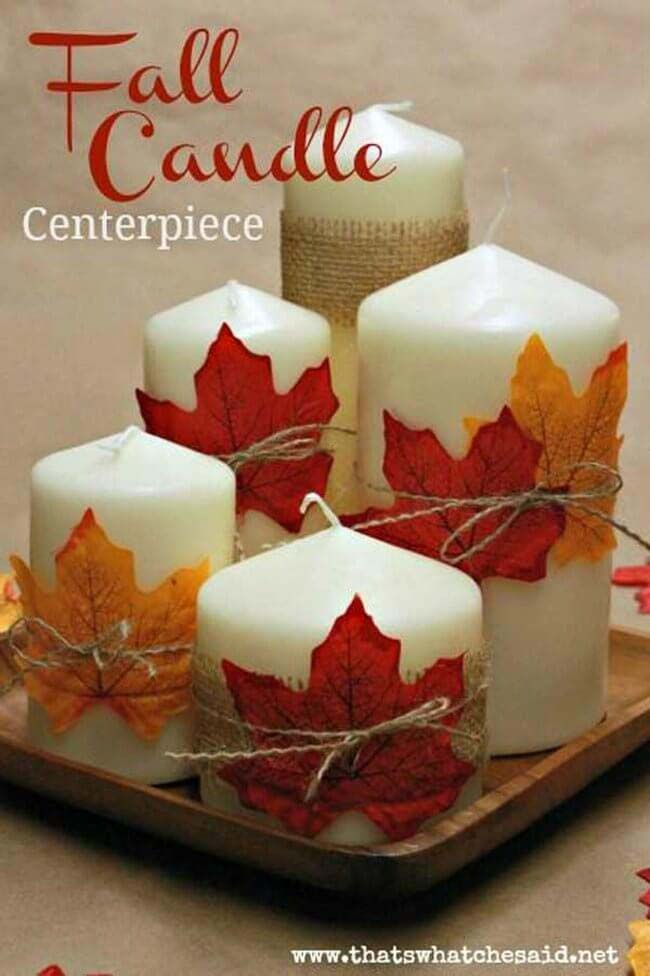 Candle centerpieces are an easy and affordable way to decorate for fall. Transform your existing white pillar candles into autumn-appropriate decorations with a few fall leaves.
Simply wrap them around the candles, and secure them with a twine bow. Add burlap for an extra touch of texture.
3. Embrace minimalism with a Fall Leaves Garland

Garlands aren't just for Christmas — they're also a fun way to decorate for fall. You can create your own by stringing fall leaves together.
The trick is to spray both sides with acrylic sealant. It reinforces the leaves and prevents them from breaking down. String your colorful garland over doors, fireplaces, or railings for a pop of color.
4. Get Rustic Elegance with a Fall Leaves Rope Garland

Do you live in a warm climate without fall leaves? No problem; make your own leaf garland out of felt.
Simply cut leaf shapes out of felt, and sew them together with a twisted silk rope. The result is chic, elegant, and remarkably durable.
via A Beautiful Mess
5. Elevate Your Desk with a Colorful Fall Tree Decor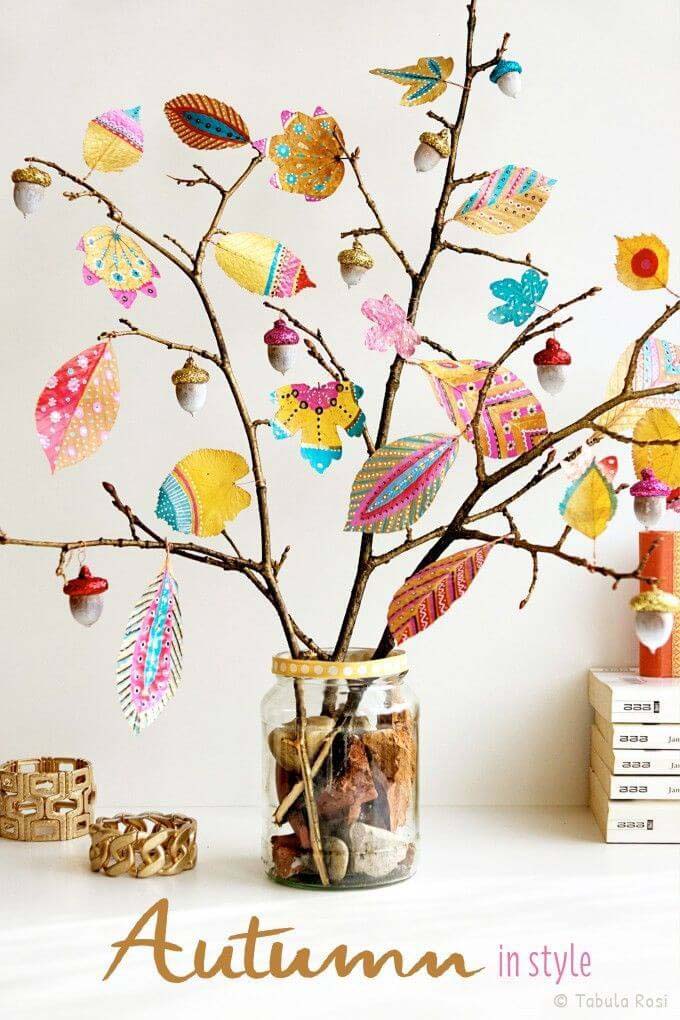 Dress up your desk this fall with a DIY tree craft. Make a "tree" out of branches; you can use a potpourri-filled jar as a base.
Cut out leaves from craft paper to hang from the branches, or use real leaves from the great outdoors.
via Tabula Rosi
6. Liven Your Halloween Party with a Fall Leaves Bowl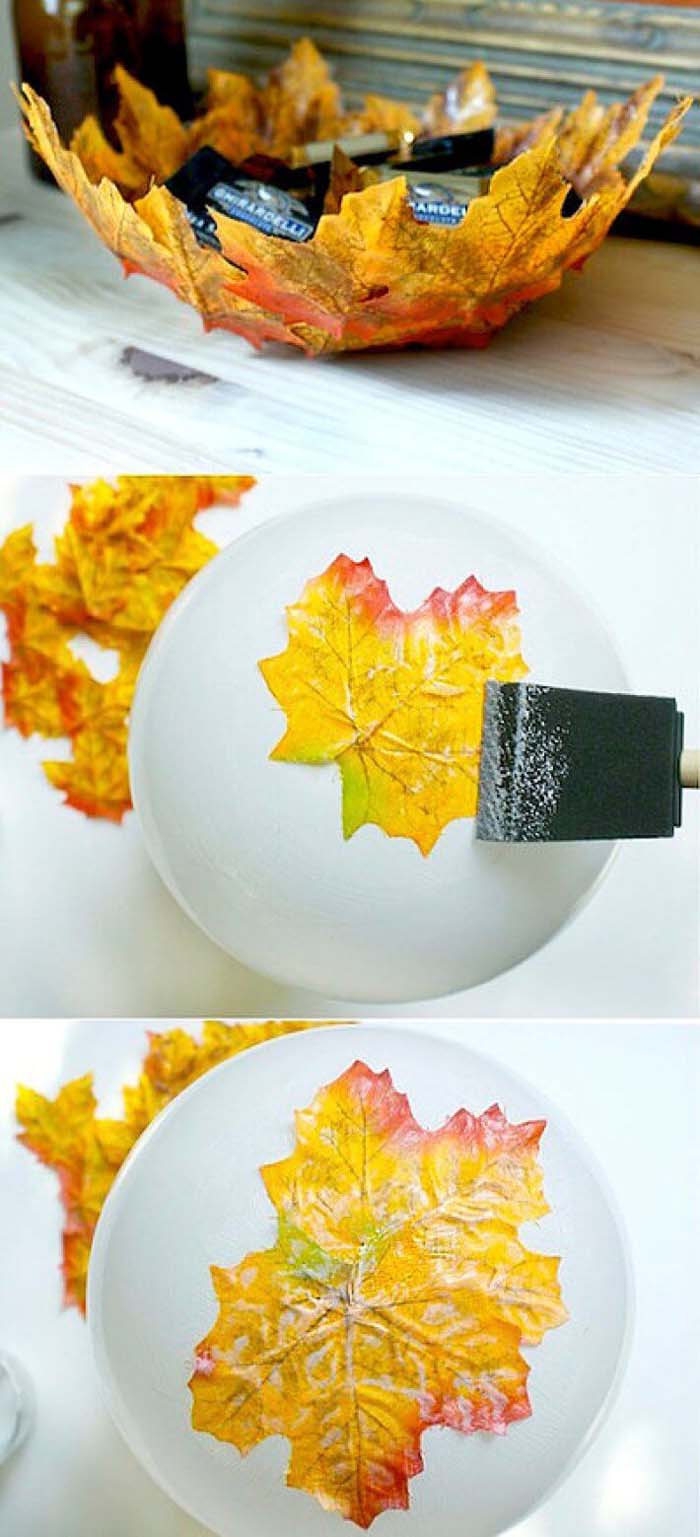 If you're hosting a Halloween party or a Thanksgiving dinner, this stunning DIY bowl is a must-have addition to the table.
It looks elegant, but you can make it using leaves and Mod Podge. Once the bowl is dry, it's strong enough to fill with candy or other party favors.
7. Get Creative with Fern Leaves Wallpaper Stamps

Create a trendy printed wallpaper look for a fraction of the cost with this project.
Using fern leaves dipped in paint, it helps you create a one-of-a-kind print on removable wallpaper. This is a fun way to try an accent wall without high costs or permanent alterations.
via Ukkonooa
8. Add Industrial Charm with Metallic Fall Leaves Wreath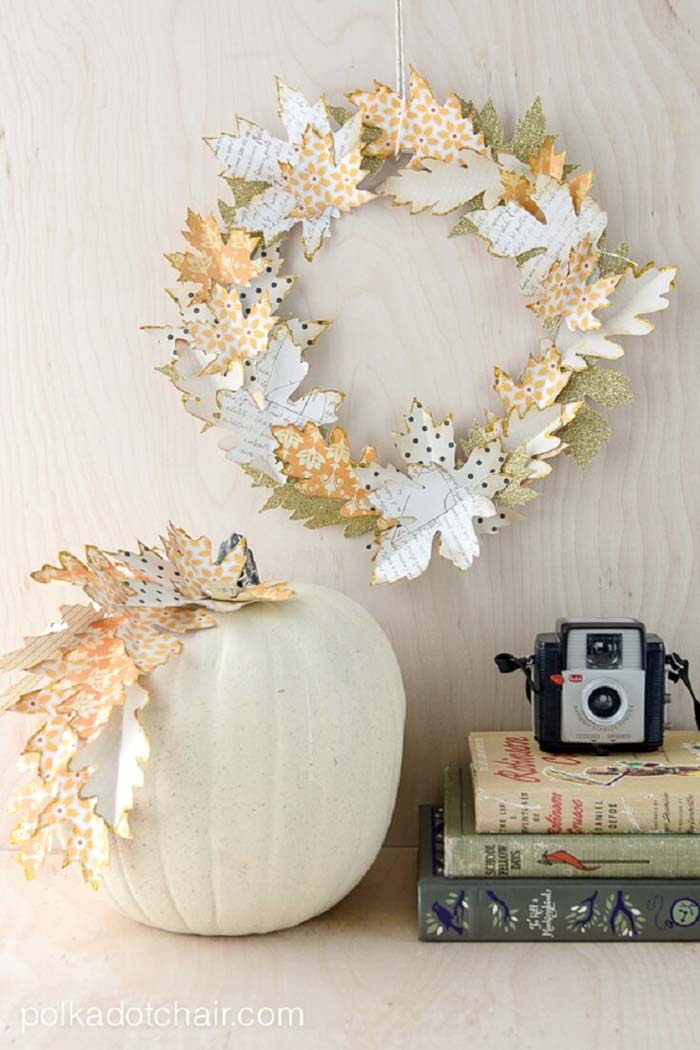 Create a wreath or a garland with these adorable patterned leaves. For a realistic shape, use a leaf as a stencil.
Then, cut a bunch of leaves from patterned craft paper. Accent the edge with gold metallic paint to add a touch of sparkle and shine to your project.
via Polkadot Chair
9. Light Up a Home with Mason Jar Leaf Luminaries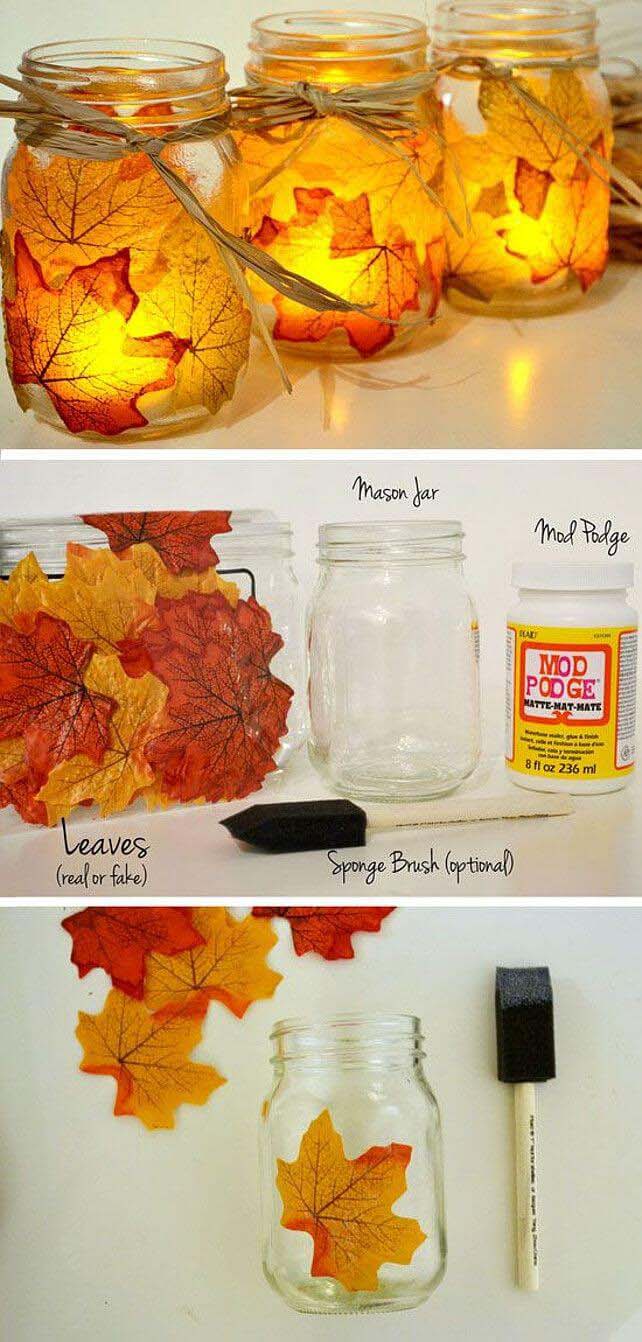 Capture the cozy glow of fall with this easy DIY Mason jar project. It's a great craft for kids; using Mod Podge, attach fall leaves to the outside of the jar. Add a twine bow, and you're done.
Drop in a real or battery-powered candle to fill your room with a warm, welcoming glow.
10. Let Kids Have Fun with an Easy Fall Leaves Wreath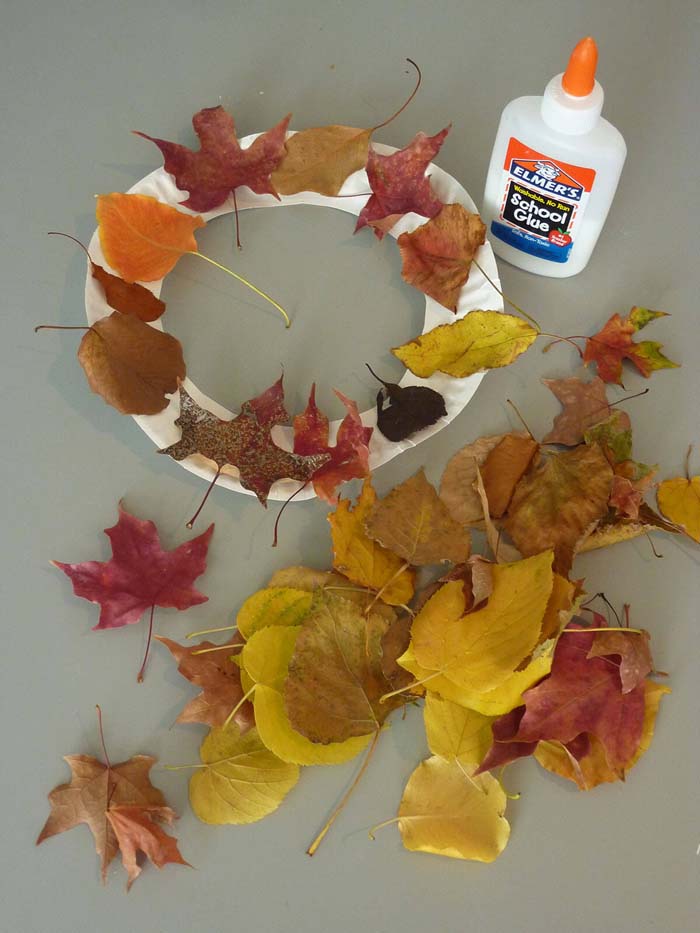 Keep your kids busy for an hour with this fun DIY craft project. Little ones can handle every step, from collecting the leaves to cutting the plate.
Set out a bottle of glue, and your kids can create a custom fall wreath. These wreaths are lightweight, so you can hang them around the house with thumbtacks.
11. Add Art to Your Walls with Framed Skeleton Leaves

Are you ready to get creative? Here's a fall craft you've probably never done — it uses a special mixture to bleach fall leaves.
When you're done, you'll have a collection of airy, ethereal leaf "skeletons" to use in different projects.
12. Unlock Your Inner Artist with Leaf Watercolor Painting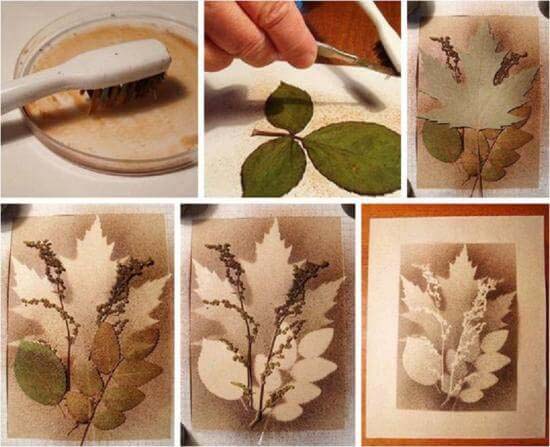 You don't need to be an artist to create this gorgeous display — it's remarkably easy to create.
Using watercolor paints and leaf stencils, you can design a custom piece that looks lovely in a frame. This project also makes a wonderful fall gift.
via How Do It
13. Adorn Your Staircase with Fall Leaves Fairy Lights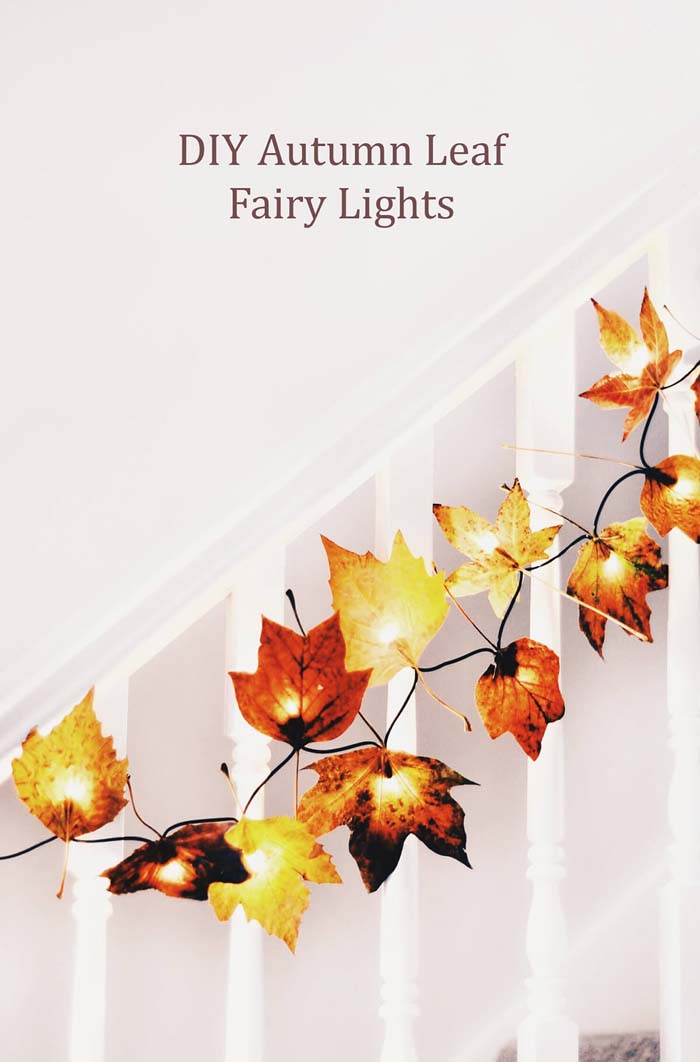 Take your fall garlands to the next level with this ultra-simple project. You need just two things: fall leaves and a strand of white Christmas lights.
Attach a leaf in front of every light. When you plug it in, the leaves create a warm, cozy glow. String your garland along the banister or across the mantel for a charming fall vibe.
14. Create a Warm Ambiance with a Fall Leaf Mason Jar

Capitalize on the warm color of fall with this beautiful Mason jar candle holder.
The clear, leaf-shaped window is made using a real leaf as a stencil. Use orange or yellow paint for a classic look; for a chic twist, try white or black. A simple twine bow adds a rustic finishing touch.
15. Add a Personalized Touch with Fall Leaves Canvas

If you want to dress your walls for the fall season, don't spend money on an expensive work of art. Make your own using leaves.
Arrange them on a canvas or plank; when you're happy with the design, secure each leaf with hot glue. This project works best with fabric leaves, but you can also use real leaves coated in acrylic.
16. Illuminate Your Home with a Fall Leaf Crafts Luminary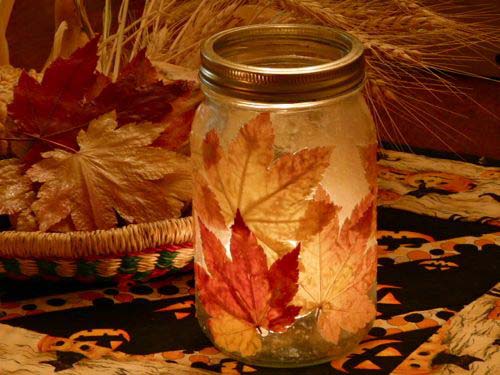 Get your table ready for a Halloween part with this DIY fall leaf candle project. You probably have most of the supplies on hand — all you need is a jar, Mod Podge, and leaves.
When you light a candle and place it in the jar, the light shines through the leaves, showcasing the unique vein structures and colors.
17. Bring Rustic Charm with a Fall Leaf Tree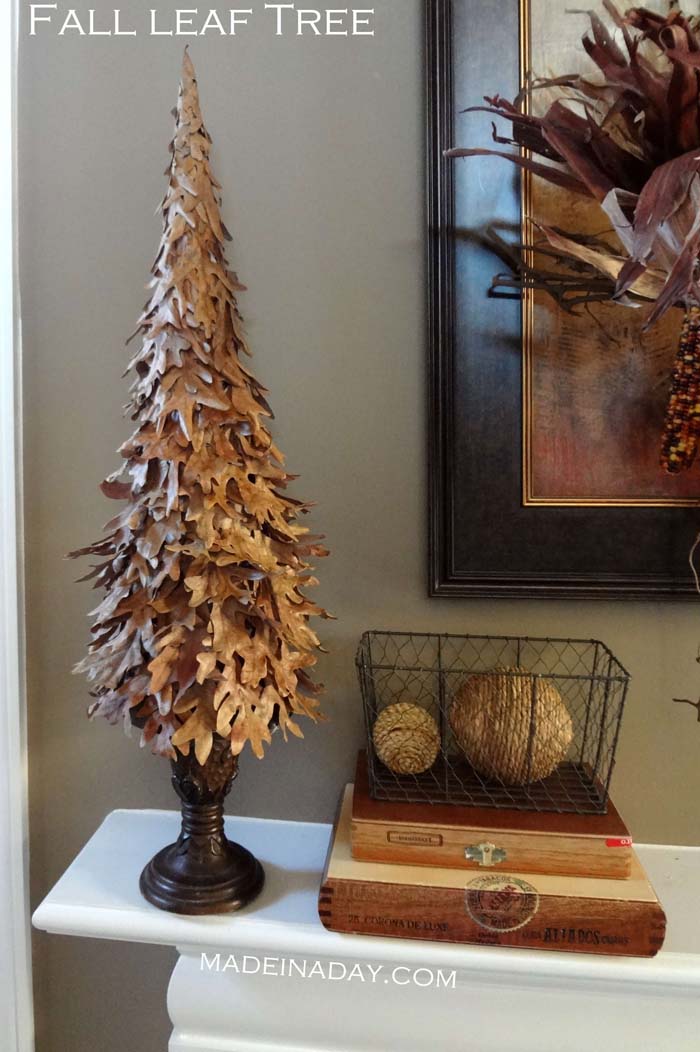 Maintain your home's rustic-chic style with this table tree. It's made entirely out of real fall leaves glued onto a foam cone.
Depending on your space, you can rest the bottom of the cone directly on a table or mount it on a candle pedestal for extra height.
via Made In a Day
18. Customize Your Decor with Monogrammed Fall Leaf Art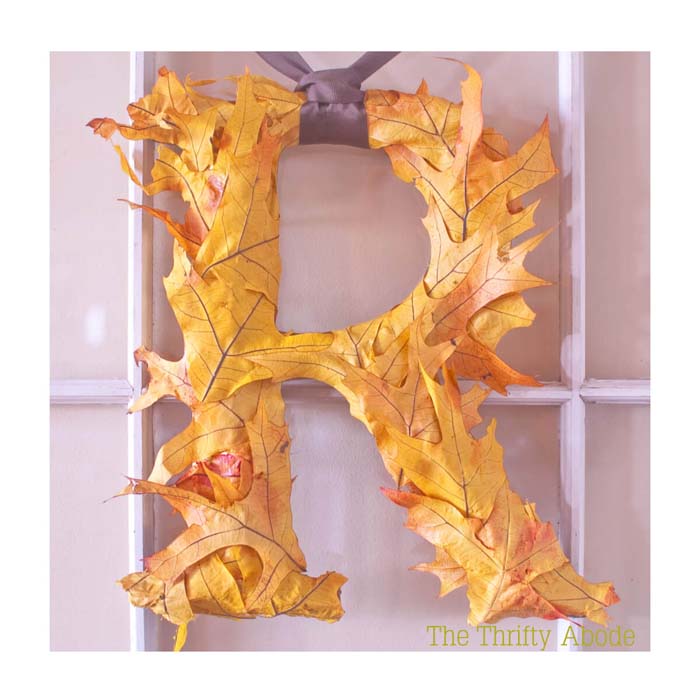 Put a sweet spin on a traditional monogram decoration with this adorable DIY leaf craft. It looks elegant and expensive, but you can make it for less than $5.
Simply cut the letter out of foam board, and glue it on a layer of leaves. A loop of ribbon suspended the letter from a hook or wreath hanger.
19. Make a Statement with a Fall Leaves Wall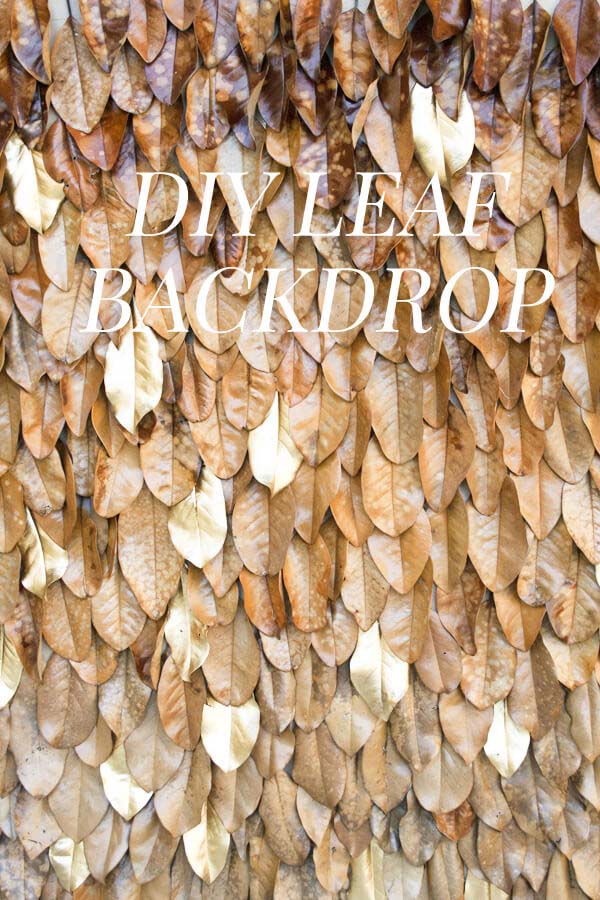 Create a photo backdrop for your fall party with this DIY wall of leaves. There are plenty of ways to customize this project — use plain leaves, add a coat of metallic paint, or choose varying sizes and shapes.
Each leaf is glued to a backdrop for easy display and transportation.
via Ruffled Blog
20. Create a Magical Atmosphere with a Lighted Fall Leaf Tree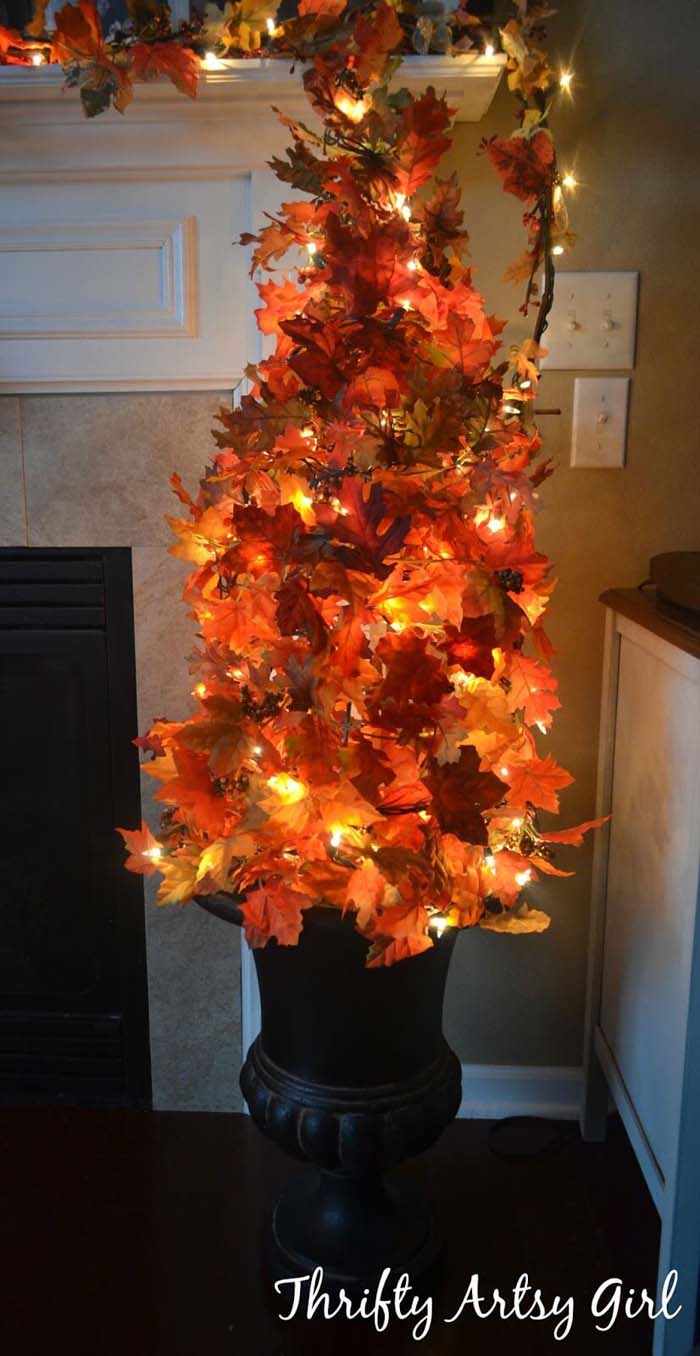 Welcome guests this fall with a stunning light-up tree. It's the perfect way to use one of your large planters — it's a great support system for the DIY tree.
The magic happens when you add the lights; they highlight the textures and warm colors of the leaves.
21. Add Texture and Character with Stenciled Fall Chargers

A charger is an instant upgrade for a Thanksgiving place setting; it sits under the dinner plate, adding a layer of color and pattern.
This fall, create your own chargers with some leaves and a few tubes of paint. Dip the leaves in the paint, and use them to stamp the edges of the charger.
via One Artsy Mama
22. Show Gratitude with Custom Fall Leaf Art

Throw a party on a budget with the help of this DIY leaf garland. Paint a letter on each leaf to spell out messages related to the season.
Decorate your Thanksgiving table with a garland that says "grateful," or get ready for a costume party with words like "spooky," "boo," or "Happy Halloween."
via Love Paper Paint
23. Unleash Your Creativity with Rolled Paper Rose

Paper roses are a timeless rustic decoration. For the fall, make roses out of autumn leaves.
The process is remarkably easy, but the roses look intricate and expensive. Scatter them in a centerpiece, or set one at every place setting for Thanksgiving.
via I Creative Ideas
24. Welcome Guests with a Colorful Fall Leaves Door Wreath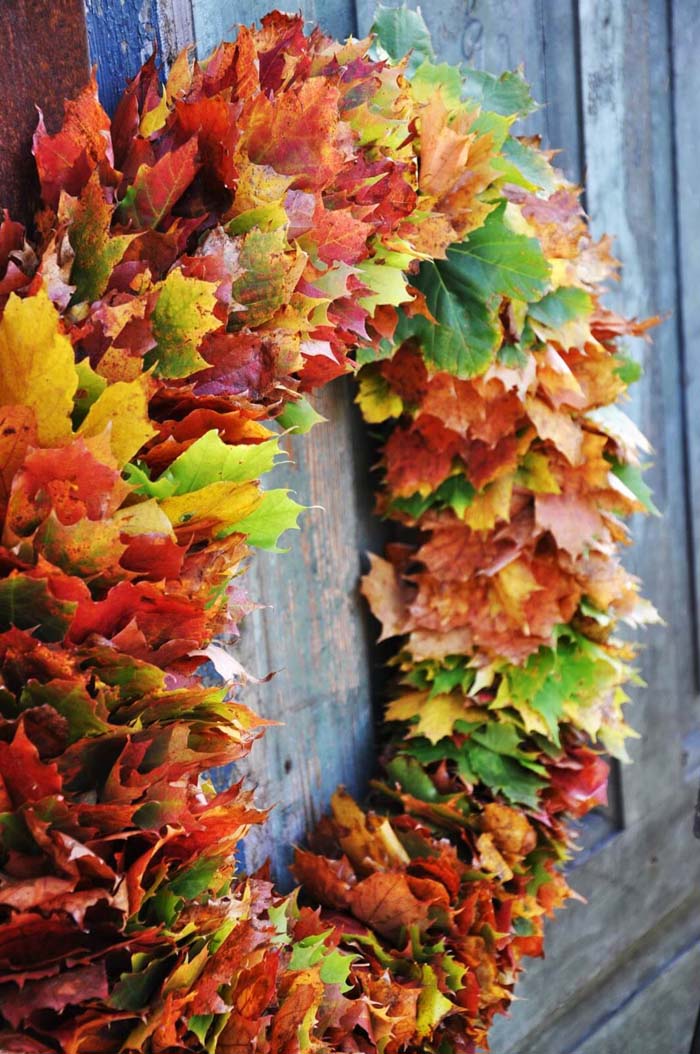 Have you ever wanted to buy a luxe fall leaf wreath? There's no need to spend hundreds of dollars — you can make your own with supplies from the craft store.
This project takes time and patience, but the result is spectacular. Use fabric leaves, and you'll have a decoration to use year after year.
25. Make Your Home Sparkle with Glitter Fall Leaves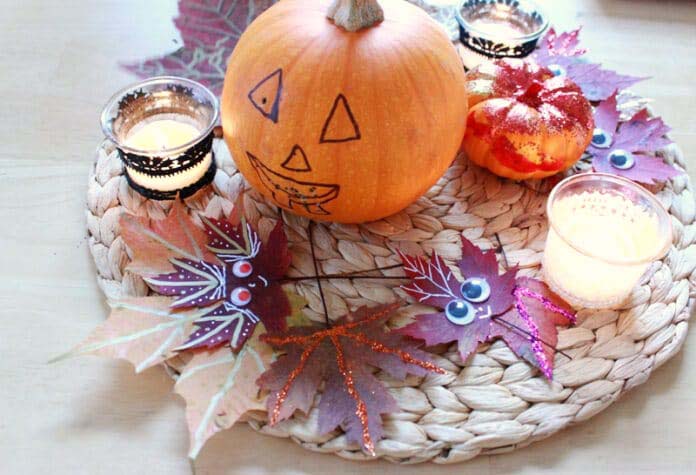 Get your kids in on the fall fun with this DIY craft project. Hand out leaves for each person; kids can use glitter glue and paint to create their own designs.
These adorable, sparkling leaves are perfect for garlands, centerpieces, or Thanksgiving place cards.
via Artful Parent
26. Create a Lavish Look with Fall Leaves Suncatchers

If your kids love the look of stained glass, help them create a DIY version. This project uses pieces of tissue paper to create the colorful "glass."
Using a leaf as a stencil, your little ones can cut the paper into shapes. When you hang the leaves in the window, they'll glow beautifully in the sunlight.
via eHow
27. Redesign Interior with a Hanging Rustic Falling Leaves Mobile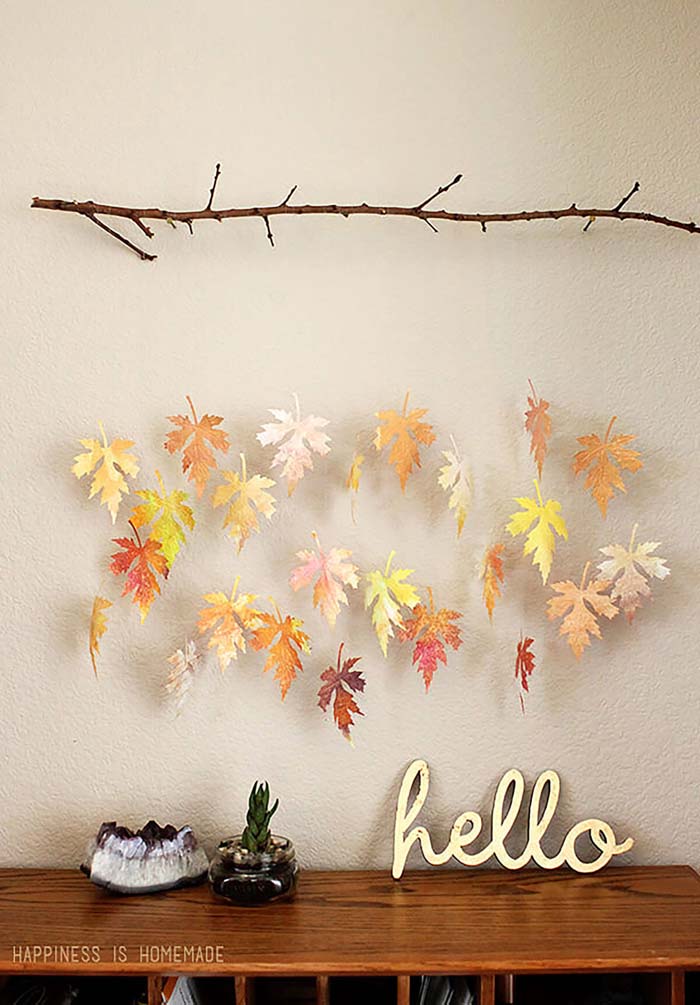 Chic and minimalist, this falling leaves mobile makes the perfect fall wall decoration. Plus, you can find most of the supplies in your backyard.
Use a clear fishing line to suspend the leaves from the stick; the leaves will look like they're floating in midair.