Fall is a wonderful season when it comes to holidays. It is also amazing for home decorating because it stands for warmth and coziness.
Are you already set for a relaxing and hearty time spent in the comfort of your home? The decor in the fall theme will help you quickly adjust to that mode.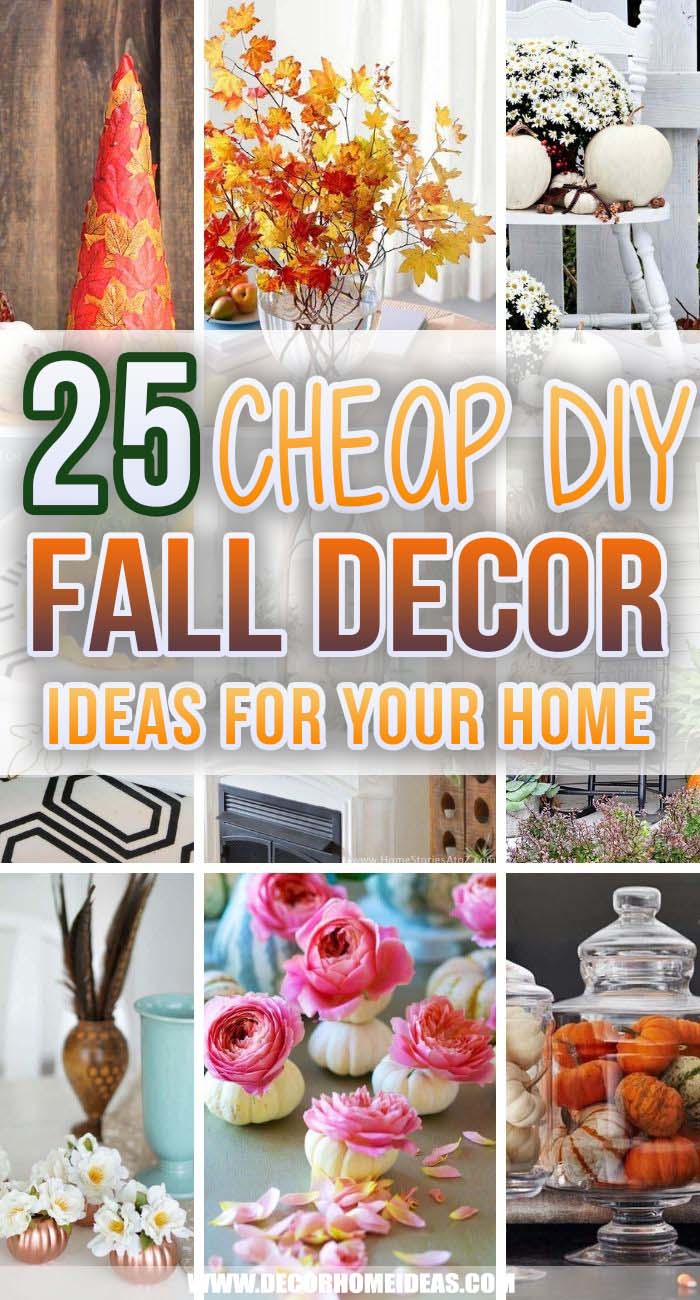 The best cheap DIY fall decor ideas for your home will provide you with some tips and loads of inspiration to prepare your home for the fall season.
1. Create a Rustic Autumn Vibe with Monogrammed Art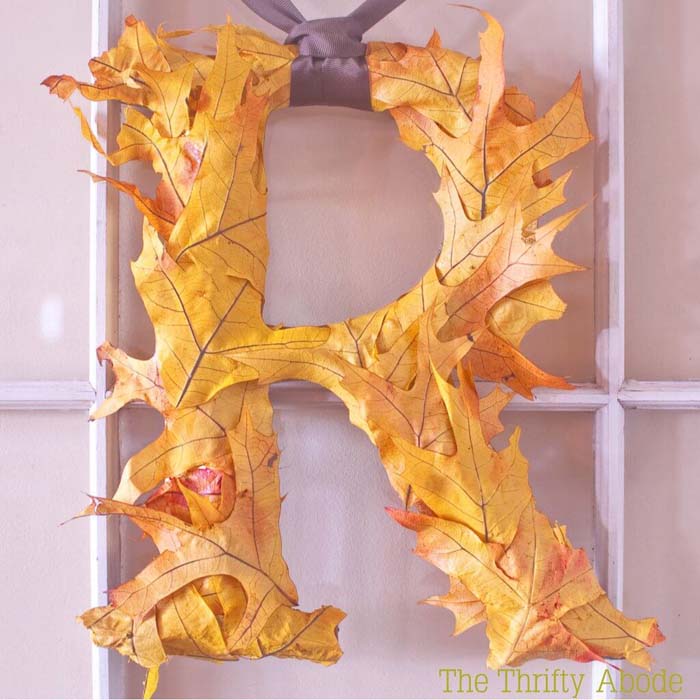 Do you like the personalized art ideas? This one is more than that as it gives the craft an autumn vibe. Collect broad leaves from the park or get a package of faux leaves.
Then glue them on the initial base aiming to wrap them around the edges. When your sign is ready, you can hang it on the front door and greet everyone with warm fall hues.
2. Cozy Up Your Home with Burlap and Fall Leaves Votives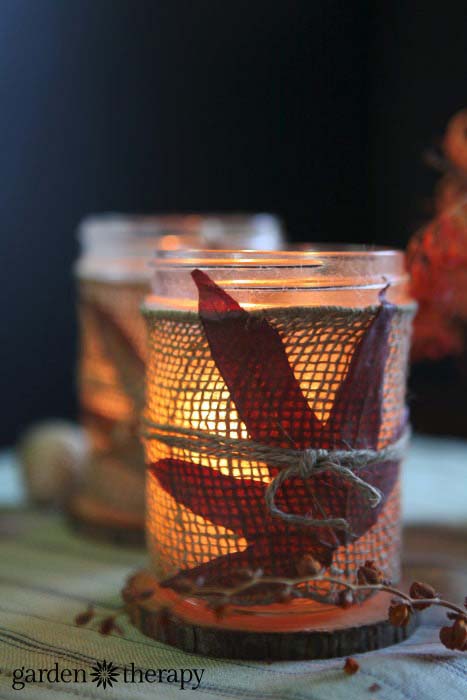 Dim the lights and light your autumn candles. You will watch the flame reveal the silhouettes of autumn leaves! This amazing and easy DIY idea will make your home so cozy and warm.
Prepare pieces of burlap, leaves and twine to embellish the glass candle holders.
via Garden Therapy
3. Add a Touch of Elegance with Glass Pumpkin Decor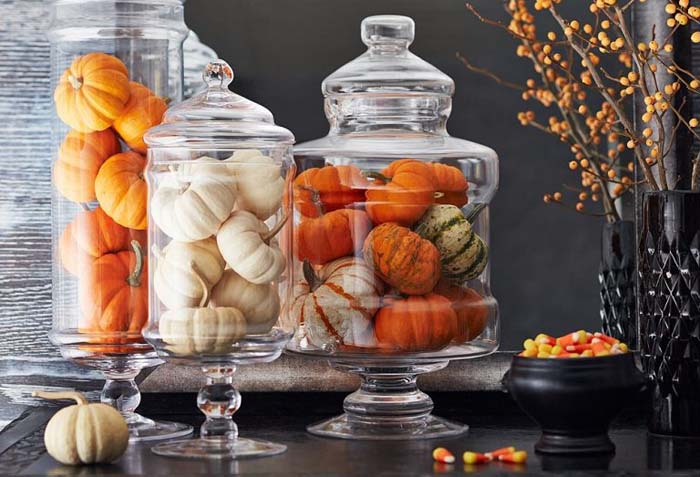 Usually, these glass containers are filled with candies and cookies. Well, not in autumn.
Tiny colorful pumpkins set the festive mood in this home and add charming farmhouse vibes to the space.
via One Kings Lane
4. Brighten Your Home with Floral Mini Copper Pumpkins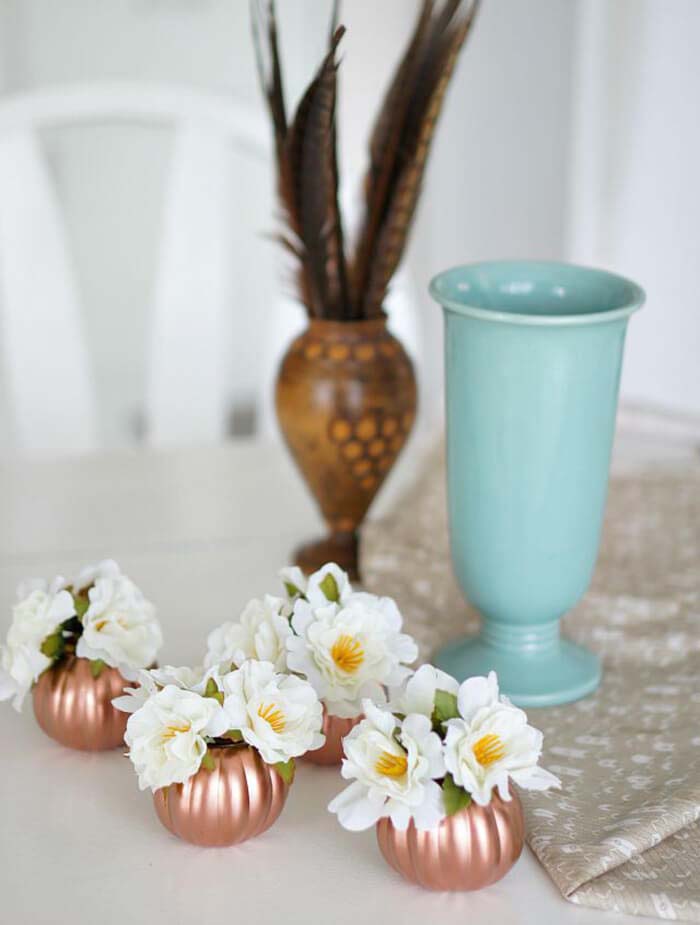 Give the Dollar Store plastic pumpkins a glamorous makeover with bronze spray paint.
Because of their tiny size, these cute pumpkins could be used as a dedicated decoration to the tableware set on the dining table or be grouped together in the center of the table to set the fall theme.
Fill them with flowers or candles that match their brownish color.
5. Transform Your Kitchen with a Rustic Wire Fall Stand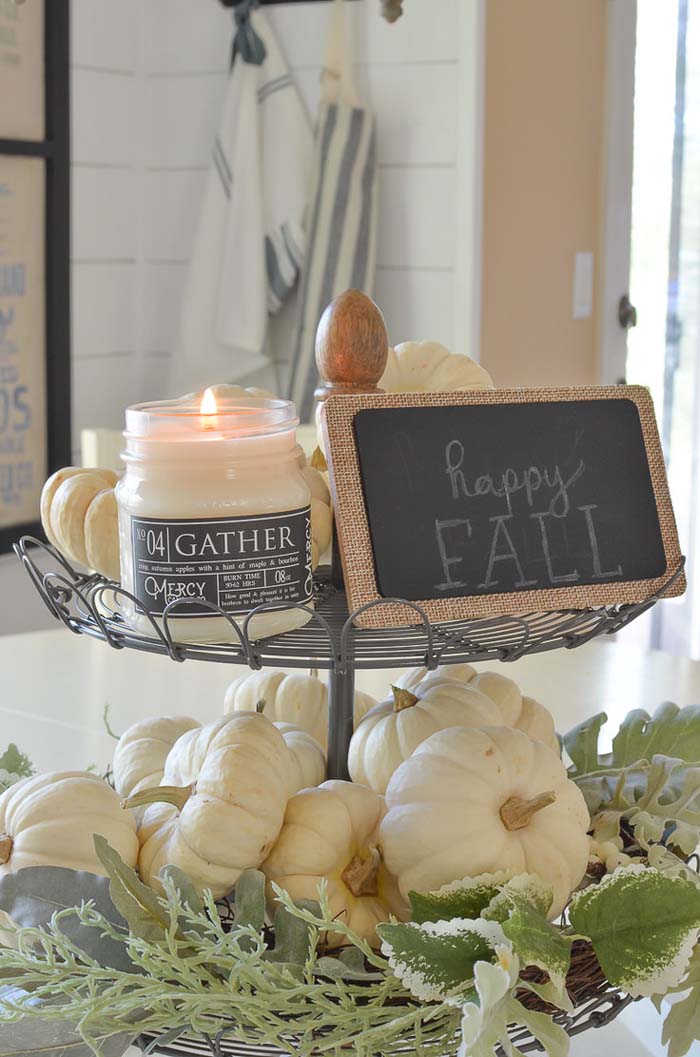 Use your wire tiered stand in the kitchen as a display of seasonal decor. This one combines autumn with holiday motifs and that makes it so appealing.
The lower level holds tiny pale pumpkins set onto green leaves. The front of the upper level is taken by a farmhouse sign greeting everyone with the coming season and a candle spreading light and positive words.
via Sarah Joy
6. Bring Farmhouse Charm with Porch Fall Decorations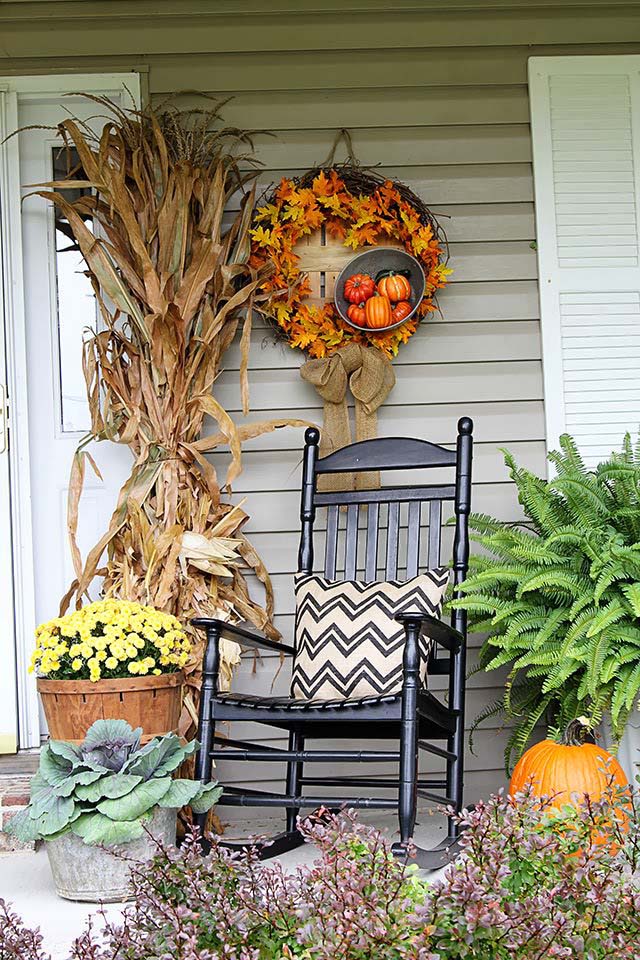 Fall decor looks greatest if farmhouse elements and motifs are incorporated. Especially on the porch, the farmhouse autumn decorations add warmth and coziness that is so needed once summer flies away.
The galvanized and wooden containers hold seasonal plants that emphasize the rich harvest. The seasonal decor continues up with a bouquet of corn leaves. Next to it, there is a unique wreath with bright autumn leaves and a bucket of tiny pumpkins.
7. Get Creative with Framed Burlap and Button Candy Corn Art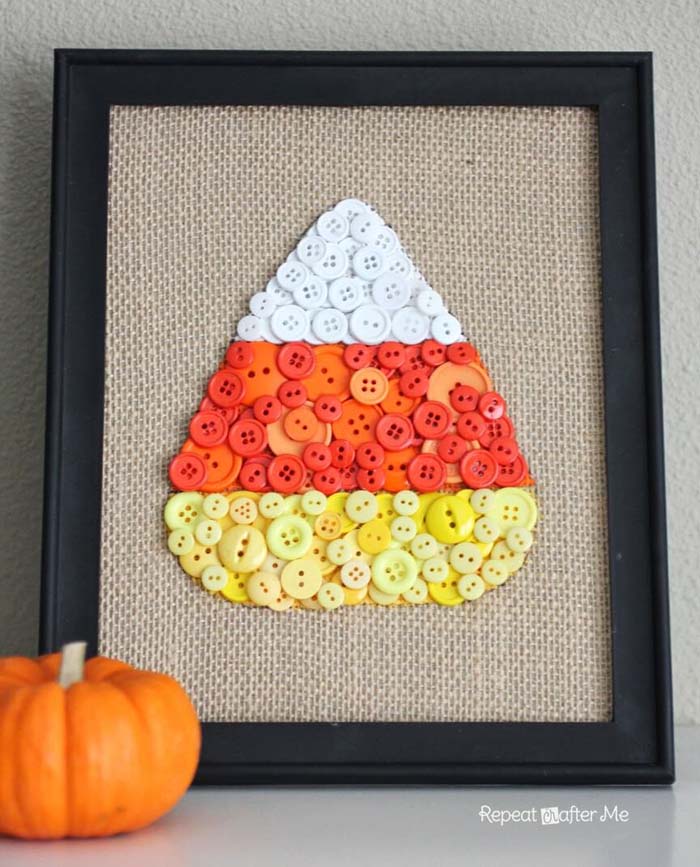 Do you need fall decor for the wall? Try this easy DIY button art project that will add childish cuteness to your interior. Get a simple frame from the Dollar store and cover the cardboard backing with a burlap piece of fabric.
Use buttons in autumn colors to mimic a candy corn image. This amazing and cheap fall decor idea could also be a weekend project to do with your kids.
8. Add Festive Cheer with Fall Vignettes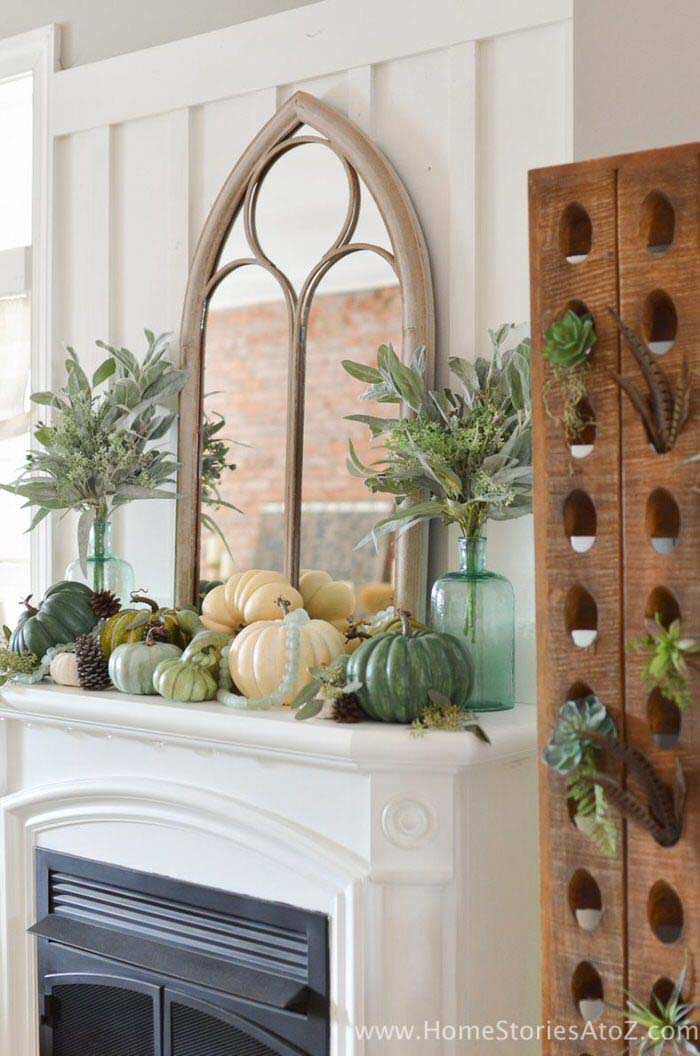 Turn only a spot from your home into a festive fall vignette! A group of various pumpkins set in front of a rustic repurposed window will set a generous fall decor.
Use pine cones, jars, glass bottles with seasonal flowers to frame the nook.
9. Add a Pop of Color with Floral Mini Pumpkins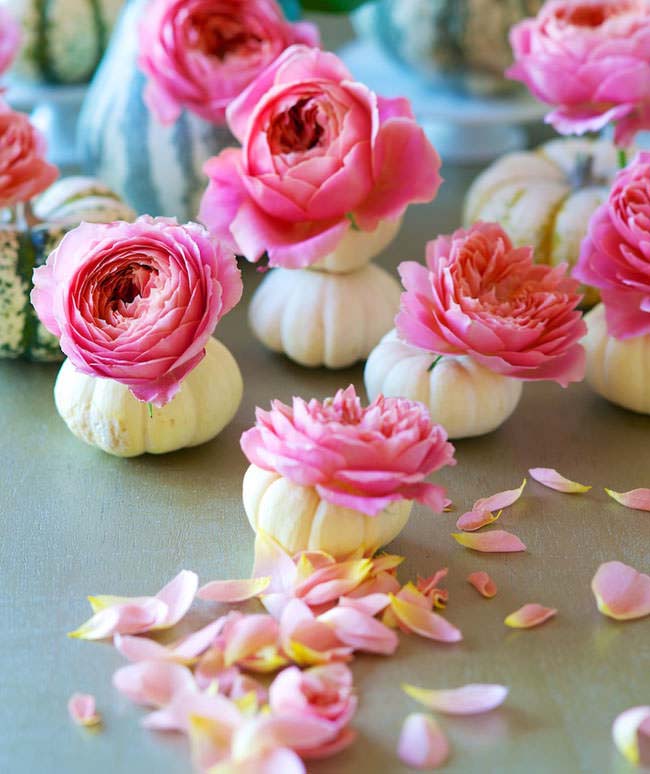 Make a trendy autumn decor with mini pumpkins turned into vases. Hollow them inside to make space for the cut flowers.
This charming decoration would be an amazing accent of a fall wedding.
10. Get Rustic Elegance with Distressed Painted Wood Pumpkins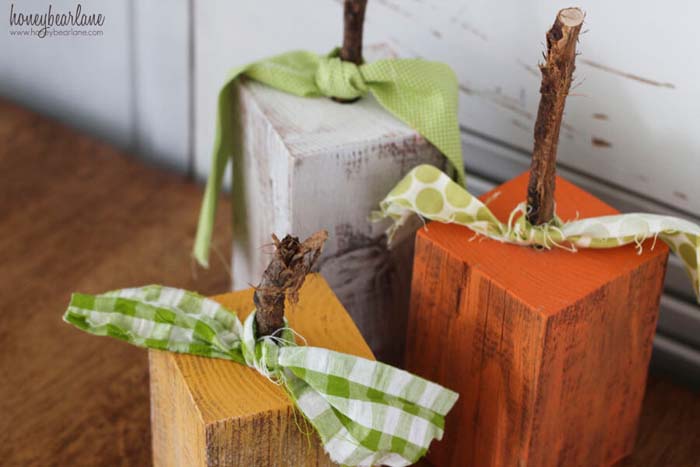 Need an alternative to the typical pumpkin decor without running too far from the traditions? Try these geometric pumpkins from wood posts.
A hole is drilled in the middle of the top where a twig collected from the forest is inserted to mimic the stem. Using the washing technique with paints the wooden surface gets a color and yet reveals the natural texture of raw wood.
The tied buffalo plaid ribbons on the stems give the farmhouse fall art a festive and charming touch.
via Honeybear Lane
11. Upgrade Dining Table with Autumn Leaf Craft Napkin Folder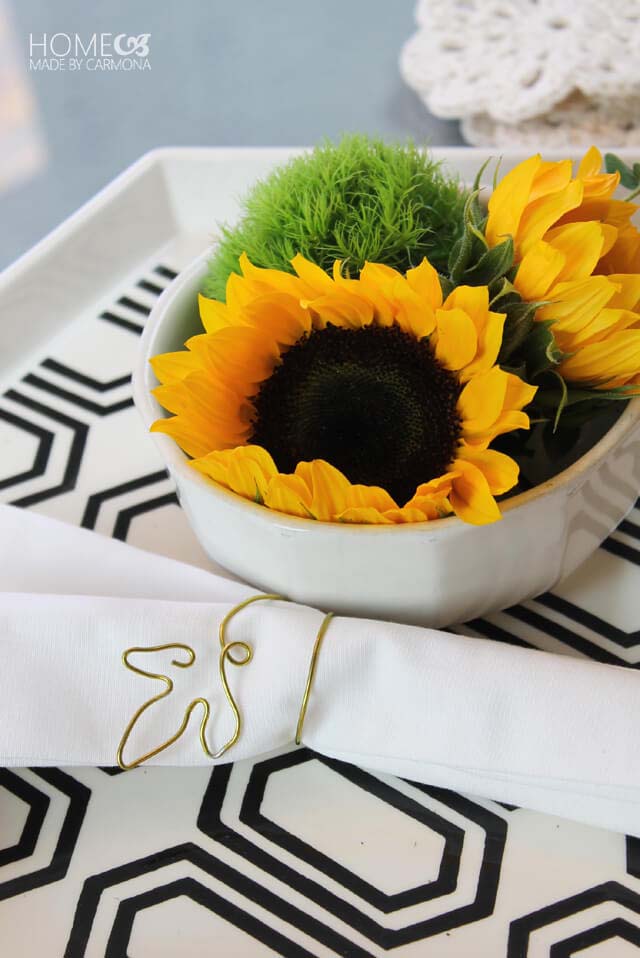 If you are a person to details, you would fall in love with this sophisticated idea in the fall spirit. A length of gold or copper craft wire is twisted in the shape of an autumn leaf to keep the napkin of the festive table well folded.
This small detail adds elegance to the set dining table and will surely provoke appreciative smiles in the people being there.
12. Add Fall Elegance with Frosted Stenciled Mason Jars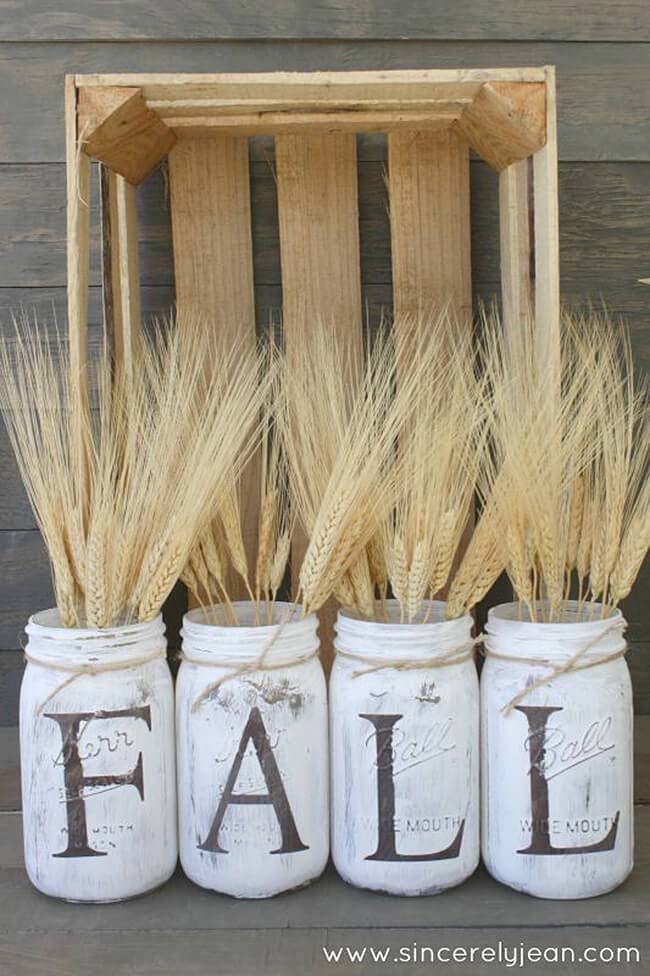 Put the old jars in a new useful use by turning them into a set of vases spreading welcoming fall vibes. Paint the transparent glass white to let the painted letters stand out.
If you doubt your paint skills, use stencils to outline the letters first. Please the set on the mantel, on a windowsill or on the table to make a clear warm statement. Arrange seasonal flowers like mums or grains for enhanced natural appeal.
via Sincerely Jean
13. Give Your Tablescape a Natural Look with Log Candleholder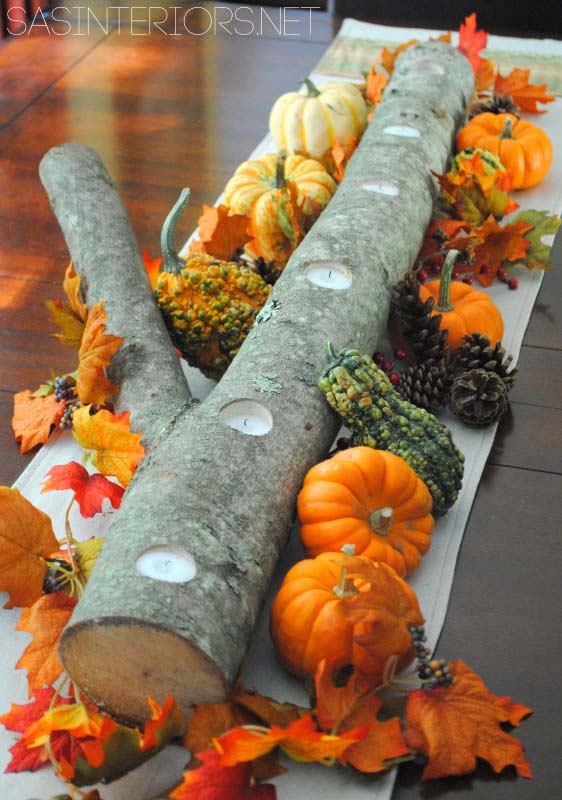 Would you believe that a large log could make a unique centerpiece for your festive dining table? Well, this idea could be your inspiration.
The log can also have a dual function as a candle holder by drilling shallow holes for tea candles on the surface. Add autumn leaves, berries and pumpkins around the log to give the centerpiece a warm look and color.
via Jenna Burger
14. Get Crafty with a Fall Leaves Topiary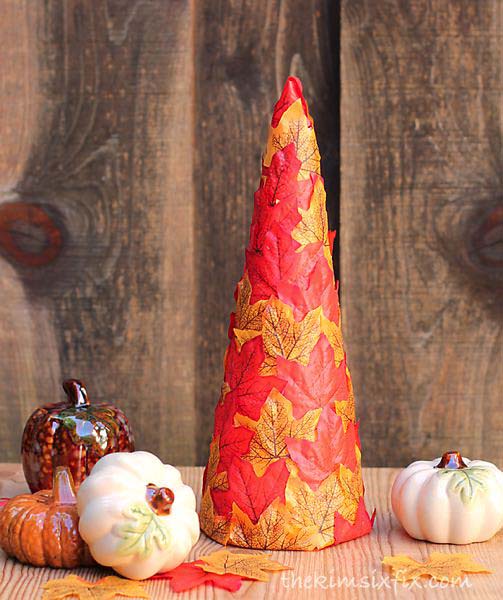 The tree decorations are not good only for Christmas. In fact, they could be part of the seasonal decor simply by choosing the correct embellishments.
For autumn, that would be fall leaves- faux or gathered from the park. Make a cone from a poster board cutout and glue the leaves around. Complete the festive piece with other accents like pumpkins, pinecones to enhance the autumn theme.
via Kim Six Fix
15. Light Up Your Home with Chic Fall Pumpkins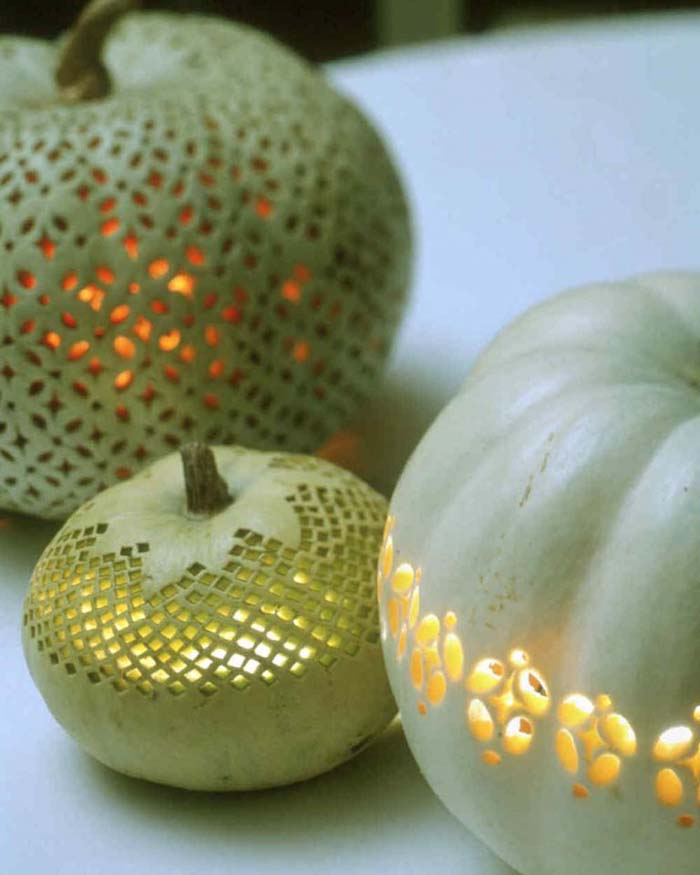 These beauties may take some more time to be made but the stunning lace-like cutouts will leave you breathless. The effect doesn't stop just there.
Once the candle is lit, the reflected flame starts playing on the adjacent surfaces.
via Martha Stewart
16. Create a Lavish Look with Plank Burlap Banner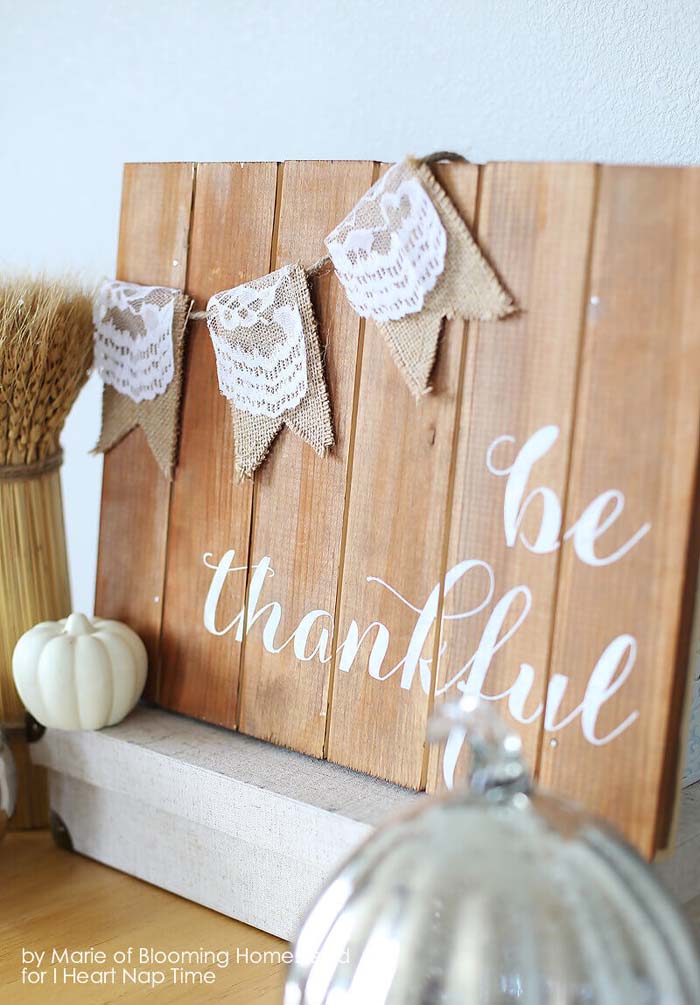 The garlands are perfect to add a final touch to decoration that is more neutral. Use burlap, lace or buffalo plaid fabric to make the pieces if you prefer to stick to the natural theme.
You can experiment with scrapbook paper or poster boards in case you are missing a pop of color.
The handmade sign is also very impressive. The way the slats are arranged reminds of barn wood which spreads so much warmth.
via I Heart Nap Time
17. Add Texture and Definition with Neutral Fall Decor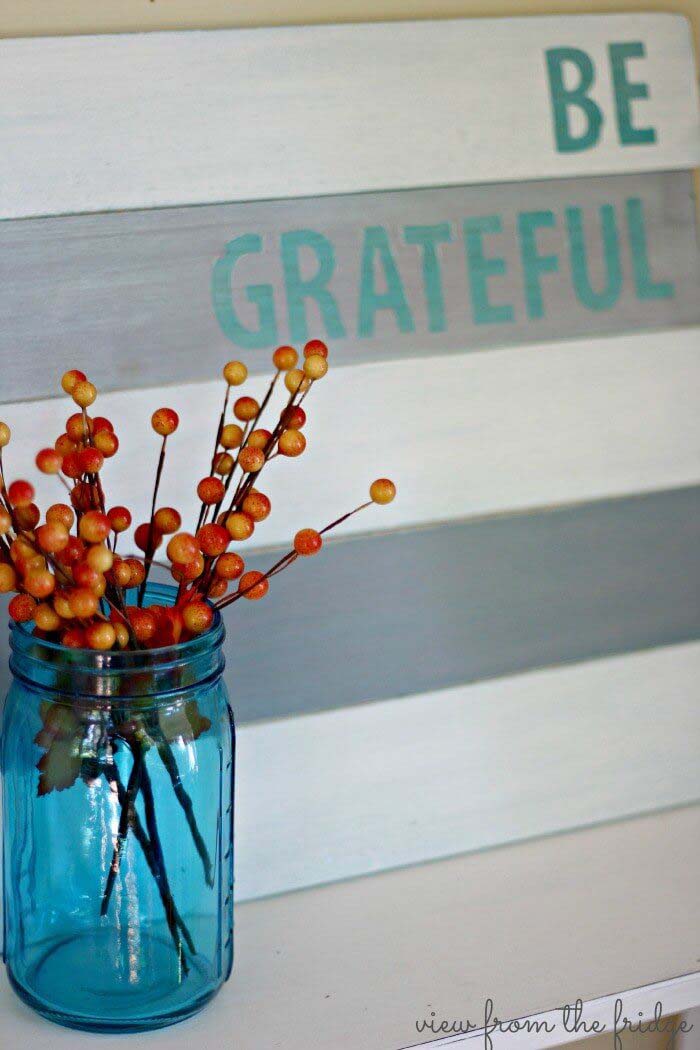 When you make your own fall decor you can try combining the typical colors of autumn with pastel tones. Cool blue and neutral grey hues look amazing together.
This idea sets them in an interesting order defined by the size of the pallet slats. Once the background is ready, use a contrasting color to write the inspiring words. You can try a color from the same palette or an earthy color that will match the statement of the sign.
Add a transparent jar in front of the sign with a bouquet of dry leaves, berries that will enhance the fall theme.
via Oh My Creative
18. Transform your Planter into a Piece of Art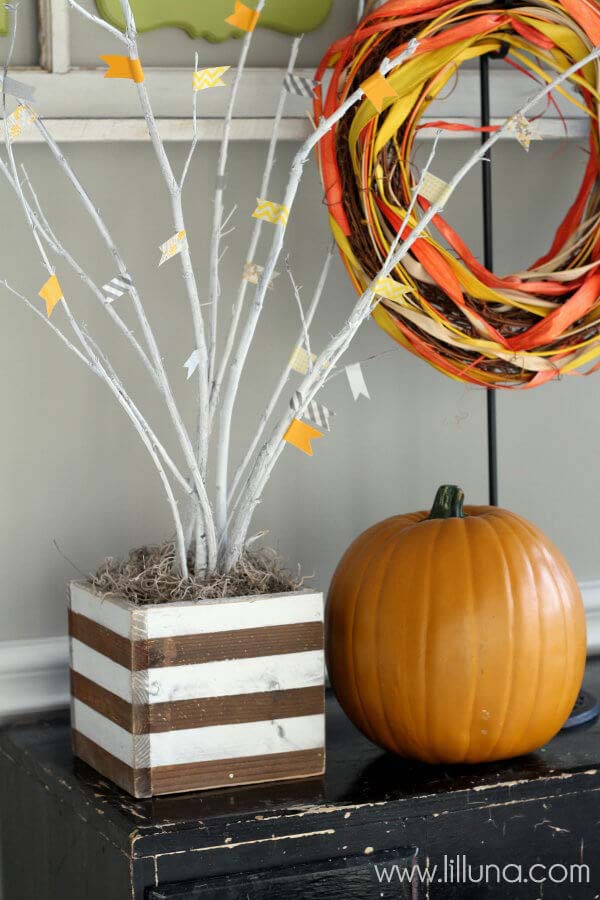 Changing the color of a planter could be just enough to set a decor nook into the fall theme. The earthy brown color stands out against the white stripes.
Added moss on the surface of the soil continues the fall vibe. Instead of an alive plant, we see a bare branch painted white holding cute small tags made from scrapping book paper.
This is an extremely charming DIY fall decor idea that will adjust your home to the new warm season.
via Lilluna
19. Preserve Your Fall Leaves Decor with Decoupaging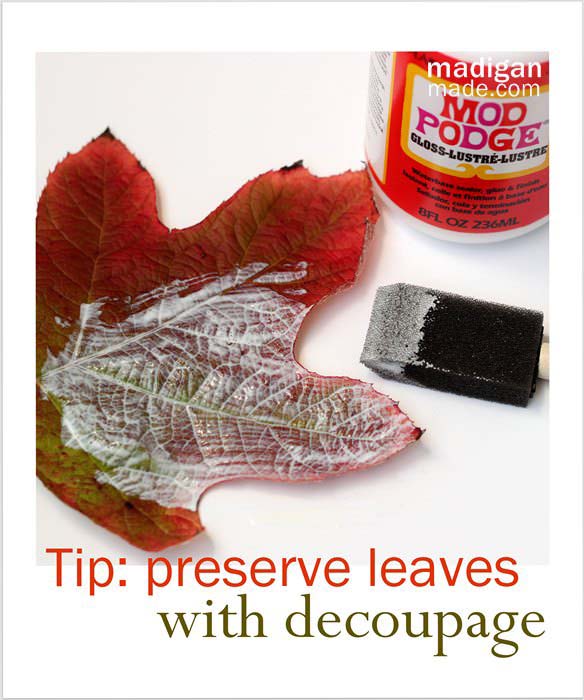 Using real fall leaves as part of your decor has a wonderful farmhouse effect, however, the leaves dry too quickly and become useless.
Hopefully, there is a way to preserve them for a longer time so that they belong to your autumn decor as much as needed. Check the hints below and enjoy your nature-inspired arrangements.
via Rosy Scription
20. Enhance Your Candle Votives with Gold Leaf Detail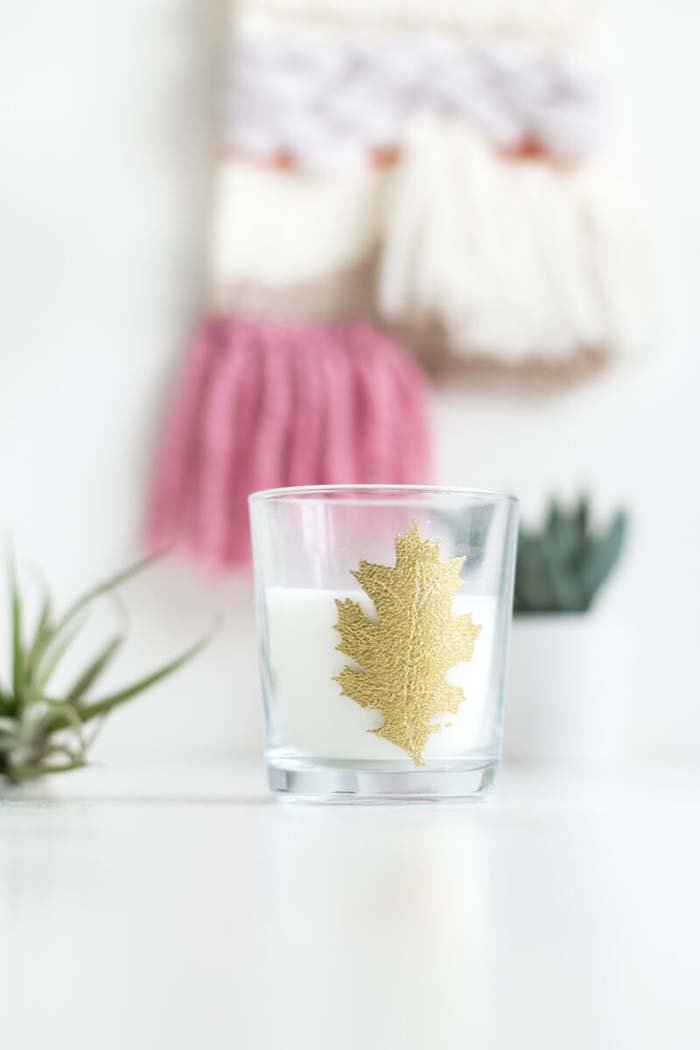 Upgrade the existing decor with simple embellishments to set it into the fall theme. Only by stamping a leaf on a transparent candle holder, you will do an amazing visual transformation.
The golden leaf you see has been first stamped on the glass to leave a wax layer and then covered with embossing powder. If that seems too hard or you don't have such a set, you can try decorating with a leaf cut from foil.
via Fall for DIY
21. Transform Home Fall Decor with a Reclaimed Wooden Sign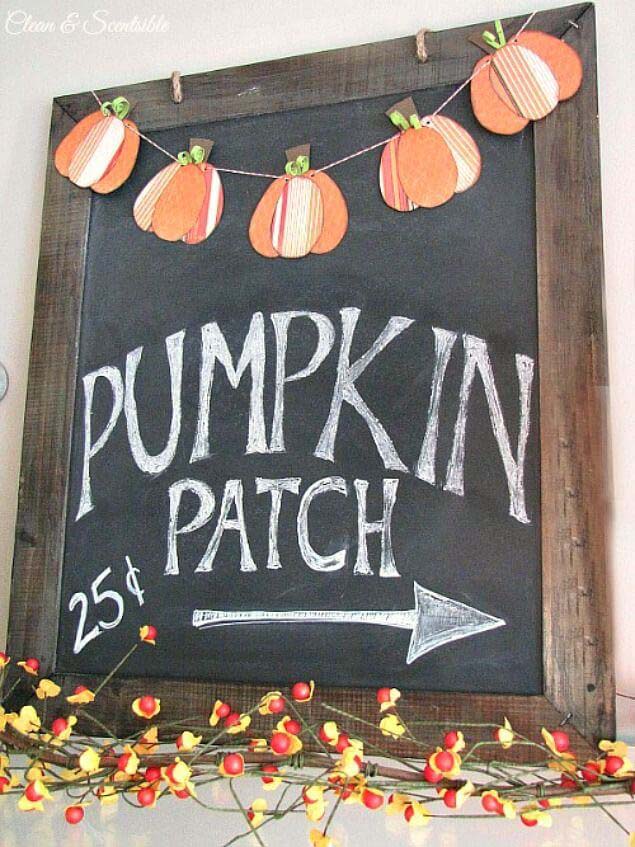 Create your own fall sign by recycling reclaimed wooden pieces. Use chalk paint for the backing that will let you write whatever you want and keep on changing it as the seasons alter.
To complete the autumn theme, make a cute pumpkin garland. Construction paper, scrapbooking sheets are perfect to create dimensional pumpkins.
A piece of twine or cord lets you hang the pumpkins on the thread and then onto the framed sign.
22. Elevate Your Picture Frames with a Rustic Acorn Border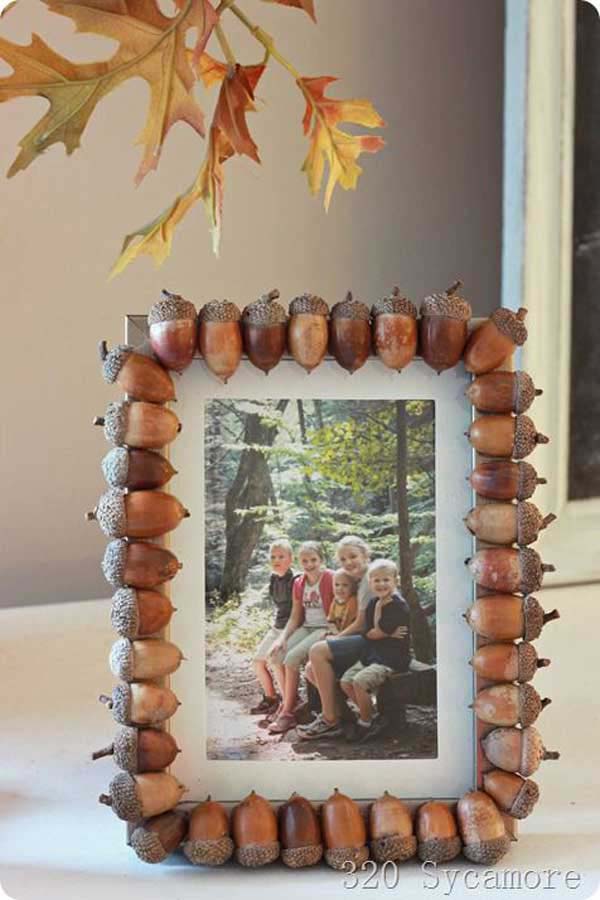 Family photos are an inseparable part of home decor. And that idea will let you blend them into the seasonal decor with no investment and effort at all.
Find some acorns from the woods or the park to use as decoration of the frame. That could be also an inspiration for customized gifts for friends and family members.
via 320 Sycamore
23. Create a Beautiful Fall Centerpiece with Just Autumn Mums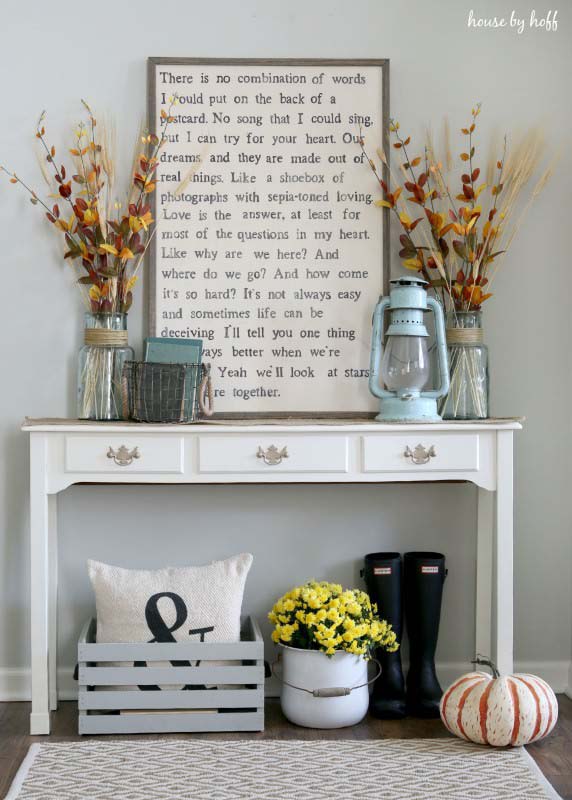 Use the typical for autumn mums to create a simple fall centerpiece for your home.
Not much to do, just grab a vintage container like a bucket, a tub or a wicker basket and insert the pot with the thick flower bouquet in it.
via House by Hoff
24. Add a Hint of Nature with Fall Leaves Planter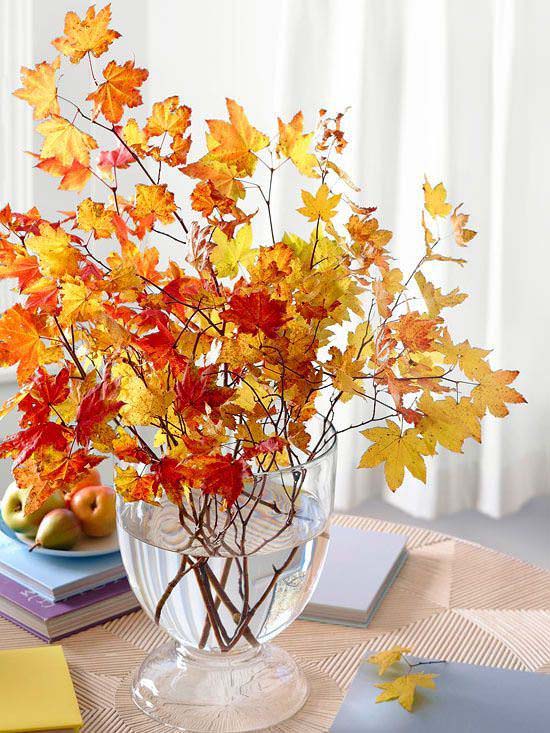 If you like the warm colors of autumn, literally bring them indoors. All you need to do is to collect branches with leaves.
Clean the leaves at the bottom in order to put them in a glass vase.
25. Indulge in the Lavish Look of White Fall Pumpkins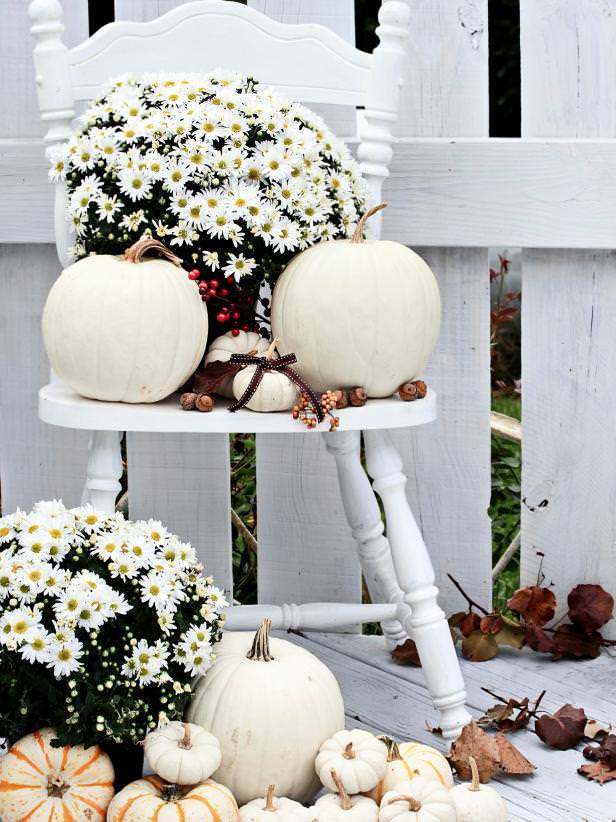 No autumn decor could be festive without pumpkins. They mark the generous harvest in the season and also make relation with Halloween.
If you want to turn them into the focal point of your porch decor, experiment with their colors, sizes and arrangement. If you have separated only a spot from the porch for the seasonal decor, make sure to decorate on all levels.
That could be done with chairs, crates, side tables, flower stands, any supports that can embrace the cute pumpkin decor.
via HGTV