I always think about pumpkins as the symbol of fall. Whether they are orange, white, gray or green they create a warm feeling. That's why they are used to create stunning fall centerpieces.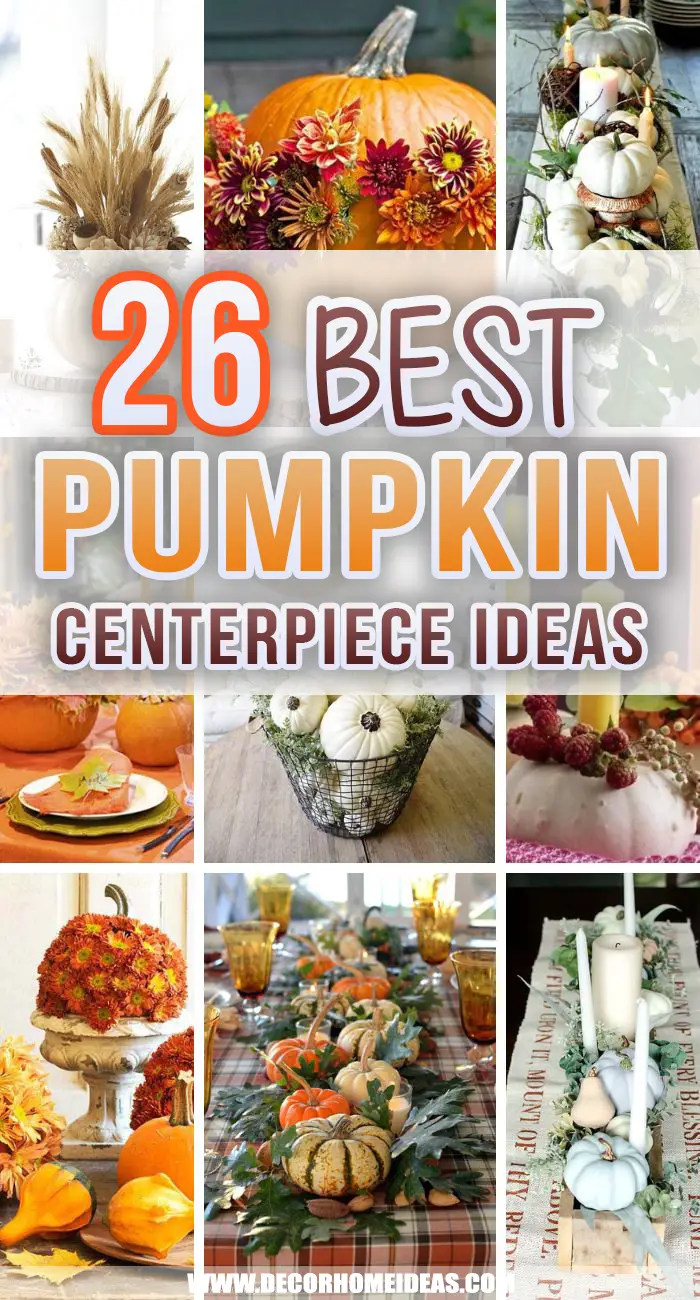 Believe it or not, but here are some amazing ideas and DIY projects that you can try to make the best fall pumpkin centerpieces this year.
1. Add a Touch of Elegance with Pumpkin Jar Centerpiece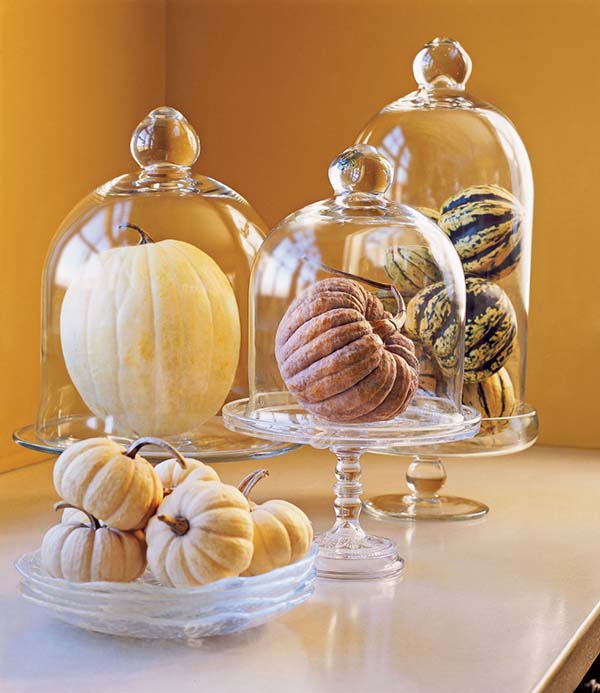 Photo: Credit
Let's face it – we can't escape the abundance of pumpkins, colors and redecorating techniques this season.
Let's embrace it and play with them as much as we want. We don't have to do what we did last season, right?
On the very first day of autumn, you may feel like you want to do something different. Let's place small pumpkins in giant glass stands in the center of the table.
These are stunningly beautiful! You can see through and enjoy these graceful decorative additions.
This is an elegant, refined solution for a whole positive season to come.
Pumpkins of different sizes and colors in glass pedestal cloches…So simple yet delightful and sophisticated! What's not to love in this arrangement? This traditional centerpiece is a stunning way to beautify any space for the fall season!
2. Turn Cake Stands into Rustic Pumpkin Fall Centerpieces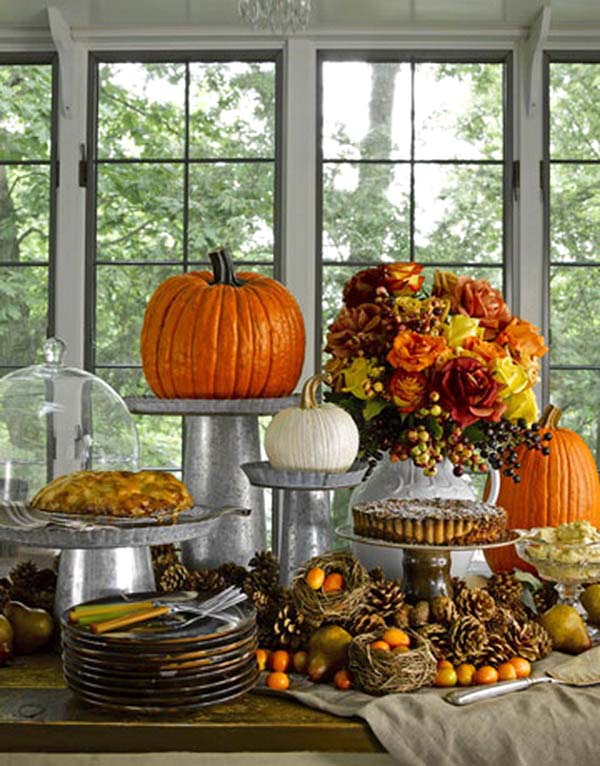 Photo: Credit
This over-the-top table is something to be admired. Let's view the decoration detail by detail and find what makes it special.
What can we use here and tailor it to our taste?
We have pumpkins, flowers, pinecones, food and bouquets to arrange. Cake stands are awesome bases for decorations.
You will like this so much that you will want to take plenty of photos to share with family and friends.
Pumpkins positioned on elevated cake stands…Plenty of pinecones complement the display.
Fake nests and eggs add a touch of unexpectedness and a delightful bouquet – color, scent, and charm. This buffet table arrangement is so creative…and bountiful…and colorful…and rustic…
3. Create a Fall Vibe with White Pumpkin Luminaries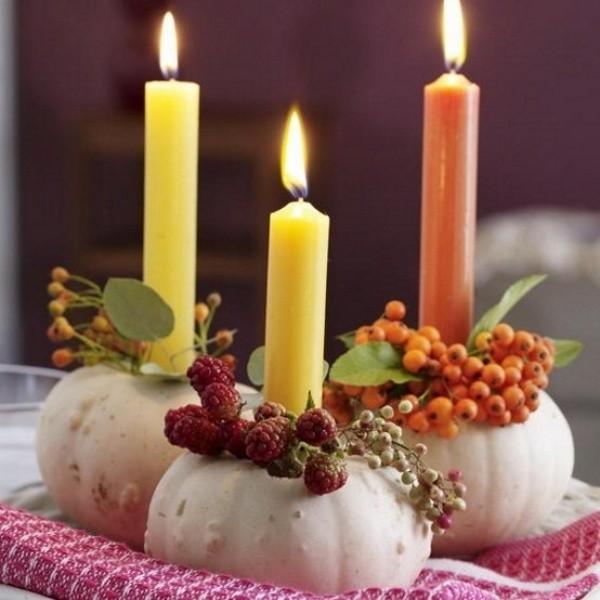 Photo: Credit
If you want to go a different way, then use white pumpkins.
Candles, fruits and all that is beautiful will set the right energy tone for your home.
We know that the more there are clean, beautiful and positive objects – the better the vibes of the home.
A white pumpkin arrangement can always create a fall vibe…Just have a look at this simple and budget-friendly yet eye-grabbing display!
Fruits add extra appeal and color and candles – height and visual interest. Definitely an admirable centerpiece!
4. Bring Freshness and Light with a Unique Pumpkin Arrangement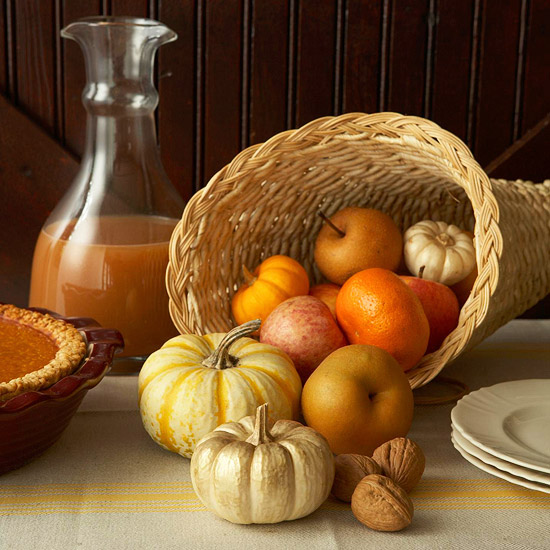 If you are like me and prefer to go lighter on the decorations…
You can always spread across the table a couple of pumpkins, a nice basket and a good batch of fresh juice.
That is plenty! For most of the decoration, you can just eat and share with others.
DIY Project Details: Here
5. Make a Rustic Fall Table Display with Pumpkins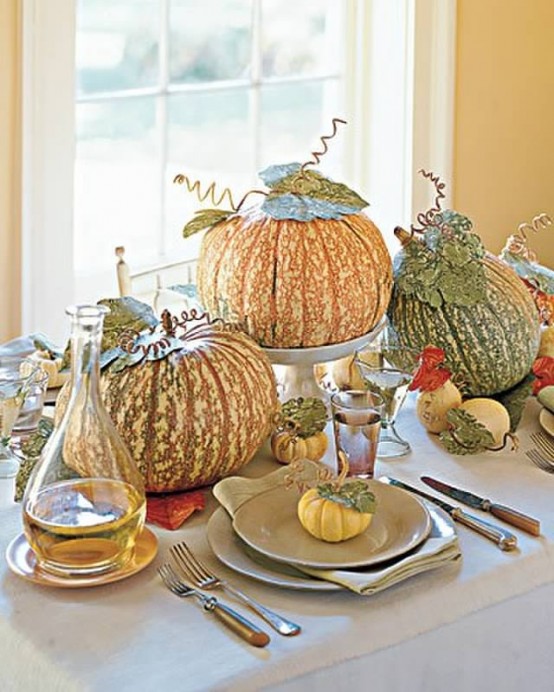 Photo: Credit
Once we know what we want to achieve, it's far easier to do it, right?
This amazing table didn't just happen. Caring, generous hands worked and made it happen.
I appreciate the fine look of this fall pumpkin decoration – it is truly a centerpiece.
This one is a heart-warming sign of the upcoming season. Fall appeal!
6. Bring an Eye-Grabbing Display to Life with Grouped Pumpkins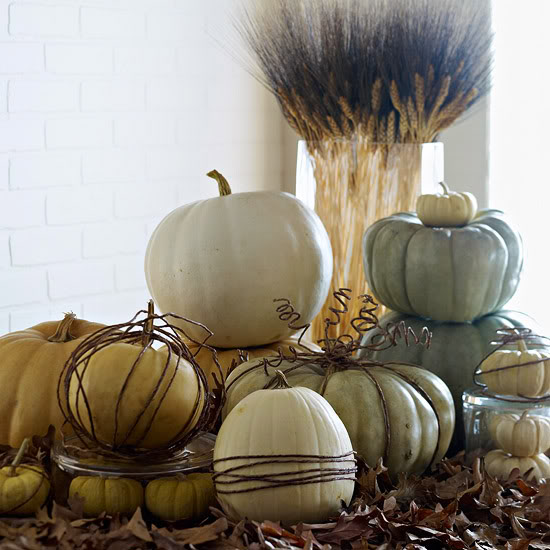 Pumpkins sort of need each other and if you are looking for proof – then take this!
They compliment each other so well, that we simply need more of them. This is an organic look, a tasty look towards the upcoming autumn days.
This is a special centerpiece that you can tailor all by yourself. Definitely eye-grabbing!
DIY Project Details: Here
7. Transform Your Autumn Decor with a Pumpkin Floral Display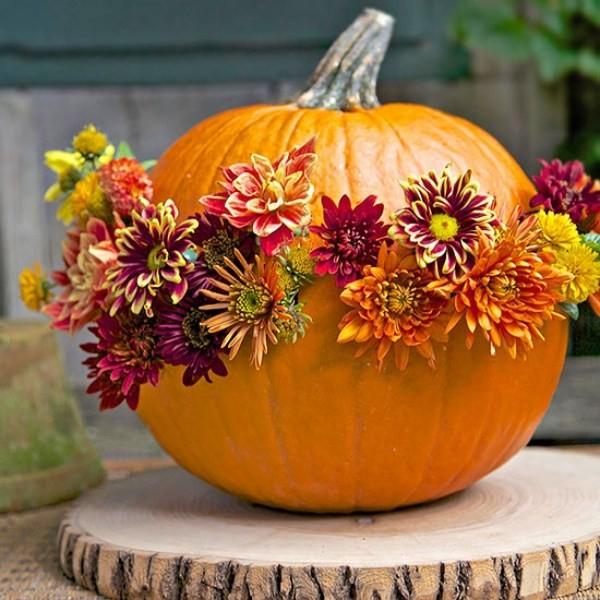 Let's cherish our joyful moments and decorate an orange pumpkin as a symbol of the battles we fought with ourselves rather than others.
Isn't this how mankind celebrates its efforts? It creates something beautiful as a sign of its achievements.
Strength comes when we do not battle hardships, but appreciate them and dig for the gold inside the hardship.
Grace a pumpkin with autumn flowers and you won't regret it! Absolutely adorable!
DIY Project Details: Here
8. Get a Trendy and Polished Look with a Gray Pumpkin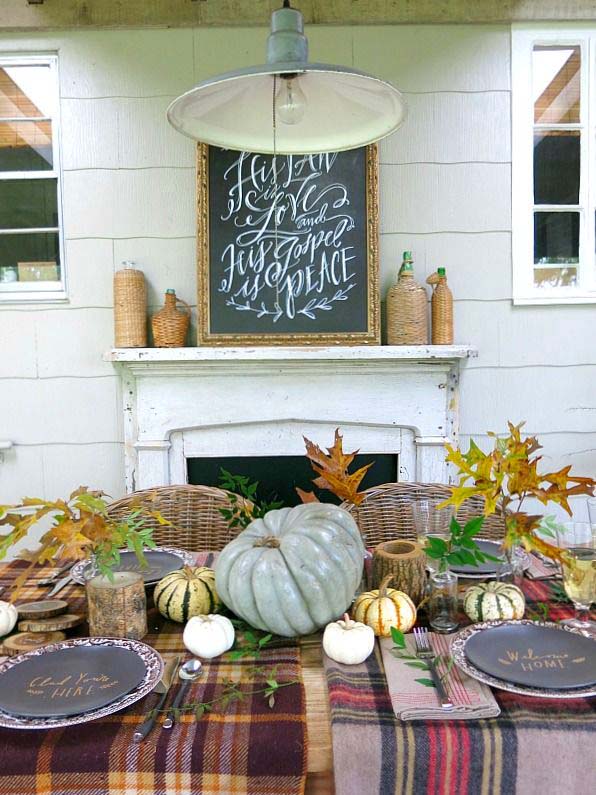 Some of us find the color gray pretty boring, right?
Well, "some" does not mean all. There are awesome gray elements and living beings on this planet.
The stones on the ground and the dolphins in the ocean, the pumpkins in the autumn…
From a simple gray pumpkin to a whole décor in a gray autumn color scheme, this is just the beginning.
This view is spectacular! Fabulous fall table centerpiece!
DIY Project Details: Here
9. Create a Fall Atmosphere with Yellow Pumpkins and Flowers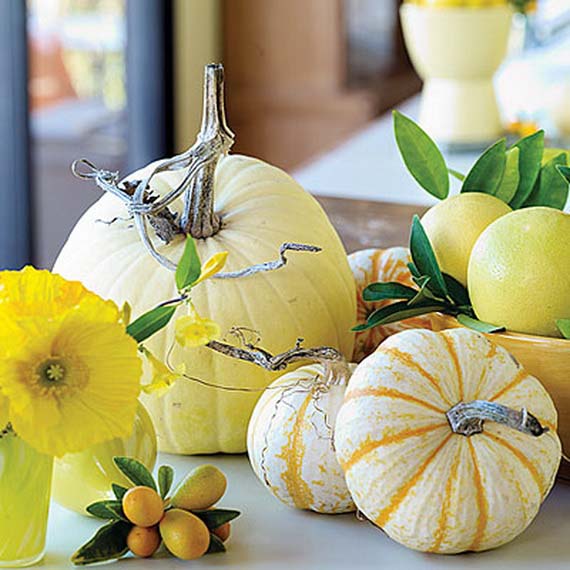 Photo: Credit
No, we are not through with lemons….as the summer season is just a prelude to another beautiful yellow season.
Choose some yellow pumpkins, flowers and even add a couple of lemons to the top of the decoration.
This is great for a kitchen table or the garden in your house. This is the magic of fall!
10. Unleash Your Creativity with a Flower Pumpkin Centerpiece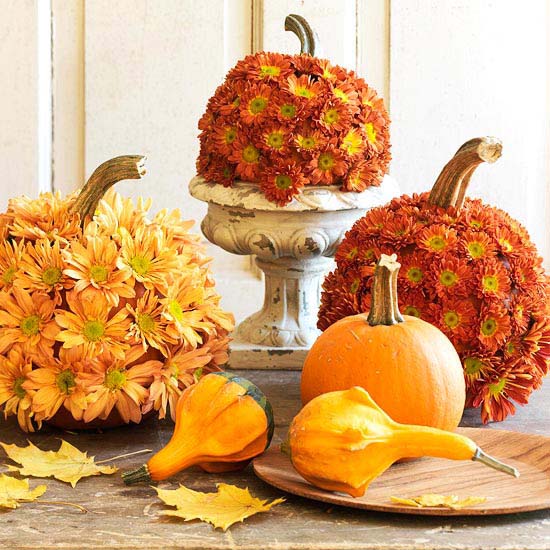 I find this truly adorable and if you are already wondering how to achieve it… here is a tip.
The flowers can be sawn on a net and when you are ready you can just "dress" the pumpkin with the net.
Another way to go is if you use tiny pins or needles and gently attach the flowers to the pumpkin.
What a way to celebrate harvest colors!
DIY Project Details: Here
11. Turn Pumpkins into Rustic Table Flower Vases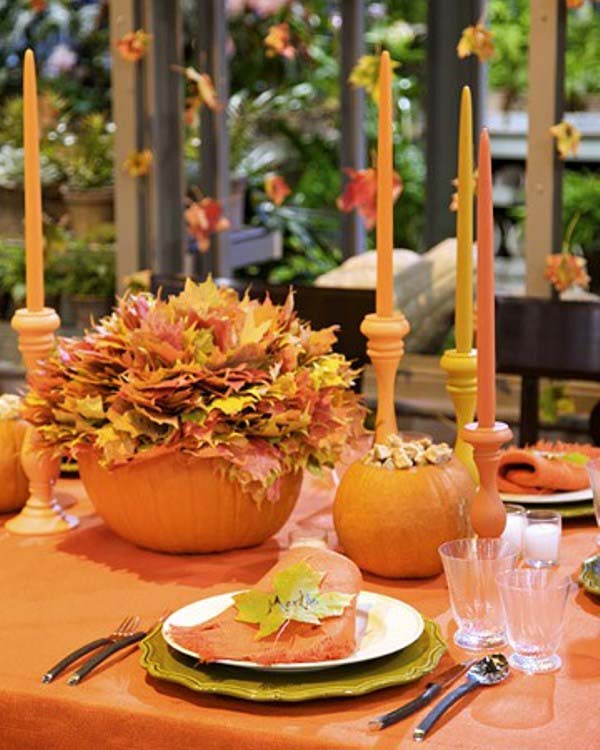 This is a very unique and stylish solution that I can offer.
Leaves on the table are a wonderful and cheap way to decorate the room.
You can make a whole centerpiece or simply spread around a couple of leaves. This is an eye-grabbing and awe-inspiring story of the autumn season. Great carving pumpkin project.
You may even gain trend followers! What a beauty!
DIY Project Details: Here
12. Brighten Your Room with a Floral White Pumpkin Centerpiece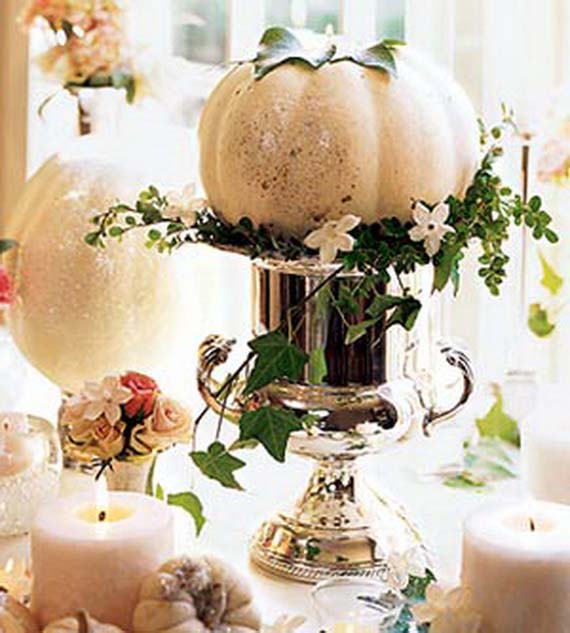 Photo: Credit
On this website, we often remind that the best is yet to come and number twelve in this collection couldn't be a better way to do it.
So gentle, pink, light and generous!
This décor goes all the way – from the pumpkins to the candles, to the daylight coming in and the proportions of the décor.
Tiny flowers grace the stand, there is attention to detail and you feel engaged in the story the decorated wished to tell.
13. Unlock Emotional Balance with a Rustic Pumpkin Arrangement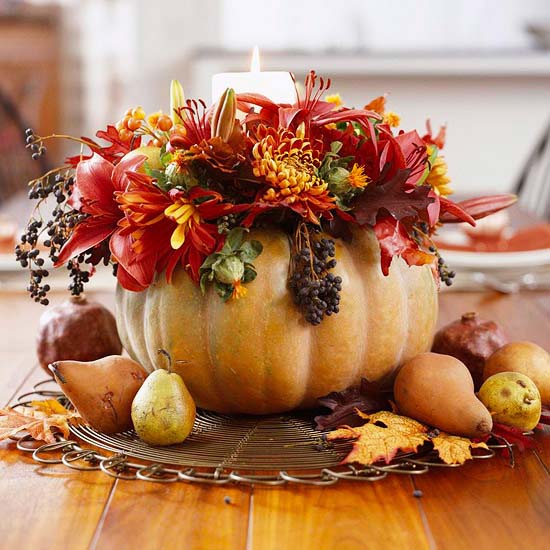 While spiritual reads often remind us that we should stay grounded and centered, I find that decorations also do that.
Take a look at this altar of grace and abundance! The centerpiece is topped off with a light candle.
There are pomegranates, pears, and flowers on top. So much has been expressed with so little effort!
DIY Project Details: Here
14. Elevate a Rustic Wooden Table Runner with White Pumpkins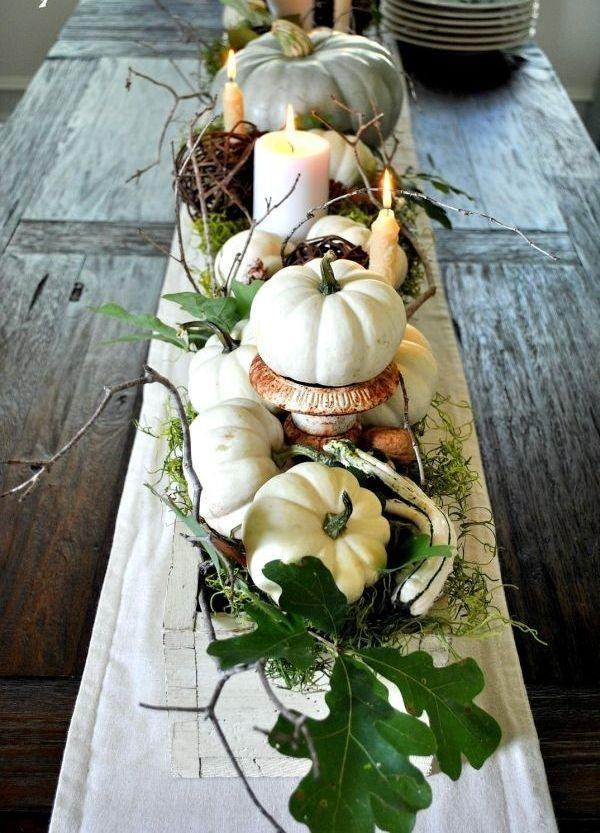 Photo: Credit
Fig leaves, white pumpkins, a long whiteboard and the vast imagination of the decorator at our service…
All of these are "must haves" for the table. They all come to play together and present us with an unexpected decoration.
If you have a longboard, use this idea. Any green leaves will do the trick; any pumpkins on the farmer's market will be useful for this task! So elegant and organic!
15. Show a Home's Beauty with Pumpkin Succulent Centerpieces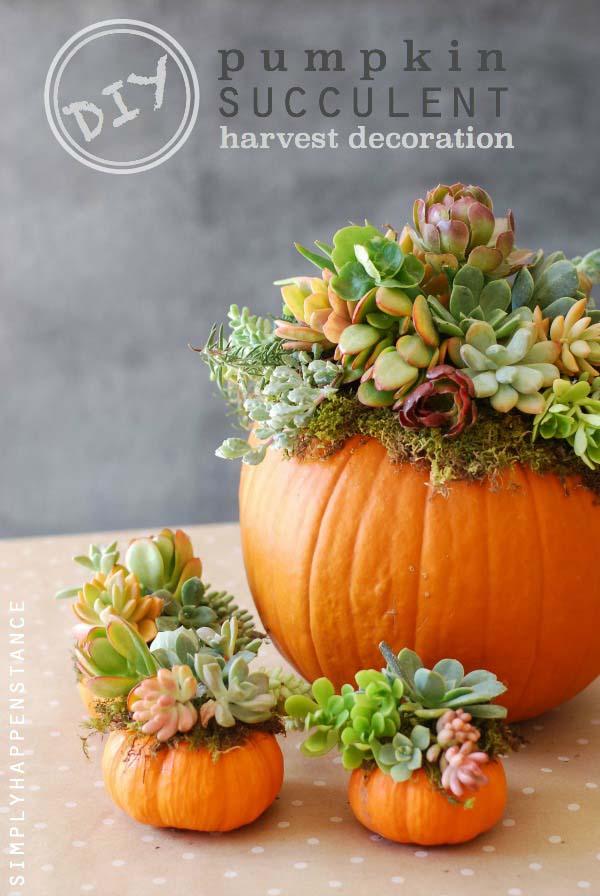 Photo:Credit
Combining succulents and pumpkin is awesome looking. The idea is very original and creative.
The green totally pops against the bright orange pumpkins.
16. Enchant Your Decor with a White Pumpkin and Candle Accents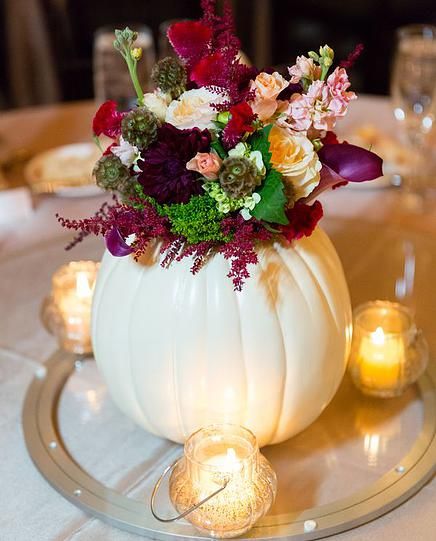 Image:Source
Great idea to add some fresh or faux flowers and surround the pumpkin centerpiece with golden candles.
17. Decorate Your Table with a Mini Pumpkin Table Runner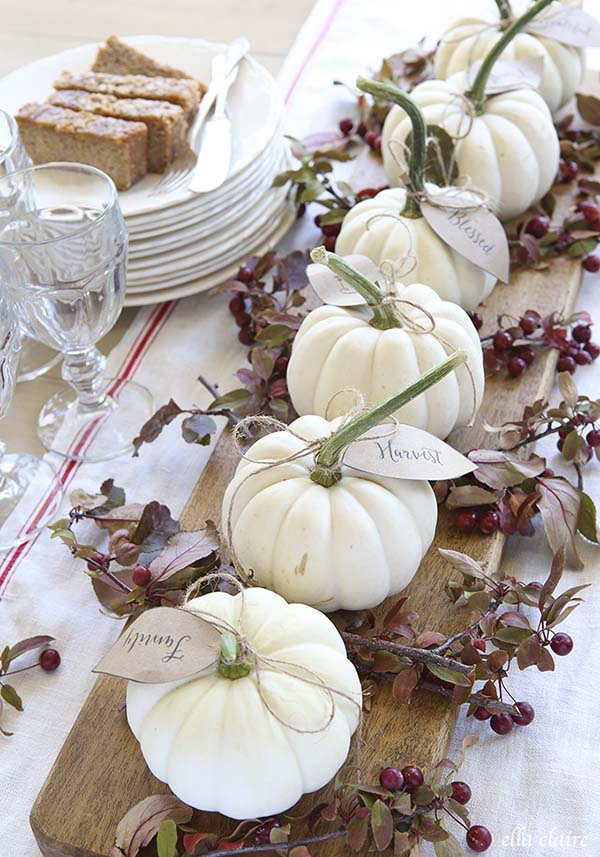 Image:Source
Those mini pumpkins are labeled and decorated with some berries. Put them on a wooden board and you'll have a gorgeous fall centerpiece idea.
18. Bring Autumn Magic with White Pumpkins and Orange Decor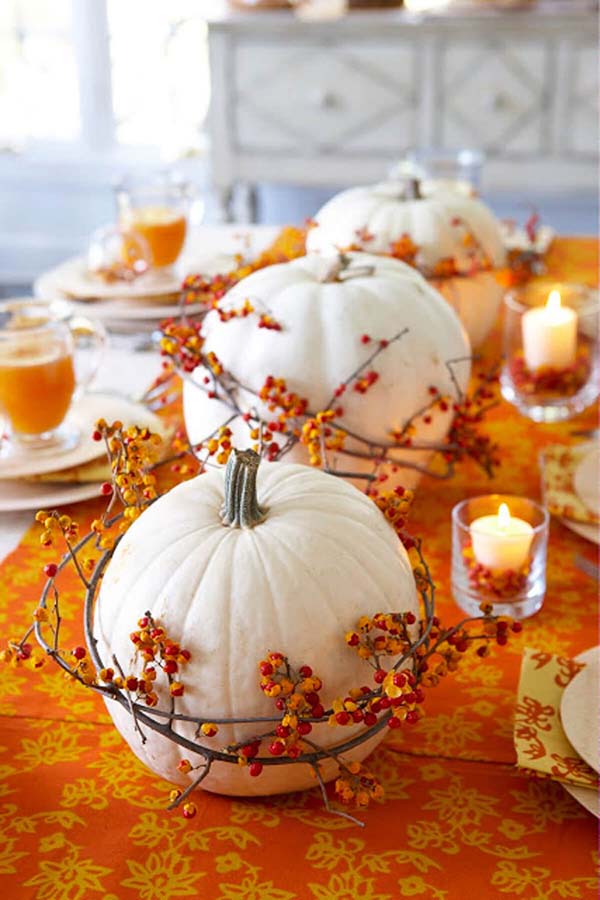 Image:Source
Create a stunning centerpiece by using medium-sized white pumpkins on a fall-themed orange table cover. Berries and candles perfectly complement the main decoration. They are great no-carve pumpkin decorations.
19. Give Your Fall Decor a Splash of Color with a Rustic Bowl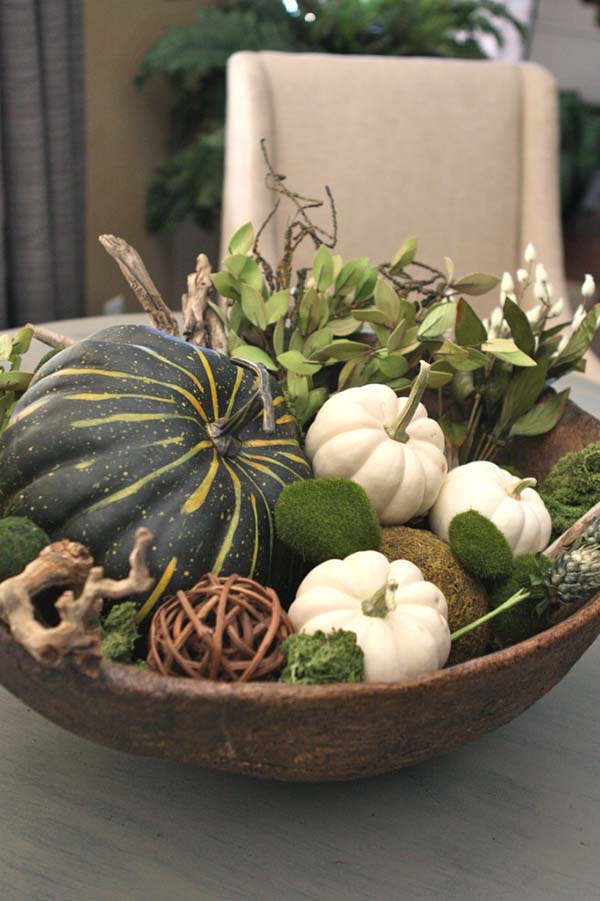 Image:Source
Who said only orange, yellow and brown are fall colors? There are a lot more colors to experiment with when you want to create an original pumpkin centerpiece.
20. Indulge in the Lavish Look of a Gold Pumpkin Centerpiece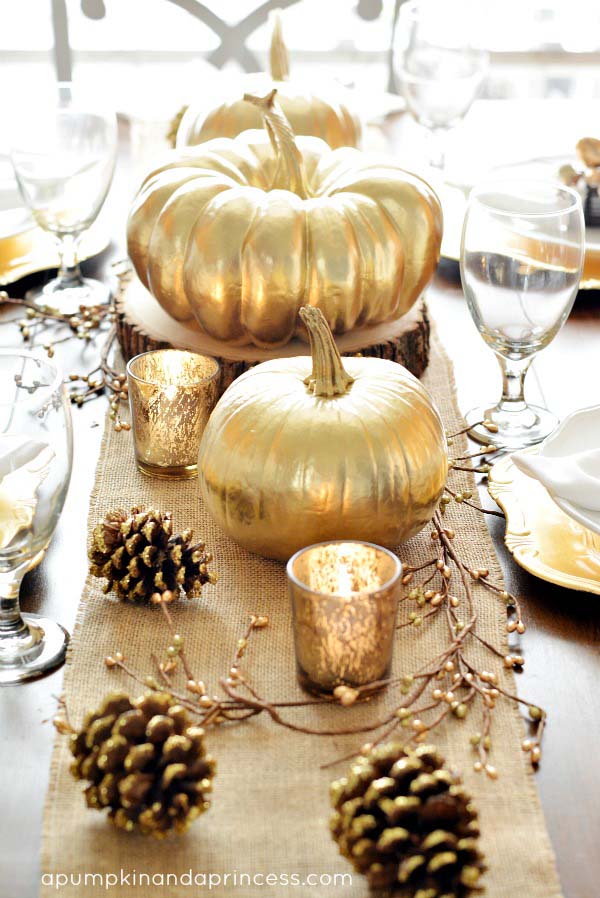 Image:Source
If you like shiny and catchy centerpieces, you can try making some pumpkins golden. Well, I don't expect you can afford real gold, but you spray paint them with gold spray paint. Or if you prefer, why not silver?
21. Bring Farmhouse Charm with a Metal Bucket Pumpkin Display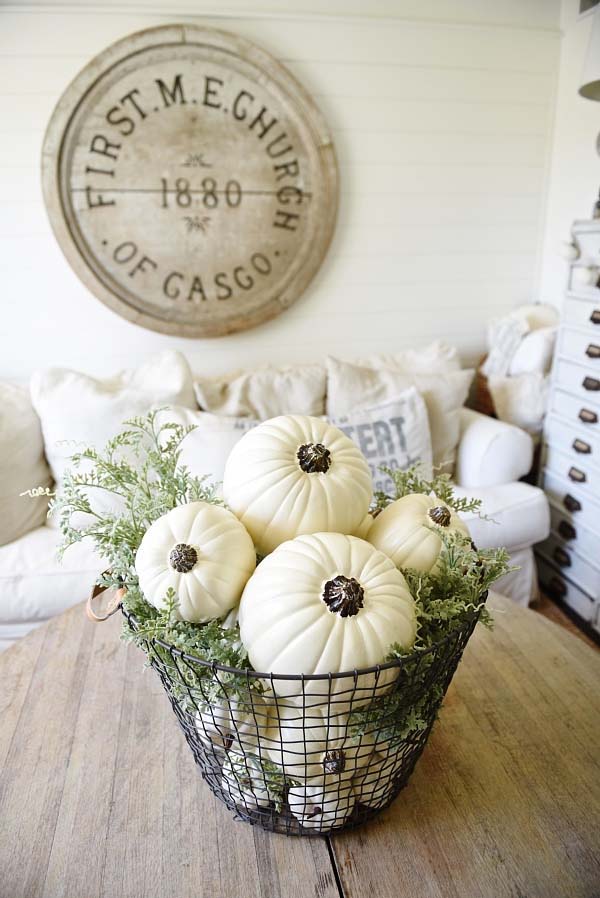 Farmhouse decor is quite trendy these days, so you can get this idea and create a very simple pumpkin centerpiece.
Use a wire basket, add some greenery and your pumpkins and it's ready to impress your guests.
22. Set the Right Tone with a Wheat Pumpkin Centerpiece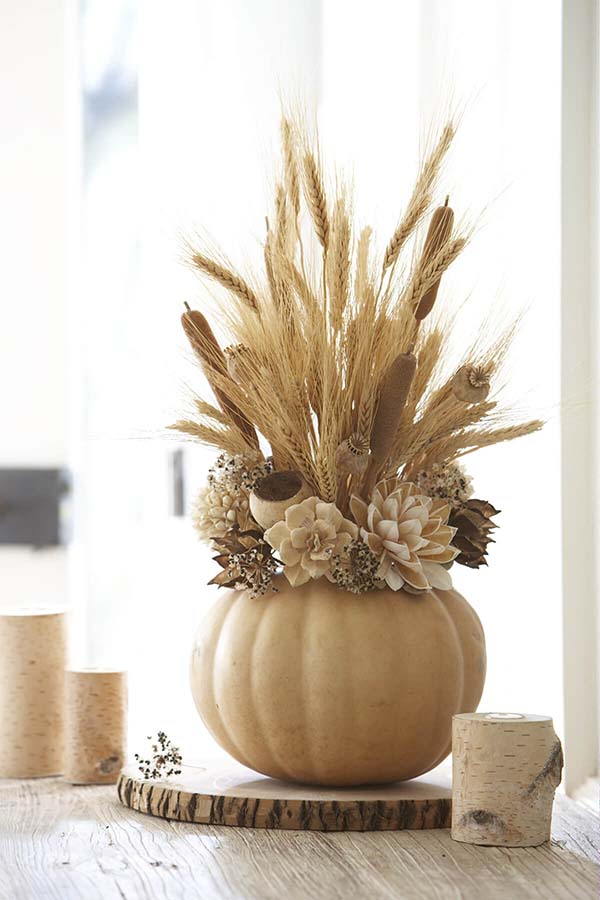 Image: Source
This one is a great neutral color pumpkin centerpiece. The soft tones of wheat and dried flowers are perfect for any living room that is too bright or colorful.
23. Add Character and Style with a Layered Pumpkin Centerpiece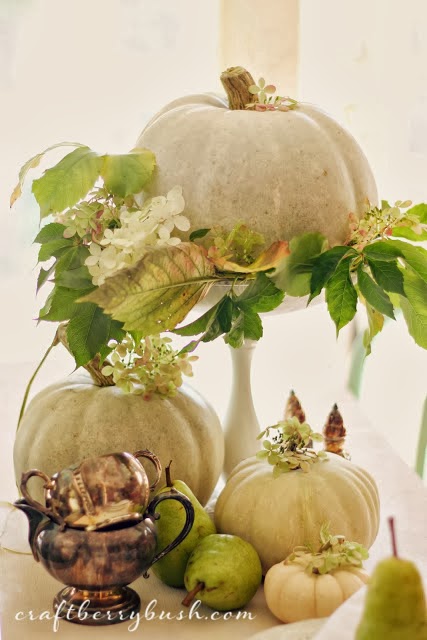 Photo:Credit
You can add pumpkins on several layers to create more volume. Add pears and greenery to make it contrast.
24. Colorful Table Runner with White and Orange Pumpkins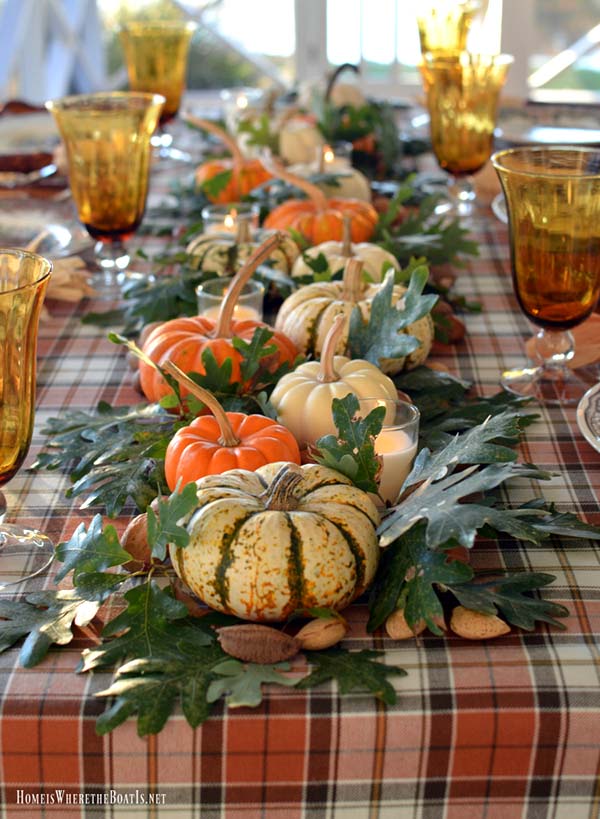 Photo:Credit
Pumpkins are so colorful and different. You can mix all of them together to create a similar stunning fall table centerpiece.
25. Bring a Mediterranean Vibe with a Pumpkin Tablescape
You can easily guess the theme here – the Mediterranean, right? All the blue napkins, white wood on the table, fallen leaves and glasses with cold water. So romantic!
26. Add Splendour to Your Home with Chalk-Painted Pumpkins
Your chalk-painted dream might get real if you dare to paint your pumpkins with chalk paint. As you can see in the photo the results are more than promising.
DIY Project Details: unoriginalmom.com
I hope you liked all these Fall Centerpieces With Pumpkins and they will inspire you to make your own. If you are looking for more fall decorations, check this article: 27 Best Etsy Fall Decorations You Don't Want To Miss This Season