Do you have no carving skills? Don't worry! You can easily give your jack-o'-lantern an eerie or cheerful makeover with these 27 Cool No-carve Pumpkin Fall Decorating Ideas. Let's get started!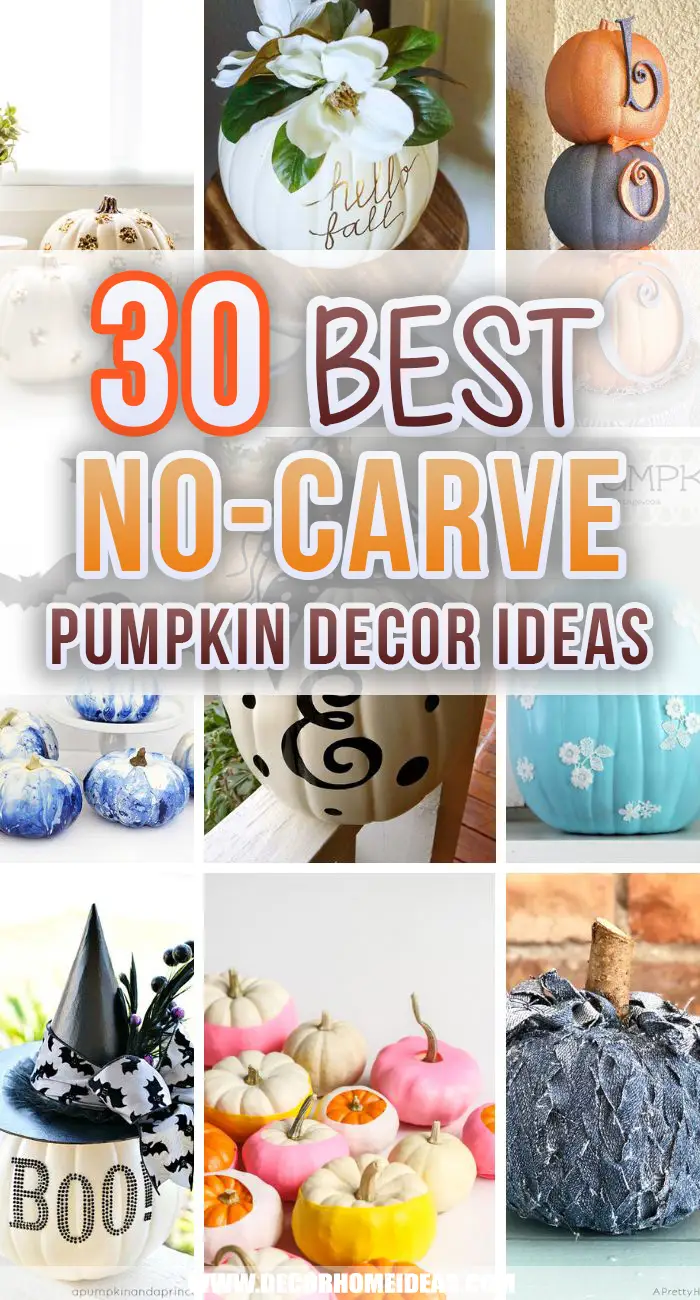 Decorating for fall is not only putting a fall wreath on your front door. There are plenty of other great decorations and using pumpkins is also fun and easy.
1. Impress Guests with Orange and Black Glitter Pumpkins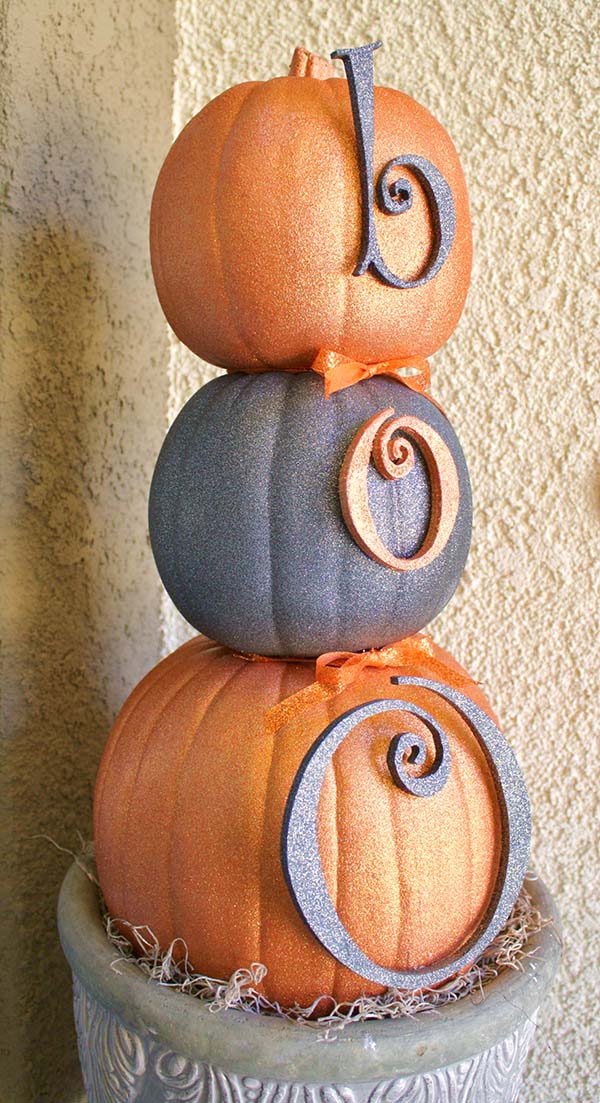 Glitter is always a great idea! These large pumpkins certainly sparkle with a splash of orange and black glitter spray.
DIY project details: adiamondinthestuff.com
2. Decorate with Marbled Mini White Pumpkins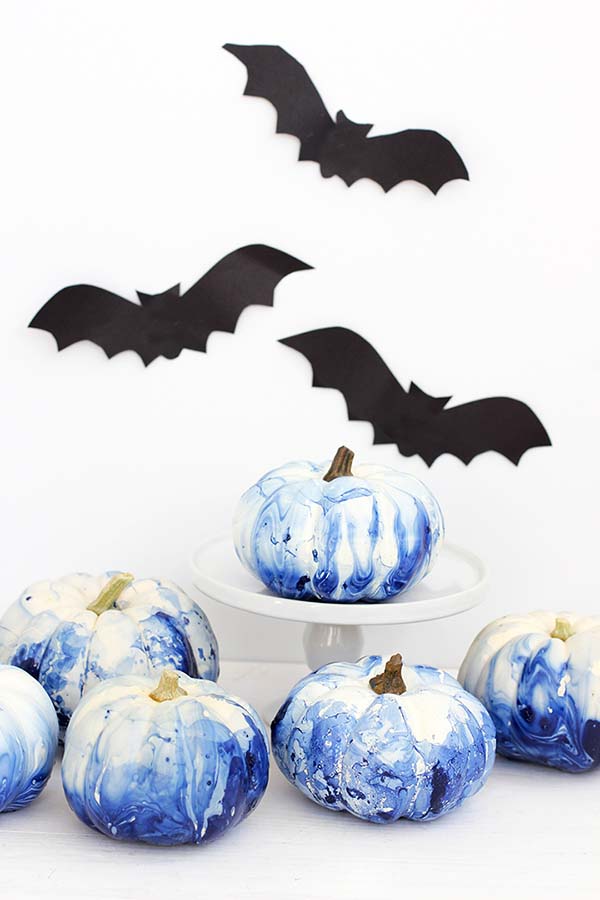 These exquisite mini white pumpkins which are taking a marbling treatment is one of my most favorite pumpkin painting ideas!
DIY Project Details: aliceandlois.com
3. Paint Your Pumpkins with a Timeless Zig Zag Pattern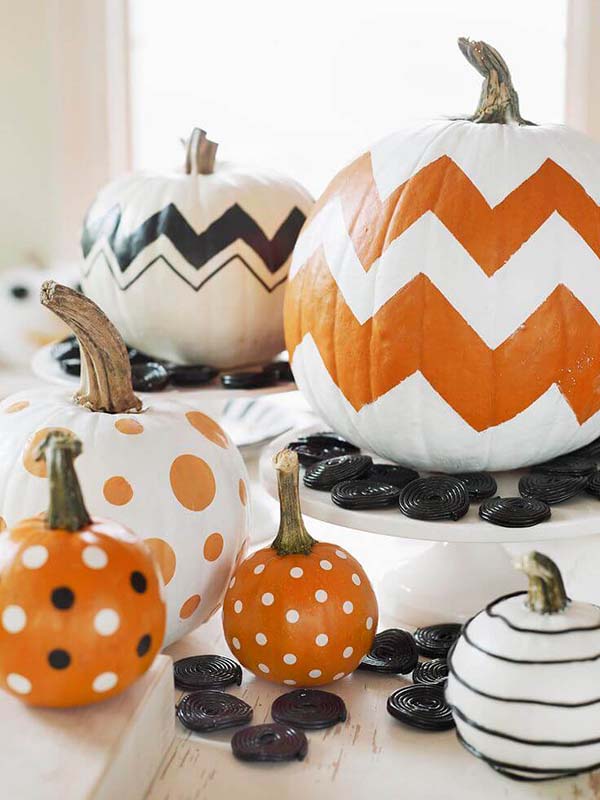 Photo:Credit
Are you desperately searching for timeless no-carve pumpkin ideas? The zig-zag trend is still pretty omnipresent as far as patterns go — and these snappy pumpkins seriously nail it.
4. Enchanting Frozen-Inspired Glitter Pumpkin for Halloween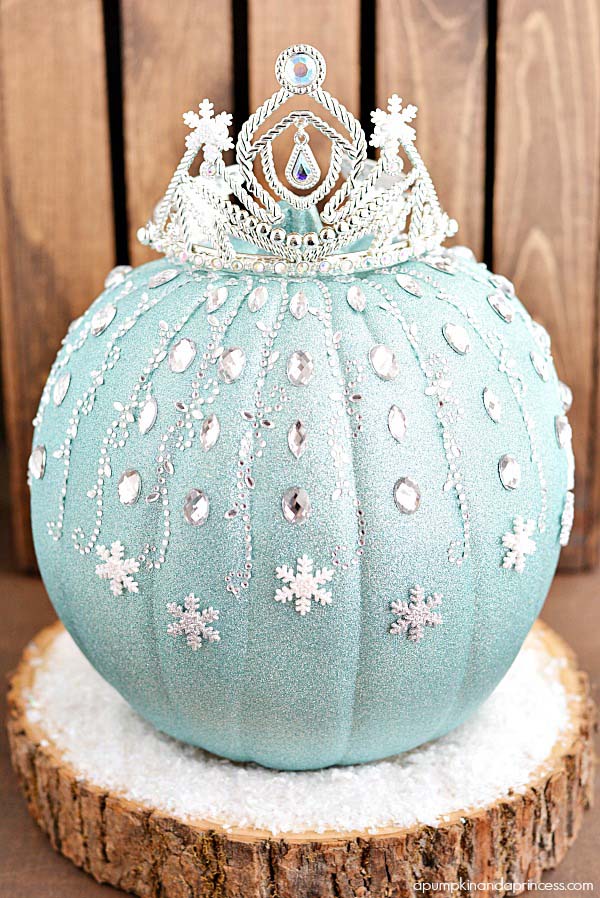 Last year, I wanted to surprise my 6-year-old princess with some creative no-carve pumpkin decorating ideas for Helloween. So I found this glitter pumpkin made with glitter blast, faux crystals, and snowflakes. She was completely stunned by the result as she is Disney Elsa's biggest fan!
DIY Project Details: apumpkinandaprincess.com
5. Give Your Pumpkins a Sophisticated Look with Melted Crayons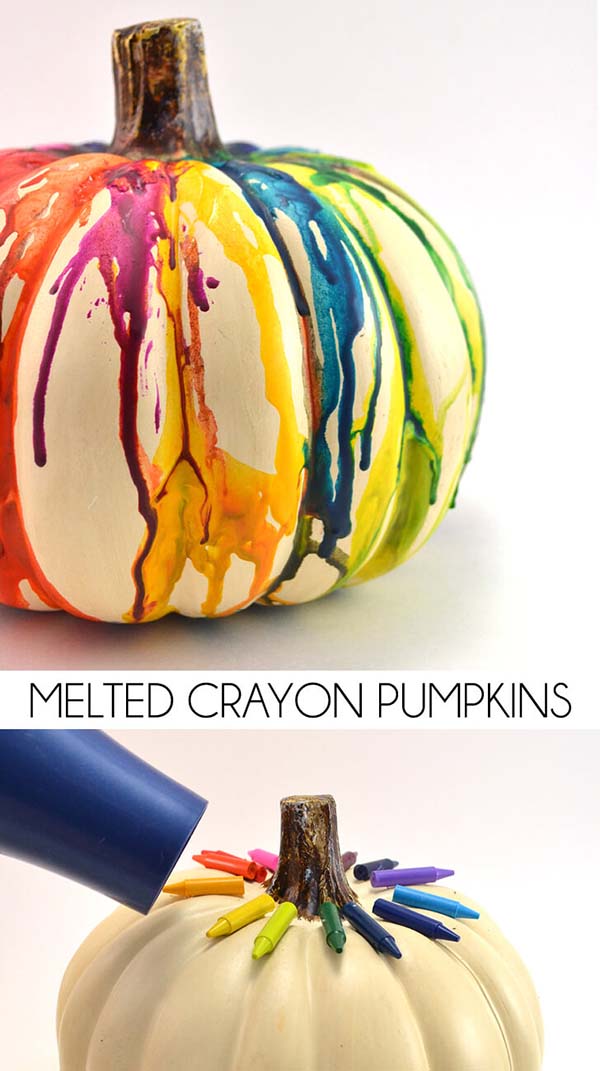 The drip art (also known as crayon art) is very popular nowadays for realizing DIY Halloween pumpkin ideas.
Take a look at the Dream a Little Bigger blog for some inspiration!
DIY Project Details: dreamalittlebigger.com
6. Unleash Your Creativity with Drip Paint Pumpkins for Halloween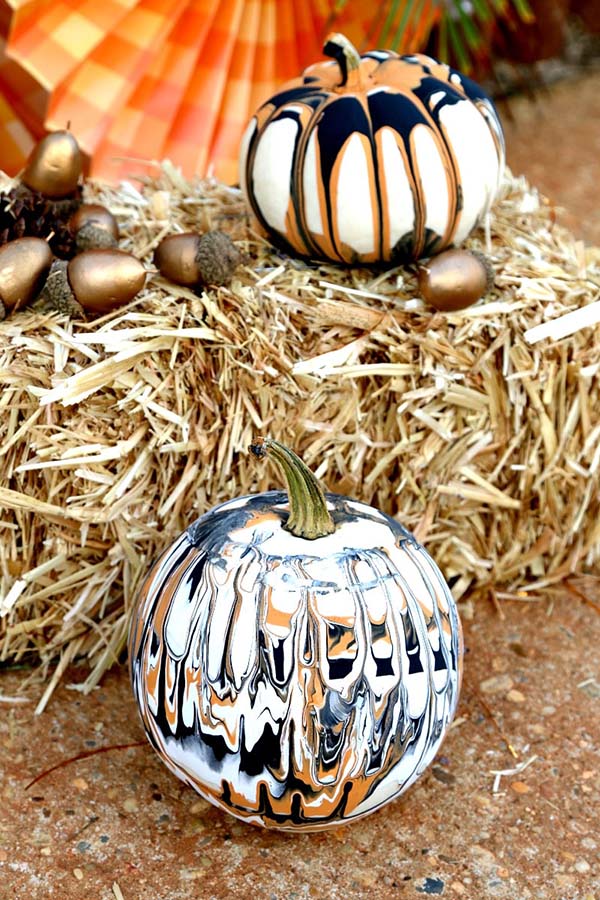 Trust me, your kids gonna love the messy drip painting pumpkins more than any other no-carve pumpkin ideas for kids. So please include them in the crafting process.
DIY Project Details: momdot.com
7. Upcycle Your Old Fabrics into Unique Pumpkin Designs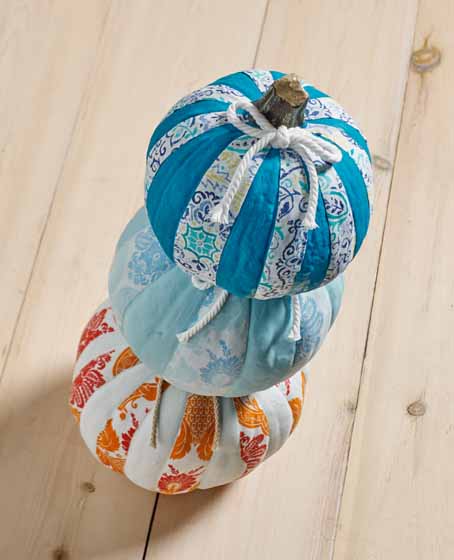 Here is an idea how to create your own DIY no-carve pumpkin ideas for the season using only Mod Podge and some cool fabrics!
You would be surprised by the result!
DIY Project Details: plaidonline.com
8. Give Pumpkins a Colorful Makeover with Balloons
I'll share a secret with you one of the spicy pumpkins no carve decorating ideas – for a pop of color, gride the ends off some old opaque balloons (about 11 inches for mini pumpkins, larger for the ones), and stretch around the pumpkin bases.
DIY Project Details: papernstitchblog.com
9. Upgrade Your Home Decor with Polka Dots Sequin Pumpkins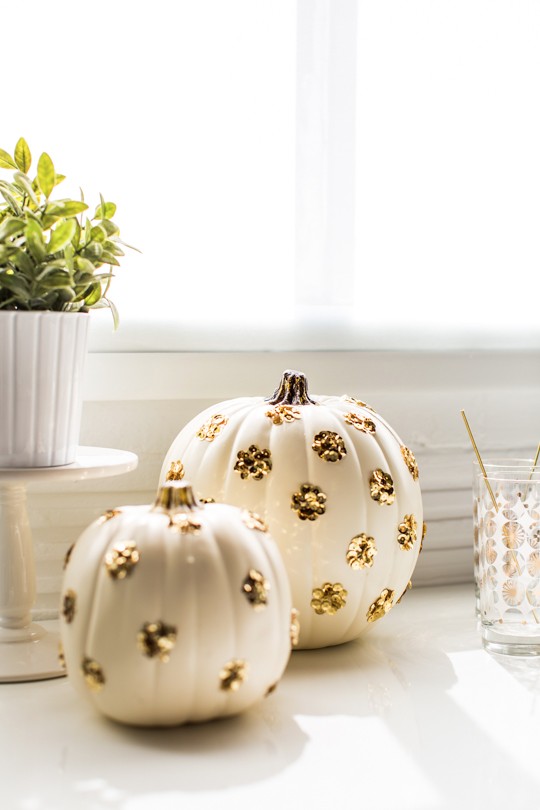 There are tons of pumpkin decorating ideas out there that show us the Halloween decor can be cheerful and welcoming instead of spooky and scary. Here is one of them!
DIY Project Details: sugarandcloth.com
10. Add Some Cheer to Your Doorstep with Emoji Pumpkins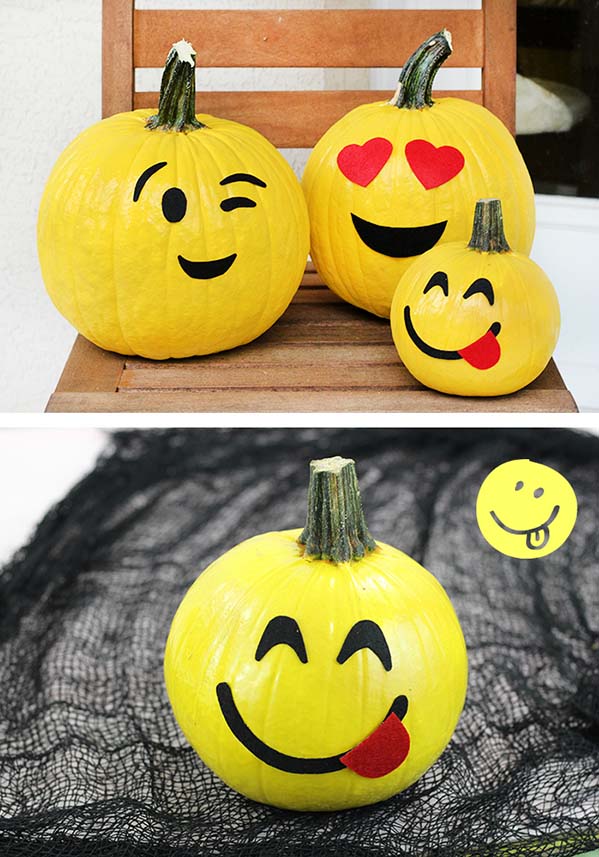 The emoji pumpkins make me smile every time I look at this picture! Bring the positive vibe at your home by re-creating this happy faces.
DIY Project Details: cutefetti.com
11. Transform Your Pumpkins with Sparkles and Stickers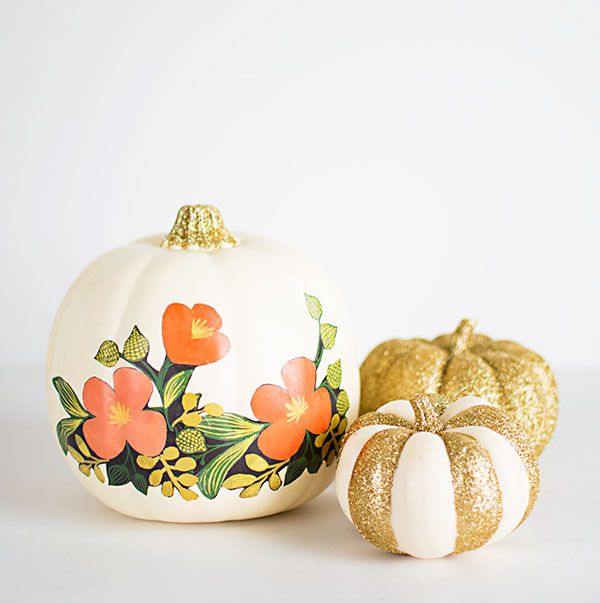 Photo:Credit
Cling some temporary tattoos to your mini white pumpkins. Join a ring of floral elements together to achieve this botanical look.
Add some gold glitter for a more expensive look. 
12. Add Spooky Quotes to Your Pumpkins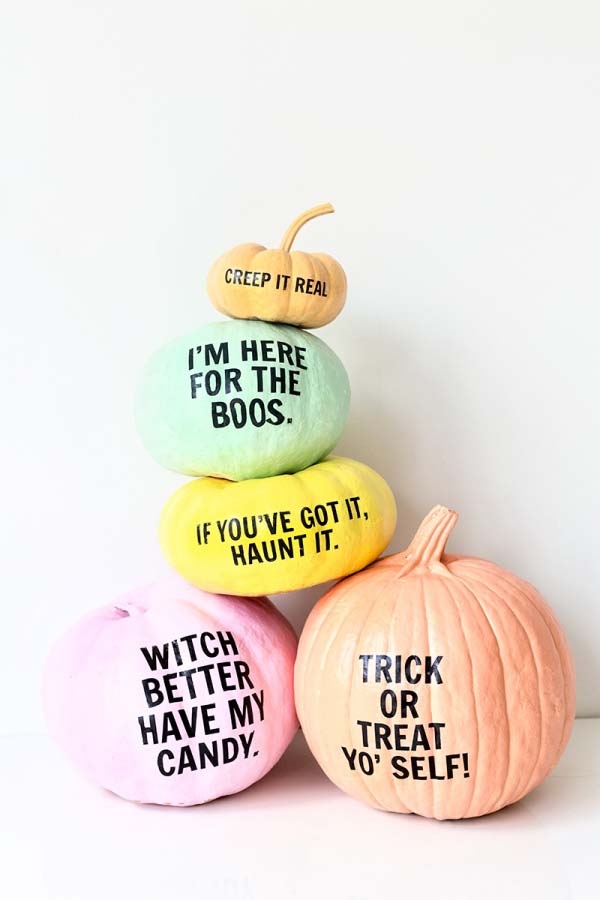 You should definitely add this to your list of fun no-carve pumpkin decorating ideas.
Materials needed:
Pun Printables
Different size Pumpkins
Craft Paint
Tattoo Paper
Paper Towel
DIY Project Details: studiodiy.com
13. Get Ready for Fall with a DIY Pumpkin Zoo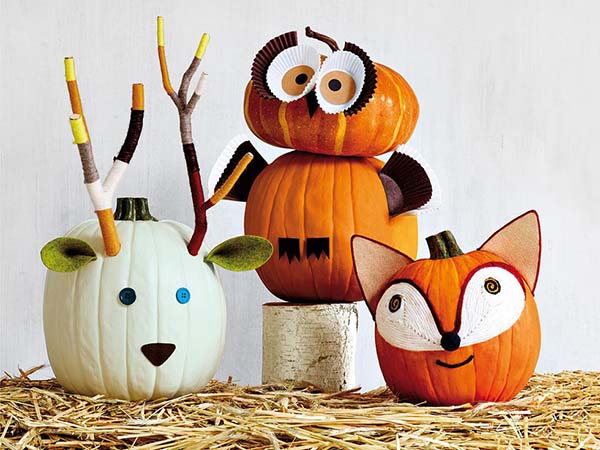 Photo:Credit
Among all Helloween pumpkin ideas, there are some that will make your decoration one-of-a-kind. How cute are these little guys, huh?!
14. Use Chalk-Painted Pumpkins for a Rustic Fall Look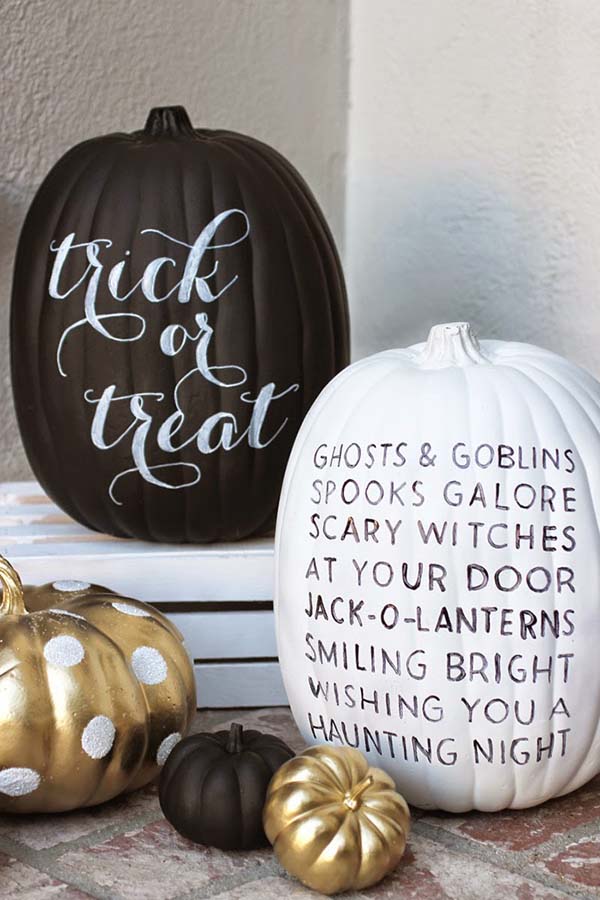 Finish off your one-color painted pumpkins with a chalk sign for a look that is much easier than carving.
DIY Project Details: linenlaceandlove.com
15. Turn Your Home into a Paradise with Watercolor Pumpkins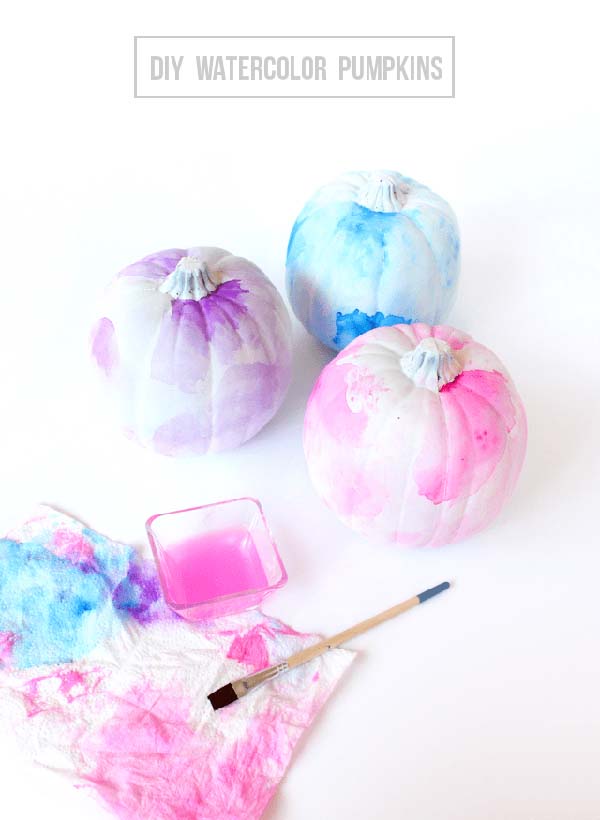 Looking for cute no-carve pumpkin decorating ideas? You got it!
Materials needed:
1. Plastic craft pumpkins
2. White spray paint
3. Watercolor Paints
4. A roll of kitchen paper
5. Sponges
6. Sealant
DIY Project Details: linesacross.com
16. Transform Pumpkins with Creepy Witch Decor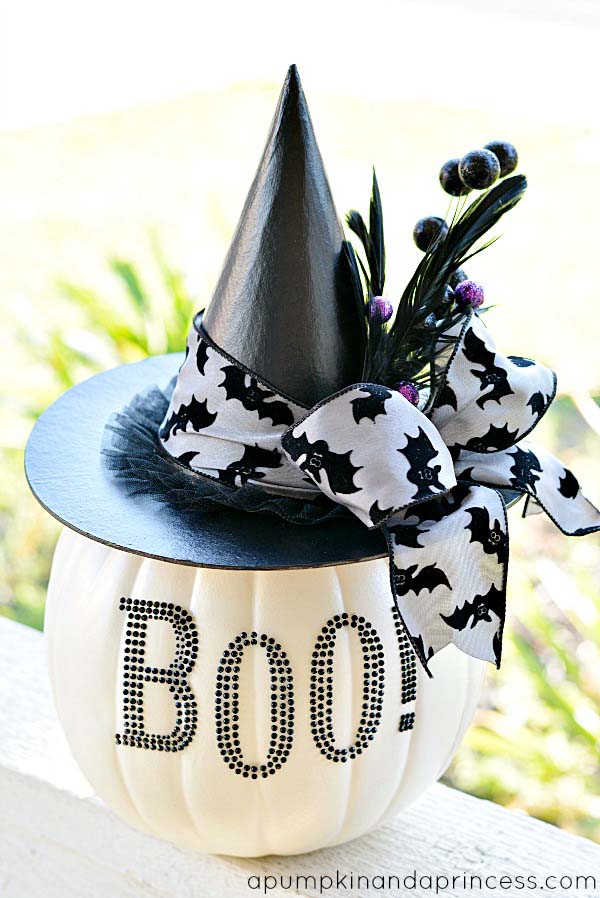 Accessorize your jack-o'-lanterns with cool bewitching DIY masks, black witch hats, or pieces of batty fabrics.
Thanks to these unique pumpkin carving ideas, you will have the spookiest Halloween decoration in the neighborhood!  😀
DIY Project Details: apumpkinandaprincess.com
17. Upgrade Your Space this Autumn with a Magnolia Pumpkin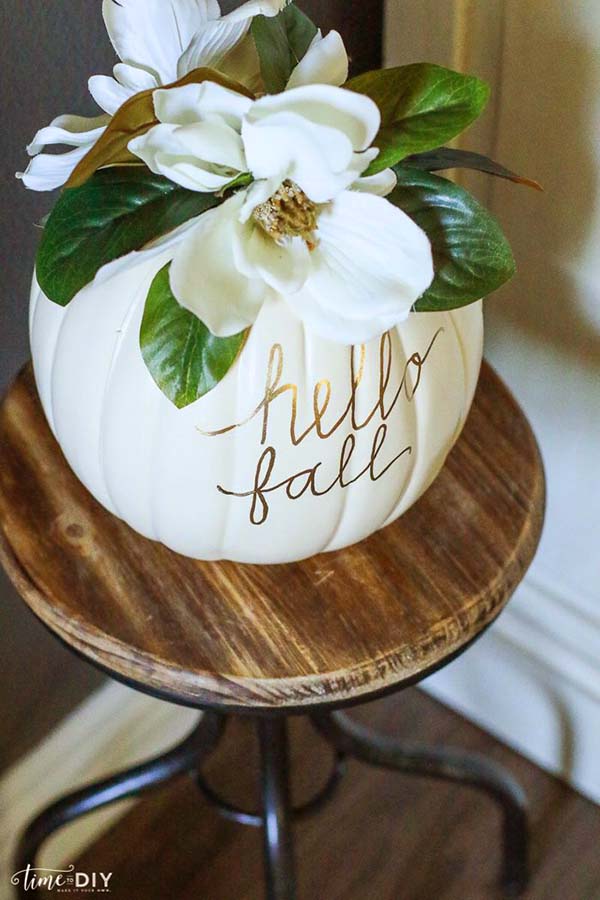 A solid part of the pumpkin decorating no-carve ideas on the internet are not Halloween styled but more related to the upcoming fall…such as this one on the picture above!
This DIY magnolia pumpkin, made by Lolly Jane, is so refined and stylish, I just want it in my living room!
DIY Project Details: lollyjane.com
18. Scare Your Neighbors with a Giant Spider Pumpkin Decor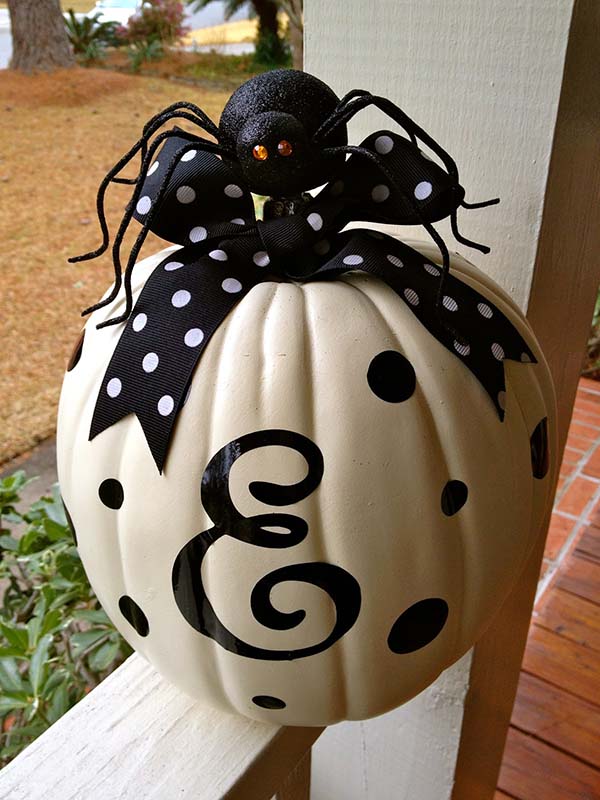 Photo:Credit
The personalized Halloween decoration is one of the ageless 'no carve scary pumpkin ideas'.
Add a fake big black spider on top of it for a more spooky terrifying look.  😯 This one is also a great fall front porch decoration.
19. Add a Spooky Touch This Halloween with Pumpkin Owls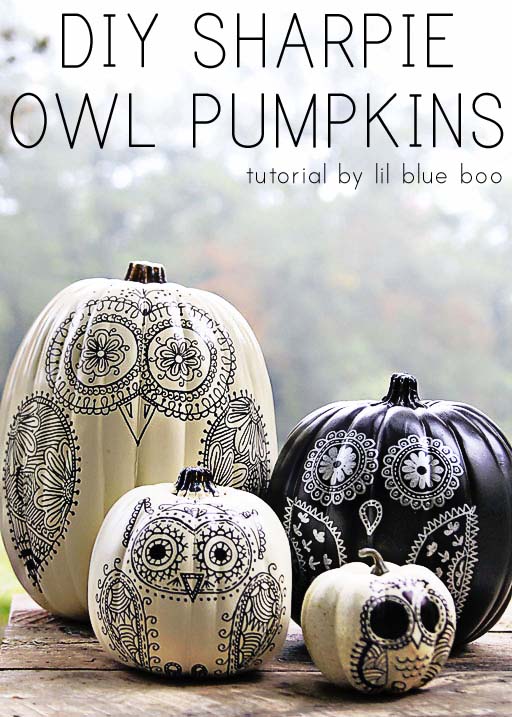 My family is a big fan of the no-carve owl pumpkin ideas. That's why I decided to add this "sugar skull" owl band to my collection of 27 no-carve pumpkin decorating ideas.
DIY Project Details: lilblueboo.com
20. Add Effortless Charm with White Mini Pumpkins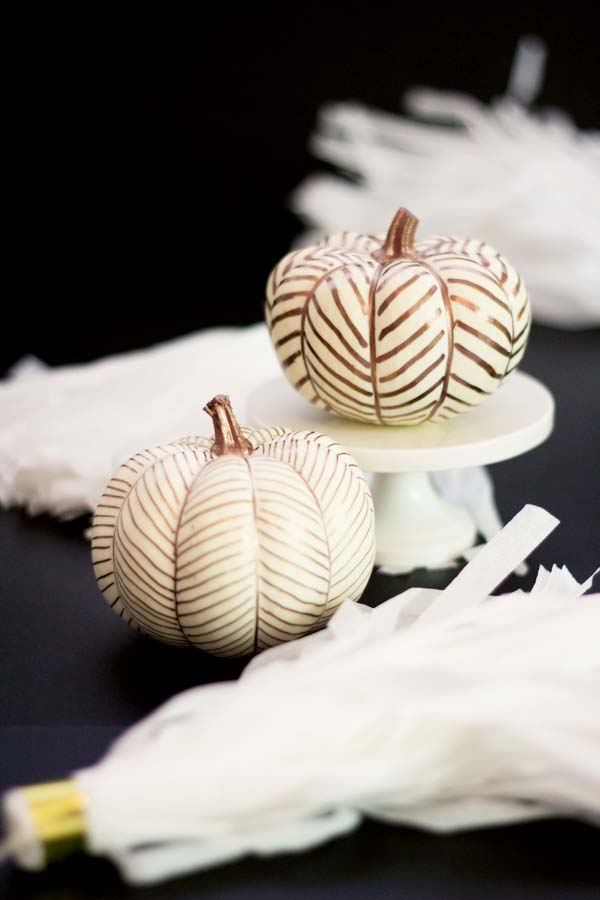 Think how pretty these white mini pumpkins would look gathered in a bowl or lined up in your front window. Simplicity is more than enough sometimes. Could be used as a Thanksgiving centerpieces.
DIY Project Details: lovelyindeed.com
21. Create Colorful Pumpkins with Painted Dots Decor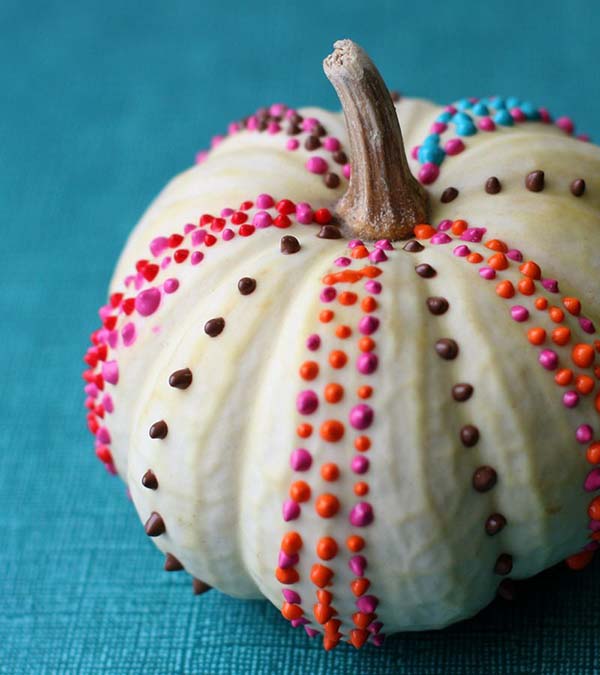 This DIY project is very simple – you are basically making little rows of painted dots on the surface of your mini white pumpkins.
💡 Add this to your list of easy no carve pumpkin ideas!
DIY Project Details: abeautifulmess.typepad.com
22. Add an Artistic Touch with Decoupage Lace Pumpkin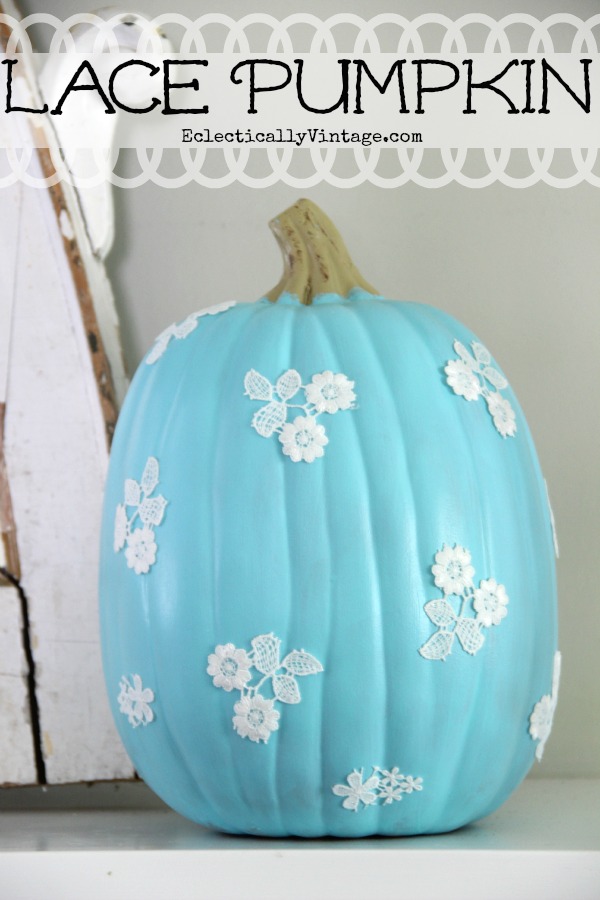 Floral laces encircling a white pumpkin make a graphic statement.
This is one of the most suitable 'no carve pumpkin decorating ideas for kids' as it is easy and you can teach your kiddos how to do decoupage. Absolutely stunning DIY fall craft idea.
DIY Project Details: kellyelko.com
23. Light up the Night with Neon Paint Dipped Pumpkins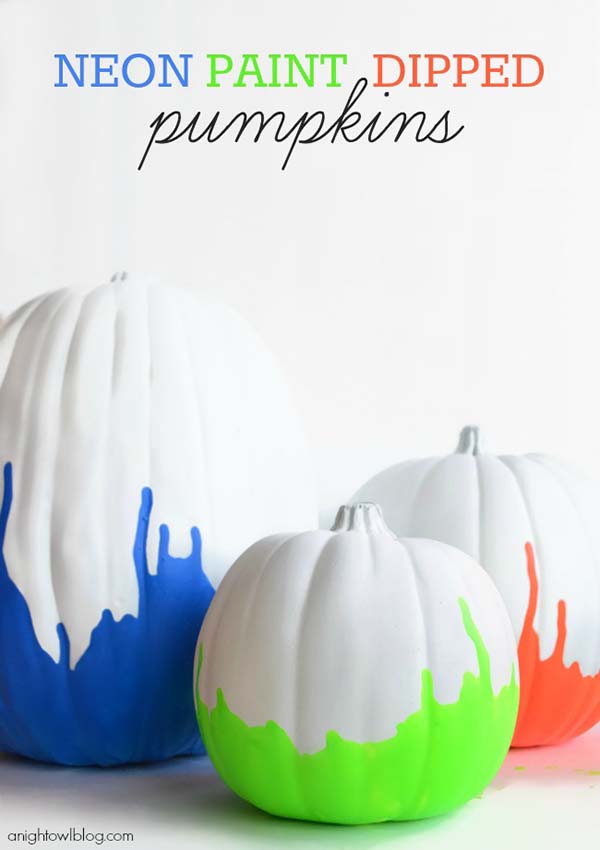 This DIY pumpkin project is so 80's!
Materials you need:
Pumpkins in different size
White spray paint
Neon paint
Paintbrush
DIY Project Details: anightowlblog.com
24. Be Ready for Fall with a Rustic Bean Pumpkin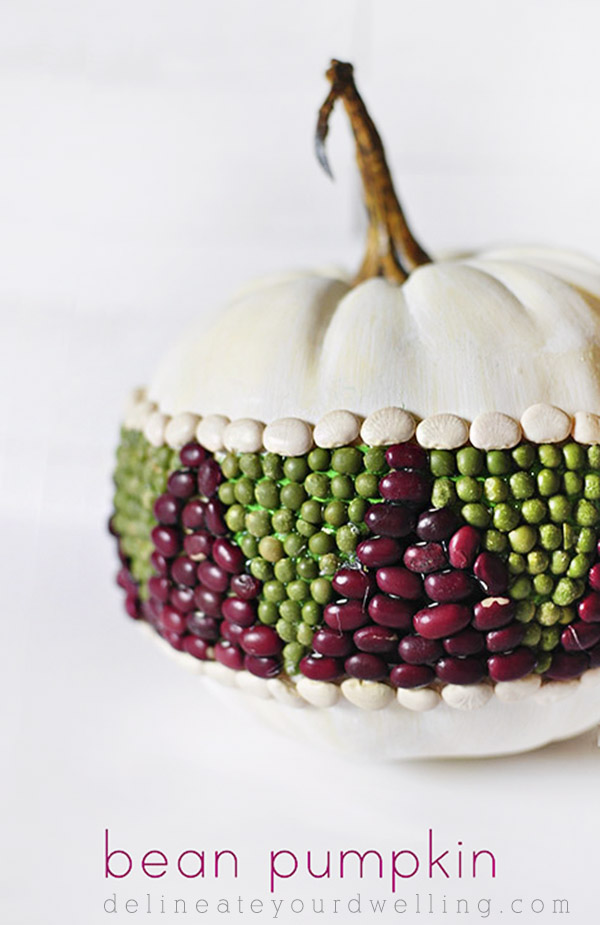 Looking for some more 'easy no-carve pumpkin decorating ideas' as you suffer from lack of free time?
Then this bean pumpkin project will definitely free up your creativity and allow you to do something beautiful for a short time.
DIY Project Details: mumsmakelists.com
25. Welcome Trick-or-Treaters with Log Pumpkins Decorations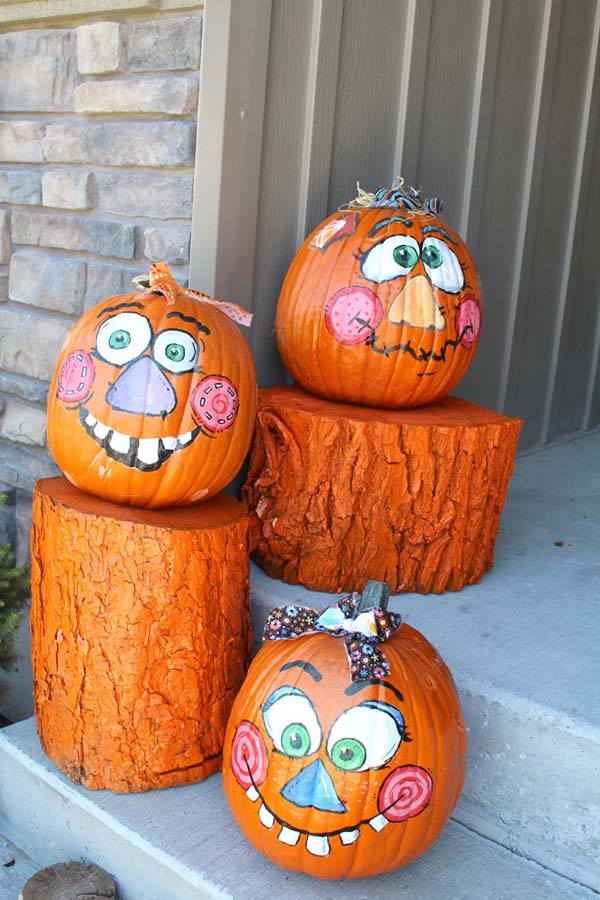 These funny-looking pumpkins will welcome every trick-or-treater who is planning to pass by your house this Halloween.
DIY Project Details: agirlandagluegun.com
26. Enjoy Hours of Fun with Pumpkin Board Game Decor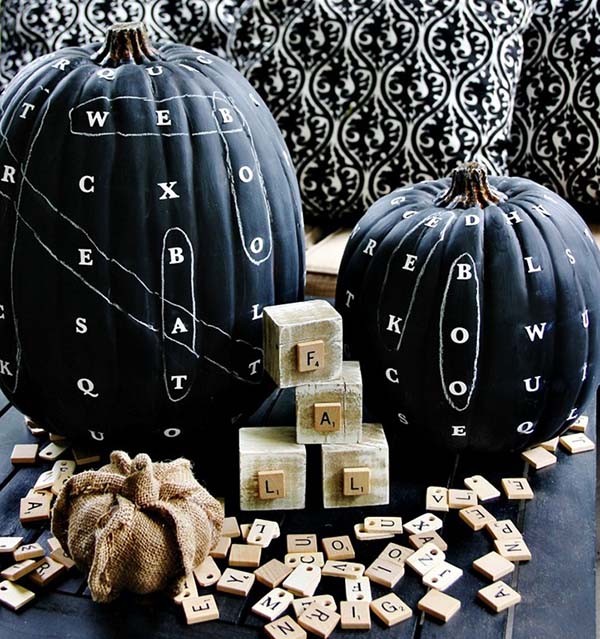 Why don't you transform a large orange pumpkin into a family board game?
Surely, one of the best pumpkin no-carve ideas of all times!
Materials you'll need:
faux pumpkin
chalkboard paint
stickers
chalk
DIY Project Details: thistlewoodfarms.com
27. Upcycle Old Jeans Into Unique Matted Denim Pumpkins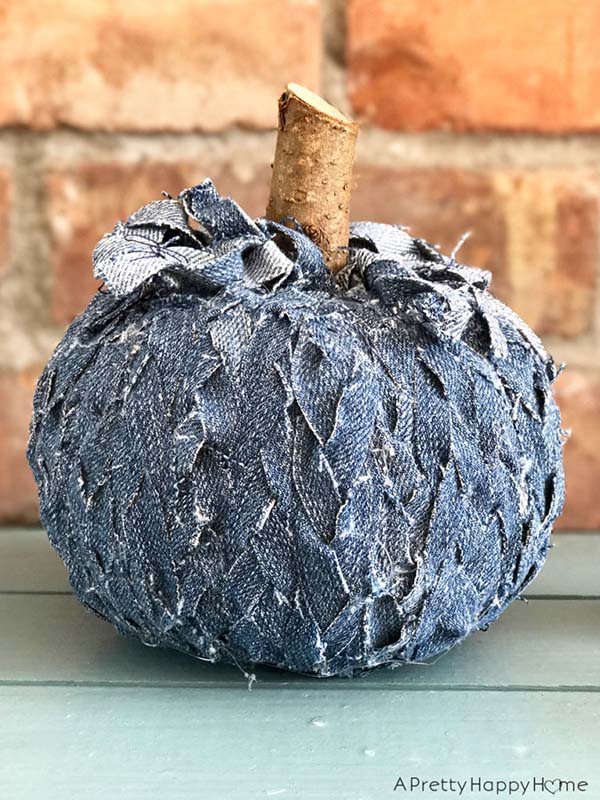 I want to finish my collection of no-carve pumpkin decorating ideas with this DIY matted denim pumpkin project.
All you need is a pair of old useless jeans and some inspiration!  😉
DIY Project Details: aprettyhappyhome.com
28. Brighten the Halloween Season with a Cute Witch Pumpkin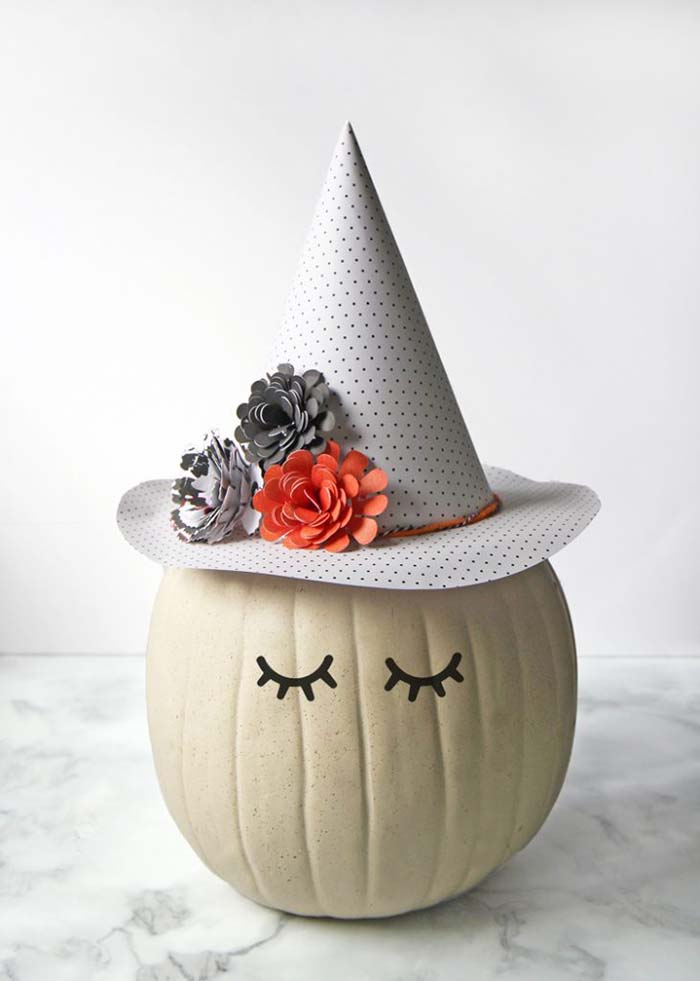 You can make a miniature witch's hat out of scrapbook paper, add rolled paper flowers and adhesive vinyl eyes and you'll have the cutest Halloween witch without carving!
DIY Project Details: thecraftpatchblog.com
Wish your guests a happy Halloween this year with one of the creative no carving pumpkin ideas that I just showed you! Hope you enjoyed!  😎  See ya later  🙂