Fall is coming and it's full of color, feelings and emotions. Upgrade your home decor this season with some gorgeous fall front door decorations that all your neighbors will be talking about.
I love decorating my front door for fall, gather new ideas and trying new projects.
There are endless variations, colors and materials to use. Even though some of the projects are not so easy, they are a lot of fun to try and experiment with. If you love DIY fall craft ideas, don't waste your time! Start a project today!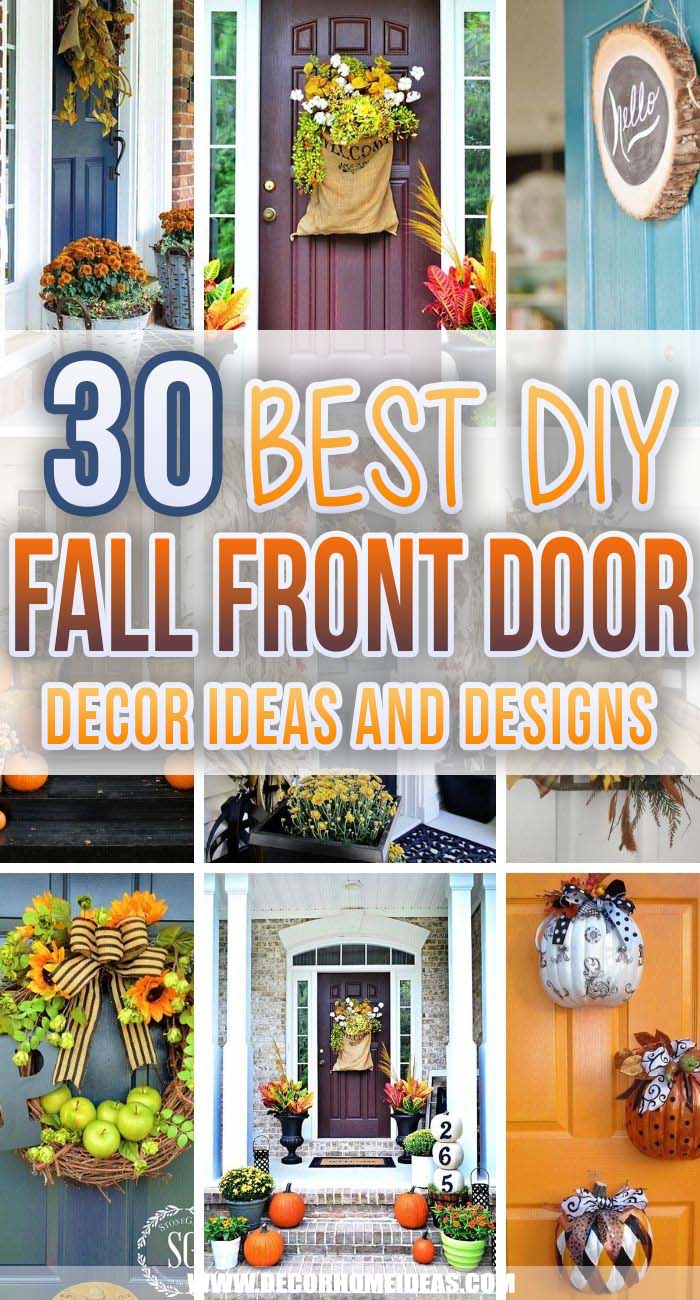 Don't worry if you can't make the perfect fall front decor at the beginning. Just try again!
In order to help you with your decoration, we have selected the best fall front door decorations for you!
How to decorate a front door for fall?
It's not hard to create a beautiful fall front decoration, because fall is full of flowers, pumpkins, sunflowers, pinecones and last, but not least, full of warmth.
1. Fall Leaf Monogram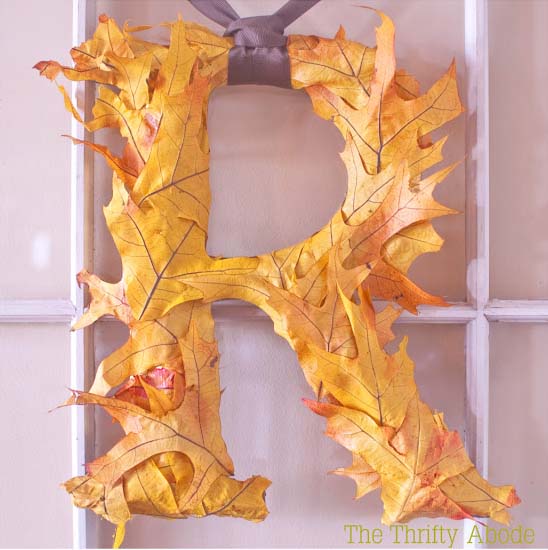 For a very long time, we have established certain habits and our unique approaches towards esthetics that add a decorative touch to our homes.
Look at this wreath, for example. Isn't it wonderful? Take the free gifts of nature and make them into something beautiful.
It can be your favorite letter of the alphabet, a wonderful sign or whatever you'd like to see on your fall front porch.
The yellow autumn leaves can create a perfect installation on their own. They decorate as we celebrate life once again.
All you need is one simple gorgeous detail that speaks of the fall and you are ready to go.
Give your monogram a fall makeover by covering it in leaves. What a great fall front door idea!
DIY Project Details: thethriftyabode.blogspot.com
2. Harvest Apple Basket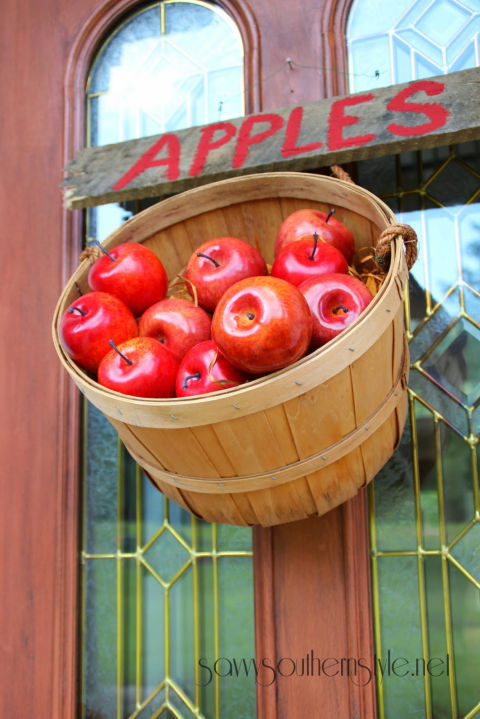 Apples are not only nutritious sources of vital elements; they are nature's generosity in a box.
We tend to be very stingy sometimes, you know? Why don't you practice the habit of giving for free?
Abundance only flows if you allow yourself to be free and giving. Also, they are a pretty spectacular decoration, right?
Since we tend to forget politeness and gentleness in the hustle and bustle of everyday life, we might as well try to do something about it.
A simple reminder for the guests that makes them feel welcome and at ease when they come to your door is a good start.
Autumn calls for more friends, more good and special days.
How cute is this?! If apple picking is your favorite part of fall, hang a basket of decorative fruits on your front door.
DIY Project Details: savvysouthernstyle.net
3. Decorative Chalkboard Tray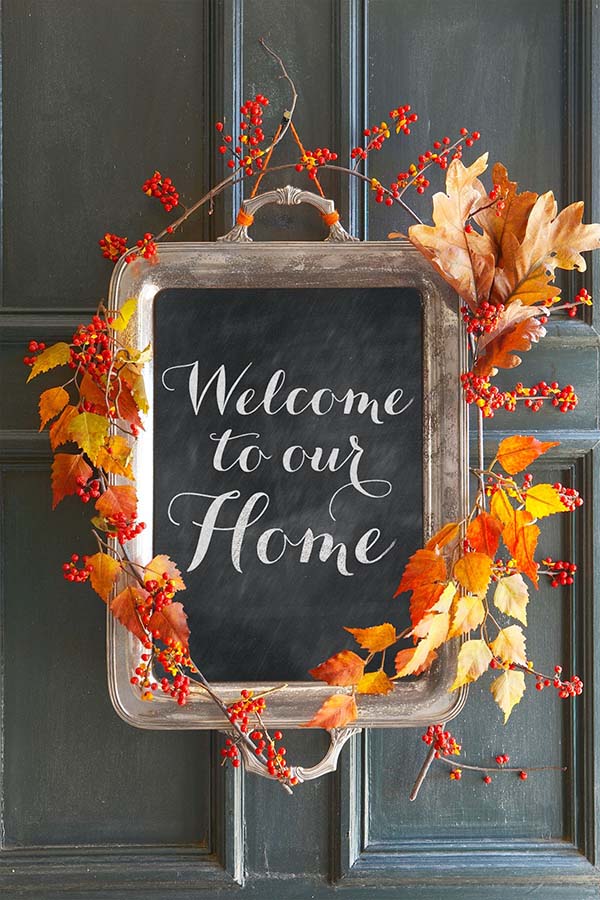 To make this welcome sign, apply a layer of chalkboard paint to the inside of an old tray.
Autumn branches and bittersweet berries add the perfect finishing touch. Keep reading to see more front door fall decorating ideas.
DIY Project Detials: countryliving.com
4. Fall Wildflower Arrangement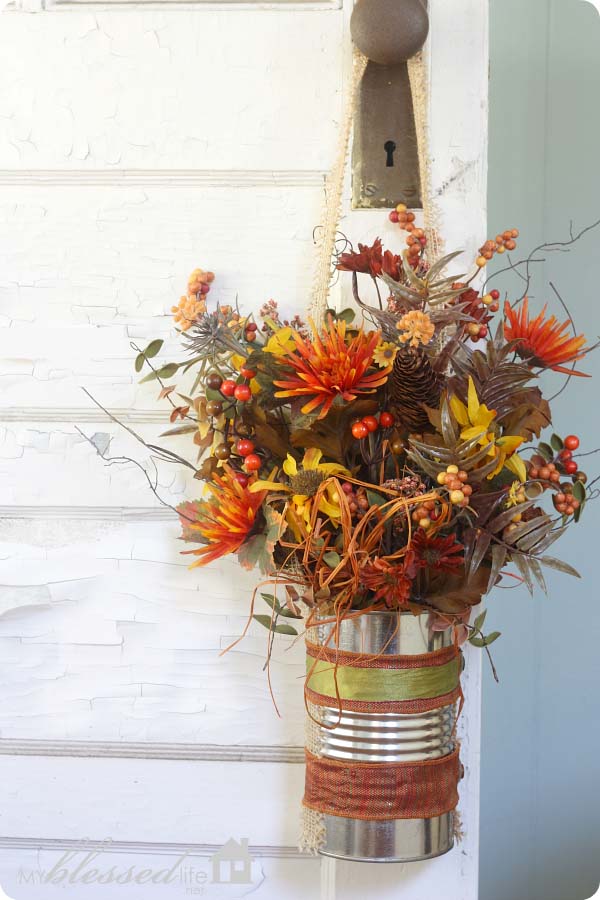 I tend to dislike when people simply cut flowers and use them for anything that doesn't last that long.
I believe a flower is meant to be marveled, appreciated and enjoyed, and not cut.
So, what I normally do, is only take flowers that are dry and towards the end of their natural lives.
Then I paint them or put them in a cane or a basket. Take this idea and make it yours.
Decorate a tin can with ribbons in fall colors, creating the perfect vase for an arrangement of pretty blooms.
DIY Project Details: myblessedlife.net
5. Decorative Grain Sack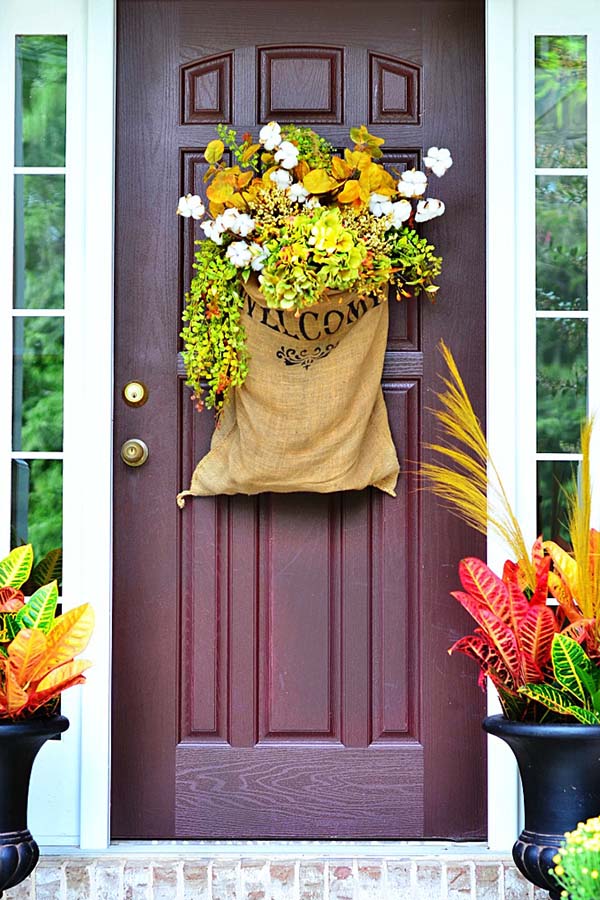 This is not your ordinary fall decoration and you can see it.
The more we bring imagination to the front porches of our homes, the better they seem to become.
Take a sack, fill it with flowers (you can even add soil inside and grow them like living plants).
The conscious approach for decorations is the one where you create with love and mindfulness.
A burlap bag brings the charm to this fall porch. Stuff it with flowers and pumpkins to let your neighbors know just how excited you are for autumn.
DIY Project Details: atthepicketfence.com
6. Autumnal Flowers and Corn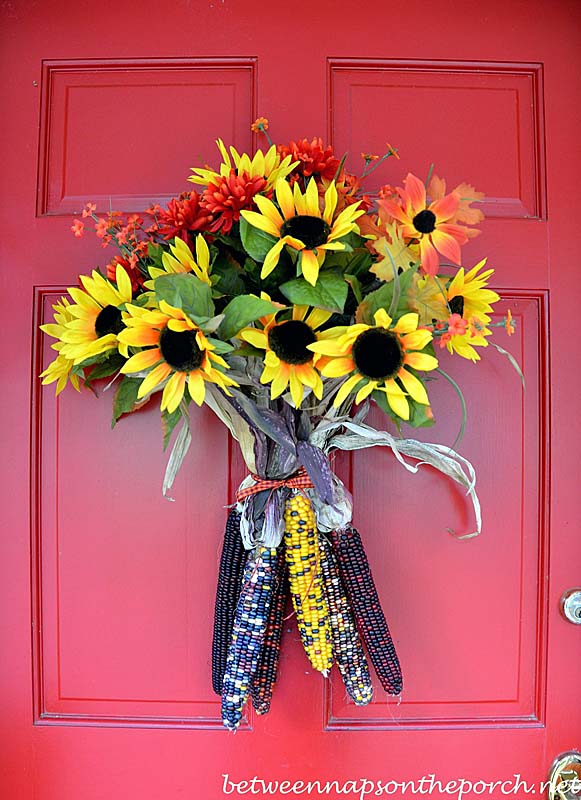 We know that yellow, orange and bright flowers are a special reminder of nature.
The time to get cozy and comfortable begins. Before you enter on your way to a snuggling session, you will see these marvelous flowers.
They are nicely placed on the front porch, patiently waiting for you to come home.
Add tons of country style to your front door by attaching Indian corn to faux fall flowers.
DIY Project Details: betweennapsontheporch.net
7. Pumpkins and Fall Spice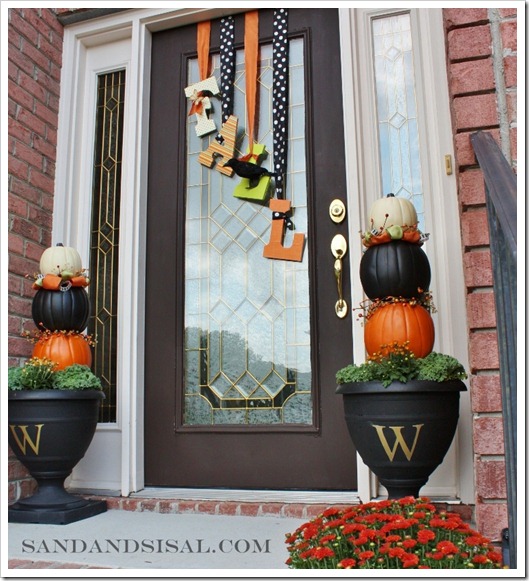 As fall enters, we are still full of energy from the summer season. Most of us have enough of it to create a nice decoration for their homes.
Letters like these are easy to find in almost any store for decorations. Hang them high and remind your neighbors that another season is about to enter.
This craft leaves plenty of room for creativity: Deck your letters out in Halloween decals or opt for a more subtle fall color scheme.
DIY Project Details: sandandsisal.com
8. Floral Rake Décor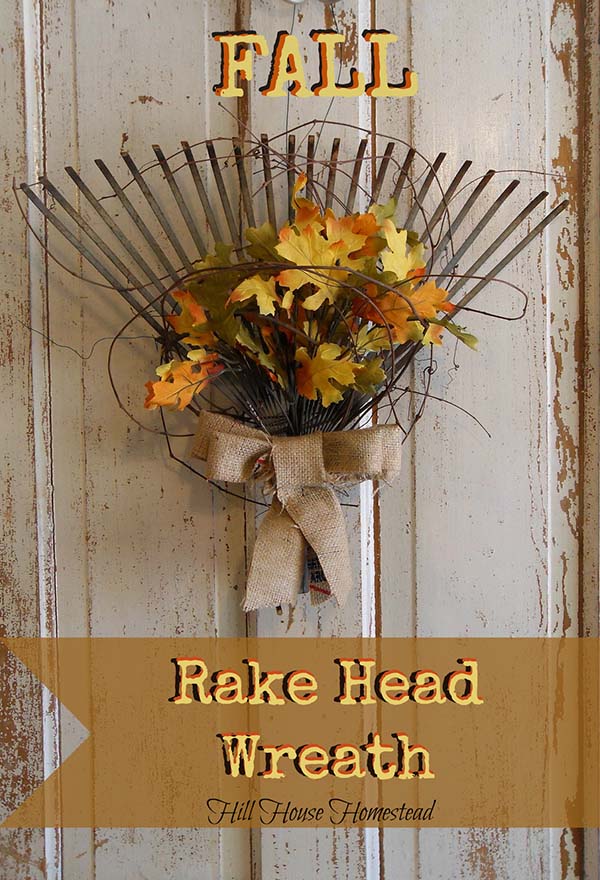 We tend to enjoy using wreaths as decorations and there's a good reason why. Before we dive into it, let's start this autumn season with a pretty wreath that says it all.
Faux leaves, traditional touches – a pretty admirable way to begin a special day.
Repurpose an old rake head as a rustic substitution for a traditional wreath by adding a burlap sack bow and faux leaves.
DIY Project Details: hillhousehomestead.blogspot.com
9. Bountiful Farmhouse Porch Style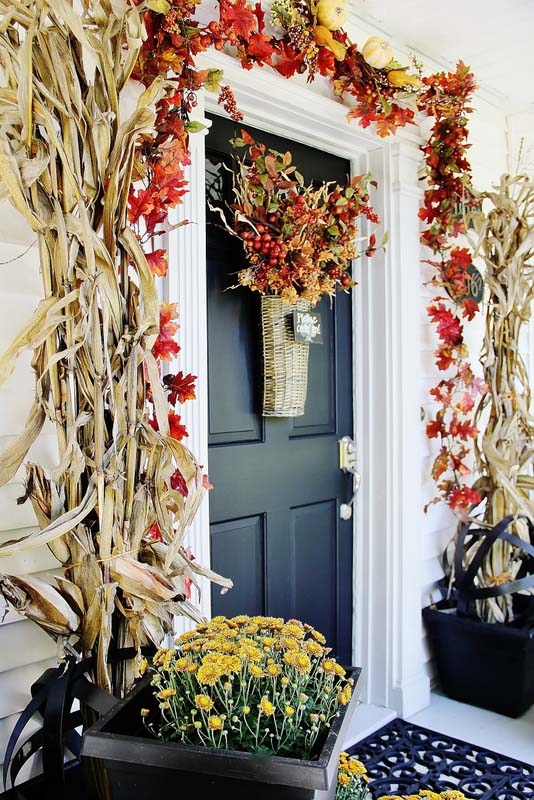 Now, it's time to digest the idea that this season is quite fabulous and abundant. This door is a summary of this statement.
Flowers everywhere, beautiful elements and no signs of depression for the ending summer – that's the way to go!
Don't try to understand – decorate and the idea will come on its own!
After hanging a foliage-stuffed wreath to your door, line the entryway with an eye-catching leaf garland.
DIY Project Details: thistlewoodfarms.com
10. Woody Welcome Sign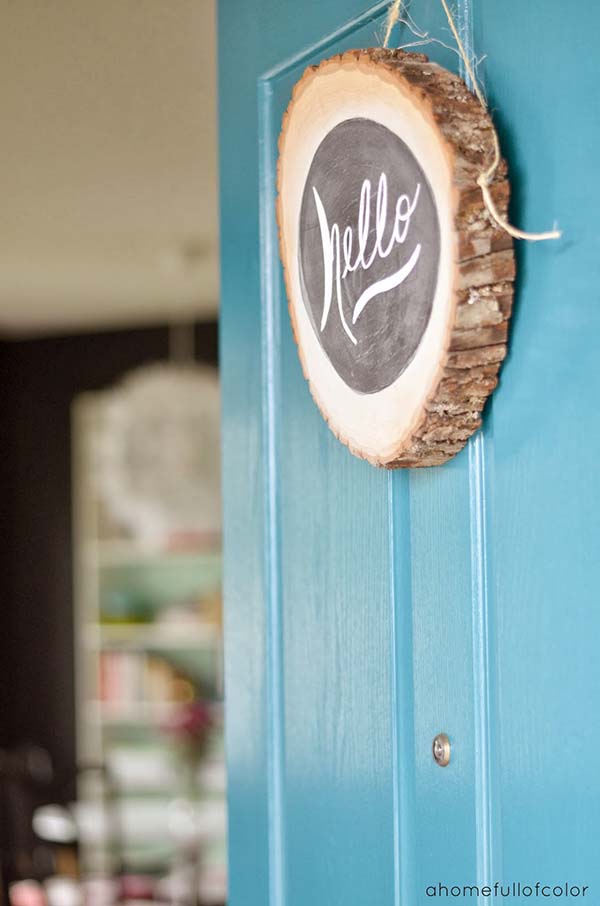 Wood has been widely used not only as the building material for homes of all kinds but also as decorations.
This "Hello" sign may be way too simplistic for those who love to go all out and decorate.
However, I find it pretty chic, pretty special in its simplicity. I always fancy a blue door, too.
This rustic sign is best accompanied by a brightly painted door. Choose red paint for a more seasonal vibe.
DIY Project Details: cassiebustamante.com
11. Rustic Floral Basket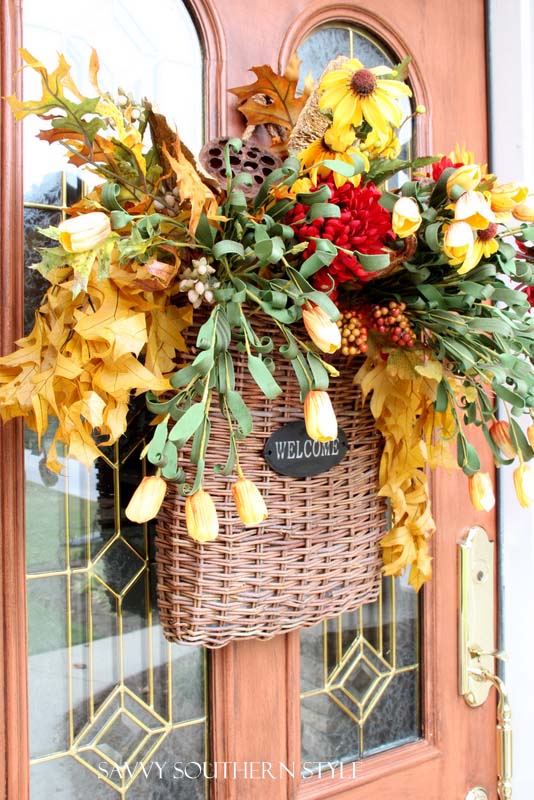 Well, I always underestimated fake leaves and decorations until I realized how versatile they actually are.
Not all of them are all that bad, you know. Some are pretty spectacular and can go into a wide array of special autumn pallets.
Choose your door's apparel well – this is pretty amazing. This basket is stuffed with fake leaves and pretty flowers in fall colors.
DIY Project Details: savvysouthernstyle.net
12. DIY Scarecrow Door Decor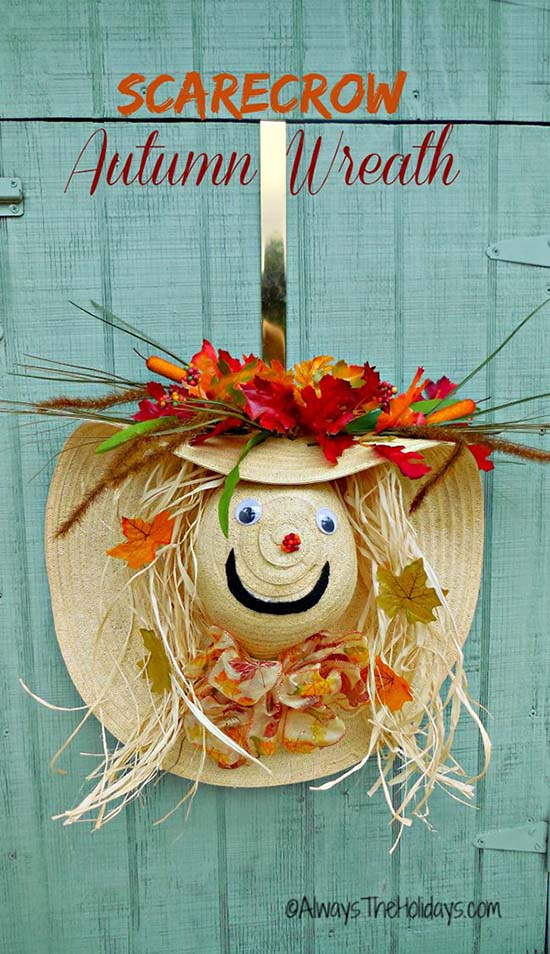 A good sense of humor is vital in life. It's like an immunity shot that doesn't hurt; it's a source of health and wealth.
Let's transfer this sense of humor to the front door.Look at this darling hat! Do you think you can make one yourself? I bet you can!
Turn a floppy straw hat with a wide brim into a cute scarecrow that will greet guests with a friendly face.
DIY Project Details: alwaystheholidays.com
13. Bundled Golden Wheat Sheaves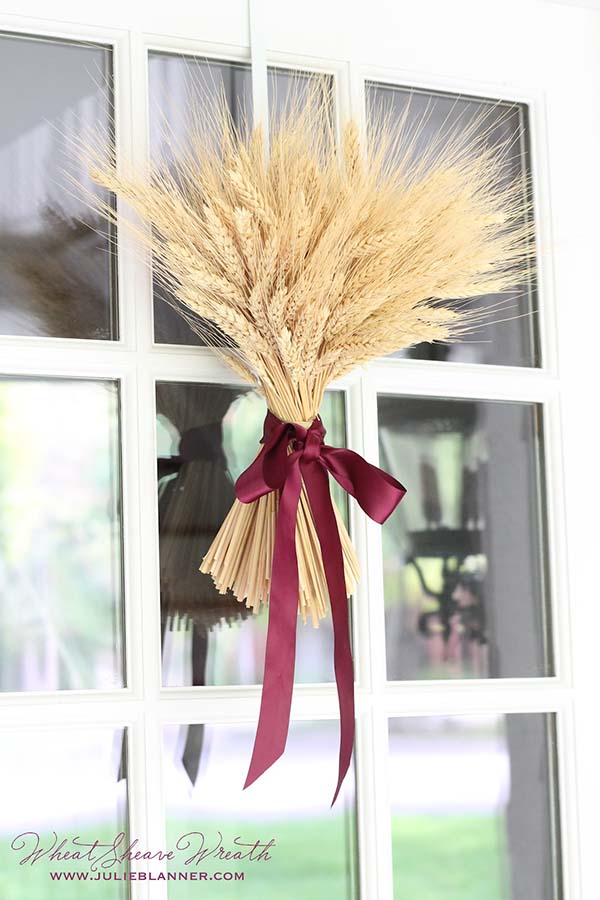 Oh, you caught me.That is my favorite one so far!
Wheat is a great symbol of the Soul; it looks amazing on the door. Of course, the special ribbon says more than I could state myself.
A useful tip: Use ribbons! They have their way of adding a special touch anywhere you place them.
This pretty door decoration may be simple, but it certainly brings elegance to your entryway.
DIY Project Details: julieblanner.com
14. Thankful Tags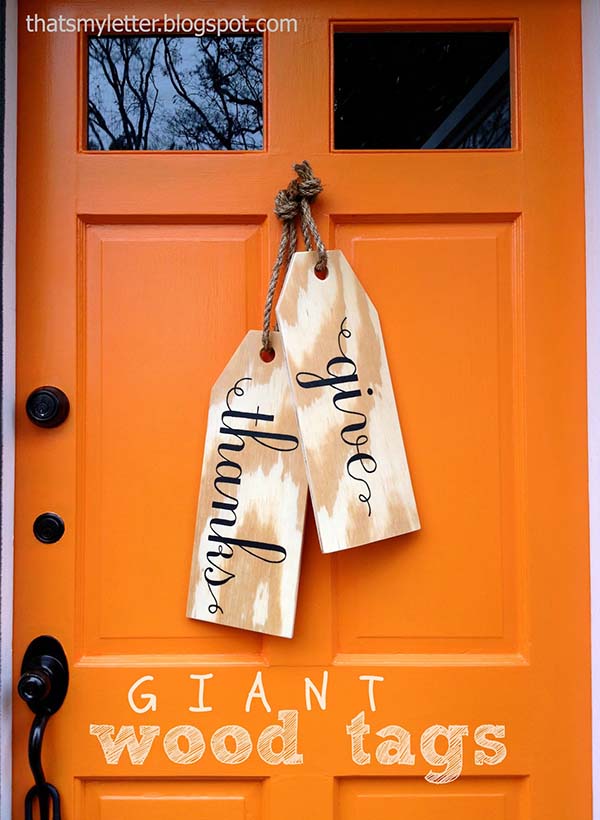 Wooden tags… are our next exciting stop. If you haven't heard of them, just take a look at this door and see how well they decorate.
The lace is pretty fabulous too and I bet you can find a ton of it stored in a shop somewhere….
Time to get excited and create!
Spell out your excitement for autumn with these oversized wooden tags. While "Give Thanks" welcomes Thanksgiving, you could expand the lifespan of this decoration by writing "Happy Fall" instead.
DIY Project Details: jaimecostiglio.com
15. Decorative Fall Pumpkins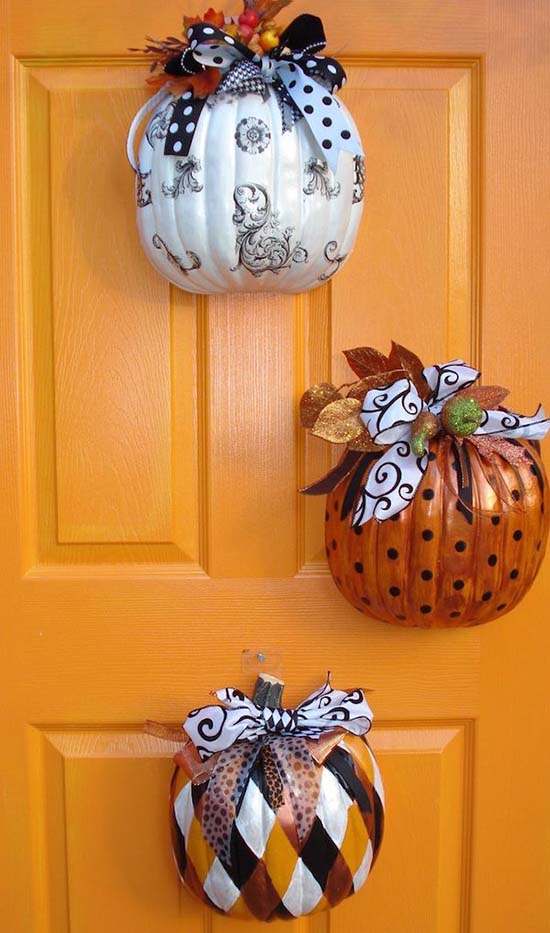 Creative door décor with large pumpkins cut into halves, painted beautifully and decorated with ribbons.
The pumpkins are decorated with three different designs and patterns which makes them look very attractive.
Just another great and cheap idea to decorate the doors of your home to make fall look attractive.
16. Festive Fall Pumpkin Wreath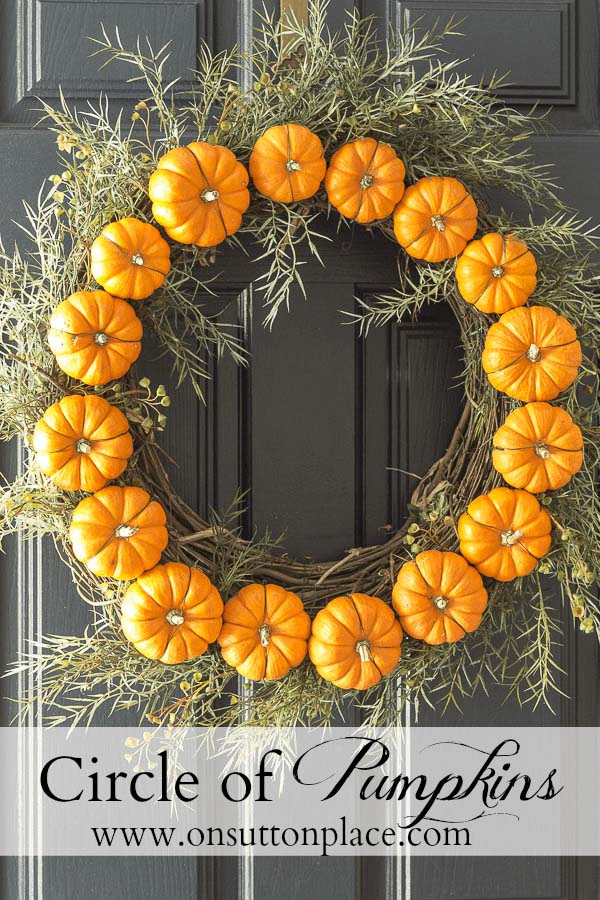 Create a wreath of mini pumpkins and attach them to your door. This original idea is gorgeous.
Pumpkins are wired together, not glued. Before arranging them lay the wreath on the floor and check how many pumpkins do you need to create a perfect circle.
Stacked pumpkins will look gorgeous on your front door.
DIY Project Details: onsuttonplace.com
17. Vibrant Corn Wreath DIY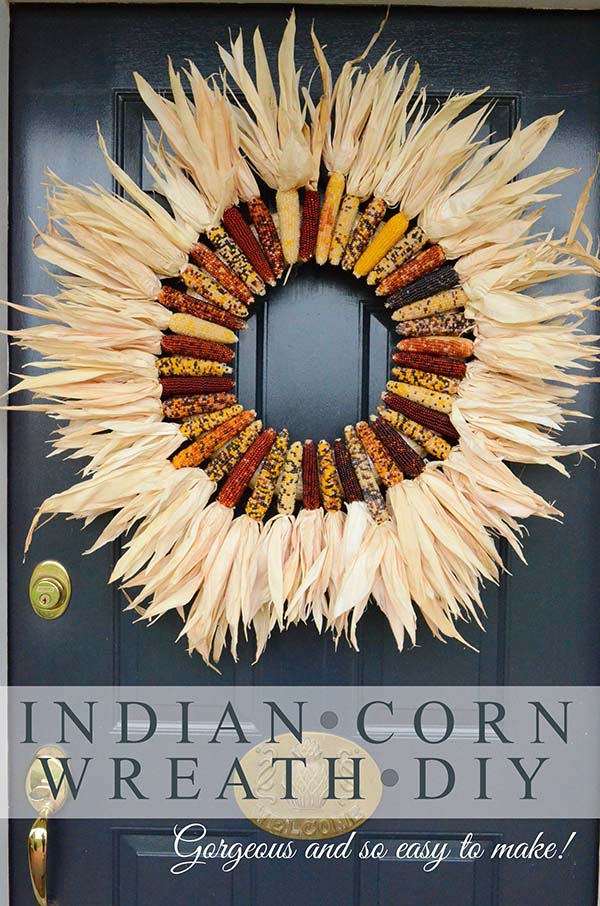 This fabulous DIY project only takes 30 mintues, but it's a one of the most beautiful fall front door decorations in our selection.
Get some mini indian corns, fluff the husks of mini corns, glue them together to create a circle.
DIY Project Details: stonegableblog.com
18. Painted Pinecones In The Colors Of Fall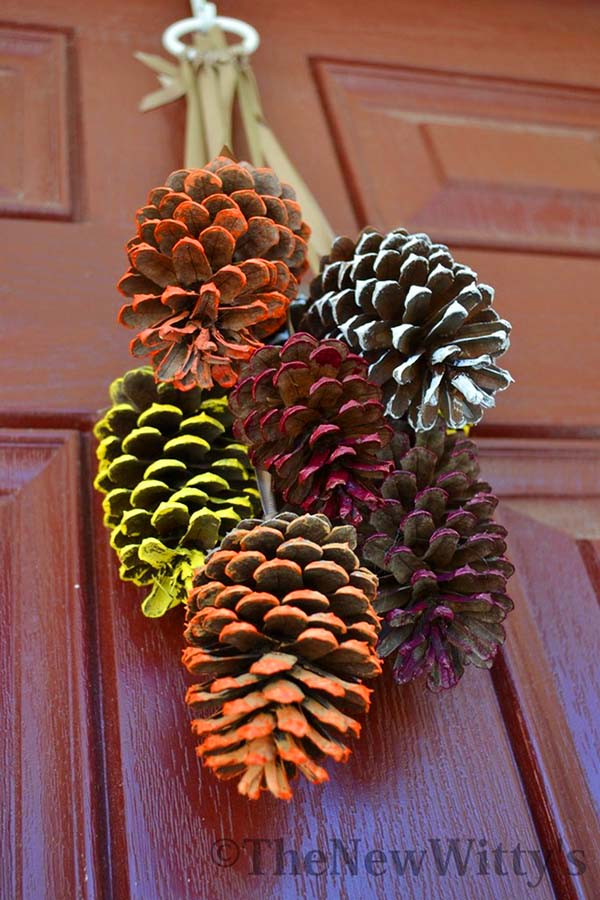 Would you like to do the easiest possible fall front door decoration? Well, this one might be the winner – get some pinecones, paint them with acrylic paint, tie them together and hang them on the front door.
How much time does it take? 10 minutes? Or maybe less?
DIY Project Details: thenewwittys.blogspot.com/
19. Basket Of Seasonal Flowers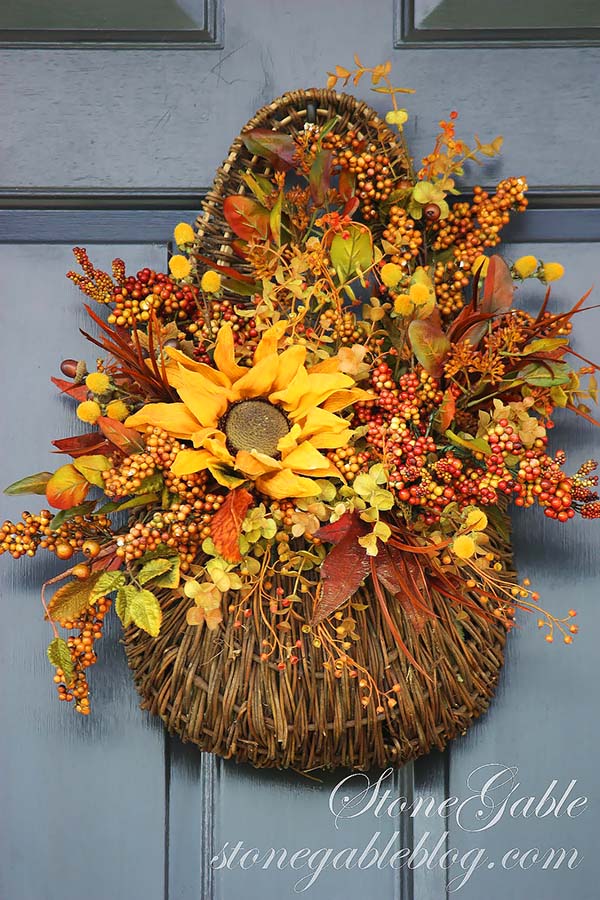 If you are not into pumpkins so much, then you'll like this project. It's only with flowers and berries that are available in the late summer.
Hang your basket on your front door and start filling it with yellow, red, brown plants.
DIY Project Details: stonegableblog.com
20. Wheat Sheaf Wreath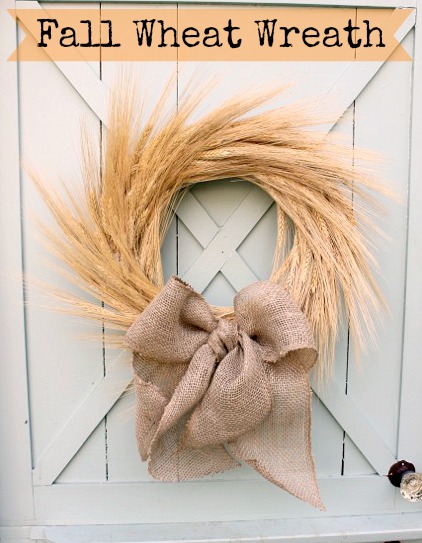 If you are wondering how to decorate your front door for fall this one is your answer. You will need: Straw wreath, 3 bundles of dried wheat and burlap ribbon.
You can add color with some colorful ribbons.
DIY Project Details: findinghomefarms.com
21. Bushel Of Apples Monogram Wreath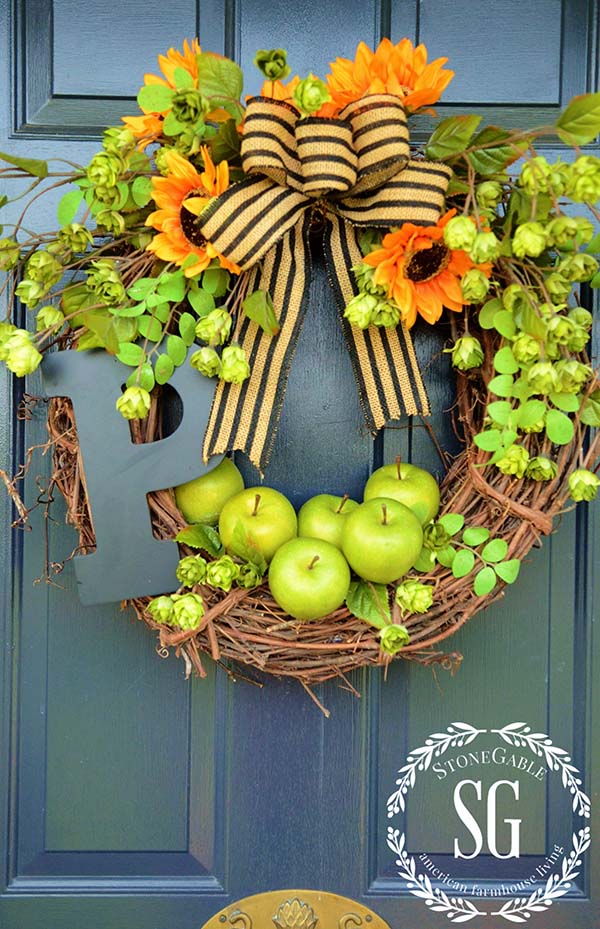 Just another great DIY front door fall decor!
If you would like something with fresh look and more greenery, check this out. Green apples and sunflower could be a great combination for early fall.
DIY Project Details: stonegableblog.com
22. Waiting For Fall Door Sign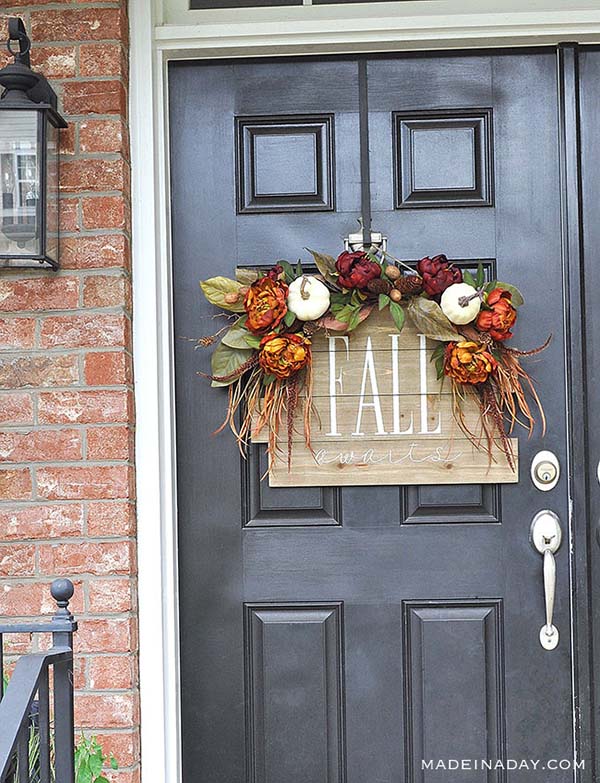 Welcoming wooden sign, decorated with mini pumpkins and dried flowers. You can use some wooden pallets to build the base and then paint the words.
DIY Project Details: madeinaday.com
23. Simple Wood Slice Fall Wreath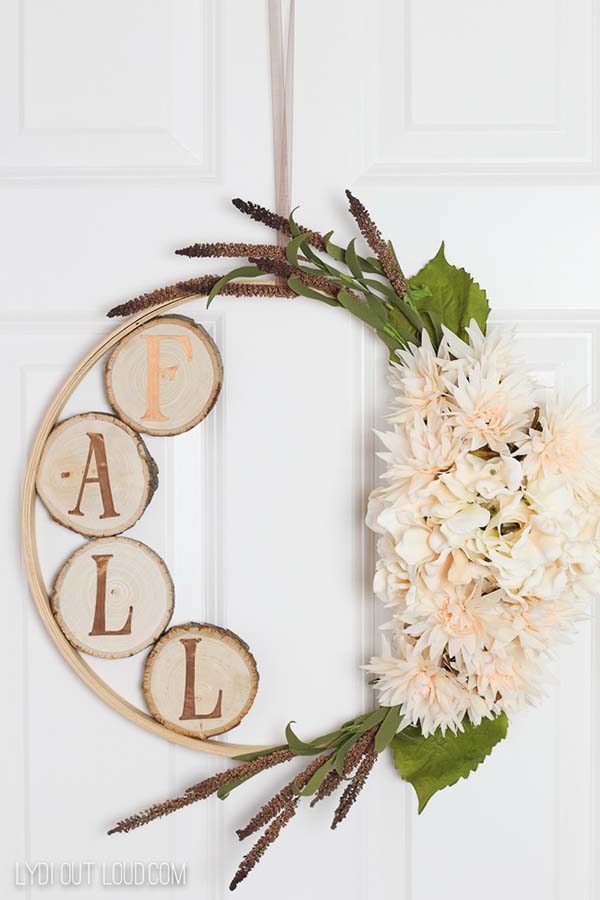 Even though this one looks more complicated to create, if you follow each step carefully you can create similar or even a better one. I really love this one, it's very soft and gentle.
DIY Project Details: lydioutloud.com
24. Autumn-Hued Hydrangea Wreath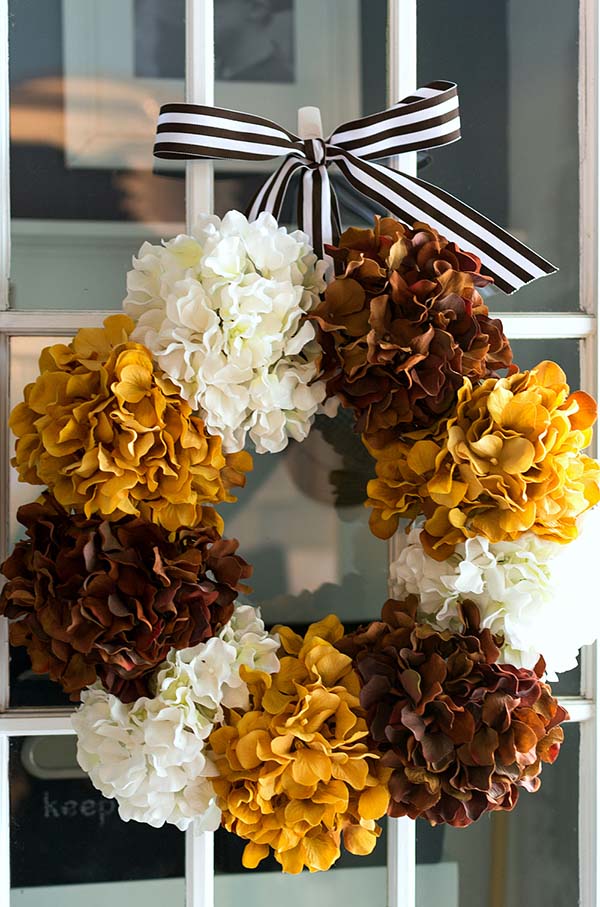 Get your ugliest wreath and put some hydrangea over it – not glue needed, just put the stems in the wreath.
DIY Project Details: itallstartedwithpaint.com
25. Ruched Burlap Ribbon Wreath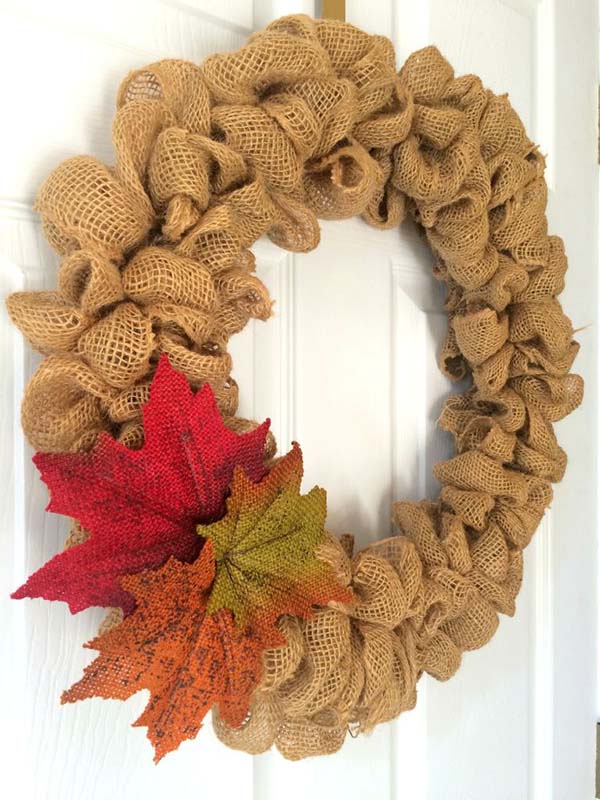 DIY fall front door decor is not hard at all. Create a super simple and easy burlap wreath for your fall front door decoration.
DIY Project Details: sobremesastories.com
26. Falling Leaves Door Décor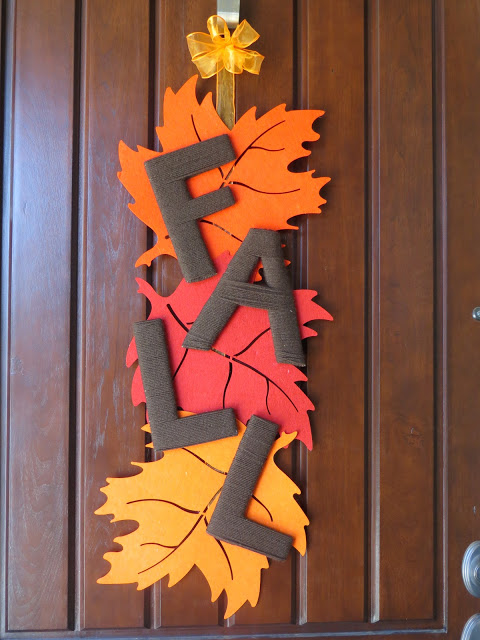 Would you believe that this project costs less than $5 and take about half an hour? The hardest part is cutting those four letters from a scrap cardboard and paint them.
DIY Project Details: thelovebugsblog.com
27. DIY Crochet Pumpkin Wreath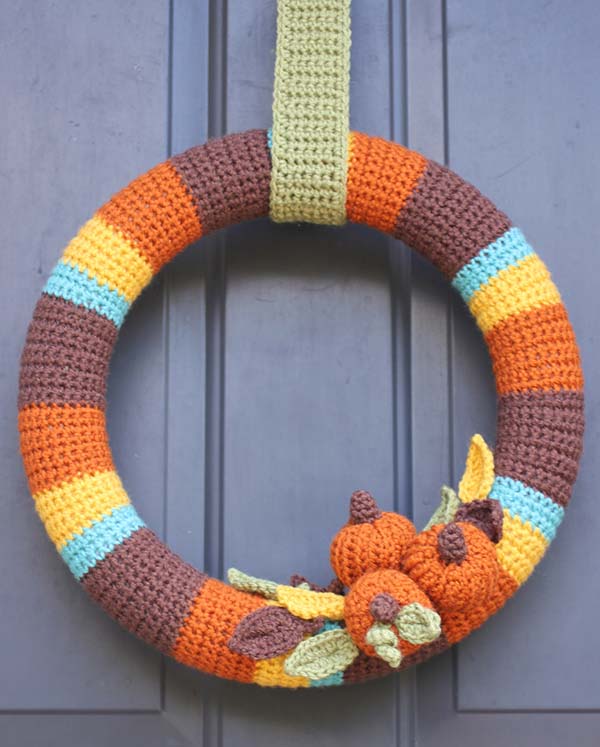 If you like crochet you can try this one! It's original and could be a lot of fun while making it.
DIY Project Details: repeatcrafterm.wpengine.com
28. Rustic Wreath With Antlers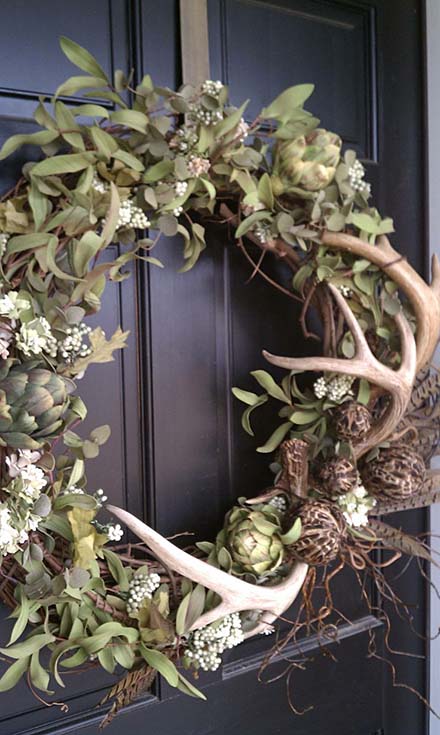 This one is using some antlers. You can add pumpkins or fall leaves to make it more seasonally appealing.
29. Olive Bucket Porch Planters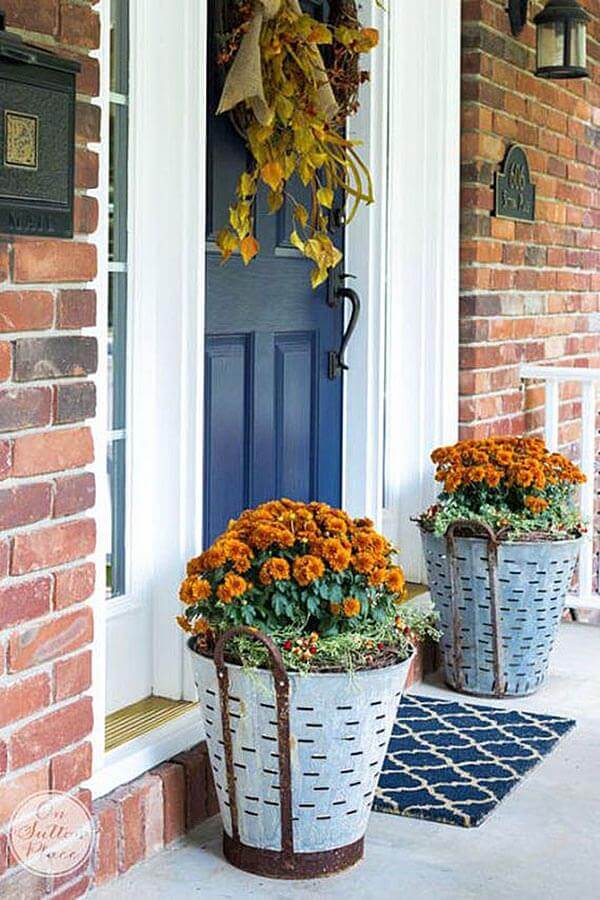 Fall front door decor could be a piece of cake if you have some old galvanized metal buckets to place on both sides of your front door.
Potted mum is the best fall season flower that would add warmth and make your fall porch decor more inviting.
via On Sutton Place
30. Festival Of Fall Scarecrow Display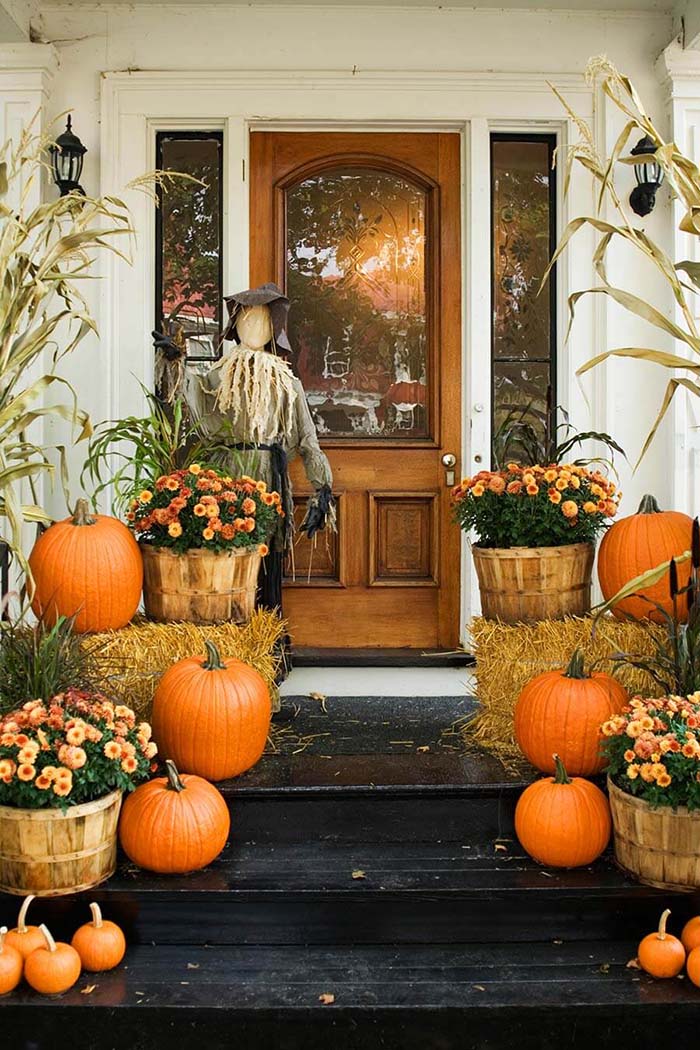 Another fall decorating idea is to combine corn stalks, gourds and pumpkins ( mini pumpkin ). Potted mum in big wooden barrel planters is also a nice fall idea to decorate with.
I'm sure you have already picked your favorite fall front door decorations and I hope you can recreate them quickly and easily. Don't forget to PIN these pictures of front door fall decorations for easy access later.