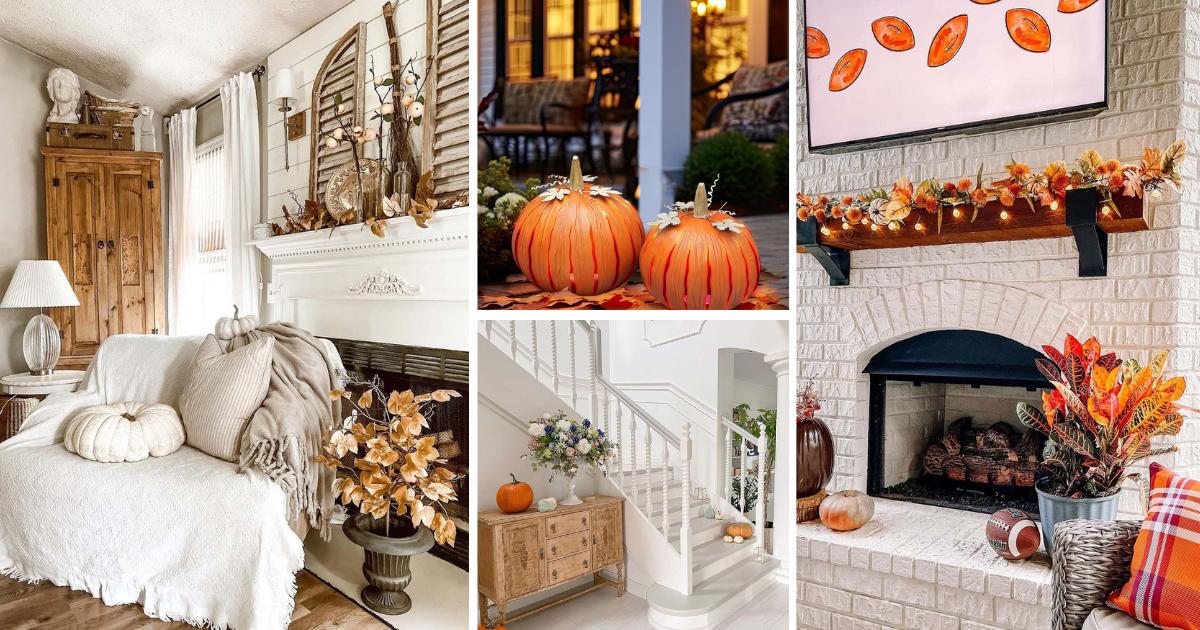 The season changes affect our lives, even our home decor! Look at a few of our favorite fall decor ideas, which will tune your soul and space for the autumn season.
You will find plenty of ideas if you are a pumpkin type of person. You will find inspiration here if you are looking for fall decoration that goes beyond the traditional motifs.
Get ready to bring some holiday cheer into your home with 36 Beautiful Fall Decor Ideas To Turn Your Home Into a Cozy Oasis.
1. Fall Table Centerpiece Idea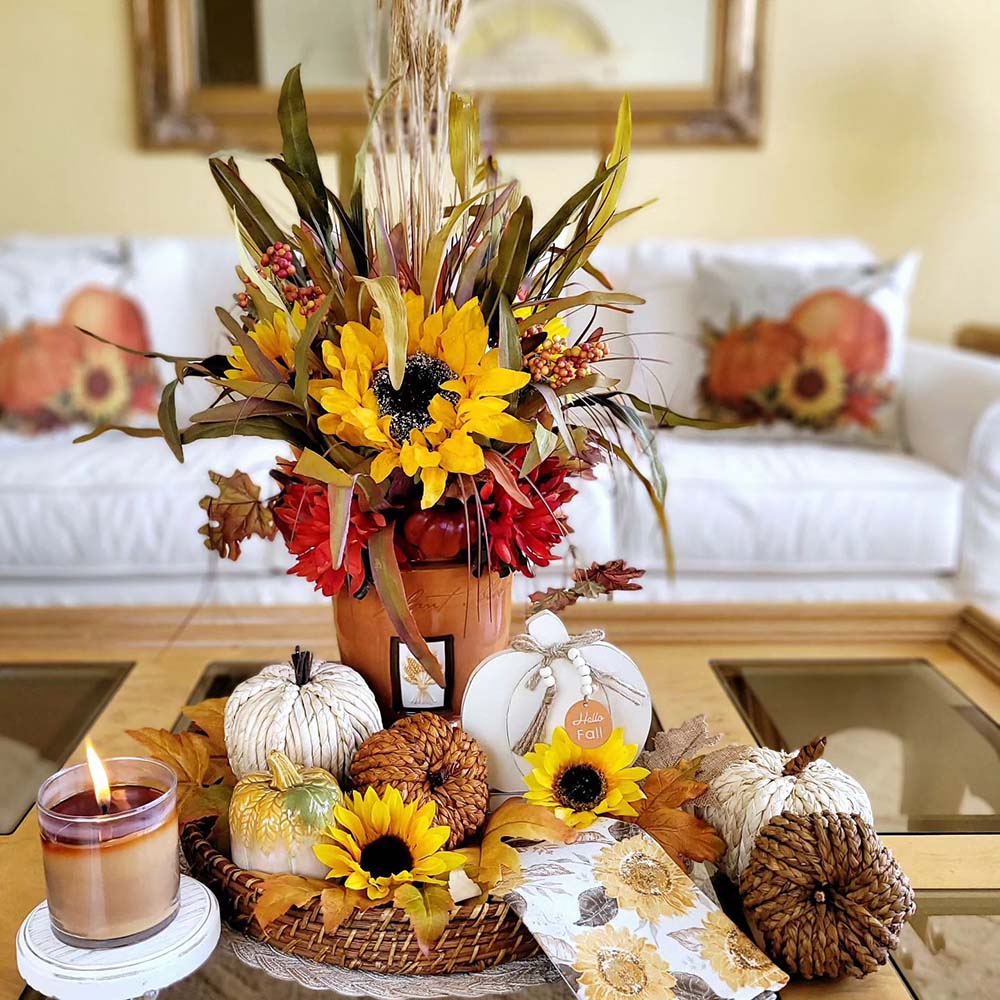 via gemma.and.gianni
This lovely centerpiece includes pumpkins made of various materials, flowers typical for the season and a candle. The centerpiece is elegantly arranged, starting from the round elements in the bottom and the tall ones in the center to achieve symmetry.
The colors are pastel and autumn-associated.
2. Entryway Fall Decor Idea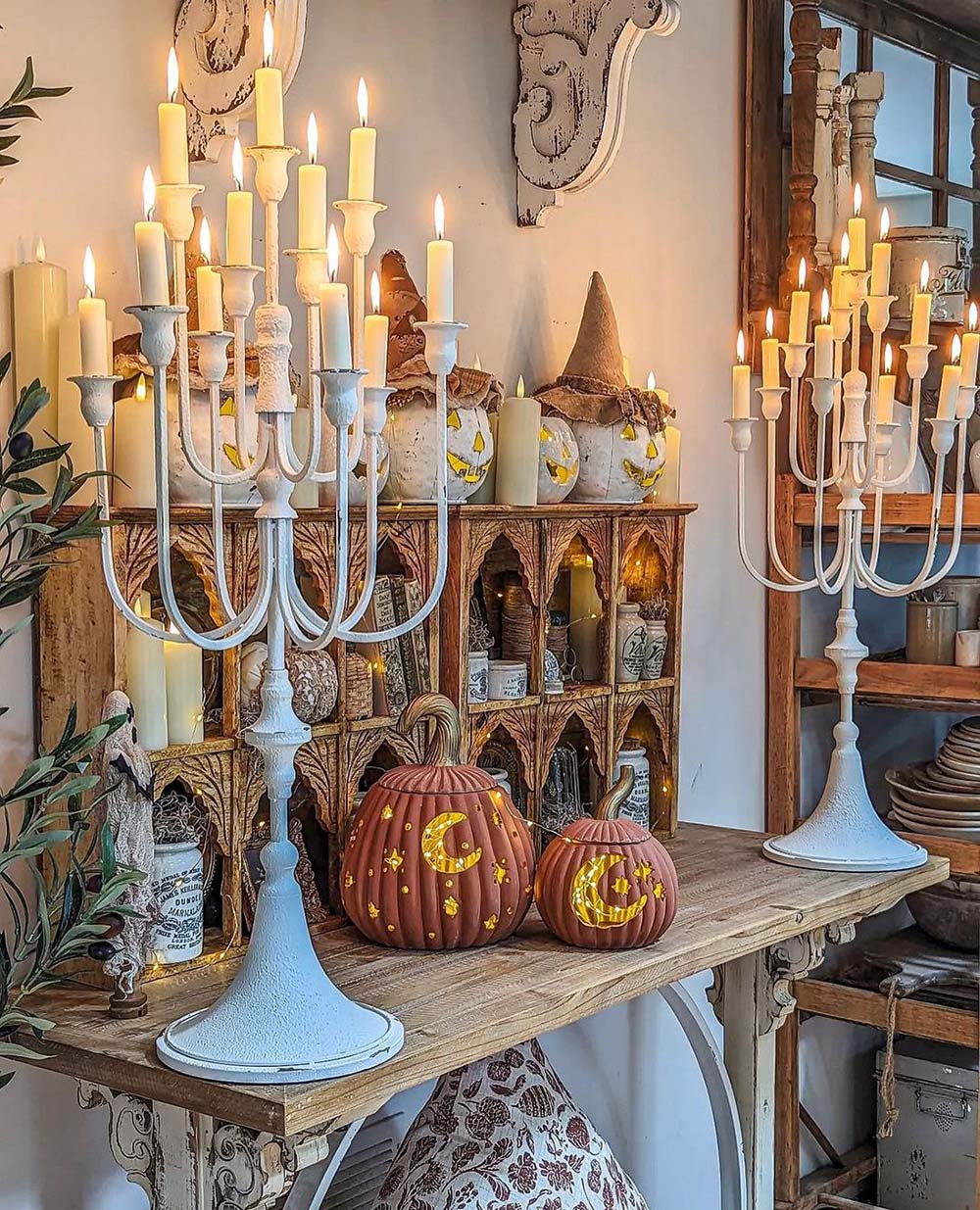 via cottonandcrete
To give the overall house a welcome-season look, decorate the entryway. You can go for a more neutral flower arrangement or focus on one specific holiday during the fall season as done in this fascinating home decor idea.
The theme is Halloween which can be easily noticed with the scary Jack-o lanterns and a spooky ghost statue.
The balance between elegant and spooky is well-managed with stylish vintage candle holders, fairy lights and beautifully carved pumpkin lanterns.
3. Reading Nook Fall Decoration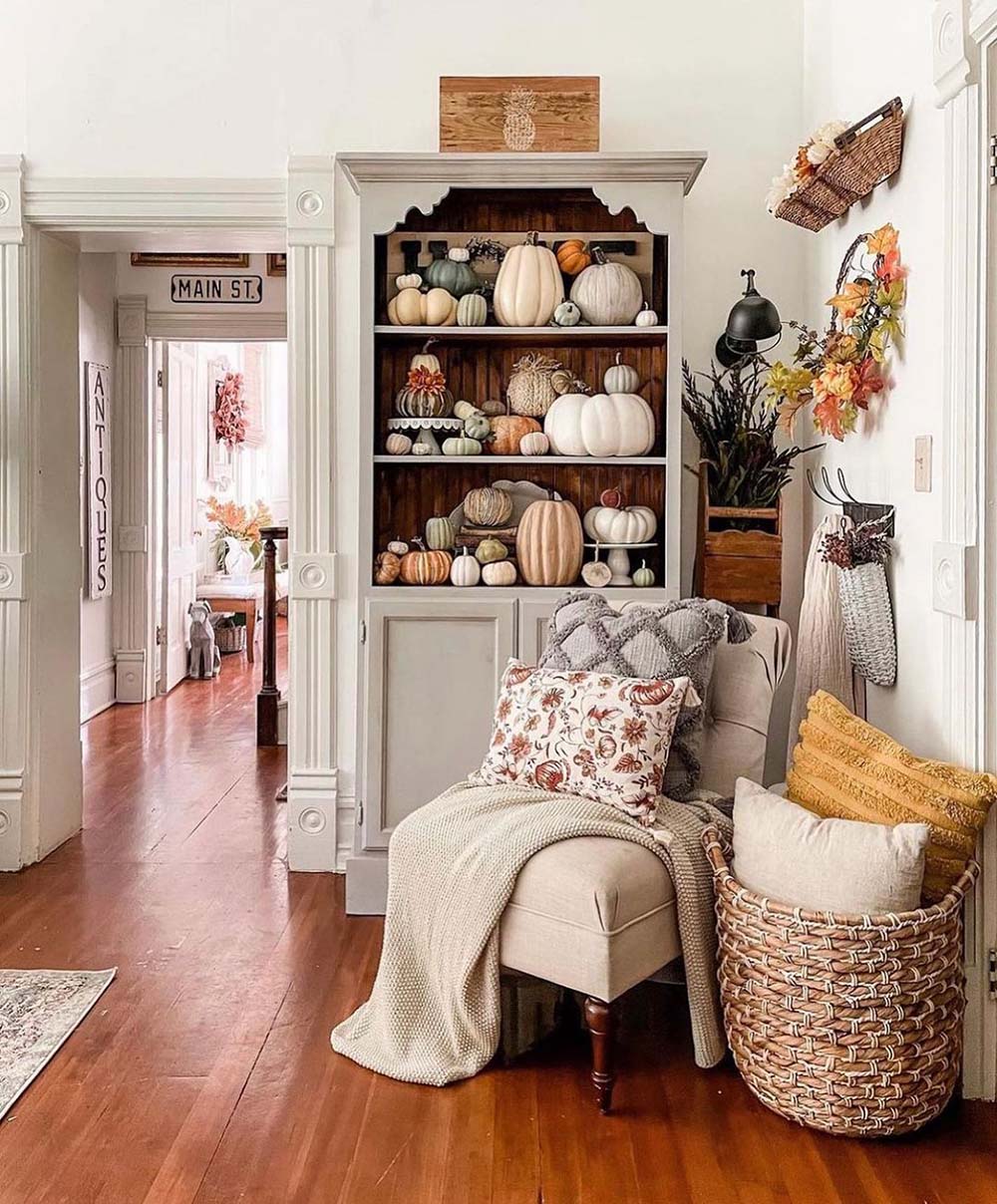 The center of the fall season of this house is the reading nook. An old rustic buffet becomes a display of various pumpkins.
A wreath with fall flowers stands next to the buffet creating a lovely accent with its warm tones. The pillows and the throw make a hint of the colder season approaching our thresholds.
4. Front Door Fall Decoration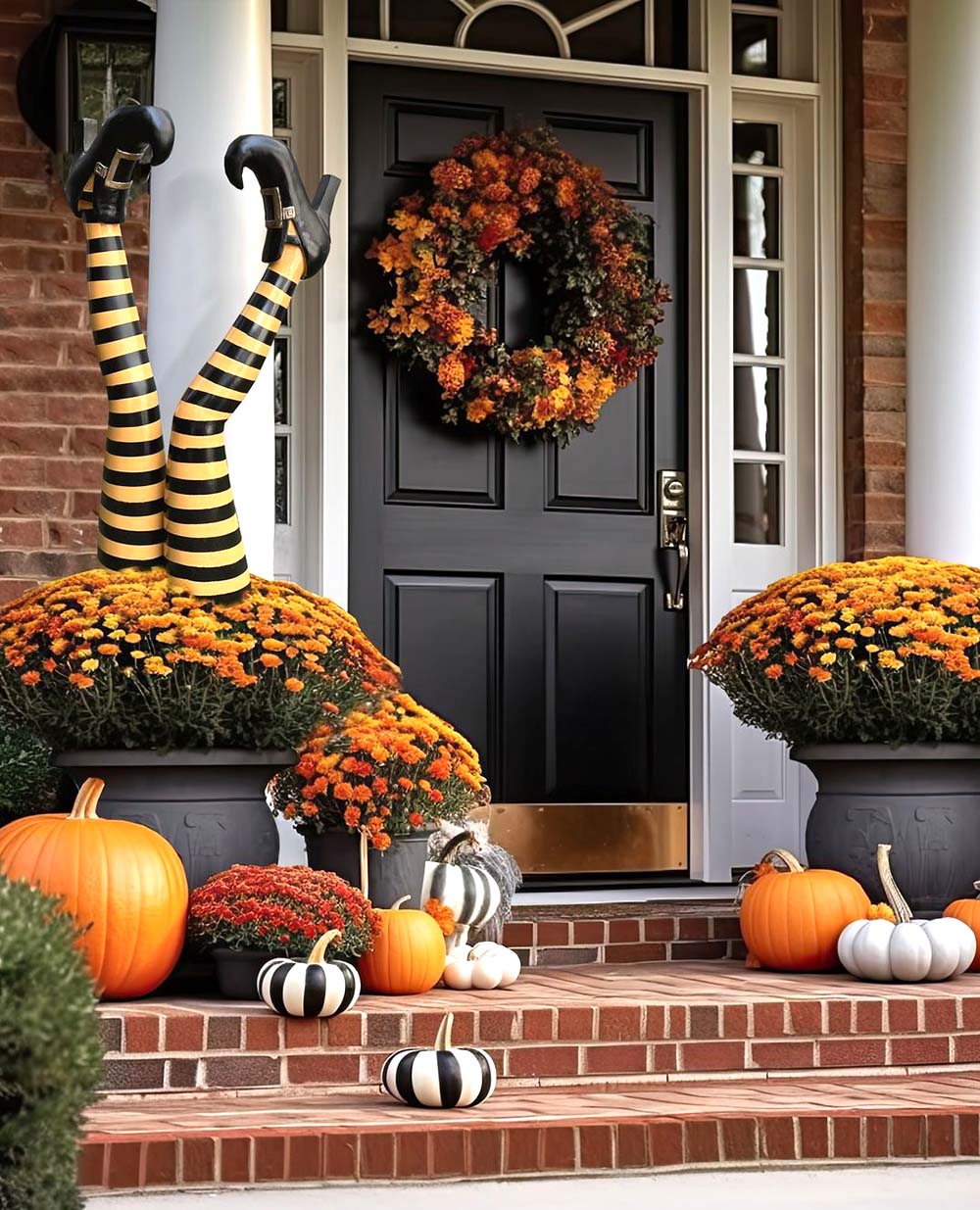 via decorsteals
This front door decoration is both funny and stylish. We see elegant seasonal accents interacting with Halloween motifs.
To achieve this harmonious look, there should be uniting elements. Here, these are the orange and black colors and the striped pattern which also cohere with the main front porch elements.
5. Outdoor Table Centerpiece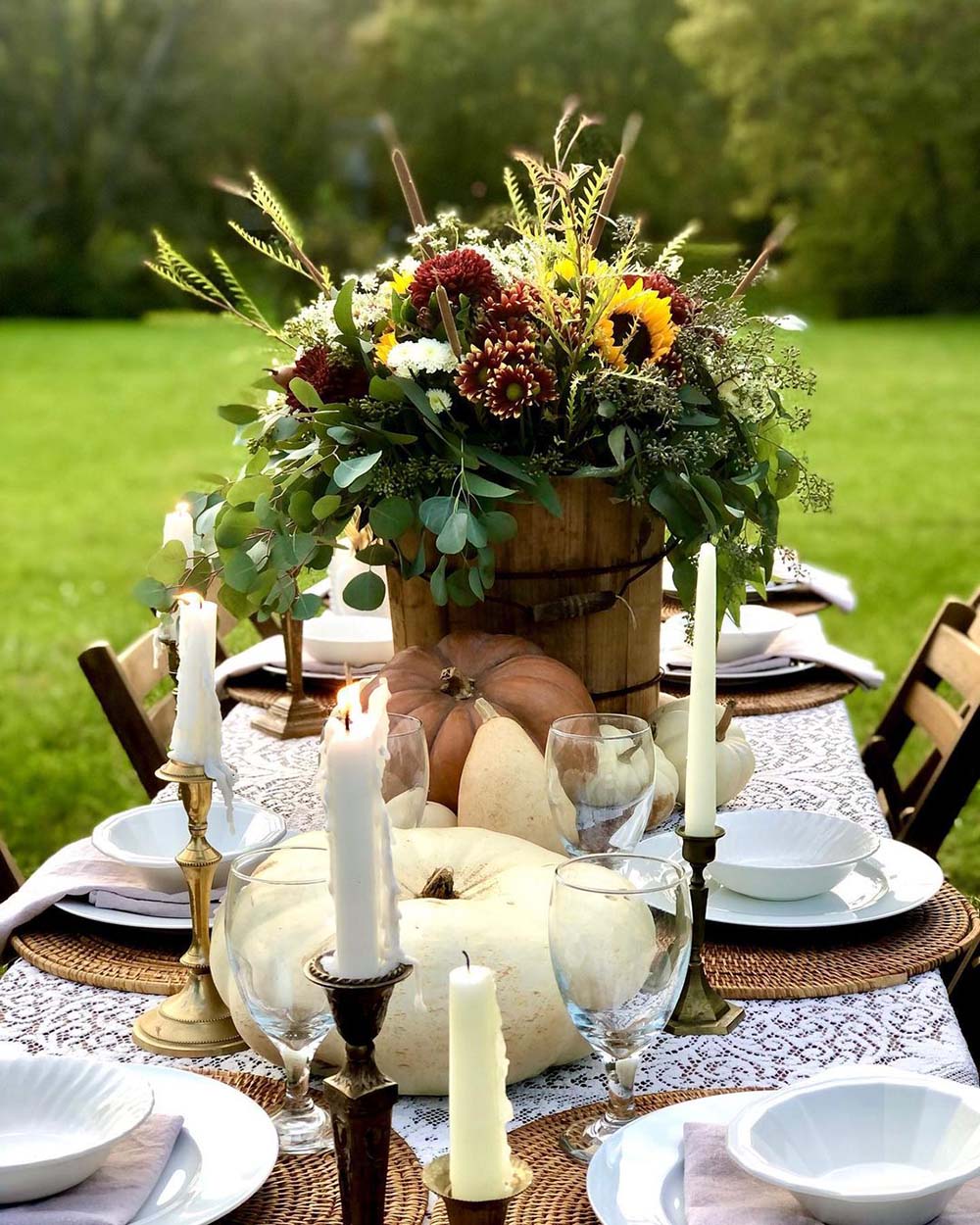 Fall days are still welcoming for spending time outdoors and enjoying the last warm sunrays. Whether for an ordinary lunch outside or to celebrate an occasion, decorate the table with seasonal decorations. No need to craft anything. Your garden can be your supply store.
Gather a bouquet of autumn flowers, cut a few pumpkins and arrange them in the center of the table.
6. Bedroom Fall Decor Idea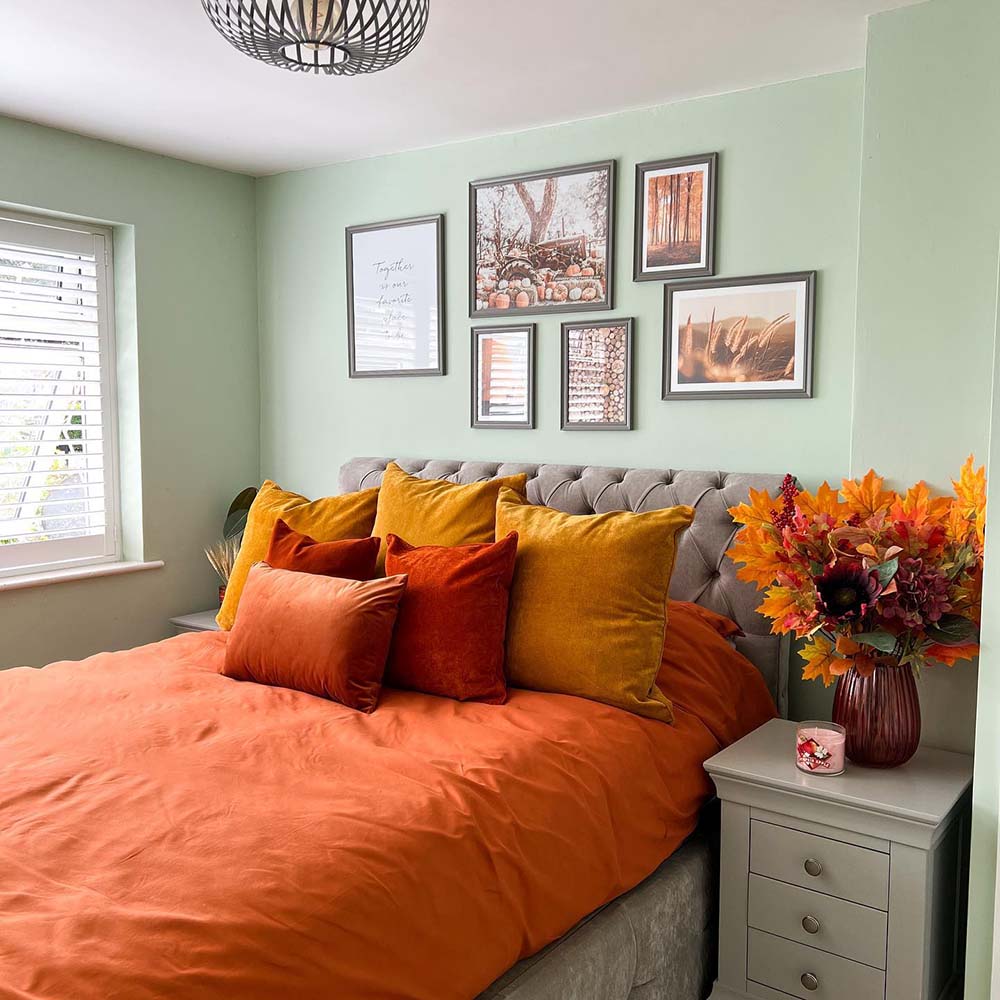 via thehawhouse
Do you want to make your bedroom autumn friendly? The simplest way to tune it to fall is to change the bed linen to such in fall color palette. Orange, yellow, mustard, creamy, and brown are all colors related to autumn.
Add prints above the bed headboard picturing autumn landscapes and finish the bedroom decor with a large vase with branches.
7. Living Room Fall Decor Idea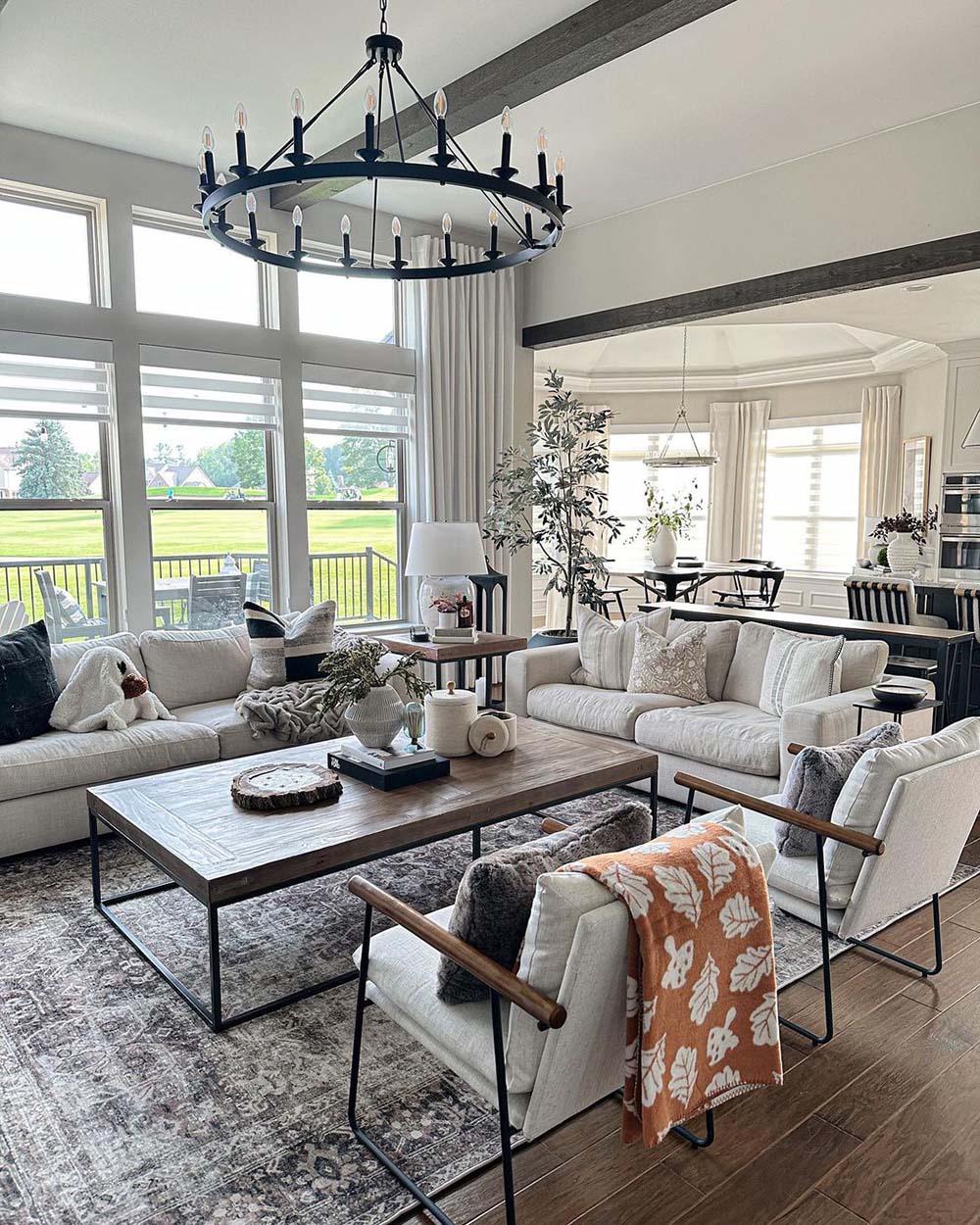 An easy decor hint to impose a season in your home is to change the pillowcases with such that relate to the season. For summer that can be pink flamingoes, seaside motifs; for spring- flowers; for winter- pinecones, snow, jingle bells and for fall- autumn leaves.
These patterns can be also implied on throws.
8. Kitchen Fall Decor Idea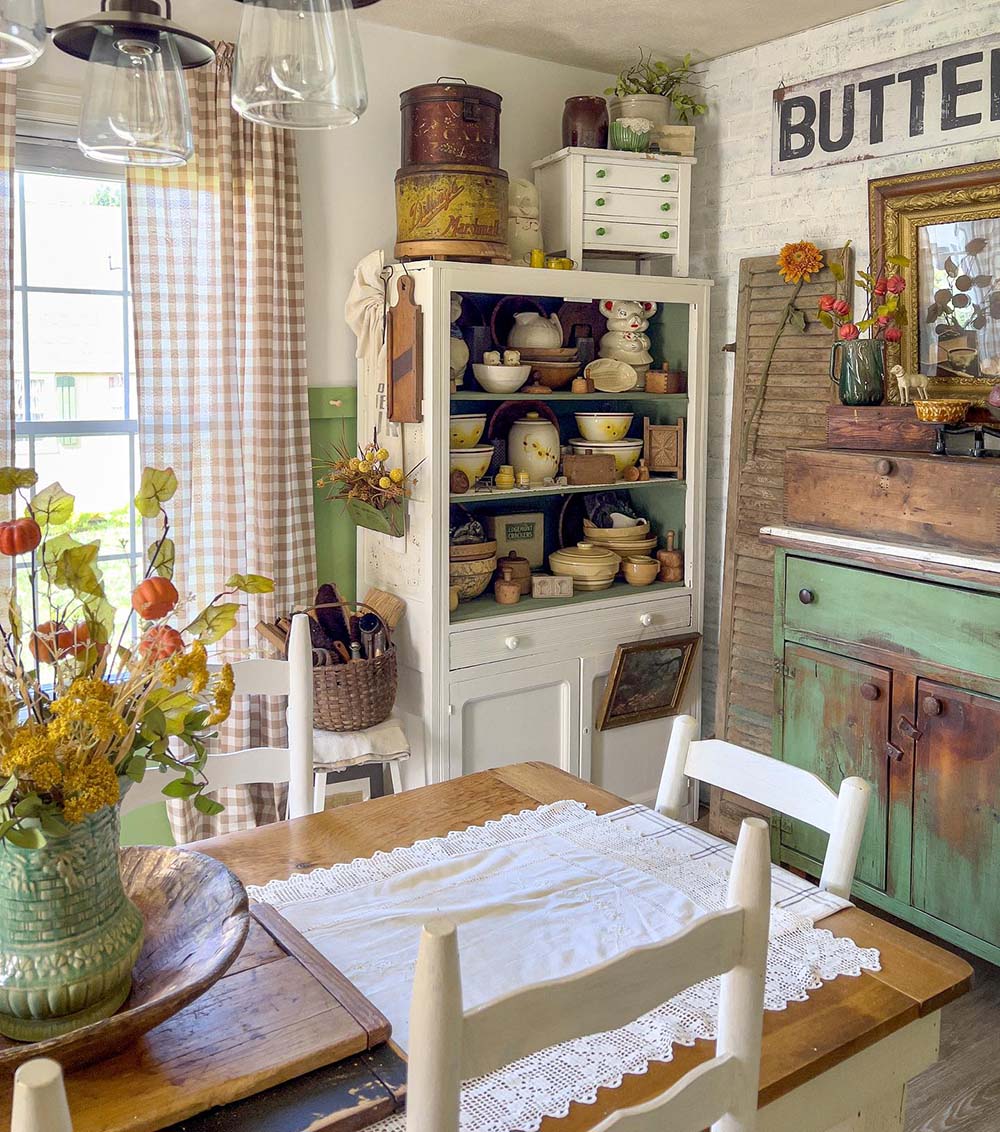 via isaacsrustywagon
This farmhouse kitchen looks like a happy sunny place. It has a very strong cozy vibe achieved through natural materials.
Bouquets of autumn forest and field flowers and branches are spread around the room to make the room homier and fall-ready.
9. Fall Decor Nook Idea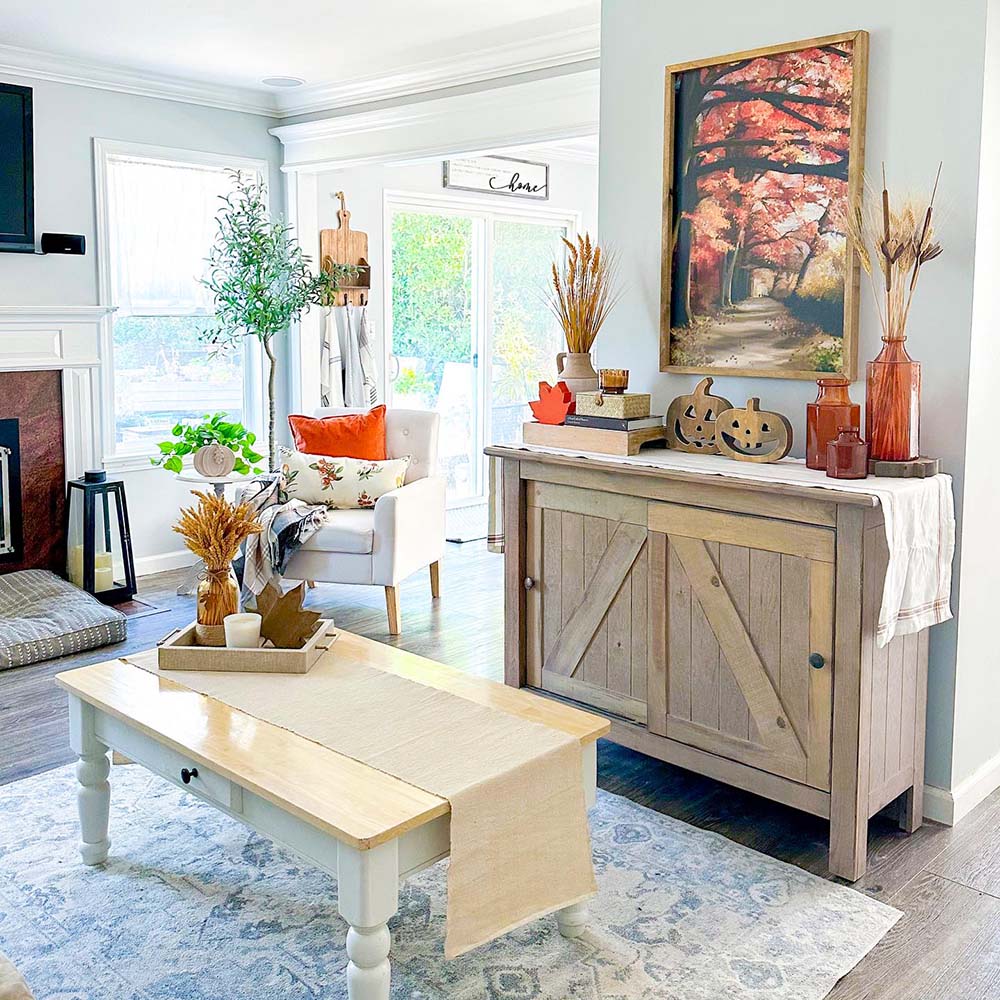 via pbandp
This nook from the living room is prepared to welcome fall. The farmhouse chest is the nook's focal point, representing an arrangement of two pumpkin wooden silhouettes in the center. Farmhouse glass containers of different heights surround them.
The ends of the arrangement are vases with wheat stalks that explicitly anchor fall in this home.
10. Color Palette For A Fall-Welcoming Home Decor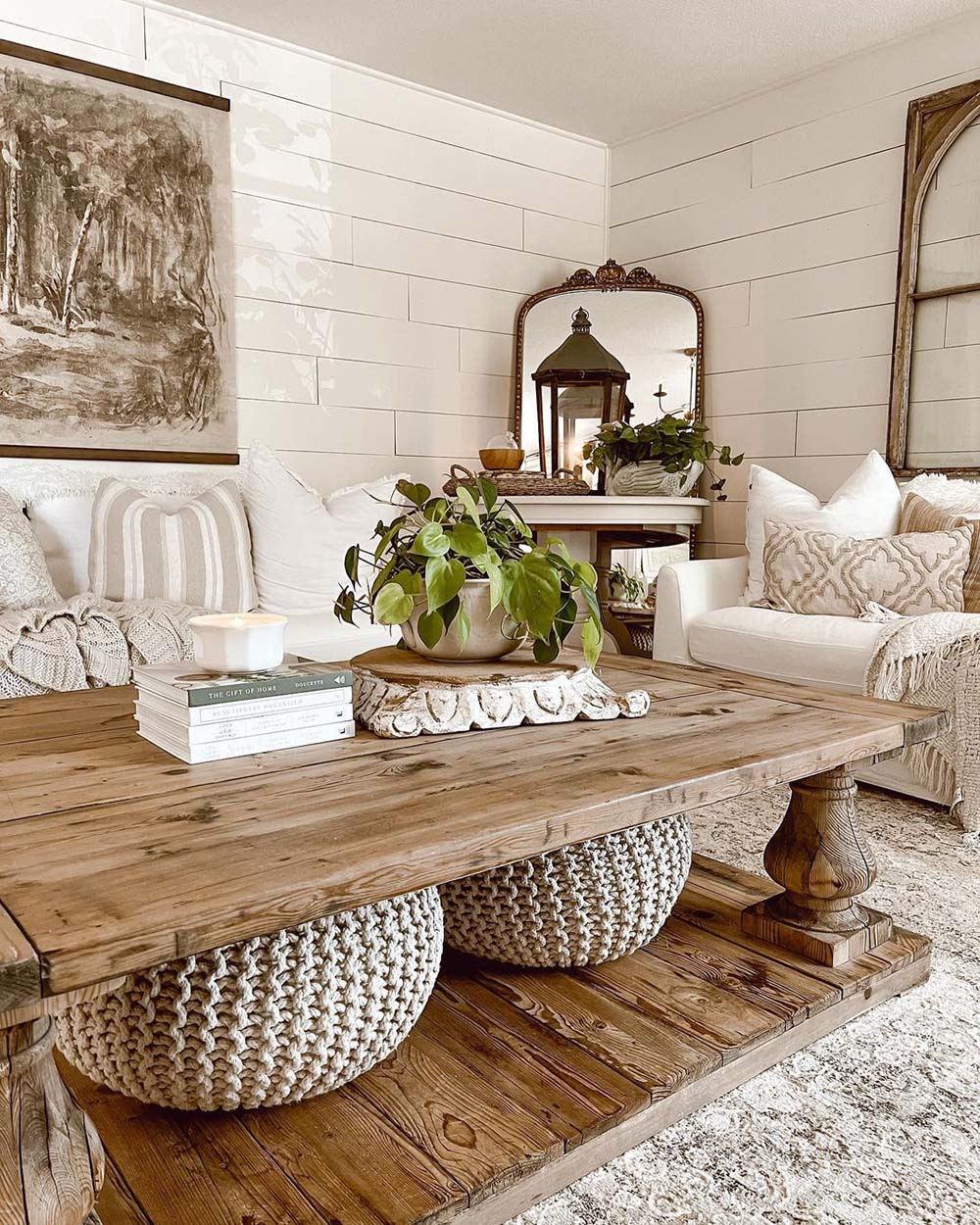 The neutral color palette can also help you prepare your home for the upcoming fall season. Pale colors, woven textiles, plenty of throw pillows and blankets say that the colder season is knocking on the door.
At the same time, they instantly transform the space into a cozy welcoming shelter where you can stay calm and warm.
11. DIY Halloween Wreath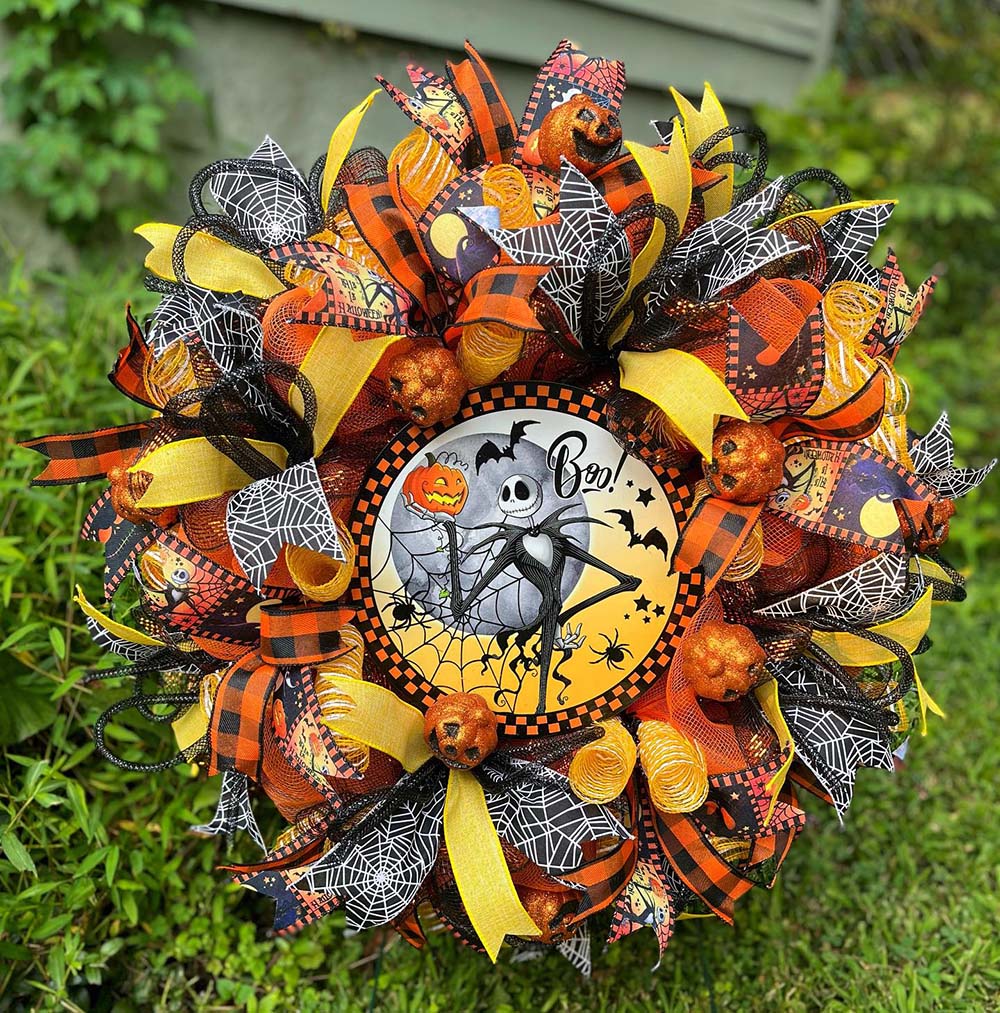 The greatest thing about fall is Halloween, at least for the kids. If you want to make the celebration special, decorate your home properly.
Start with a scary but funny front door wreath consisting of many Halloween-patterned ribbons and Jack-o-lantern accents. The central element is a spooky banner.
12. DIY Fall Harvest Wreath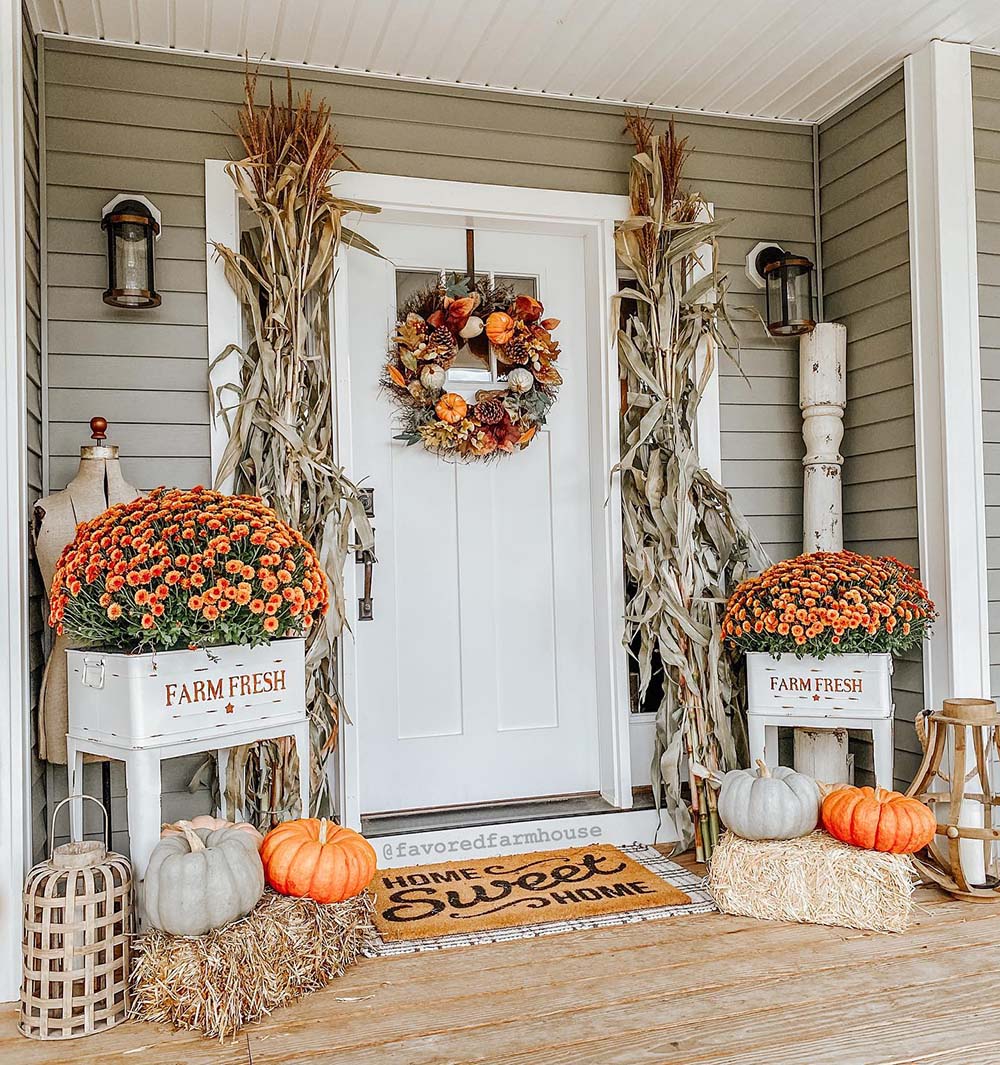 via favoredfarmhouse
This homeowner stacked on the traditional fall colors for her front porch. The combination of orange, pale grey and creamy stands out against the neutral backdrop.
The arrangement pieces are placed symmetrically on both sides of the front door leaving a gorgeous wreath to be the focal point.
13. Mantel Decor Idea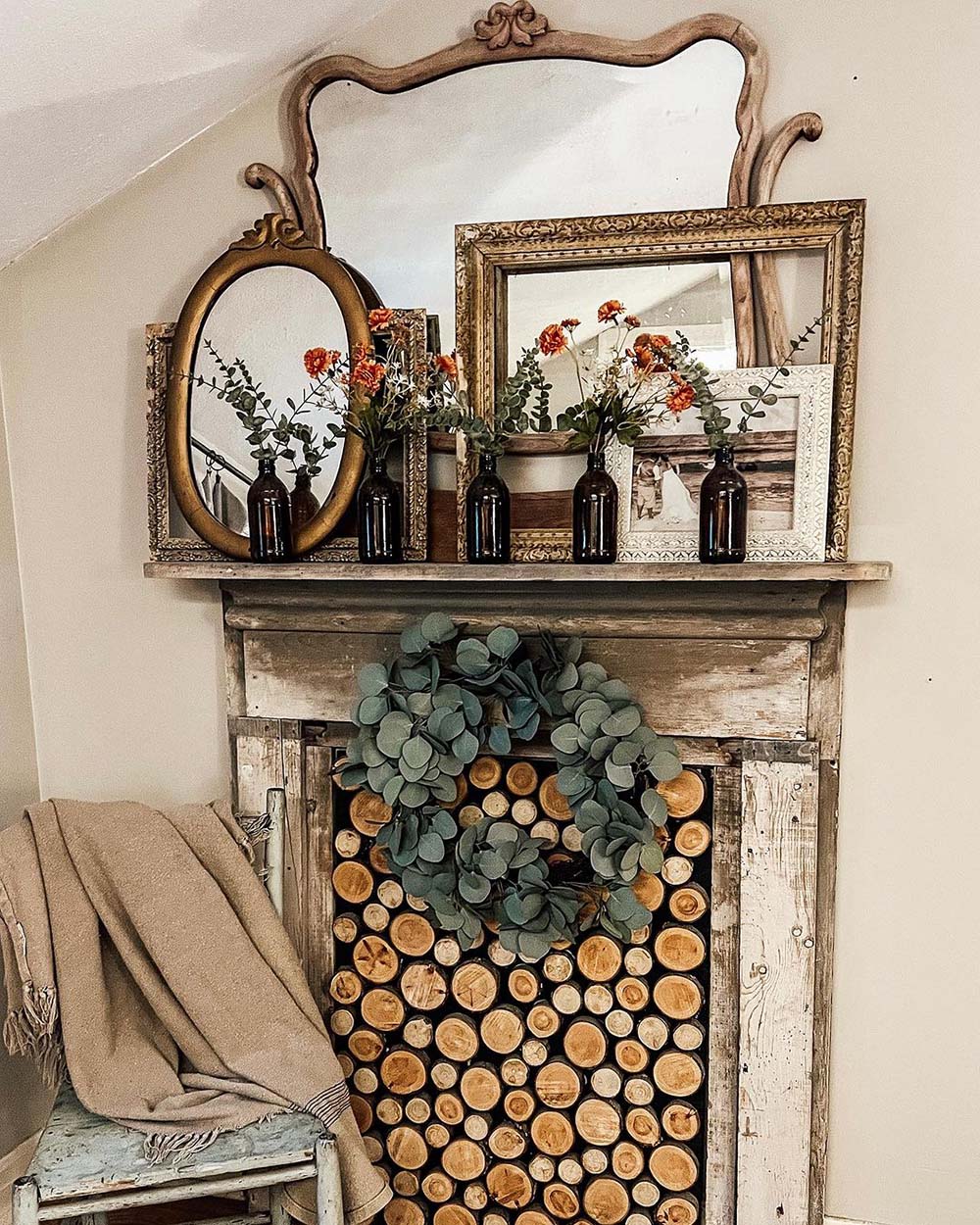 via house.on.holmes
Bouquets of mums and a wreath from eucalyptus tree and your fall theme nook is ready! This simple idea creates a catchy decor impact against the neutral surroundings.
A blanket is thrown at a weathered chair next to the faux fireplace to enhance the warm tone of the fall decoration.
14. Rustic Fall Decor Idea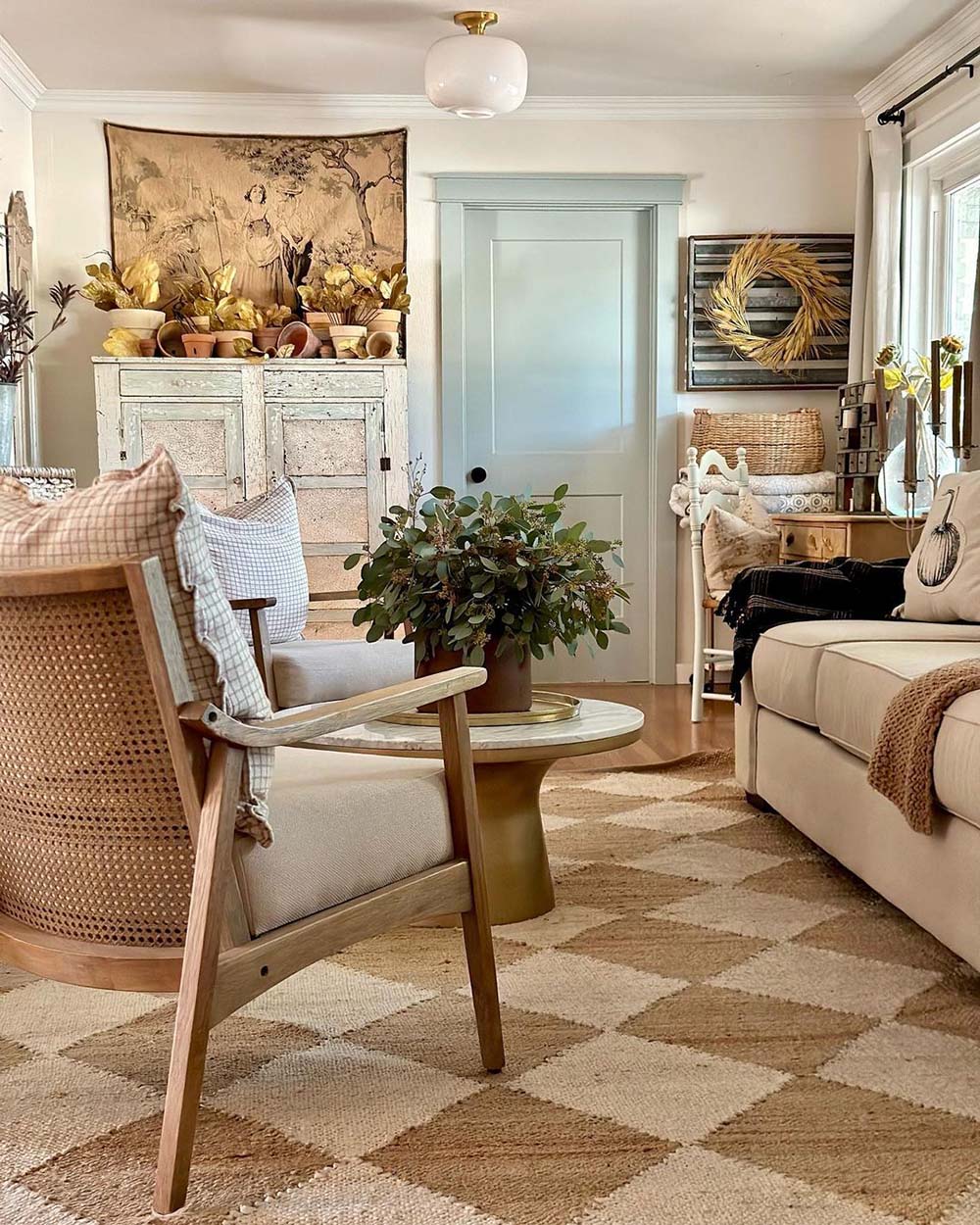 via cozycrazing
To create a unique seasonal decoration, get inspired by nature during this time of the year. Autumn is very generous with colors and textures.
Dried flowers, leaves and wheat stalks create layers of fall pieces. The fabrics and their colors complement the fall decoration and anchor the neutral palette which is related to autumn.
15. Festive Fall Centerpiece Idea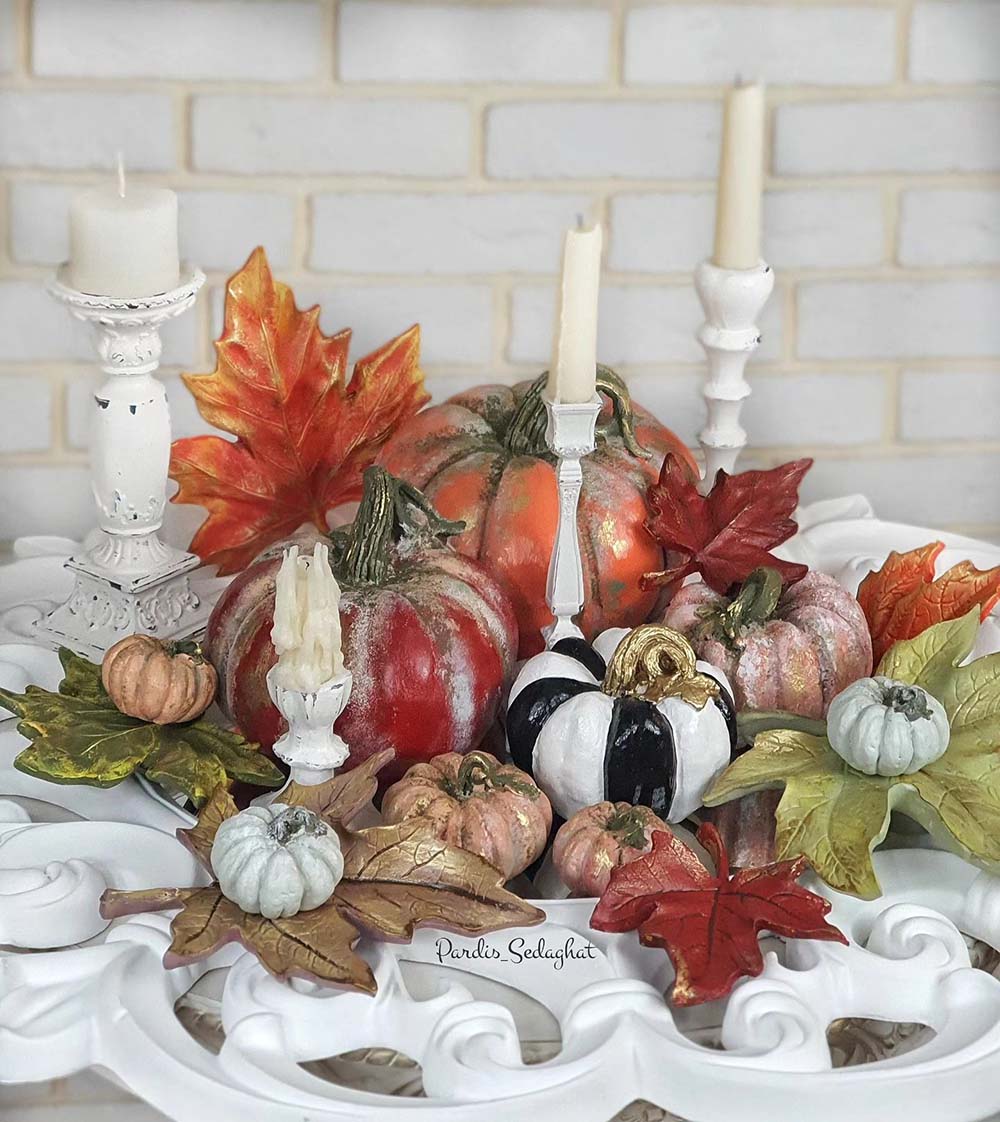 via pardis_sedaghat
You will never go wrong if you choose pumpkins for your fall centerpiece. Layer them, alternating small and big ones.
Decorate every pumpkin with paints to enhance the visual interest.
16. Halloween And Fall Decor Idea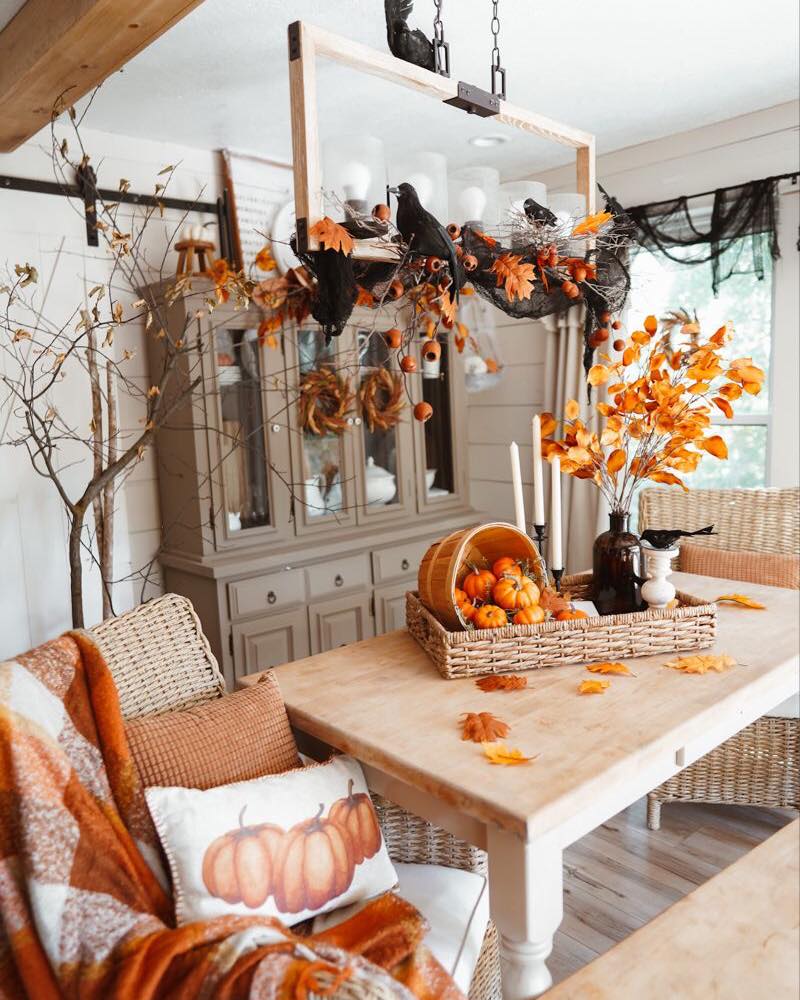 The elegant orange color that has spread warmth within this living room is interrupted by scary black crows, a symbol of Halloween. This room is prepared to welcome fall and the most favorite kids' holiday- Halloween.
This is an interesting idea of how beautiful and spooky can be balanced and create together a unique home decor.
17. Front Yard Fall Decor Idea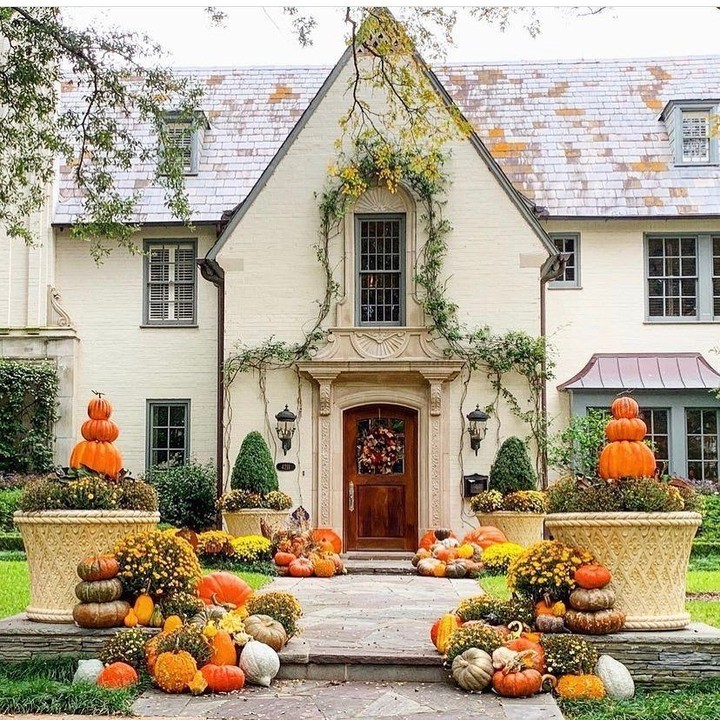 via ballarddesigns
The outdoor decoration of this house is so festive that we trust that the inside decor will be more than outstanding.
It is also fascinating how simple elements are turned into whimsy decor pieces. The different colors of the pumpkins and their various sizes make it possible to play with the arrangements. Add pots with mums to fill the gaps and the front yard decor is ready for autumn.
18. Front Stairs Fall Decor Idea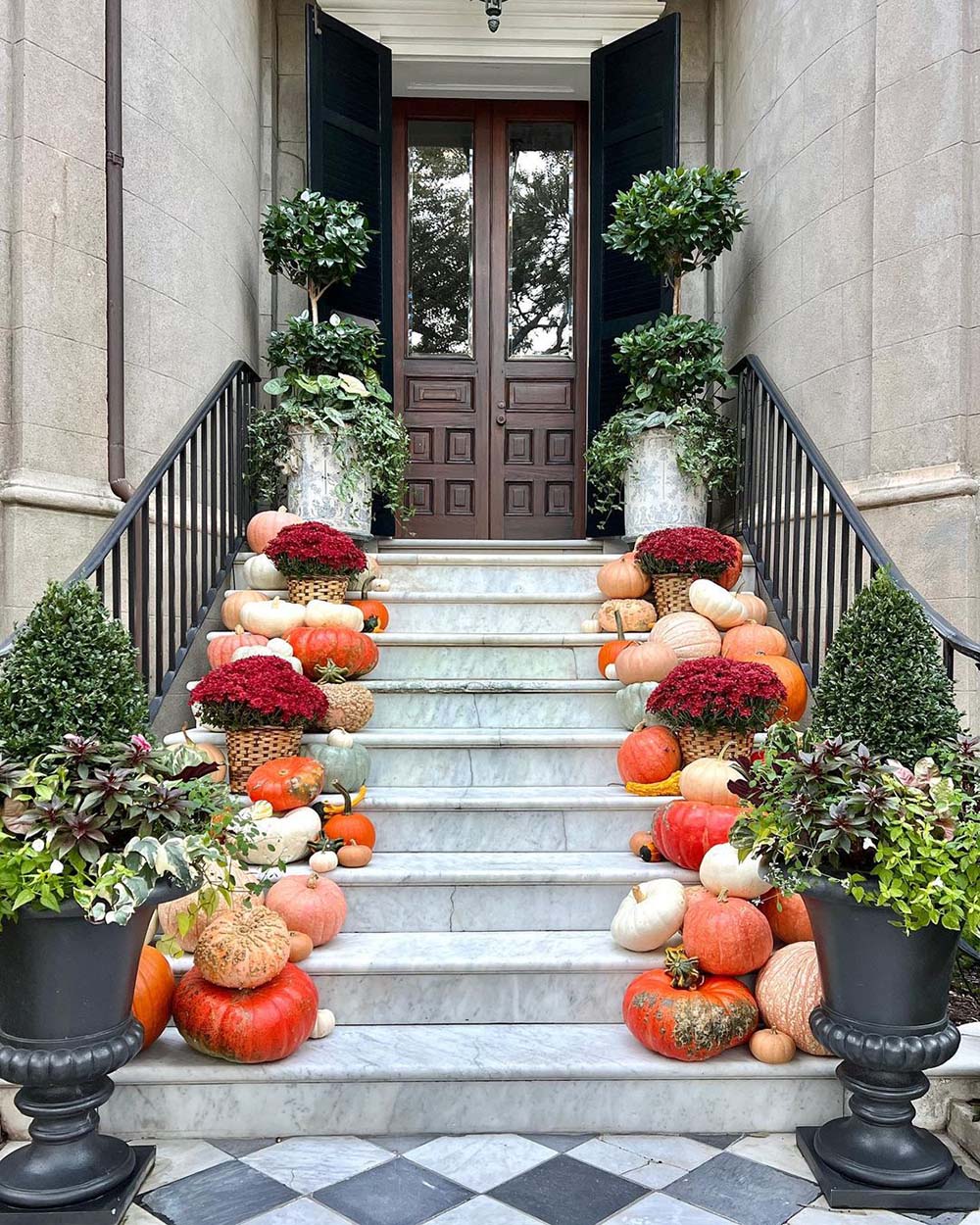 Welcome your guests with a staircase full of warmth and vivid color. This outdoor arrangement showcases white, orange and grey pumpkins, red mums backed by greenery.
This fall decor hints that the interior will also be decorated in the fall theme.
19. Farmhouse Fall Decor Idea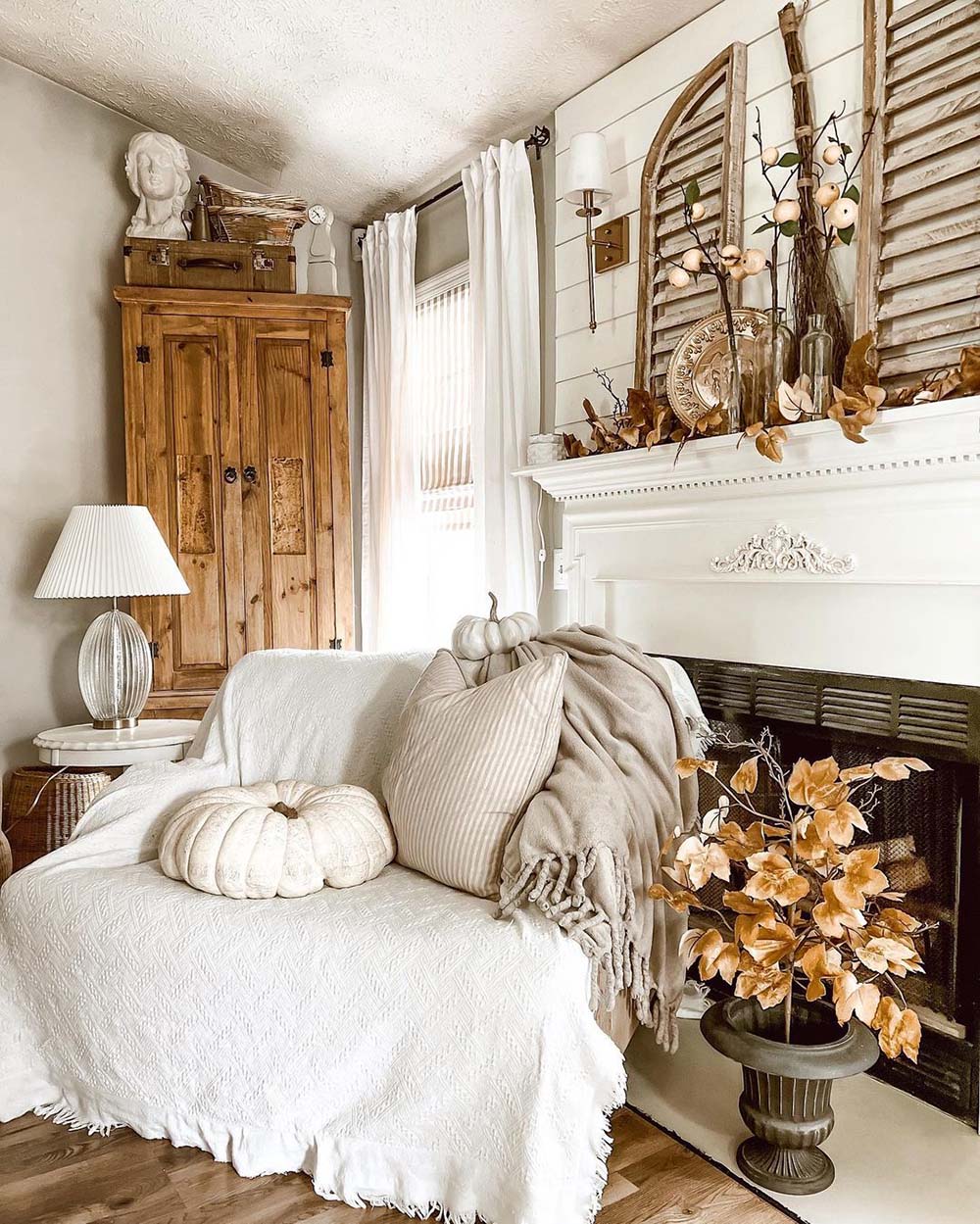 Fall means drinking a cup of cocoa in the comfort of an armchair warmed by a soft throw blanket and looking at the sunset through the window.
Did you already imagine this cozy picture? This fall decor idea represents it perfectly. Surround the comfortable sitting area with garlands of leaves and a bouquet of dry flowers.
20. Pumpkin Vases As Centerpieces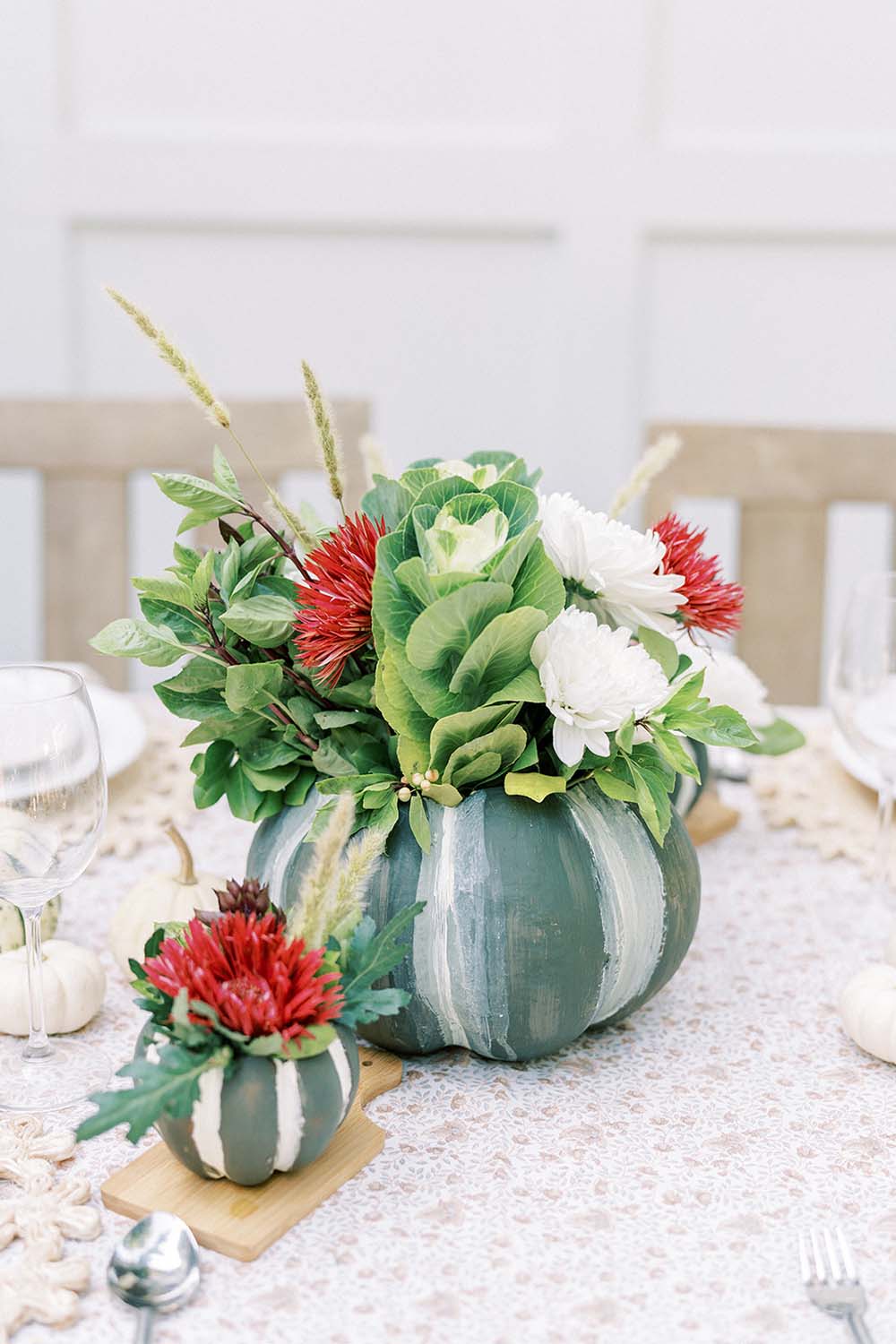 via FindingLovely
Upgrade the fall bouquet idea with a suitable holder. Place the autumn flowers in a pumpkin which inside is hollowed out.
This interesting arrangement is perfect for a centerpiece decoration or an accent on a mantel or side table.
21. Wheat Stalks Centerpiece Idea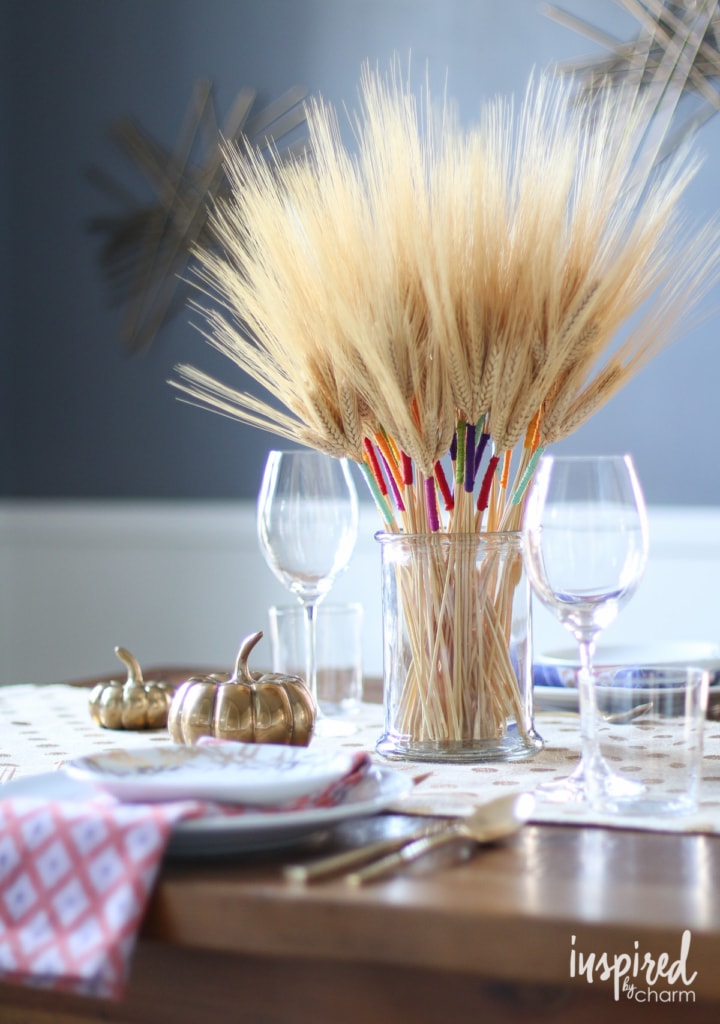 If you want to keep the decor simple yet unique, check out this fall decor idea. Pumpkins with golden finish stay on the table to add an artistic touch to the cozy home decor. A vase with wheat stalks complements the traditional autumn symbol and spreads its charming naturalism around the room.
As shown in the image, you can add a personal touch to the arrangement by weaving different thread colors to each stalk.
22. Porch Fall Decor Idea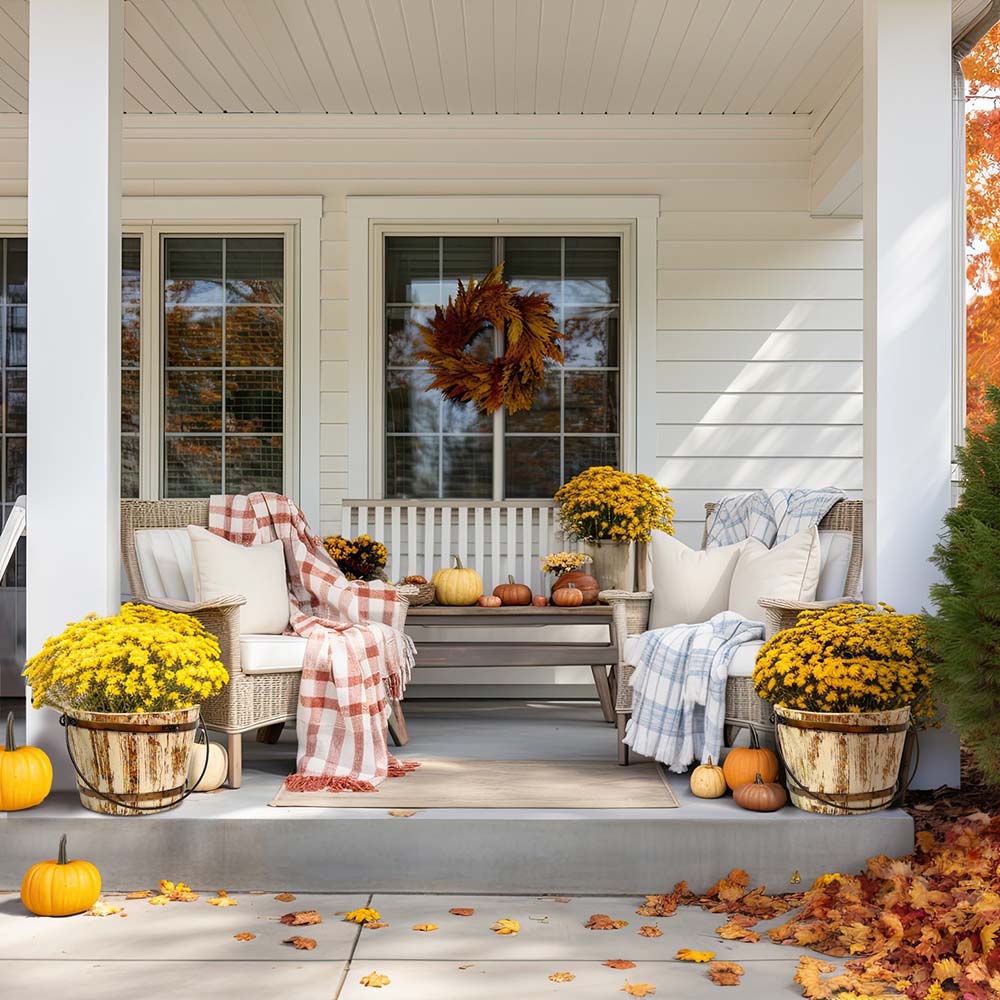 via decorsteals
If you have finished decorating the inside of your home, it is time to think about the outdoor space. It deserves a suitable decoration, too.
This inspiring fall decor idea features two plaid blankets, pumpkins, a wheat wreath and many mum tufts. They are all united by the fall color palette and symmetrically spaced on the porch to make it so inviting and warm.
23. Easy Fabric Wreath To Welcome Fall Season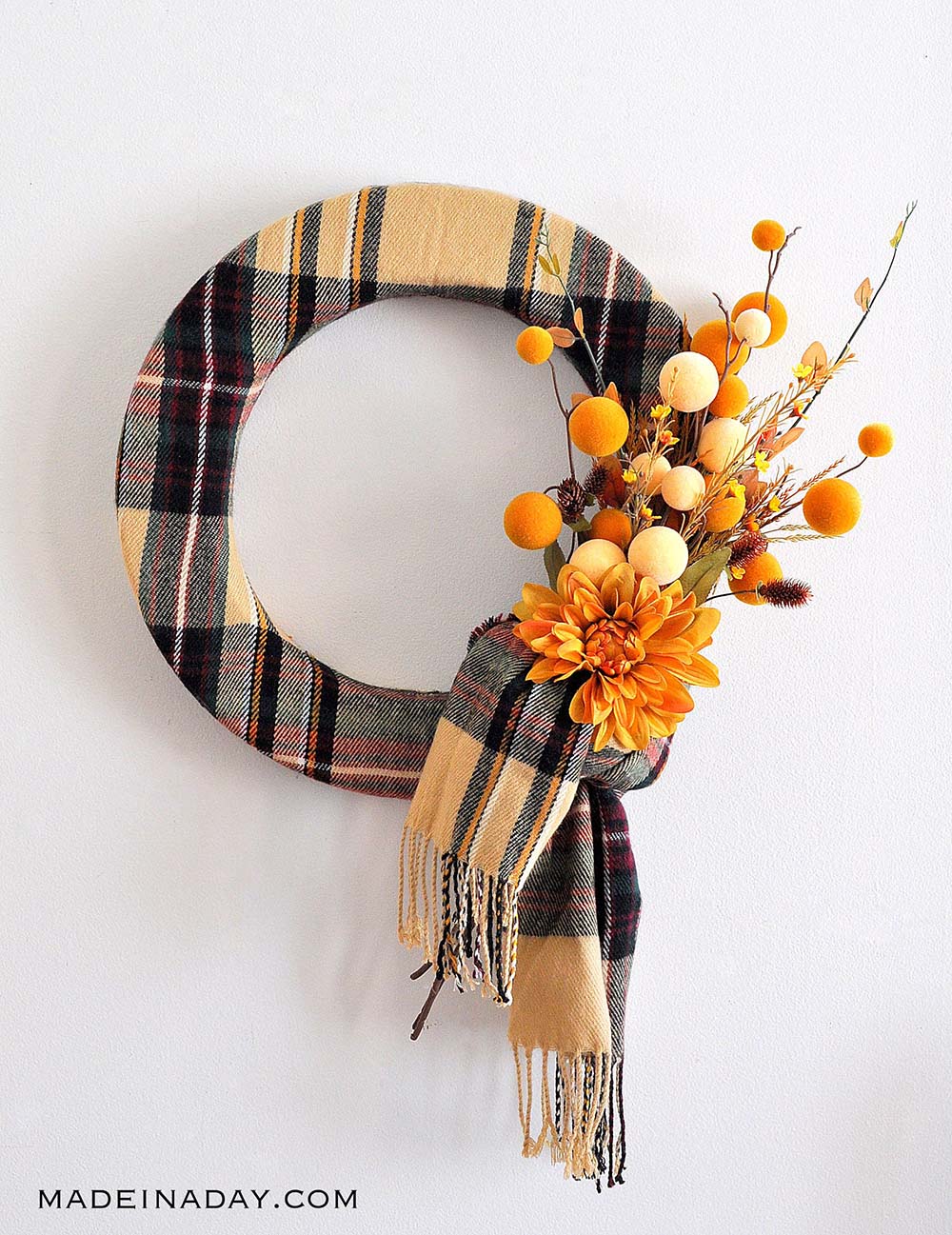 via Made in a Day
Are you done buying new seasonal decorations? If you want to add a new piece without investing a dollar into it, try this cute DIY fall decor idea.
It features a small wreath (which can be customized if you wish) covered with a scarf in a fall pattern. The ends of the scarf are tied into a ribbon. The knots of the ribbon are perfect to stick a simple flower arrangement.
24. A Bouquet Of Fall Flowers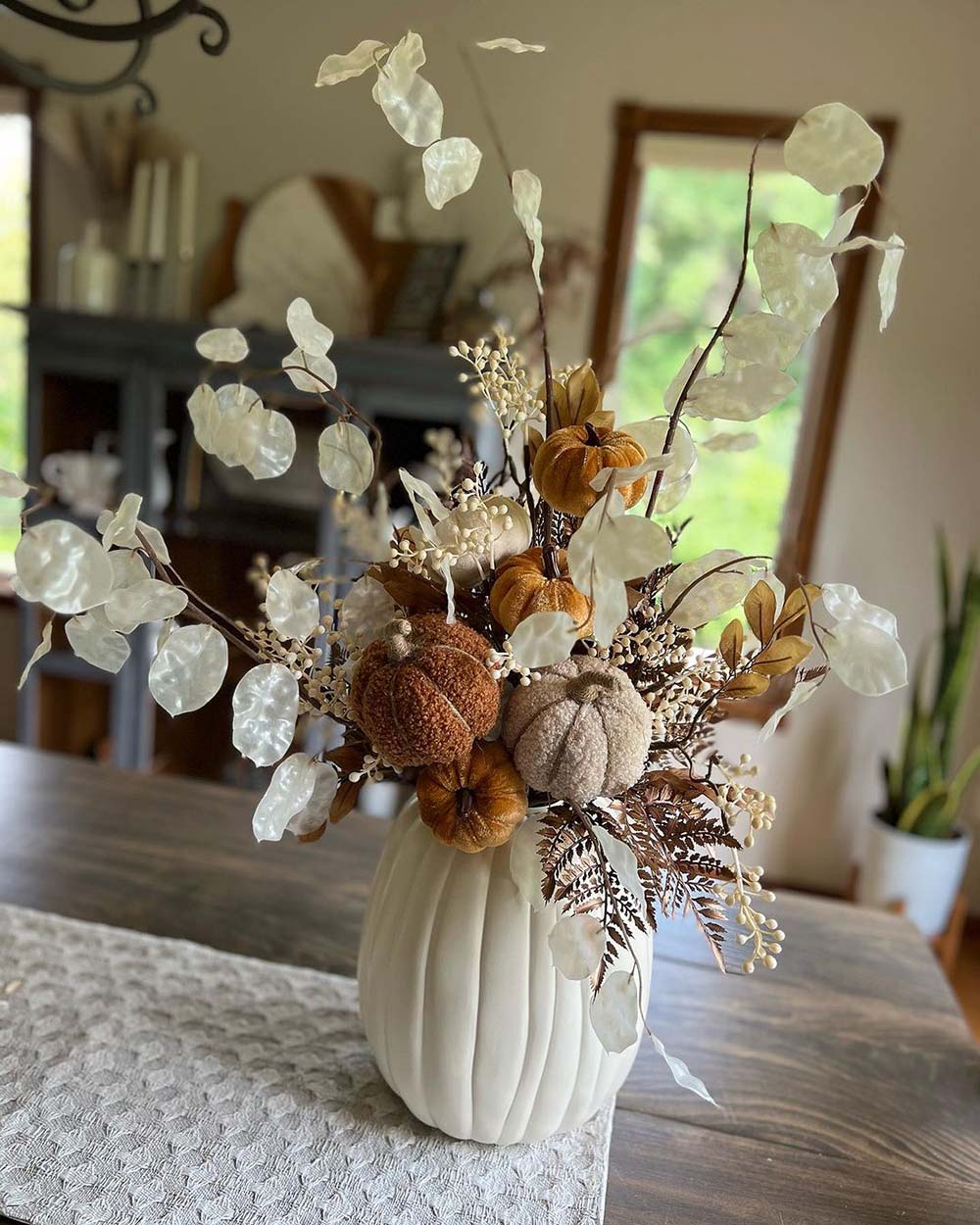 With a few decorative branches and a plastic pumpkin and your fall table centerpiece is ready! Give the plastic pumpkin a coat of white chalkboard paint to make it more stylish and then arrange the branches in a bouquet.
via heartofmagnolia
25. Mantel And Fireplace Fall Decor Idea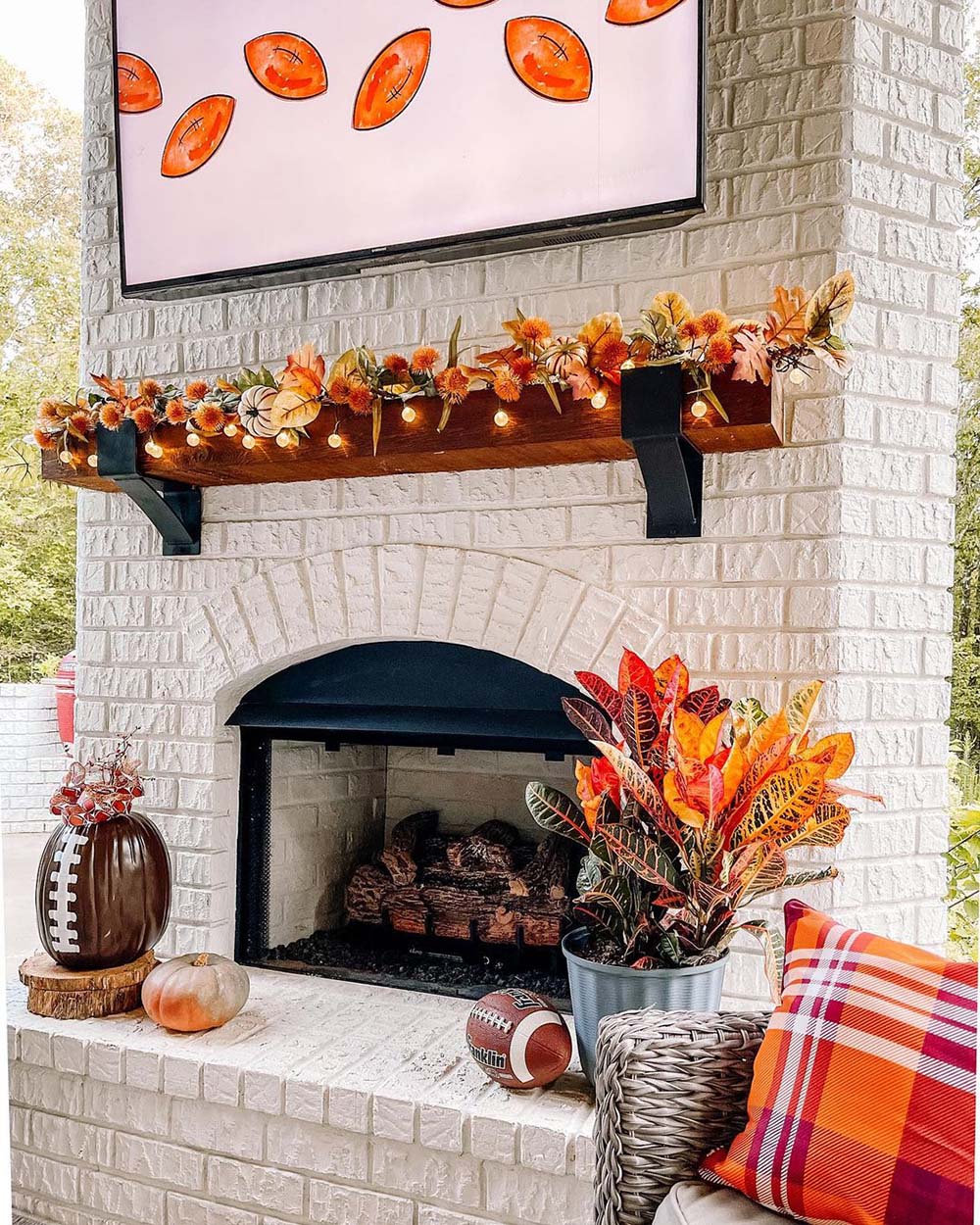 The sports theme is leading in this fall decor idea. It is very attractive how rugby interacts with the traditional fall elements. The orange color unites them together while a plastic pumpkin is transformed into a rugby ball with a simple stitched seam.
The sports fall arrangement is complemented by a mantel decorated with a garland of fairy lights and autumn leaves and a large painting of rugby balls.
26. Cute Pumpkin Face Storage Boxes Idea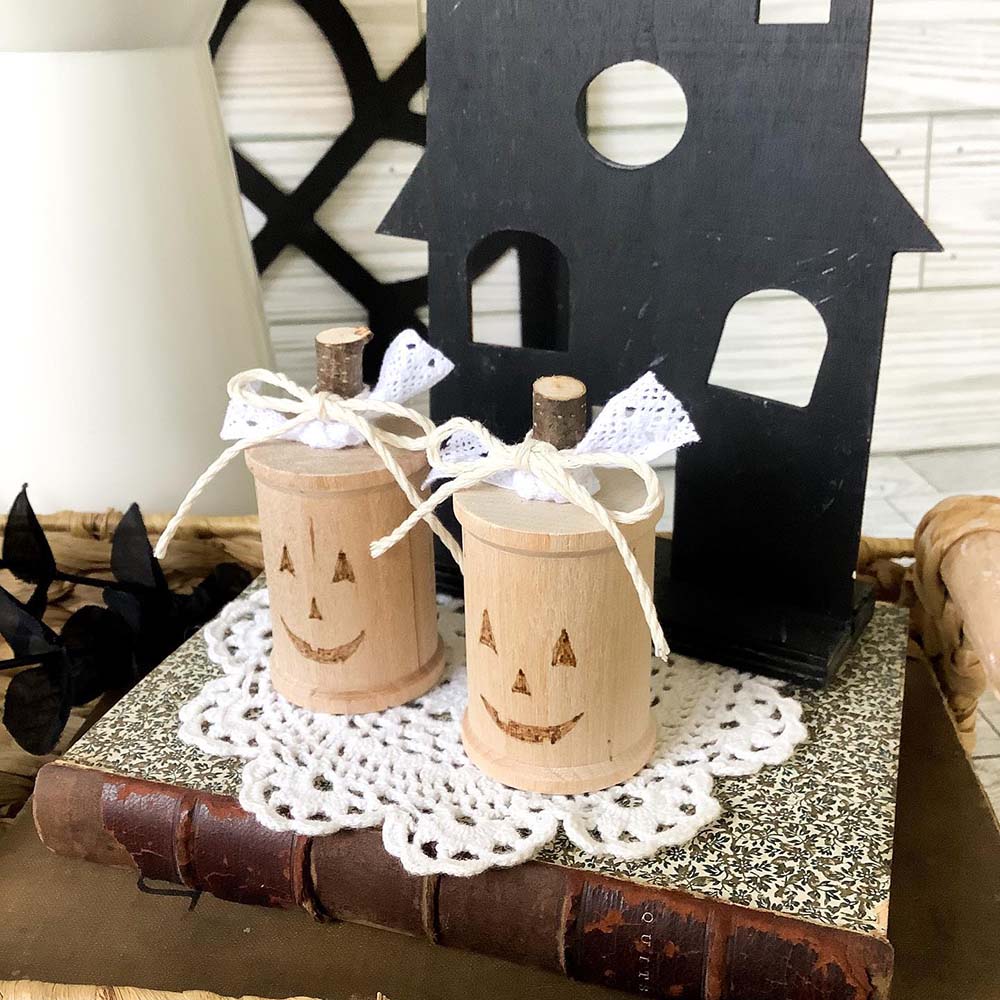 These cute wooden boxes are perfect to store treats for Halloween. Their simple design matches the surrounding decor elements.
The cute Jack-o-lantern faces can be handpainted or wood burnt. The embellishment consists of a short branch and a knitted lace ribbon.
via blakebydesign
27. Indoor Staircase Fall Decor Idea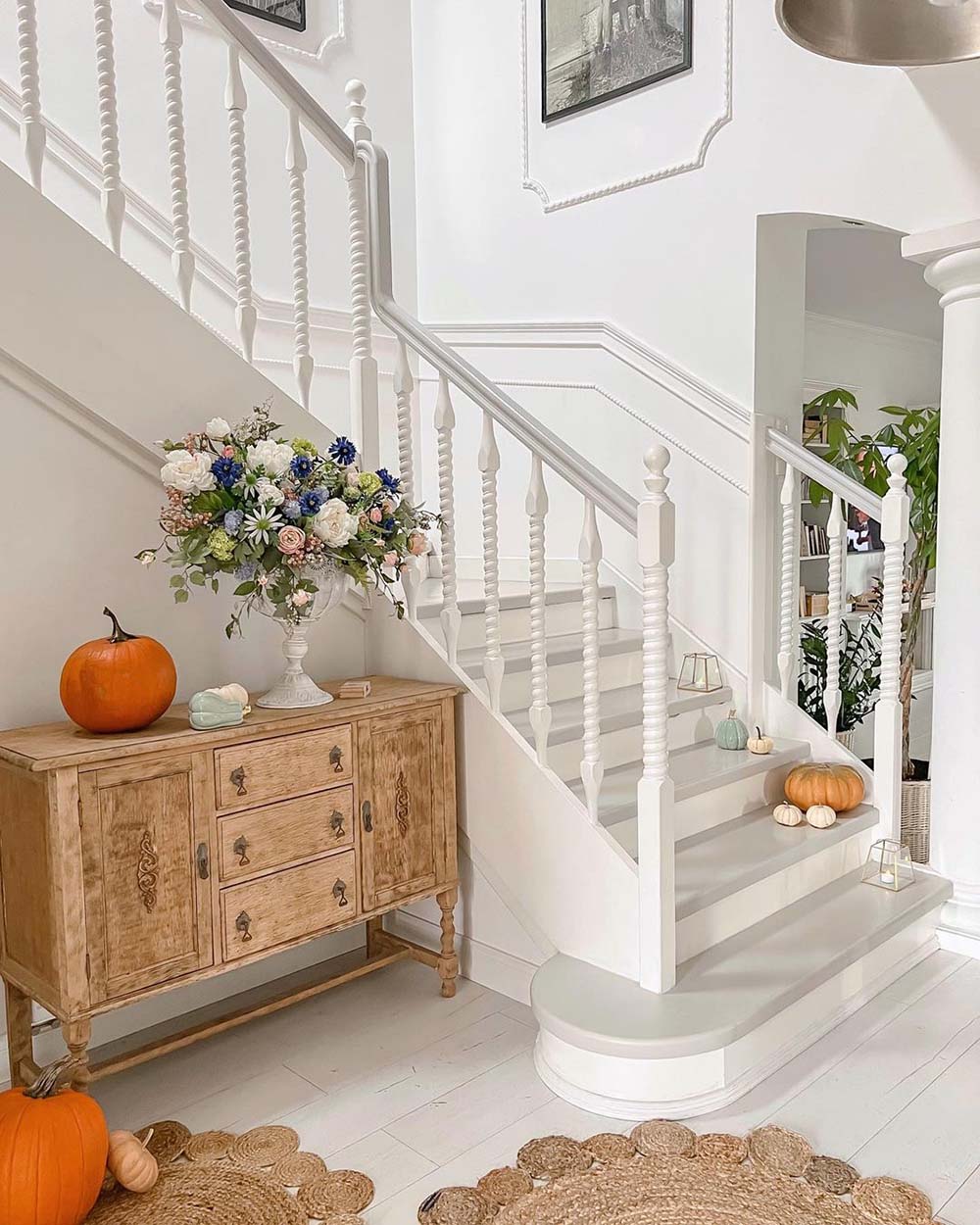 If you have extra pumpkins left, include them in your fall home decor. Try different arrangements and places until you find the perfect look. Match large with small pumpkins, add gourds, candles, and vases with fall flowers.
via basniowy_dom
28. Farmhouse Fall Decor For The Buffet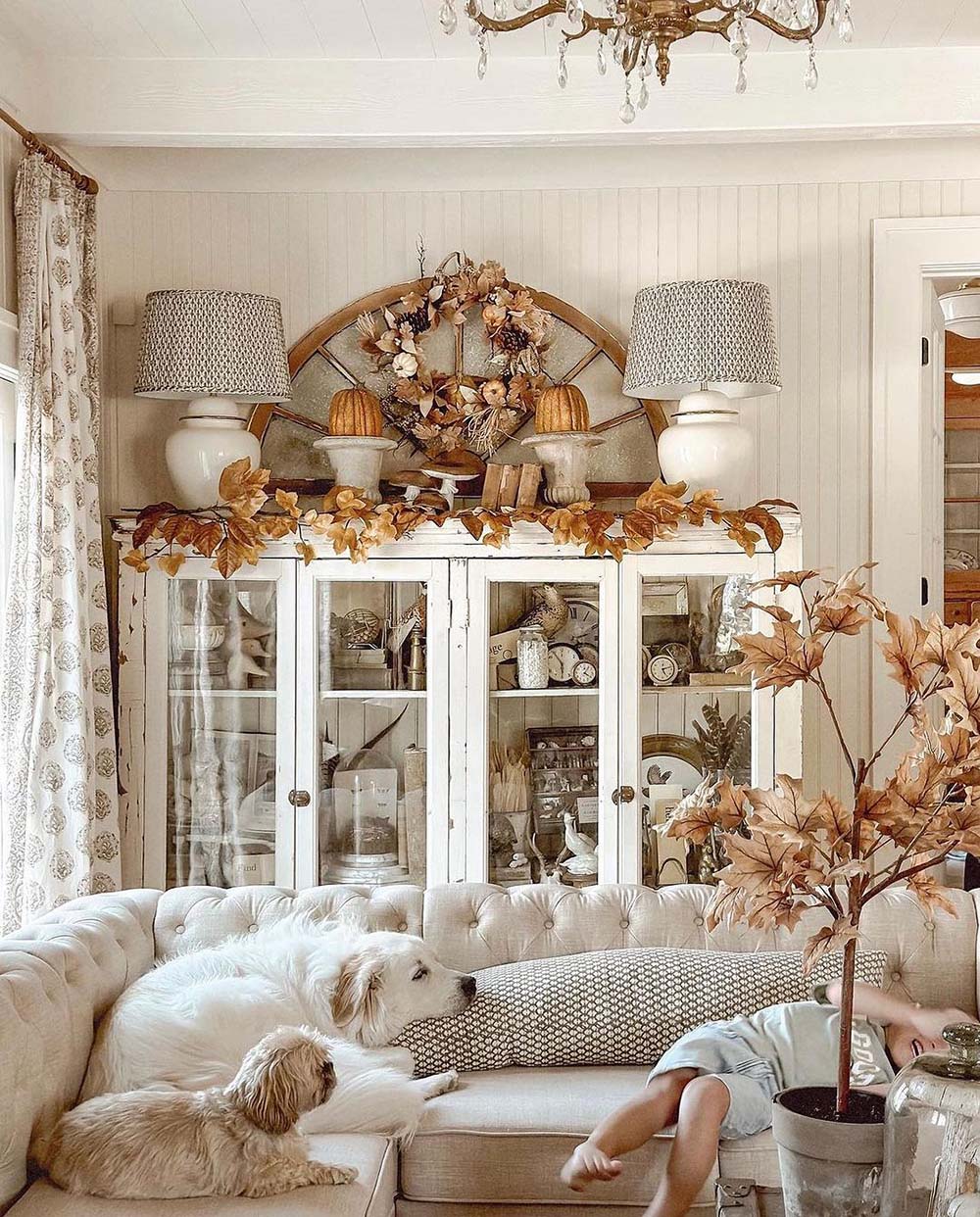 This buffet is obviously the focal point of the living room. Therefore, it is the first choice when it comes to displaying seasonal decorations. Ease the process by decorating around the buffet, not inside it.
In this fall decor idea, the shelves of the buffet showcase antique pieces and they act as a permanent decoration. The top of the buffet is the display of temporary ornaments.
via cottonandcrete
29. Pumpkin-shaped Wreath For The Front Door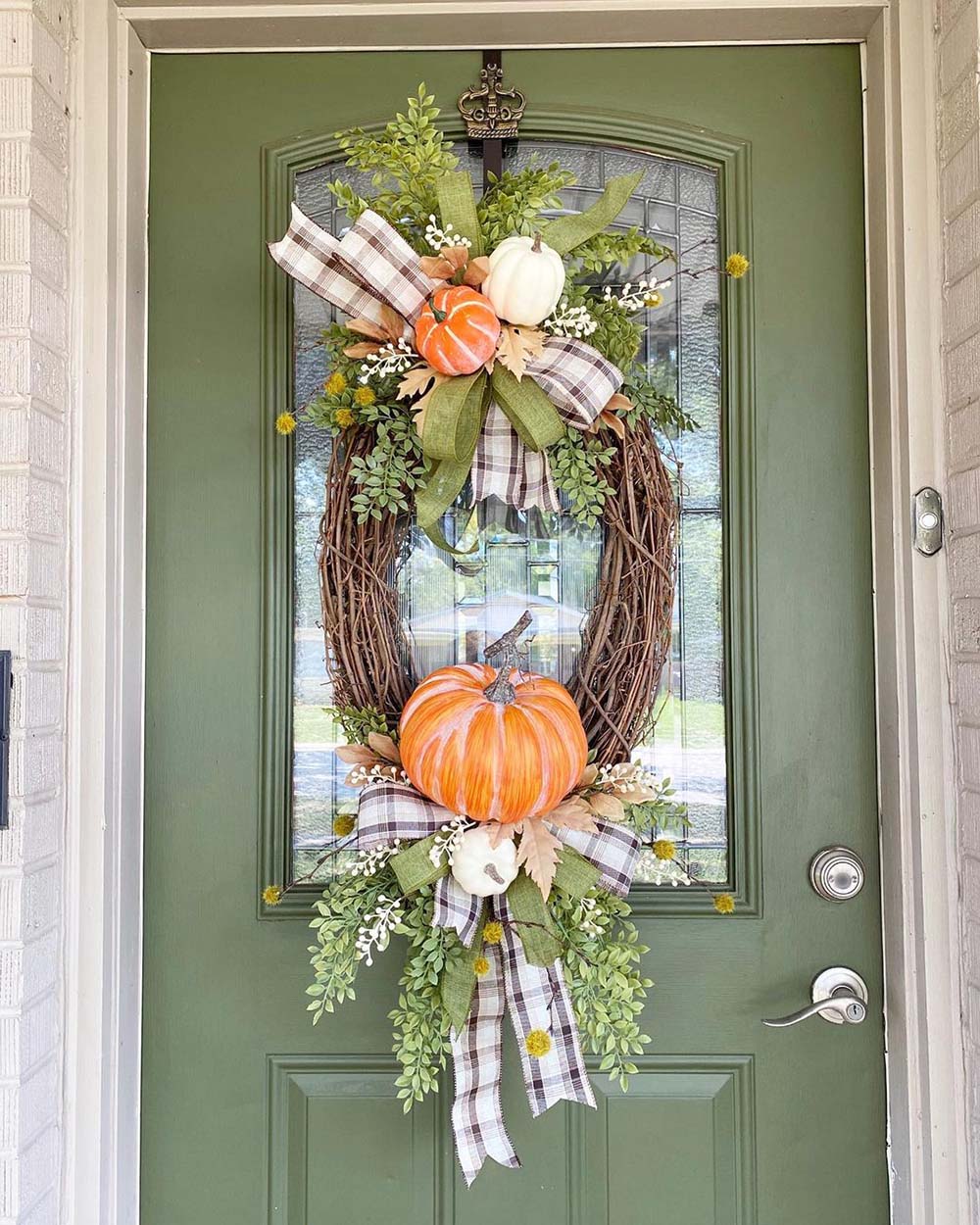 This fall-inspired wreath is so charming! You can make it yourself ensuring the following supplies- grapevine basis, one big and three small pumpkins, faux boxwood branches, and two sets of ribbons in different fabrics that match the rest of the supplies.
Start with hollowing the pumpkins out, otherwise, they will be too heavy to hang. Seal the ribbons with hot glue and then arrange the faux greenery at the top and at the bottom of the wreath. When you are happy with the result, attach the hollowed pumpkins using your hot glue gun.
30. Dining Room Fall Decor Idea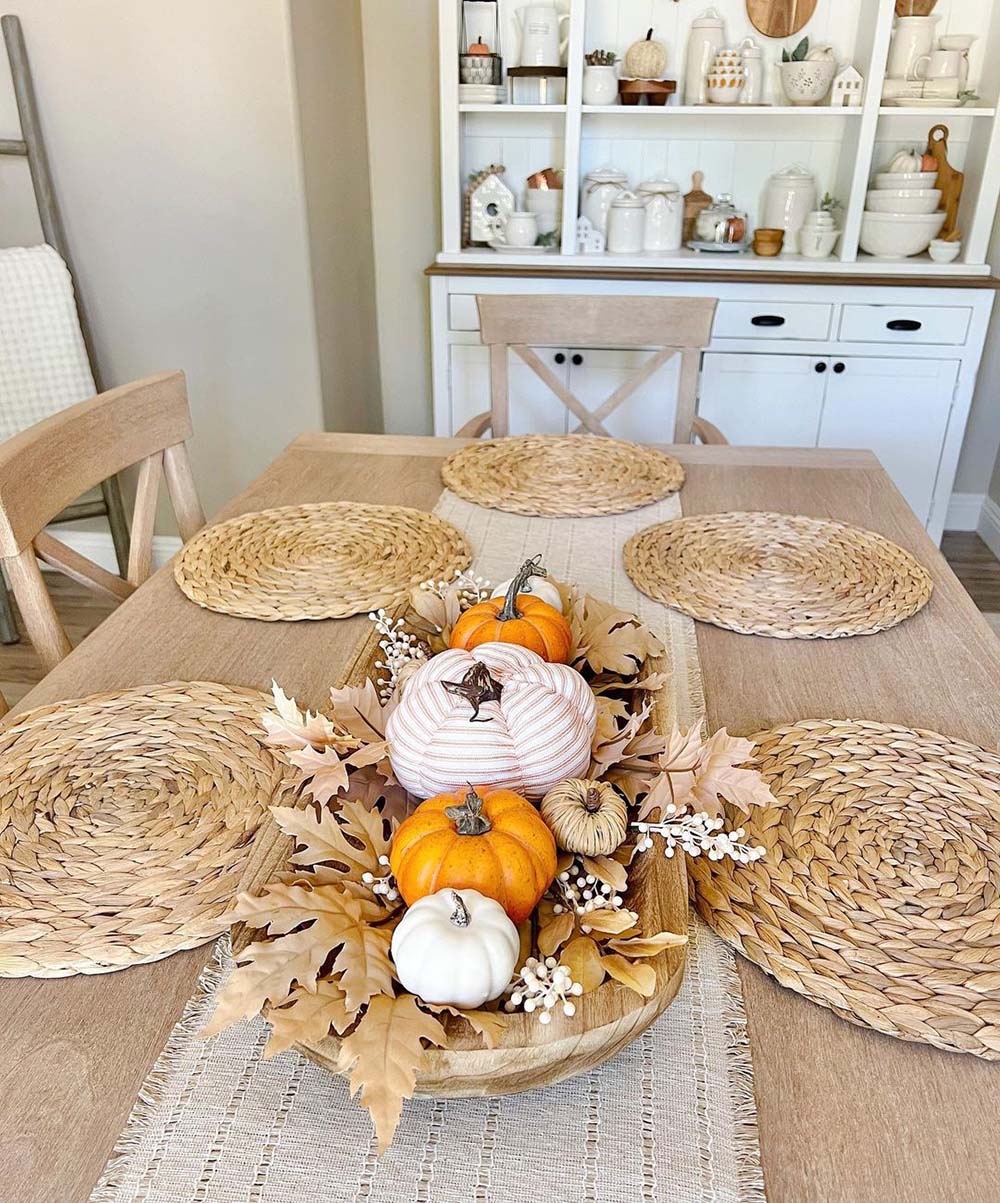 This simple but beautiful fall centerpiece complements the rustic interior of the dining room. It features a burlap runner accented by a dough bowl filled with dry leaves and white berries and pumpkins.
All tones in this room are autumn-related and setting a warm and inviting atmosphere.
via farmndunn
31. Easy To Make Pumpkin Decoration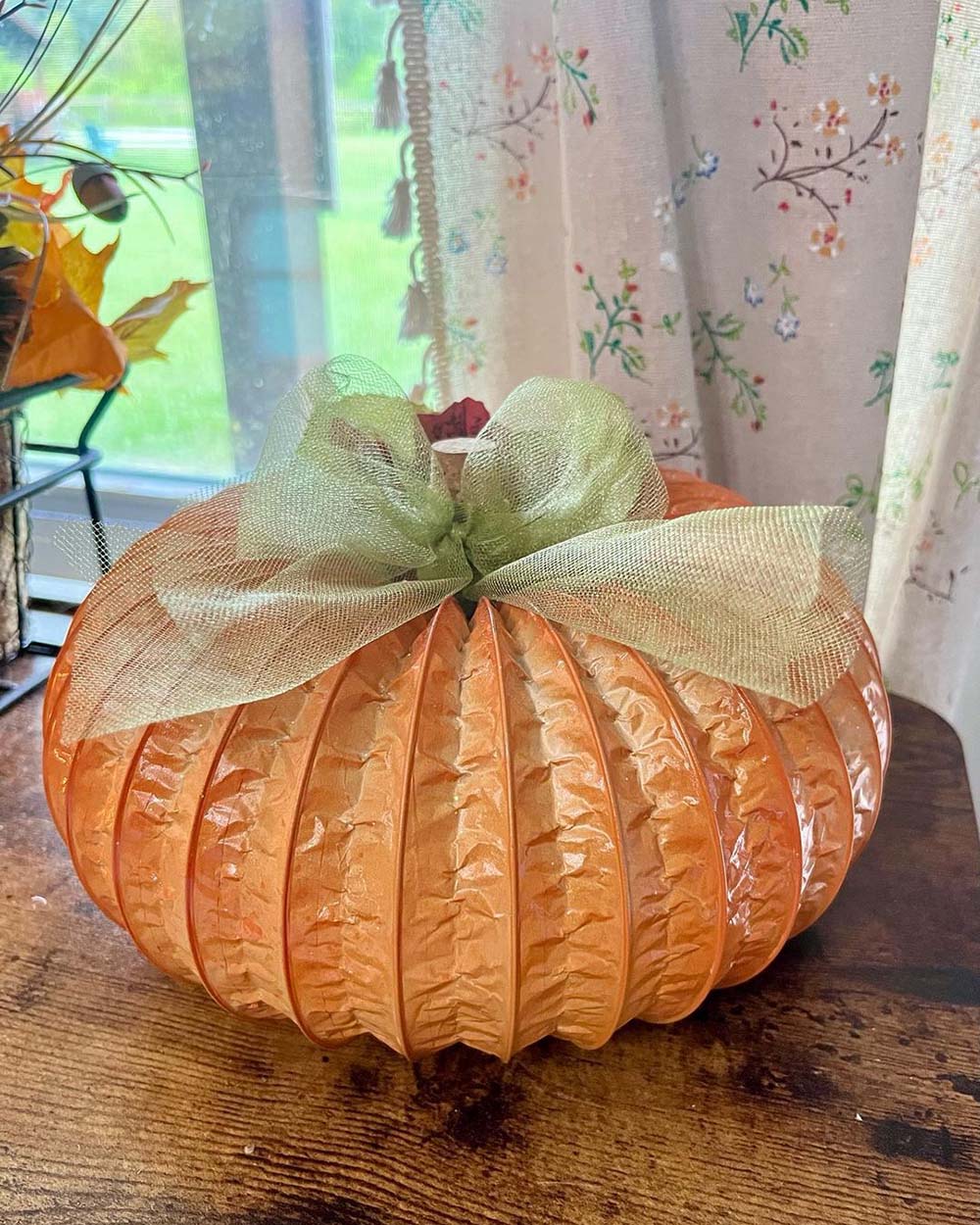 Paper pumpkins are a cheap fall decoration option that can be used for many years. You need a paper lantern, preferably in orange, a green mesh ribbon (those that are used for bouquet arrangements) and a short branch.
Insert the branch into the hole of the lantern and secure it with hot glue leaving one of the branch ends sticking out. Tie the mesh ribbon around it to mimic the foliage of a real pumpkin.
via backroadsfarm19
32. DIY Pumpkin Lanterns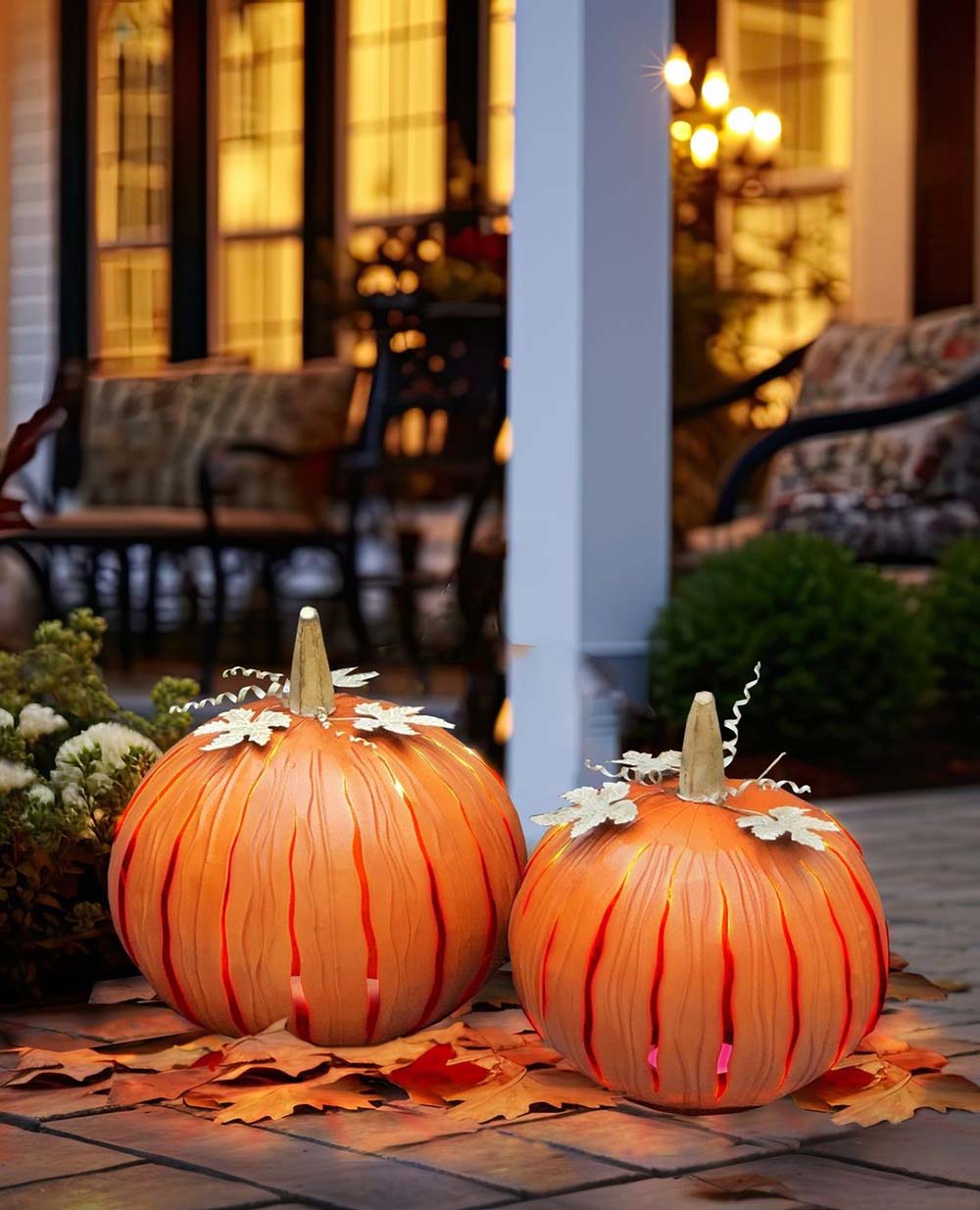 This set of 2 luminary pumpkins will add festiveness and charm to your home. They are suitable for indoor and outdoor exposure and will cheer you up with color-changing effects.
via decorsteals
33. Charming And Neutral Fall Decor Idea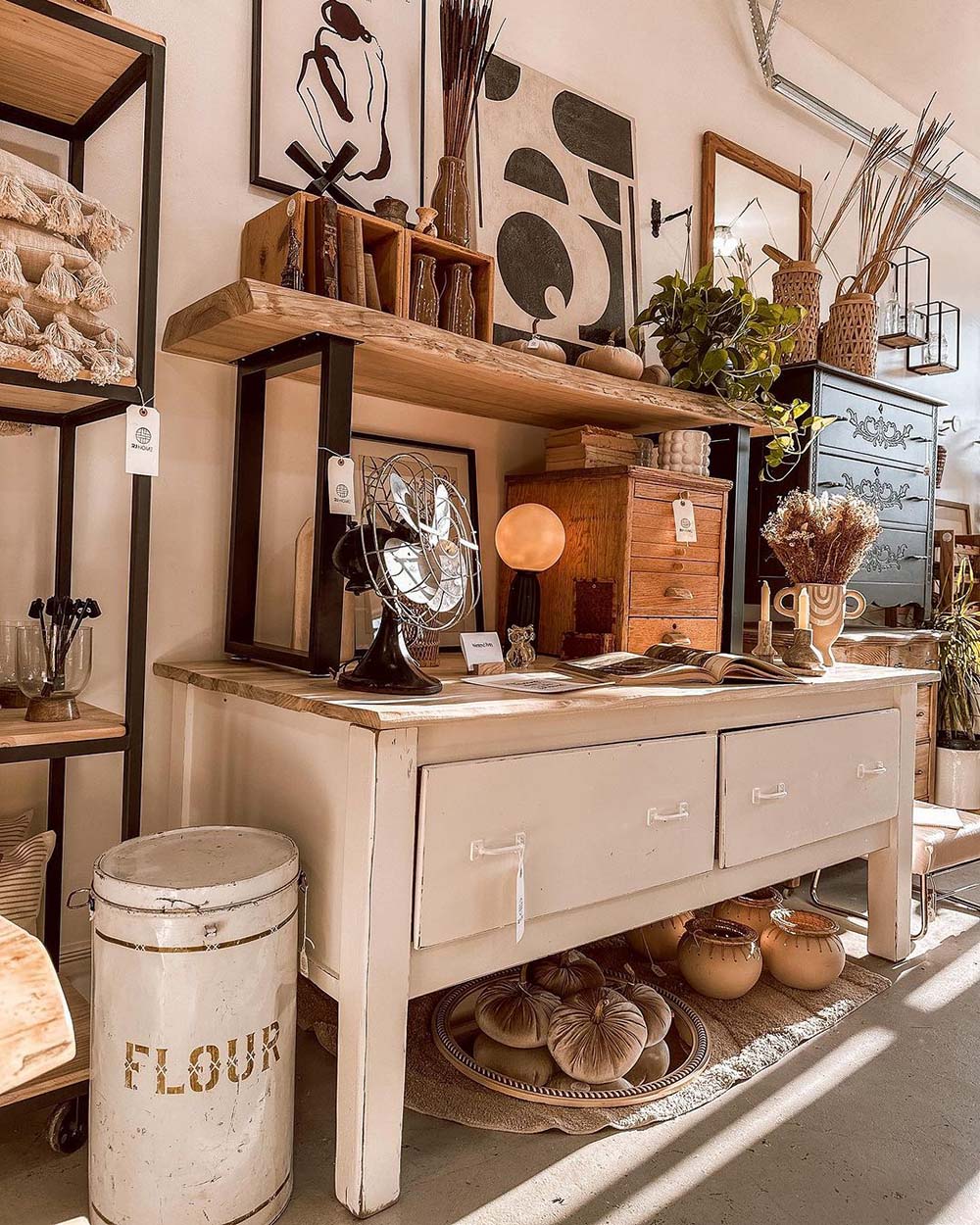 This artistic place welcomes fall in neutral colors. Fabric pumpkins peek out from a silver tray on the lower part of the arrangement and from a shelf at the top part of the nook.
Wheat stalks and dried field flowers complement the traditional fall motif to state together that fall is coming.
via shoprjhome
34. An Autumn-inspired Bouquet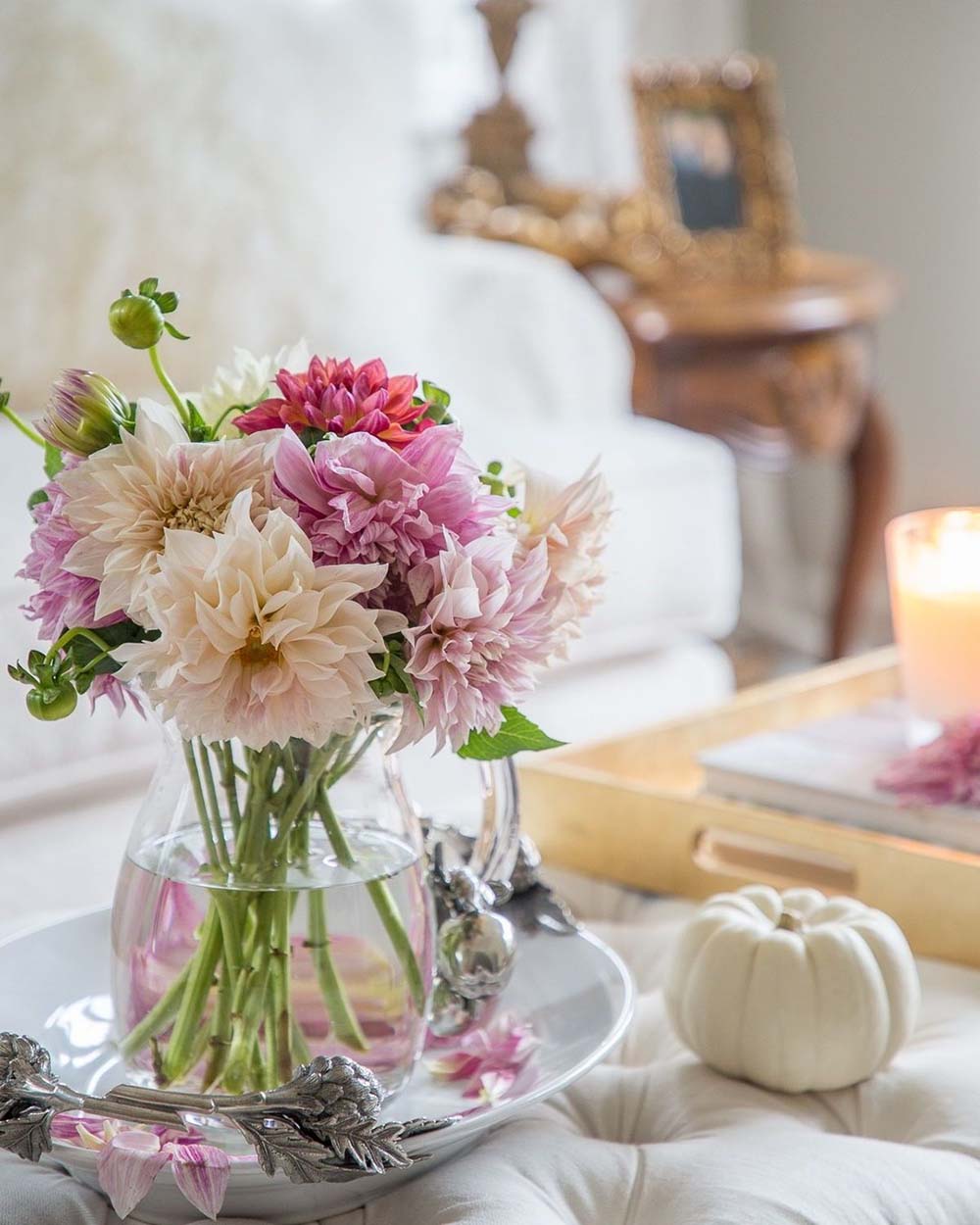 For some people, fall is falling leaves; for others, it is a garden full of colorful blooms. Which type of person are you? In this fall decor idea, the second type of person has created a delicate flower arrangement from the garden.
The delicate pastel-colored blooms of these Dahlias are displayed duly in a glass vase on a porcelain tray with silver handles.
via designthusiasm
35. Flower Centerpiece To Welcome Fall Warmly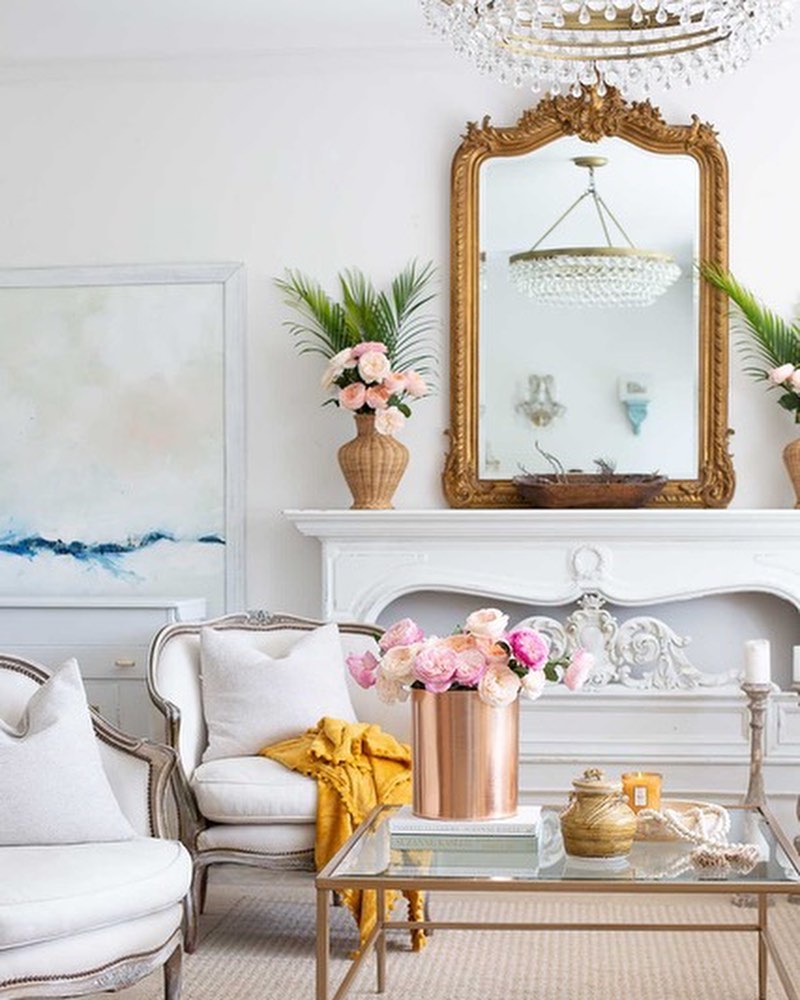 Peach and gold tones are also suitable for fall decor arrangements. As a general rule, the colder the month becomes, the darker the colors in the decor should be.
Add a throw blanket in a mustard color to hint that home is where you can find warmth during the cold season.
via shabbyfufu
36. Pumpkins And Flowers Centerpiece Idea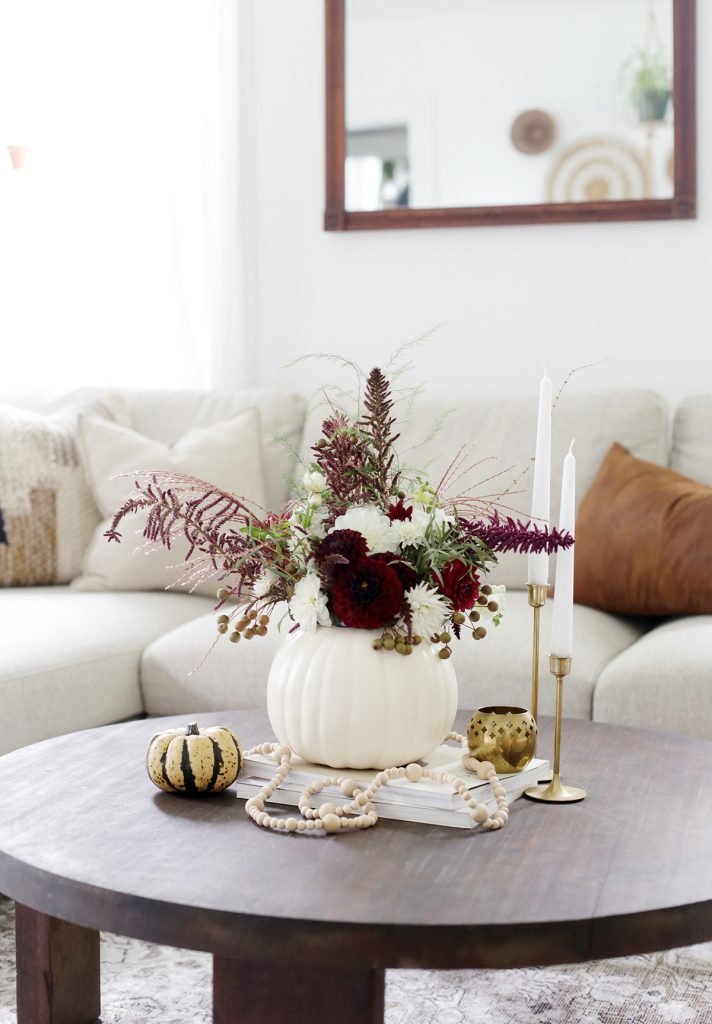 This is another interesting idea for a fall-inspired flower arrangement. The cut blooms are flowers from the garden.
An amazing fact about autumn flowers is that their blooms remain quite long compared to spring or summer flowers, so you can enjoy the natural vibe and their beauty for a couple of months.