If you are the kind of person that loves to add a personal touch to every part of the home to make it cozier and more unique, then you have already tried crafts with Mason jars.
Today, we are going to show you how endless the list of mason jar repurposing can be.
The glass containers can be repurposed into festive decorations, functional organizers, wall hangings, gifts, outdoor fixtures and many more.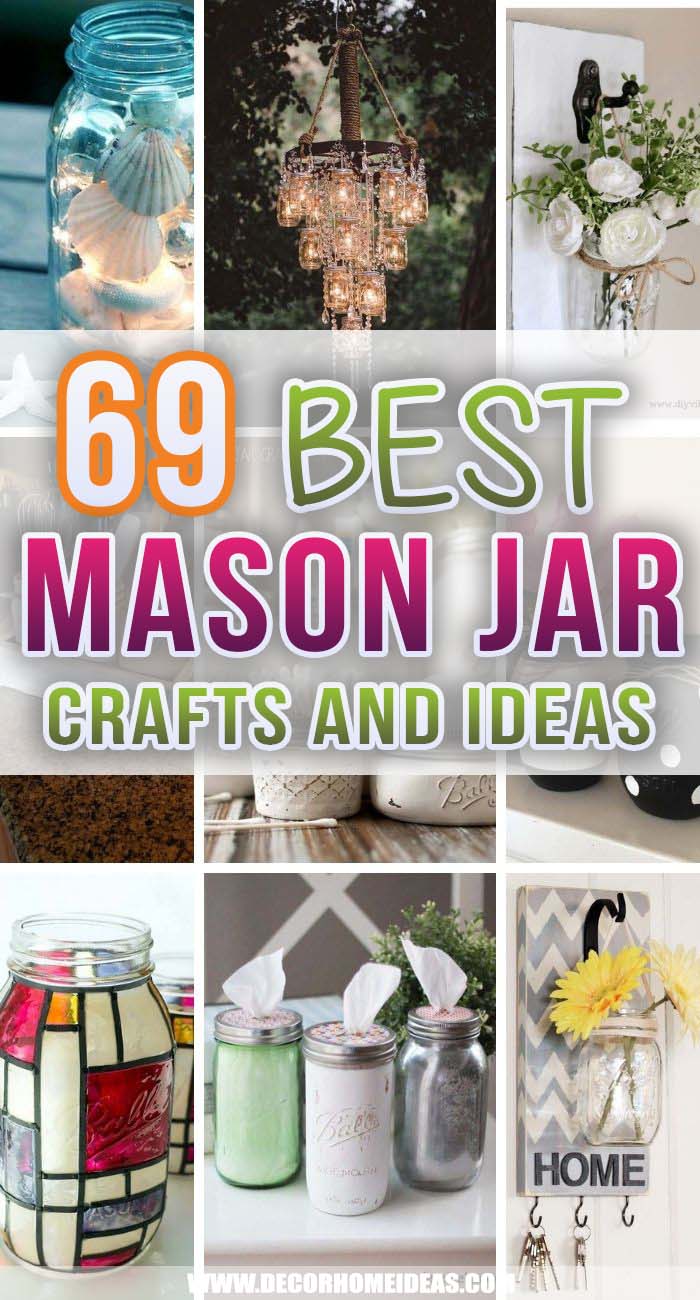 Are you already curious to see The Best Mason Jar Crafts and Ideas?
1. Bathroom Toothbrush Organizer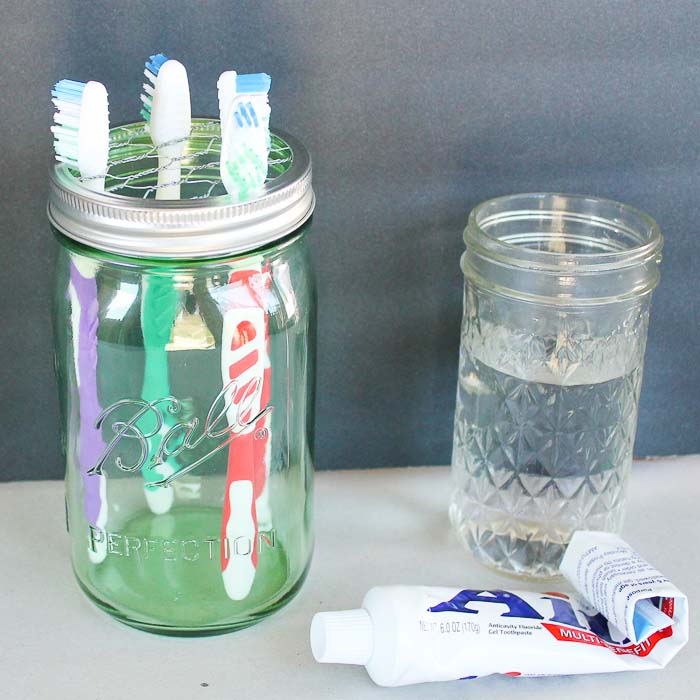 The Mason Jar can be the solution for decluttering the vanity top in the bathroom.
Equipping the lids with a piece of chicken wire will provide holes for inserting all toothbrushes.
via Angie Holden
2. Nautical Mason Jar Candle Holder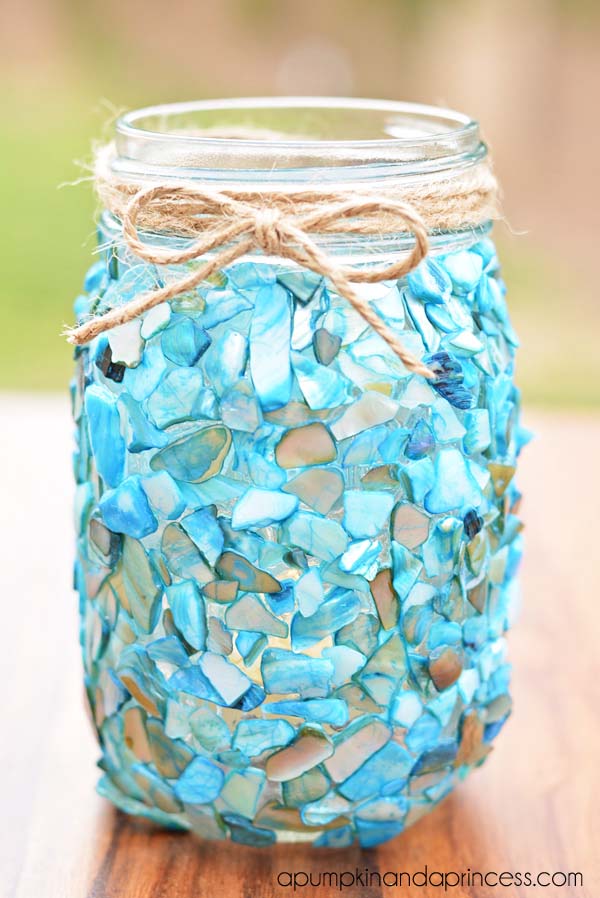 Collected seashell pieces from the beach inspire this easy DIY candle holder. They are glued to the outer surface of the jar to create a beautiful nature-inspired mosaic.
The decoration is finished with a twine bow which perfectly matches the beach-themed decoration.
3. Painted Glass Jars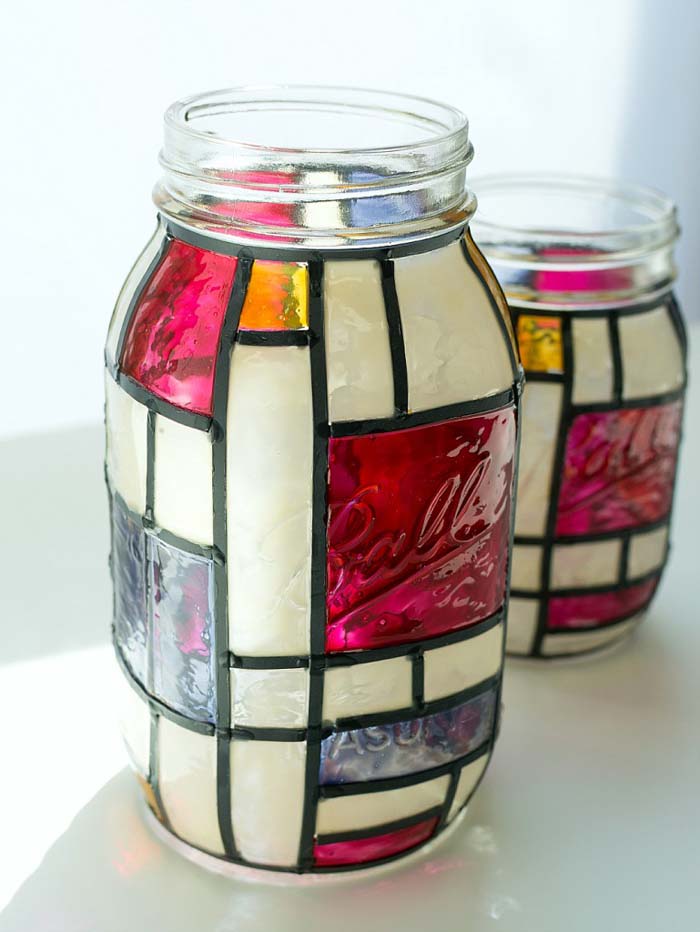 Painted glass is always adorable! This Mason Jar idea is inspired by the repetitive patterns of the artist Piet Mondrian. The limits of the shapes are done with a peel and stick leading. After that, the color paints are applied.
These jars are great for candle holders, outdoor decorations or vases.
4. Entryway Bouquet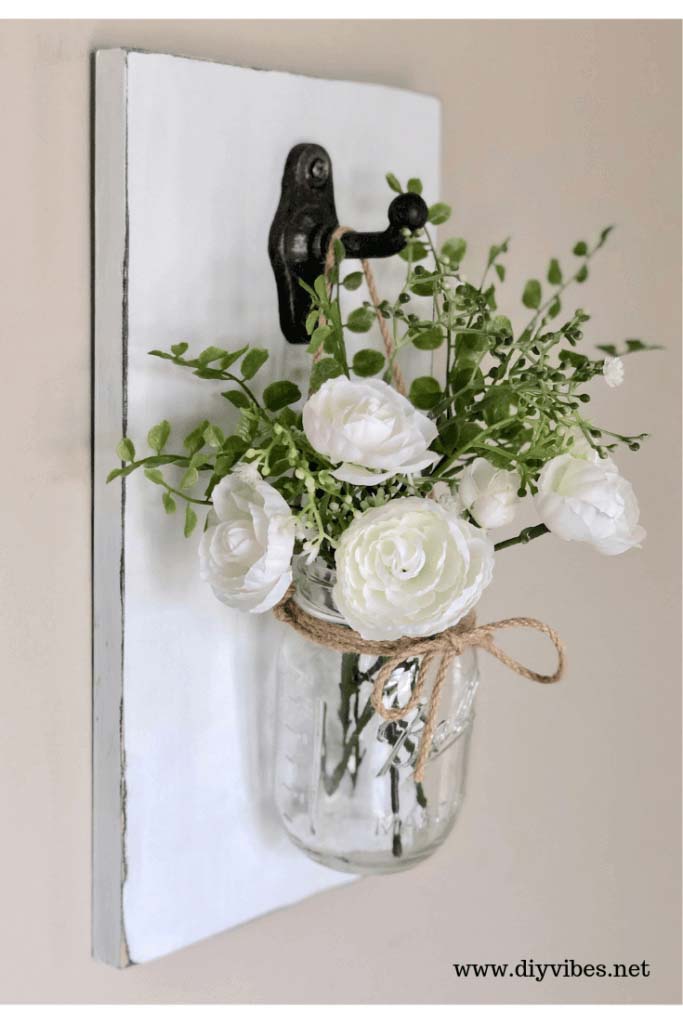 Let the first impression of your home be of a harmonious and inviting place with this simple plaque decoration.
A reclaimed piece of wood acts as a backdrop that creates contrast with the clear glass jar decorated with a simple twine ribbon and a delicate bouquet of roses.
The bouquet can be changed as needed with a seasonal arrangement from the garden. If you are looking for a long-lasting decoration, just get faux flowers instead.
via DIY Vibes
5. Vase In A Macrame Holder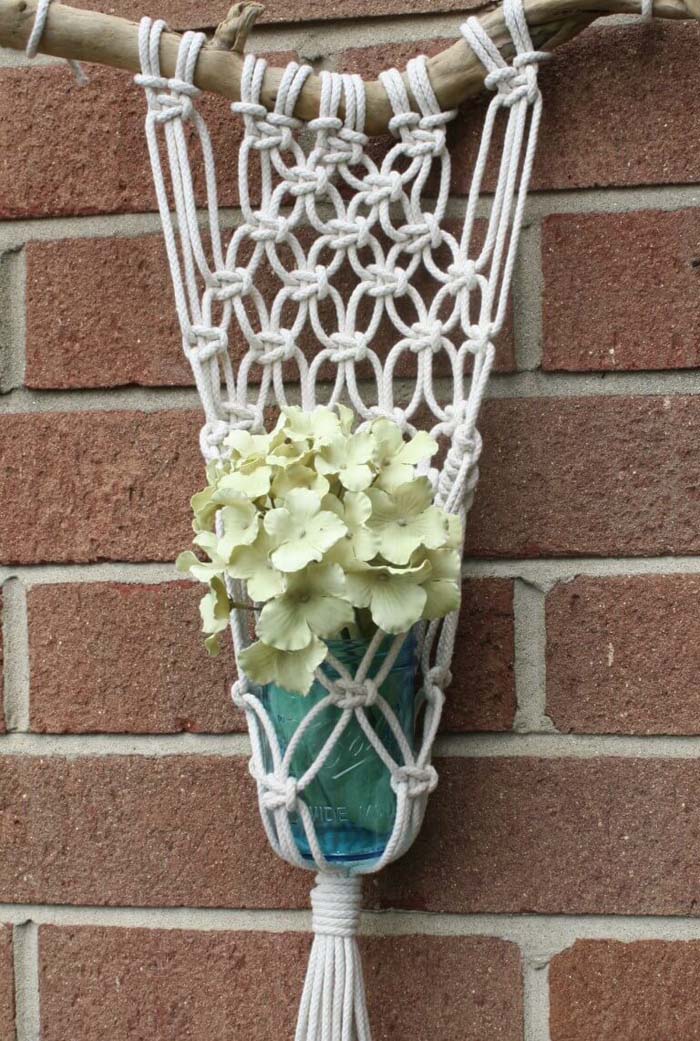 If you are looking for fresh and easy-to-do garden decoration, it is time to use Mason jars.
69 Creative Mason Jar Crafts and Ideas That Are Easy To DIY video:
They are upcycled into beautiful glass vases inserted into macrame holders which enhance the farmhouse vibe.
via My French Twist
6. Jar Windchime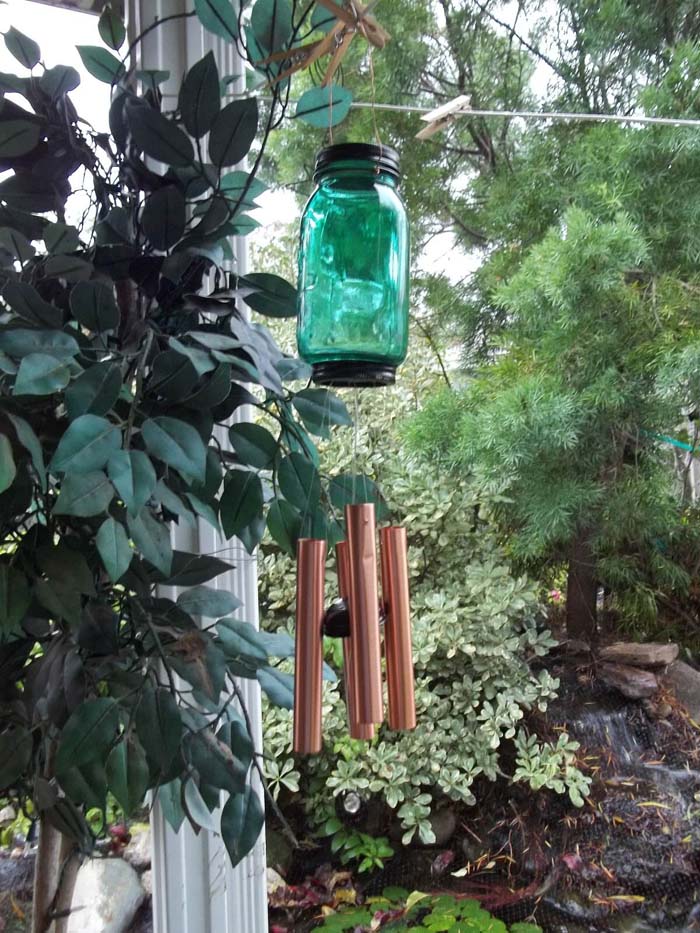 This is another great idea for a refreshment of the garden decoration. The jar here acts as a candle holder and also as a support for copper tubes hanging from a cord.
The inside of the jar can also hold fairy lights. Place the windchime somewhere you can enjoy.
7. Bird Feeder From A Mason Jar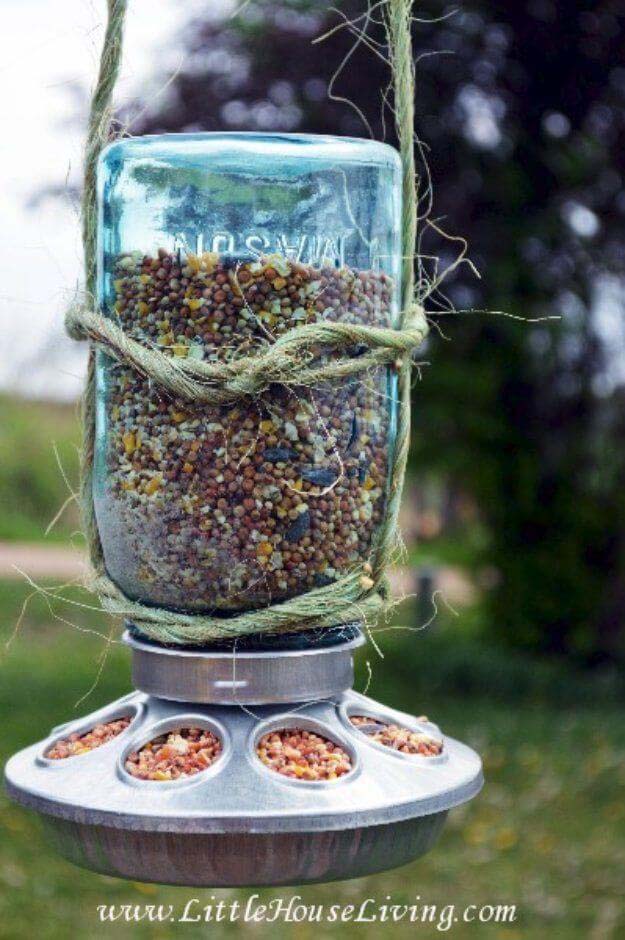 Make your garden bird-friendly with this creative idea! This DIY mason jar idea is an inexpensive way to attract birds and enjoy their cheerful sounds.
8. Festive Fall Mason Jar Craft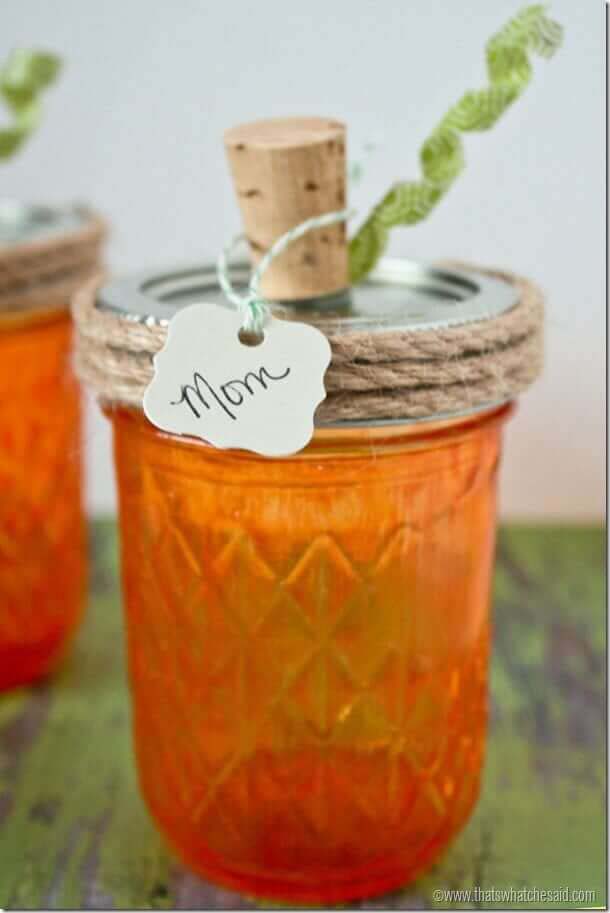 Make an alternative pumpkin décor with this creative Mason Jar craft. Mod Podge orange tint gives the jar this orange nuance that lets the content be visible.
Added tag to the stem made from a wine cork makes searching for the treats even more exciting.
9. Festive Flag Decoration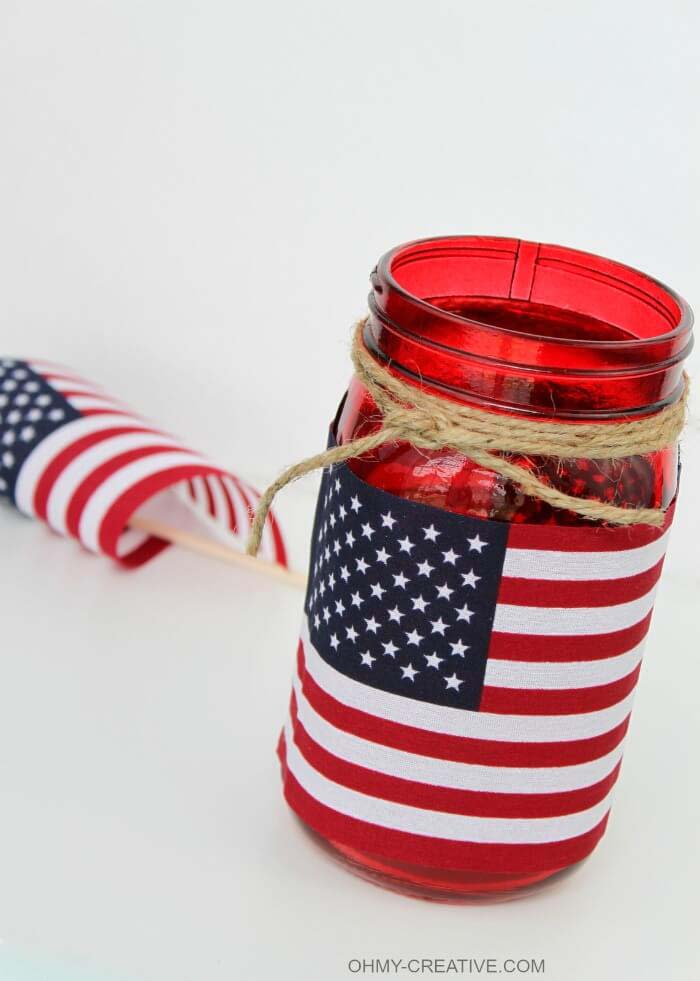 Mason jars can be used for a unique American flag garden décor.
The jar can act as a lantern, candle holder or a simple embellishment to the porch décor which will make the atmosphere more festive and reflect your US pride.
via Oh My Creative
10. Vintage Handmade Lamp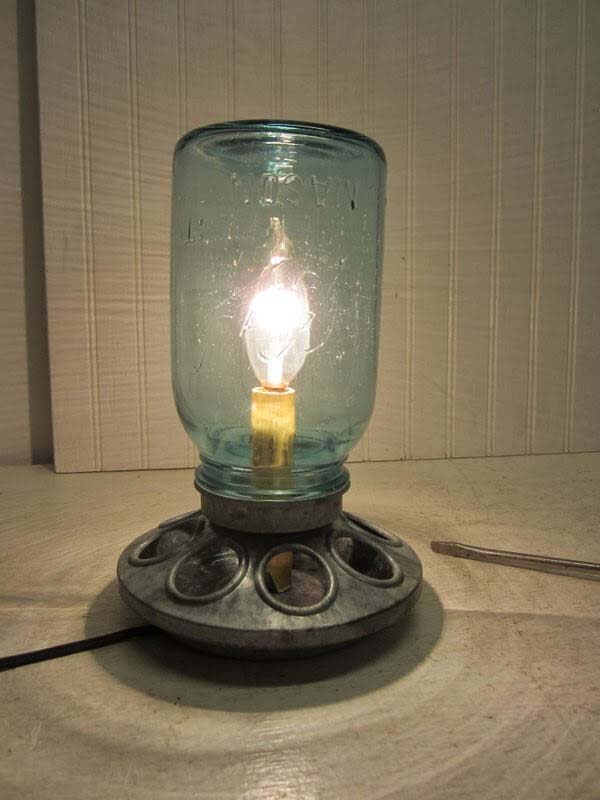 This vintage lamp has been made with a metal bird feeder, a socket and a jar as a shade.
They are perfect as a gift or as an additional light source in a cabin or a farmhouse style room.
11. Air Freshener From Mason Jar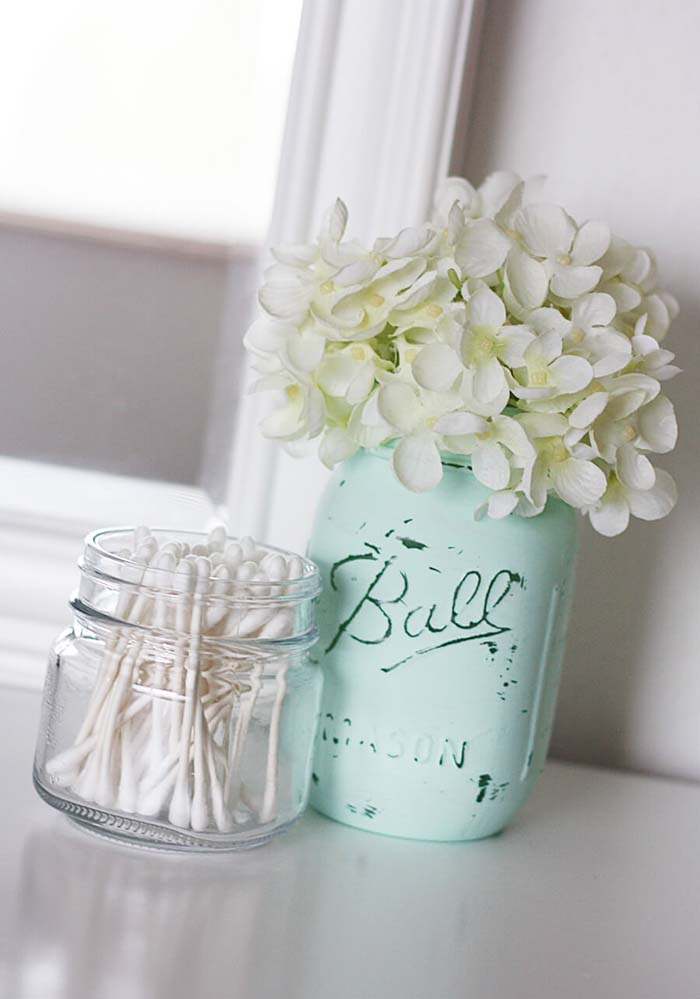 You may think that this jar is a vase but actually it functions as an air freshener.
Beads are added to the bottom and then disguised with beautiful faux flowers.
Make as many as you may need to refresh the air in the rooms and add a beautiful shabby chic touch to the décor.
via Eighteen 25
12. Mason Jar Solar Light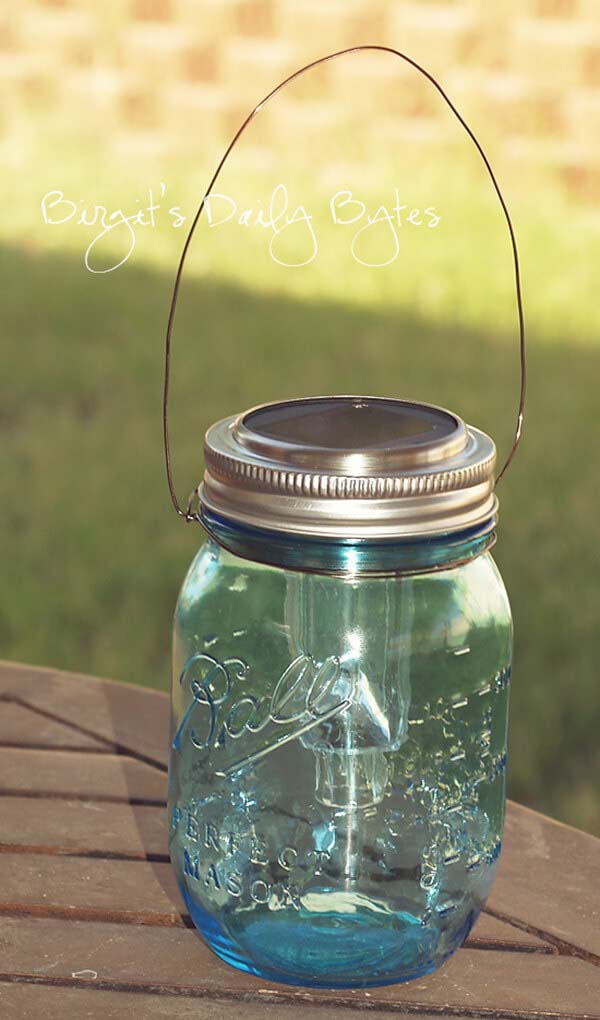 Solar lanterns are offered in a wide variety of designs but you would probably find it difficult to find such that spread farmhouse charm.
Well, this tutorial comes at the right moment. Mason jars are transformed into solar-powered lanterns in two easy steps.
13. Tableware Holders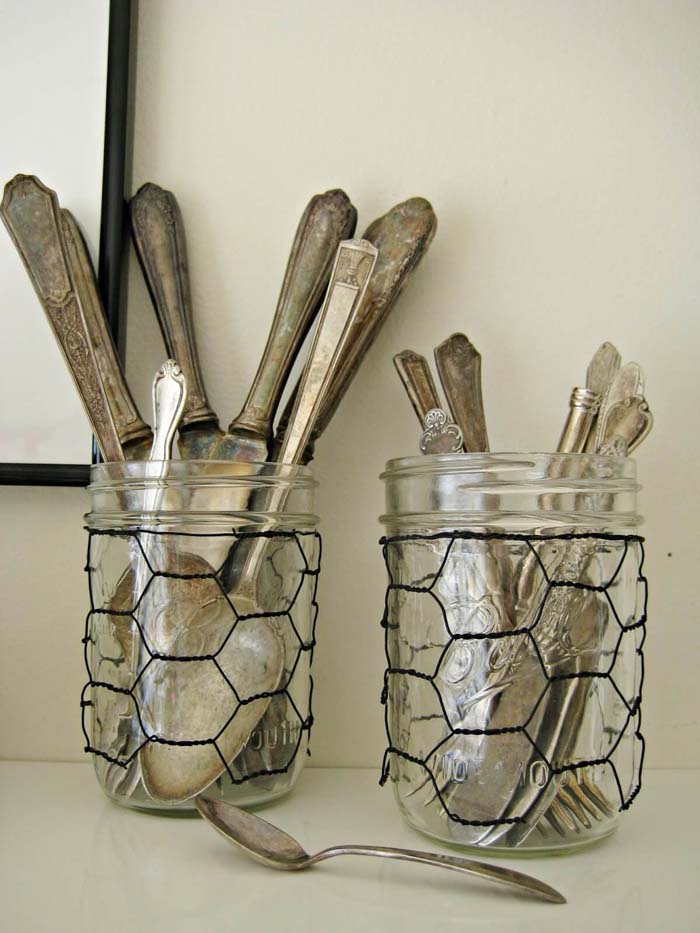 Whether to store your tableware or to add a vintage accent, these mason jars holders are simple to do and lovely in look.
How to make them is clear even from the photo. Simply wrap a chicken wire sleeve on the glass jar and voila!
14. Make-up Supplies Organizers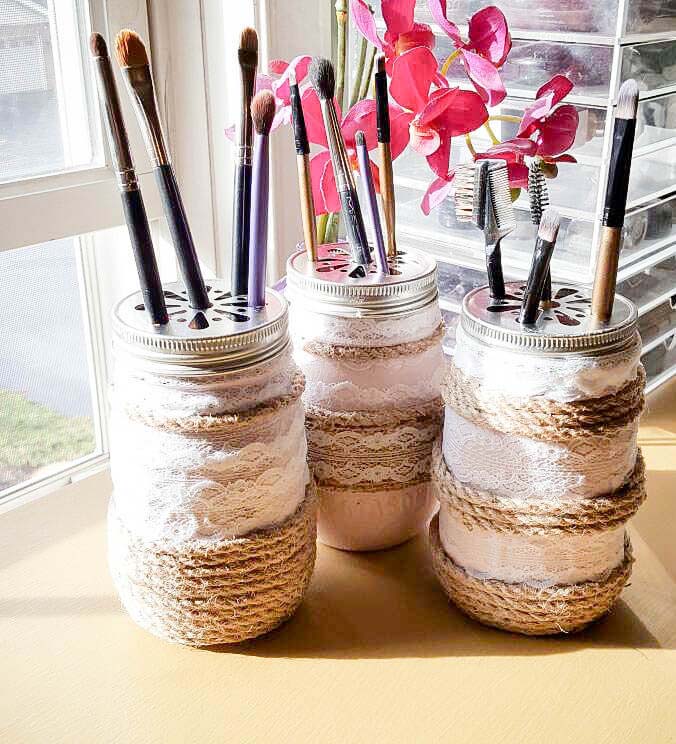 These shabby chic organizers would fit flawlessly in the feminine interior of a dressing room or a vanity counter.
The outside of the glass is covered with layers of lace. The rope coils around part of the jars aim to improve the farmhouse look and let the delicacy of the lace stand out. Make holes in the lids to store the brushes for make-up.
15. Frosted Lantern For Christmas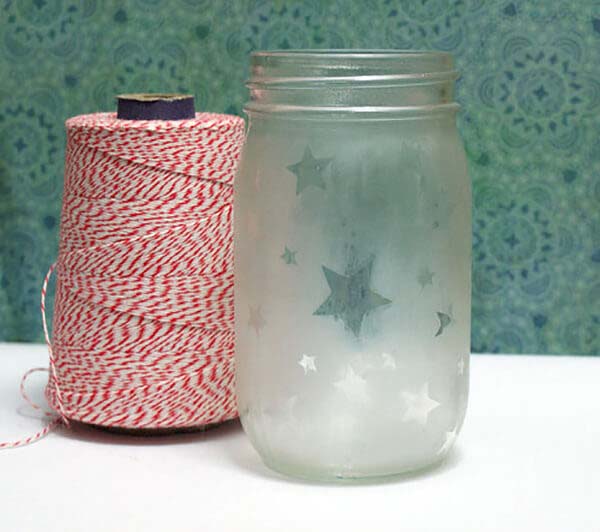 This jar idea is perfect for a Christmas decoration, a gift or for a container. The outer surface of the jar is etched with a liquid to give the glass the frosted finish.
Stickers are sealed on the surface prior to etching to let the shapes be differentiated from the frosted surface afterward. Use the stickers to implement the décor theme of the jar.
via Soap Deli News
16. Kitchen Organizer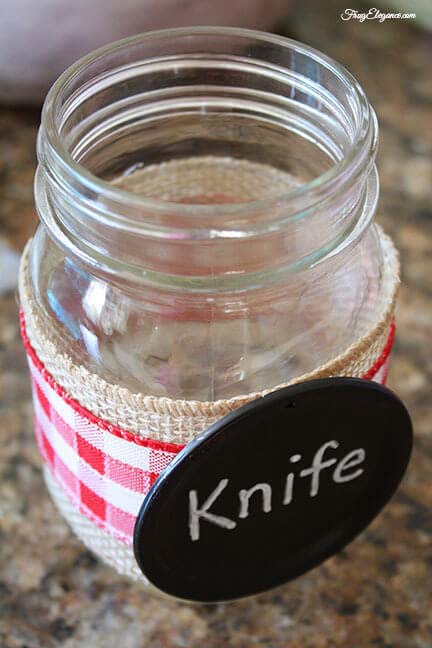 This is another cute idea of transforming a plain jar into a cute kitchen organizer. The glass is decorated with a buffalo plaid ribbon placed over a wide burlap strip.
The tags are made by applying a coat of chalk paint to a circle. Write the word for the items that will be stored inside the jar.
via FrugElegance
17. Candy Jar On A Pedestal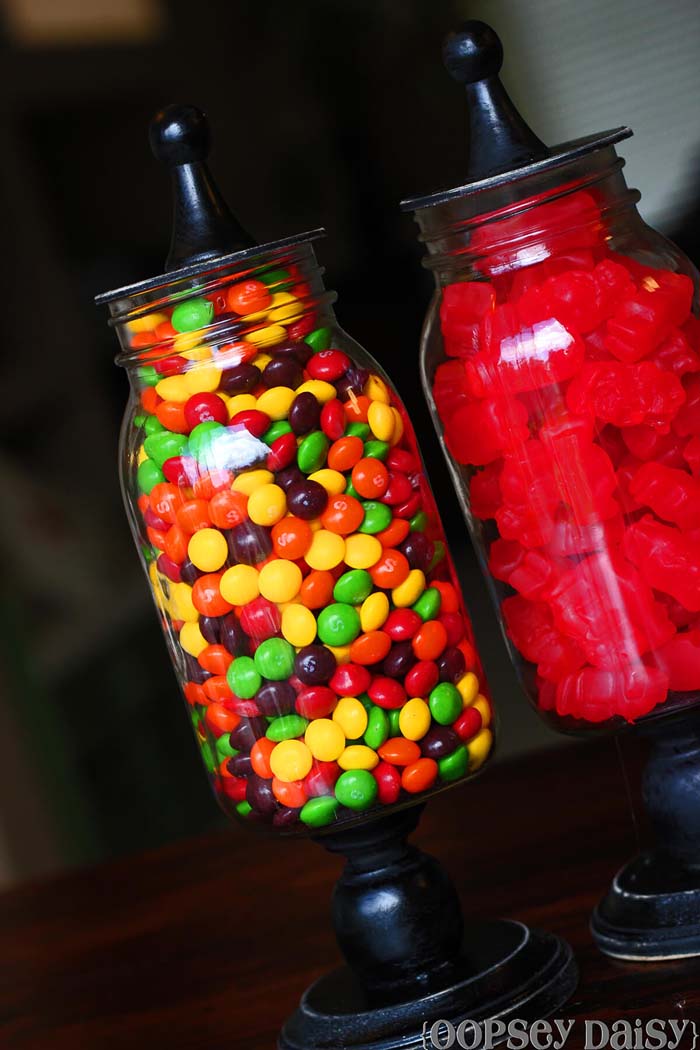 The Mason jars get an aristocratic look with added wooden stands and tops. Wooden candle holders can also be repurposed into pedestals.
The elevated containers are great for displaying colorful candies on Thanksgiving Day or at a birthday party.
18. Saint Patrick's Day Decoration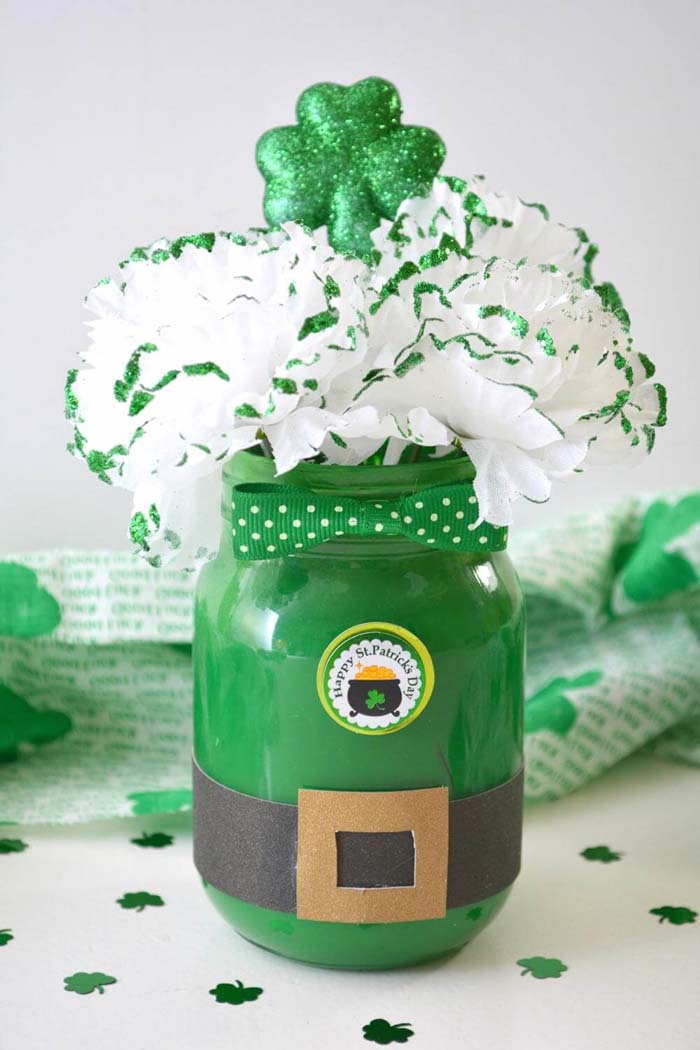 Mason jars are perfect for holiday decoration because they can be easily repurposed and transformed to match the theme of the décor.
Green paint, some paper, a green ribbon and a bouquet of faux flowers give the plain glass jar a festive look for the St. Patrick's Day party.
19. A Terrarium Or A Fairy Garden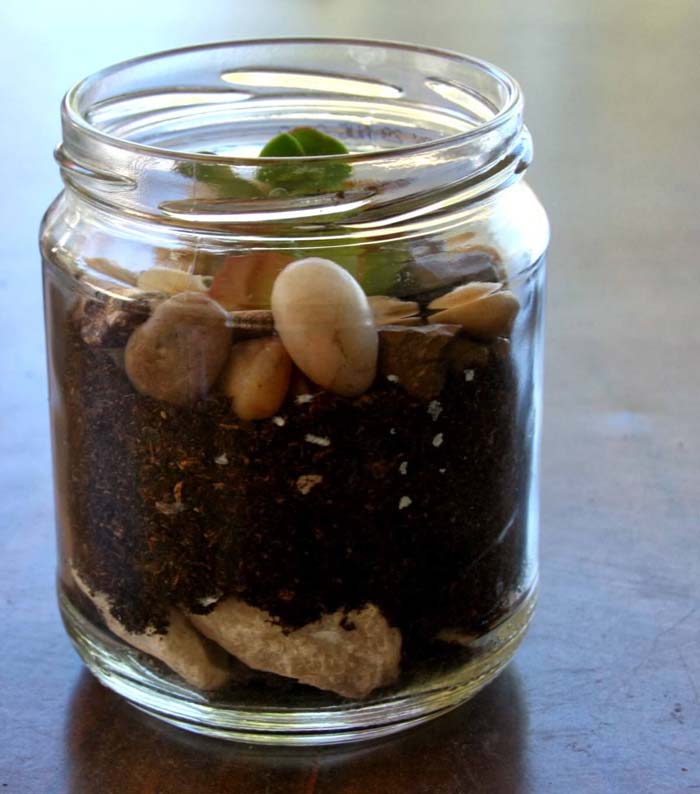 The smaller glass jars can be repurposed into holders of tiny gardens. This DIY Mason jar craft is perfect for kids and adults.
Fill the jars with stones and soil and then plant greenery in. The small jars are also great for growing sprouts from beans, lentils or other kinds from the Legumes family.
20. Toothbrush And Towel Rack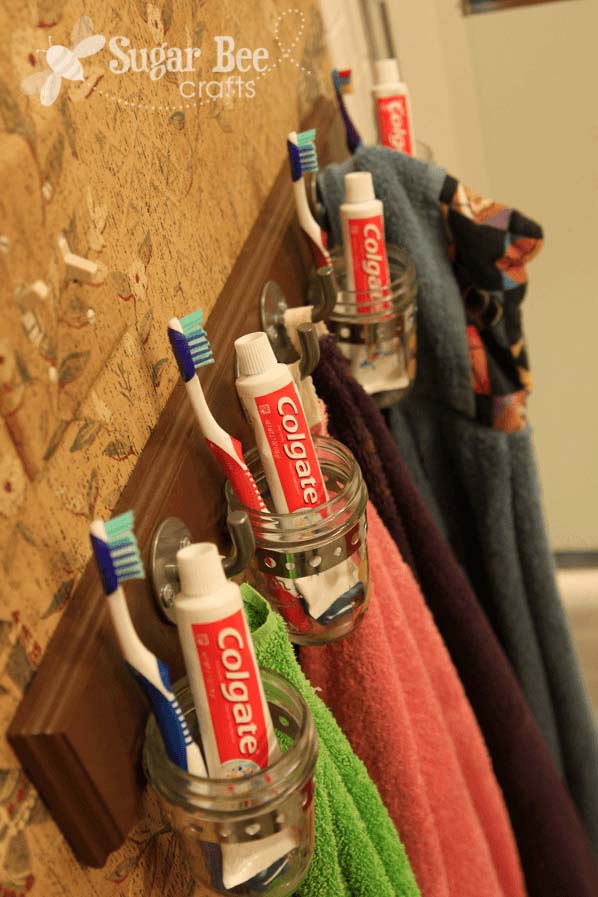 This organizer can be the magic you have longed for to make your kids more organized and stricter when it comes to bathroom duties.
The rack features jars for storage of a toothbrush and toothpaste and hooks for towels. Every family member has their own section with a jar and a hook which ensures a neat bathroom look and perfect hygiene.
via Sugar Bee Crafts
21. Mason Jar Window Treatment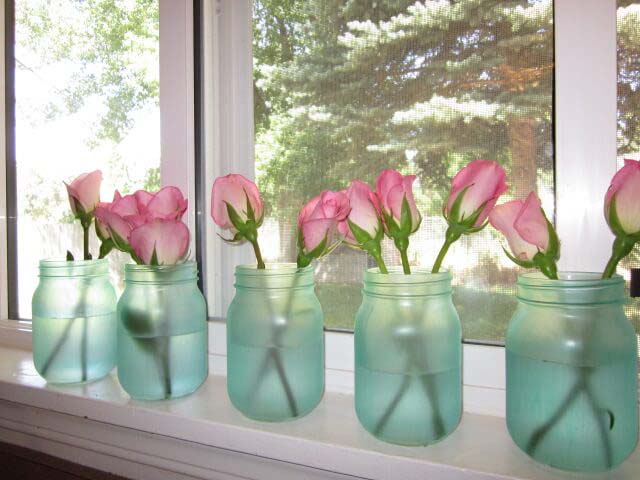 This is one of the easiest Mason jar crafts. The outer surface of the glass is given a matte look with an etching liquid.
This gives the plain jars an elegant touch that turns them into lovely vases for the windowsill.
via Live Gorgeously
22. Glowing Lanterns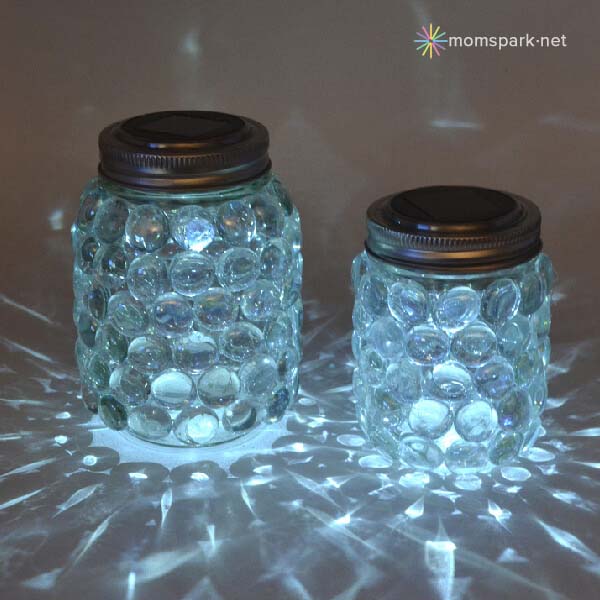 The jars can be transformed into lanterns easily. But when additional embellishment is applied, their look becomes more special and the light effect more interesting.
Glue gems to the outer surface of the jar and then insert a battery-powered light or candle inside. You will be fascinated by the light effect created by the gems.
via Mom Spark
23. Farmhouse Centerpiece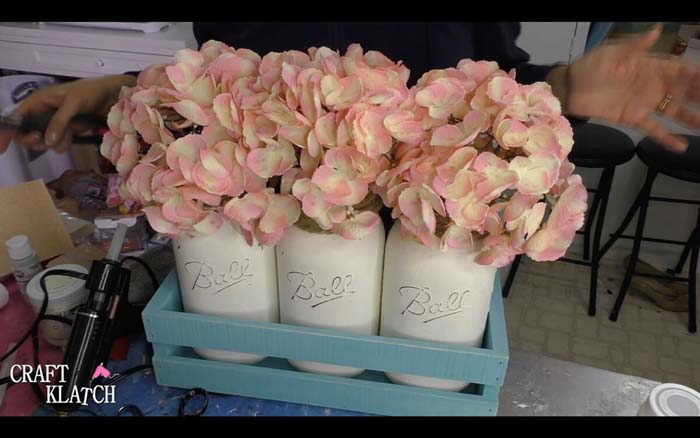 Paint the outside surface of the taller Mason jars with chalk paint to give them a rustic look. Some distressing with sandpaper on the inscription is good to create an aged effect.
Insert the jars together in a crate and fill them with faux flowers. The simple arrangement will instantly turn into a charming farmhouse centerpiece.
via Craft Klatch
24. Handmade Candles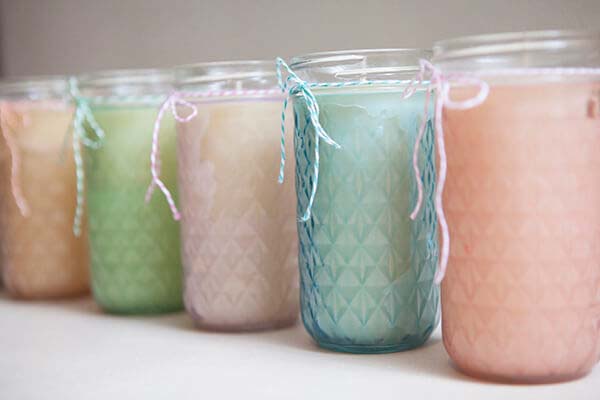 Have you ever tried making yourself a candle?
This can be the inspiration for your first attempt. Some wax, wicks, essential oils or candle scents and glass jars- these are the supplies you need for your customized candles.
25. Buffalo Plaid Vases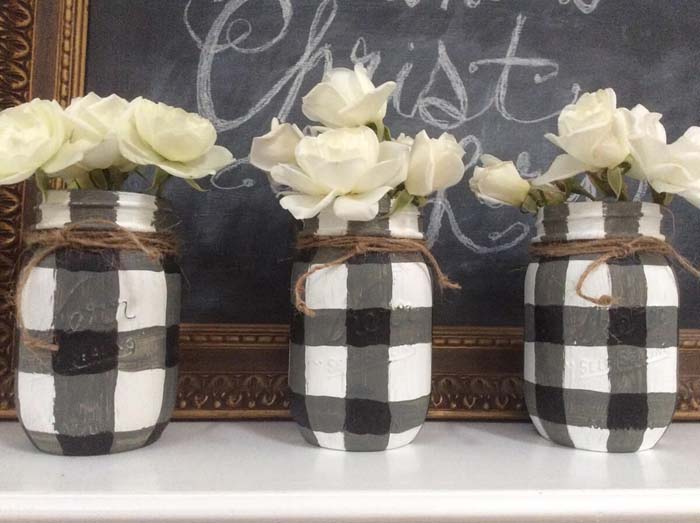 If you like the look of the black and white buffalo plaid pattern, you can include it in your Mason jar transformation project.
You can wrap the outer surface with a piece of fabric or you can simply paint the pattern on the glass.
Chalk paints are perfect for this type of project because they are durable and also have this special rustic finish. Enhance the aged effect with a twine ribbon.
26. Welcome Sign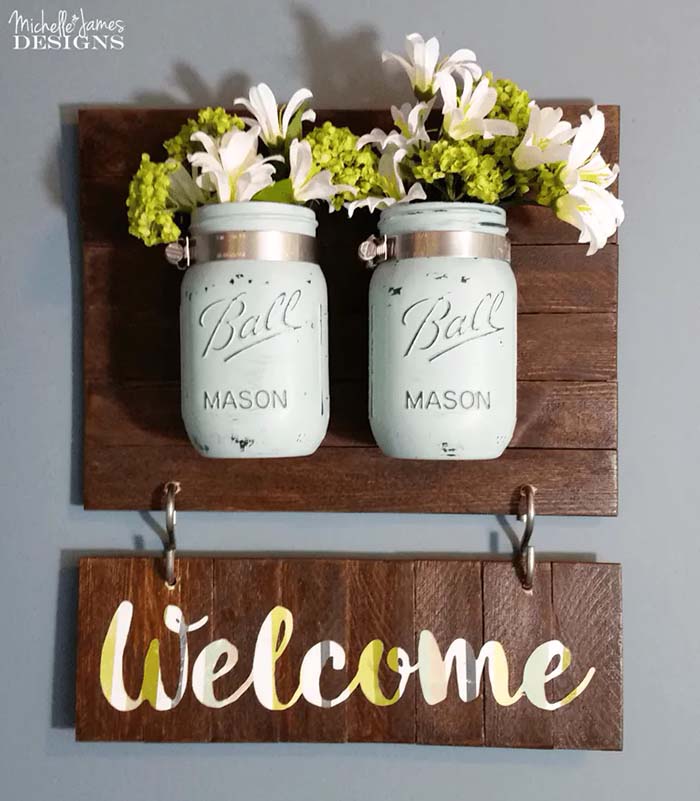 Give your entryway a refreshed and welcoming look with this Welcome sign idea.
In addition to the standard inscription, there is a set of two identical jar vases that enhance the feel of hospitality.
via MJ Designs
27. Gold Mason Jar Decoration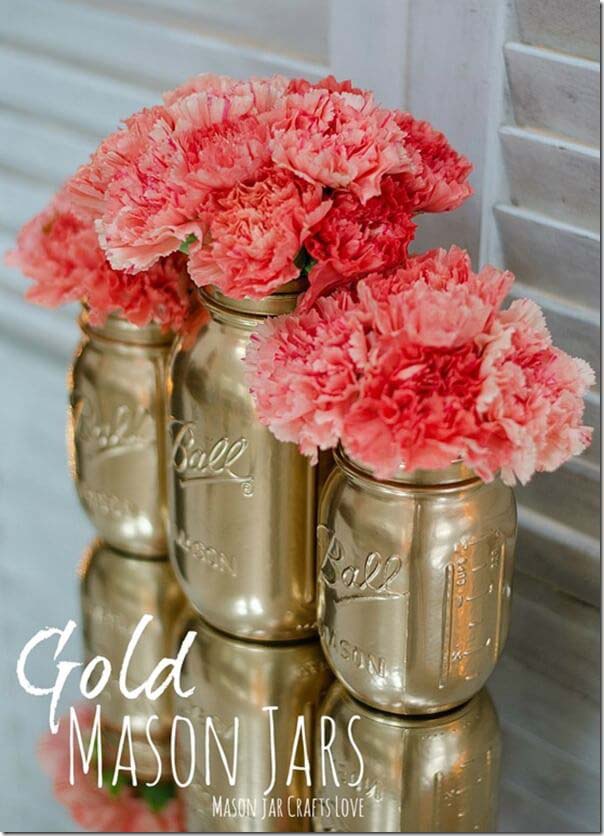 The glittery look of the metallic paints is great for a modern touch to an industrial, modern or farmhouse style interior.
The spray-painted jars can be used as make-up organizers in the bathroom, air fresheners for every room, vases of real or faux flowers.
28. Rustic Indoor Or Outdoor Lanterns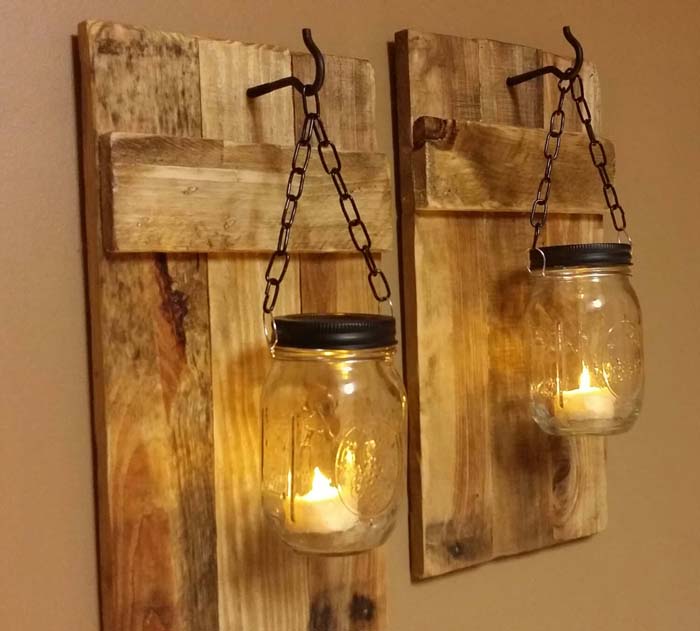 These lanterns are suitable for indoor and outdoor usage because of the safety provided by the battery-powered candles inside. This idea features sanded slats from pallets used as supports for the lanterns and black chains as holders.
These two give the rustic lanterns a modern touch. If you are looking for an improved rustic look, find a piece of reclaimed wood that has an aged look.
29. Mason Jar Planter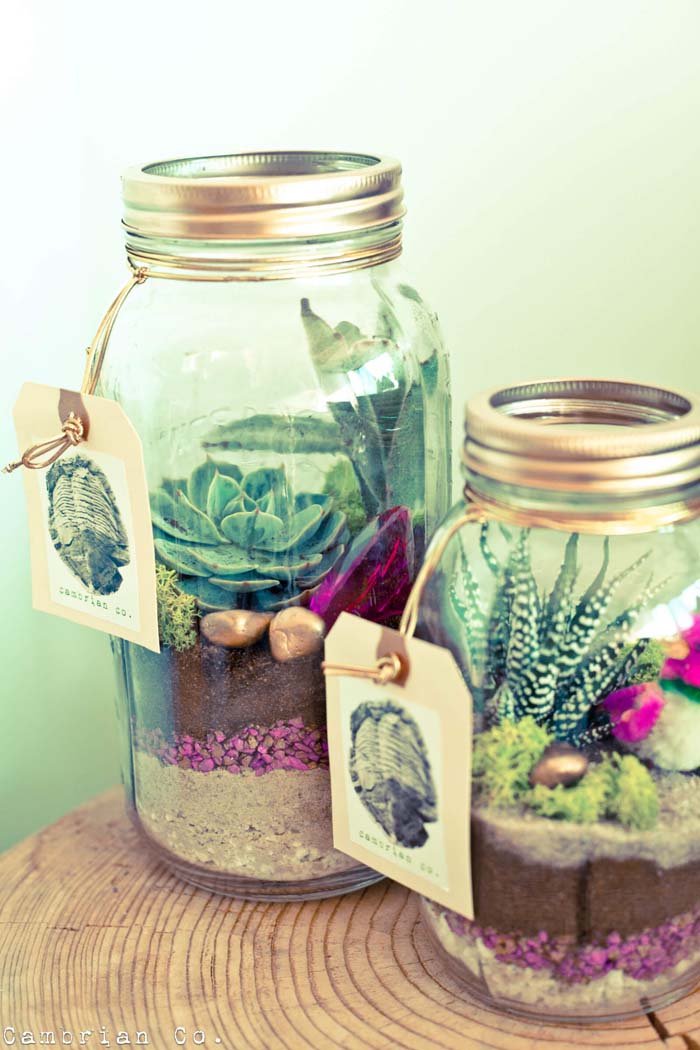 Jars are good for succulent pots because these kinds require less and rare watering. Use the transparency of the glass to make the pots more interesting.
Colorful pebbles can alternate with sand and soil creating layers of colors.
30. Easy Luminaries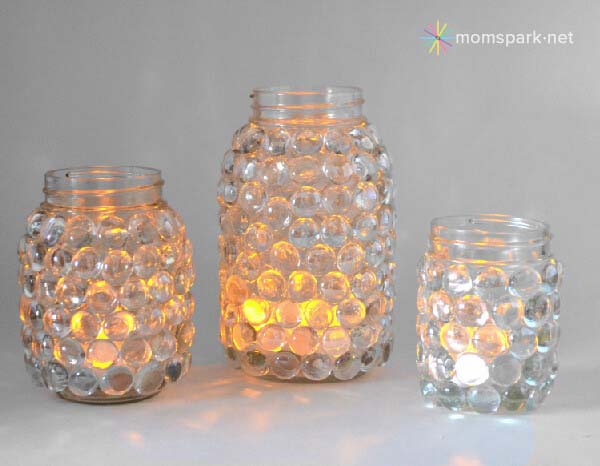 Give the mason jars a more elegant look with gems glued to the outside of the jar.
Once the candles are powered, you will enjoy the glow effect created by the added layer of glass.
via Mom Spark
31. Easy Way To Add Glam To The Holiday Decor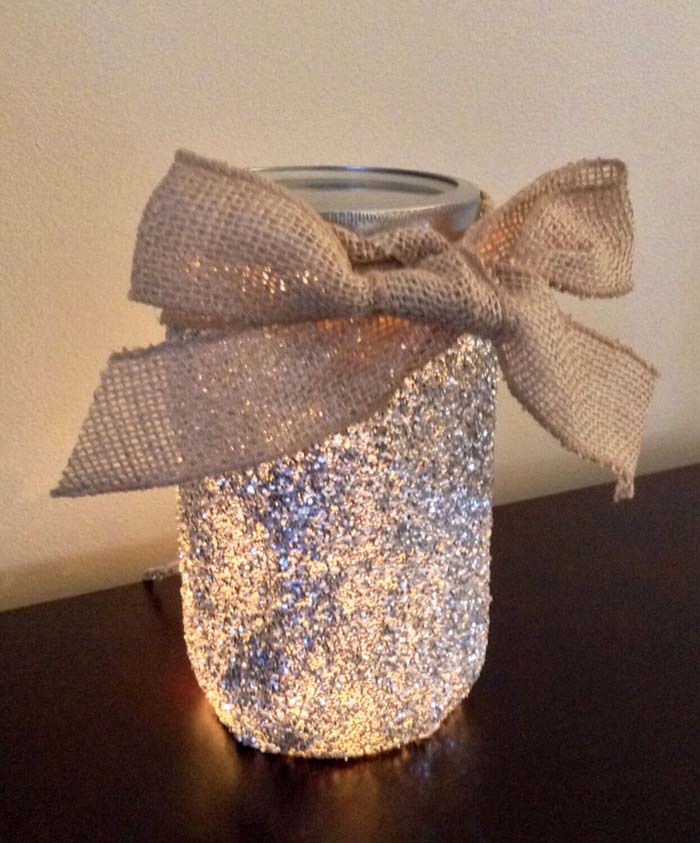 The new look of the jar surface is great for holiday decoration. It is sparkling, festive and very elegant.
The jar can be used on its own or decorated additionally with pine and berry twigs.
32. Vertical Garden Project With Mason Jar Planters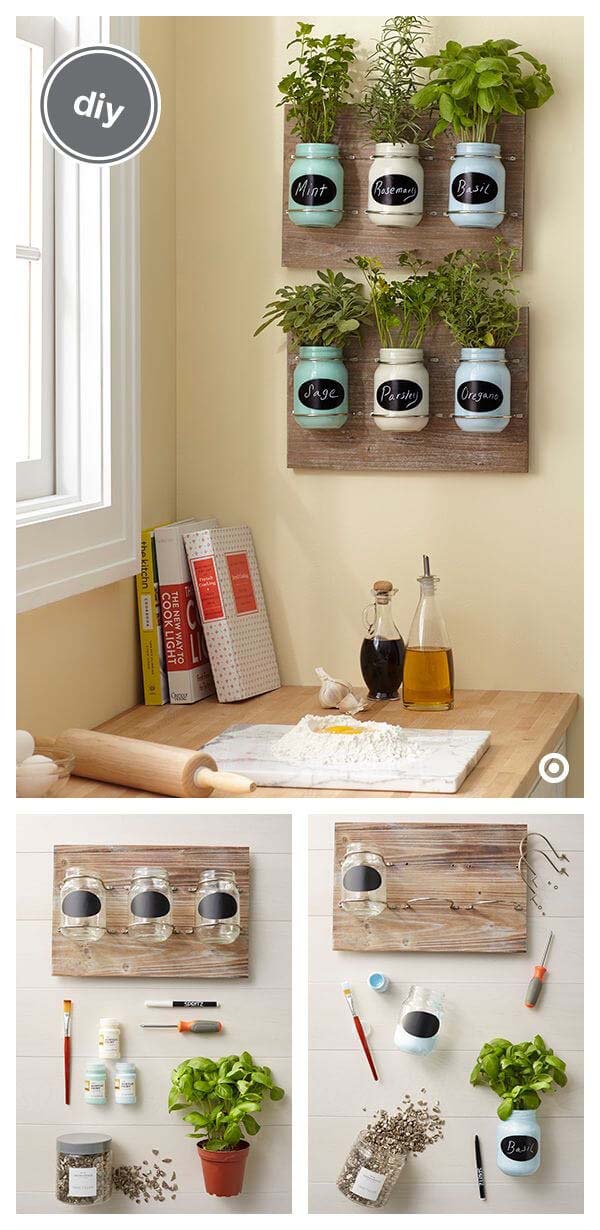 If you love cooking, then you prefer spicing with fresh herbs to dried ones. You can always have fresh herbs at your disposal if you go for this indoor garden idea.
The greatest thing about it is that it is compact and at the same time ensures the growth of at least 6 different kinds of herbs.  
via Indulgy
33. Nautical Decoration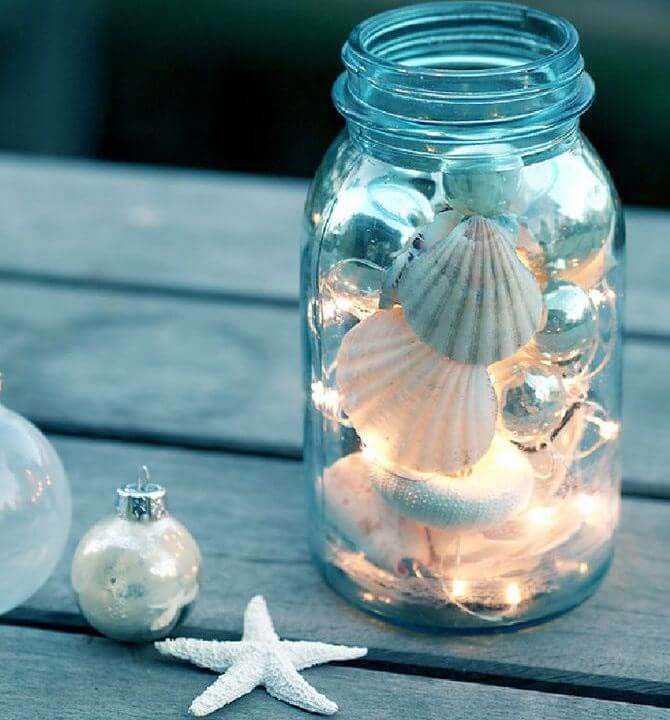 Whether looking for a new way to store a collection of seashells or for a decoration to bring the ocean closer to you, you shouldn't miss this mason jar craft idea.
Fill the jar with seashells and a string of fairy lights. No need to hide the jar in the colder months. By adding small baubles inside, the jar becomes a festive part of the holiday décor.
34. Your Way To Say Thank You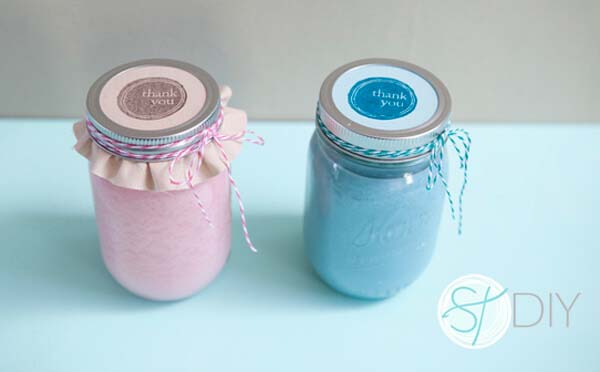 These jars are an interesting idea for gifts. They can be your way to thank someone for a purchase they have made or a gift for Thanksgiving Day.
Get the smallest mason jars, candle wax, coloring and make your customized candles.
35. Rustic Centerpiece With Vases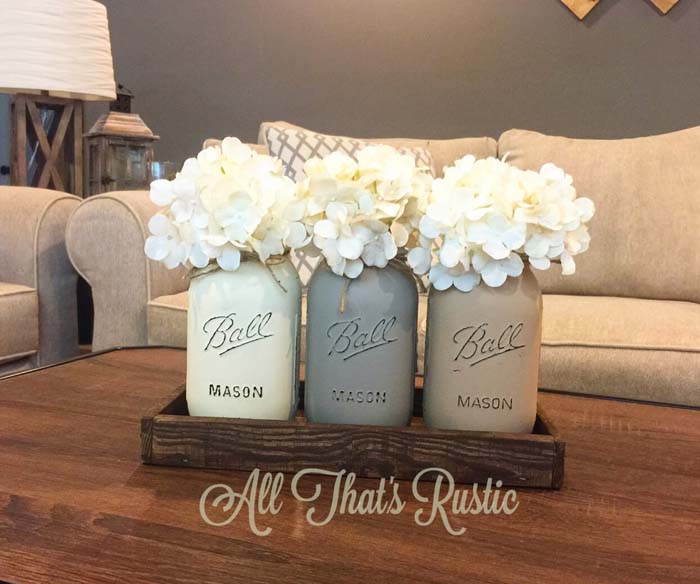 When you make your jar centerpiece, you can use different chalk paint colors for the jars.
Match the colors with the existing décor for improved elegance and style.
36. Vintage Reading Lamp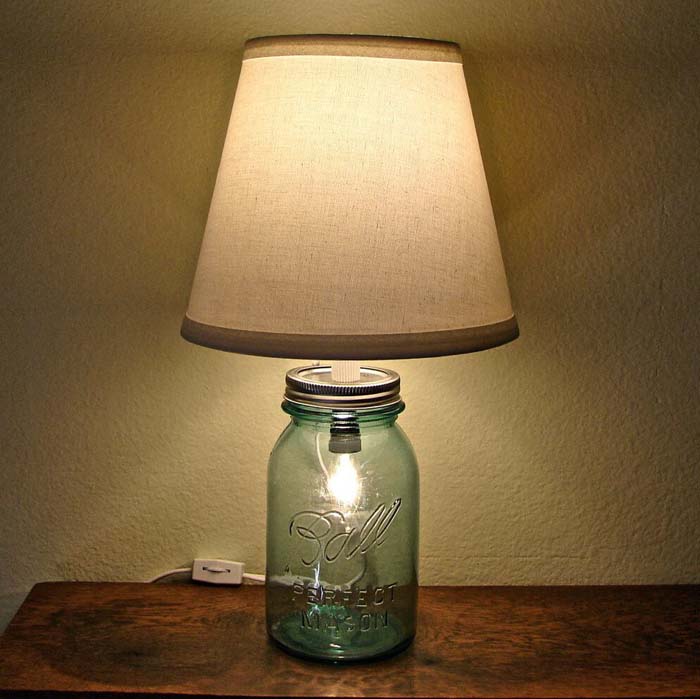 This idea can be helpful if you have accidentally broken the stand of the lamp or you want to add a vintage touch to your bedroom décor.
Drill a hole in the lid of the jar to hold the socket and screw on the glass part.
37. Beach-themed Jar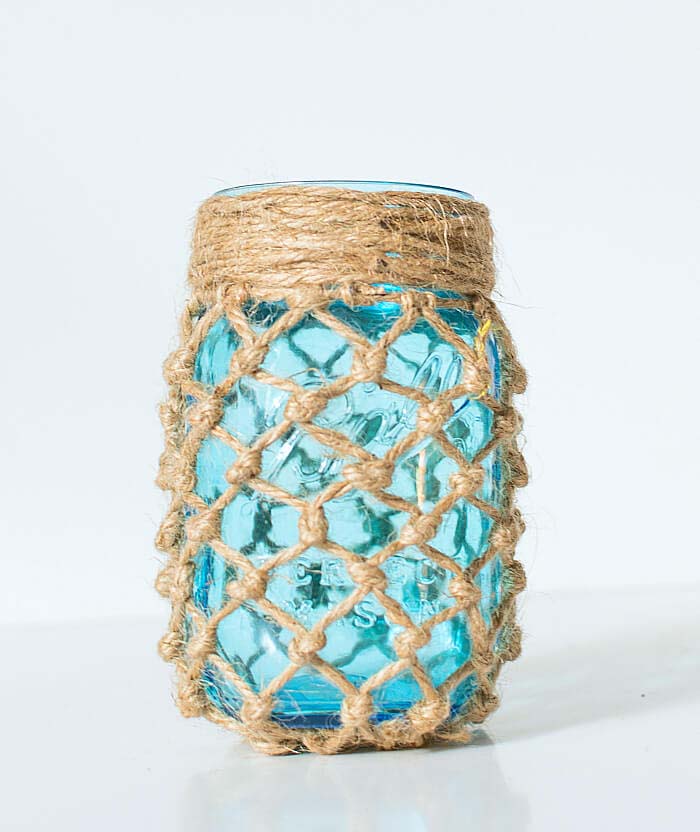 Blue Mason jars are best for this idea. The contrast the twine net makes to the blue color instantly drives you away to the seaside.
The jar can be used as it is as part of a beach-themed arrangement or can be repurposed into a lantern by adding a battery-powered candle on the bottom.
38. Mason Jar Picture Frame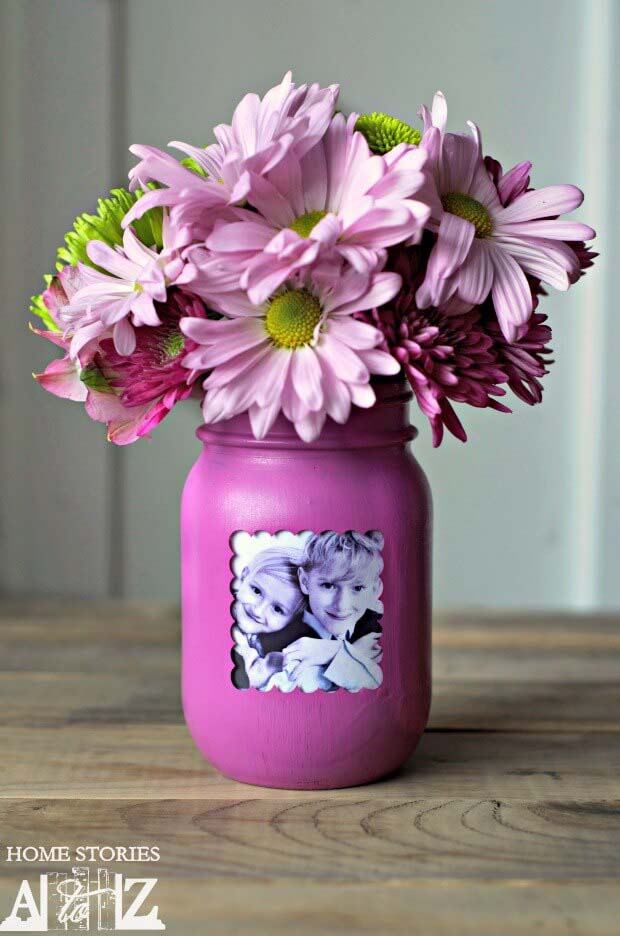 This is one of the most exciting mason jar ideas. If you have a special family photo and are looking for a gorgeous and special way to display it, you need to think outside the box.
Well, glue it on the Mason jar vase. For improved interest, paint the outer surface a bold color and add a bouquet of flowers.
39. Christmas Lanterns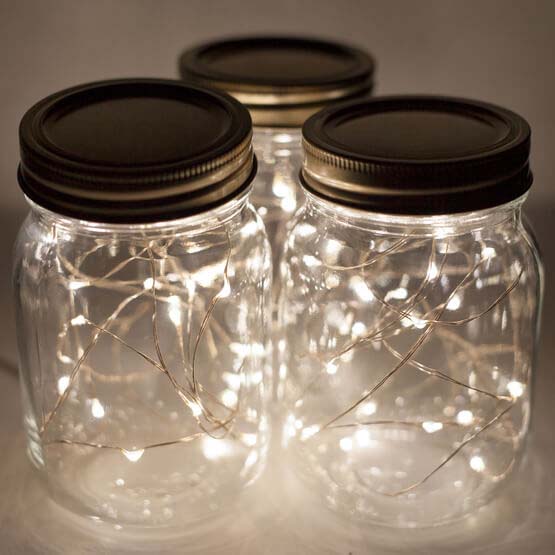 Fairy lights are part of the holiday décor. You can stretch them, weave them around the tree or put them in mason jars.
The glass surface will improve the intensity of the lights and will create a magical light effect.
via Christmas Lights
40. Tissue Holder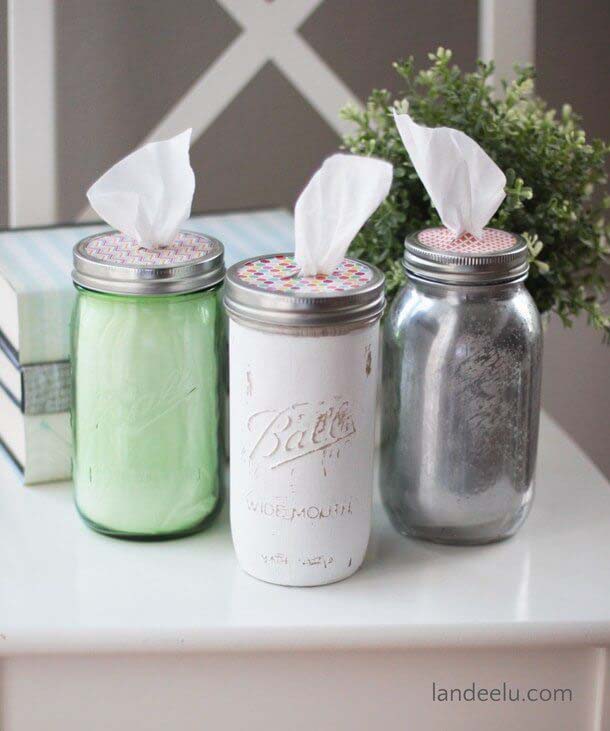 Sorting is one of the keys to a neat home. Declutter your bathroom and give it an elegant overall look with these easy-to-make tissue dispensers.
You can also make a mason jar soap dispensers with the same size of jars.
via Landeelu
41. A Lux Chandelier With Mason Jars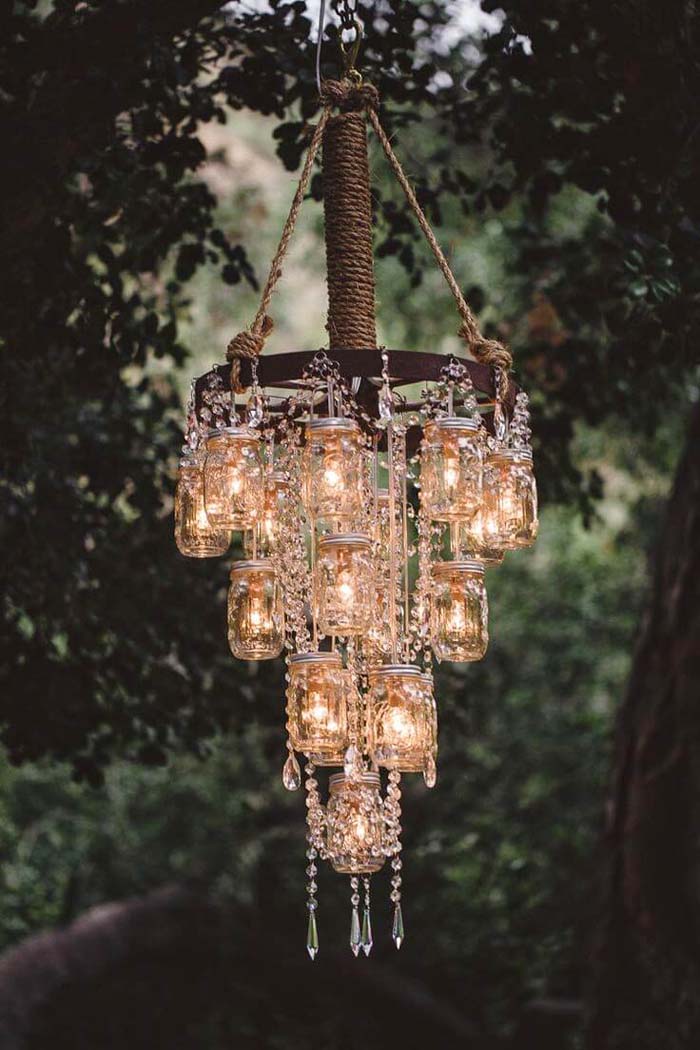 This chandelier design is perfect both for indoor and outdoor usage.
The clear crystals and clear small jars refract the light in a magical way.
42. Santa Claus Mason Jar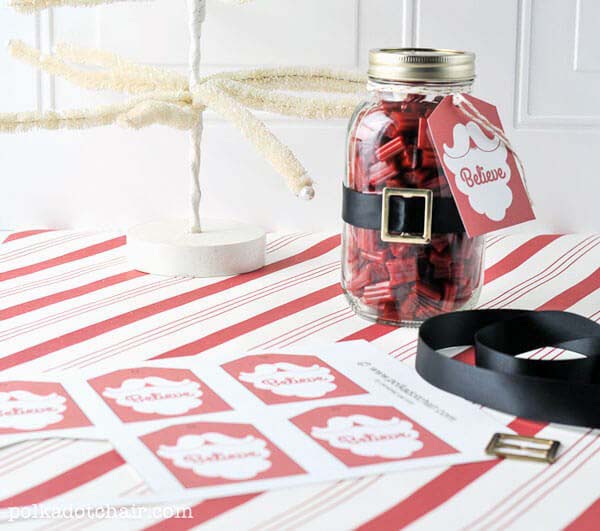 Are you short on ideas for Christmas gifts? This idea is affordable and very cute.
The jars are decorated with belts that easily relate to Santa. Filled with red candies, there is no doubt that Christmas is already here.
via Polka Dot Chair
43. Kitchen Shakers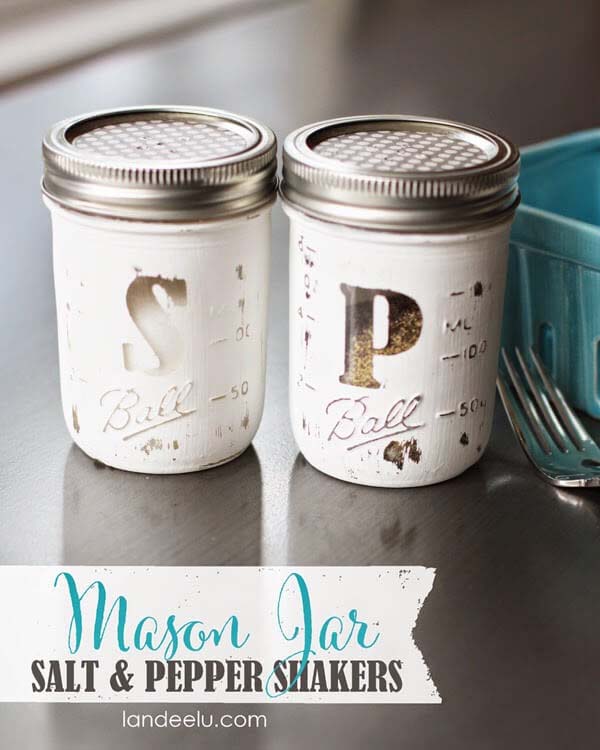 The smallest size of mason jars is great for the storage of spices. The jars can be made more functional by drilling two holes in the lids.
Use letter stickers and chalk paint to label the name of the spice contained inside.
via Landeelu
44. Love Sign Idea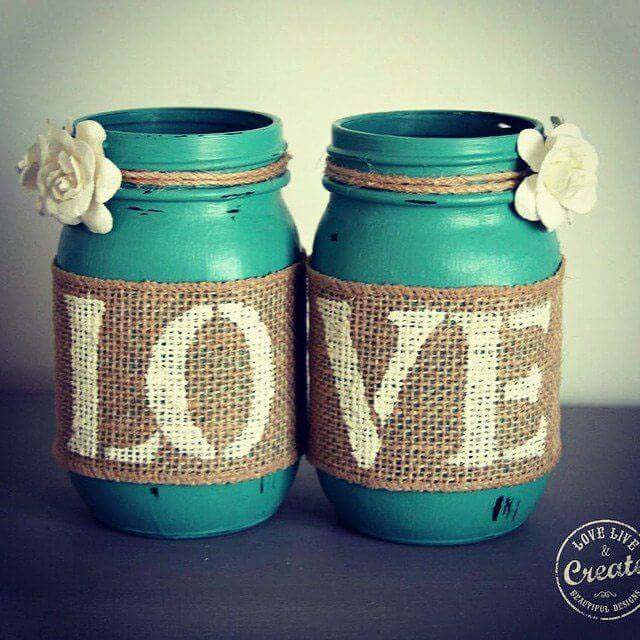 Whether to say I love you on St. Valentine's Day or to make your interior more romantic, this set of jars is amazing.
The outside of the glass is painted with chalk paint which gives it a matte thick texture. Some distressing is a must to prepare the aged background for the burlap ribbon.
45. A Gallery Of Vases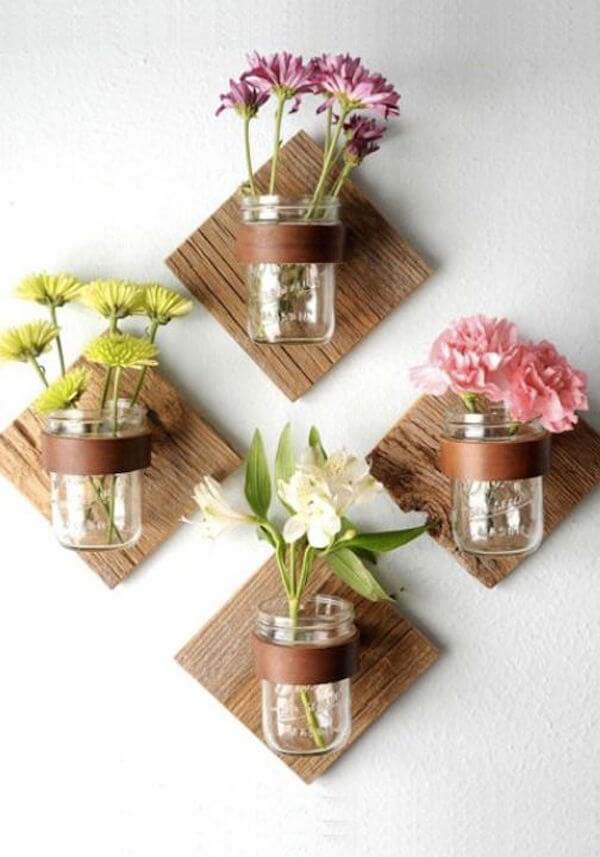 Vases with flowers is one of the most popular seasonal décor. You can upgrade it and make it more interesting with this idea for vertical vases.
Use small mason jars as containers, leather strips to hold them to the wooden bases. The final result is a unique botanical garden with a rustic flair.
via Shelterness
46. Affordable Bathroom Organizers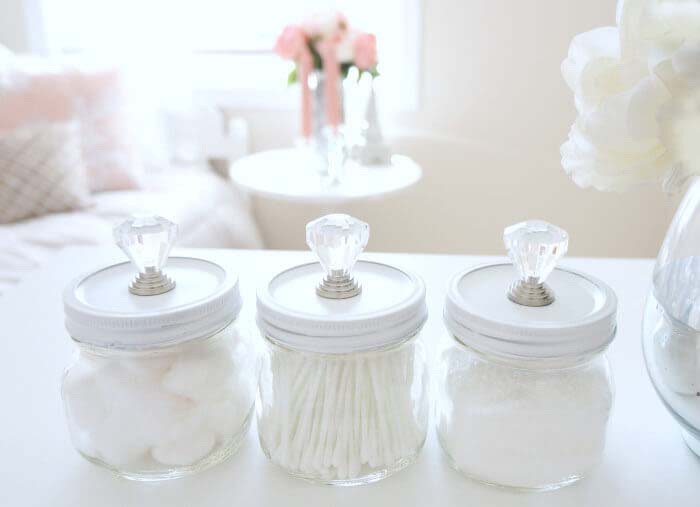 The bathroom will look far more organized and appealing if the paper or plastic containers are replaced with glass ones.
The smallest jars are perfect for small bathroom essentials such as cotton swabs, cotton buds, and salts. Taller ones can be repurposed into toothbrushes and tissue paper holders.
47. Farmhouse Wall Hanging Idea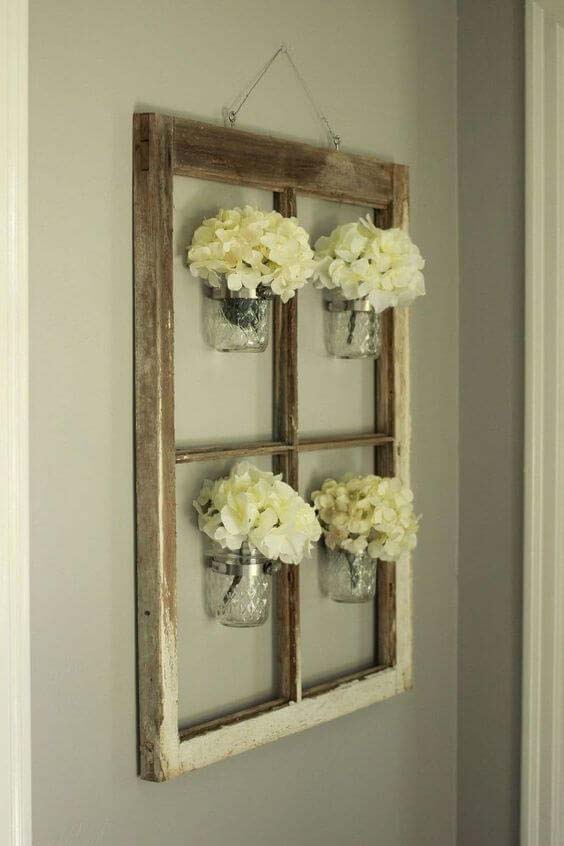 Are you looking for a unique wall hanging? Surely, making it yourself will make the décor piece one of a kind.
This wall décor idea requires a weathered window frame and four small jars. Aim to give the jars an identical look to create an appealing overall design of the wall decoration.
48. How To Make Glowing Jars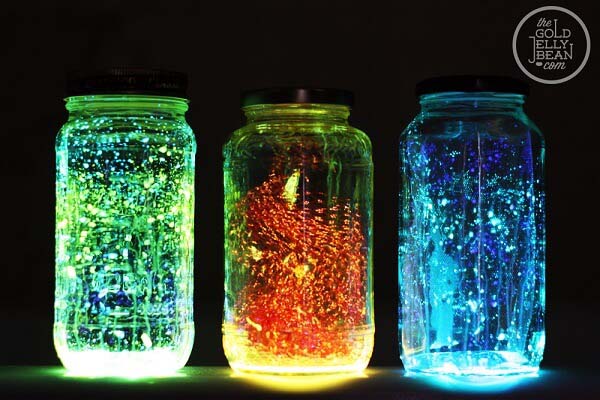 These glowing jars are amazing, aren't they? If you want to try and make them, be patient and prepare a set of gloves and protective eyeglasses because chemicals are included in the supplies.
The glowing effect comes from shaking the inside of glow sticks. To do that, you need to carefully cut the glow stick when it is well inside the jar.
49. Elegant Mason Jars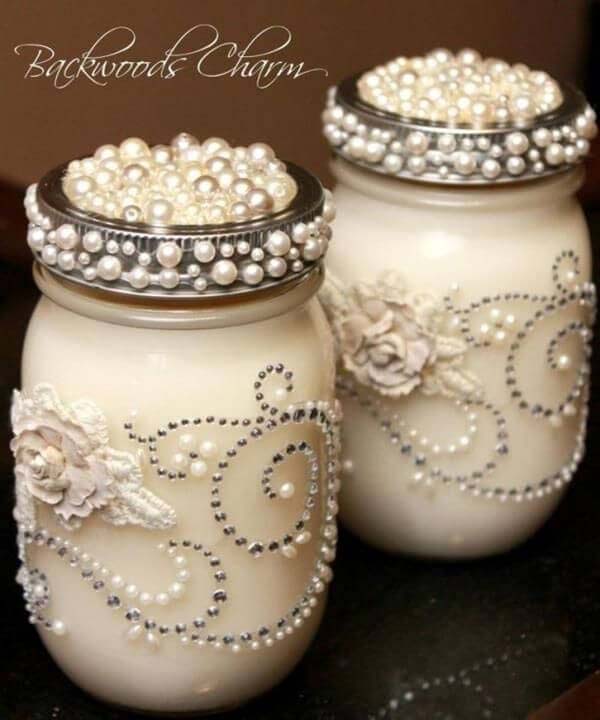 Most of the ideas here make sure that the jars keep or even improve their rustic style nature. Well, here we are going to show you that they can look fancy and elegant thanks to bead and lace flower embellishment.
These beautiful jars can be repurposed into holders of jewelry, bedroom candles or as part of the wedding décor.
50. Affordable Supply For A New Décor Accent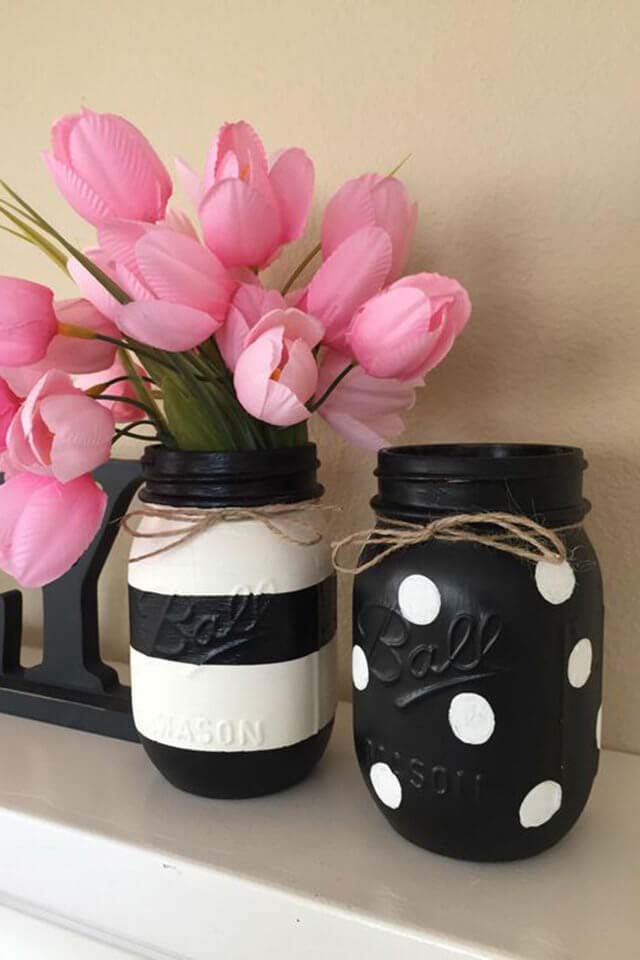 Seasons change, moods change and so is our taste. If you want to experiment with new colors, patterns and combinations, do the trial with Mason jars.
Painting or embellishing them is easy and they will help you get an idea if a new color will suit your existing décor.
51. Bathroom Organizers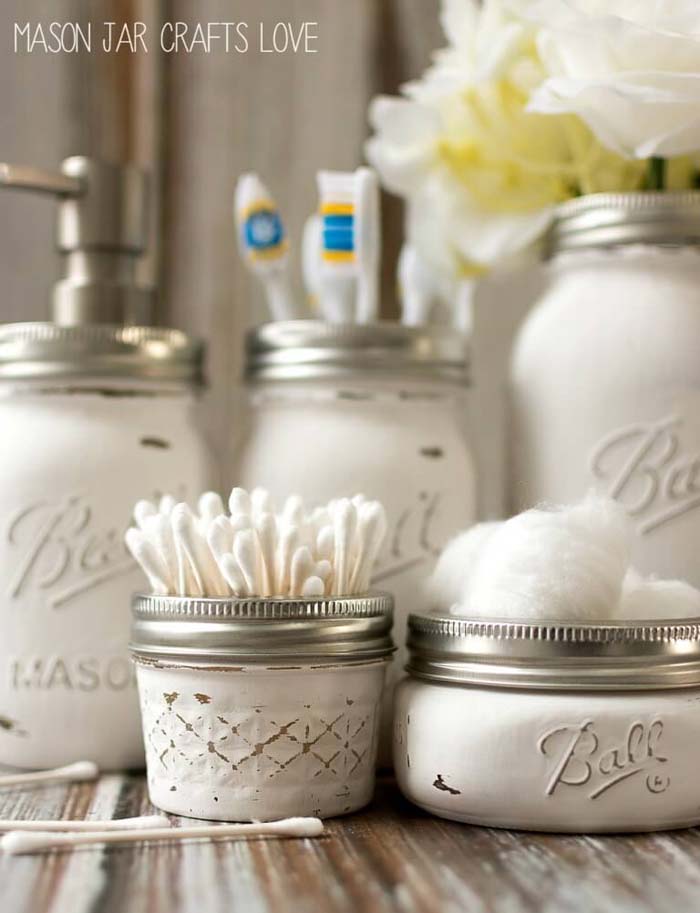 Here is what a set of mason jar organizers can look like. Get different sizes of jars to make sure that the majority of bathroom essentials find a place.
Match the color of the jars with the bathroom décor.
52. Kid-friendly Mason Jar Craft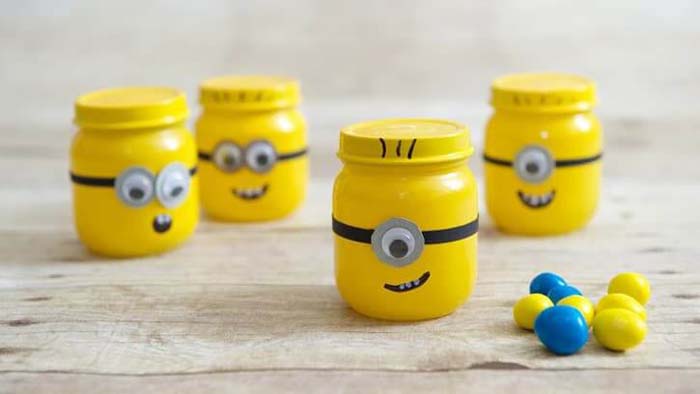 This is a good idea of how to spend time with your kids next weekend. Every kid loves the minions and every kid likes painting.
The tiny minions can be used for storage of small lego pieces, candles or gums or as a themed décor of a kids' room.
via Betty Crocker
53. Functional Entryway Sign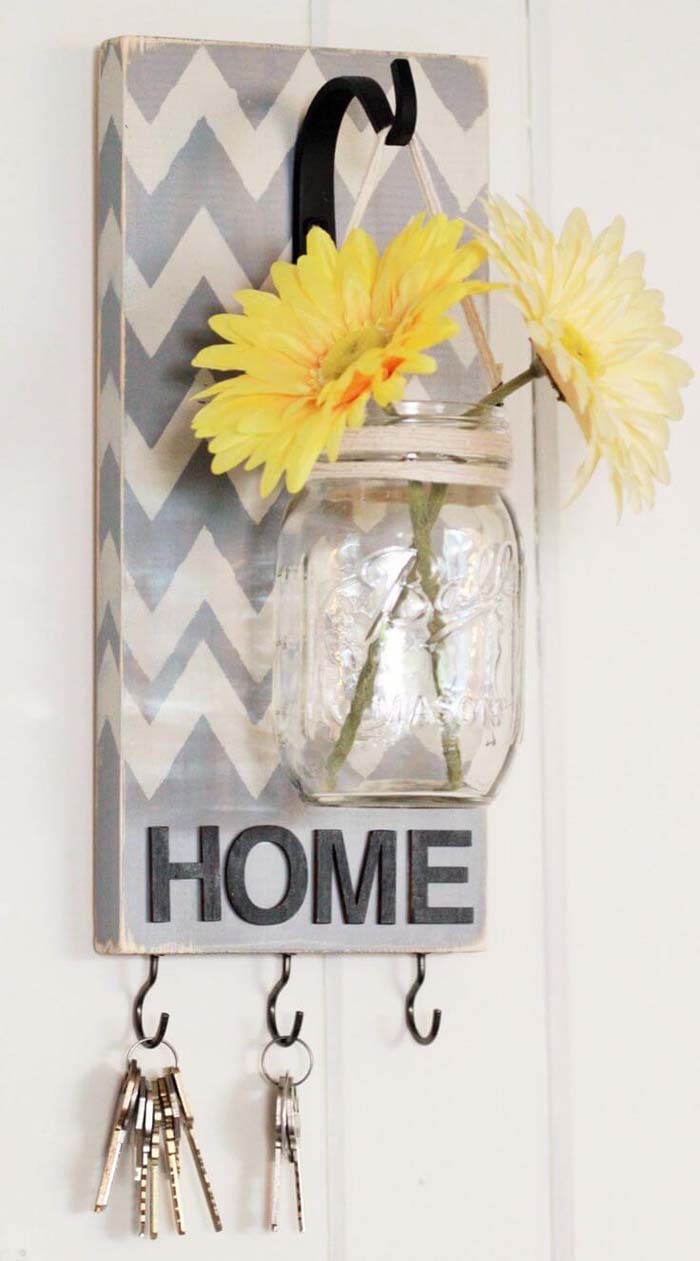 This DIY idea functions as a key holder, a flower wall decoration and a sign. The basis is a piece of wood decorated with zig-zag stripes in the trendy white and grey combination.
At the bottom of the wood three screw hooks are inserted to act as key holders. Added letters add a personal touch to the craft piece and make sure that the ambiance will feel more inviting.
54. Kids' Banks With Superheroes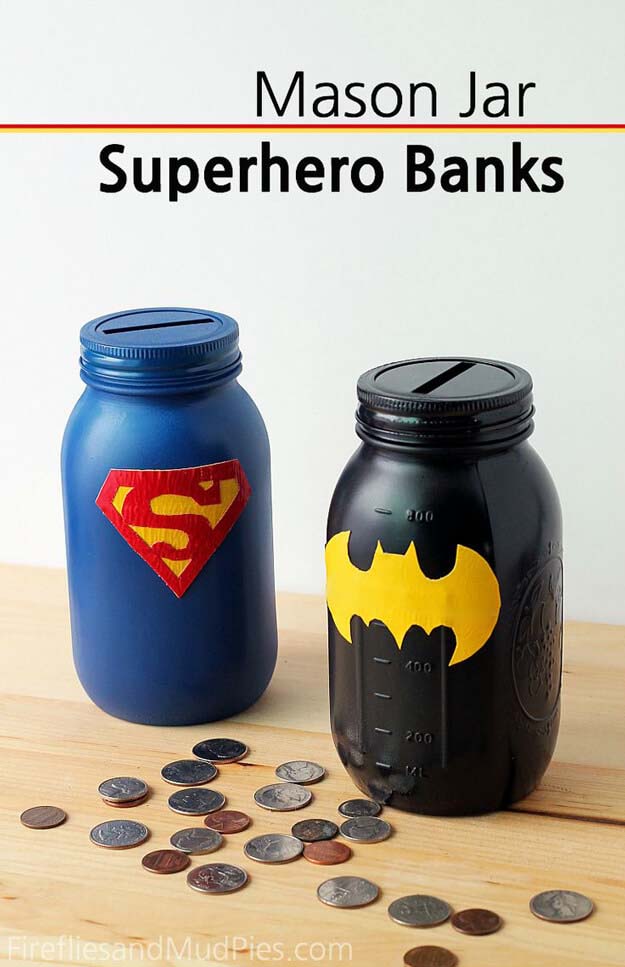 A fun craft and a great way to collect the small change is offered by these superhero mason jars.  Involve your kids in the project.
You can even let them do all the steps as they will surely know the colors and the distinguishing marks of their favorite superheroes.
55. Joyful Holiday Décor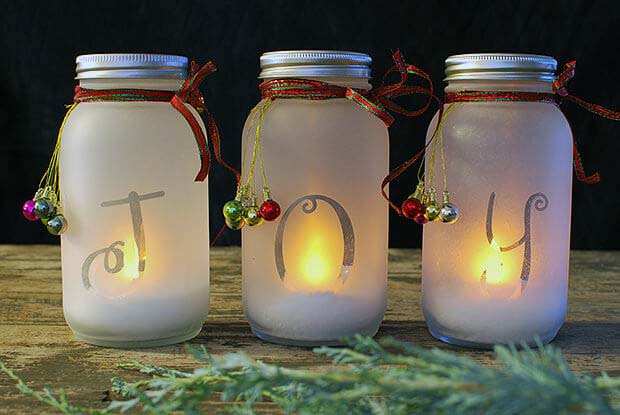 The etching technique is perfect for an easy and unique holiday craft. You can write any word with it. For Christmas that can be "joy", for Thanksgiving Day "thankful", for Valentine's Day "love", for Easter "Believe".
Prepare the number of jars depending on the number of letters involved, stickers of the letters and etching liquid. Embellish with accents related to the theme.
56. Small Supplies Organizers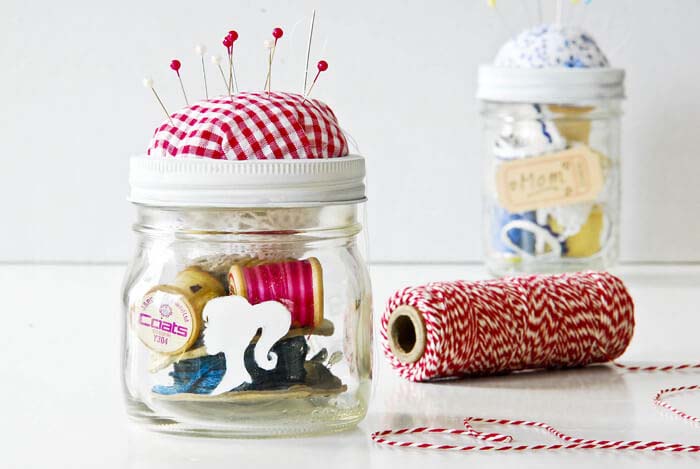 Store the tiniest sewing supplies in mason jars. Added cushion at the top of the lid will let storage of needles possible.
57. Customized Gift Jars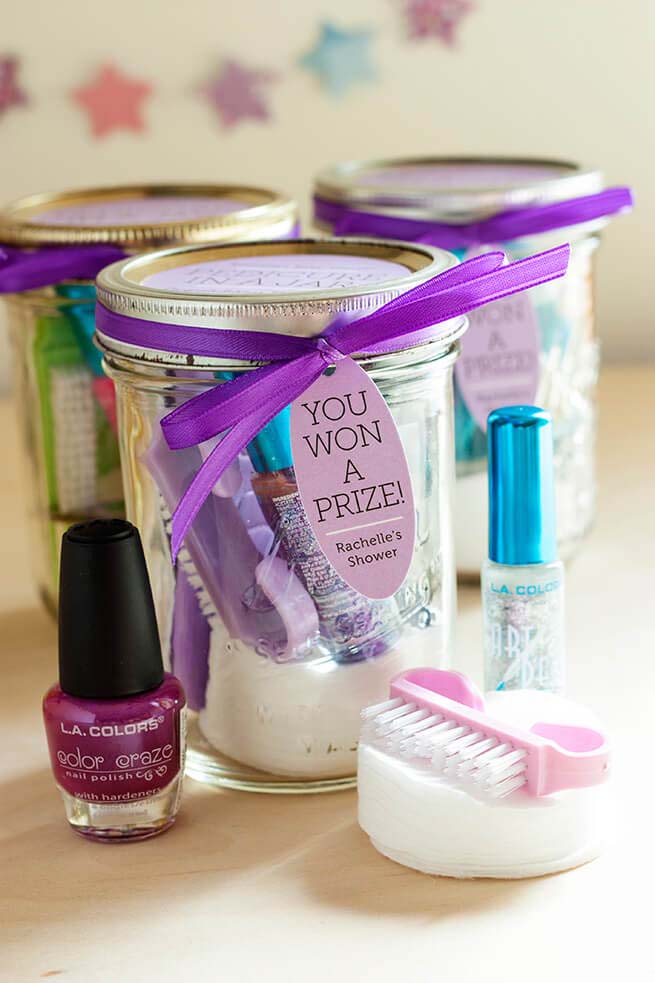 This gift idea is affordable and very clever. The content is coordinated with the needs and taste of its receiver.
Instead of placing the small skin-care and make-up products in a paper bag, they are beautifully stored in a transparent mason jar. The receiver can easily see what is in and at the same time remain delighted by the special festive decoration of the container.
via Idea Land
58. Mason Jar Snow Globes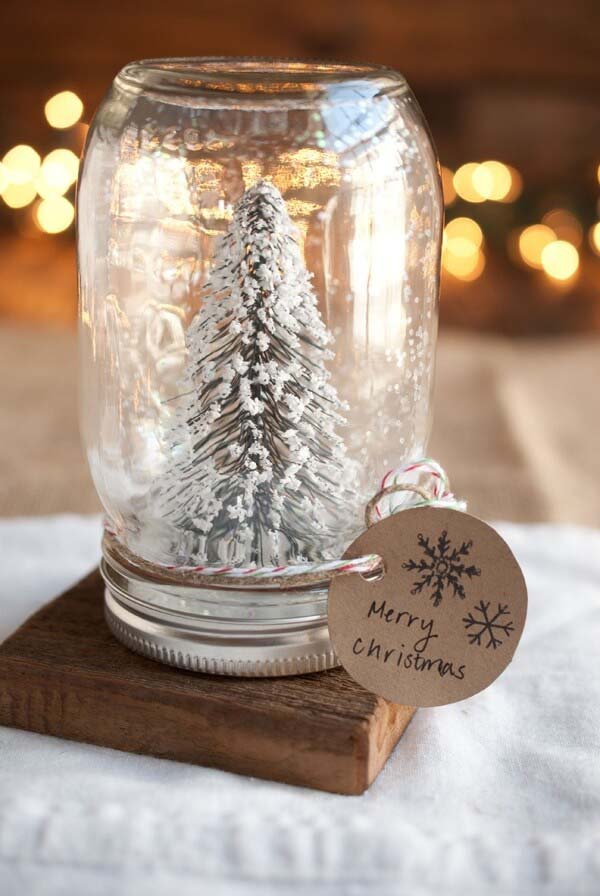 A snow globe from a jar is great as a seasonal décor and holiday gift. These small trees can be found in every craft store and at the Dollar store in winter.
Glue the tree to the inside of the lid and decorate it with a red ribbon.
via Simple Craves and Olive Oil
59. Declutter The Kitchen Countertop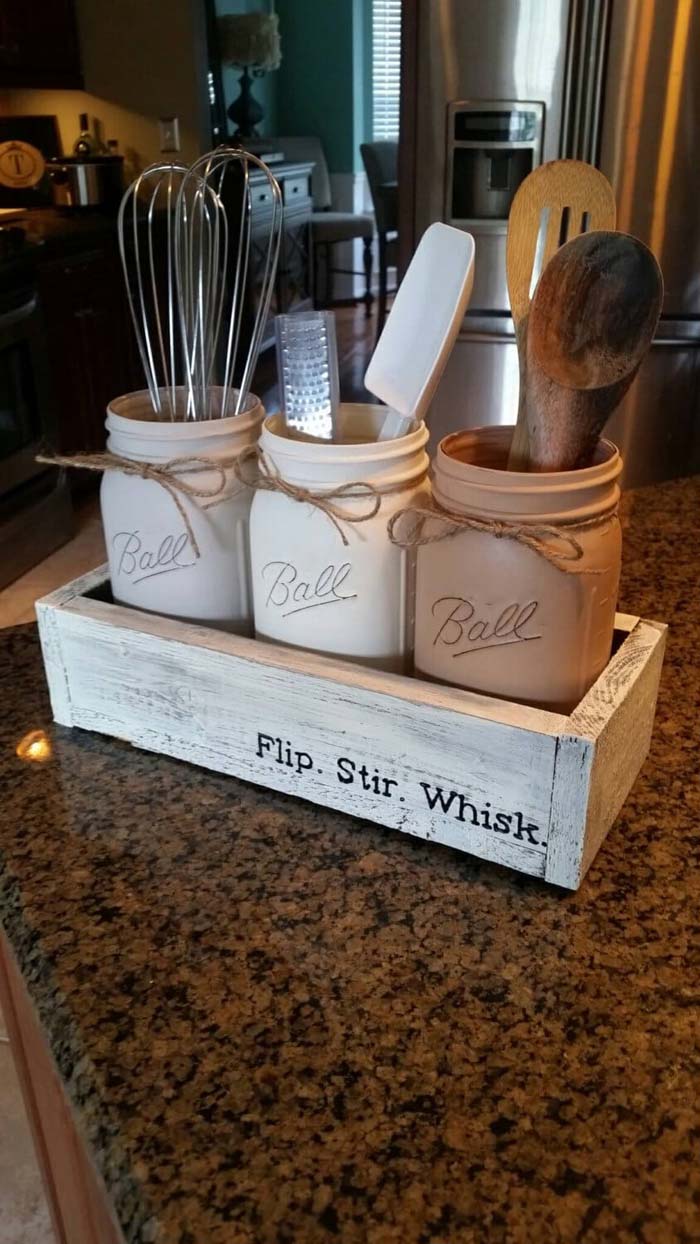 Organize all kitchen utensils in a stylish way. Instead of inserting them in various containers, put them in matching jars.
Put all jars in a crate for an improved decluttered look of the kitchen.
60. Give The Doilies A New Application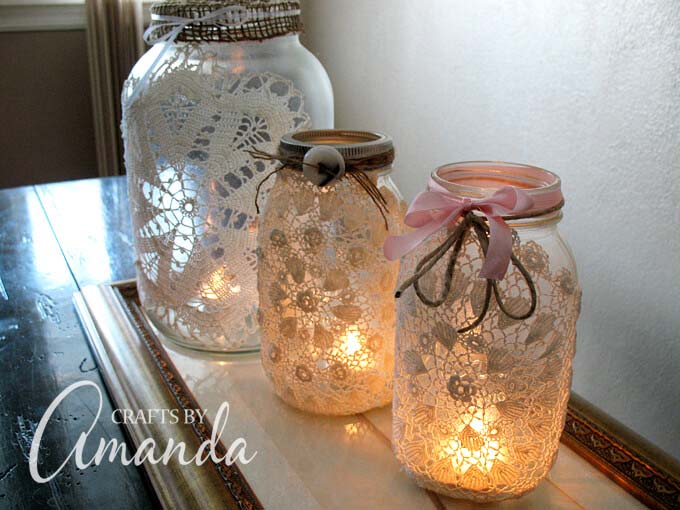 The lace doilies are very delicate. If you want to display the most special ones that have been left by your mother or grandma, glue them to the outer surface of jars repurposed into candle holders.
That will give the doilies new life and a more contemporary way to expose them.
via Crafts by Amanda
61. Sport-themed Jars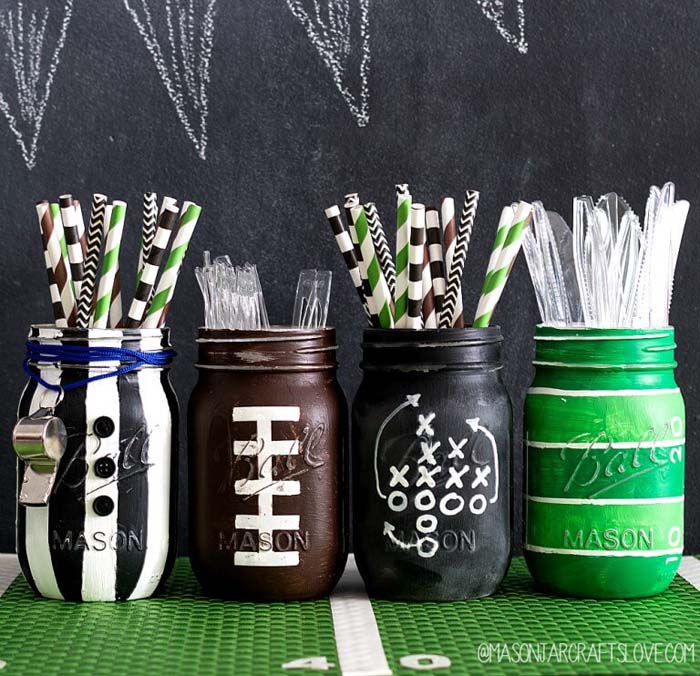 This Mason jar idea is suitable for a kid's room décor or party holders of a sport-themed party. Use symbols and patterns of the sport to decorate the jars.
62. Vanity Light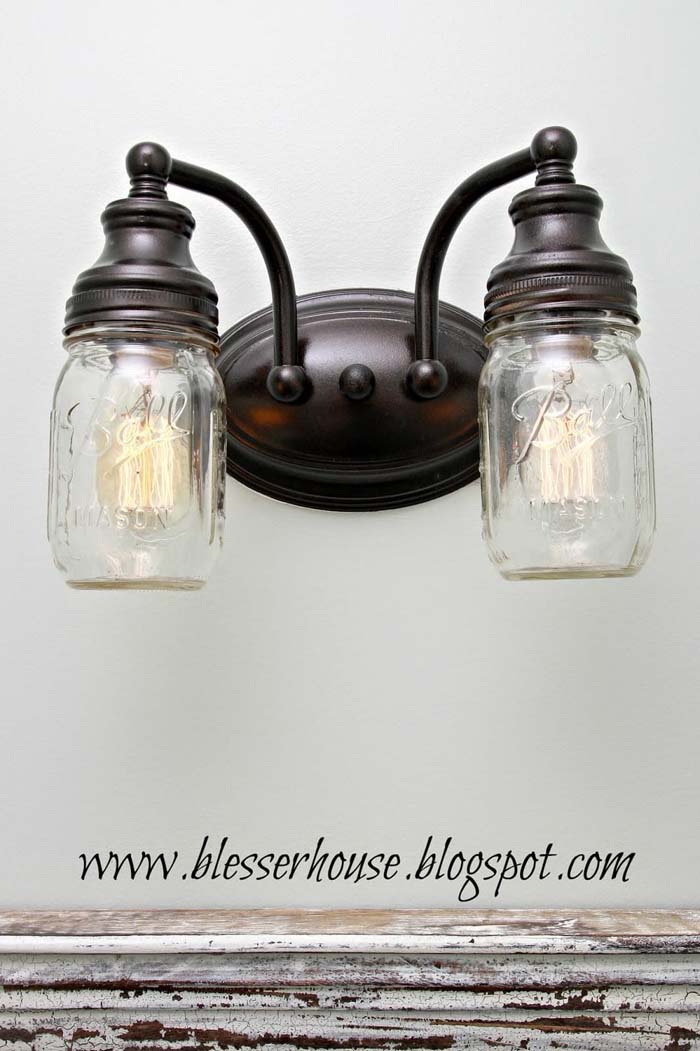 The vanity requires more light, hence there are sconces at the mirror sides.
This vintage-looking mason jar light fixture will brighten up the vanity and will make the overall bathroom look more stylish.
via Bless'er House
63. Spread Joy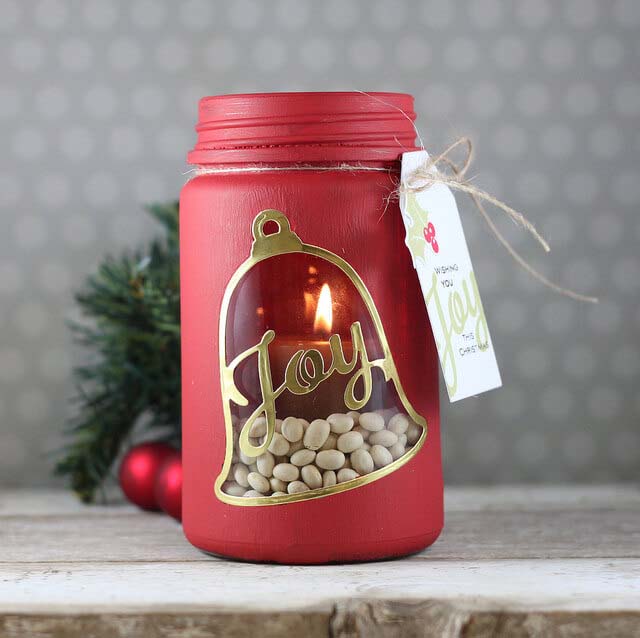 This Mason jar decoration is very similar to the etching ideas. This time, the unprotected outer surface is painted with a thick coat of red acrylic.
The sticker has remained to enhance the festive look of the jar.
64. Tea Candle Holders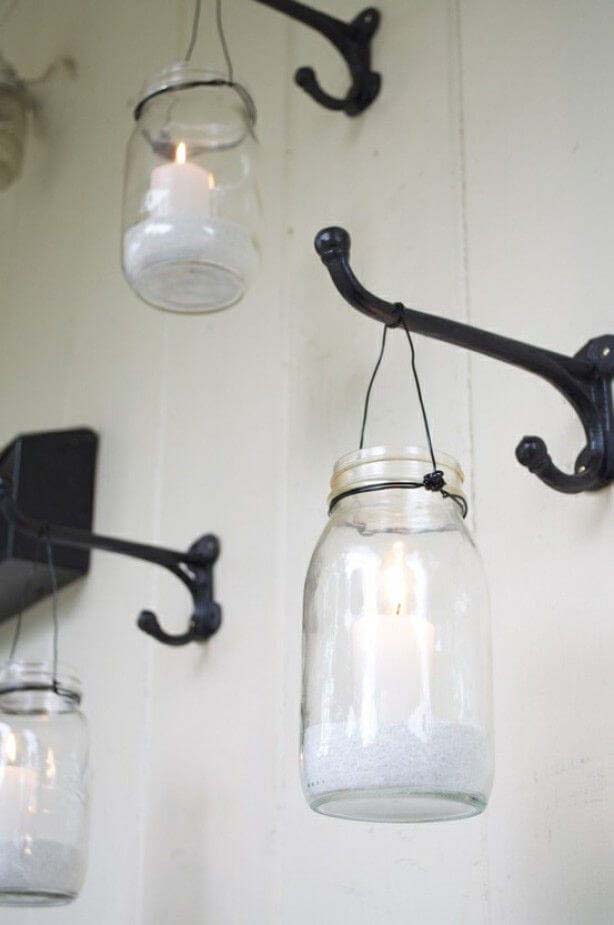 Do you like the outdoor décor ideas with candles? Surely, candles can make the porch or the patio more elegant, cozy and inviting.
Have you ever thought that jar candles can be placed on the walls instead on the table or the floor? During the day, they will create a point of interest and at the night, they will spread the smooth candlelight to make the evenings more delightful.
via Home Depot
65. Lightbox With Jars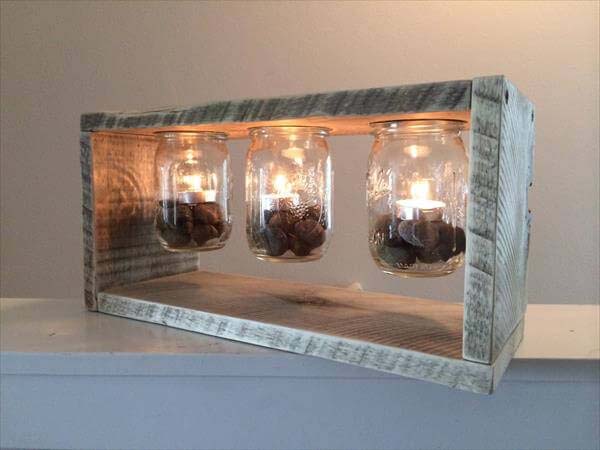 Lightboxes are an interesting alternative to many separate candles grouped together. They collect all of the holders in one structure, usually from wood.
This idea aims to improve the rustic feel the candles create with reclaimed wood, mason jars and acorns. Lightboxes are also very practical because they ensure easy moving from one place to another.
66. Christmas Luminaries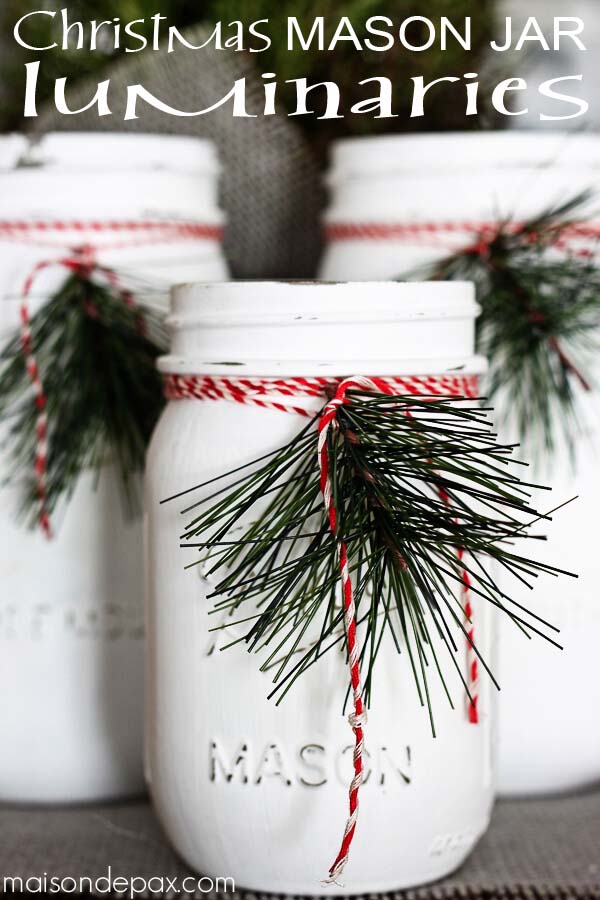 This is one of the most festive luminary ideas. The coat of white paint is thick to mimic snow.
The embellishment is typical for the Christmas holiday- a pine twig attached to the jar with twine in the cane colors.
via Maison De Pax
67. Office Organizer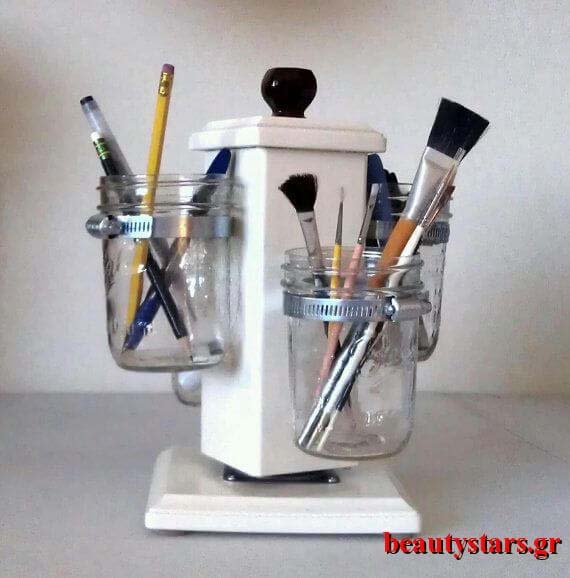 If you want to make your working place homier, make your own version of an office materials organizer.
The basis is a swivel to make rotation easy and size compact. Storage is done in small mason jars attached to the basis with flexible brackets.
via Countryliving
68. Party Supplies Organizer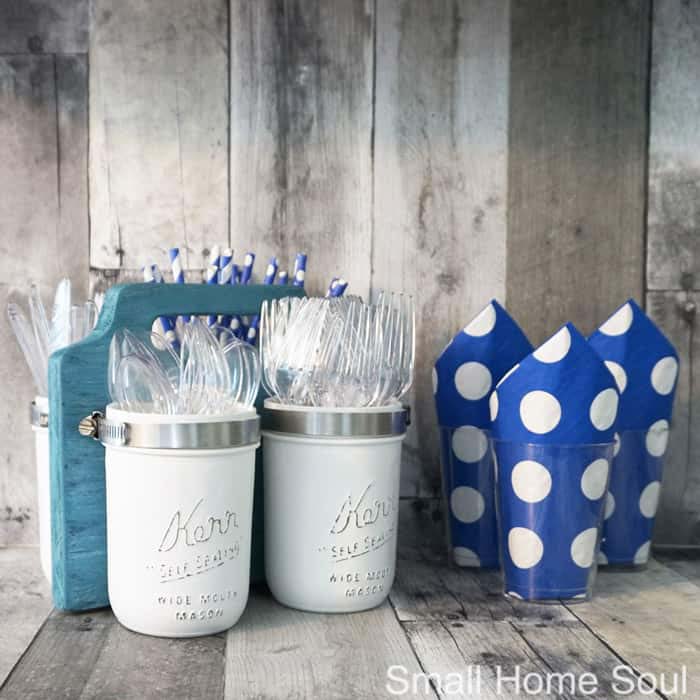 If you are looking for temporary containers of party tableware, use mason jars. If you have time, you can paint them in the colors of the theme.
If you make them white, you will make sure that they are of universal look and with potential for more usages.
via Small Home Soul
69. Garden Pendant Lights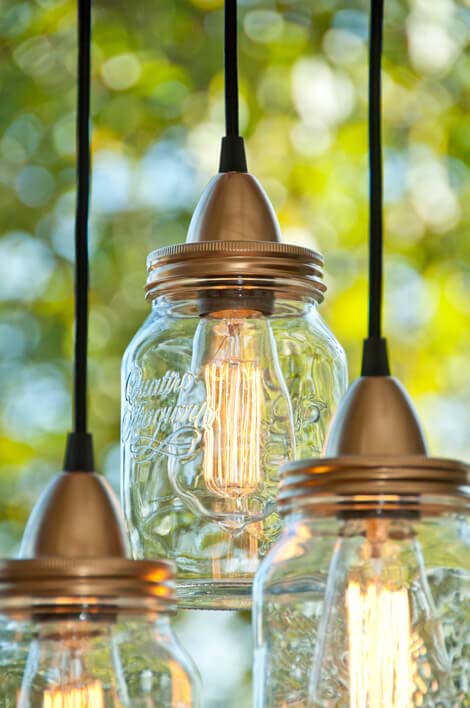 Mason jars inspire this outdoor décor idea! The glass containers are repurposed into lamp shades of pendants with an industrial look.