Christmas is a holiday about Jesus, Valentine's Day is a holiday about Love, and St. Patrick's Day is a holiday of Luck!
Primarily an Irish holiday, many Americans have also picked up St. Patrick's Day as their favorite. Known for partying, drinking and being a singles holiday, many love the exciting spirit St. Patrick's day brings.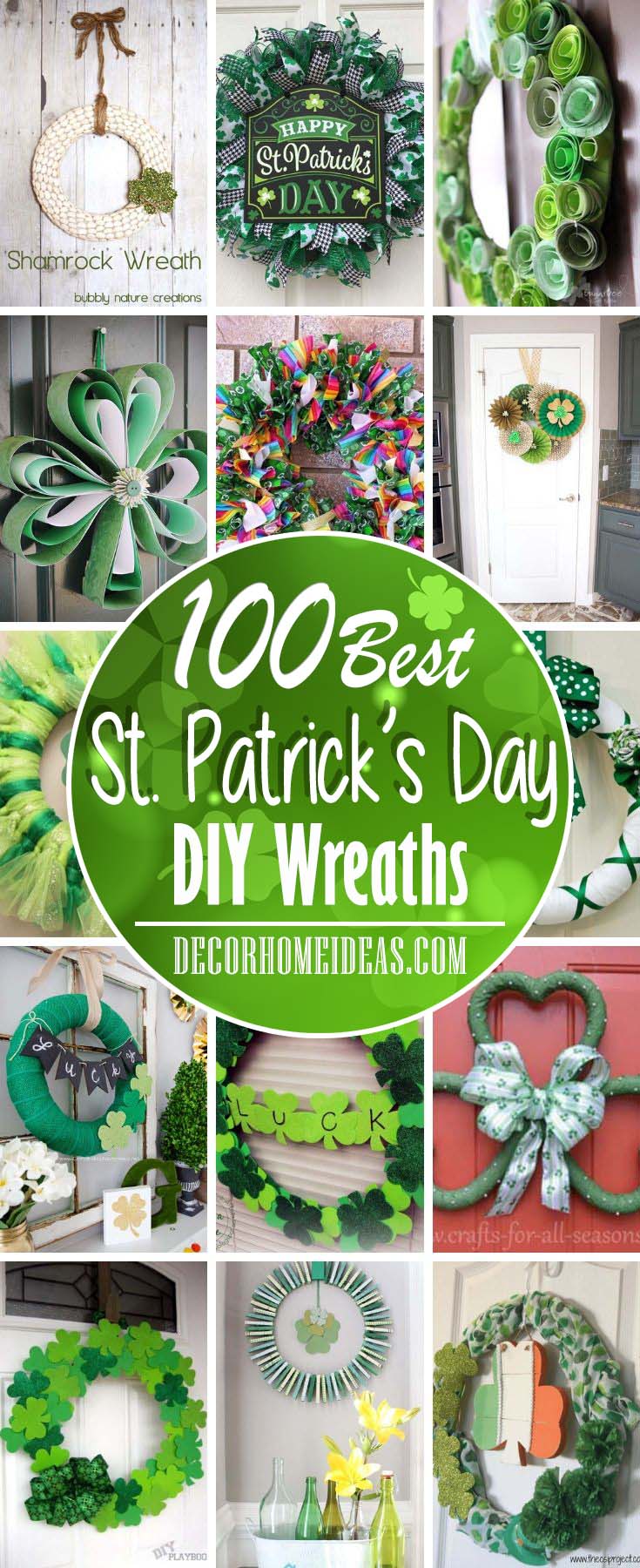 But how do you decorate for such a low-key but exciting holiday? The holiday entails rainbows, leprechauns and shamrocks, so bring all of these things to your holiday decor. ( by the way, if you are not feeling confident about the outcome, you can always shop for some great decorations HERE )
Consider some of these beautiful and easy do-it-yourself St. Patrick's Day decorations.
If you are not sure you can manage to create a beautiful wreath by yourself, don't worry!
You can find an amazing selection of St.Patrick's Day wreaths – Here – there are some inexpensive ideas.
1. Create a Shamrock Wreath with Boxwood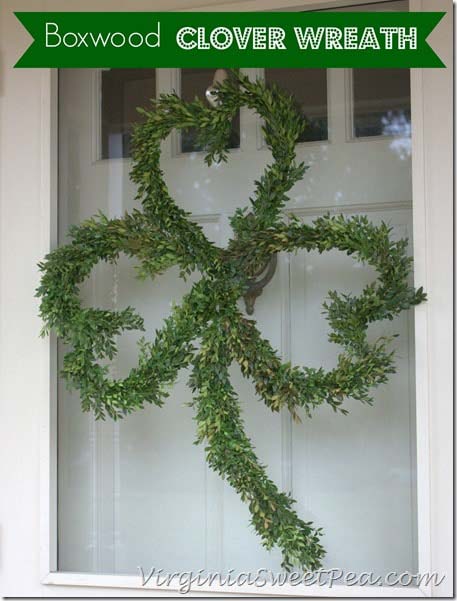 Boxwood plant is not just for Christmas. Bend it in a shamrock shape for a marvelous door wreath.
2. Make a Country March Wreath with Burlap and Shamrocks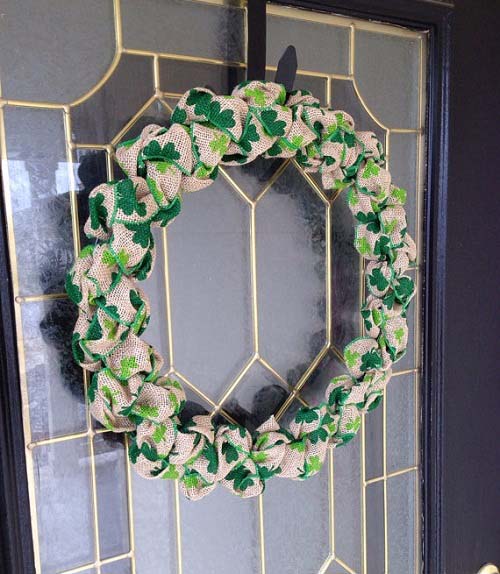 For a more country look, try this burlap wreath. Choose burlap with shamrocks for a country March decoration.
via How to Make A Burlap Wreath
3. Celebrate St. Patrick's Day with a Mesh Wreath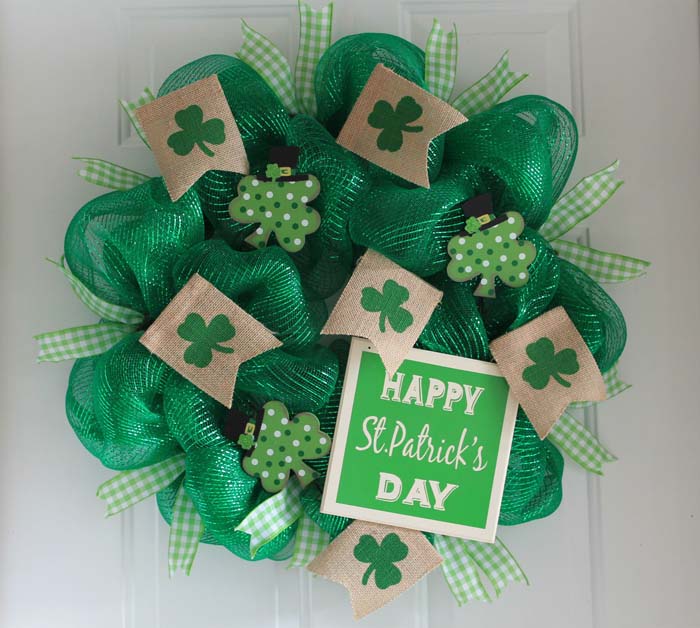 Green mesh is the perfect base for a wreath. Then cover with felt shamrocks and a Happy St. Patrick's Day sign.
via The Wreath Depot
4. Get Creative with a DIY Saint Patrick's Day Yarn Wreath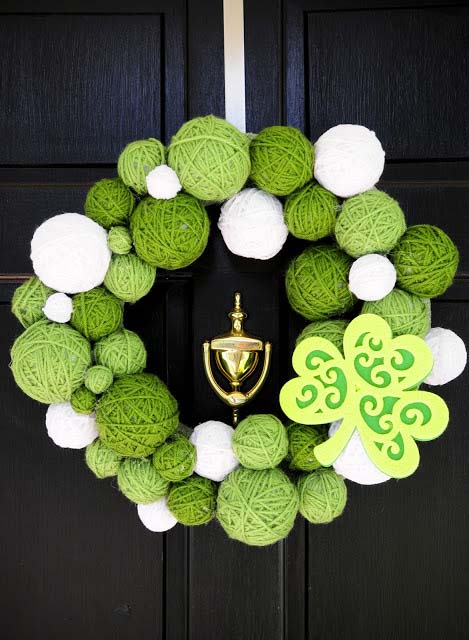 The ultimate St. Patrick's Day wreath is a pile of different green-tinted yarn balls glued together in a circle.
via Heather and Evan
5. St. Patrick's Day-Inspired Wreath with a Wood Shamrock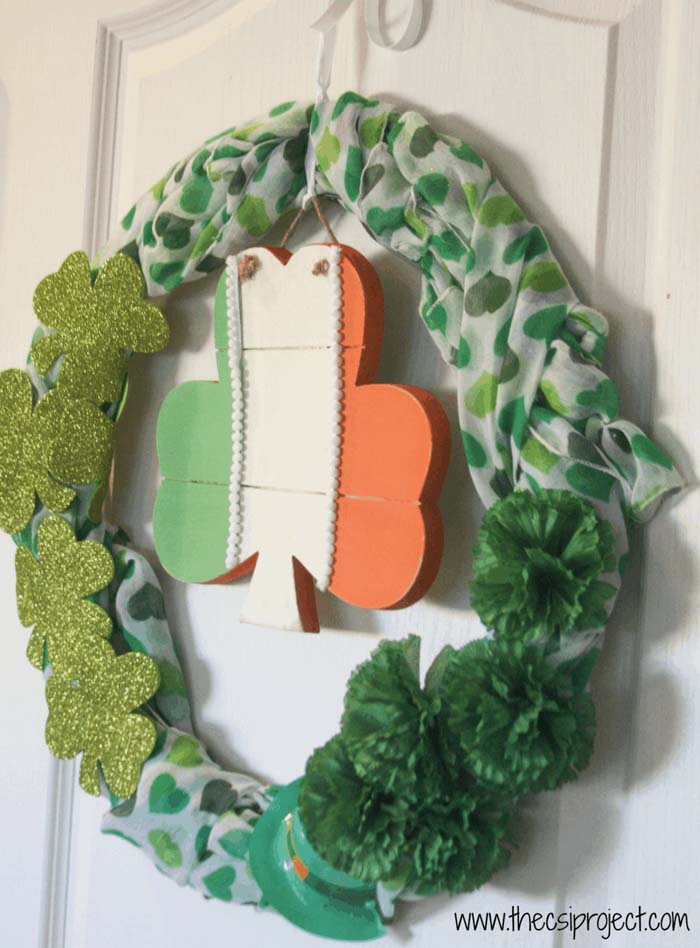 If you don't have quite enough burlap, or yarn or green ribbon; then just merge them all together for the best wreath. A wooden shamrock in the middle finishes the whole look.
via The CSI Project
6. Construct a Festive Felt Shamrock Wreath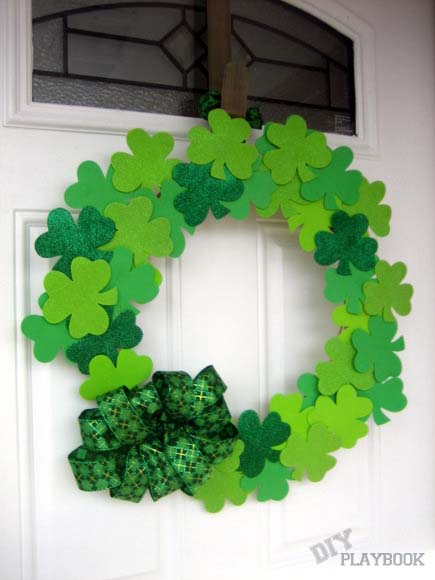 This easy-to-make wreath is constructed from felt shamrocks and a large green bow. It is simple but beautiful.
via DIY Playbook
7. Add a Pot of Gold and Rainbow to a Burlap Wreath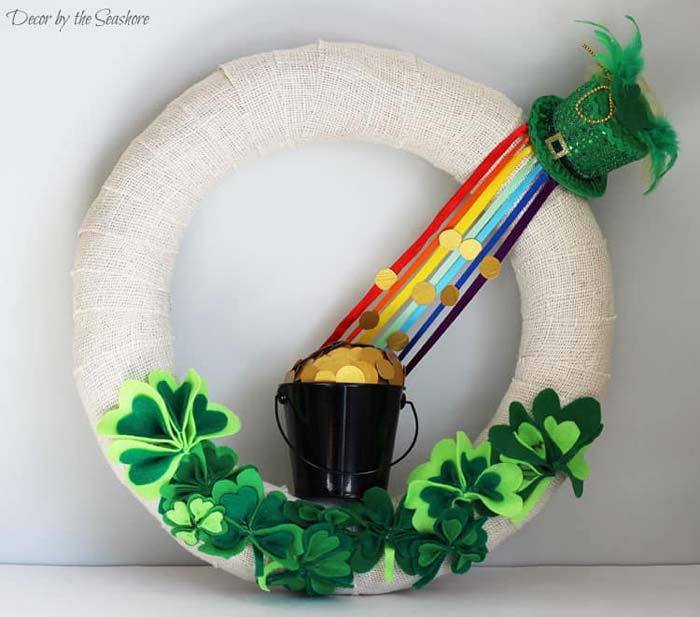 Find the pot at the end of the rainbow and put it on your St. Patrick's Day door wreath. This wreath tells a story with the leprechaun hat at the top and the rainbow going to the pot of gold.
8. Hang a Lucky Banner on Your St. Patrick's Day Wreath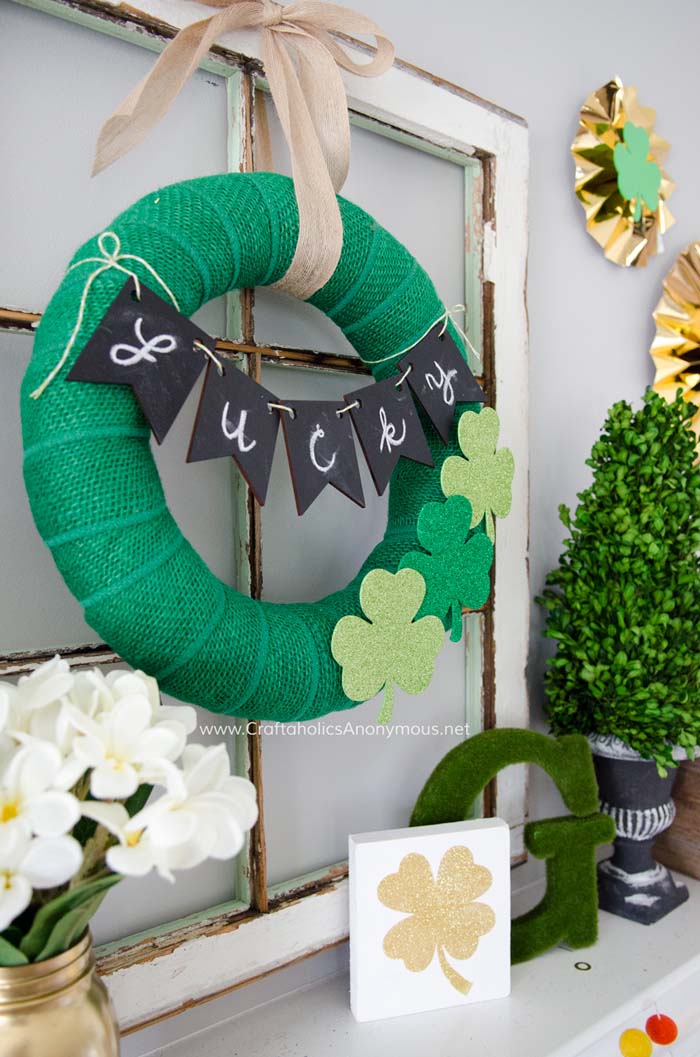 The whole idea of St. Patrick's Fay is a holiday of luck. So how about this door wreath made from green ribbon and a 'lucky' sign. Are you feeling lucky?
9. Upgrade a St. Patrick's Day Wreath with a Argyle Patterns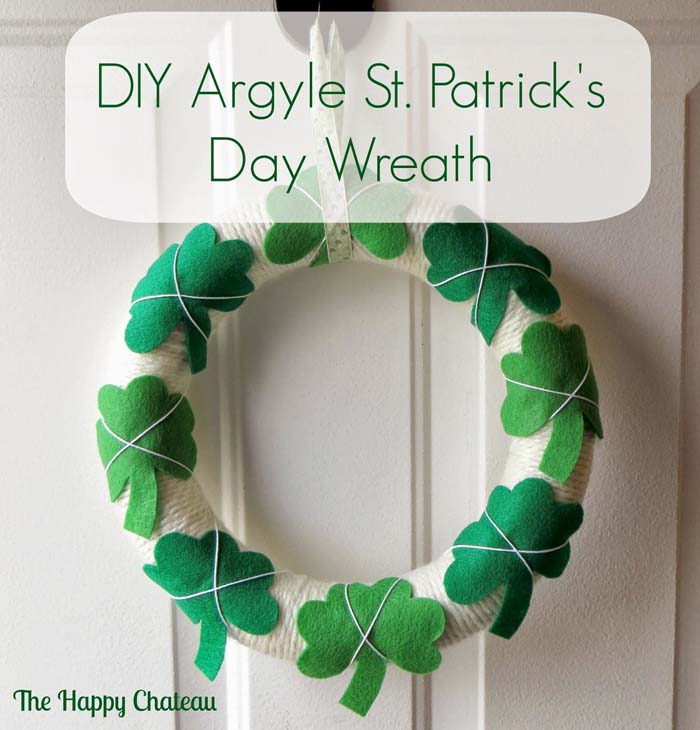 Argyle patterned yarn on a green shamrock door wreath completes the St. Patrick's day look.
10. Craft a DIY Shamrock Wreath with White Ribbon Bows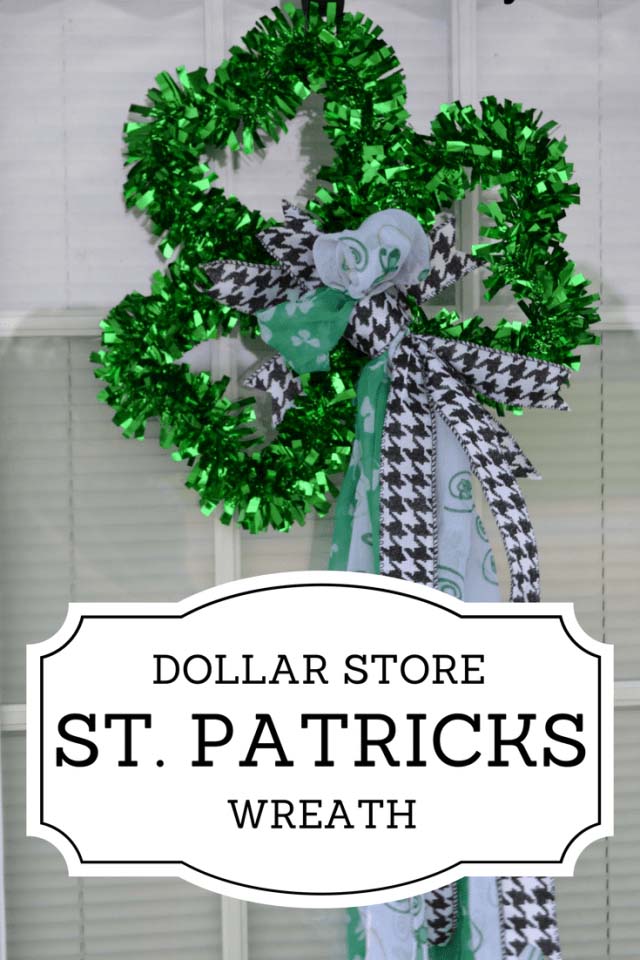 This easy to make yourself door wreath is a green shamrock with white ribbon bows.
11. Upcycle Fabric Scraps into a Festive Wreath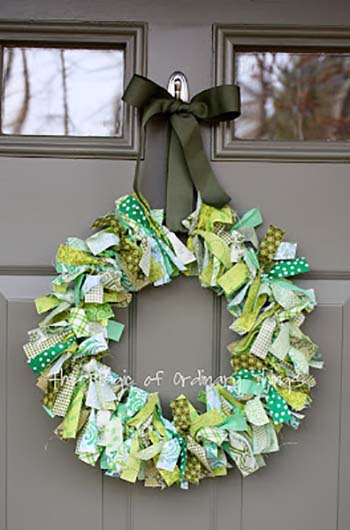 Have a lot of green fabric scraps sitting around? How about this green fabric scrap wreath. This is a simple and cheap decoration idea. Add a black ribbon on top to hang it.
12. Make Your Shamrock Wreath More Natural with Plants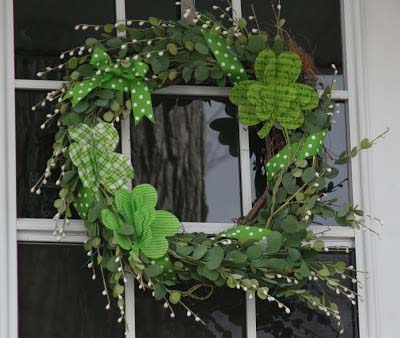 This door wreath is made from green plants and green shamrocks. The white plant gives it a pop of color and a natural look.
13. Nature-Inspired St. Patrick's Day Wreath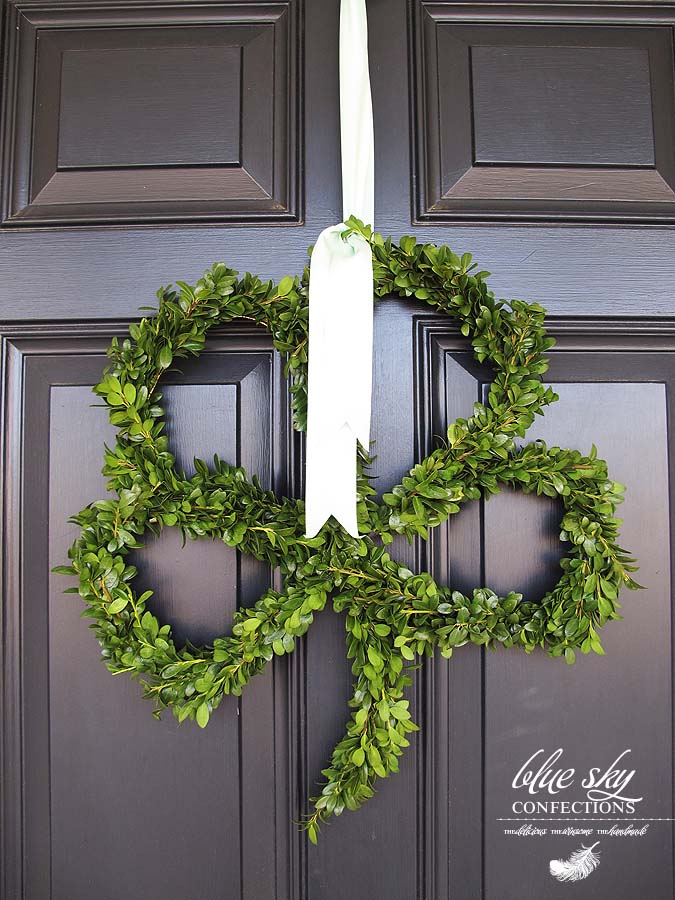 Viney plants are the perfect green color for making shamrock door wreaths.
14. Celebrate St. Patrick's Day with a Furry Rainbow Wreath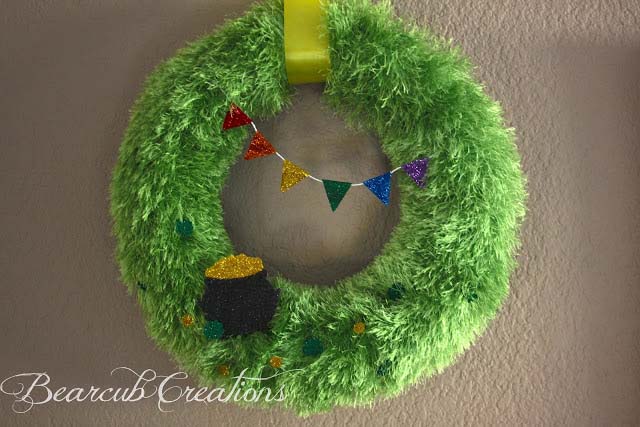 For a more fun look, try this furry round St. Patrick's door wreath. Complete with a pot of gold at the end of the rainbow.
15. Spread Festive Cheer with a St. Patrick's Day Wreath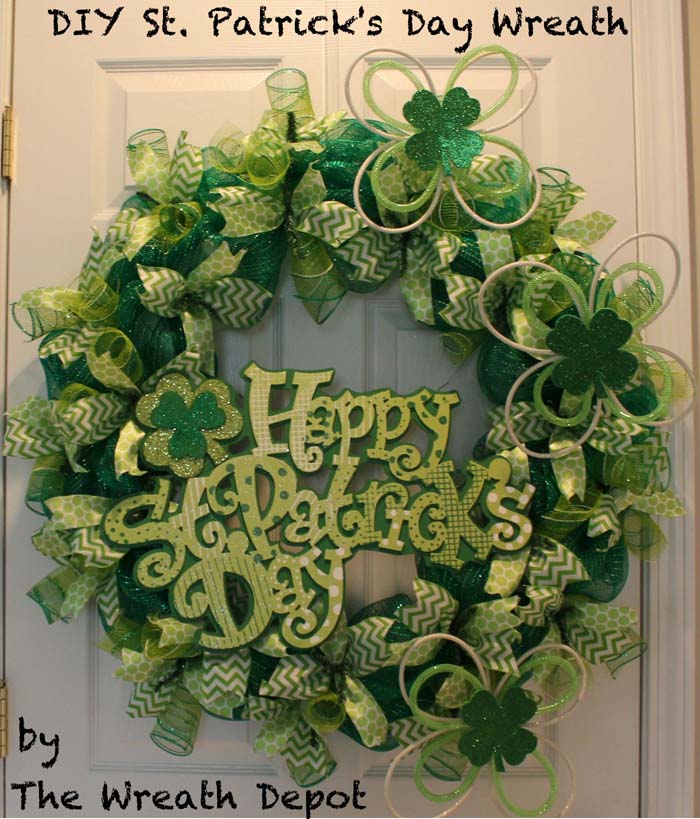 This adorable wreath is constructed with a green ribbon and a commercial Happy St. Patrick's Day sign.
via The Wreath Depot
16. Add Flair to Your Wreath with Black and White Ribbons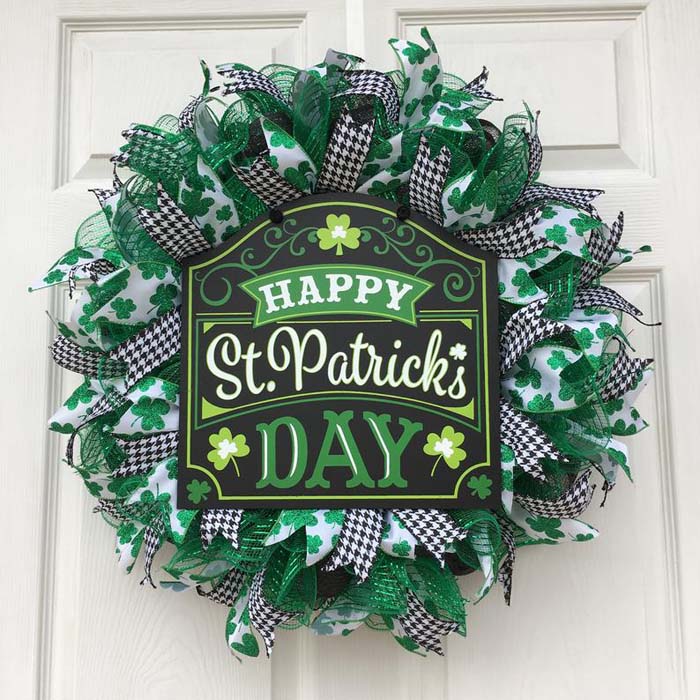 Add a little color flair with a black and white ribbon in between the green ribbon for this door wreath.
via Etsy
17. Make a Unique Leprechaun Wreath with Orange Yarn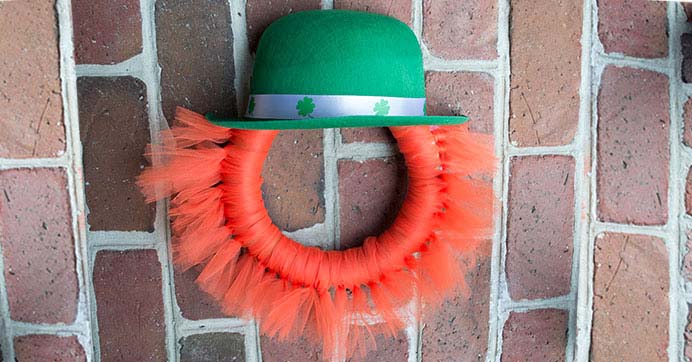 Leprechauns are a classic piece of St. Patrick's Day. This door wreath has an orange fuzzy circle and green hat to make a cute leprechaun.
via Dollar Tree
18. Give a Burlap Wreath a Rustic Look with Scrabble Pieces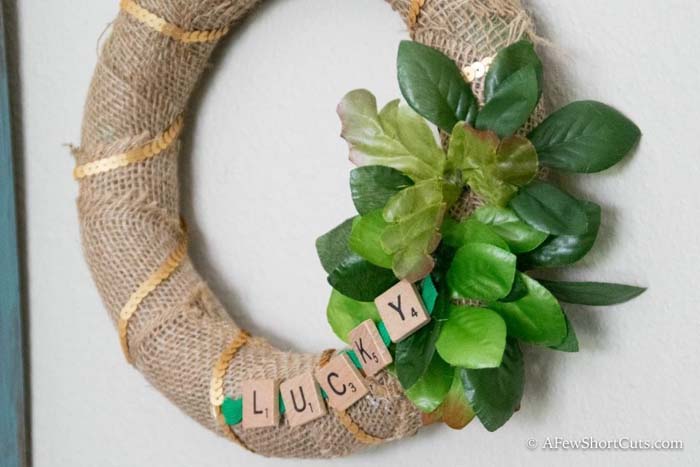 Scrabble letters are a marvelous idea for adding the word Lucky to spice up a basic door wreath.
via A Few Shortcuts
19. Decorate with a Hanging St. Patrick's Day Fabric Wreath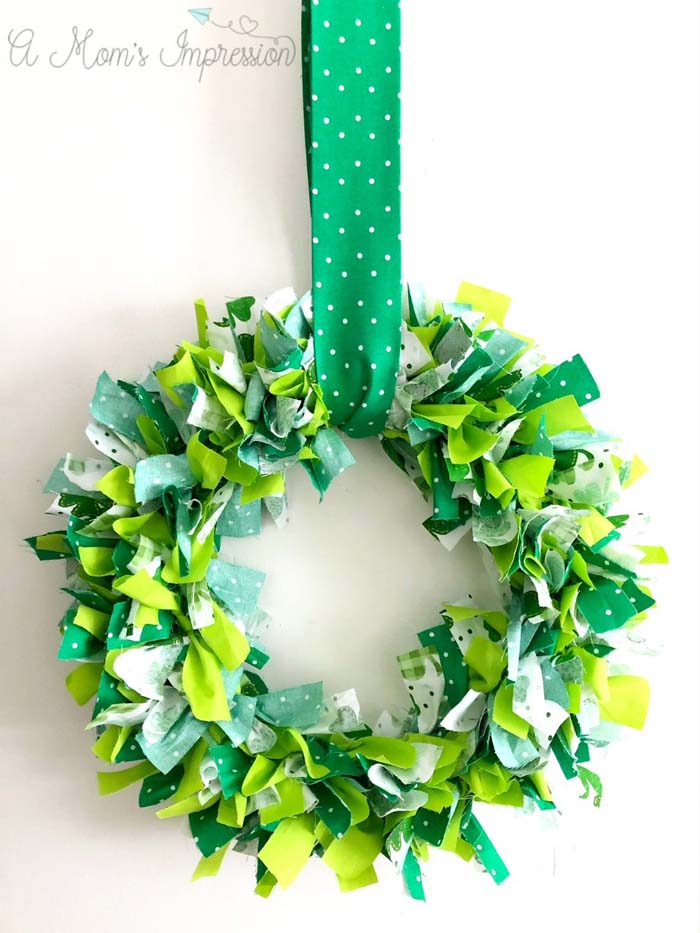 This is a very green fabric scrap wreath. The whole thing hangs from a green strip of fabric.
20. Add Monogrammed Letter to a Moss and Burlap Wreath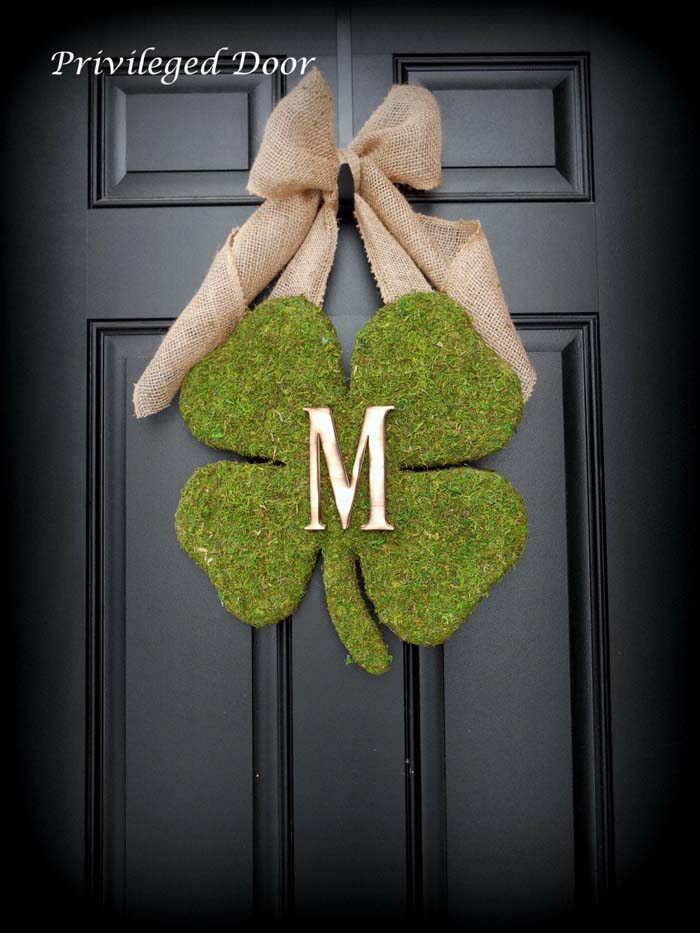 You can find pieces of green moss at most major stores. Then cut it into a shamrock shape. You can add letters or other monograms to personalize the day.
via Etsy
21. Decorative Wooden Shamrock for Your Wreath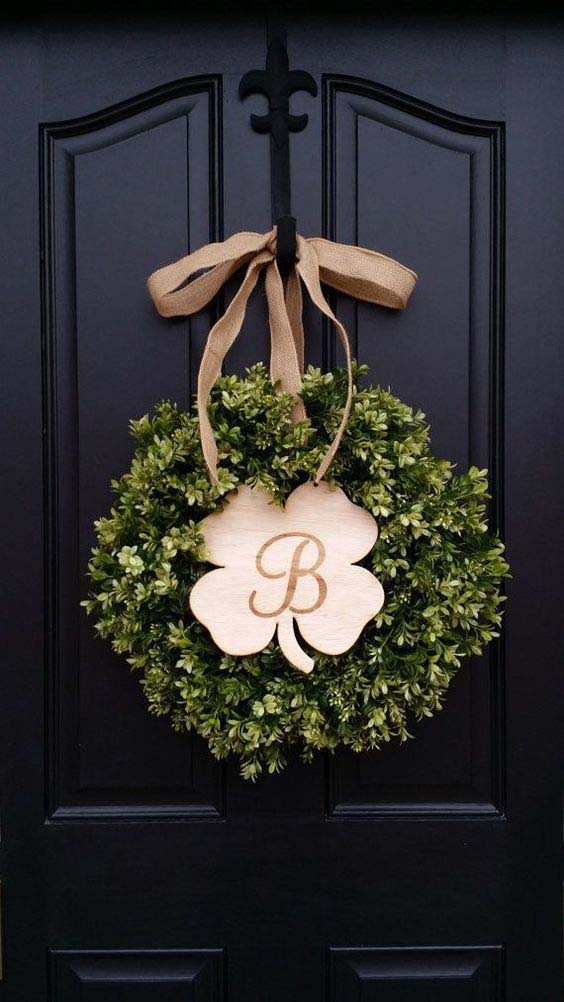 A wooden shamrock encircled in a green wired plant is a simple but marvelous door wreath.
via Etsy
22. Welcome March with a Bright Green Felt Wreath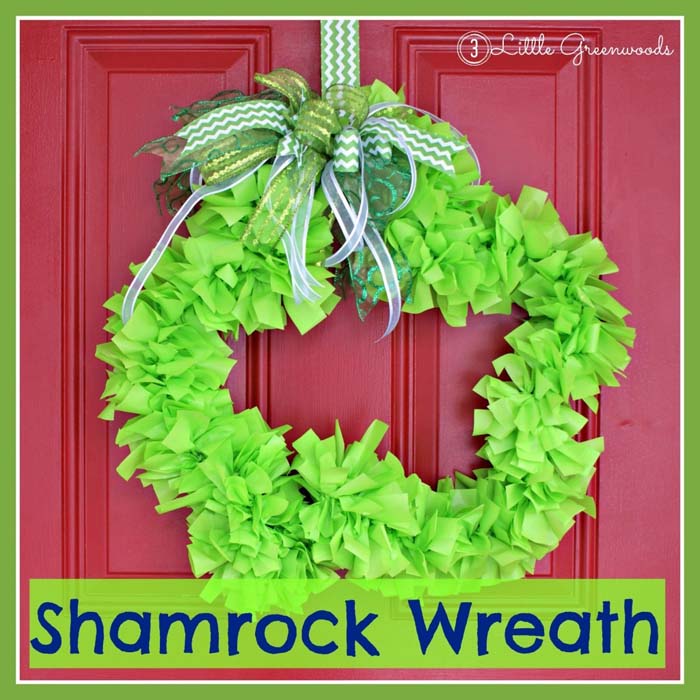 Bright green felt tied on a circle wire is a wonderful door decoration for March.
23. Artistic Shamrock Wreath with Green Cardstocks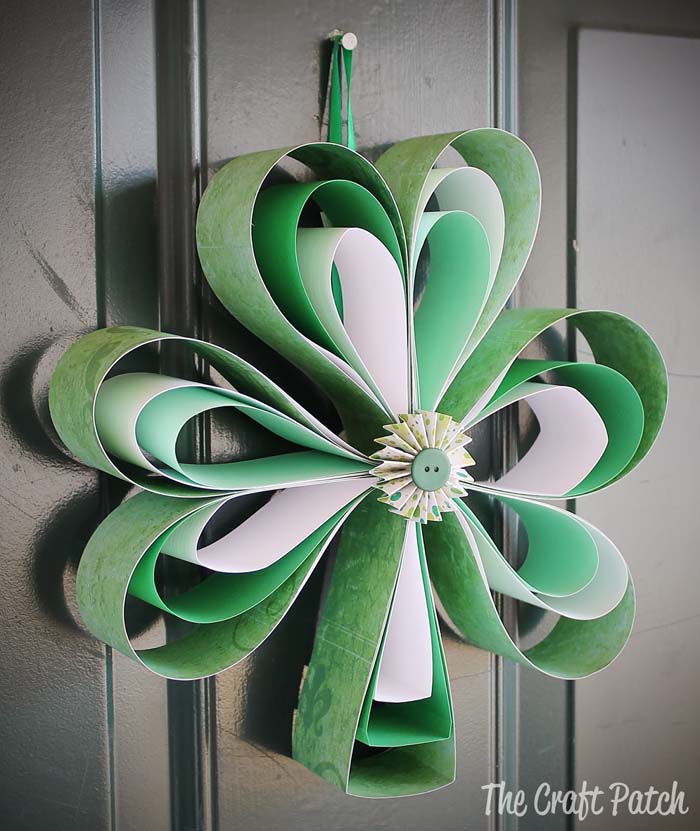 Green cardstock can be bent and contoured into the perfect shamrock shape. Add flower-shaped paper in the middle and a button to complete the decoration.
via The Craft Patch
24. Repurpose a Pool Noodle into a St. Patrick's Day Wreath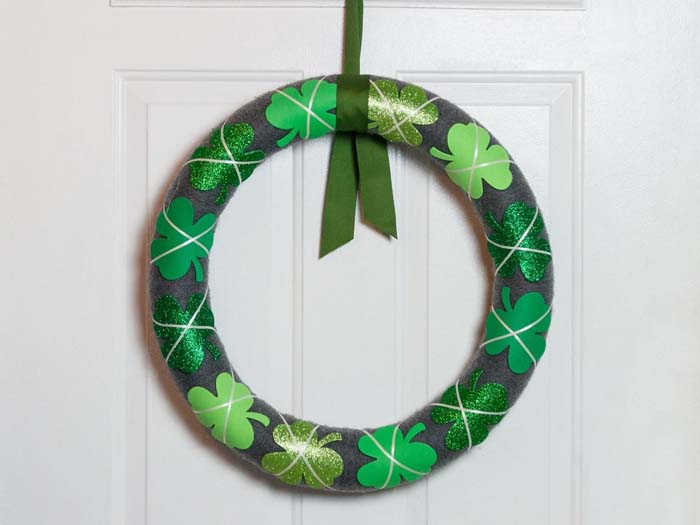 A thin black pool noodle shapes the perfect circle. Then using a ribbon you can argyle attach shamrock shapes onto the noodle. Hang it from your door to scream St. Patrick's Day.
via DIY Network
25. Use Balloons to Make a Rainbow-Colored Wreath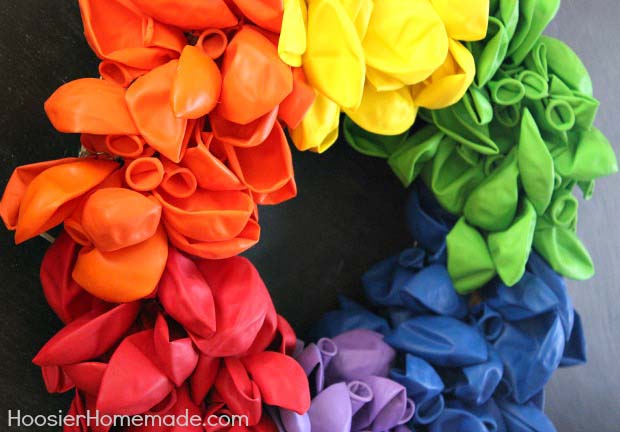 Tie unblown up balloons on a circle shape to make a bright and colorful door decoration.
via Hoosier Homemade
26. Create a Rainbow Wreath with Yarn and Pool Noodle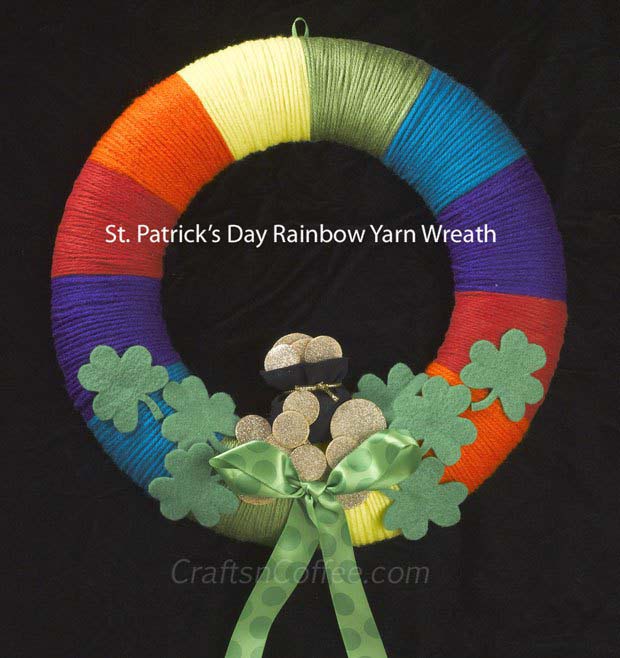 With a pool noodle as a base, wrap a multi-colored string around it. Then add St. Patrick's day themed decor, such as a shamrock and coins, in the middle.
27. Add Decorative Ribbons to a Pool Noodle Wreath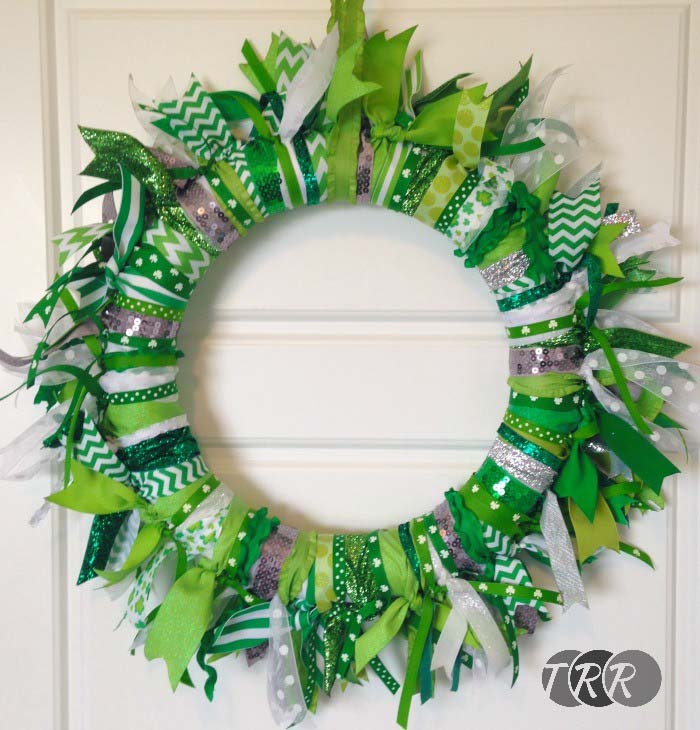 Using a white pool noodle as a base, tie St. Patrick's colored ribbon around it. Point the bows upward to give it a flowery look.
28. Make a Festive Saint Patrick's Day Clothespins Wreath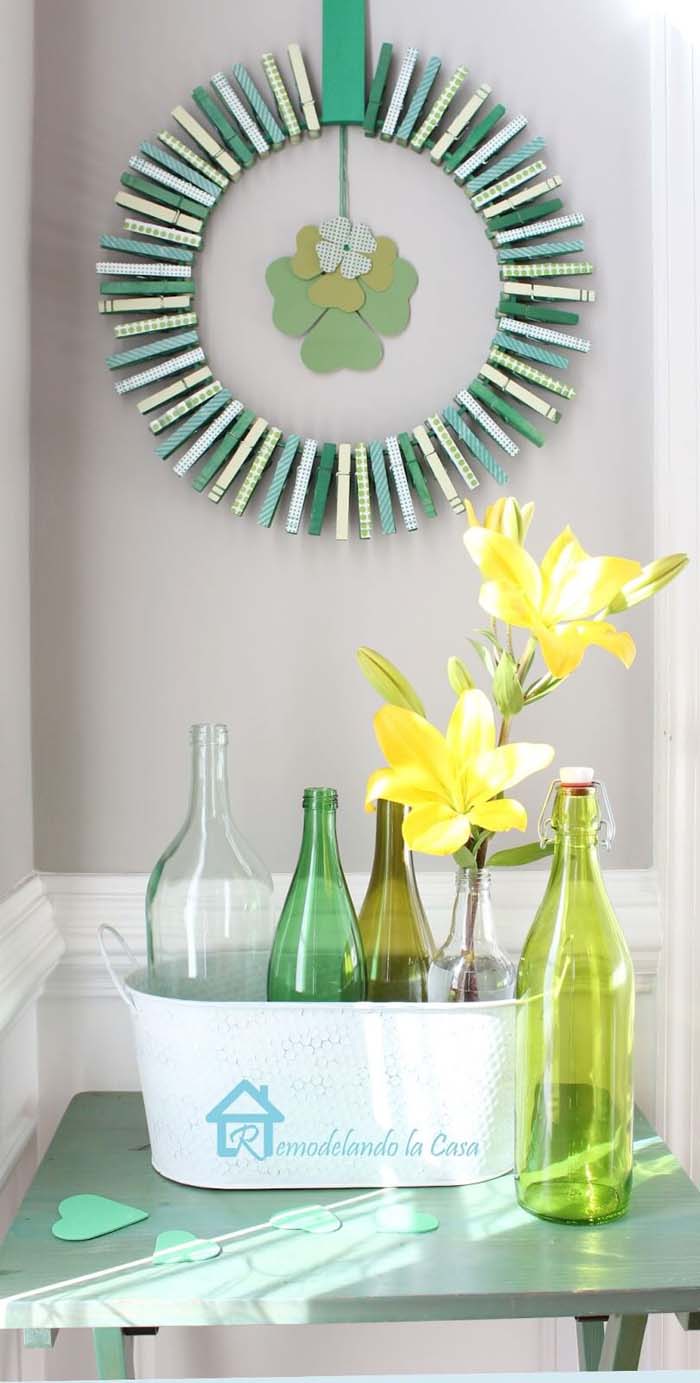 Start this wreath by painting basic wooden clothespins in St. Patrick's day colors. Then pin them in a circular wire. And hang a shamrock in the middle.
29. Give a Wreath a Modish Look with Gold Coins Accents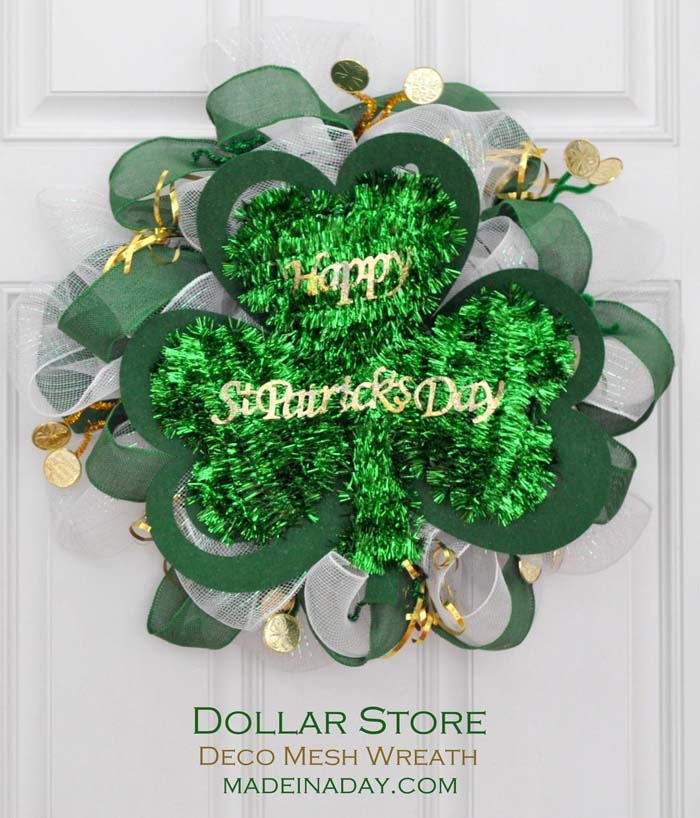 You can purchase frilly St. Patrick's Day shamrocks at the dollar store. Then you can tie a green ribbon around the edges for a perfect door decoration.
via Made in a Day
30. Add a Ribbon and Sign to a Styrofoam Wreath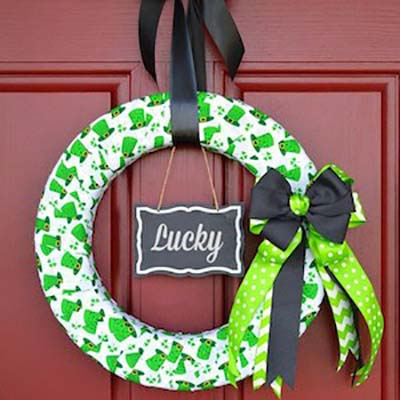 Using a styrofoam circle, glue green St. Patrick's day themed fabric on. Then decorate with a ribbon and sign in the middle.
31. Use Different Colored Shamrocks for Your Door Decor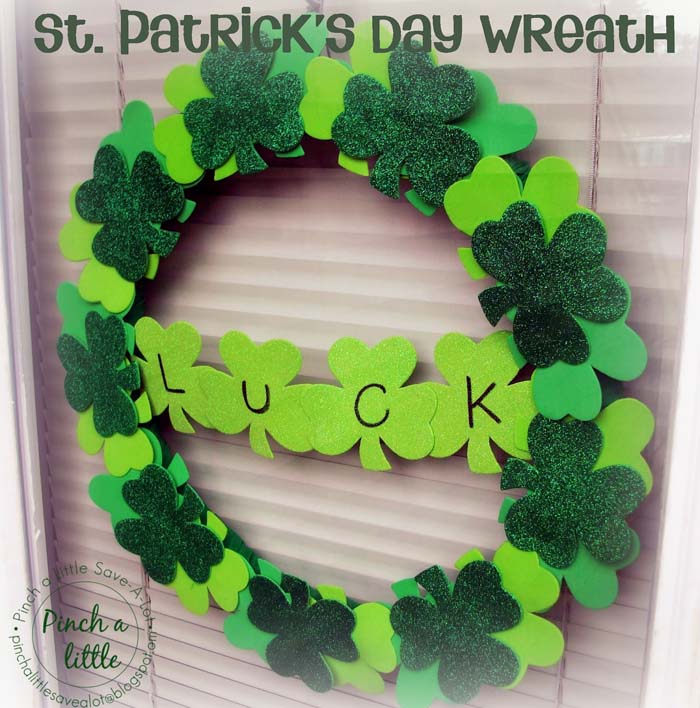 Different colored green shamrocks cut from cardstock could be used to make a super simple door decoration.
32. Adorn a Doorway with Green Tulle Bows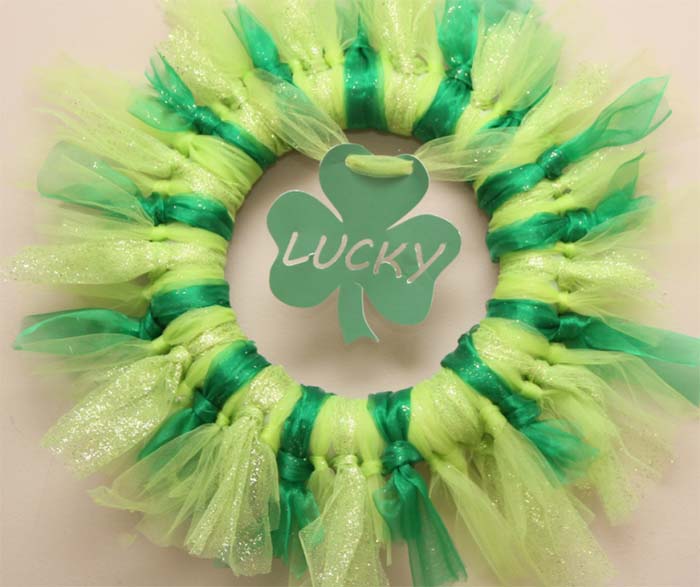 Tulle is a super sheer but very lovely crafting fabric. This door hanging ties green tulle bows around a circle.
33. Make a Contemporary Shamrock Wreath with a Wire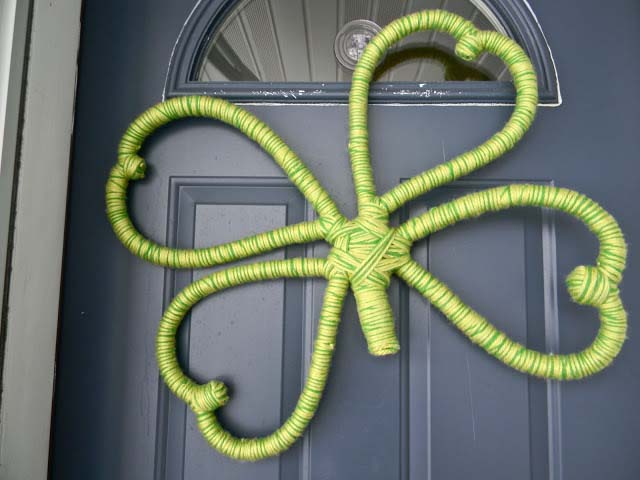 Use wire to make the basic shamrock shape, then cover in wrapped green and dark yellow yarn.
via Bugaboominimrme
34. Make a Bold Statement with this St. Patrick's Day Wreath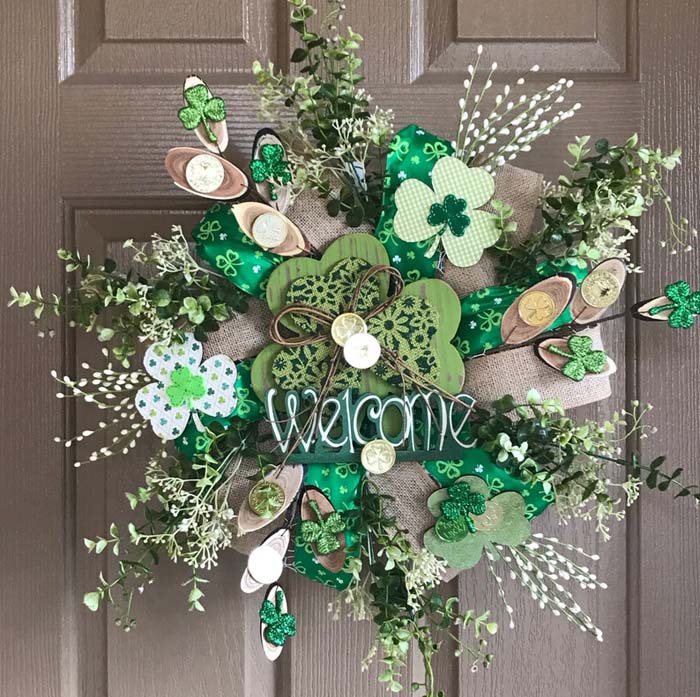 For a more exciting door decoration try this. Add all sorts of green ribbon, bows and even white plants. Add a small welcome sign in the middle to complete the look.
via Etsy
35. Create a Tape Shamrock Wreath with a Bow Accent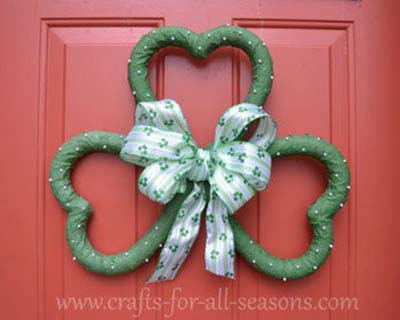 This basic door wreath is a basic shamrock shape wrapped in green tape. The bow in the middle completes the simple look.
36. Craft a St. Patrick's Day Wreath with Green Split Peas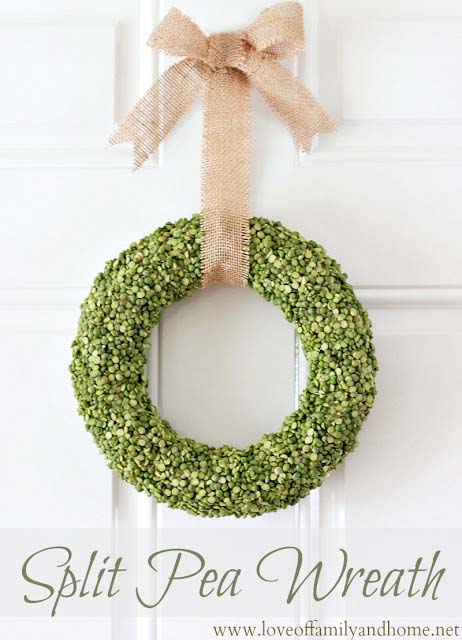 Glue green split peas on a circular wreath base. It makes it simple and easy to do yourself St. Patrick's Day decoration.
37. Make a Wreath with Uniquely Arranged Circular Ribbons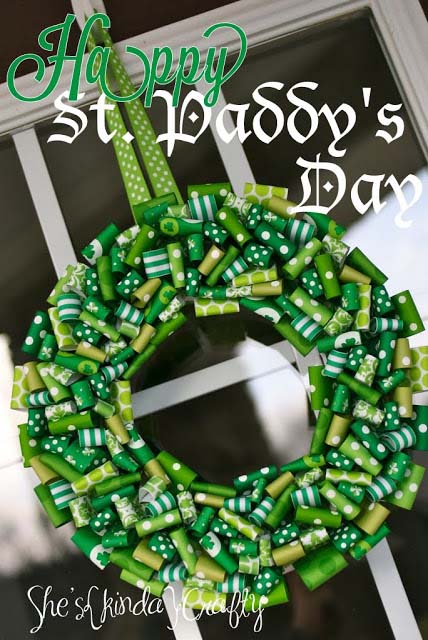 Make this cute wreath by gluing ribbon in circle shapes. Then glue them onto a wreath base.
38. Combine Green and White Ribbons for a Chic Wreath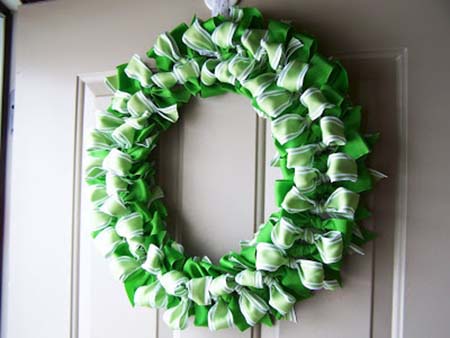 This wreath has a pattern of green ribbon bows and green/white ribbon bows. The pattern makes it very appealing to the eye.
via BabsMadeIt
39. Create a Natural St Patrick's Day Wreath with Twigs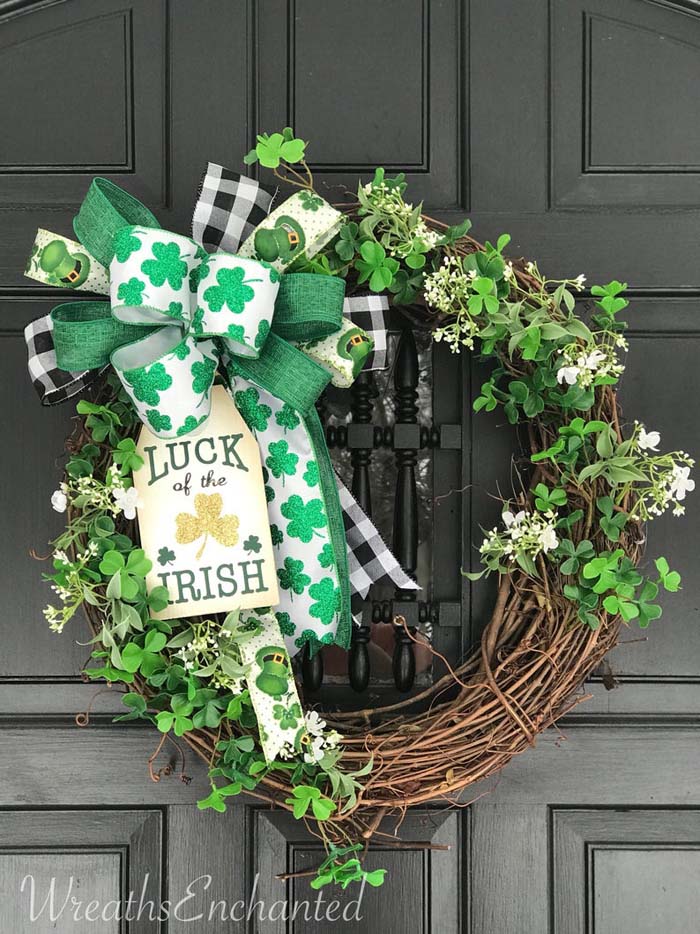 This natural-looking wreath has green plant life but also brown stems. It gives St. Patrick's Day a natural look.
via Etsy
40. Decorate Burlap Wreath with Shamrocks and Rainbow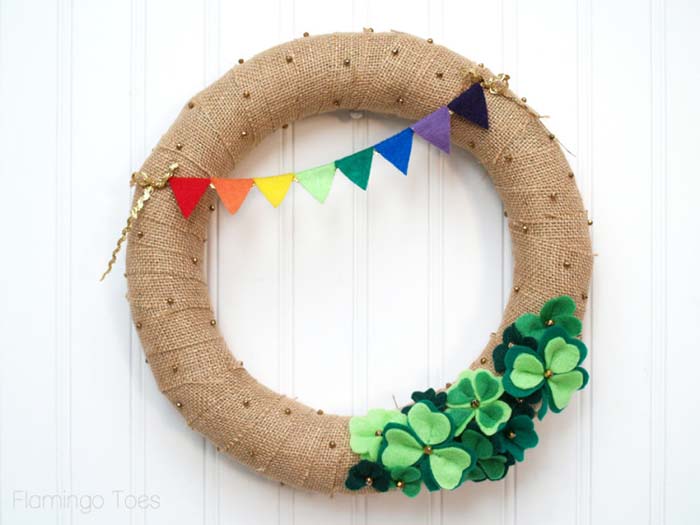 This very darling wreath is wrapped in basic burlap. The ribbon adds a pop of color and the green shamrocks complete the St. Patrick's look.
via Flamingo Toes
41. Create a Magical Wreath with an Old Black Witches Pot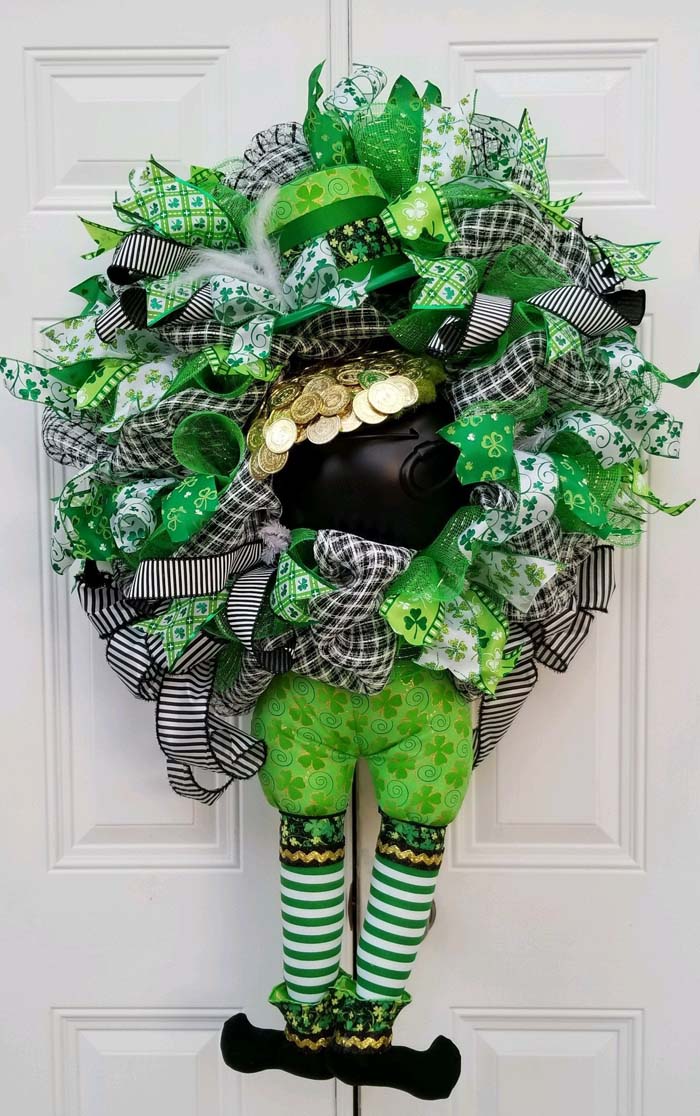 Have an old black witches pot from Halloween? It makes the perfect pot for the end of the rainbow, or the center of this adorable wreath.
via Etsy
42. Make a Festive Wreath with Green Flowers and Ribbon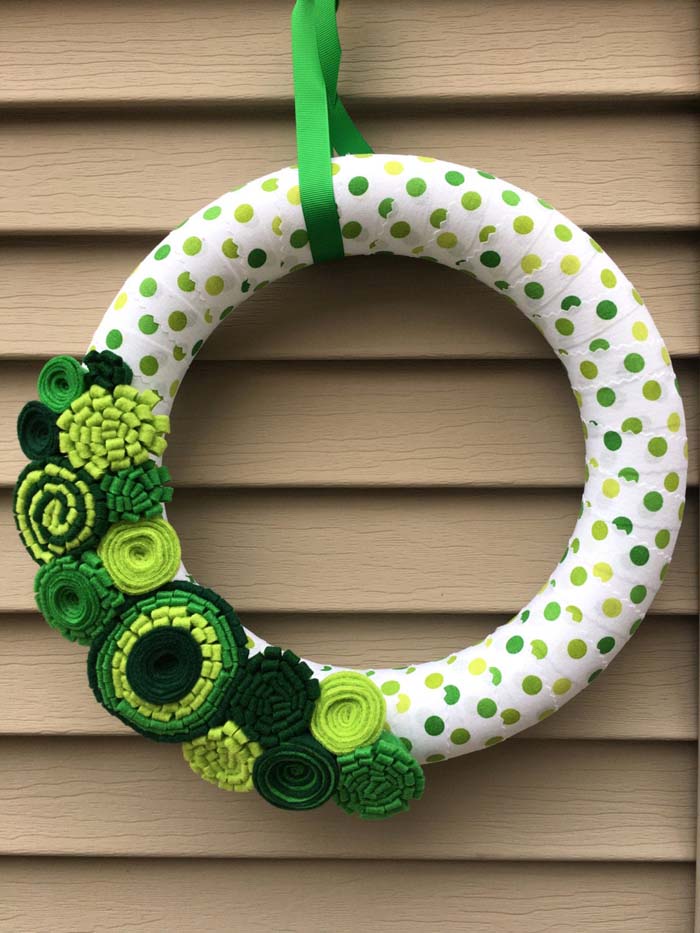 Purchase some green flowers and green and white ribbon. The ribbon is a perfect base to wrap around a wreath base and the flowers add a classic touch.
via Etsy
43. Enhance Porch with a St. Patrick's Day Grapevine Wreath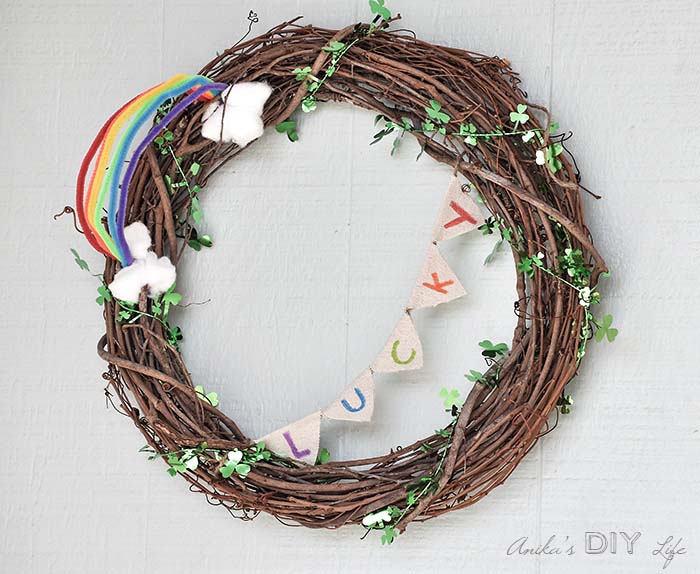 Grapevine is a nice natural brown color. Then you can add shamrock green leaves and a rainbow. This gives it a St. Patrick's Day look.
via Anika's DIY Life
44. Use Different St. Patrick's Day Elements for Your Wreath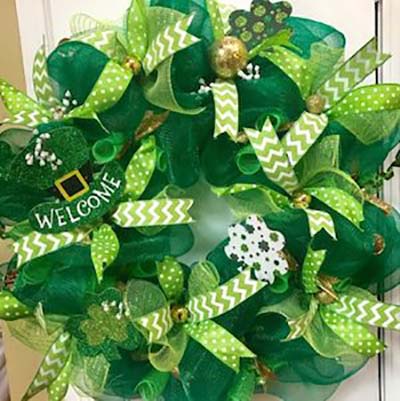 Use many different sizes and colors of St. Patrick's Day ribbon to make this frilly door wreath.
45. Impress Guests with a Paper Fan Wreath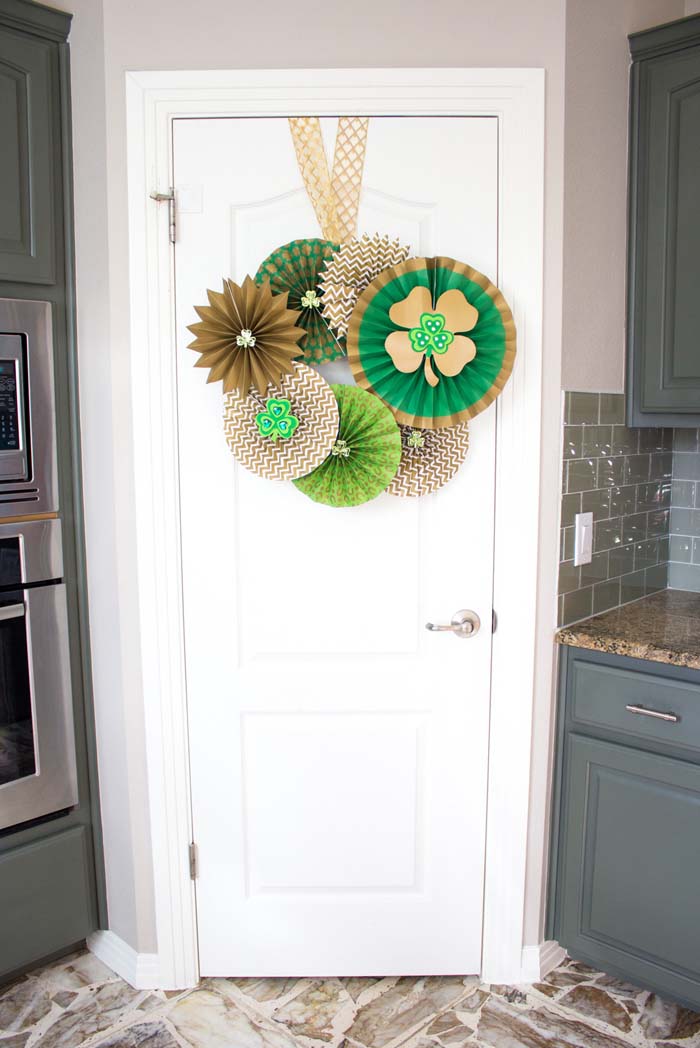 Paper fans can be glued together in a circular form. Add brown and green shamrocks and brown and green ribbon to hang it.
46. St. Patrick's Day Wreath with Pom Poms and Shamrocks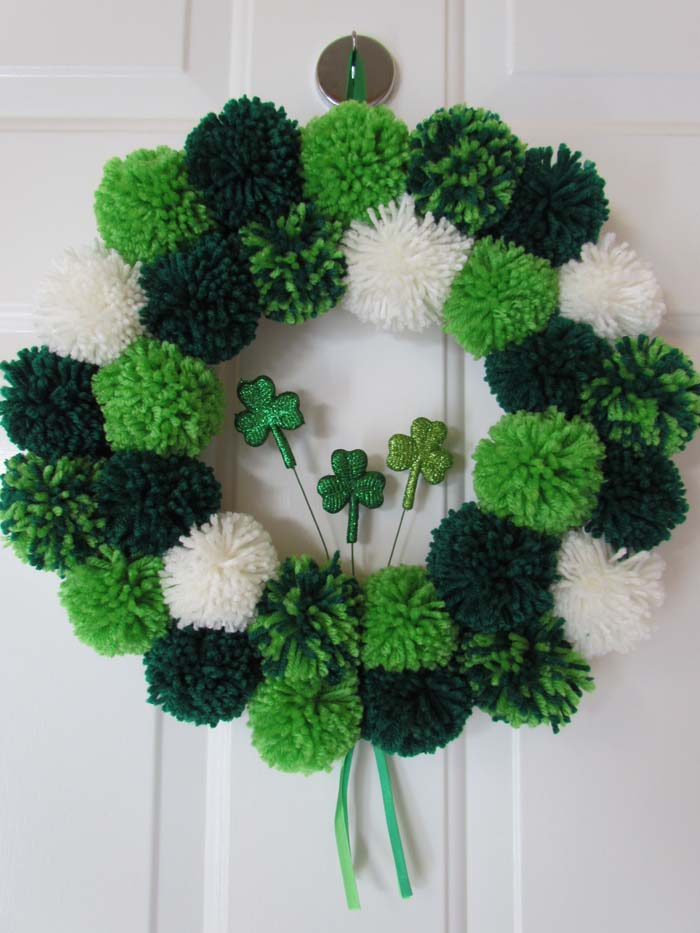 To make this fun and adorable door wreath, glue a ton of green-tinted and white pom poms on a styrofoam wreath. Add little shamrocks in the middle to really make it St. Patrick's Day theme.
47. Repurpose Old Rags into a Colorful Wreath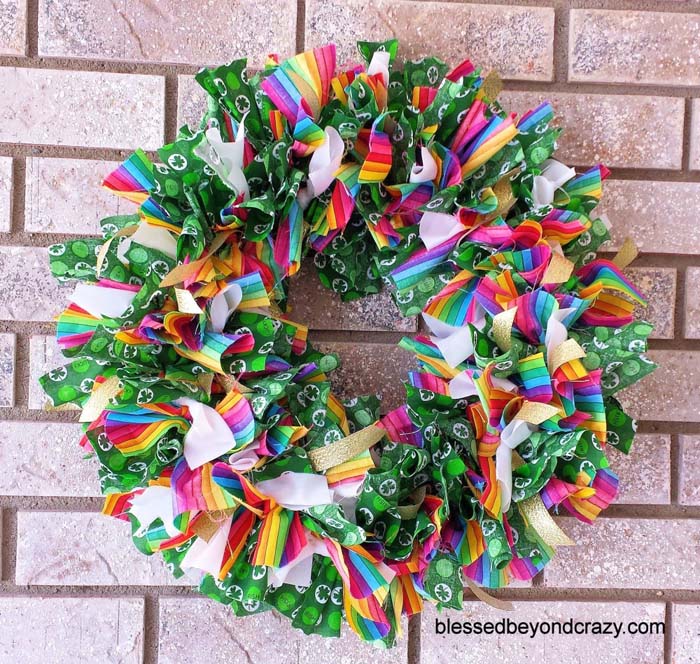 Old rags are really not good for anything but trash. But this wreath gives them a new purpose. Tie green and rainbow-colored rags to a wreath.
48. Create an Eye-Catching Shamrock Decoration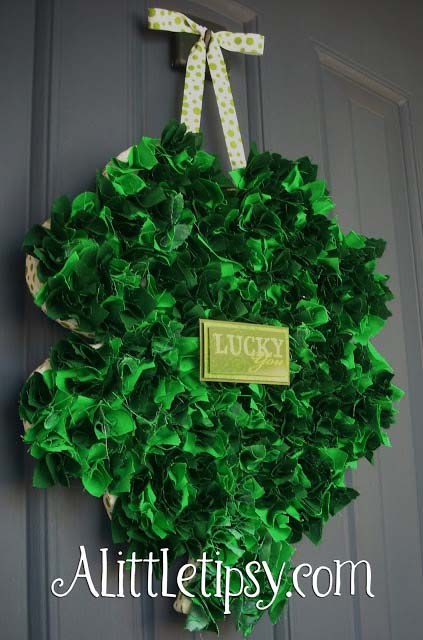 Cut a shamrock shape out of cardboard and add all sorts of green paper on top to give it a grassy look. Hang it with a burlap or ribbon.
via A Little Tipsy