Finally, March gives us a glimpse of spring and warmth.
With spring in its earliest phase, it gives time for celebration. There is a renewal of the world as things start to rejuvenate. It's also time for celebrating!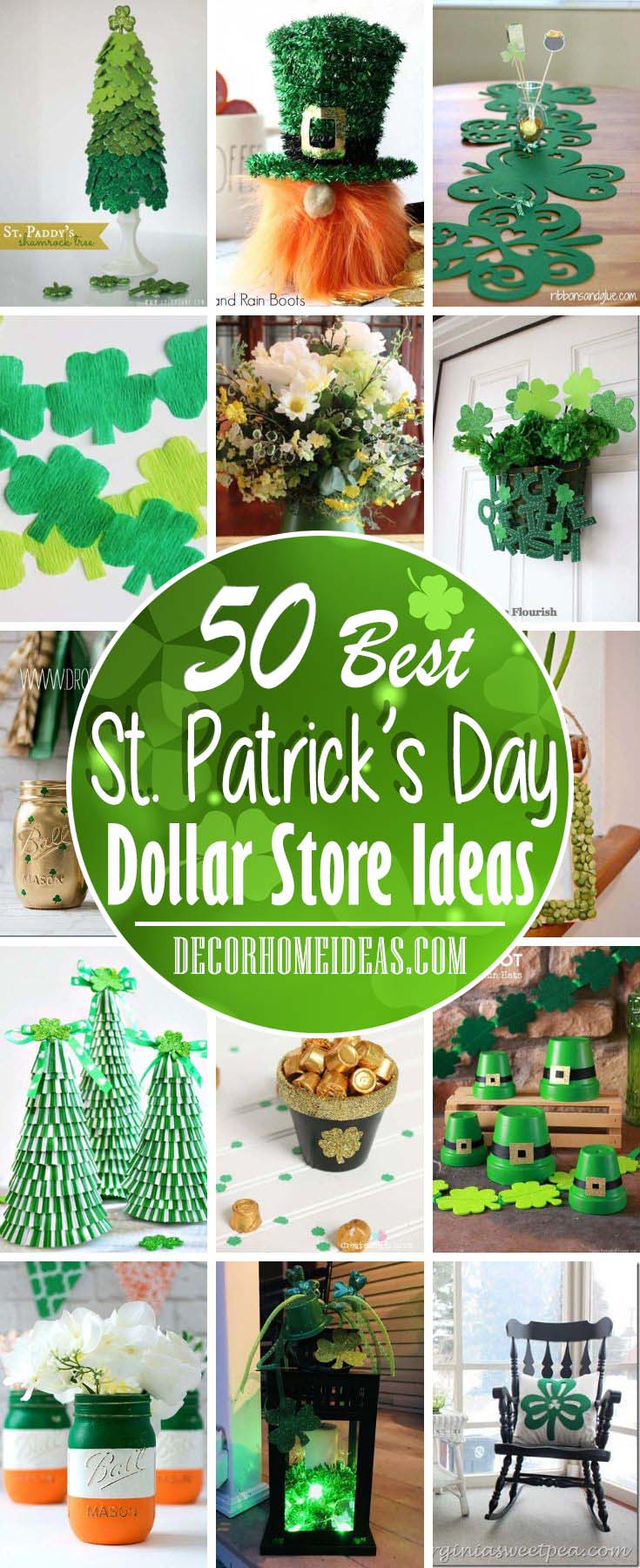 March brings St. Patrick's Day. A celebration of life, leprechauns and a pot of gold at the end of the rainbow. There are so many do-it-yourself decoration ideas especially if you are ready to visit the nearby Dollar Store and get a basket full of charms. ( by the way, if you are not feeling confident about the outcome, you can always shop for some great decorations HERE )
From felt to plant pots, there are many things in your everyday life that you can spice up and make a St. Patrick's day theme.
So enjoy this holiday and decorate your house using some of these great ideas.
1. A Dollar Store Challenge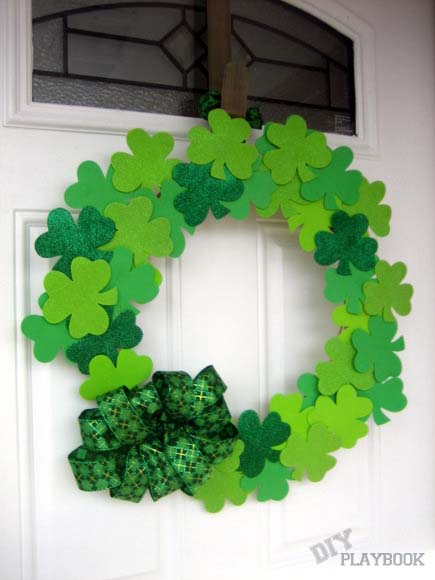 Felt is super easy to cut some shamrocks from. Then arrange them on a door wreath base and hang on your door.
via DIY Playbook
2. Burlap Shamrock Wreath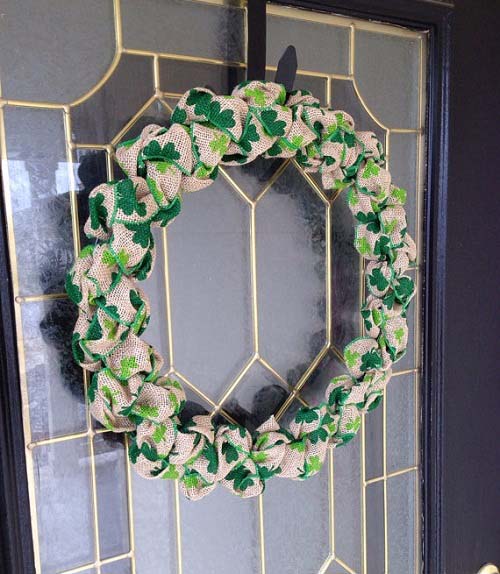 If your home has a more country feel, try this burlap door wreath. The green shamrocks give it a subtle but appropriate St. Patrick's Day.
3. Clay Pot Leprechaun Hats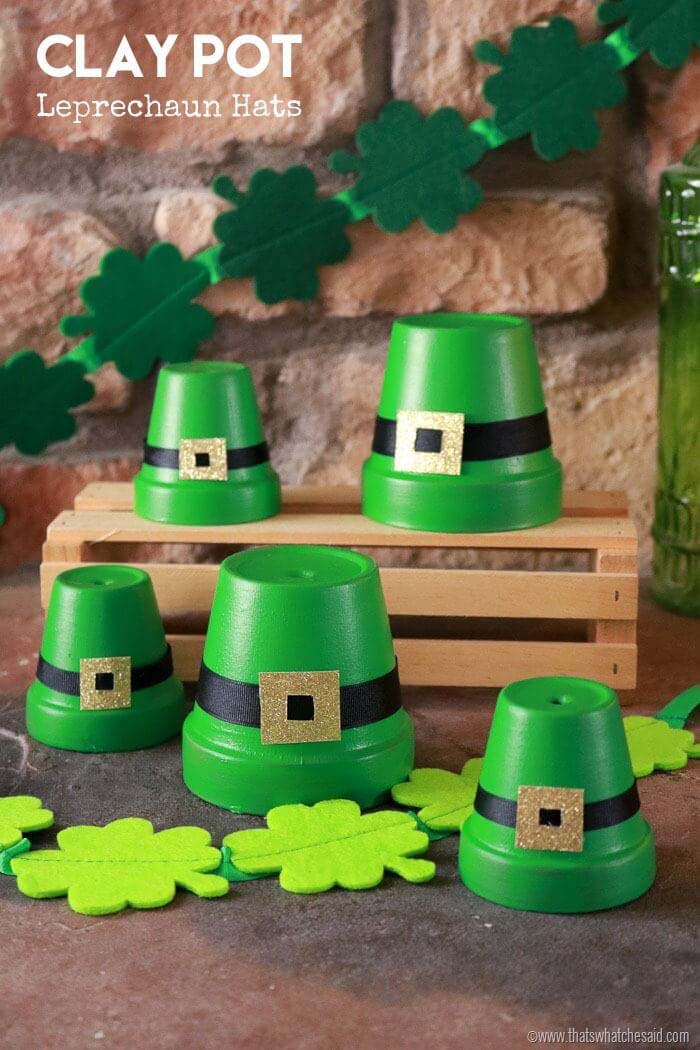 Clay pots make perfect hats. Paint them green and add a belt for a leprechaun look.
4. Cupcake Liner St. Patrick's Day Trees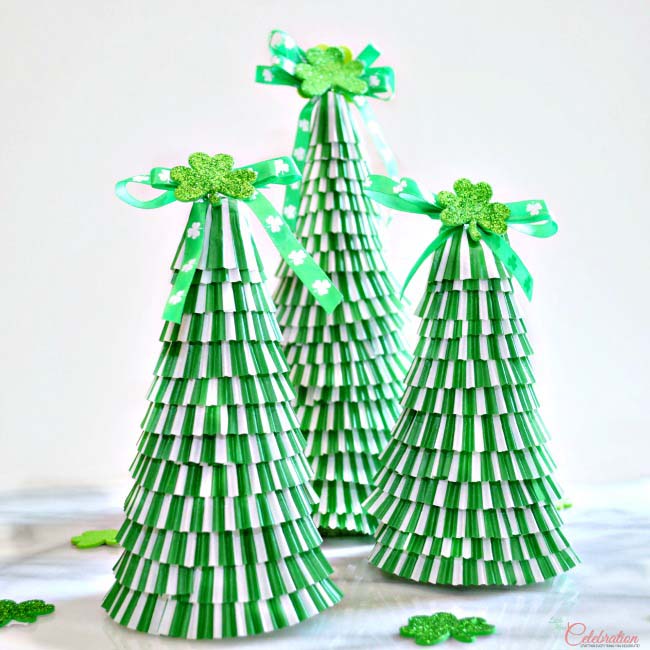 Do you have any green cupcake liners? Make them into a St. Patrick's Day mini tree. Add a green shamrock on top to complete the look.
5. Deco Mesh St. Patrick's Day Wreath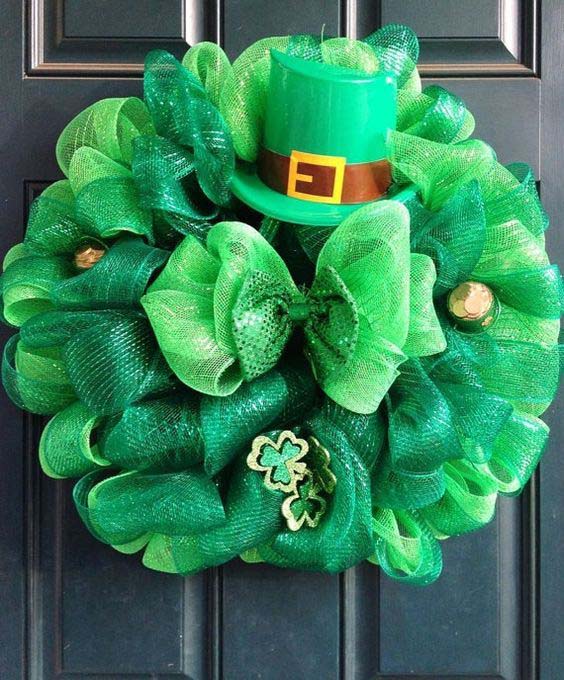 Mesh is the ultimate fluffy material for a wreath. Then add a leprechaun hat to your door for a great front door decoration.
6. DIY Dollar Store St. Patrick's Day Pillow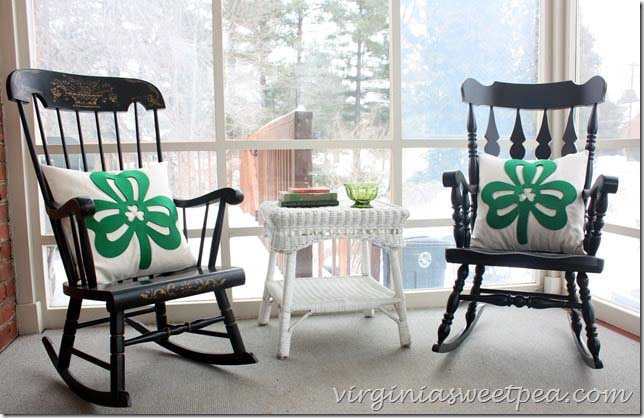 Spice up your chairs and couch. Turn these basic pillows into holiday pillows by sewing on shamrocks.
7. DIY Kissing Balls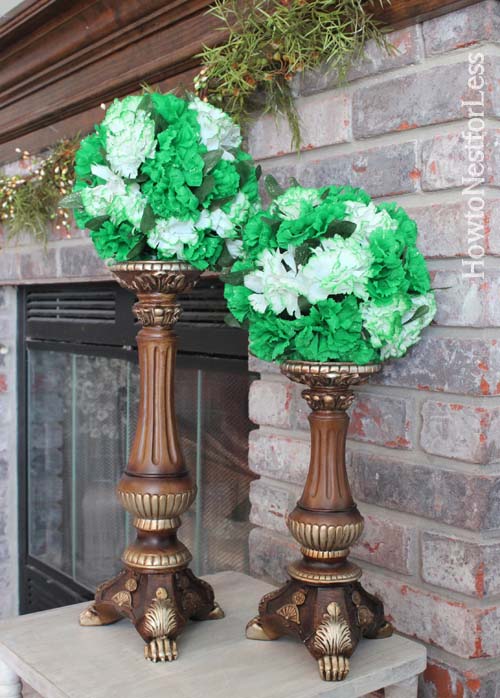 Dollar Store flowers are perfect for making these green and white flower balls. Add them around your house to give the Patricks day touch.
8. DIY Planter for St. Patrick's Day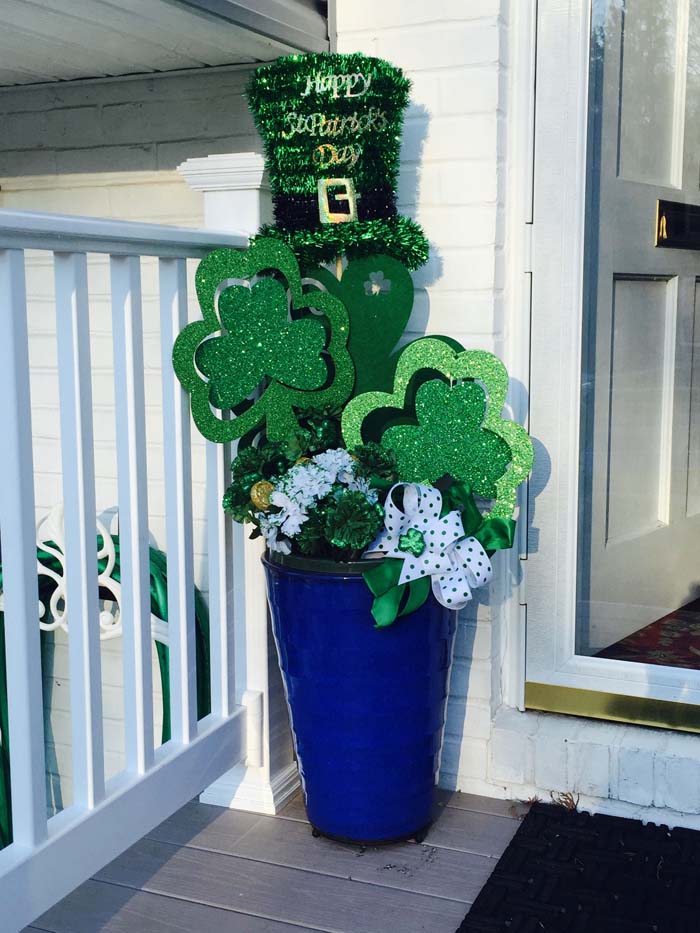 It's too early in spring to plant anything outdoors. So try this DIY planter decoration by adding Dollar Store shamrocks and ribbon to your front door planter.
9. DIY Shamrock Streamers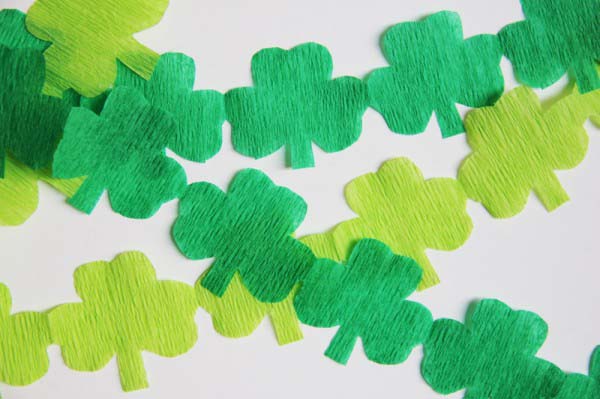 Make streamers from green cardstock. They can be hung anywhere and are excellent for a St. Patrick's Day party.
via Studio DIY
10. DIY St. Patrick's Day Centerpiece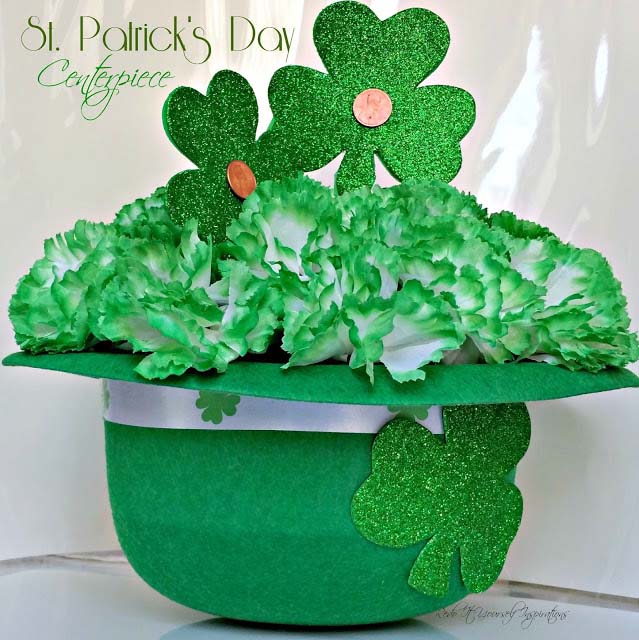 Make the beautiful centerpiece for your St. Patrick's party. Turn a dollar store leprechaun hat upside down and add Dollar Store flowers.
via Redo It Yourself Inspirations
11. DIY St. Patrick's Day Lucky Poppers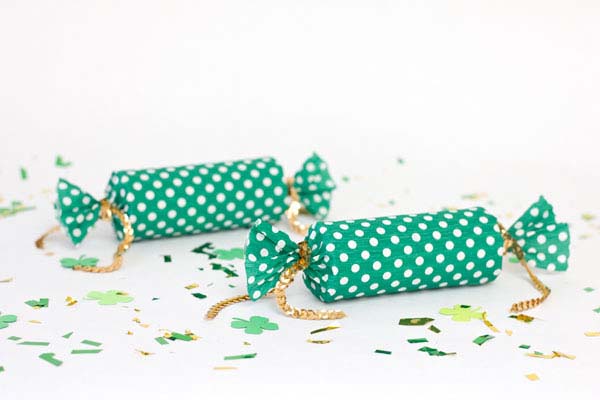 These poppers are for your door. Give your party guests a scare by making a popper that busts green confetti when they come in the door.
via Studio DIY
12. Dollar Store Lantern Decor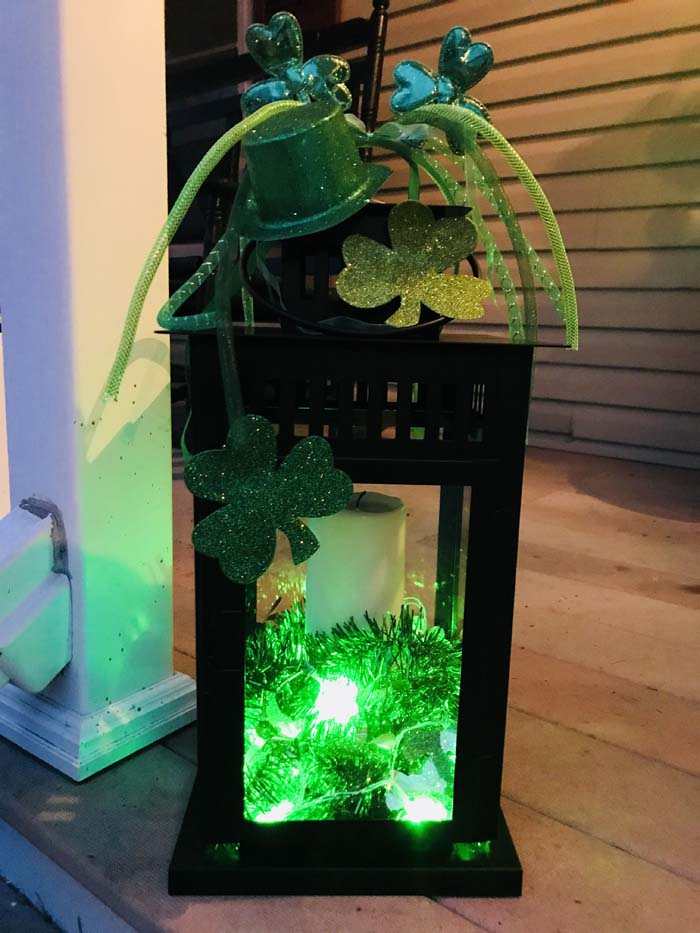 Dollar Store lanterns are a magnificent base for decoration. Then add green plastic grass, lights and shamrocks.
13. Dollar Store Shamrock Craft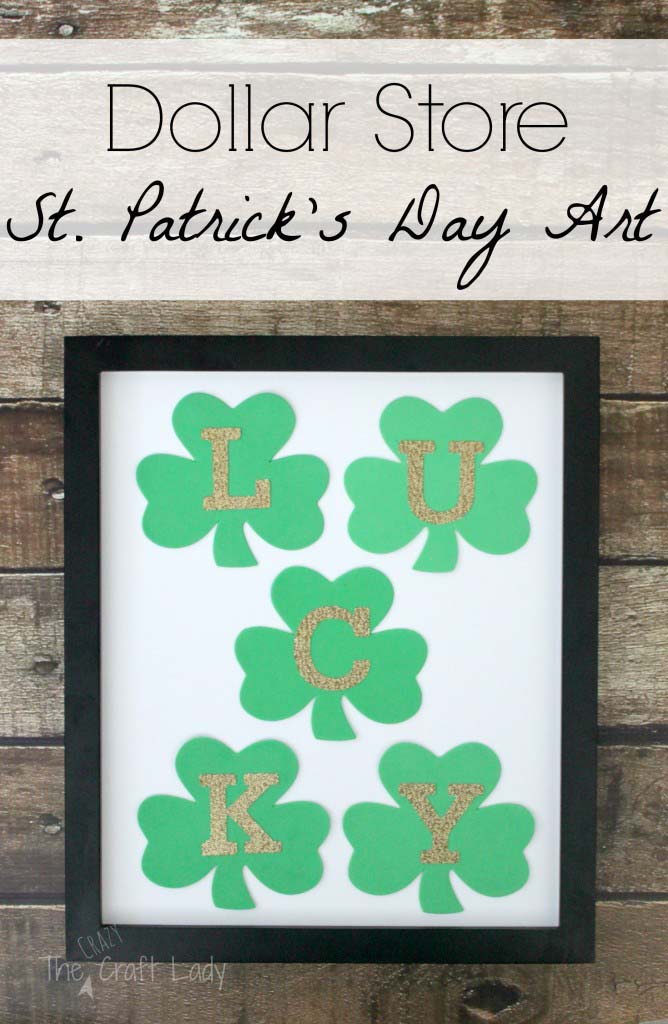 Need a wall hanging for your decoration? This picture is made with green cardstock shamrocks and gold shimmering LUCKY letters.
14. Dollar Store Shamrock Wreath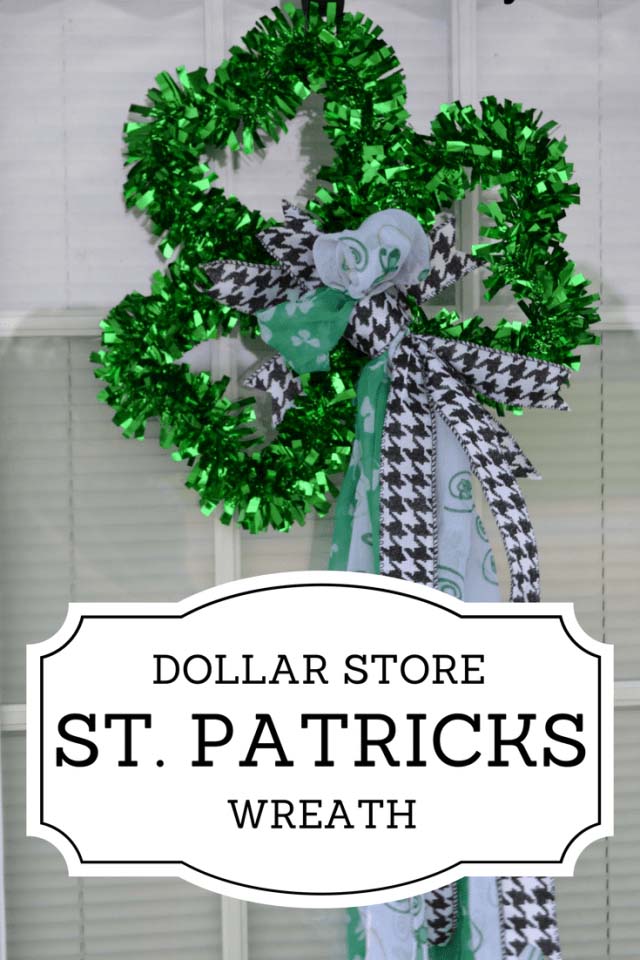 Dollar stores sell these sweet wire shamrock wreaths. They can be spiced up with a little ribbon bow.
15. Dollar Store St. Patrick's Day Door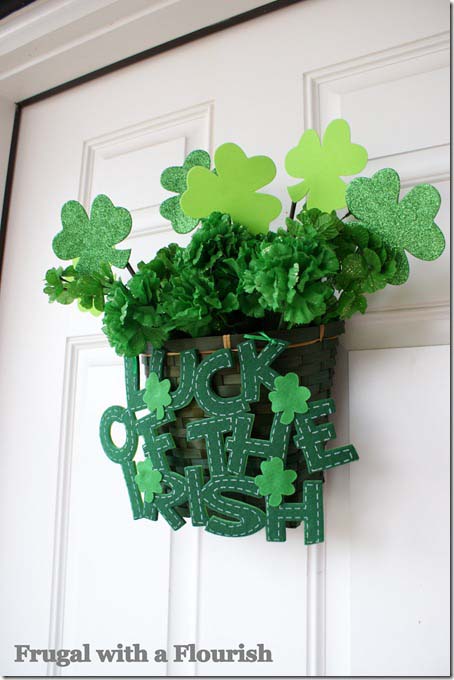 Give your front door a new look with this basket. Add a dollar store felt sign to the front and fill with flowers.
16. Dollar Store St. Patrick's Day Door Hanger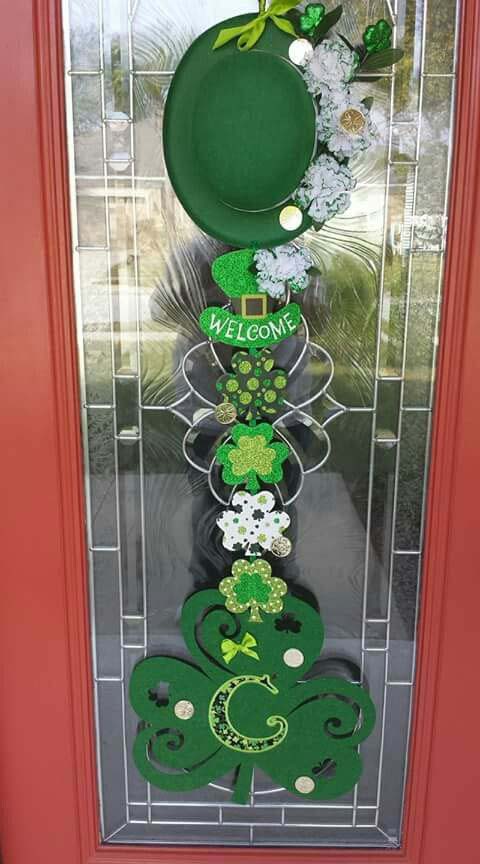 This door stringer is simply made from felt shamrocks, felt letters and an oversized shamrock at the bottom. You can even personalize it with the first character of your family's last name.
17. Dollar Store St. Patrick's Day Garland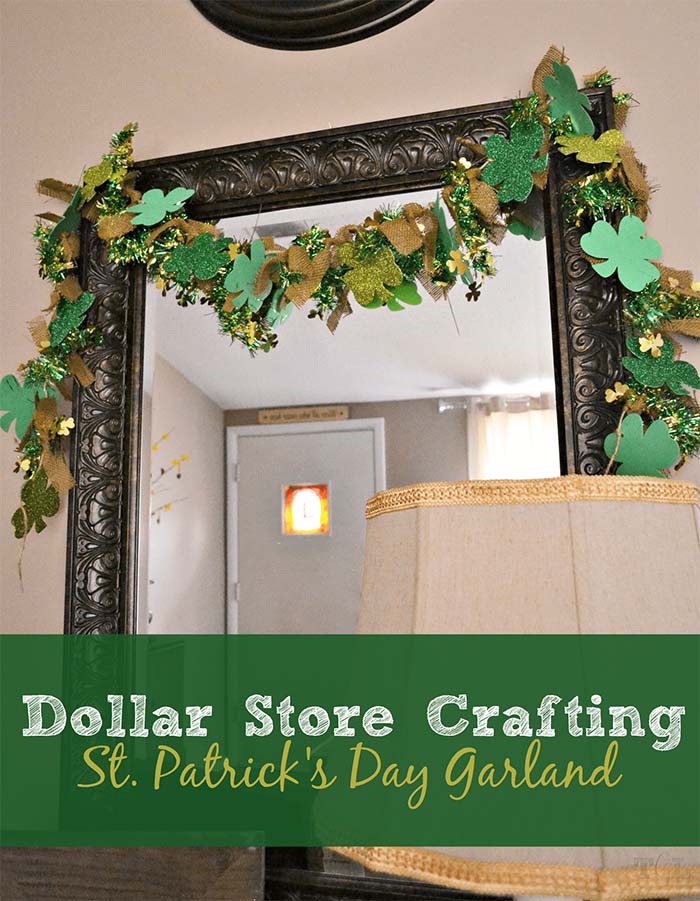 This garland is perfect for St. Patrick's Day celebrations. And it is inexpensively bought at the dollar store.
18. Framed Moss Shamrock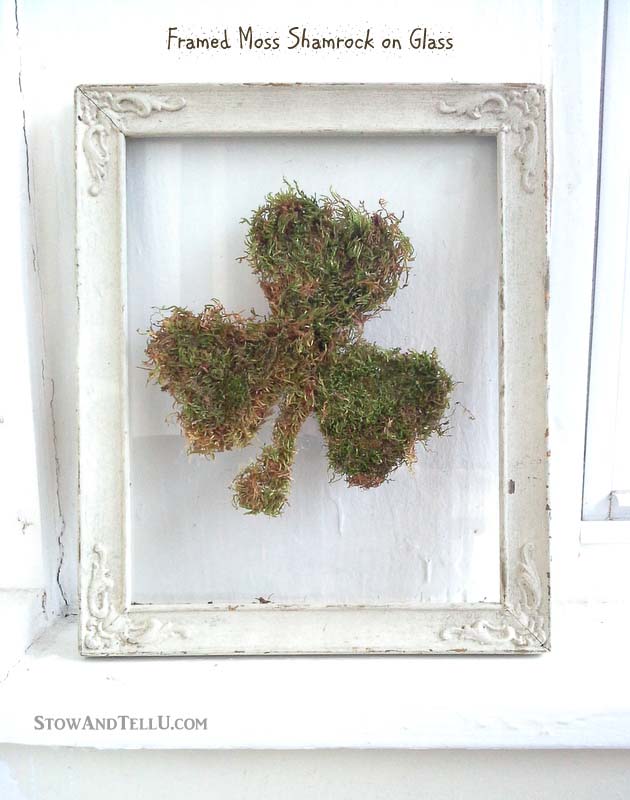 Green moss is brilliant for St. Patrick's Day celebrations. Frame it in glass and make it a centerpiece wall hanging for your celebration.
via Show and Tell U
19. Free Lucky Printable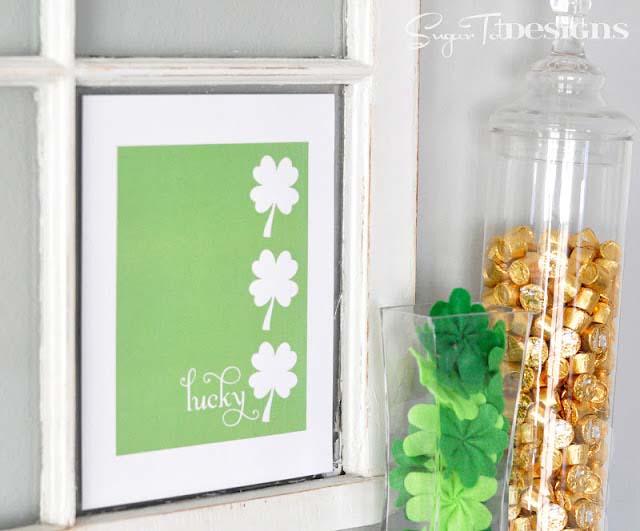 This simple decoration is easily printed on cardstock. Then cut it out and frame it. Simple but pretty!
via Sugar To Designs
20. Glitter Shamrock Banner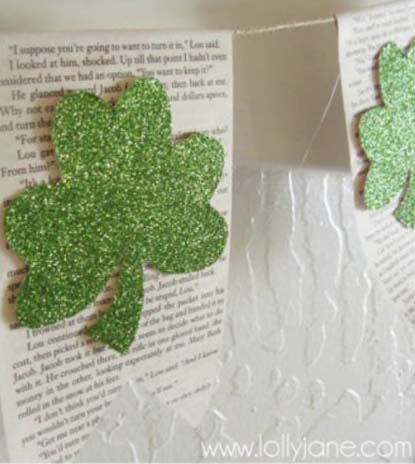 Classic paper is a great background for green shamrocks. They are also simple to string together for an awesome St. Patrick's Day banner.
via Lolly Jane
21. Glitter Shamrock Moss Art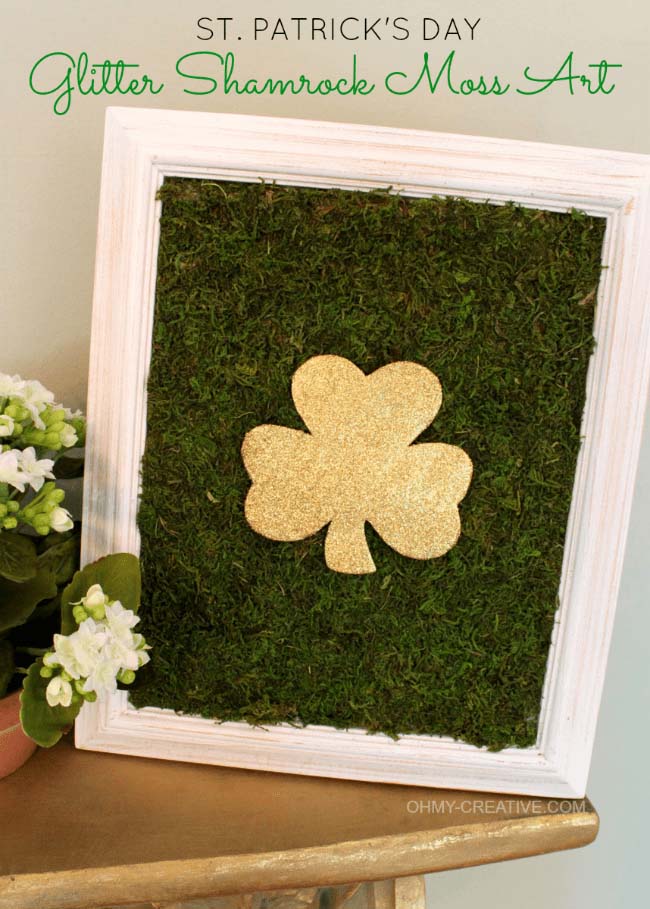 Fake moss makes a great green background. Then a gold or white shamrock on top complete the holiday look.
via Oh My Creative
22. Ireland in a Jar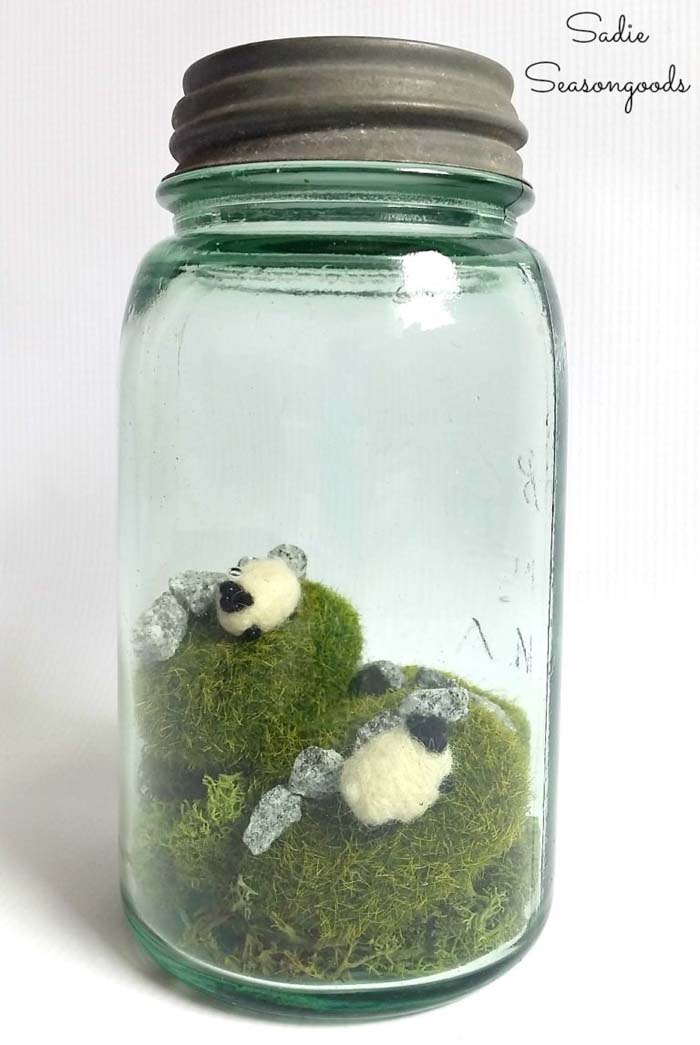 Mason jars are adorable little snow globes. Then add a green pasture with white cotton ball sheep. Little rocks complete the look and give it an Ireland feel.
23. Irish Coffee Mugs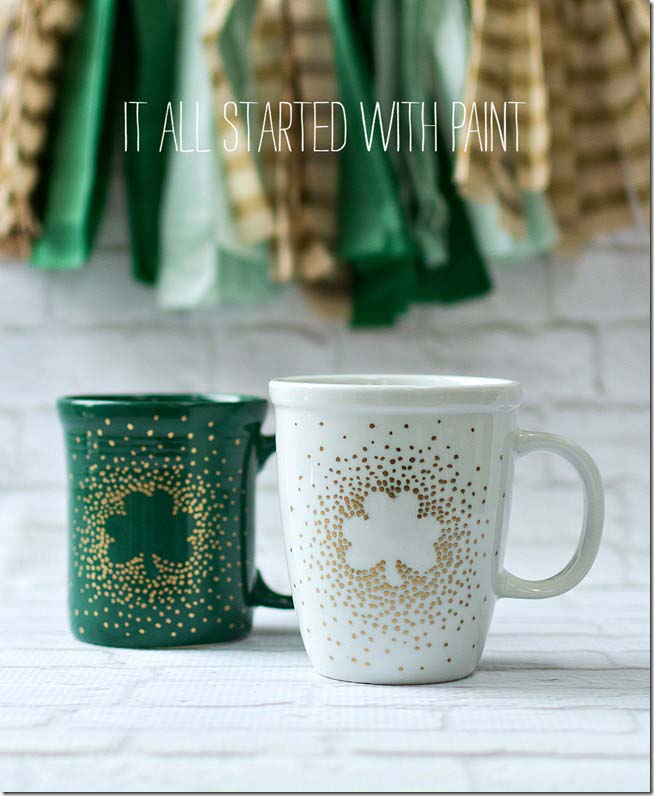 To make these luck of the Irish coffee mugs, use a gold sharpie and cardstock cut in a shamrock shape. Place the cardstock shamrock on the mug and dot around it with the sharpie. Bake them at 425 for 15 minutes to make it stay.
24. Irish Flag Mason Jars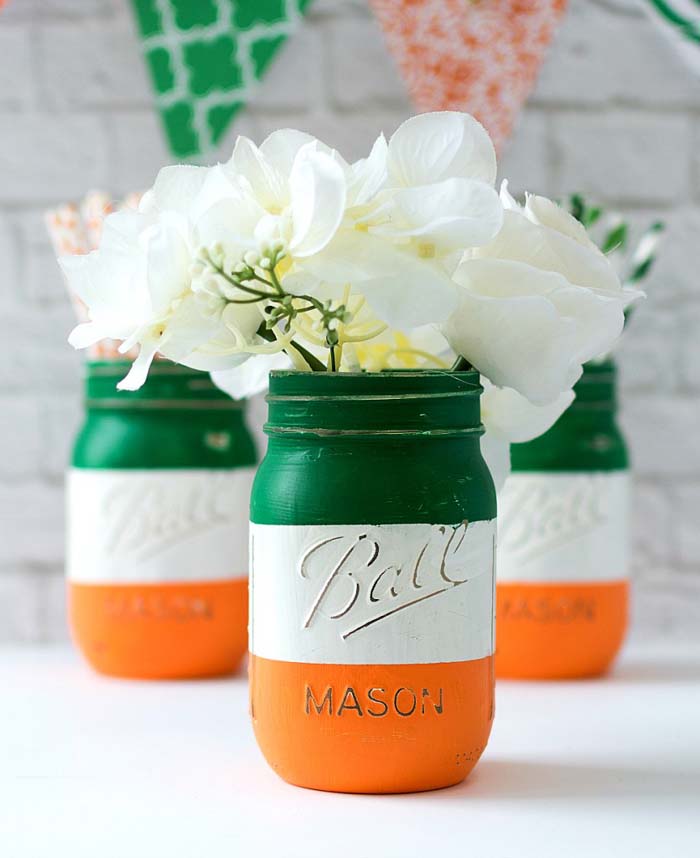 The Irish flag is orange, white and green. These jars embody that. Then the white flowers up top create a finished look.
via Mason Jar Crafts
25. Irish Mantel Banner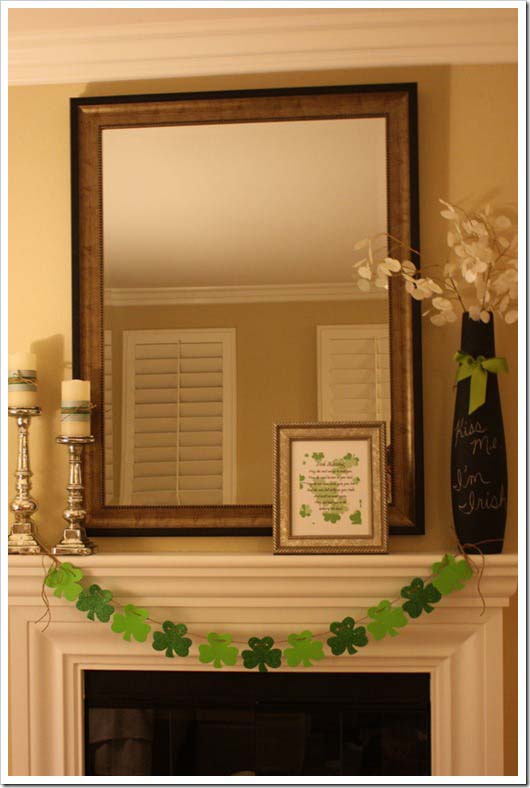 This simple banner is made from green cardstock shamrocks and brown burlap string.
26. Leprechaun Hats Topiary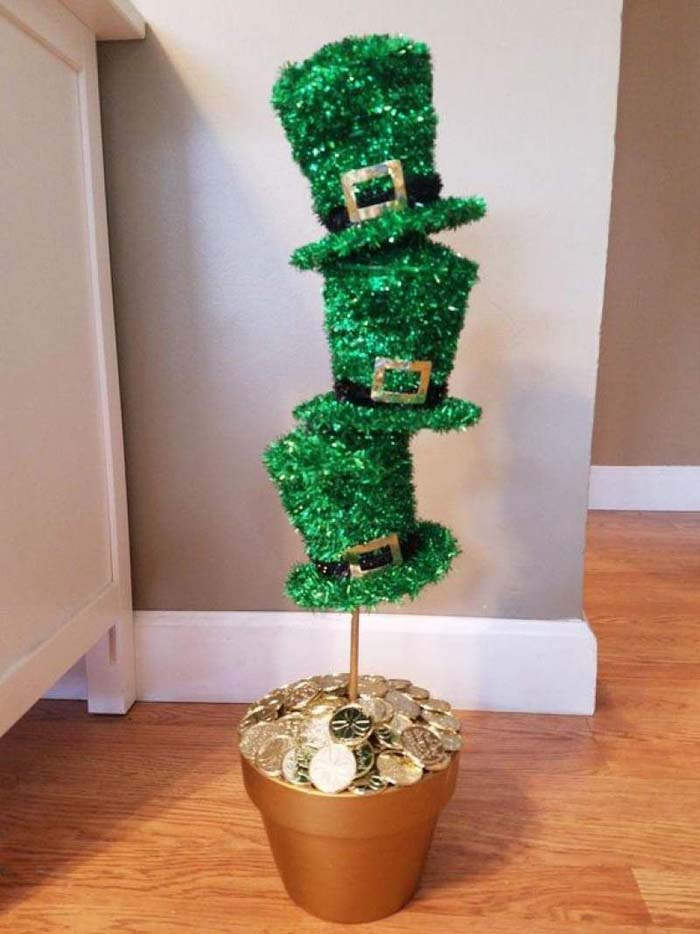 Dollar store leprechaun hats create a perfect tophat tree for your entryway.
27. Leprechaun Wreath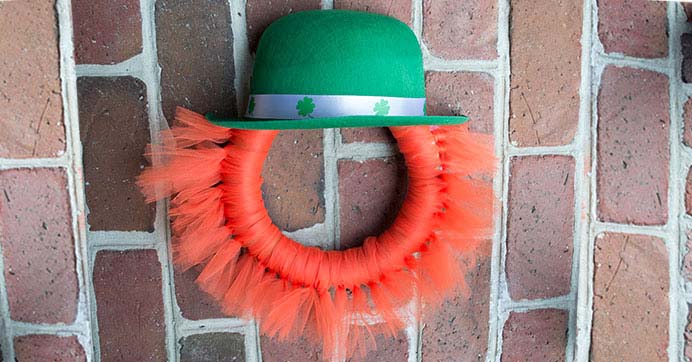 Create this leprechaun wreath by tying orange mesh around a wreath ring. This makes the leprechauns an orange beard. Then add a green leprechaun hat.
via Dollar Tree
28. No-Sew Shamrock Table Runner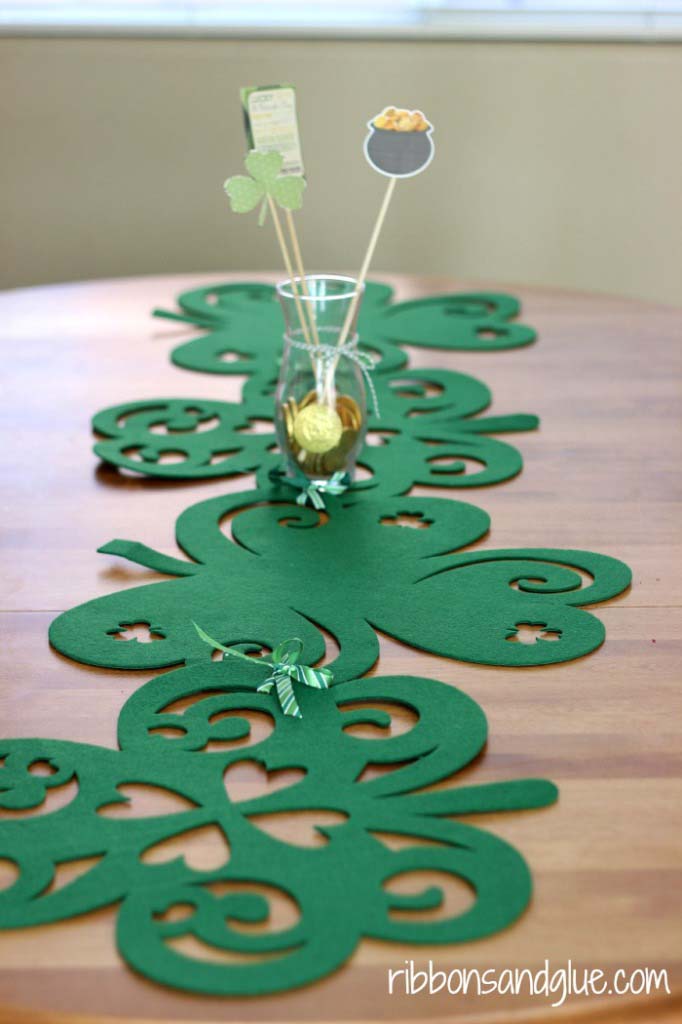 This easy to make and new sewing required table runner is made from felt.
via Ribbons and Glue
29. Pot of Gold Mason Jar Gift Idea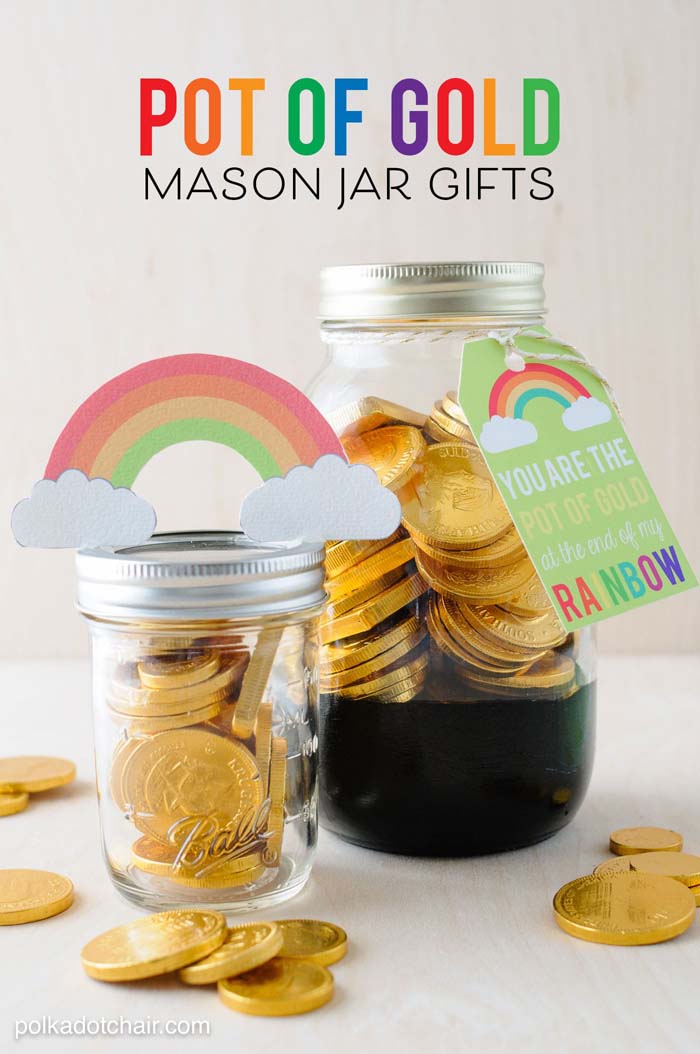 For party favors make these mason jars filled with coins. It's their prize at the end of the rainbow.
via Polka Dot Chair
30. Rainbow Balloon Wreath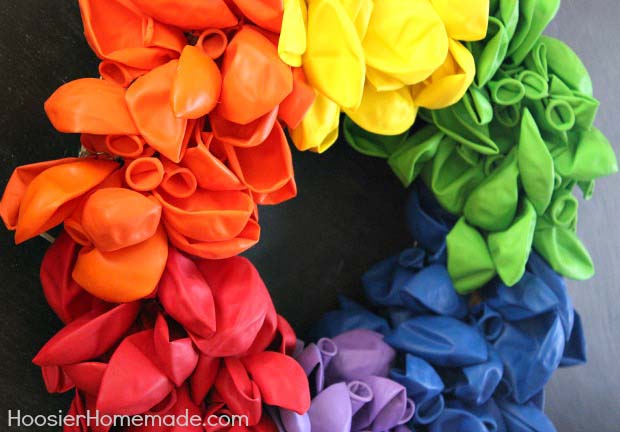 Tie balloons around a wreath ring. They give a perfect flair for a wreath. Plus it is cheap and easy to make.
via Hoosier Homemade
31. Ribbon Tied Wreath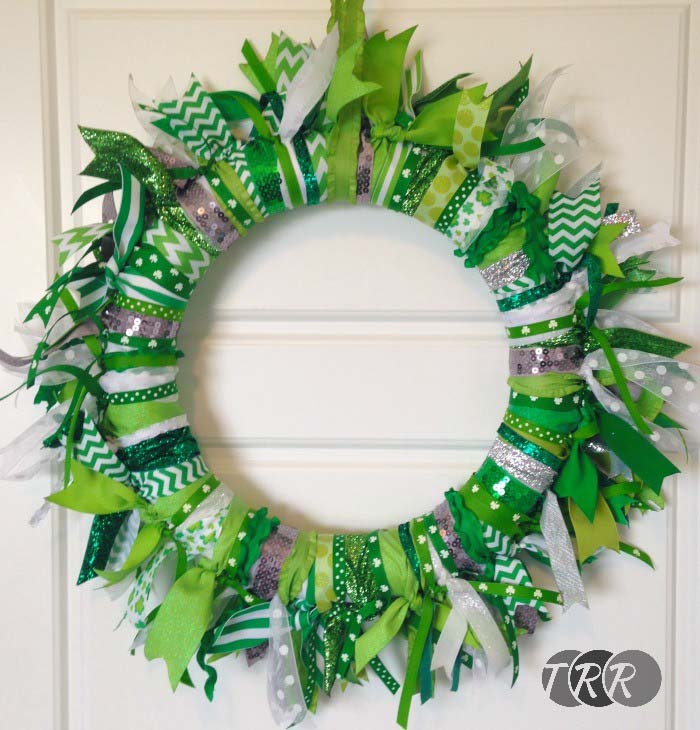 Green ribbon can easily be tied around a wreath base to make a simple door hanging.
32. Shamrock Bouquet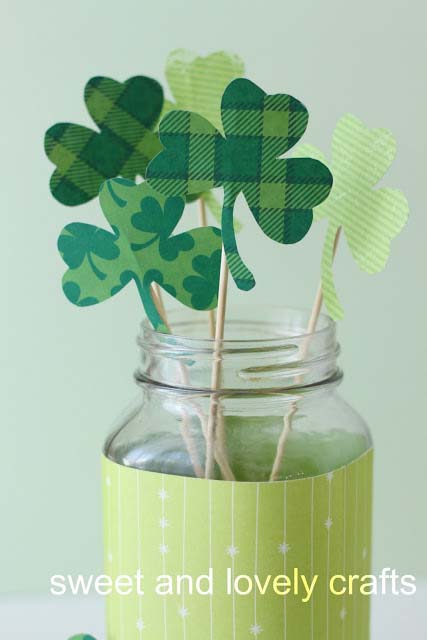 Make this table centerpiece with shamrocks cut from cardstock and a mason jar.
33. Shamrock Floral Arrangement Centerpiece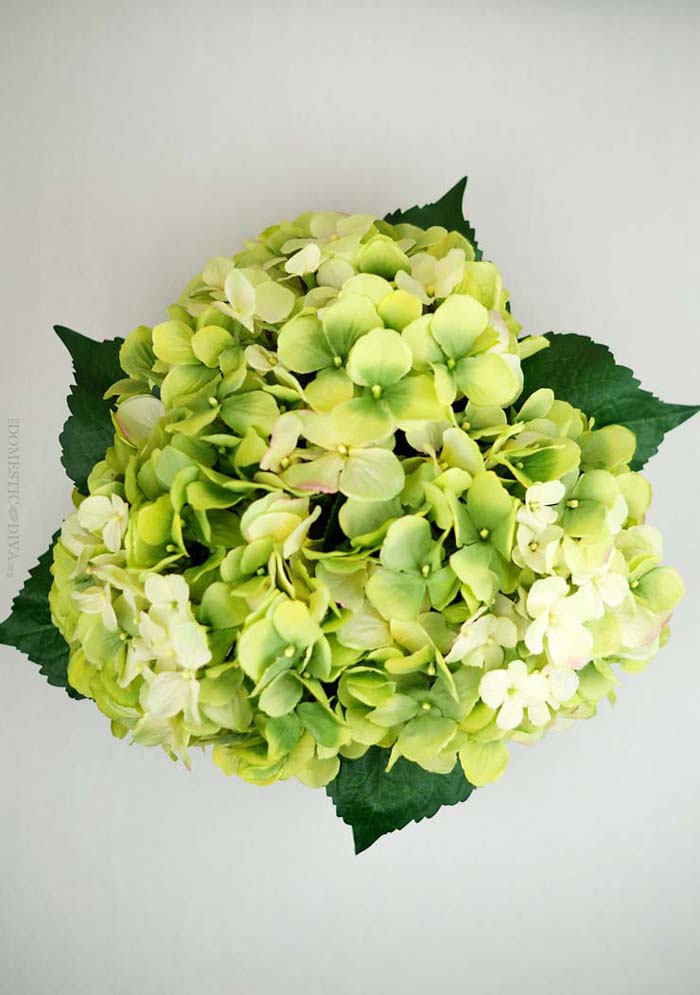 Green flowers from the Dollar store make great centerpieces.
34. Shamrock Mason Jars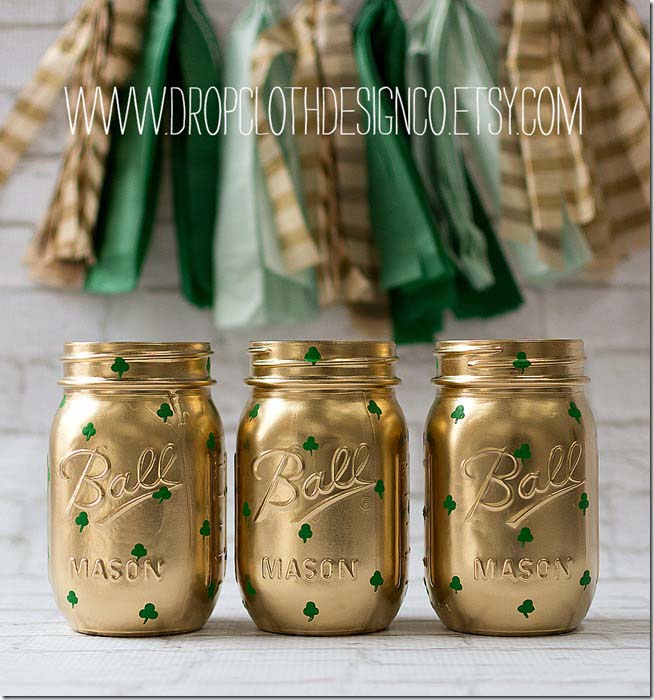 Paint the inside of mason jars gold. Then put mini green shamrocks on them. Add flowers for perfect table centerpieces.
35. Shamrock Wreath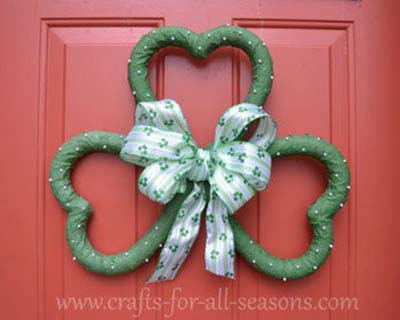 This shamrock wreath is made from wire and fabric wrapped around. A large white bow is perfect for the middle.
36. Split Pea Kiss Me Art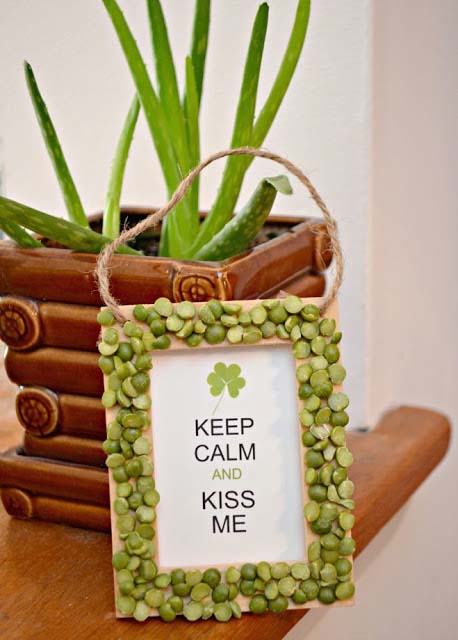 Keep calm and kiss me is the perfect saying for a St. Patrick's Day celebration! Add split peas glued around the edge for a green frame.
37. St. Paddy's Ribbon Wreath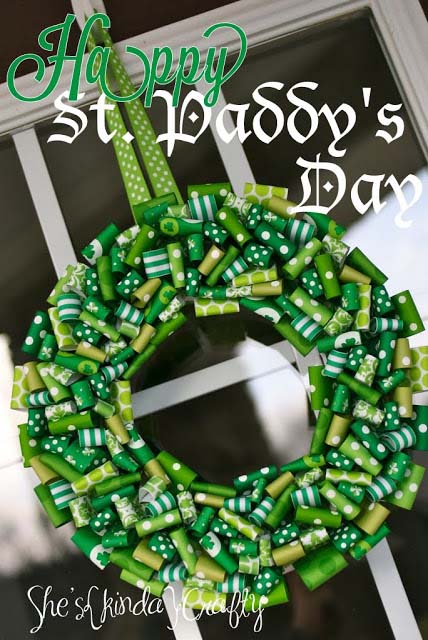 Try rolling ribbon into circles. Then after you have a bunch, glue them on a wreath ring. That is how you construct this wreath.
38. St. Patrick's Day Ribbon Wreath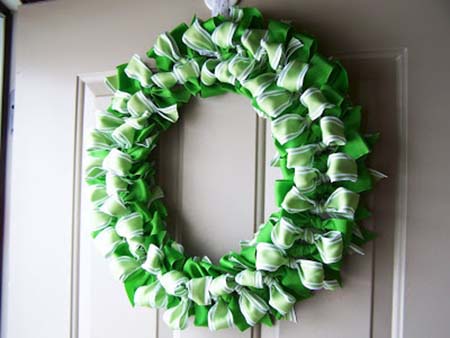 This ribbon wreath is made by tying perfect bows on a wreath ring. By rotating the colors it gives it an extra spark but also looks consistent.
via BabsMadeIt
39. St. Patrick's Day Centerpiece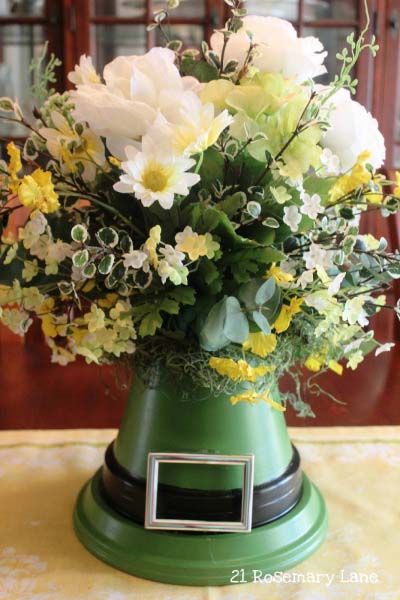 Make this centerpiece by turning a pot upside down. Paint it green and add the leprechaun hat buckle. Then add the flowers in the top.
40. St. Patrick's Day Deco Mesh Candle Centerpiece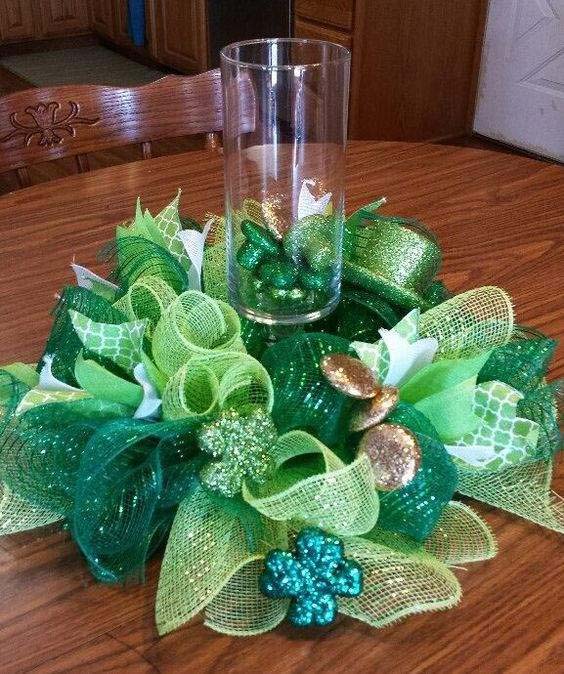 For another centerpiece use ribbon around the base to make it very green. Then add a candle jar in the middle. Put more green decor in it.
41. St. Patrick's Day Dollar Store Mesh Wreath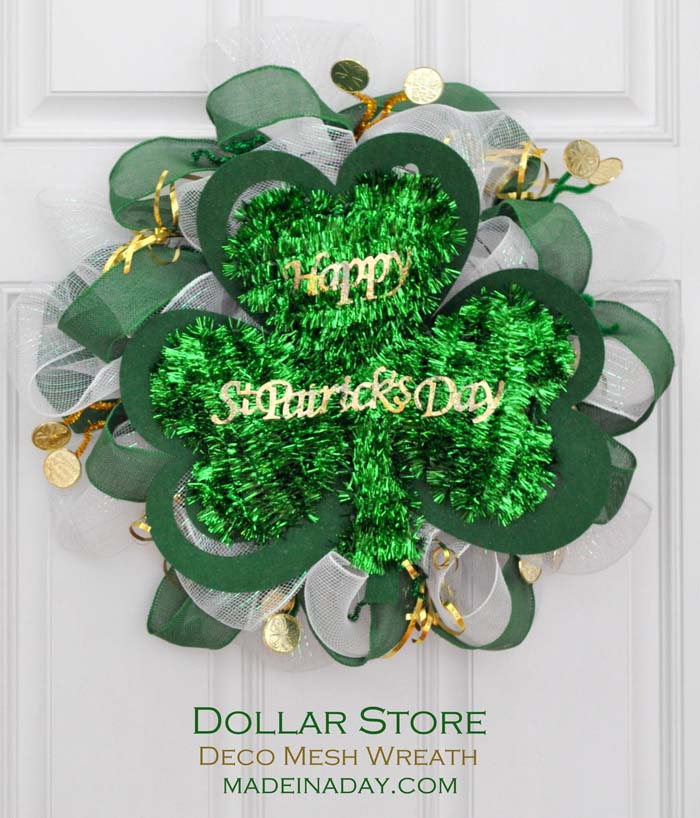 This Dollar Store wreath is made with a grass shamrock in the middle. Surrounded by a ribbon that is gold and green.
via Made in a Day
42. St. Patrick's Day Place Card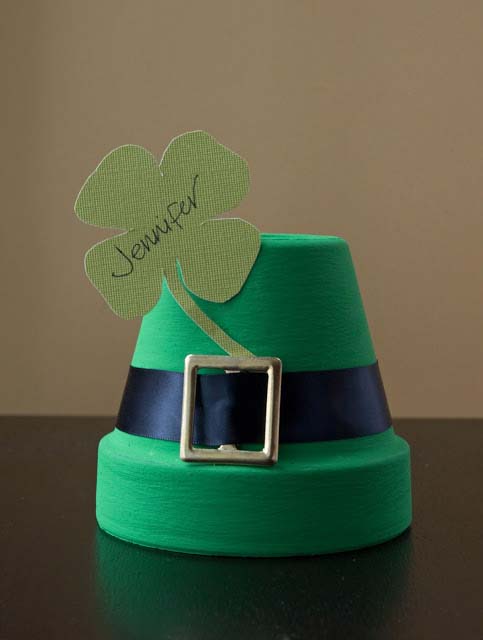 For a large party with place settings, try this green potting plant idea. Paint the pot green and turn it into a leprechaun hat. Then add the name tags.
43. St. Patrick's Day Pot of Gold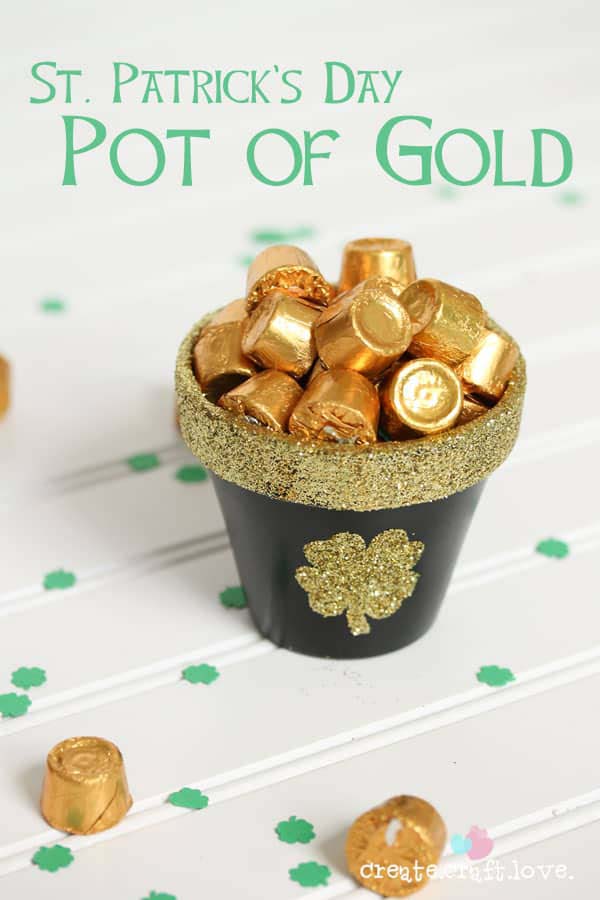 Use a potting plant and paint it black and gold. Fill it with rolls to give the pot of gold at the end of the rainbow effect.
via THE 36TH AVENUE
44. St. Patrick's Day Rustic Centerpiece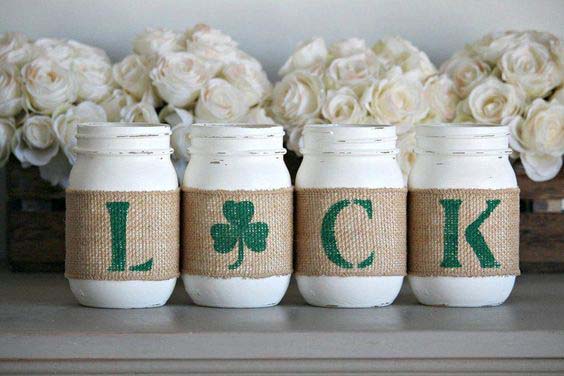 For a rustic look, try these white mason jars wrapped in burlap. To add to the St. Patricks day look, paint LUCK in green on the burlap.
45. St. Patrick's Day Shamrock Tree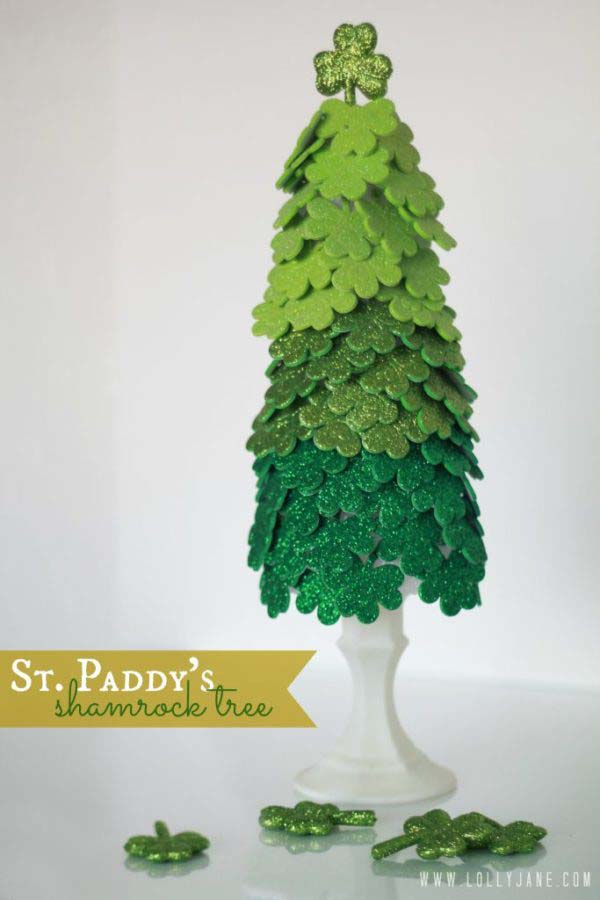 Trees aren't just for Christmas. Try making a million shamrocks from felt. Then arrange them in a tree form for a great St. Patricks day decoration.
via Lolly Jane
46. St. Patrick's Day Table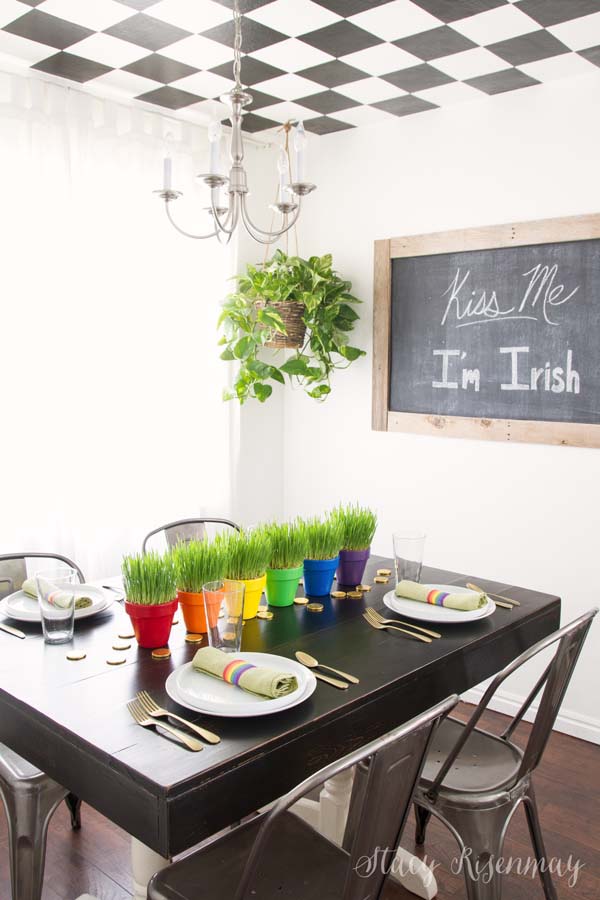 For a whole St. Patricks Day table, plant green plants in multi-colored pots. Add gold coins around for the pot of gold look.
47. St. Patrick's Day Topiary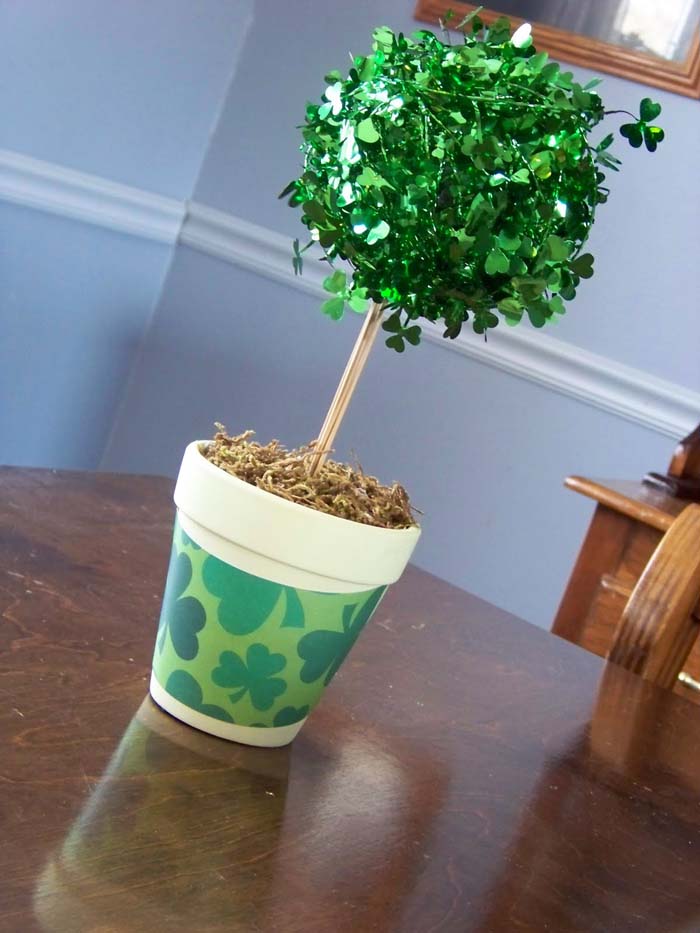 This jar has shamrock fabric wrapped around it. Inside is a tree made from green shamrocks.
48. St. Patrick's Day Vase Centerpiece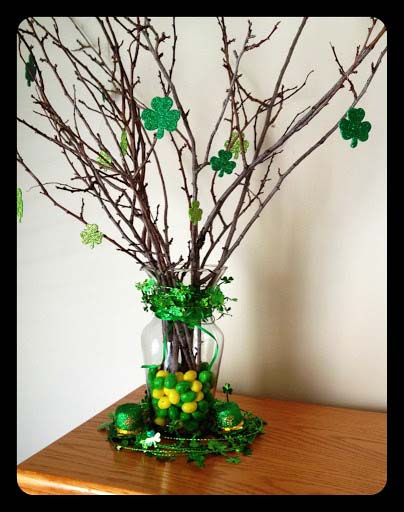 Use St. Patricks Day M&M's for decor in a glass vase. Then add rustic small tree twigs and glue on green shamrocks.
49. St. Patrick's Day Wreath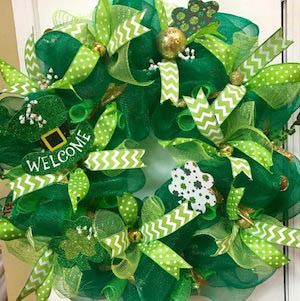 This door wreath is easy to construct by adding a green ribbon and a leprechaun hat.
50. St. Patrick's Day Centerpiece With Baubles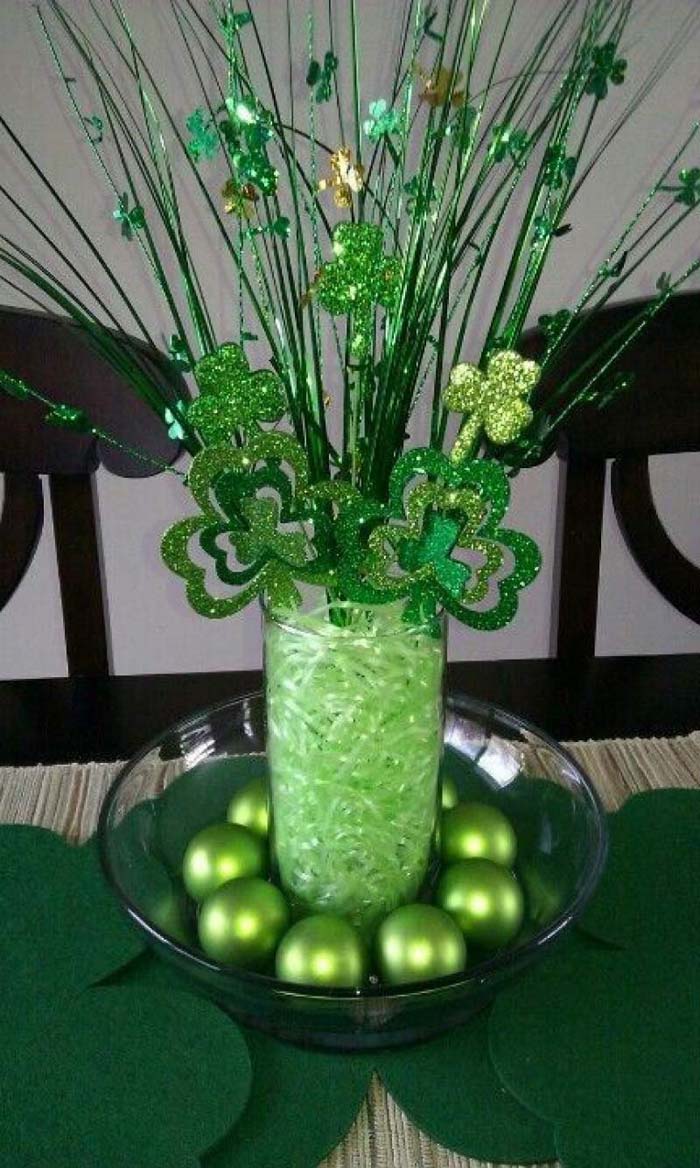 Green Christmas ornaments make the ideal base for this centerpiece. Complete it with green shamrocks and large green dollar store twigs.
51. St. Patrick's Day DIY Centerpiece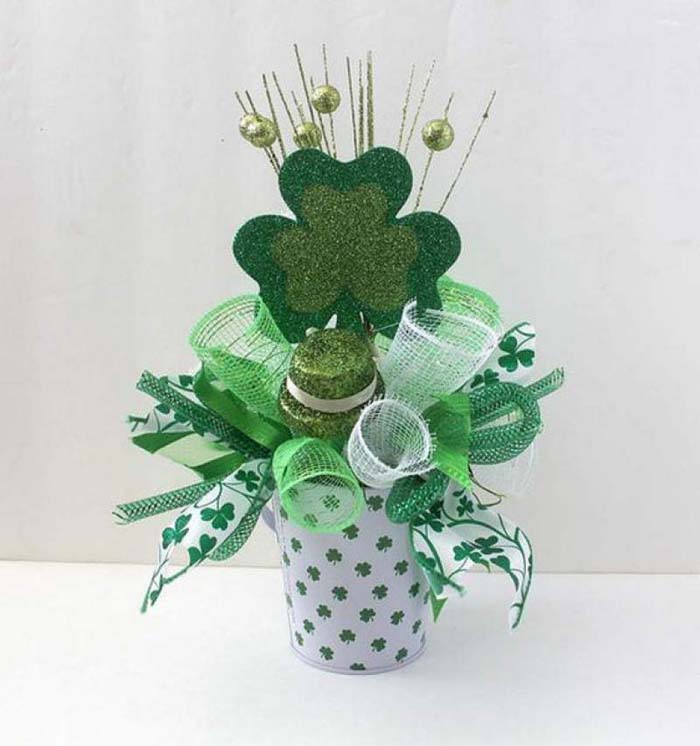 Paint a jar white and put green shamrocks on it. Then add large green shamrocks and ribbon.
52. St. Patrick's Day Leprechaun Gnome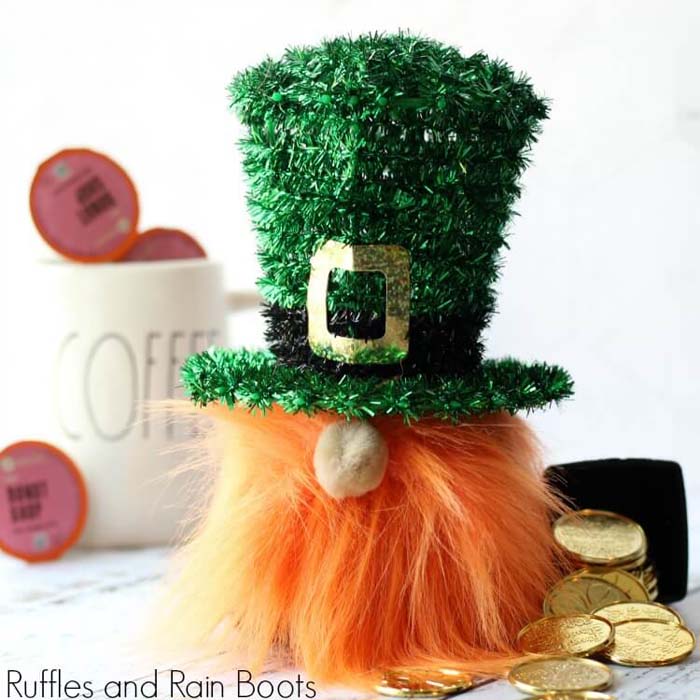 This hilarious leprechaun centerpiece uses orange fur to make a beard. Then a green leprechaun hat on top. Add coins and a nose.
53. St. Patrick's Day Wreath Design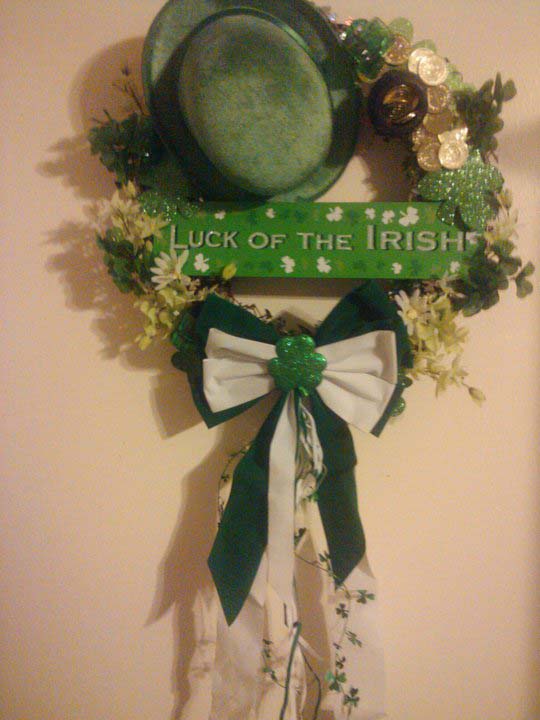 This over the top front door wreath is made with green shamrocks and a leprechaun hat. Add luck to the Irish sign. A large green bow on the bottom finishes the look.
54. Thrifty St. Patrick's Day Decor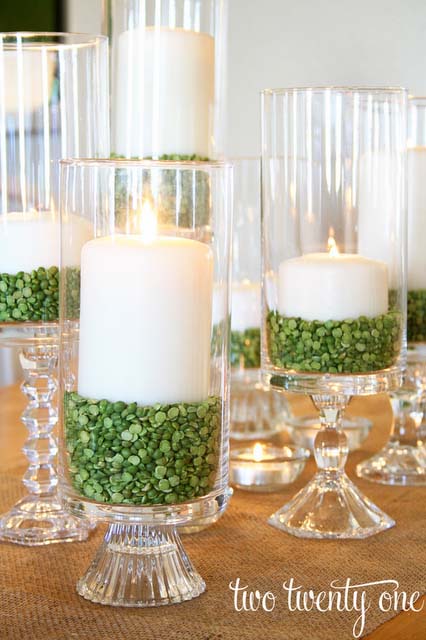 These simple but classic looking candles are simply made with split peas and white candles.
via Two Twenty One
55. Tissue Paper Shamrock Art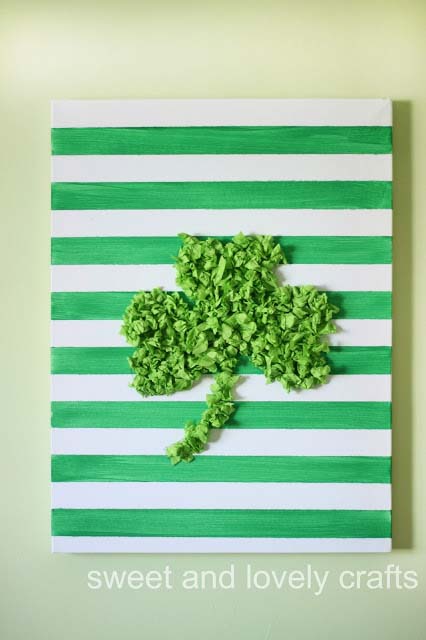 Make a wall hanging that screams St. Patrick's Day by painting simple green lines on a white canvas. Glue a green shamrock on the front.
56. Wreath Shamrock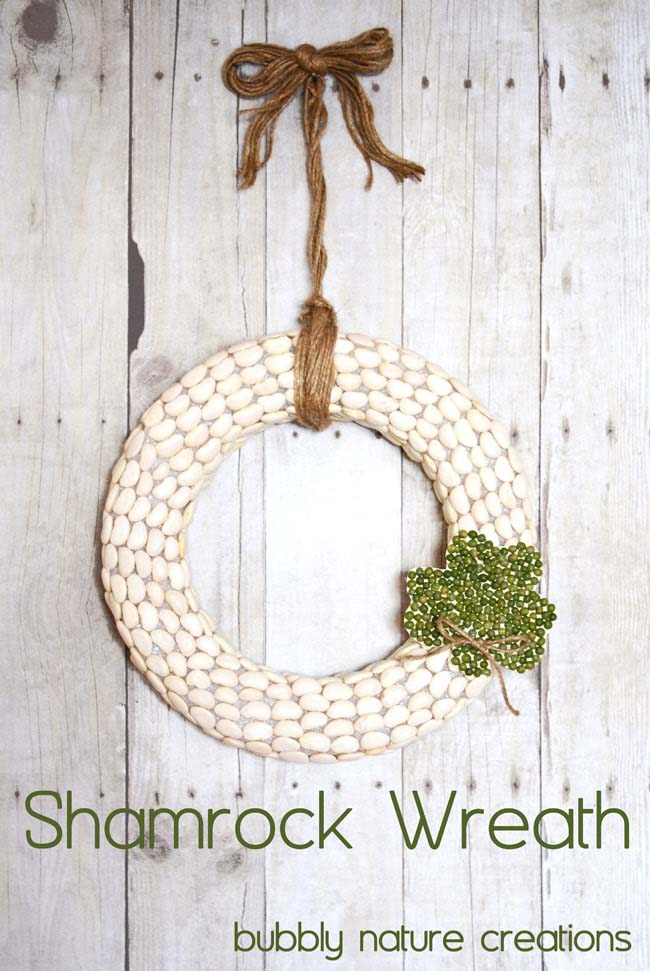 Glue split peas on a shamrock. Then attach to a white wreath to make this St. Patrick's Day wreath.