Pinecones are one of the greatest natural gifts we can enjoy for free! Not only as part of the woodsy landscape but also as part of our home decor.
Pinecones have inspired a number of beautiful crafts suitable for Thanksgiving, Christmas and all-year decorations.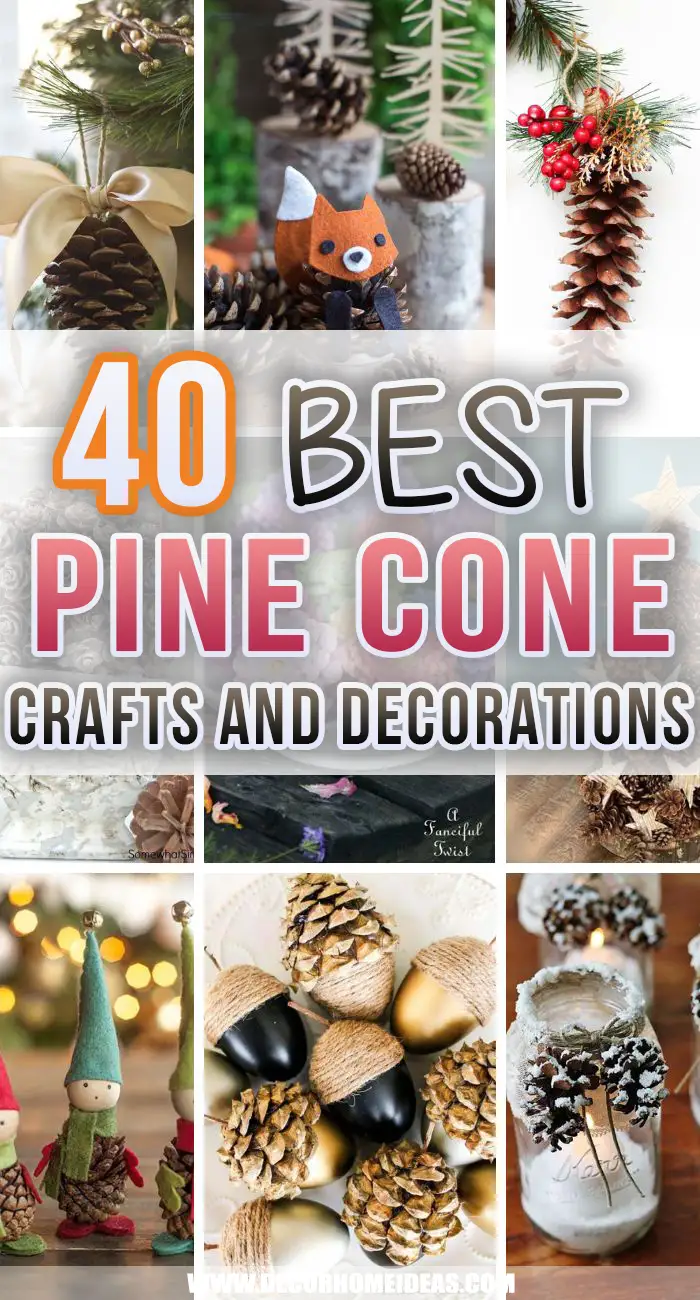 Paints and other decoration supplies let them easily adapt to the seasonal theme, for example transforming them from a winter ornament into a spring bloom.
Felt pieces glued to the pinecone base create cute animal faces that can be added to an existing festive display.
Are you already surprised by how much a simple pine cone can do? Don't stop reading here because there is much more inspiration shown in our 40 Best Pine Cone Crafts And Decorations.
1. Snowy White Pine Cone Centerpiece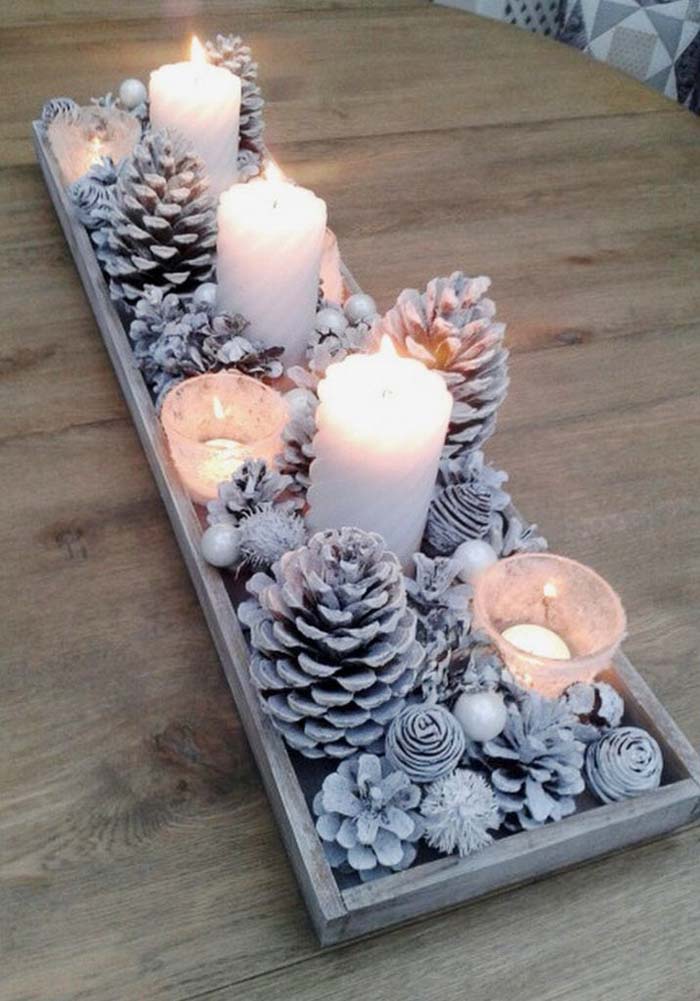 If you have a tray as a centerpiece of the coffee table, you can change its theme and make the interior more festive with this pine cone craft idea!
The table decoration consists of different kinds and sizes pinecones that are spray-painted white. The paint doesn't cover the entire scale to mimic a snow layer.
Arrange the pine cones together with red or white candles and small baubles.
2. Small Christmas Tree From Pinecones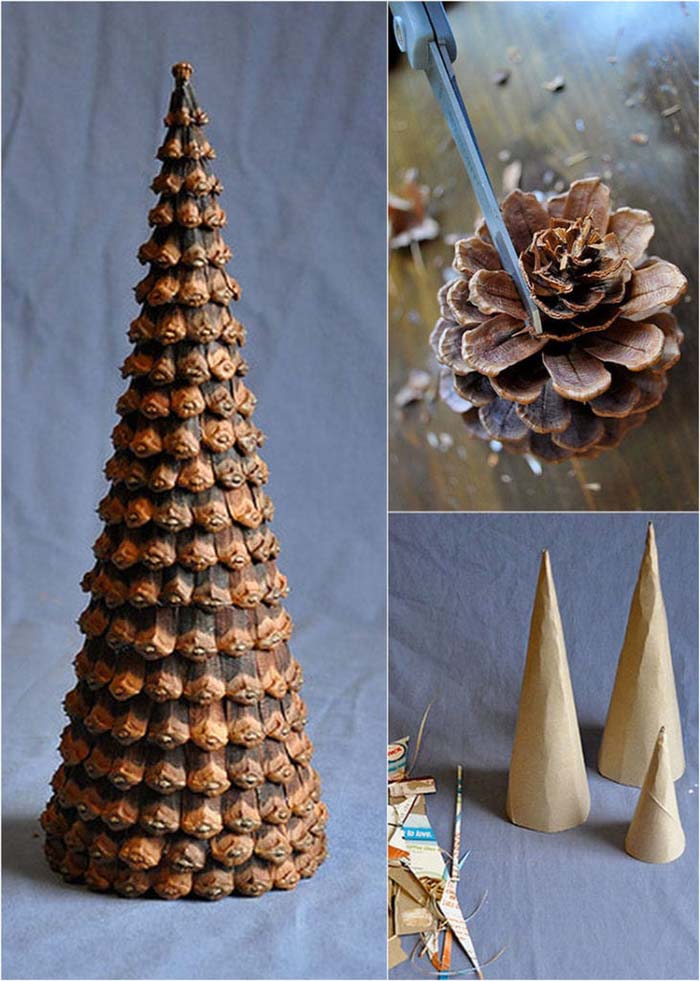 Various sizes of Christmas trees make the interior so cheerful and festive for the lovely winter holiday!
One of the pine cone craft ideas here uses this free natural gift. Get pinecones, separate the scales from the stem with a knife and get ready to stack your small Christmas tree.
The base can be a styrofoam cone or a cardstock paper cone. Hot glue is best for this DIY pine cone idea.
3. Potted Pinecones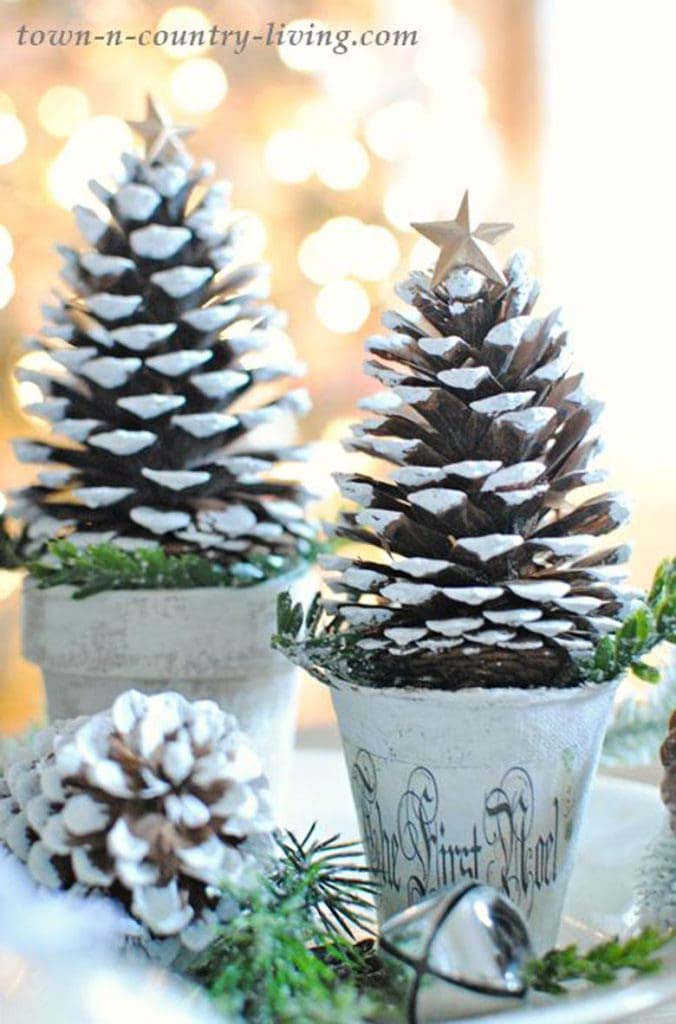 Another DIY inspiration from the collection of pinecone Christmas crafts features cute potted pine cones. The pots are terra cotta painted white to make the arrangement more festive.
The ends of the scales are painted white with acrylic paint first to recreate a snow layer. Each pinecone is then placed over tucked in the flower pot greenery.
Finish the craft with a little star at the top of the pinecone to give it a look of a tiny Christmas tree.
via Town n Country
4. Pinecone Garland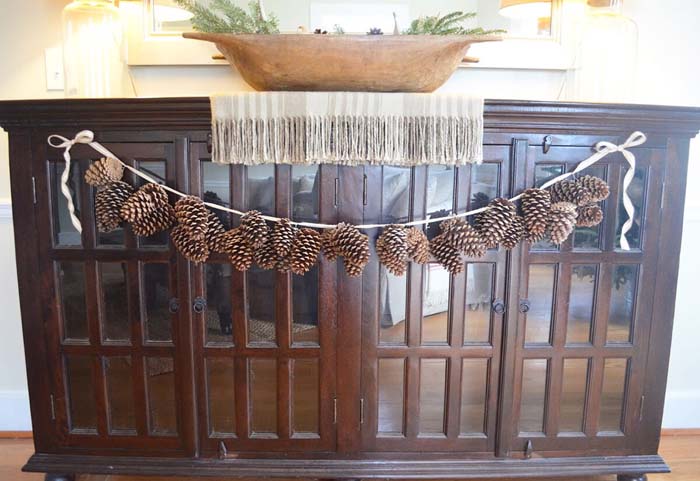 If you are looking for a banner idea that can fit the winter interior, there is no better supply than pinecones from the forest. They are beautiful, natural and festive.
For this pinecone craft idea, large pinecones are best. Attach them to a burlap or twine ribbon with craft wire twisted around the stem of the pinecone and then to the ribbon.
You can leave the pinecones in their natural look or spray paint a few or all of them for a snowy look.
5. Multicolored Pine Cones For A Tray Arrangement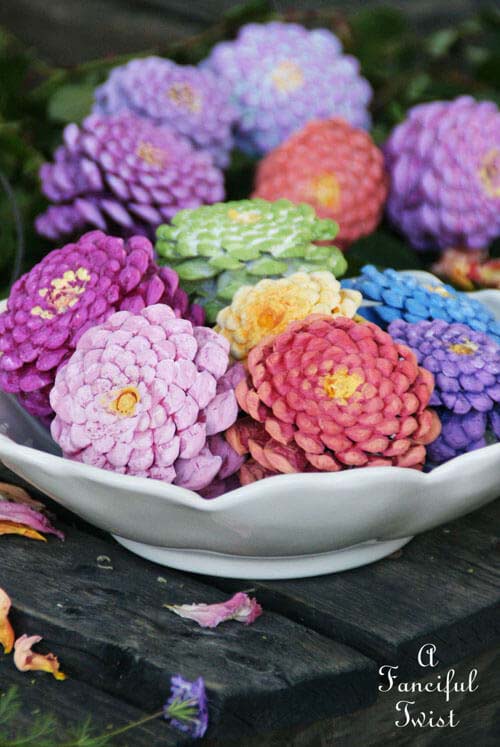 If you think that pinecones are suitable only for winter decor, this pinecone craft idea will prove you wrong!
By painting each pinecone a different bright color, the snow-related pieces easily transform into cheerful decorations that can add a pop of color to your spring or summer outdoor decor.
via A Fanciful Twist
6. Farmhouse Bowlful Of Pinecones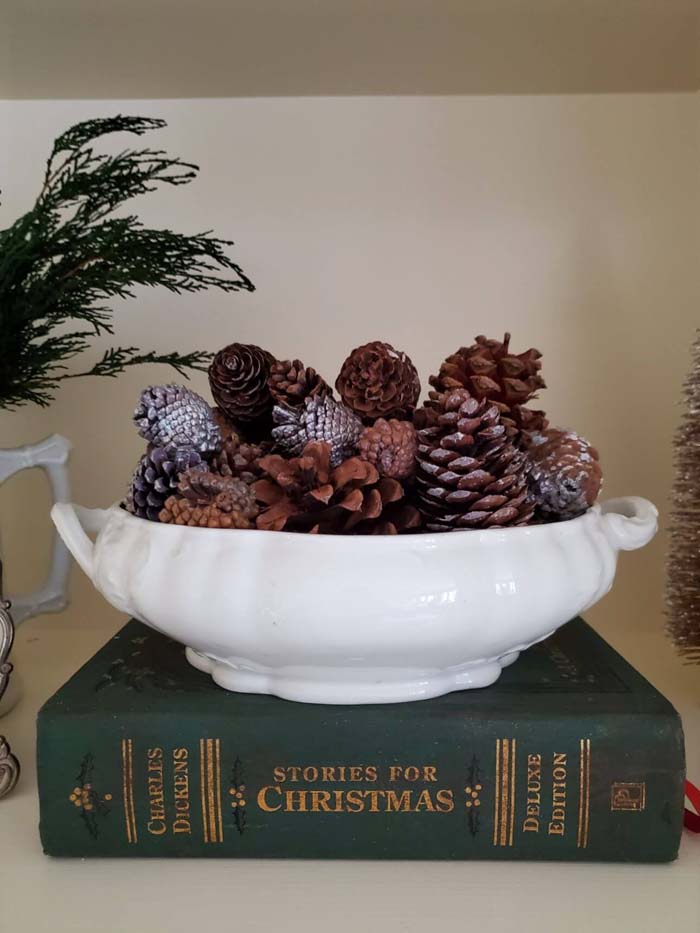 If you are using a vintage container to hold seasonal decorations, then you can recharge it with pinecones that will turn the Christmas mood on.
Spray a few of the pinecones with white or silver paint to add a touch of interest to the natural arrangement.
7. Tiny Pinecone Christmas Tree Idea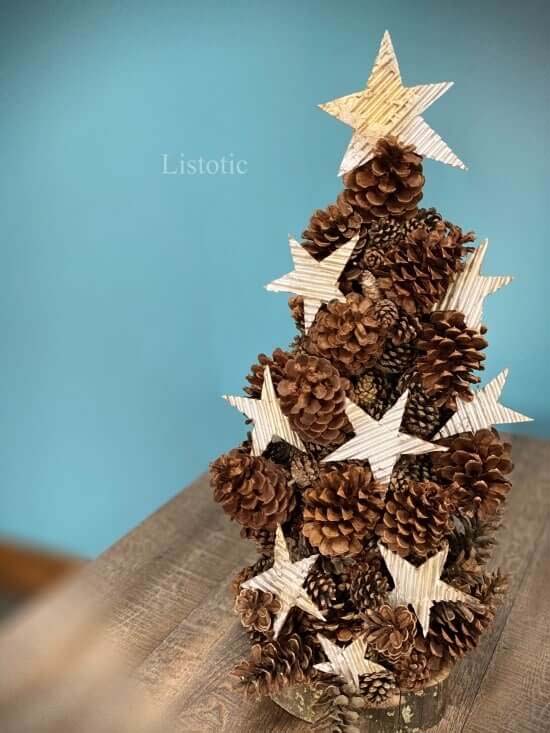 This pinecone Christmas tree craft requires smaller pinecones that will mimic the twigs of the tree. Stack the pinecones vertically using hot glue to form the shape of a tree.
You can leave the tree undecorated for a rustic touch or add tiny ornaments for improved interest.
8. Handmade Firestarters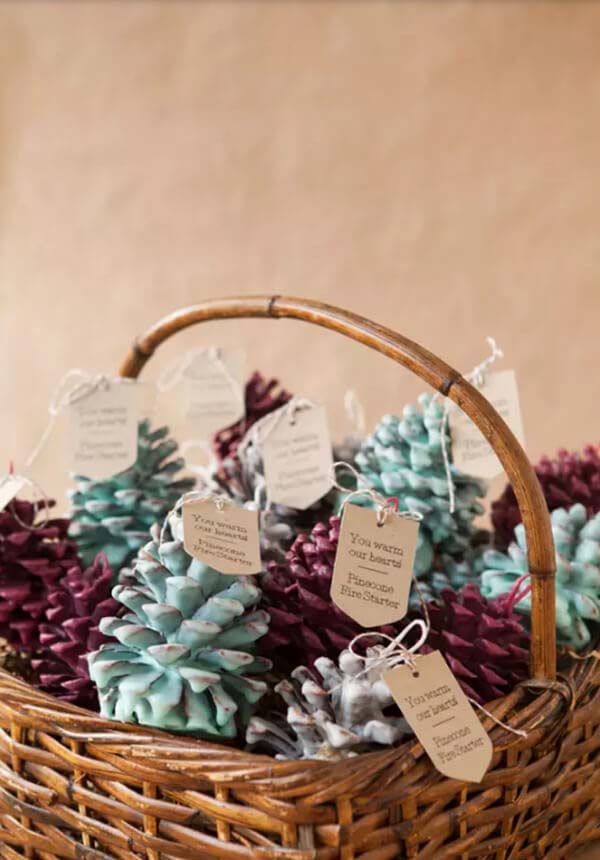 This DIY pinecone craft idea is so amazing, you would want to try it. It is great for Christmas decor but also as a Christmas gift.
For that, you need candle supplies that turn each pinecone into a unique firestarter. Add a personalized tag in case you are making these candles for gifts.
9. Pinecone Topiary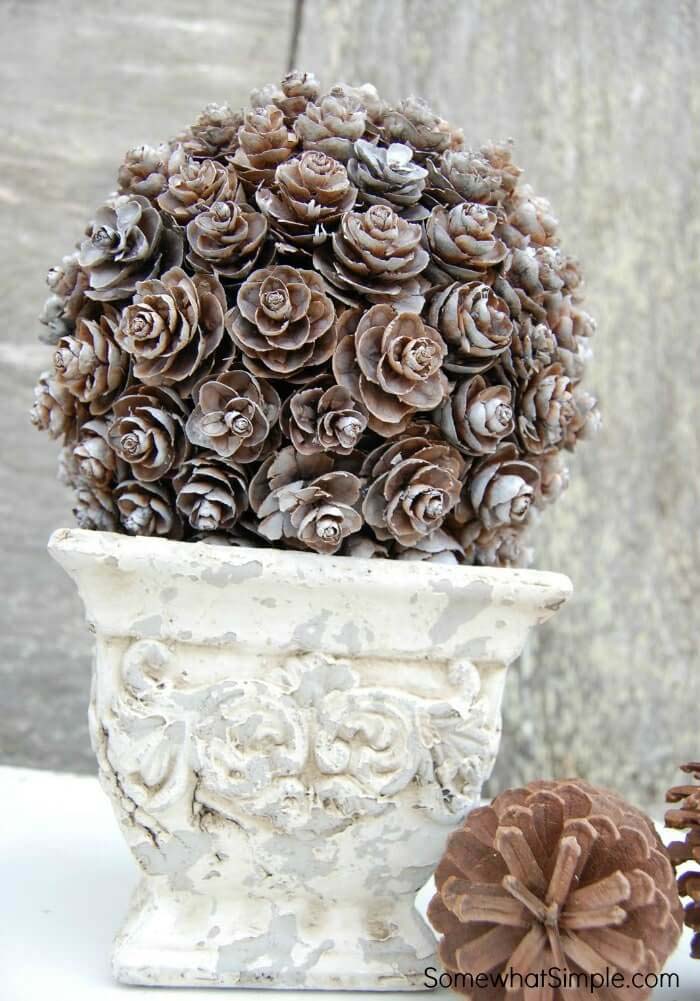 This idea with pine cones will spruce up the front porch decor! The base is a styrofoam ball that defines the shape of the craft. It is wrapped into a dark plastic bag which makes gluing the pine cones so easy.
You can leave the pinecones as they are or apply a thin coat of metallic or white paint over the scales.
via Somewhat Simple
10. Glittery Pinecone Craft Idea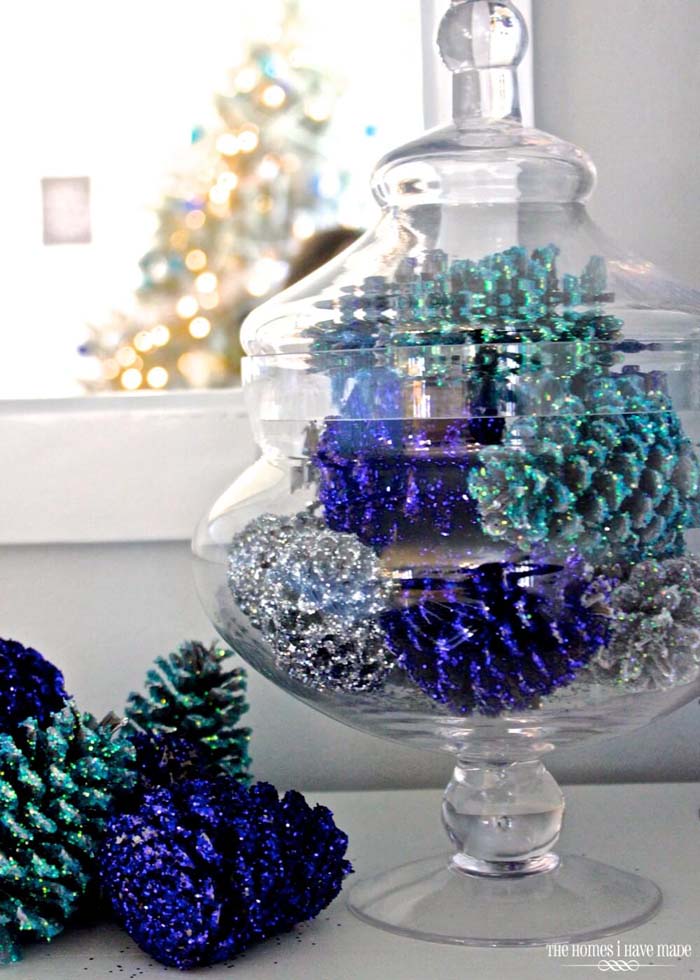 These pinecones look like plastic ornaments for the Christmas tree! Well, they aren't. They are decorated with glittery paint which gives them a festive glamorous look.
The pinecones can be used separately as Christmas tree ornaments or altogether to make a fantastic seasonal centerpiece.
11. DIY Acorns With Pinecones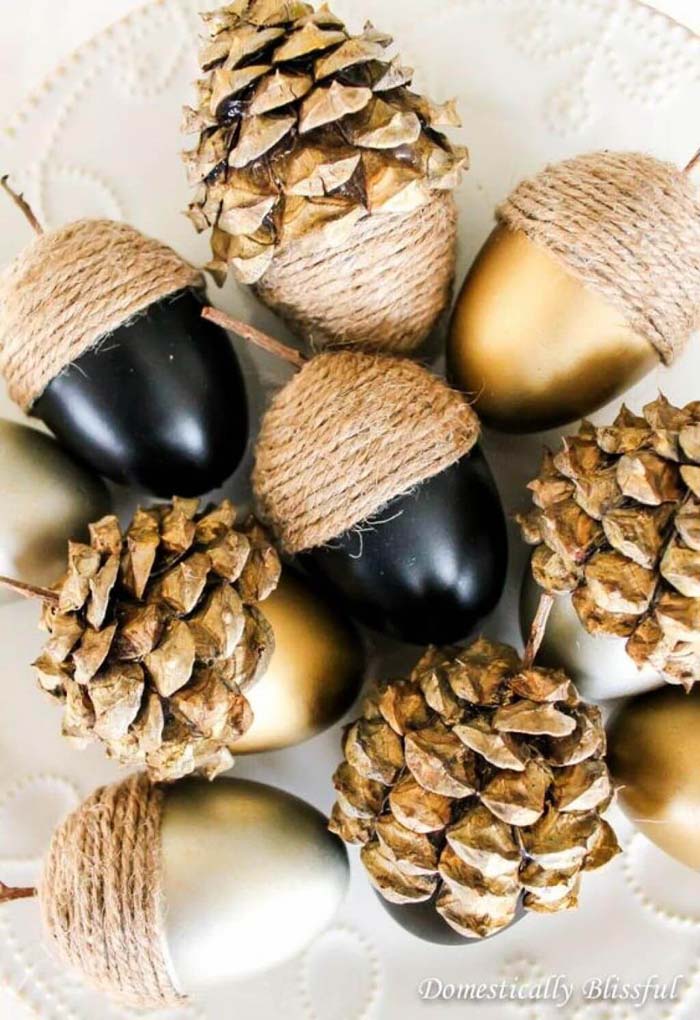 This fall decor idea is so cute! Plastic eggs are upcycled into acorns with some twine and pinecones.
The twine loops and the pinecones are glued to the bottoms of the eggs which instantly transforms them into this natural autumn symbol.
Applying a coat of paint on the eggs can be a good idea in case the ones you have available are white.
12. Two-colored Pinecone Banner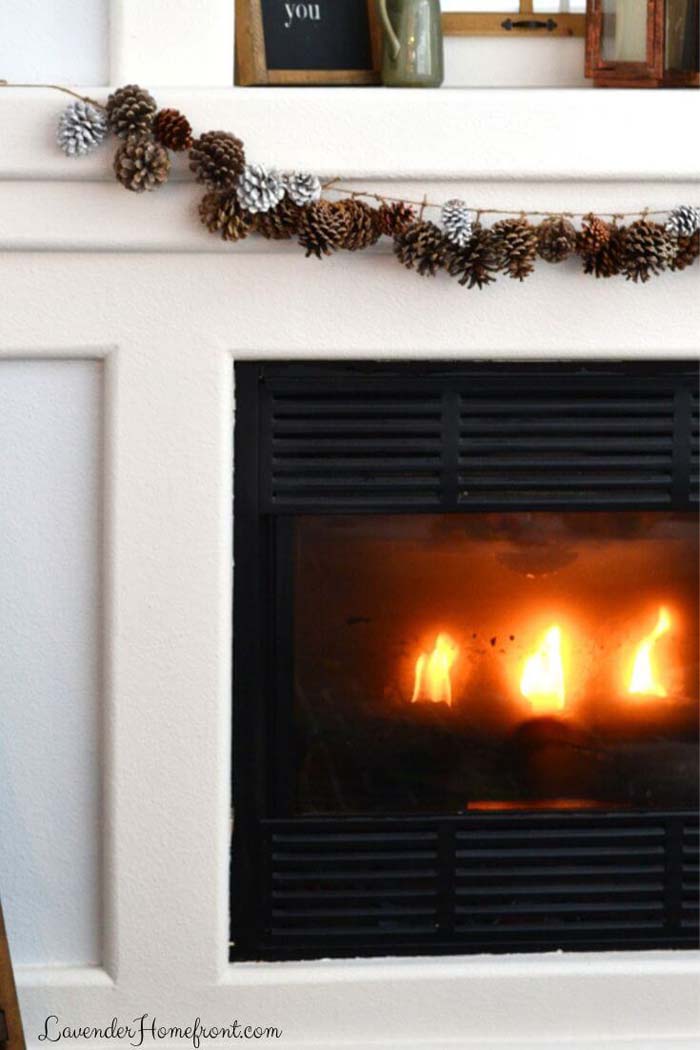 If you are looking for vertical decoration for the winter holidays, this pinecone banner craft is perfect for that. Its simple natural look won't overwhelm space and will add a touch of nature to your home.
A few of the large pinecones are painted white to give the banner dimension and also a touch of contrast that helps each pinecone stand out.
13. Pinecone Door Decoration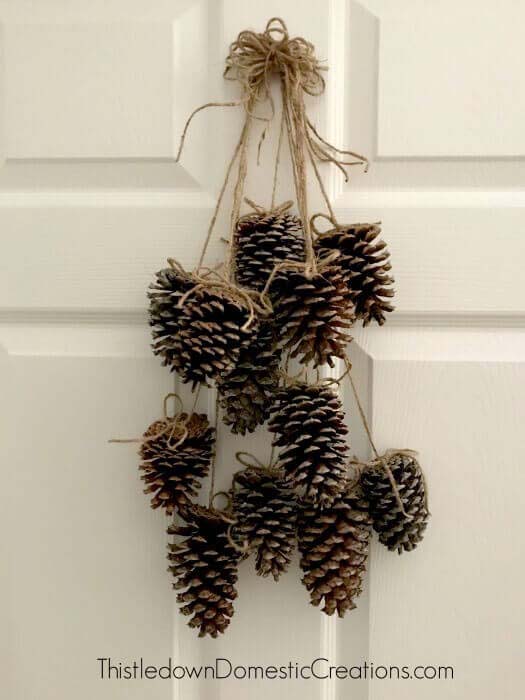 If you are looking for a winter front door decoration, you can choose from a pine cone wreath or this vertical arrangement of dangling pinecones.
The mismatch of twine lengths creates a point of interest and dimension. The free ends of the twine are tied up together in a bow which gives the decoration a finished look.
via Thistle Down Domestic Creations
14. Christmas Tree Pinecone Ornaments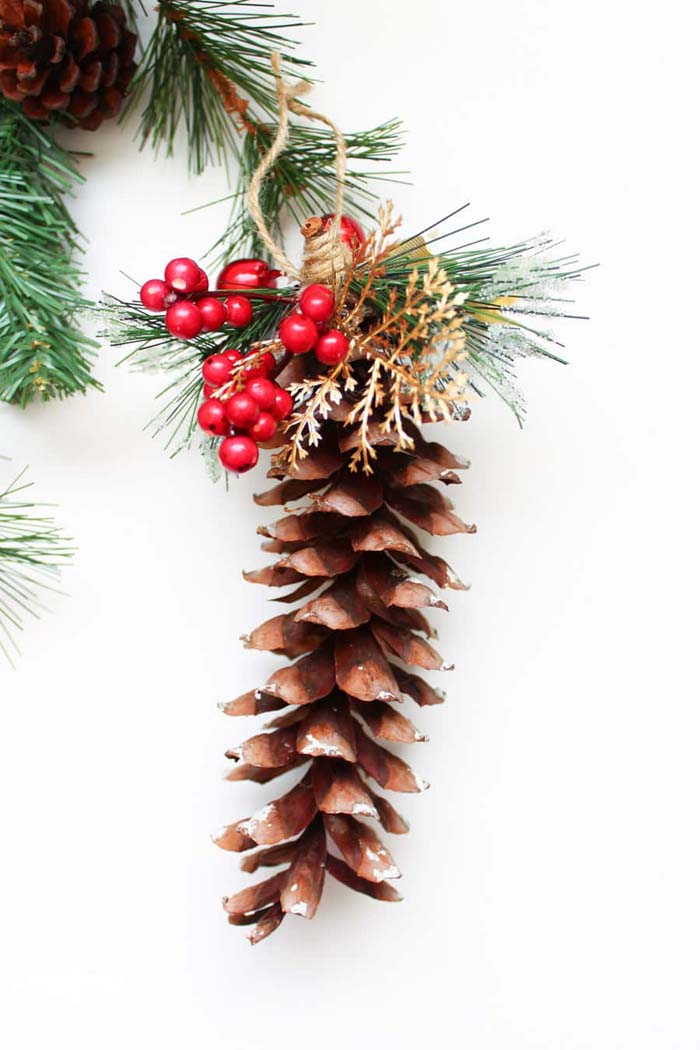 This is a great craft idea of how to add a natural touch to your Christmas tree decoration. Pinecones are transformed into tree ornaments easily.
You can use them as they are or decorate them with any other ornaments in the seasonal theme.
Faux berry twigs, glitter stars, small baubles, and green twigs will let the pinecone stand out and will add to the festive look.
15. Pine Cone Picks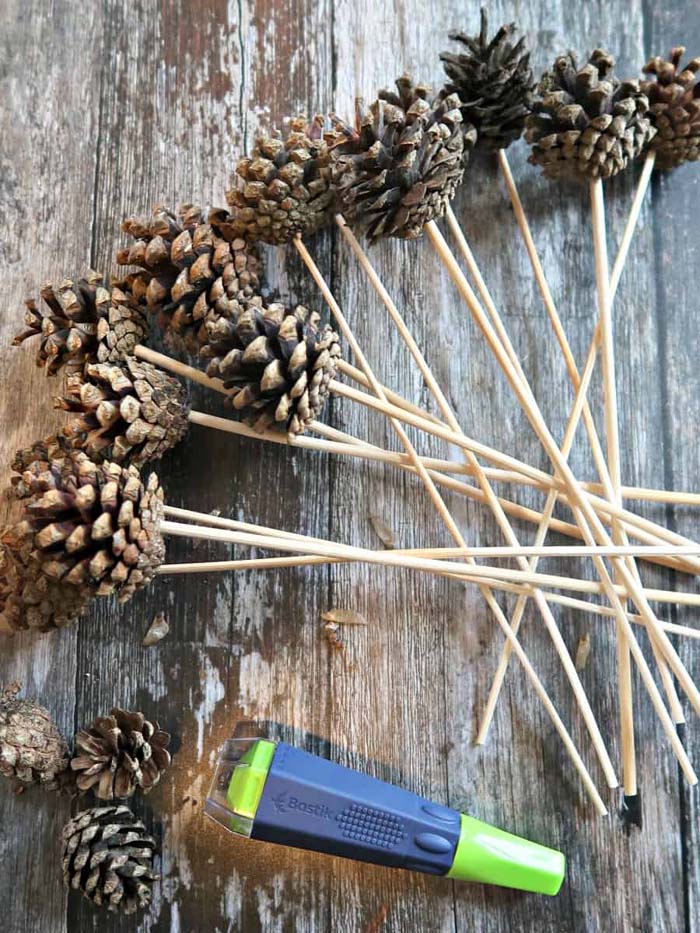 These pinecone picks can be used in many ways- as an addition to a floral arrangement, as a wreath ornament, as a base for a Christmas craft, or as a Christmas party meal decoration.
Making them is easy- wooden picks, pinecones and hot glue. Before adding the pine cone to the pick you can decorate the cone with glitter or paint.
via Craft Invaders
16. Santa Pine Cone Wreath Idea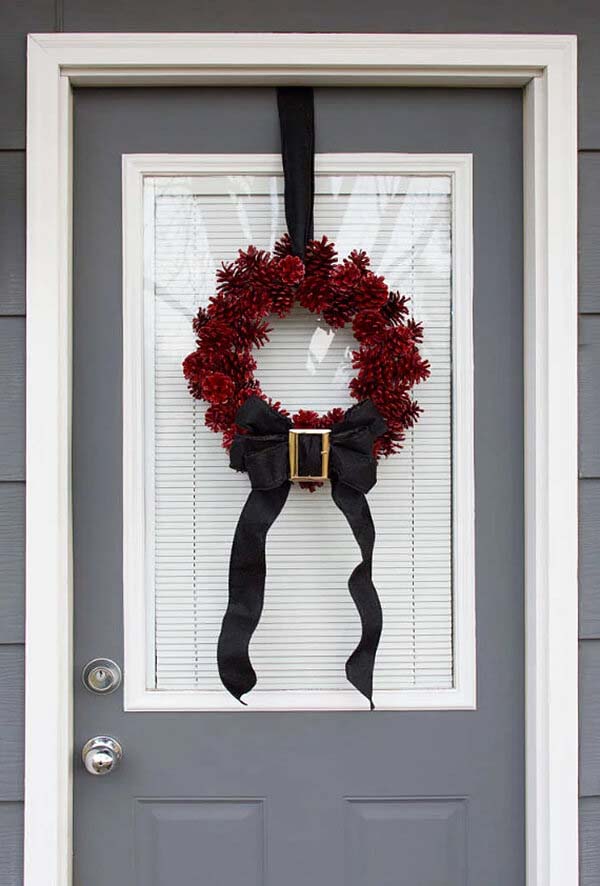 This pine cone wreath idea is in the colors of Santa. All pinecones are painted with a red glossy paint which creates an even and bright coat that will be noticed even from a distance.
The ribbon is black satin and thanks to the golden buckle it relates to the festive Santa Claus costume.
17. Christmas Pinecone Display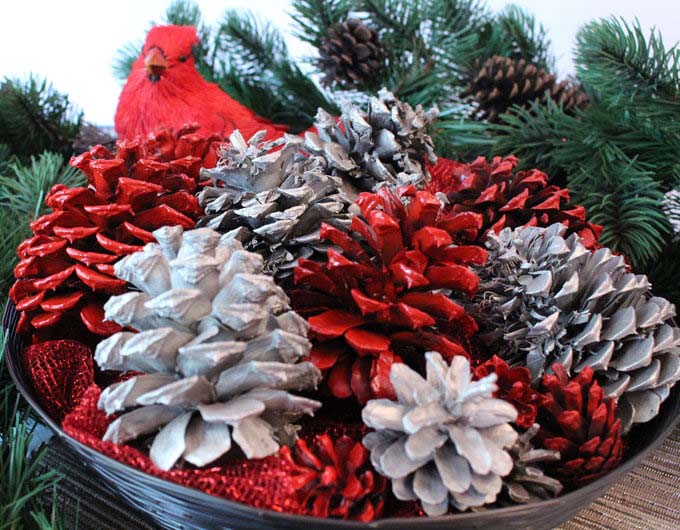 Similar to the Easter display with eggs, this bowl of pinecones is a great decor idea for Christmas.
The pinecones are given a cheerful look with white and red paint. They are all placed in a bowl over a filling of a red fabric mesh which enhances their special usage.
18. Pinecone Gnomes For Your Garden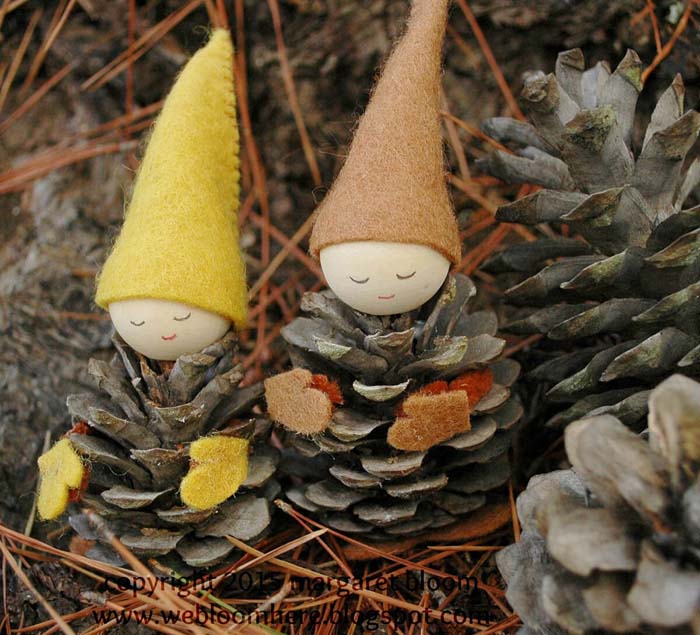 Aren't these gnomes the cutest decoration ever? They are great to welcome the winter season indoors and outdoors.
Their cute little hands are cut from felt, and so are their hats. The bodies are plain pinecones. Their faces are made from wooden beads.
And if your kids love collecting pinecones, there is no better way to utilize them together with this fun craft project.
via We Bloom Here
19. Christmas Garland With Pinecones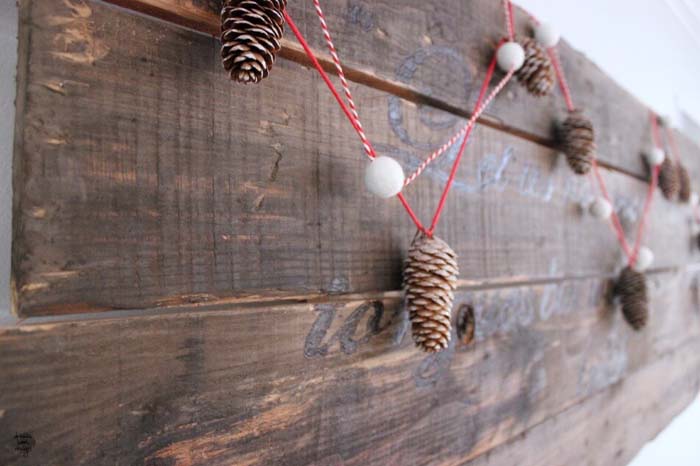 Looking for Christmas decorations to match your farmhouse decor? Pinecones and yarn will make the magic you are looking for.
They are natural materials that will add a touch of festiveness that will match the warmth of your home decor.
The garland idea here is simple as all others we showed you so far. Here, instead of a twine length or a burlap ribbon, a string from red and white yarn is used.
This is a fun accent to the garland design which makes the overall look more festive thanks to the candy cane color combination.
20. DIY Pine Cone Christmas Trees With Star Tops

Do you like the small Christmas trees spread in every room of the home? They do make the home decor more festive and cheerful!
This pinecone craft idea is one of those that take care of the budget, especially when a number of pieces are needed.
You can make as many trees as you wish provided that you have ensured enough terra cotta pots from the smallest size.
Gather large pinecones from the woods and paint them all green. The metallic acrylic paint is applied on the terra cotta pots and also at the ends of the top scales.
Finish the tree craft with a small star at the top.
21. Pinecone Kissing Ball Ornament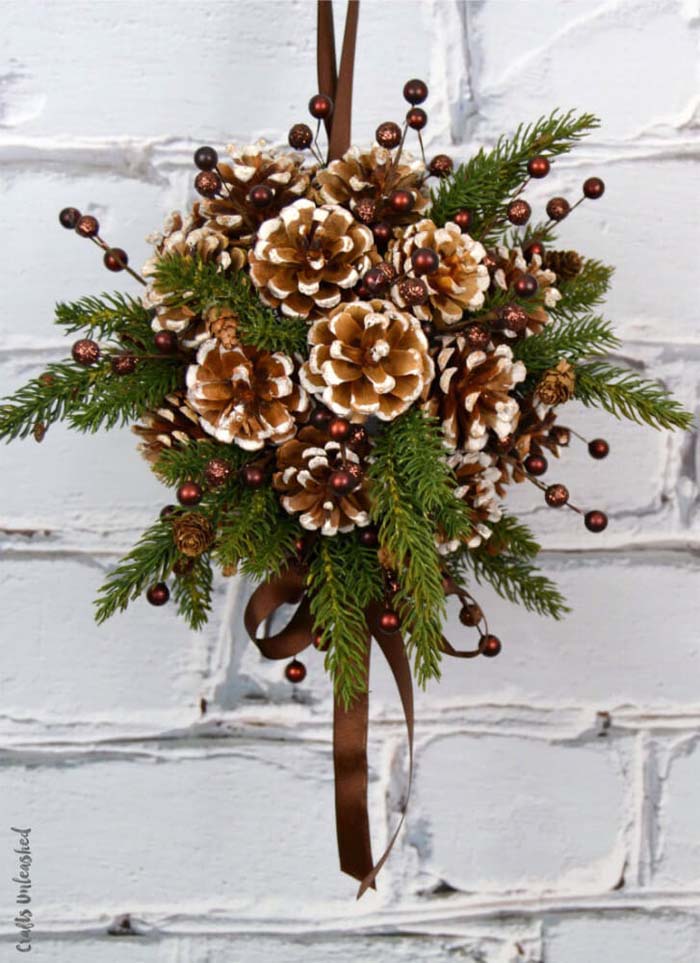 This kissing ball idea looks gorgeous as a Christmas tree ornament! It is oversized, rustic and unique!
For it, use a styrofoam ball as a base and a brown satin ribbon to make a loop for hanging it on the tree. The pinecones are glued to the foam surface with hot glue aiming to arrange them tightly to each other.
Because of their shape, there always is space enough to insert the real pine twigs and the faux berry twigs that add to the dimensional design of the kissing ball.
22. Frosted Luminaries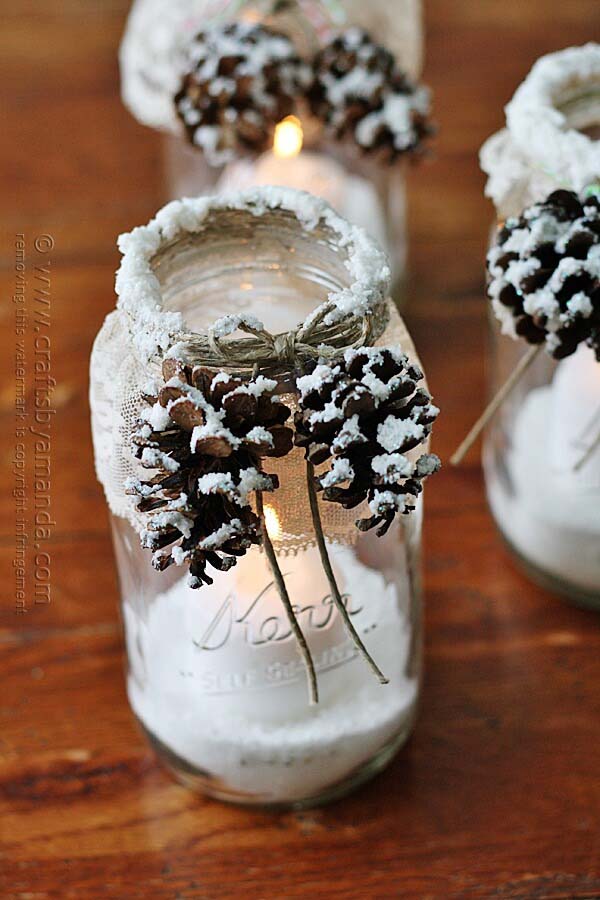 This is a great all-winter ornament that will add a touch of rustic warmth to your home decor.
The luminary idea uses a glass jar, Epsom salt, a piece of lace, twine to wrap it around the neck of the jar, and two pinecones as front ornaments.
There is an extra touch of winter added with special Snow tex paint that makes this artificial snow.
via Crafts by Amanda
23. Natural Pinecone Wreath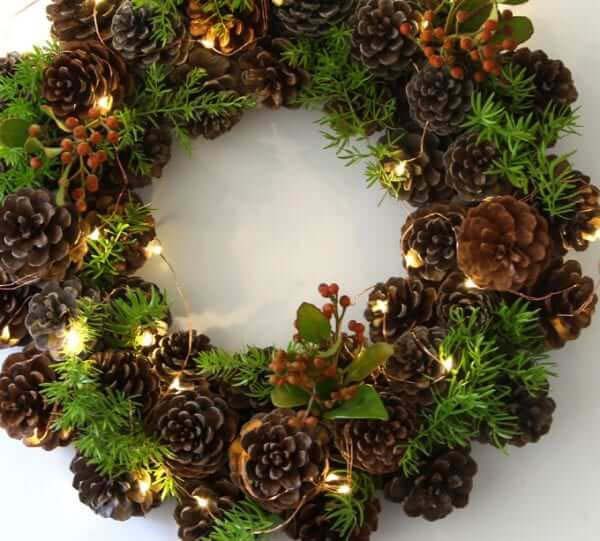 This idea features an interesting addition to the pinecone wreath consisting of green twigs and a string of lights.
The contrast the green makes to the brown color of the pinecones and the gentle light from the fairy lights will make sure that your home looks festive from the entrance even at night.
via Remodelaholic
24. Pom Pom Pinecones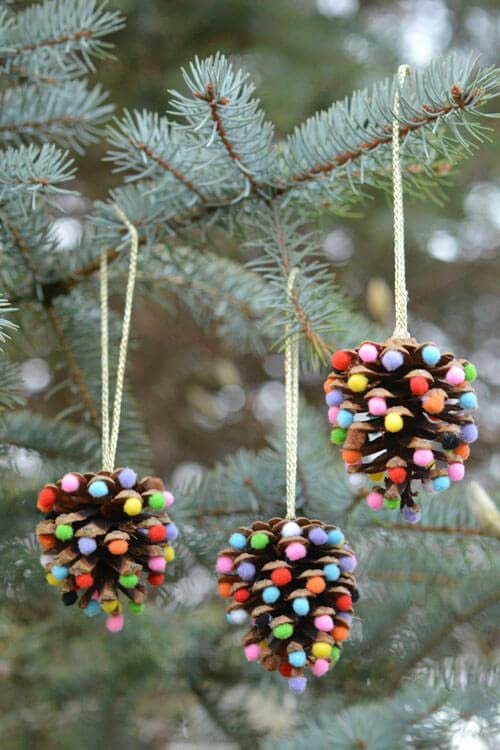 This DIY pinecone Christmas tree ornament is easy and fun to make. The addition of colorful pompoms to the pinecone scales gives them a cheerful new look that will be loved by the youngest ones in your family.
And why not include your kids in the process from the beginning (gathering pinecones) to the end (hanging the ornaments on the tree) and see them enjoy the result of their handwork?
25. Free-standing Gnomes From Pinecones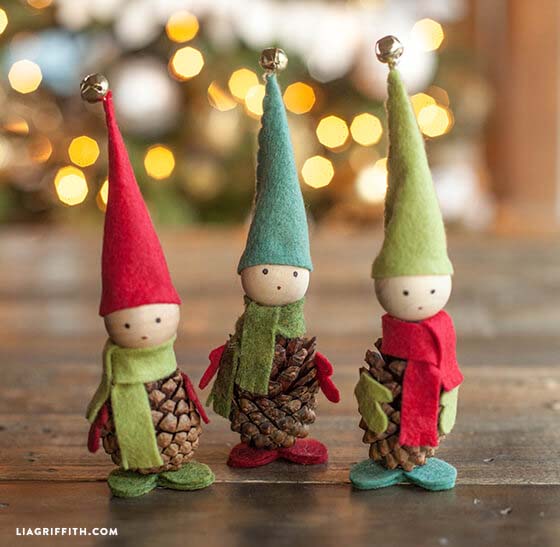 This is another design of the pinecone gnomes. This time, they are supported on felt legs to be added to your Christmas display.
There is also a tiny jingle bell at the top of the hats which makes the gnome figure so cute and jolly.
via Lia Griffith
26. Pinecone Statement Tree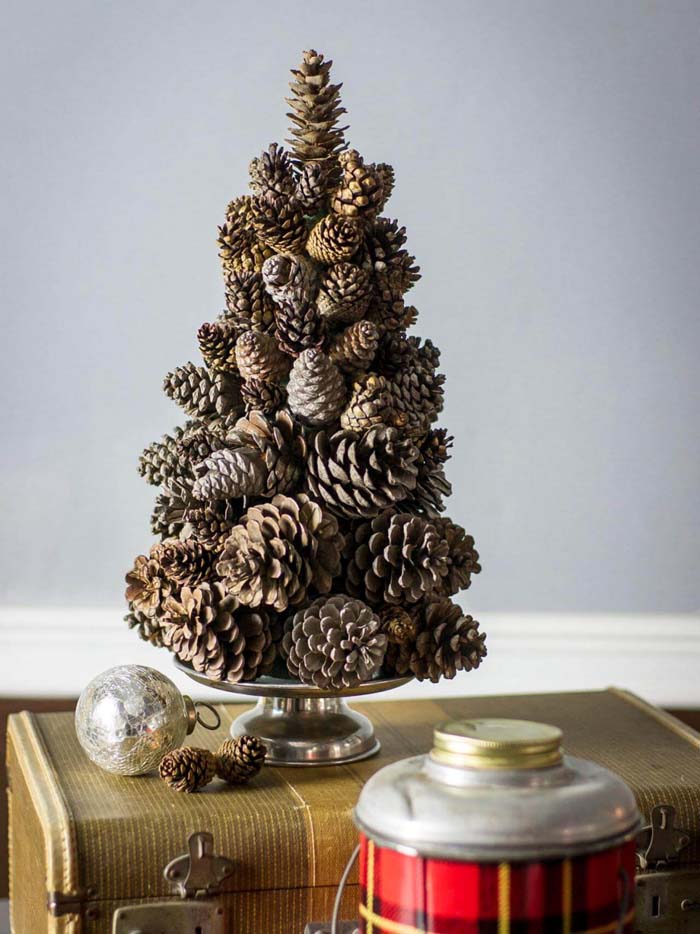 Make a statement piece for your winter home decor with pinecones. The idea features a pinecone tree made on a conic styrofoam base.
To attach the cones to the foam, use floral picks inserted downward into the foam. Anchor the finished tree into a vintage container or tray and fill the gaps with moss if needed.
via HGTV
27. Pine Cone Ornament With An Elegant Bow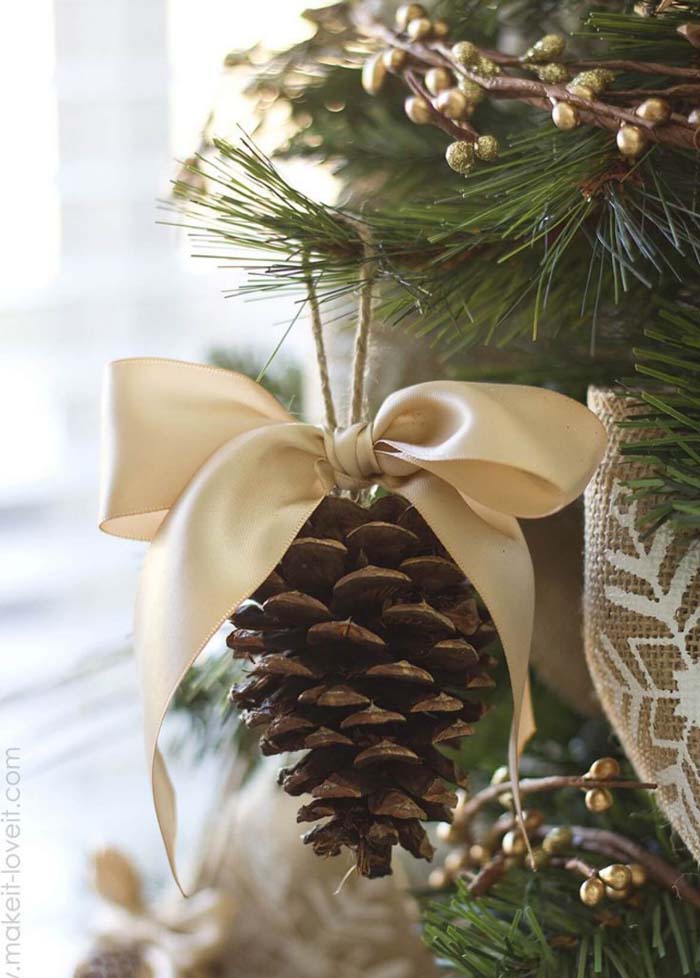 Adding this pinecone craft idea to your Christmas tree decoration will create a touch of rustic elegance.
The pinecone itself is purely rustic and when a dressing in the shape of a satin creamy bow is added, it gets a glamorous transformation.
via Make It Love It
28. Pinecone Star Fireplace Decor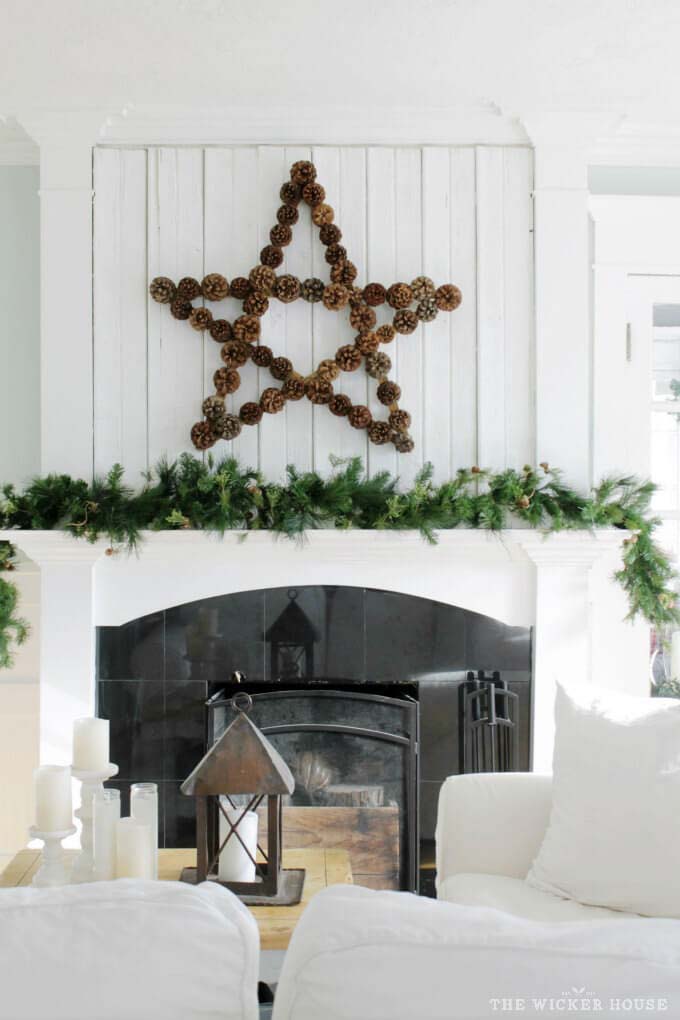 Looking for a winter fireplace decoration? Make this rustic wall hanging from pine cones to make a focal point for the Christmas season.
The star is a symbol of the Christmas tree top and recreating it from pinecones instantly gives the craft a festive design.
29. Cute Reindeer Ornament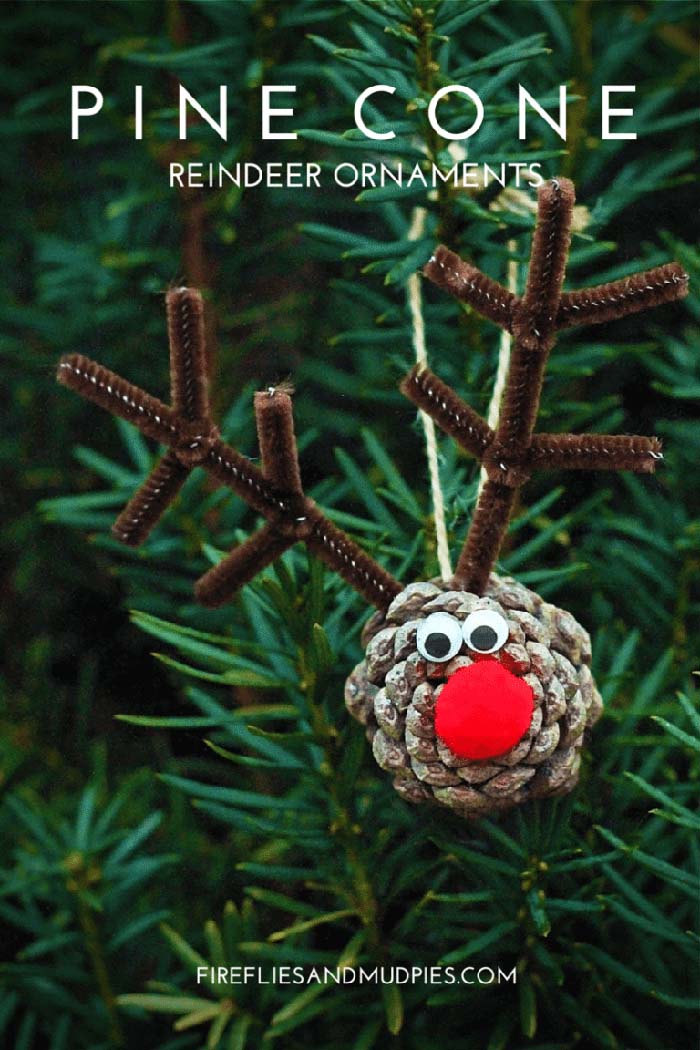 Another kid-friendly craft for winter that can be used for Christmas tree ornament features a transformation of a pinecone into a fun reindeer face!
Googly eyes and a red pompom are glued to the top of the pinecone. Two brown pipe cleaners mimic the antlers. Hanging happens with a piece of twine glued at the back of the cone.
30. Free-standing Pine Cone Christmas Trees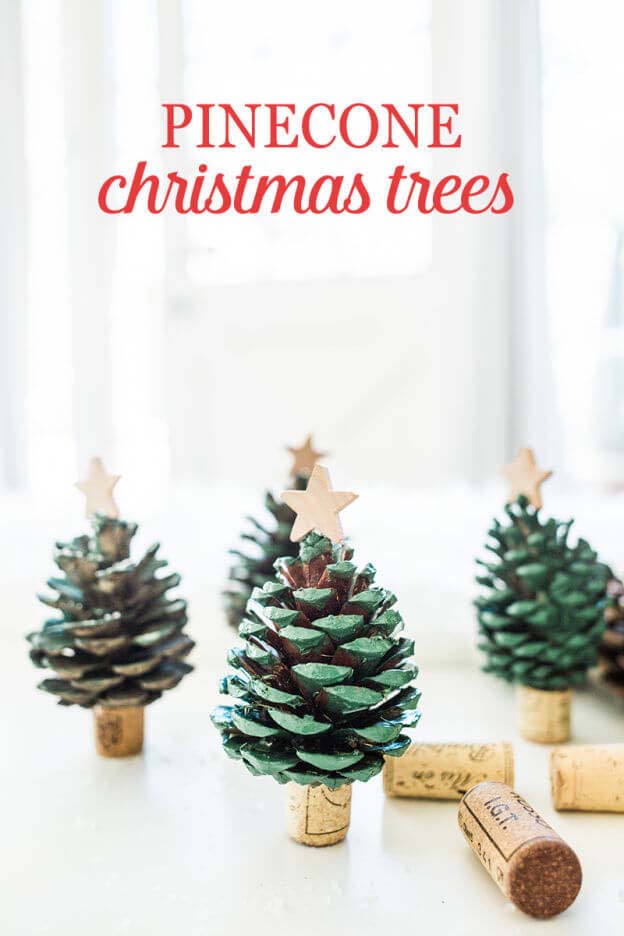 This is another alternative for a pinecone Christmas tree.
Gluing the pinecone to a wine cork gives the tiny tree a pedestal to stand on its own.
31. Glittery Pinecone Ornaments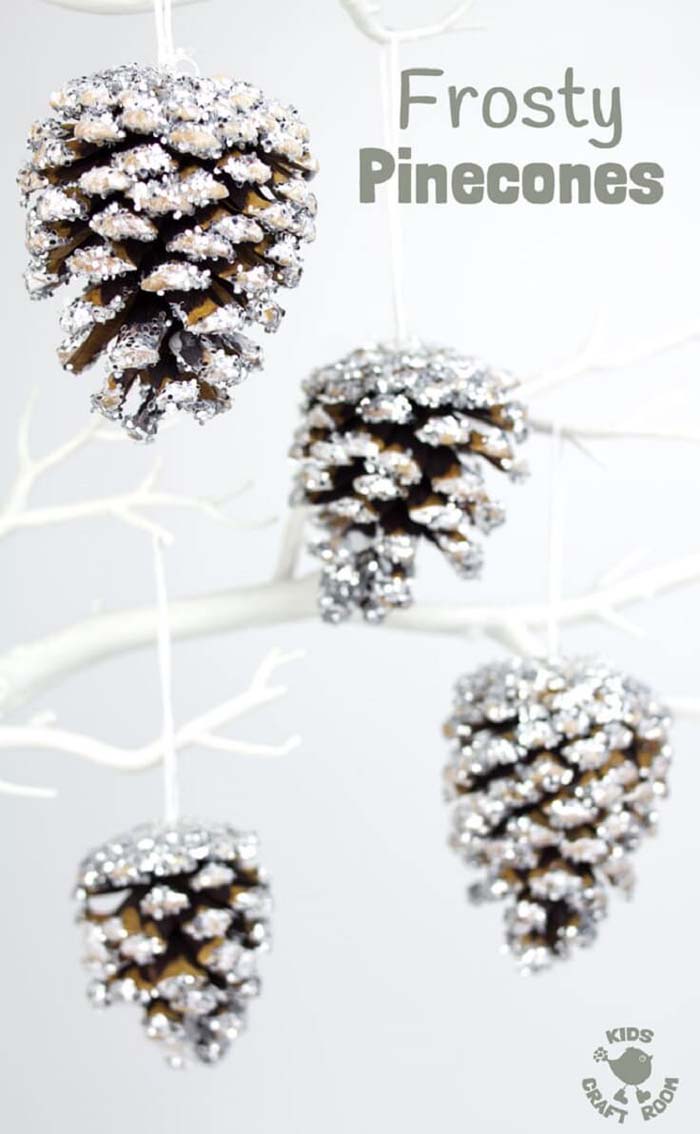 If you want to ensure that your pinecone Christmas tree ornaments are visible from the rest, coat them with glittery paint.
Added snowy sparkle will create a dramatic effect on the green background.
via Kids Craft Room
32. Rustic Pinecone Christmas Tree

This tiny pinecone tree is a rustic retreat for the winter season decor. To make it, you need to separate the scales from the stem.
The base is a styrofoam cone which ensures easy adhesion of the scales. Start gluing the scales from the bottom up aiming to recreate this stacked pattern.
33. Pinecone Candle Sticks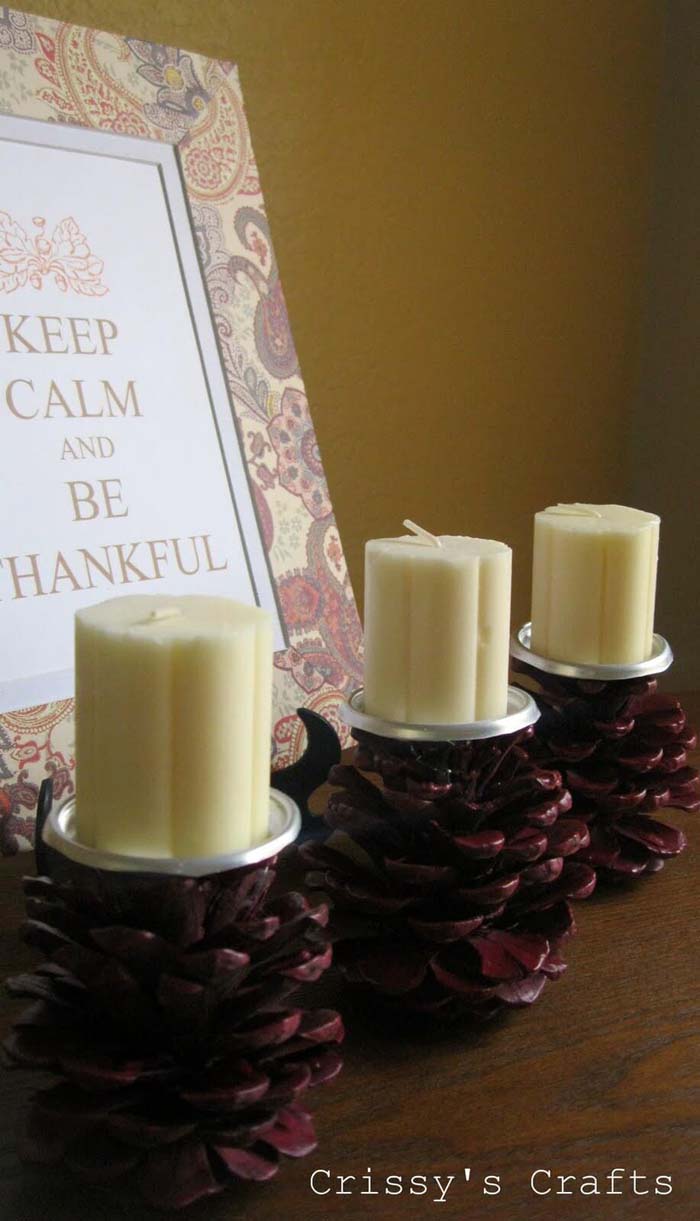 Although there is nothing difficult or complicated about this pinecone craft idea, it is very attractive and unique.
Pinecones are painted red and then repurposed into candle holders. For that idea, get the largest pinecones available. Take the top scales off, insert a metal holder and then the candle itself.
via Crissy's Crafts
34. Pinecone Cluster For A Front Door Decoration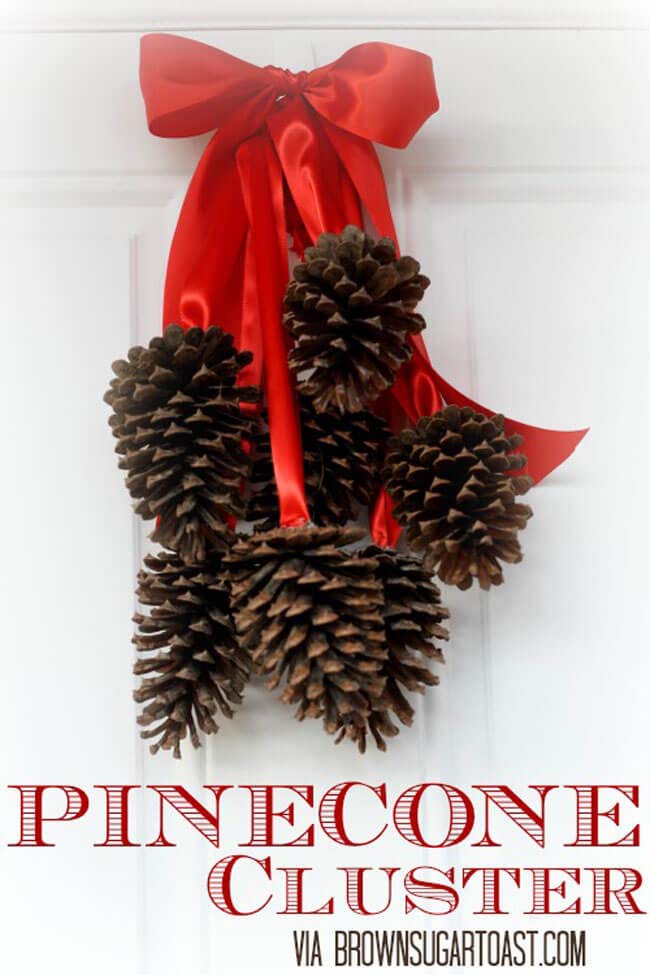 Use the festive red color to make a cluster of pinecones an attractive part of the outdoor decor for the winter season.
Take a satin red ribbon and cut it into different lengths. One of the ends is glued directly to the pinecone bottom, and the other is tied in a bow together with all other ribbon ends.
35. Snowy Pinecone Garland

Winter-themed garlands can be added to the mantle, to the windows, to a door frame, to a blank wall or to the Christmas tree.
Dip the ends of the pinecone scales into acrylic white paint to give the piece a snowy finish. Once the paint has cured, weave the red yarn around it.
via HGTV
36. Spring Blooms With Pinecones

The shape of the pinecones inspires many summer craft ideas. The scales remind the petals of dahlias and also of succulents and when the paint is added to the process, the transformation happens.
Use an old wooden frame to group the pinecone flowers together.
37. Realistic Snowy Pinecones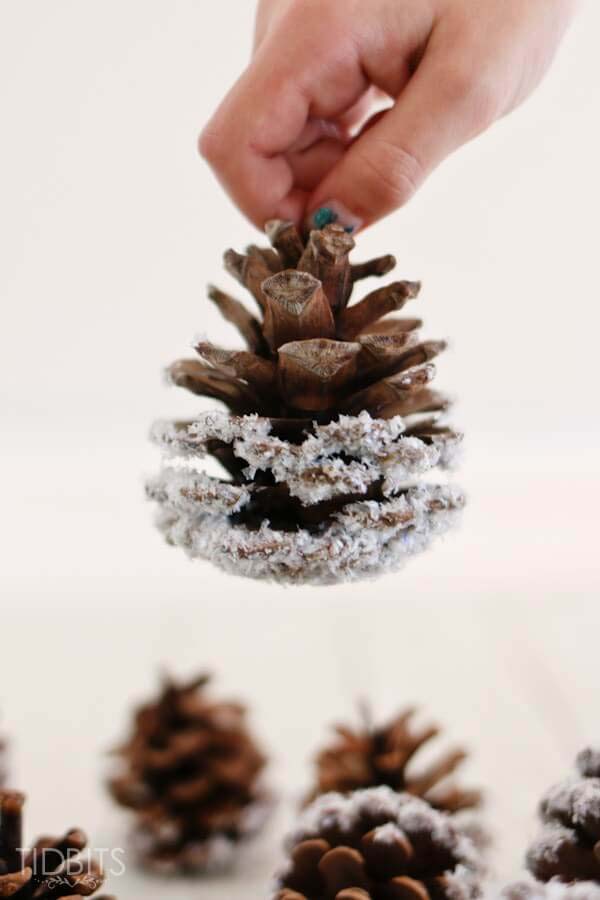 If you like the idea of frosted pinecones but want a more realistic look of the snow layer, follow this craft hint.
Instead of paint, glitter or Epsom salt, dip the scales of the cones in fake snow. Use school glue to enhance the realistic texture of the snow.
38. Pinecone Fox Ornament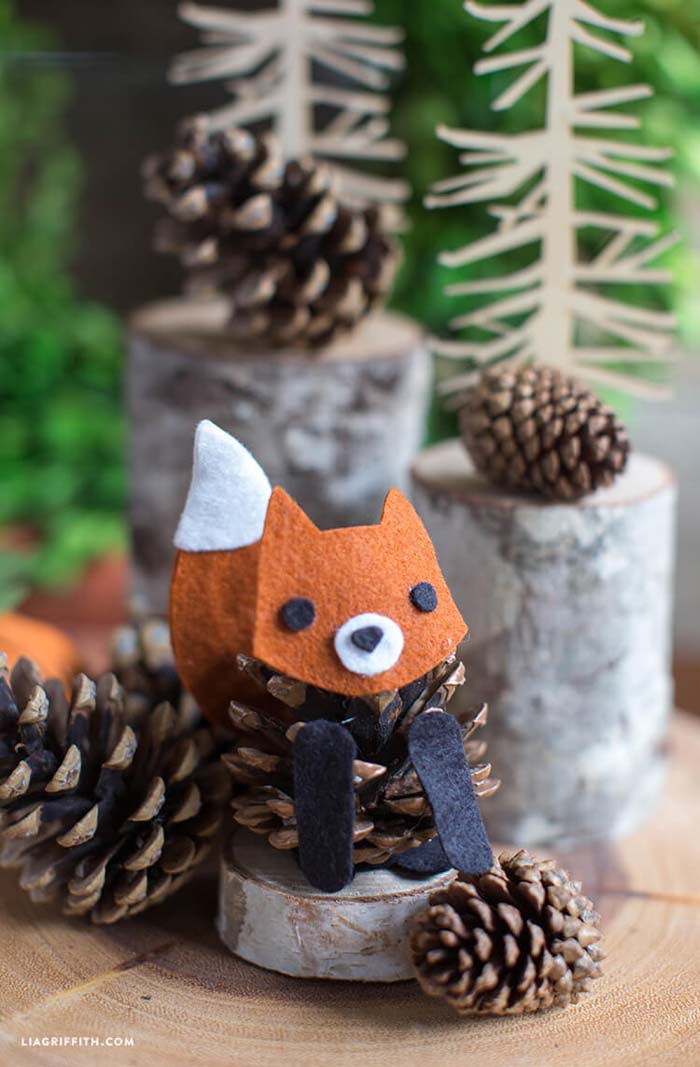 This is another cute animal craft idea that uses pinecones. Felt in different colors helps define the body pieces of the little red fox.
The pinecone acts as the main body part of the fox which also stabilizes it to stand freely on its own.
via Lia Griffith
39. Festive Pinecone Napkin Rings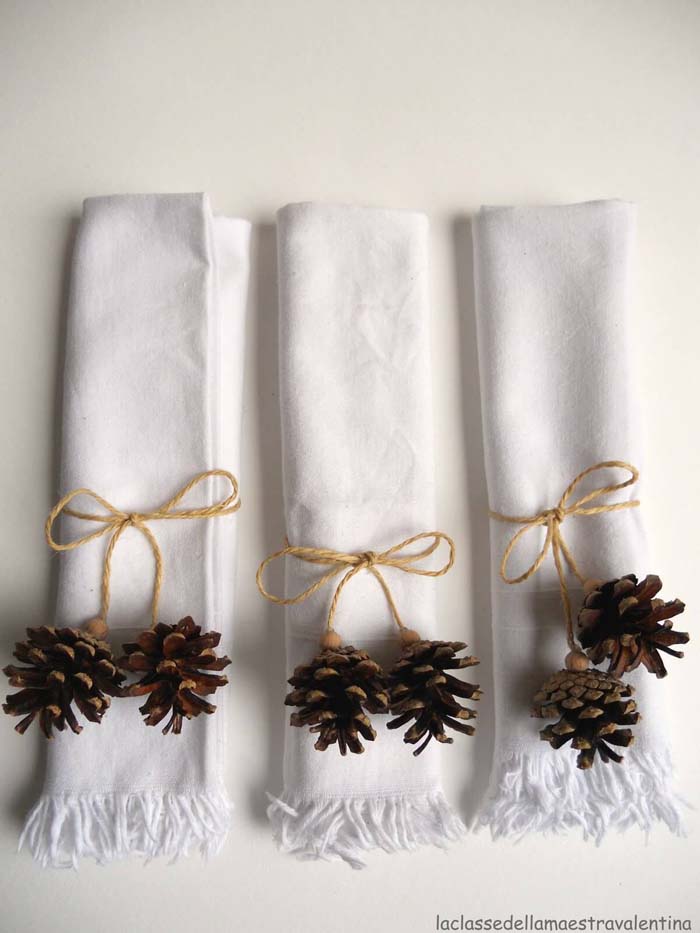 Finish your nature-inspired table decor with this easy napkin ring idea. Cut a piece of twine long enough to be woven around a napkin and finished in a bow.
Glue to either of its ends a wooden bead and a pinecone.
40. Pinecone Wreath For Cheerful Mantel Decor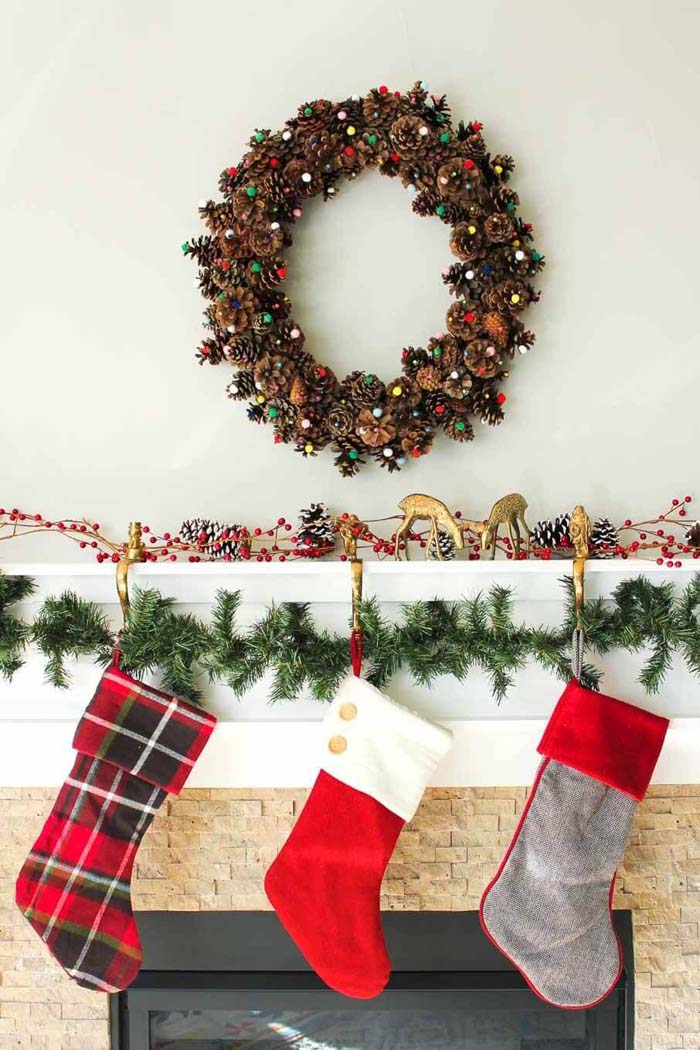 Elevate the simple pinecone wreath by adding colorful pompoms to the pinecone tops. The pompoms will add dimension and a cheerful point of interest to the space.
via Make and Do Crew
41. Painted Pine Cones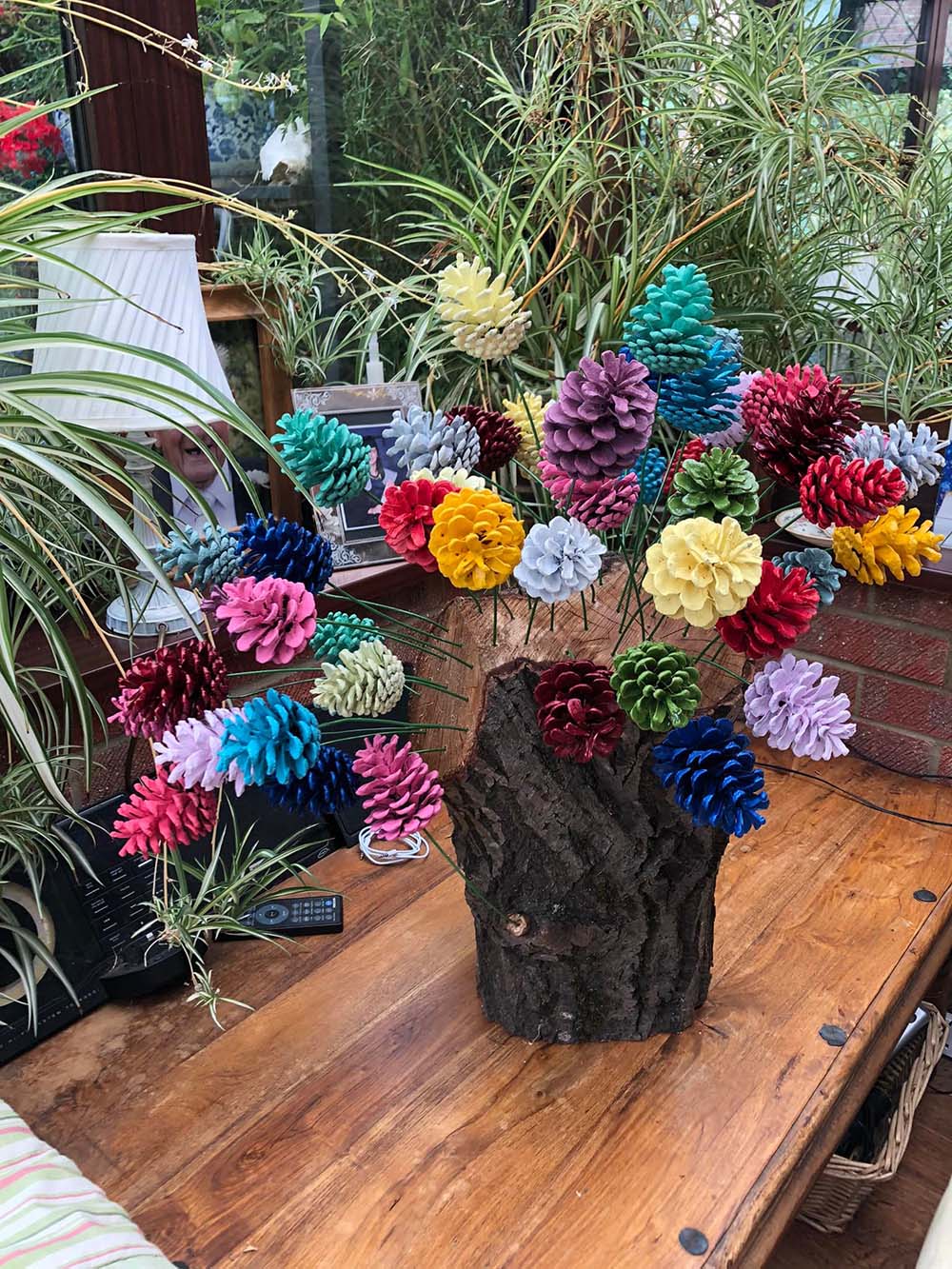 credit Stella Holifield
Fir cones picked up and painted. Used up all old bits of paint. Wire painted. Inserted into wood salvaged from a tree felled.
32. Lilacs From Pine Cones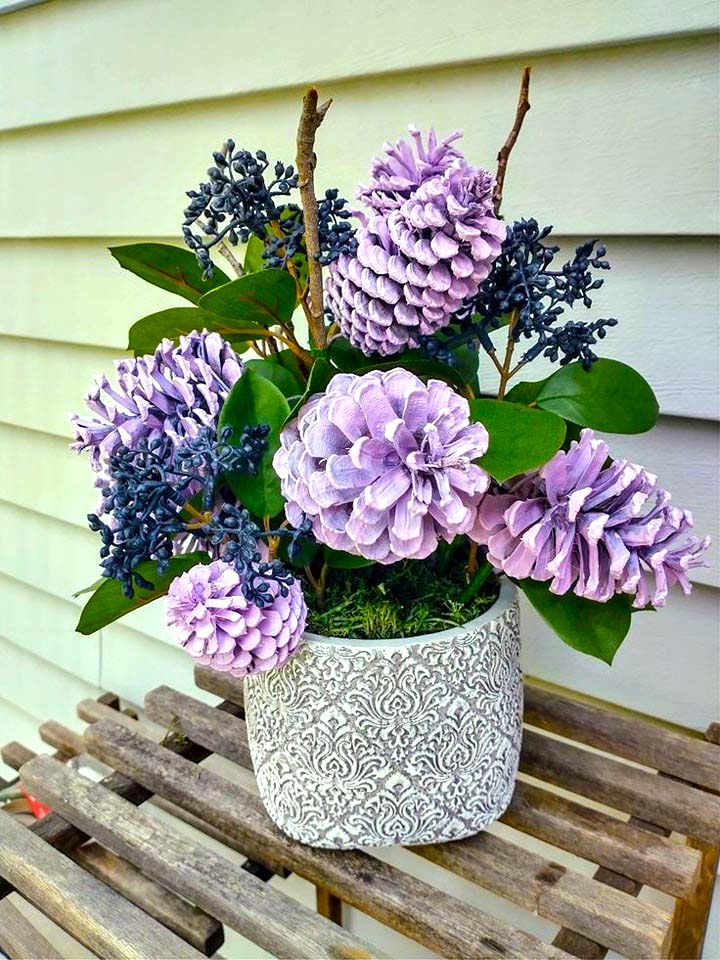 via Melissa Lynne