I'm sure you've seen beautiful string art designs all over Pinterest and craft blogs and you want to make your own, right? Why not?
It's a lot of fun and anyone can do it. Let me guess, you don't want to buy all the materials you'd need, ending up with tons of leftover materials?
The extra wood ( not to mention the garbage when cutting it ), a full can of stain, boxes of useless nails,  colored strings… nope!
That's why string art kits are an awesome option. Everything you need to make your fabulous design at a fraction of the supply cost. Plus no cutting, sanding, or staining – stick to the fun part, right?

It also gives you the chance to start right away with your project – just open the kit box and you are ready to go!
Another great advantage of kits over the DIY string art projects is that it's almost impossible to make it wrong. There are clear and detailed instructions for every step of the process so that the end result is what you would expect.
Easy to do by kids to boost their creativity and agility.
Boards and wood panels are pre-drilled so that you can just pin the needles or nails and start with the yarn. Colored yarns are available to achieve stunning results.
String art kits can maintain your or your kid's imagination and creativity for a long time. They are also very popular for birthday gifts. Clear directions make creating string art easy and fun.
After the design is ready you can put it as wall decor in your kid's room or anywhere that wall decoration is a nice fit.
1. Craft-tastic Peace Sign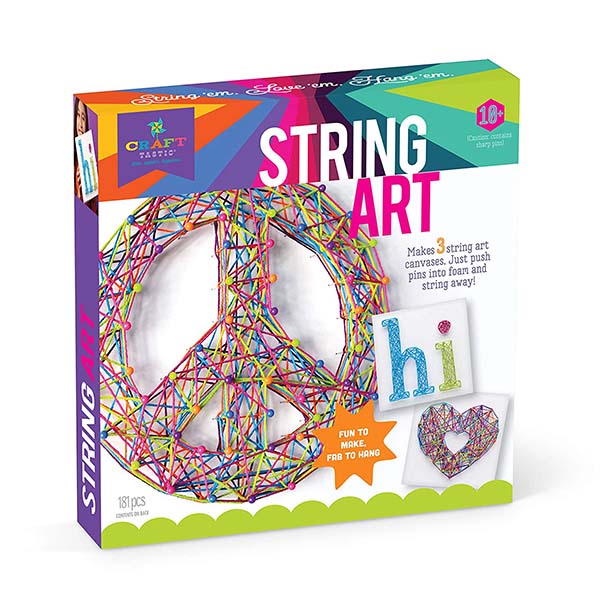 The first kit that I would like to present to you is the Craft-tastic 3 in 1 – Peace Sign. Actually, you will get three unique string art designs – peace sign, "hi" word and heart.
Even though at first look these designs look complex, they are easy to complete with detailed directions provided in the box. It's suitable for kids that are 10+ years old.
2. Owl String Art Kit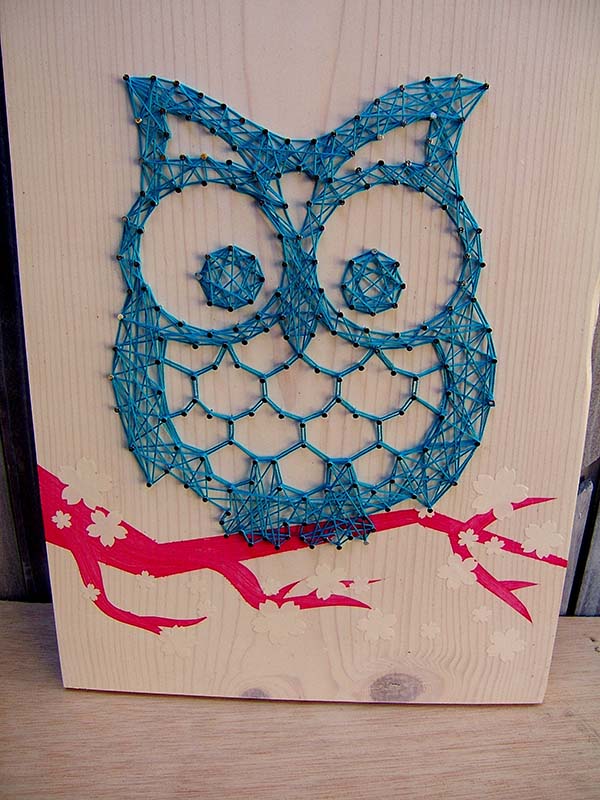 If you like owls, this would be the perfect kit for you!
Plus, it is one of the best string art kits for adults because it is quite complex compared to the ones I already showed you.  
It's a classic model with a wooden pad and nails that you have to knock with a hammer on a template.
The owl string art kit has been offered in various colors so choose the one that suits best your personal style and preferences. 
3. Klutz String Art Kit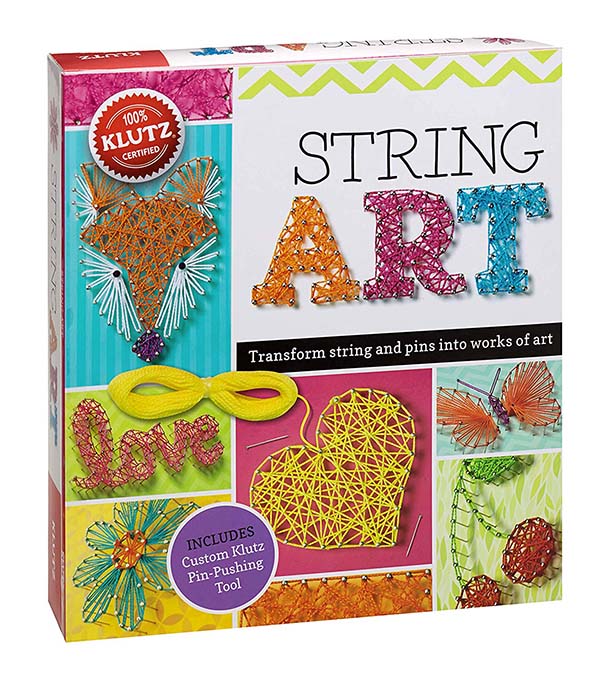 This is one is a bestseller on Amazon and it really deserves the title – multiple options and designs included as well as more than 50 pages of clear and detailed instructions. You can join your kid and have hours and hours of fun and joy.
If you spare some time to read the reviews about this product you will certainly feel that this one is the perfect gift for any kid that enjoys all crafty things.
The downside is that there's nothing holding the pins firmly in place because they're just pushed into the cardboard. Sometimes this could be a problem, but with some practice, you will master it.
4. Cactus String Art Kit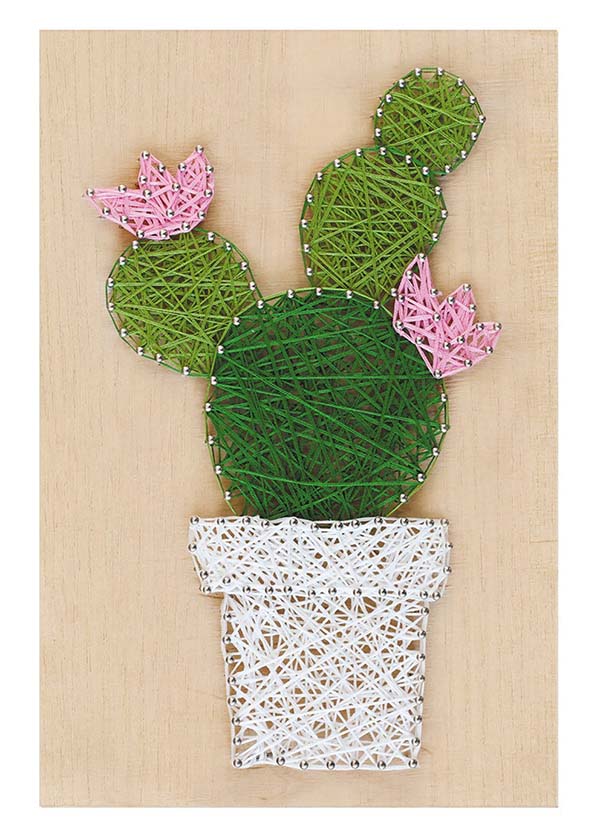 Everyone would agree the DIY string art kits are great for refreshing the boring interior at home. However, some of them are more cheerful and fun than others.
For instance, this blooming cactus string art kit surely can bring a positive vibe to every living room space or entrance hall.
I simply love the contrast between the three colors – would make the ideal Xmas or birthday gift!
5. 3D String Art Kit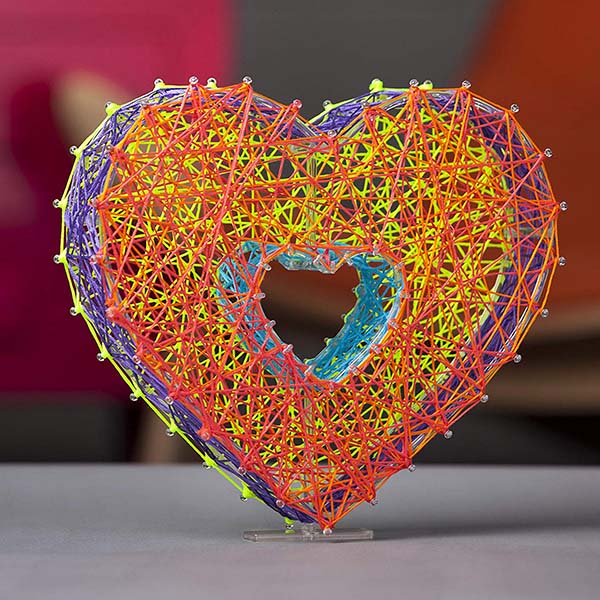 As a matter of fact, the 3D large string art kits are very trendy right now 
Where to buy kits such as the one in the picture above? Do not worry – there is plenty of 3D string art kits on eBay and Amazon. 
Imagine showing off this bubbly heart on your desk, bookshelf, or tabletop – it would definitely add texture and would make a perky focal point.
6. Lovely Heart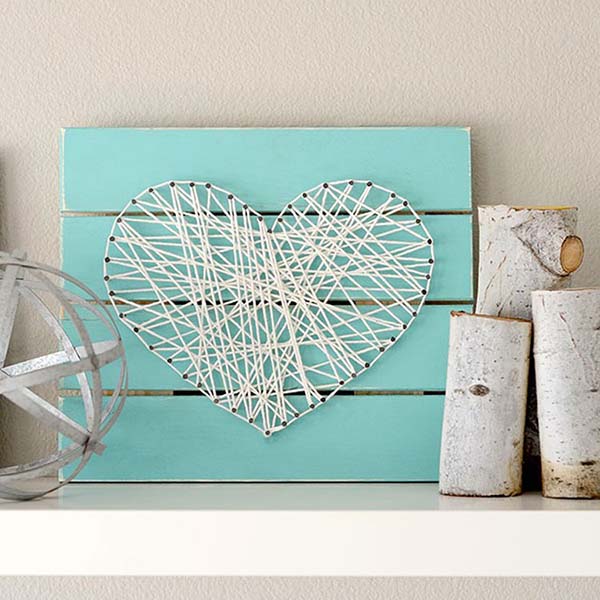 For those of you, who suffer from a constant lack of free time, there are many DIY string art kits that take not more than an hour or so.
This simple but stylish HEART string art kit (on the picture above) comes with everything you'll need – a small wood pallet, chord, yarn, black cut nails, a heart template and a full list of instructions and photos. 


So all you need to focus on is creating beauty!
7. Craft-tastic Bird Edition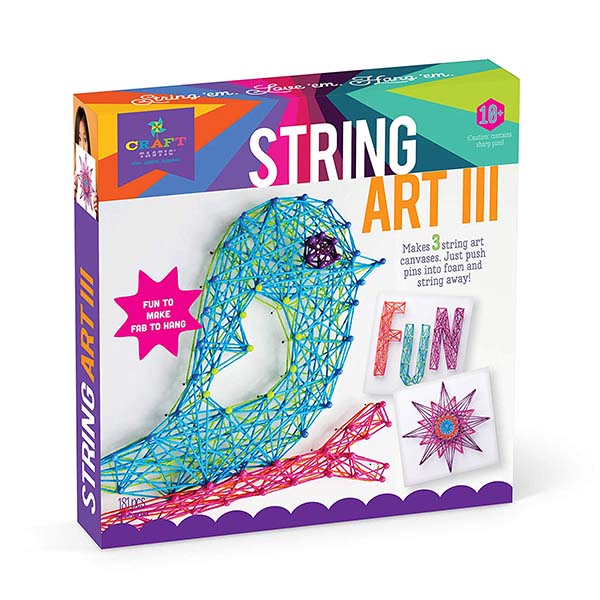 The best feature of the string art kits is that they are stimulating creativity in everyone – from kids to adults, don't you think?
In this line of thinking, this might be the best gift for the little ones this Xmas! 
Even though the design of this craft-tastic bird might look a bit complex, the project is very easy to complete with the clear, detailed step-by-step directions in the kit.
8. Christmas Joy Kit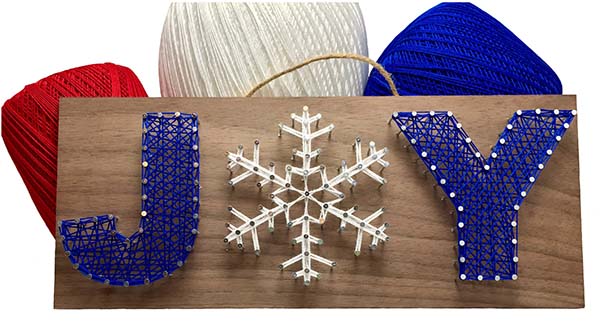 The reason why I like this "Winter Joy" kit so much is the rustically chic feel it brings to each space. Plus, it is very simple and would easily fit the rest of the indoor Xmas decor.
Besides, this string art kit comes with comprehensive instructions and it is specially made for beginners or DIYers with very little experience. 
9. Mandala String Art Kit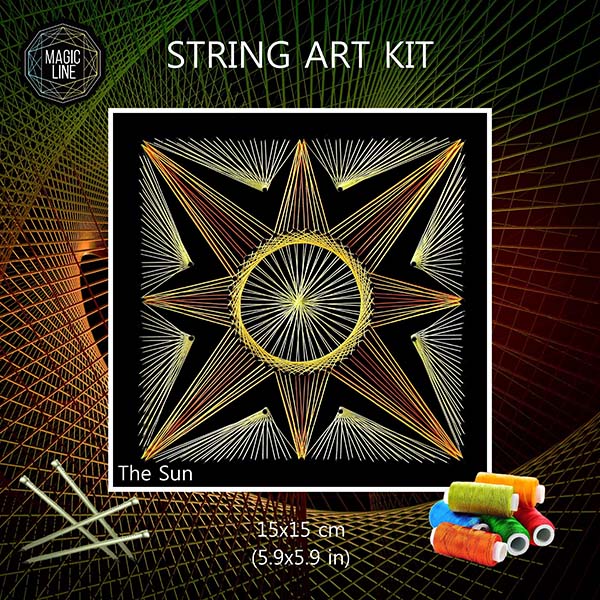 I find the "Magic Line" as one of the most interesting and eye-catching string art craft kits I've ever seen!
I bought one for myself and it now gives the house a joyful, peaceful vibe. 
Plus, it will help each one of you to boost memory, develop imagination, calm thoughts, increases concentration, attention and perseverance.
10. Advanced String Art Kit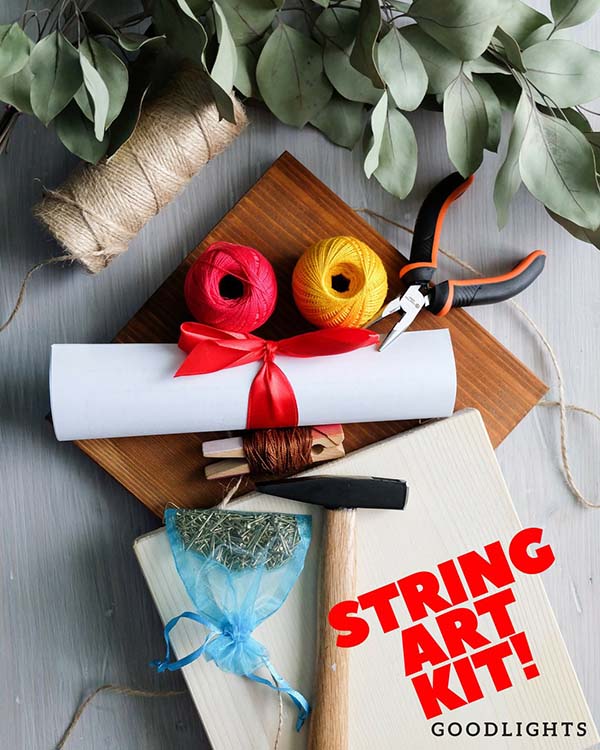 And here is the ultimate string art kit for both adults and kids that includes step-by-step instructions and all necessary tools to make your own string art jewel, including even the hammer!
Making a contemporary string art craft is a smart way to relax, relieve the stress levels and get yourself some quality "alone time". 
11. String Art Craft – Mega Activity Set for Kids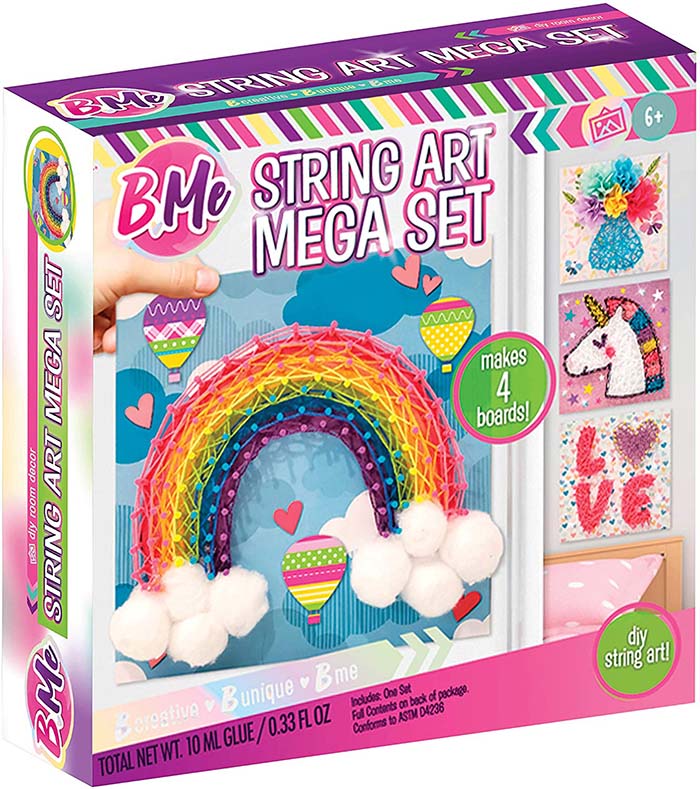 This new addition to our selection is a string art kit that contains 4 different art canvases so that kids can use the easy-to-follow patterns or design their own. All supplies are included.
This DIY kit has beautiful background paper and colorful needles. You can also find an instructional video on how to make the best out of it.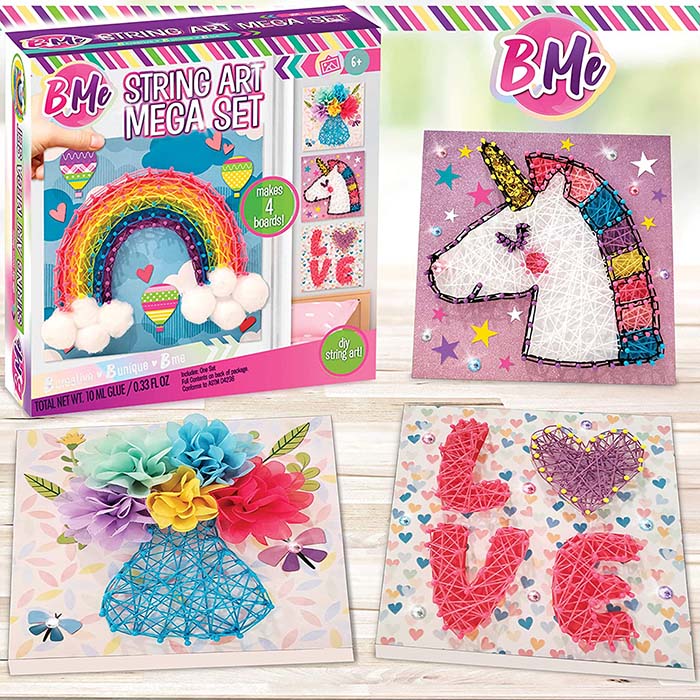 Even though it looks like a complex craft kit it's really easy to learn ( detailed instructions included ) and complete the patterns.
Still hesitate to try? Then don't! 🙂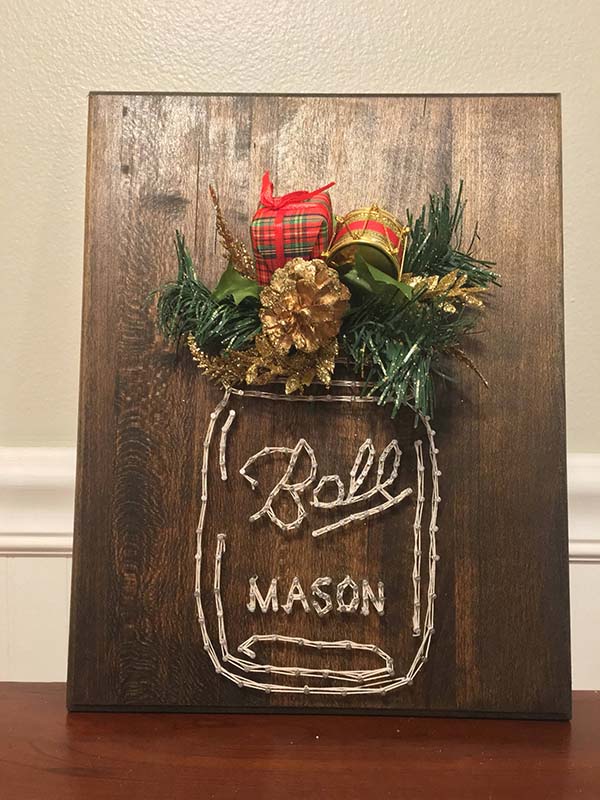 For all craft enthusiasts who are looking for some traditional string art kits, here is a friendly bonus! 🙂
This dimensional Mason jar project is simple and so much fun to complete. Plus, the kit contains all materials needed to complete the project as pictured.
What is exceptional about this piece of string art is you can change the faux flowers to match each season.
I am pretty sure that you'll like at least one of those string art kits! However, if you still prefer to make something by yourself, take a look at our collection of free printable string art patterns and choose the one the suits best your personal taste.
If you want to get some inspiration from the best string art projects made by professional DIYers – check out our Best String Ideas post.