I guess most of us have been on the hunt for cool winter decorations ideas. If so, then you have apparently seen tons of Christmas design ideas. 
And that is totally fine if you're looking for holiday decoration specifically, but useless if you want some winter home decorating.

So much enthusiasm goes into preparing for Christmas that the rest of the snowy season often feels null. It's time to change that!
If you're looking for a post-Christmas decor, then my collection of 20 winter decorating ideas is the perfect solution. I have got the best winter designs for the mantel and staircase in white.
I've also got several ways to fuse the season's evergreens into everyday rustic designs.
Don't let the end of the Christmas holidays get you down. Pick up some rustic decorating ideas from my list and start creating as a real experienced DIYEer!
1. Unwrap a Beautiful Green Wreath and Birch Candle Combo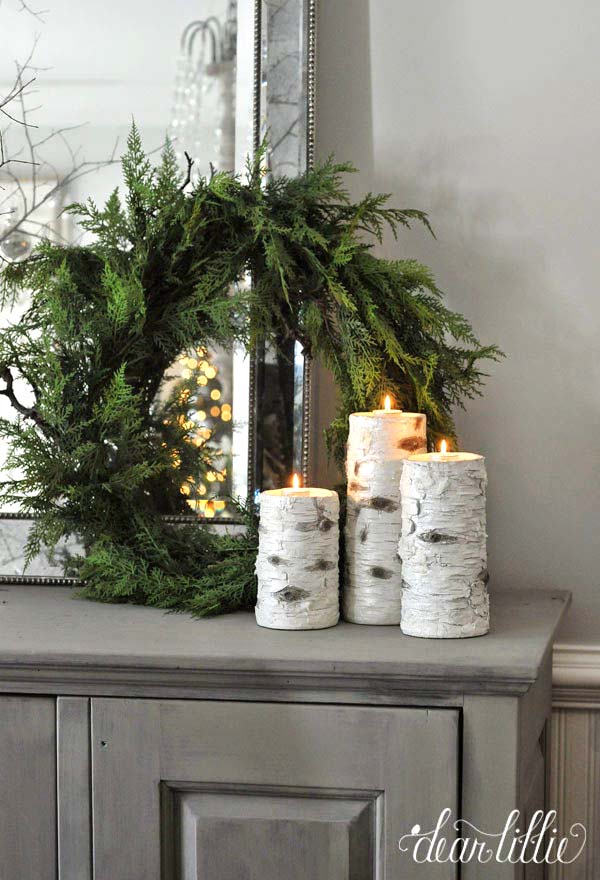 Photo:Credit
I decided to start my collection with one of the timeless and most stylish rustic decor ideas for a wintery feel at home.
A basic arrangement with a wreath of fresh evergreens and a bunch of birch candles makes a lovely piece you can showcase above a fireplace all winter long.
2. Transform Your Tablescape into a Winter Wonderland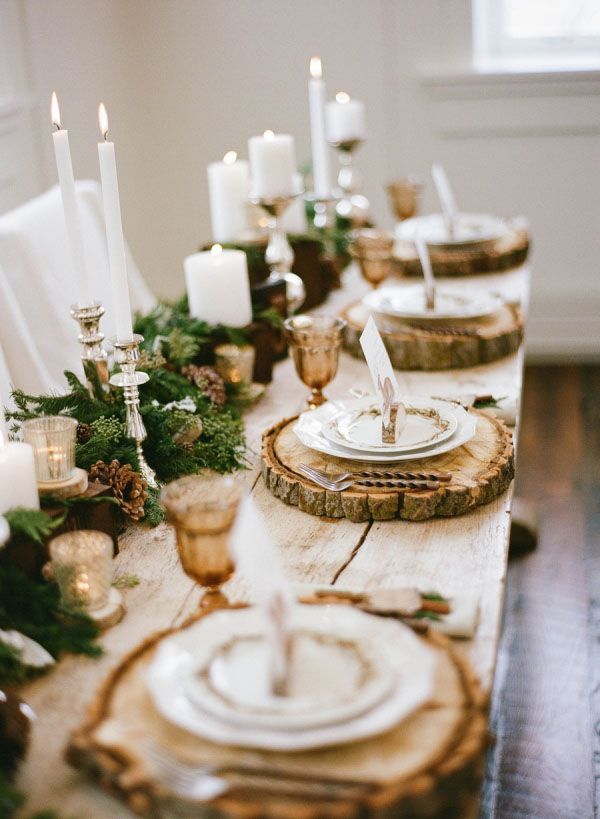 Photo:Credit
People usually put lots of efforts and time to arrange the festive dining table, however, I believe the small details matter not only on Christmas.
Take a look at this rustically chic winter decor for the dining table that would make every guest of yours feel warm and cozy.
3. Welcome Your Guests with a Classic Winter Centerpiece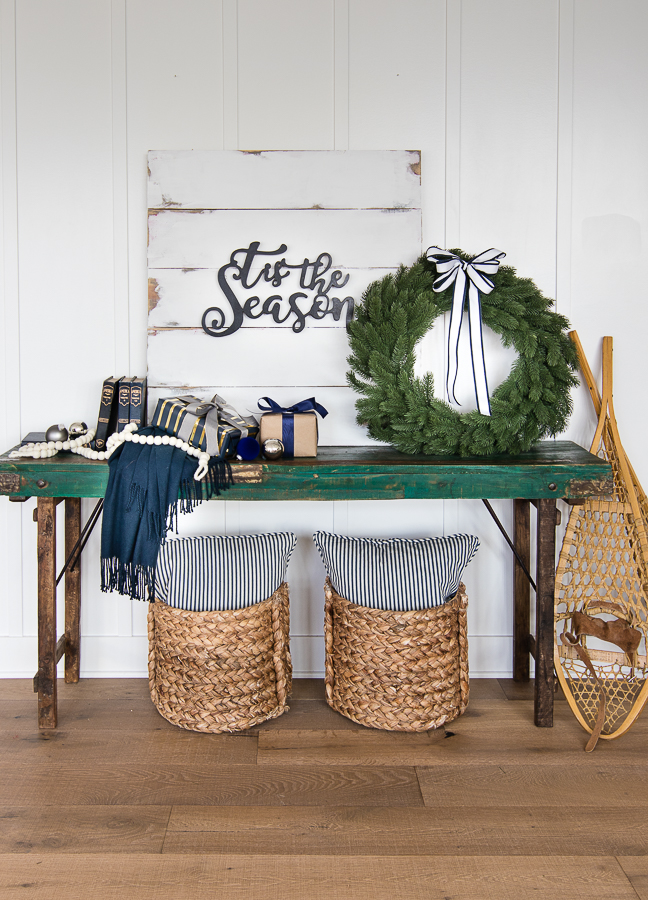 Photo:Credit
I simply love this winter themed centerpiece for the entrance hall!
Welcome your friends and family with this charming vintage winter sign painted with white paint for wood. Add a few blue ribbons in various sizes to finish off the look.
4. Bring Rustic Charm with a Vintage Lantern and Evergreens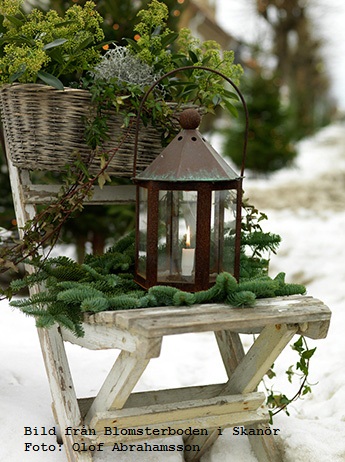 Photo:Credit
Want to add some "wow" detail to the empty boring space around the porch?
Then, mix organic elements from the nearest park with a metal vintage lantern for subtle front porch decor.
5. Transform Your Space into a White Christmas Scene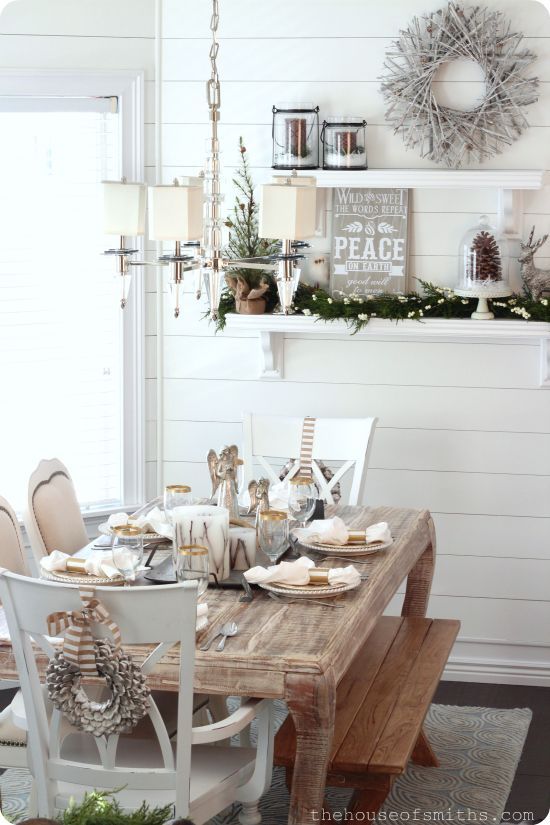 Photo:Credit
Make a whimsical snowy scene at the kitchen to enjoy indoors by matching fresh evergreens with a bunch of rustic candleholders and an all-white farmhouse table set.
Add some gold to give the simple winter design a bit of extra glam.
6. Add Rustic Charm with a Personalized Canvas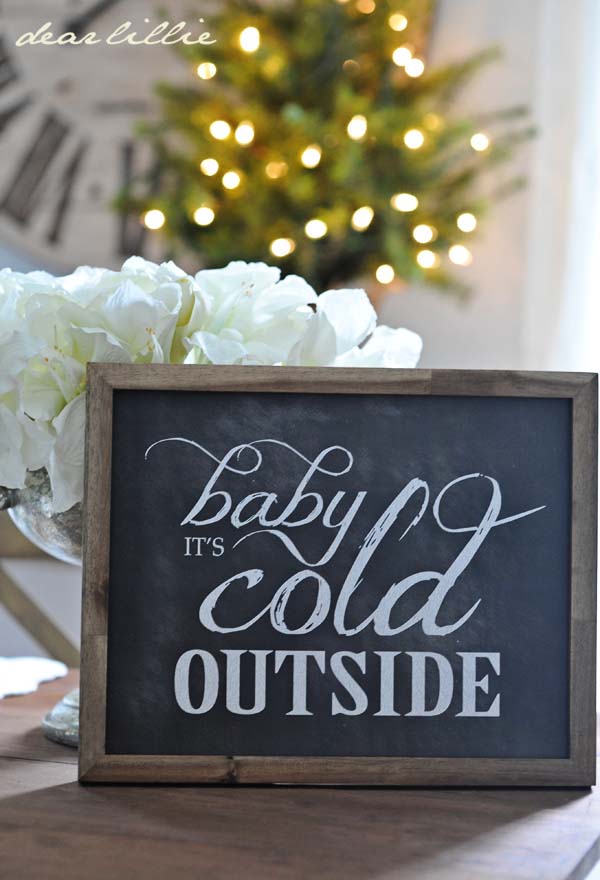 Photo:Credit
Decorate your mantel with this rustically dashing, hand-written canvas for some extra warmth and coziness at home.
Just a hint: I would add some evergreens to create a nice contrast between the green and the black & white canvas.
7. Create an Enchanting Scene with Wintery Pinecone Candle Jars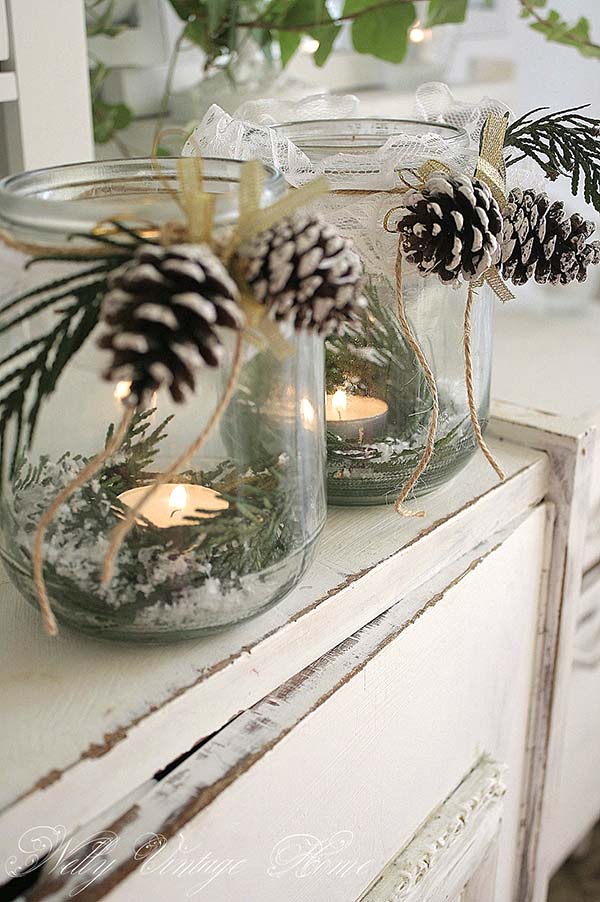 Photo:Credit
Here is one of the most loved and popular rustic decorating ideas for the home of all times.
Snow texture paint (some faux snow would also work), a bunch of pinecones from the backyard, Mason jars (or any other empty jars), and twine come together to create these wintery DIY luminaries.
8. Bring Farmhouse Charm with a Metal SNOW Wall Sign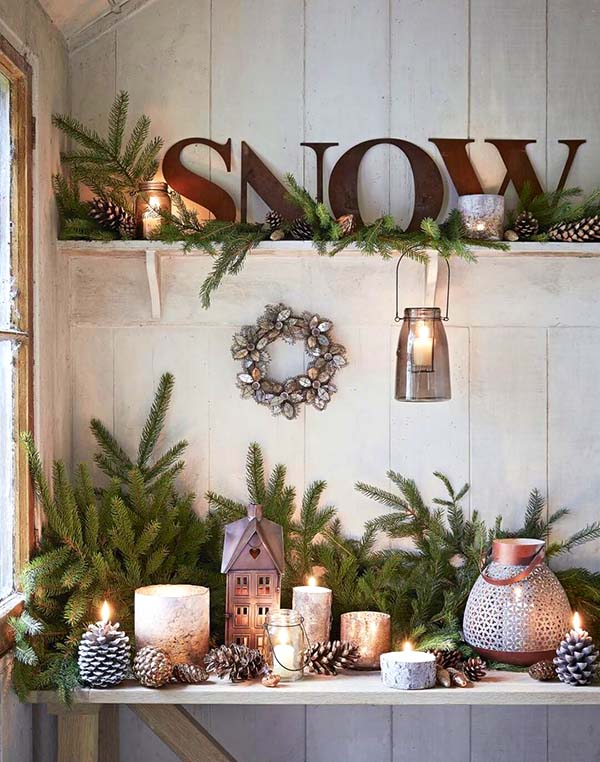 Photo:Credit
Looking for some splashing winter mantel ideas?
This farmhouse mantel decoration can be made in less than 15 minutes, thanks to some evergreens (use some from the Xmas tree), large metal letters, Mason Jars tea lights, and some organic elements from the backyard.
9. Upgrade Your Living Room with Frosted Winter Decor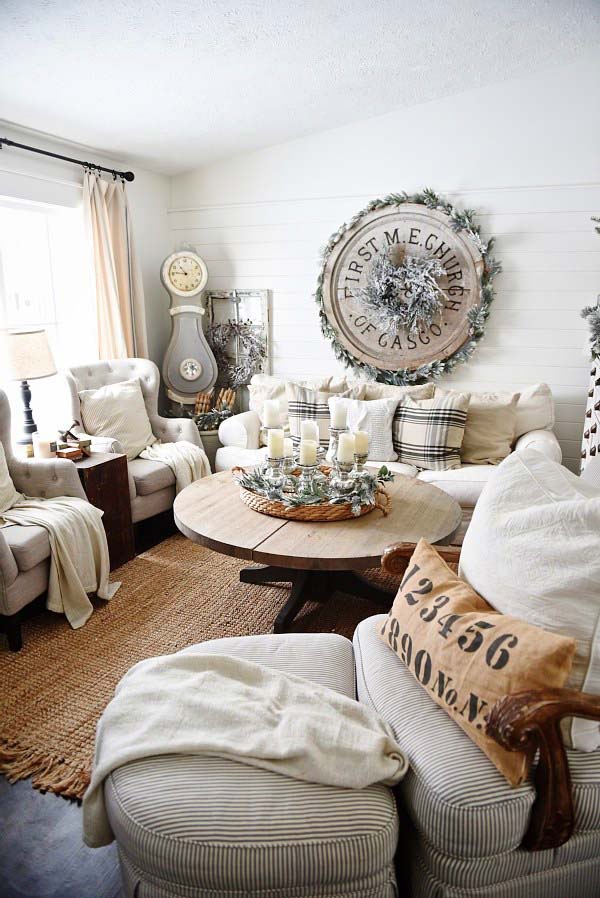 Photo:Credit
One of the easiest ways to create an eye-catching, cozy winter home decor is by giving the space more texture.
For instance, display some rustically chic wall art, a bunch of different size candles and tons of cushions. It will work, I promise.
10. Decorate Your Mantel with a Candle Centerpiece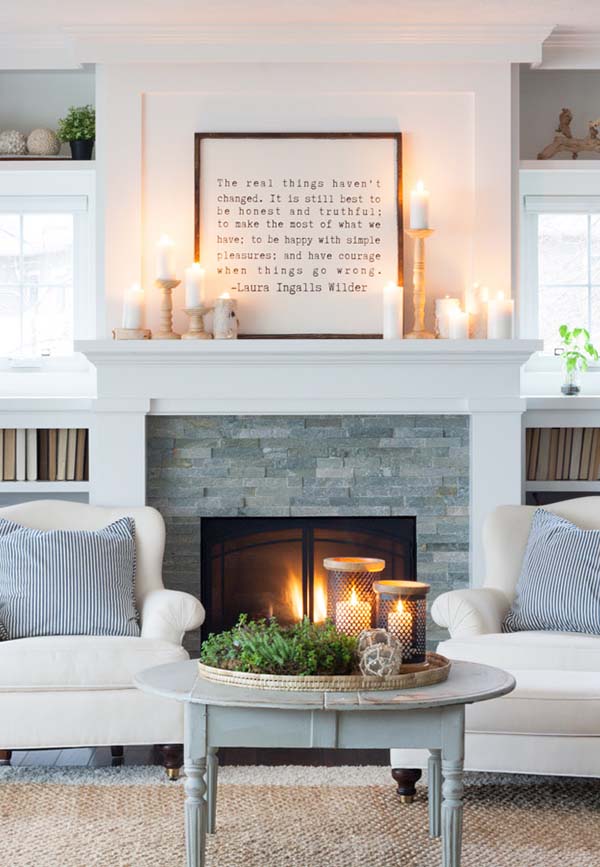 Photo:Credit
This winter decor project is ideal for a simplistic snowy, Nordic-style mantel, which I was craving after so many months of red and green.
Add some with candles to make the decor look more twinkly and magical.
11. Bring Rustic Elegance with Natural Winter Decor

Photo:Credit
If you are a fan of the rustic decorating, here is a great idea for using dead branches, pinecones, moss and cork garland, which you can find in any craft shop nowadays.
The lights are optional, but if were to fill the glass a vase with battery operated ones it would surely add some extra sparkle.
12. Create Timeless Home Decor with a Wintery Craft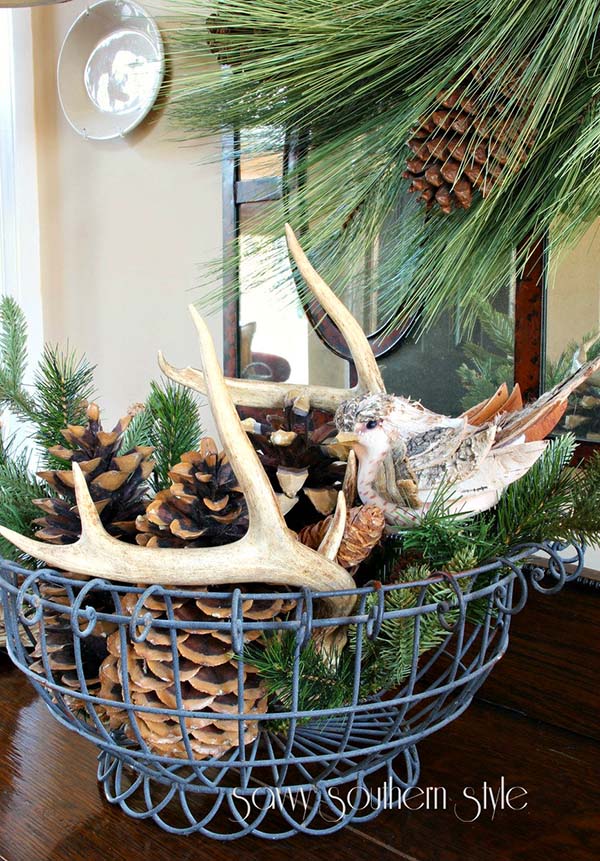 Photo:Credit
Arranging a little faux bird to be cute sitting on top of some fresh greenery and pinecones, could be a beautiful wintery decor for the entrance hall or the kitchen cupboard.
You can easily customize this winter home decoration by adding/removing elements you like more.
13. Elevate Your Fireplace with a Winter Planter and Lantern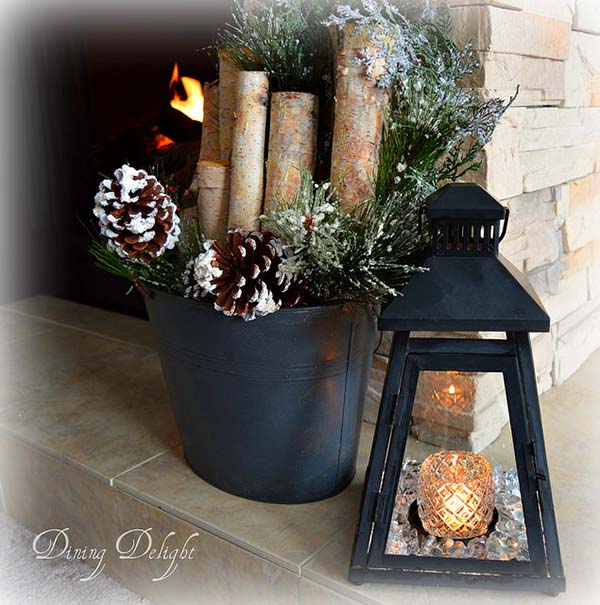 Photo:Credit
The space around the fireplace is something you shouldn't ignore, especially in the winter time.
Mix backyard elements in an old farmhouse bucket, then add some faux snow to enhance the wintery vibe. And voila – you're done for less than 10 minutes!
14. Spruce Up Your Home with Nordic-Style Winter Decor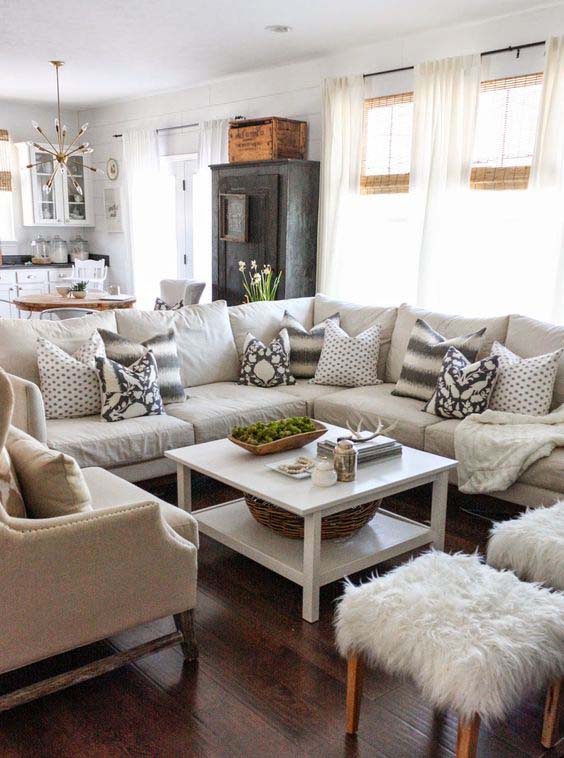 Photo:Credit
I have always been a big fan of the Nordic home decoration mainly because it is very simple and yet appealing.
For instance, a small bamboo bowl full of moss and a pair of faux goat horns are enough to make this coffee table look stylish and beautiful.
15. Give Your Home a Cozy Feel with a Snowy Mason Jar Setting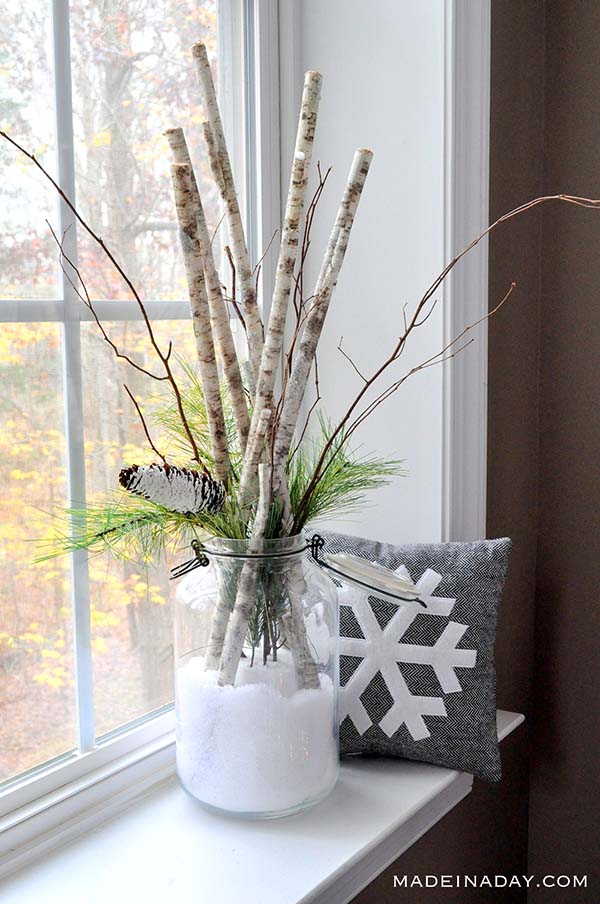 Photo:Credit
This bundle of birch branches, fresh evergreens, and artificial snow will look perfect next to the kitchen windows.
Display them in a large Mason Jar to embellish the vintage feel.
16. Embellish Your Stairs with an Evergreens Garland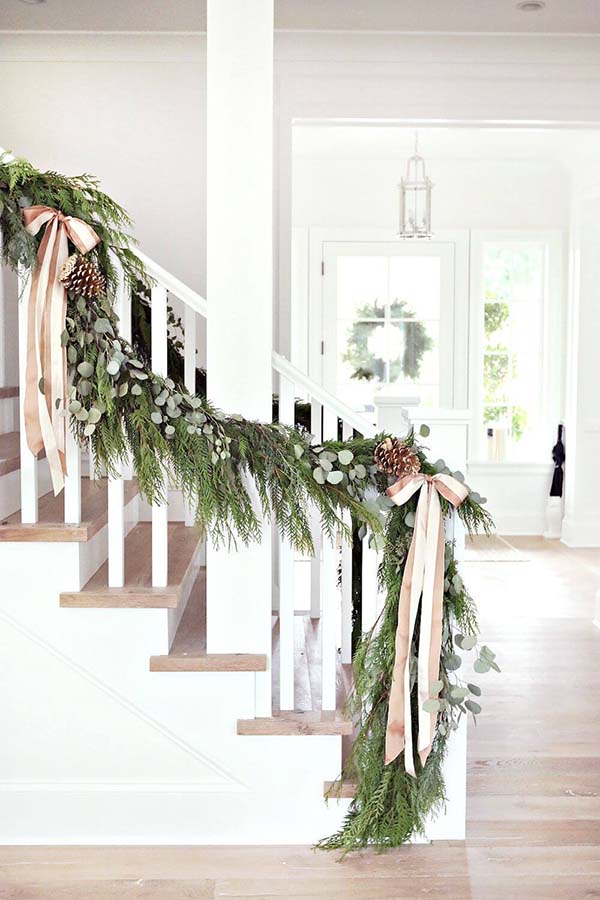 Where we are planning the staircase winter decor, there is nothing better than a solid DIY garland made of evergreens and some ribbons in soothing colors.
Just a hint: why don't you add a bunch of dried orange slices for an extra rustic chic?
17. Show Your Gratitude with a Rustic Winter Wall Decor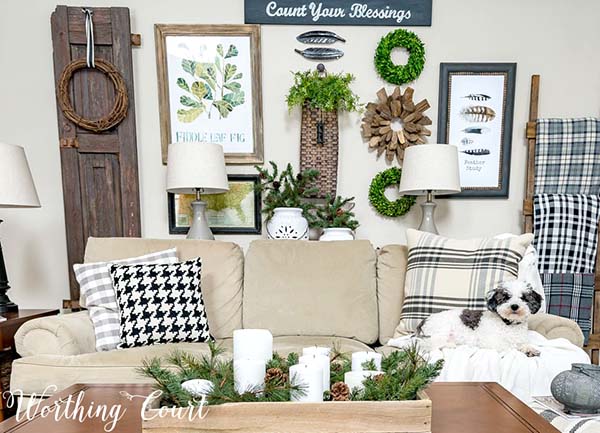 Photo:Credit
Winter can be difficult to decorate for and keeping the home cozy and warm is even more tough!
 One of the best tricks is to mimic what you see through the window – evergreens, pinecones and white elements – and to display them on the wall.
18. Achieve Timeless Elegance with a Wintery Scroll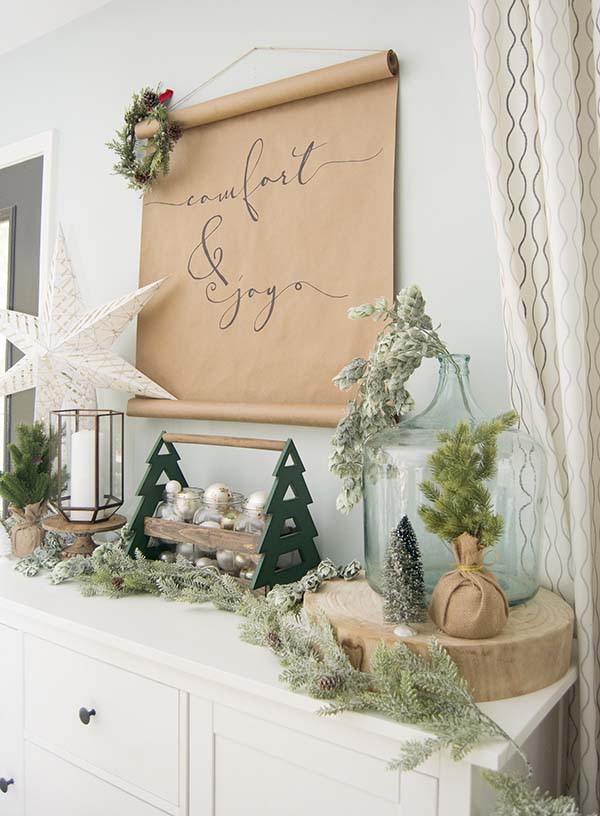 Photo:Credit
If you want to brag with the most unique DIY winter decor, you should definitely try to re-create this stunning handmade scroll.
Using a Kraft paper is a must to build a strong rustic vibe.
19. Make a Statement with Rustic Mirror and Wreath Mantel Decor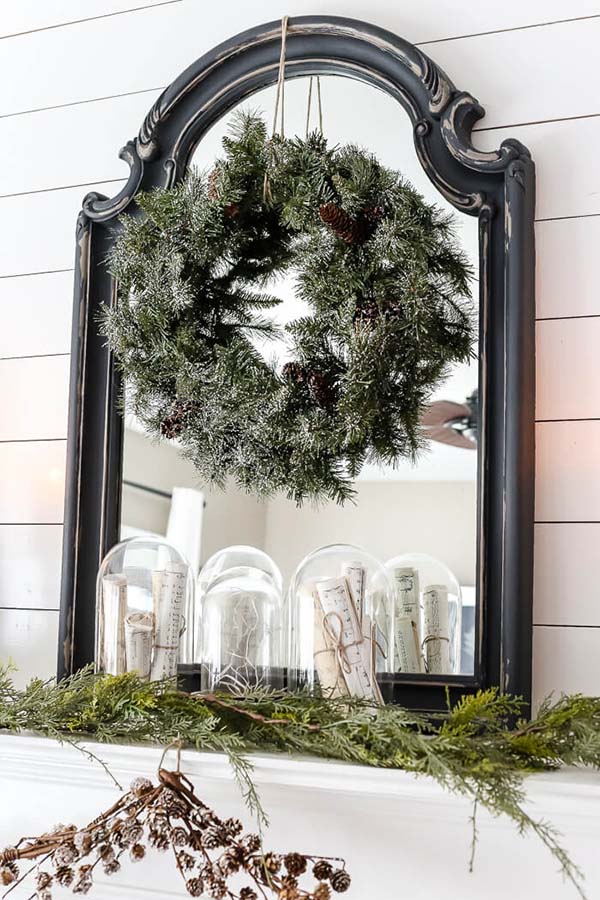 Photo:Credit
This winter, you can transform the space around the mantel into the focal point of the living room space.
This nature-themed decor is one of the options I would suggest you to re-create. It is very easy to make, simple, and timeless.
20. Style Up Your Living Room with Rustic Winter Decorations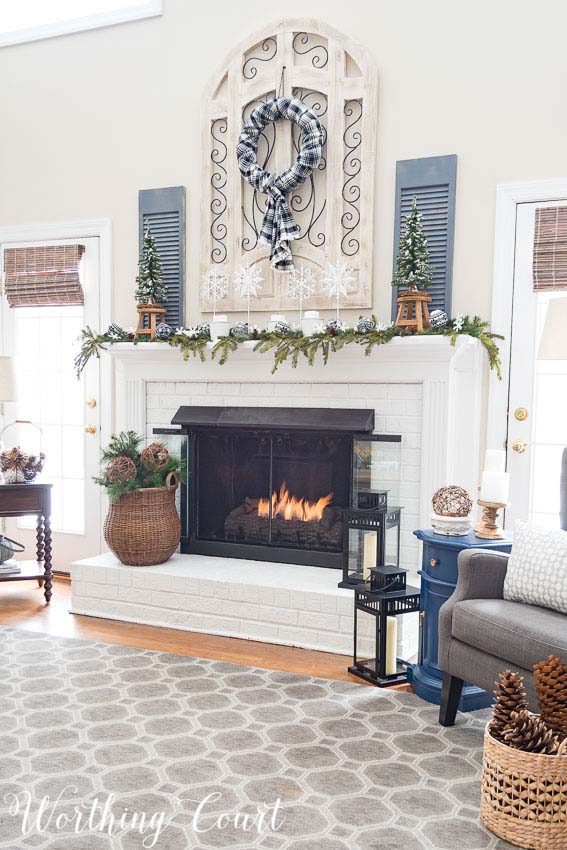 I will finish my collection of winter decorations with this beautiful living room design idea that makes me feel like I am being hidden in a warm cocoon of coziness.  
Use what you have in your backyard and create something rustically welcoming and stylish.
So, did you manage to find the best winter decor ideas how to make every space in your home feel cozy and more inviting? Which project is your favorite one? Have you tried any of them yet? Let me know in the comment section below! 🙂