If you will host the holiday dinner this year, keep in mind the Christmas table decorations are even more important than the menu. They create a cheery, festive vibe and also are a great way to express your personality.
I guess that many of you consider the process of decorating the table as expensive and unnecessary, however, I'd prove you wrong with these 20 creative dining table Christmas decorations.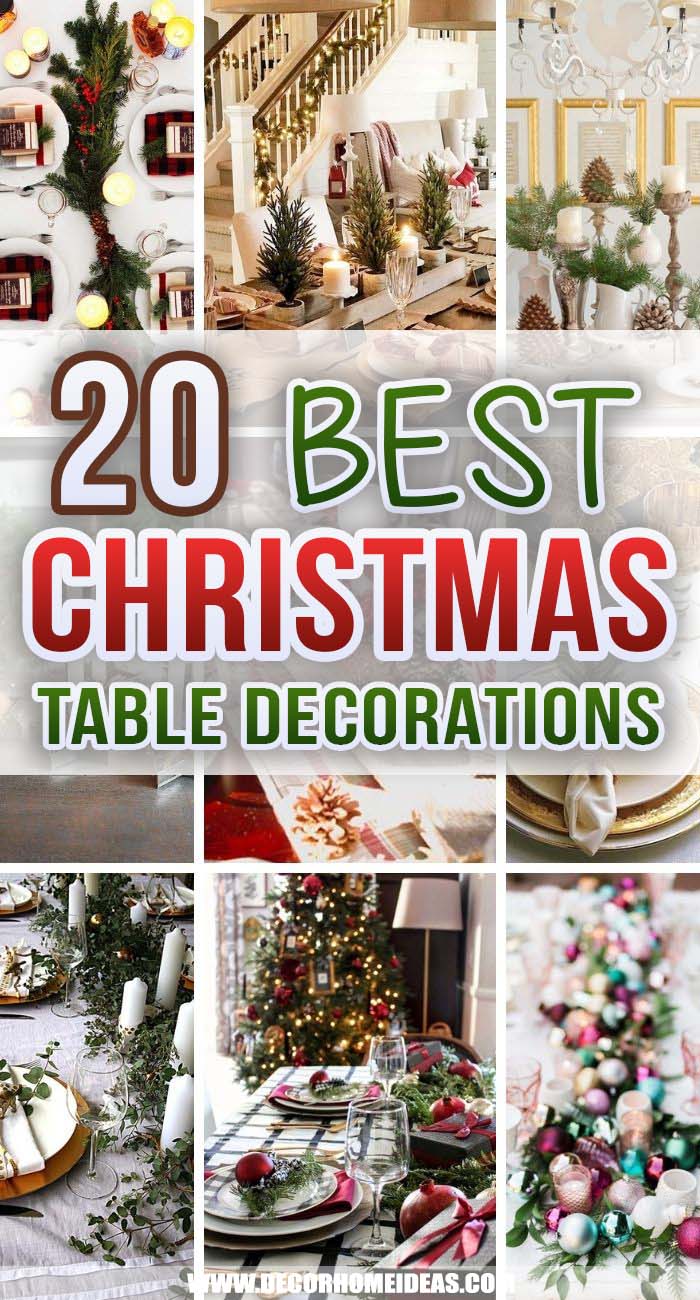 You don't need to spend your savings to create a sparkle to your table setting, trust me! There are tons of cool Christmas table decorations ideas, such as table centerpieces, tablecloth, and DIY shimmering accents, in Pinterest you can get inspired. So let's dig in!
1.Farmhouse Woodsy Tablespace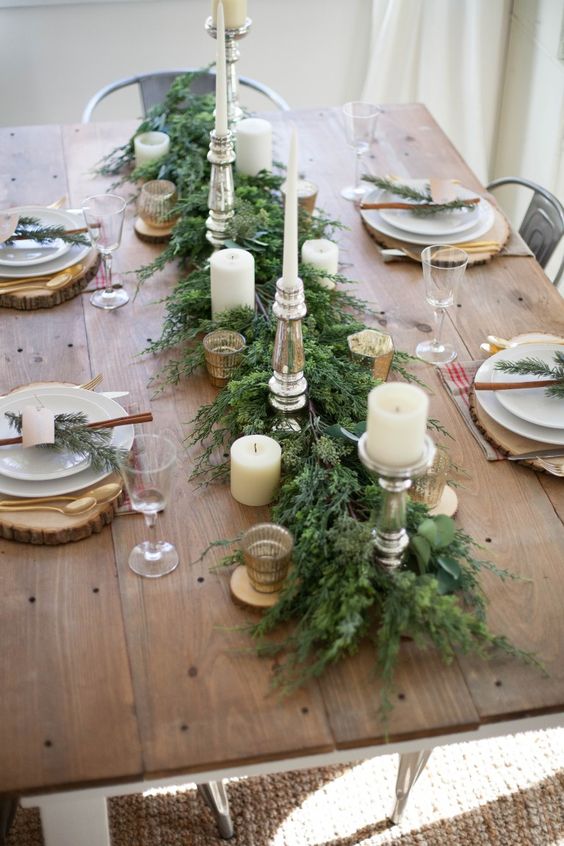 I'll start with something that every fan of the rustic Christmas table decorations would love!
The tree truck pieces are an eccentric and cute way to bring the nature in. You can buy wood slices at (almost) any craft store but make sure they are larger than your plates you are planning to use.
Match the tree truck charges with a long centerpiece made of evergreens and linen, and voila – you will have a cheery setting you can remodel all year long, especially as a winter decor! 
2.Sparkling Snowy Wonderland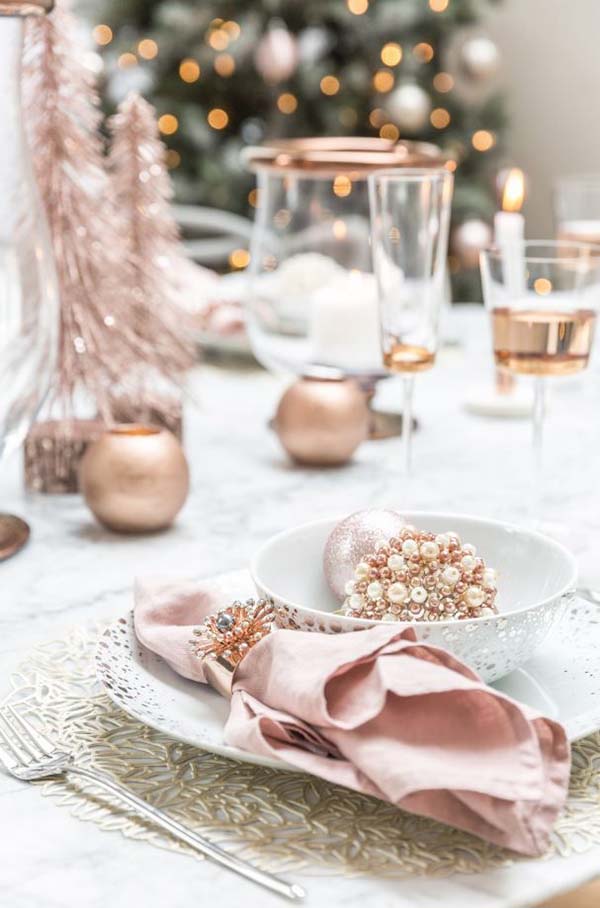 Celebrate a classic snow Christmas, no matter if it's white outside or no. Use an all-white tablecloth and combine with sparkling rose gold accents such as DIY pearly napkin rings, candleholders, and even miniature Christmas trees to set the glamorous snow-dusted scene.
3.Embrace the Golden Elements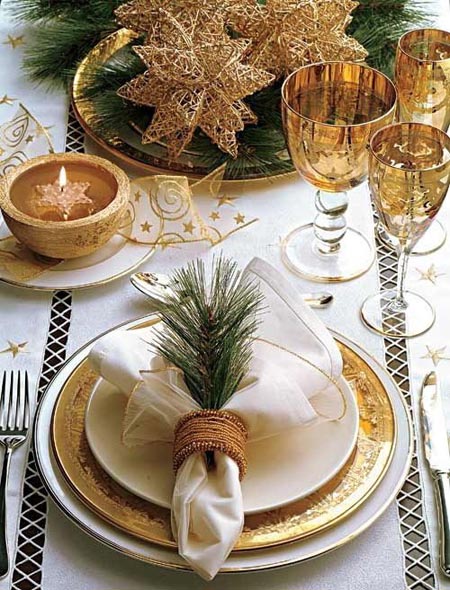 Photo:Credit
The best thing about the gold Christmas dinner table decorations is the fact they combine well both contemporary and traditional aesthetics. The combo of classic gold elements and white tablecloth and plates give this table an luxurious and classy look with a fresh, modern twist. 
4.Christmas Fairytale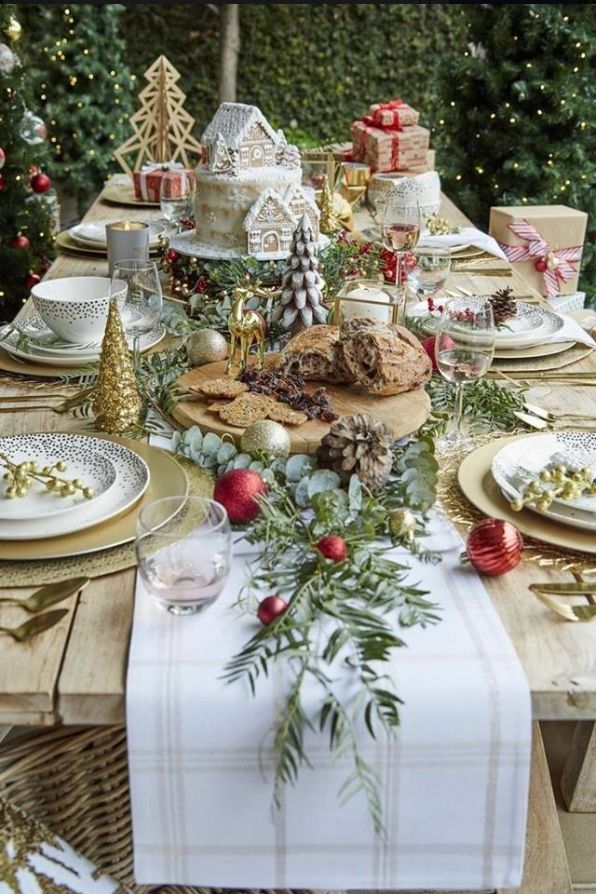 Photo:Credit
The eye-catching centered gingerbread house hidden in some nicely arranged evergreens turns this setting into one of the most beautiful and whimsical table decorations for Christmas.
Add a bit of fake snow and a few peculiar holiday animals turn for a final touch.
5.Plaid Christmas Décor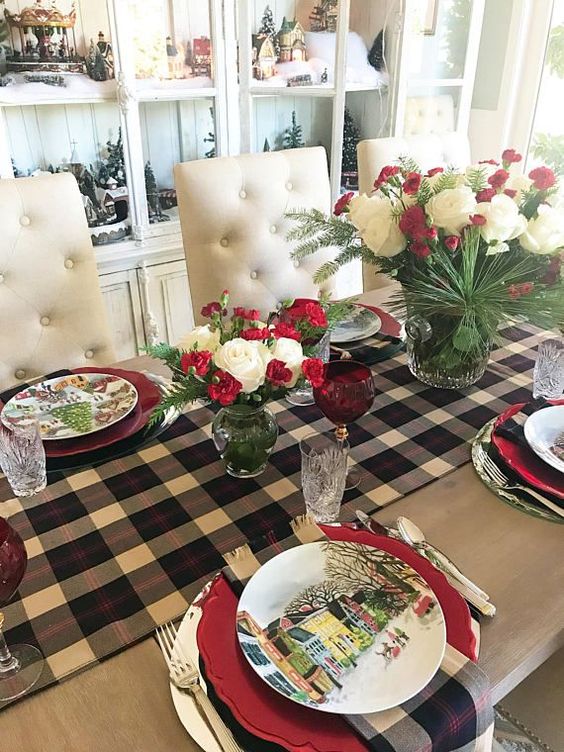 Photo: Credit
If you also prefer to build some DIY Christmas table decorations rather than buying everything from the shop, make sure you've checked this classic and stylish plaid table setting.
This project can be easily customized by adding and replacing elements pine cones, walnuts, apples, greenery and other fruits (pomegranates, oranges, and berries).
6.Repurposed Candleholders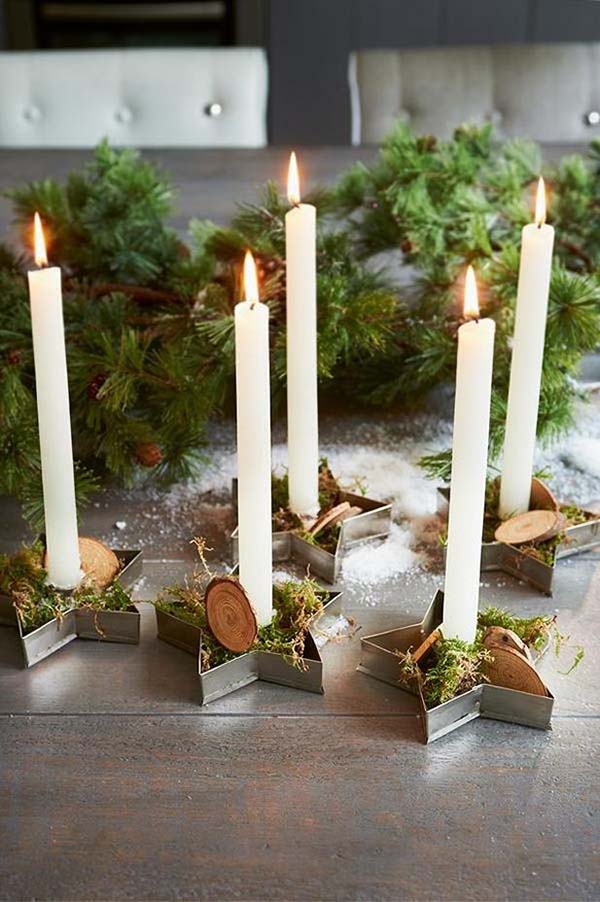 Photo:Credit
Have you already baked the holiday cookies? If so, why don't you use the simple metal cookie cutters as candleholders or as towel rings? They are not just cheap but they also give the festive dining table a rustic, unpretentious look.
One of my most favorite inexpensive Christmas table decorations!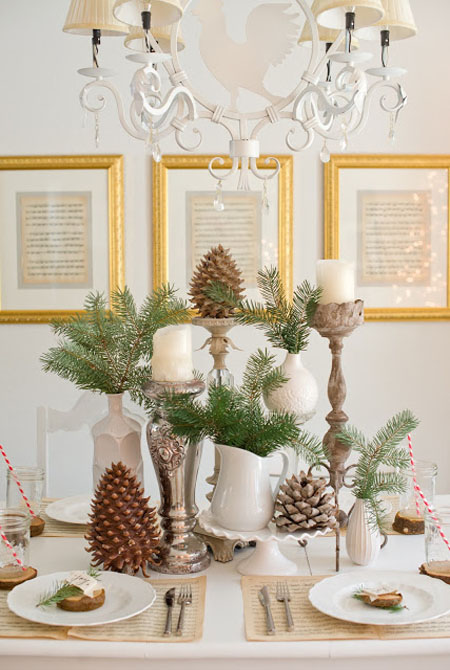 Photo:Credit
If you don't have enough time to decorate the festive table, don't worry – there are many layered easy Christmas table decorations that give the whole room an additional texture and coziness.
You can add layers by displaying candle holders in various heights and a bunch of different size pine cones collected from the nearest park.
8.Mason Jars Table Centerpiece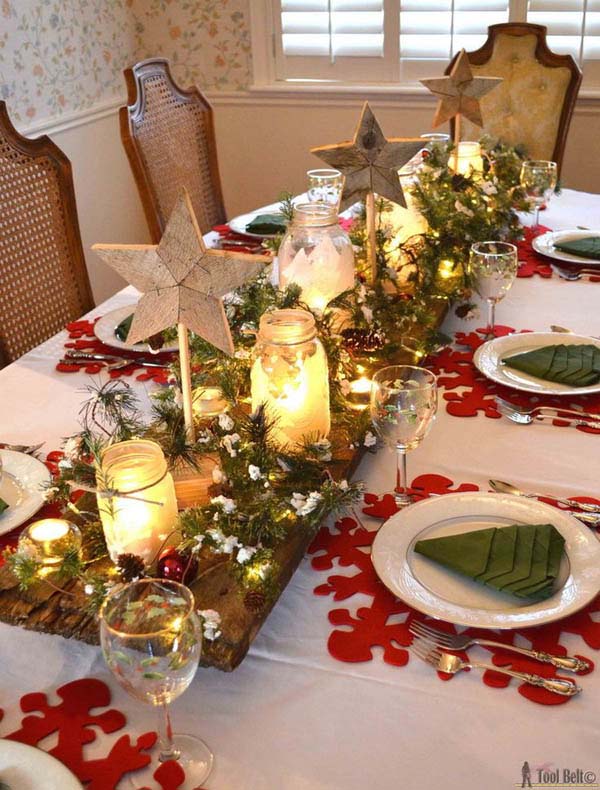 Photo:Credit
The centerpiece is often considered the glue that holds a perfect Christmas dining table together.
In case you are building some homemade Christmas table decorations, keep in mind you don't need too many items to make a big effect. Simply round up a rustic reclaimed wood box, a bit of faux snow, some evergreens, a few simple candleholders made of Mason jars —and voila! Easy.
9.Personalized Rustic Table Decorations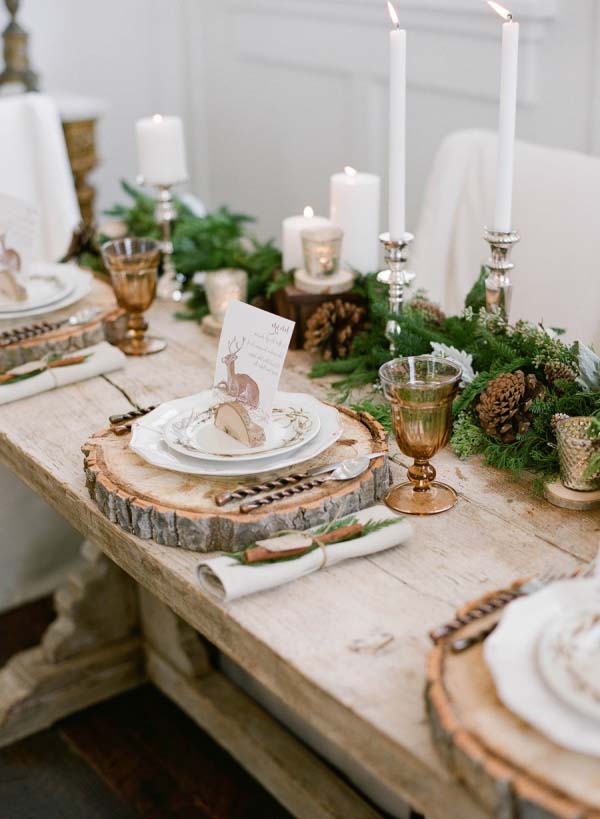 Photo:Credit
What would you say about this beautiful and rustically stylish Christmas table decorations? Stunning, right?
Besides, leaving a personalized note/ card to every guest is a nice (and inexpensive) way to make everyone who's attending your festive dinner feel special.
10.Extra Splash of Color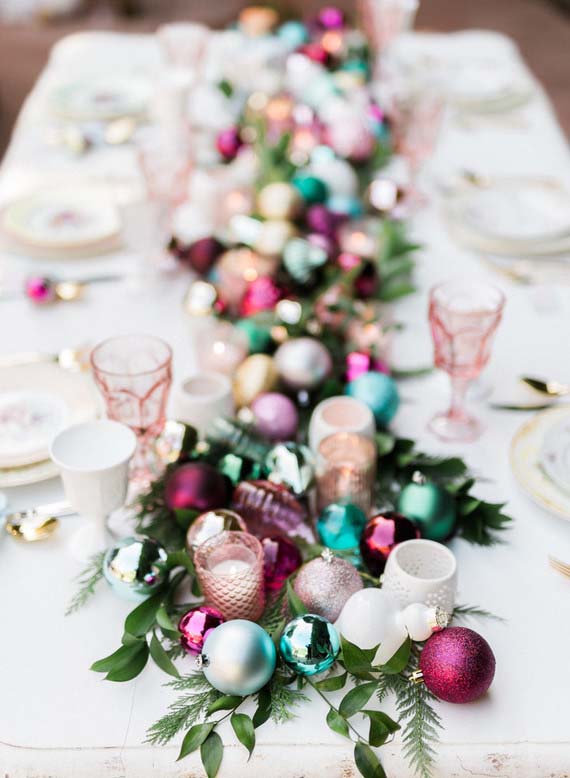 Photo:Credit
If there's no more room on the tree, arrange some of your colorful ball ornaments as a table centerpiece. Also, add a bunch of tealight holders and greenery.
In this way, the shimmering contents will bounce candlelight all around the room.
11.Scandinavian Table décor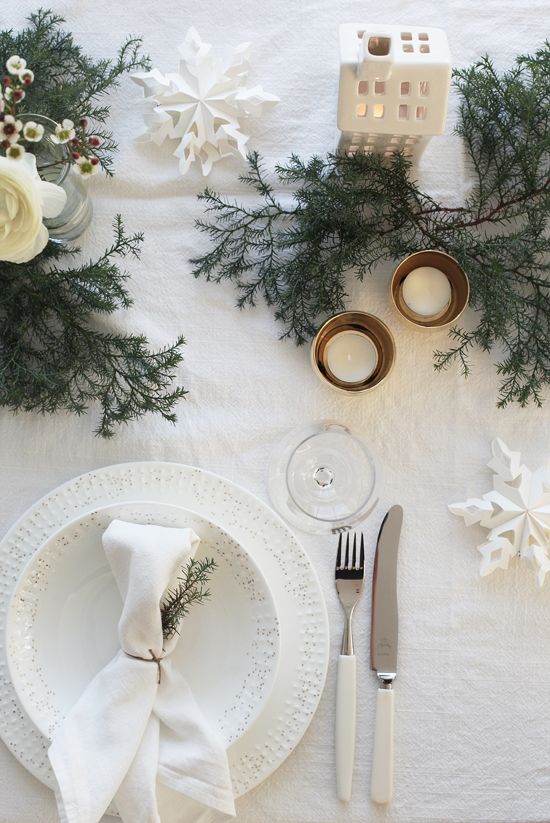 Photo:Credit
With evergreen branches and all-white elements, this simple table centerpiece harnesses the essence of the snowy winter outdoors when it's too cold to leave the house.
Christmas dinner table decorations like this one show you that simplicity is sometimes the best option to create something stunning and elegant.
12.Vintage Elements on the Christmas Table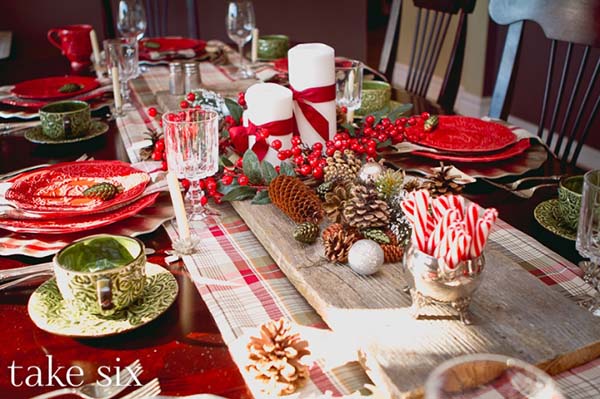 Highlight the vintage charm of the classically striped peppermint sticks with antique silver. The impaired finish only adds to the look, so go ahead and skip the polish.
Want to emphasize the rustic feel? Then display the whole set on a reclaimed wood board.
13.White-Red-Green Tablescape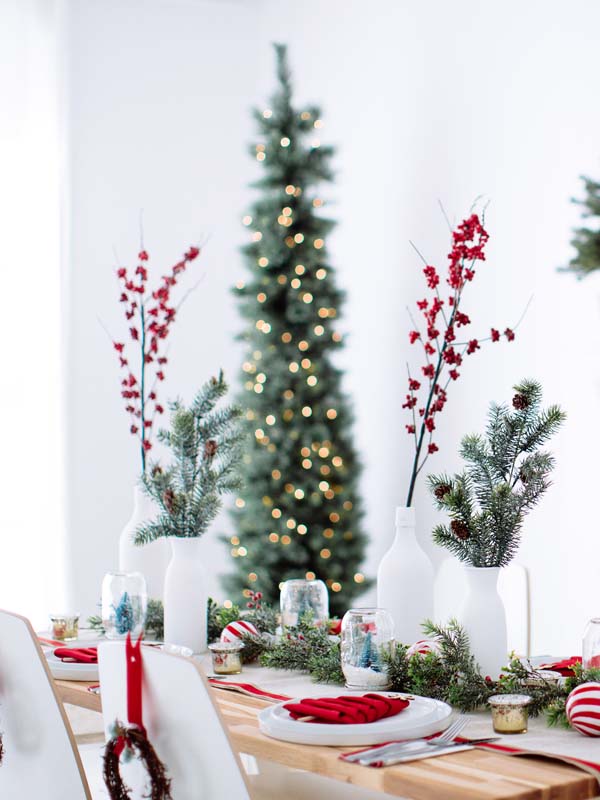 Photo:Credit
Whether you are hosting a dinner party this Christmas or just want to add a bit extra cheer to your dining table, there are tons of different ways to build a beautiful DIY Christmas table decorations this year.
For instance, combine a bunch of evergreens and cranberries branches in all-white vases and painted bottles for a fun contrast on the table.
14.Nordic Simplicity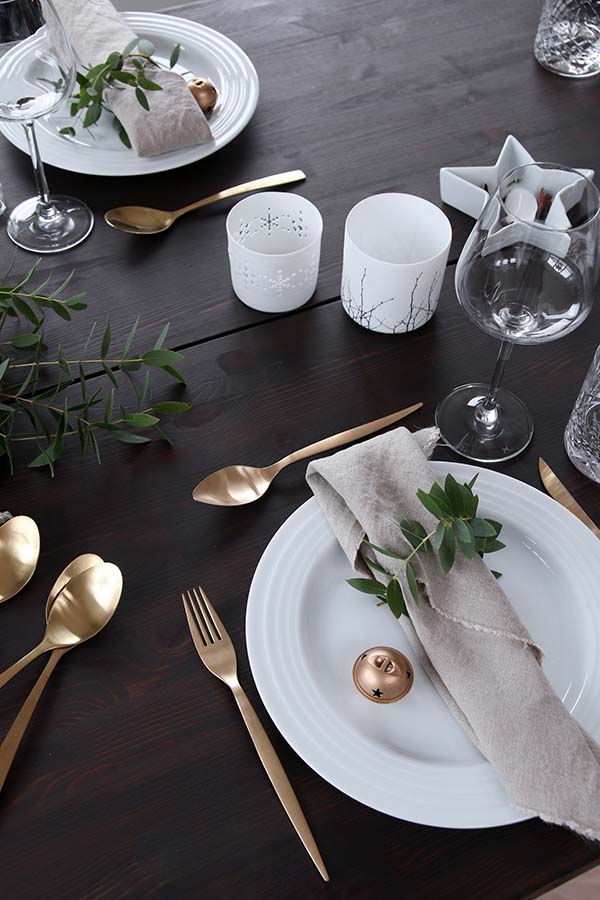 Photo:Credit
A big part of the Christmas dining table decorations is inspired by the Scandinavian traditions in the interior designing.
This one on the picture above, for instance, is built with soft linen cloths, earthenware dishes, a splash of greenery, and simple wine glasses. Each material contrasts well with the dark wooden table.
 The simple is often the best, right?
15.Stylish Gift-Giving Table Setting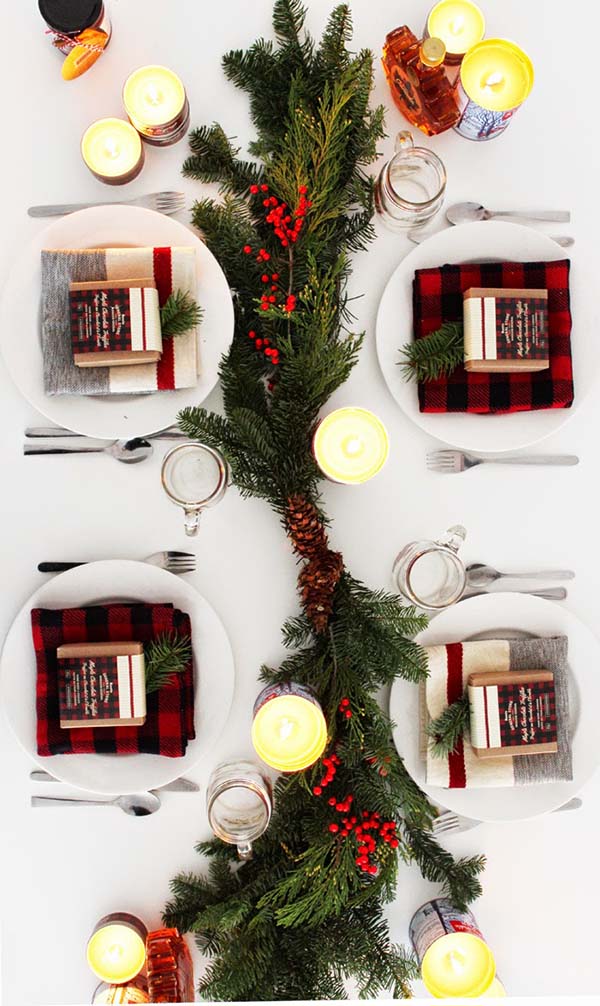 Photo:Credit
Add this project to your list of easy Christmas table decorations! It's very simple and the red-green combo gives a traditional vibe to the entire dining table.
Display some tealight holders for an additional glamour and leave a small box with a sentimental personalized gift for each of your guests.
16.Holy Fruit on the Christmas Table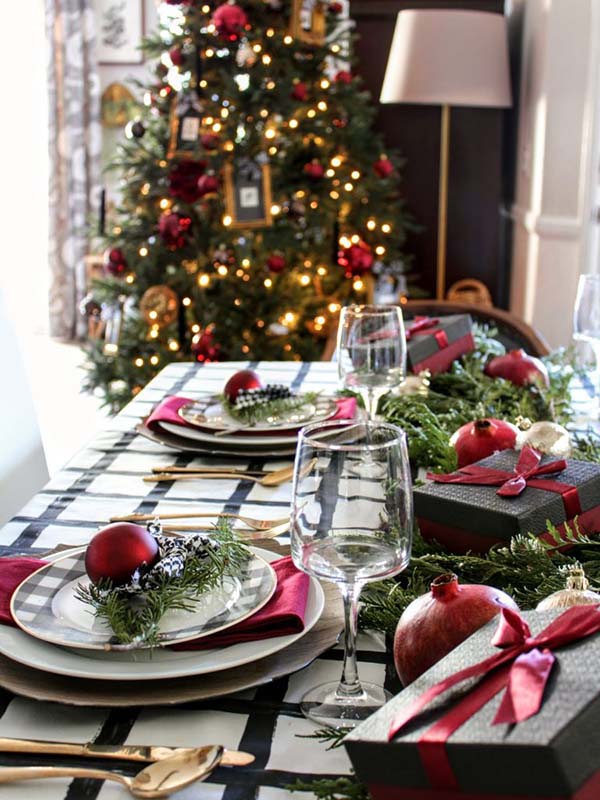 Photo:Credit
It's not a very popular fact that in ancient Greece, pomegranates used to be consumed on holy days like Christmas.
If this red fruit is not included to your festive menu this year, add a bunch of pomegranates as a decoration to keep the tradition alive. Display some reddish ball ornaments as well.
 17.Australian Style Christmas Table Décor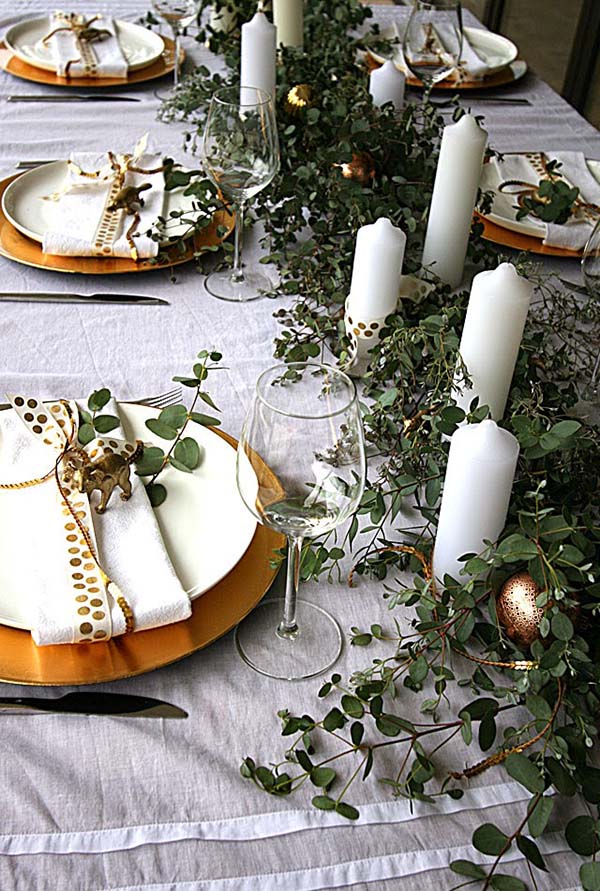 Photo:Credit
The Australian Christmas is much different from the holiday in the rest of the world. There, it's all about swimming, playing cricket, and grilling fish and prawns on the barbecue.
If you want to recreate this Aussie atmosphere, display some eucalyptus branches and a pack of decorative Australian animals in gold to decorate the plates on the festive dining table.
18.Barn Christmas Dining Room Table Decorations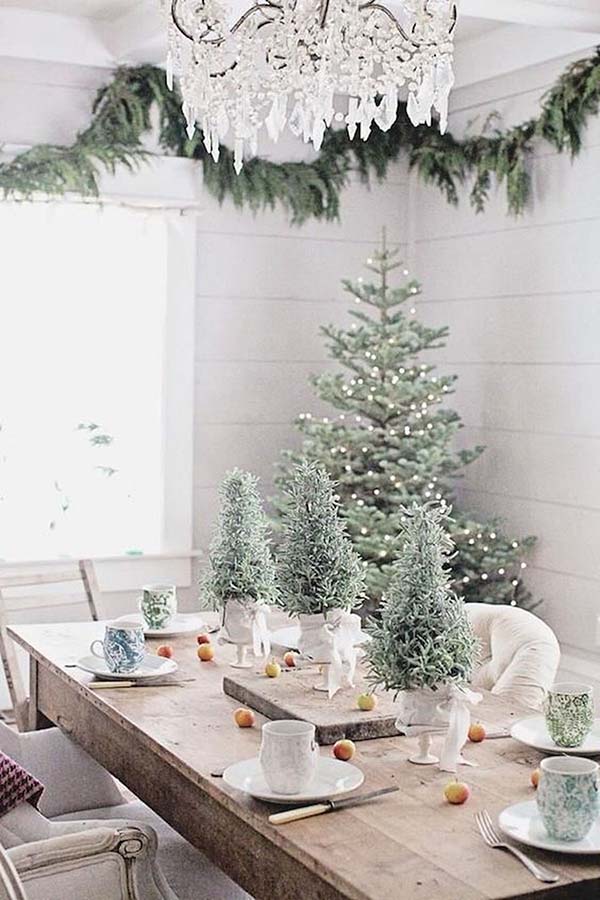 Here is a great idea for breakfast or tea holiday gathering.
The first thing I've noticed is the beautiful contrast between the crystal chandelier and the unsophisticated reclaimed wood table.
The potted trees add texture and an organic feel to the whole set.
19.Natural Looking Dining Table Decoration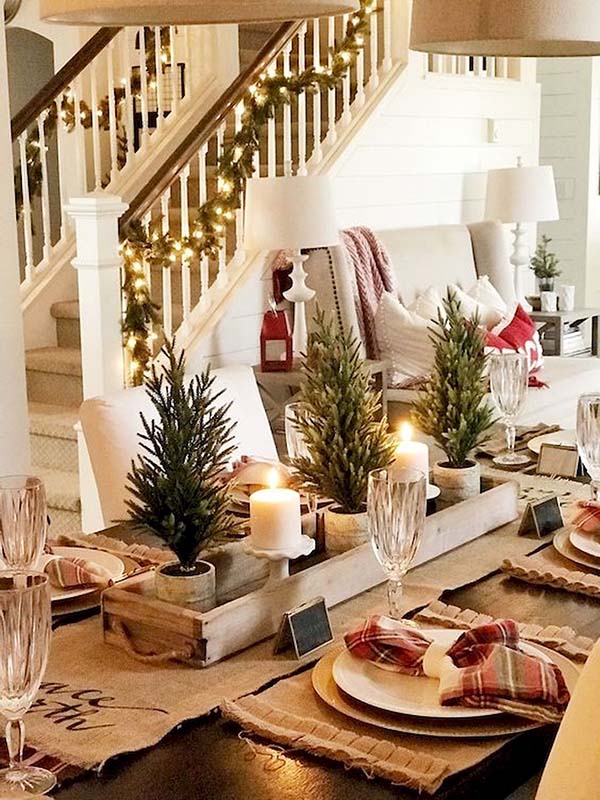 The arrangement of table top Christmas trees gives this holiday dining table an organic and sophisticated look.
Place the pots in a reclaimed wood box and arrange with some vintage candleholders to add an extra texture.
20.Birch and Berries Branches Tablescape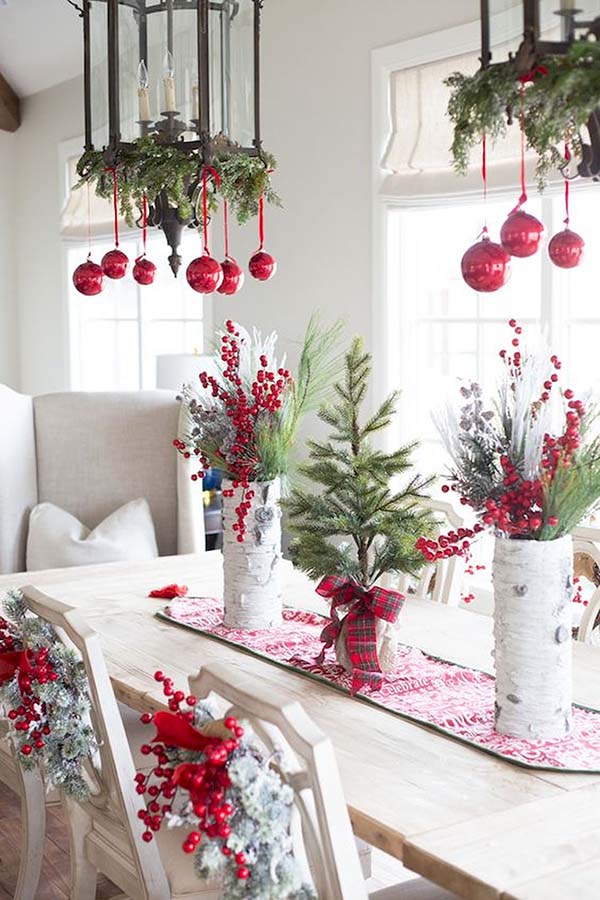 If you like the white Christmas table decorations, make sure you add some red or gold element to make a nice twist.
This charming birch and red berries branches centrepiece is the ideal example. It is both modern and very classic.
I already did the Christmas tree, I wrapped all the presents, I did a bunch of DIY wreaths, so I can now concentrate on the Christmas table decorations. 
No matter if you love it minimalistic, vintage or luxurious, I hope you liked some of the Christmas table decorations ideas I just shared with you!
Did you already plan something for your dining table? Share with me in the comment below!