When you are planning your Christmas decoration this year, keep in mind that a bit of a retro touch won't hurt anybody. Can't think of anything?… Well, how about a vintage ceramic festive tree?
A great idea for a gift or keepsakes, for sure!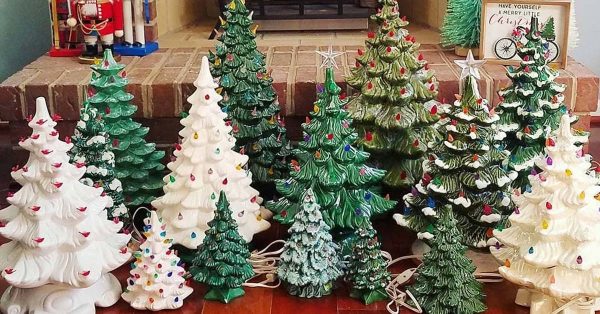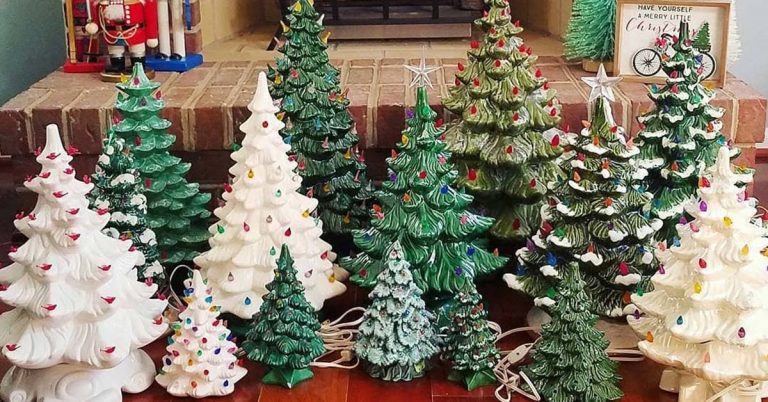 A BIT OF A HISTORY
Originating from Germany and Czechoslovakia, the Christmas ceramic decorations first did hit the scene in the second half of the 40s, however, they weren't very popular until the beginning of the 70s when they reached their highest level.
Afterward, they kind of disappeared from the decoration scene for a period of 15-20 years.
Gladly, they are currently making a huge comeback as they are cheery, eco-friendly and glamorous. Moreover, they add a whimsical touch to the fireplace mantel or next to the window.
Related: 30+ Unique Christmas Tree Ideas
NOW AND THEN
Nowadays, many companies a reproducing their own upgraded version of the of the classic ceramic Christmas trees.
Usually made of fired clay, not a proper ceramic like in the past, the new ones are more durable and do not require much care. Also, today, there is a larger variety of colors, sizes, styles, and textures that you can choose of.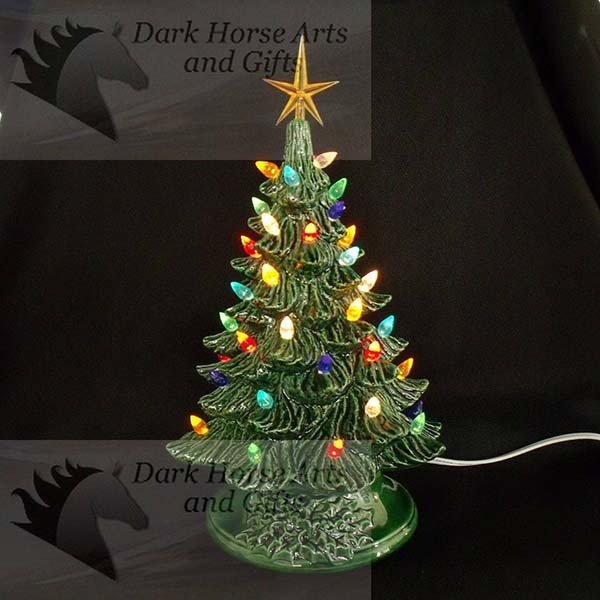 Get one like the one showed in the photo: Here
Besides, the vintage ceramic trees had tiny electric lights that lit independently.
As technology advanced in plastics and lighting, the earlier versions of tiny single bulbs were interchanged by trees that lit from within using only one light bulb to light the entire tree that is decorated with tiny, colorful, joyful plastic "bulbs."
WHERE YOU CAN BUY THEM?
If you don't have an antique ceramic tree in the attic, you can buy one on eBay or at some flea market in your neighborhood.
It would cost you something between $70-$700, depends on how old and how big is it.
If you don't want to buy an old one, there is another option – buy a DIY pre-made ceramic Christmas tree. Each kit comes with everything you need so you won't lose time looking for the materials needed.
All you need to do it to paint your own decorative tree and you will have an inherited piece that will be appreciated for generations to come.
Another place where you can buy a ceramic tree for your indoor Christmas decoration is Etsy where some vendors and experienced DIYers are offering unique and exceptional vintage Xmas trees.
TYPES OF VINTAGE CERAMIC HOLIDAY TREES
Here is a collection of some of the most wanted and cherished antique Xmas tree right now.
11-inch gleaming all-green ceramic Christmas tree – it's very compact, easy to set u and maintain. And most importantly– it's green (like a real Xmas tree).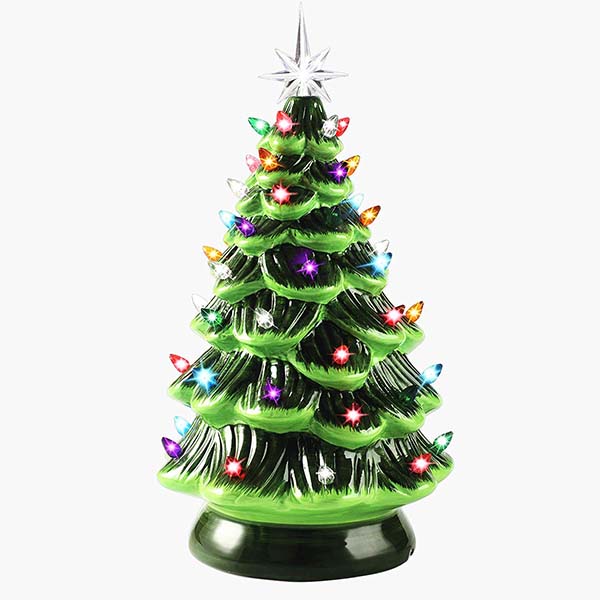 Available on Amazon: Here
14-inch snowy-white ceramic Christmas tree – the white color gives a nostalgic, vintage vibe to the room.There is a version with LED lights which emphasize the cold wintery look of the tree.
14-inch porcelain-based Christmas tree (by Mr. Christmas) – quite compact, multicolored, and works with LED Christmas lights as well. Give the room a cheery, festive feel.
16-inch frozen ceramic tree – love the appearance on the snowfall. A surreal and whimsical design, which is further accentuated with the tiny lights.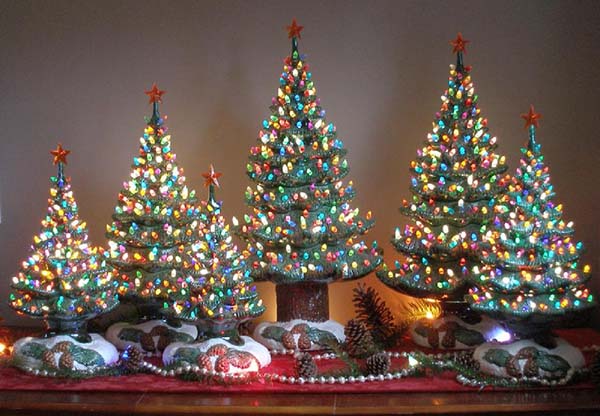 14-inch Light blue ceramic Christmas tree – a beautiful escape from the conventional green colored tree.
180 degrees vintage all-white ceramic Christmas tree with birds  – the best feature of this model are the cute colorful birds that are glazed and can be moved or glued in very easily if required.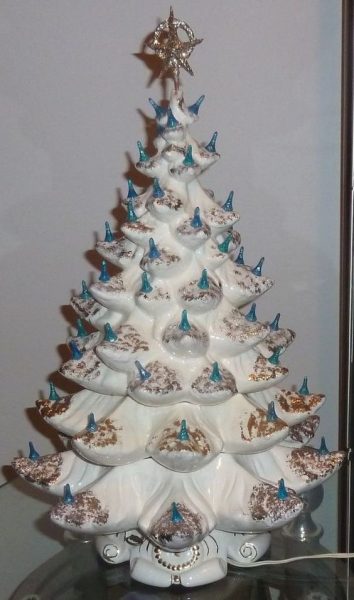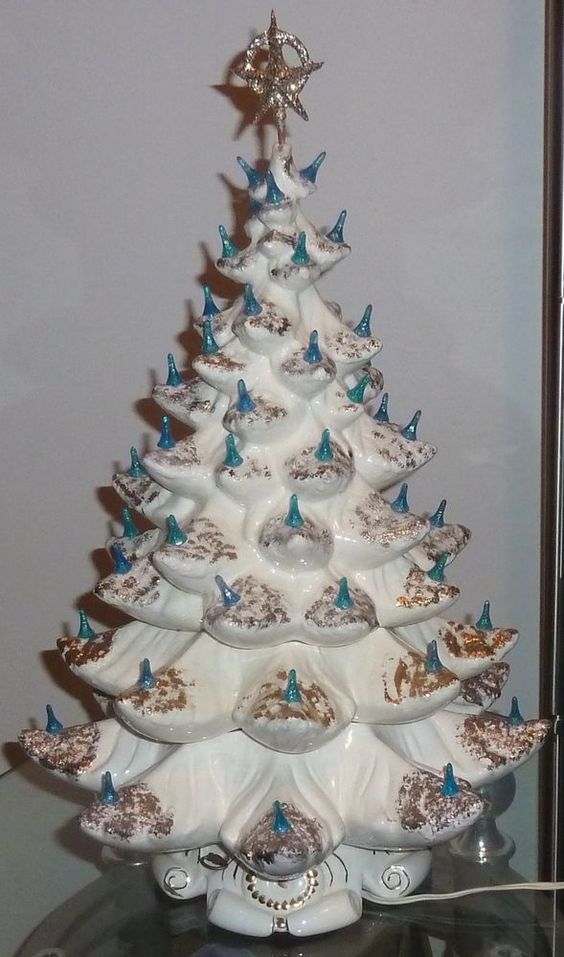 The holidays are a time for being with the family, eating Christmas pudding, and following the traditions. So, what's better than going back to your childhood with a vintage ceramic Christmas tree displayed in the house?