Are you one of those people who love displaying showy, extensive Christmas decoration, however, you can't really do it because your home is not spacious enough, or you are afraid that the dog will knock down the festive tree?
If the answer is YES, I've got something that could be the right fit for you – tabletop Christmas trees!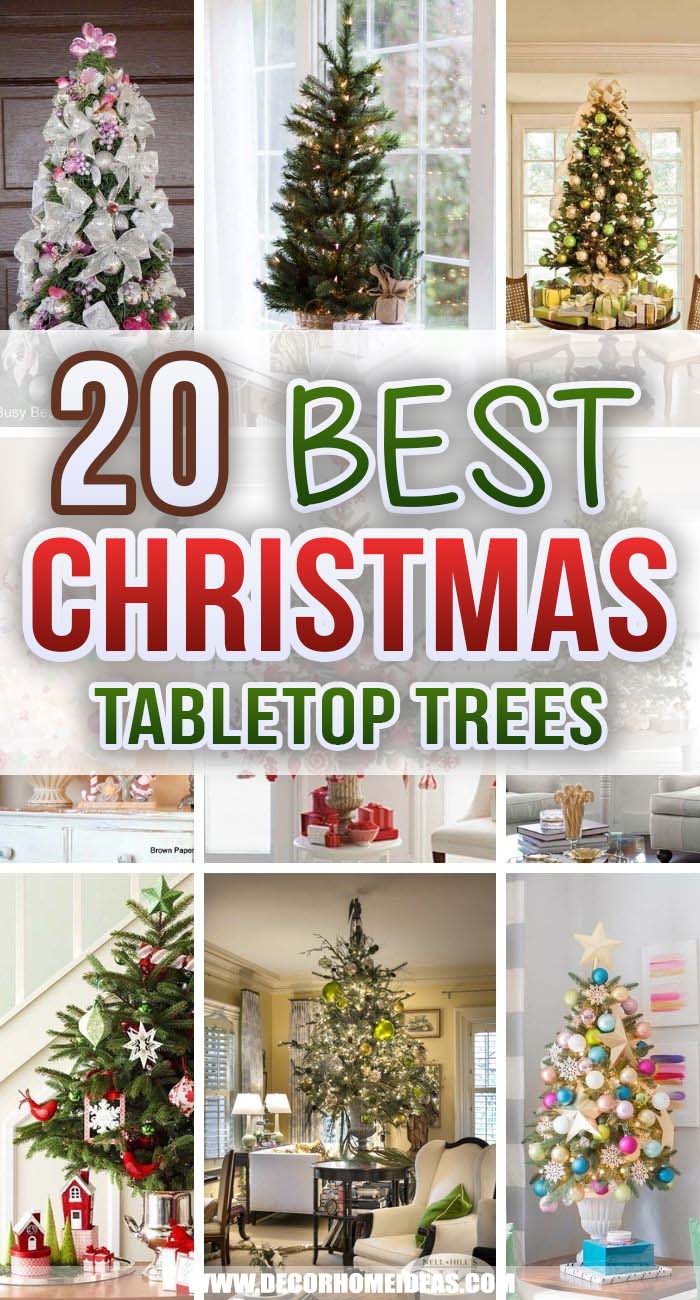 They are petite, but they are able to add big style wherever you place them.
Whether you go with DIY tabletop Christmas trees or live ones, we have 19 great ideas for tabletop Christmas trees to fit every holiday style.
1. Enjoy Luxury with a Gold and Silver Tabletop Christmas Tree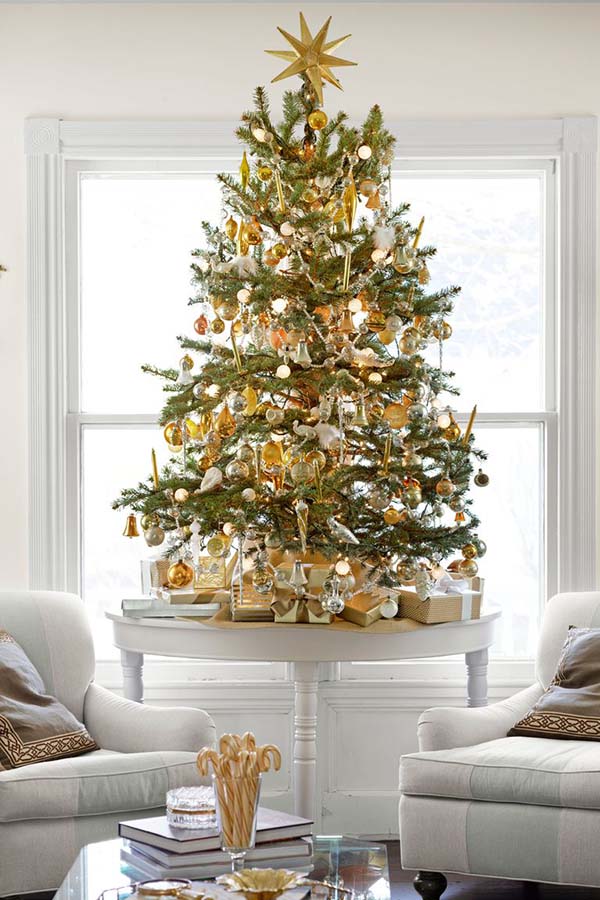 The gold tabletop Christmas trees are very classy and timeless. Plus, they make the room look more luxurious and ritzy.
The live tree is adorned with silver ornaments and the dimensional tree topper is just the perfect finish for this whimsical project!
2. Craft Unique and Memorable Ornaments for Your Tabletop Tree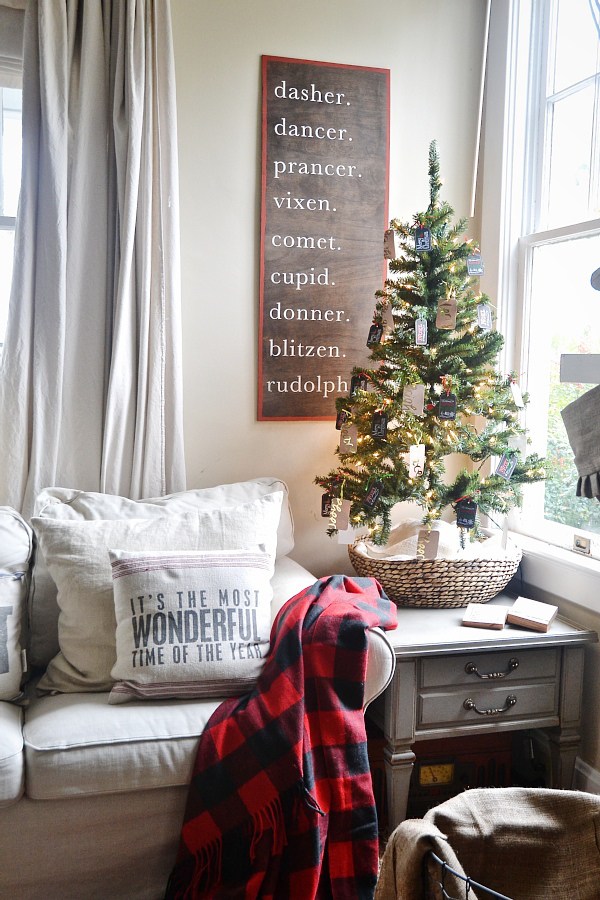 Photo:Credit
Instead of decorating the tabletop festive tree with shiny ball ornaments, you can make some hand-written tags with Xmas wishes. 
In this way, your decoration will be unique and, moreover, it gives the tree a rustically chic vibe.
3. Decorate Your Home with a Vintage Chic Christmas Tree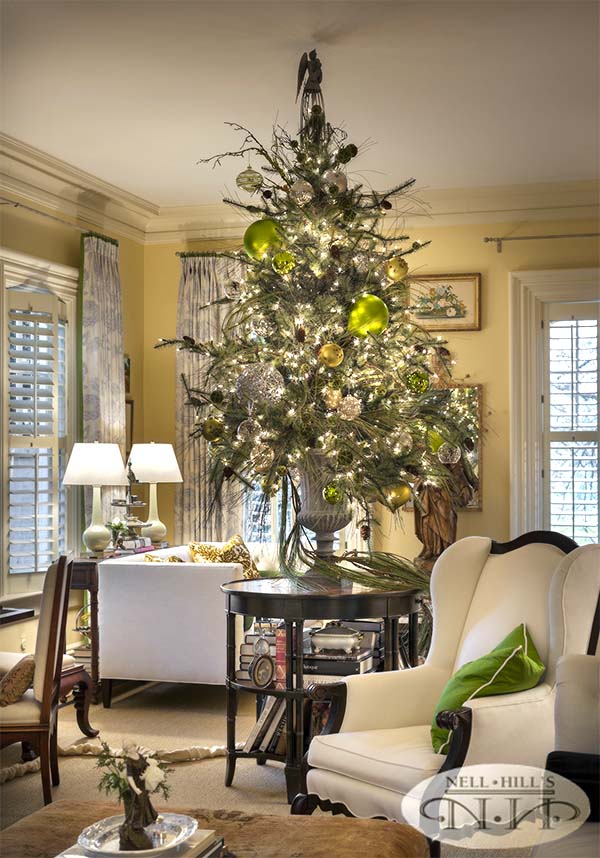 Photo:Credit
Here is another idea for those of you who prefer the tabletop live Christmas trees. 
This tree looks vintage and chic. The enormous green & silver ball ornaments create a stylish imbalance without destroying the entire decor. 
The ideal centerpiece for the living room space!
4. Add Magic to Your Holiday with a Glamorous Tabletop Tree
This gorgeous, fairy faux tabletop holiday tree is nicely decorated with bows made from high-quality wired ribbon in crystal chiffon with silver glitter and darling rose pink feathered birds.
There are lots of silver and crystal ornaments, along with a beautiful pink double-faced rhinestone topper. 
It looks fairy, isn't it?
Learn More: Here
5. Make Your Home Shine with a Colorful Mini Tree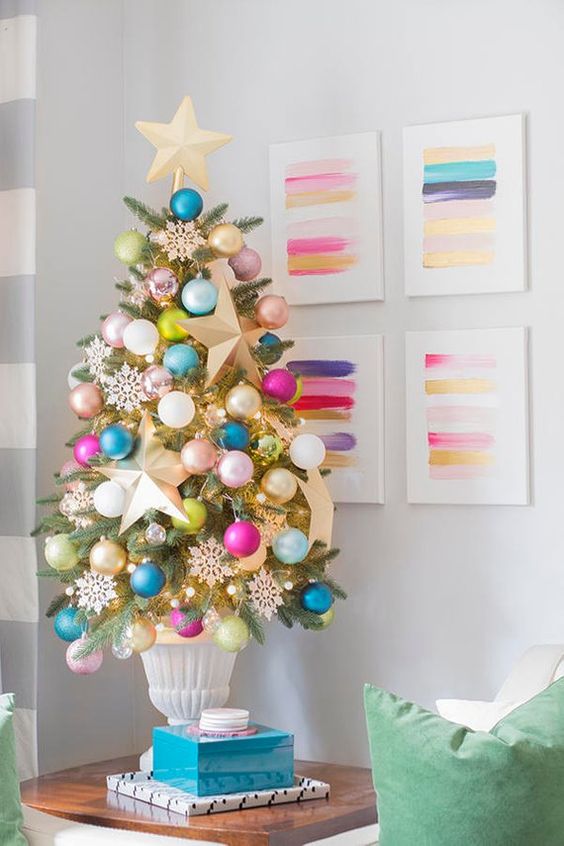 I was thrilled to share this project with you because it is surely one of my most favorite decorated tabletop Christmas trees ideas!
However, it is not decorated in the most traditional colors, it looks very cheery and fun. 
Plus, the over-sized golden stars give additional texture to the tree. 
6. Create a Winter Wonderland with a Tabletop Christmas Trees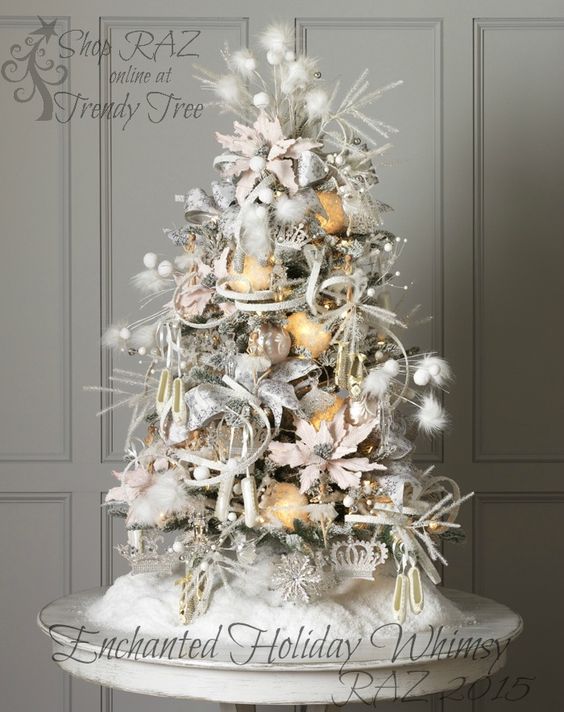 Photo:Credit
This tabletop Christmas trees, such as this one above, feel like they are straight out of a snow globe with its glacial decor.
Cover the evergreens with shimmering gold & silver elements and faux snow to re-create this mini snowy, sparkling forest.
7. Create Timeless Christmas Decorations with Traditional Crafts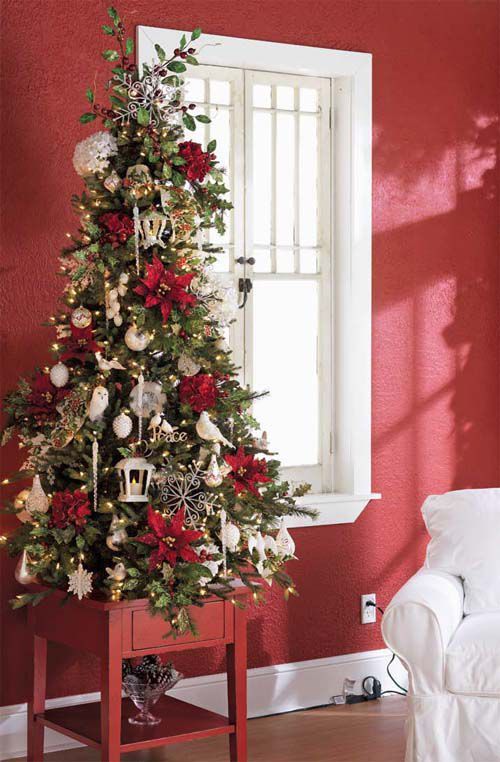 If you consider yourself as a crafter-traditionalist, why don't you decorate the tabletop Xmas tree in a classic manner? 
I like the pure statement of glittery snowflakes, red ornaments, white dove figurines, and s simple, unpretentious tree topper.
8. Embellish Your Tabletop Christmas Tree with Gold and Green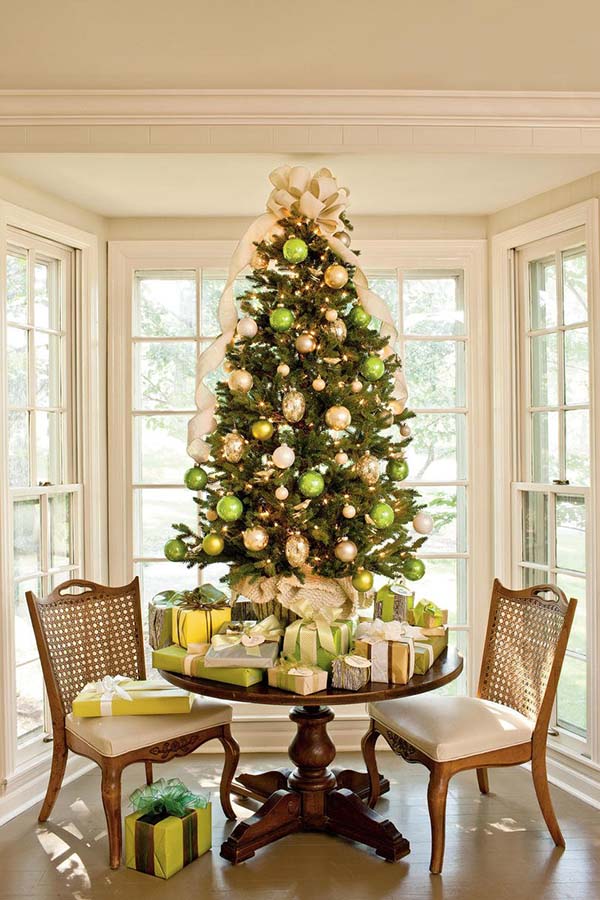 Photo:Credit
The tabletop Christmas trees shouldn't necessarily be small. 
If you have small kids or a spoiled dog, I suggest displaying the regular holiday tree higher to keep the delicate ornaments and alluring packages out of reach.
A wide burlap ribbon festoons this tree, cascading down the branches with casual sophistication.
9. Bring Christmas Cheer with a Candy-Themed Tabletop Tree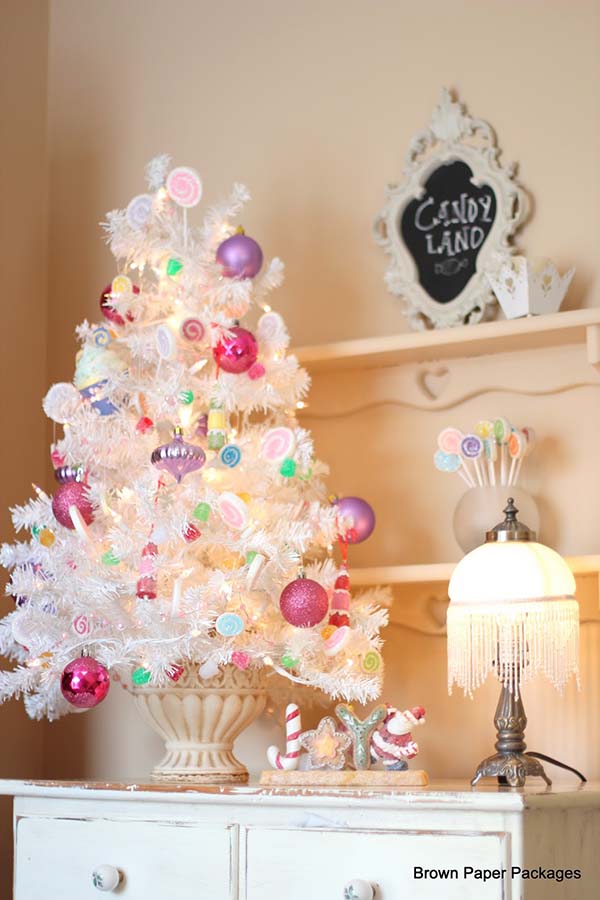 Photo:Credit
Mixing candies with colorful glass ball ornaments on a faux white tree is a tasty and cute idea for small tabletop Christmas trees decoration.
The white color of the tree gives the pastel palette some additional shine. 
10. Get Rustic Elegance with a Barn Tabletop Christmas Tree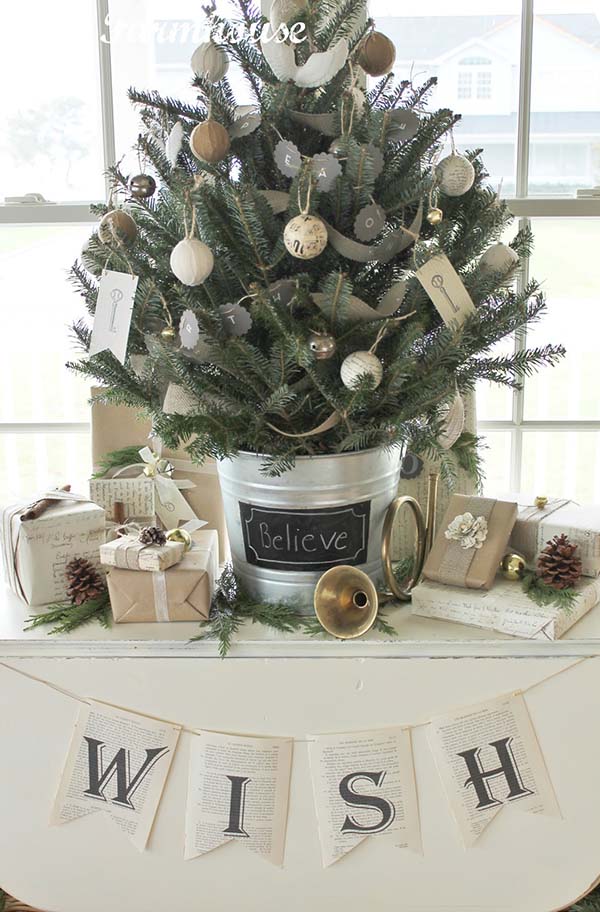 Photo:Credit
Create a rustically chic look for a side table with a 3-foot-tall tabletop Christmas tree in a small galvanized pot.
Adorn the tree with simple DIY paper garland and display the Xmas family gifts, wrapped in a rustic style, next to it.
11. Upgrade Your Home with a Southern-Style Tabletop Tree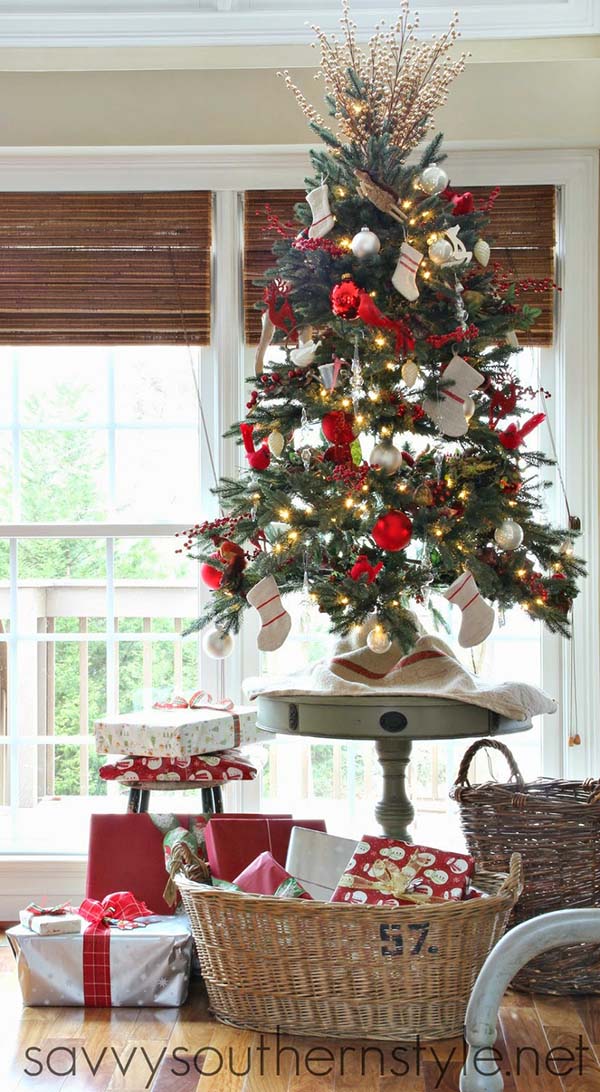 Photo:Credit
The wintry colors like red, blue, and gray let this tree surely bring lots of warmth to your table long after the Christmas holiday.
Great decoration idea for live tabletop Christmas trees! Arrange some wooden rustic elements around the tree to enhance the oh-so-cozy feel.
12. Add Sparkle and Magic with a Santa Holiday Tree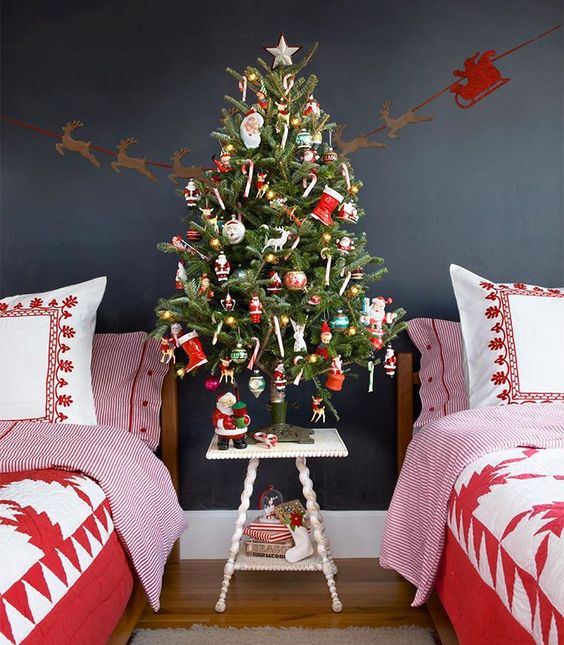 This is such a lovable decoration idea for your bedroom's tabletop Christmas trees!
A mini live pine tree is placed on the side table. The Santa themed decoration creates a cozy, cheerful vibe. 
Plus, you don't cheat on the traditional red-green combo! 
13. Transform Your Home Into An Elegant Winter Wonderland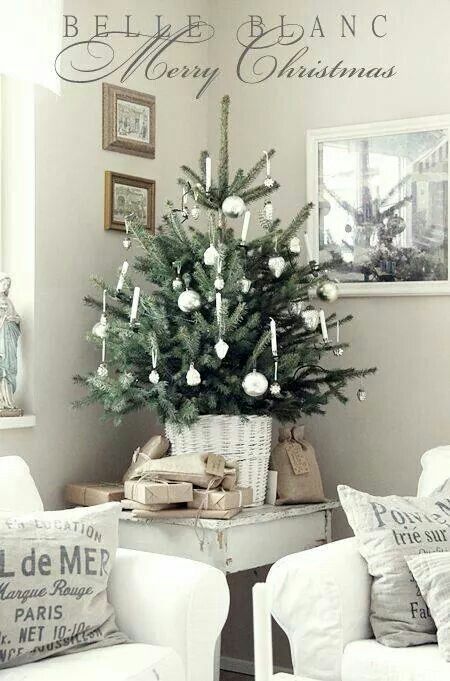 If you also like the fresh tabletop Christmas trees with simple decoration, take a look at this idea that is radiating pretty raw vibes.
It's delicately decorated with light colored ornaments, in a chic, rustic manner. 
The best part – this tree can easily fit the rest of the Xmas decoration.
14. Bring the Holiday Magic with a Simple Tabletop Tree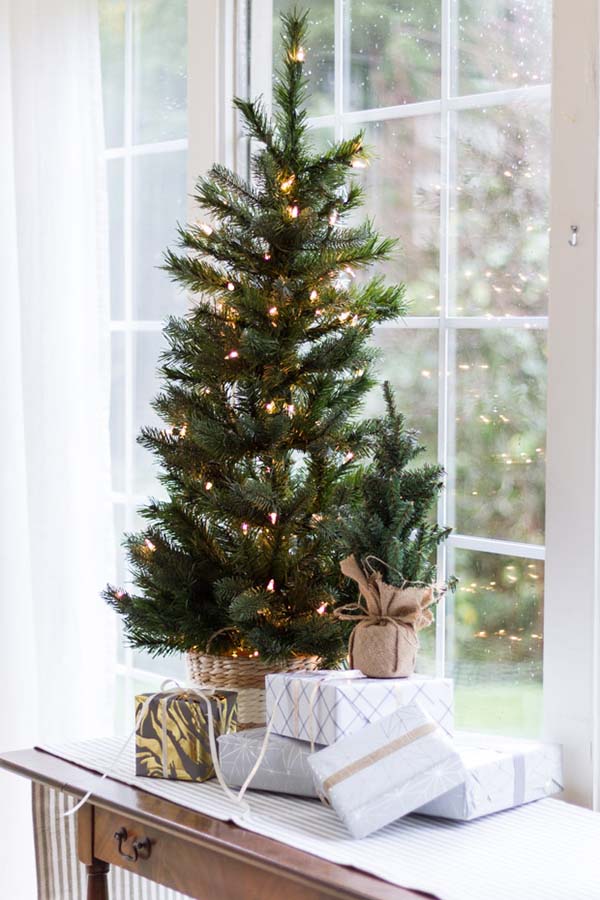 Photo:Credit
Despite being minimalist, this live tabletop tree idea exudes a festive, joyful vibe thanks to the colorful strings lights. 
It is also strategically placed next to the window so the lights could reflect and create an elegant, warm atmosphere. 
15. Unleash Your Creativity with a Farmhouse Tabletop Tree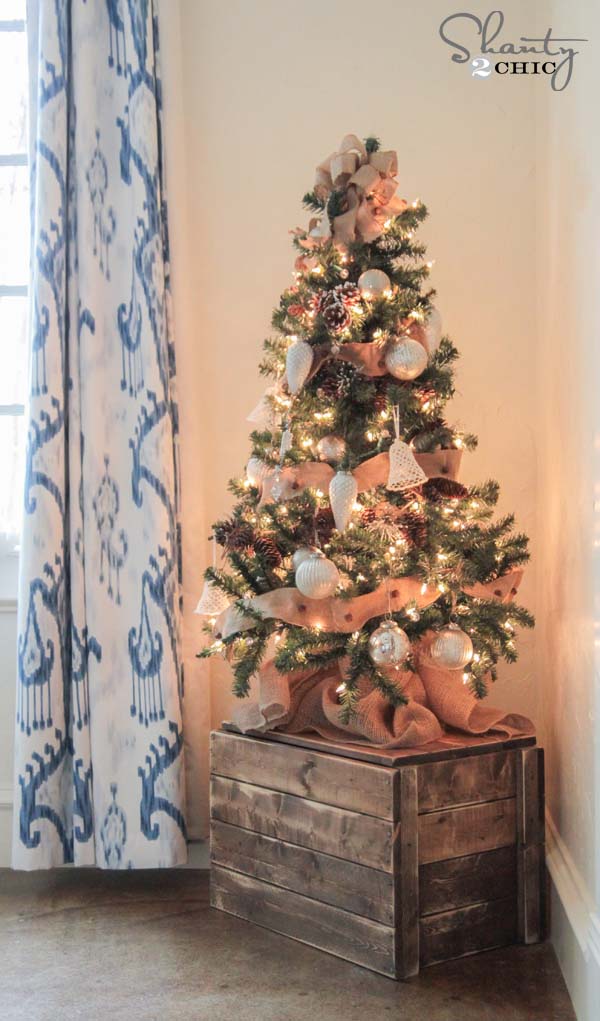 Photo:Credit
Let's have a look at this fun, fairy way to display a mini Christmas tree.
It looks very vintage, bringing a strong farmhouse vibe, however, some of the elements displayed are giving the tree a timeless look. 
16. Make a Statement with Purple Decor on Your Tabletop Tree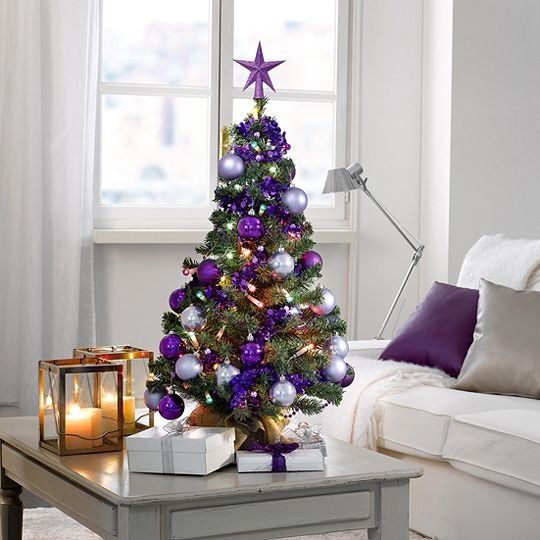 Instead of restricting yourself to a traditionally decorated tabletop tree, why don't you go for an all-purple decor?
You can even display a purple star-topper instead of the boring golden one. And voila – all your guests will be envious!
17. Give Your Tree a Classy Look with a Big Red Ribbon Bow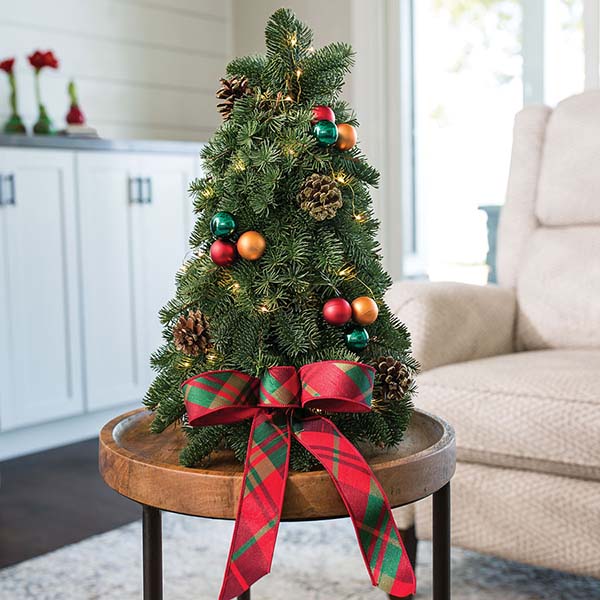 Here is something more for the fans of live tabletop Christmas trees!
There is a galvanized metal basket that is overflowing with evergreens, holly, cypress, and boxwood.
It is well accented with pine cones, 3-colored ornaments, and a classic joyful ribbon. 
Learn More: Here
18. Decorate in Style with a Burlap Base for Your Tree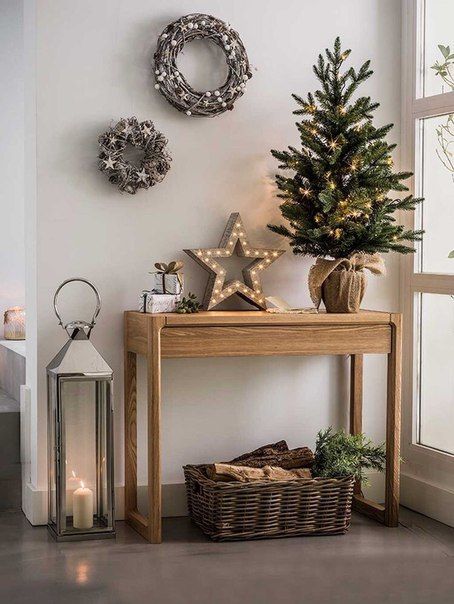 Here is another proof that the tabletop Christmas trees with lights only is just enough!
What do you think about the farmhouse vibe and the simplicity in the decoration? Also, take a look at the industrial elements, they are lovely as well!
19. Get the Traditional Christmas Feel with a Tabletop Tree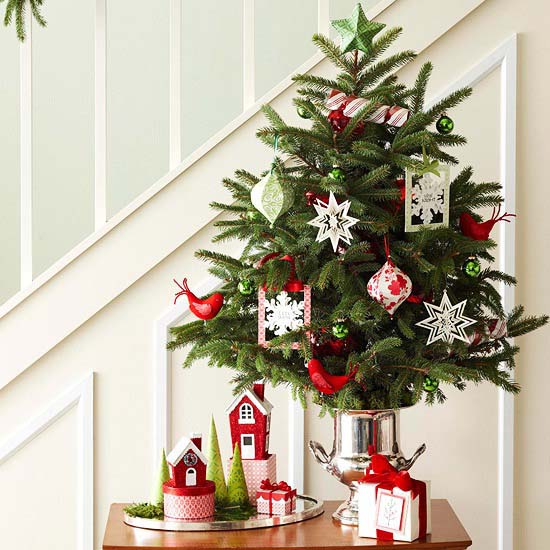 Photo:Credit
Some small tabletop Christmas trees, such as this one above, can make the best centerpieces for any table!
The traditional colors – red, green and white, contrast well with the polished silver vase. 
Love the fact the classic golden star topper is being replaced with a green version. 
As you see, the tabletop Christmas trees do not just look as stylish as the classical large festive trees but are also very practical, easy to set up, chic as well as time- and space saving. 
Hope you really enjoyed my collection of decorated tabletop Christmas trees!