What is Christmas without a beautiful centerpiece to put on the table?
Take a look of one of the best Christmas centerpieces that we have prepared for you so you can make your Christmas unique.
1. Yule Log Centerpiece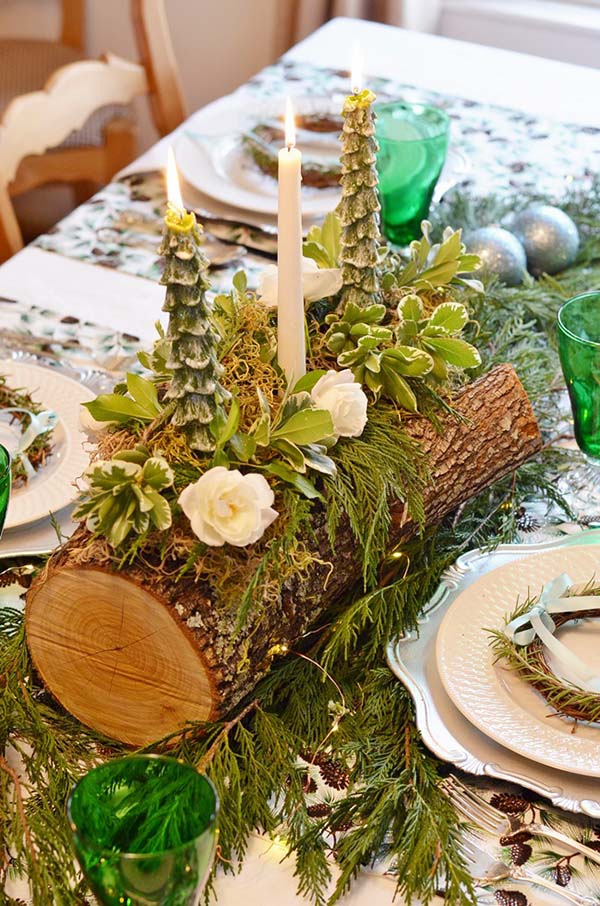 Photo:Credit
If you don't know how to do a gorgeous Christmas centerpiece – this one above is a DIY project – Learn more: Here
2. Rustic Luxe Christmas Tablescape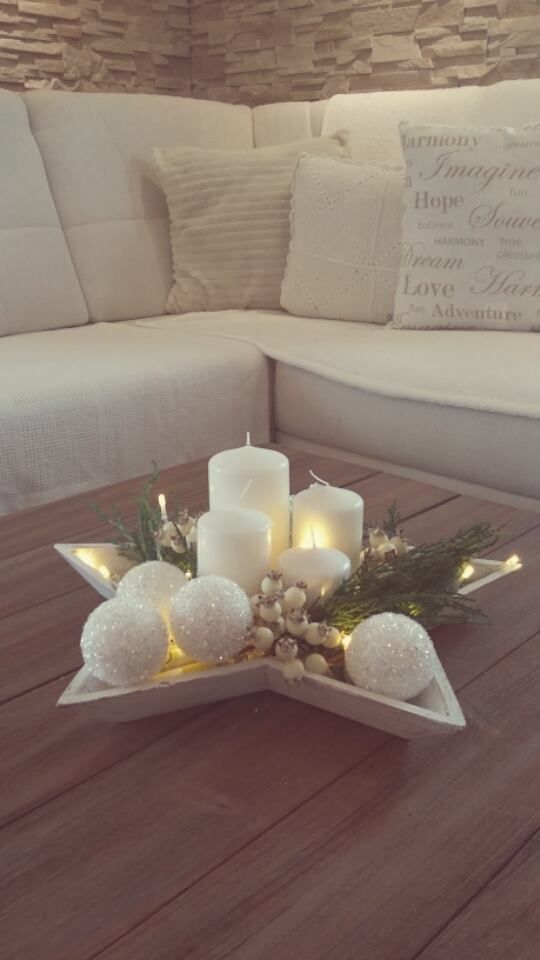 Combine elegant styles for a signature look on your festive dinner table.
This Christmas table centerpiece combines a few basics for a stunning effect: start with a bunch of vanilla pillar candles placed in a weathered start-shaped wooden tray.
3. Chic Silver Christmas-y Centerpiece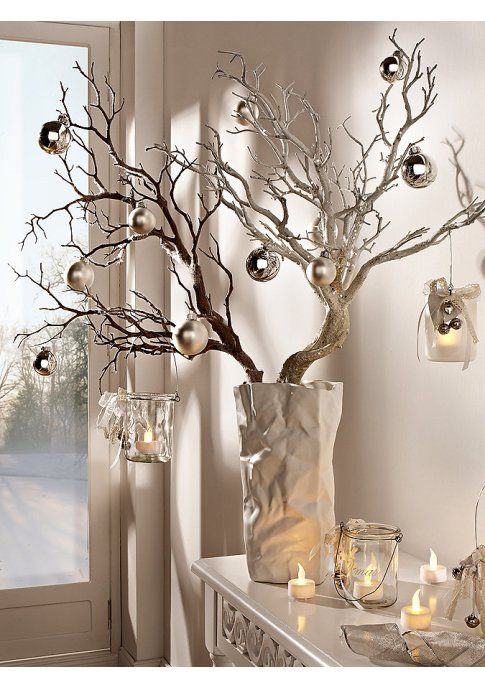 This dazzling winter fantasy of fairy silver branches, Christmas balls, and pinpoints of light in a glass cylinder with gleaming bands of ribbon provides warmth and brilliance to a winter evening's gathering. It's one of a kind homemade Christmas tree.
4. Beautiful Terrarium Christmas Table Centerpiece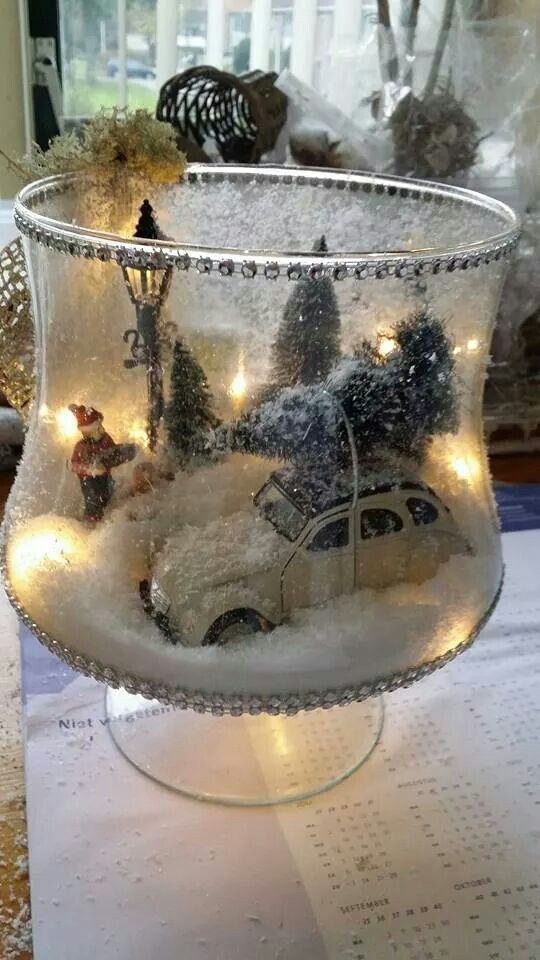 Create a tiny winter wonderland inside a simple glass bulb.
Create a base of faux snow and tuck in a miniature Christmas tree, truck, and a human figure (available at crafts stores). Arrange by your own choice… cuteness overload!  
5. Cute Snowflakes Candles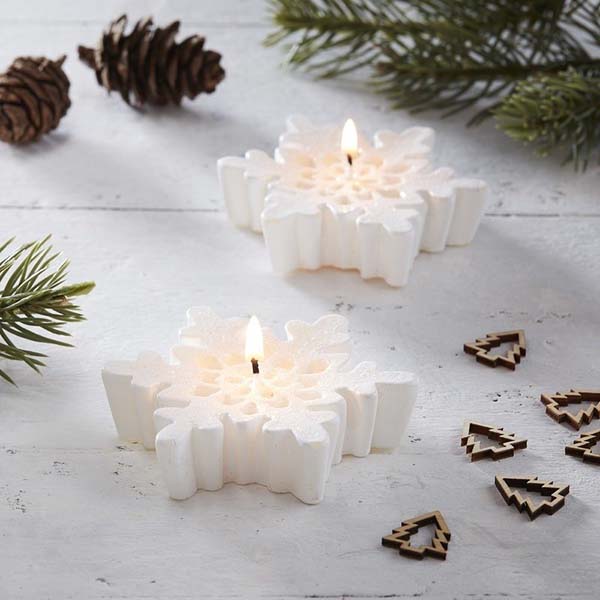 Decorate your holiday dining table in style this Christmas with this superb trio of white gleam snowflake candles in rustic style.
The unique design of these sophisticated candle Christmas table decorations surely makes a strong statement.
6. DIY Table Candleholders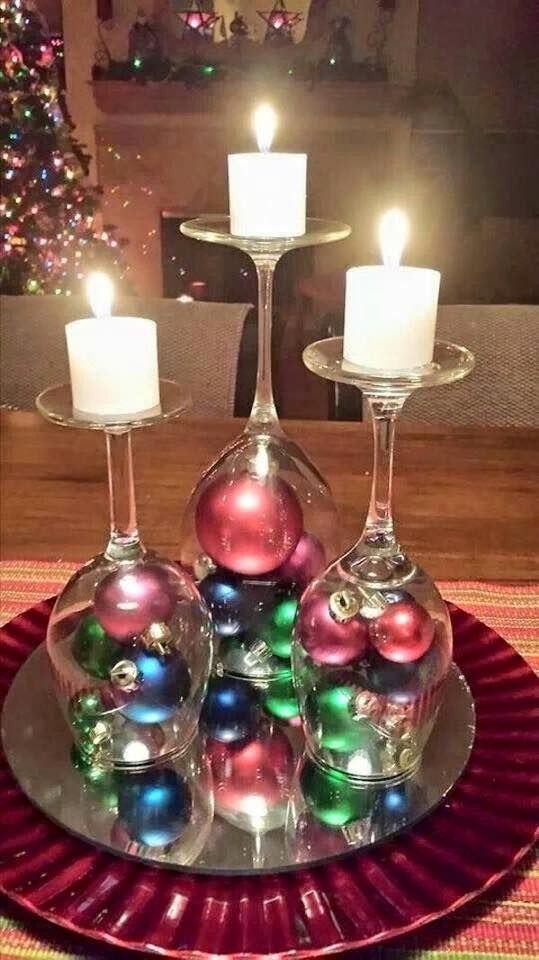 This sparkling DIY candle holder built of Christmas balls and wine glasses will be a real show-stopper at your festive dinner table!
The best thing of making DIY Christmas centerpieces is that you can freely use your imagination and let your creativity flow.
7. Vintage Style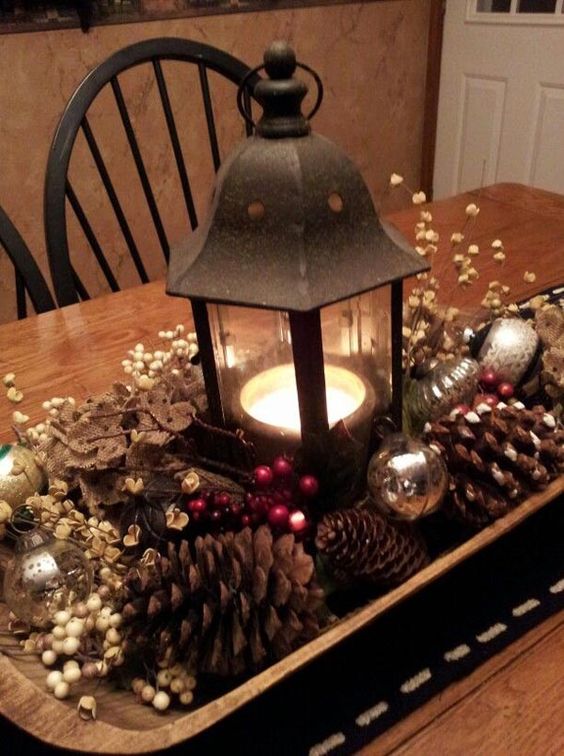 Here is one of the most rustic Christmas centerpieces with more than 35,000 Pinterest likes.
Recreate your old useless lamp and create this beautiful Christmas table centerpiece. Embellished with faux berries and dried pinecones, it adds such a charm to your festive dinner table decoration!
8. DIY Bucolic Tablescape with Candles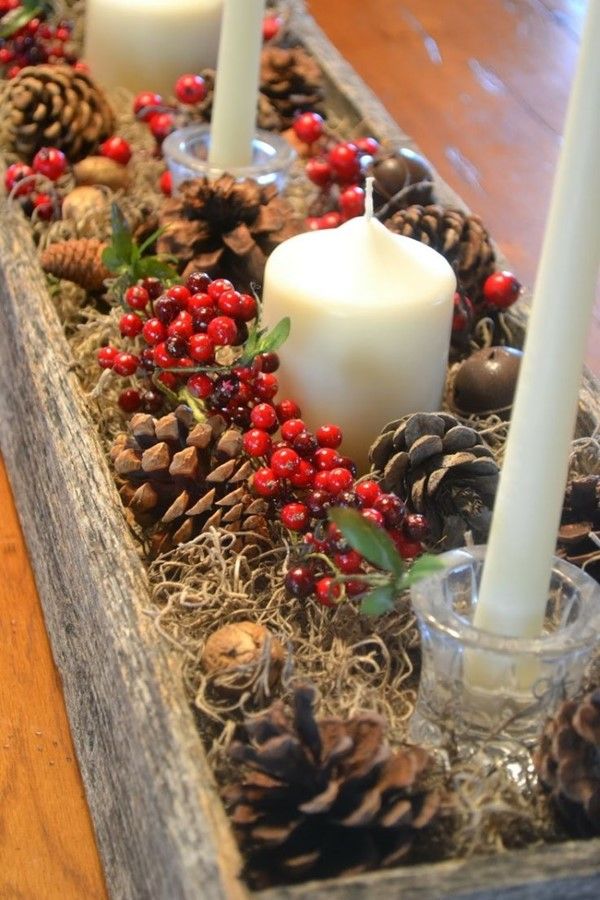 Following my list of Christmas dinner centerpieces with a candle, here is another rustically themed arrangement for Christmas that would make your party guests envy you!  
You won't need more than 10 minutes to make it. Use everything that reminds you of Christmas – pinecones, hazelnuts, evergreens, red berries.
9. Vintage Candle Centerpiece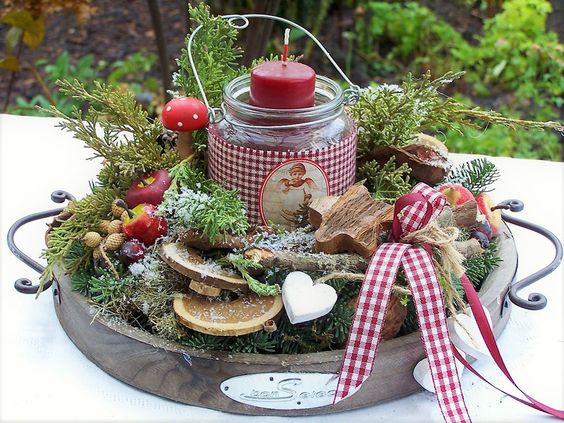 This vintage handmade glass candle holder not only creates a focal point in every festive dining table but can also be easily used during the rest of the year as an everyday table decor.
When I showed it to my sister, she said it is too much, however, I love every single thing about it.
10.Double Rustic Table Candleholder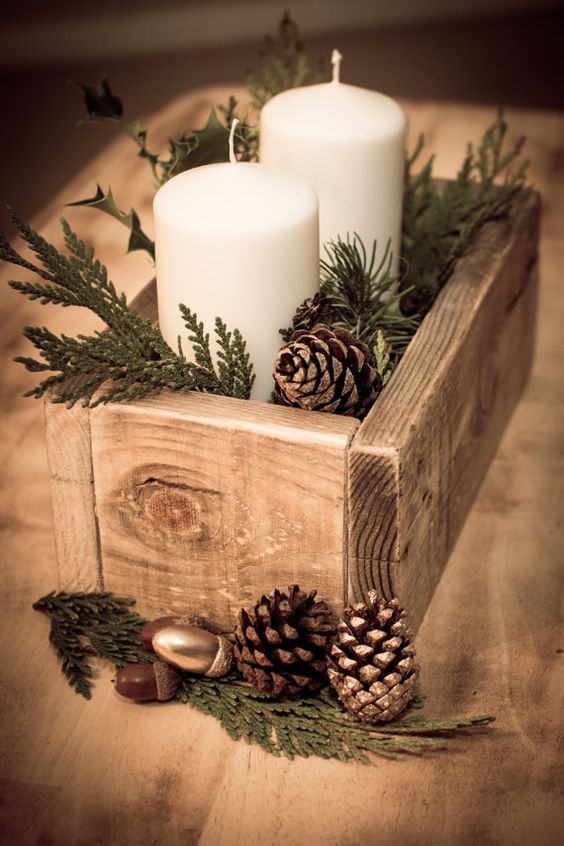 This beautiful rustic reclaimed wood box used as a double candle holder makes every Christmas table unique.
The original features in the wood, such as nail holes, scuffs, and markings, emphasize this unlikeness. It's a fresh farmhouse Christmas idea.
11. Snowy Arrangement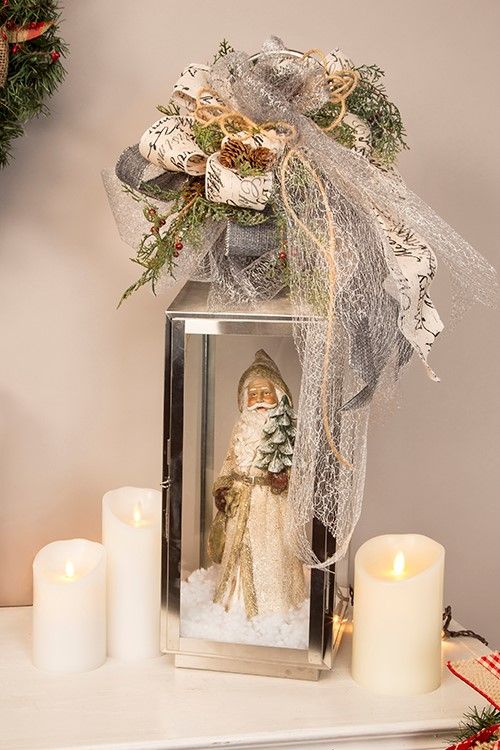 I know that the Christmas centerpieces with candle are a long-time tradition when speaking of festive decoration.
However, this year, instead of displaying a candle inside the Christmas lanterns, why don't you design your own charming snowy scene by placing a Santa, skates or other themed figures inside of the lantern. Decorate with faux snow. 
12. Easy DIY Table Centerpiece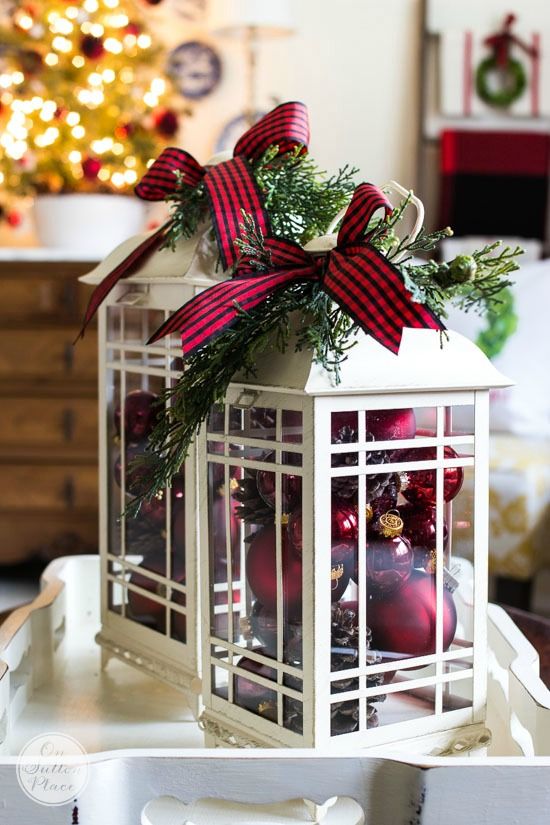 Looking for some Christmas lantern centerpieces ideas? Done.
This five-minute centerpiece is as easy as filling a simple rustic lantern with pinecones, unshelled nuts, and cinnamon sticks.
Centered on a white wooden bed tray, the table is good to go.
13. Christmas Lantern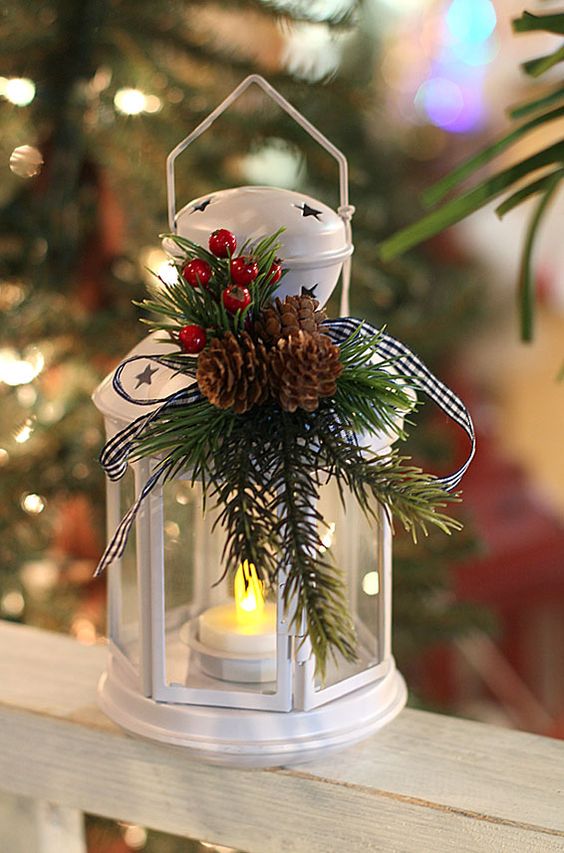 If you are afraid to leave a bunch of burning candles in the room where your cat or your little kid are playing, the battery operated tea candles could be a smart solution!
Just display some of them in a simple white lantern and arrange the lantern with some evergreens and faux red berries. It's so simple and, yet, so visionary! 
14. Dinner Table Decoration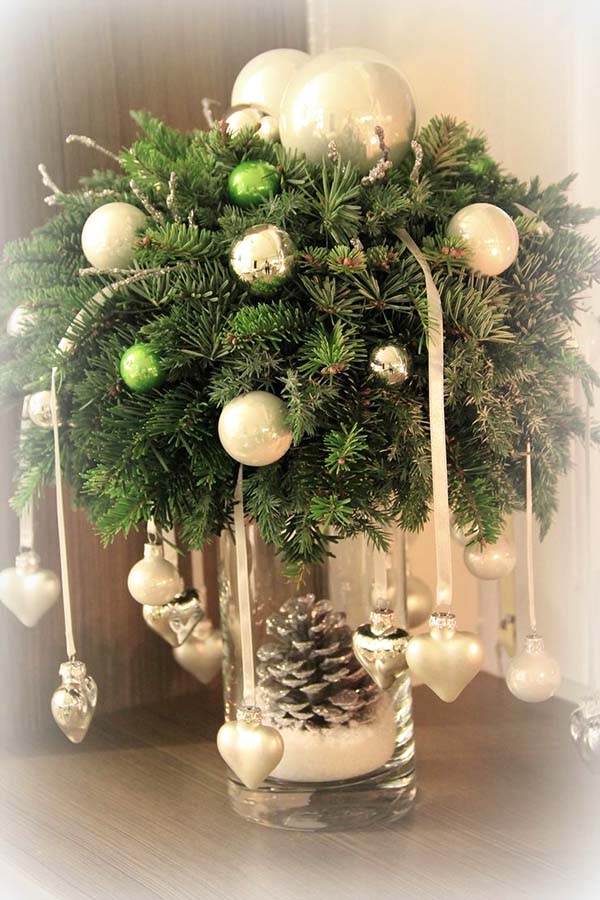 Here is how to create stunning DIY Christmas table centerpieces in 3 easy steps:
Cover a polystyrene half-ball with moss and wintergreen. 2.
Then decorate the ball and hang ribbons with Christmas balls.
In the end, place the ball on a tall glass vase that has been also decorated with Christmas ornaments. 
15. Vintage Table Arrangement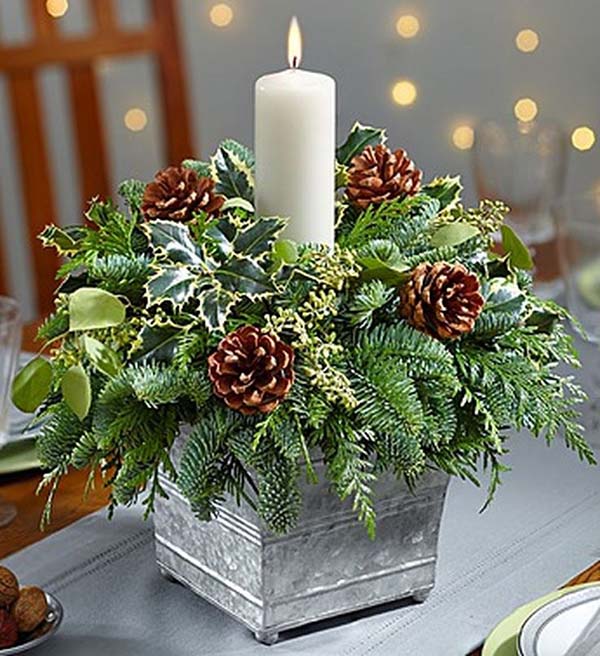 This galvanized steel stacking pan filled with various fragrant evergreens, a couple of large pinecones and a vanilla pillar candle creates one of the timeless Christmas centerpieces with the charm of yesteryear.
16. Burning Bright Christmas Table Centerpiece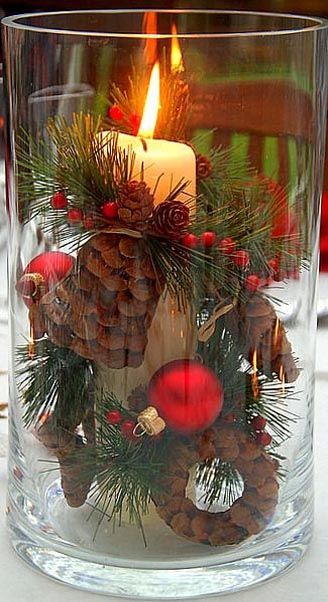 Here is a fast and efficient way to create elegant Christmas centerpieces.  
Melt the heart of your Christmas party guests with a tall glass cylinder candle holder full of natural pine sprigs and cones, faux red berries and Christmas balls around a vanilla pillar candle.
17. Easy Christmas Centerpiece Idea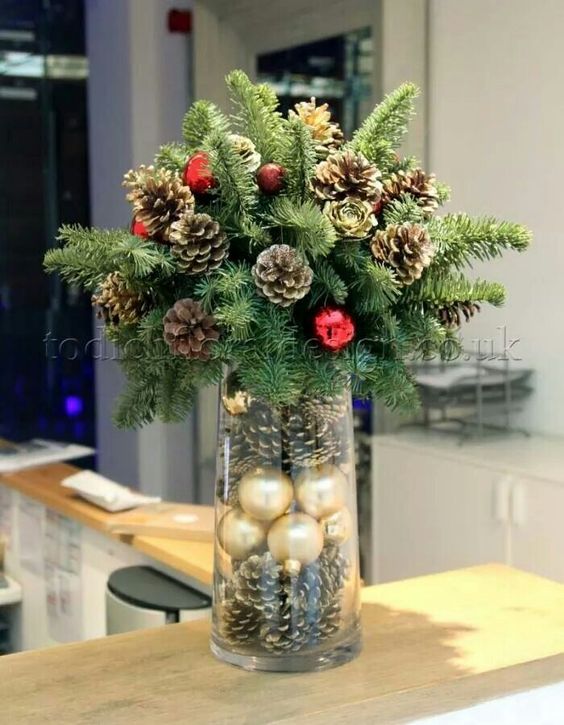 Skip the glitter and dress the table with natural evergreen and dried twig arrangements in a simple tall glass vase.
It is one of my favorite Christmas centerpieces as it adds volume to the festive table and it looks elegant in a simple way.
18. DIY Rustic Festive Centerpiece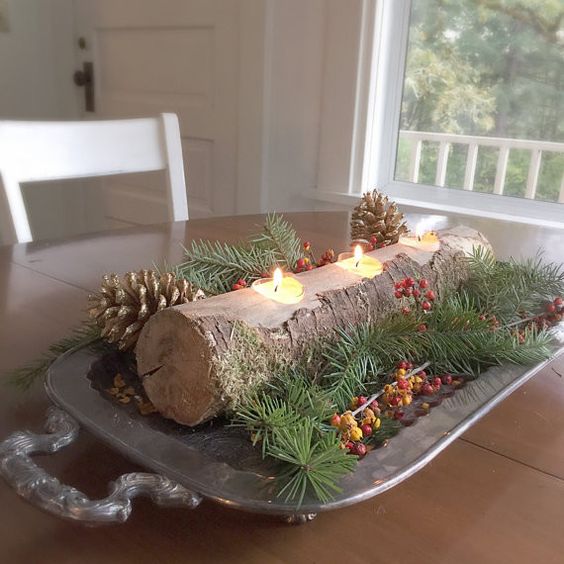 The reclaimed wood, transformed into a rustic tea candles holder, provides a hint of tradition and could be the base for all understated homemade Christmas centerpieces of candles, pine cones, and evergreen branches.