No matter what kind of decorating style do you have, there are tons of DIY Christmas tree ideas that would make your indoor decor unique and appealing.
From ribbon to Xmas lights, shimmering handmade ornaments, and organic elements… you can use all your imagination to dress up the festive tree this year.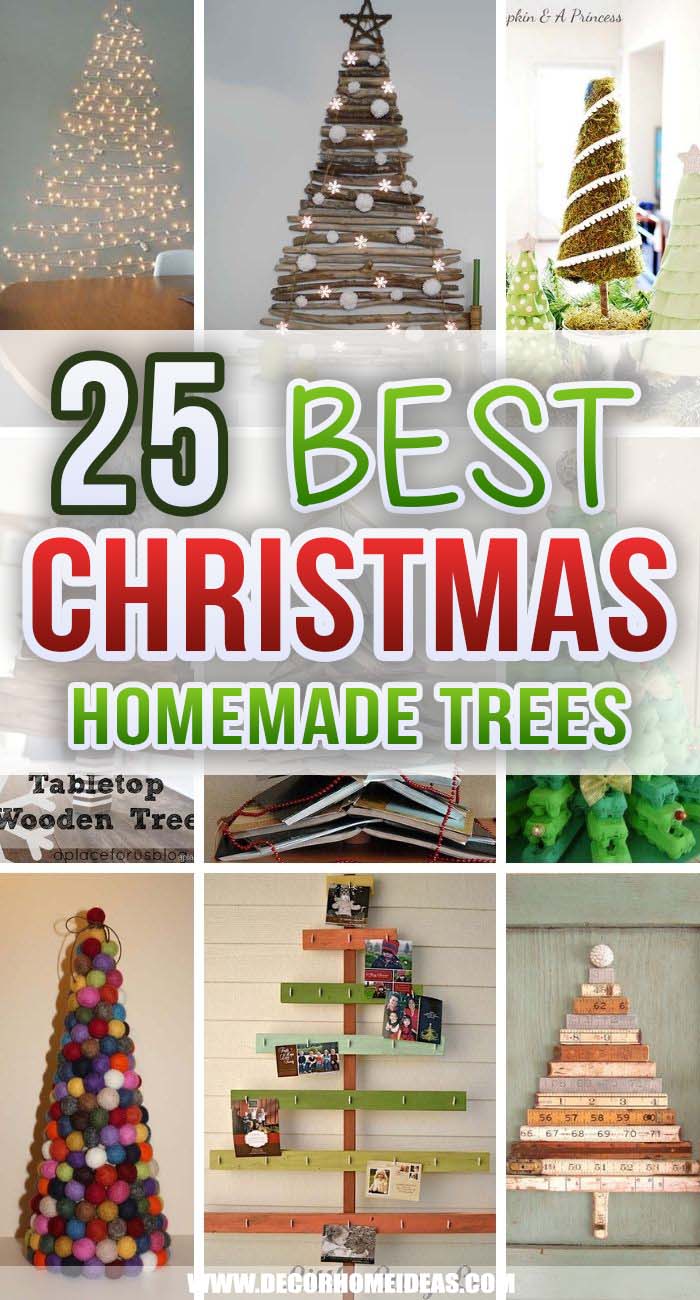 If that sounds hard for you, here are 25 cool ideas for homemade Christmas trees to help you get started! Enjoy!  😉

1. Bring Rustic Elegance with a Wine Cork Christmas Tree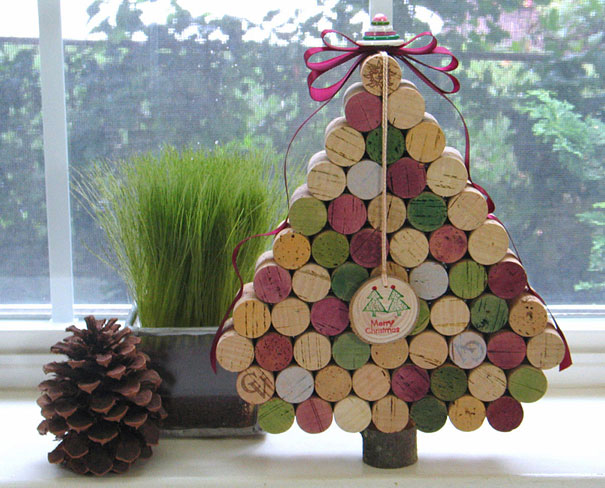 Photo: Credit
To start here is one of the most creative homemade Christmas trees ideas you will be able to find on the internet.
This tiny festive tree is very cheerful and will add whimsy to your home. Plus, it is eco-friendly and could be a great present for someone who loves wine.
2. Add Sparkle to Your Christmas with a Mercury Glass Tree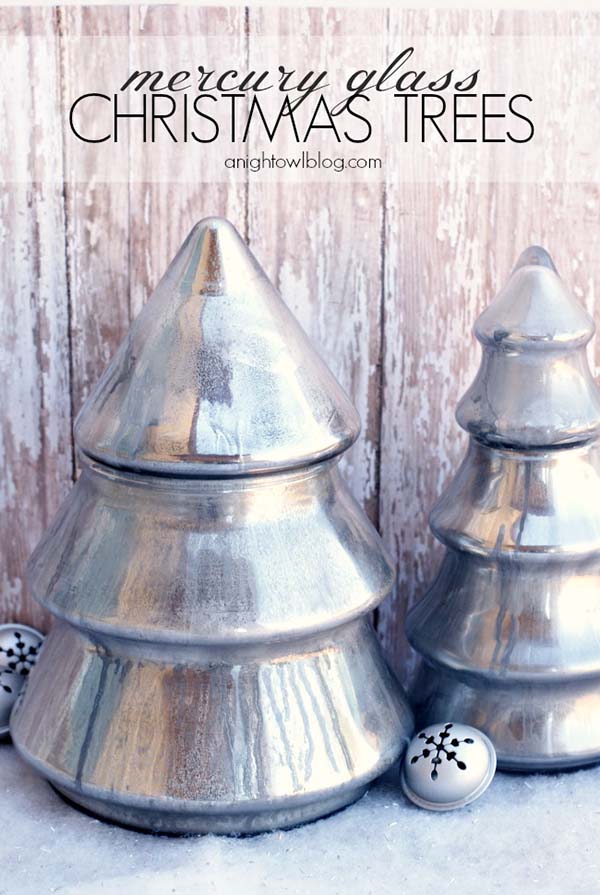 This DIY mini Christmas tree is made of simple mercury glass covered with zinc acrylic paint.
You won't need lots of time to re-create this beautiful project that will easily turn into the focal point of your holiday dinner table.
DIY Project Details: anightowlblog.com
3. Make Christmas Decor More Fun With a DIY Balloon Tree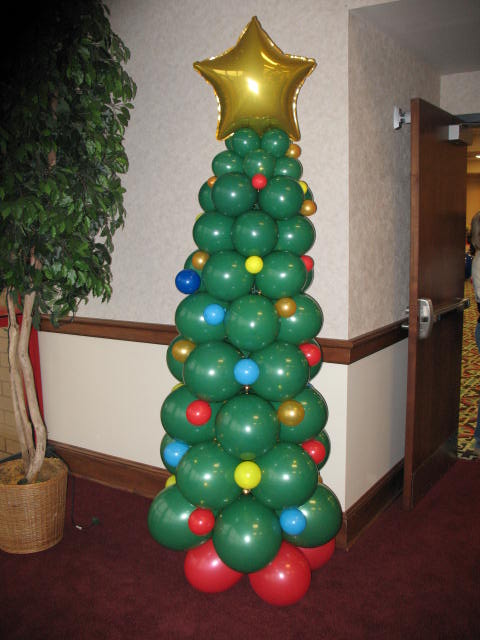 Photo: Credit
This DIY balloon tree adds some fun and texture to the Christmas decoration and will surely get all of your guests talking.  😉
However, it is not exactly a space-saver so it is more suitable for spacious living rooms or entrances.
4. Bring Nature Indoors with a Mini Moss Christmas Tree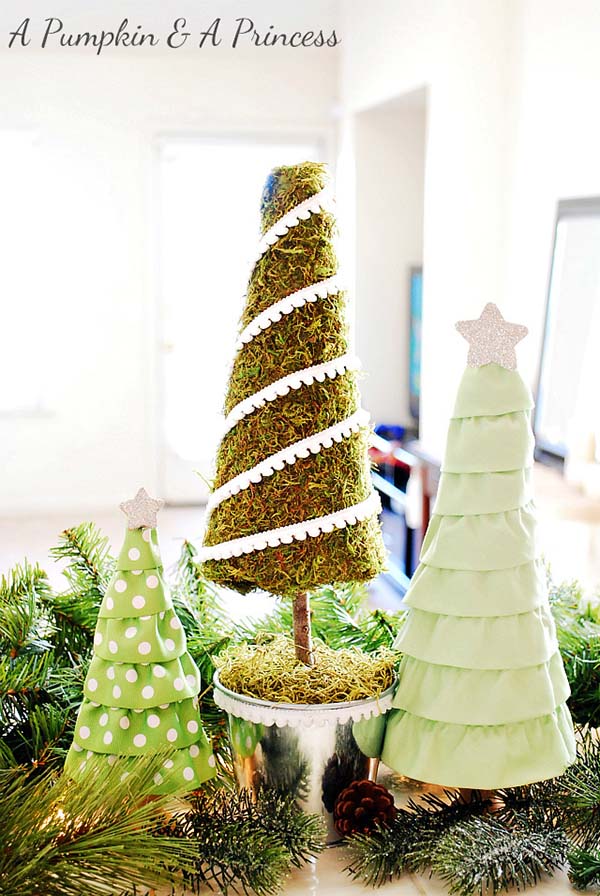 A friend of mine came across this DIY project of a lovely mini moss tree while reading Better Homes & Garden Christmas magazine. 
I love everything about this DIY Christmas tree – the combination of unsophisticated organic textures, the colors, the difference in the height that makes this setting incredible and unique.
DIY Project Details: apumpkinandaprincess.com
5. Get Creative with a Small Veggie Christmas Tree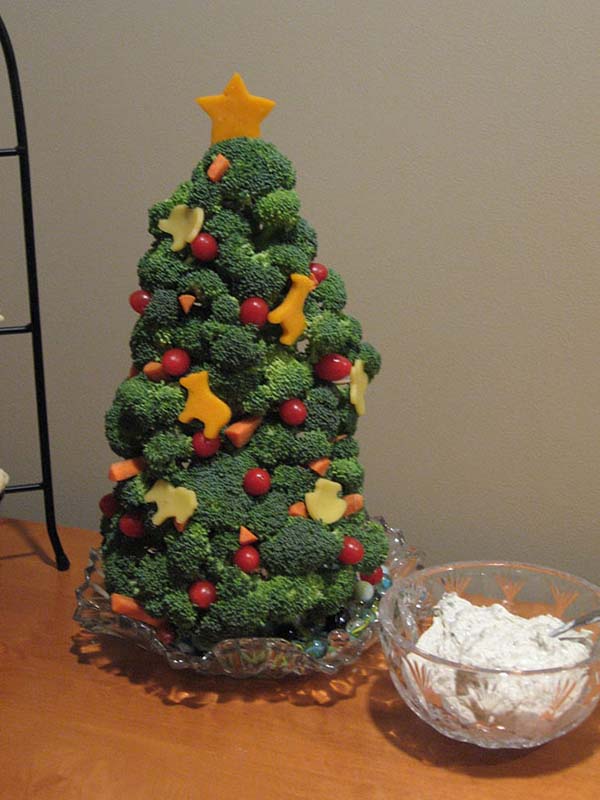 Photo: Credit
The reason why this is one of my favorite homemade tabletop Christmas trees ideas is that it helped me make my little kid eat his veggies for once!  😀
It's not just beautiful and fun but it's tasty as well. It could be the ideal homemade centerpiece on your festive dinner table.
6. Embrace Farmhouse Charm with a Wooden Tabletop Tree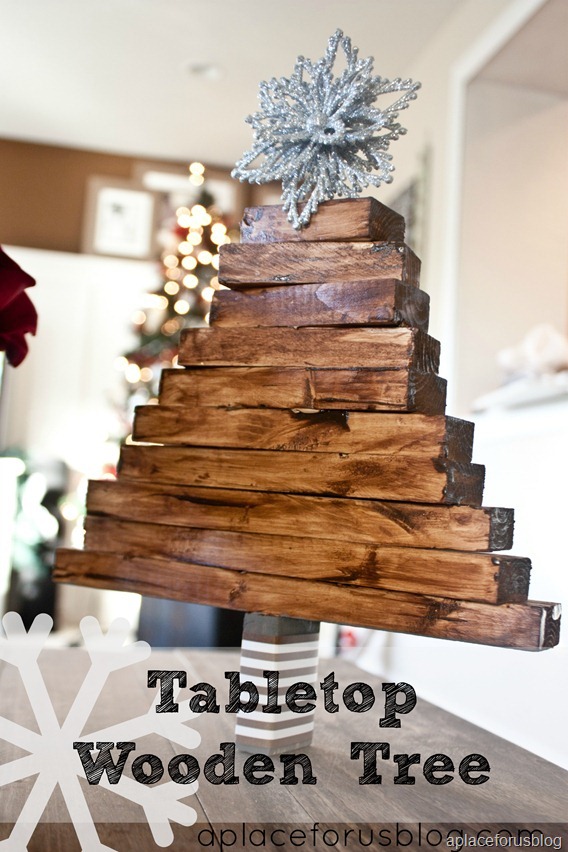 For those of you who are looking for homemade some wooden Christmas trees ideas, here is what I want to show you!
This tabletop tree has a very simple and yet stylish and elegant in a rustic way. Love the shimmering treetop that is in contrast with the organic look of the tree.  😎
7. Get Crafty on Christmas with a DIY Button Christmas Tree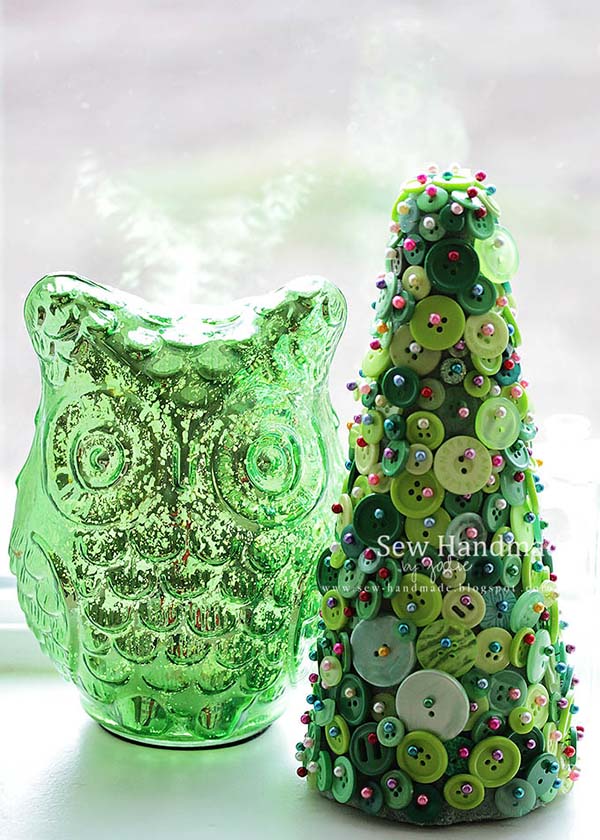 Do you like sewing? Do you see yourself as a keen DIYer? If the answer of one of those questions is 'YES', then this DIY mini Christmas tree is for you.
All you need for this project is a basic inexpensive styrofoam tree, a bag of buttons in different color tones, and some free time!
DIY Project Details: sew-handmade.blogspot.com
8. Maximize Space with a Rustic Door Christmas Tree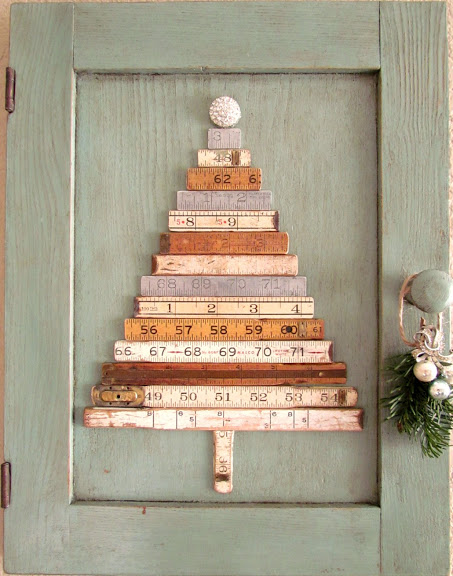 Many of you might suffer from a lack of space at home. I know it's quite nerve-wracking as you need to plan and measure every single piece of Christmas decoration.
This rustic DIY wall Christmas tree is a real-saver that could be hanging on doors, walls, or cupboard doors.
Moreover, it will bring a nice vintage vibe to your home.
9. Create Lasting Memories with a Photo Christmas Tree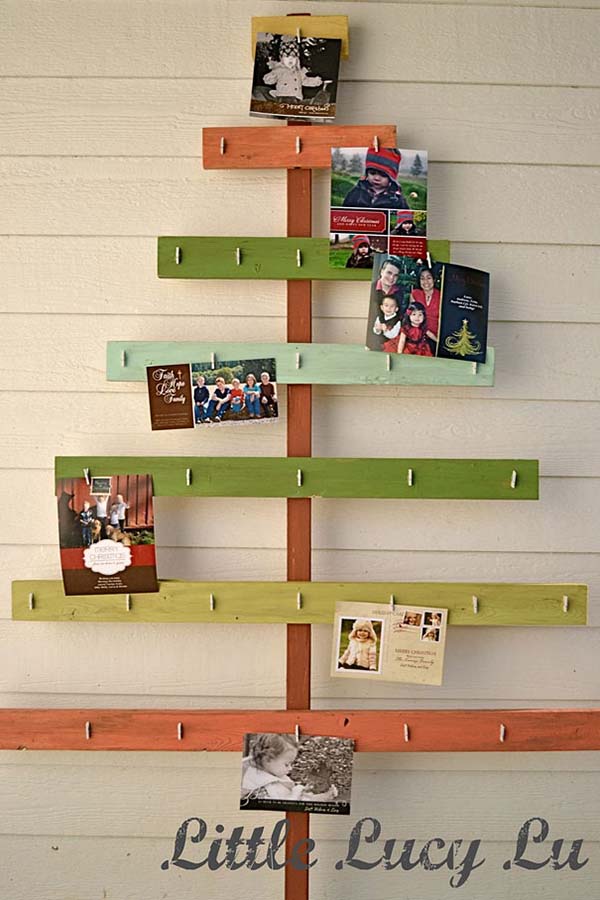 Every year, right before Christmas, a bunch of my neighbors is making a workshop for homemade craft Christmas trees. Last year, I thought it would be nice to join.
So we created this fun photo Christmas tree for babies and toddlers.
In fact, it is a quite easy DIY project. Moreover, I think it can be displayed all year round as it's not like a typical festive tree.
DIY Project Details: littlelucylu.com
10. Elevate Your Space with a Burlap Christmas Tree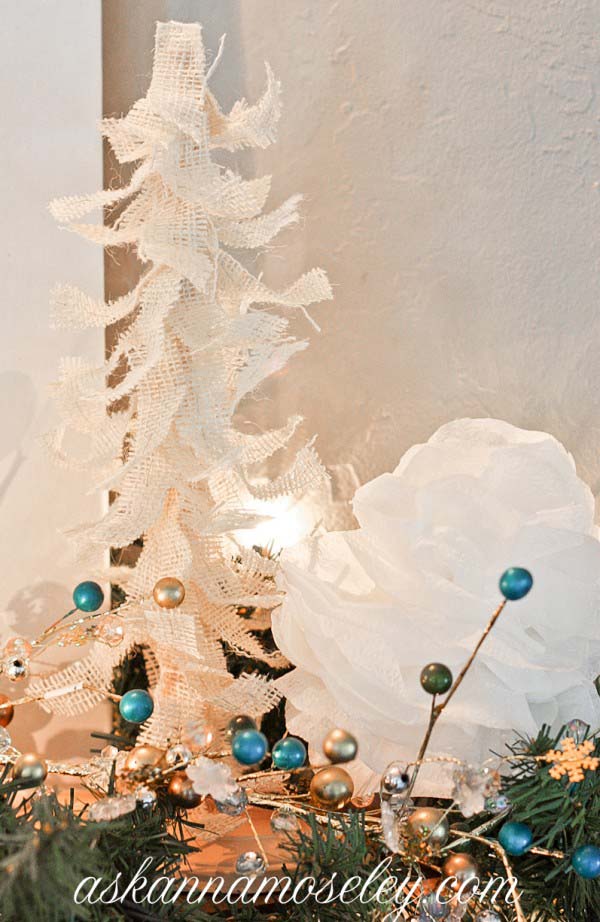 Believe it or not, you can re-create this charming burlap DIY Christmas tree for a few dollars.
Apart from the enthusiasm, all you will need is some burlap, a wooden base, a bundle of wooden dowels, and some silver poofs for on top of the tree.
DIY Project Details: askannamoseley.com
11. Repurpose Pillows into a Golden Tower Christmas Tree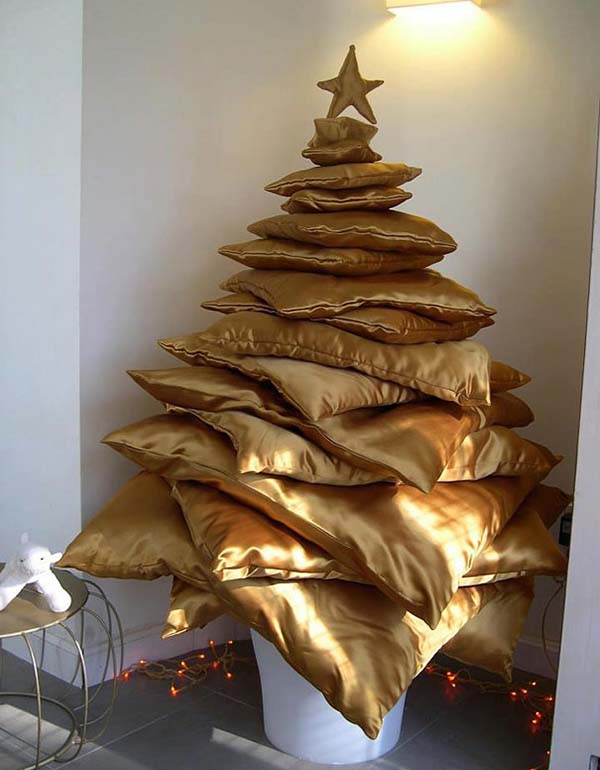 Photo: Credit
This is a cool idea for making tower Christmas tree with different size pillows.
Besides, it has a long list of benefits such as being upcycled (you can use the pillows as interior decor after Christmas); adding texture to the living room space; looking elegant; being eco-friendly (you won't buy a tree just for a month and then throw it away).
12. Hang Ornaments for a Stunning Christmas Tree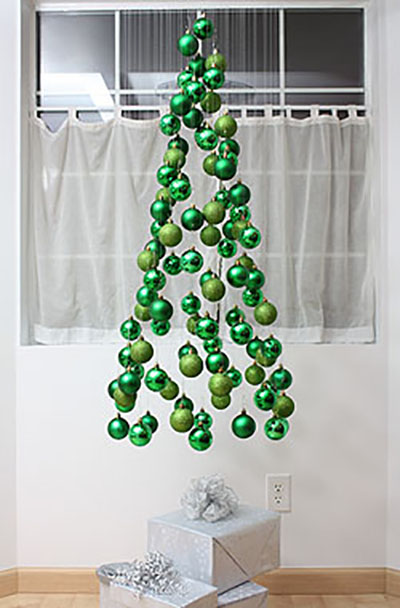 I know, at first, you wouldn't add this project to your list of easy homemade Christmas trees because it looks quite difficult to make.
Take a look at Not Martha blog tutorial and you'll see that you can make this eclectic hanging Xmas tree ornament very easily.
DIY Project Details: notmartha.org
13. Get the Vintage Vibe with a Driftwood Christmas Tree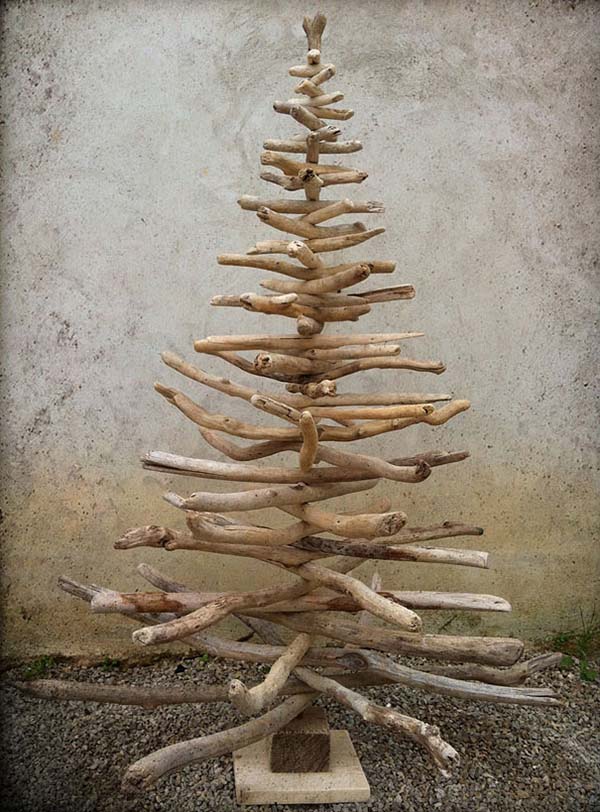 Photo: Credit
This eye-catching DIY driftwood tree is not just for Christmas but can bring beautiful rustic coastal style to your home all year round.
Whether you decorate it with enhancing hearts, little boats, traditional baubles, shells you've collected on the beach, lights or garlands it looks splendid.
14. Upcycle Cereal Boxes into Mini Christmas Trees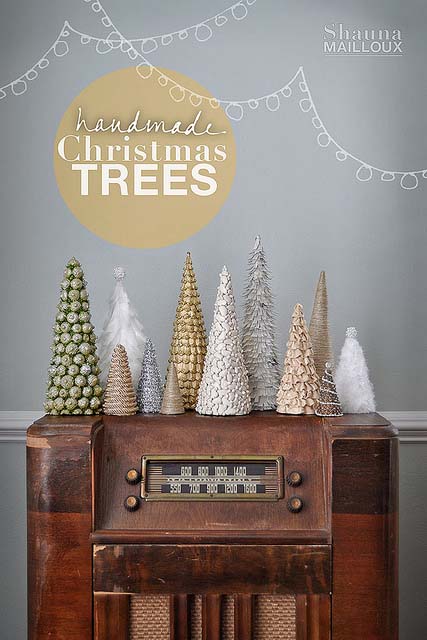 Can you believe these magnificent homemade unusual Christmas trees are made of empty cereal boxes? Sounds crazy, right?  🙄
They will look so nice on top of the kitchen cupboard, or the old piano.
Wanna try to create them as well? Then take a look at Shauna Mailloux step-by-step tutorial 
15. Celebrate Christmas in Style with a Wall Stick Tree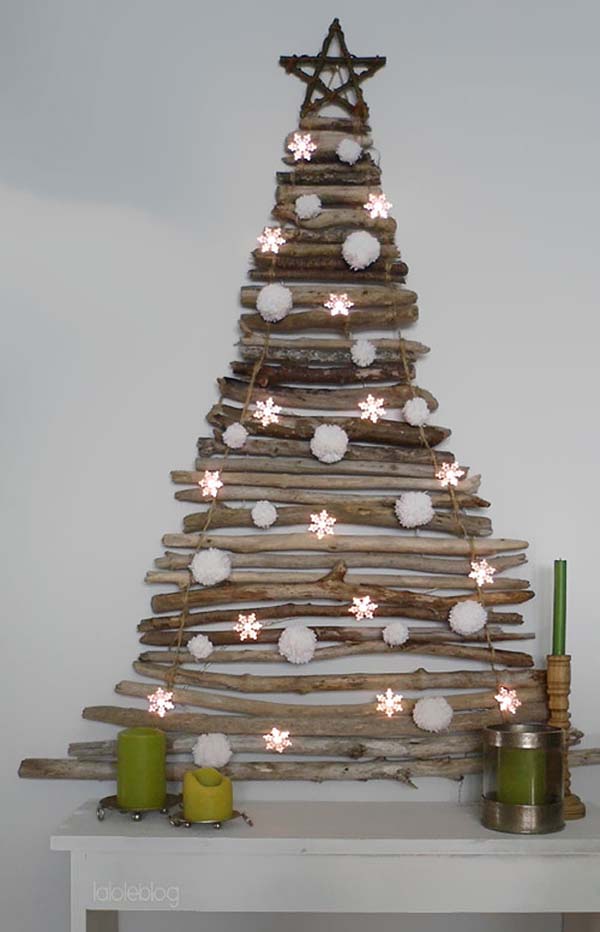 This cute DIY wood natural Christmas tree is made of dry branches collected in the nearest forest.
The sticks are linked with a simple sisal rope, so you can hang it directly on the wall, and save as much space as possible.  😉
DIY Project Details: laloleblog.blogspot.com
16. Enhance Your Decor with Luxurious Gold Topiary Trees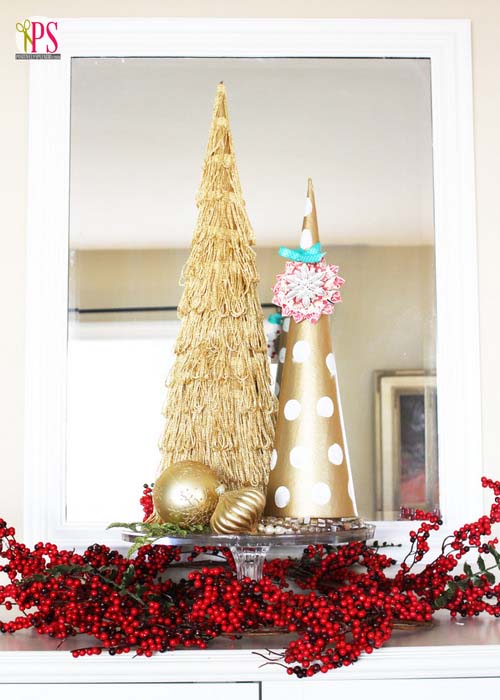 Right now, gold is quickly coming back in trend. So if you want to give your indoor Christmas decoration a luxurious trendy look, why don't you try to re-create these two gold topiary homemade tabletop Christmas trees?
Also, I love the contrast between the gold and the faux red berries around.
DIY Project Details: www.positivelysplendid.com
17. Repurpose Egg Cartons into a Chic Minimalist Tree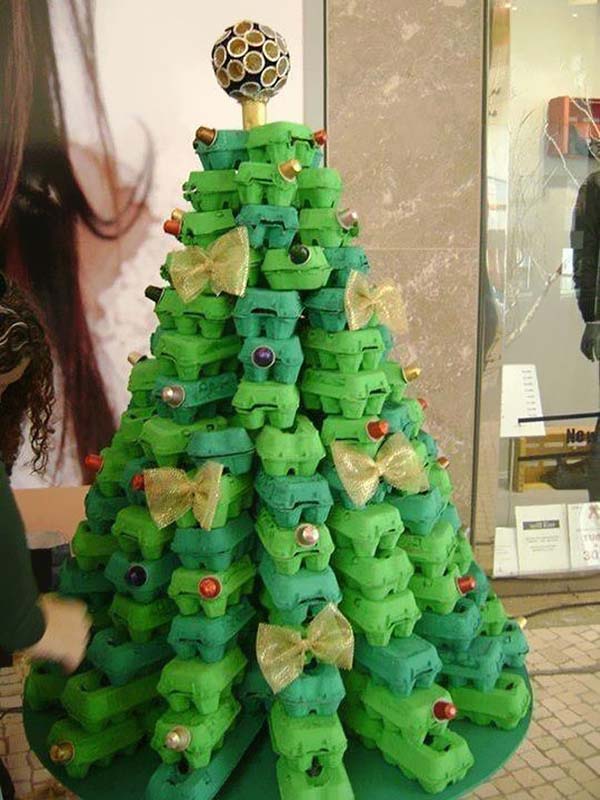 This handmade upcycled egg cartoon Christmas tree is an ideal project to do with your little ones. You will help develop their creativity and teach them how to recycle in the help of Mother Nature.  😉
But it takes some advance planning – my advise is to start collecting empty egg cartoons at least 3 months before Christmas.
18. Make a Colorful Christmas Tree with Felt Balls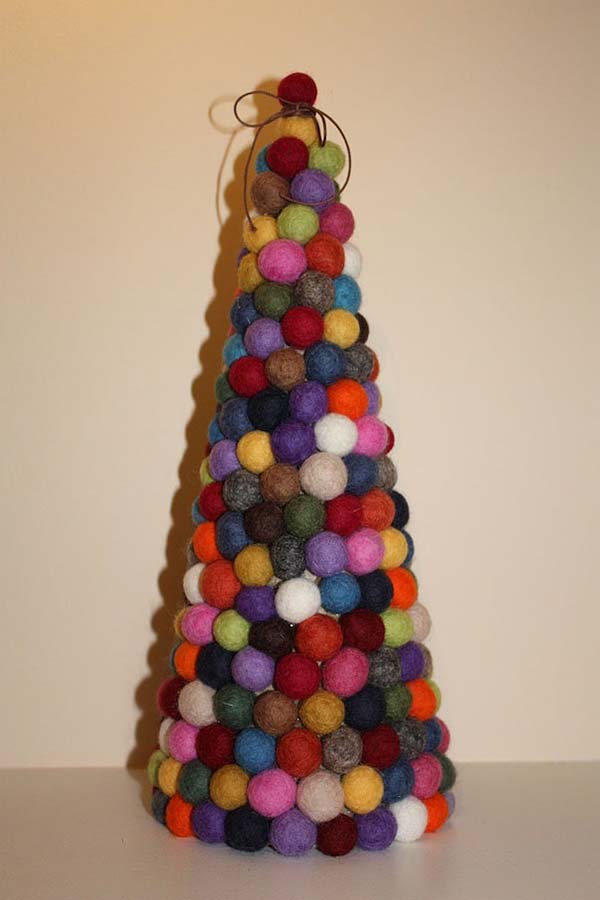 Photo: Credit
I simply love the shapes and the colors of this DIY felt Christmas tree.
It doesn't take much space and it will surely make everyone smile! Plus, it is totally safe in case there are little kids playing around the house.
19. Celebrate Christmas with a Rustic Toilet Paper Roll Tree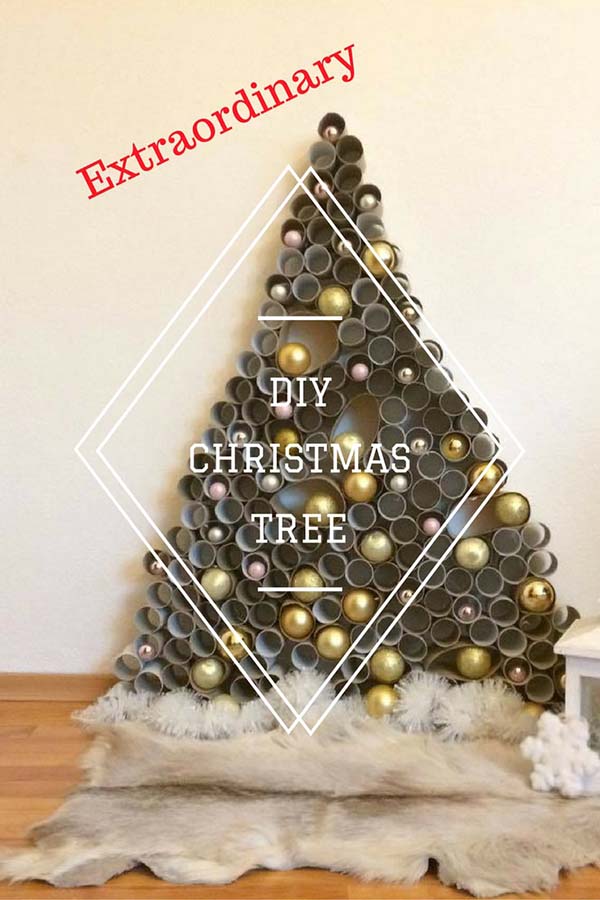 When speaking of homemade Christmas trees, the best thing is to use useless objects and turn them into astonishing.
This DIY Christmas tree, for instance, is made of empty toilet paper rolls, however, it doesn't look cheap but like an appealing piece of art.
DIY Project Details: decorhomeideas.com
20. Make a Lasting Impression with a Book Tree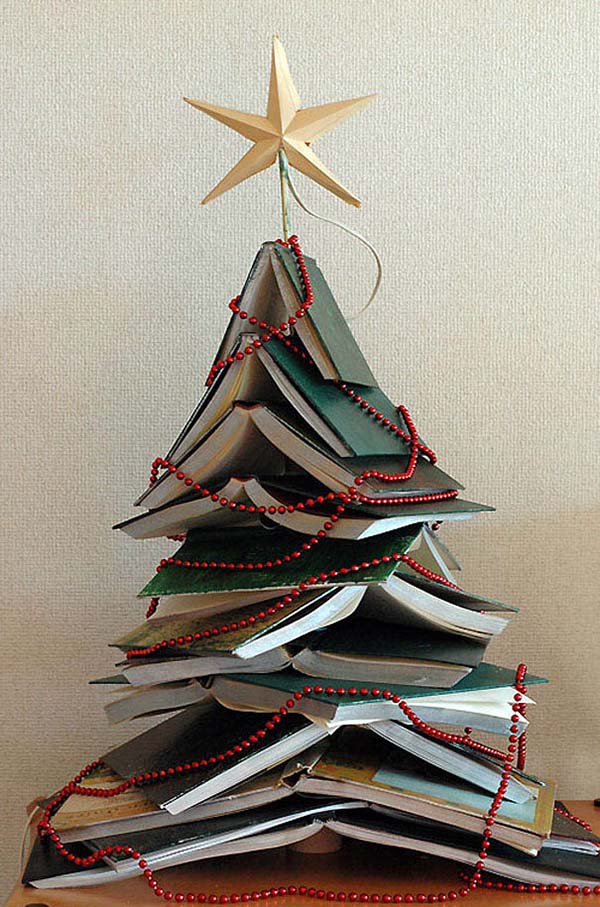 Here is another smart idea of creating a one-of-a-kind Christmas tree without losing more than an hour.
It is made of a dozen hardcover books and some garland. Simple and yet very eye-catching.
DIY Project Details: www.mediatinker.com
21. Showcase Your Creativity with a Spool Christmas Tree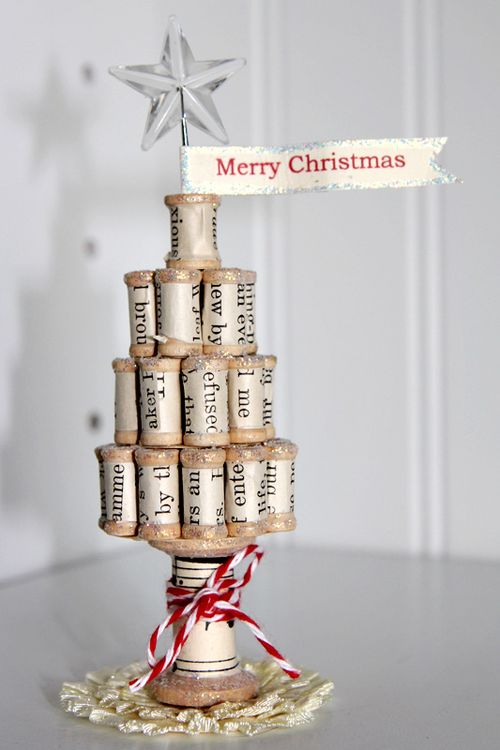 Speaking of creative homemade Christmas trees, this tiny DIY Christmas tree made of spools will surely be the centerpiece of your festive dinner table this year!
Don't forget the key principle – the small details matter  😉
DIY Project Details: mayaroad.typepad.com
22. Light Up Your Holidays with a String Lights Wall Tree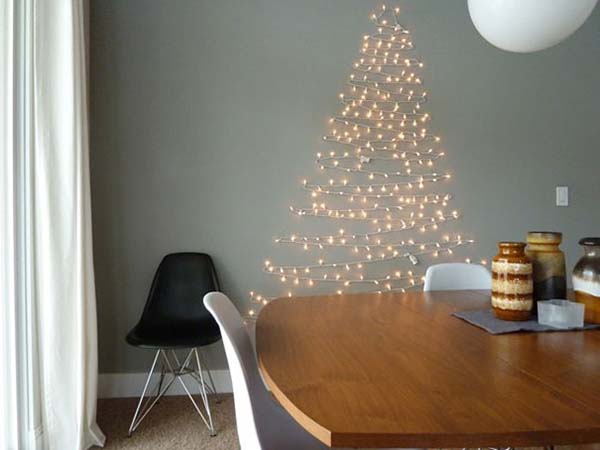 Do you want to have this cute and space-saving DIY Christmas tree made of lights?
If so, all you need to do here is to add a new long string of Christmas lights on your wall in the shape of a tree.
DIY Project Details: amerrymishapblog.com
23. Impress Guests with a Newspaper Christmas Tree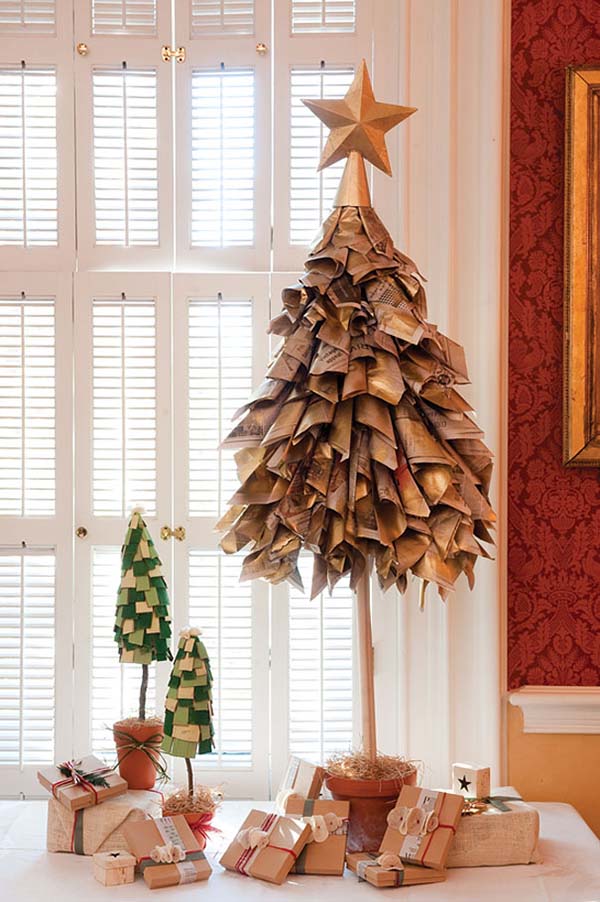 Without a doubt, this is one of the best homemade paper Christmas trees ideas I managed to find on the internet.
It so unsophisticated and simple and yet so appealing and elegant. I'll surely give it a go this year for Christmas!
DIY Project Details: www.motherearthliving.com
24. Reveal Artistic Elegance with Your Wall Christmas Tree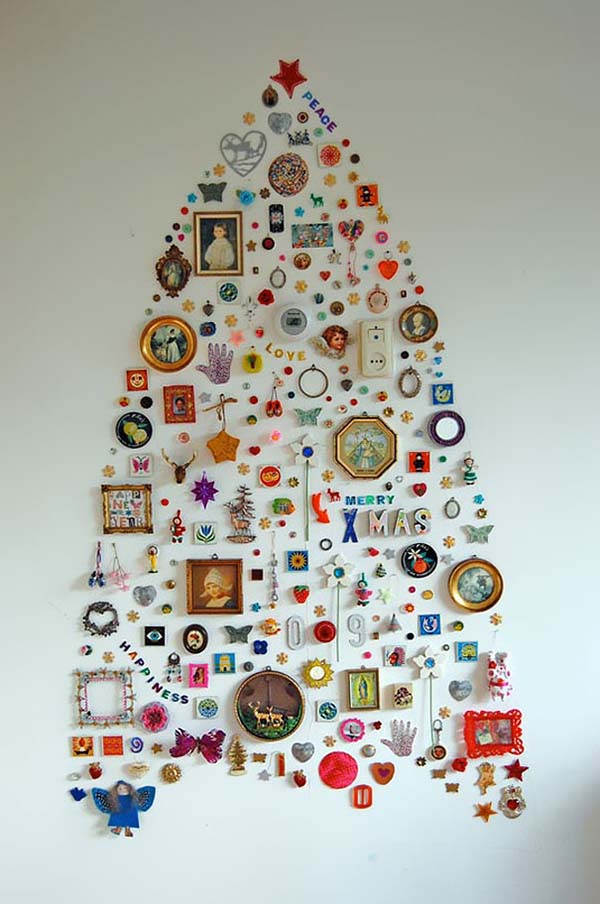 Photo:Credit
Imagine displaying all the Christmas tree ornaments you have (+ some framed photos) on the wall in a festive tree shape.
Take a look at the fun DIY wall Christmas tree on the picture above…that's what I am talking about!  😆
25. Turn Wrapping Paper Rolls into a Show Stopping Tree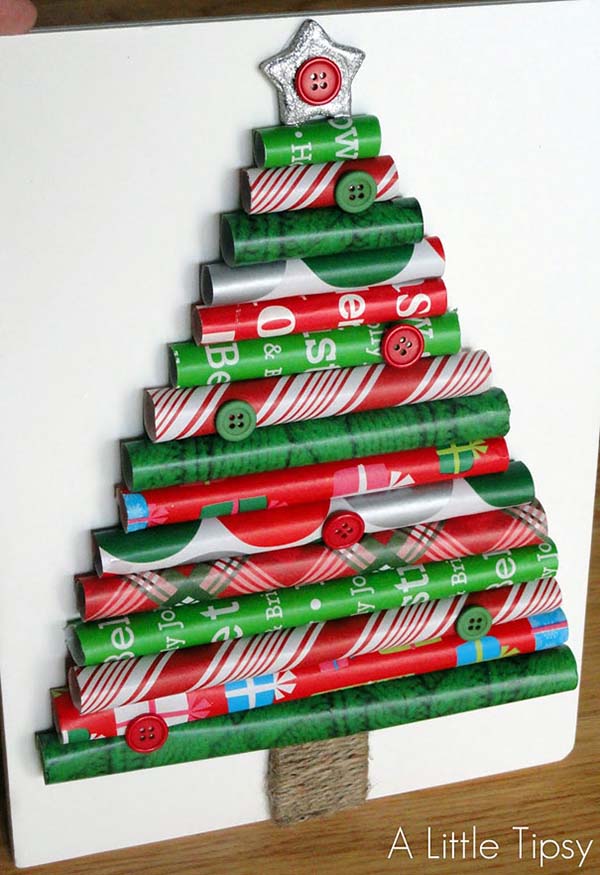 I am finishing my collection of appealing homemade Christmas trees ideas, with this DIY wall Christmas tree made of wrapping paper rolls.
I liked this project since the beginning as it is so easy to make, colorful, space-saving, and brings a strong festive vibe.  😛
DIY Project Details: alittletipsy.com
 tried to share various ideas for everyone's taste and style. Combining trendy holiday crafts and traditional decorating ideas is an always-working recipe for an appealing DIY Christmas tree.
Hope I managed to save you dealing with the hassle of getting a Christmas tree this year!  😉