One of the most exciting things about Christmas is decorating the Christmas tree.
It instantly gathers the whole family together creating loving memories and great expectations for the coming holiday.
Have you decided what your Christmas tree will be this year? The most eco-friendly choice is the real pine tree. The other option is a faux tree.
If you want neither a real tree nor a faux pine tree, there are alternatives that will be as fascinating and appealing as the traditional decoration.
The greatest 29 DIY Christmas tree ideas will welcome the festive spirit inside your homes.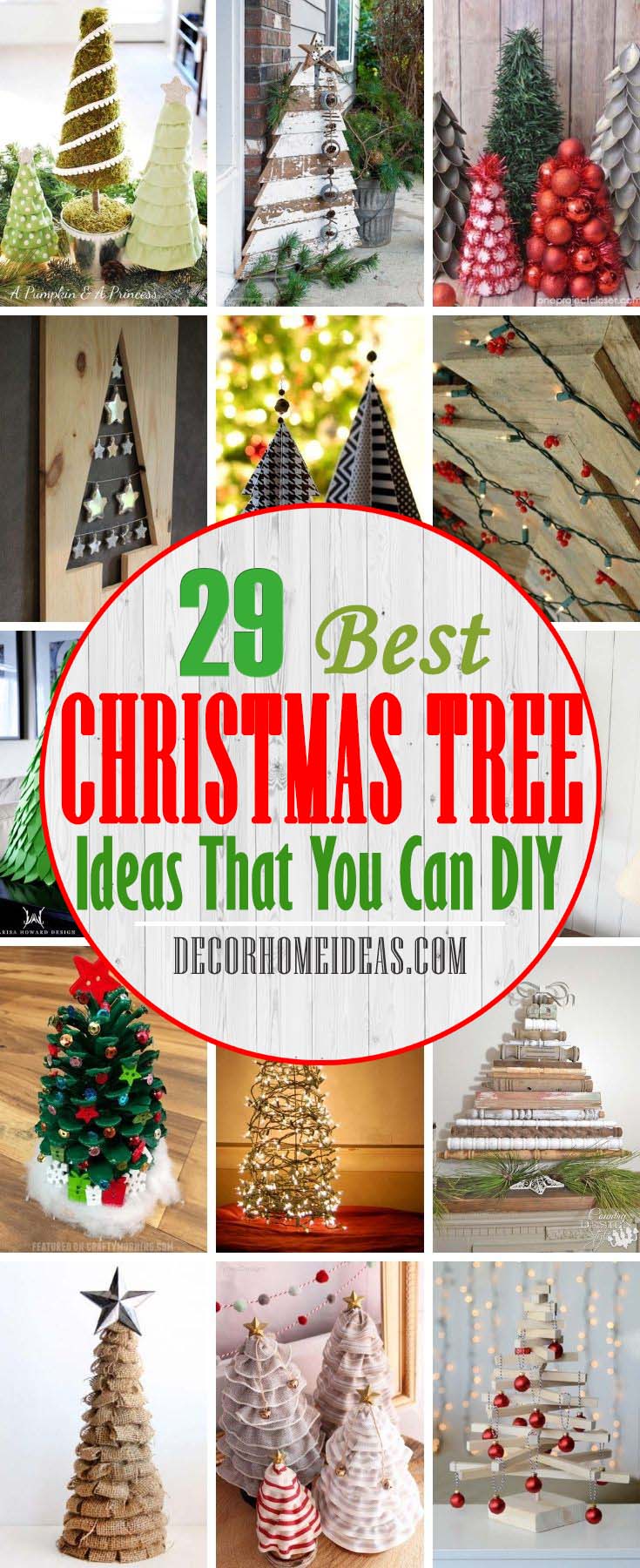 Gather the whole family together and start making your customized tree that will warm our hearts and will enhance the magical atmosphere of Christmas.
1. Star Spangled Wood Plank Cutout Tree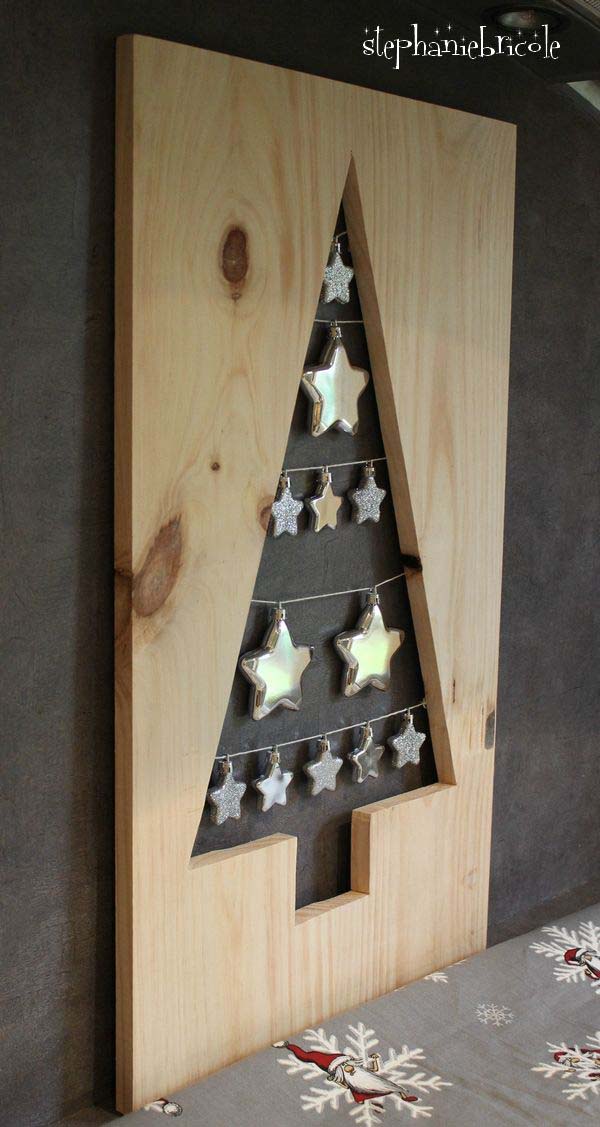 Such a Christmas tree can be of any size to suit the space you have chosen for it.
Trace out the silhouette of a pine tree on a wooden board. Attach strings or cord lengths at the back of the wooden surface. Then hang the Christmas ornaments you have chosen.
2. Cute Mini Pinecone DIY Tree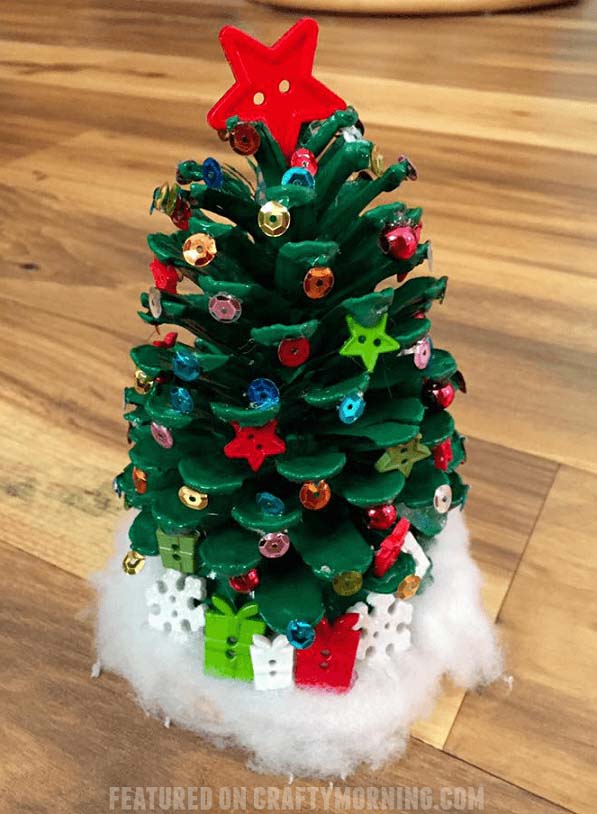 Who says that there should be only one Christmas tree? Make small cute copies with natural materials.
Gather pinecones from the forest and paint them green. When the paint has dried, glue jingle bells, small felt ornaments, pearls, buttons.
Some cotton wool or cotton spread round the bottom of the small tree will set a mini reproduction of a winter scene.
via Crafty Morning
3. Simple Painted Balsa Wood Tabletop Trees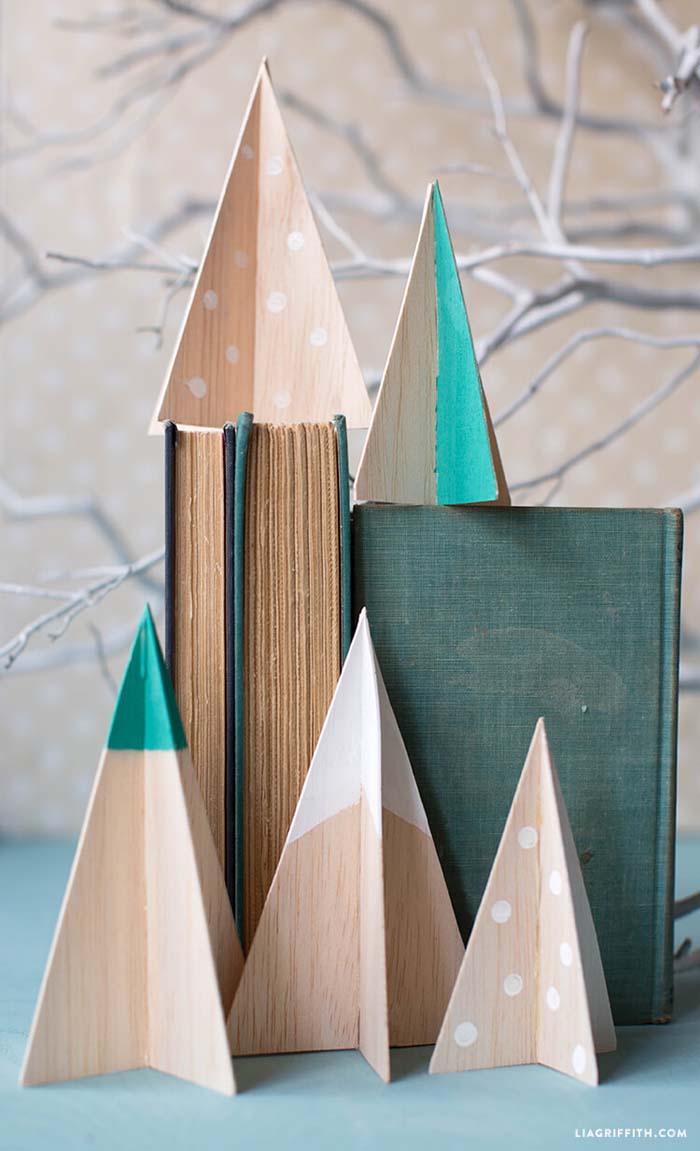 Do you like the Scandinavian design? These small Christmas trees are inspired by it and will surely add some clean, sophisticated and natural accents to the Christmas decor.
To start the DIY project, prepare thin strips of balsa wood. Then use the free pdf templates to cut out the parts. You don't need any special cutting tools, only a sharp craft knife.
Then it is time for the pleasant part- painting. Polka dots, painted tops, geometrical shapes are among the symbolic accents of Scandinavian art.
via Lia Griffith
4. Whimsical Patterned Craft Paper Tree Décor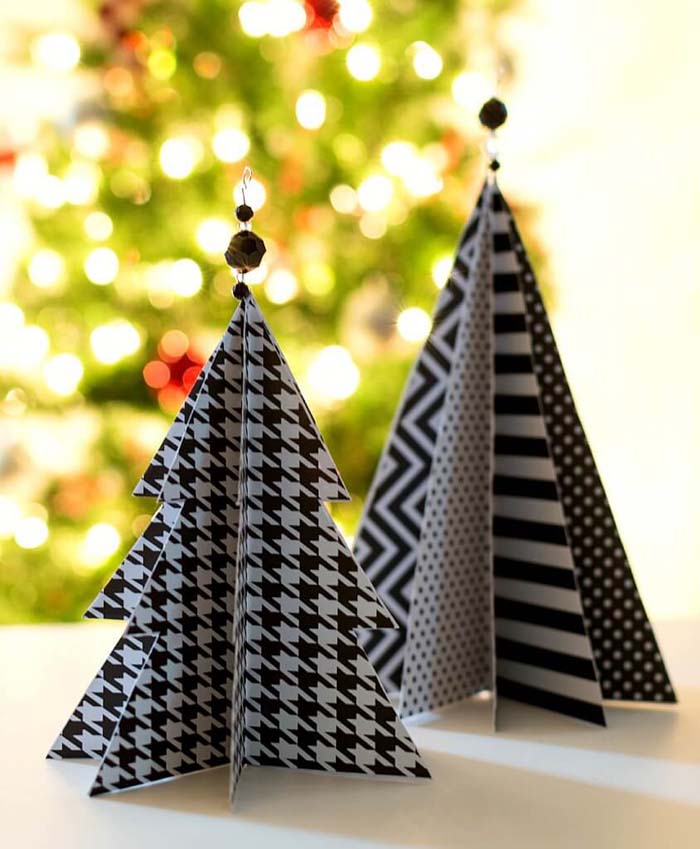 Christmas trees can be very stylish and emphasizing personal taste. These small paper trees are made of card stock paper in different patterns but all in a black and white color combo.
Their tops are decorated with crystals that give them stability and glamour.
The folding pattern is explained on the link below.
5. Space Saver Layered Stick Wall Tree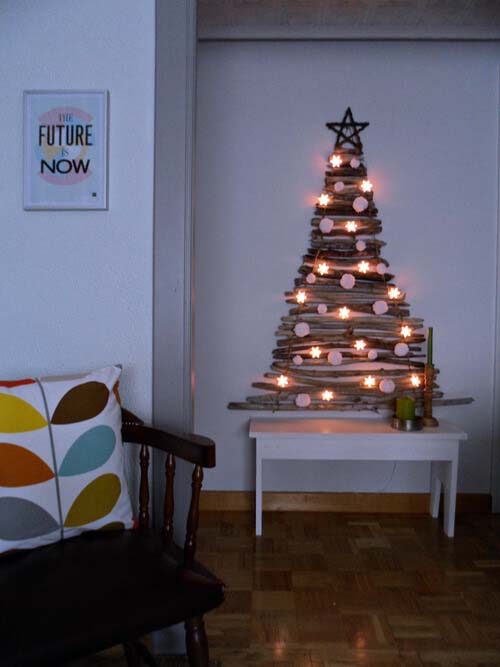 This Christmas tree will be a fun craft for all family members, mostly for the kids. The most important part of this project is to find good-looking branches!
Give this task to your kids during your next walk in the forest. All branches are fixed to form one tree with the help of twine or rope tied to both ends of each branch.
Decorate with fairy lights, felt or wool pom poms, ornaments, pinecones.
via Lalole Blog
6. Rustic Burlap Ribbon Decorative Tree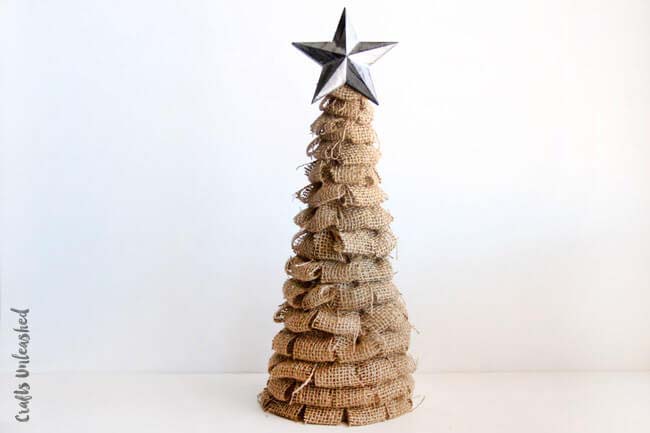 This rustic representation of a Christmas tree is adorable. The typical green color is replaced by the rough brown texture of the burlap.
Burlap rolls are glued to a cardboard cone and then gently cut into sections to make the rows look staggered.
Finish the tree with a star.
via Crafts Unleashed
7. Strung Green Garland Wall Tree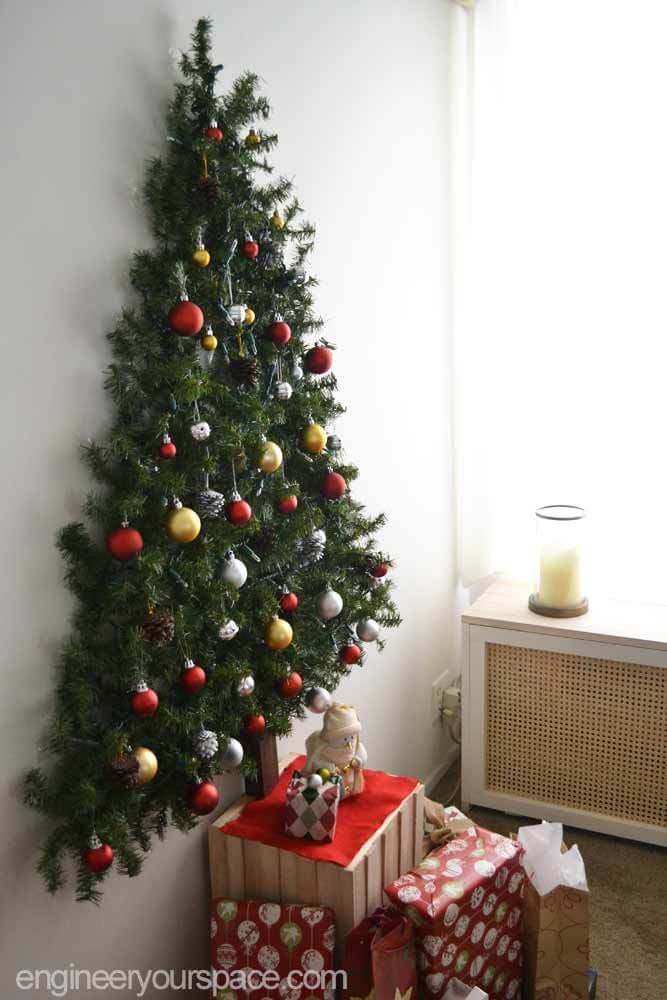 If you have small kids, then you must know that the Christmas tree is another danger zone!
This won't be a problem if the tree is on the wall- literally! Make it by sticking pine tree garland on the wall. A strong tape like a hang tab will hold the garland tightly without damaging the wall paint after taking it off.
8. Gathered Ribbon Trees With Stars And Bells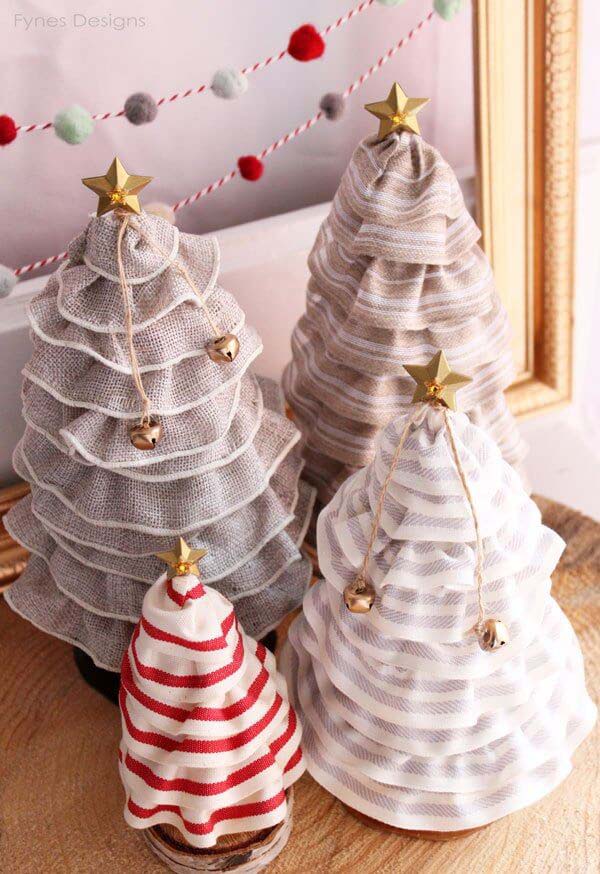 These fantastic small Christmas trees are made out of stacked funnels and craft ribbons!
The DIY project is very easy and cheap! Give the trees stability and height by fixing them onto a ribbon spool preliminary painted with metallic paint.
via Fynes Designs
9. Make Your Own Glittering String Cone Tree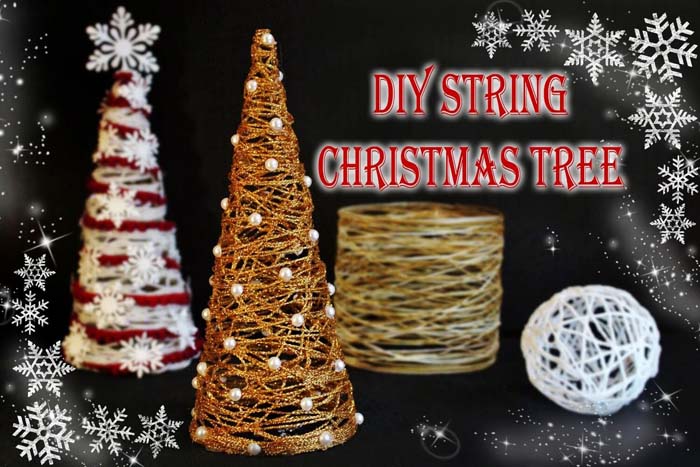 Such a sleek Christmas tree could be a great holiday decor not only for our homes but also for the office. Why not make more of it and give it to friends?
To make it, you need to weave string or yarn dipped into Mod podge around a cardboard cone. To ensure that the cord is easily detached from the paper surface after it has dried, wrap the cone with aluminum foil covered in a thin layer of oil.
via Youtube
10. Twinkling Light Tomato Cage Tree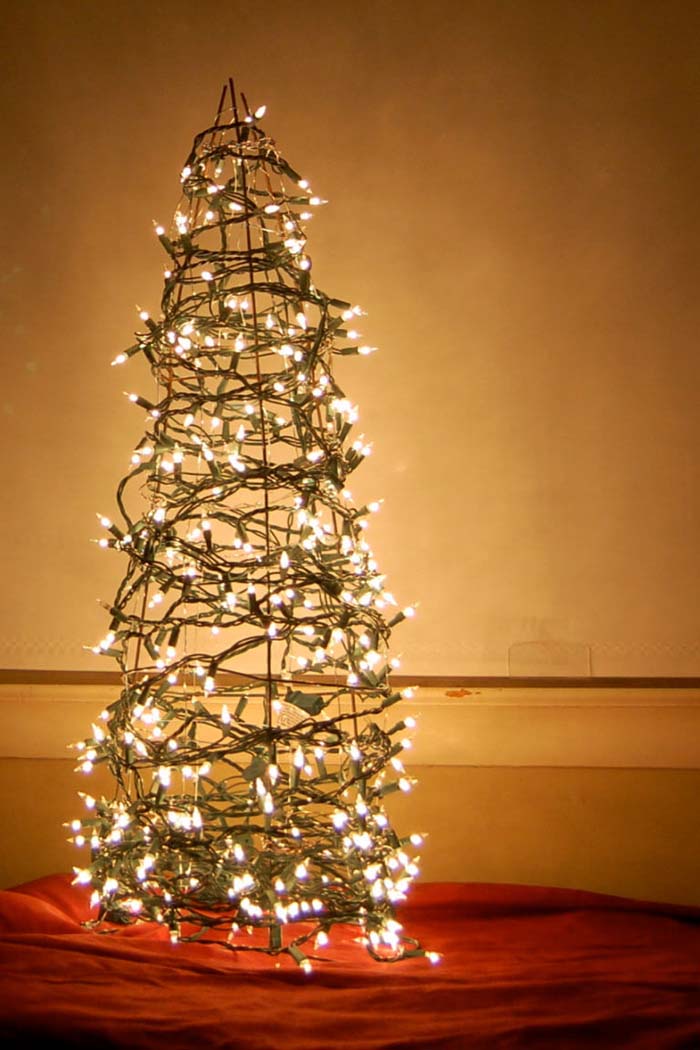 Repurposing of a tomato cage has never been so festive! Just wrap a green cord of lights around it and add some ornaments!
via NEDC
11. Mixed Bark Tree From Wood Slices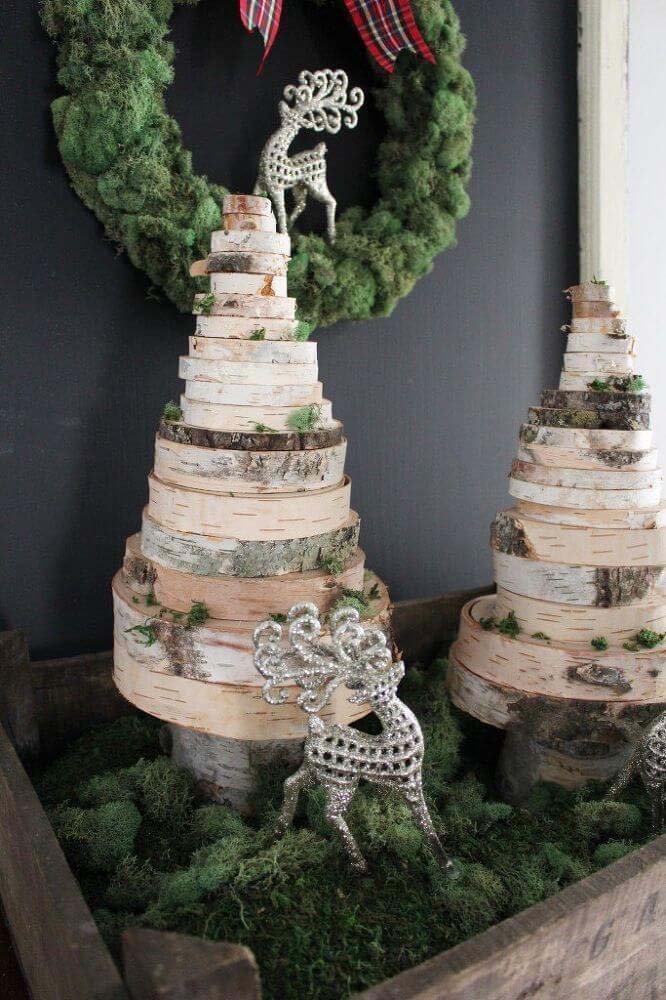 If you happen to have wood slices left from a previous project, it is time to use them to make a rustic Christmas tree that will surely grab the attention with its uniqueness.
The best thing about it is that the slices are only glued to each other so after Christmas is gone, you can easily separate them and use them in the next project.
via 2 Bees in a Pod
12. Posterboard Based Crafty DIY Trees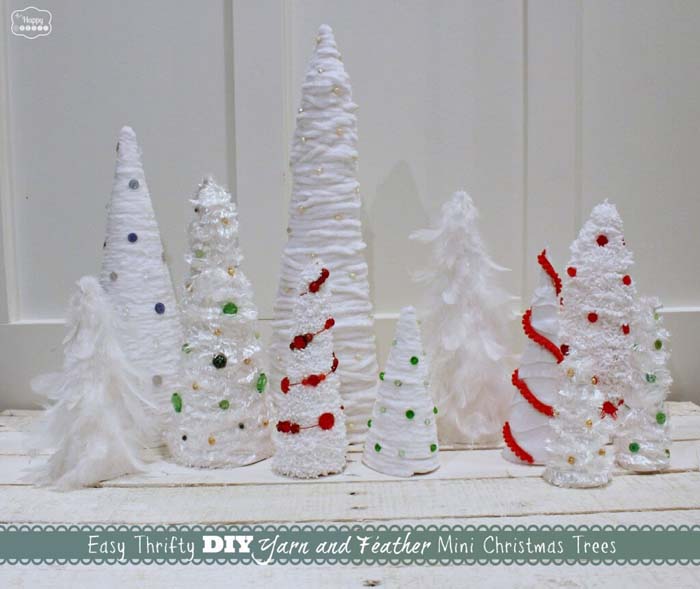 Make a set of small Christmas trees to beautify a shelf, a mantel or the Christmas dinner table.
The basis of all of them is cardboard or posterboards cut and formed in a conical shape.
Craft materials like yarn, feathers, felt are used to cover the cones. If you want to add some color, glue embellishments like jingle bells, buttons, pearls.
via The Happy Housie
13. Stacked Folded Papercraft Tree Display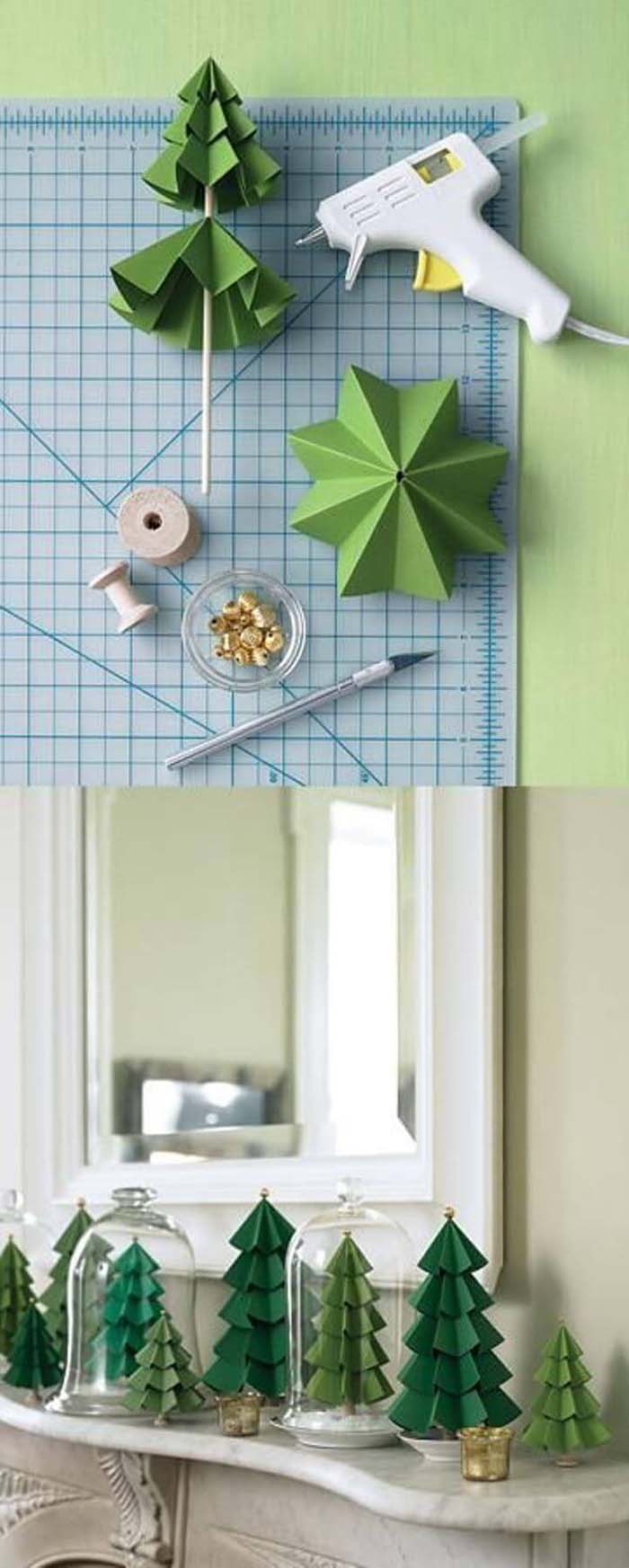 These small Christmas trees can beautify the table center or a mantle in your home or be a special gift for all your friends.
The size of the tree depends on the size of the paper circles. Cut them with a circle cutter and then fold with a bone folder.
After the pine rows are ready, insert them on a wooden skewer. The basis that stabilizes the trees could be a spool or drawer knob.
via Martha Stewart
14. Vintage Wood Dowels Farmhouse Wall Tree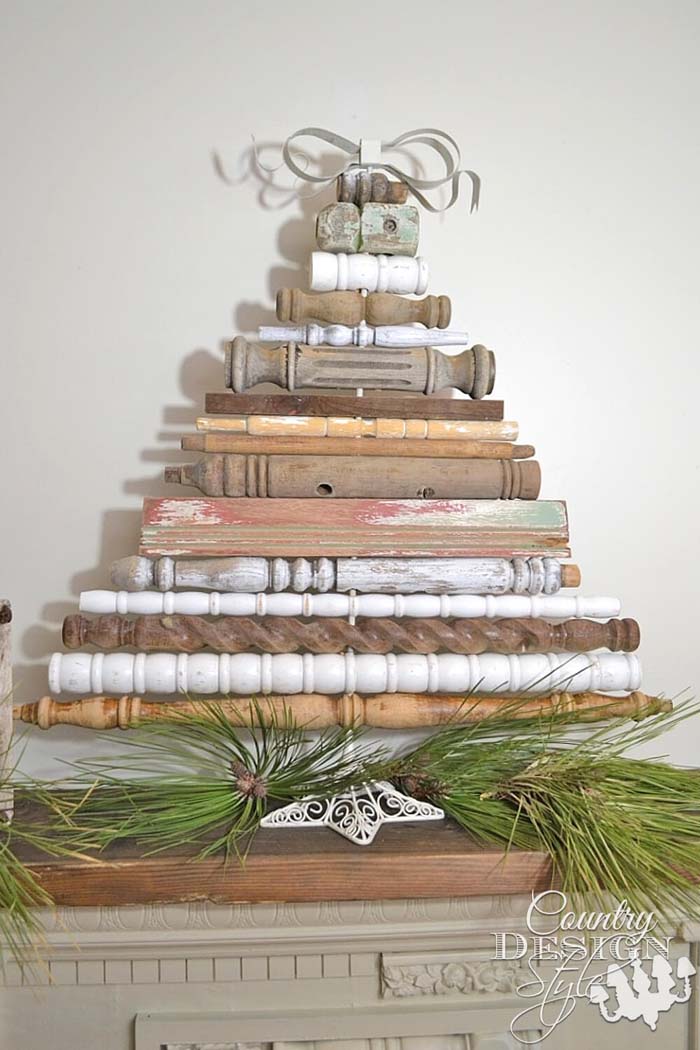 In case you have old spindles, you can make this fabulous alternative to a Christmas tree. It will add a lot of rustic charm and will give the holiday a special decorative accent.
You need a wire tree to insert the spindles on. Then it is up to you whether the tree will be flat against the wall or dimensional by spinning the spindles.
15. Natural Wood Stick Simple Tree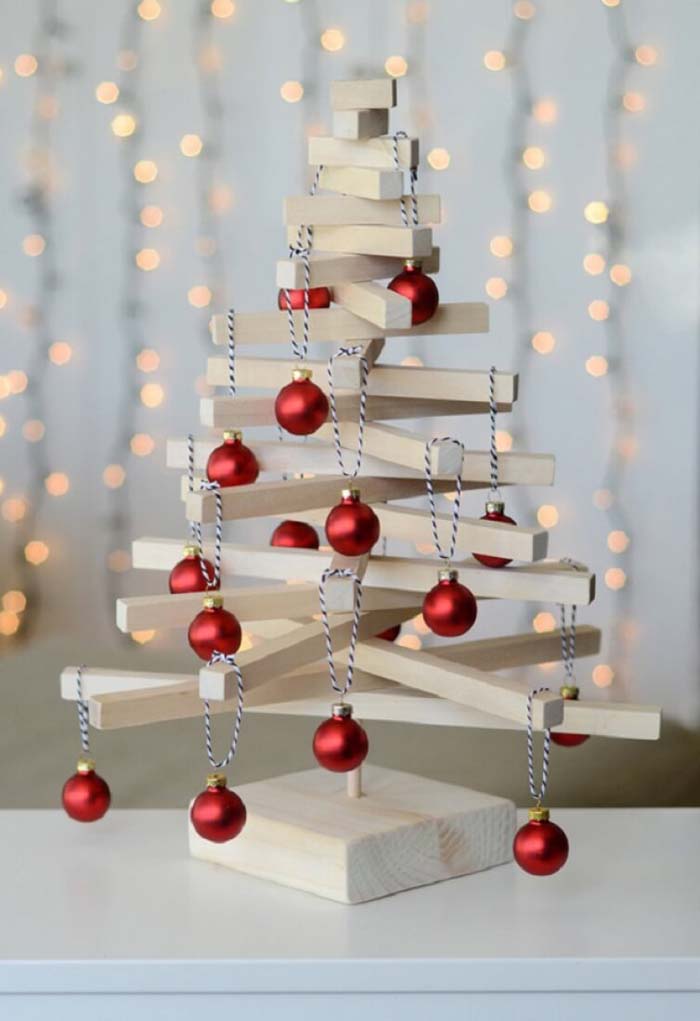 The design of this alternative Christmas tree is very modern, however it will also add a pinch of rustic charm because of the natural material it is made of.
Start by making the basis of the tree. Then cut flat pieces that will form the rows. Spinning the pieces will give the craft the look of a tree. Then decorate per your taste. A few ball ornaments in the same color, fairy lights, etc.
via Curbly
16. Repurposed Pallet Tree With Lights And Berries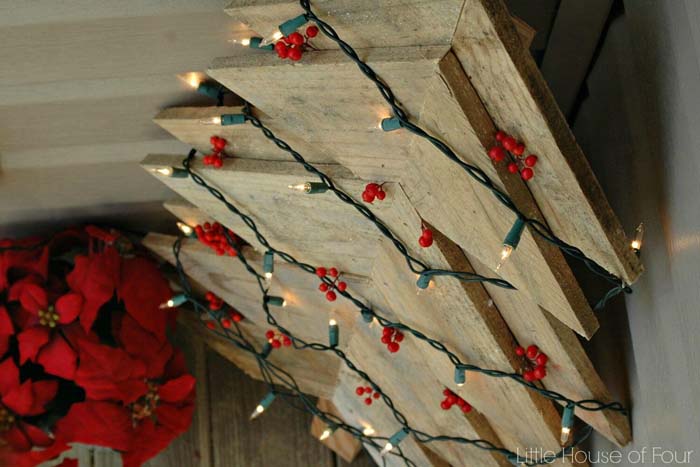 If you are keen on oversized decor accents, this Christmas tree is surely a thing everyone will notice.
It is made from pallet slat pieces cut in triangle shapes and layered on two levels to give the figure volume.
Decorate with fairy lights for a simpler look or glue ornaments for a more festive vibe.
17. Tree Shelf Mini Gift Holder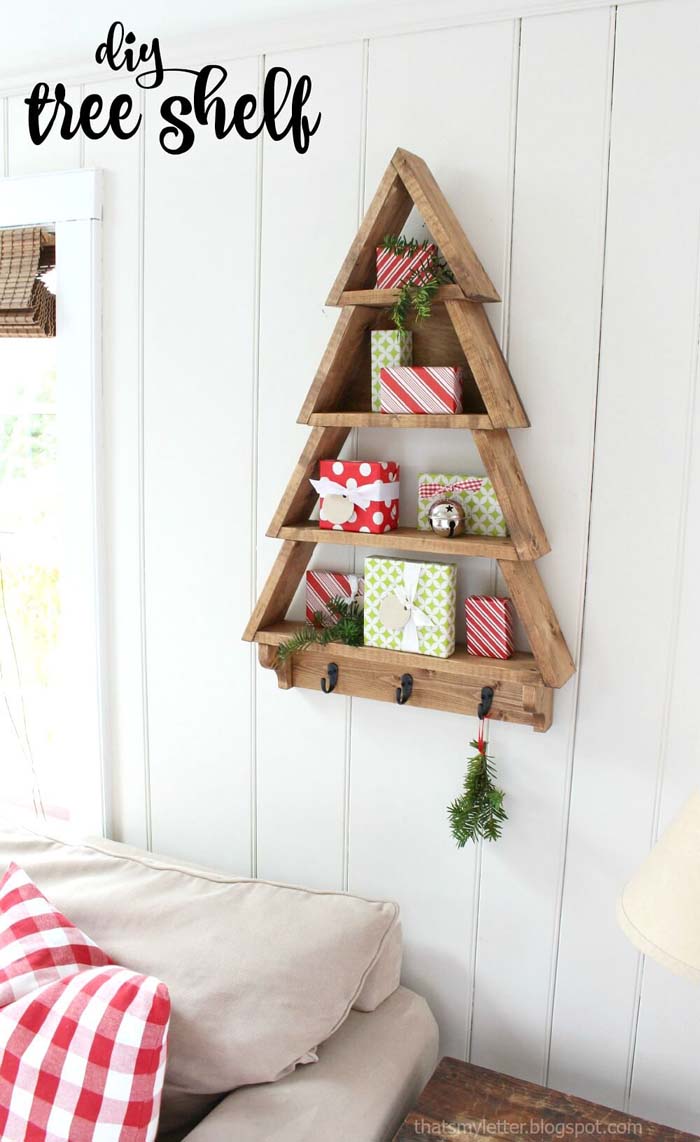 You can give the Christmas decor a functional feature by incorporating the festive design of the Christmas tree into a piece of storage furniture.
The whole project will cost less than $10 and doesn't require any special tools.
via Ana White
18. DIY Felt Leaf Tabletop Tree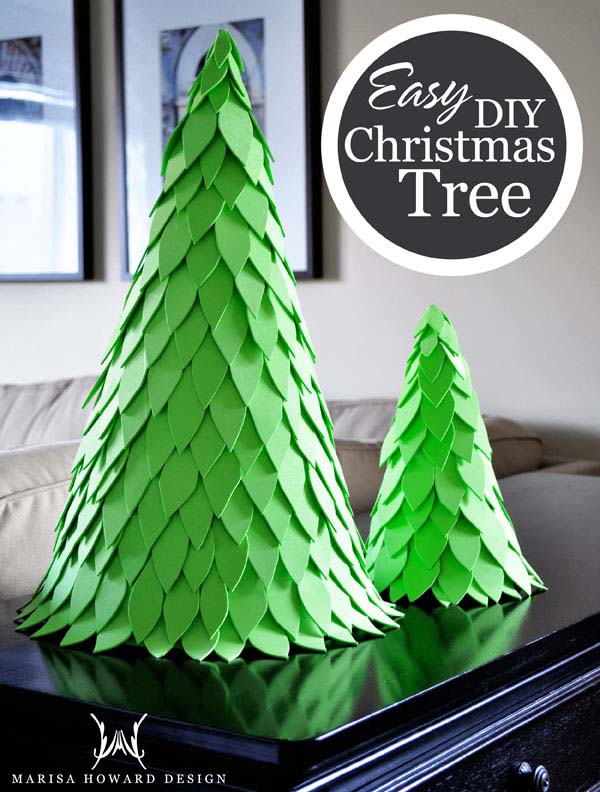 One of the most appreciated advantages of the alternative Christmas trees is that they don't create any mess.
The size of this faux pine tree can be customized. Make a cone out of a card or poster board. Then glue in a staggered pattern felt leaves.
via Let's DIY It All
19. DIY Cone Trees From Spoons And Candy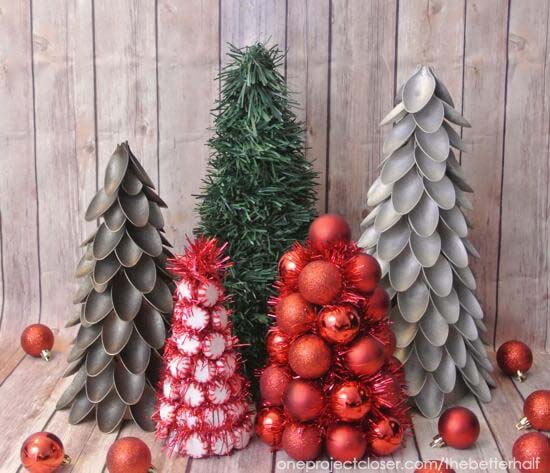 These unique Christmas trees are made out of a cardboard cone and plastic spoons.
The plain white surface of the spoons is totally changed with paints- brown leather and hammered spray paints.
After the coat has dried, glue the tops to the paper cone.
20. Beaded Ornaments Cone Tree

This Christmas tree is easy and elegant. All you need is a foam cone from the Dollar store and two packages of ball ornaments.
Glue them onto the cone following a pattern and fill the gaps between the spheres with ball garland.
21. Upcycled Book Page Rose Tree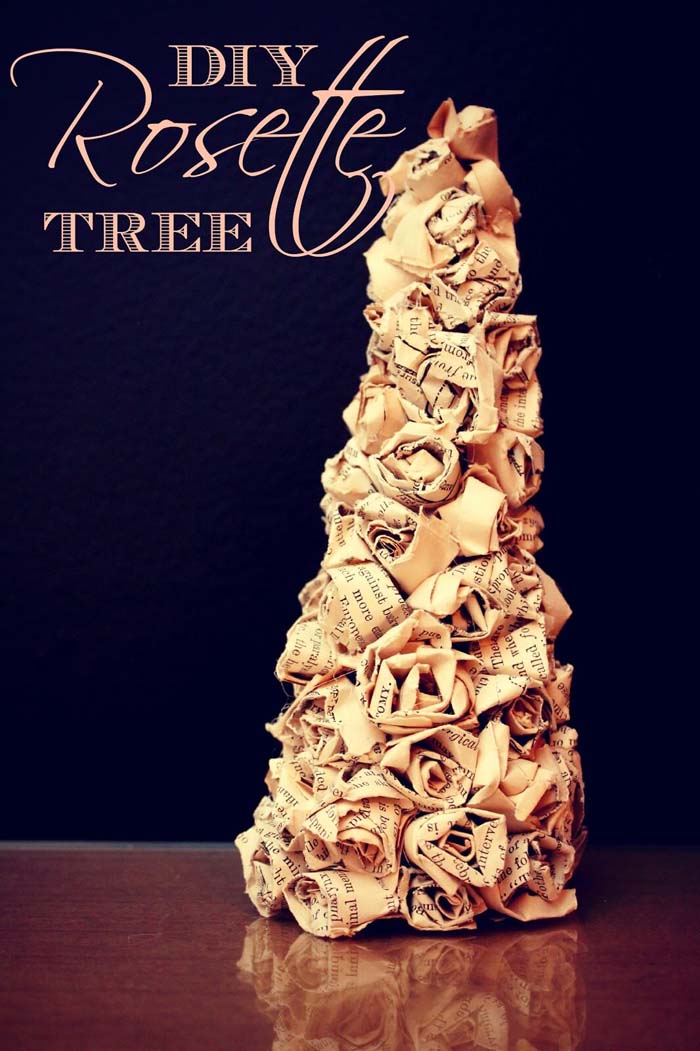 The Christmas tree can be more than a decor accent. It can be a recycling project creating beautiful roses that replace the pine twigs.
They are made entirely of paper- you can use a craft paper, an old newspaper or book pages.
Fold the paper and then wrap the strip to achieve a rosebud look. Then glue all roses onto a cardboard cone.
via Eat Sleep Make
22. Antiqued Paint Pallet Wood Porch Tree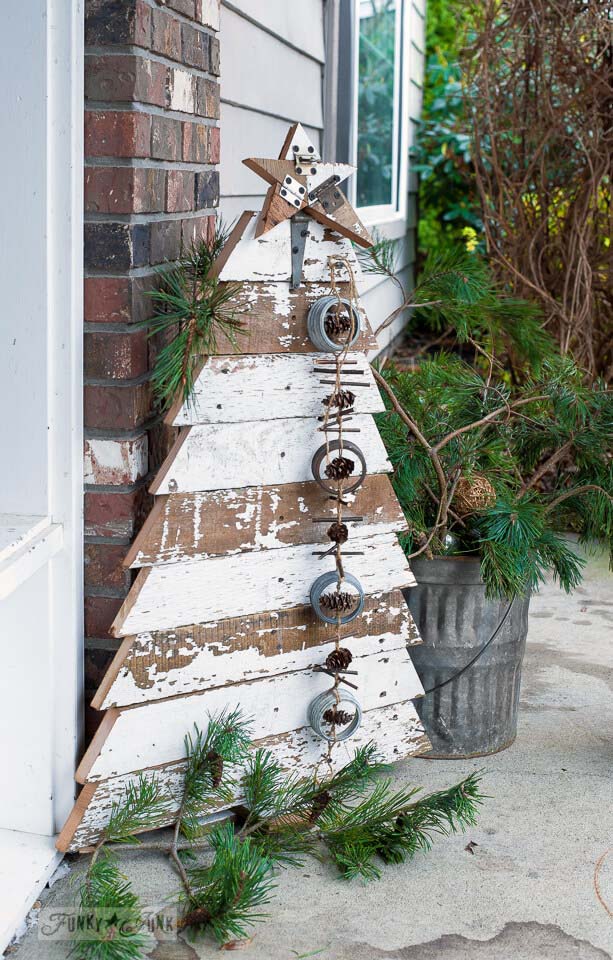 To make this fabulous rustic masterpiece you need scrap pallet slats and some metal pieces like bulb rings, lid bands and pinecones.
Start with making the tree stand where the graduating in size slats will be nailed to. The ends of each slat are cut an angle to achieve the pine tree look eventually.
The finish of the slats can be distressed for an enhanced rustic look, stained with a dark stain or colored in any color.
23. Glittery Craft Cone Tree Project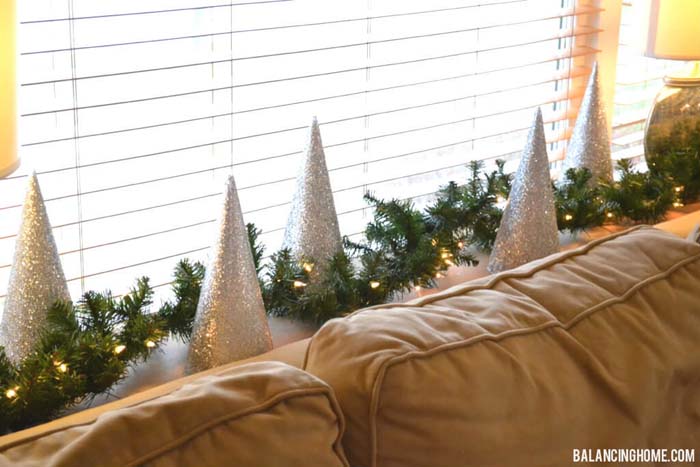 These lovely glitter cones can be main decoration of the mantle, the windowsill or the table center- they can fit anywhere because they are simply gorgeous.
Have you seen plastic cones? If so, get a few from those. If not, make your own cones out of poster board. Then cover them with Mod podge and sprinkle glitter onto the surface.
via Balancing Home
24. Contemporary Tree Shaped Ornament Hanging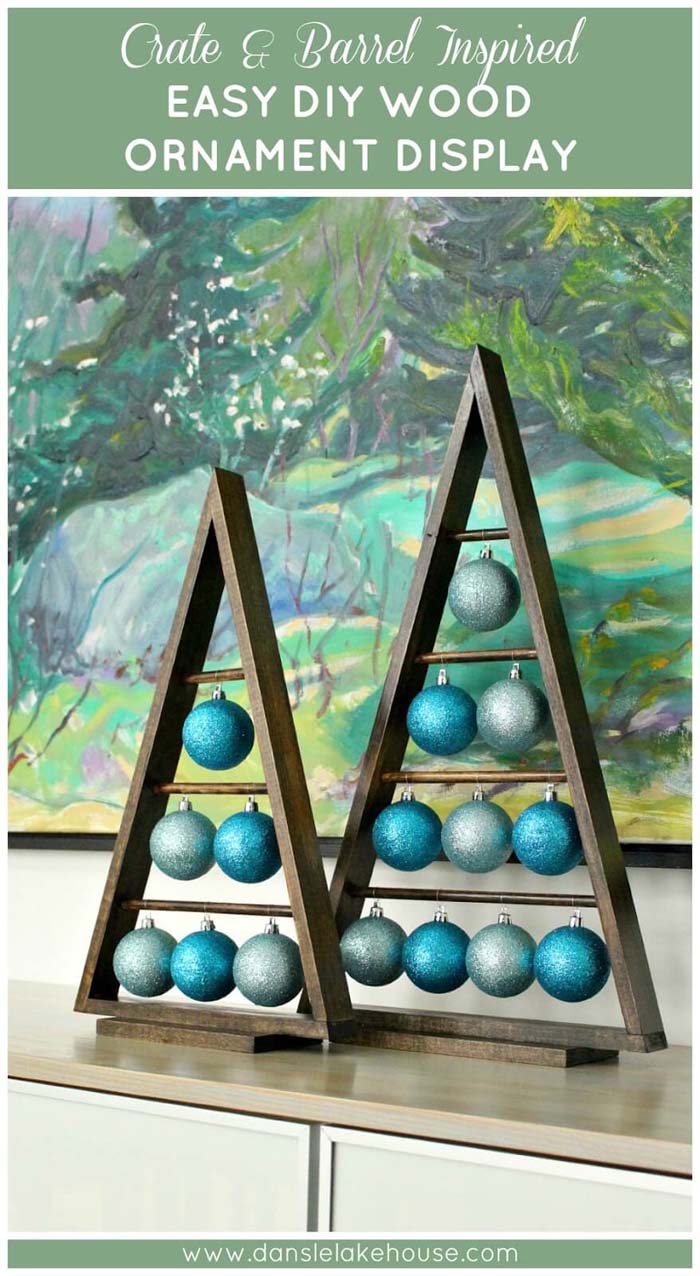 The Scandinavian influence can easily be sensed in this Christmas tree design. Clean shapes, few colors, repetitive pattern.
Full instructions and material cut outs can be found below.
25. Tiered Natural Tree Elements Display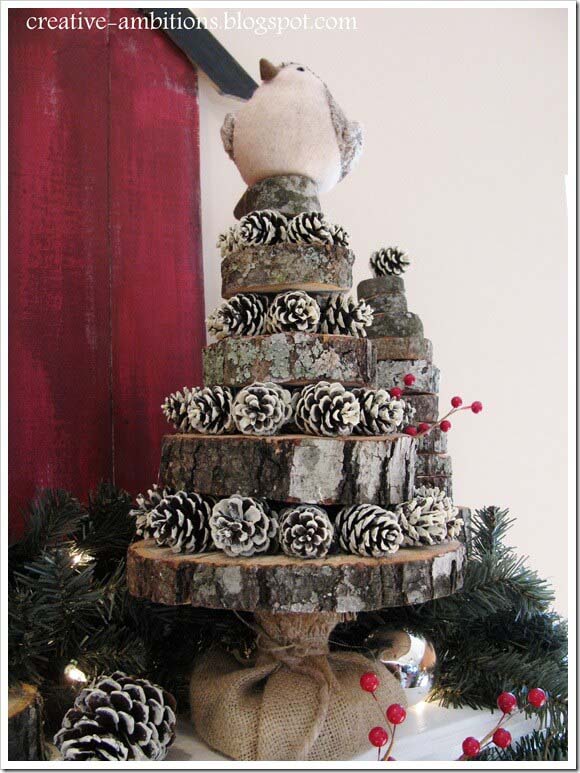 This tiered Christmas tree is made entirely from natural materials. It is a great way to welcome nature inside your home.
First, figure out what the stand of the tree could be – a metal dowel left in the garage. Insert it onto a thick wood slice. Then drill holes into the rest of the slices and insert them onto it. They should form layers spread at equal distances.
Place pinecones to embellish the tree. Hide the bottom of the stand with a burlap piece tied at the end.
26. DIY Moss Covered Tree Cone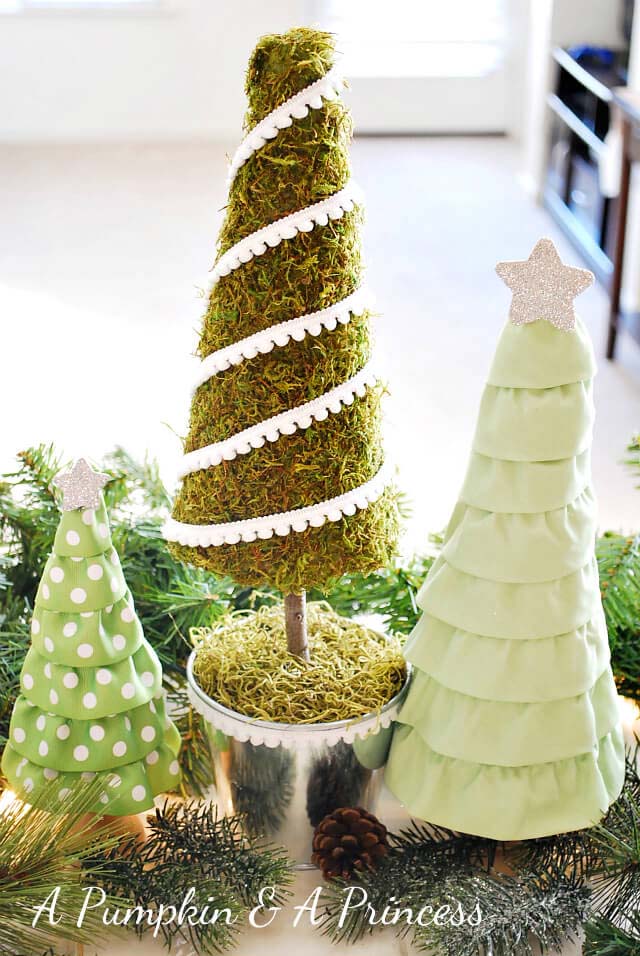 Have you ever worked with artificial moss? It is easy and the result is great! This small Christmas tree is actually made with artificial moss, glued onto a cone.
The cone is one of those foam ones inserted onto a twig. You can place the tree into a bucket filled with sand or potting mix that will hold it rigidly or use another piece of foam to secure it into the container.
via Let's DIY It All
27. Family Project Wall Fringe Tree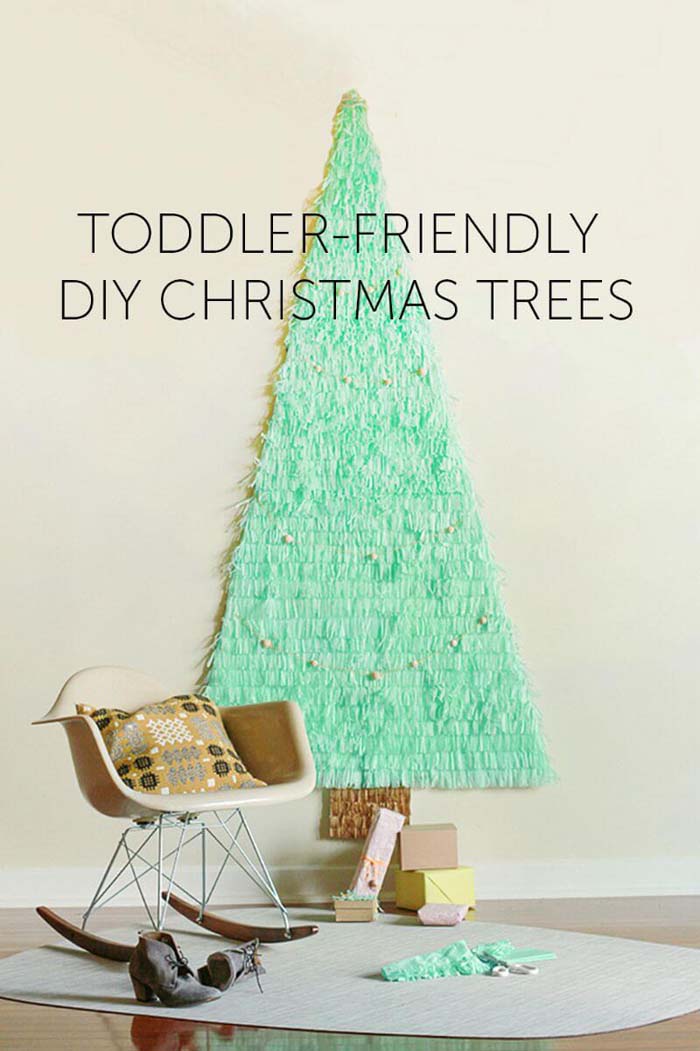 This DIY Christmas tree is a solution for small spaces as it doesn't take up any of the floor space.
It is also a great way to include your kids in the whole process. First make the basis of the tree from posterboards stuck to the wall. Then cover it with strips of tissue paper cut in fringes.
Work your way up gluing each fringed strip until you cover the tree silhouette.
via Curbly
28. Natural Sticks, Twine, And Bark Trees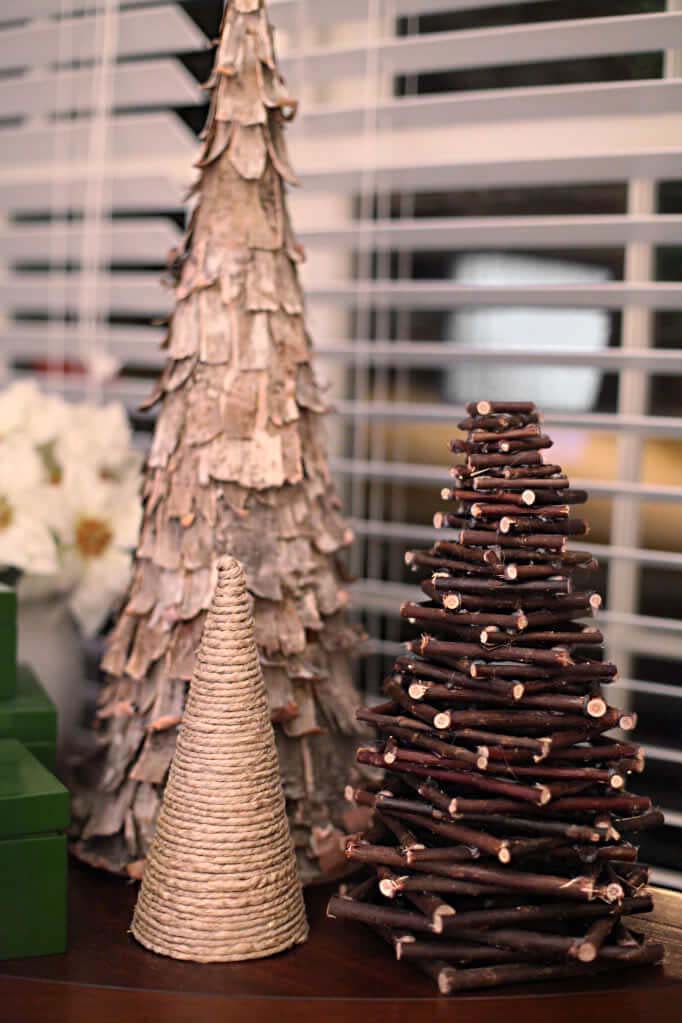 To make this Christmas tree you need nothing else but sticks.
Chop them to different lengths first. Then glue four identical sticks together to form a square.
Then layer the squares- you can go for a stacked or staggered pattern.
via Bower Power Blog
29. Christmas Caroling Curled Music Tree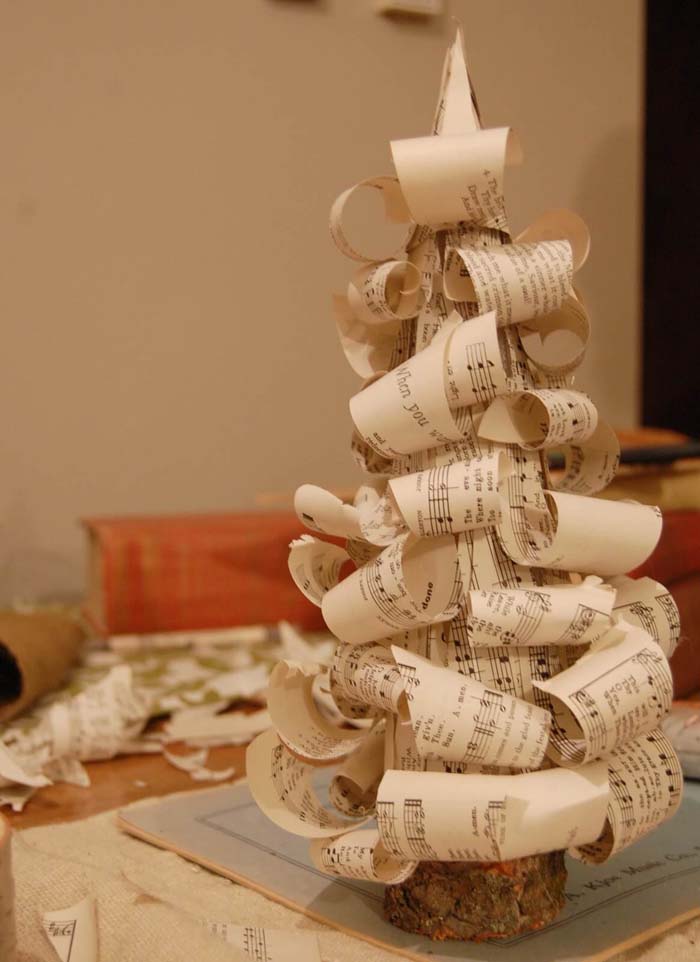 This cute and artistic Christmas tree could become an appreciated gift for musicians or music lovers.
Start with cutting sheet music pages into triangles. Then curl each with the scissors. Glue each curl onto a styrofoam cone.
To add a rustic touch to the already aged look of the tree, glue it onto a tree round.
via Twig Decor