Christmas is coming really soon and it is time to think about the themed decoration of our homes.
There are endless products on the market, however, it is always more pleasant when we have a personal contribution to the festive atmosphere.
The handmade decoration will add special charm and will enhance the warmth and coziness at home.
Secondly, plain and affordable materials like those from the Dollar store will help to make a unique and customized ornament decoration that cannot be compared at all with mass production.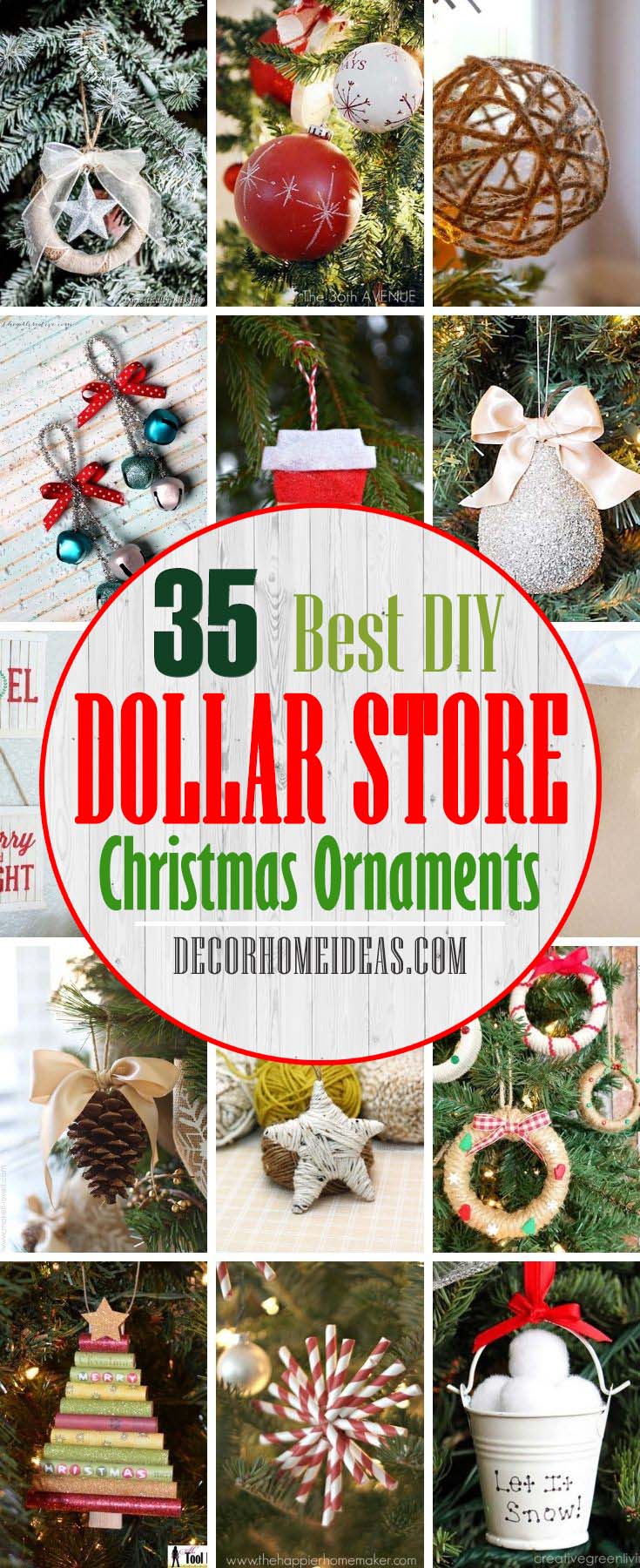 Last but not least, the making of the Christmas ornaments will gather the whole family together and will create the Christmas spirit at home which is the essence of the coming holiday.
Do you need ideas for DIY Dollar Store ornaments? The best and easiest to make ones are gathered in one place for you!
1. Decorate Clear Ornaments With Burlap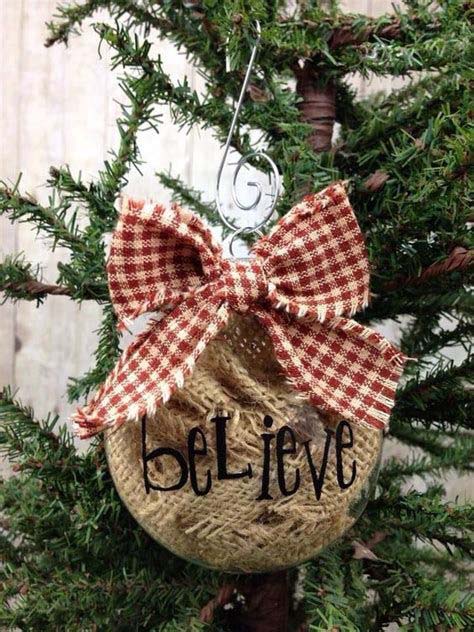 Transform the clear ornaments from the Dollar Store into rustic baubles with meaningful statements.
Start by filling the inside with a piece of burlap. Add a decal or handwrite an inspiring word related to the Christmas holiday like "believe", "faith", "miracle", "gather".
To finish the customized ornament, tie a ribbon in Christmas-themed colors.
2. Chalk Paint Allows For Personal Décor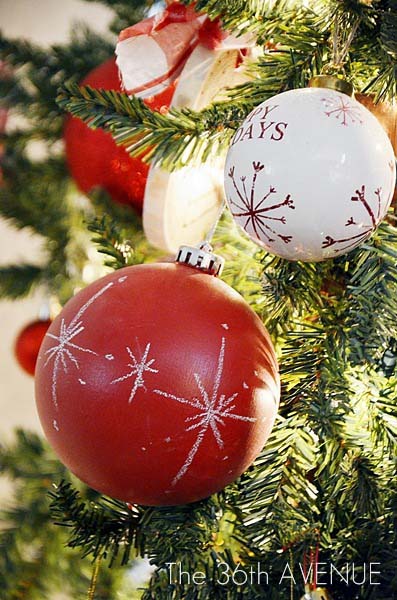 Another way to make the affordable clear ornaments more customized is to paint them. The chalkboard paint is perfect for this purpose as it easily covers the smooth surface.
Painting them in thematic Christmas colors like red and green and drawing small ornaments in white and gold will spread easily the Christmas spirit around the house.
via The 36th Avenue
3. Spread Holiday Cheer With Chalkboards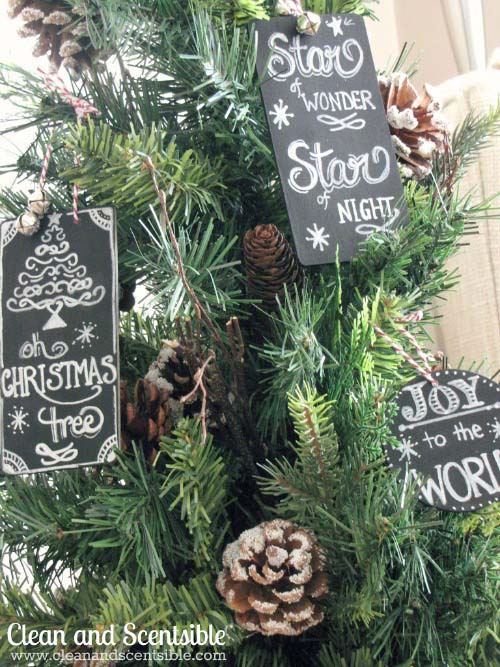 Make small chalkboard ornaments with Christmas songs' quotations.
Get some wood pieces from the Dollar Store and chalkboard paint. Spray it on the wood and let it dry.
All the words can be written either with a chalk pen or with a piece of chalk.
4. Mini Wreath Gift Bag Tag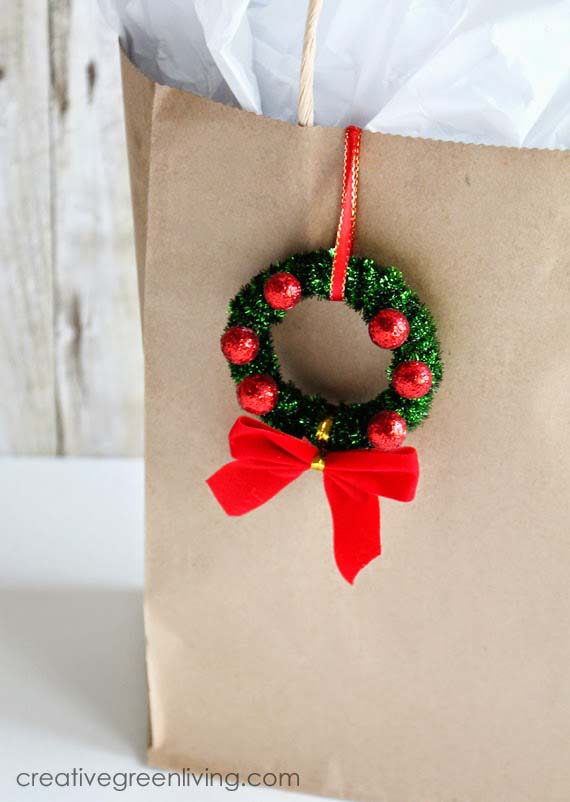 These small Christmas wreaths can beautify the Christmas tree or be a charm added to a present.
Making them is really easy and all the supplies can be taken from the Dollar Store. You need curtain rings, green pipe cleaners, faux berry greenery and a hot glue gun.
5. Homestyle Ornaments From Simple Salt Dough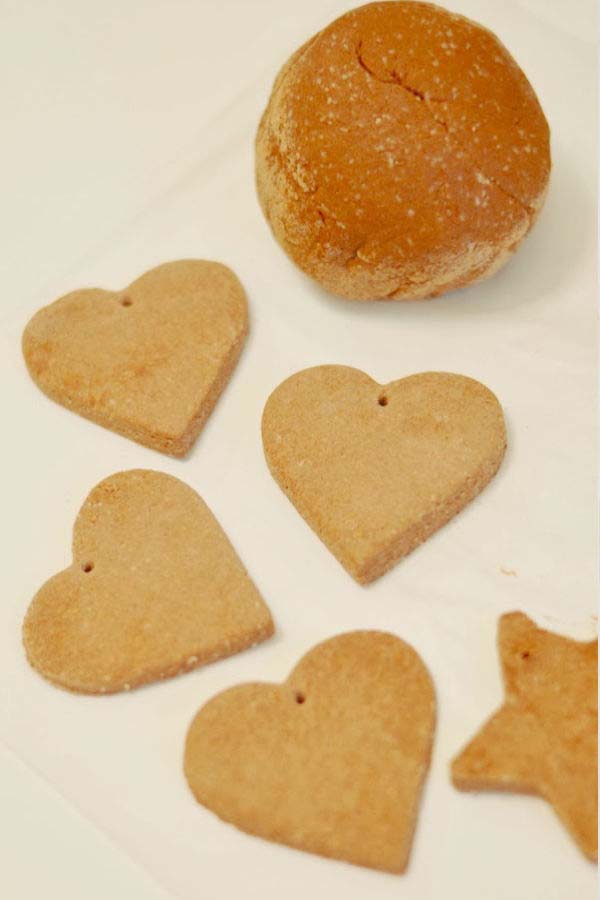 This recipe of salt dough is the perfect Christmas DIY project for your kids. It smells very well because of the added cinnamon. It doesn't stick too much and there is no baking required.
6. Stunning Snowflake DIY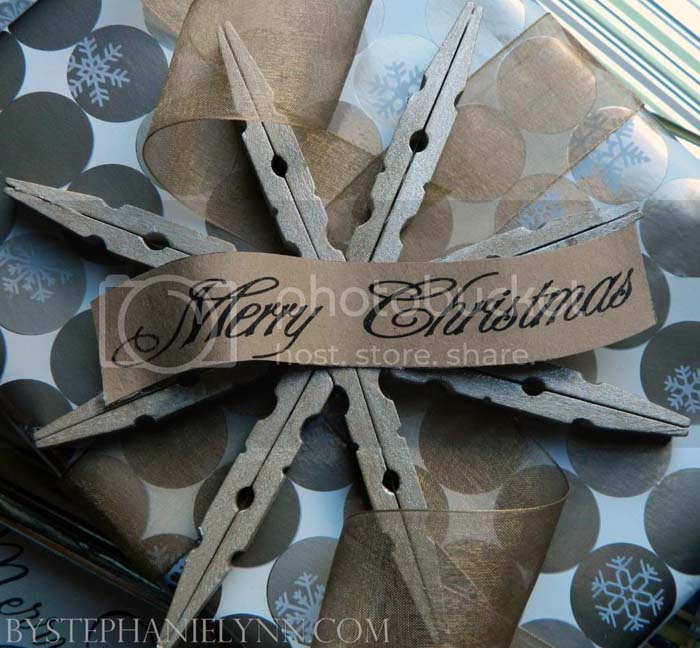 Many pieces of this Christmas ornament can add a rustic charm to the Christmas tree making it a unique focal point.
The snowflake is made out of wooden clothespins glued at a pattern. You can easily change the original surface of the wood by painting or covering it with glitter.
via Stephanie Lynn
7. Peppermint Straw Snowflake Ornaments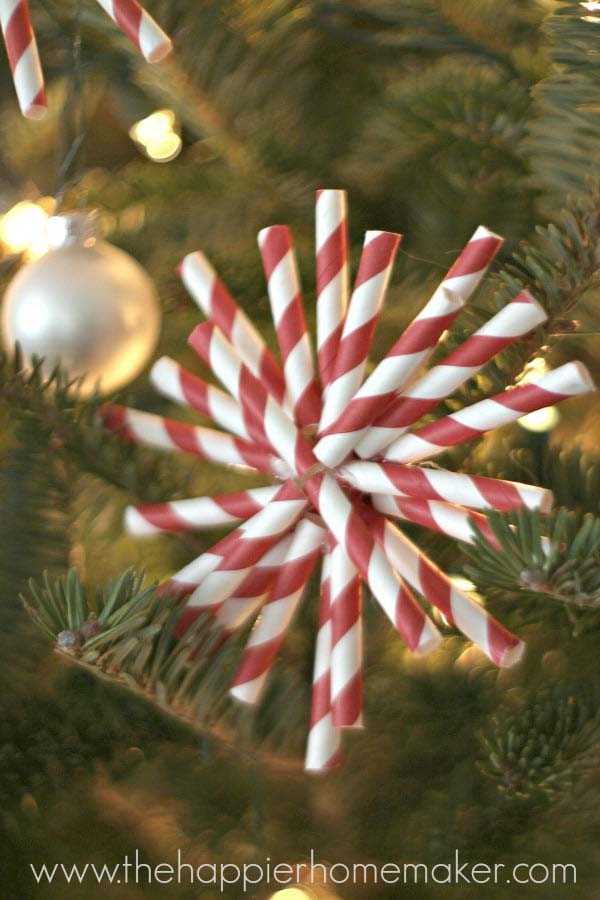 These cute ornaments look assembled from candy canes. Luckily they will last much more time because they are made of straw cuts.
8. Glam Pearlized Ornament Project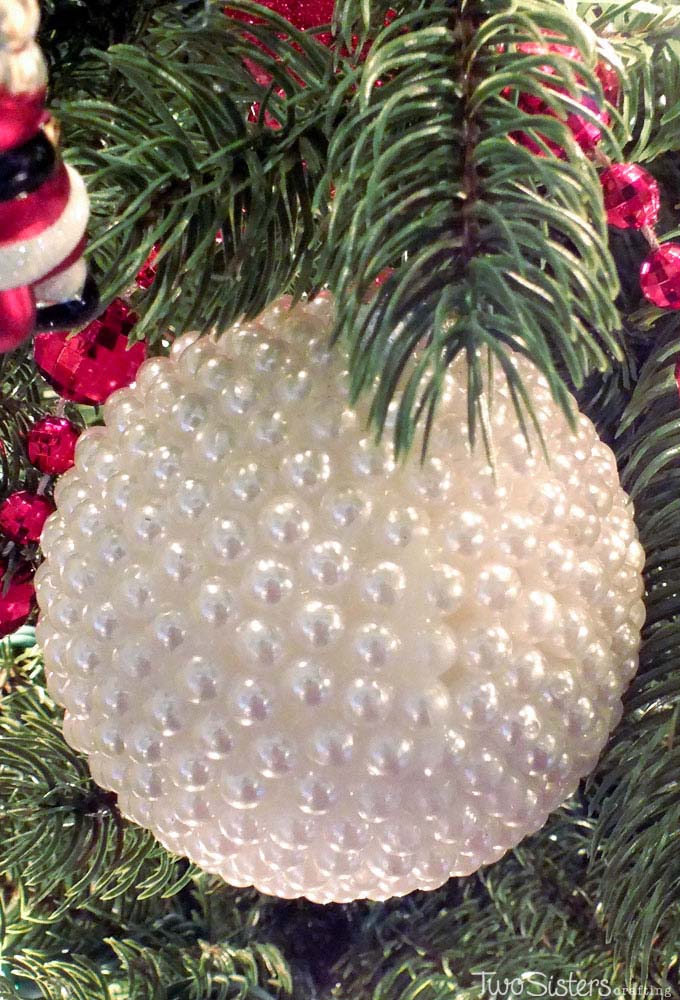 The Christmas tree baubles can be very luxurious! All you need to do is to attach faux pearls with tacky glue on clear ornaments.
You can make a couple or more of these and hang them on the Christmas tree as an elegant accent.
9. DIY Snow Bucket Pom Pom Ornament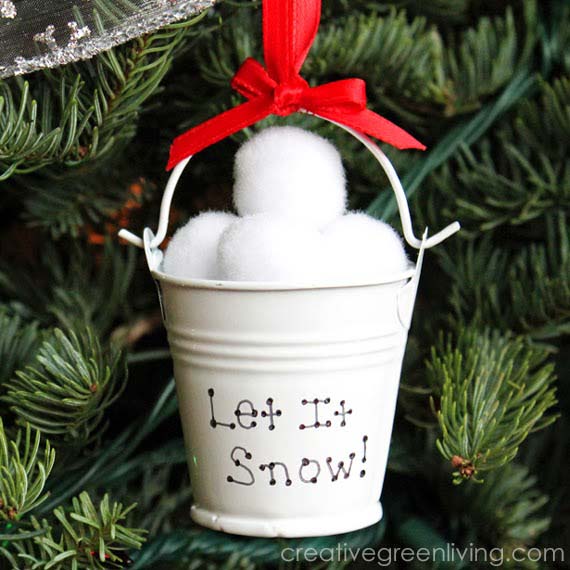 This is one quick and easy DIY Christmas ornament project. All supplies can be found at the Dollar Store and making the ornament won't take more than 10 minutes.
These cute snow buckets can be hung on the Christmas tree with a red ribbon.
10. Starched String Ball Ornament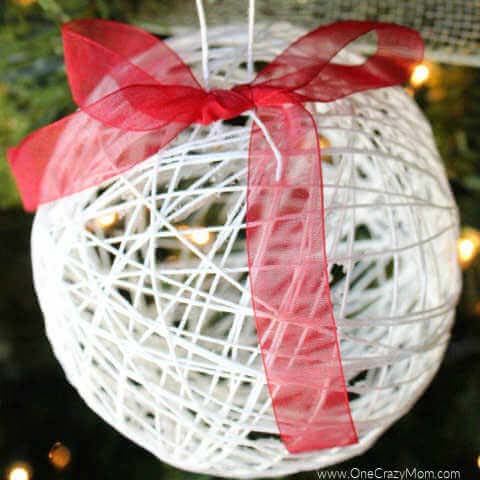 The technique for making this rustic string ornament is the same as the Easter egg ornaments.
To give the ball a more festive look, tie a ribbon on the top. It could be red, green, gold.
via One Crazy Mom
11. Faux Snow Dollar Store Ornament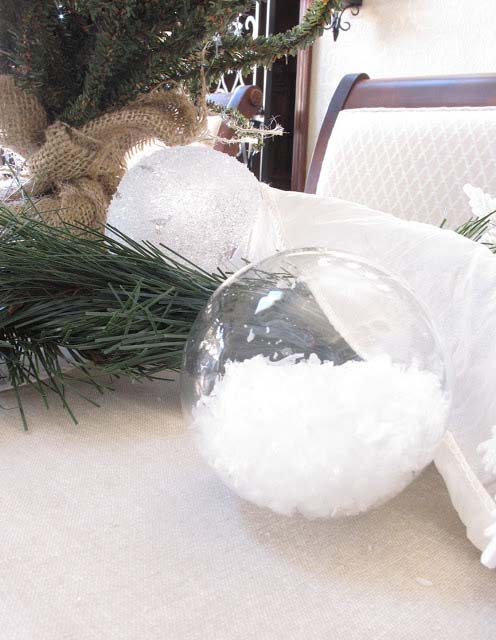 You can give the clear ornaments a bit of shimmer by dipping them into Epsom salt.
To let the salt stay on the glass or plastic surface, first coat the area with school glue.
via My Uncommon Slice Of Suburbia
12. Make Your Own Felt Red Cup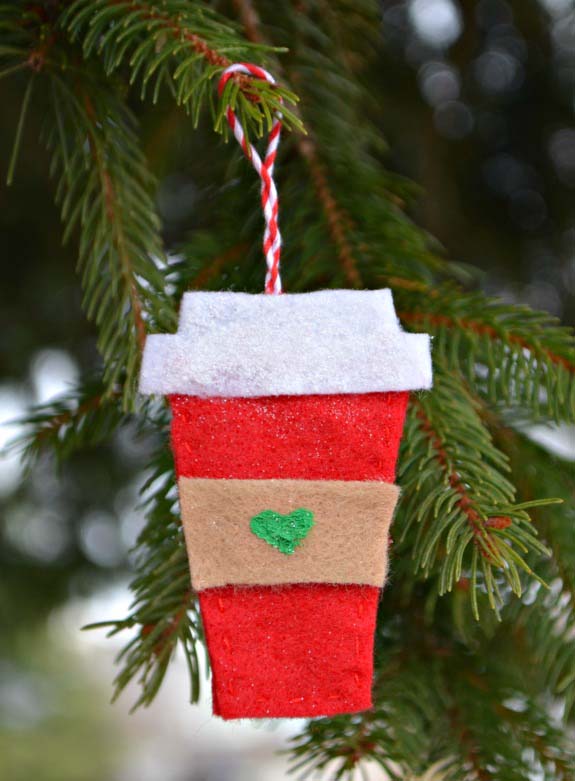 Do you have friends that are addicted to coffee? Surprise them with a handmade ornament in the shape of a coffee cup.
13. Shimmering Faux Fruit DIY Ornament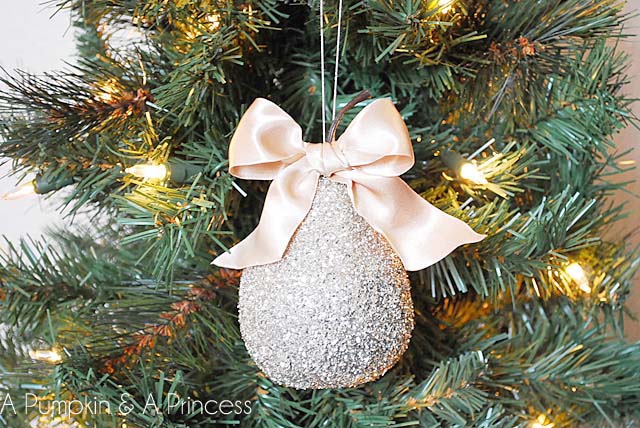 Decorate a plastic pear figure with German glass glitter. To give the ornament a continuous silver look, first paint with silver metallic paint.
When it's dried, cover with glue to stick the glittering ornaments. This sleek decoration will pop out against the green background of the Christmas tree.
14. Feather Filled Swirl Ornament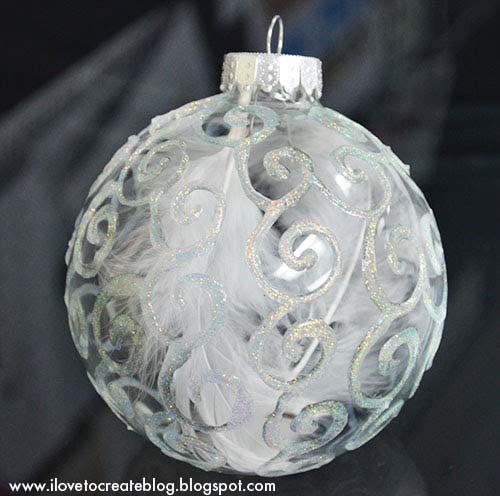 To make this fantastic glittery ornament, you need a clear ball ornament and 3D glittery fabric paint in a diamond.
If you are not certain of your painting skills, use a stencil inserted inside the ball to trace the curved shapes out.
via I Love To Create
15. Felt And Yarn Gnome Family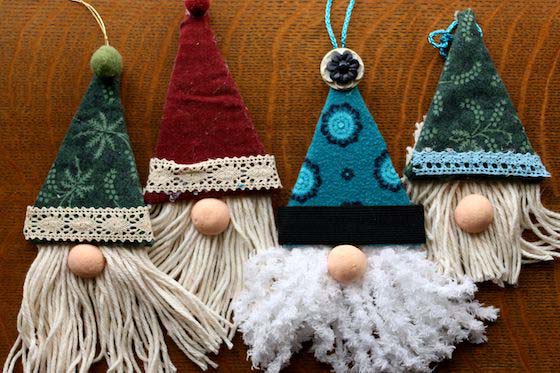 Get together all your scrap pieces of fabric, lace and yarn to make these adorable gnomes.
The basis on which the pieces are glued is triangular cardboard pieces. This DIY ornament idea is very easy and quick and will create a lot of fun if your kids are included in the process.
via Happy Hooligans
16. Shimmering Bell Wreath Ornament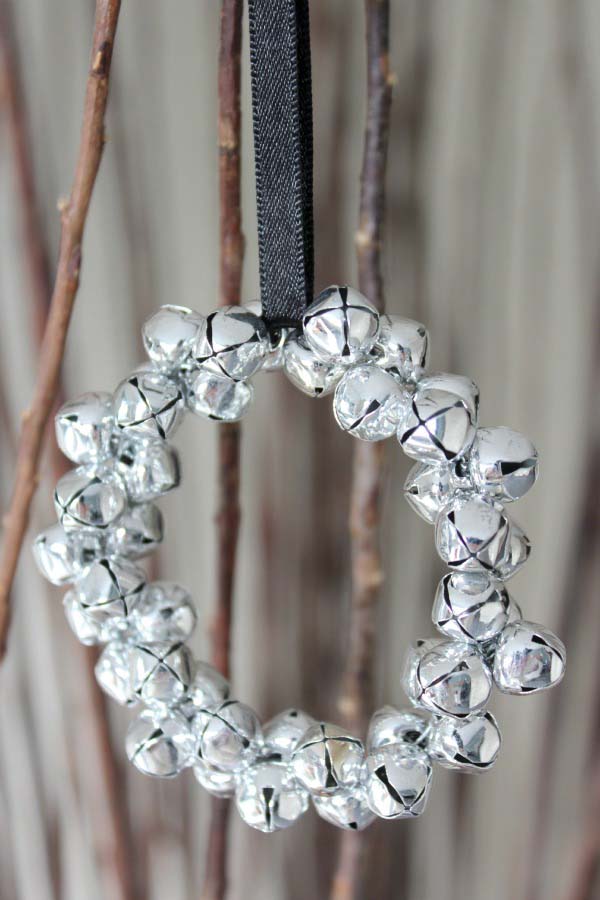 This jingle bell ornament will not only pop out against the Christmas tree, but it will also make jolly sounds.
To make it, get a piece of wire and a package of small jingle bells. Thread them onto the wire and then finish by twisting it into a round shape.
Tie a narrow ribbon on it to tie it on the Christmas tree.
via Satori Design
17. Colored Bell Tree Dangles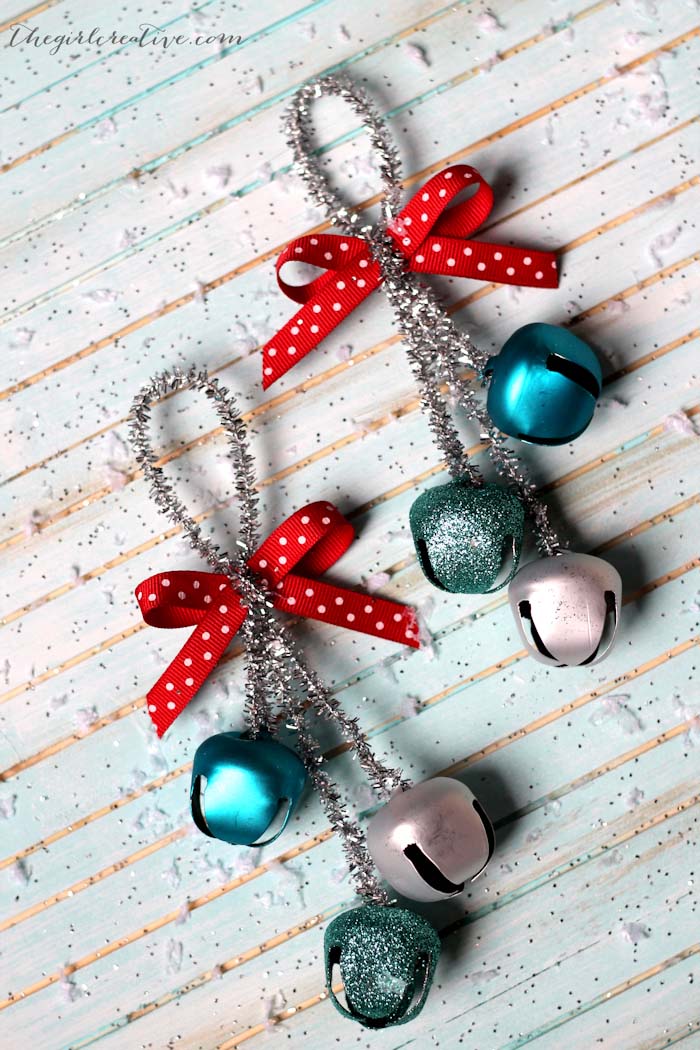 The pipe cleaners are wire-based so they can easily be twisted in any shape.
Before attaching the jingle bells to the pipe cleaner, make sure to make a loop at the top which will be the way to hang the ornament to the tree.
18. Craft Paper Mason Jar Lids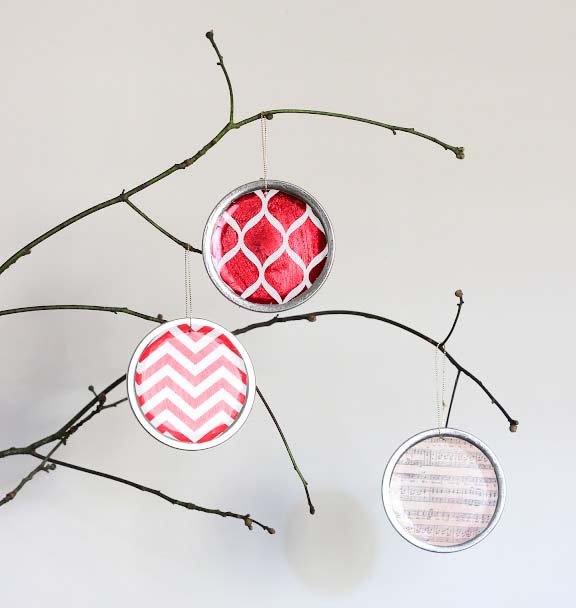 The Mason jars can become fantastic Christmas ornaments with little effort and supplies.
Make a small home at the rim to thread a cord into for hanging the lid to the tree. Prepare paper sheets with thematic patterns to glue onto the top of the lid with Mod Podge.
via Erin Spain
19. Twine Wrapped Jar Top Wreaths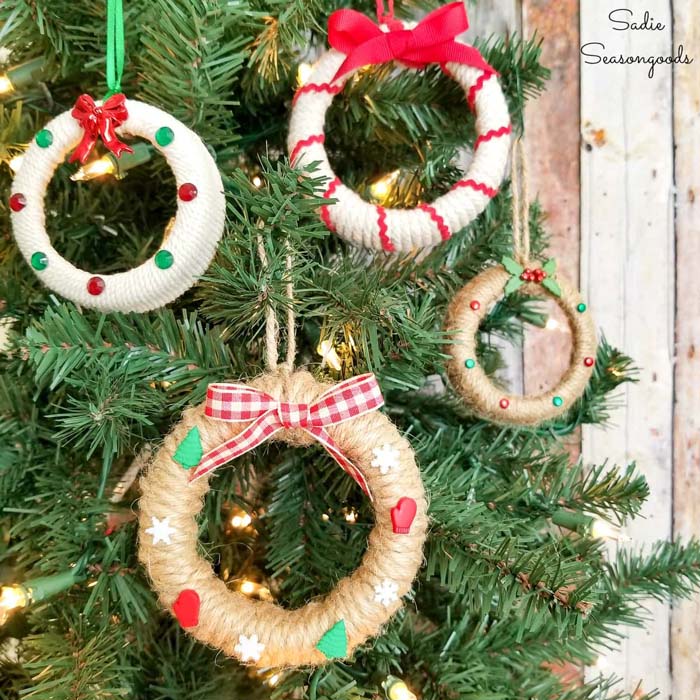 You can make a collection of small Christmas-themed wreaths by weaving rope, yarn or lace around Mason jar bands.
This craft is very interesting and easy and your kids will love making their own wreaths.
20. Popsicle Stick Mini Pallets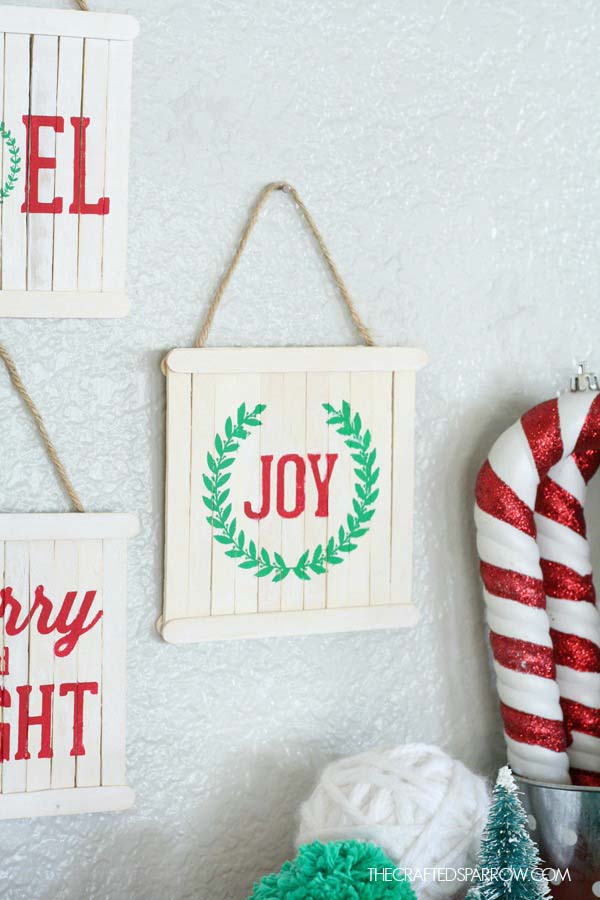 These cute small pallets will add a charming rustic touch to the Christmas tree or to the wall thematic decor.
To make them look like pallets, use popsicle sticks. The great images are made with stencils and acrylic paints.
21. Simple Natural Pinecone Ornament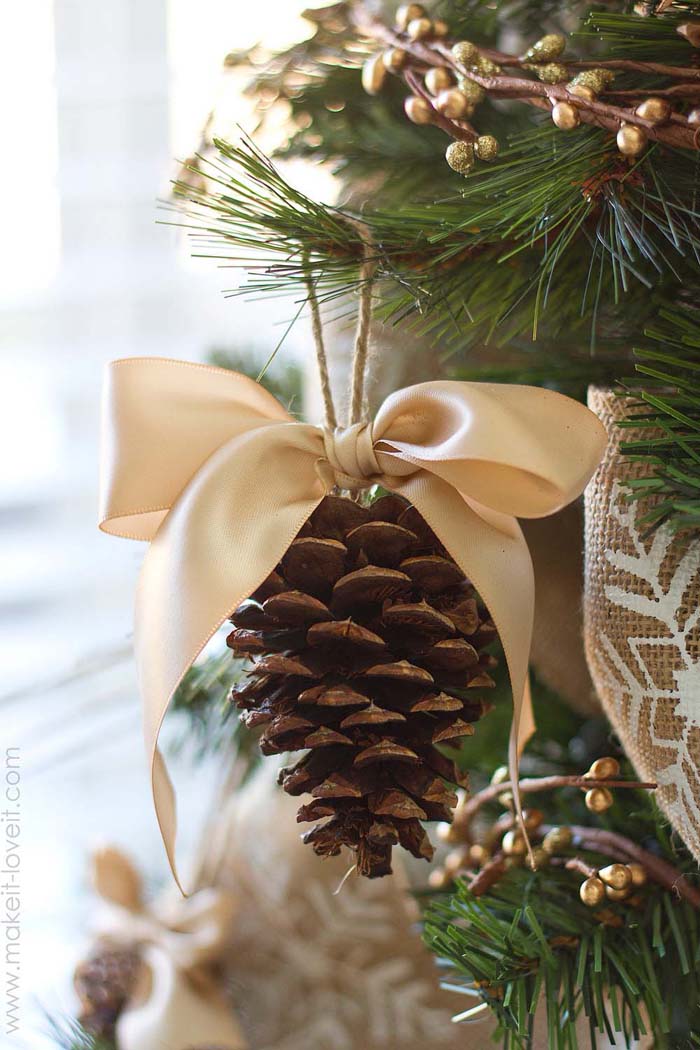 Repurposing a pinecone into a Christmas ornament is a great idea- you will bring nature inside your home and will add a charming natural element to the decor.
Tie a wide ribbon to the twine loop to give the pinecone a more festive look.
via Make It Love It
22. DIY Mini Sleds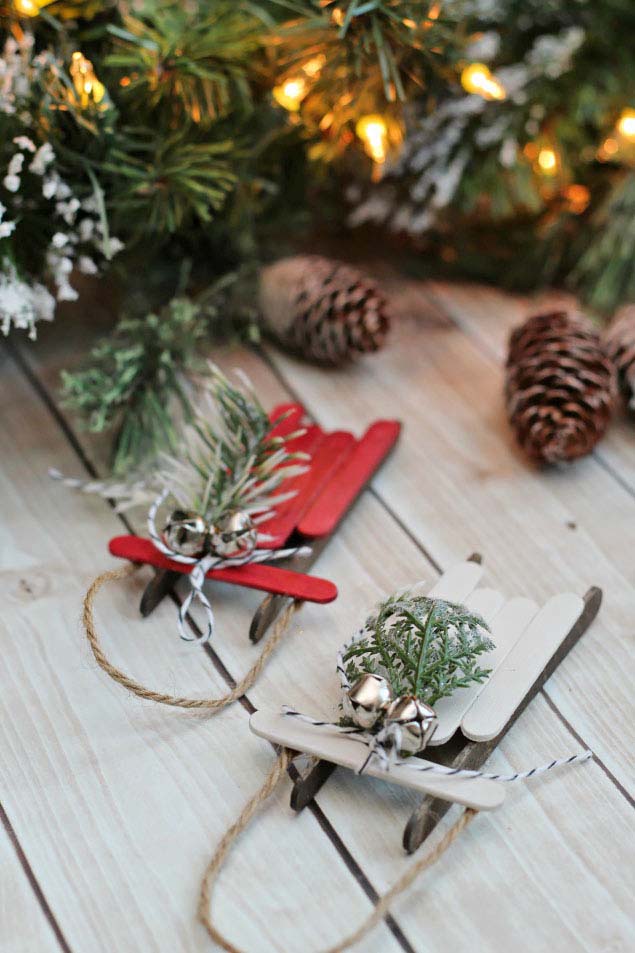 These cute ornaments are made out of popsicle sticks glued in the shape of sleds. They can be painted in different colors and decorated with Christmas elements like jingle bells, pine sticks, etc.
Glue a twine loop to one of its ends to hang it onto the Christmas tree. If you'd rather use it as a gift topper, don't glue the twine.
23. Clever Craft Paper Tree Ornament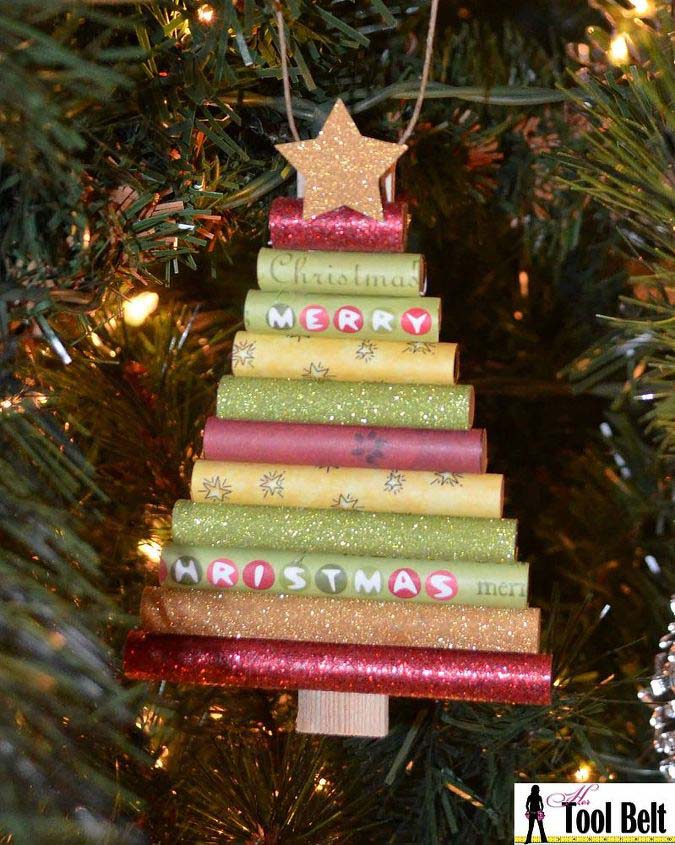 This cute tree ornament is a great DIY craft for kids. To form the rollings, glue pieces of scrap Christmas-themed paper into rolls.
The next step is to attach each roll onto a popsicle stick leaving the bottom of it uncovered to imitate the trunk of the tree.
via Her Toolbelt
24. Rag Tie Ribbon Christmas Trees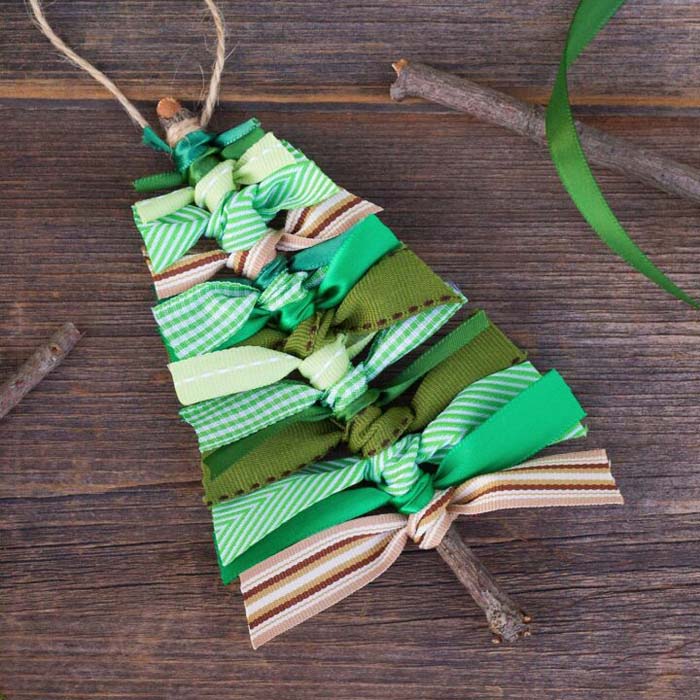 Another great DIY ornament even kids can easily do! Start with choosing scrap pieces of ribbon in different lengths. Then choose a small stick that will be the support to which the ribbons will be tied.
25. Coastal Christmas Shell Filled Ornament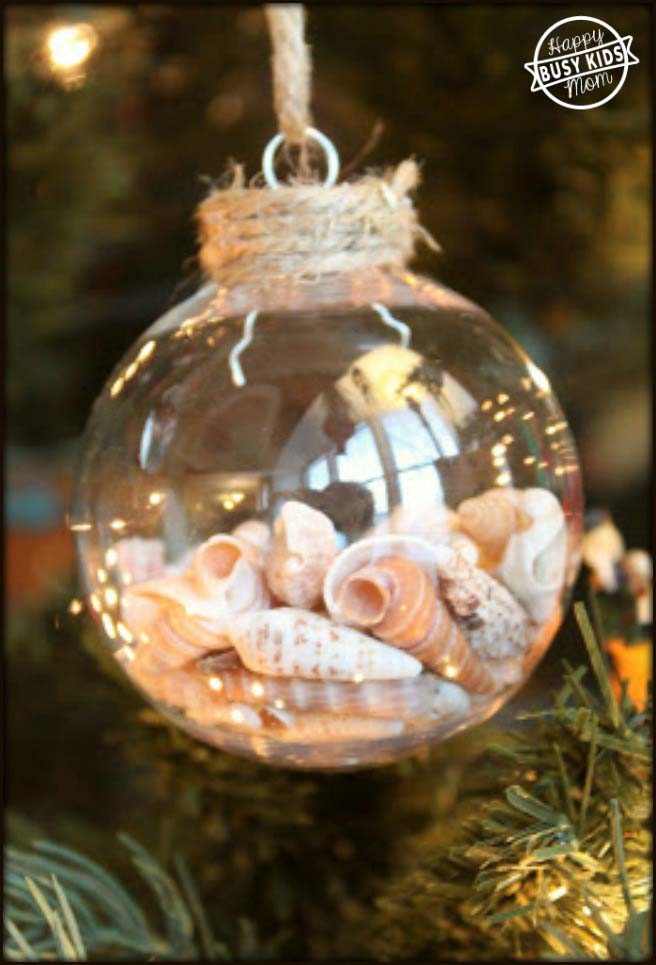 Do you have a collection of seashells? Why not include them in your DIY Christmas decoration project and make an adorable ornament with a nautical effect!
Just fill in a clear ornament with seashells and weave the top of the ball with twine.
26. Vintage Look Popsicle Stick Sled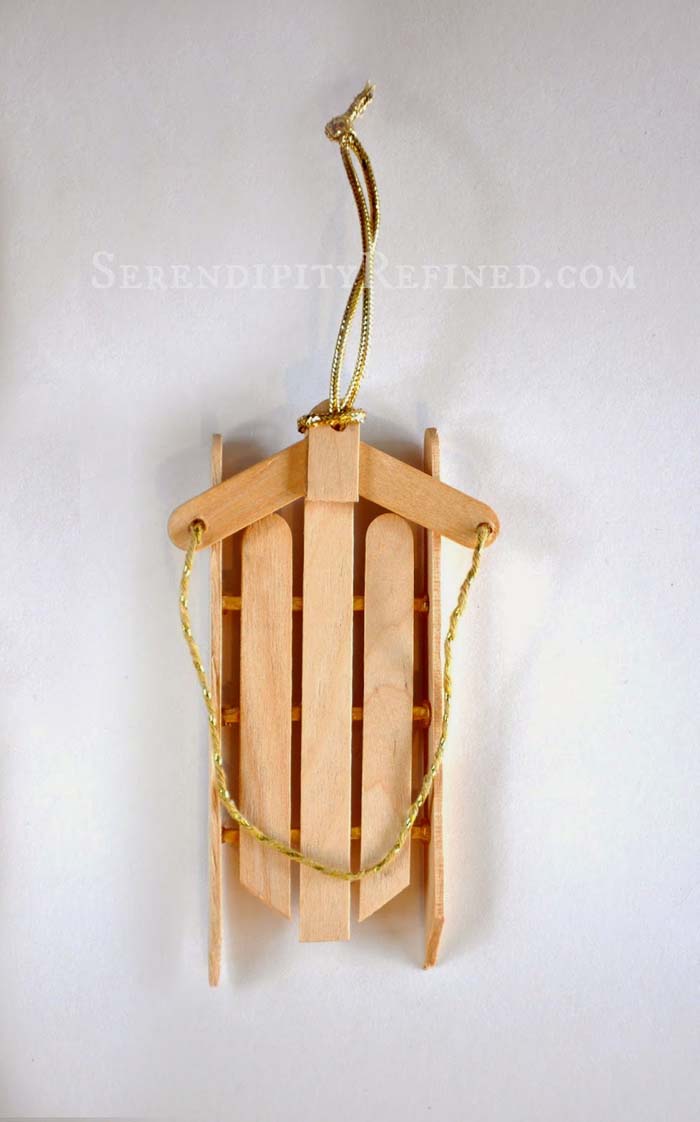 This is another design of a small sled made from popsicle sticks and stick matches.
There are small holes made for tying silk twine for hangers.
27. Winter Scene Holiday Snow Globes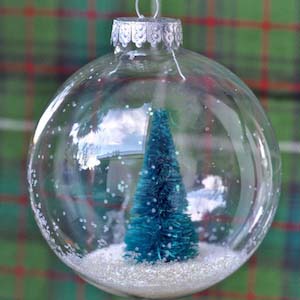 This snow globe element will surely enhance the magical atmosphere of Christmas.
To make the winter scene inside the clear ball, take a package of small Christmas ornaments. Glue them to the bottom of the bauble and then fill the ball with crystal glitter.
via Live Craft Love
28. Twine Wreath With Glittering Star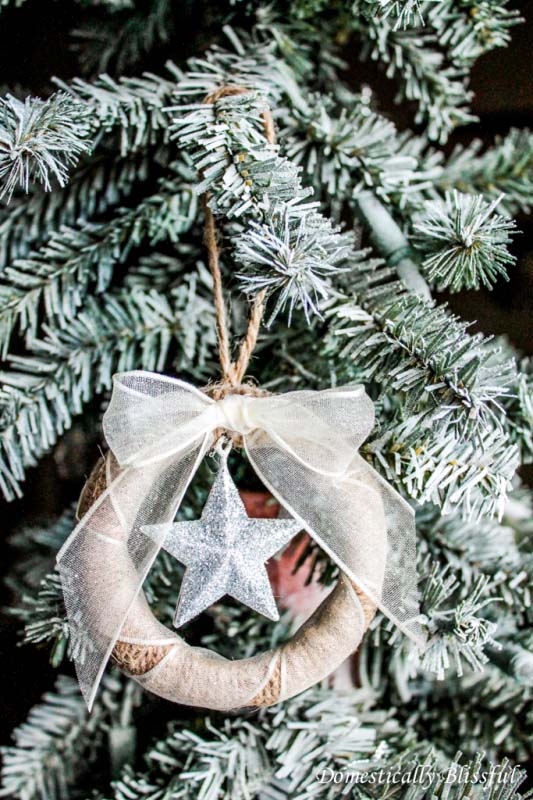 Similar to the other mini wreaths, this one is also made out of a Mason jar lid band.
It is covered in twine by weaving the thread around the ring. A layer of sparkly ribbon is woven over the twine to give the wreath a more glamorous and festive look.
The craft finishes by attaching a star ornament to the center of the band with hot glue.
29. Tree Nativity Stick Stable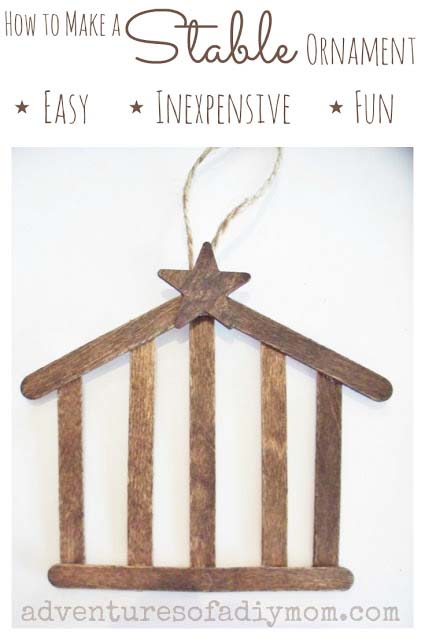 Recreate the stable where Jesus Christ was born with popsicle sticks. This DIY ornament is a very easy project with a great impact because of the holy symbol of the stable.
30. Modern Look Tinsel Bursts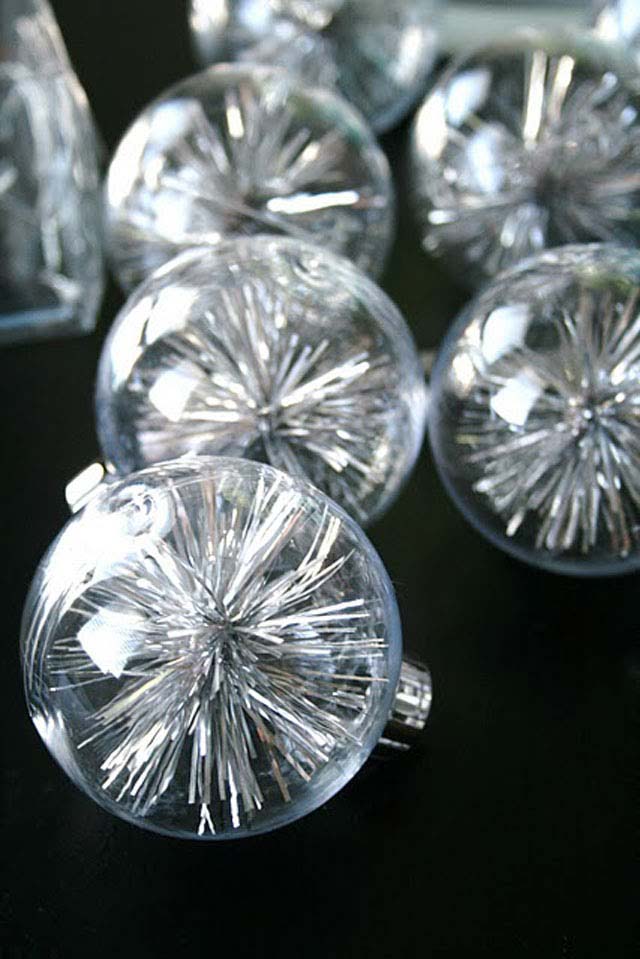 Another great and easy idea for a customized Christmas ornament!
Get a silver garland from the Dollar store and cut it into small lengths. Insert each in a clear globe and voila! Your sparkling handmade ornament is ready to beautify the Christmas tree!
via Aunt Peaches
31. Upcycled TP Roll Glitter Ornament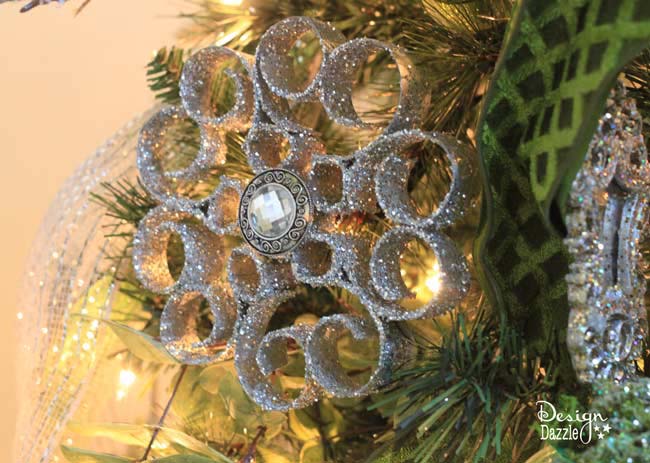 Are you keen on recycling? There is a DIY ornament craft even for you! Cut toilet paper rolls into slices.
Leave one slice as it is to form the center of the ornament. All the rest should be cut in order to make the curved scrolls that form the rest of the ornament.
When you are happy with the pattern, glue all pieces together and spray with silver paint.
The glittery effect is achieved by pouring glitter on and around the ornament.
via Design Dazzle
32. Rustic Starched Twine Globe Ornament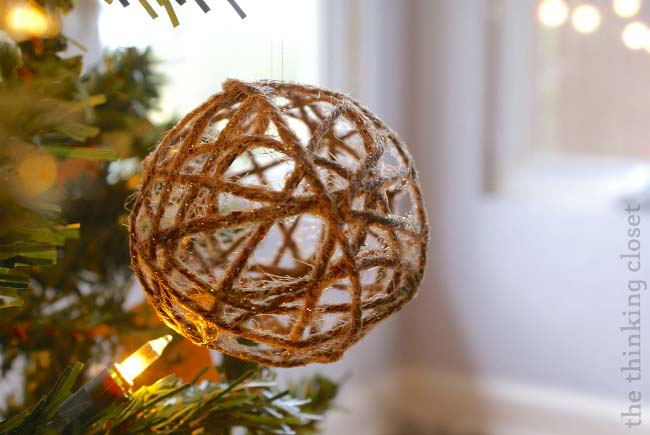 Are you looking for a more natural ornament that will enhance the rustic vibe of your Christmas decor?
This DIY ball will surely do that because of its design and color reminding of a grapevine ball.
via Thinking Closet
33. Add Shimmer With Humble Thumbtacks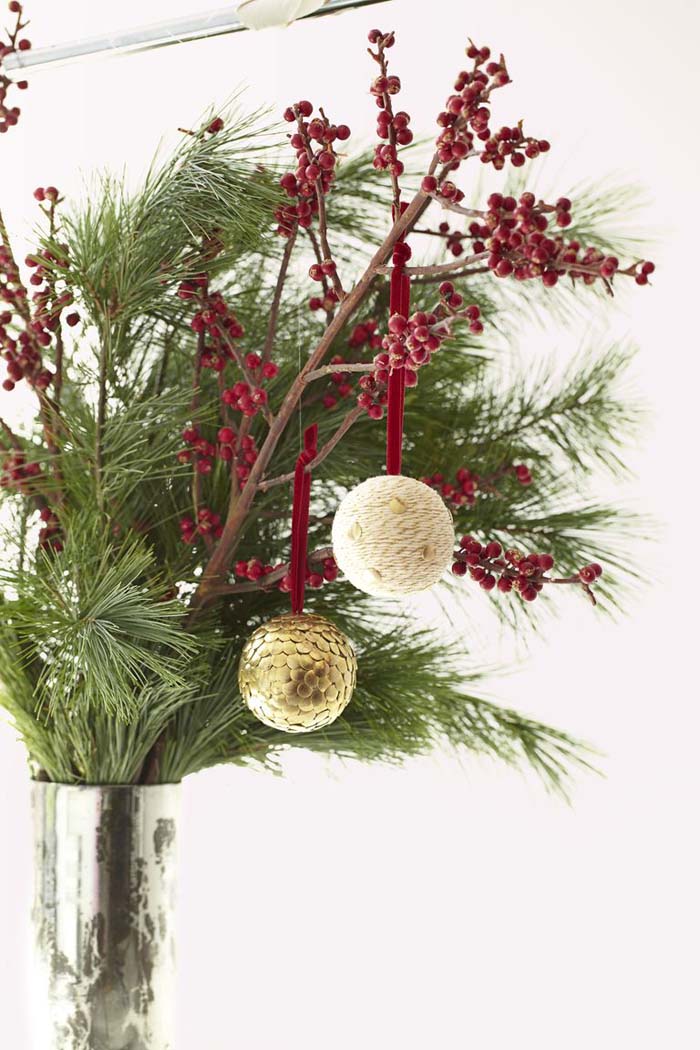 Turn the styrofoam balls from the Dollar Store into unique Christmas ornaments with thumbtacks and yarn.
Just cover the styrofoam with either of these materials. Easy, isn't it?
34. Kid Friendly Yarn Star Craft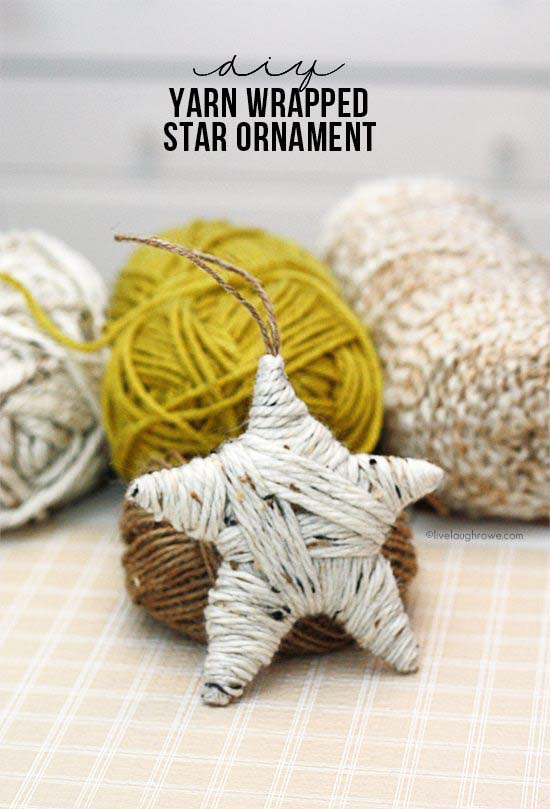 This cute star is an easy DIY project suitable for kids of all ages.
Make a star pattern from cardboard. Then weave around twine so that all of the cardboard is covered and the twine tightly stuck on the cardboard.
via Live Laugh Rowe