Every year, when Christmas time is near, there are tons of things to plan and do in just a handful of days. From decorating the Christmas tree to buying presents for all the people you love.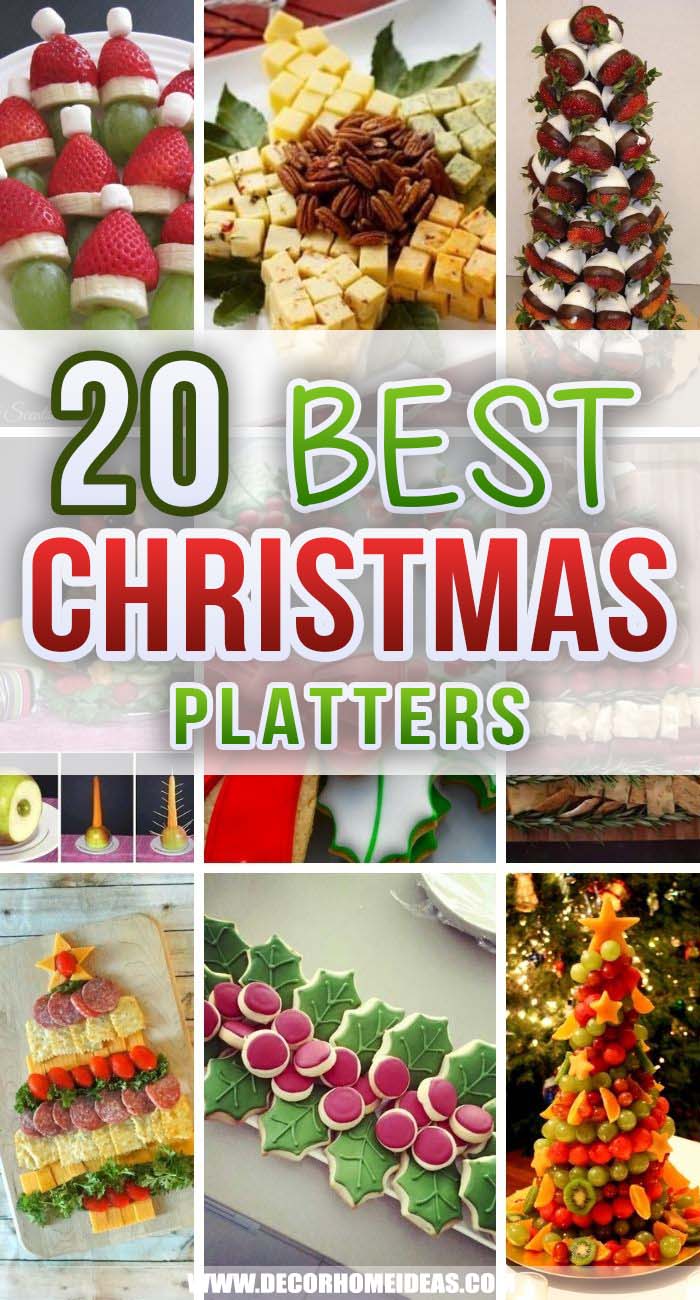 In this article, I've prepared 31 creative Christmas food platters DIY ideas just to show you that the presentation of the food is equally important as the taste itself.
Let's check them out together!  😉
1. Bring Festive Cheer with a Christmas Tree Platter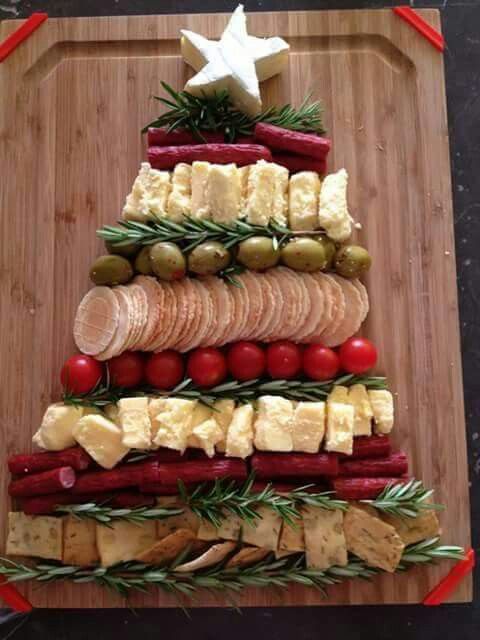 Photo:Credit
I decided to start my collection of wonderful Christmas platters with this Christmas tree platter which is incredibly cute.
All you need to do is to get a variety of cheese, green olives, cherry tomatoes, rosemary, and thyme.
Make sure to serve the toothpicks so your guests can enjoy their heart out.  😀
2. Create a French Christmas Appetizer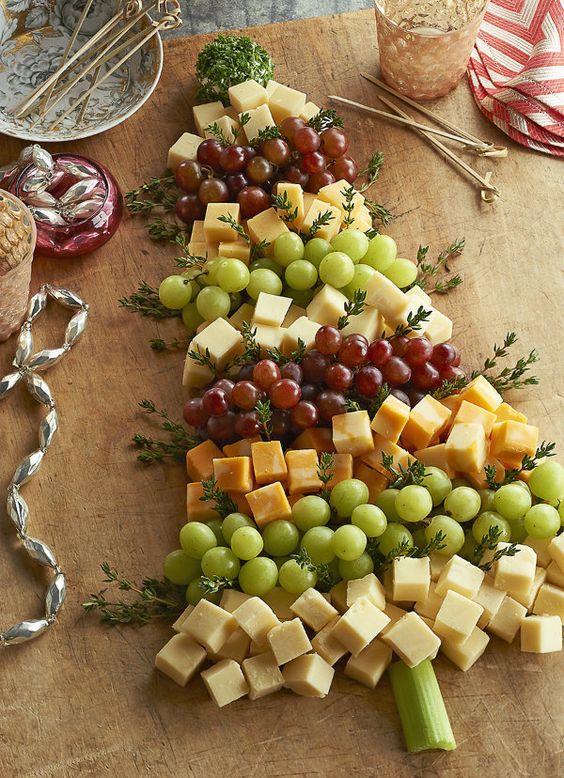 Photo:Credit
Here is a great idea how to serve easy Christmas appetizers as the French people do. They usually eat grapes and various kinds of cheeses with the wine.
An ideal option for a healthy Christmas dinner!
3. Make a Festive Veggie Christmas Tree Platter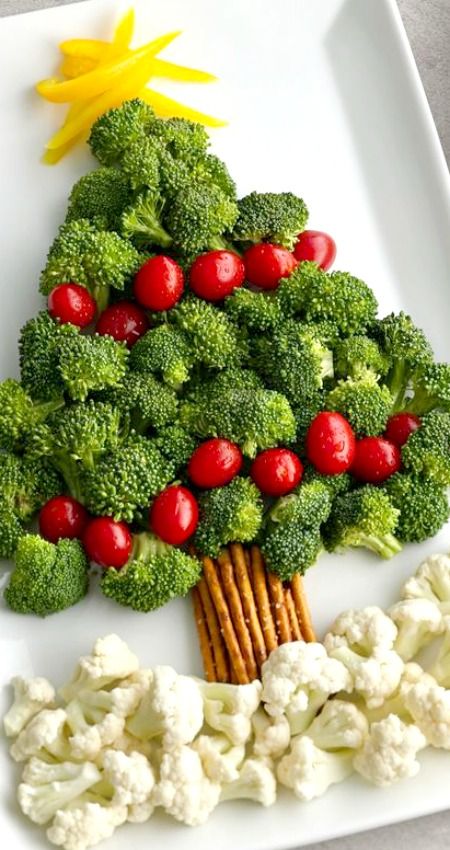 This Christmas tree dressed with a pretty ornament made out of vegetables is really eye-catching!
Yes, it has pretzels for the bark, but a little bit of cheating won't hurt anyone, right? And trust me, even your kids who do not like veggies will eat them with pleasure.
Tip: Why don't you serve these Christmas appetizers with a range of delicious dips?
DIY Project Details: Here
4. Make a Statement with a Kiwi Christmas Platter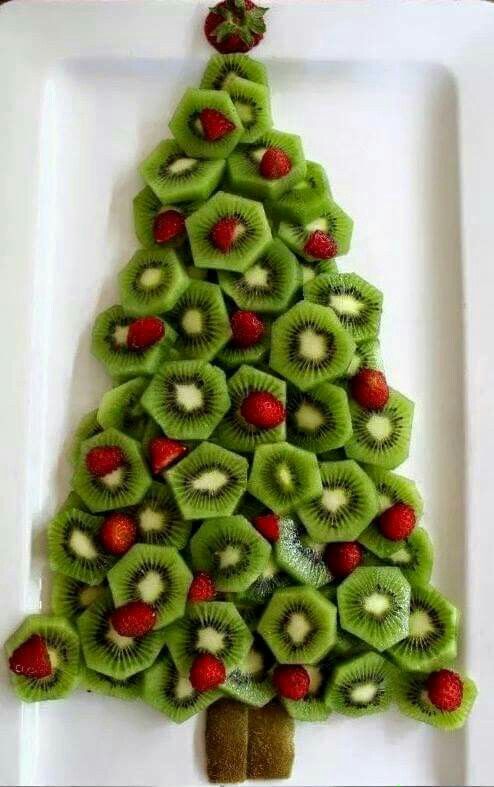 To be honest, this is one of the easiest Christmas platters you'll find on the Internet.
All you need to do is to finely slice one kilo of kiwis and chop some strawberries as ornaments. For the top, you can use a whole strawberry.
DIY Project Details: Here
5. Impress Guests with Your Fruit Christmas Tree Platter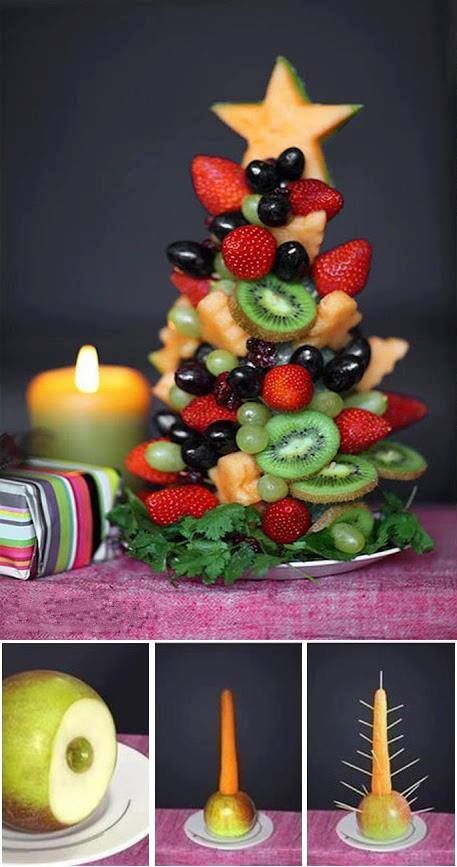 Photo:Credit
Speaking of the best Christmas appetizers here is something that will surely inspire you – a fruit Christmas tree platter!
You can use a coriander as a fundament and arrange "the tree" with the favorite fruits of your family! The best thing about it is that the coriander is not just a base but also provides a unique taste to each piece. Mmm!  😆
6. Show Your Creativity with Your Fruit Christmas Tree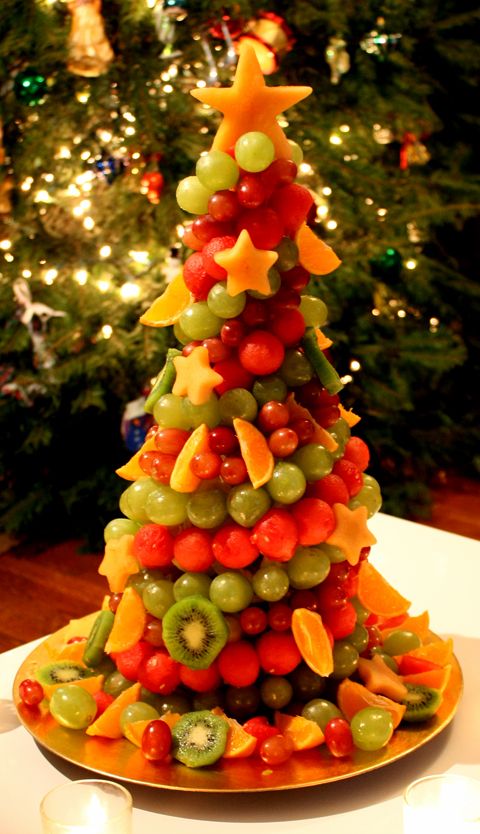 In case you will host a big Christmas party this year, you need to think of making some large Christmas platters.
This fruity Christmas tree, for instance, looks too cute to eat! I just love the pineapple tree topper!
While making a festive tree platter, it is important to play with the colors so it will look fun and joyful.
DIY Project Details: Here
7. Stay Healthy with a Veggie Christmas Tree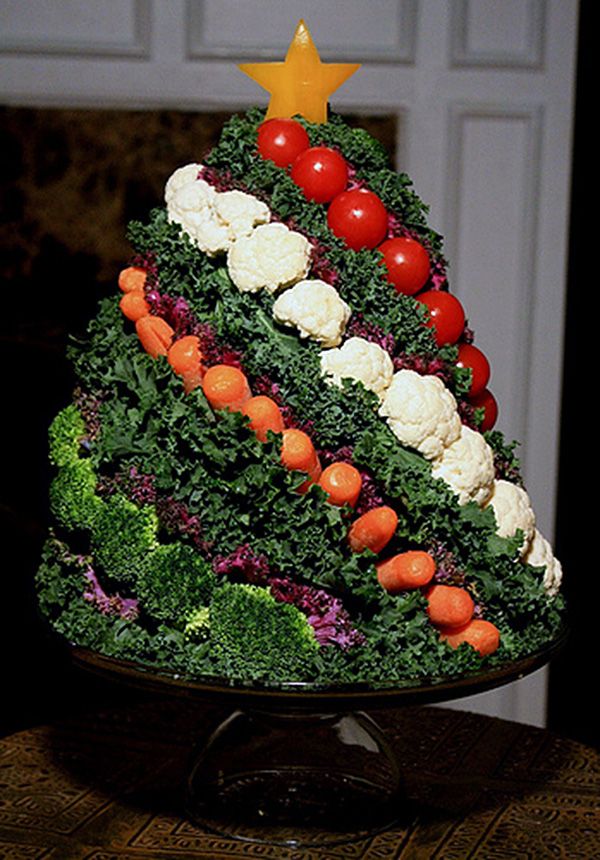 If you decide to make a fruity Christmas tree platter, it would be good to make a veggie one as well. Let's face it – some people prefer healthy appetizers for Christmas!
Use some leafy green vegetables for a base and then arrange with cherry tomatoes and mini carrots to add a volume and a color. And voila!
DIY Project Details: Here
8. Celebrate the Grinch with Adorable Appetizers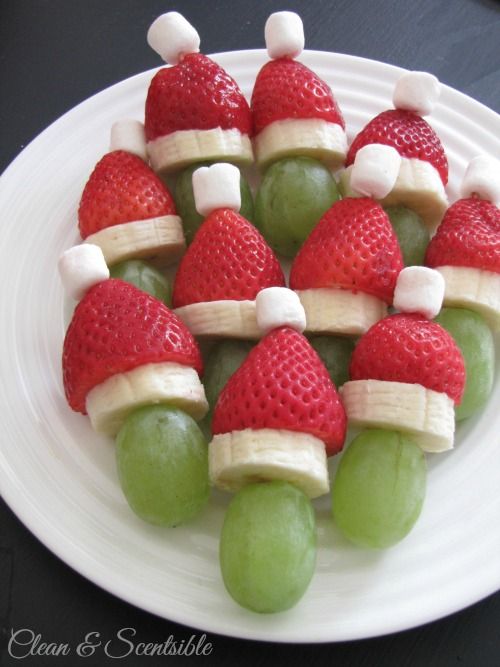 Are you a fan of Jim Carrey and Grinch? If so, I dare you to make these cute and tasty Christmas party appetizers!  😉
It would be great to involve your kids in the making process so you will all have family fun and enjoy the upcoming Christmas together!
DIY Project Details: Here
9. Prepare the Perfect Party Platter without Breaking a Sweat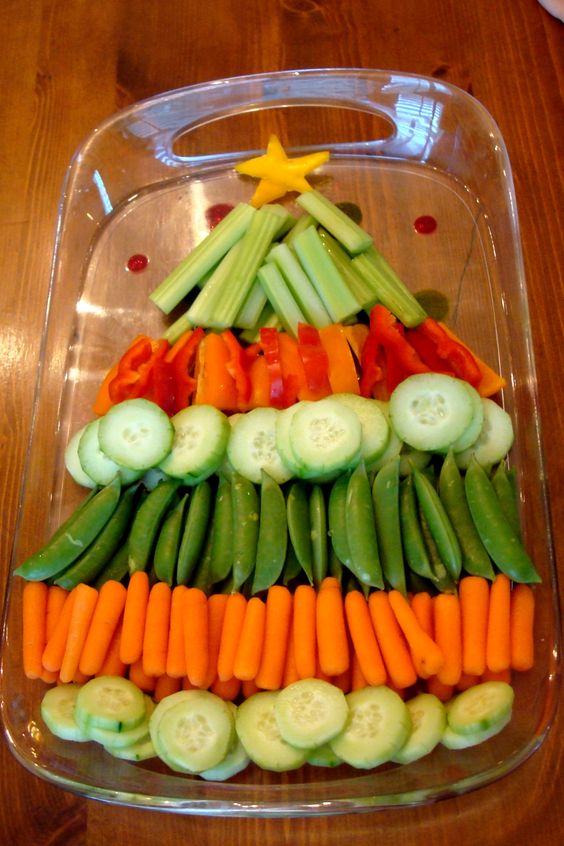 This festive platter is proof that you don't need to spend a whole day of making Christmas party platters.
These raw, finely sliced veggies will be very refreshing during the yearly food marathon around Christmas.
DIY Project Details: Here
10. Transform Your Holiday Feast with a Cheese Platter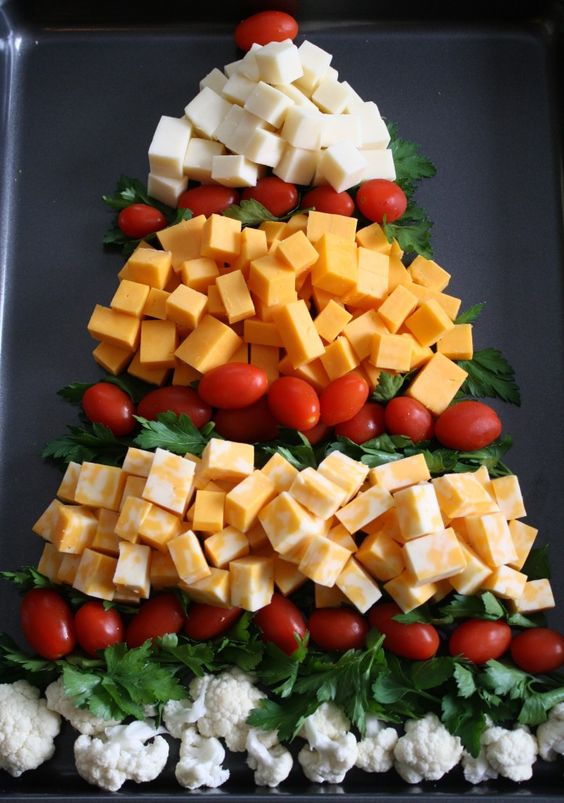 Photo: Credit
I am a huge fan of the Christmas eve appetizers that combine various food. They are smart, easy to make, eye-catching, and have something for everyone.
This platter, for instance, has cheese and veggies but I would add some grapes as well as the cheese pairs well with the sweet taste.
11. Elevate Your Festive Meal with a Cream Cheese Snowman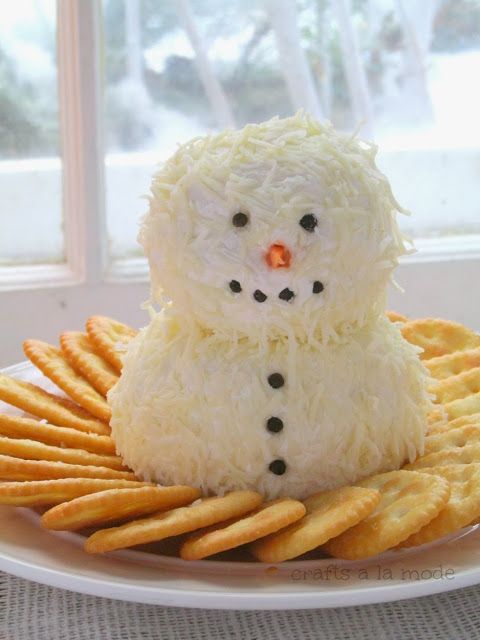 This friendly snowman made of cream cheese and shredded mozzarella is pretty cute to bring to a party and very easy to make, too.
Serve it with some crackers for better taste.  🙄
DIY Project Details: Here
12. Kickstart Your Holidays with a Cheese and Bacon Platter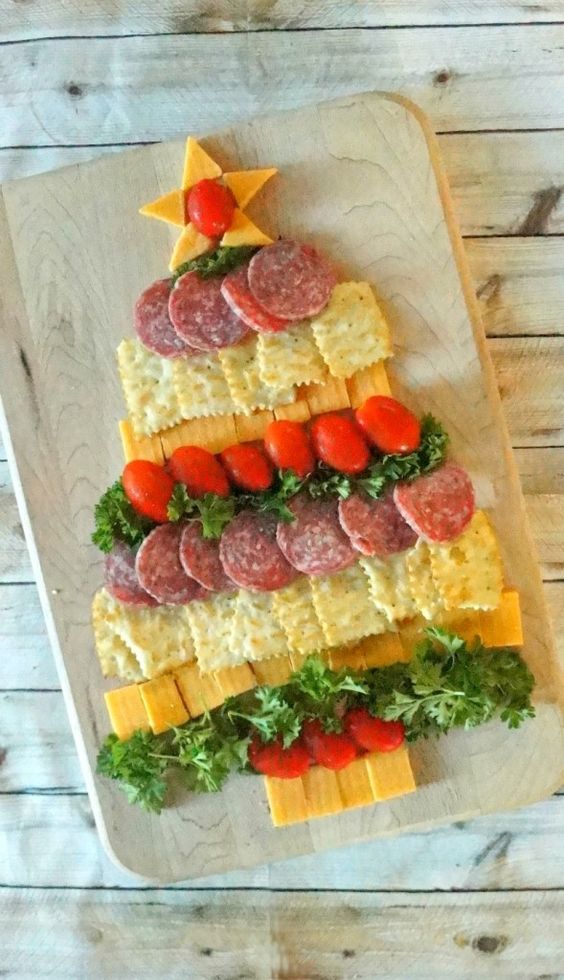 This cure Christmas tree platter is one of those Christmas party appetizers that are not suitable for vegetarians!
However, it looks delicious and presents a tasteful combination of cheese, salami, and cherry tomatoes. Yammi!
DIY Project Details: Here
13. Serve an Authentic Christmas Cookie Tree Platter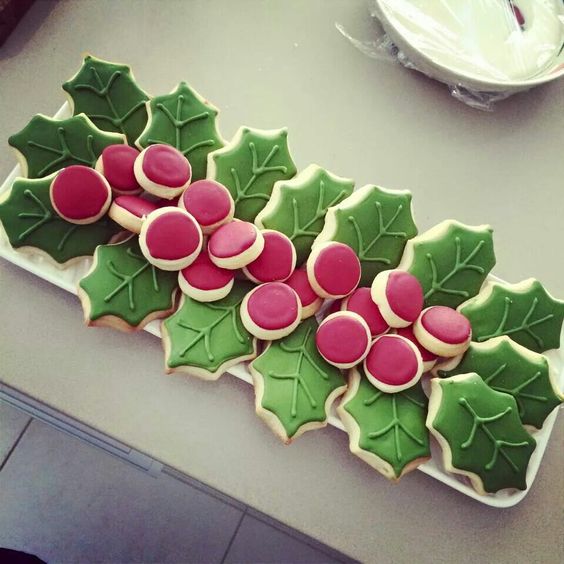 Photo:Credit
This platter is beyond incredible and will definitely please every onlooker.
And if might look intimidating, but you will need minimal effort and time to create this dazzling platter for an exquisitely chic Christmas dessert table.
14. Get into the Christmas Spirit with a Sweets Wreath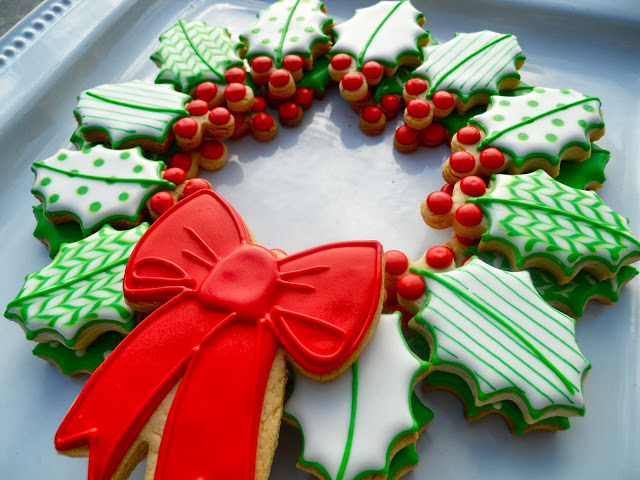 This festive platter shaped like a wreath will be the focal point of your dinner table.
Afterward, you can keep the rest of the cookies in a jar and continue enjoying them after the Christmas dinner.
DIY Project Details: Here
15. Elevate Your Cheese Board with a Festive Tree Platter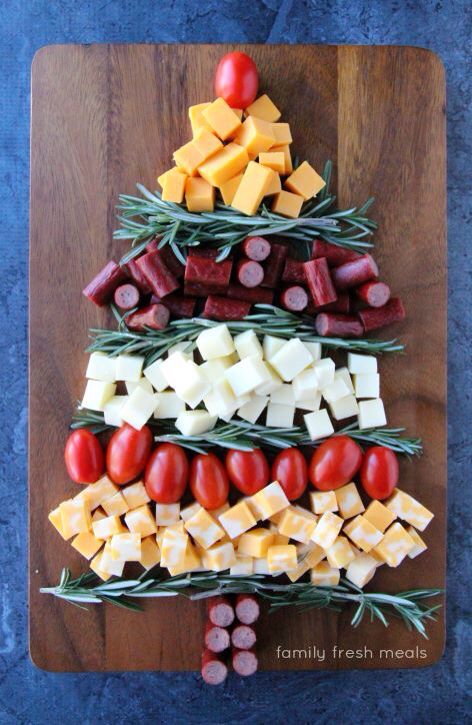 Photo:Credit
This idea is excellent for cheese lovers. Different types of cheese, combined with smoked meat and salami, cherry tomatoes, and some thyme for a finished look of the toothsome Christmas tree platter.
It's just too beautiful to eat!
16. Go Bold with a Chocolate and Strawberry Christmas Tree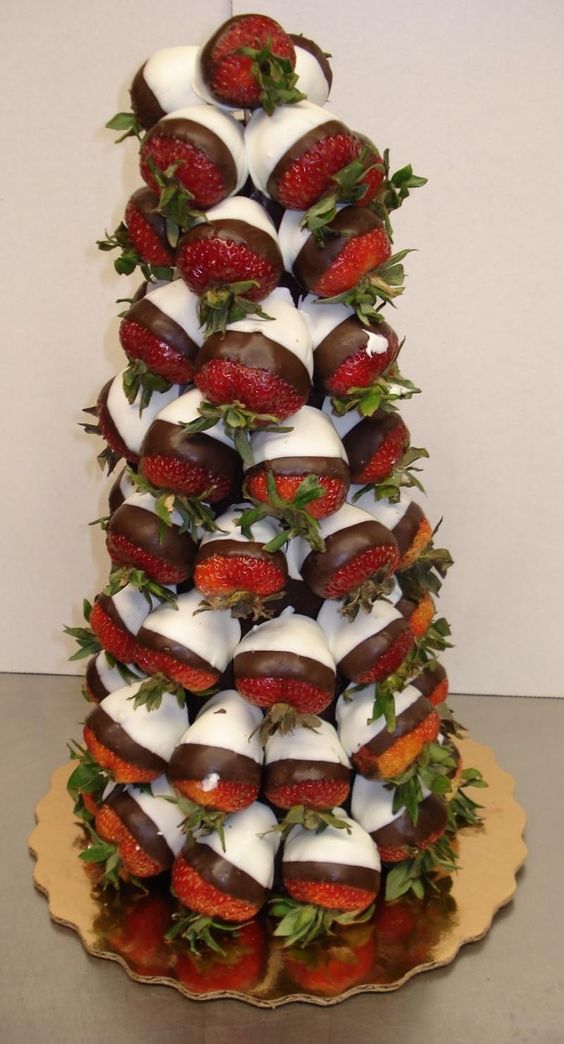 Photo:Credit
Compared to the Christmas food platters I showed you so far, this one will take a bit more time to prepare.
However, I promise you it will be the show-stopper at your Christmas dessert table! Plus, it is deadly delicious!  😉
17. Make an Italian-Inspired Christmas Wreath Platter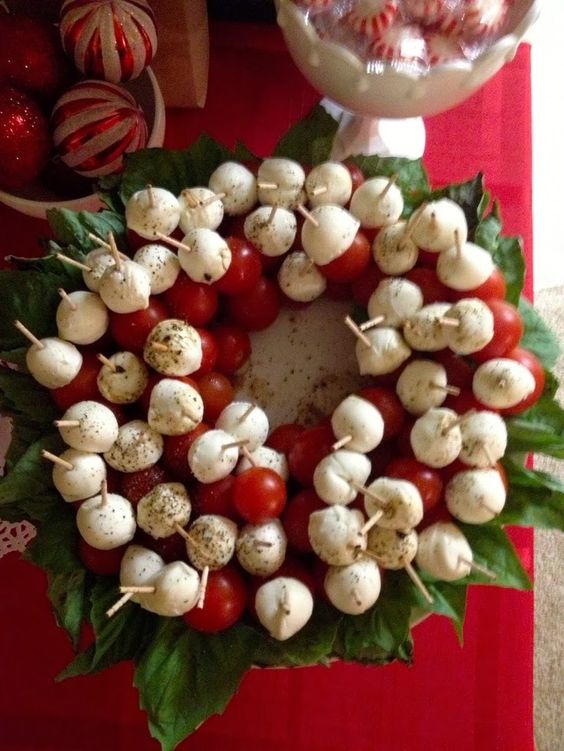 Photo:Credit
If you're planning to serve something unusual but delicious this Christmas, I'd recommend re-creating this Italian style Christmas wreath made of cherry tomatoes, fresh basil, and mozzarella balls.
Your guest will love it, believe me.
18. Gobble Up the Christmas Appetizer Everyone Loves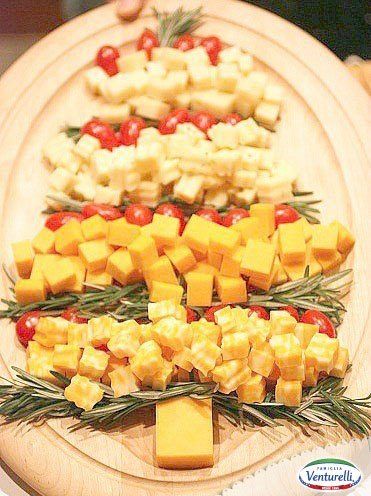 Photo:Credit
If you plan to serve mulled wine to your guests this year, here is another great appetizer for Christmas party that won't take more than 20 minutes to make.
Make sure you won't make too much of it so it will leave space for the main dish.
19. Liven Up Your Christmas with a Cheddar Star Platter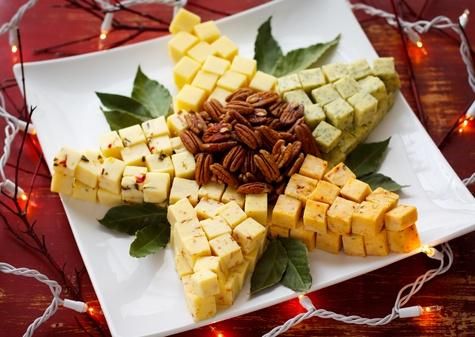 Photo:Credit
This unusual and artistic Christmas cheddar star idea can be made smaller or larger, depending on the size of your gathering, and will liven up any food table.
Feel free to personalize your platter anyway you like.  🙂
20. Enjoy a Healthy Tasty Holiday Olives Wreath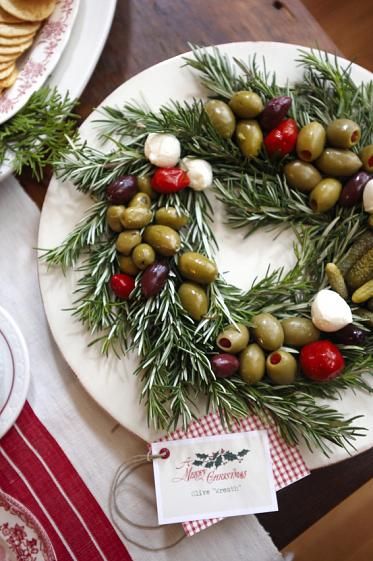 Photo:Credit
I'll finish my collection of Christmas party platters with this antipasto festive wreath. Make sure to use loads of thyme so your wreath looks real.  😉
Combine the antipasti by color so your platter will look fun and creative.
I hope you liked these 31 Christmas platters ideas. Trust me, each one of them will be the centerpiece of your festive dinner table! So bring your creativity, gather the kids, make some hot chocolate and spend some quality family time while preparing the appetizers before the joyful dinner.  😉