Nature does miracles even with our trash! And the miracles are so beautiful that they go back to our hands! Did you guess what is the treasure we are speaking about?
Yes, the sea glass or also known by the names the mermaid's tears, ocean pearls, and ocean gems.
Nowadays genuine sea glass is a rare thing but if you already have a collection, then you would be able to incorporate it in one of the sea glass art ideas and projects we have gathered for you.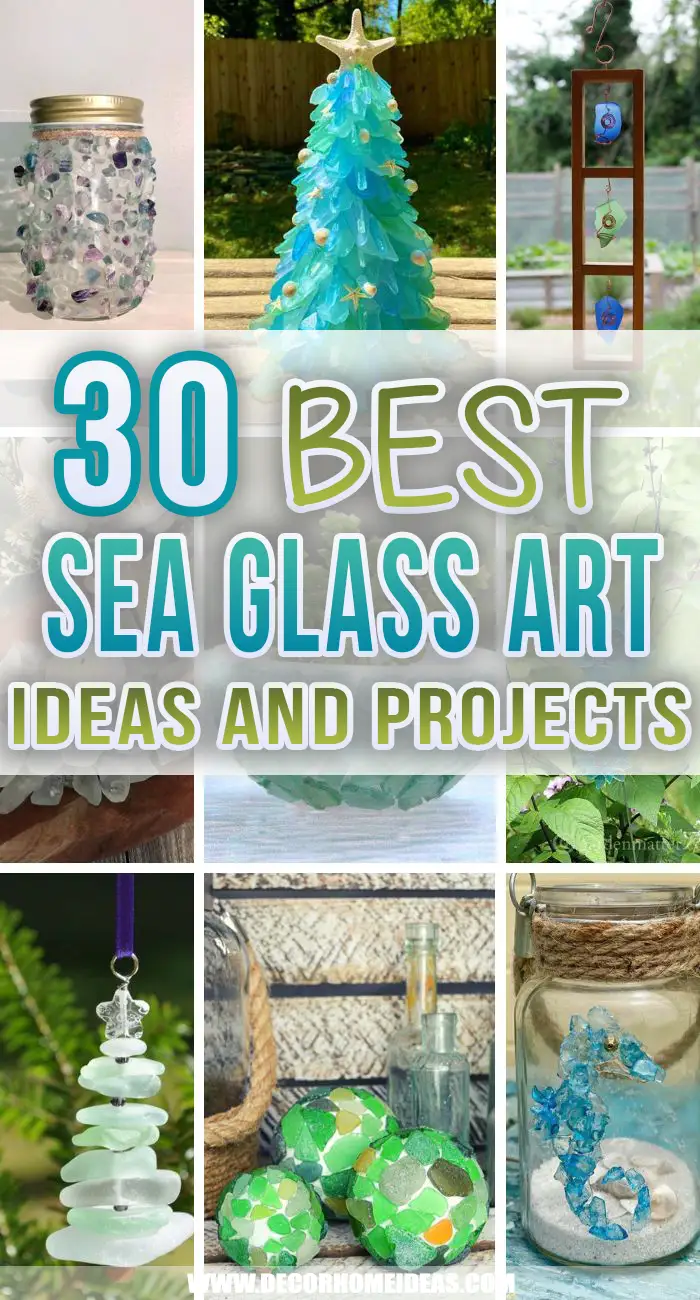 In case you don't have any genuine sea glass, you can take advantage of the craft sets of faux glass which look authentic and adorable.
1. Visualize A Meaningful Statement With Sea Glass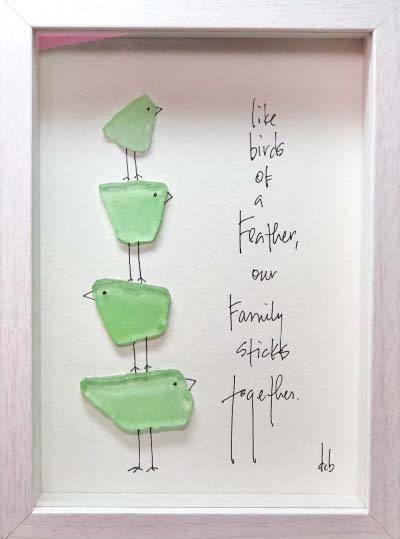 This is one of the most adorable sea glass ideas in our collection because of its valuable message. The well-known saying is represented also by bird images created from sea glass pieces.
Using the same color of sea glass is very important to imply the perception of the family as one entity that sticks together.
2. Christmas Tree Ornament From Sea Glass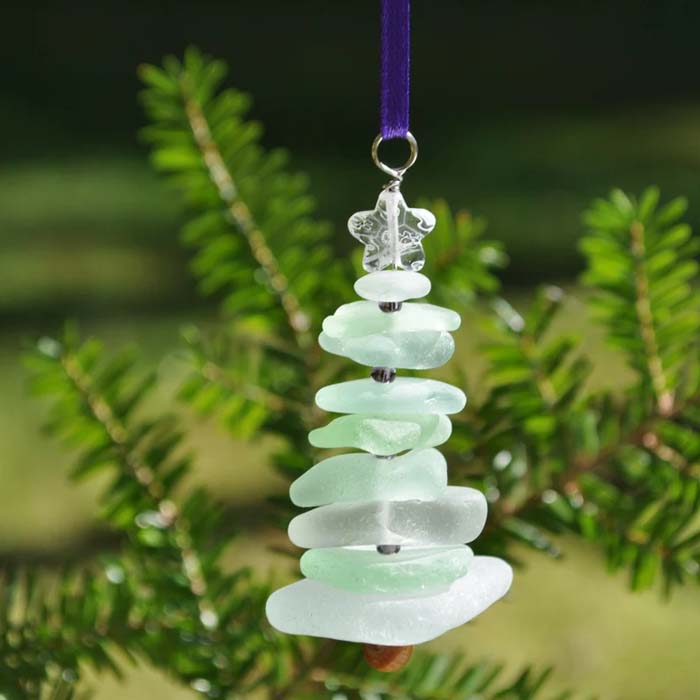 You will definitely be more eager for the Christmas holiday when you have such a unique embellishment to hang on the tree!
The traditional pine tree look is twisted through the prism of the coastal style to end in a charming glass tree with its own star at the top. The satin bow at the top makes hanging on any surface easy. It can be also added to the key chain.

3. Tall Christmas Tree Alternative With Sea Glass And Resin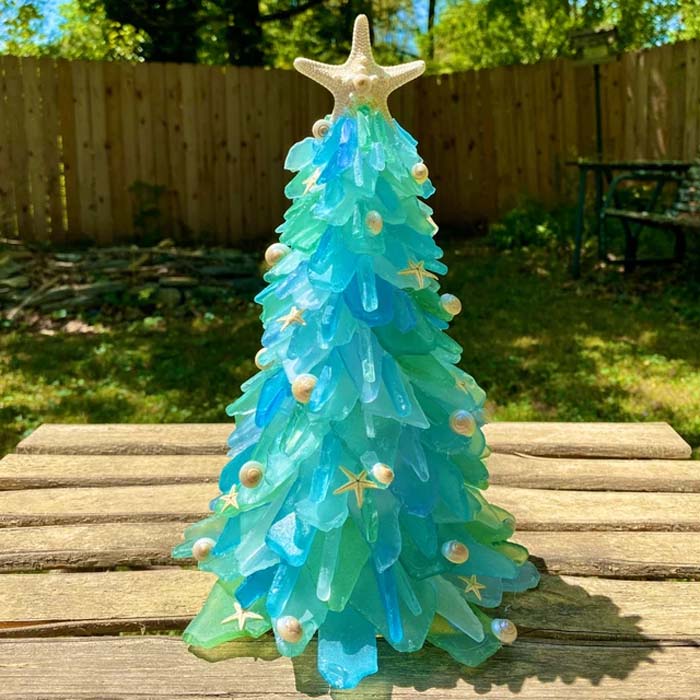 If you have never thought of giving your Christmas décor a nautical look, it is time to check the article below and get inspired by the Christmas trees made from sea glass.
They will make your home festive for winter for sure.

4. Sea Glass Chandelier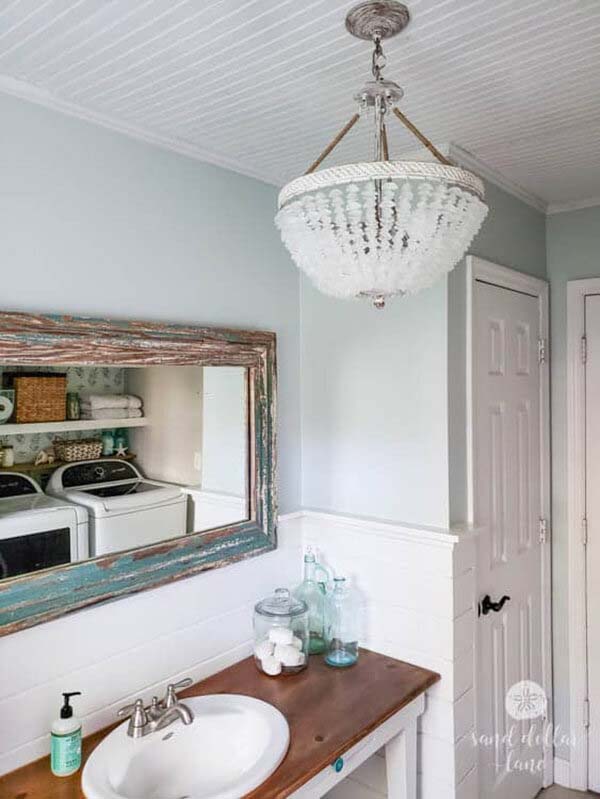 A rustic bathroom will enjoy the touch of a unique chandelier made from sea glass pieces.
They are strung on the existing chandelier wires to create a frosted dome.
via Sand Dollar Lane
5. DIY Nautical Glass Vase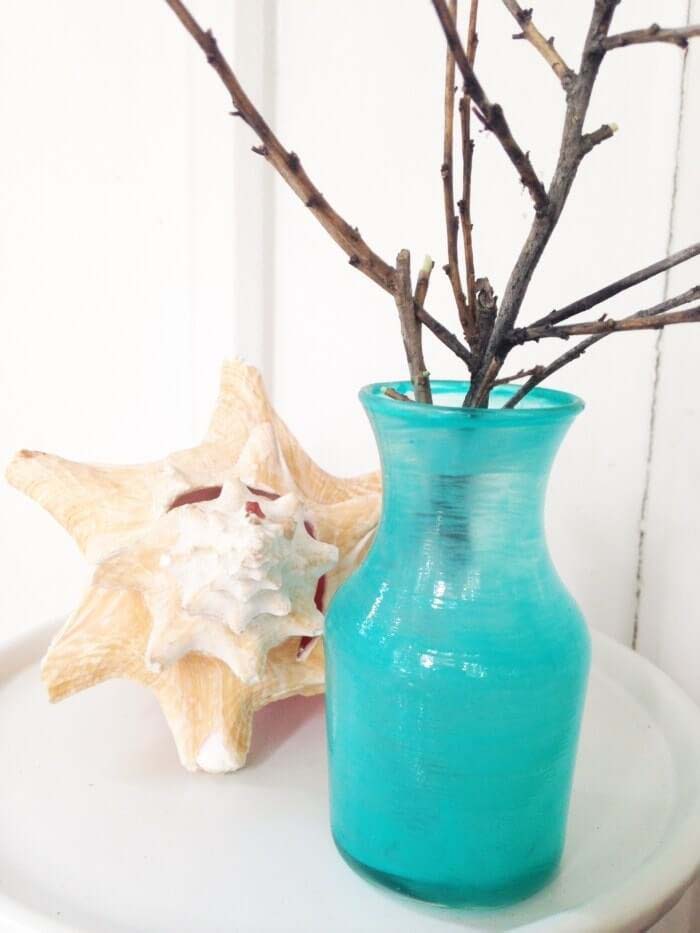 Any clear glass vase can be transformed into a nautical decoration with a suitable paint color. Blue or green shades will give the glass the finish of sea glass.
Combine it with other coastal accents such as shells, jars with sand and candles.
via Sunny Sweet Days
6. Mosaic Sea Glass Pot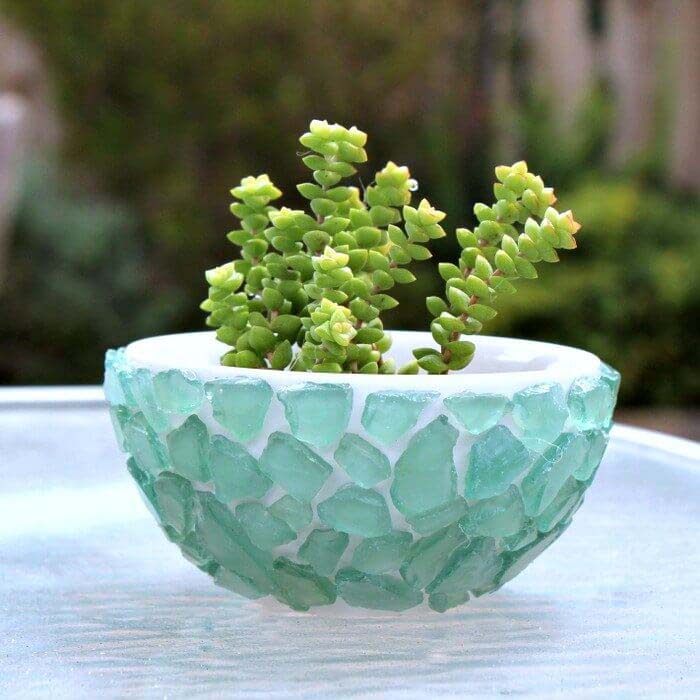 The plain terra cotta pots can be quickly upgraded to ocean-themed accents by gluing or grouting glass pieces on the external surface.
You can get a package of sea glass pieces from the craft store or gather broken glass pieces.
7. Sea Glass Table Decoration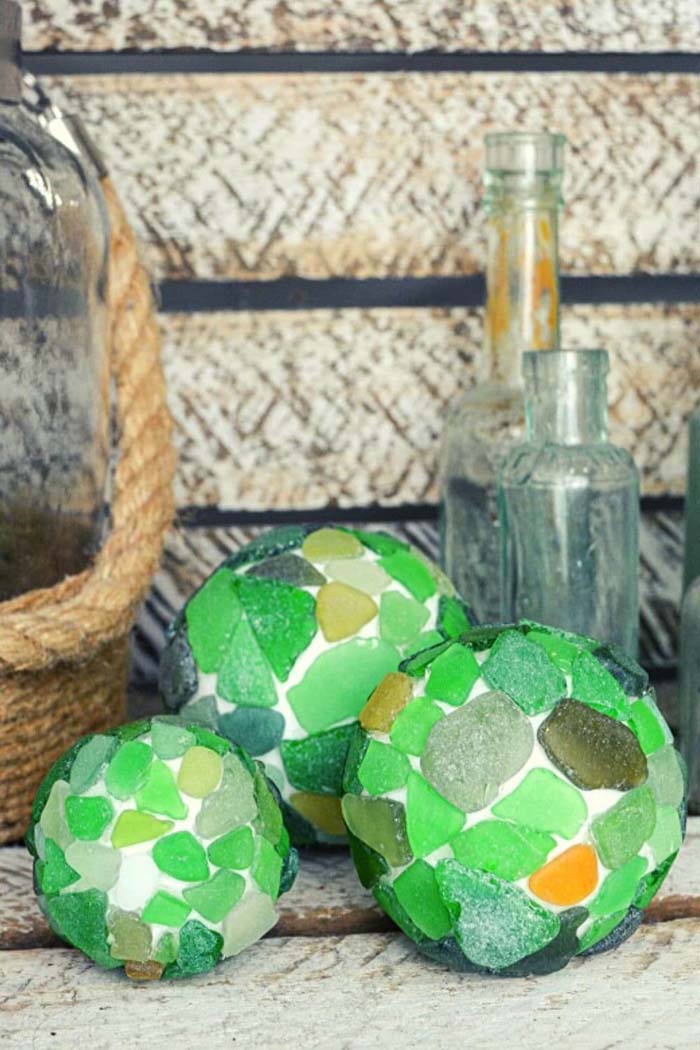 For this DIY sea glass idea, you need faux sea glass and Styrofoam balls. Choose the color of the sea glass to match your visual idea of coastal décor.
Then just glue the pieces on the balls, aiming to not leave big gaps between them.
8. Garden Embellishment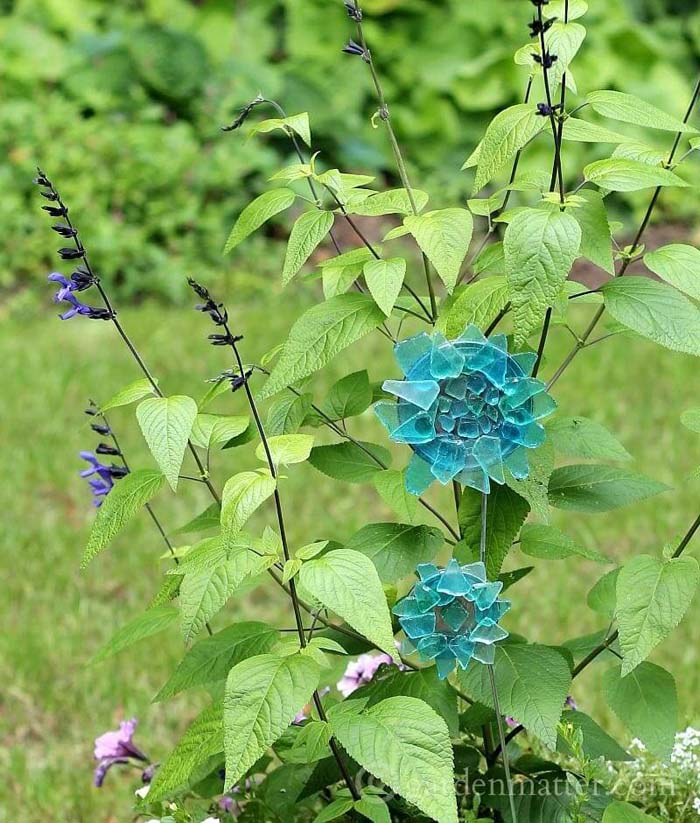 The faux sea glass pieces are great for DIY decorations because they are light and can easily stick to any surface with suitable glue.
This great idea is an inspiration for summer garden décor made from a metal rod, a metal can lid and sea glass pieces forming a flower.
You can insert the decoration directly into the ground and watch its nautical touch in the daylight.
via Hearth and Vine
9. Sun Catcher From Sea Glass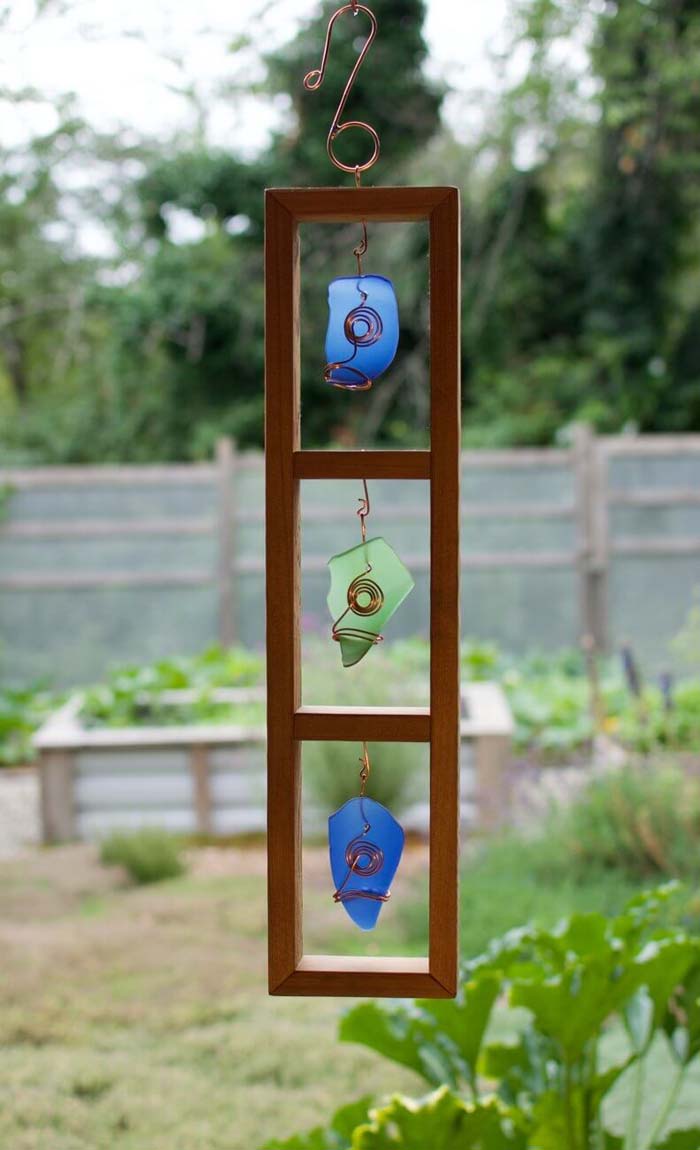 This is one of the most inspiring sea glass art ideas! It features a wood hanging piece divided into three sections.
Each holds a piece of sea glass attached to a copper wire which creates a shiny accent on the frosted texture of the glass.
The contrast is eye-pleasing and when the decoration catches the sun rays, the refracted light turns the glass fragments into a whimsy focal point.
via Coast Chimes
10. Painted Vases Mimicking Sea Glass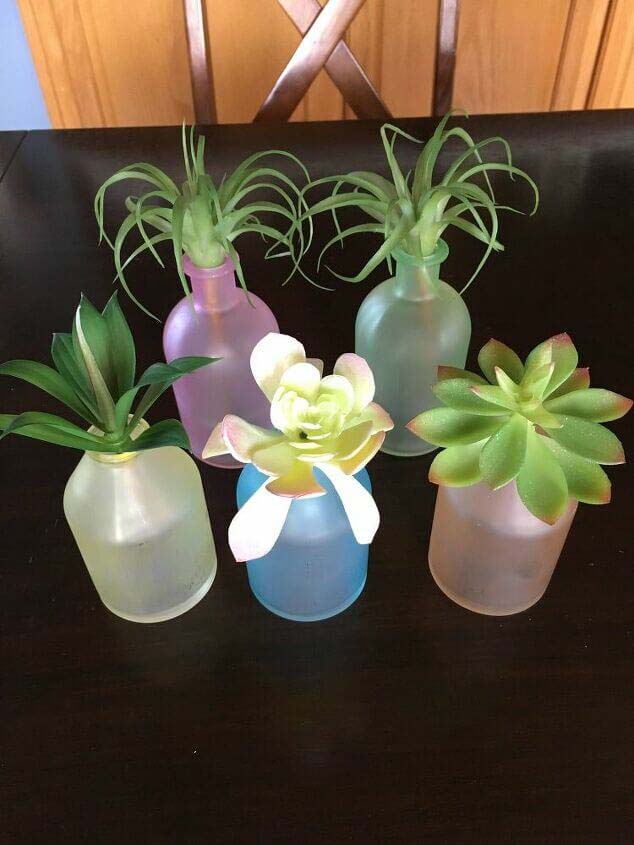 One of the easiest sea glass crafts features the steps to creating your customized frosted glass vases.
No need for special etching products.
Mod podge or even plain glue and food coloring powders let you create an even frosted coat in the desired color
11. Seahorse Candle Holder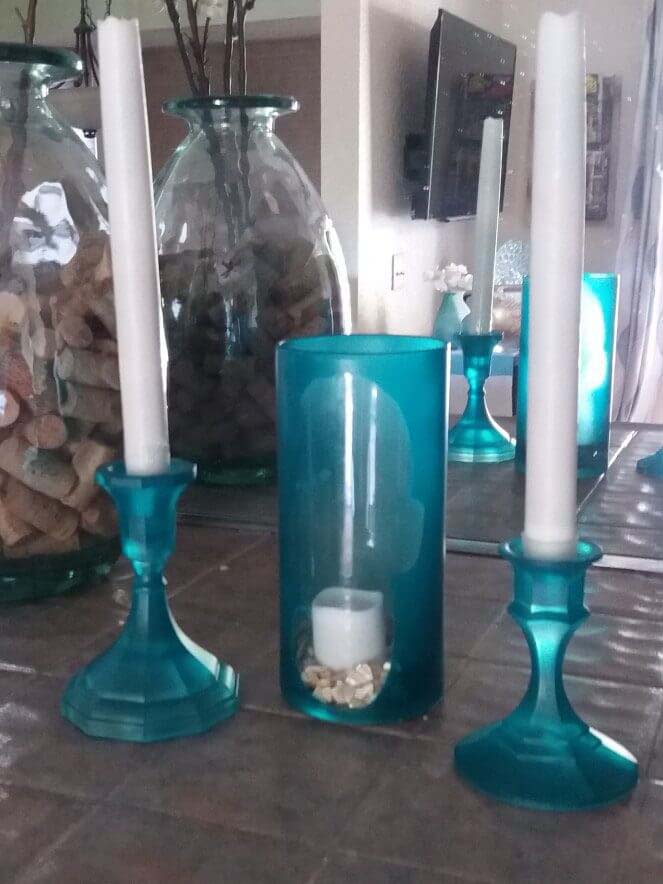 If you already have a nautical nook in your home, you would love to add this set of sea glass candle holders.
The unique design is achieved with spray paint in a fantastic aqua color that will instantly give the plain glass the nautical sea glass effect.
You can trace the silhouette of a sea creature to leave it uncovered with paint and use it as a window to the contained ocean-themed items.
via Kelley's DIY
12. Jewelry Pendants Craft Idea With Sea Glass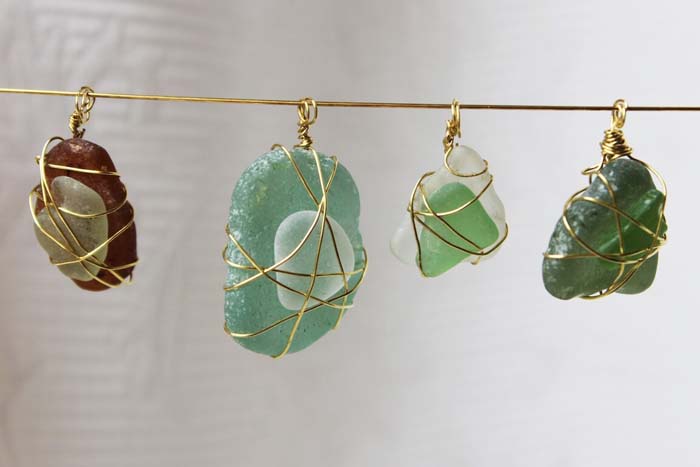 The beautiful combination of wire and sea glass is featured here to represent another application of the ocean treasure- as pendants for necklaces.
You can use copper or golden finish wire to weave the glass pieces with and add a touch of shine to the glass texture.
13. Free-standing Sun Catcher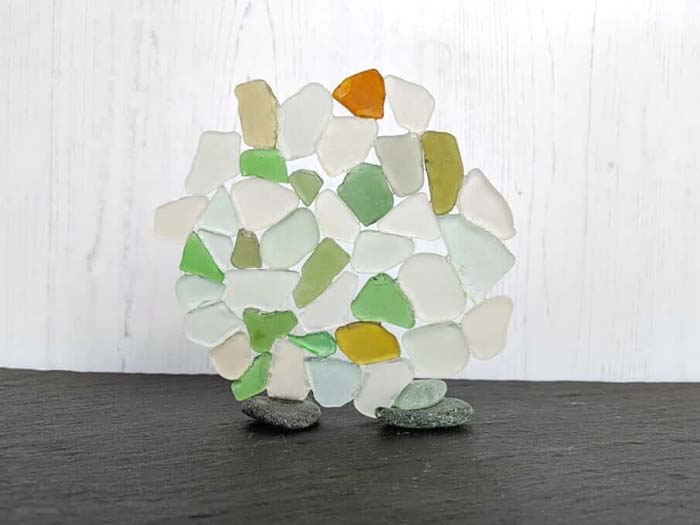 What makes the sea glass so charming is not only the whimsy frosted texture the water has given them but also the unique shapes of each piece.
You can use these two characteristics to create a unique art piece to add a touch of the ocean to your home interior.
This sun glass craft demonstrates how to make a sea glass sun catcher in a free-standing state. The basis is, of course, another piece from the coast. Two flattened pebbles keep the round piece of art standing upright as a sculpture.
via Craft Invaders
14. Gem Encrusted Cannonball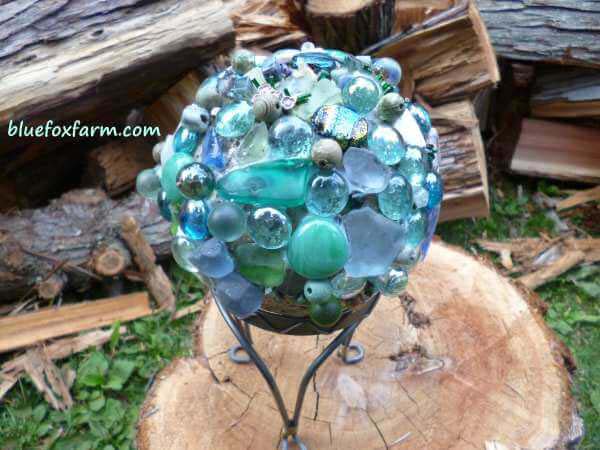 This sea glass project is a great idea for indoor and outdoor decoration. It represents a magical natural process in the ocean waters that needs long years to become an encrusted cannonball.
To give it the look of a piece made from ships' treasures, you need faux gems, sea glass pieces and beads.
The basis is a hypertufa globe placed on a metal flower stand. Glue the embellishments on the surface aiming to cover it completely. You can even layer them for a dimensional effect.
via Blue Fox Farm
15. Grouted Sea Glass Clock Frame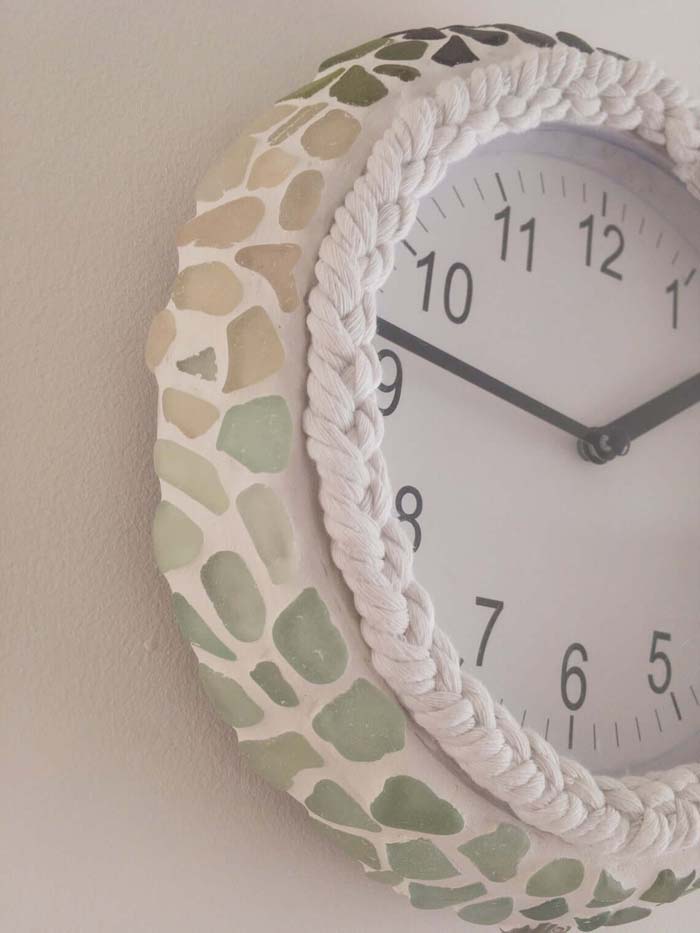 What a lovely way to upgrade a plain round clock! This great idea can even inspire other home décor crafts, like a mirror frame embellishment, for example.
The frame decoration is inspired by the coastal style featuring a layer of grouted sea glass pieces.
All of them are in green shades but you can customize the frame with a variety of colors offered by the craft stores.
However, for a true ocean touch, you can gather the pieces yourself from the coast and incorporate them into your home décor.
16. Seahorse On A Glass Jar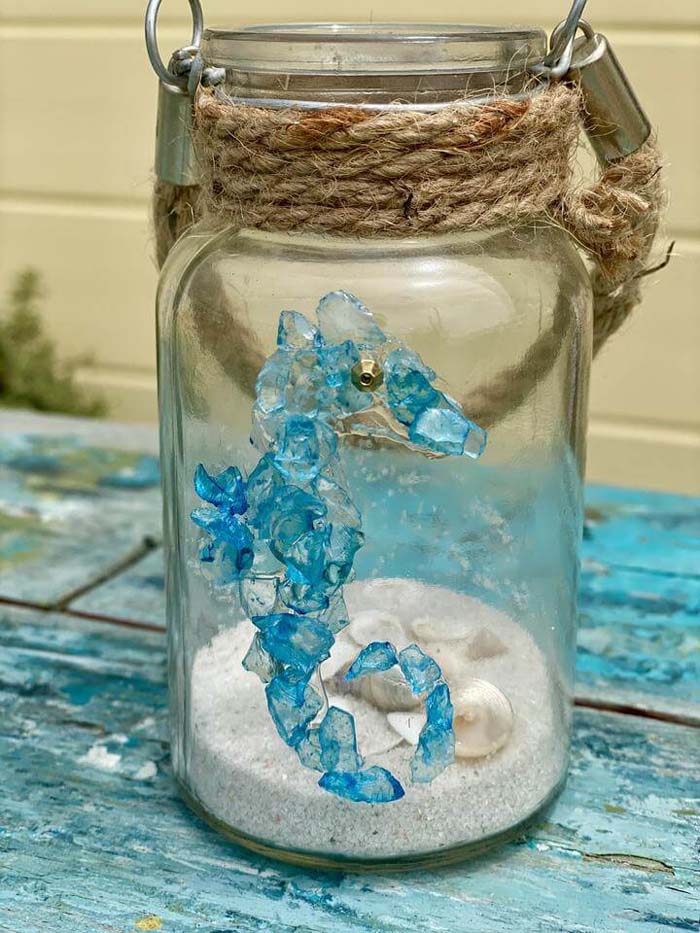 Close a piece of the ocean in a jar to enjoy its relaxing look and unique nautical vibe at home. Prepare a Mason jar, sand, seashells, rope and a candle.
Decorate the front of the jar with tiny sea glass pieces glued in the shape of a seahorse.
via DIY a Gogo
17. Sea Glass Pieces As A Filler Of Décor Pieces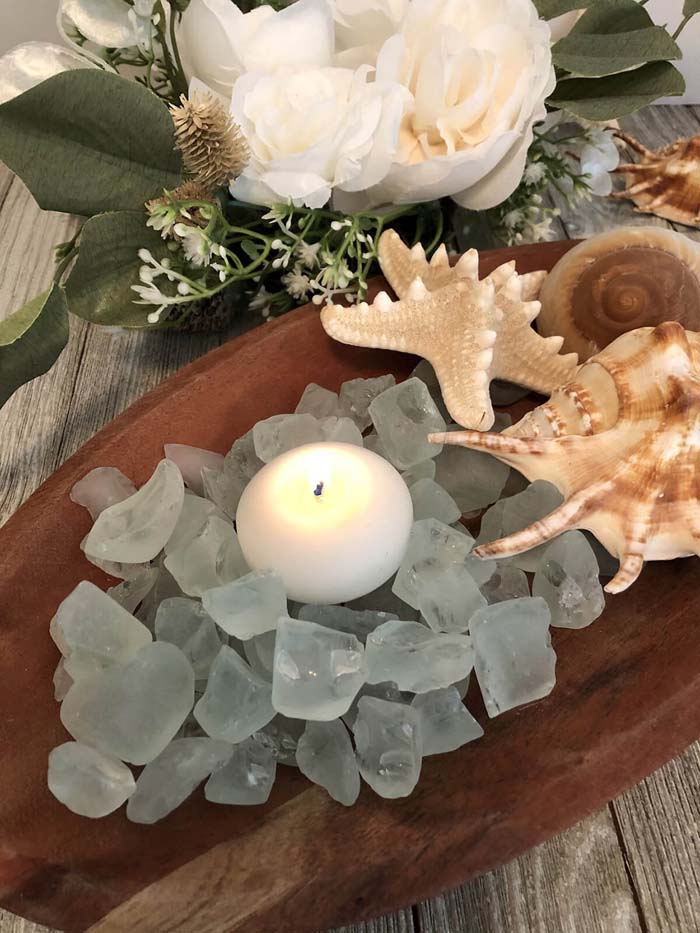 Turn a piece of the existing décor into a lovely nautical decoration by filling it with sea glass pieces.
Choose faux glass pieces with frosted texture or gather treasures from the coast.
The filling is suitable for candle holders, vases or centerpiece bowls.
via Floating Pearls
18. Sea Glass Mirror Frame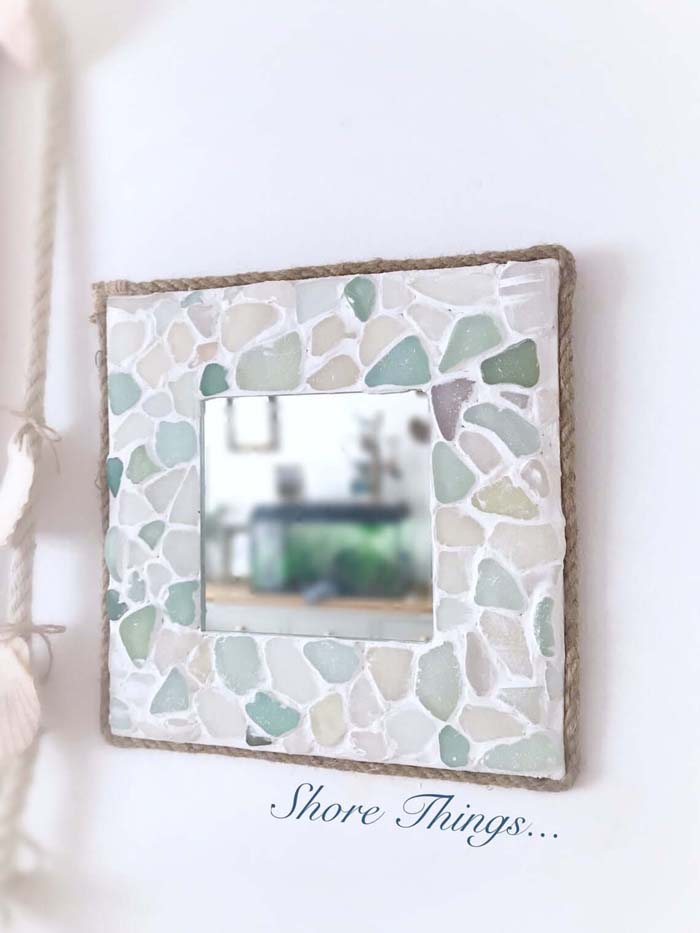 The final look of this mirror is so aesthetically finished that it can be a useful and valuable decoration to any room in the home.
The pastel color palette chosen for the sea glass pieces makes it universal to any existing décor.
19. Jellyfish Chandelier With Sea Glass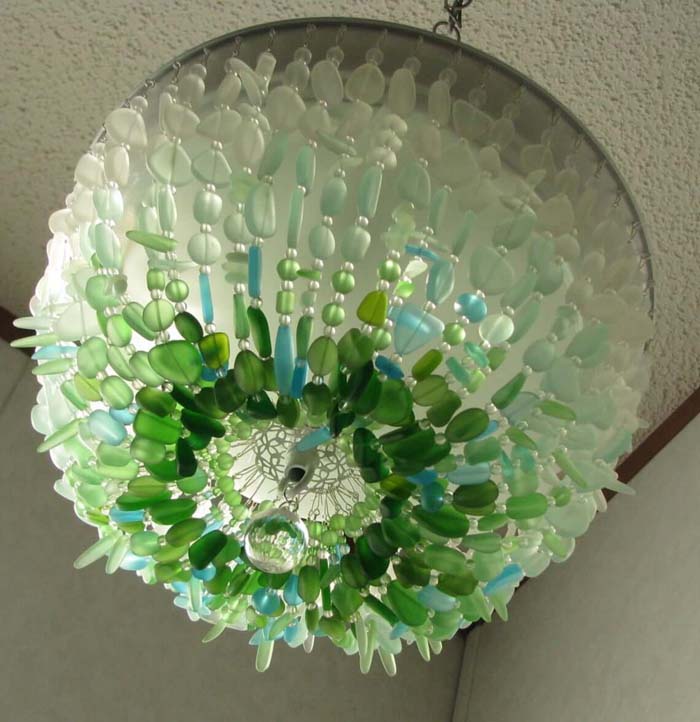 The shape and the ombre arrangement of the sea glass pieces give this chandelier a whimsy look of a jellyfish.
The shades alternate from dark green through icy blue to end with frosted white. The variety of shapes enhances the illusion of a water creature.
The chandelier could be a fantastic addition to a lake house or beach house interior.

20. Wind Chimes With Sea Glass And Star Fish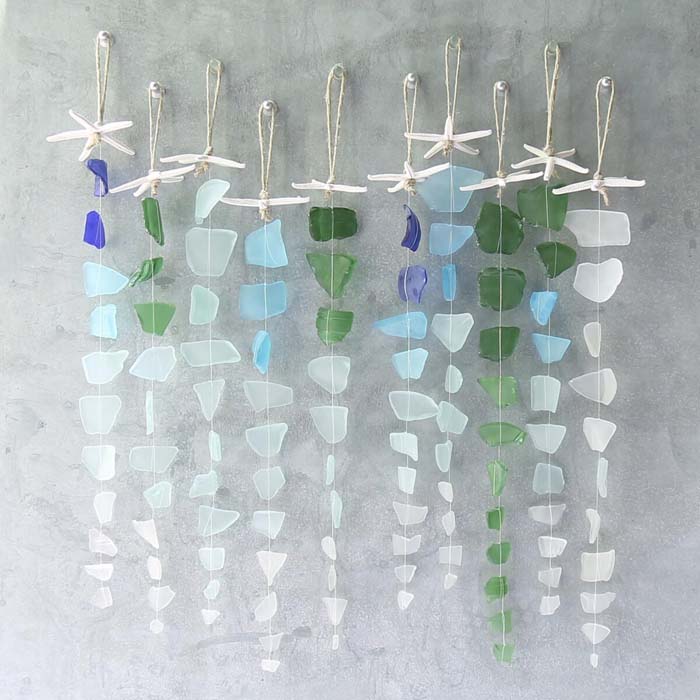 If you like custom-made home decorations, then sea glass is one of the greatest supplies for unique décor pieces.
Check this wind chime idea made with sea glass pieces, thread and a starfish! It is so delicate, so coastal-inspired and definitely one of a kind!
You can hang only one piece in addition to an already existing nautical nook or combine it with more of its kind to create a unique nautical feature.
via Rubbish Revival
21. Seahorse Magnets From Sea Glass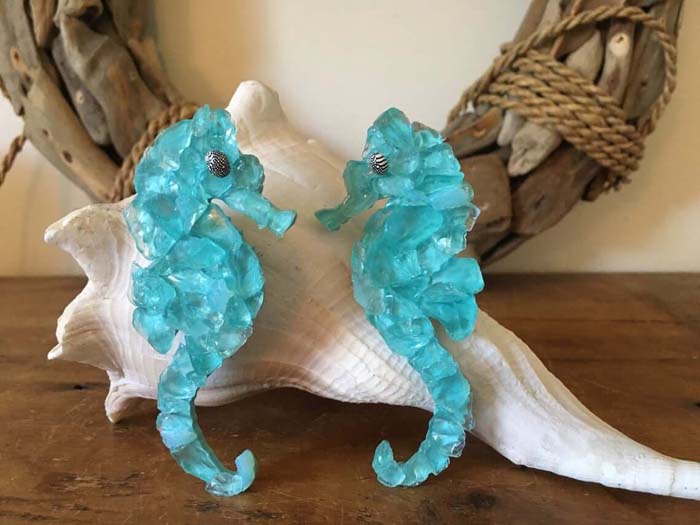 Another DIY project with tiny sea glass pieces represents small seahorses in fridge magnets.
This craft is perfect for gifts for a summer-themed or ocean-themed party or as a way to liven up the kitchen décor with the lovely pop of blue color

22. Sea Glass String Of Lights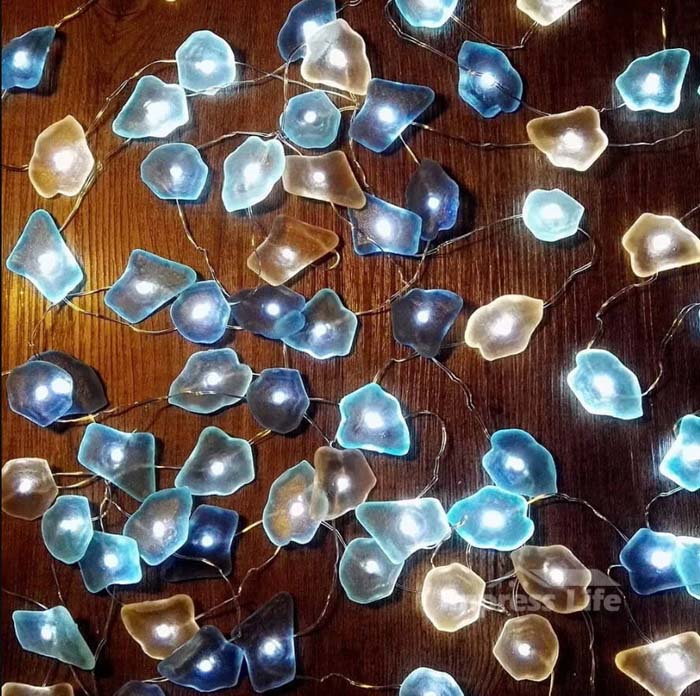 Whether for a beach-themed party or only as part of your summer home décor, this string of lights is amazing! The led lights are covered with a piece of sea glass which will refract the light to make it smooth and magical.
The string comes in a set with a remote controller that will let you easily manage the light decoration.
The garland will look fantastic suspended on the porch ceiling or indoors on the fireplace mantel.
23. Round Mirror Frame With Sea Glass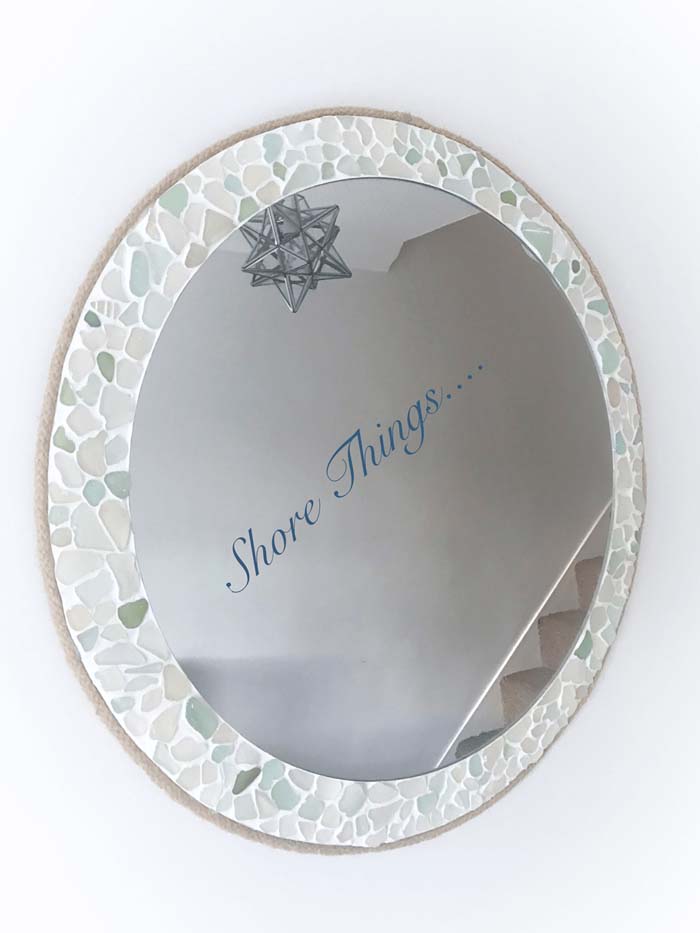 The unique looks and versatility of the sea glass make any home décor fantastic and eye-catching.
Any existing piece can be upgraded to be given a coastal touch.
The plain frame of this round mirror is given an impressive embellishment with sea glass pieces in the pastel palette. The mosaic arrangement gives the piece also an exotic look which enhances the nautical décor effect.
via Shore Things
24. Window Frame Turned Into A Sea Glass Display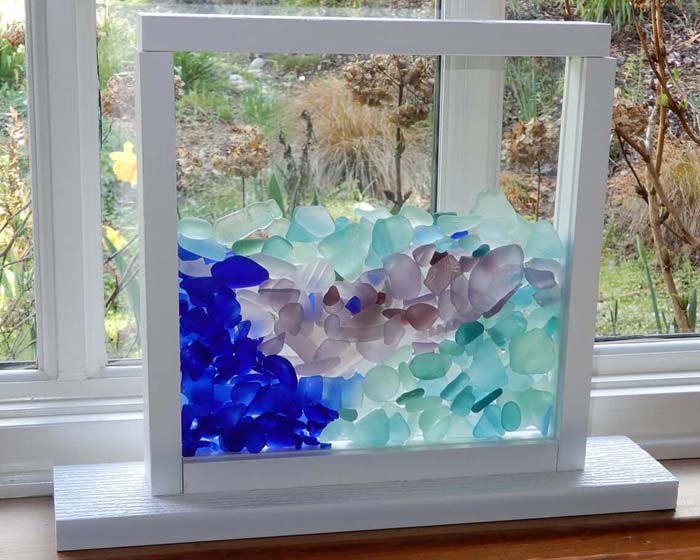 This window display is made for those of you that are collectors of sea glass pieces from the beach.
It features a solid stand and a double window leaving a gap to fill it in with ocean treasures.
The window display can be placed on any flat surface where it will get enough light to watch the colorful effect when the sun goes through the glass.
25. Sea Glass Wall Art Of A Tree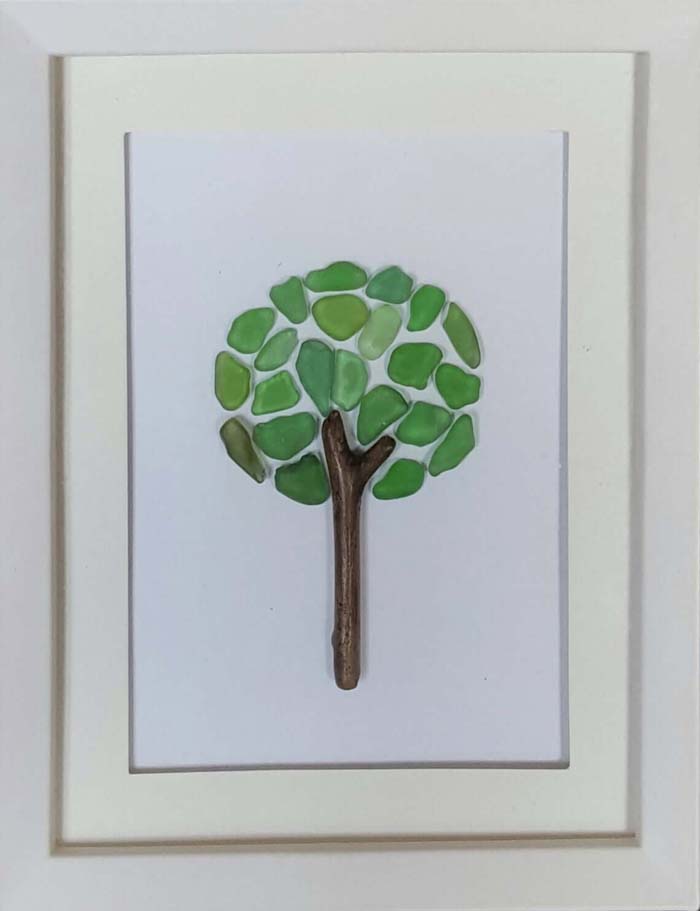 The sea glass wall art is a very popular way to display the sea glass collection. It is great for hanging on any wall of your home or your office.
They are also a great sea glass craft for gifts! The trees are one of the easiest to make framed pictures because of the simple shape that has to be recreated.
A small piece of driftwood and green sea glass pieces create an artistic twist of the standard image of a tree.
26. Sea Glass Luminary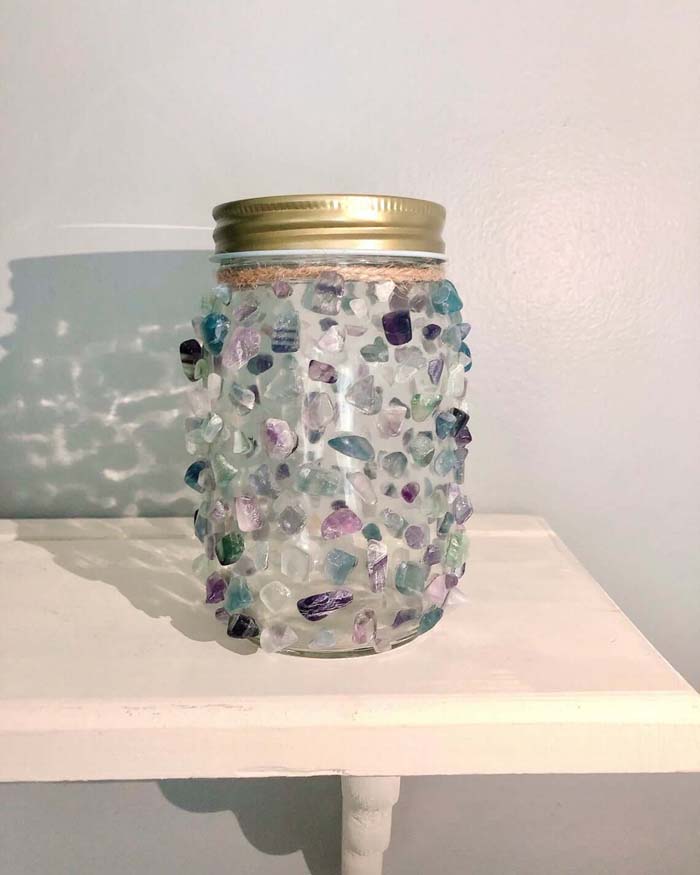 This luminary is perfect for the summer home décor. You can use it as part of the interior decoration or as part of the patio décor arrangement.
Add a LED candle to enjoy its delicate light at night or leave it empty to admire its sea glass embellishment during the day.
27. Framed Picture With Banners From Sea Glass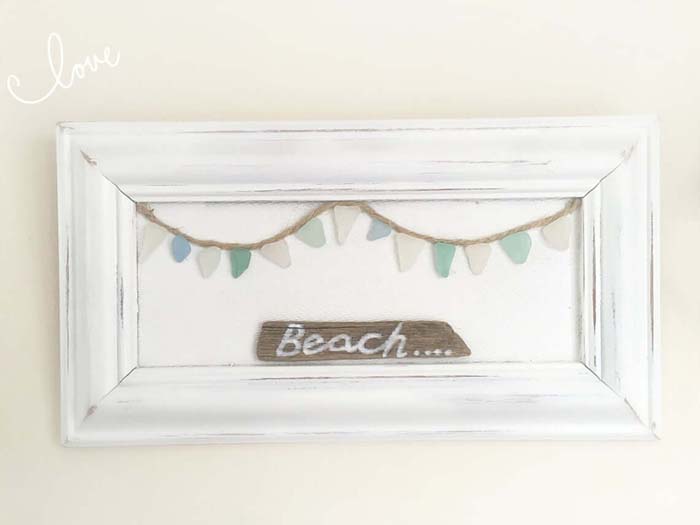 To give a framed picture an authentic coastal look, use genuine sea glass pieces and driftwood. Depending on the size of the frame you would upcycle, you need to prepare a number of pieces from your sun glass collection.
The more colorful the banner is, the better as it will anchor also a pop of color to the basic farmhouse nautical look of the picture.
28. Sea Glass Starfish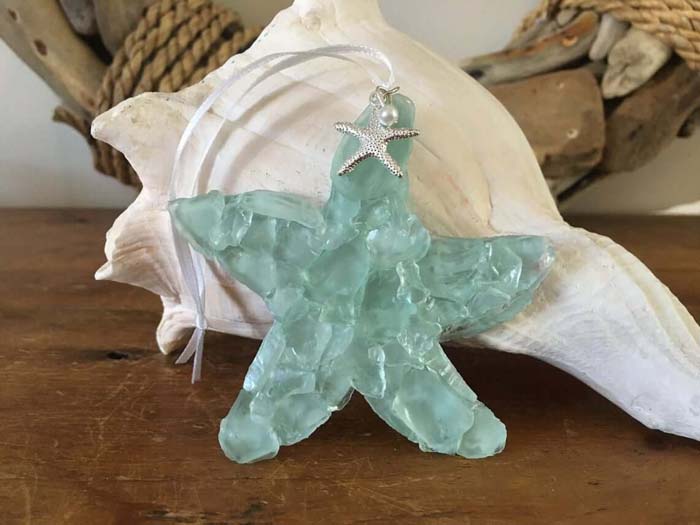 This starfish sea glass ornament is equipped with a satin loop to hang it on the wall, on a piece of driftwood or why not on the Christmas tree.
Its seafoam color is very authentic for the coastal palette. Its unique texture is achieved by layering delicate sea glass pieces.

29. Sea Glass Magnets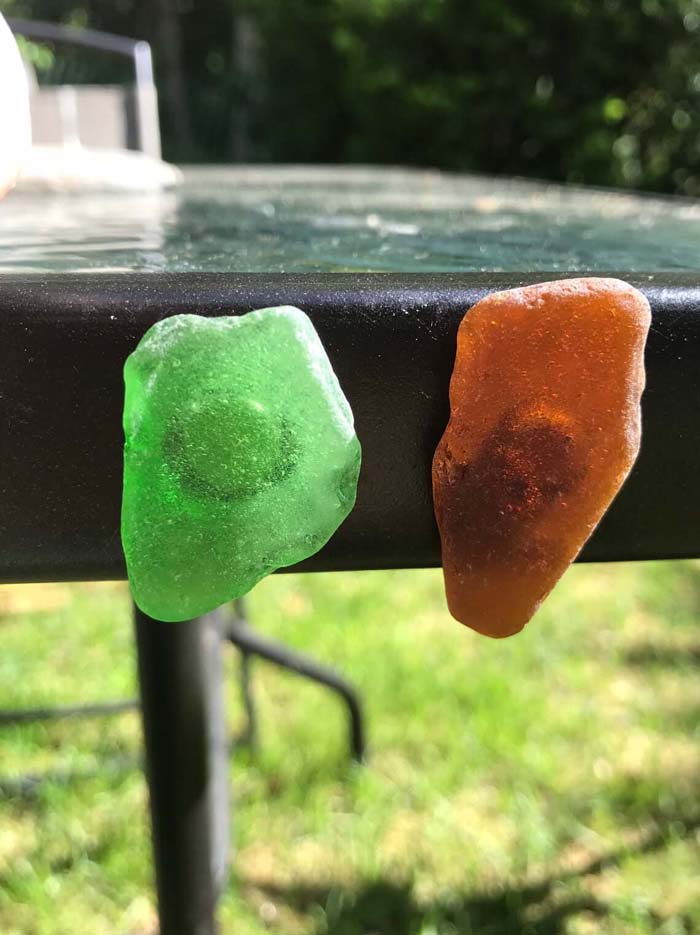 This DIY project is simple, yet very adorable when it comes to nautical impact on the home interior. When you go to the seaside, don't forget to collect treasures with unique shapes.
Glue a magnet at the back of them and enjoy the whimsy shapes and colors created by nature.
30. A Tray With Mosaic Sea Glass Bottom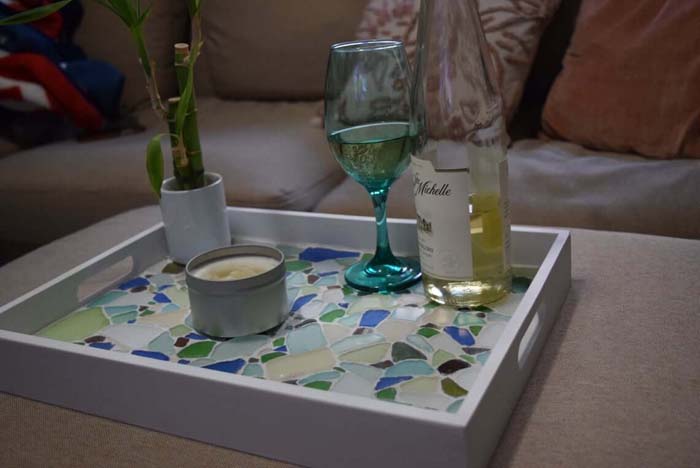 One of the easiest ways to use your sea glass collection is to include it in a mosaic. The mosaic can embellish a flower pot, a wall or a tray used as a coffee table centerpiece.
See the amazing pop of color this tray brings to the earthy interior color palette! No decoration is able to add so much character like the handmade pieces!