If you are living in a house, then you appreciate how lucky you are to have a porch.
Whether a front porch or a back patio, this is your outdoor space where you can create a comfortable living area to connect with friends and family.
One of the most important parts of the porches is the ceiling. It is the element that provides shade and shelter and is also important for the overall look of the space.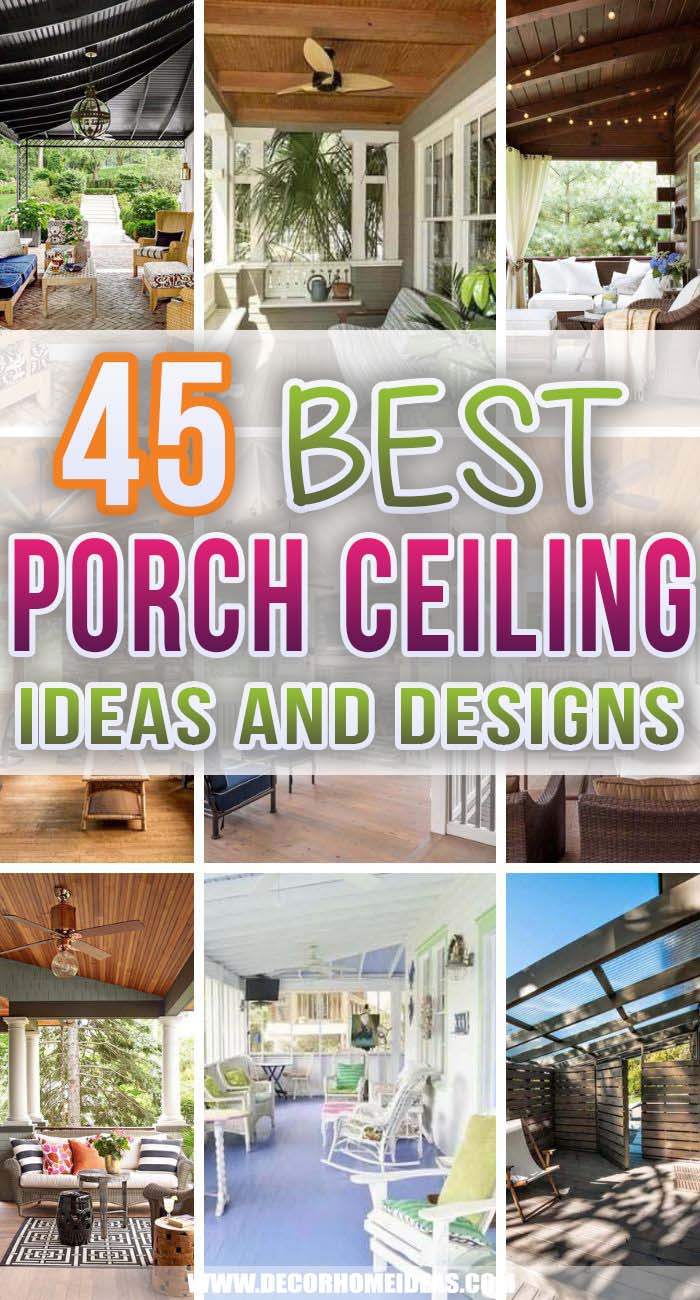 To make sure that the porch ceiling contributes to the curb appeal of your home, we have gathered the best 45 Fantastic Porch Ceiling Ideas That Will Add More Style To Your Outdoor Space.
1. White Wooden Ceiling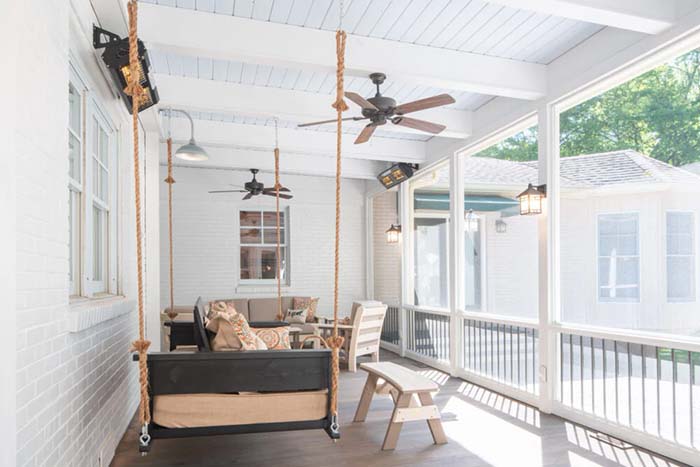 The cover of this porch follows the color concept of the outer side of the house to create a uniform look. Space looks airy and bright.
White boards and exposed beams of the ceiling create a lovely backdrop for farmhouse decoration consisting of a comfortable wooden swing bench, a sofa and lounges with soft cushions, ceiling fans and lanterns.
2. Arched Ceiling Idea For Spacious Porches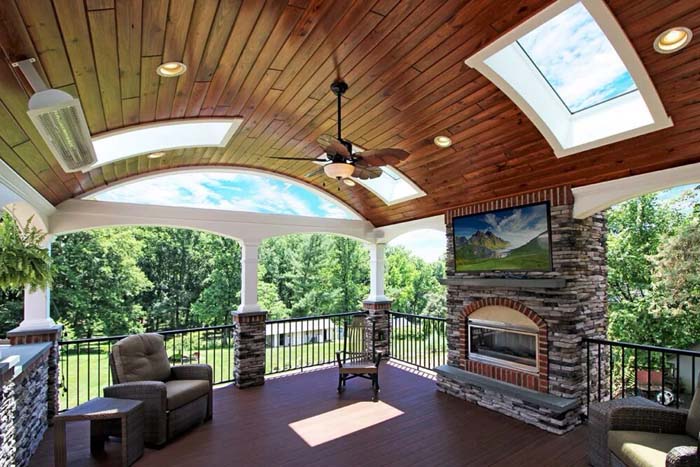 The arched type of porch ceilings is most suitable for spacious porches. Due to its size, there are a few ceiling windows allowed to let natural light come in. The ceiling features lining with wooden beams with built-in lights.
The farmhouse look of the ceiling matches the natural materials included in the design of the covered porch.
3. Beadboard Ceiling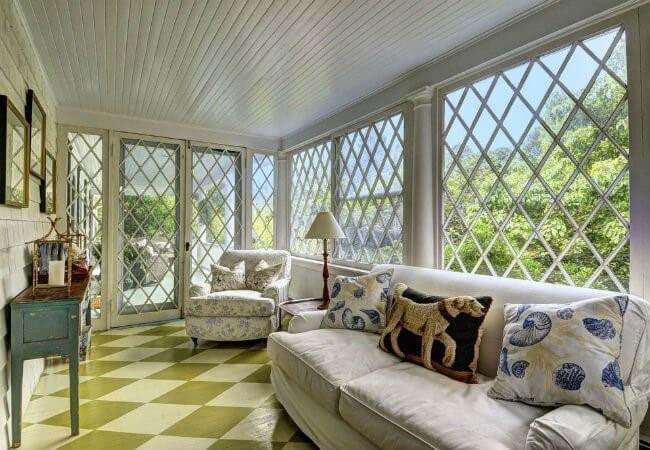 Beadboard is a preferred porch ceiling lining because of its resistance to environmental conditions, its long life and affordable price.
Its look features a charming farmhouse touch which combines best with shabby chich or English cottage style elements.
4. White Boards Ceiling With Exposed Wood Beams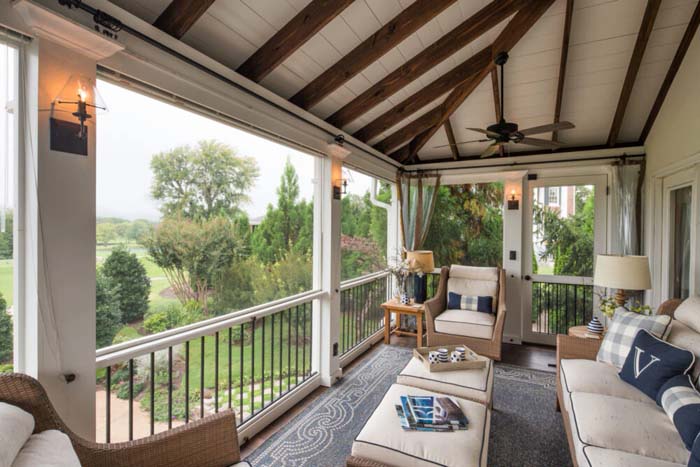 If you want to give the porch a modern farmhouse look, combine white boards with stained exposed beams for the ceiling.
The white backdrop sets an airy feel while the stained beams give the porch texture and depth. Decorative rooflines create a flair of magnificence.
5. Screened Porch With Plywood Panels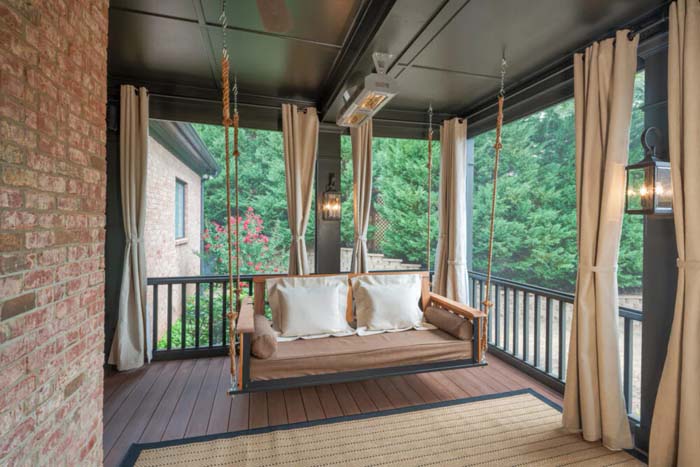 This is an inexpensive and good-looking porch ceiling idea. The flat ceiling made from plywood panels can be mounted to any type of roofline since it is installed on the inside.
Porch ceiling ideas video:
Another advantage the panels offer is easy installation, easy change of color and hiding of a cavity for electrical wiring and recessed lights.
6. Cabin Loft Porch Ceiling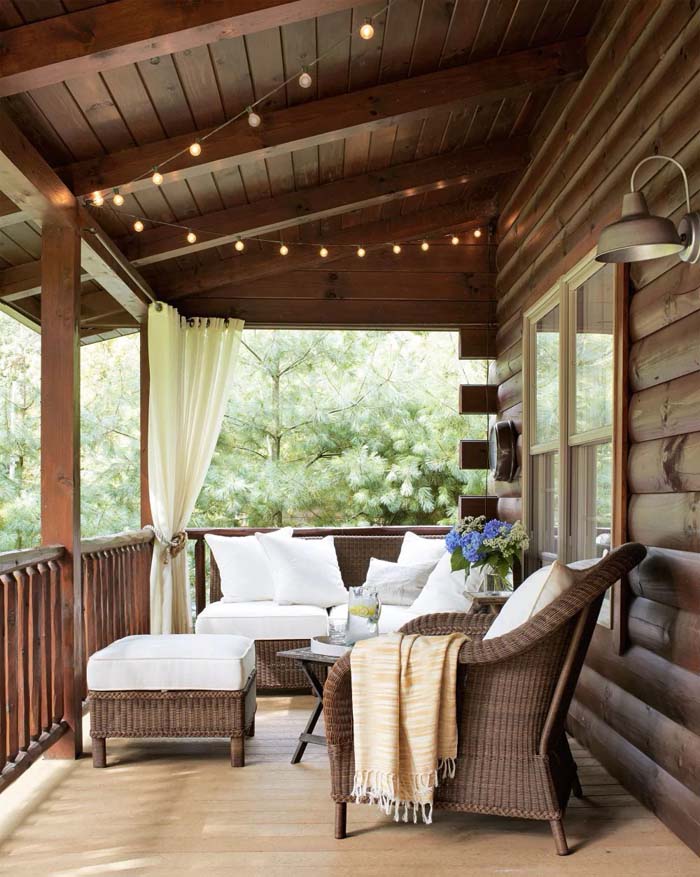 The porch of this cabin looks like an aesthetic continuation of the house. Using identical textures and colors materials creates this uniform look which improves the curb appeal.
The warmth of the wood let the porch feel inviting and cozy as if you are sitting inside the house.
7. Stained Wood Porch Ceiling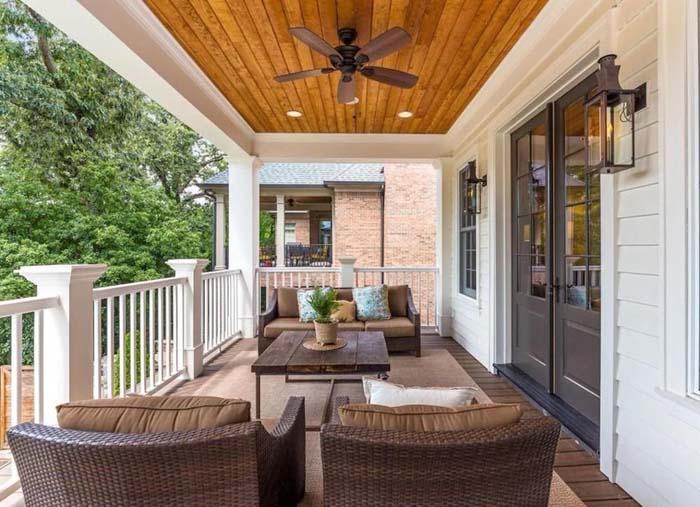 This porch ceiling does not match the rest of the porch elements and that makes a stylish point of interest.
Mismatching the color of the ceiling to the rest of the porch is a good idea for flat roofs and airier porches.
8. Domed Porch Ceiling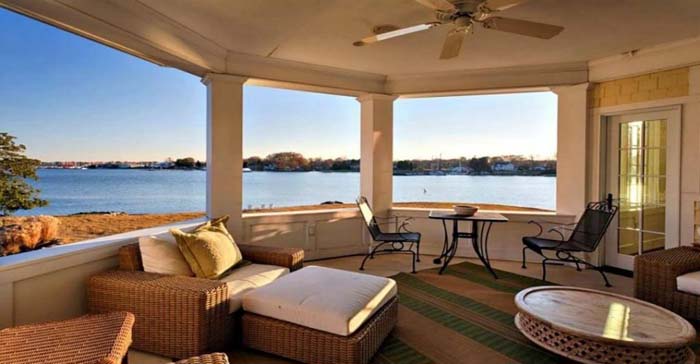 Dome or circular porch ceiling design is the best choice for a coastal home. It lets air circulate easily and ensures a good view of the landscape.
This type of ceiling shape can be covered with wood, beadboard or vinyl.
9. Covered Porch With White Beadboard Ceiling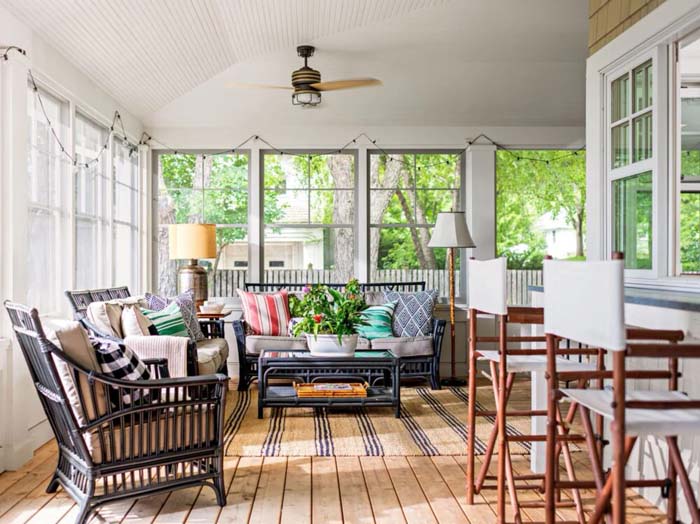 This screened porch is so homey and appealing! It replicates a living room décor but being located closer to the outdoors, it becomes the preferred living area on the warmer days.
The screens will stop insects coming in and at the same time will offer a clear view of the garden. White beadboard ceiling continued with white walls make the interior bright and airy.
A comfortable sitting set with casually strung fairy lights makes the space casually cozy.
10. Sectional Back Porch Ceiling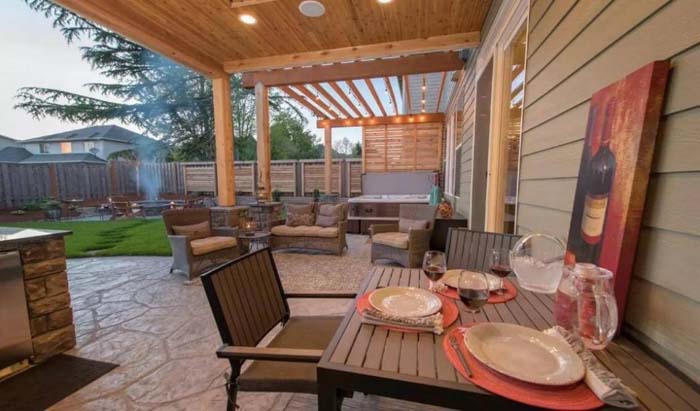 This is an open-concept porch featuring only roofing and no walls. The ceiling is supported by heavy posts. It consists of two sections- one fully covered and one in a pergola design strung with outdoor lights.
The back porch ceiling is made from blonde slats with no additional staining that keeps the ambiance casual and homey.
11. Porch Ceiling With Corrugated Metal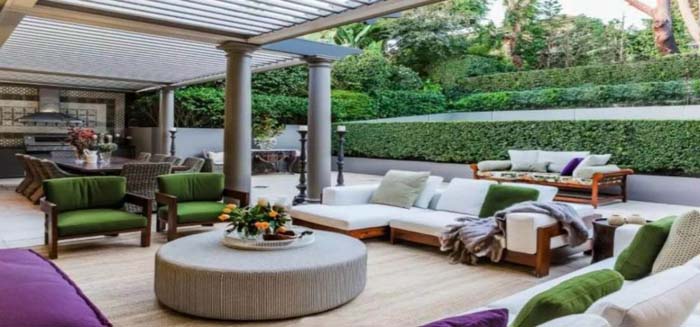 Corrugated metal sheets are perfect for porch ceiling if you are looking for an industrial look at a good price.
Columns can be wooden, cement or metal depending on the final look you want to incorporate.
12. Inclined White T&G Board Ceiling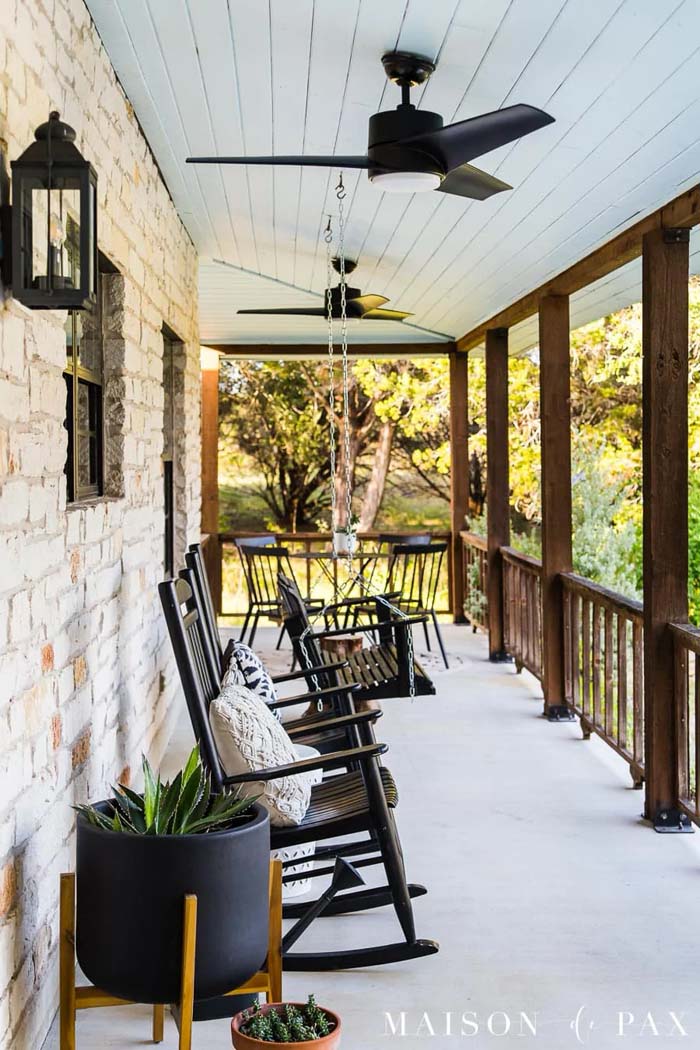 The dark wooden fence and dark-colored furniture of the porch need a bright ceiling to keep the space balanced and airy.
Vinyl beadboard is affordable and very wear-resistant. If you need an even more budget-friendly solution, the ceiling can be covered with slats.
via Maison De Pax
13. Arched Beadboard Porch Ceiling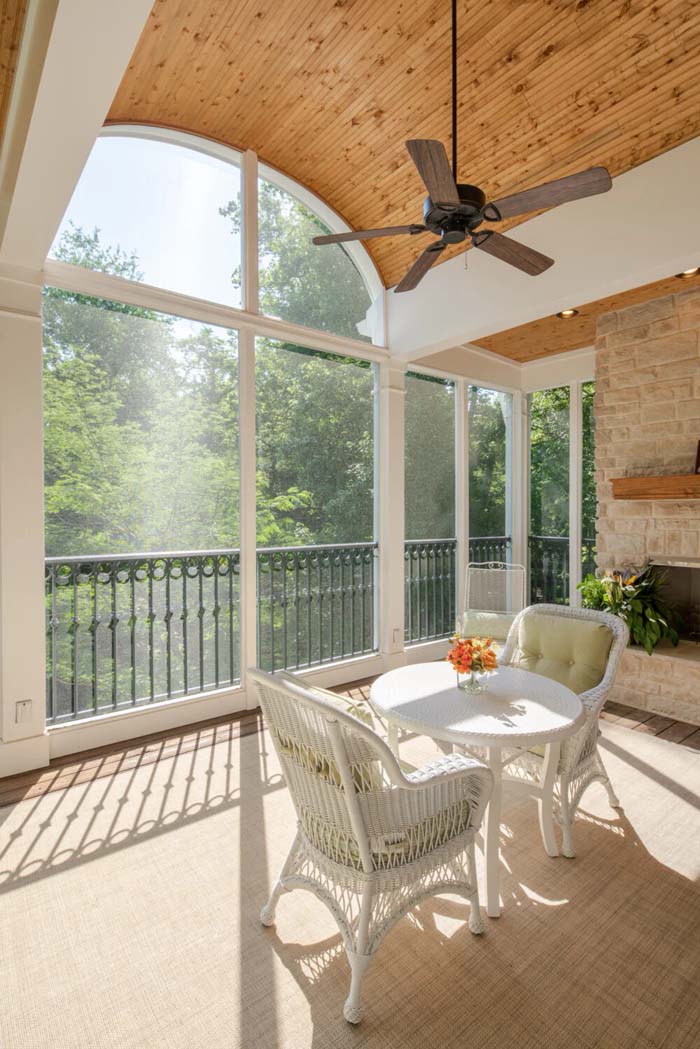 Vaulted roofing gives the porch an elegant look. The curves allow additional opening which washes the porch throughout with natural light.
This porch idea features a beadboard ceiling which is best for keeping the arched shape of this roof. The rustic look of the natural wood texture of the beadboard makes this bright porch even more welcoming.
14. Flat Beadboard Porch Ceiling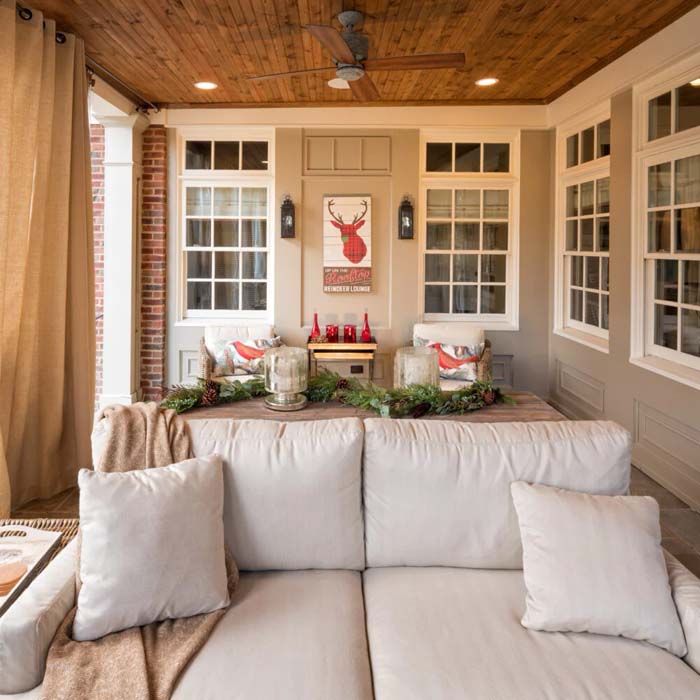 This porch is covered by a flat beadboard ceiling. Privacy is ensured by added curtains on rods which also keep insects away while making this outer living space homey and inviting.
Recessed light fixtures are a typical choice for flat ceilings which give space a casual look and do not take up any of the upper space.
15. Drywall Ceiling Idea For A Modern Porch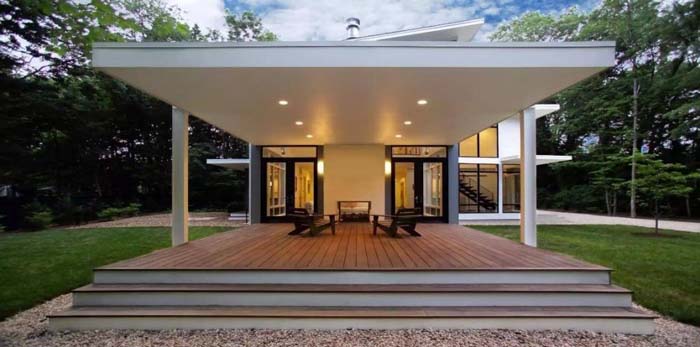 This modern minimalist home features a multi-leveled roof design. The architecture of the house follows an open concept with large windows and uniform sleek walls which cannot accommodate any other type of porch ceiling but a drywall ceiling.
It matches the polished design of the house and creates a continuous transition between the indoors and the outdoors.
16. Exposed White Beams For Stained Slat Ceiling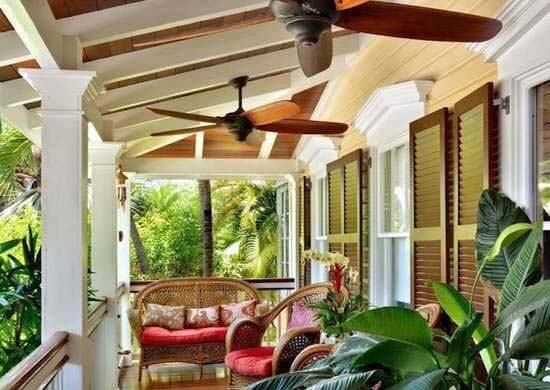 Choosing different colors for the ceiling and the exposed beams is usually down to the style you want to impose.
A combination of white and stained wood sets a rustic feel which is great for a beach or forest house.
Shutters of windows and rattan furniture set to complement the porch design. Decoration with real plants enhances the holiday spirit of this cozy home.
17. Grey Beadboard Flat Ceiling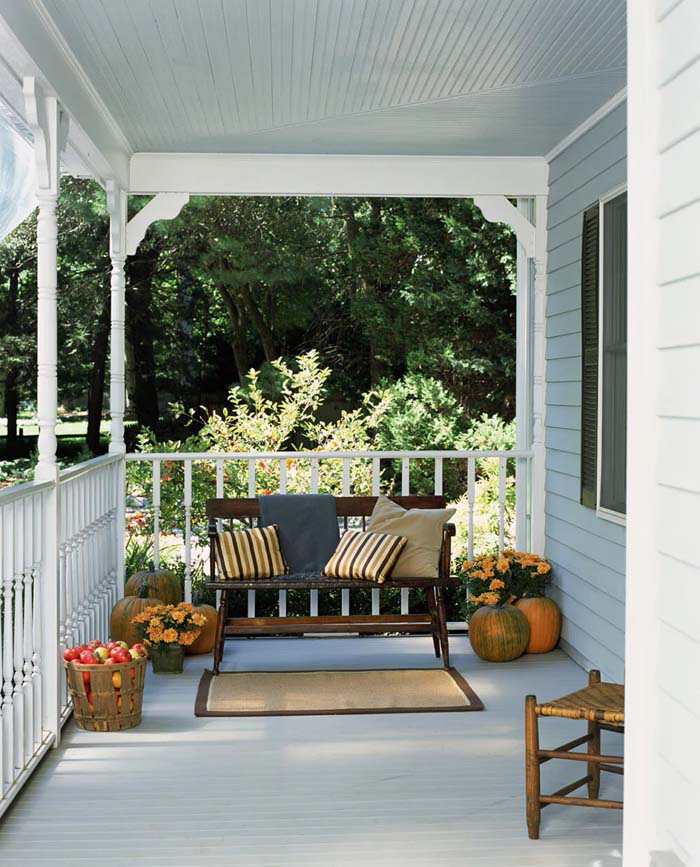 The rustic look of the beadboard ceiling can be given a modern touch by painting it a trendy grey color.
The grey shade of the ceiling matches the siding color and together they create a flawless transition between the indoors and the outdoors.
18. Farmhouse Porch Ceiling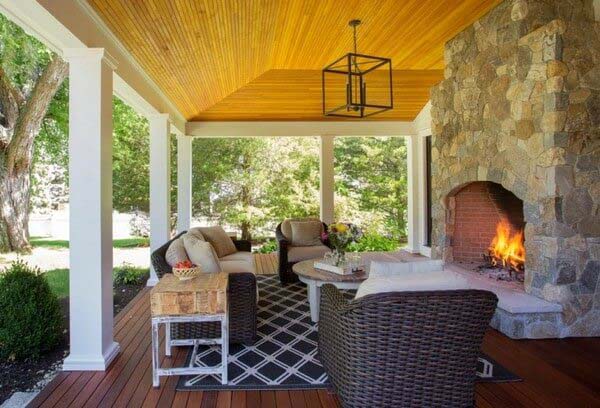 This is another beadboard idea, this time on an angled roof. Beadboard slats are great for uneven surfaces because they can follow the shape of the existing roof.
What is intriguing in this ceiling porch idea is the contrasting color of the wood slats. The honey stain matches the nuance of the stone fireplace. These two natural materials make the large porch farmhouse inviting for everyone to feel welcome
19. Fiber Cement Ceiling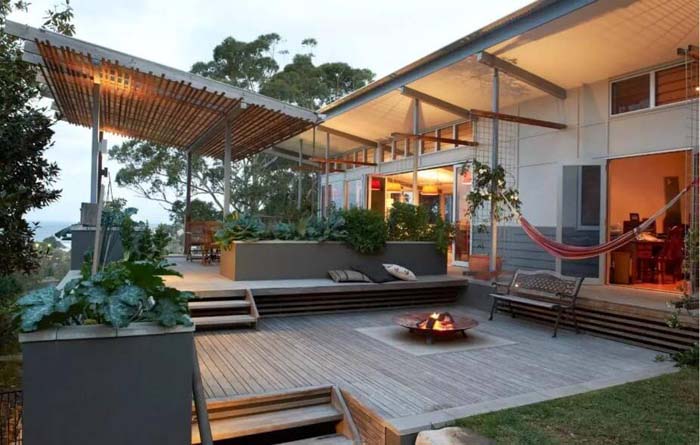 The fiber cement ceilings are typical for porches since they offer durability and a modern look.
To enhance the contemporary look of the fiber cement porch, you can add stained exposed beams coordinated by decking in the same color.
20. White Porch Ceiling With Stained Exposed Beams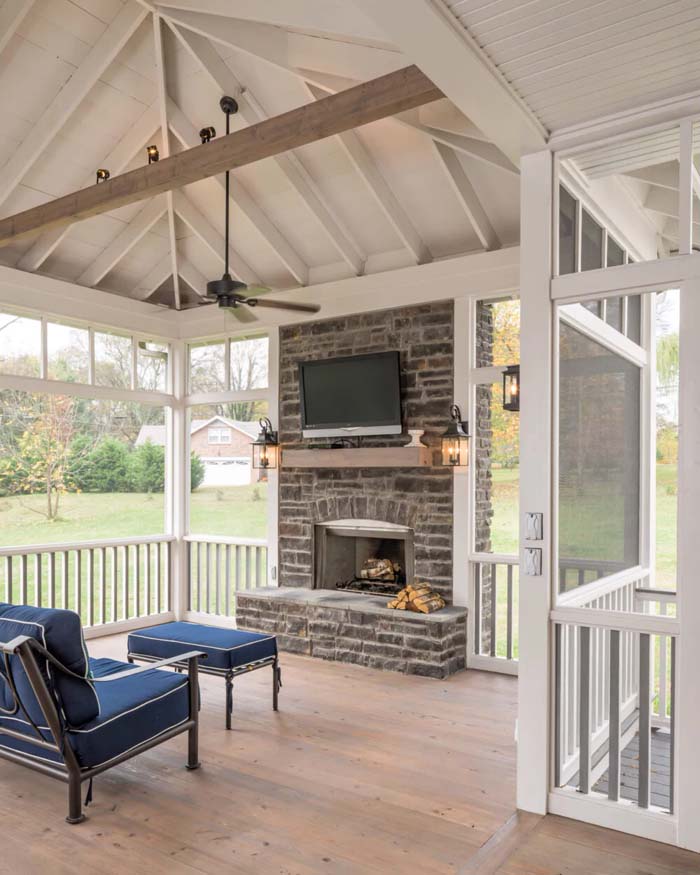 For an airy look on the porch, make the roof vaulted.
Use bright colors such as white to improve this effect. Giving all ceiling elements an identical look will visually enlarge the space.
21. Galvanized Sheets For Porch Ceiling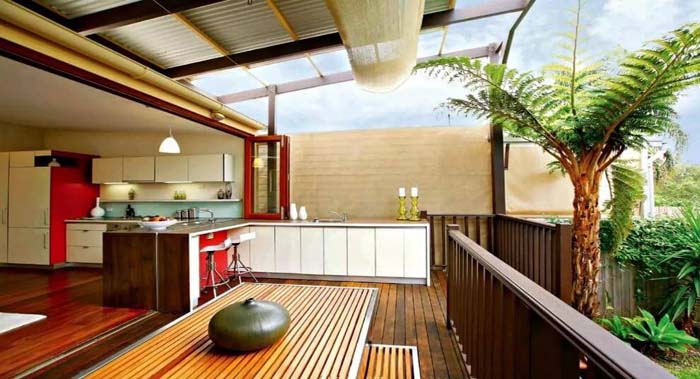 This is another interesting porch idea for ceiling made from corrugated steel sheets. The galvanized finish is a good option when it comes to improved durability and also a more interesting décor look.
This inexpensive idea for a porch ceiling will let you create an outdoor shelter with a little investment.
22. Metal Rafters And Glass Panels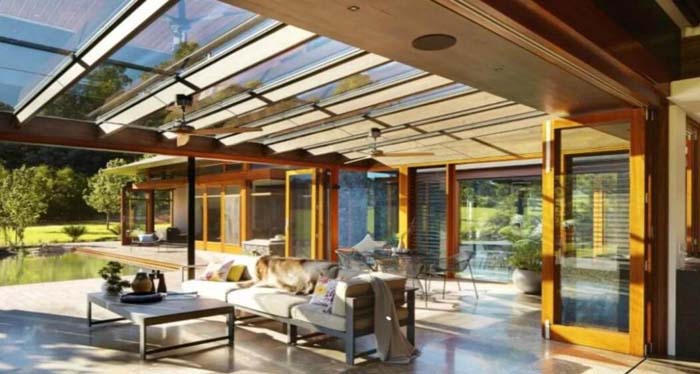 This modern combination is inspired by the Japanese porches where contact with nature is very important.
Metal and glass are durable materials and together they look sleek and modern.
Another advantage the glass panels offer is a generous amount of natural light coming through which is good for small porches.
23. Modern Farmhouse Porch With Beadboard Ceiling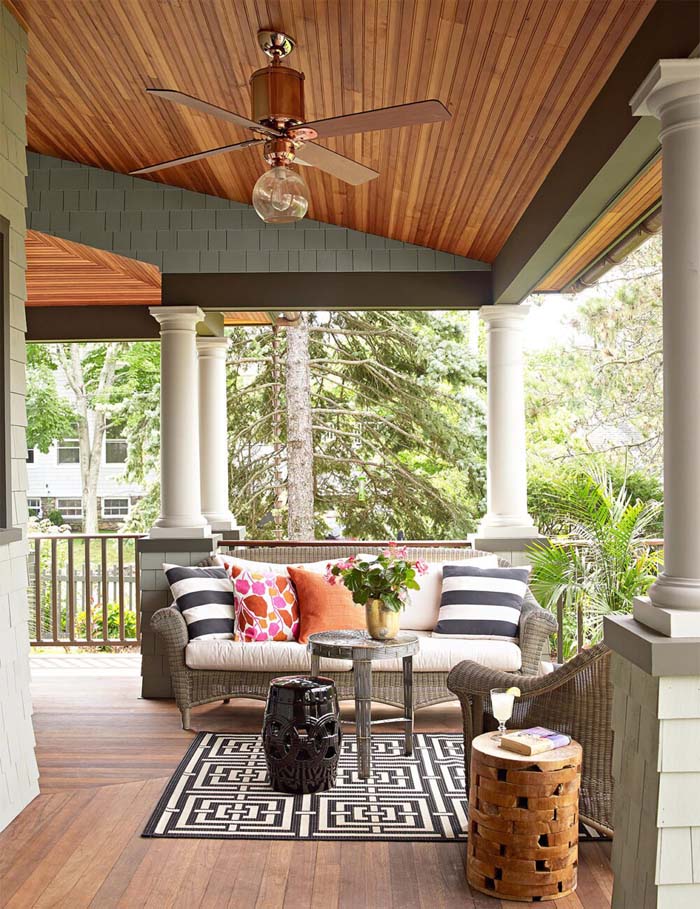 This porch showcases how elegant and classy it can look with the right amount of natural and modern materials.
Beadboard slats follow the inclined roof to make an eye-catching stained ceiling matching the decking choice. White and grey define the other elements of the porch defining the porch as classy and modern.
24. Living Porch Ceiling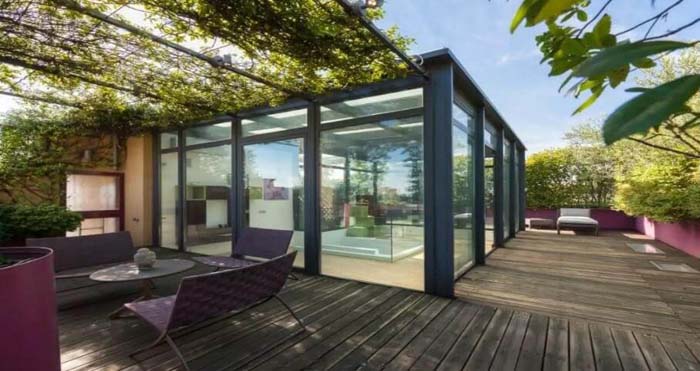 If you are looking for an easy and eco-friendly porch ceiling, you can go for a natural one created by vines.
For that you need to ensure supports on which the plants can climb and weave to create a thick ceiling as they naturally grow.
25. Low Ceiling For An Uncovered Porch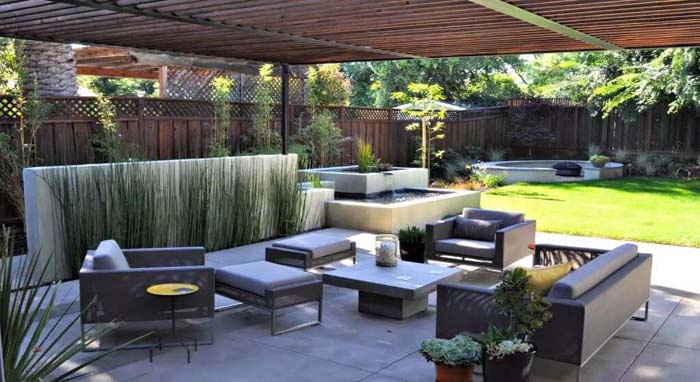 Low ceiling designs are good only for large and open porches, otherwise, they will limit the space and air literally.
This back porch ceiling is made of wood slats that are aligned at distance to let air and light slightly go through.
The pergola-like design mimics a tropic house look which is enhanced by the living wall and modern model of the low furniture.
26. Modern Industrial Plexiglass Ceiling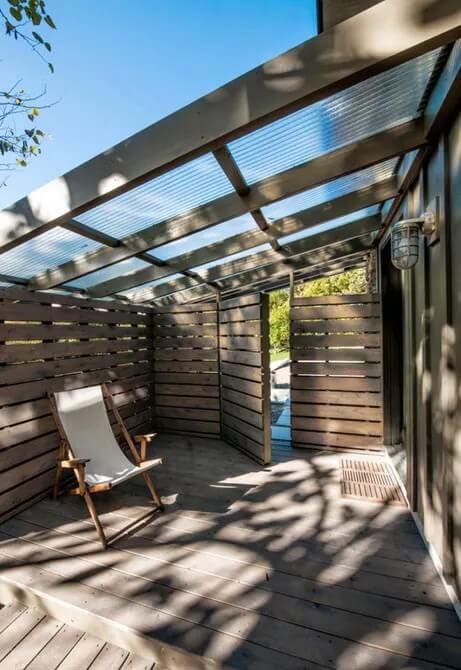 Plexiglass sheets are perfect for a quick-to-make and affordable porch ceiling.
Polymethyl methacrylate is good for outdoor applications offering good durability and protection at a good price.
You can use rafters from wood or metal. The wooden beams will add a rustic touch while the metal ones will give the porch an industrial flair.
27. Peak Ceiling With Glass Walls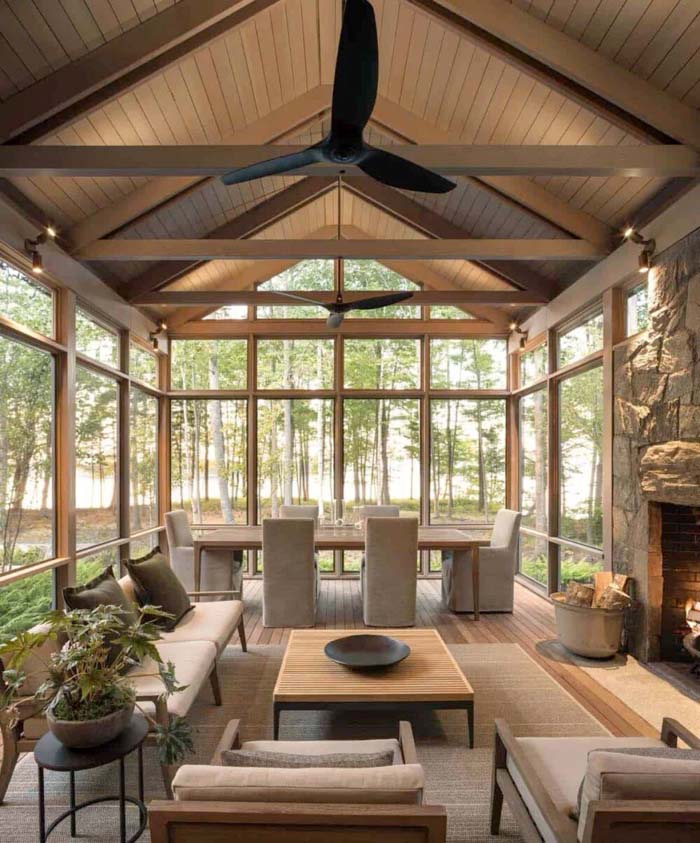 The design of this porch aims to create a comfortable and sheltered living space which at the same time feels like part of the outdoors.
This is possible thanks to the combination of a vaulted wood ceiling and windows in the place of the walls.
The transparency of the glass creates a flawless transition to the forest outside. It lets a generous amount of light come through which is a great advantage when it comes to energy savings.
28. Arched Walls With Flat Ceiling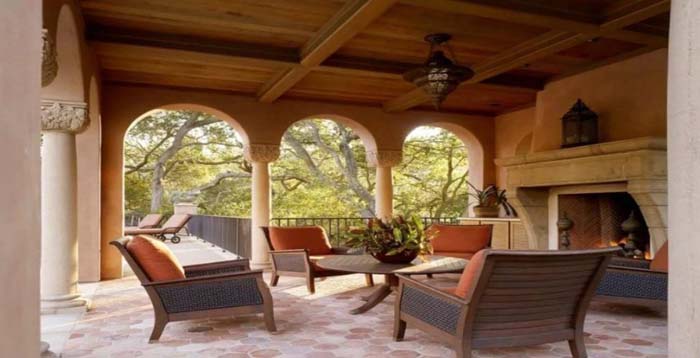 The flat ceiling is a good option for a larger porch with arched sections supported by stone pillars.
The aristocratic look of these elements is balanced by the rustic flair of the wooden ceiling with an accent of exposed beams.
29. Nipa Leaves Ceiling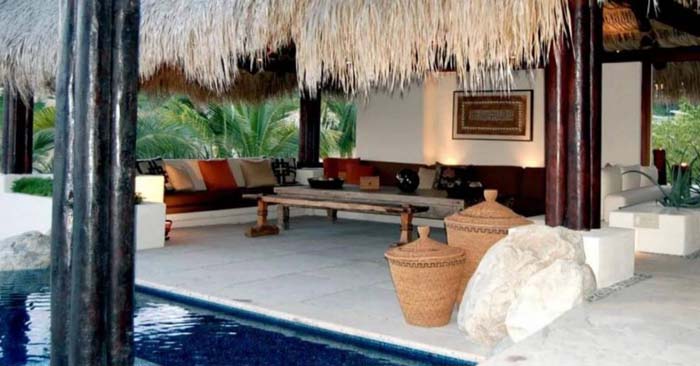 If you are looking for an exotic look on your porch which matches the backyard entertainment features, you can cover it with nipa leaves.
They create a good shade and let air circulate. The final visual look is very casual and inspiring for relaxation and good vibes.
30. Peaked Roof Of An Open Porch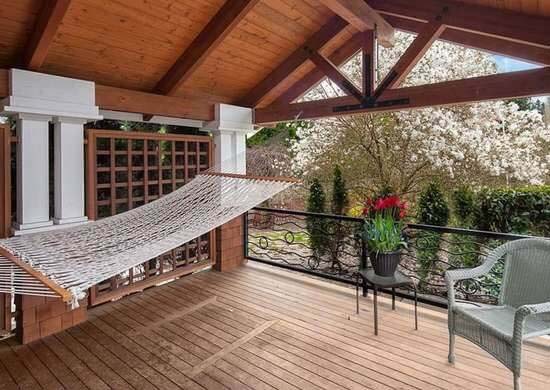 If you like the idea of space and air on the porch, then you should forget about the enclosed design.
The open designs usually consist of an open peak ceiling which visually enlarges space and lets a more generous amount of air and light access the porch.
An interesting inspiration you can take advantage of is adding a hammock to the porch to enjoy a good book or a quick nap in fresh air.
31. Pergola Ceiling With Glass Panels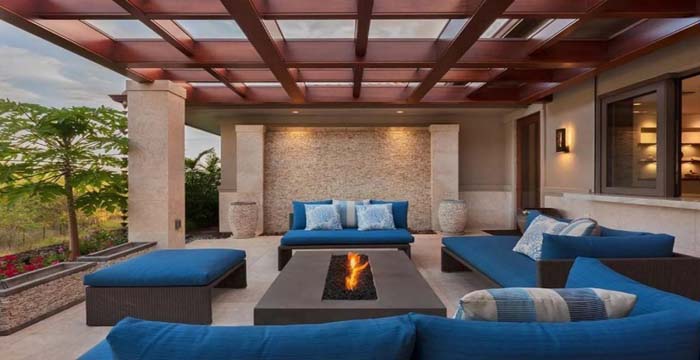 This type of ceiling is called a tray ceiling. It showcases a modern design of a flat roof.
Unlike the regular flat ceilings that limit space and air, this design offers a view of the sky thanks to the transparency of the glass's good durability because of the metal rafters.
32. Bamboo Ceiling For An Exotic House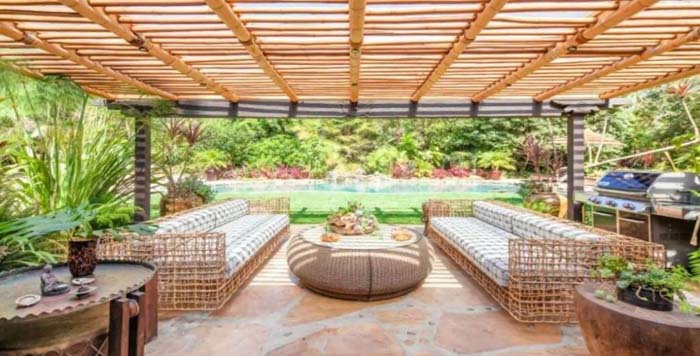 If you are looking for the best porch ceiling for your beach-themed house, try the bamboo ceiling type.
It works as an extended pergola letting air and light come through. It is great for extension up to a pool or a water feature.
Combine with rattan furniture and plenty of exotic plants.  
33. Traditional Flat Porch Ceiling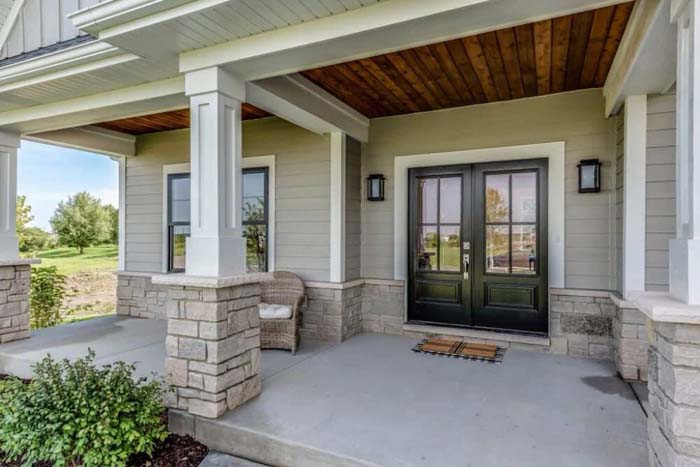 This is a traditional front porch design offering a combination between elegant pillars and a warm natural wood ceiling.
The color combination of this front porch is sophisticated and versatile capable of embracing different styles of seasonal décor and various designs of furniture.
34. Covered Porch In Pastel Colors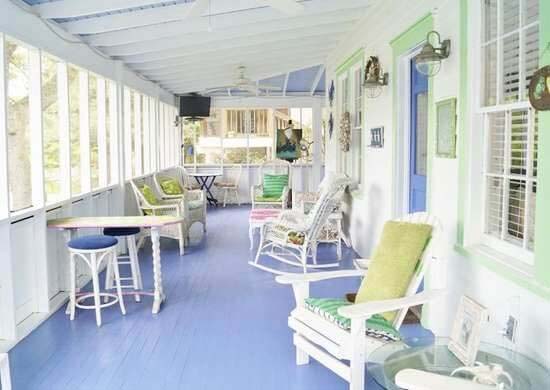 Let's be honest- the first thing you would notice in this porch design is the eye-catching floor color. The baby blue coat of paint is actually also part of the ceiling colors.
The exposed beams are white to match the rest of the porch's basic elements. The combination of white and pastel blue sets the beach theme which is enhanced by wooden furniture in white and small accents in the coastal palette
35. Pergola Type Of Porch Ceiling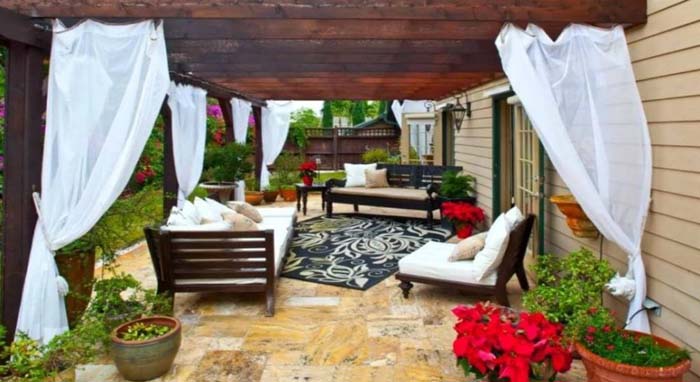 This is another good example of a pergola type of porch ceiling. It is a good option when there is already a pergola and you want to create a uniform porch look.
Since the pergola cannot offer privacy, you can ensure it with sheer curtains.
36. Tounge And Groove Type Of Ceiling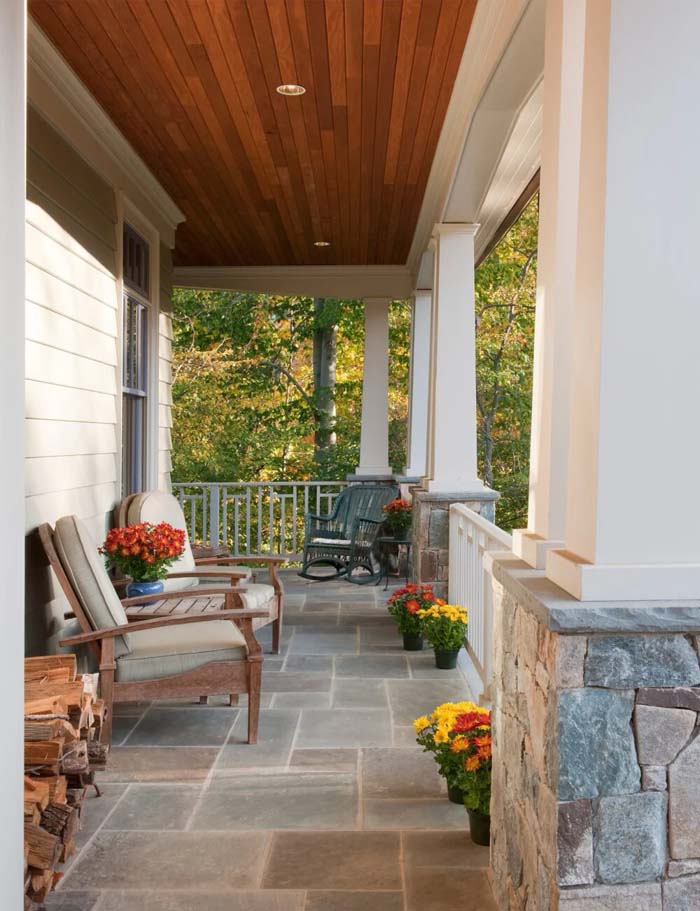 This is another good example of a pergola type of porch ceiling. It is a good option when there is already a pergola and you want to create a uniform porch look.
Since the pergola cannot offer privacy, you can ensure it with sheer curtains.
37. Aluminium And Plexiglass Ceiling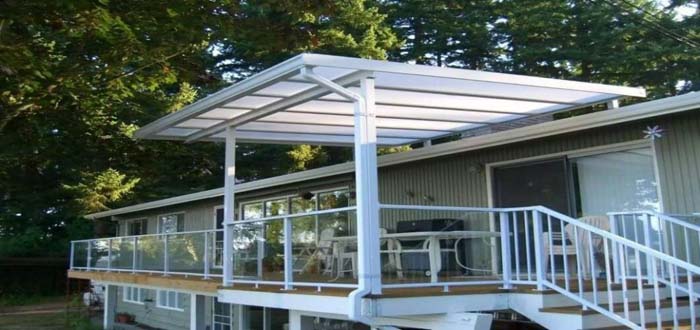 The ceiling of this elevated porch is made to match the façade and existing fence and balusters.
The united look is possible by choosing an aluminum structure for the ceiling and plastic panels that are effective for sun filtering.
38. Industrial and Affordable Porch Ceiling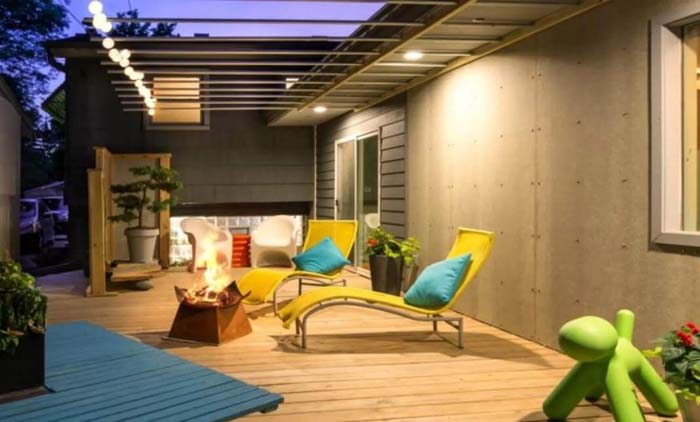 Using steel pipes to make a pergola-like extension of the roof is a great idea when it comes to small porches and a limited budget.
Pipes in a good condition or wood beams left from another project are perfect for this DIY porch ceiling idea. You can easily turn them into a matching element with suitable paint color and decoration.
39. Pergola With Roman Shades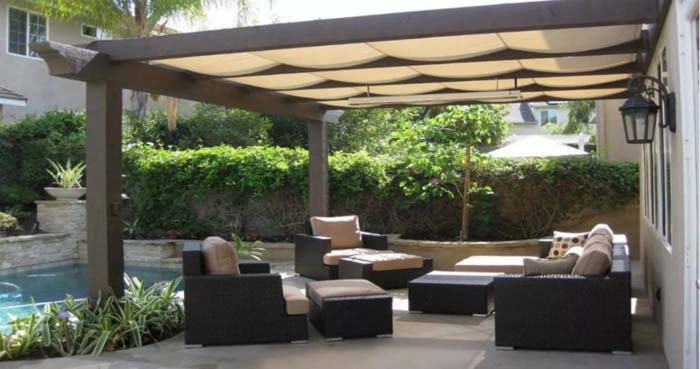 If you want to equip the existing pergola with a ceiling that stops the sun, go for a Roman shade type of ceiling.
The shade lengths can be cut from a suitable fabric at the desired size and easily mounted to the pergola beams.
This type of shade is great for open porches of beach-themed houses.
40. Rustic Beadboard Ceiling In Blonde Color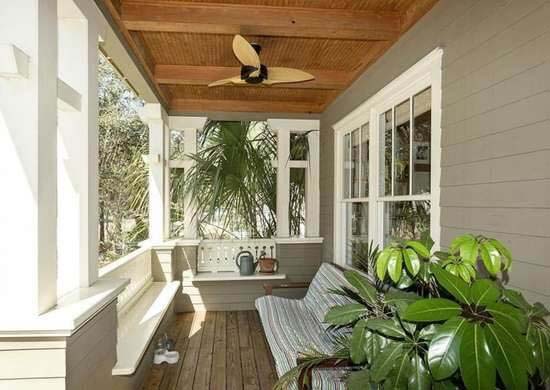 In case the floor of the porch is wooden, there is no better ceiling design than the wooden one. You can choose among a few models- beadboard, plywood or slats with exposed beams.
The beadboard ceiling featured here aims to improve the rustic feel of the porch by mimicking the texture of natural wood.
41. Sail Shade Porch Ceiling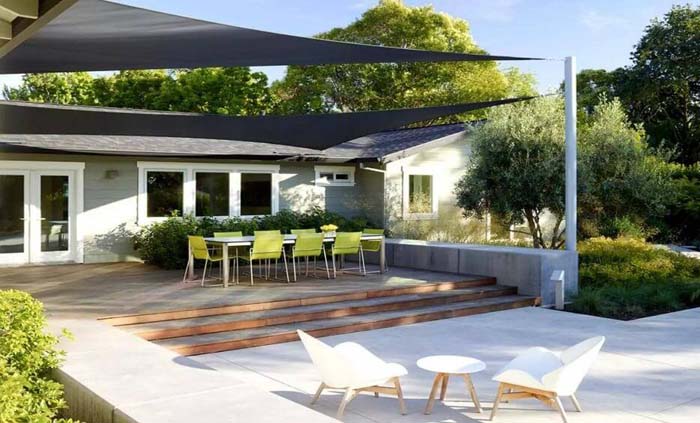 This is one of the quickest and most affordable ideas for equipping the back porch with a ceiling.
The sail shade can be taken in the desired size and color to cover as much as possible of the porch upper space.
For that ceiling idea, you need to provide good supports that will let the sail shade be stretched nicely.
42. Ceiling With Incorporated Windows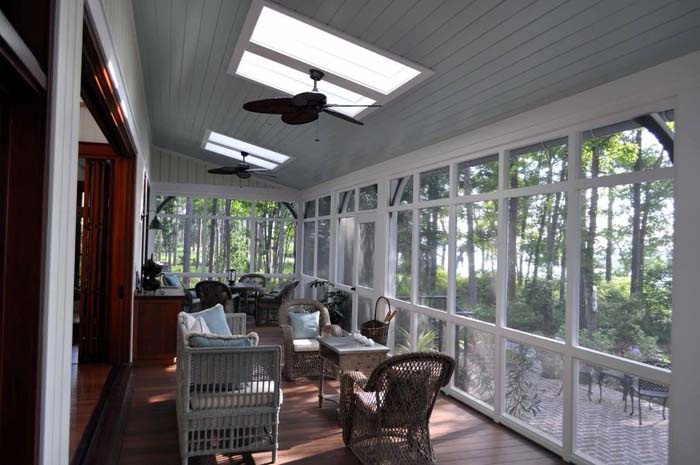 The design of this porch ceiling is inspired by the attic spaces where the inclined roofs are equipped with windows to let space feel brighter and airier.
This idea is great for making a covered porch be well-lit and look enlarged.
43. Lattice Porch Ceiling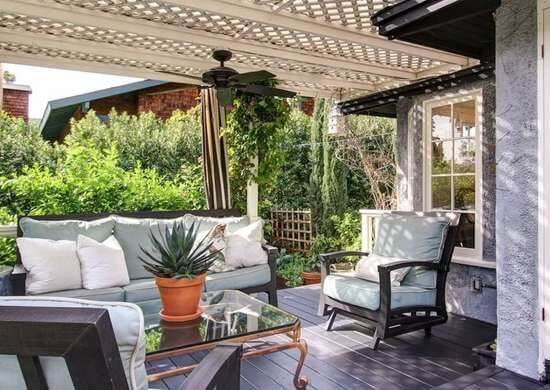 This type of porch ceiling is called a sunroof because of the existing holes letting sunlight and air go through.
This type of roof offers a good shade and can also be used as a trellis for climbing plants at an affordable price and easy installation.
44. Blonde Wooden Ceiling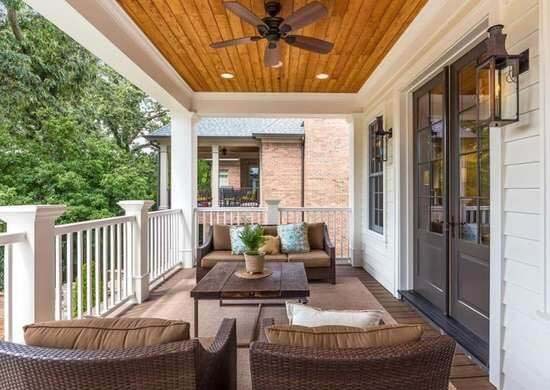 Not matching the color of the porch ceiling with the existing exterior colors is a great way to create a unique point of interest.
This porch ceiling proves that mismatching can be aesthetic and eye-pleasing with the warm honey hue of the stained wood.
45. Thatched Ceiling Idea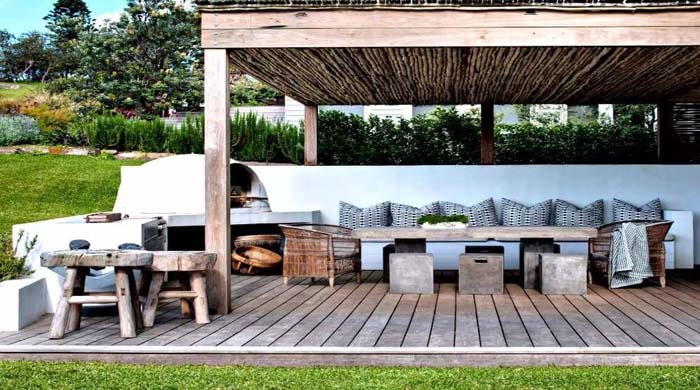 If the back porch is your summer oasis, then try this ceiling idea to improve its relaxing flair.
Instead of the typical pergola or thick flat roof, you can use the thatched type of ceiling. It adds a tropical touch to the exterior and works perfectly with rattan or wooden furniture typically used on the porch.
46. Covered Airy Porch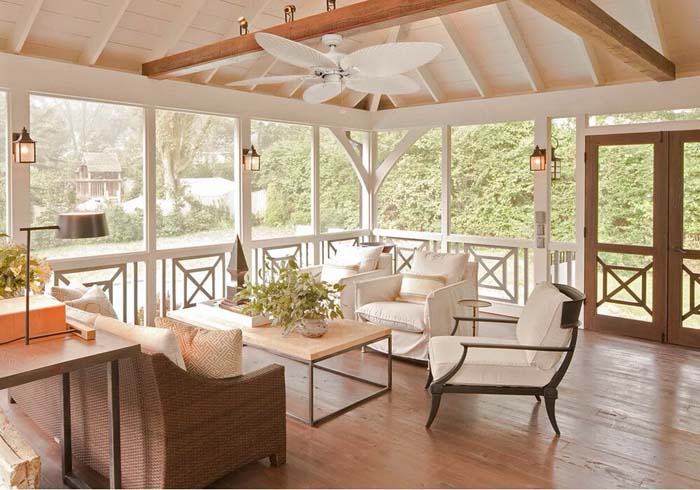 This screened porch is well protected from the outer environment being covered all around. Yet, you can enjoy the outdoor landscape and feel closer to nature if you use glass panels instead of building walls.
The peak white ceiling also works to make this porch airier and bright.
Choosing a white color for the wooden slats cohere with the white frames of the windows. Exposed beams match the door, the floor and the rattan furniture.
Altogether, the color choice, the minimum furniture and decoration keep the porch cozy, light and airy.
47. Traditional Porch Ceiling With Tongue and Groove Slats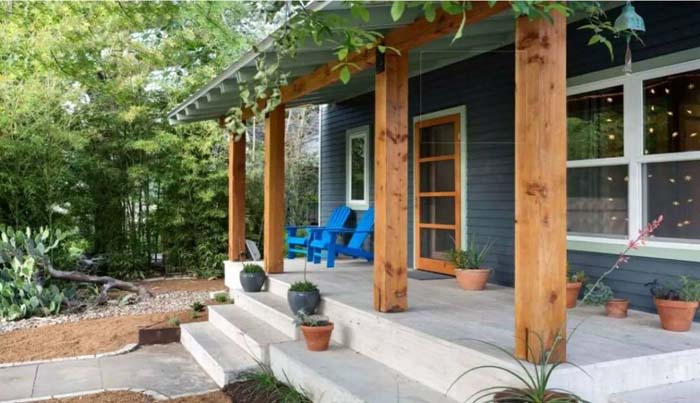 Yes, you can be a traditionalist and choose the most typical porch ceiling design. This, however, doesn't mean that it should look boring and plain.
Choose a bold color for the ceiling that combines well with the pillars. Add beams over the standard t&g ceiling to create a more complicated pattern and unique look.
48. Sails Look Of A Porch Ceiling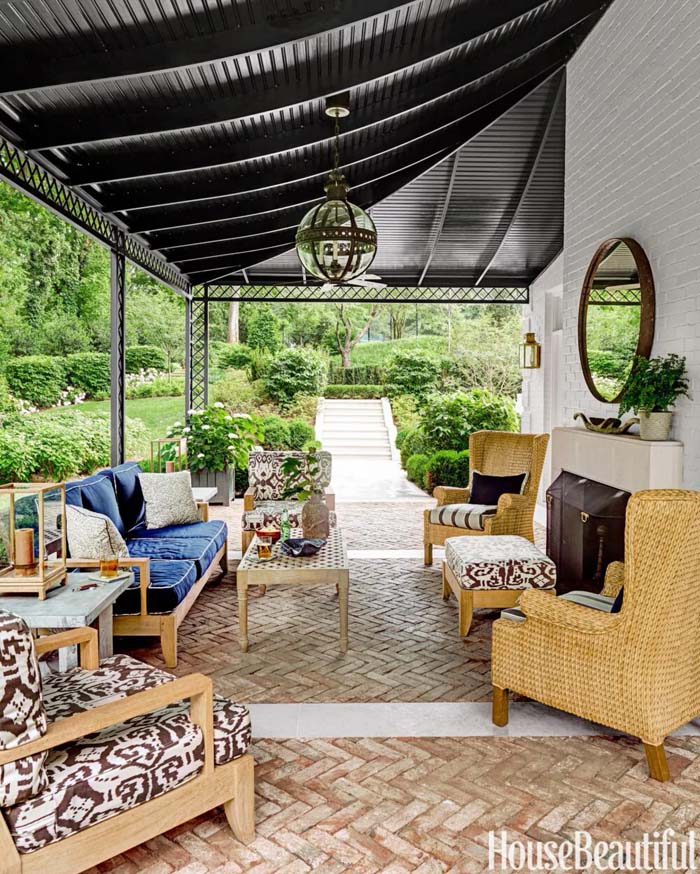 Give your patio a coastal look with a bold dark ceiling from wooden slats complemented by rattan and wooden furniture.
The overhanging ceiling reminds of overlapping sails which make this outdoor zone stunning and appealing.
49. Screened Porch With Wood And Glass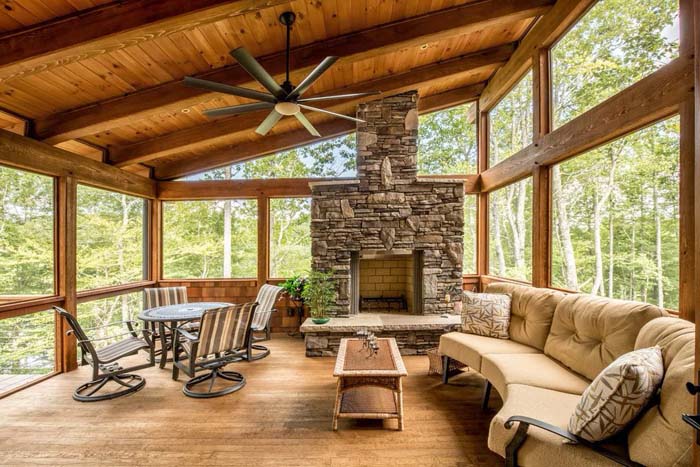 The design of this porch aims to bring nature as close as possible. Wood, stone and glass make the covered space very warm and airy.
Windows ensure a good amount of natural light during the day.
When night comes, the fireplace will help the recessed lights illuminate the sheltered zone and will let homeowners spend long hours looking at the stunning surrounding nature.
50. Vinyl Porch Ceiling Idea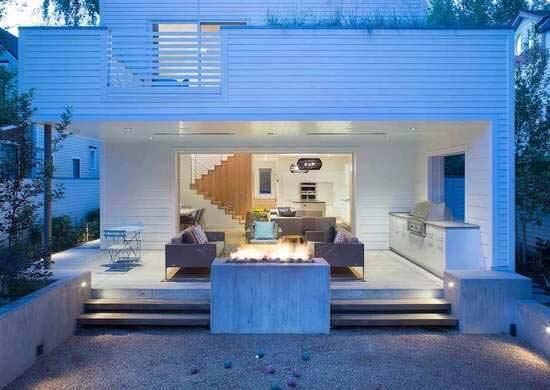 PVC slabs are also a good supply for a porch ceiling. They are used in cases where the architecture of the house is modern and minimalist.
The slabs offer a polished design that coheres with the exterior texture of the walls.