Have you ever gone out to work in the yard, only to realize that you can't find a pair of gardening gloves or the spray head for the hose?
It's time to get organized — by keeping your tools in a dedicated spot, you can spend less time searching and more time in the sunshine.
Whether you have a dedicated potting shed or a tiny spot in the garage, these clever garden tool storage hacks can help you maximize the available space.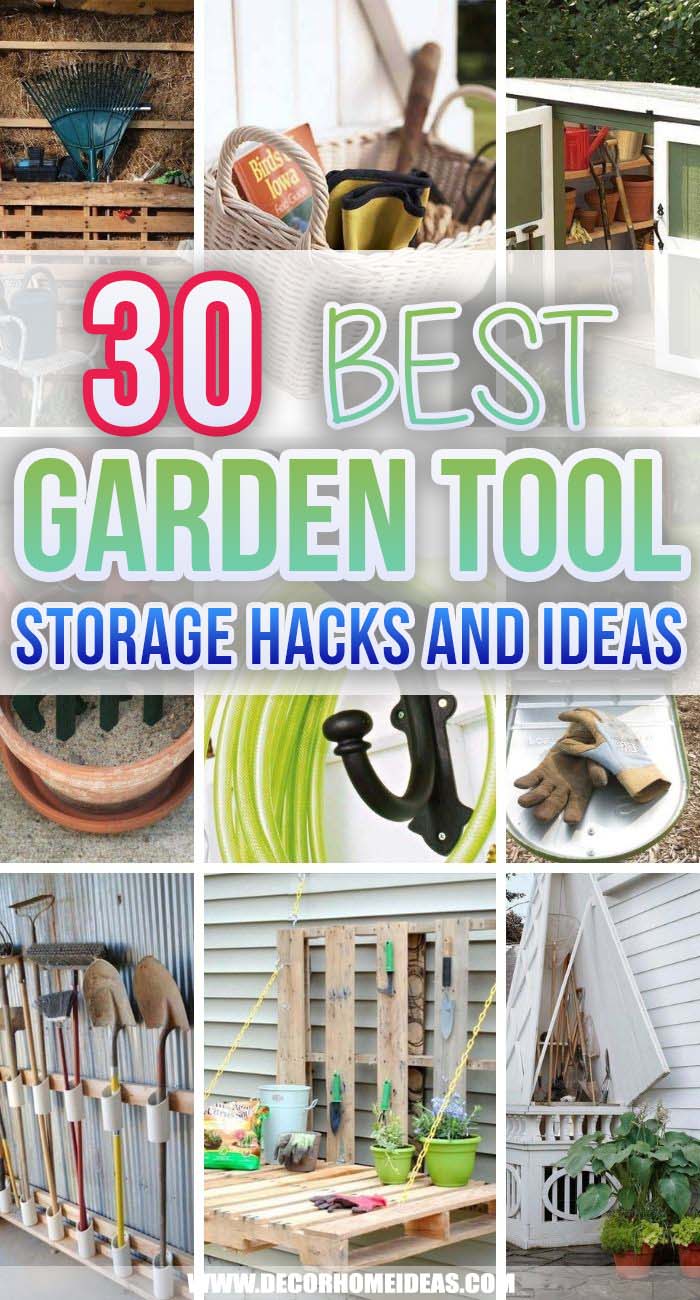 If you are looking for a quick and easy way to make gardening much easier and neater you can see a list of the 12 Best Garden Tool Organizer Ideas To Keep Everything In Place where we have compared the most popular garden tool organizers.
Our best garden tool organizer is the Store Your Board BLAT Tool Storage Rack, closely followed by the Deluxe Tool Tower.
1. Easy Garden Hose Storage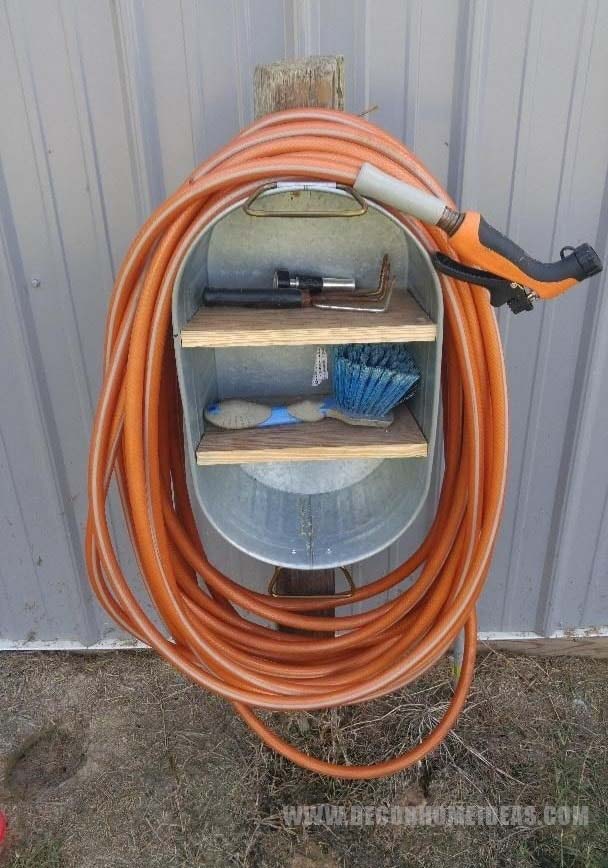 If you wonder how to store your garden hose neat and tidy this idea is for you. You can roll it around a tin bucket which has also two shelves for garden tools.
2. A Shelf Revisited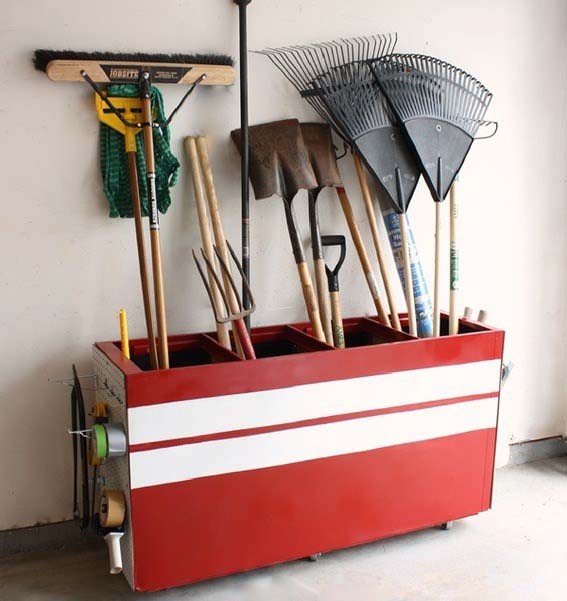 If you live in a rental property, there's no need to modify your walls — use a bin system instead of shelves. Use the open compartments to store larger items, such as rakes and shovels.
To organize smaller tools, simply attach pegboard panels and hooks to the sides of the bin.
3. Basic Tool basket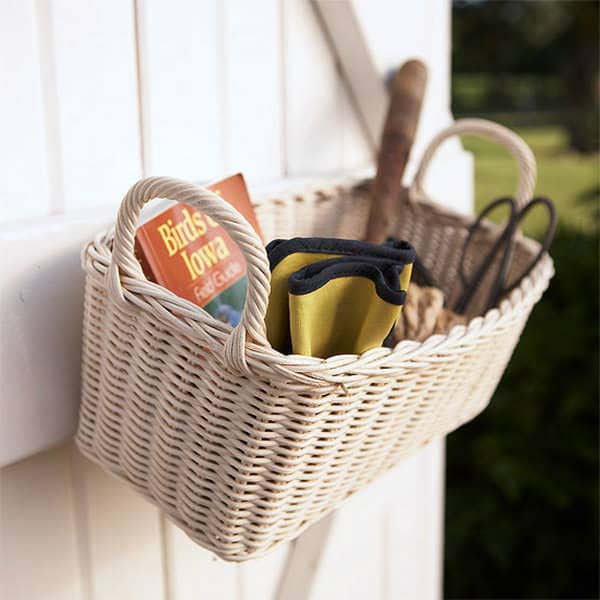 Sometimes, it's helpful to keep frequently used tools close to the garden. A small basket does the trick; just mount it on the wall or the interior of a door.
This is a great way to corral small items, including gloves, shears, and trowels.
via BHG
4. Bucket Hose Storage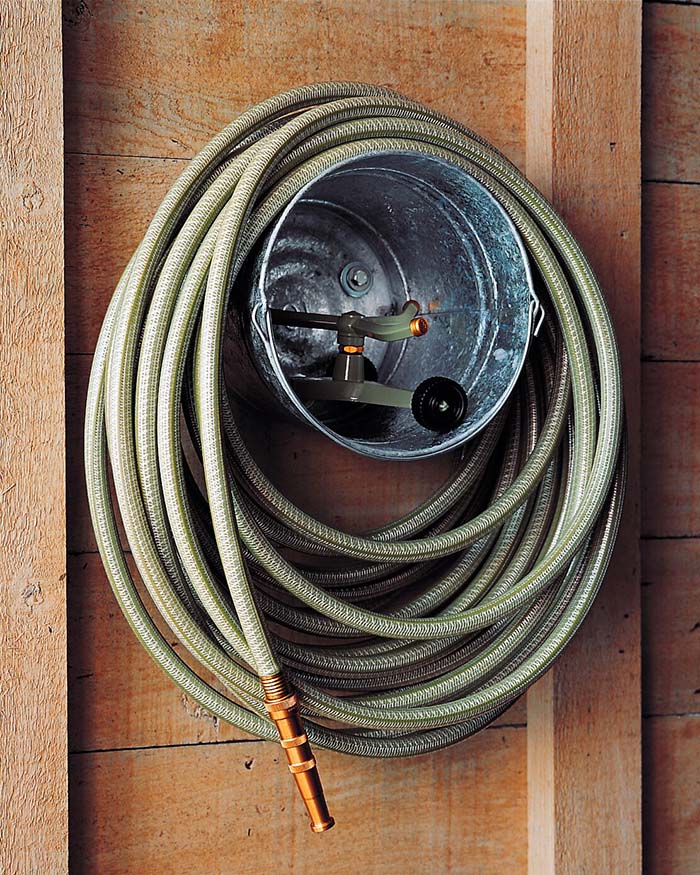 A great hose-storage system is a must for any gardener. Don't worry about a fancy rack; you can repurpose an old bucket.
Mount it to the wall using heavy-duty bolts. Wrap the hose around it, and store attachments inside the bucket.
via Martha Stewart
5. Build a Simple Tool Rack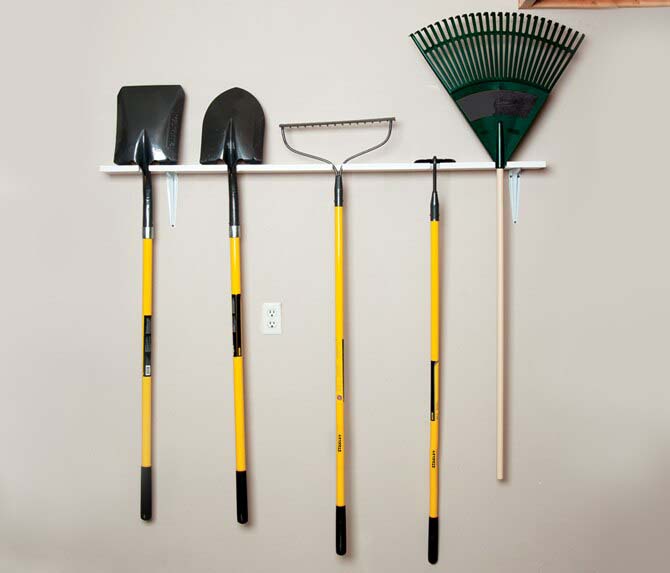 Do you trip over rakes and shovels every time you walk through the garage? Get them off the floor with a simple wall rack.
This protects the tools from moisture and makes them easier to access. In a small space, it also frees up floor space.
via Stanley Tools
6. Use Coat Hangers As a Garden Hose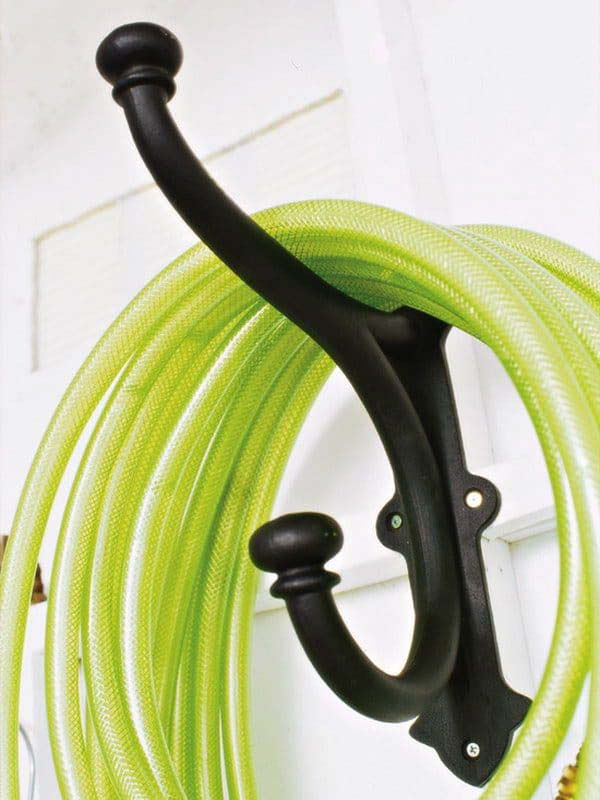 Do you hang your garden hose in a visible spot? Make it more appealing with an ornate coat hook.
A large, heavy-duty hook is strong enough to support the weight of a hose — just make sure to mount it on a stud to protect your walls.
via BHG
7. DIY Garden Tool Rack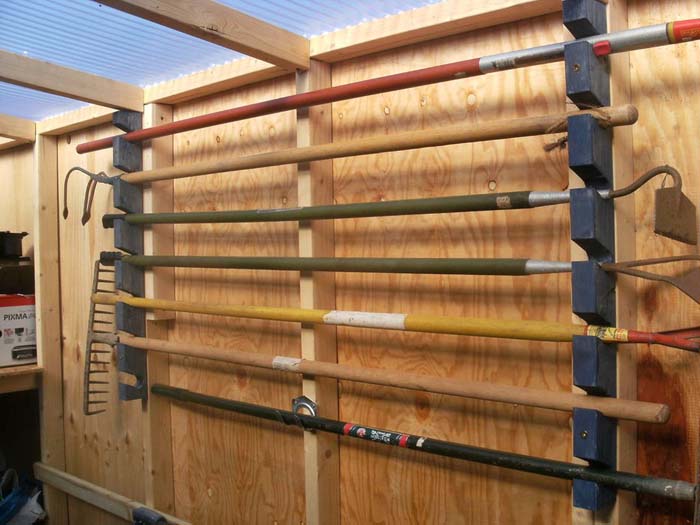 There's no need to spend lots of money on a garden-tool rack — all you need are two 2×4 boards.
Cut identical notches in each board, making sure they're angled upward. Mount your racks on the studs of a shed or garage to create an affordable horizontal storage system.
via Instructables
8. DIY Potting Bench with Sink

A potting bench makes the spring planting season so much easier, but premade models can be expensive.
This DIY system combines a table and a pegboard; you can make the table or repurpose one from a thrift store. Install an inexpensive sink, and you're ready to get to work.
via Setting For Four
9. Easy DIY Garden Tool Storage Rack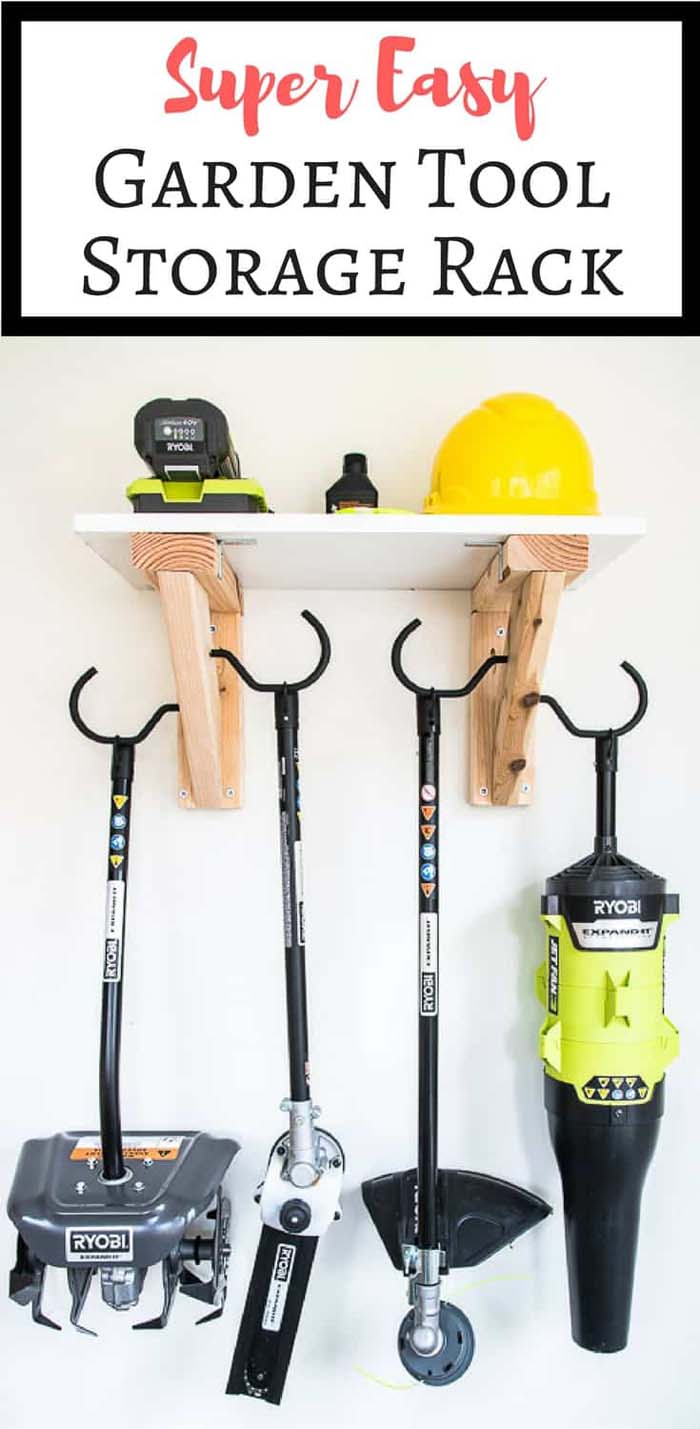 A sturdy storage rack is a must when you're organizing heavy or expensive tools.
This DIY rack uses 2×4 boards and utility hooks. The sturdy wood brackets provide plenty of support, and the rubber-coated hooks protect your tools. Keep smaller items on the top shelf.
10. Garage Organization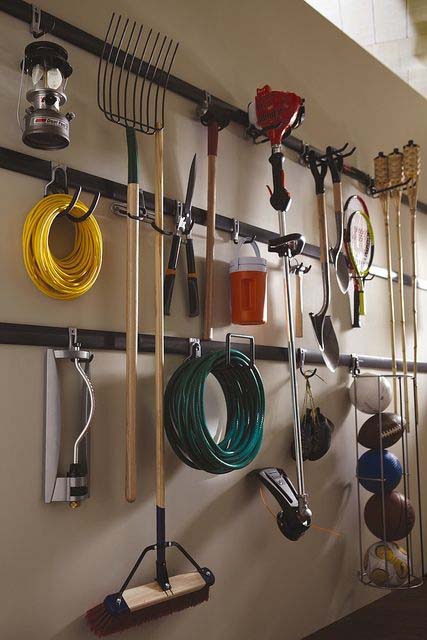 An organized garage is a lifesaver, especially if you're sharing the space with kids' toys and other gear. A simple set of horizontal tracks is an easy solution.
Add on different hooks and carrier attachments to create a customized storage system.
via Indulgy
11. Garden Carry-All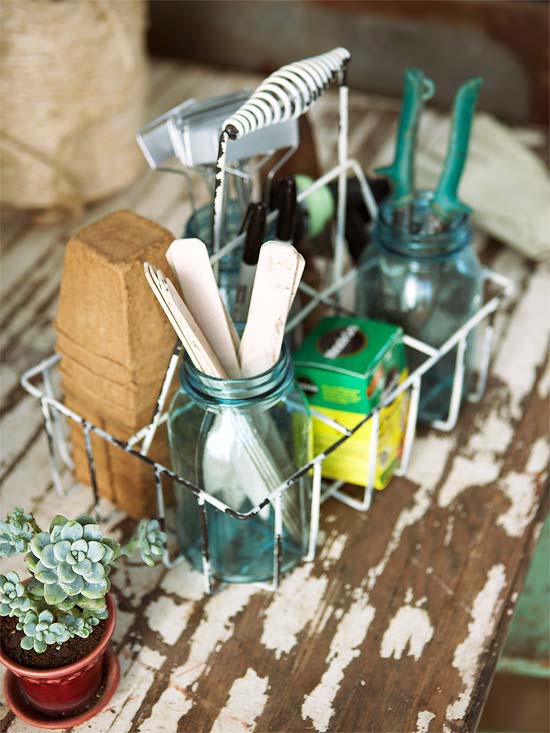 Have you ever searched around the yard to find a pair of shears or a small container of fertilizer? Keep track of your supplies with a repurposed shower caddy.
It organizes all of your small items — plus, you can carry it around the garden as you work.
via BHG
12. Garden Storage Bench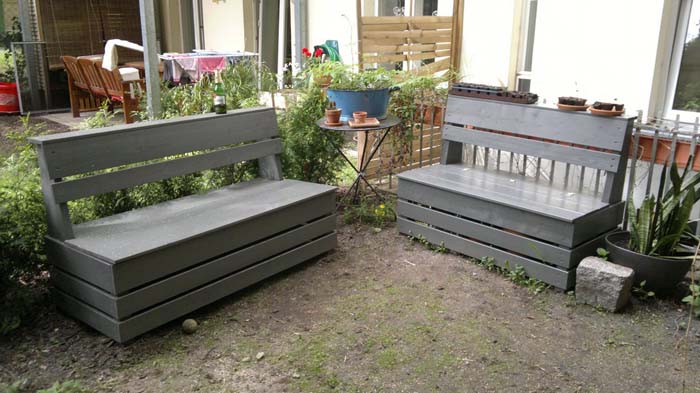 If you have a limited amount of space in your yard, a dedicated storage area isn't always practical. These garden storage benches are the perfect solution.
Tuck your tools in the hollow interior, and shut the lid to create instant seating. You can make the benches at home with basic woodworking tools.
via Instructables
13. Garden Tool Racks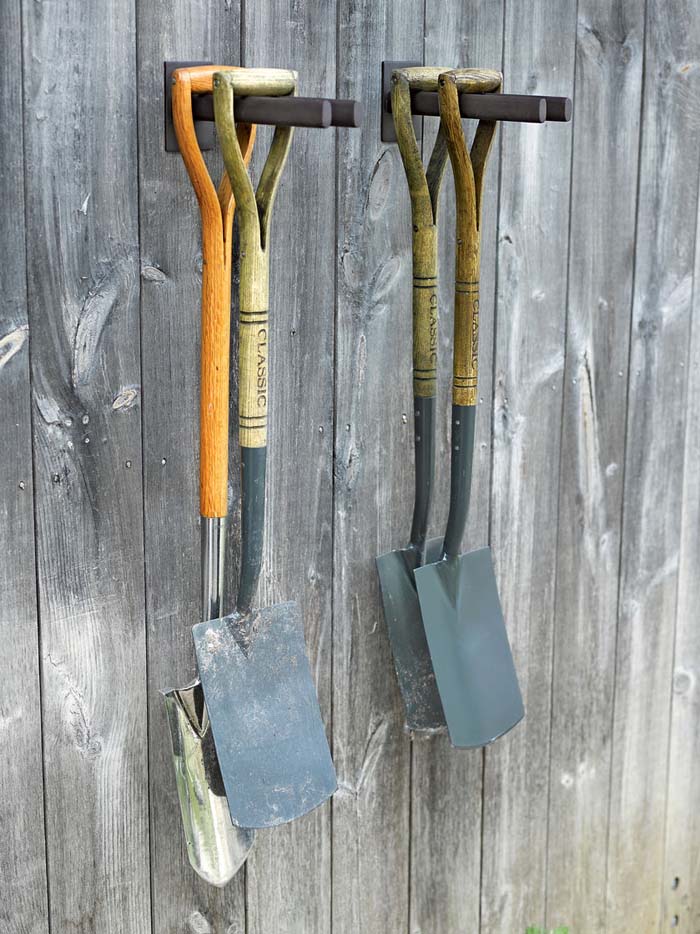 Racks seem like a simple solution, but they can revolutionize your garden tool storage system.
By hanging large and small tools on the wall, you'll reduce clutter and make it easier to locate the item you need.
via Gardeners
14. Garden Tool Turned Into Storage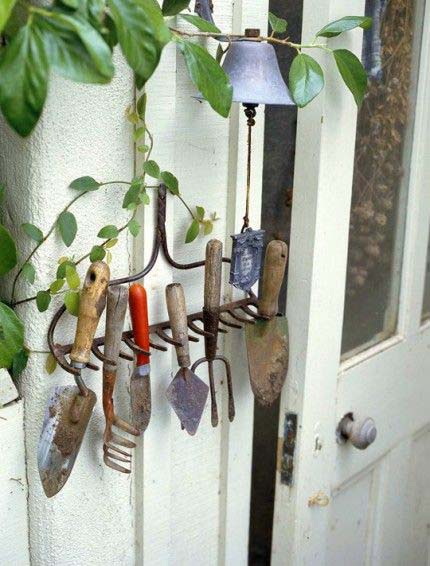 This adorable storage system is both practical and beautiful — the perfect addition to the outside of a potting shed. It turns the head of a vintage rake into a rack for small hand tools.
Simply mount it on the wall in a convenient spot, and you'll always be able to find the trowel.
15. A Green Storage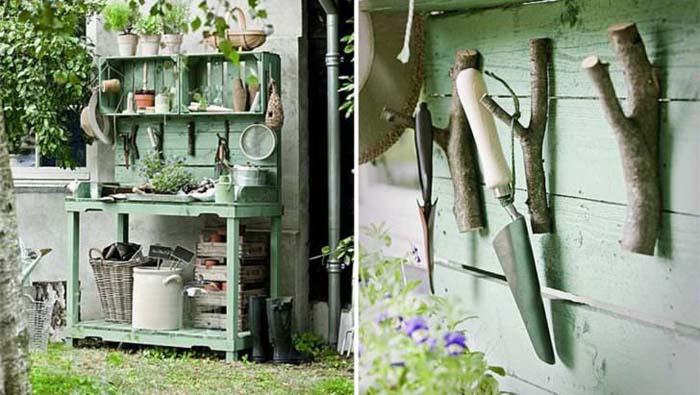 Do you need an outdoor storage system that blends into the natural environment? This green potting table is the perfect option; the natural color recedes into the background.
For an extra-charming touch, turn forked branches into tool-storage hooks.
16. Hold Everything Pallet Tool Rack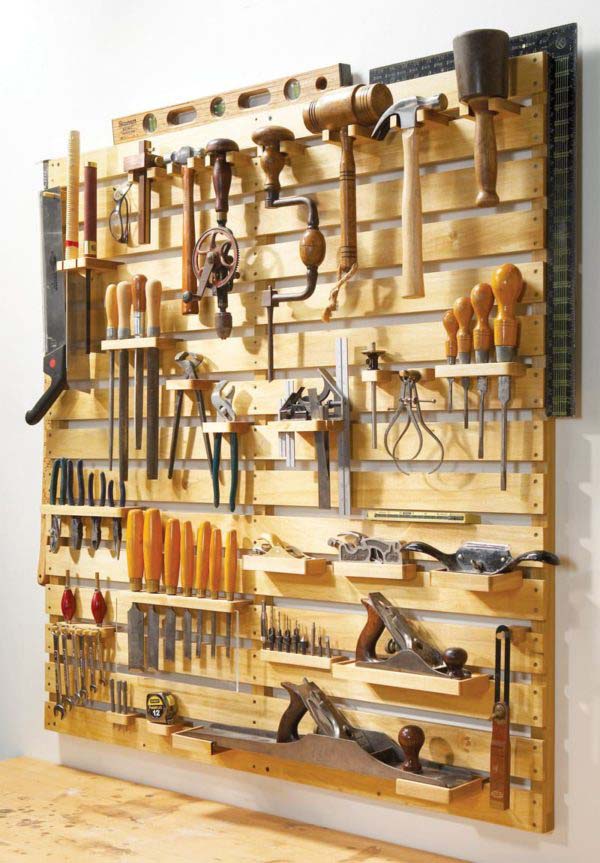 If you have small tools, this pallet tool rack is a dream. It's affordable, too — you can get all of the supplies at a local lumber yard.
Since everything is highly visible, this is a great way to show off antique or specialty tools in a garage or shed.
via Recyclart
17. Your Old Mailbox Is Going To Make a Wonderful Tool Shed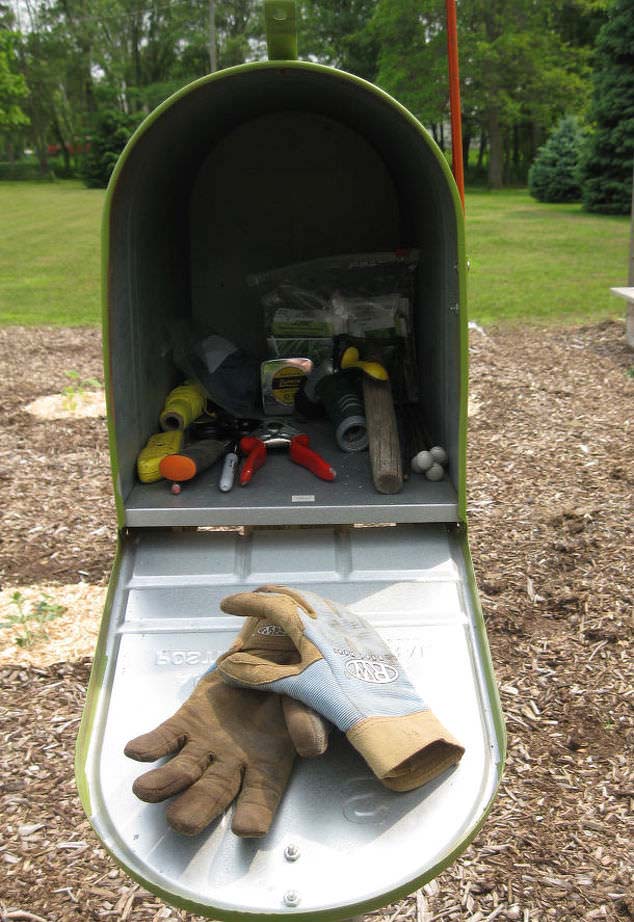 Are you replacing your mailbox? Don't throw out the old one; turn it into a handy tool-storage system. The metal is weather-resistant, so it keeps water away from your small tools.
Mount the mailbox in any convenient spot in the yard.
via 1001 Gardens
18. An Organized Garden Shed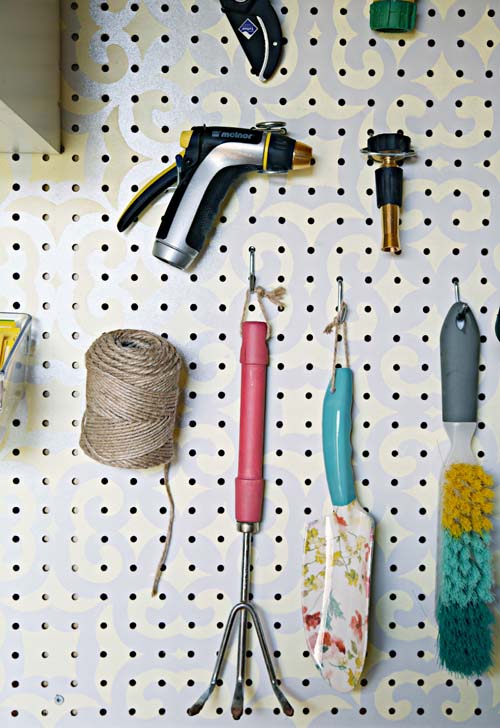 De-clutter your garden shed with one simple addition: a pegboard panel. Attach hooks, and you can get a big collection of small tools off of the potting table and into the wall.
To stay organized, consider drawing an outline of each tool; it'll help you remember where every item goes.
19. Organizing Garden Tools with a Repurposed Rake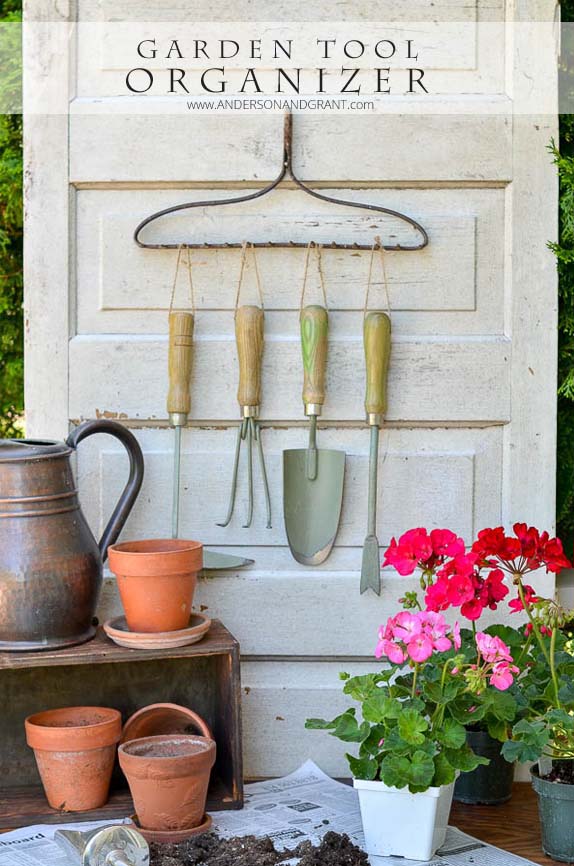 An old rake head is a perfect way to store small tools; you can hang them right from the tines or attach twine loops to the handles.
The rake head is durable, strong, and easy to mount using one or two screws.
20. Outdoor Storage Locker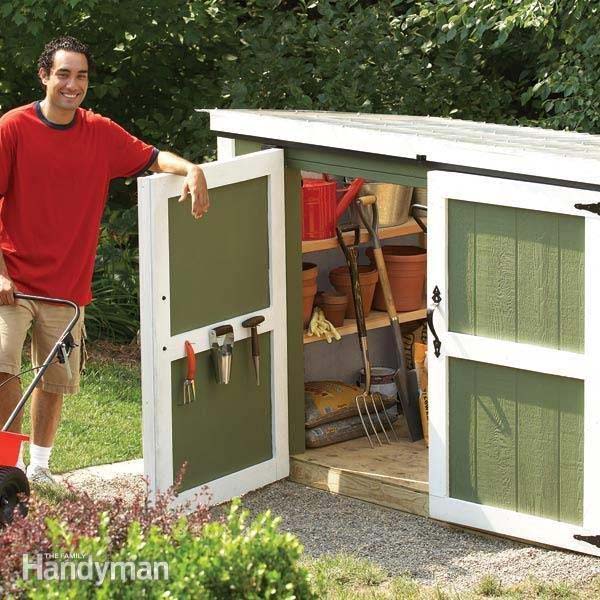 If you're tired of walking back and forth from the garage to the garden, why not invest in an outdoor storage locker?
Position it in a convenient spot in the yard — your tools will always be close at hand. If the locker is big enough, you can even store larger items such as a lawnmower.
via Family Handyman
21. Over-sized Obelisk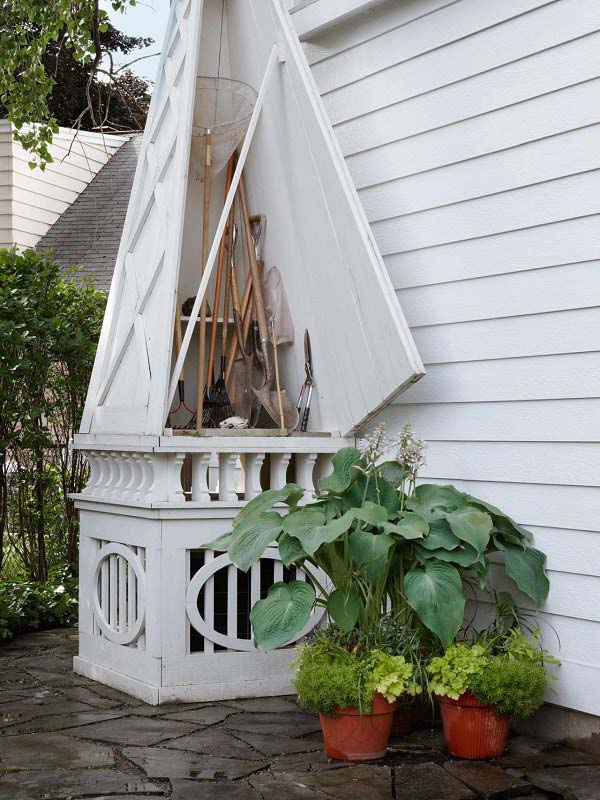 Do you have an AC unit outside of your home? Maximize space by building a pyramid-shaped storage unit on top of the AC enclosure. It's the perfect fit for tall tools.
Help your pyramid blend in with decorative molding and a nice coat of paint.
22. A Pallet Storage as a Garden Tool Storage Rack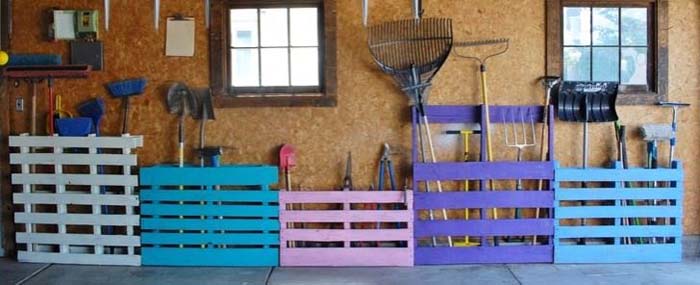 The next time you go to the store, pick up a few pallets from the warehouse — they're perfect for space-efficient tool storage.
Simply cut the pallet and mount it vertically against a wall to create a slim, standing rack for rakes, shovels, brooms, and more.
23. Pots Filled With Sand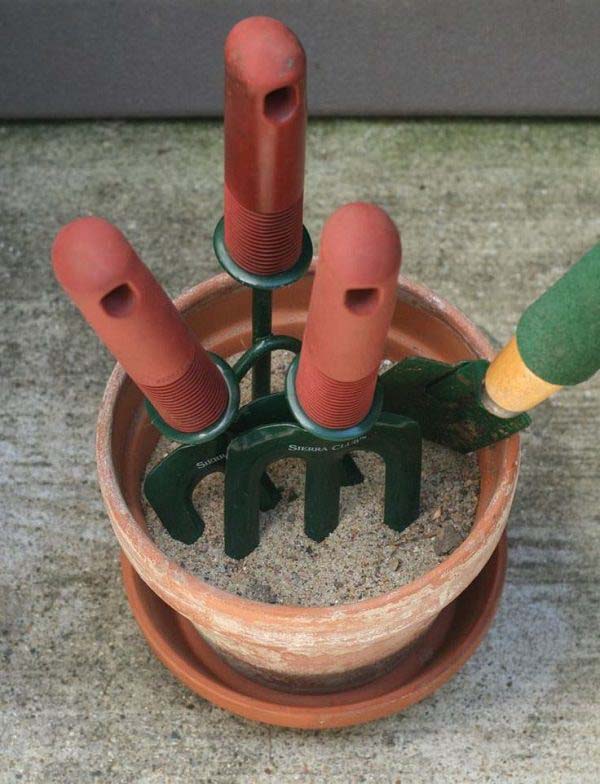 Do the tines of your tools ever get tangled? Solve that problem by filling a planter with sand. Push the tools into the stand, and they'll always be easy to retrieve.
As a bonus, your new storage solution will look great on the deck or in the garden.
24. PVC Pipes Wall Storage Idea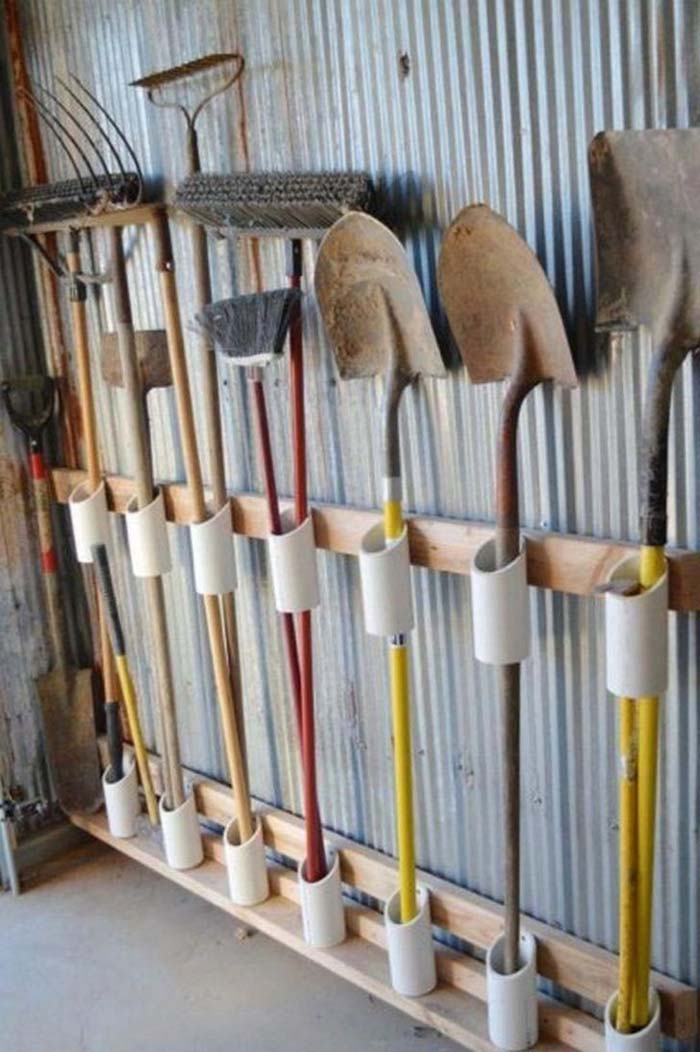 Build a cheap storage system in a few hours with this project. It uses sections of PVC pipe nailed to 2×4 planks; all you need to do is slide your tool handles through the pipes.
We love that the base is elevated, protecting the tools from moisture and dirt.
via Newly Woodward
25. Recycled Coat Hangers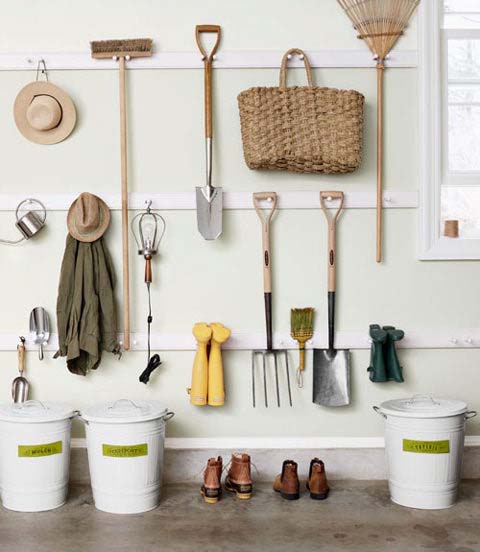 This affordable DIY tool-storage system uses items you can find at any home store: boards and coat hooks.
You don't need special tools or skills; just cut the boards to fit your space, nail them to the wall, and attach coat hooks. It's easy to adjust the spacing of the hooks to accommodate your tool collection.
via 1001 Gardens
26. Recycled Rake Tool Storage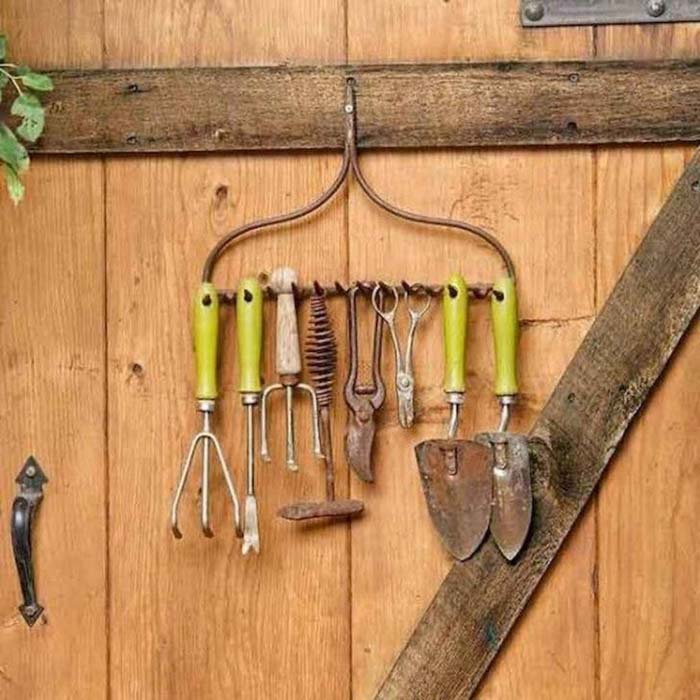 Are you dealing with limited storage space? Make the most of it by mounting an antique rake head to the inside of a shed or garage door.
Suspend small shears and hand tools from the tines for a solution that's both pretty and practical.
via This Old House
27. Store Lawn Tools With a Pallet!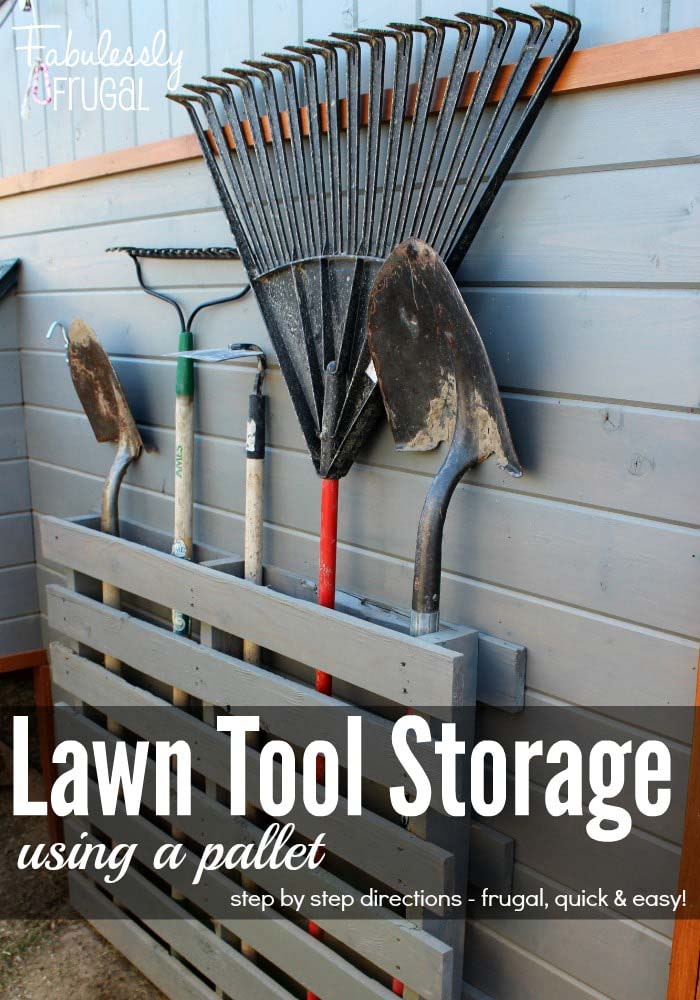 If you need a way to organize large lawn tools, a pallet is a cheap and convenient option. Simply nail it vertically to a wall or a fence; paint it an identical color for a seamless aesthetic.
Then, stand your rakes and hoes vertically between the pallet and the fence.
28. Storing Garden Tools with Style Aka Zombie Wall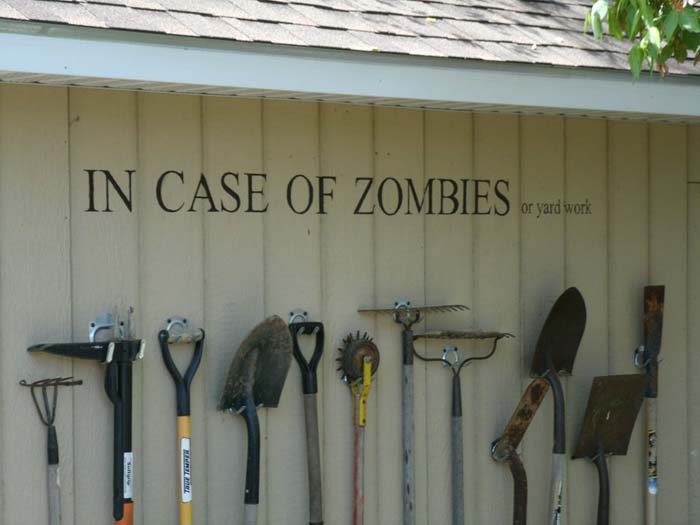 Who says tool storage can't be fun? This system is simple; it uses wall-mounted hooks to hold heavy tools.
The real difference is the adorable "In Case of Zombies (or yard work)" lettering that decorates the wall. It's guaranteed to make you smile!
via Instructables
29. Tool Supports for Garden Tools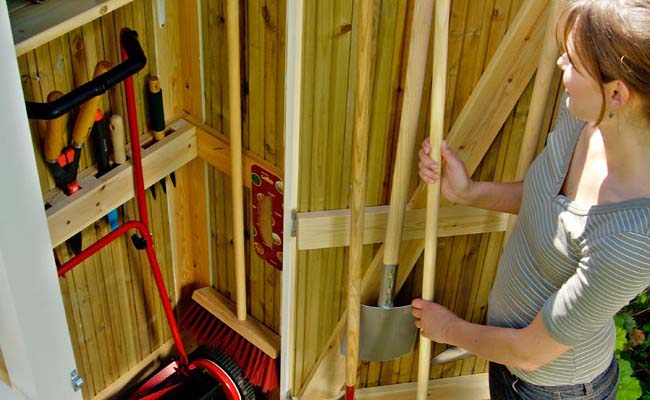 A tall, narrow garden shed is a space-efficient solution for a small yard.
Make the most of the shed by adding vertical supports along the walls. They'll keep tall tools in place and reduce the clutter at the same time.
30. Turn an Old Barbecue Grill into a Mobile Garden Tool Caddy!

The next time you get a new grill, don't throw out the old one — repurpose the cart into a tool caddy.
Since it's already on wheels, you can roll it out of the garage when it's time to work in the yard.
31. Use Old Pallets To Make a Garden Table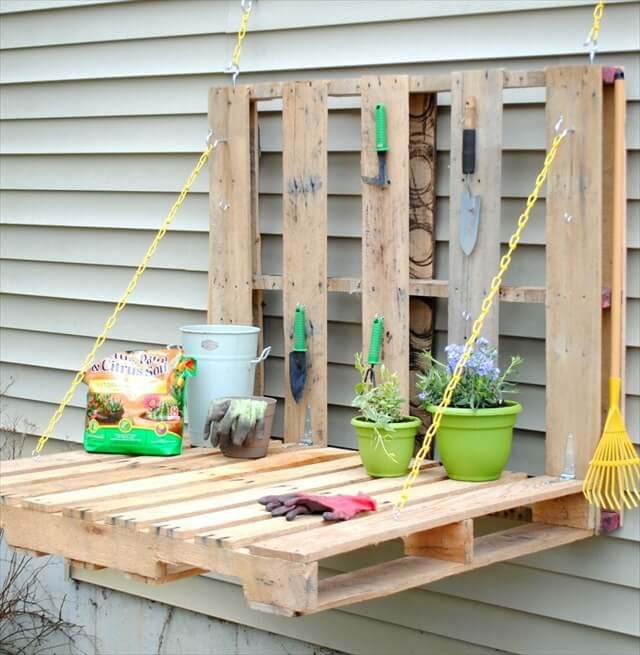 Here's another genius way to use pallets: turn them into a potting table!
Notice how the bottom edges are hinged; that way, you can flip up the bottom pallet to save space between uses.
via 99 Pallets
32. Vertical Pallet Garden Tools Holder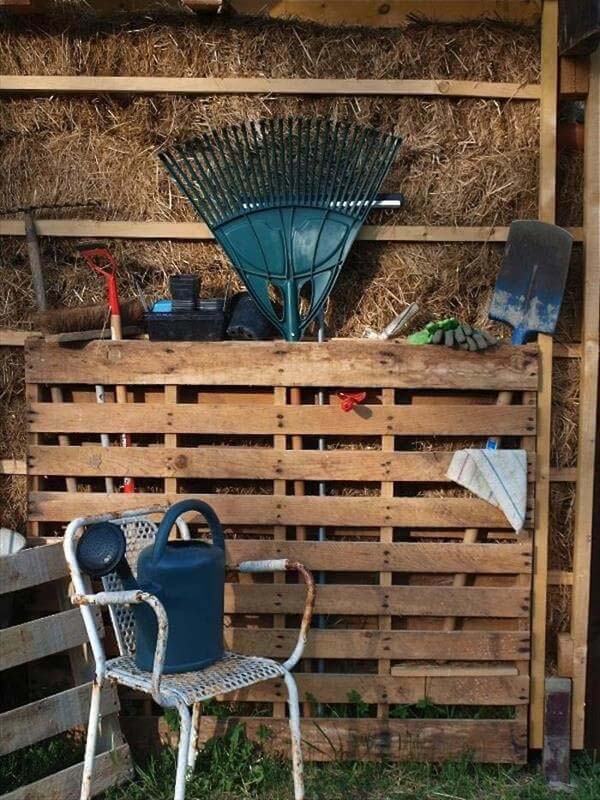 If your garden shed or garage is a rustic space, a pallet makes a fast and easy storage system.
Just nail it to the wall, and you're ready to go — the natural finish blends effortlessly into the setting.
via 99 Pallets
33. Wood Pallet Garden Tools Organizer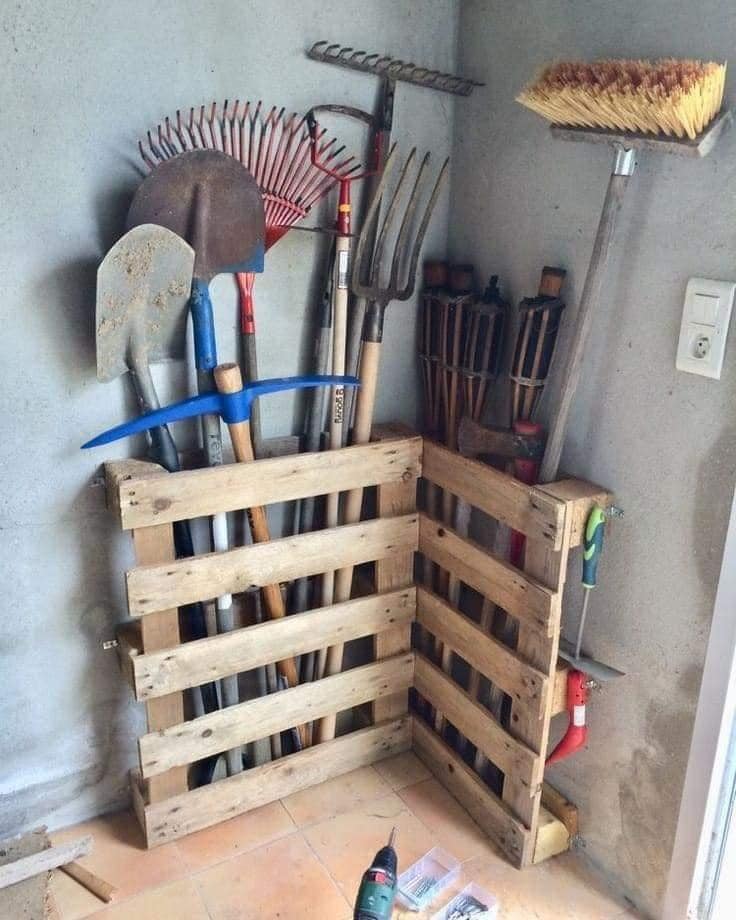 Budget-friendly garden tools organizer made out of old pallets. You have to secure each pallet to the wall and you can go a step further by painting them in your favorite color.
Don't forget to check our top picks in Garden Tool Organizers HERE