Here is my list of the best garden tool organizers that will make gardening easier and much neater. There's no need to spend a lot of money on the best garden tool organizer!
The tool organizers in this 2021 review are all of great value. Our best garden tool organizer is the Store Your Board BLAT Tool Storage Rack, closely followed by the Deluxe Tool Tower.
They are both great, but you can choose the one that suits you best when reading all their features as well as pros and cons.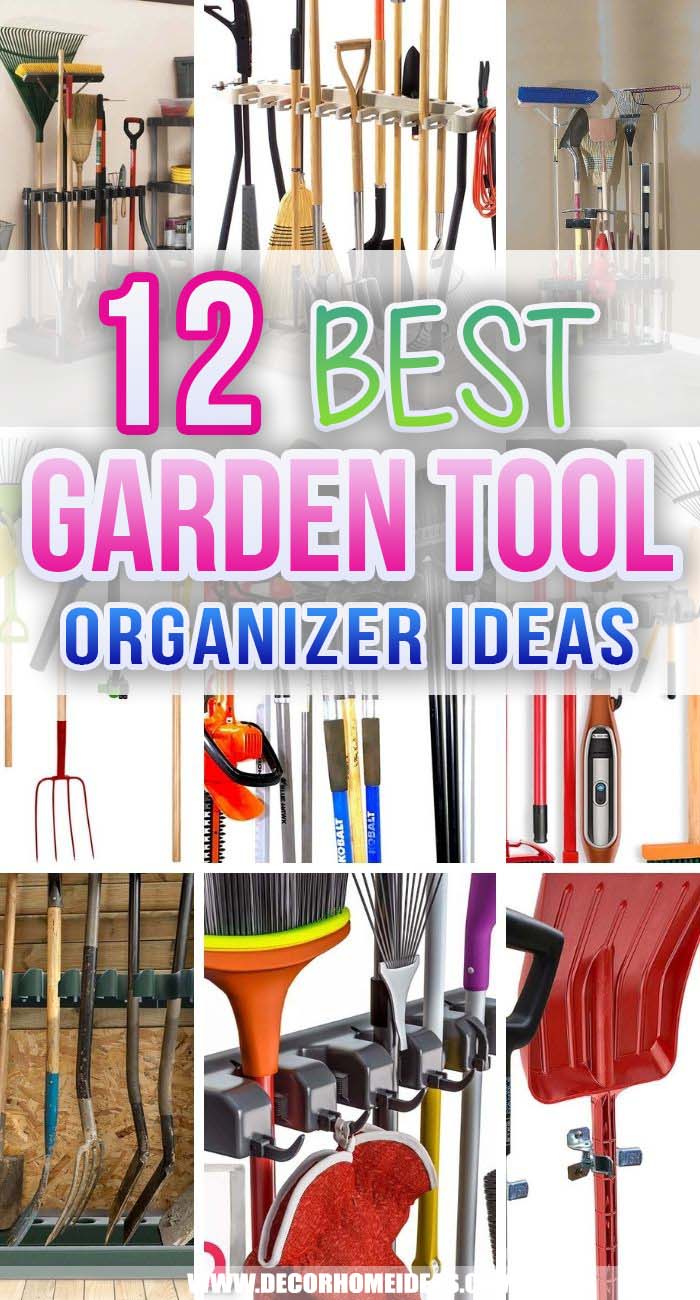 Best Garden Tool Organizer under $100
1. Store Your Board BLAT Tool Storage Rack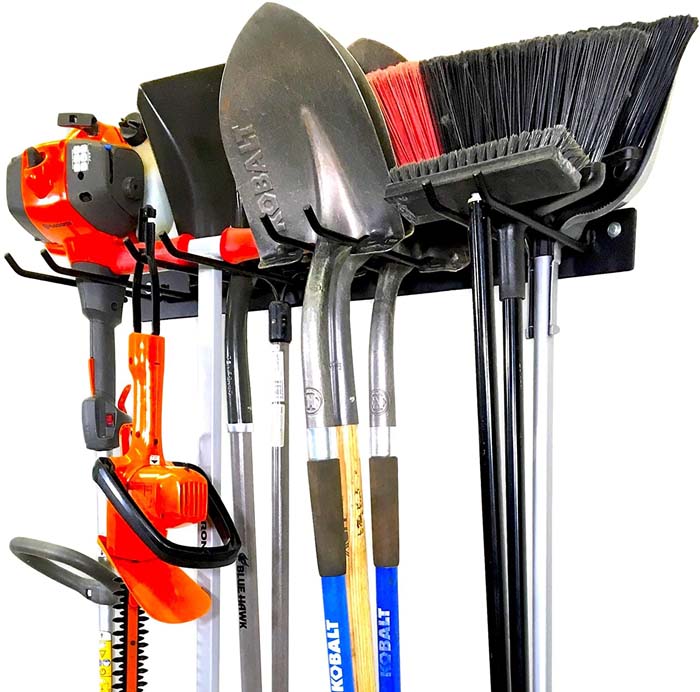 If you have a large collection of tools, the BLAT storage rack is a convenient choice.
It's constructed from high-strength alloy steel, so it's tough enough to support up to 200 pounds of gear.
The fully assembled design and included mounting gear make installation a breeze — simply mount the rack on studs in the garage or workshop.
Three pre-drilled mounting holes feature 16-inch spacing to accommodate standard stud placement.
The two-pronged racks support shovels, brooms, trimmers, and other common garden tools; the surface is powder-coated to prevent scratches and protect the tool handles as you slide them in and out.
Features
Made of heavy-duty steel
4 rows of storage, each 9.5″ deep, holds up to 50 lbs of tools
Powder-coated finish
Pros
Holds up to 200 lbs of garden tools, shovels rakes, brooms, mops, extension cords, hoses, power tools, and more
Durable black coating protects your tools and extends
Mounting hardware included. No assembly required
Cons
Doesn't come with anchors so be prepared to take a trip to the hardware store
Lag bolts shipped with the unit are not very strong so you might need to buy them at the local hardware store
Here is what Paula Bennette says about it:
Garden tools were piling up, taking over way too much space in my garage, so I ordered this tool rack. It's supposed to be able to support several shovels, etc., on each pair of rods, and it does, just like the picture. It's strong enough that I could do chin-ups on it and it wouldn't bend or budge at all. It would be easy to install with two people, one to support the weight of it and the other to screw in the screws, but I managed to do it alone. It's head and shoulders above any of the other tool racks I've bought in quality, sturdiness, and the amount that it can hold neatly and securely on its 3′ length.

2. Deluxe Tool Tower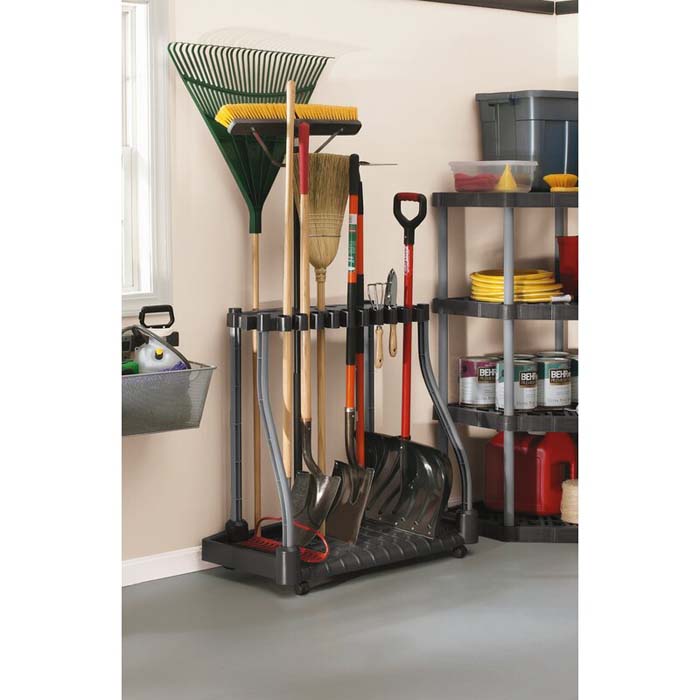 Are you in search of a tool-storage solution that doesn't require you to drill holes in the walls?
The deluxe tool tower is a damage-free option; it rests on the floor, so you can use it safely in a rental property or a new construction.
An integrated vertical rack holds everything from large rakes to small hand trowels, while a bottom grid prevents the handles from slipping.
With 40 individual slots, there's plenty of space for a sizable tool collection. Four casters allow you to move the rack around while you work; two of the wheels lock to keep the system safely in place.
Features
Tool tower
4 Castors (2 locking) for easy mobility
Front clips and new curved tubing allows for head down storage and additional stability
Ideal for long handled garden tools
Stores up to 40 tools
Front clips for quick side access
Grid pattern on base keeps tools from sliding off
Easy to assemble with no tools needed
Pros
Perfect for long handle garden tools
You can move it around on its wheels
Requires minimum effort to clean
Easy to put together
Cons
The gray plastic parts are somewhat wobbly
It is not strong enough for heavy tools so you should consider what tools to use for
Cynthia says:
This has to be the best organizational tool I have purchased for my garage yet! Not only is it helping to save space for where my yard tools are located stores, but I can roll it out from the wall before I get started and pick and choose which tools I need then put them back at the end of the day and roll it away. It makes yard work easier, if you can imagine that!

3. Stalwart Garden Tool Organizer Portable Rolling Utility Rack with Wheels Holds 40 Yard Tools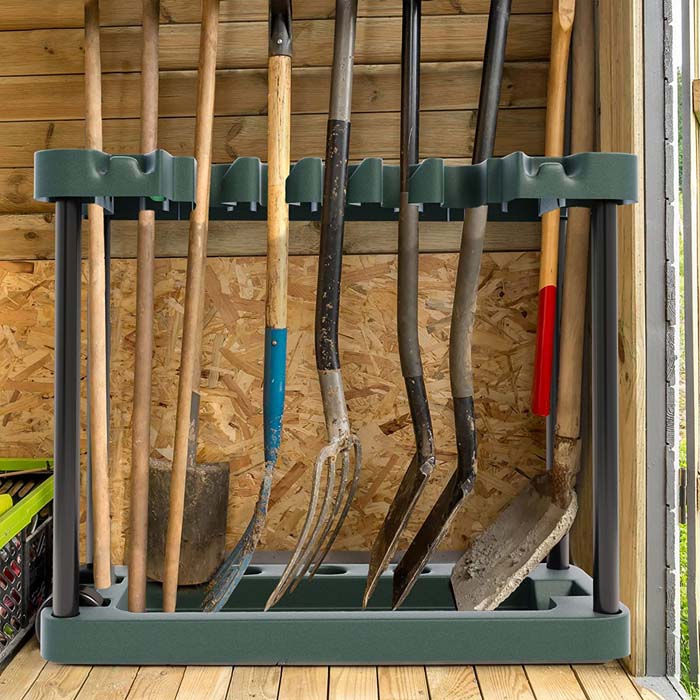 Transport your garden tools around a large property with the help of the Stalwart organizer.
It comes with casters, so you can roll it around a yard, garage, or driveway. The base of the rack features a slotted grid that allows water and dirt to fall through to the ground; the top system features 40 slots in different sizes and shapes to accommodate a range of tools.
You can use this organizer in a damp space with confidence — it's made of plastic, so it doesn't rust, and it's a breeze to clean. Plus, with the tool-free assembly, it comes together in minutes for faster garage organization.
Features
A lightweight design combined with rear wheels
Large capacity
Constructed from durable plastic
Simple assembly – No tools required
Pros
Portable tool cart that can easily move from one work area to the next
This rolling garden organization and storage rack can fit roughly 40 tools at a time
Sturdy garden tool organizer
Cons
It is not strong enough for heavy tools so you should consider what tools to use for
As it is made of plastic, temperature difference could have negative impact

4. Pasadena Mop Metal Tool Organizer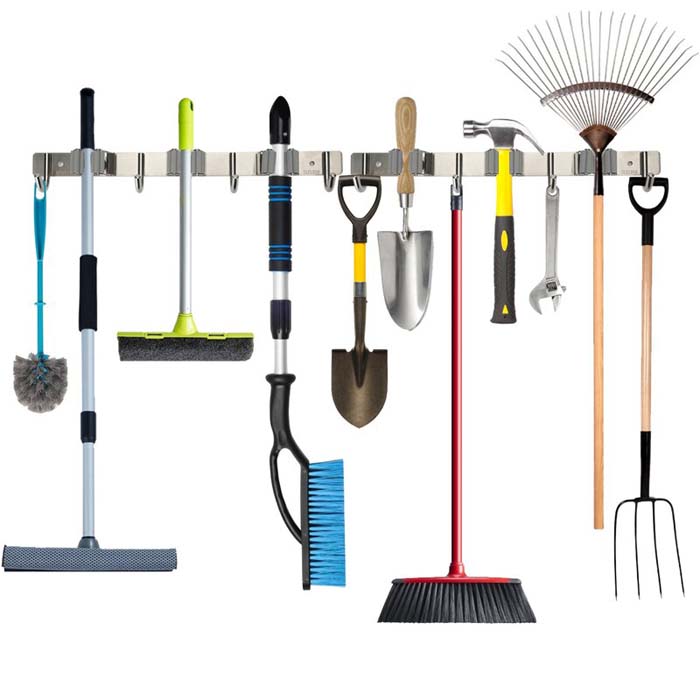 Conserve valuable floor space in your garage or garden shed with the Pasadena organizer from WFX Utility.
This streamlined metal rack mounts on the wall, keeping your tools at an easy-to-reach height. A row of tension gripper clips run the length of the rack, holding items securely and creating a high-visibility storage system.
Each clip adjusts automatically to handles between .75 inch and 1.5 inches in diameter, preventing them from slipping.
Between the clips, sturdy metal hooks create a spot for lightweight hand tools. Mount this rack at any height to suit your available space and keep expensive tools away from dirt or moisture.
Features
Perfect for the kitchen, bathroom, garage, shed, mudroom, basement, or commercial use
Foldable and extremely sturdy hangers and hooks with stainless steel hook edge design
Spring-loaded, anti-slip clip
Pros
Thanks to the waterproof design, these garage hangers even work outdoors or on the shed for your garden rack tools
Easy to hang on
Space-saving – the hooks and hangers keep your room clean and neat
An anti-slip clip keep the long stick shovel rake more stable
Cons
Won't work with hammers and other heavy tools

5. HORUSDY 64 Inch Adjustable Storage System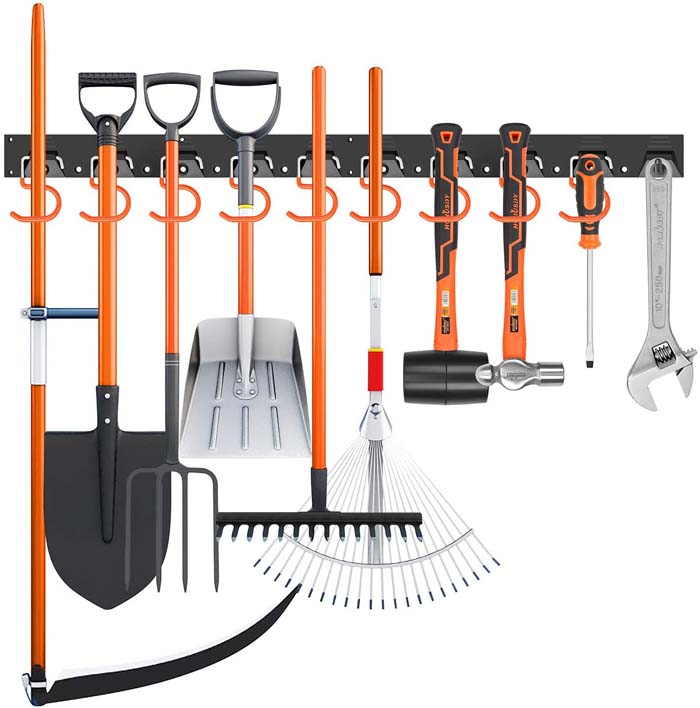 Design a storage system that's perfectly tailored to your tool collection with the HORUSDY wall rack.
It comes with 20 hooks that slide along the rail, giving you the freedom to choose the right spacing for shears, shovels, hand tools, and more.
This unique rack uses an S-hook design — you can slide handles through the S shape or use the hook for hanging. The PVC coating creates friction and holds the tools in place.
Since the hooks and mounting plates are so strong, each hook can hold up to 15 pounds. This rack comes with everything you need for installation.
Features
Adjustable storage system made of high-quality heavy-duty ABS material
Each peg can bear the weight 5.5LBS
The hook is made of high-quality aluminum-plastic material, plus a strong PVC non-slip coating
Pros
Tool hanger is very suitable for storing hanging mops, shovels, brooms, shovels, rake and other gardening tools in garages, basements or sheds.
The coating makes it easier to grasp objects and protect the surface of the goods from scratches.
Cons
If you install the rails in the orientation described in the instructions and pictured on the box/website, the plastic peg hooks will point downward instead of upward

6. MANOKY Shovel Holder Wall Mount Outdoor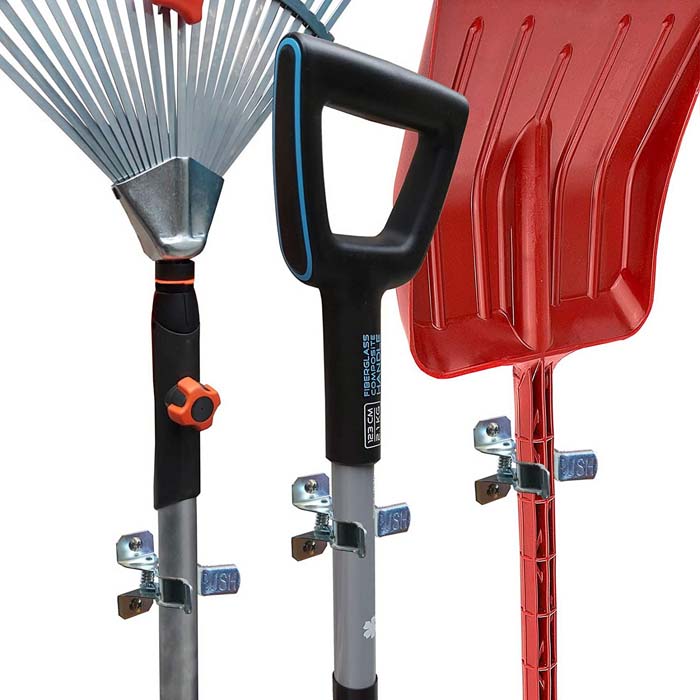 Customize your tool storage to your needs with the MANOKY wall mounts.
This set comes with 10 separate clips — mount them as a set on a garage wall, or use them individually to store tools where you need them most.
Place one on the fence by your garden to keep a shovel close at hand, or use a few to make the most of limited wall space in a potting shed.
Individual clips can support 35 pounds each; use two or more to store heavy or long-handled tools. Each clip is fabricated from weather-resistant metal that stands up to extreme temperatures, wind, and precipitation.
Features
Metal Garage Tool Organizer Wall Mount
Strong and secure holders
Weatherproof hangers
Pros
Installs quick and easily, with just 2 screws per clip. Simple.
They open wide enough to accommodate the vast majority of tool handles.
They grab strongly enough to hold most (but not all) long handled tools. Handle shape and tool weight are both factors that can determine whether the clip can hold the tool securely.
Cons
Putting tools in and out could be tricky
The screws seem to be of particularly low quality
The clips are not as sturdy as advertised

7. Rubbermaid Corner Tool Rack, Tool Organizer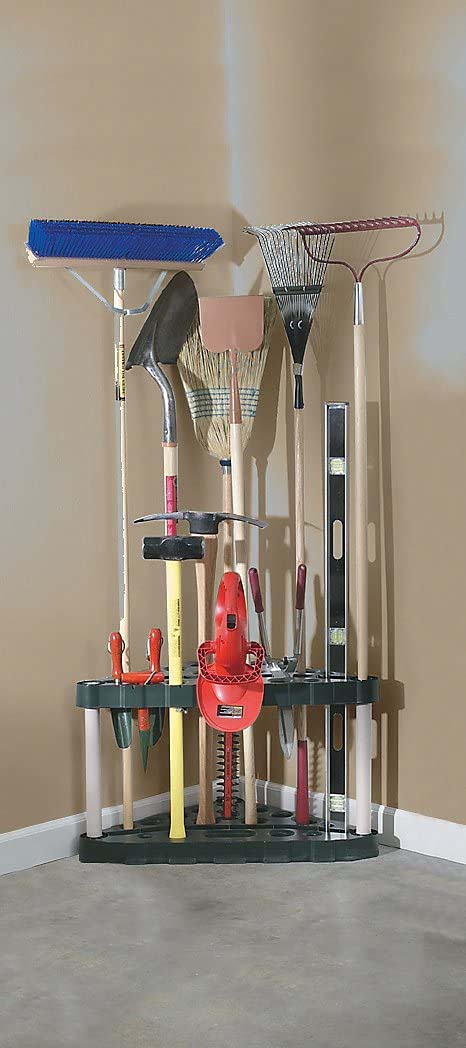 Save space in a crowded garage or storage shed with this Rubbermaid rack.
The triangular frame slides into a corner, keeping your tools out of the way of foot traffic.
Constructed from heavy-duty plastic resin, this rack is lightweight but exceptionally strong — it weighs less than 6 pounds but holds up to 30 tools with ease.
Slide the tools through the holes in the top tier; depressions in the bottom tier keep each handle upright. This organizer is a good choice if you're looking for fast setup and easy maintenance.
It snaps together in minutes without tools and washes clean with a standard garden hose.
Features
Holds up to 30 tools
Large base allows for greater stability
Ability to anchor to a wall
Pros
You can use it in a corner and save space
Very easy assembly
You can secure it to the wall for extra insurance against leaning
Cons
Not very sturdy so you have to carefully load it with tools that are not too heavy
Starts to lean if more and heavier tools are stored in it

8. Suncast Tool Cart with Wheels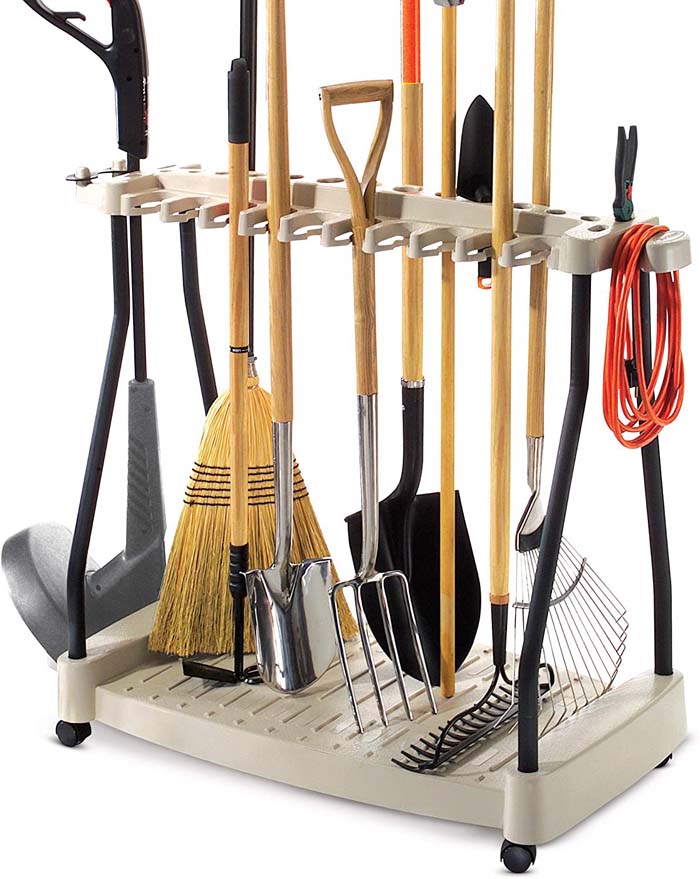 If your tool collection includes long-handled items such as brooms, rakes, and shovels, this Suncast cart is the perfect organizer.
Simply place the handles into the holes or tension clips, and rest the head of the tool on the base. Integrated drainage slots get rid of dirt and moisture that fall from the tools.
Since the base comes with casters, you can roll out the rack during yard projects and roll it back into a corner when you're done.
With space for up to 20 large tools and 17 small tools, this rack is ideal for gardening, home maintenance, and general yard work.
Features
Portable garden cart with four caster wheels
Can hold up to 20 large tools and 17 small tools
Constructed of durable plastic with a steel core
Rolling tool cart measures 6″ x 20″ x 42″
Pros
Perfect for transporting items from your shed to garden
Easy access to tools
Well-designed, sturdy cart
Easy to roll around
Cons
Hard to retrieve tools that are towards the wall
Not suitable for heavy tools

9. Berry Ave Broom Holder and Garden Tool Organizer Rake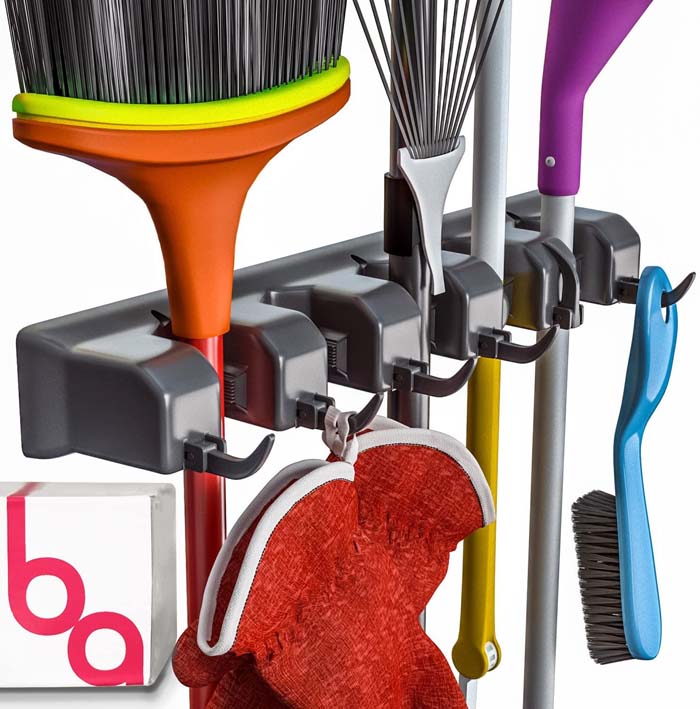 Are you looking for a small garden tool organizer?
This model from Berry Ave fits the bill. It measures just 16 inches long, so you can install it in a closet or on a narrow wall.
The rack includes five adjustable handle holders and six hooks, creating plenty of space for basic yard and garage tools.
You can even mount it inside a pantry to hold brooms and mops. The sleek black frame looks clean and modern, and the plastic construction is waterproof and lightweight. Use this rack to hold up to 35 pounds of gear.
Features
11 Storage Slots For All Your Different Types Of Brooms & Mops
Commercial grade hanger with 35 pounds holding capacity
Included with broom holder are all the screws and anchors needed to mount securely
Pros
Cons
Spacing between slots is much too small
Mounting instructions are not very clear
Hanging items end up too close to each other

10. Wall Mounted Organizer Mop and Broom Storage Tool Rack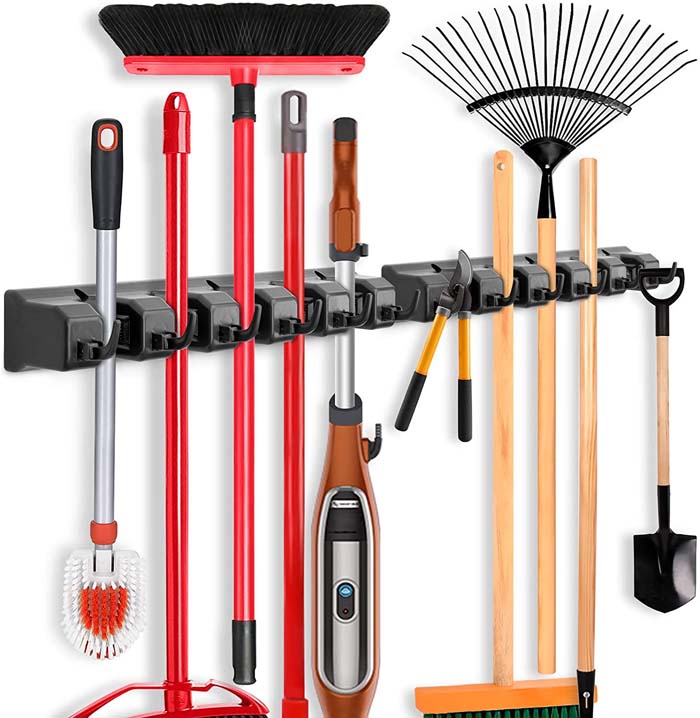 Build a storage system on a budget with this affordable tool rack.
This pack comes with two racks; mount them together or in different places to suit your available space. Each rack measures 16.75 inches long.
With five handle slots and six hooks per rack, you can store a large array of brooms, spades, and small tools. Inside the slots, a spring-loaded ball adjusts to the handle to deliver a safe, secure mount.
The black surface blends into any environment, and the plastic frame wipes clean with a damp cloth.
Features
5 ball slots and 6 hooks design
Special spring clips design with a rolling rubber ball
Heavy Duty
Pros
Each rolling ball holds up to 6.5 pounds of weight(smooth rod is up to 3 pounds), holder can hold up to about 11 tools in total.
Easy Install
Cons
No good instructions
Handles for brooms and mops slide sometimes

11. Garage Tool Organizer Wall Mount-Tool Racks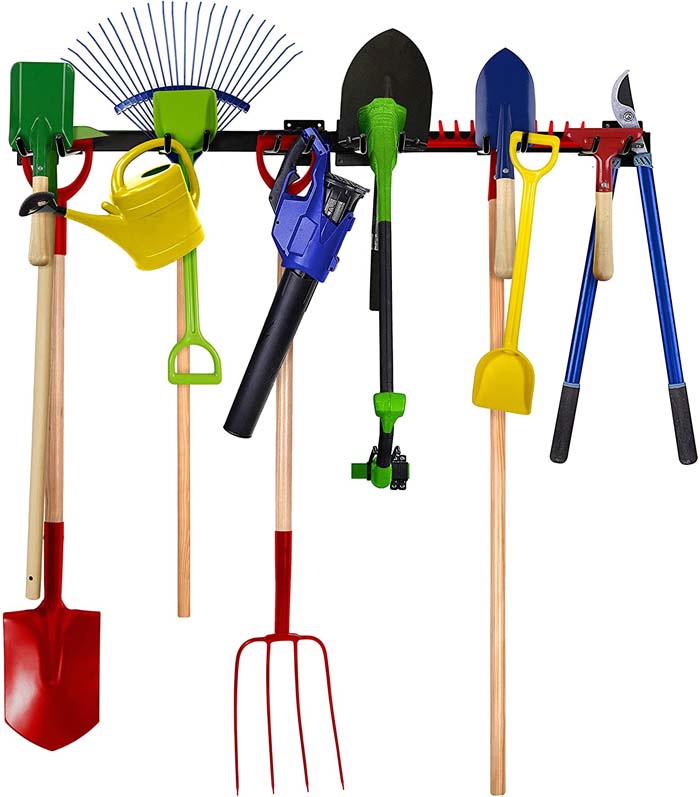 Simple and streamlined, this Upside Out tool organizer is an elegant solution for a woodshop, garage, or utility shed.
This unique system includes two rails and seven different holders — you can position the holders at any location on the rails to accommodate tools of varying sizes.
Each component is constructed from powder-coated steel for strength and durability. The included hook is engineered to support the weight of a standard road or mountain bike.
Make sure to check the stud spacing in your house to make sure it matches the 24-inch mounting holes.
Features
Heavy Duty Steel
Adjustable Hooks
Pros
Can hold over 300lbs of gear for the ideal garage organization
Very sturdy
Cons
No assembly instuctions
Premade holes do not line up with any regular stud

12. Heavy Duty Garage Storage Hooks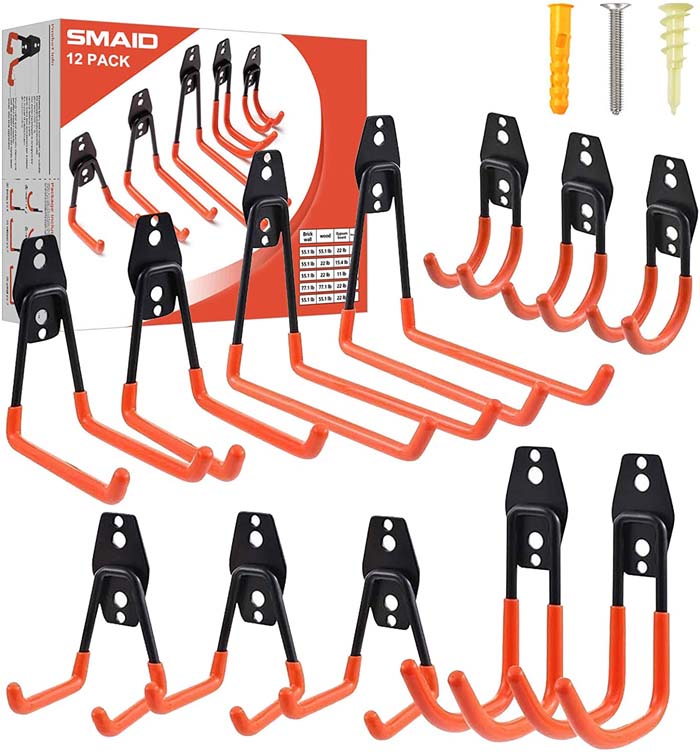 If you're like many homeowners, you need a storage system that's easy to customize.
This pack of storage hooks has you covered; it comes with 12 hooks in five different sizes, so you can create the ideal configuration for any space.
The largest hooks are tough enough to hold up to 77 pounds when mounted on wood, brick, or concrete wall, so you can store string trimmers or other heavy items.
A smooth PVC coating prevents tools from slipping and reduces the risk of scratches. Since each hook comes with mounting screws, you can install them quickly with a standard household drill.
Features
Double hooks can hold up to 77 lbs
12 garage hooks in 5 types
Pros
Perfect for tools
Good installation instructions
Cons
Could not withstand very heavy tools