Spending time outdoors in your own backyard is a way to relax all senses after a busy day. But how do our kids feel about being in the yard?
They are not looking for a place to have a rest, they need a place to be kids.
So to make these two things doable and that at the same time, make the yard fun and attractive for kids.
This is possible only within a weekend's time with our great backyard ideas for kids! We know what kids love- to get messy, to imagine, to build, to run, to create.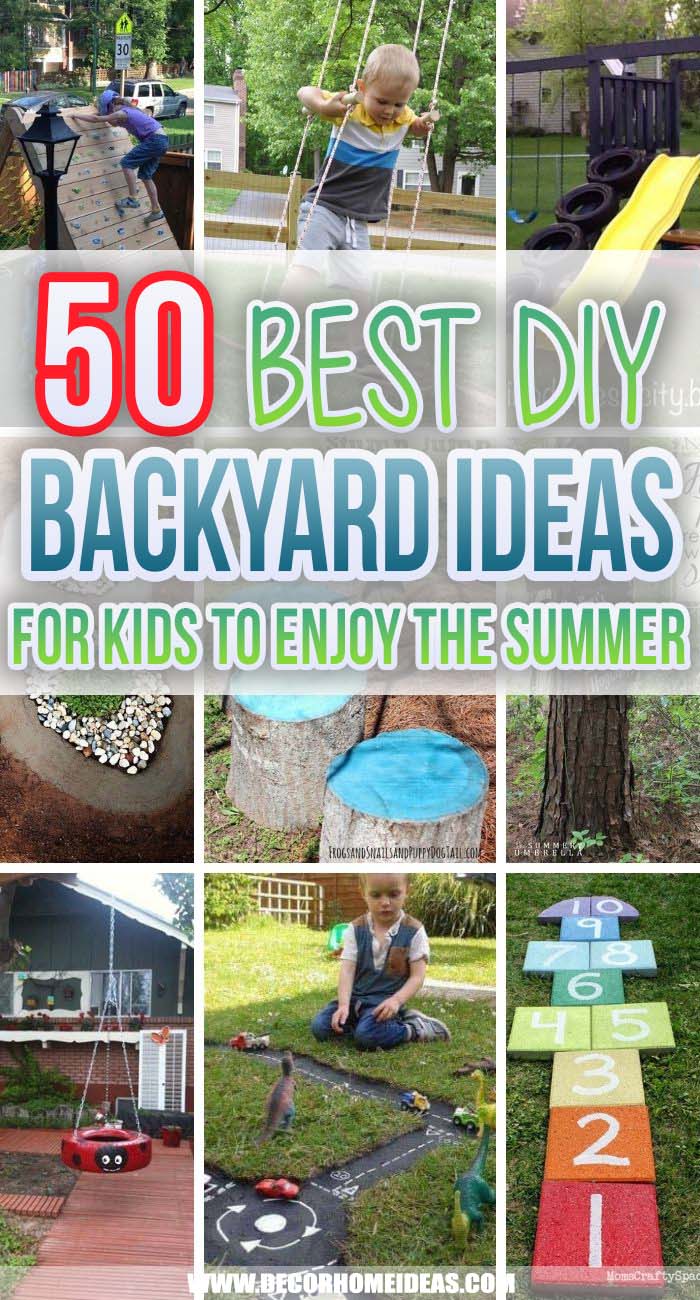 The ideas here have considered the kids' needs in the first place, safety in the second, and of course, all of them take care of the design so that it makes the backyard more attractive and the funniest spot for your family!
1. Pallet Tent With Fairy Lights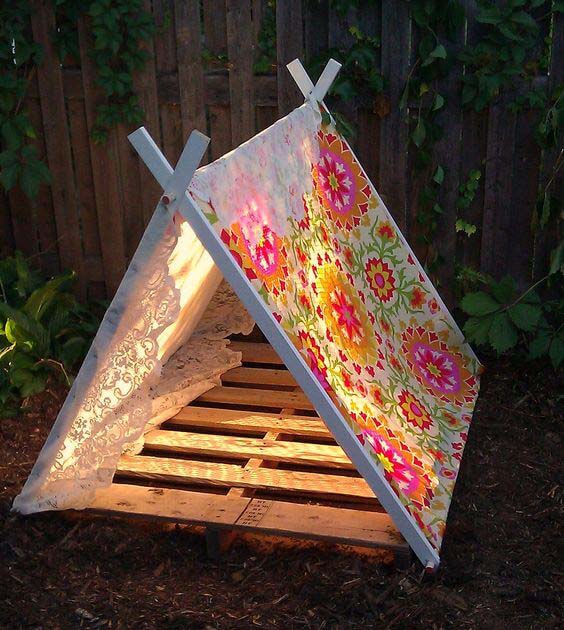 If you want to enjoy an evening out on the patio, you can make this time exciting also for your kids. Make an outdoor tent, illuminated by strings of lights.
This DIY project works perfectly for any yard as its size is the size of a pallet. When not in use, lay the pallet against a fence or a wall and clear the area for passing.
2. Seaworthy Sandbox Boat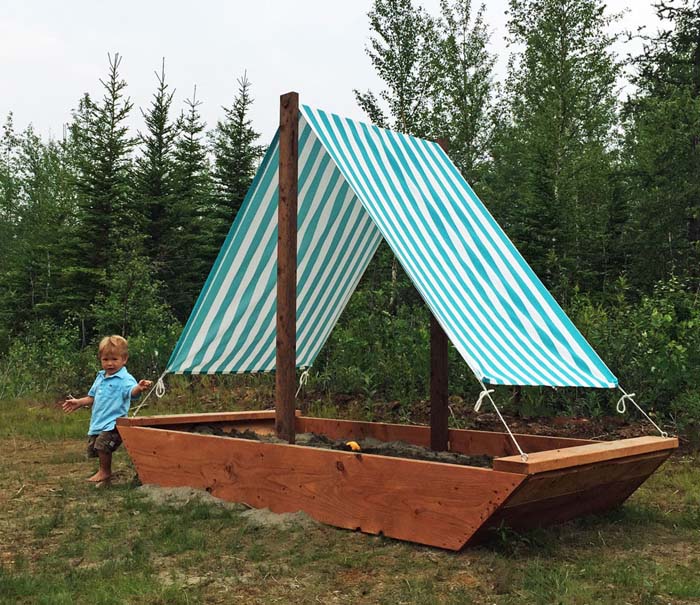 This is a sandbox aiming to keep the plays with sand in one place that is safely protected from the sun.
The box is above the ground in the shape of a boat. Sails in a coastal fabric pattern shade the play area.
via Ana White
3. Outdoor Drawing Space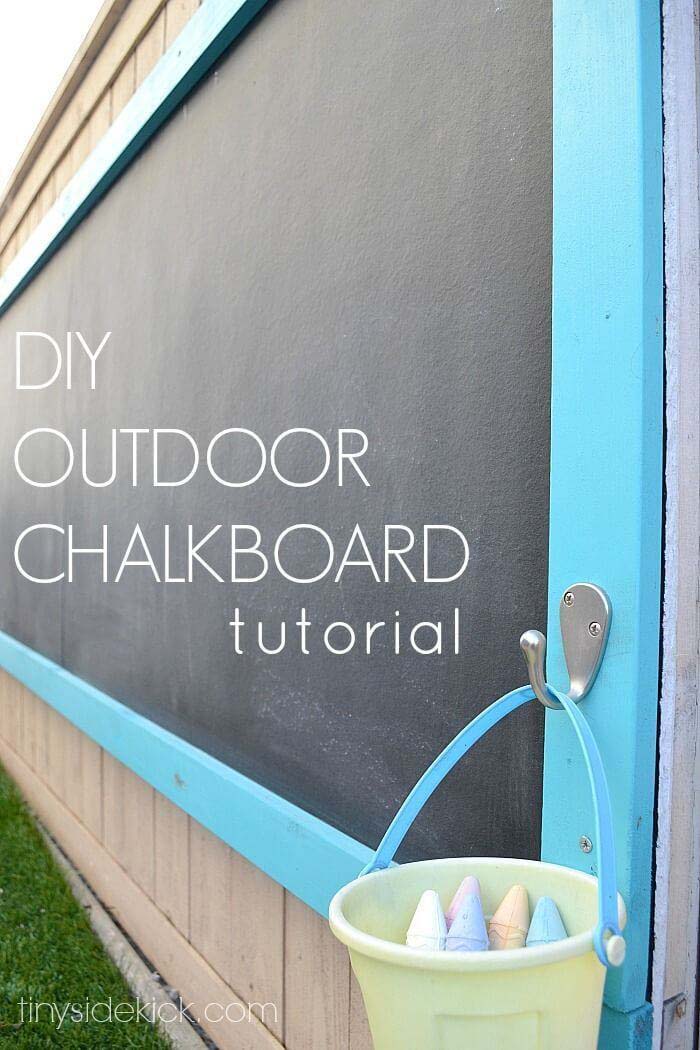 Although an easy DIY project, it has a great effect on the entertainment level for the kids assured outdoors. Kids like drawing with chalks but the yard surface may not be convenient for that, plus, you may not want all the mess left from using them.
This framed fence chalkboard will be a convenient and affordable solution for providing them with a dedicated area for their favorite play.
via Hey There Home
4. Reusable Acrylic Paint Easel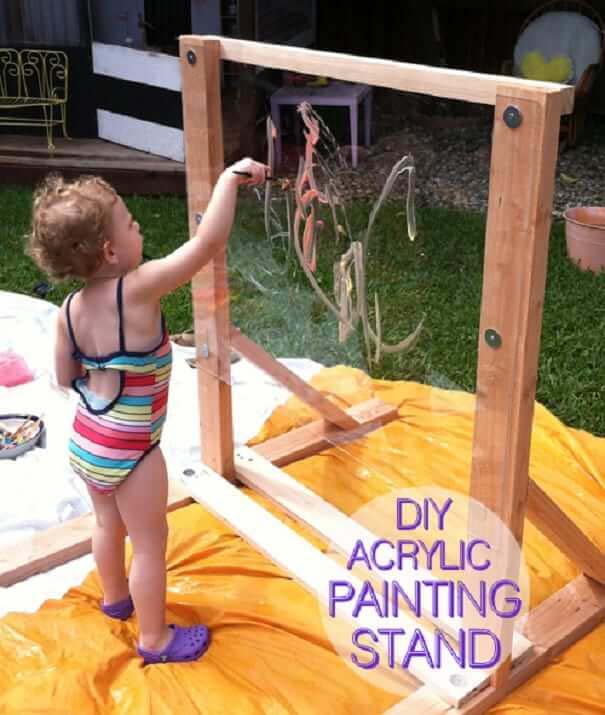 This is an interesting outdoor painting idea. The standard chalkboard is replaced with a window to become the canvas for acrylic images. Especially, for small kids, this type of painting will be very interesting because of the transparency of the glass.
If you are wondering how cleaning will be done, it is also very easy. Take the hose out, sprinkle water and wipe out. The outdoor acrylic painting stand is waiting for the next masterpiece!
via Meri Cherry
5. Upcycled Tire Teeter Totter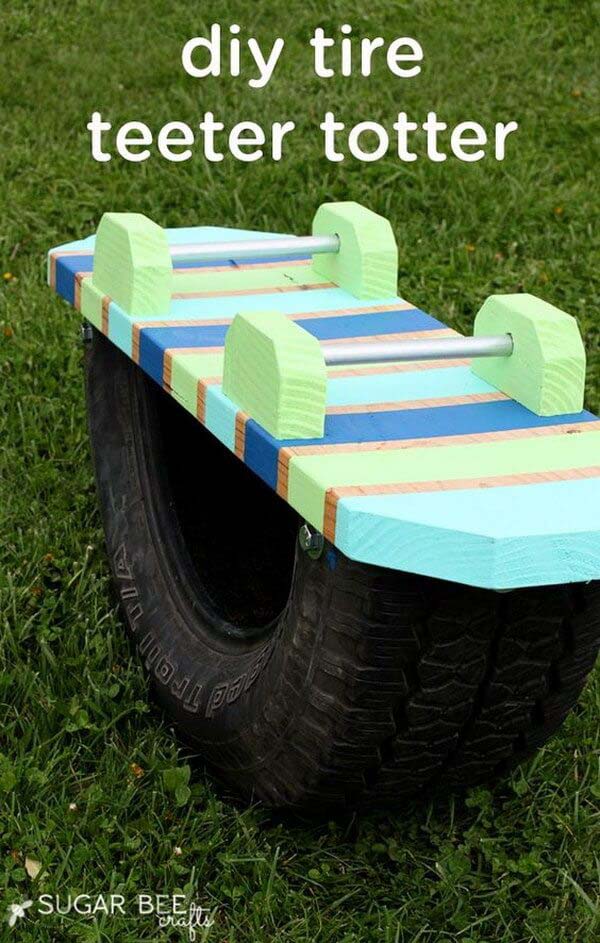 This is one f the favorite outdoor toys of small toddlers. An eco-friendly DIY lets you have it in your own backyard. A tire, paints, scrapwood make this teeter-totter.
And if you have two kids, you can make two of them as one needs only half a tire.
via Sugar Bee Crafts
6. DIY Tetherball Game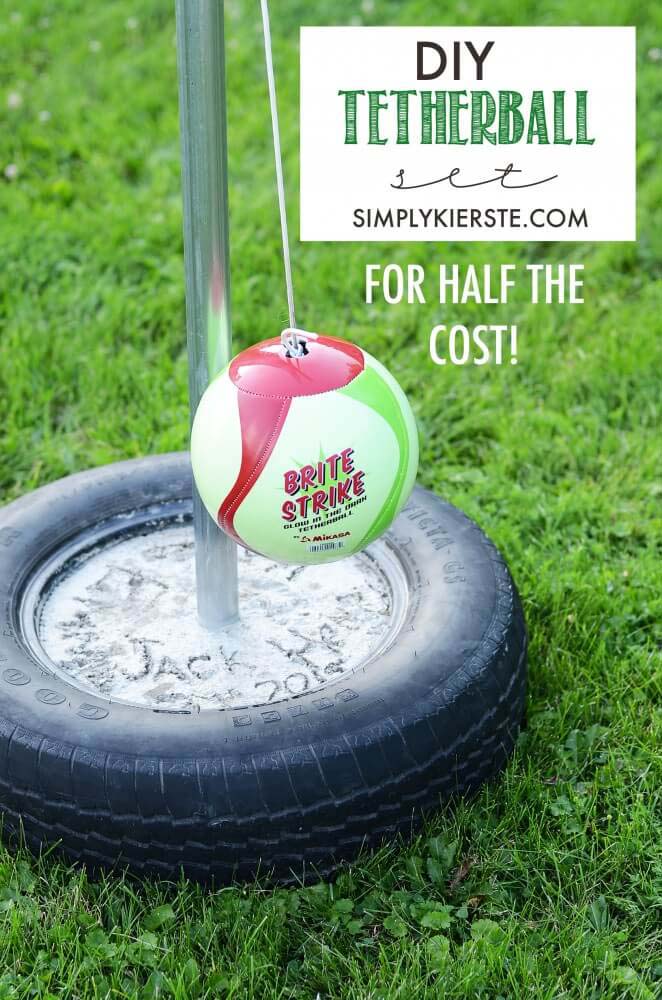 Tetherball is an activity game that can gather the whole family for some time in the yard. To make it more interesting for the kids, let them write their names or leave their handprints on the poured cement.
This project can be made only in one day and for half the money of a store-bought item.
via Old Salt Farm
7. Bright And Colorful Tire Swing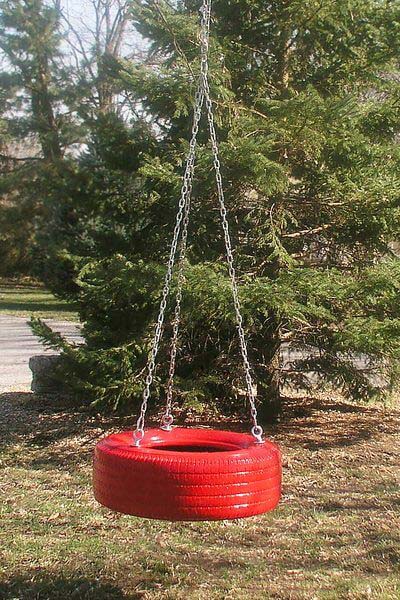 Swings are not that expensive. Why would you then make one from a tire? Because it is big fun and swinging sitting on a tire far more exciting.
Paint the external surface of the rubber in a cheerful summer color and attach the nest to a large tree branch or a pergola with chains.
via eHow
8. Backyard Play Fort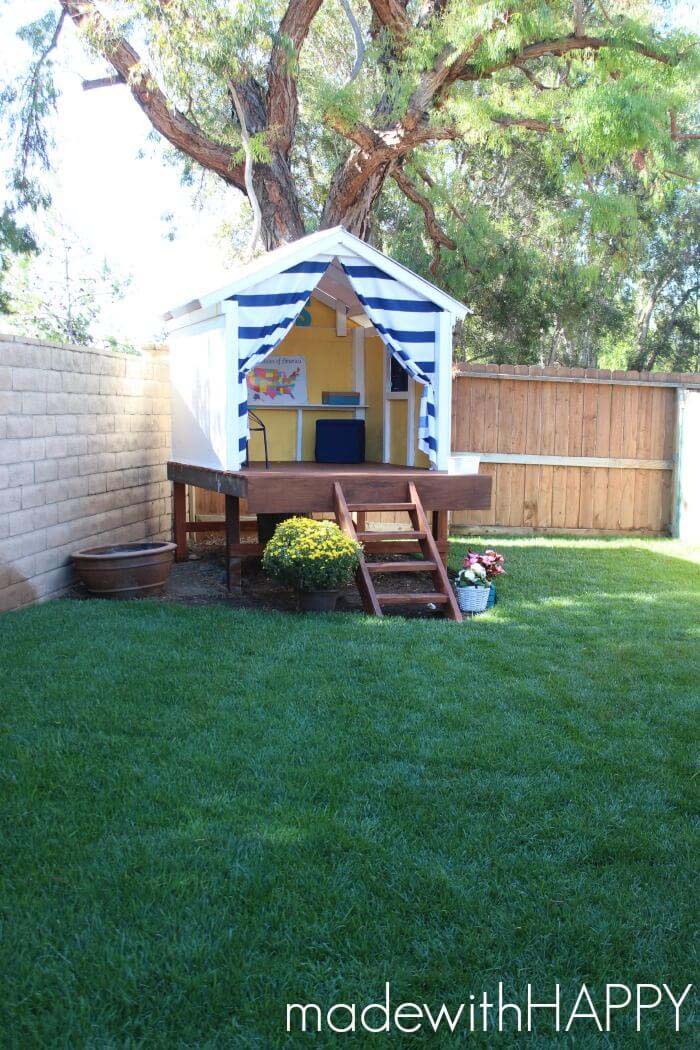 If there is an empty area in the yard, make it the favorite outdoor spot for your kids.
The wooden house for your kids will make them feel special and will help them learn how to take care of a home.
via Made With Happy
9. DIY PVC Pipe Swing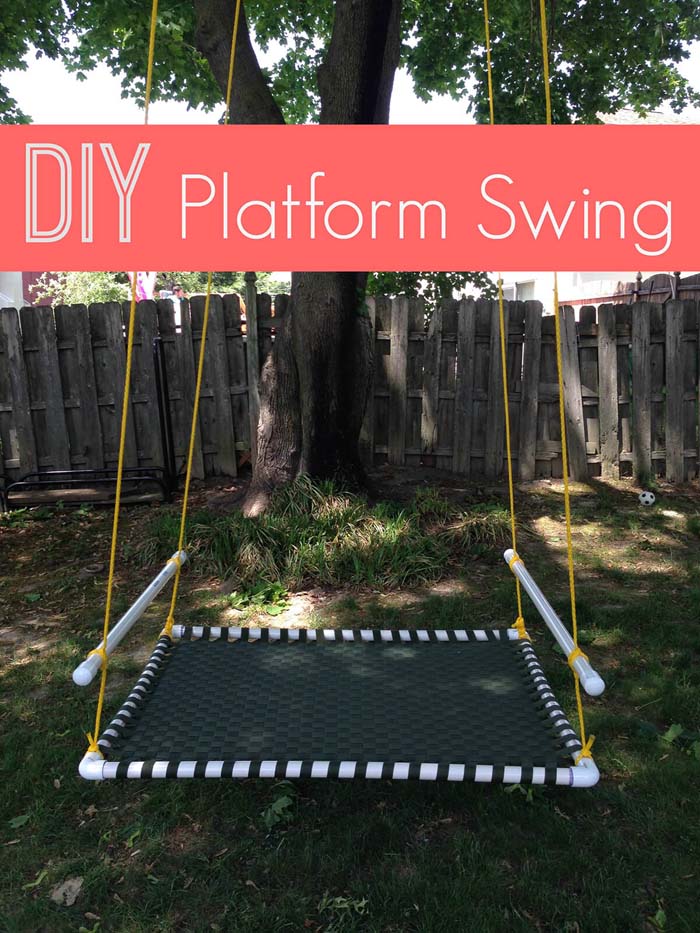 This is a great idea for a swing in case you have more than one child. Instead of waiting for their turn, this big swing lets two kids swing together.
Made of pipes and nylon webbing, the platform is safe, strong and comfortable.
10. Endless Fun Ring Toss Game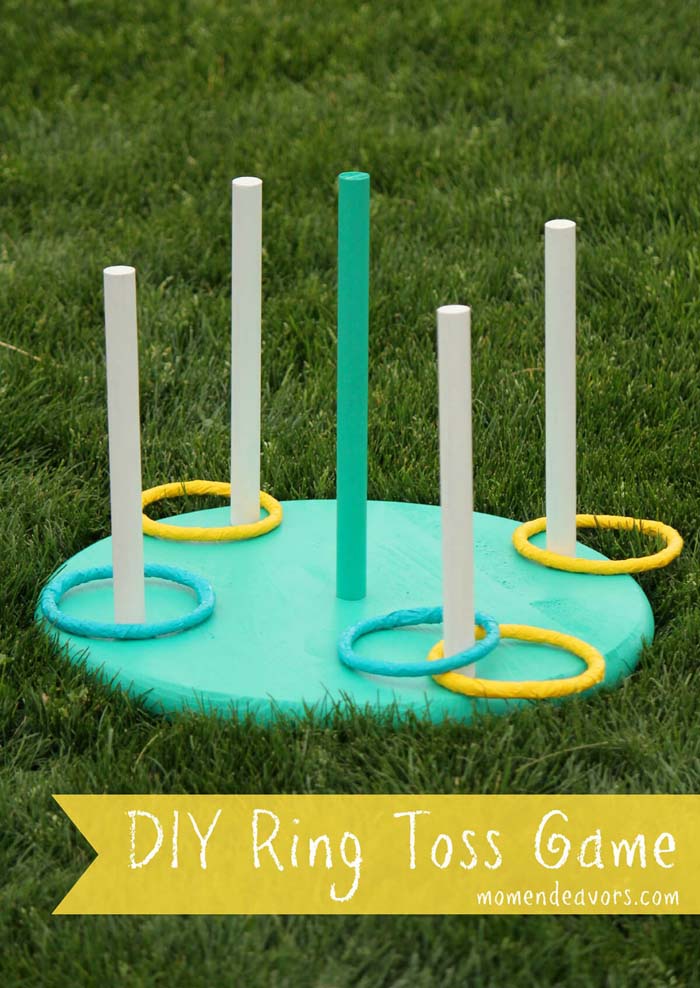 The old ring toss game is an evergreen outdoor activity.
This game is entertaining not only for kids but also for adults so having such a set in your yard will be the next reason for a fun family gathering.
via Mom Endeavors
11. Painted Logs Stump Jump Game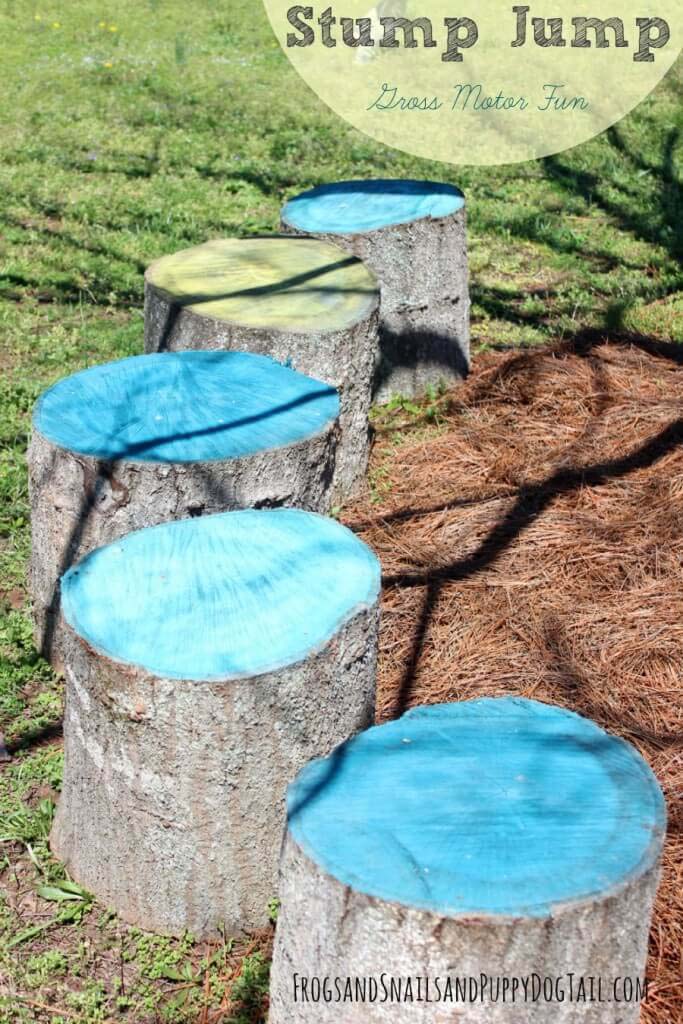 Want to create an active game for your kids? The tree jump stump is one of those that will both exhaust and entertain your kids. Another advantage of this DIY outdoor game idea is that no investment is required.
Gather logs and cut them to the same or different heights, depending on the age of the kids.
Paint the top surface of the logs to make the log walkway more interesting.
via Frogs Snails and Puppy Dog Tails
12. Build Your Own Yard Racetrack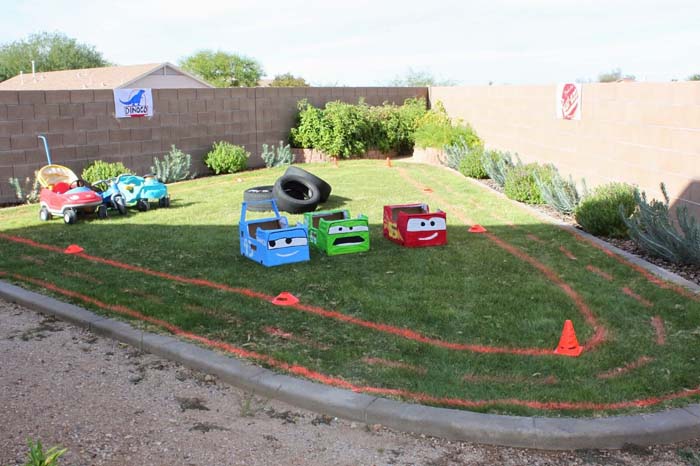 This race track idea is suitable for bigger yards where there is still an empty area that can be utilized. All you have to do is to draw the race lines and put a few emergency cones.
Bigger toy cars are more than welcome in this realistic race track and also other "obstacles" like cardboard boxes and tires that will make driving more challenging.
13. Tire Swing Ladybug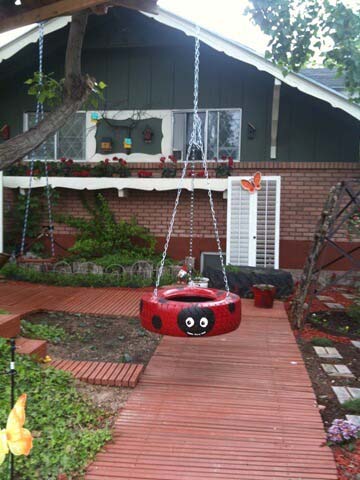 If you want to make the tire swing also a part of the outdoor decor, take advantage of its shape and material to make it more personalized and kids attractive.
Only with paints, you can make it a cute and functional garden art- use the color pattern of the ladybugs, the bees, the frogs, why not a favorite cartoon character?
via Janiszettel
14. DIY Stacked Log Sandbox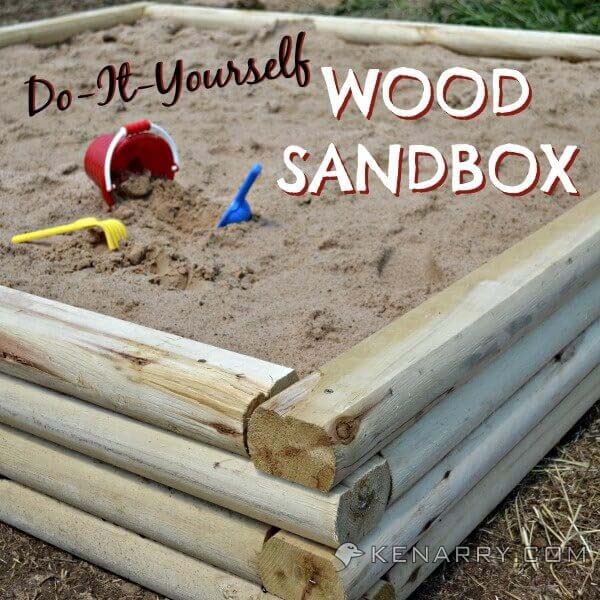 Want to let your kids play with sand in the backyard but still haven't found a tidier and easy-to-clean design? This DIY backyard idea is what you need.
The sand is kept in a box made of wood and this is the only area where it is allowed to play with it. Its size can be customized to be even bigger and let the kids enjoy building castles.
via Kenarry
15. Water Blob Is The Ultimate Summer Toy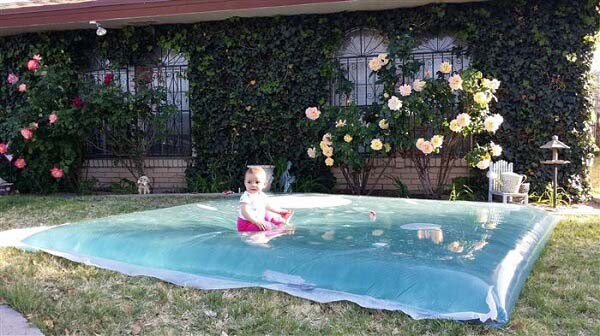 The water blob is a perfect game for kids of any age to cool off during the hot summer days.
And while you can make many attempts to make a pillow that doesn't leak, this DIY project has been created to prove that no water will be spilled.
via Homemade Toast
16. Mini House Playhouse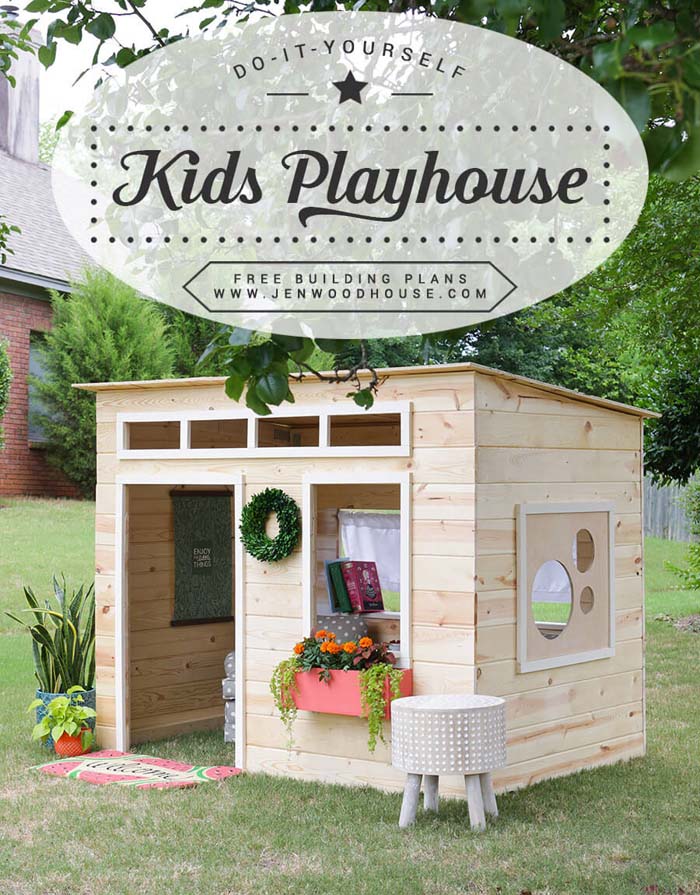 This small wooden house is a replication of an indoor living area.
The charming accessories and furniture it accommodates make it feel like a special dedicated home for kids.
via Jen Woodhouse
17. Customize Your Own Toy Track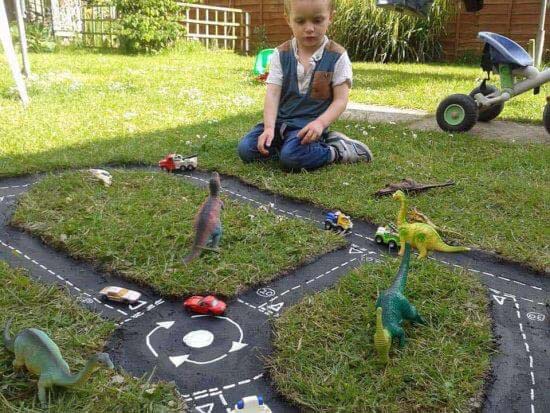 In case the empty space of your yard is small and can't dedicate it to a realsitic race track, then you can make a smaller one that will be as exciting for your boy.
Taking the toy cars outside will be very exciting, especially if the race track is supplied with obstacles, target destinations, etc.
The ways to outline the track on the lawn are many but for all of them, you need to preliminary prepare the ground by digging out the grass. Then fill or form the race with nylon sheet, sand, pavers, stones, cement, road tape.
via The Whoot
18. Sensory Walkway For Kids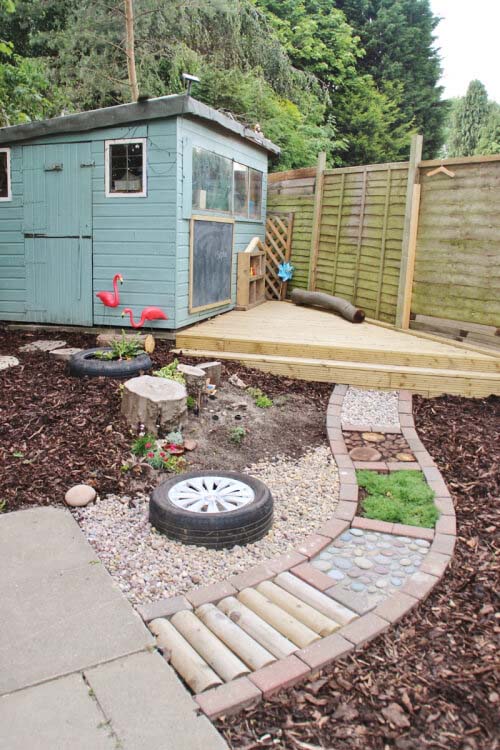 This walkway idea aims to make the path to the special kids' playhouse as special as the house is and also to develop the sensory skills of the smallest members of the family.
It is made with natural materials like wood logs, stones, wood slices and gravel.
19. Rock Lined Sandbox For MultiSurface Play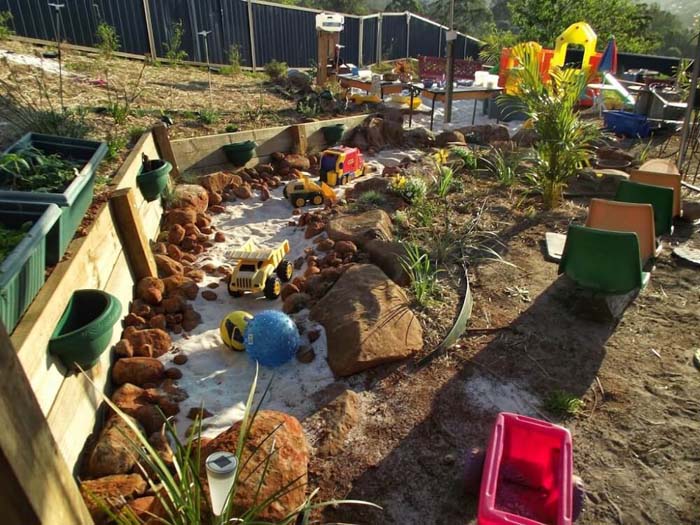 If you want to incorporate the kids' area into your backyard with natural landscape decor, use large stones to outline it.
These barriers will not only show them the limits of their sand area but will also become part of the play.
20. Encourage Art With A Backyard Chalkboard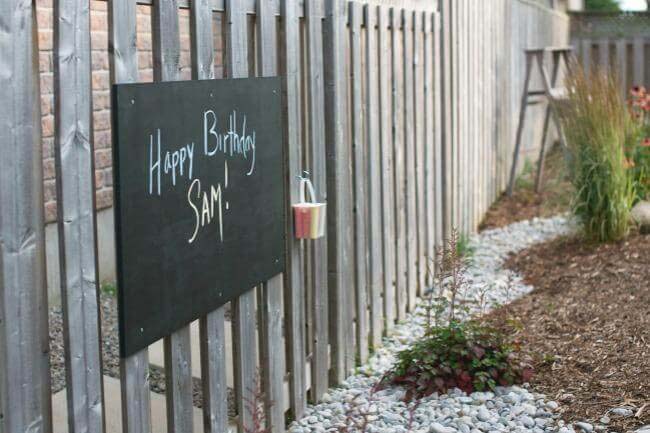 An easy chalkboard idea for the yard is a plain wooden board covered with chalk paint and attached to the fence. It doesn't take any space, on the contrary- it makes the atmosphere more appealing.
Along with the favorite chalk play, this board can be also used as a canvas for personal messages or party-themed inscriptions.
via Spaceships and Laser Beams
21. Garden Center From Repurposed Kitchenware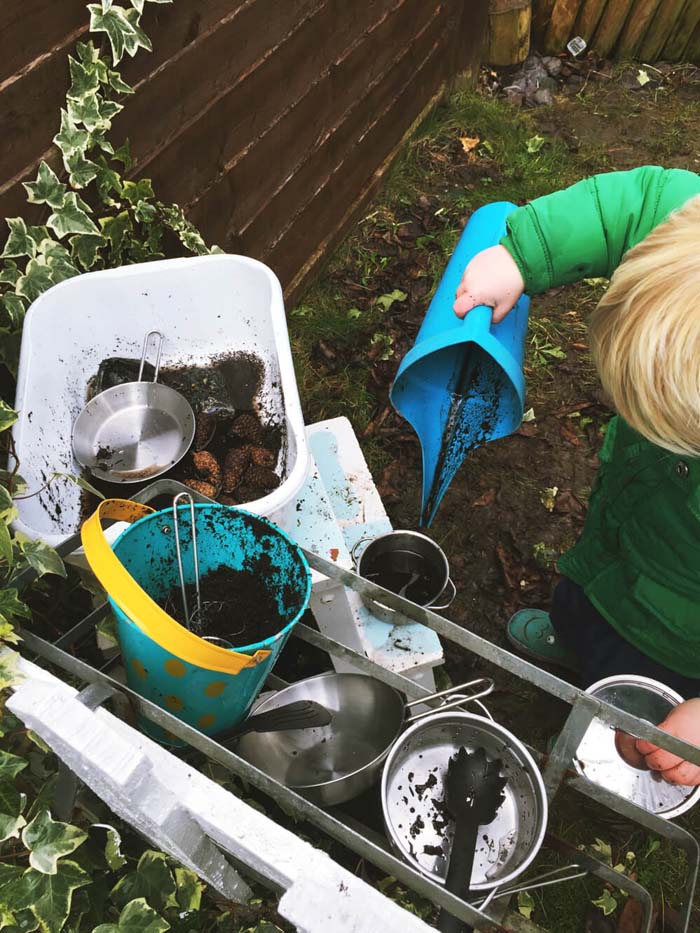 Don't throw away the useless kitchenware as it can become part of the outdoor living space of your kids. If there is already a playhouse built, make a kitchen corner.
If there isn't you can build only a kitchen with the help of an old shelf unit, a cardboard box, foam boards, why not upcycled pieces of furniture.
via Daisies and Pie
22. DIY Changeable Toy Car Track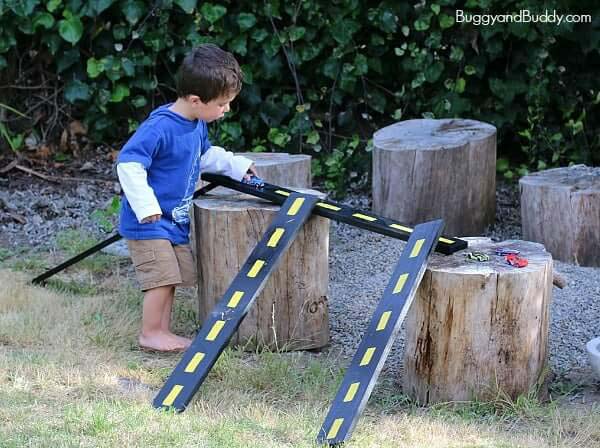 This is a DIY backyard idea for kids that can upgrade the outdoor race track. Pallet slats are painted in a black and yellow pattern to become speedways for the car toys.
via Buggy and Buddy
23. Rain Gutter Racetrack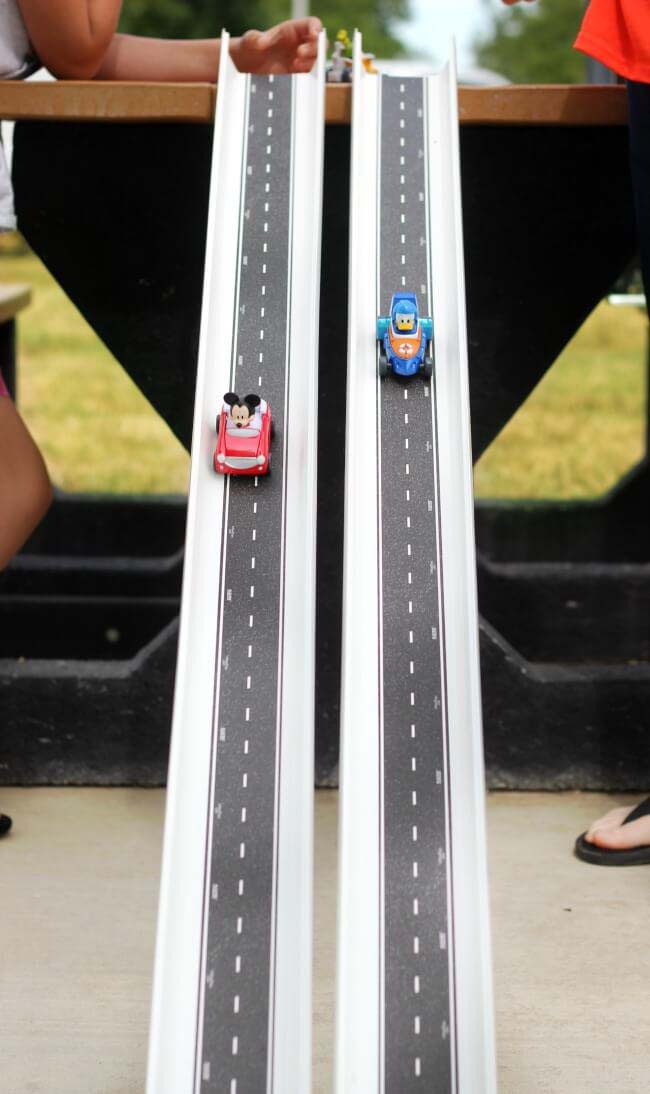 This is another design of a speed race that will keep the cars within certain limits thanks to the basic material used. Believe it or not, rain gutters have been used for this DIY outdoor kids' craft and for that you invest only 5 minutes and less than $5.
No painting is required to make the black and white street pattern. Use a strip of race tape to quickly transform the gutters into races.
via Glue Sticks
24. Durable Outdoor Toys From Painted Rocks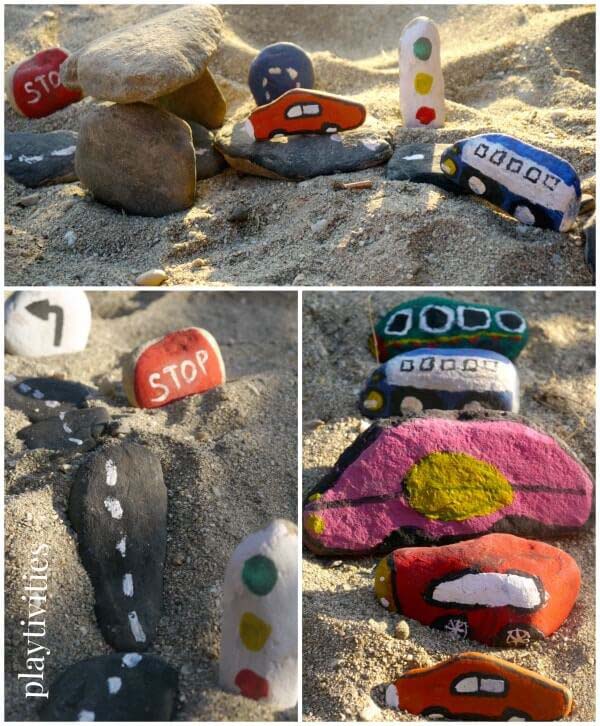 This idea is more than a play. It is also a learning and skills development activity as the kids are involved in the whole process of creating a race track with cars from stones.
via Playtivities
25. Multifunction Upcycled Play Table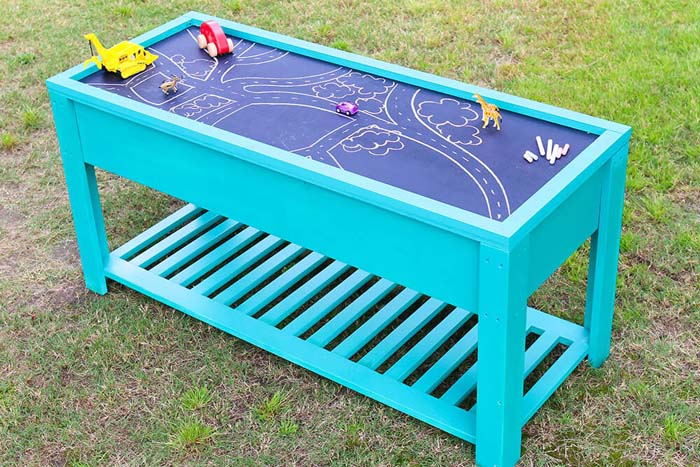 Make a piece of the outdoors a backyard playground to make sure that the smallest ones are always busy with kid-friendly activities. This multifunctional DIY idea is perfect for a small backyard where every inch of the ground matters.
Without any compromise to the fun, this hand-made station is a real treasure- the lid is used as a chalkboard. When it opens, there are two compartments for a water-and-sand play.
via Jen Woodhouse
26. Kid-Sized Snack Table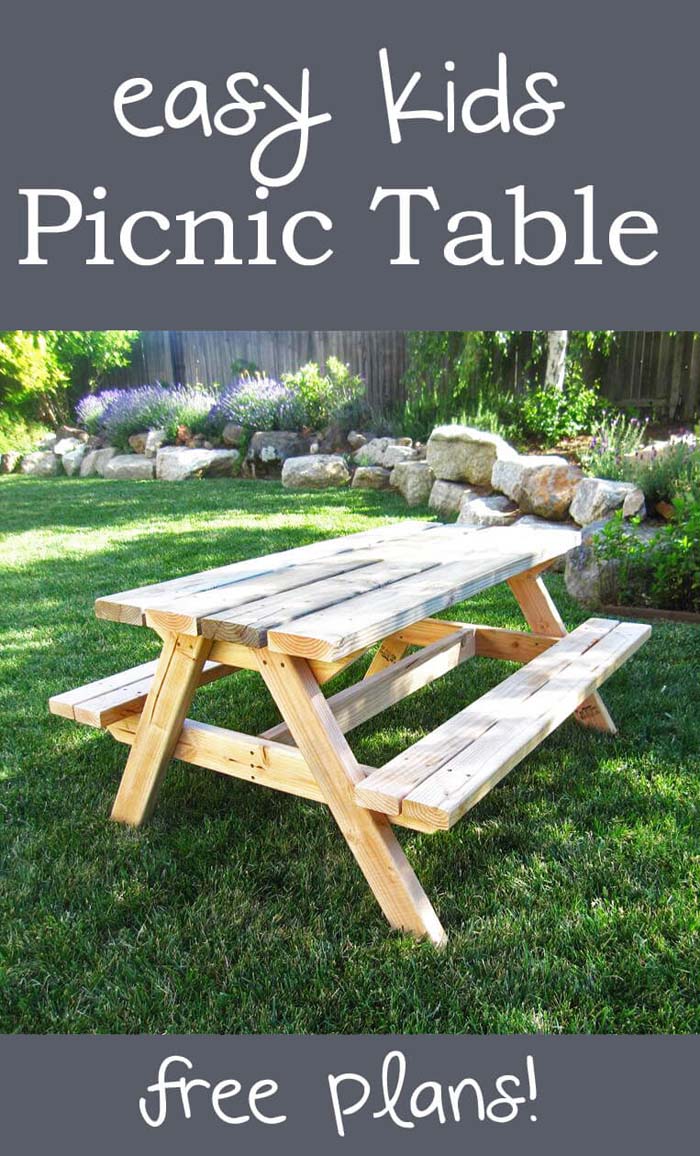 Teaching kids to be self-dependent and caring from an early age is an important basis for their future. When this idea is taken down to your own backyard, that can be fulfilled by furnishing their piece of the yard with typical furniture but in kids' sizes.
This picnic set is the perfect spot for meals in the fresh air and for imaginative play.
via Ana White
27. Kids Picnic Bench With Colorful Lanterns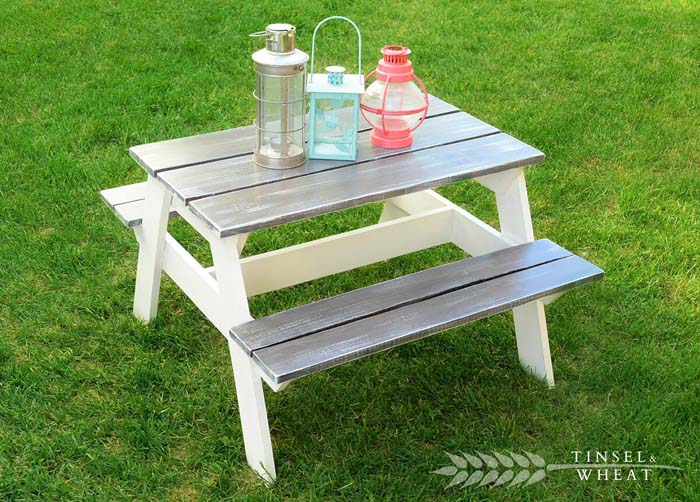 A similar picnic set idea is upgraded to a posh design by painting the wood in trendy colors and by adding decorations to make it feel more appealing.
This sitting set can be converted to more than a snack place. Your kids can use it for playing a table game, for drawing or painting or another quiet brain activity.
via Tinsel + Wheat
28. Repurposed Pool Noodle Track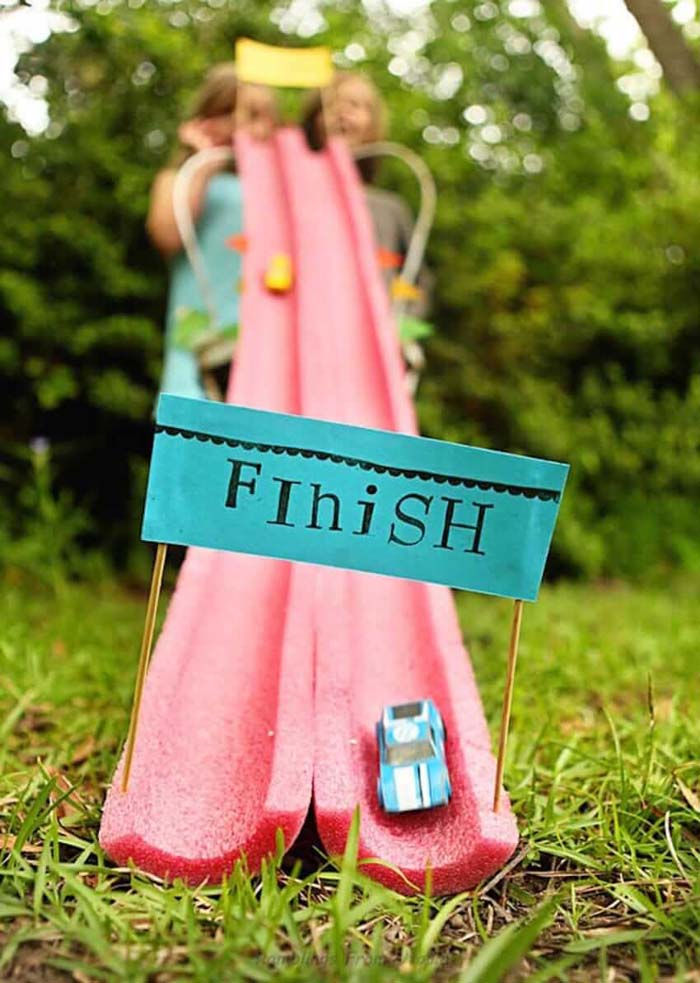 If you have kids, then you have loads of noodles. Every summer we buy new ones as they are one of the most favorite play items in the summer. This is an interesting upcycling idea that gives the pool noodles a new kid-friendly application- like a race track.
Making it is very easy, in fact, even your kids can cope with that. The noodle has to be cut into two halves and then equipped with a Start and a Finish sign.
29. DIY Numbers And Colors Hopscotch Mat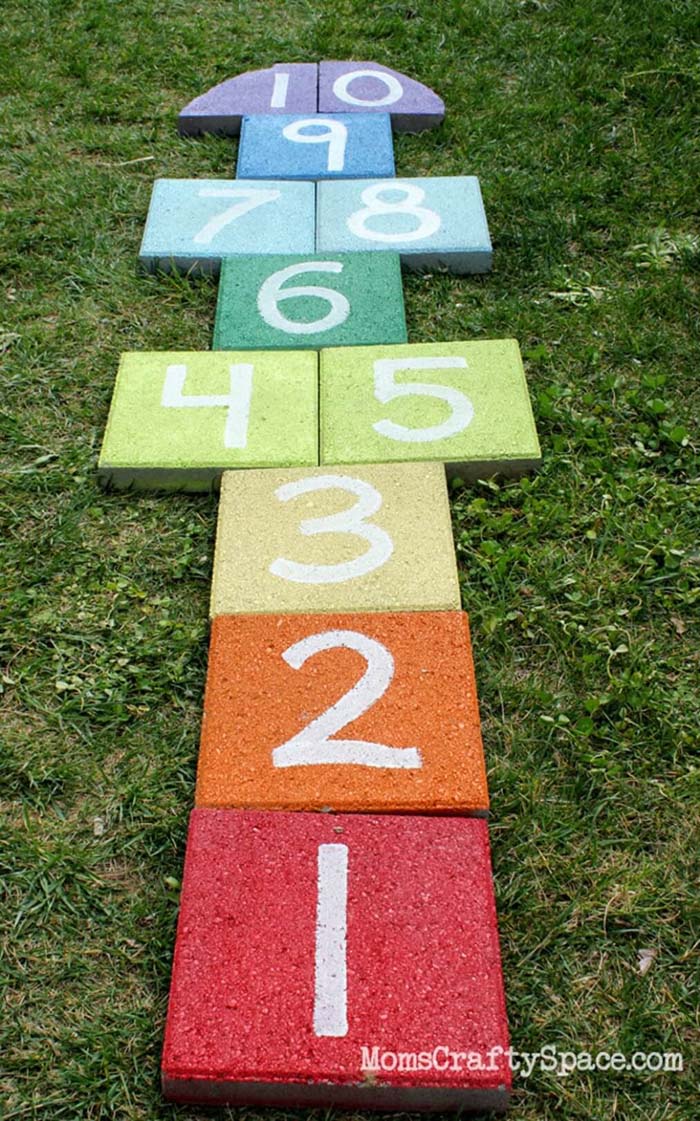 This backyard idea features an evergreen game for toddlers. The hopscotch game is added to the lawn thanks to colorful stones placed in the well-known pattern.
Along with the jumping, kids will also practice the numbers- a great combination between learning and fun!
30. Airplane Play Set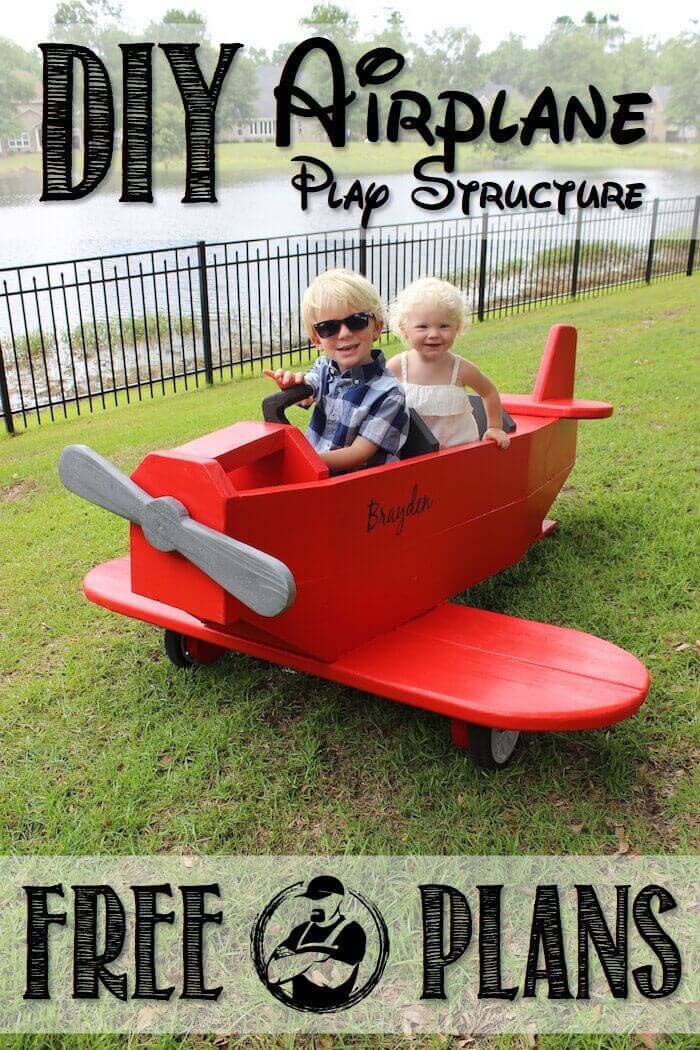 This cool backyard idea adds a unique play structure to the backyard.
The free plans below show how to build a mini plain where two kids can comfortably sit in dedicated compartments and spend hours in imaginative play.
via Rogue Engineer
31. Colorful Mural Rock Climbing Wall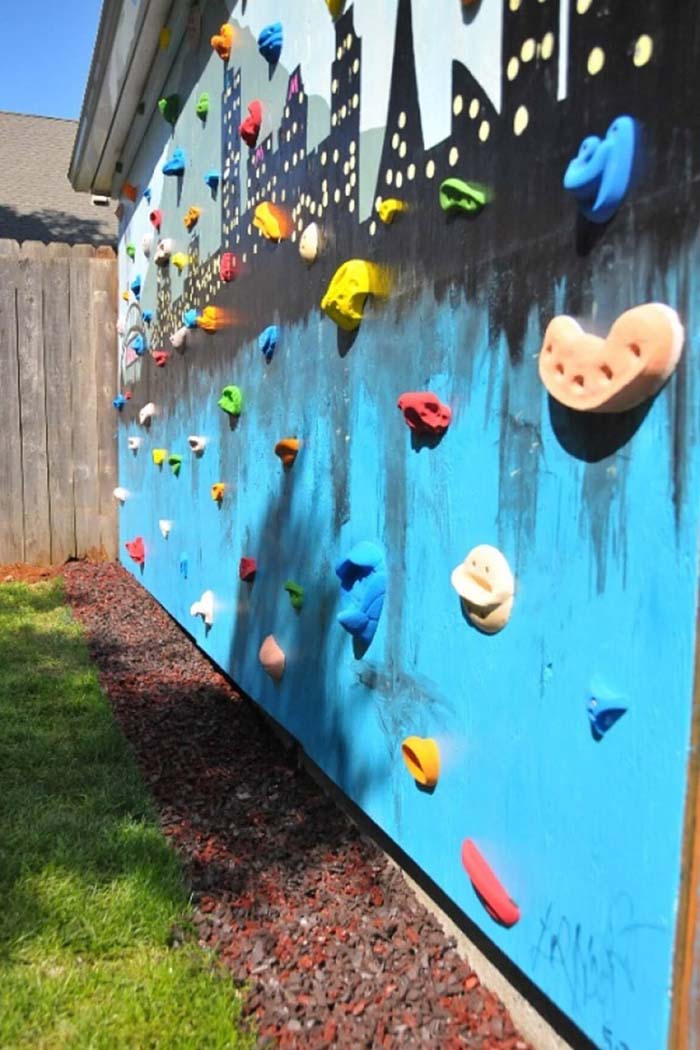 Making such an amazing backyard play area will give you the title "the coolest parent"!
Creative, appealing and kids-attractive, the climbing wall is a great outdoor project for the summer school break of older kids or for birthday parties.
32. DIY Climbing Net Obstacle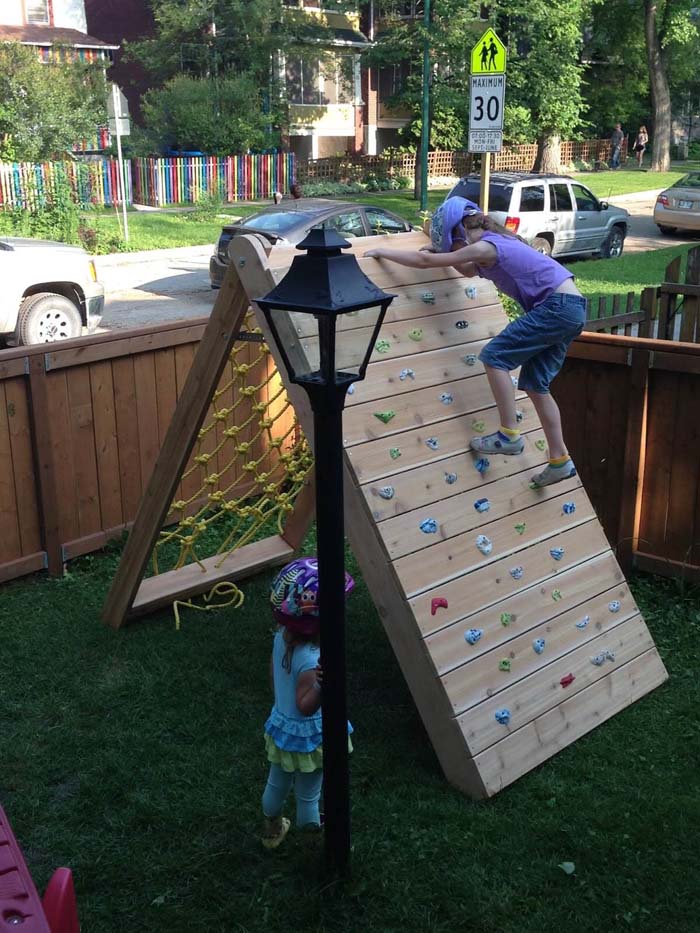 In case your yard doesn't allow making a climbing wall but you want to let your kids experience the unique feel of conquering such a wall, you can make it of a more compact size.
via Mincing Thoughts
33. Combination Sandbox Play Area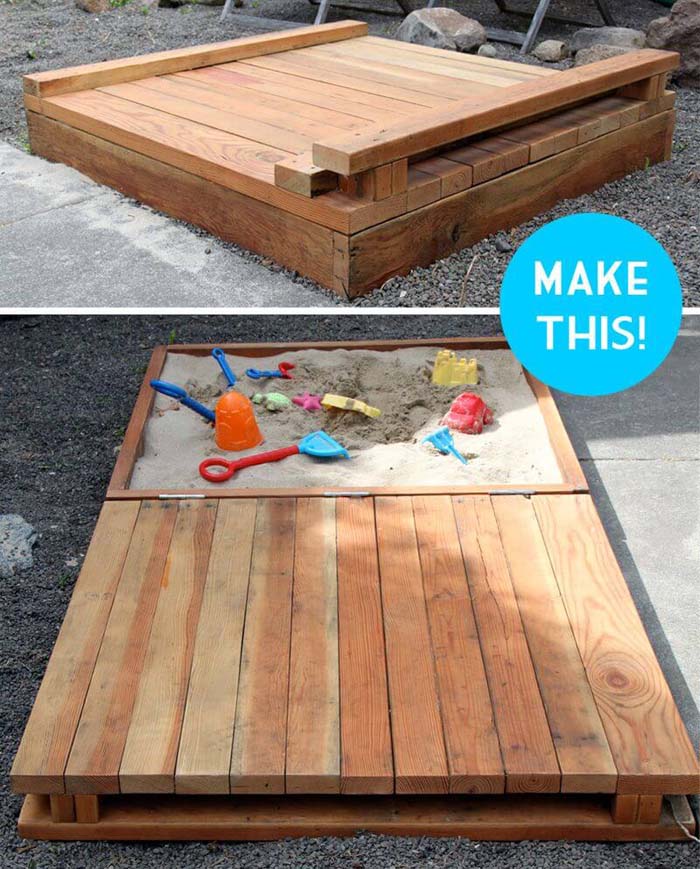 This DIY outdoor project is cooler than just making a sandpit. The sturdy structure keeps the sand in a box section which is revealed after opening a lid.
The lid lays on the surface flat to double the playing surface and be used as a platform for sitting and placing the sand toys.
via Small Friendly
34. Repurposed Bookshelf Sandbox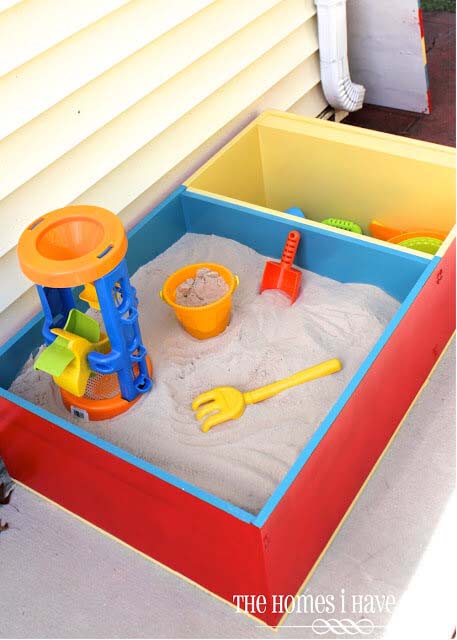 Although we are speaking for backyard ideas for kids, this doesn't mean that they will not consider keeping the yard neat and tidy. This sandbox is exactly what you need to both give your kids a way to enjoy the play in the sand and at the same time don't go out of the set limits.
And the greatest about it is that it uses materials that are no longer needed to be built. An old bookshelf or a similar piece of furniture would be just enough to create the sandbox compartments.
35. DIY Cushioned Seesaw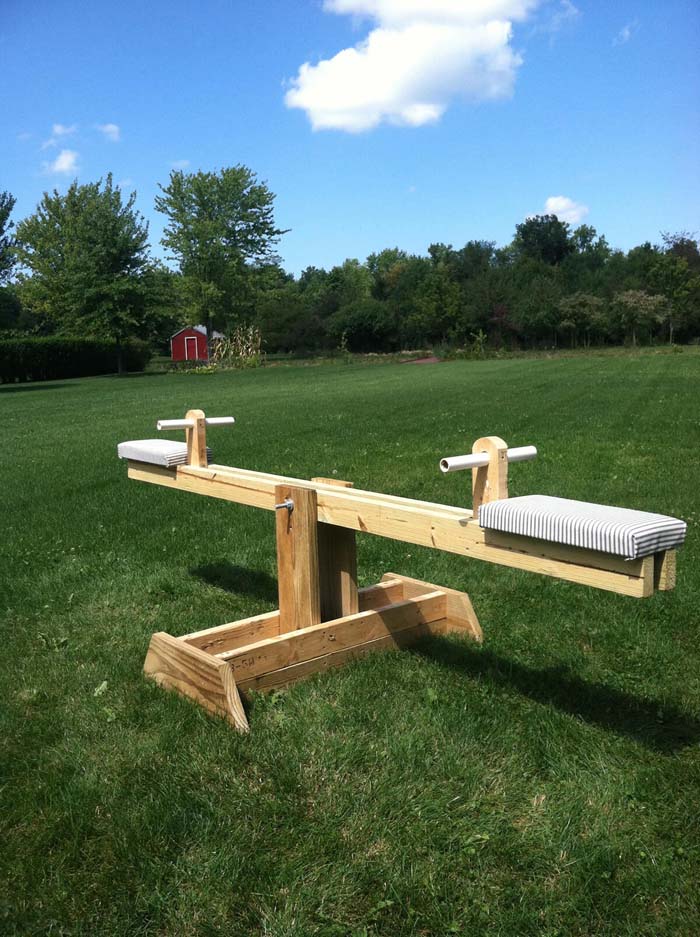 Having two kids is sometimes a challenge, especially when it comes to finding a way to play together with no fights. This DIY backyard idea will bond their relationship and will bring big fun to the yard.
Place the comfortable and stable seesaw on the lawn under a large tree crown to add shade.
via Ana White
36. Concrete Toy Car Raceway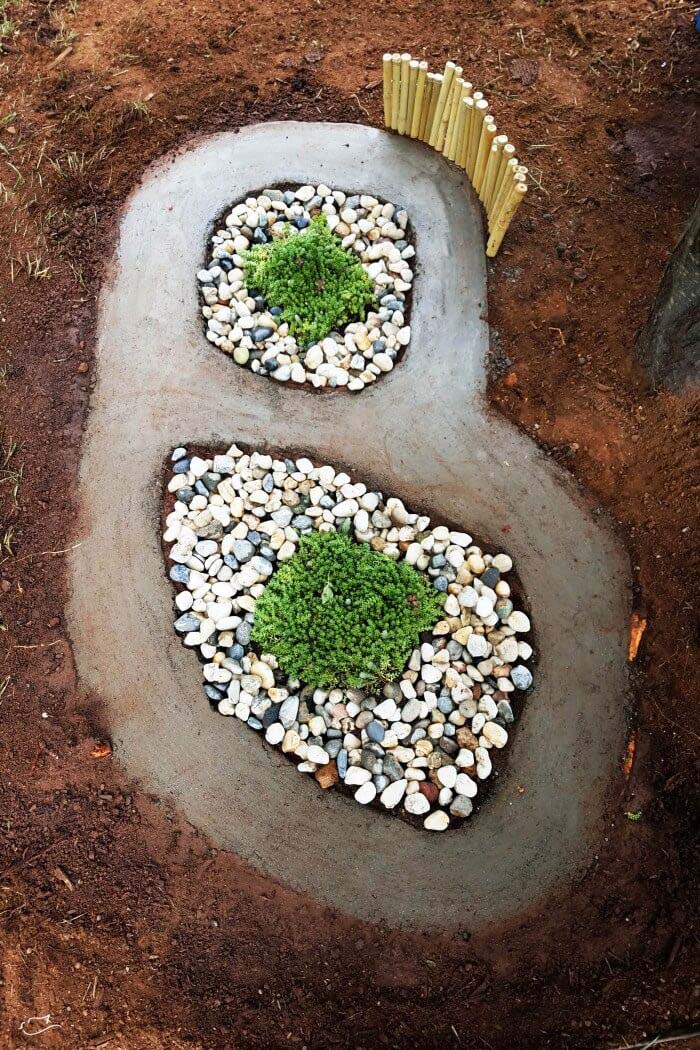 If you want to create a permanent outdoor race for your kids, use concrete. Prepare the ground by outlining the shape and the size of the race with light digging.
Then pour the concrete in the set space and wait to dry. Add plants in the middle of the race or next to it, to blend the kids' corner with the rest of the yard.
via Little Dove
37. Skateboard Deck Swing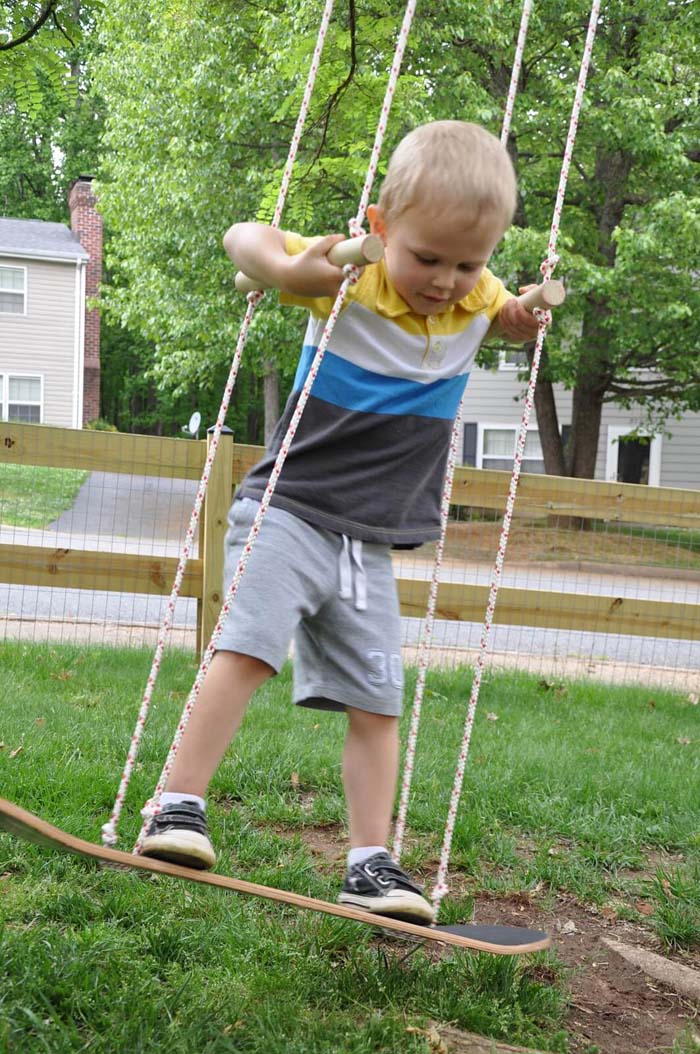 This feet swing is very interesting and challenging- the perfect backyard activity for a toddler. Balancing is the key to swinging on the skateboard slat suspended on ropes.
via Little Bit Funky
38. Upgrade A Kiddie Pool To A Lounge Space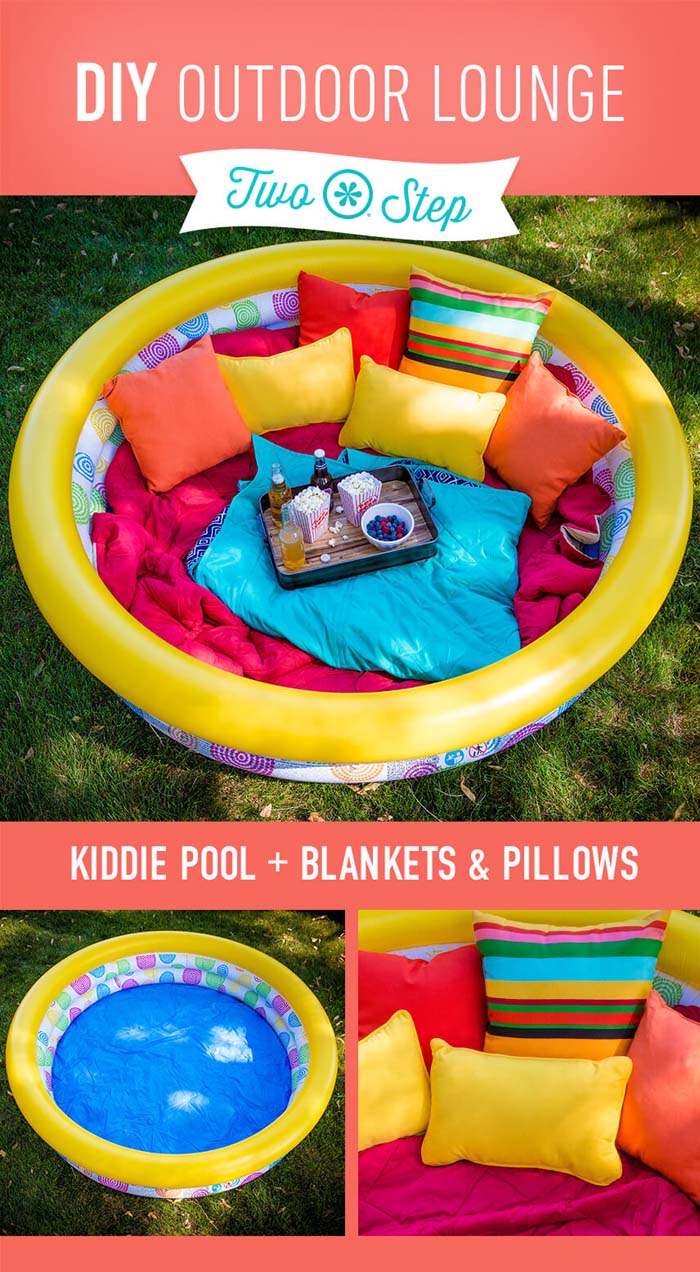 This simple idea just gives a typical summer backyard item another application. The inflatable pool becomes a cozy nook where kids can lay, read a book, talk quietly and gaze at the night sky.
Throw blankets, some pillows in the kids' pool to make it comfortable for staying there for a longer time.
39. Wood Slice Tic-Tac-Toe Board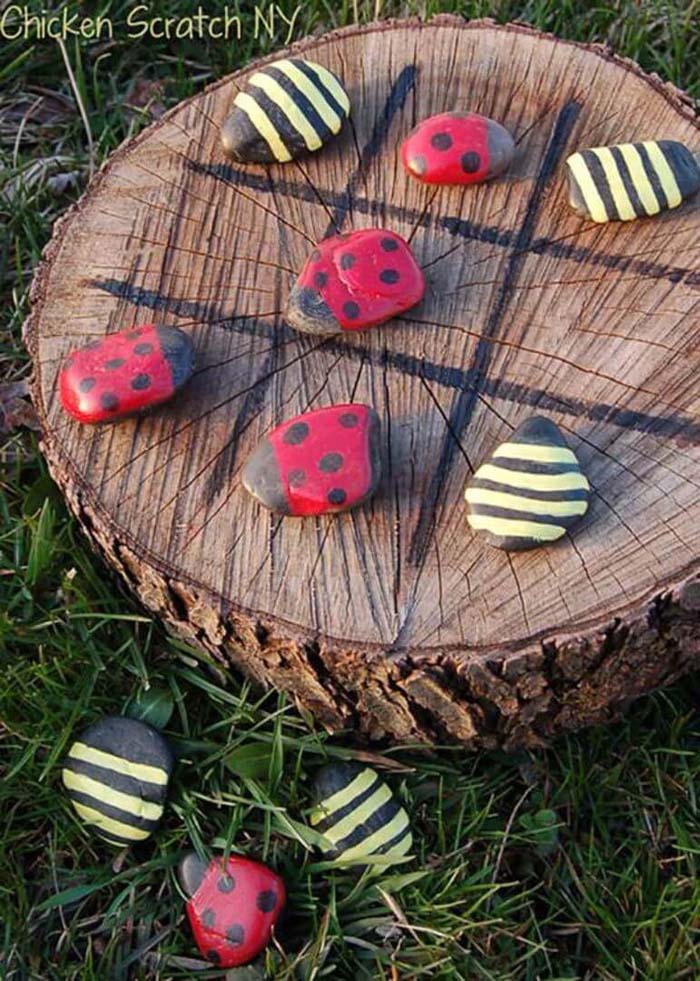 The colors of this spring-themed playset make the evergreen Tic-Tac-Toe kids attractive. Stones are painted like ladybugs and bees to be set on a wooden slice serving as a board.
Adjust the rules of the game in a way to make playing this logic game more fun.
40. Add A Tire Climb To Your Playground Set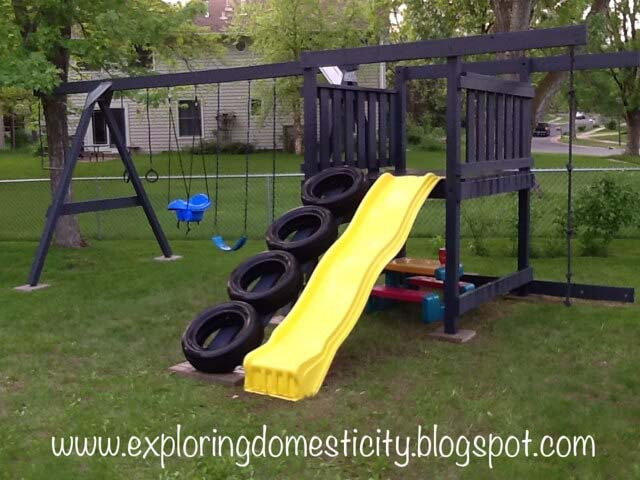 This DIY backyard idea will turn your backyard into a playground! The tire ramp is a challenge that leads to an elevated platform from where the kids can slide down again.
The climbing opportunities don't stop there- there is a rope aside the slide where kids can practice it on a more difficult level.
There are swings on the other side for little ones and for toddlers to make the outdoor entertainment a shared experience.
41. A Tree House Is Every Kid's Dream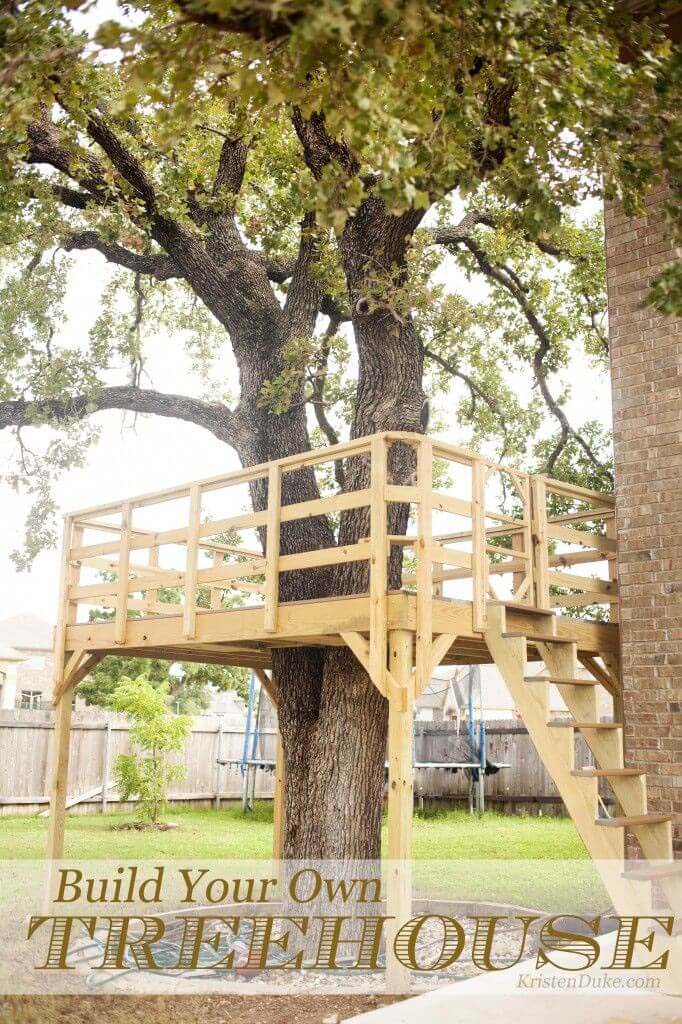 The treehouse is a simple structure that is the most desired outdoor item by kids. Placed under a shade, the elevated platform is perfect for spending hours outside.
Add string lights around the rails to make the built house comfortable for playing in the darker hours. Another idea is to cover its floor with pillows and throws that can comfort the kids at night.
42. Jumbo-Sized Connect Four Lawn Game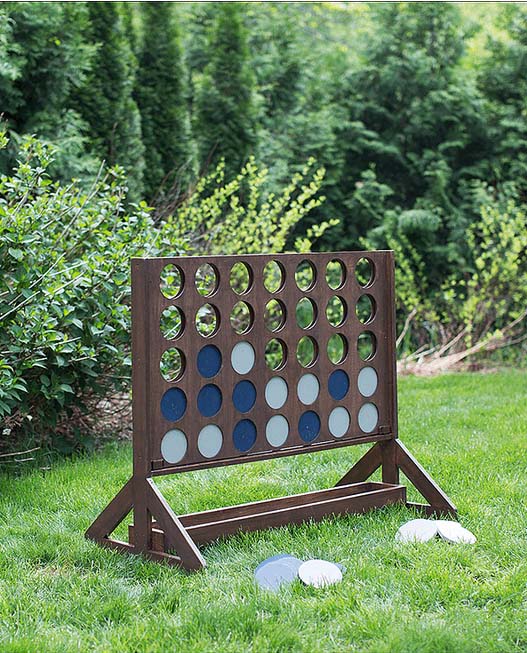 Another evergreen game is given a contemporary and outdoor-friendly design with affordable materials. Made mostly of wood, even reclaimed lumber can be useful.
Adding this large-sized board outside will be a reason for the whole family to play and have some fun together.
via Home Depot
43. Spark Imagination With Directional Signs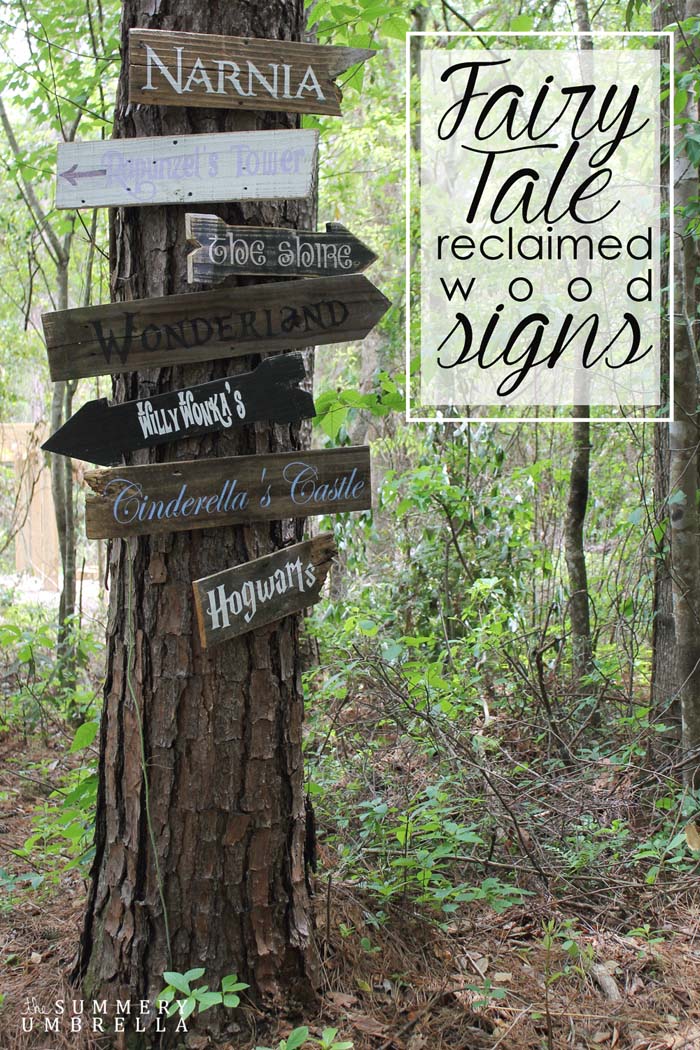 Make the backyard enchanting and appealing for your kids with this simple DIY idea. Ask your children which their favorite spots are, even from books they have read and inscribe them on wooden signs.
Nail the signs on a large tree and watch them play imaginative games.
44. DIY Pallet Teepee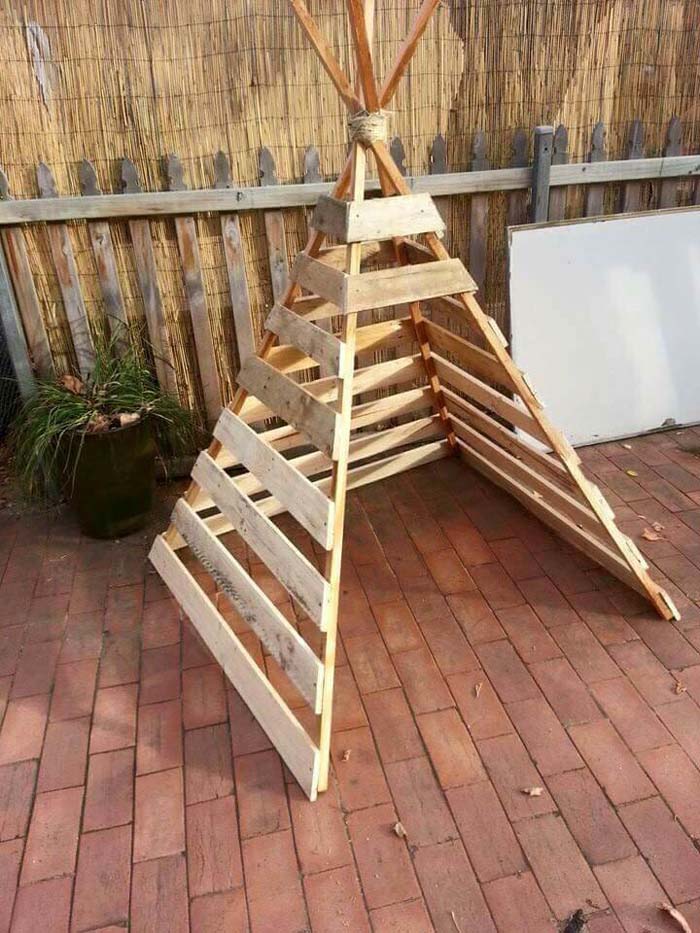 This is a cool backyard idea that will easily change your kid's mind from staying in the sun. Attracted by the shape, the child will stay in the teepee while the sun is strongest.
Cover the pallet slats with a bedsheet for a thicker shade and to enhance the coziness of this tiny playhouse.
via 1001 Pallets
45. Treehouse Option For Small Space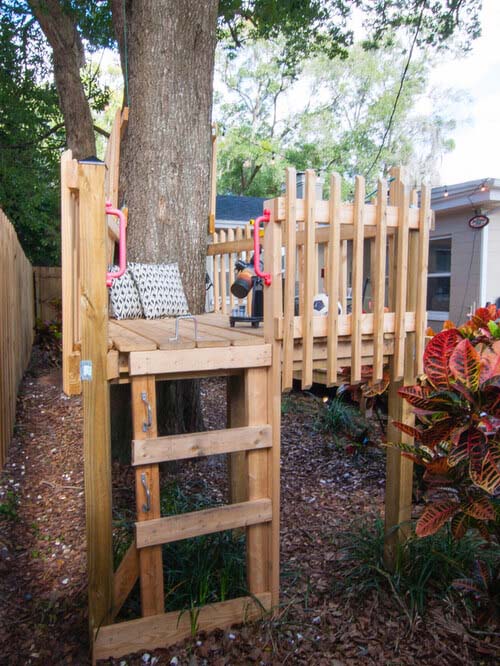 This is an inspiring idea of how to build a treehouse that complies with the specifics of the empty space around the chosen tree. This idea is especially applicable for small yards where space always forces its limits.
The house is built with repurposed pieces of furniture and reclaimed wood at a safe height from the ground. Add toys like a telescope, some pillows, a steering wheel to make staying at the treehouse fun.
via Houzz
46. Flexible Xylophone Swing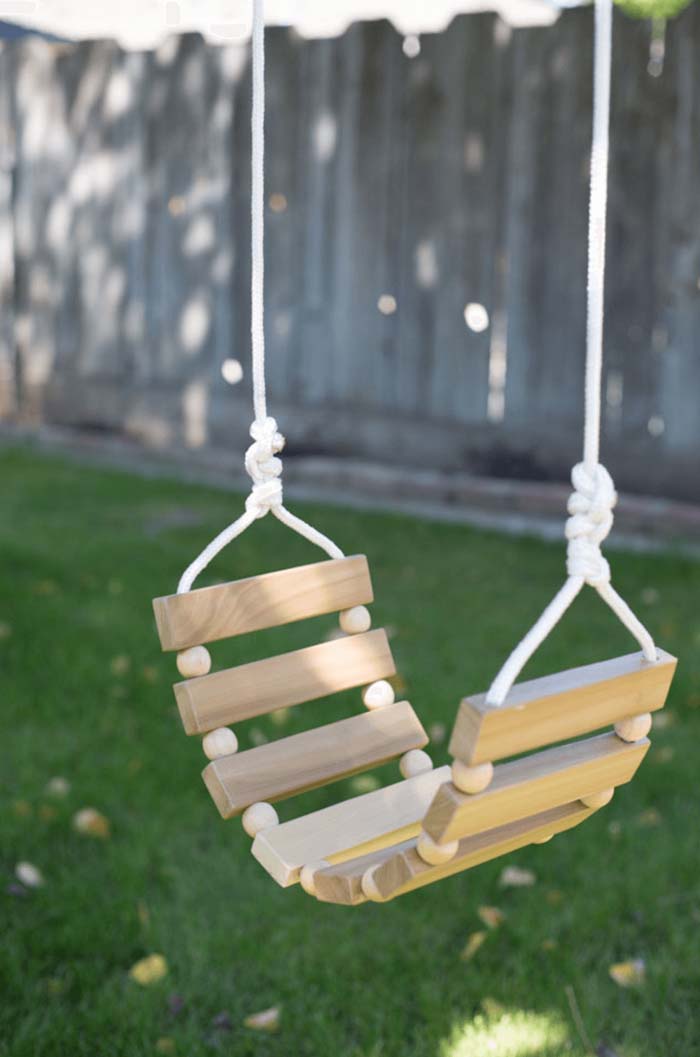 The xylophone design of this swing extends its usage from toddler to teenage ages. It is a very simple DIY project that uses scrap materials and has a great entertainment effect.
via Momtastic