Gardens are the perfect place to express your inner artist.
After all, floral landscapes are carefully arranged to create a sense of natural beauty. Adding fun and crafty pieces can both elevate the look of your garden and give it a unique spin, personal to you.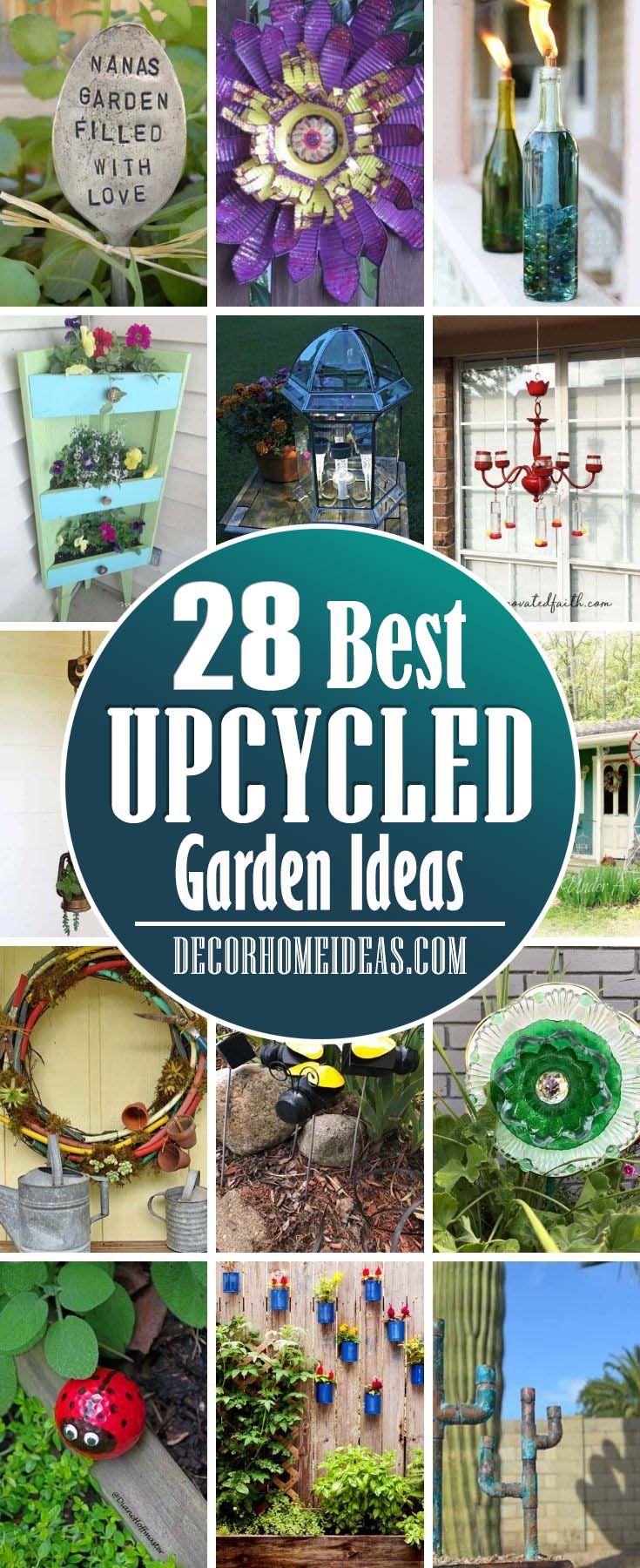 Planters can be repurposed from materials you no longer need, like grills, cans, and even chairs.
Lighting can, too, be made from other items, like bottles.
These 26 ideas are sure to give you an idea to go on!
1. Backyard Tin Can Fence Garden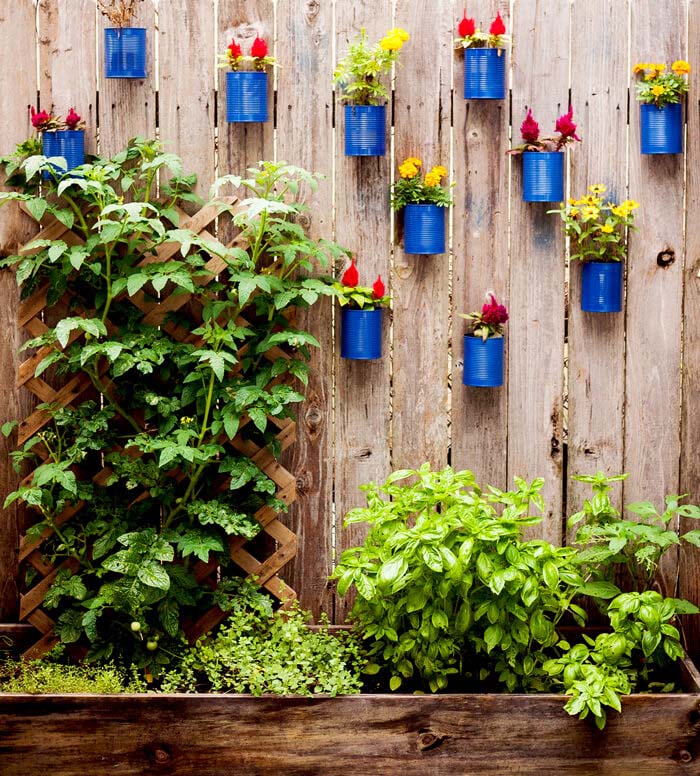 This garden idea adds color and dimension to your garden.
Along with fence posts, blue tin cans are mounted at various heights.
Converted to floating planters, these tin cans hold various brightly colored blooms. They are placed above a planter box of leafy greens.
via Cierra Design
2. Beer Bottle Tree Cap and Base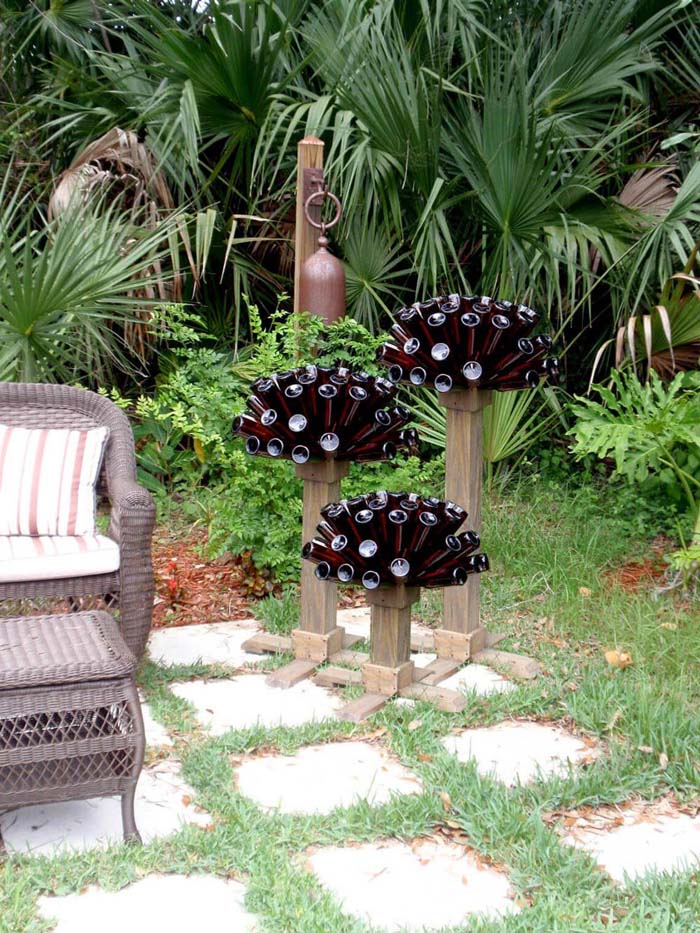 Upcycling several of your favorite beer bottles, this idea adds a crafty element to your garden.
Twenty or so beer bottles without their labels have been placed upside down in a hollowed post to resemble a treetop. Three of these with different heights are placed together.
Find it here: Etsy
3. Bumble Bee Plant Stake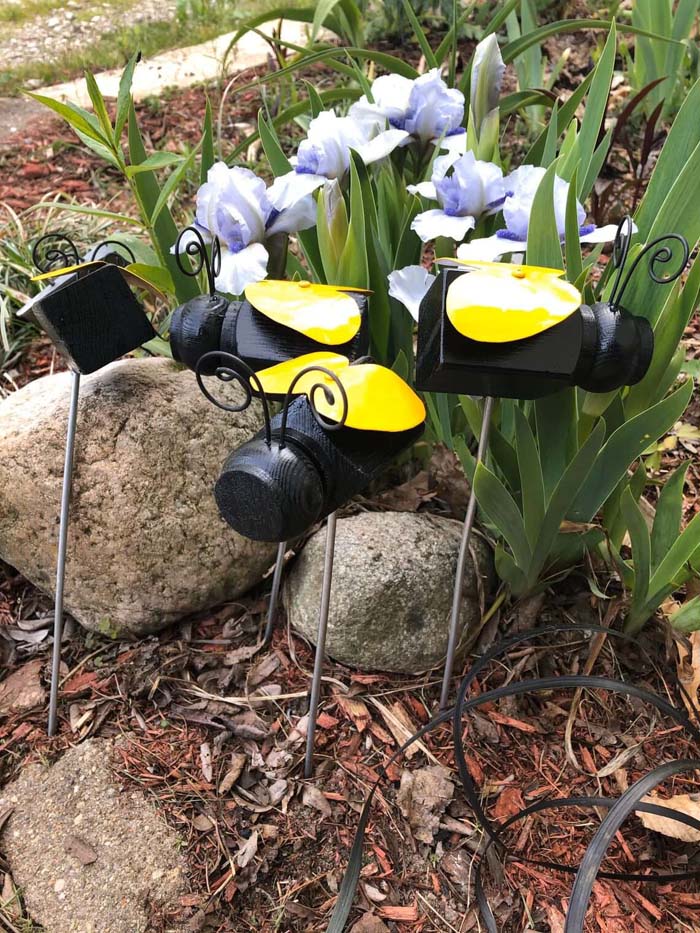 An adorable DIY project, this garden idea makes use of some wood post scraps you have laying around.
A black wooden post top has been turned into a bee with two curly antenna wires and a plastic yellow cutout.
Four of these are attached to long sticks, grouped, and used as plant stakes.
Find it here: Etsy
4. Burlap and Nautical Knot Porch Planter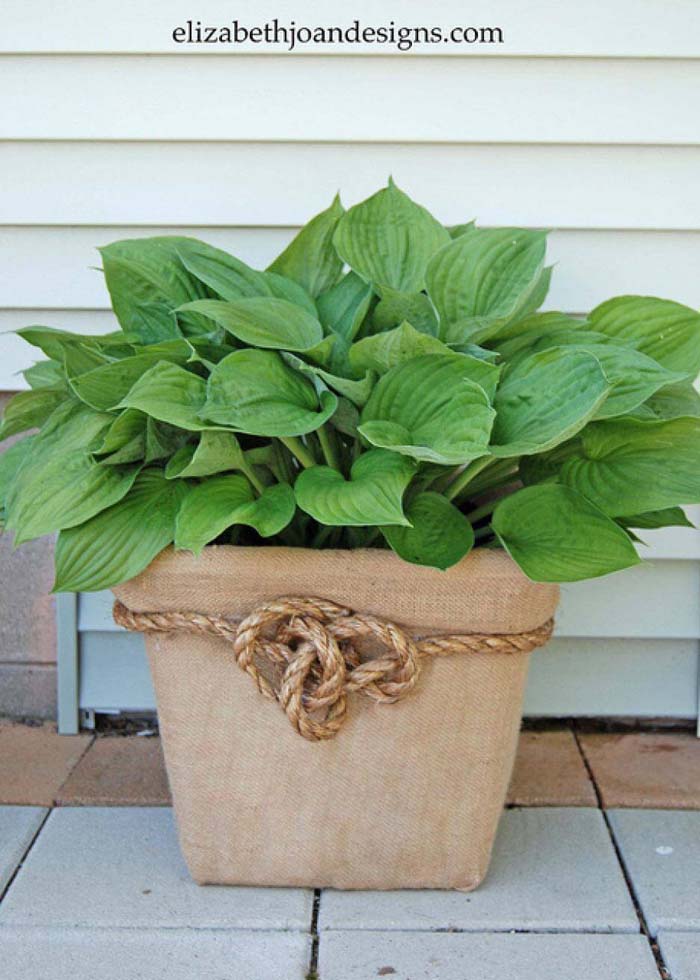 Simple and elegant, this garden idea uses a minimalist approach to level up your planters.
A square planter is covered in burlap wrapping. It is then decorated with an intricate knot tied with rope.
via Elizabeth Joan
5. Corner Cabinet Planter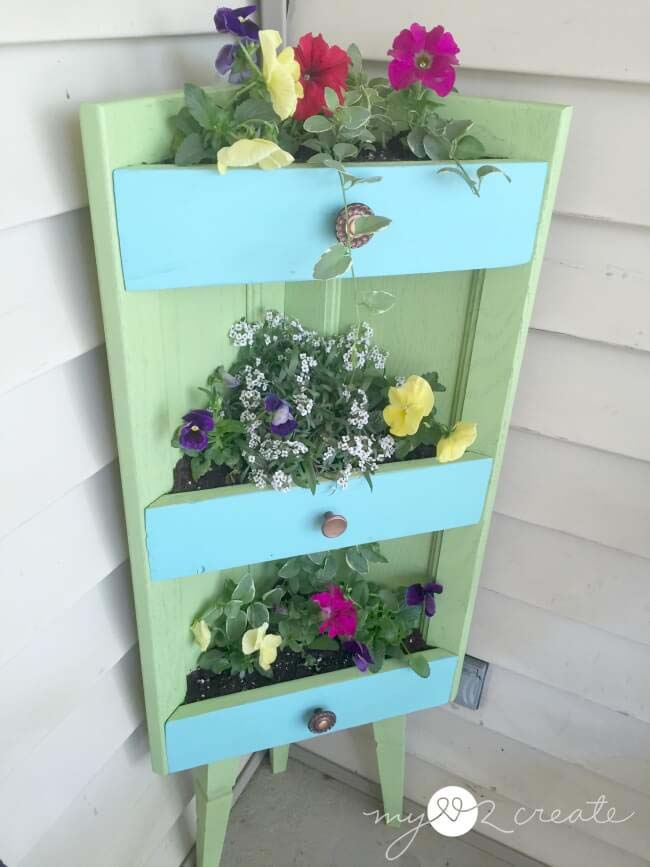 This garden DIY upcycles some cabinetry and wood pieces to make a corner planter for the patio or front porch.
Two cabinet panels are joined at a right angle and painted mint green.
Three sky blue boards are attached with bottom shelving along the inside. Within these spaces are planter areas and colorful flowers.
via My Love 2 Crate
6. DIY Butterly Waterer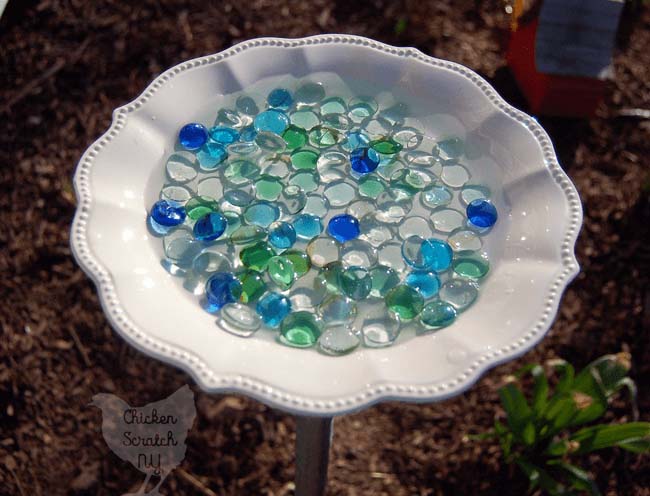 Calming and inviting, this DIY project will have all the butterflies floating in your garden.
A deep white plate is secured to the top of a pole to create a watering area. Inside the water are translucent green and blue stones.
7. DIY Garden Hoses Wreath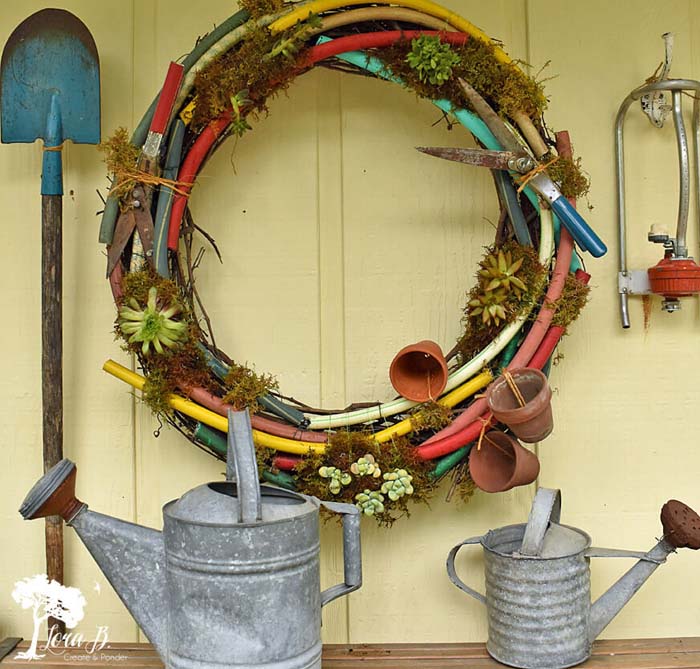 Garden chic and festive, this DIY idea has you use excess garden hoses as a wreath.
Several small sections of a garden hose have been pained in matter pinks, yellows, and blues and secured together in a circle.
Various fake flowers and garden memorabilia are secured to the wreath as well.
via Lora Bloomquist
8. DIY Garden Mosaic Stepping Stones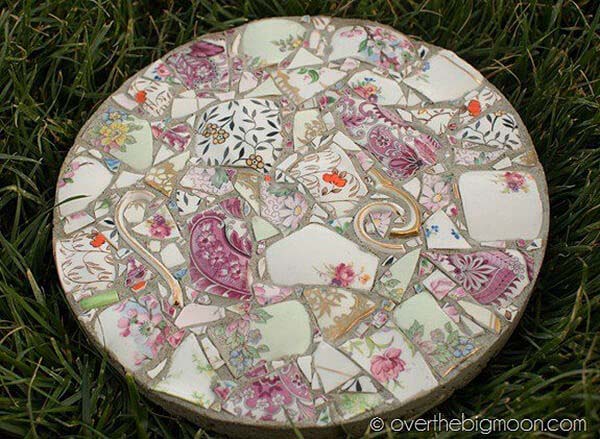 This garden DIY gives your space to express your inner artist while putting your crafting skills to the test.
A flat circular stone is used as the base to create a cut-out mosaic of pinks and white. The artwork now serves as a stepping stone.
9. Galvanized Metal Pipes Cactus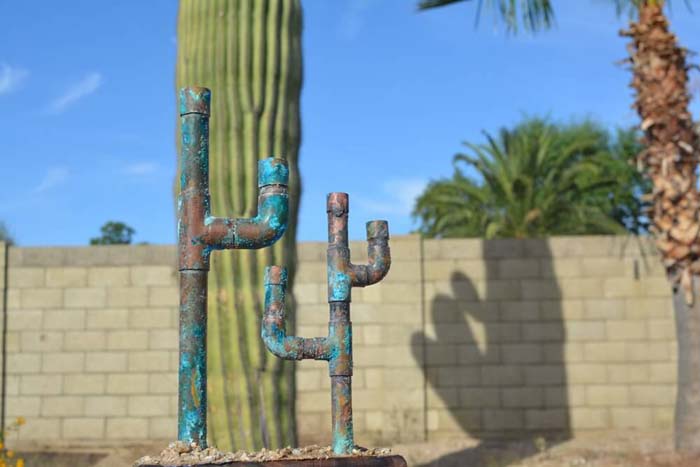 Taking an industrial perspective on nature, this DIY idea makes a cactus sculpture.
Galvanized pieces of pipe with blue rust are secured together to look like a cactus. Two of these are put together in a rock garden.
via AZ DIY Guy
10. Googly-eyed Golf Ball Ladybug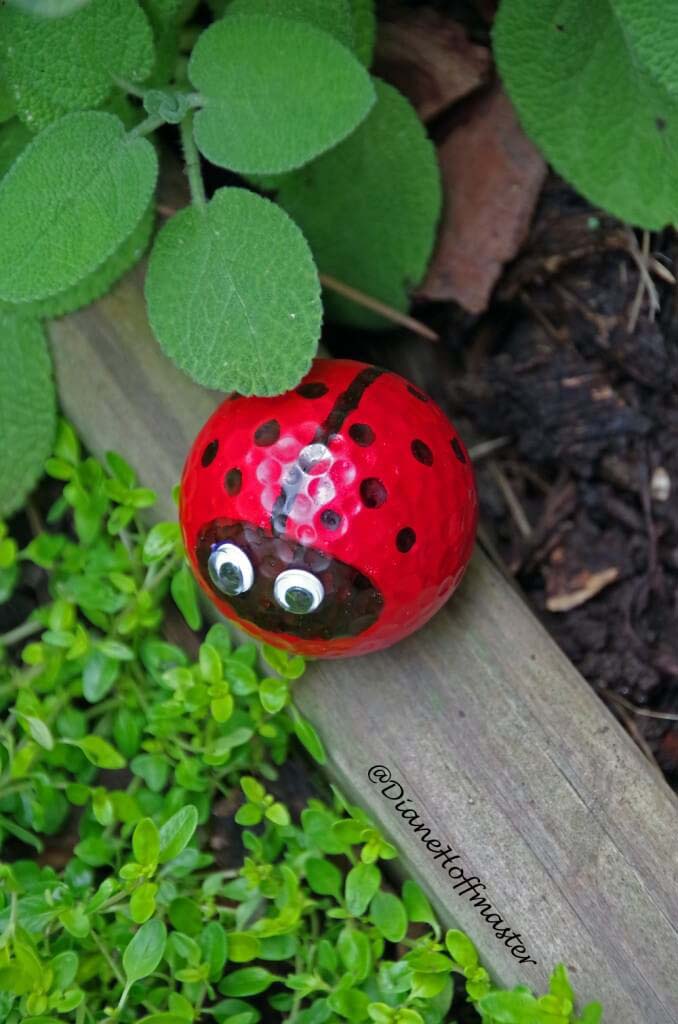 An adorable DIY project that your kids will love to do with you, this garden idea makes an artful ladybug!
A golf ball is painted red with black spots to resemble a ladybug. Two googly eyes are added to increase the likeness.
11. Hanging Lantern Succulent Upcycled Holder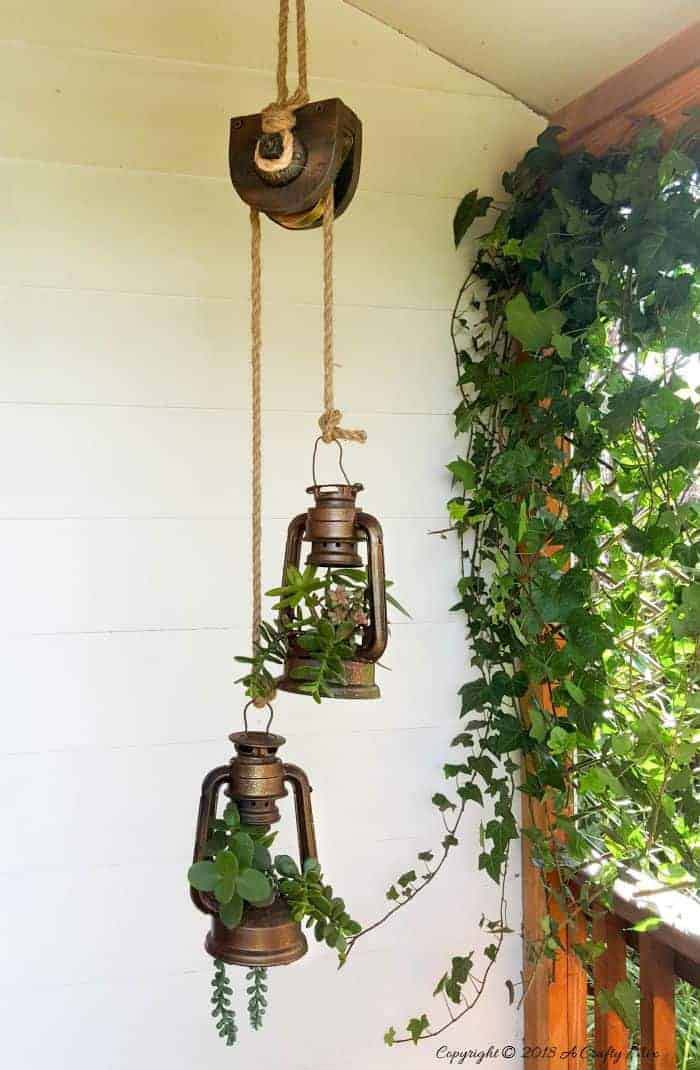 With an overgrown castle vibe, this DIY idea uses lanterns as succulent planters.
Attached to an overhead pulley by rope, two metallic lanterns hang unevenly. Within them, overgrowing succulents are held.
via A Crafty Mix
12. Horseshoe Tulip Flower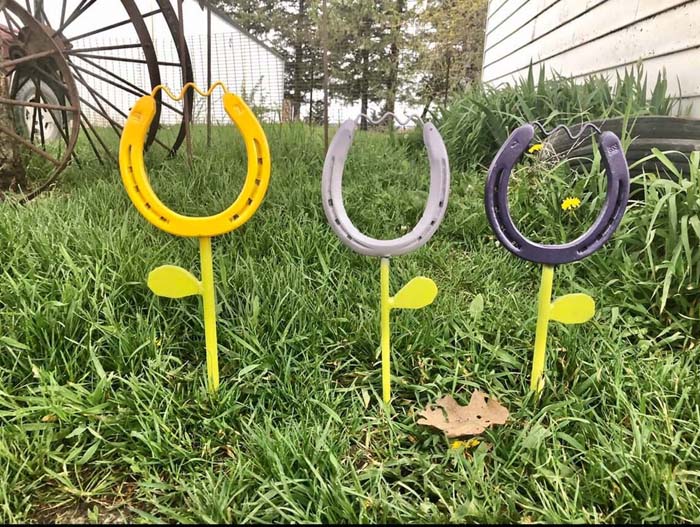 This fun and cute DIY idea is about how to create a floral statue in the garden.
A horseshoe has been painted yellow and attached to a short pole placed in the ground.
The tulip look is fully actualized with a curvy yellow wire placed on both ends of the horseshoe. Three of these are put together to create a tulip garden.
Find it here: Etsy
13. Metal Screen Doors Trio Turned Arbor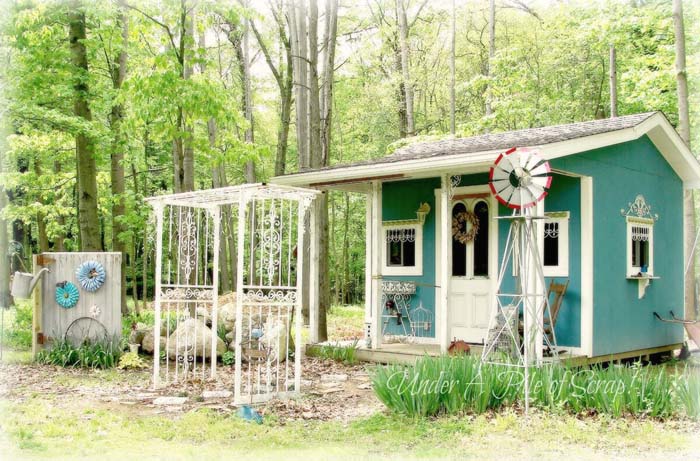 A seemingly difficult, but actually simple DIY idea converts three screen doors into an arbor.
Two white ornate metal screen panels are secured into the ground, while one lays across the top as a roof.
via Kabam Family
14. Painted Corrugated Metal Flower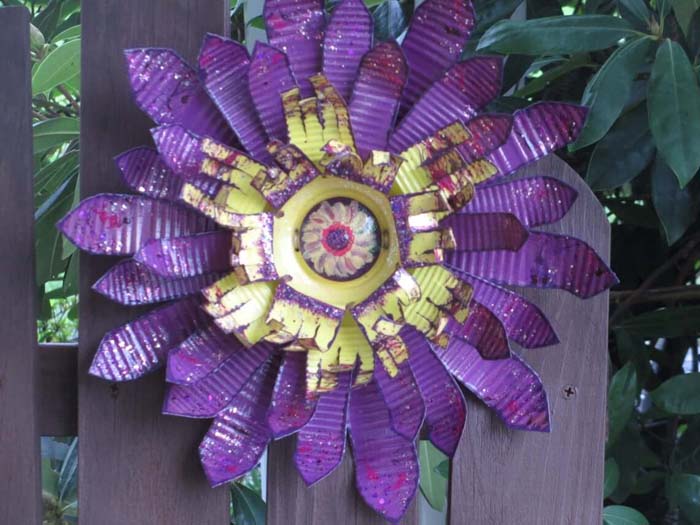 Tapping into your crafty art side, this DIY idea creates a metallic garden wall sculpture.
Using corrugated metal differently sized petals are layered to create a flower. The back three layers are painted in purple, while the top layers pop in a pale yellow.
Find it here: Etsy
15. Personalized Spoon Miniature Garden Sign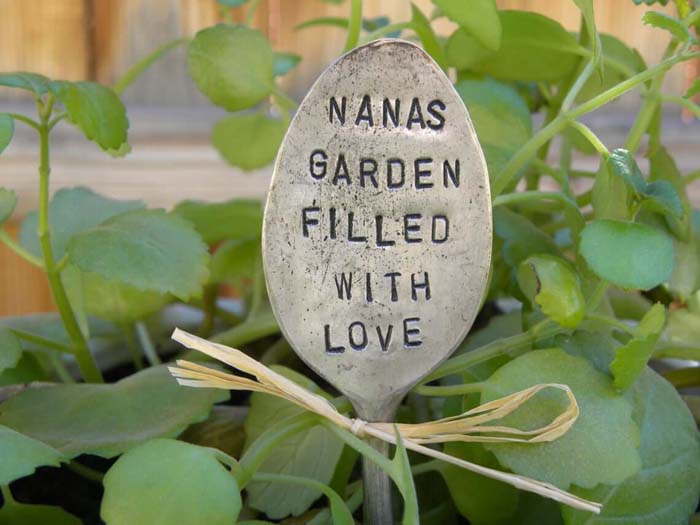 This garden DIY creates a small, but intentional space in your garden.
A metal spoon has typed into it a loving garden quote of your choice. The look is complete with a simple twine bow.
Find it here: Etsy
16. Red Hummingbird Feeder Chandelier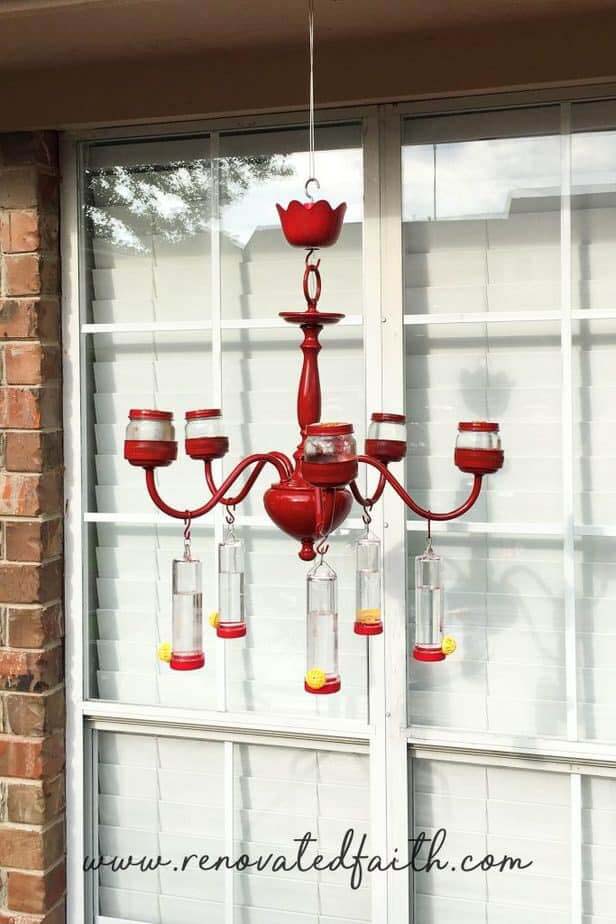 Functional and aesthetically pleasing, this garden idea turns hummingbird feeders into a front porch chandelier.
Five hummingbird feeders hang from the arms of a red chandelier.
via Renovated Faith
17. Solar Light Outdoor Upcycled Centerpiece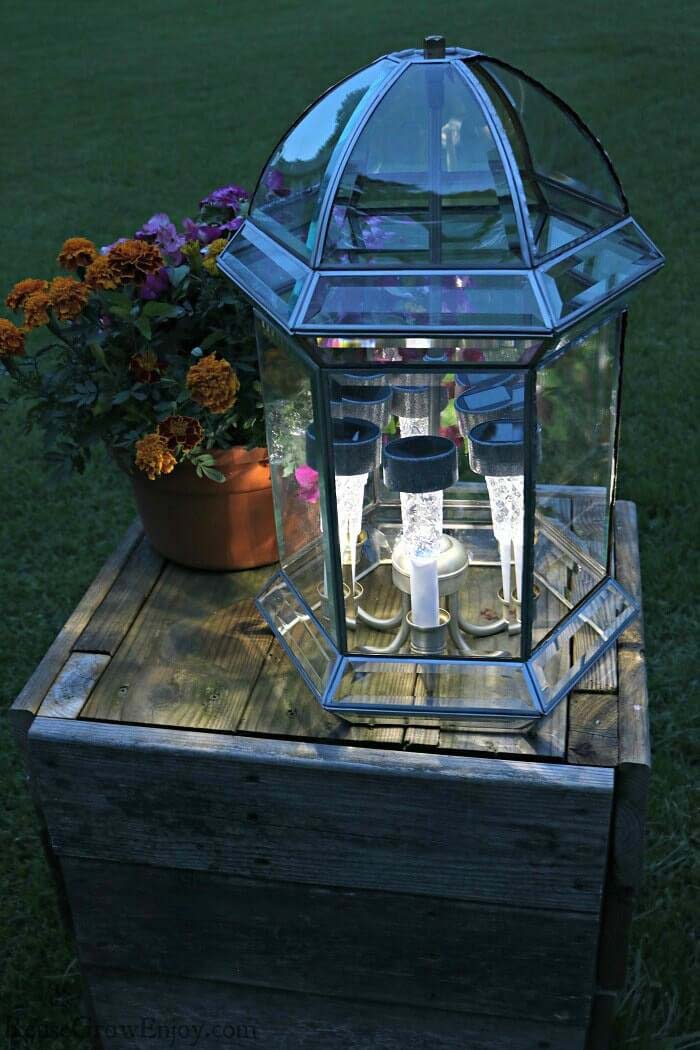 With a magical ambiance, this DIY idea creates a luminary centerpiece for your garden.
An oversized lantern is filled with size tall solar lights. The effect is a large, seemingly candle-lit lantern.
via Reuse Grow Enjoy
18. Tea Saucer and Plate Jeweled Flower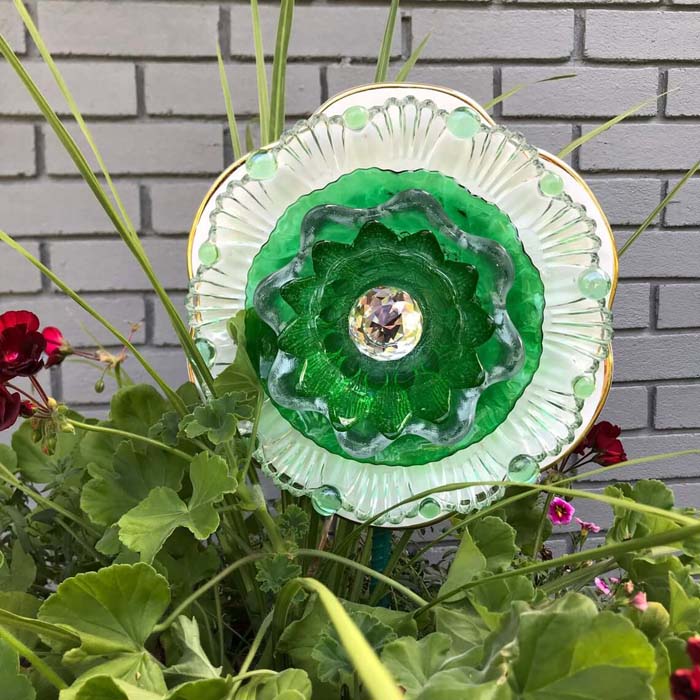 This garden idea takes some leftover kitchen items into the garden bed.
A transparent green tea saucer is secured onto a white plate with curved edges to create a flower. A crystal is secured in the center to create a more jeweled look.
Find it here: Etsy
19. The Chair Planter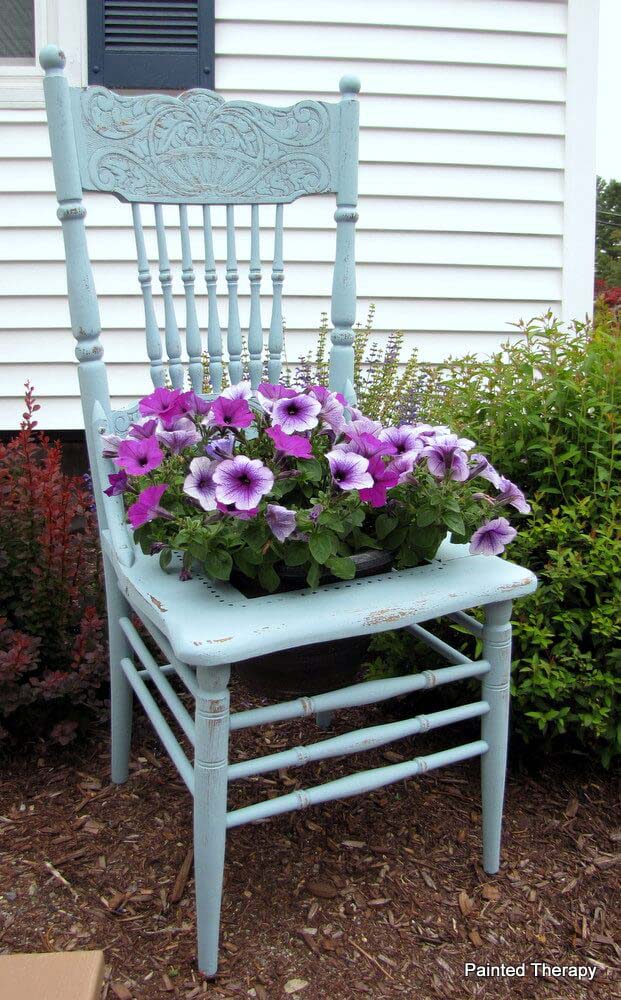 Creating a seat for your flowers, this DIY garden idea turns a chair into a planter.
An older wooden chair is painted antique blue and has the seat hollowed out. Inside a flower pot holds some bountiful purple blooms.
via Painted Therapy
20. Tire Plant Holder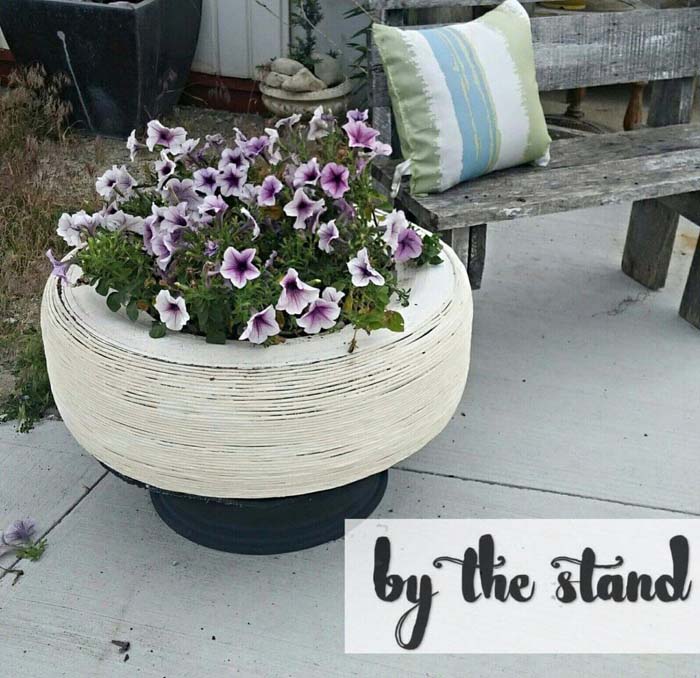 With a seamless look, an old tire is upcycled into a plant holder.
Surrounding some white and violet plants, an old bubble tire is painted white. It is placed around the top of a flower pot to add dimension.
via Holly Grace
21. Turned Over Flowering Wheel Barrow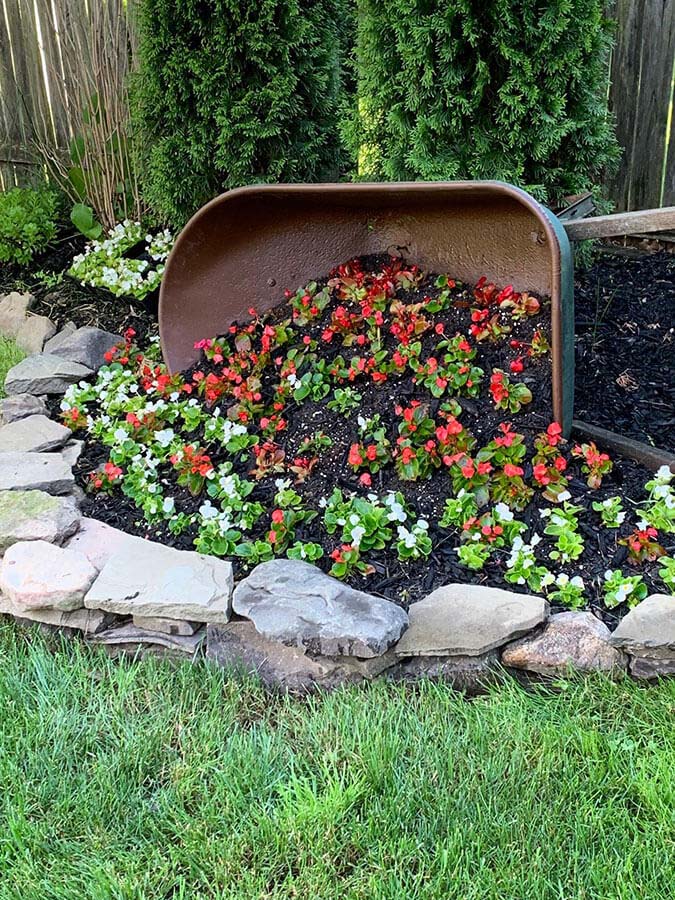 This garden idea creates a scene and story within your flower bed.
A rusted wheelbarrow is turned on its side in a garden bed. In the wheelbarrow soil and flowers naturally flow into the garden bed.
22. Upcycled Grill Flower Bed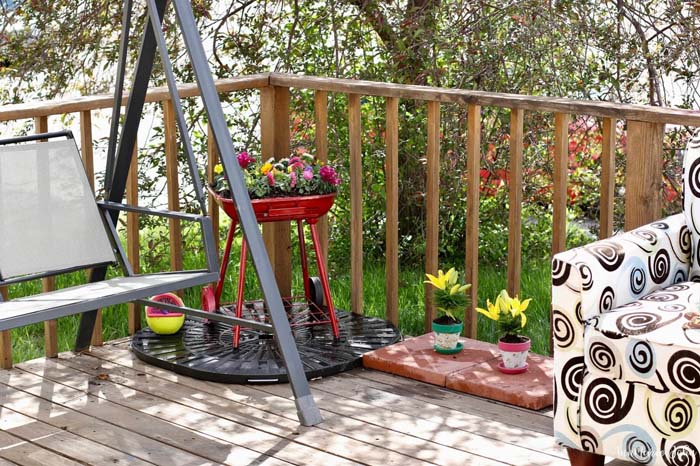 Cute and whimsical, this DIY idea upcycles an unused grill into a gorgeous flower bed.
A small grill has been painted red with its lid removed. Inside the grill is now a planter, resting will on the deck.
via Ann Marie John
23. Upcycled Shovel Garden Art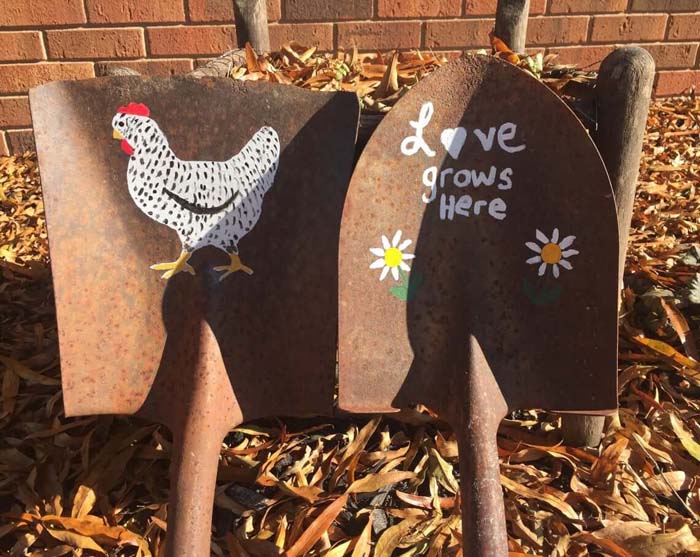 This garden idea takes a no longer functional shovel and turns into art.
Atop the scoop of the shovel, a garden message and farm animal is painted. These are laid in a bed of leaves to add a fun look to your backyard.
Find it here: Etsy
24. Upcycled Slender Spindle Single Bird House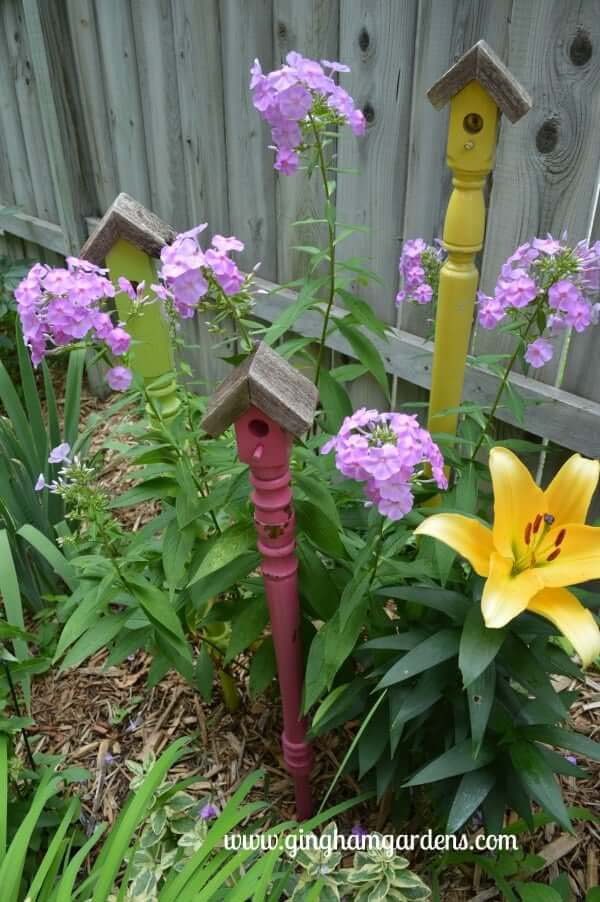 With an adorable fantasy look, this DIY garden idea upcycles wooden spindles into birdhouses for your garden.
Old wooden chairs and table legs are painted demure shades of red, yellow, and green and hollowed out.
A small post and roof are attached to complete the birdhouse. Three of these are secured into a garden bed.
via Gingham Gardens
25. Utensil Wind Chime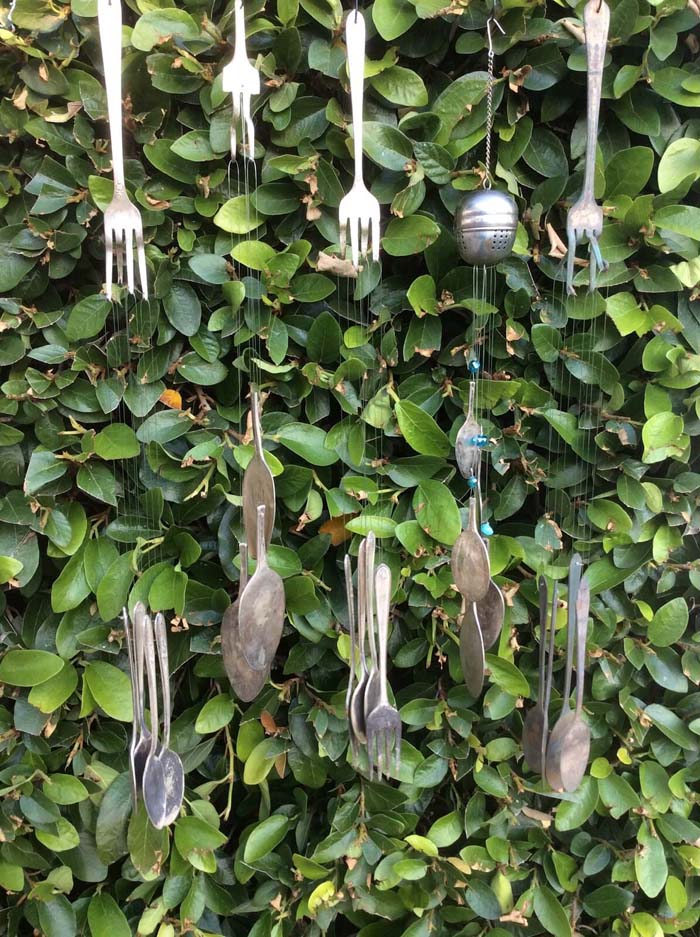 Musical and creative, this DIY idea turns rusted and older silverware into a wind chime.
A plastic wire is attached to each tine of a fork and is used to support a lower hanging set of forks or spoons.
Five of these two-tiered chimes are hung together to create a larger wind chime.
26. Wine Bottle Outdoor Torch Lamp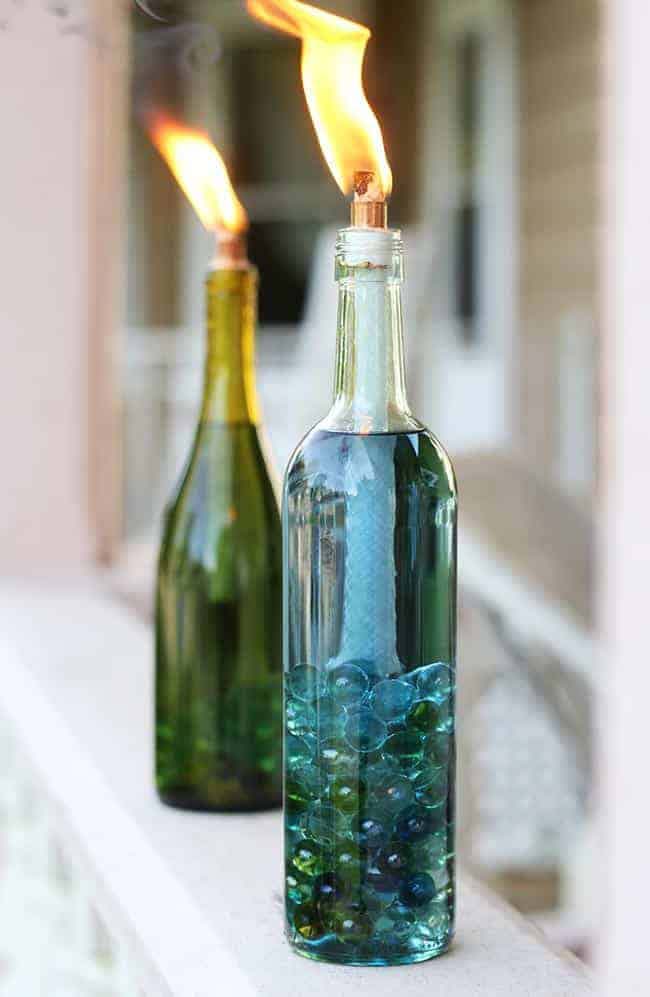 This DIY idea brings warmth and light to your garden and patio.
Two wine bottles have been turned into a pair of Tiki torches. Inside are decorative translucent and multicolored rocks.
via Hello Glow